Book Review
Wednesday, January 25th, 2017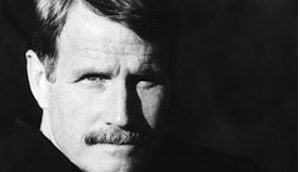 Chris Glaser, author of The Final Deadline: What Death Has Taught Me About Life
My memorial service will be fabulous, I can assure you of that. I first outlined it during the initial, deadly wave of AIDS in the 1980's, and have edited it here and there over the years, updating the songs I would like played or the video footage shown.
Focusing on the spectacle, though, may just be avoiding the facts: if it's my memorial, that means I'm dead. And death is a subject about which I have both too much and too little understanding. I've seen more than my share of it, and yet I have no greater insight than the next guy.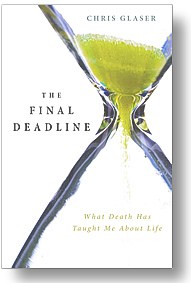 That's especially true if the next guy is Chris Glaser. In The Final Deadline: What Death Has Taught Me About Life, his moving and thought provoking book, the gay theologian and philosopher shows both awe for his topic and a likable willingness to accept uncertainty.
Glaser isn't out to win souls for Jesus or explain "what comes next." He leaves that to you and your own beliefs, thank you very much. He's much more interested in examining death as it affects us, the living, those who remain. And as it turns out, death is all about life.
"Death forces us back on life, as a shut door forces us to find another passageway, a roadblock prompts us to take a detour, or a great loss encourages us to savor what remains," Glaser writes.
Glaser segregates the book into chapters on manners of death, such as "Death by Murder," "Death in Public," "Precipitous Death," and so on, and he populates his musings with stories of his many dead friends and acquaintances ("You have more dead friends than Jessica Fletcher," a friend tells him in reference to the Murder, She Wrote heroine, and by book's end you tend to agree).
Those friends provide lively characters and dramatic deaths from which Glaser draws insight. They include clergymen, relatives, celebrities, criminals, and pets, dying of everything from cancer to crashes (car and plane), overdose, stabbings (more than one!), gunshot, and even someone setting himself on fire on Sunset Boulevard. An impressive coterie of killings, to be sure. AIDS, of course, haunts the "Death by Plague" chapter.
Throughout, my active imagination kept indicating something miraculous or supernatural might occur, and sharing Glaser's interest in all things, well, dead, I hoped for them. When Glaser receives the typewriter of a murdered friend who studied paranormal activity, and then leaves a blank piece of paper in the carriage, I held my breath for paragraphs, waiting for the instrument to clack out the name of the murderer or at least a howdy-do.
The damn thing never does. Instead, Glaser draws his own messages about his late friend's untimely demise, including the value of leaving something behind, a gift for your survivors, be it in writing or in their hearts.
In his final chapter, "Death Made Personal," he recounts the death of what he had believed would be his "lifelong" relationship, to a partner who leaves him as a result of the partner's renewed health after years living with HIV, "and a wanderlust for what his extended life expectancy might hold."
Actually, Chris Glaser is too easy on the guy. The partner, the one who built a life with him and then unceremoniously dumped him for no compelling reason, was me.
Chris's book references The Adventures of Tom Sawyer, in which Tom and Huck have the good fortune of attending their own funerals. I had a similar experience reading this post-mortem of our breakup — but instead of hearing the praises of survivors, I saw in clear black and white the grief and confusion of the lover I left behind. The wreckage of my past is on full, excruciating display.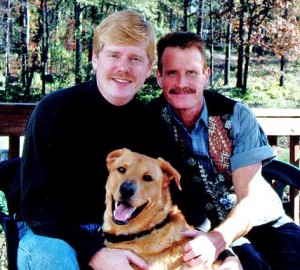 "My ideal world was shattered," he writes. "I felt worse than unloved. I felt unlovable, unattractive, undesirable. Taking things 'one day at a time' seemed like too big a chunk…" And his anguish and battered self esteem lead to a period of misfortune and poor choices. "I dated people who turned out to be scary in one way or another," he writes. "I drank too much. I acted out sexually. My wallet was stolen."
The gay dating pool is frightening enough, but to know I thrust a good man into it, bruised and hurting and without a credible reason why, is a tough chapter to face, my friends. Literally. And yet Chris tries his best to protect me from my own history. In a book filled with intimates, living and dead, I alone go unnamed.
The truth is my drug addiction was beginning a decade-long march to destroy me, something Chris only touches upon in his recounting. My secret experimentation with crystal meth, coupled, yes, with my feelings of rebirth as a result of new HIV medication breakthroughs, was a dangerous and cunning combination.
I was a blossoming addict who wanted out: of the marriage, of the perceived limits (of what I couldn't tell you), of anything that kept me from the siren call of the gym and the dance floor and the circuit parties and the drugs, oh my the drugs, that promised fantastical things around the corner which somehow never arrived.
With characteristic grace, Chris moves through forgiveness and uses the puzzling experience to evaluate himself and his goals. He changes course in his lifelong struggle for Presbyterian ordination. He reads and re-reads everything that inspires him, from the bible to Gore Vidal, from To Kill a Mockingbird to Zorba the Greek.
Chris finds peace, renewed vitality in his career, and a relationship that exists to this day. As he closes the chapter, he recites a poem that once came to him in his sleep:
Love is being crucified
And rising again
As if it never happened.
That's love for you.
That's love for you.
Chris Glaser's beliefs are many and steadfast, but his faith in love is his most unyielding conviction. In The Final Deadline, and in his life, love never dies.
(My mother, Anne King, died suddenly last week. She was a regular topic of my writing and my video blogs. I have no fresh words just yet on the impact of loss, but the rumination above from 2010 is a piece I've been meaning to re-post for some time.  Thanks for your well wishes during this time. — Mark)
Tags: Aging, culture, family, gay, gratitude, help others, hiv, meth, recovery, Sexuality
Posted in Book Review, Family and Friends, Gay Life, Living with HIV/AIDS, Meth and Recovery, My Fabulous Disease | No Comments »
Monday, November 28th, 2016

In the towering new novel Christodora, author Tim Murphy harnesses decades of personal and professional experience as an HIV journalist into a story that sweeps back and forth between the last several decades and beyond. It has the scope of great literature, but Christodora is also a deeply personal chronicle from a man who knows his terrain.
The book's namesake is a century-old apartment building in New York City's East Village, silently weathering the indignities of time, economics, and social change that is mirrored in a host of characters connected to the building through the years. They include a privileged young couple, both of them artists, their adopted child, revelers of the gay dance clubs in the village, social activists and fledgling health department professionals. Since the story takes root in the 1980s, we know our characters are poised to confront something they can never imagine.
Yes, there are AIDS horrors here, of the multitudes who die around the edges of the book's pages. But Murphy's lens is more interested in close-ups, in the intimate impact of calamity, in various forms, on the lives of his characters. He also writes with the distance and maturity to know that AIDS wasn't the only crisis in town for New Yorkers during this period, and even within it, AIDS greedily intersected with numerous other social ills and personal struggles.
With hardly a false move, Murphy glides effortlessly among the worlds of addiction and recovery, the academic art scene, AIDS activism, and the darkened corners of mental illness.
It is a gift for any writer to find the interior voice of a character – the cyclical doubts and fears, the ongoing internal debates in which we all engage that propel our lives and choices – and so it is with Murphy, who has multiplied the feat by populating the novel with an astounding number of flesh-and-blood people who behave with all the faults and courageousness that humanity allows.
Murphy is coy about providing too many historical names and places. The inner workings of ACT UP and its more establishment-friendly offspring, Treatment Action Group, are dramatized at great length but the groups are never mentioned by name. It releases Murphy from the job of shackling his story to actual people and organizations; this is not historical autobiography in the vein of Sean Strub's Body Counts or Cleve Jones' upcoming When We Rise. The emerging AIDS activism scene is portrayed, Murphy has us feel, because some of his characters happen to be there. They come first.
That said, anyone familiar with the gay New York City scene from this era will enjoy the parlor game of spotting the real people who inspired several major characters. Some are transparent, others not. Christodora had me Googling the names and affiliations of my guesses more than once.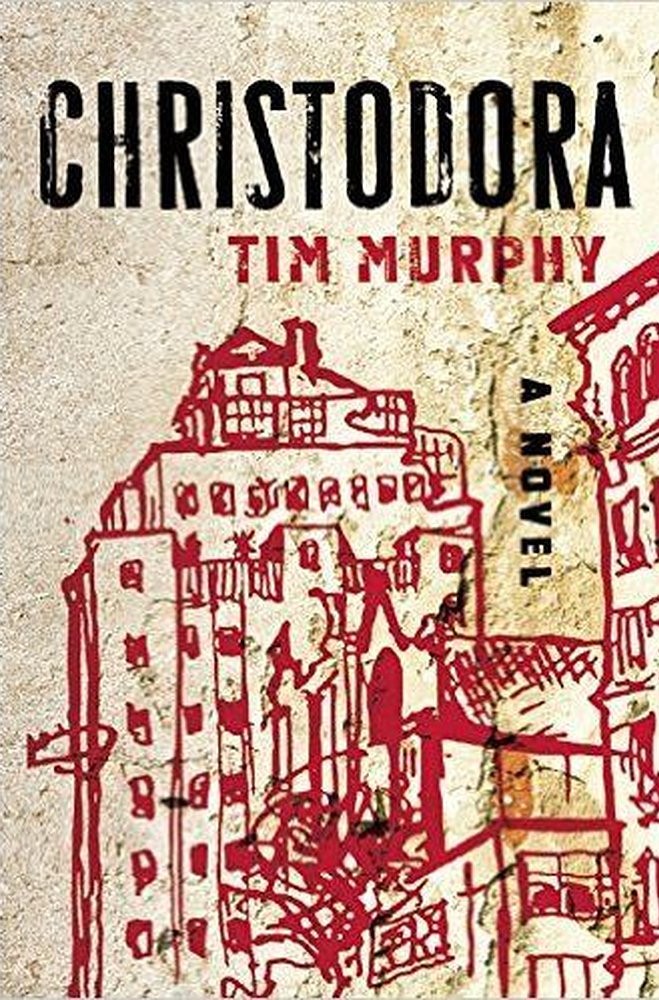 The most searing passages in Christodora deal with the wreckage of drugs and those engulfed by them, calibrated for maximum heartbreak. For any of us who turned to substance abuse during or after the plague years, who live with the confusion and guilt of having survived a public health emergency only to surrender ourselves to small baggies of crystalized catastrophe, Murphy knows us, and he intimately (and sometimes explicitly) offers us front row seats to the destruction of major characters. The brutality of addiction cannot be divorced from the story of AIDS.
Christodora even has the audacity to look beyond the present, providing glimpses into years we have not yet seen. Audacious, because Murphy knows there is no AIDS survivor among us who hasn't considered what lies ahead, as the crisis years continue to fade from view, and he delicately provides an answer that is rooted in the personal destinies of his characters.
Ultimately, Murphy glides the reader to a gentle landing spot. After all the fury of AIDS activism, broken families and lifelong resentments, the flawed and sometimes flailing characters of Christodora are provided with a lovely parting gift. To all of this rancor, Murphy calls a kind of merciful truce.
The final notes of charity in Christodora are all the more bittersweet given they were written by an HIV journalist who, one suspects, longs for moments of healing grace every bit as wistfully as we do.
Mark
(Christodora would make an ideal gift to yourself for this World AIDS Day, or a great Kindle stuffer for someone you love – or for someone who could use a better understanding of the impact of these last thirty years. Check it out on Amazon here.)
Tags: A Place Like This, advocacy, Aging, aids, culture, gay, hiv, meth, physician, politics, recovery, Recreation, research, Sexuality
Posted in Book Review, Gay Life, Living with HIV/AIDS, Meth and Recovery, My Fabulous Disease, News | No Comments »
Thursday, May 12th, 2016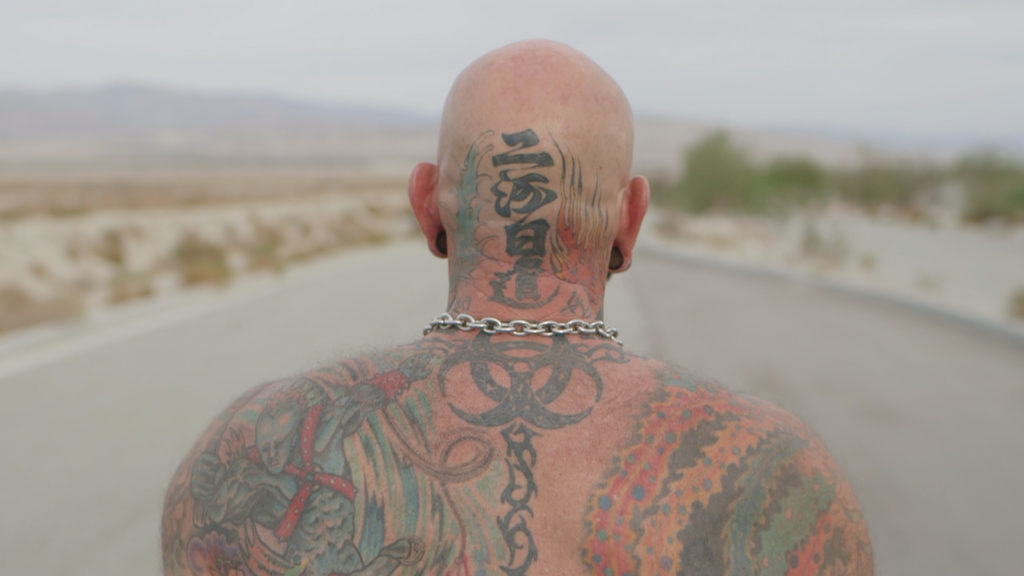 Daniel Cardone's essential but relentlessly grim documentary about longtime AIDS survivors, Desert Migration, is fascinated with the bodies of the gay men it profiles.
The film begins with lingering shots of each of the subjects as they begin their day.  It follows them through their routine, some of them naked, as they prepare breakfast, shower, shave, meditate. Their faces peer directly at us — a few of them handsome, all of them weathered — in high definition close-up.
We are being asked to study them closely.  Look at the skin, the camera is saying, the muscles, the sags, the piercings, the facial wasting, the extended stomachs, the disfigurement, the open wounds. Desert Migration does not want us to turn away from what the gay plague of 30 years ago has wrought in the here and now.
It's an almost clinical look at the after-effects of a catastrophe, like the documentaries that examine Hiroshima survivors decades after the bomb.
Desert Migration documents the results of a specific pilgrimage that became popular among gay men who were dying of AIDS decades ago: relocating to Palm Springs from major cities in the west, Los Angeles in particular. Once there, their fates and often their fortunes were reversed with the arrival of new medications in the mid 1990s. They experienced the emotional whiplash of renewed health in a world they had settled on leaving, as well as the unexpected financial burden of an extended lifespan.
The film is a crucial addition to the AIDS artistic catalogue because gay community is only now beginning to process and devote resources, artistic and otherwise, to the long term effects of the early AIDS crisis and the walking wounded who survived. That said, director Cordone doesn't make it easy for us.
There is an unyielding melancholy that permeates the film.  The men profiled are almost uniformly isolated or at least wistful. The languid pace of the storytelling is underscored by Gil Talmi's ethereal original music, a slow pulse of electronica, like a dry desert breeze.
The men all speak of searching for purpose in the desert after having resigned to die there. They come from various levels of money and privilege, including some who outlived their bank accounts, and they are not without the sociological trappings of gay men, meaning, a fixation on self image and the pursuit of sexual or romantic partners.
"In this town, being 60, I'm chicken," says one. Several of them are battling the aging process mightily with trips to the gym and a regimen of steroids ("All the best looking guys have HIV," one of the men advises), all while the Palm Springs gay clothing stores mock them with windows filled with slender mannequins, dressed in tiny and unforgiving speedos.
More than one of them debates whether or not they would have reached their current level of spirituality, of self love, if they had not come face to face with their own mortality so young. "I don't know if my life would have such richness if I wasn't positive," one of them admits.
The real star of the film may be Austin Ahlborg's sumptuous cinematography, which makes the most of the desert landscape, often contrasting the men's flesh and blood with endless vistas of withered brush and rock.
Throughout the city of Palm Springs are hundreds of acres of modern, silently whirling windmills. The film focuses on them like a fetish, their propellers turning round and round, and the more Desert Migration returns to these monuments the more they appear to be clocks, ticking away, time always turning, slowing for no one. The image repeats itself, in shots of rotating ceiling fans and mechanical sculptures turning this way and that. Time is always moving, and it is unstoppable. Tick Tock.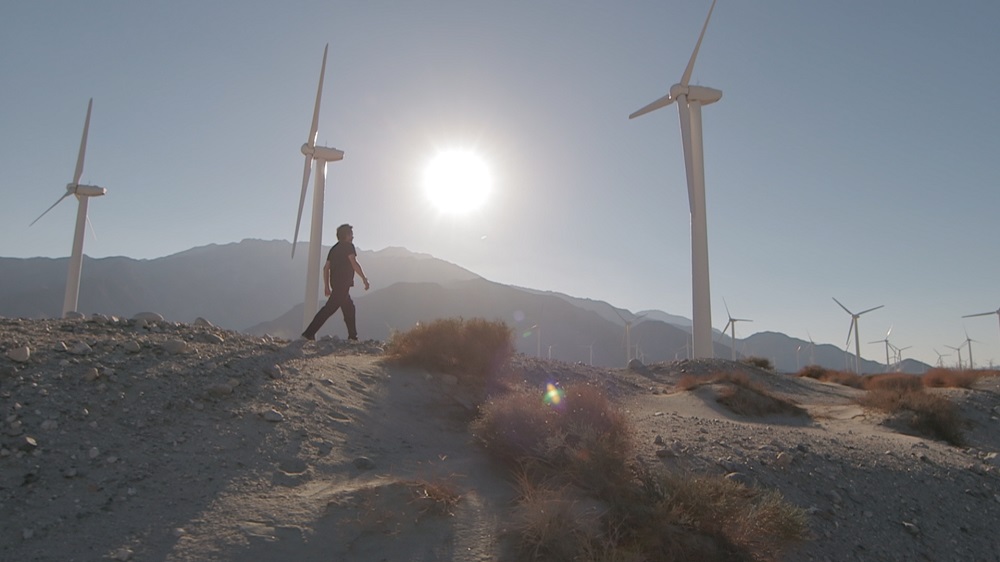 There is so much in Desert Migration that will be familiar to gay men of a certain age, from the brutal to the romantic. Living life in five year increments, the sudden loss of friends, the confusion, the great love affairs cut short, the lives hijacked by drug addiction after having survived AIDS. There is comfort in identifying with these men, for those who need to, even if the film limits itself to their shared calamity.
After more than an hour of bleak pronouncements – and exactly one shot of someone laughing in the entire film – it becomes clear that filmmaker Cardone is almost exclusively fixated on the tragic aspects of these men's stories.
It's easy, maybe even lazy, to reduce AIDS survivors to their profound loss and a struggle for meaning in their later years (which, come to think of it, is a lifelong riddle everyone must contend with, after all).
Where is the joy? A brief dinner party suggests the good humor these men surely must incorporate into their lives, but otherwise filmmaker Cardone sticks to his theme of isolation and distress. "I just think that I'm very tired," one of the men says, after unsuccessful attempts at connection and romance. "I just don't know how much longer I even want to fight."
"The optimistic ones survive," one of the more privileged men offers, as night descends and he lowers the drapes of his condo, finely appointed with a leather sofa and a gleaming Judy Garland movie poster. Another subject begins the evening by welcoming a sex partner to warm up his sling. Optimism and escapism have their utilities.
Another man takes comfort in his own loneliness and solitude. "You're a lot more free when you don't believe much and you don't have any hope," he says, in an existential moment that might depress Sartre. "If you're holding on to hope, then you've still got something in the way of enjoying what is."
After all this, I wished to God that one of these guys was shown performing in musical theater or binge watching RuPaul's Drag Race.
The film draws to a close in the darkness of the desert, as our day with these men ends. Throughout the mountain passes surrounding Palm Springs, out there in the dark, those windmills are surely still twirling.
They continue to spin, marking time, without regard for the riddles of life or the trials of gay men.
Mark
(Visit the Desert Migration site for information on film festival screenings in your area, or for news about the DVD release.)
Tags: Aging, aids, culture, gay, help others, hiv, lipo, recovery, Recreation, serosorting, Sexuality, stigma
Posted in Book Review, Gay Life, Living with HIV/AIDS, My Fabulous Disease, News | 2 Comments »
Wednesday, September 30th, 2015
For more than a decade I was an active crystal meth addict. They were the darkest years of my life.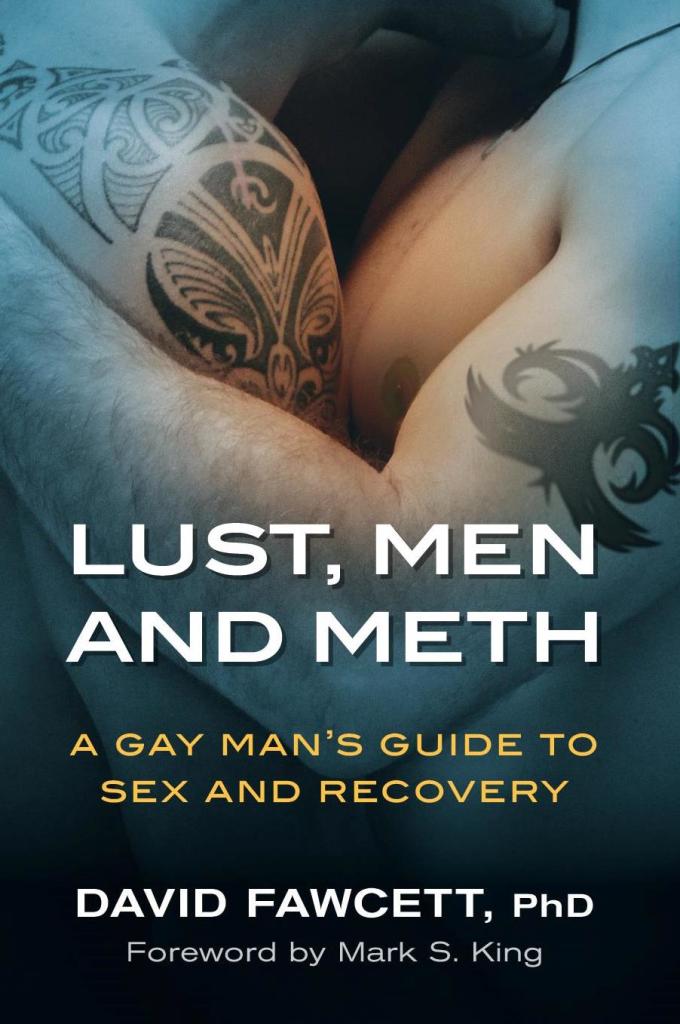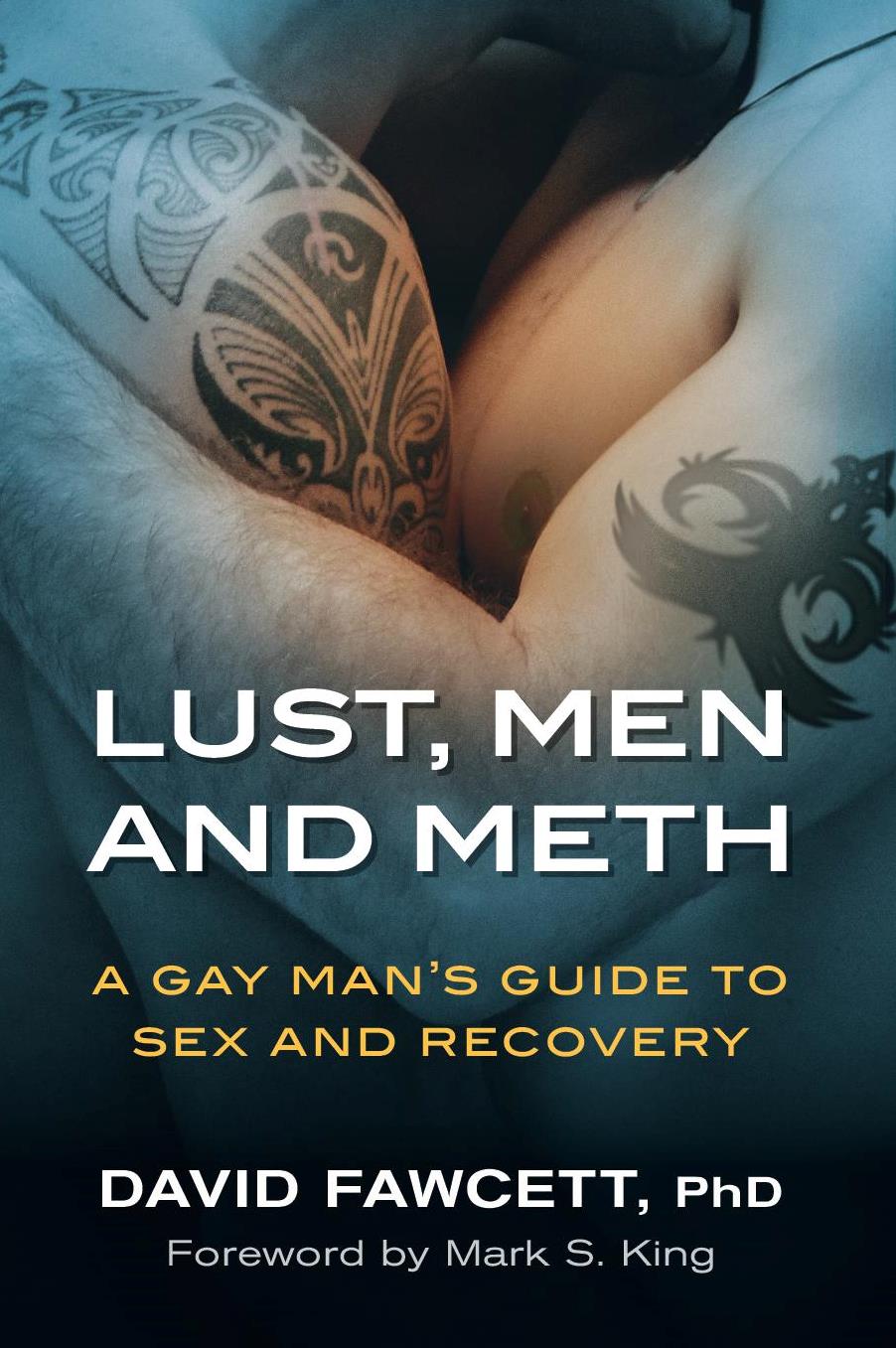 I suffered numerous relapses as I struggled to get clean, and my woeful journey back to crystal meth was always the same. First, small changes crept into my behavior; not about crystal meth precisely, but vaguely related habits that had once accompanied my active drug use would begin entering my routine again.
A return to the gym and a shallow fixation on my body. An abandoned cigarette habit that returned in secretive fits and starts. A feeling of entitlement—to do as I pleased, to eat junk or rejoin the lurid party scene—swept over me like a declaration of freedom that hid its true intentions in the fine print.
And then the clarion call became more explicit as involuntary images of using drugs bombarded me, plaguing my sleep and my daydreams. The images became ever more seductive, promising euphoria and an escape from my own feelings.
But the most formidable thoughts that drew me back to active addiction were always about sex.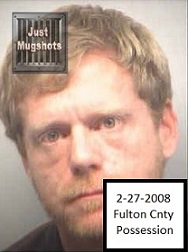 It feels ludicrous to me now. The sex life of a meth addict is as compulsive as it is pathetic. The drug ignited an obsession I had never known, taking my authentic sexuality and twisting it into something unrecognizable to me today. It was a constant pursuit of sex partners, naked video chats, pornography, and increasingly extreme and dangerous behaviors that lasted days and weeks at a time. It was an endless loop of desire and disappointment, played out over many years.
Incredibly, I believed the allure of hot sex was worth the consequences that piled up. Visits to the emergency room. An arrest. The company of psychotic and paranoid addicts. Weapons pointed in my direction. I simply wasn't capable of seeing the wreckage for what it was.
Throughout my years of addiction, and even during my recovery process, I couldn't help but wonder why. How could an intelligent and otherwise healthy man turn his life over to such a pitiful existence? What was going on in my mind?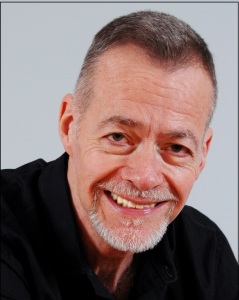 Therapist and addiction specialist David Fawcett (right), in his remarkable new book, Lust, Men and Meth: A Gay Man's Guide to Sex and Recovery, answers these questions and many more about the nature of addiction and the stubborn link between crystal meth and sexual compulsion. I cannot tell you how reassuring it was for me to read that there are physiological reasons for my addictive behaviors. There is comfort in knowing I am not alone in the mental changes that happen to crystal meth addicts, and that these changes are reversible.
I recognized myself on page after page of this book, including the fusing of sexuality and meth addiction, the stumbling blocks of recovery, and the deep and sometimes crippling shame that haunts active addiction and the recovery process.
Most importantly, this book maps a way back to normalcy. I am grateful to say that I recognized myself in these chapters as well, as the slow but steady process of rebuilding my brain took hold during my first years of solid recovery.
Whether you are a health care provider, the loved one of an addict, or are questioning your own addictive behaviors, this book reveals the most personal—and therefore, the most shame-filled—aspect of crystal meth addiction, and it provides guidance for a way out. Make no mistake, there is joy, engagement, and a worthwhile sex life on the other side of crystal meth addiction.
I am happy today. I am in a committed relationship that is rooted in honesty and has none of the selfishness and deceit with which I conducted myself during my dark and treacherous decade. Despite fears that my sexuality had been irreparably harmed, my sex life today is healthy and rooted in affection, love, and mutual care.
There are many avenues of recovery, but the science of addiction is always the same. This book outlines that science, while revealing the stories of addicts who, like me, have questioned if their sex lives might ever be the same again.
Thankfully, the answer is yes.
Mark
(This is an edited version of the book's Foreward, which I was honored to write. I not only recommend this book, I urge you to share it with someone you know who may be struggling. You can purchase it here.)
Tags: culture, gay, help others, hiv, meth, recovery, Sexuality
Posted in Book Review, Gay Life, Living with HIV/AIDS, Meth and Recovery, My Fabulous Disease, News, Prevention and Policy | 5 Comments »
Tuesday, July 7th, 2015
"We ask ourselves, 'Who am I to be brilliant, gorgeous, talented and fabulous?' Actually, who are you not to be?" — Marianne Williamson
The first time I met Amy Ferris, several years ago, she cupped my jawline in her hands and gave me a kiss full on the lips. There were none of the usual pleasantries or the polite distance maintained by a new acquaintance. Instead, she kept my face in her grasp and she told me I was incredibly important. And a hero. Those are the words she used.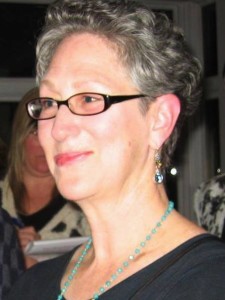 Her eyes – green, filled with wonder and a thousand miles wide – never released their grip on mine. There was no escape from her relentless affections. It was an entirely unnerving experience.
I responded to that first meeting as any reasonable person would. I doubted her enthusiasm and her strident belief that I am all that special. No one is worthy of so much fuss. And it did cross my mind that Amy Ferris might not be, well, for real.
It turns out that Amy is a perfectly functioning human being who believes that you, and I mean you, you there reading this, are amazing beyond belief and have the potential to change this world. Or, as she might write in one of her morning Facebook postings, "You. CAN. Change. This. Fucking. World."
She has demonstrated her powerful talents many times over as a celebrated author and screenwriter. Her smashingly successful book, Marrying George Clooney, became a rallying cry for women everywhere who were facing down middle age and needed Amy's funny, dirty, and emotionally raw chronicle of a "full term in menopause prison." In her most recent book, Dancing at the Shame Prom, she curates stories from women who unburden themselves of secret, shameful events. Amy may be a loving earth mother, but she isn't afraid to cut to the bone.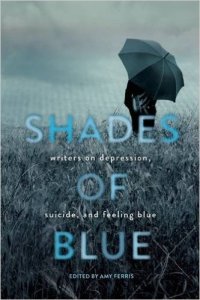 Last year, Amy asked me to contribute to a new book she was editing. By then she had become an intimate of mine – there is no choice, really, it is part of the social contract when you meet her. Amy believed, fervently of course, that I had something to offer Shades of Blue: Writers on Depression, Suicide, and Feeling Blue, an anthology that would tackle the subject through first-person accounts and help those suffering from depression.
I harbor epic self-doubt, so being included in a batch of well-known writers in a major fall release brought my uncertainty charging forward. Amy convinced me otherwise, of course, and her belief isn't simply encouraging. Five minutes in her company is intoxicating. You wonder if you should shake it off and then hope you never do.
My essay for Shades of Blue, "Suicide: A Love Story," is an intimate and explicit glimpse into the saddest, darkest days of AIDS. It recounts the night my brother, Richard, helped his terminally ill lover kill himself, and the destructive grief that haunted Richard for the next several years.
Amy responded to my piece with grateful emails and Facebook posts of high praise, writing that she couldn't stop "ugly crying" and was as convinced as ever that the book will open hearts and change lives.
I have stopped questioning the sincerity or utter authority of Amy Ferris when it comes to these things. We define visionaries only in retrospect, as if we couldn't possibly be watching someone extraordinary in real time. What if powerful people don't all live somewhere beyond our reach but right here, in our circle of friends? What if that person might be you?
Knowing Amy, especially when I revisit our time together and her seductive certainty, helps me believe in myself more. It makes no sense to doubt that Amy Ferris might change the world when she has already changed mine.
At my wedding this year, Amy radiated her usual joy, kissing everyone in sight like a bee pollinating in the height of spring. When Amy kisses me now, I kiss her back, and I hold her embrace for as long as the woman wants.
I caught her attention at the reception and invited her to sit with me so I could make an introduction. "Amy, this is my brother, Richard," I said. "I wrote about him in my essay for your book."
The realization of who Richard was, the tortured story from his past and his present day joy and resilience, washed over Amy in a transparent swell of emotion. Her eyes filled with tears.
And then, Amy Ferris reached forward and took my brother's face in her hands. As she looked at Richard with poignant recognition, her fingers lovingly caressed him in a familiar, healing embrace.
Mark
p.s. Shades of Blue will be released by Seal Press this September. You can pre-order your copy here.
Tags: A Place Like This, culture, family, gay, gratitude, help others, recovery
Posted in Book Review, Family and Friends, Living with HIV/AIDS, My Fabulous Disease, News | 1 Comment »
Monday, April 20th, 2015
On October 1, 1991, I joined furious LGBT protestors who took to the streets of West Hollywood, California. The newly elected Governor Pete Wilson, who had met with advocates during his campaign and assured them he would support AB101, a state-wide LGBT anti-discrimination statute, had just vetoed the bill.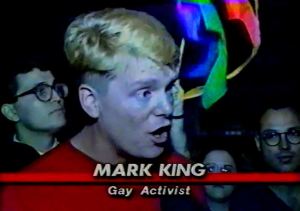 Thousands of us stalked the Governor at appearances he was making that day, burning him in effigy, chanting "LIAR!" and blasting the Governor to the media (right). We thought the State had elected an ally. What we got was a traitor.
But the controversy waned, as these things do. After a few days of raucous protests, I returned to my primary focus of AIDS advocacy. Pete Wilson weathered the storm, eventually signing a watered down version of the bill the following year, and was re-elected in 1994.
That was a lifetime ago, and the contrast between then and now would certainly suggest that things are a whole lot better for LGBT Americans. And yet, just when many gay men like me are making wedding plans and feeling encouraged by the winds of social change, a new book argues we must not settle for anything less than full civil rights and that we must reject the "covering" and "victory blindness" that has characterized our strategy in recent years.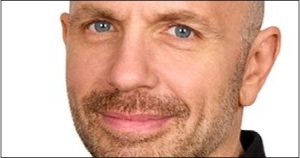 In his book, It's Not Over: Getting Beyond Tolerance, Defeating Homophobia, & Winning True Equality, award-winning journalist and radio host Michelangelo Signorile (left) makes a compelling argument for accelerating the fight for LGBT rights – and resisting the urge to grow complacent simply because nationwide marriage equality is within our grasp. In his first pages, Signorile offers a serious reality check:
We're overcome by the heady whirl of a narrative of victory, a kind of bedtime story that tells us we've reached the promised land, that can make everything else seem like a blur. Even with the enormously positive developments (…) homophobia rages on in America, as sports stars are practically rewarded after spouting hate, as TV sitcoms still make gay and transgender people the insulting punch line, as the media respects and airs bigoted views of the "other side," as businesses now flaunt a "no gays allowed" policy, as many workers fear coming out on the job more than ever, as federal civil rights protections seem further away than ever before, and as we are not often well served by a gay establishment that apologizes for and lauds political leaders rather than demanding action. Maybe it's time to get rid of the bedtime story and wake up from the dream.
Signorile fears a backlash against LGBT people akin to what women experienced when a post-feminist belief that "the battle was over" led to setbacks on abortion rights and other gains women had made. This kind of "victory blindness," Signorile writes, can crush our progress and debilitate our advocacy efforts.
Signorile is a shrewd social critic. His 1997 book, Life Outside, made quite an impression on me. It was an indictment of "the cult of masculinity" among gay men, examining the post-AIDS culture of circuit parties, steroids and dance floor drugs – in other words, everything I happened to be doing at the time. Recognizing myself on its pages made it more than a trenchant read; it was a shot to the heart.
It's Not Over takes a broader and more political view, pulling back from gay culture to the basic human right of LGBT people to live and love freely in this country. Signorile believes we are complicit in the growing threats to our civil rights because we keep settling for scraps when we should demand the whole banquet. And he isn't afraid to call out people and organizations (you might want to duck, HRC and GLAAD) who suck up to national leaders like star-struck teens, celebrating incremental change when, Signorile contends, it is time to be bold and uncompromising.
The book overflows with wrenching tales (culled from news reports and guests interviews from Signorile's SiriusXM radio program) of teenage suicides, unfair workplace firings, the punishing effects of "religious freedom" bills, and violence against LGBT people. The sum of these stories paints an America quite unlike the one we may think marriage equality will create.
Signorile maintains that victory blindness is lowering our guard when strong advocacy is needed most. He applies the notion to nearly every scenario of half-hearted advocacy and it is a compelling argument – including its application to the HIV crisis. The rhetoric of "an end to AIDS," while new infections mount each year among gay men and an estimated one-third of transgender women are HIV positive, is victory blindness.
Another recurring theme in the book is the concept of "covering," a term Signorile credits to author Kenji Yoshino (Covering: The Hidden Assault on Our Civil Rights). Signorile writes:
Yoshino defines "covering" as an attempt to downplay difference, making it palatable or at least inoffensive. Prevalent among women, members of sexual and racial minorities, and disabled people, covering becomes particularly strong, Yoshino argues, when people believe they have achieved the rights and recognition they've sought, and begin to fear losing them (emphasis mine). It's an attempt to fit in and be "team players" under the assumption that the playing field is now even (…) I would argue that, by pleading for more magnanimous treatment of our opponents, gay thought leaders were unconsciously applying the covering demand to the LGBT equality movement as a whole.
Throughout his book Signorile calls out the practice of covering and his strong case becomes easy to apply to our own lives. When we try not to rock the boat by not insisting on legislation that might actually protect us once and for all, when Mitchell & Cam engage in a relationship indistinguishable from the other characters on Modern Family, when we describe ourselves as "straight acting," or when we choose what t-shirt slogan to wear based on where we're headed, we are covering.
Beyond the litany of personal injustices outlined in the book, I was most angered by Signorile's painfully accurate depiction of contemporary media, where homophobic crackpots are trotted out during any discussion of LGBT issues and allowed to make ignorant, scientifically disproven statements by virtue of their representing "the other side." Nowhere in media – with the possible exception of FOX News – would so-called experts be allowed to spout discriminatory and hateful speech about racial minorities, but the same respect isn't granted to LGBT people. Signorile is fed up with it and his takedown of this media practice is epic.
In his proposed plan of action to address all of this, Signorile aims very high. His path forward includes teaching self-defense (a practical and self-esteem tool that has served women well but has been largely ignored by LGBT people), providing LGBT history courses in public schools to de-stigmatize LGBT people and highlight our accomplishments, and settling for nothing less than full civil rights on the federal level. "Incrementalism is dead," he writes.
It's Not Over will get your blood pumping, which is exactly Signorile's point. We haven't been mad enough or demanded enough, not in a long time.
Mark
Tags: criminalization, gay, politics
Posted in Book Review, Gay Life, Living with HIV/AIDS, My Fabulous Disease, News, Prevention and Policy | 3 Comments »
Tuesday, February 3rd, 2015
The lobby of the Melbourne convention center at the international AIDS conference last July was packed with scientists, community educators, and activists. I was busy wrangling interviews for my daily video blogs.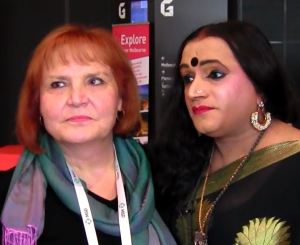 Across the room I spotted JoAnne Keatley and Laxmi Narayan Tripathi, two of the most visible transgender women in the world and experts on transgender issues. I scurried up to them for a sound bite on their thoughts about the conference.
"This has been quite a year for trans people," I began, as an ill-conceived question began forming in my tiny brain, "what with the visibility of trans people like actress Laverne Cox. That must help a lot, huh?"
The women stared at me as if I were mad.
"Our visibility is due to grass-roots organizations doing the hard work of education and advocacy," JoAnne responded with a gracious but cool reserve. She went on to explain that transgender people face enormous challenges just to make ends meet financially. "We are victims of discrimination and violence on a daily basis," she said. "Too many of us, in order to survive, have to engage in sex work. The number one intervention for the trans population is to make it safe for us to participate in the workplace."
I felt like an idiot, but my insensitivity knew no bounds and I wasn't done yet. The activists were accompanied by a third woman who was quite lovely but declined contributing to the interview. As I thanked JoAnne and Laxmi for their time, I turned to their companion and good-naturedly said, "ah, the quiet, pretty one."
Because the real litmus test for a successful trans person is whether or not they are attractive.
The women were already walking away, presumably to find someone who could avoid insulting them, when JoAnne glanced back to pointedly call out, "we are all pretty!"
I like to consider myself an enlightened gay man. A career in HIV advocacy has taught me a lot about sexuality, racism, and women's issues. But I'll be damned if I have managed to learn very much about the T in LGBT, despite the issue bubbling up throughout popular culture. My sensitivity level is long overdue for some transitioning of its own.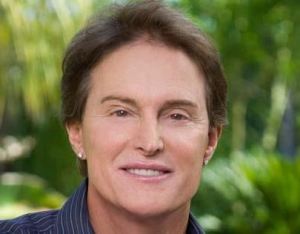 Transgender people throughout the world may not know who Bruce Jenner is either, but it appears the former Olympian is about to grant many of us another such teachable moment. The gold medal winner and famously reluctant participant on the Keeping Up with the Kardashians reality show is the subject of numerous media reports that (s)he is transitioning – I don't even know at what point it is customary for the pronoun to change – and there will be a special series on the E! Network devoted to it, including visits to physicians and mental health professionals.
If handled with sensitivity – admittedly, a tall order for the network that brought us the Kardashian clan – Bruce's story has the potential to provide an educational lesson not unlike Magic Johnson's coming out as HIV positive in 1991: an American sports hero, someone many of us think we know, revealing a private part of themselves to a public woefully ignorant on the topic. Oprah must be chomping at the bit.
Easy does it. While it may be true that Bruce is ready to share his story, transgender people face enormous physical and mental challenges even after their transition, including continued risk of suicide, and their stories are singular and vary widely. Let's hope Bruce has supportive counsel and is braced for the media barrage.
All this in a year that has seen the Amazon series Transparent win awards and the President say the word "transgender" for the first time in a State of the Union speech, and not long after Chaz Bono shook his groove thing on Dancing with the Stars.
I have sincere enthusiasm for these developments yet still find myself judging those who would be advocates, placing the likes of Laverne Cox, imbued with a winning I'm-just-happy-to-be-here spirit, in stark contrast to the more confrontational author and activist Janet Mock, who beneath her high wattage smile looks like she is inches away from slapping the stupid out of somebody.
God forbid transgender people make us uncomfortable. You know, like liberated women once did, and gay rights protesters and marchers in Selma and AIDS activists.
How difficult it must be for an entire segment of humanity to contend with score keeping like mine, to be judged by whomever spoke up last, to be seen as a monolithic "community" without nuance, to have to continually respond to dangerous ignorance without losing it completely.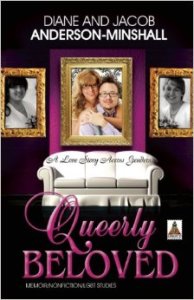 My curiosity about all things trans was largely satisfied recently by reading Queerly Beloved: A Love Story Across Genders by married couple Diane and Jacob Anderson-Minshall. It is a remarkable tale about their former lives as a lesbian couple and what happened when they were faced with the realization that one of them, Suzy, is a transgender man who would eventually take the name Jacob.
There are revelations on every page of Queerly Beloved about issues I have wondered about and even more that have never occurred to me. Diane and Jacob chronicle every step of the transition and never make the reader feel like an inappropriate voyeur.
And trust me, the journey is a labyrinth of sexual and gender identity, as questions about being lesbian or straight, male or female, are raised in increasingly complicated permutations. These questions are all the more urgent to Diane and Jacob, given their careers as feminists working in the lesbian publishing arena.
Jacob is bracingly candid about his initial doubts about his transgender status and the couple's misgivings about losing their identity in the lesbian community. However freeing his masculine transformation may have been, he does not shy away from the reservations that accompanied it and the ramifications he faced afterward.
Jacob includes fascinating insight into the riddle of nature vs. nurture, including the numbing of emotions he experienced when testosterone treatment began and how, in his new identity as male, he found himself in the foreign, privileged fellowship of men — and realized he was suddenly deferred to by women. Ultimately, Jacob challenges us to think again and again about what it means to be male.
For her part, Diane achingly shares her confusion and heartbreak over losing the woman of her dreams to his transition and hormone therapy, and writes of her lover's femininity slipping away in ways subtle and profound: his unwillingness to talk through feelings as he once did, the light touch of his hands being replaced by a thicker skin, literally, and a numbing of emotions that robs him of his highs and lows.
In a particularly telling scene, they both attend a book reading where a gay man who came out late in life describes the impact on his former wife. The sad and rueful glance that Diane gives Jacob during the reading makes you realize that, whatever the nature of the coming out process, there are often unintended casualties in its wake.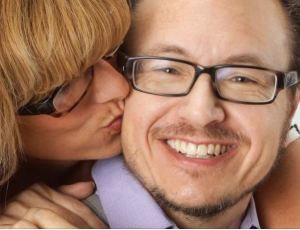 Diane and Jacob reveal in intimate detail what we may have long suspected. Masculine and feminine are a continuum, intersecting both our gender and sexuality, and the enormous world we inhabit contains gradations of it all.
Yet, as the book's title makes clear, this is a love story. And despite confused presumptions from family and friends about the nature of their relationship and even their sex life, the couple continue to find joy and satisfaction in the arms of the same person they have adored from the very beginning.
Although they go to great lengths to patiently answer questions in their inspiring memoir, the love Diane and Jacob have for one another is the final, simple answer.
Let that be a lesson to us all.
Mark
Tags: conferences, culture, gay, physician, Sexuality
Posted in Book Review, Gay Life, My Fabulous Disease, News | 1 Comment »
Wednesday, January 28th, 2015
Before my interview with activist Sean Strub, author of Body Counts: A Memoir of Politics, Sex, AIDS, and Survival, let me share a revealing story.
It was late 2011 and my life was in shambles. The breakup of a long term relationship had sent me into a spiral, followed closely by a devastating drug addiction relapse. I had weathered the fallout and taken refuge at my mother's home in Louisiana.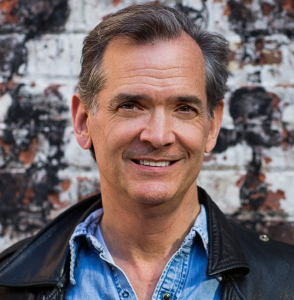 And then came a phone call from Sean Strub, founder of POZ Magazine and lifelong advocate for those of us living with HIV. We were acquainted but not yet close friends and the request he made during the call surprised me. Would I be willing, he wondered, to come visit him for a few weeks and help get his new HIV anti-criminalization effort, The Sero Project, off the ground?
Sean had read a blog posting I had written about my breakup and relapse, and must have known I wasn't exactly firing on all cylinders. I was a recovering addict with a trail of wreckage in my recent past, and yet he wanted me to come work with him. Like, in his home.
Within days I drove 1,400 miles to his Pennsylvania town. I managed to get some work done but mostly I piddled around his home office, getting my bearings again while we traded war stories and gossip from across our desks. Sean was passionate about every topic and a great teacher on contemporary HIV advocacy issues.
Before long, the real purpose of Sean's long distance invitation became clear to me. He didn't really need much help, but he knew that I did. He saw someone with potential who would benefit from a little mentorship, encouragement, and a friend. And God, he was right. Our time together strengthened and refocused me. Since then, I have heard many stories about Sean Strub taking people under his wing and helping to lift them up to a better place.
My admiration makes it nearly impossible to objectively review his remarkable memoir, Body Counts. I am an unapologetic fan and grateful friend. That being said, you must finish reading this article and go directly to Amazon and buy his book.
Body Counts is one of the most wide-ranging and well written remembrances to come out of the AIDS crisis. It seamlessly combines the social, political, and sexual landscape of Sean's journey. It moved me to tears more than once, and taught me a lot about what happened behind the scenes during the dawn of the century's greatest public health crisis.
All that, and there's a ton of great celebrity stories about people like John and Yoko (Sean was there the night Lennon was shot), Andy Warhol, and a host of colorful others.
Sean agreed to a conversation to discuss everything from his memoir to body image, sexual abuse, the legacy of AIDS, and the state of the HIV community today.
Here is that conversation: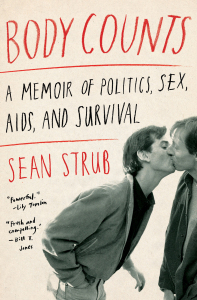 Body Counts is such a marvelous achievement, Sean. So much history here, personal and otherwise, and witnessed from such close proximity. Thanks for not holding back the juicy stuff about politicians and celebrities!
For better or worse, politicians and celebrities are intertwined with the history of the epidemic, in ways both bad and good. My perspective at times is unusual–like when I was running the "Senators Only" elevator in the U.S. Capitol–and I tried to present the humanity, good and bad, of those I write about.
Also, in terms of the epidemic, it was a conscious decision and key strategy to exploit celebrities to gain attention and action in response to the epidemic. Elizabeth Taylor knew this better than anyone and she was amazing at getting others to join her in spending their celebrity capital on behalf of something important.
And you're our tour guide through those years. I think your criticism of President Bill Clinton's AIDS response might be surprising to people. Aren't we supposed to love him?
Others have suggested that Clinton's post-presidency focus on the global epidemic is an effort to atone for his failing in this regard during his presidency. When salon.com published an excerpt from Body Counts that was about the Clinton Administration, it generated a lot of nasty comments. It was the epidemic driving a generation of gay men out of the closet and into activism that ultimately was critical to electing Bill Clinton, yet as soon as he was elected it seems like the air was let out of our activist balloon.
In some ways I think we–as a queer community–are more effective as outsiders, where we had to learn to survive, than we are as insiders, where we haven't been as welcome or skilled. When Clinton was elected, many of our leaders became insiders and didn't take everyone with them.
I'm glad you're not letting people off the hook. Was it important for you to save our AIDS history from those who might revision it?
Initially the impetus for writing Body Counts came from the realization that, as time passed, there were fewer and fewer of us around from the early days who could tell what happened first-hand. It was also a way of validating my own life. I didn't grow up wanting to be an AIDS activist; I had other plans, but in the early 80's my life was hijacked by the epidemic. Writing Body Counts gave me some understanding of why I made the choices I made.
But the more I dug into the history I also saw how those years have been misrepresented or misunderstood, particularly the role of people with AIDS and HIV. Grassroots community efforts are often dismissed, minimized or ignored.
Historical truth is always more complex than the simplified–and sometimes manipulated–version of popular history we are led to believe. The epidemic's history has been, to an extent, commodified, rewritten to serve some agenda.
I think it is important to have as many first-person accounts, especially from people with HIV who were on the frontlines, so our experiences get documented and preserved. And as time passes, there will be more archives available, with documents from those years that will tell an even fuller picture.
As we get more perspective, the epidemic and our response to it, is understood in new ways and that's a good thing.
The ongoing theme to your AIDS work, in fact, has been a respect and focus on people living with the virus themselves. You carry that banner fiercely.
I don't think the LGBT community, or people with HIV, have gotten the credit we deserve for what we did in those early years. How we came together to love and care for each other was something remarkable. We should the world our very best face and what we did then should be celebrated and recognized as a model, worthy of emulation in many kinds of situations. I also know that it was other people with HIV who comforted me, educated me and enabled me to survive.
The book is a reclamation on your body — from shame about it, from infection, from the sexual abuse you suffered. Do you think it's a common challenge for gay men to love their physical selves?
The title, Body Counts, is an intentional double entendre, referring to the loss of life from the epidemic, of course, but also my personal lifelong struggle for control of my body. It has had many enemies: the Catholic church which taught me that they owned my body, sexual abusers who exploited me, a government that sought to control my sexual expression, HIV itself and even the drugs to treat HIV. It has gotten better over time, but shame-shedding doesn't happen in an instant, it is incremental and I suspect, for me, will be a lifelong process.
I can't imagine revisiting some of the trauma you describe in the book, such as childhood sexual abuse and a rape by a roommate. Was it brutal to write?
I wouldn't call revisiting those memories brutal, but it was at times emotionally draining. Ultimately, it was healthy for me to process pain, hurt, guilt and shame that I had carried for years.
You write that it took 20 years to recognize the rape for what it was. Do we have a problem as gay men seeing ourselves as victims of this sort of abuse?
When it happened I didn't even think of the word rape as having any applicability to men. I was still so ashamed of my sexual desire and also conflicted about the degree of responsibility I bore for what happened. For many years I blocked out the sexual abuse and sexual violence I had experienced; it made me uncomfortable to think about because I didn't think there was anything constructive I could do with those memories except feel bad about them.
Now I can look back and see that while I may have been precocious in some ways, I was incredibly naive and vulnerable in other ways. In the process, I not only forgave those who hurt me but I ended up, quite unexpectedly, forgiving myself as well.
You were absolutely on death's door for a few years, and squeaked through in time for new medications to save you. And you were outright defiant about showing the Karposi's Sarcoma (KS) lesions that covered your body during that time.
I think if more of my identity and self-worth had been found in my body I might have been more likely to pursue cosmetic treatments for the KS. And the objectification of bodies is practically in the DNA of gay culture. Even as I began to accept my own body, it was within a context that clearly told me the body I had wasn't a gay ideal. I'm skinny, have no chest and am not especially athletic.
On the other hand, not conforming to that ideal, not being as invested in it, made it perhaps a bit easier when my body become so obviously ravaged by AIDS and, especially, Kaposi's Sarcoma. Less of my self-identity was in my body, so its decline didn't degrade my self-worth as much as it might have for others.
I didn't treat the visible KS lesions because I knew there were no treatments that would slow their growth and I already spent too much time in doctors offices. That was almost unimaginable to many people who were horrified that I had visible lesions and took no steps to even disguise them with makeup.
I make the mistake of assuming people know that AIDS advocacy changed the entire patient/physician dynamic, or that our response to what we endured will forever be remembered. Obviously that isn't necessarily so, and why books like yours are important.
There is an understanding that AIDS has been different, in many ways, and has had a profound impact on the culture, society, the healthcare system, drug development and approval processes, even geopolitics. I don't think it is widely understood how different the epidemic might have been had it not been for the self-empowerment movement, or how truly radical those early PWA pioneers were.
While ACT UP has been an important part of my life and advocacy, so too has the advocacy that precedes ACT UP, that set the stage for our movement. That earliest history hasn't been as well studied or understood and I tried to give some attention to those years in Body Counts. Randy Shilts' And the Band Played On provide an important and detailed view of the early years from his vantage point in San Francisco; the story from those years in New York hasn't been nearly as thoroughly explored. Also, And the Band Played On was written before ACT UP came on the scene.
When you first arrived at the offices of a coalition of people with AIDS, you write about having found a place you belonged, at last, even after having begun a business career and worked in politics. What about it struck you so deeply?
Total solidarity. I felt so welcome and safe that it enabled me to overcome the fear of stigma. That's what I've tried to do for others ever since.
What are the greatest threats to people living with HIV today, or at least to the kind of empowerment groups for us that have been so important to you?
Lack of respect for the principle of patient autonomy. This is happening across the board, as public health becomes militarized, disease securitized and treatments more complex and costly. The concept of the physician as a healer, providing individualized treatment, has too often given way to the physician as an extension of and agent of the state and the pharmaceutical industry, treating populations instead of individuals.
You are known to be skeptical of pharma and caution that medication side effects are too often ignored. Some people might find that ironic, given that new medications saved your life. Is that fair?
I think skepticism about pharma, when it was pharmaceutical treatments that saved my life, isn't ironic but common sense. Anti-retrovirals, like many medicines, are powerful treatments. Anything very powerful can be used in a negative or positive way; the more powerful the more important it is to be careful, cautious and skeptical.
Skepticism saved my life. Had I not been so skeptical, I would have taken more treatments that, in hindsight, we now know would have hurt me more than helped me. I am alive because I was lucky or smart or skeptical enough to refuse pharmaceutical treatments at one point, when they were strongly recommended to me by the medical establishment, as well as because they were available to me and I took them at another point, when I needed them.
The irony isn't found in me. The irony is that a healthcare system that purports to heal and a scientific establishment that purports to be interested in discovery has so often refused to listen to or learn from those living with the disease. Had our voices been valued more highly, the epidemic would never have gotten as big as it has.
I'm a little surprised that your book is the first memoir by a major imprint about those early years in New York City and the early ACT UP era. What do you make of the recent interest on film about AIDS in the 1980's, such as How to Survive a Plague and Dallas Buyers Club?
Enough time has past since the worst years that those who survived can reflect with greater objectivity. Many survivors feel compelled to remember the dead and bear witness to what we experienced. That has become a sense of obligation, even a compulsion, for many of us, particularly as we age and realize there are fewer and fewer of us around to speak first-hand about those years.
For many it is a delayed grieving; when friends were dying so fast and in such great numbers it wasn't possible to fully grieve them. But we filed away that pain, to process later. Now it is later.
The explosion in cultural production in the last few years, the films you mention as well as books and exhibitions, is somewhat analogous to the cultural production following the Holocaust. Not so much in the 40's and 50's, but by the early 60's it had started to grow dramatically. Yet 15 or 20 years past the worst of those days, the memories and words and testimonials start to come forth.
But even Dallas Buyers Club and other works of art haven't done well with their bottom line. We might be taking a look back, but it isn't exactly a highly commercial enterprise, is it?
No, it isn't, to many people anything about AIDS is such a downer they aren't interested. Many gay men have created lives that have protected them, emotionally, from the pain of the epidemic and they don't want to be reminded of it.
But I'm not sure we would be in any better position in terms of addressing the epidemic if the books and films about its earlier years were enormously profitable. There is an historical record that, in time, will be vastly more important than how many copies or tickets are sold today.
Body Counts seemingly has everything, from Washington politics to brushes with celebrity to your own sex life, and the book had major endorsements. I will admit I thought it would be a bestseller, and rightfully so. Or at least it should have been.
I suspect every author wishes their book sold better and I'm no exception. But while I didn't make the NY Times bestseller list, Body Counts has gotten excellent reviews — almost across the board — and hundreds of people who read it have contacted me with appreciative comments, which is cool.
The publisher early on told me she expected the book to have a long sale and she has been proven correct. It is getting assigned in college coursework and continues to sell, even though it has been a year since the original publication date.
College kids are studying your book? That has to be gratifying, and it sounds like the perfect use for your account of this history.
Yeah, that's cool, isn't it? I spoke at a dozen colleges and universities last year and found student audiences to be engaged, stimulating and helpful for keeping my own thinking fresh.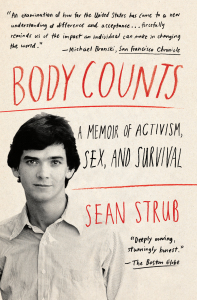 The cover artwork and even the subtitle of the book were changed for the paperback. Why?
The hardcover has a picture of me kissing Michael Misove, my partner who died in 1988 and the subtitle was "A Memoir of Politics, Sex, AIDS and Survival." For the paperback, the photograph was changed to one of a young and cute me looking directly at the camera. The thought was that the picture of Michael and me, while very sweet, may imply the book is about that one relationship between these two men and if someone wasn't interested in that they may pass on the book. The picture of just me alone wouldn't be so narrow.
The subtitle for the paperback was changed to "A Memoir of Politics, Activism and Survival" in the belief that the word "AIDS" may turn off some buyers. That was weird, but I think probably true. My point was and remains to get as many people to read the book as possible, so I was supportive of any change that would help achieve that goal.
So what next for you? I know you've been doing a book tour and events.
I want to continue working to help people with HIV find greater agency and empowerment, particularly through support of and strengthening of networks of people with HIV. In time, I think the self-empowerment advocacy will start to blur the lines of specific distinctions between diseases and conditions; it will be about a broader movement to take back healthcare and choices about our health and bodies from the corporate grip that has been so damaging to the lives and health of many.
I'm increasingly aware of the march of time. Is it too soon to ask how you want to be remembered?
There's no question but that time becomes more precious as one ages and for those of us, like you and me, who have been lucky to survive when so many of our peers did not, it only makes that sense more intense.
It is peculiar to think about how one would like to be remembered because, first of all, no one wants to be remembered for spending much time thinking about how they would like to be remembered. What is important is what I am doing today and if I'm doing that well, it won't matter how I'm remembered.
I think I'm going to start this piece by telling people about your kindness to me after my breakup. Would that embarrass you?
I'm beyond embarrassment, I think. And I could not be more proud of our friendship.
(Thanks for reading, my friends, and please be well. — Mark)
Tags: Aging, aids, criminalization, culture, gay, help others, hiv, politics, recovery, Sexuality
Posted in Book Review, Family and Friends, Gay Life, Living with HIV/AIDS, Meth and Recovery, My Fabulous Disease, Prevention and Policy | 5 Comments »
Monday, June 16th, 2014
Charles Sanchez skips a lot. It is a natural, vivacious skip, an outpouring of unabashed joy that melds the cheerfulness of The Sound of Music with the bliss of the Pharrell Williams "Happy" video. Nothing stands in the way of his delight. Not even life with HIV.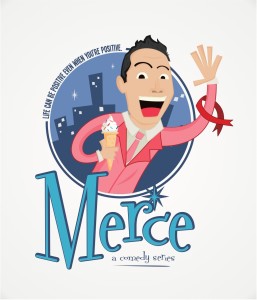 It is that joyful vibrancy that makes Merce, the web series in development by Charles and his production partner Tyne Firmin, feel so refreshing. Considering that characters living with HIV on television are few and far between — or presented as tragic — the project feels, well, almost subversive. And that's exactly why Charles is pursuing his dream of bringing Merce to life.
"There's something brave in Merce as a character," said Charles in an interview. "I think Merce is me, if I had not been so worried about what people thought of me. He's honest and hopeful, and I think that's something people don't always expect in someone who is HIV positive."
Indeed. In a YouTube video, Charles asked people on the streets of New York what their favorite HIV character on television was. The answers, when anything at all came to mind, was decades-old portrayals from cancelled series, or actual people, like Magic Johnson or Mondo Guerra from Project Runway. "The only ongoing television character living with HIV is a Muppet," said Charles. The production team hopes to add another character to the HIV canon that isn't dying or a criminal.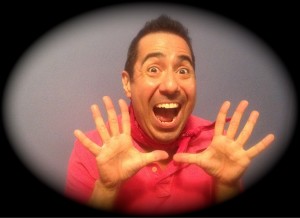 "Usually, you can practically hear the foreboding dum dum DUUUM in the soundtrack when someone discloses," said Charles (left). "Or on Law & Order, they'll find the bottle of AZT in the dead man's medicine cabinet and say, 'well, that explains that.' I think it's time for us to have a conversation about normal life and HIV."
Merce grew from another series created by Charles and Tyne, Manhattan Man-Travels, that revolved around the lives of gay men in New York. Filmed guerilla style using a Flip cam, the series has the low-budget appeal of early John Waters. "Our only budget was for apple fritters," said Charles. "We love apple fritters."
For Merce, the producers are using an IndieGoGo campaign to raise $15,000 for costumes, better camera equipment, and higher production values overall (tax deductible donations for as little as ten dollars can be made to the campaign until July 4th, which is administered through the non-profit arts organization Fractured Atlas).
As with most comedy, Merce grew from something more serious. In a video explanation of his own life with HIV, Charles recalls one of his first jobs in New York as an actor in 1987 — playing the part of AIDS Related Complex (ARC) in Attack of the Killer Virus, a musical geared to educating youth about the new disease. Before long, it was Charles himself who would be discovered by his roommate, sick and unconscious, in their apartment. His AIDS diagnosis brought a new urgency to his art and how best to use it to educate and inform.
Having survived that, and the love Charles has for musical theater, might help explain the skipping. "I'm a pretty happy and optimistic person, and I wanted Merce to have that in abundance," Charles said. "I'm creating a show with a main character who doesn't let his HIV define him or keep him from all the joys of life. Merce makes a lot of mistakes, but he celebrates life. Why not grin and laugh at life? Life is hilarious."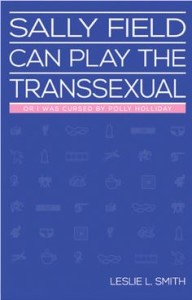 While television may still be grappling with how to portray HIV in contemporary life, literary fiction remains a few steps ahead. In his challenging, sometimes frustrating new novel, Sally Field Can Play the Transsexual, author Leslie L. Smith asks us to examine the nature of modern gay sexual behaviors. Do we engage in unprotected sex out of defiance, grief, pleasure, or pathology?
There is much to consider in Smith's story of David Matthews, an entitled gay escort engaged primarily in his own self-interest. When a benefactor wills David riches and asks him to pay it forward, the immature hooker begins a quest to reconcile his small-town upbringing with the numbed pleasure-seeking of his vocation.
Anyone who escaped home to pursue gay life elsewhere will relate to that journey, but the central device of the novel — the ghost of the rich man appears to David and sticks around to provide vague counsel or witty bon mots — reads like a uneasy grafting of gay sexual politics and the movie Ghost. The infusion of farce into an otherwise thoughtful reflection on what it means to be a responsible gay man today is jarring.
That's a shame, because there are scenes in this book that go straight to the heart of our common experience navigating sex in the age of HIV. During a visit to his Arkansas home town set a few years ago, David hooks up with a local hottie and they fall into bed together. The reaction of his conquest when David attempts to forgo a condom is heartbreaking. "I've heard of people doing this," the hottie says plaintively as he ends their encounter, "but I didn't think it was true." Even today, in a time of PrEP and undetectable viral loads, the simplicity of the statement will have gay men everywhere reflecting on their choices.
Bringing important discussions to life is why Leslie L. Smith should keep writing. His ear for the here and now is acute and authentic. He just doesn't need spectral accoutrements.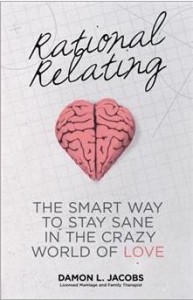 Navigating relationships is also on the mind of Damon L. Jacobs, a New York based gay therapist who provides clear, helpful advice to couples in his book, Rational Relating. Although the guide is meant for couples of every stripe, Damon thoughtfully includes plenty of tips for gay men in particular.
His advice is deceptively simple and easy to apply to our lives. His "five pillars" of integrity, communication, compassion, responsibility, and compromise are all examined through his work with various couples and the challenges they face in building a life together. The book is meant as a resource that couples might draw upon, and the result is a helpful tool that can benefit anyone.
Damon is widely known for his advocacy around Pre-exposure prophylaxis (PrEP), but that's not his purpose in Rational Relating. It is nice to see, though, that what makes him a strong advocate is grounded in his professional experience helping people find integrity and meaning in their personal relationships.
Mark
Tags: acting, aids, barebacking, culture, gay, hiv, Recreation, Sexuality
Posted in Book Review, Gay Life, Living with HIV/AIDS, My Fabulous Disease | No Comments »
Friday, February 28th, 2014
In the late 1980's, I let this odd, fussy man into my office at LA Shanti, my first AIDS agency job. He seemed earnest and harmless and he just wanted a few minutes of my time. "I have the cure for AIDS," he politely announced. Sadly, he wasn't the first person to say that to me, but we practiced more suspension of disbelief during that wretched decade so making such a statement wasn't immediate cause for removal from my office.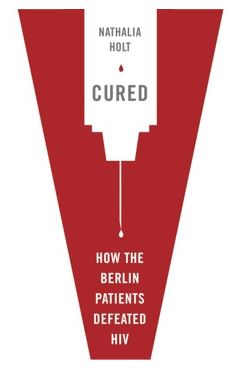 He set a wooden box on my desk, the size of a breadbox and with unfinished wood, like something you had just started building in shop class. He opened it to reveal a jumble of wires and what appeared to be a very large battery of some kind. It looked like a bomb.
"Electromagnetics," he said, with his index finger up, like a teacher. I was so entranced by the device that I didn't notice him attaching one of the wires to my finger with a clip. I felt it softly bite my skin and looked down, horrified.
His scholarly tone didn't change at all. "When I attach this to your other hand," he said, reaching for it, "the magnetic field will purge your body and your blood." I saw him taking my other hand. "This is science," he added proudly. He was smiling.
I sprang from his grasp and shook the clip from my finger. I suddenly remembered I had a staff meeting. An extremely important staff meeting. I thanked him and excused myself to get to my very important, life saving staff meeting.
It's tricky in the HIV community, using the "C" word. Long term survivors like me have had our hopes raised so many times, only for the rug to be pulled out from under us, again and again.  The list of miracles-in-waiting goes as far back as the dawn of the AIDS crisis itself. Herbal remedies. Rare fish guts. Tribal potions from exotic locales.
And so picking up a new book with that word right in the title, well, you can imagine the skepticism.
CURED: How the Berlin Patients Defeated HIV and Forever Changed Medical Science is exactly as advertised and a little more. Nathalia Holt's (below) engaging new book is quite a pleasant surprise, taking a user-friendly approach to its complicated subject. Not only does it provide the timeline of the advancements to date in HIV cure research, it gives us juicy, humanizing details about all of the players involved.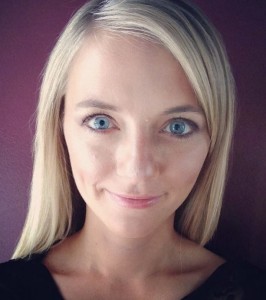 Much of Holt's book has the characterizations and forward motion of a good novel. We meet "Christian" (not his real name), the first Berlin patient who has achieved a functional cure to date. We find out exactly what happened in that Berlin clinic when he received his HIV tests results, what he was feeling, how it affected his relationships. We learn that it was Christian, not doctors or scientists, who elected to end treatment after several months (beginning very soon after his infection), leading to the discovery that his virus was under control and has not flared up since.
The same goes for Timothy Brown, who achieved even more notoriety as the later "Berlin Patient" because of the drama of his curative process (he had two bone marrow transplants and nearly died more than once) and because he has been willing to be public about it.
Timothy is the real heart of CURED. His endearing humility draws you to him as the book follows everything from his medical journey to his love life to his surprisingly modest existence today.
(In both Christian and Timothy, minute amounts of HIV virus have been located in their bodies since their treatment, but these reservoirs have not caused health problems. This is known as a "functional cure.")
All the principle players evidently cooperated with Holt, an HIV researcher herself, and the level of access shows. We not only learn who each of the major researchers are, but what brought them here, what their families are like, and what personal sacrifices they faced along the way. Particularly juicy are the stories of egos and competition among the scientists — and how people who made no contribution at all to various studies scrambled to get their names attached because of the cutthroat world known as academic publications.
Science has never been my thing. I'm not confident writing about it, and intimidated by reading about it. But, except in its last chapters when Holt hurriedly catches us up on the latest research, CURED is easy to follow and has engaging insight into the very real people behind the headlines.
And hey, how cool is it that no one was electrocuted as part of this research?
Mark
Tags: aids, physical, research
Posted in Book Review, Living with HIV/AIDS, My Fabulous Disease, News | 5 Comments »