Books and Writings
Monday, May 21st, 2012
The music my friends liked when I was a teenager intimidated me. It was the head-banging rock of the early seventies, and it felt alien and unappetizing. Most of all, it just felt… straight, in a way I knew I could never be. Alone in my room, I listened to my beloved Broadway musicals, and resigned myself to the fact that popular music would never really speak to me.
And then in 1977, when I was sixteen years old, I began sneaking into the only gay bar in Shreveport, Louisiana. Inside I found joy and liberty, fashioned with bell bottomed pants and handsome smiles and the dance floor – oh my God the dance floor – centering the nightclub was a glorious explosion of colored light and swinging hips and arms reaching up, up to the sky as if we could clutch it in our hands. The music was an entrancing bombardment of sound, and one song, one mesmerizing invitation to touch the heavens, was played again and again.
It was Donna Summer. And she was singing "I Feel Love."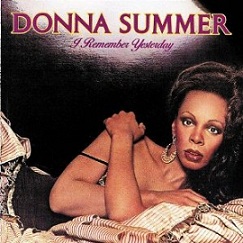 The track was really the triumph of producer Giorgio Moroder, who created the driving, synthesized beat that would define Donna Summer's music for years to come. But I knew I had to own this amazing song, and soon I stood proudly at the record store cashier to buy my very first popular album, Donna Summer's I Remember Yesterday.
I had found my music, my voice, and my lifelong muse.
The following year I had come out as a senior in high school, and Donna Summer was still in her "whisper period." It was never my favorite sound from her – it felt like playing chopsticks on a grand piano – and I knew from her other album tracks that she could let it rip. As I was graduating she did just that, with the release of her iconic "Last Dance." Her full-throttle pipes were on stunning display. Dance parties would never be the same.
By the time I left home for college in New Orleans, the music of Donna Summer had exploded into popular culture. I felt so proud of her, as if I had discovered her myself. My nights in the French Quarter were spent in the Parade disco on Bourbon Street, dancing to "Hot Stuff" and "Bad Girls."
The feeling of joyous exuberance that surrounded that disco is hard to describe. It was a sea of shirtless men, staking claim to our sexuality and the promise of infinite possibilities ahead. The incessant thump! thump! thump! of the beat was our clarion call, and it shouted Here! Here! Your tribe is here! We were so beautiful, in ways we were much too young to know.
And then soon, of course, the lights began to dim.
By 1982, I was struggling in Los Angeles as an aspiring actor, and Donna Summer was having a musical identity crisis. Record executives wanted a new sound for her to accompany the changing times, and her longtime producer Giorgio Moroder had been replaced by a succession of others. The red-hot Quincy Jones produced her Donna Summer album that year and their studio clashes became legendary. The album floundered and produced no significant hits.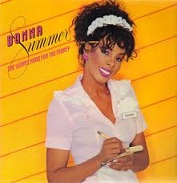 At the Los Angeles gay pride festival the next year, I was thrilled to hear Donna's voice again, sounding gorgeous and almighty, singing "She Works Hard for the Money." I took to the dance floor but was somehow unable to muster the joy I had known only a few years before. Life had intervened. And it had brutal plans for the men under the dance floor tent.
Donna Summer produced dance floor singles, if not hits, in the years that followed, but we weren't paying attention. The night club crowds dissipated, as a silent killer plucked men away one by one. AIDS had begun its murderous march through the gay community.
The villain wasn't simply the disease in those darkest of days. It was ignorance, and the judgment that rose up from social conservatives who saw Godly retribution in the horrific deaths of our friends. And so, when Donna Summer became a born-again Christian during this period and announced she would no longer perform her early, erotically charged hit "Love to Love You, Baby," her gay audience viewed her with immediate suspicion.
An ugly rumor began. Someone claimed to have heard her make a homophobic remark during a concert appearance. Depending on who was repeating the story, she had either said AIDS was God's judgment, or that God made Adam and Eve, not Adam and Steve. The unsubstantiated rumor swirled and grew, in an environment in which gay men were particularly sensitive to ignorance and hatred. By the time Donna Summer took it all seriously enough to set the record straight, it was too late. What was left of her popularity fell victim to the social maelstrom of AIDS.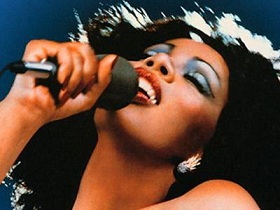 I never believed the story, and defiantly continued buying her albums, though they appeared with less regularity. Donna Summer would have only one more true hit, "This Time I Know It's for Real," which I chose to perform for my maiden appearance in drag at an AIDS benefit. The fact that during this time Donna Summer was raising money for AIDS research gained little traction among emotionally bruised and unforgiving gay men.
Today, disco may be dead, but Donna Summer's music laid the groundwork for everyone from Madonna to Lady GaGa, even if my body has found it harder to approximate the dance floor moves of my youth. But in my mind, as I blast "Dim All the Lights" in the privacy of my living room, I am young and powerful and life is making promises that are wonderful and possible.
Donna Summer is among the spirits now, joining the legions of ghosts haunting brightly colored discos from another era. She is still cooing to them, to these throngs of boisterous men, inviting them to the dance, where there is everything to celebrate and nothing to forgive.
The men are moving to the beat and laughing and holding one another. They are all beautiful, and they know it.
And they feel love.
Tags: acting, Aging, aids, culture, drag, gay, Recreation, Sexuality
Posted in Anita Mann and Acting Gigs, Books and Writings, Gay Life, Living with HIV/AIDS, My Fabulous Disease, News | 20 Comments »
Monday, April 9th, 2012
In the Summer of 2008, I received a curious package from Bonnie Goldman, the editor of TheBody.com. Inside was a Flip video camera, what was then a new-fangled device that allowed you to take video footage with a camera the size of a pack of cigarettes.
It came with a simple note. "I think you should try this," it said.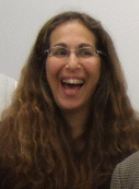 How did she know? I wondered. I had never mentioned to her that I once taped a special for my newborn niece, back when video cameras were the size of footballs and editing consisted of painstakingly recording segments from one VCR to another. "Carly's Video" consisted of magic tricks, songs and a dramatic reading of "Yurtle the Turtle."
And yet, Bonnie had the notion that I might have some fun documenting my life as a gay man living with HIV. Immediately, I bought editing software online and started to learn it. But I had my doubts.
There wasn't anything particularly special about my life, I complained to her in a phone call to her New York office. And a lot of it, like my ongoing struggle with drug addiction, was downright seedy.
"Tell the truth," she said. "The more honest you are, the better it will be."
I trusted her judgment. In my writing for TheBody over the previous years, Bonnie had always demanded the best of me. We regularly debated topics and my approach to my written pieces, and anything that sounded too easy, that contained more platitudes than honest emotion, was questioned. The same would hold true for the video episodes that I quickly began producing.
In September of 2008, "My Fabulous Disease" premiered on TheBody.com. The first episode was an introduction to my life, and already I was being playful with the camera and the potential of video. It concluded with the mantra that Bonnie had instilled in me. "I can't promise this will always be entertaining," I said. "But I can promise I will always be honest. So. Let's see what happens…"
Since then, plenty has happened. When I spent time in Michigan caring for a brother dying of cancer, the camera was there. When I was treated for facial lipoatrophy by getting injections of facial filler, I brought the camera. For everything from my thoughts on barebacking to touring a gay sex club to drug relapses to HIV criminalization to the international AIDS conference in Vienna, I documented everything using the inventive gift sent to me by Bonnie Goldman.
When Bonnie left TheBody a few years ago, I missed her counsel and her friendship. She was maddeningly hard to reach in the two years after, and I wondered if our friendship had been purely professional.
And then the news, in January of this year, that Bonnie had died after a long struggle with cancer. She had fought it privately, and I felt ashamed for having wanted more contact during what was clearly a difficult time.
Only now, months after her passing, am I finally writing about her death, something so deeply felt I haven't found the words. I am searching for them still.
Life keeps showing up. New people populate it, projects come and go, video episodes of My Fabulous Disease are made. And it has been too long since I have said her name out loud. Bonnie. Bonnie Goldman.
We all come across things, tokens from a person, from a life we treasured but has faded from view. A photograph on a shelf that we pass in the hallway. A shirt in the closet. A book. A recipe.
A broken video camera that has outlived its purpose, that I cannot bear to throw away.
Posted in Books and Writings, Family and Friends, Living with HIV/AIDS, My Fabulous Disease | 5 Comments »
Tuesday, April 3rd, 2012
Being a writer is not without its perks. I can't exactly name one at the moment, but I'm certain they exist. Hold it, here's one. Starting sentences with "Being a writer…" Oh, and receiving gay erotic fiction from a guy who wants feedback on his work.
This morning as I chomped down my Raisin Bran Crunch, I opened email from an aspiring writer and read his gay sex story called "Michael's Awakening." The title has kind of a grand sweep, don't you think? Very English Patient. Or The Sheltering Sky.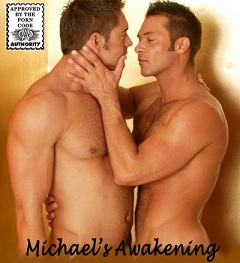 Anyway, Michael is 25 and textbook hot, if textbooks gauged such things, and happily engages in his first homo experience in the gym sauna with another muscled hottie. Everything goes along swimmingly, so they do it again in the gym shower. And then again twenty minutes later back at the house. I kept hoping they would grab some bottled water to stay hydrated. Our characters are both frighteningly endowed and no one complains about rectal spasms or asks the guy to please slow down for one damn minute, for God's sake. But I'm projecting.
I had hoped to be transported, as good writing often does. But my critical eye kept getting in the way.
What kind of gym was this, anyway? Certainly not LA Fitness. That sauna has more of a Jewish deli flavor, with older men wearing ill-considered briefs and complaining about the poor selection at the juice bar.
This Michael fellow was mighty accommodating during his "awakening" in the dry sauna, I must say. Why was it that now, at his age, he was just waking up? From the descriptions of his maiden sexual voyage he looked wide awake to me. Maybe it simply took the right sauna. The wooden planks at LA Fitness are murder.
Reviewing porn over breakfast was crushing to my perceived position in the literary universe, I will admit. I would have preferred, say, examining a potential submission to OUT Traveler on the rustic beaches of Croatia. Hell, they could be nude beaches, I wouldn't mind. Instead I get enthusiastic Michael, with orgasms launched with such range they confound physics as we know it.
Worse yet was writing my response. Aside from the existential crisis I endured over morning coffee, wondering how it had come to this and ruefully damning my life choices, there was the matter of deciding what to say in my role as the experienced wordsmith. First, deconstructing porn takes all the fun out of it. And once engaged in the task, using standard literary analysis felt like watching a skin flick and wondering if the wooden floors they're flailing around on are bamboo.
I tried to be helpful in my email to the fledgling writer, pointing out the lack of backstory for Michael and actually using phrases, so help me, like "character flaw" and "conflict." He also had the irksome habit of using language that "removes the reader from the scene at hand," as I dutifully explained. You know, like mentioning the many flavorful selections provided by the Keurig gourmet coffeemaker on the kitchen counter, which I suppose you might spy if you looked just over the shoulder of the man getting boinked against the sink.
There are also words that are a smidgen overused in writing for this particular milieu. (Yes. I said milieu. Allow me to exercise my vocabulary after the soul crushing morning I've had.) Words like "engorged," for example. There are others, and they are probably crossing your mind about now. Sorry about that.
Some words seem to exist almost solely in the context of porn. Case in point: I defy you to find the word "perineum" outside The Physician's Desk Reference. And yet there it was, nestled in the text of Michael's adventures, a ten dollar word stranded amidst sticky loose change.
Twice.
Go ahead, Google the word. I got all day. It's not like I have stacks of porn to wade through. Nope. I only had the one.
With my literary critique complete, I charged on through lunch with other vital business, like finding pictures online of my friends to attach to their names on my phone. I love to see their happy faces appear when they call, all of them smiling reassuringly, as if to say they believe in me, they applaud my brave and transformative work, that I couldn't possibly be sipping coffee and bemoaning the lack of synonyms for "scrotum."
I will trust those happy faces. They needn't know of my morning reading. I will simply consider it an exercise in "expanding my skill set" and "pushing the envelope." Yes. I like the sound of that.
And now I have some further work to do on my phone's contact list. I need to assign a photo to the author of today's reading, and it may take some time to find an image of a perineum.
(Image courtesy of Gay.net)
Posted in Books and Writings, Gay Life, My Fabulous Disease | 9 Comments »
Tuesday, January 31st, 2012
The mall was abuzz, with people darting in and out of stores, wrangling their kids and chatting on cell phones. I preferred it that way, because it kept Larry in a fairly calm state of quiet attention, ever vigilant as to where and when his next mortal enemy might appear.
"Hold the railing, Larry," I instructed as we stepped onto the escalator. He was still wobbly from the blood rush of spotting a confederate sticker in the parking garage and I felt protective when strolling with such a national treasure.
"How about I just lick the ass of a green monkey?" Larry replied. "If you knew the germs on these rubber banisters you'd slit your fucking wrists…" He trailed off.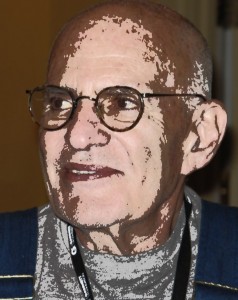 "Then hold my hand, Larry," I countered. He complied, if only so he could launch our clenched hands above our heads, as if we'd just been pronounced married or one of us had won a title match. He kept our hands there the whole flight up the escalator. When I glanced at him his eyes were years away and his lips moved quietly. A White House protest, I figured. Or perhaps a pharma demonstration.
Well, he likes this and he's calm, I thought. Maybe we can do this on the way back down.
It was hard enough getting him to the mall at all. I had arrived at his place just in time to break up an altercation between Larry and the mother of the Girl Scout from whom he had ordered eighty boxes of Thin Mints, which were presently scattered across his front porch and had suffered the wrath of Larry's ACT UP boots.
Larry had no intention of paying for the cookies, as it turns out. He was ferociously screaming that his non-payment was to help bankrupt the corporate pimps RAPING THAT LITTLE GIRL! Both the mother and the girl in question had taken refuge in their car, the girl crying hysterically about not wanting to be raped, while I managed to hold Larry back from beating their Honda with a lawn sprinkler until they made their eventual escape.
But that was, after all, fully two hours ago, and multiple indignations could befall Larry Kramer in the course of an afternoon. All things considered, we were having a lovely day.
There were minor snafus, of course. Already, a Sprint salesperson had paid dearly for his unfamiliarity with rollover minutes or the level of employee giving to needle exchange. As we passed Abercrombie & Fitch, Larry stopped in their doorway and bellowed "FAGGOTS!" again and again, for two full minutes. It might have gone on were it not for an astute customer in the Barnes & Noble, who brought over a copy of "The Normal Heart" for his signature. The gesture appeased him, then produced weeping and finally Larry's agreement to relax on a bench while I stroked his back.
"You could do with a little less drama, you know," I offered.
"Fucking murderers," he replied, but his fatigue was setting in. "Drug companies. Politicians."
"Let's not forget organ donors, sweetie. And surgeons who install livers into the bodies of old, wrung out former drug users." Larry made a dismissive, huffing sound.
"You're an apologist, Mark. You forget too much."
"You remember too much, pumpkin. Now let's check out Macy's. I need socks."
The Macy's perfume spritzer girl couldn't list the chemical compounds in "Citrus Spring," so of course Larry brought her to tears by saying it was she, and not the perfume, that smelled like a dead lab rat. He upped the ante by grabbing bottles of nail polish from the counter and splashing her in Jungle Red while screaming "the WHOLE WORLD is WATCHING!"
Then all hell broke loose.
Security arrived and found a crying, seemingly blood-soaked spritzer girl and Larry, elated at the appearance of men in uniform, dropping to his knees, continuing his chants, and then collapsing onto the floor in his best dead body position. A twittering crowd quickly formed, some of whom had followed incredulously since the scene at Abercrombie.
I considered making a chalk outline of Larry — I kept a piece in my jacket for occasions like this and it gave him such joy — but something in me snapped.
"Get up this instant, Larry," I ordered, and he opened a dead eye. The security gentlemen seemed relieved someone was taking charge of the deranged elderly man lying prone before them. "I've had enough for one day. Save it for the National Mall. World AIDS Day is coming!"
He cocked his head towards me. "What would you know about AIDS, Mark? You've never had infections! Where are your lesion scars? You still have your first fucking liver, you pretender! You lightweight!"
A woman in a nursing uniform broke through the crowd and looked back and forth between the spritzer and Larry, trying to determine who needed help most urgently. Everyone, including the sales girl, nodded in Larry's direction.
"Sir, have you fallen? Do you understand me?" she asked him.
"Fuck yes. Shame on your profession and your paralyzed inaction in the face of… of…" Larry contemplated what the woman's worst offense might be while surveying the floor around him in hopes of locating more red polish to splatter. He found none.
"Sir," she went one, not yet convinced of his stability, "who is president of the United States?"
God I wish you hadn't asked that, I thought.
"Shall we catalog them?" Larry bellowed. His second wind was now in full gale force. "First, Ronald Reagan has the blood of our brothers and sisters, too many of them, on his hands. He murdered them as sure as I'm standing here," a posture which was technically inaccurate, although Larry did allow his oratory to raise him to a kneeling position.
"I can take him from here," I interjected, and pulled Larry up and beside me. "If you'll just allow me to get him home…"
"And then Bush continued the slaughter! He treated us like shit!" came the next outcry.
The security men agreed without hesitation. "If you can take responsibility for your father and agree to exit immediately…" one of them said. I actually half laughed at their mistake, and at the irony.
"No problem," I promised, and we said our goodbyes as Larry's outbursts trailed again and we walked back to the escalators.
He took the railing without protest or remark, and that disappointed me. I kind of missed riding down with our clasped hands thrust defiantly in the air.
—————————
This is a work of fiction. I have never had the honor of meeting Mr. Kramer. Originally posted in May of 2010, I couldn't resist sharing it again. And yes, I have it on good authority that Mr. Kramer enjoyed it.
Tags: aids, culture, gay, hiv, politics, Sexuality
Posted in Books and Writings, Gay Life, Living with HIV/AIDS, My Fabulous Disease | 3 Comments »
Thursday, January 19th, 2012
Even in darkness, in the bitter cold of northern Pennsylvania on a January night, the town of Milford can't help displaying its charm. I'm walking through Main Street and the shops splash warm light in my path as strolling shoppers offer smiles and salutations.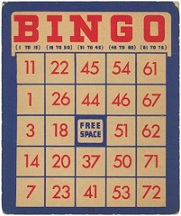 This isn't a night for shopping, however. It's Bingo Night, and I am making my way down a side street for the local church. I follow the sounds of a boisterous crowd that lead me to the fellowship hall.
The tables in the small hall are stuffed with people and the elevated sounds of good cheer reverberates throughout. Many in the crowd turn to me, the bundled up stranger, and they call out welcomes, whoever I am. Tables are littered with bowls of chili and chips and salsa.
I give a woman in an apron my ten dollars, which affords me chili, all the brownies I can eat, and a bingo card.
A chorus of cheers suddenly rings out, and there in the doorway is my host Sean Strub, not the AIDS activist of queer history but the civic pioneer who has done so much for the renovation of Milford. The cheers give way to a round of friendly applause, and Sean makes his way to me as chili and brownies and soda are enthusiastically offered him from every direction.
If these townspeople are living a Frank Capra fantasy, then Sean is their George Bailey, popular and humble, a friend to all. I keep waiting for someone to raise a toast "to the richest person I know."
It's impressive and sincere. The entire scene is imbued with the kind of openheartedness that a jaded gay man like myself hardly recognizes anymore. I'm a bit dumbstruck.
"Really, Sean?" I ask him as he finally arrives at my table. "I mean, really. Applause?"
Sean blushes and beams in equal measure, both convincingly. He steps to the head of the room to take his position calling the numbers, naturally.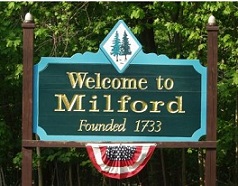 For a week I've been in Milford, Sean's idyllic town a short drive from New York City, to stay with him and work on the issue of HIV criminalization. There has been a startling rash of new prosecutions of people with HIV who did not disclose their status to sex partners. It is a topic Sean has been passionate about for years now, but only recently have people like myself paid much attention.
It's an uphill battle, not simply convincing lawmakers that these prosecutions are bad for public health because they discourage HIV testing, but because even a majority of gay men support the laws. As HIV as an issue has aged, stigma has risen. Younger gay men who find themselves infected are judged far more than were men of my generation. The shame of becoming infected "when you should know better" and the certain rejection they will face from their peers ("I'm drug and disease free, you be too") make them more likely to want to hold someone else responsible for their infection.
It's a sad blame game, fueled by vengeance and humiliation. With lawyers and jail sentences involved.
A ten year old girl, all curls and colorful hair clips, cries "bingo!" and the crowd responds enthusiastically. She approaches the prize table to select her reward with the careful discernment of a grocer choosing the most perfectly ripened fruit.
Beside me, a gay couple, one of many who split their time between careers in New York and a home in Milford, are bringing me up to speed on gay life in the bucolic town.
"There's gay dances about once a month in a hotel basement up the street," one is saying. "We even had a drag show last year." I'm skeptical of the local drag talent pool, but the couple assures me that corporate attorneys and physicians aren't the only highly skilled professionals that make weekend escapes to the serenity of Milford. "It was an all-star lineup," he continues. "Matter of fact, there's a birthday party tonight at a lounge on main street for one of the drag queens. Should be lots of fun. You should check it out! It's probably already started."
The incongruity of church bingo and a drag queen birthday is too much to resist. I surrender my bingo card to one of the kids and give a wave to Sean.
The lounge resides in the parlor of one of the town's handsome, renovated hotels, but the crowd isn't what I had hoped. A pair of men are playing pool, dividing their attentions between the table and college football skirmishes on the overhead monitors. They are clearly unaware of any drag festivities afoot, and I wasn't about to be the one to inform them.
And then, sitting at the bar with his hands folded neatly in his lap, I find evidence of another party attendee. He is a gay man of a certain age, with frosted hair and a small, sparkling package on the bar before him. It is bejeweled from the efforts of a hot glue gun and a dozen or so rhinestones.
He is sitting patiently with his offering, and I wonder of his relationship with the drag queen in question, deciding that he is a devoted fan ready to pay his respects. He appears unfazed by the nonexistent party turnout and sips from his white wine glass without care.
The gay couple from the bingo game appear, and their apologies are written across their faces. "It's okay, it's probably too early for a party anyway," I say. I'm sure the drag queen will eventually make an entrance, but something about an outrageous wig, sequins and enormous eyelashes on the scene feels as if it will spoil the natural environment. It's time to head out. I don't want to break the spell of Milford.
That spell is one of belonging, of community, of home. After a couple of months of a nomadic existence, visiting family and now Sean after my breakup and exit from Ft Lauderdale, my spirits are lifted just as my longing for my own sense of community has heightened. I see the settled, peaceful faces of the residents here and want it for myself. I know that my work with the criminalization issue is valuable, and yet I wonder if Sean knew that he was also giving me safe haven and a chance to be valued beyond our project, all in the warmth of new friends and domestic tranquility after a couple of rough months.
The more my spirits are raised, the more I know I must move on, to Atlanta, where friends and an anxious realtor await me, where my belongings are boxed and stored and ready to find their place.
I want to know that place, too. It's time to find home again.
Tags: criminalization, culture, drag, Recreation
Posted in Books and Writings, Family and Friends, Gay Life, My Fabulous Disease | 3 Comments »
Tuesday, December 6th, 2011
Remember when we were little, and if we wanted something we simply asked for it? It felt easy. It seemed natural. And if there was really something special we had to have, there was a golden opportunity every year to ask the person who made all things possible. Santa Claus.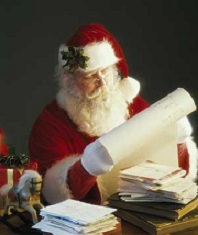 But then we got older, and life became more complex, and we were told it was better to give than to receive. Asking for what we wanted felt selfish, and many even a sign of weakness.
I wish we could look at this differently. Admitting we want something can be liberating. It acknowledges we are human, and there is grace, beauty even, in revealing our need and being vulnerable and allowing someone to help us.
Just because we don't ask for toys anymore doesn't mean we don't want anything. We want friendship. We want to be accepted. We want our health. Maybe it's asking a friend to listen, or wanting a medication with fewer side effects.
Just saying, I need this. I want to feel better. Or, I need you.
Wanting is not limited to children, my friends. But we might take a lesson from their transparency. Sometimes the answer, the help we need, the gift waiting for us, will only appear when we take a chance, when we finally have the courage to ask for what we want.
Happy holidays, and please be well.
Mark
————————————————–
(I don't think I've ever been more excited about a video blog than the one premiering here next week: The "My Fabulous Disease" Holiday Spectacular! A dozen of my relatives have come together to bring you comedy, Christmas cookies, a little drag, a visit from Santa — and some very candid feelings about loving a family member with HIV/AIDS. I hope you'll come back next week and meet the family! — Mark)
————————————————-
PLUS…
A word, if I may, about my recent posting "The Long Road Home from Relapse," which managed to break traffic records on my blog, generate amazingly supportive comments, and also became its own source of concern among some of my fellows in recovery. As a few of the comments suggested, my drug relapse was a serious event that even I may not fully appreciate just yet, much less be able to distill its lessons to my readers. Some felt that writing about it so soon after the fact seemed cavalier. I'd like to say that my actual recovery process — the work I do on a daily basis to rebuild and maintain a clean and sober life — involves many things that are completely unrelated to my writing. It is ongoing and intimate and I take it very seriously. I considered withholding the relapse from my blog, but it just felt dishonest not to talk about it. My point is, there is work ahead for me that I hold dear and will keep to myself, my sponsor and my God. As Tony Kushner writes in the last line of Angels in America, "the great work continues."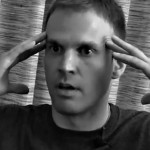 The madness continues of criminalizing those with HIV who do not (allegedly) reveal their HIV status to their partners, and new cases are piling up around the country. These include many prosecutions in which protection was used and no transmission occurred. But only now have we been able to hear the voices of those who have experienced this Kafkaesque nightmare. In his upcoming documentary "HIV is Not a Crime," AIDS activist and writer Sean Strub gives voice to the "criminals." Their stories are riveting and heartbreaking, like that of Nick Rhoades, right. You can view a terrific trailer on YouTube, and I dare you not to let it make your blood boil, positive or not. I urge you to take a look and get educated on what is becoming a defining HIV issue for our time.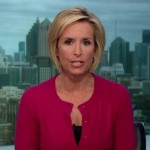 Did you catch all the media attention last week stating that people with HIV aren't taking very good care of themselves? Oh yes indeedy, the news reports, with headlines like Few in US with HIV have virus under control, and HIV Out Of Control In US Patients, seemed to suggest that it was people living with HIV who somehow haven't been doing the right thing to maintain their health. And that's a load of hooey, as my dad used to say. It turns out that the reports were misrepresenting a new CDC study showing that less than half of HIV patients have access to proper treatment. As in, not their fault. This distinction was made in an eye-opening blog posting by Housing Works, in which the actual study vs. the media reporting is clearly explained. "We are facing major budget cuts in homeless services, housing, testing and prevention," blogger Kenyon Farrow states. "These all prevent people with HIV from staying healthy and make many more people vulnerable to infection… By focusing media scrutiny on government officials, the public would be better informed about who's really 'out of control.'"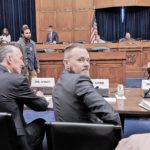 The Windy City Times continued a remarkable year-long commitment to covering AIDS this week, which is really a story in itself — a gay paper intent on maintaining visibility of the crisis in commemoration of the 30-year milestone. So I am especially excited that the paper chose to run a profile about My Fabulous Disease as part of their World AIDS Day coverage. Writer Joe Franco, intrepid journalist that he is, took the time to both interview me and actually watch most of my videos, if you can imagine. In his piece he manages to discuss AIDS, community, comedy, drug addiction and drag. In other words, it's a fair representation of what you get around here on a regular basis. My mom loved it.
Tags: culture, family, gratitude, help others, hiv, politics, recovery, Sexuality
Posted in Books and Writings, Living with HIV/AIDS, My Fabulous Disease, Prevention and Policy | 6 Comments »
Tuesday, November 29th, 2011
Florida highways have lovely rest stops. You would expect that from the Turnpike, where toll booths charge a premium every so often, but the manicured picnic areas continue even as you drive further north and onto I-75.
I'm on a cement bench in a concession area, chomping down corn chips and a Mountain Dew, away from the dog walkers and the families gathered at picnic tables, when I notice that my jeans are gathered sloppily around my waistline, cinched so much tighter than before. How much smaller has my waist become in such short a time? I wonder. One inch? Two?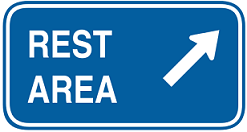 People sometimes stroll near me on their way to the restrooms, and I keep my eyes down, afraid I might look too disheveled for their comfort, or worse, that my shame might be clearly written across my face. That they might see what I've done, and return a glance of judgment or pull their children closer.
The self pitying tone of these words doesn't suit me. Pity is such a useless emotion at a time like this. Let me start again.
The drug relapse came over me like a sickness, as if I was coming down with something, slowly, over weeks. The breakup with my former partner last month in Ft Lauderdale had been cordial, and he and I continued living together while I made plans to relocate back to Atlanta. First, though, Thanksgiving would be spent with his family, as a final goodbye and a chance to show our unity — and of what remained of our broken love — during this trying time.
But my disease of addiction had already begun rearranging my thoughts, shuffling my priorities in a bid for dominance over the vigilant recovery I had practiced, proudly and successfully, for nearly three years. Small changes crept into my behavior, not about drugs precisely, but other, vaguely related habits that had once accompanied my drug use.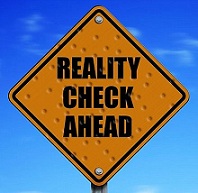 A return to the gym and a shallow fixation on my body. Smoking, a habit broken for two years, returned in secretive fits and starts. A feeling of entitlement — to do as I pleased, to eat junk or get laid — swept over me like a declaration of freedom that hid its true intentions in the fine print.
And then the clarion call became more explicit, as involuntary images of using drugs bombarded me, plaguing my sleep and my daydreams. But while my memories of life as an active addict had previously been reduced, finally, to dark and sinister snapshots of a pitiful existence, these new images were more seductive, promising euphoria, fast sex and most of all, a lurid escape from my own feelings.
When my former partner left town on business the week before Thanksgiving, the drug addict inside me made a break for it.
It's startling, really, the speed at which a recovered crystal meth addict, filled with a sense of purpose and a devotion to helping others dealing with this disease, can be transformed into a selfish liar. About as long as it takes the first, transformative rush of the drug to enter your body.
But the images that promised everything delivered nothing. Or that is, they delivered the usual package of misery that I should have expected, from my own past experiences and the many, many stories of woe I have heard from other addicts.
Those images — the real ones I witnessed during my relapse rather than the counterfeit promises with which my disease had baited me — haunt me now. I don't want to conjure them, the lesson has been received, but they roll on. Images of desperation, of blood and jeopardy and strangers with my fate in their hands.
The street crack dealer, with whom I am pleading to please return the keys he has taken from my pocket, who tells me he is going to "rent" my car for errands, who threatens me through a manic grin and all the while I am trying to convince him to please, please just give back the
You don't need to hear this. This is mine to endure and overcome. Let me start again.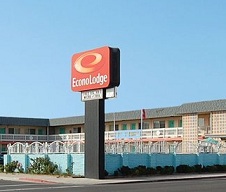 There are many motels sprinkled along the exits in Orlando, and I scouted out several before choosing one that allowed me to park directly in front of my room. With the car piled high with my belongings, I had to be sure no one would steal it. Despite the exhaustion of the previous week I slept fitfully, waking to peer out the window and survey any disturbance, fearful that my despair could multiply. The rolling stone of misfortune can gather plenty.
This long drive was unplanned, of course, the consequence of my relapse, when after days of not being where I was supposed to be and phone calls piled high with deceit, my former partner pegged my insanity and sent me a text from his business trip, asking me to leave before he returned. My disregard for our home, the dogs, and my personal safety was simply too much. A mutual friend arrived to care for the house. I would pack and leave within a day, to sit out the holidays with family in Shreveport, Louisiana, a thousand miles from Ft Lauderdale.
Even before his discovery, the awful realization of what I had done, how I had taken our gracious final days together and twisted them into something horrific, had actually spurred my relapse further, as I sought escape from my own wreckage. By the time his text appeared on my phone, the smoke was clearing, the fever had broken, but it was far too late.
The comfortable highways of Florida eventually gave way to the ruined roads of Alabama and Mississippi, badly spackled with tar, and my car rumbled with the thumpa-THUMPA-thumpa of their scarred surfaces. I wondered if the framed pictures in the trunk might break, if the towels I had wrapped them in might not be enough to
The towels. The guest room towels. They didn't really belong to me. It set off another round of worry, and I wondered if a new label might be added to my sadly recycled identity.
Drug addict. Liar. Thief.
I had turned back once already, when I had first driven onto the freeway before realizing I had his watch on my wrist, a watch I had always worn but wasn't mine. I drove back to return it, and in the hour or so I had been gone, the quiet house had abandoned any welcome for me. I placed the watch on a table and locked up again. It felt like trespassing.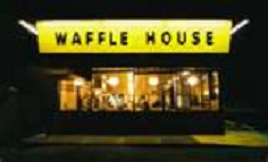 In Mobile, Alabama, I stopped again for the night and this time managed a full twelve hours of dreamless sleep. In the morning at the Waffle House, I ordered steak, eggs and hash browns, smothered and covered, and dismissed thoughts of what my trainer might think about my diet on the road.
Explaining my relapse is beyond me, beyond logic, and yet here I sit, trying to understand and explain. It maddens me, the choices I have made, and reminds me that the disease most capable of killing me isn't HIV, it is drug addiction.
But this chronicle reeks of defeat, and I am not feeling defeated today. Let me start again.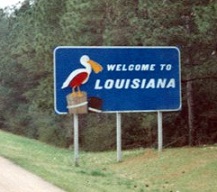 The miles upon miles of endless highway give way to Louisiana, and Shreveport finally appears on a freeway sign. I relax into the anticipated embrace of family.
My tired car pulls into Mom's driveway, and my brother — also gay and also an addict in recovery for more than a decade — greets me with an extended hug, and we begin the business of unloading the car immediately, as if to shoo away the evidence of my drive and the depressing reason for it. A guest room has been prepared, a closet cleared. For the next month, as I deal honestly with my tender wounds, this will be home.
Mother arrives from the hair salon, and her cheerful And how is my favorite redhead doing..? tells me that everything is going to be fine. She knows why I've come home, and she doesn't require a single detail.
I've already begun the business of rededicating myself to my program of recovery, and there is pride in that. There is joy, in fact, once the truth has been told and the work to rebuild can begin. Not regretting the past, even the recent past, is a difficult job, but too much time spent looking in the rear view mirror hardly bolsters me for the road ahead.
I am grateful, to have regained my footing after a few terrible days, to have survived it, to have my freedom to make better choices. And I am filled with gratitude for the friends and family who have given me a precious gift.
They let me start again.
———————————————————
(My best wishes and deepest gratitude go out to you, my friends. Thank you for your encouragement and your many kind comments. If you know someone who might benefit from this posting, who might think there isn't a solution, then please share it. Love, Mark)
———————————————————-
PLUS…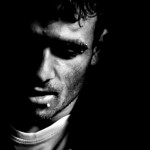 I always have strange emotions about World AIDS Day, the annual commemoration on December 1st. It makes me feel a little like a professional drag queen having to contend with Halloween. Such a torrent of voices and contributors on "my" turf! But of course, that may be the point: to be re-energized and inspired by the many voices and news stories of others who might not be speaking up otherwise, and for me to realize that HIV isn't mine alone, not by a long shot. The challenges it presents affects all of us, and calls out for the best in science, the best in our sense of community, the best of humanity itself. You'll surely find many things online that resonate with you this World AIDS Day, so let me show you something you might miss. Love Light Romania provides support to people with HIV/AIDS in one of the toughest places on earth, but they have somehow found something beautiful in the tragic story of Alex, one of their clients who shares his life in a four minutes video filled with gorgeous photography of his journey. The simplicity of this video and his matter-of-fact telling of his story captures a beautiful sadness, and I hope you'll take a look.
Tags: family, gratitude, help others, meth, recovery
Posted in Books and Writings, Family and Friends, Gay Life, Meth and Recovery, My Fabulous Disease | 57 Comments »
Thursday, October 27th, 2011
Panama City, Florida, with its sugar sand beaches and busy tourist trade, is affectionately considered the Redneck Riviera. Folks from Alabama and its neighbor states make the trip down Highway 231 and straight into the Florida panhandle, breezing through a stretch known as Watermelon Alley, where locals sell fruit and souvenirs along the asphalt in hopes of sidetracking some of the cash the drivers have saved for their weekend adventures.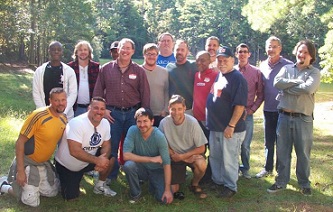 But, if you were to turn northeast from Panama City, venturing further into what could be accurately called "the sticks," you would eventually come upon the town of Vernon, home to the rustic retreat center Dogwood Acres. And it was here, deep in the woods, that I recently spent a weekend with thirty gay men from rural Florida to talk about gay community and men's health.
The participants taught me a surprising lesson that wasn't about AIDS or the state of gay rights. As deeply felt as those topics are to me, something else, something completely unexpected, came up during our time together. And it made me re-evaluate life choices of mine that go back more than thirty years.
Sponsored by Okaloosa AIDS Support & Informational Services (OASIS) and
fashioned from the ManReach retreats in Colorado, the weekend asked us all to examine what (community) meant, and how to find it even when living in rural areas, as these men do.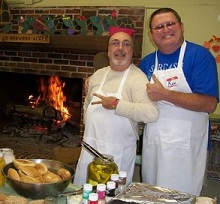 We sat in circles and shared laughs and a few tears. We hiked, ate quiche and slept in cabins of unvarnished plywood. I was invited to the event to lead one of the workshops, and was the only attendee who lives in a large metropolitan area.
I became fascinated by these out, proud, engaged gay men from towns with names like Cottondale and Chipley and Lake City, towns that require several magnifications on Mapquest before you can find them. How could they possibly feel free to be themselves, to be fulfilled, to be happy? Their answers shamed my presumptions.
"I lived in big cities," said Rick, who left one in 1985 to live on a thirty acre ranch in Altha. "I'd been diagnosed with AIDS and was given 18 months to live, and knew I wanted a different life, out of the city. I would have died there if I stayed too long." Rick and his partner grow their own vegetables, care for horses and goats, and dote upon their two pigs, Pork Chop and Lily. "It's a quiet, natural way of life," he says.
David lives in Fort Walton, and offered a simply reply to my question about feeling alone in such a small community. "Isolation can happen anywhere," he said plainly. "I'm open about being gay. I don't hide. It's those that try to hide and are not honest about themselves that people have problems with, if you ask me."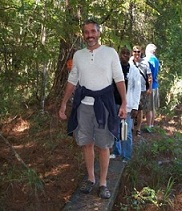 But when explaining their choice to live in small towns, one reason trumped all others. "Family is important," Marcus told me, as if he was surprised anyone could believe otherwise. "Roots are important." Marcus left his hometown of Bascom long enough to attend college in Pensecola, but returned to live on his family's peanut farm.
"This was not some kind of tradeoff for me," Marcus said. Nor was he particularly concerned about his romantic options. "You meet people in other places nearby, larger cities. But having a boyfriend isn't a priority right now. My family will always be."
"I live in my father's house," said Ken, who lives in Wellborn, "and I take care of my mother."
Mother. Family. The words sent a low current of guilt through me, bringing back memories of my last, dramatic days of living at home and how very far away my life has taken me ever since.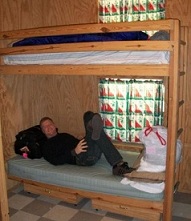 Did I leave Bossier City, Louisiana because of my life ambitions, or did I flee? The truth is a little of both. After a scandalous year of bursting out of the closet during my senior year of high school in 1978, all the gossip about me was wearing on my family. I knew I was causing some embarrassment. Only days after graduation I moved to New Orleans for college, and subsequent moves — Houston, Los Angeles — pushed me further and further away from them.
Maybe I kept a distance, geographic and otherwise, out of some deep shame, as if it would simply be better for all concerned if I stayed away. Or perhaps it was pre-emptive.
I'll leave before you tell me to leave.
Through the years I collected a patchwork of close friends, and I even adopted gay catch phrases like "we choose our own families" because maybe it's true. And then again, maybe I was comforting myself with substitutes.
When I tested HIV positive in the 1980′s, the stretches between visits grew even longer. I couldn't bear the thought of household dilemmas — Would they watch which drinking glass I used? Should I hold the baby? — so I decided to sit out those years by visiting less, even if it meant dying a thousand miles from my nearest relative.
But make no mistake about it, my exile was self imposed. Never had anyone in my family rejected me or suggested I wasn't welcome. They received my visits home enthusiastically, and with acceptance and kindness towards whatever boyfriend I brought along.
If anything, my visits were such a happy event that I wondered what my family was like when I wasn't around. Who really got along with each other, who preferred American Idol over Dancing with the Stars, that sort of thing. But when you're visiting from across the country only once a year or so, you don't get a sense of the day by day. No one ever gets annoyed or loses patience with you. And something about that always made me feel a little sad, as if I were company rather than family.
It was the rural gay men at the retreat who gave me a glimpse of what life might have been like, had I stayed. Minus the goats, of course. And the picture they painted looked simply wonderful.
As fate would have it, I left the men's retreat and flew home to Bossier City for a visit. As I write this, Mother is reading the morning paper. One of my brothers has come by to join us for coffee. I've tried to be good about loading the dishwasher and doing chores to keep Mom off her feet.
When I presented Mother with my theory about having abandoned family in order to follow my gay destiny, she dismissed it with a smile. "You had places to go," she said, "and everyone has a life to lead." It never occurred to her that her love couldn't travel whatever miles lay between us.
I haven't started to annoy her at all, unfortunately. But I do know who she wants to win the mirror ball trophy on Dancing with the Stars.
Tags: culture, family, gay, hiv, Recreation, Sexuality
Posted in Books and Writings, Family and Friends, Gay Life, Living with HIV/AIDS, My Fabulous Disease | 16 Comments »
Wednesday, October 19th, 2011
Last night I kissed a straight guy full on the lips. Then he tenderly put his arms around me and kissed me back. Tonight I'm going to do it again.
It sounds like… conquest. Or breaking a taboo. At the very least it fulfills the fantasies of many a gay man.
And it makes me wonder why.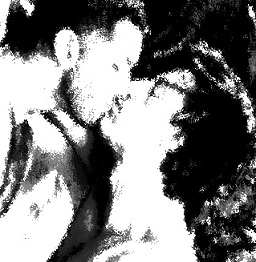 The object of my affections is a man named Travis, and he plays my lover in a play we're performing about a gay couple doomed by drug abuse.
Travis is most certainly straight, judging by the dorm room condition of his dressing area, his raunchy jokes and the effortless masculinity he possesses and that I can only approximate.
At an early rehearsal, long before any kissing would ensue, the director motioned me aside to share some surprising words.
"Let's take our time working up to the kisses," said the director. He lowered his voice a little. "Travis has never kissed a man. He's straight." It sounded like a condition.
And in a way, it was. It immediately colored how I acted around him, on stage and off. The play covers our courtship and as we rehearsed I felt another type of courtship happening. Was he watching me, thinking that's the guy I have to kiss? Was I masculine enough? Did he think I was cute? Did he even care if I was attractive or not? Was he disgusted at the thought of touching me?
Obviously he was comfortable enough to take the role. But to be honest, he was nervous and it showed. I finally got the nerve to say something about it during a break.
"So Travis…" I began. "You're straight and you've never kissed a guy I hear."
"Yeah, yeah," he said. "Sorry about that." He was actually apologizing for being straight, and I felt like doing the same thing for being gay. "I guess it's an issue for me but I'll get more comfortable. I did a nude scene with a gay guy before, but I wasn't playing gay and we didn't kiss or anything."
This man was on stage naked and found it easier than kissing a guy? I would French kiss the entire cast and crew of "Ugly Betty" before you would find me dangling uncovered on stage.
Bringing it up helped immensely. We not only joked about his "condition," but we also discussed mine: HIV. It allowed me to engage in some basic HIV prevention education with someone who might not otherwise get candid answers to his concerns. Yes, he knew you couldn't get it from kissing, but hearing it definitively made him more at ease.
We made a deal that we would start kissing when we no longer needed to hold scripts, and when that time came, I didn't hesitate. And bless him, neither did he.
It was a brief, perfectly ordinary kiss. And it was done.
Once the occasion had passed I think we both realized it was much ado about nothing. But it got me thinking about why the fact he is straight made the idea of kissing him somehow more… exciting. Why? It may be as simple as wanting what you can not have. And that's a common desire.
It's the other implications that bother me. Do I see a straight man as innately more appealing than myself? As better, as a more authentic specimen of Man? That would suggest I think of myself as less than ideal because of my sexuality.
Whatever the reasons, it's not the only preconceived ideas I had about my straight co-star. I questioned if he could pull off the gay thing. Or would something, like his macho pride or his clueless heterosexuality, prevent his performance from being "authentic."
But something happens every performance that surprises me and shames my prejudices. This lumbering straight dude who bristles when I call him "sweetheart" offstage becomes an affectionate, giving lover onstage. His eyes smile at me. He pulls me closer in our bedroom scene. He shows a sensitive, willing and playful vulnerability.
It has been an enlightening experience. I now realize how little faith I had in his talent, much less his humanity. I'm not alone. Half the cast is gay, and almost all of us play multiple roles in various sexual combinations. Between our sincere desire to understand our characters and getting to know each other, the backstage chatter runs somewhere between Dr. Phil and Jerry Springer.
We've all learned a lot. I learned that if something got in the way of portraying a gay couple on stage, it wasn't the straight man's phobias.
It was mine.
(This posting is from the December, 2007 archives, during a theater stint in my beloved Atlanta, where I will return to live in January. On another note, I thank everyone for your messages of concern and support over my recent breakup; they have sustained me during a difficult time. — Mark)
————————————————————
PLUS…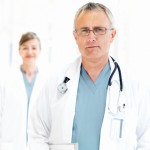 I was familiar with studies showing that attractive people tend to get favorable treatment in our society, but did you know that your likeability can affect the quality of your health care? A new posting on Klick Pharm's blog "Digital Rx" shares a study which finds this to be true. "As an educated and knowledgeable contributor to the process the e-patient must bring forward what he or she knows," says writer Brad Einarsen, "but it seems that it is important to do it in a collaborative and, for lack of a better term, friendly way."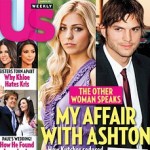 This week in pop sleaze reports, Ashton Kutcher is still fending off rumors of a tryst in a hot tub, while his wife Demi Moore showed up at her latest movie premiere looking ghastly; her stick-thin figure reignited concerns about her health and drug use. But among all the salacious reporting was a terrific article by Jennifer Morton of POZ Magazine that carried a simple question: "Dude, Where's Your Condom?" wanted to know why Ashton, according to the US Magazine story by his one night stand-er Sara Leal, engaged in what we gays call barebacking. "Quite frankly, whatever happens between Ashton Kutcher and Demi Moore is their business," writes Morton. "But if Leal's account is true and he is having unprotected sex with strangers, he's risking a whole lot more than his marriage."
Tags: acting, culture, gay, hiv, recovery, Recreation, Sexuality
Posted in Anita Mann and Acting Gigs, Books and Writings, Gay Life, Living with HIV/AIDS, My Fabulous Disease | 5 Comments »
Wednesday, October 12th, 2011
"I'm not in love with you anymore."
He said this at the dinner table as he made the first cut of his steak, a beautiful ribeye he had grilled to perfection. I put down my own knife and fork and stared at him.
"This isn't new, or else you haven't been listening," he said, a bit wary of my gaze. "You knew I wasn't happy a year ago. And we've just ignored it." He took a bite and I hated him for it, for having the digestion for this.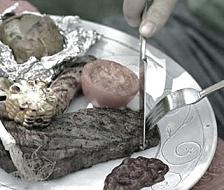 I had dropped the butter, that's how this started. I had been setting the table and I dropped the butter and it made a mess and the dogs were licking it up and he got mad. But it was an accident so I got mad too because he always seemed angry and I told him so and then I provided a litany of complaints about his moodiness and then he sat down to start eating his steak and
"Mark?"
and if I hadn't dropped the butter we wouldn't be having this conversation and I could keep pretending we were still in love with one another.
"Mark. I care about you. You know that. But this isn't working."
Twice, I wanted to say. Twice this hasn't worked. In our nine years together, we had tried this twice. The first breakup was the result of my disastrous drug abuse. During our first four years together, I became an increasingly deceitful, outrageous mess. When at long last my pitiful lies were exposed and I checked myself into a drug treatment program, he ended it.
That time, that was the bang. This steak and baked potato dinner was the whimper.
I could feel the emotion swelling inside me and didn't feel like being the first to cry, so I left the table for the bedroom. As I began heaving deep, guttural sobs I realized I was watching myself, from a distance, like a performance. I saw the way I held my body, arms wrapped tightly in a hug, knees bent from the force of the sobs. What's my motivation? I found myself wondering, still in the midst of it. Why am I crying? How do I really feel about this?
No sooner had I asked myself these questions, tears streaming, that I posed another. And it was far more manipulative.
How should I play this, exactly?
There were so many options. The shocked and devoted lover. The vindictive injured party. The delicate, recovering addict, shaken to the core by the breakup.
I indulged in this sick game of posturing for only a moment, but it was long enough for me to spot my disease on display. It was my drug addict mindset, always looking for an angle, always trying to deflect blame or skirt responsibility or come out ahead. Despite three years of sobriety, that mindset still enjoys hijacking my emotions.
Mark, I muttered, my face wet with tears, stop it. You crazy fuck.
After the first breakup, he and I didn't talk much. I moved back to Atlanta and, after some false starts, I finally got a foothold on my recovery. Life opened up again. I created My Fabulous Disease. I rediscovered my joy.
We began speaking tentatively to one another, then more often, and as I approached my first year of sobriety we finally admitted we still loved each other. It was such an unexpected turn of events, and so achingly romantic, that we both followed our hearts completely. I returned to Florida and we resumed our life together, minus my drug use and the dramatic sideshow that went with it.
And yet. And yet.
Within a year, we knew. We tried counseling, which only reopened old wounds and created new resentments. Something unspoken told us to stop the sessions, to not reach the finish line with so much misplaced anger. Instead, we coasted silently for another year, and we looked away.
The postscript had been written, like a paper holding an obituary for a movie star that will probably die soon. They're just waiting to print it.
And now, despite my philosophical approach to this, my faith in my sobriety and my gratitude for my friends, I have moments when I am crushed with fear. Being alone. Starting over. Dating. And then there's the HIV.
HIV likes giving a certain zing to relationships. It makes starting one rather tricky, what with the disclosure and the sexual negotiations and the vague fearfulness on either side. It loves ending them as well, but not always in the way you might think.
When HIV treatment drastically improved fifteen years ago, there were people celebrating the world over about their sudden renewed health and vitality. And they often marked the occasion with surprising pronouncements. "I'm going to live another thirty years," one would muse to the partner across the breakfast table, "and not with you"
Thankfully, my HIV status had no role in the breakup. But it will surely become an issue as I navigate whatever romantic life awaits me.
I dried my face and walked from the bedroom to face him again. I knew what was true, and I held on to it tightly, unwilling to play this scene for effect or advantage. And I finally grasped what an amazing, unlikely gift had been offered to me.
We should have broken up like this the first time, I realized. It should have been this way, and now it can be.
This time, I can do this gracefully.
He was sitting at the sofa and looked up to me, sadly, hopefully, and I sat down across from him. There was a moment of mutual assessment, and we saw the truce in each other's eyes. Some of the stress melted.
And we began to talk.
Tags: culture, family, gratitude, hiv, recovery, Sexuality
Posted in Books and Writings, Family and Friends, Gay Life, Living with HIV/AIDS, Meth and Recovery, My Fabulous Disease | 31 Comments »