Gay Life
Friday, July 26th, 2013
"Did I ever tell you about the night that Emil died?" my brother Richard asked me. It was 1992, and AIDS had taken Richard's lover a full three years earlier. The death ended a love affair that had lasted more than a decade.
I cocked my head. "Well, I was there, Richard, so I mean – "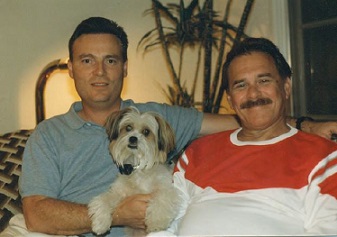 "You were there after," he said, and downed his drink. "Don't you wonder what it was like just before?" He asked the question nervously, a perfect match for the cigarette he held in one hand — a long broken habit, suddenly resumed — and the cocktail in the other, which had been requested shortly upon his arrival to my apartment.
"It's not like I was trying to keep it from you, Mark," he said, and he offered the glass for replacement. It was an odd thing for him to say.
I walked to the kitchen and unscrewed the vodka bottle, beginning to feel nervous myself. Richard talked as I cracked an ice tray.
"Emil had one of those lines that went way in inside him…" He was beginning a story I wasn't sure I wanted to hear.
"A hickman," I said.
"Yeah," he answered, and he reached for the drink while the ice was still twirling. "But something was wrong with it the night before. It was swelling. So we took it out."
I returned to the couch. Richard paced.
"The next morning the nurse came and Emil was being stubborn. He didn't want the new Hickman." He gulped his drink and took a breath. "I got an inkling what he was up to when the nurse said 'Emil, starving yourself is not a pretty way to go.' But Emil kept saying, 'no, no, I won't do this!' and I remember he looked so weary, Mark. Just exhausted."
This isn't the visit I planned, I thought to myself. I meant for my brother to see the new ceiling fan I had installed. But my handiwork couldn't compete with the story that was now rumbling out of him.
"I walked the nurse out and went back to Emil. He reached up for my hand, and he said, 'you knew that today would be the day, didn't you?'"
Richard looked at me but didn't acknowledge what must have been a growing expression of shock on my face.
"I knew Emil wanted me to say yes, so I did. But inside I was screaming 'NO! NO!' "
Richard stopped, and I found the silence torturous. "Well," I said, "it sounds like he was, uh, in charge of himself."
"Oh, he was in control all right," he responded. "He told me to go get the book. The one about how to kill yourself."
Richard's next few remarks would be lost on me. I couldn't get past The Book.
"So I'm reading him the chapter we had picked out," Richard was saying, "and it suggests washing down the pills with alcohol. We had some Seconal and I found some Scotch."
I knew about assisted suicide but had never heard of the mechanics of it firsthand, or considered the logistics a caring lover would undertake — or had witnessed the haunted result like the one that now sat chain smoking across my living room.
"I made some toast for him just like the book said," he continued, "and while we waited for him to digest the toast I opened the capsules and put the stuff into a glass."
I imagined my brother sprinkling powder into cialis soft tabs a glass while Emil looked on. I wondered what kind of small talk that activity encouraged.
"I poured the scotch, a couple of good-sized shots, and he wanted it right away." His voice trailed to a whisper. "I wanted him to wait, to wait, to wait… I wanted to hug him. I wanted to do it right, you know? But he kept reaching for the glass, and I would say, 'no, Emil, wait, please wait, I want to say I love you again…'"
Tears were filling Richard's eyes. His hand shook, knocking his glass loudly on the coffee table as he set it down and brought his hands to his face.
And even so, he went on.
"Emil downed the glass in one gulp and made a face, and then he just laid back on the pillow. It took about twenty minutes." Richard looked up at me and managed a sad grimace. "Emil always said that when you go, you go alone. I hated that for him. I wanted him to feel me there, you know? So I held his hand real tight…"
I stared at my brother. Tears now streamed from his face. His eyes conducted a dazed search around the room as they tried to focus on something, anything that would bring some comfort or clarity.
I couldn't tell what I was feeling about this. Was it pity? Was it shock? How many kinds of pain can we distinguish within our soul?
"The book said to wait twenty minutes after his heart stopped, you know, before calling the doctor. I kept leaning over him and trying… trying to hear his heart. But I couldn't because my own blood was pounding in my ears! And those next twenty minutes…"
"What were you doing…" I asked, startled by the sound of my own voice, "during those twenty minutes?"
"Screaming," he said simply.
Silence engulfed my apartment, surrounding the word.
I put my arm around him and he continued to weep. Please be all right, I thought. Please be happy again, Richard. My brother. My brother.
He received my embrace but his heart had taken distant refuge. It had long been numbed by the effects of the spent cocktail glass, sitting impassively on the coffee table, occasionally clinking with the sound of shifting, melting ice.
Mark
NOTE:
This post is adapted from A Place Like This, my chronicle of life in Los Angeles during the dawn of the AIDS epidemic. (Photo above: Richard, left, and Emil in 1986.)
Suicide was a common feature of life for gay men in the 1980's. But rather than it being a result of bullying or despair, with which it is often associated today, it was very often a gesture of empowerment for embattled AIDS patients wanting to die on their own terms, sometimes with the assistance of those who loved them most.
Our elderly have always shared these mortal intimacies. Assisted suicide has even been institutionalized with the common use of a morphine drip in hospitals and hospices, which calms the patient and, when increased to certain levels, hastens death by shutting down the body.
As for Richard, he has recovered from his loss 25 years ago and lives happily today in our home town. "I often think of that night, and consider my feelings about it," he told me recently. "I can honestly say I don't feel even a twinge of guilt. I have plenty of regrets, but not about that."
Tags: A Place Like This, Aging, aids, family, gay, help others, hiv, physician
Posted in Books and Writings, Family and Friends, Gay Life, Living with HIV/AIDS, My Fabulous Disease | 5 Comments »
Tuesday, July 16th, 2013
You haven't lived until you have hosted a game show in a cemetery. There I was, laughing and being silly while standing directly over the remains of more than 25,000 of the dearly departed. And I was doing it with the authorities.
When I asked the president of Congressional Cemetery, Paul Williams, if he would play a game with me on camera for this blog, he took it all in stride. I even suggested he use the top of a gravestone as a buzzer, so he could punch it whenever he knew the answer to a question. He hardly batted an eye.
"You have to have a sense of humor to be in this industry," Paul told me after a lightening round of "Are you smarter than a Cemetery President?" (Are you? Watch my video blog and find out. Paul's answers, when wrong, are hilarious.)
Because my blog has always been about living joyfully with HIV, perhaps this video brings that philosophy to its logical conclusion: accepting the passing of our lives with gratitude and happiness.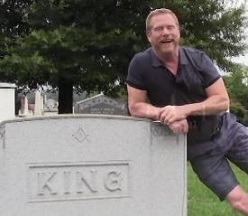 During our rollicking tour of the historic cemetery, you're going to get a quick lesson on one of the pioneers of gay rights buried there, Leonard Matlovich, and his contributions to HIV/AIDS awareness before his death in 1988. If you haven't heard his name before, or haven't thought of him in some time, listen up. His legacy deserves our attention.
You'll also learn about some mysterious happenings around the gravesite of a certain former FBI director, involving high heels and mysterious visitors keeping vigil. Yes, really.
I'd like to thank Paul Williams and hope you will visit the Congressional Cemetery site. If you're in the neighborhood, don't miss their costumed 5K run through the cemetery ("Dead Man's Run") held every year.
Thanks for watching, and please be well.
Mark
——————————————————–
PLUS…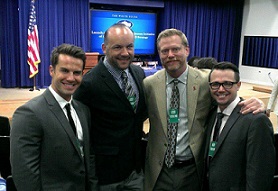 At a recent White House event to announce their "HIV Care Continuum Initiative" (more on that later), I was pleased to join friends old and new, including three men involved in reducing HIV stigma, a huge issue to me as you know. Pictured (left to right) are the dapper Tyler Curry, founder of The Needle Prick Project, a campaign to create dialogue on what it means to be HIV positive today; Alex Garner of NMAC, who is the former editor of Positive Frontiers and a big part of the brain trust I'm constantly accessing for my writings; myself; and the witty Chris Richey, co-founder of The Stigma Project, which educates about HIV stigma through social media and advertising.
Tags: aids, culture, gay, gratitude, hiv, Recreation, Sexuality
Posted in Gay Life, Living with HIV/AIDS, My Fabulous Disease | 10 Comments »
Wednesday, July 10th, 2013
"There were people who displayed remarkable courage then. People who lived and died by their promises and shared the intimacy of death…"
– Once, When We Were Heroes
My brother Richard would later refer to it as a "command performance." It was 1989, and he had phoned me after weeks of frustrating silence about the declining health of his lover Emil. Richard said that Emil wanted to see me. "Tonight," he said. Charlie, my partner at the time, and I walked through their front door within an hour.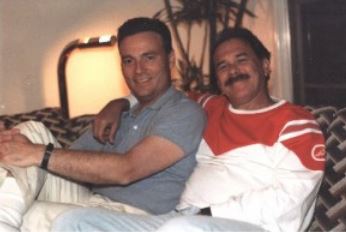 Richard led us to the sofa in the den where what looked like a mountain of blankets had been piled. I looked toward the blankets, and Emil's head — small, ancient and childlike at once — peered out. A curved brass reading lamp reached over Emil's face, casting a dramatic yellow glow across his forehead and onto his face.
It was as harsh as the fluorescent strips I had often seen above the hospital bed of so many dying friends — shining straight down, showcasing the sickness beneath. Who lights these guys? I wondered absently.
"Hey there, Emil," Charlie said. "How's it going?" I had learned not to lead off with a remark like that.
"Hello, Charlie," Emil said weakly. His voice was a strained breath that worked without the cooperation of vocal chords. He looked shrunken.
Emil proceeded to express how much he had valued our friendship. "…and Mark," he breathed out, "I want to tell you how much I appreciate you giving that blood for me…"
It had been an experimental treatment for people with AIDS, giving them the blood of people who were HIV positive and healthy. It was nothing, really. Sixty minutes of my life. Like so many promising treatments, it didn't work.
"It was easy, Emil, really –"
"Nevertheless," he interrupted, willful to the end.
The blankets moved slightly, and Emil produced a tiny, aged hand from them. It trembled slightly as he motioned to Richard, who acknowledged the signal and left the room. Charlie and I sat there wondering what more to say, finally surrendering to the silence.
Richard returned with an envelope and placed it in my hands. A lovely parting gift? I thought, astounded.
I smiled toward Charlie and noticed that Richard and Emil were without expression, lost in their silent, exhausted daze. I opened the envelope and pulled out a $100 gift certificate to Macy's. Charlie and I looked at the paper admiringly, and I said how thankful I was.
Richard managed an almost perfectly horizontal smile, and I knew at once he was the one who bought it. I thought of him driving across town for the item, on strict orders from Emil to purchase the certificate and from what store, and Richard wondering if his lover would be alive when he got back.
Emil cast sleepy eyes on Richard and I knew it was time to leave. I leaned forward toward Emil and barely brushed my hand across the blanket as a farewell. Richard led us out, and stood on the porch as we drove away. I watched him close the front door. The porch light blinked out.
We drove through the lovely, tree-lined streets of their neighborhood with our mouths half opened, with words begun and then abandoned. Only after driving for miles did I succeed in delivering a full sentence.
"So, Charlie," I said, realizing I still held the envelope tightly in my hands, "how do you think we should spend the gift certificate?"
Two nights later we would find ourselves on their sofa again, in circumstances far more grave. Charlie and I were bleary-eyed from the chaos that had begun with Richard's phone announcement an hour before, delivered with stunned clarity, that Emil had died.
We were in the den where we had received the gift certificate only days before, but Emil wasn't there. He had spent his last days in the master bedroom, by Richard's side. Charlie turned to the windows behind us and pulled the blinds away. We could hear a vehicle approach.
"Don't," I said. "We shouldn't. We better not look." He released the blinds and the car — or hearse, or coroner's truck — drew nearer and was now chugging just outside the window, just beneath us and beside the front steps.
We stared at each other, dissecting every sound, and then knowing when Emil was being taken. We heard wheels, barely squeaking across tile floors, rolling out of the master bedroom toward the front door. A heavy door opened and then closed. I wanted to pull the shades wide open and see for myself, and I didn't dare.
The vehicle changed gears and began the retreat down the driveway. We held our breath as it drove slowly down the hill and faded away.
Richard walked in to the den and we sat up straight. Just shut the hell up Mark, I said to myself. Don't start talking now because you'll just screw it all up.
Richard asked me to stay the night, and Charlie went home to await further instructions. Richard and I didn't stay up, didn't talk much at all. He went to bed and I feel asleep on the couch.
I was awakened in the morning by Richard's voice. He was on the phone across the room, speaking to someone culled from the worn pages of an address book he held cradled in his lap. I quietly rolled over and watched him. He was beyond the grasp of any healing embrace.
Every call began the same, with his weary hello and then saying he had some very bad news. And then he would say it out loud. Emil had died. It was something he had been terrified of ever saying, but that now would be repeated a dozen times on the morning of his lover's death. He usually made it through the first minute or so, but then would be barraged with condolences and have to say "thank you" and "yes, he certainly was" and "I know he is no longer in pain" a few times during each call. And it was that part that would break him, until he convulsed again into sobs and his goodbye would be hard to understand.
He would sit there and catch his breath, finding the next name in the address book through teary eyes, and then pick up the phone again. And again.
It is one of the most powerful images of my brother that I have.
I sometimes dream of it.
Mark
(This is adapted from my book, A Place Like This, about the dawn of the AIDS epidemic in Los Angeles. I am so grateful for our progress since then, but also feel strongly about sharing the truth, and the intimacies that we experienced as a community during the darkest years. Scenes like the one above are still playing out — 7,000 gay men die of AIDS in the United States every year. Pictured above are Richard (left) and Emil. — Mark)
Tags: A Place Like This, aids, family, gay, hiv
Posted in Books and Writings, Family and Friends, Gay Life, Living with HIV/AIDS, My Fabulous Disease | 10 Comments »
Monday, June 24th, 2013
My first "AIDS job" in 1987 was at the first AIDS organization in Los Angeles, LA Shanti, and we provided emotional support to clients with AIDS who were usually in their last weeks of life. The intimacy our trained volunteers experienced with the dying, helping them find some inner peace as they left us, is worthy of its own blog posting sometime. Let's just say it was intense.
We hoped for a cure early on, and then our hope faded. Before long, we didn't dare hope any longer. We just wanted treatment to ease the suffering and slow the dying, and those prayers were answered in 1996 with the advent of protease inhibitors. It seemed greedy to tempt the fates and begin asking for a total cure again.
But greed isn't what is driving the treatment advocates you are about to meet in my latest video blog. Far from it. They have faith, based on scientific research and some hopefulness of their own, that a cure for HIV disease can be found. And they care enough about our community to keep pressing the issue at HIV research conferences.
They are cautiously optimistic. But their faith is contagious, if you'll pardon the choice of words. And they also know that that we got protease inhibitors because of the same kind of tireless community efforts that they are displaying now.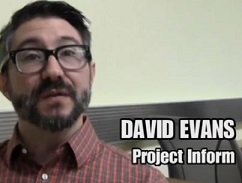 In fact, one can easily connect the dots from the activists shown in the Oscar nominated documentary How to Survive a Plague to this current crop of treatment advocates who are trying to take HIV research across the finish line.
You can take part in all of this, of course. To volunteer for a clinical trial or see what might be happening in your area, visit ResearchMatch.org or ClinicalTrials.gov. If you'd like to join the advocates in their work or follow their progress more closely, check out the AIDS Treatment Activists Coalition.
I'd like to thank the always resourceful Nelson Vergel for gaining me access to a gathering of these community activists. For updates of current cure research, Nelson has excellent posts on TheBody.com like this one.
I'd like to thank those who participated on-camera: Jeff Berry from Positively Aware, Jeff Taylor of the AIDS Treatment Activism Coalition, Moises Agosto of the National Minority AIDS Council, Steven Wakefield of the HIV Vaccine Trials Network, David Evans of Project Inform, and poz activists Mark Hubbard and Matt Sharp.
Thanks for watching, and please be well.
Mark
Tags: aids, gay, help others, hiv, physician, research, testing
Posted in Gay Life, Living with HIV/AIDS, My Fabulous Disease, News, Prevention and Policy | 6 Comments »
Thursday, June 20th, 2013
National HIV Testing Day is next Thursday, June 27, and there is no better time to praise the many HIV negative gay men who are making smart decisions to remain that way. Hooray, HIV negative gay men! Let's show some love for our negative brothers, who's with me?
Oh, Lord. Now I've done it. By showing support for negative guys, I am clearly demeaning HIV positive men. But wait! I'm HIV positive myself. So, that must mean I'm being sarcastic in my support of negative guys, because there's so little room for sincerity and goodwill in the chasm between HIV positive and negative gay men. That space is already so crowded, what with all the stigma and simmering resentments.
Some days I just want to go back to bed.
When I produced the quick video above three years ago, my intent was to celebrate the accomplishment of any gay man who is sexually active and has managed to remain HIV negative. It was produced by myself and my gay, HIV negative older brother to spread a little love across the viral divide and encourage HIV testing. That was it. No other agenda.
While initial reactions to the posting were quite good from both HIV positive and negative people, the pendulum swung quickly. Comments began to label my overly theatrical style (ouch!) as sarcastic. Some found the message demeaning to positive people. Some found the message demeaning to negative people. My goodwill became shrouded in a fog of distrust and what-about-me?–ism.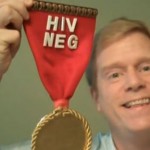 You can watch and decide for yourself (now that I've tainted the thing, darn it). But I stand by my sincere intentions to offer a hearty pat on the back to HIV negative men and support for their personal set of challenges and anxieties. I hope you'll share it with an HIV negative friend you care about (the direct YouTube link is here.)
I would do it differently today, however. At one point in the video, I suggest that negative guys might like to have unprotected sex, but that they shouldn't "do that." That's an outdated and judgmental mandate. Today, with new tools such as pre-exposure prophylactic treatments, and new understandings about what it means to be HIV positive and undetectable, what constitutes "safer sex" is a much broader list than simply whether or not you engage in sex with a condom or not.
Or, as I like to say, your mother liked it bareback.
Oops. I stepped in it again. Release the Kracken!
Mark
—————————————————————————
PLUS…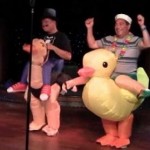 The annual HIV Cruise Retreat is in its last stages of booking, and it will be the largest group of HIV positive men and women the cruise has ever had aboard. Even though the cruise does not sail until early November, several cabin categories have sold out. If this is something you are considering I would urge you to contact Design Cruise Travel NOW for information. I have the pleasure of being the MC of this trip again this year, but I receive no compensation other than a cheaper rate on my cabin. I do it happily because I am in favor of anything that builds community among people living with HIV. Check out my video blog posting from last year!
Tags: aids, barebacking, culture, gay, help others, hiv, politics, serosorting, Sexuality, testing
Posted in Gay Life, Living with HIV/AIDS, My Fabulous Disease, News, Prevention and Policy | 3 Comments »
Wednesday, May 29th, 2013
Every month or so, a group of people in my area host "poz socials," a house party for people living with HIV. I found myself at one recently, because I thought it was important to make an appearance since becoming a literary superstar.
I was settled into the living room sofa and liked the spot very much. Sharing a couch with regular folk has an air of humility about it, while its angle allowed me to be viewed by a large number of the guests milling about.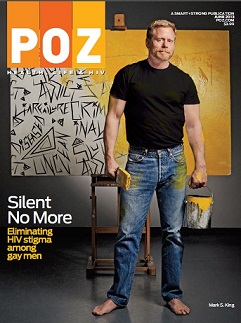 The man next to me leaned in closely to be heard over the hubbub of the party. "Are you on the cover of that magazine…?" he asked, of course.
I should proceed with caution, I thought. If he is a stalker and I engage him haphazardly, he'll steal my social security number and soon claim we're Minnesota's latest newlyweds.
"Well now, what magazine do you mean…?" I said, and then I smiled demurely. It's best to display warmth when you are recognized in public. But carry mace.
"The magazine you're holding in your lap…" he said, "with the cover facing me? I saw some copies on a table at the front door, I think. That's you, right?"
"Oh, this magazine!" I said, waving it in my hand as if I'd just discovered it, "yes, well, they're sending me so many you know, boxes of them, I just thought people might appreciate me bringing a few of them to –"
"…and there's a stack of them in the bathroom, too," he continued, "which I thought was odd, and outside on the back lawn. Someone laid them across the grass to spell out OZ. Is this magazine about The Wizard of –"
"No! POZ." I fingered the cover's masthead like I was teaching the alphabet on Sesame Street. "P-O-Z? POZ. POZ Magazine."
"Well, it just says 'OZ' in the back yard now. I think they had to make room for the lawn chairs."
This man was irritating me. He hadn't even begun to ask about my thoughts on fame or on balancing family with my public persona or about Having It All. I became concerned with his comprehension skills.
"I wouldn't worry about it," he went on, "it's sprinkling now so I don't think anybody is out there anyway."
"It's what?" I asked. I scrambled up and dashed outside to retrieve what were now slightly soggy copies of the magazine off the lawn.
I settled for a while on the back patio, carefully dabbing the magazine covers and giving the crowd inside some relief from the excitement of my presence. I wondered if the Kardashians ever had to dry their own magazines. I suddenly realized how very alike we are, those girls and I. Well, maybe not Kim. Unlike her, my sex video was a crystal meth-induced camera phone escapade that I have refused to commercialize. No, Khloe is my true soul mate. The sassy one.
The party's host, Sebastian, stepped outside.
"Hello, Sebastian. You have a lovely home," I offered. Graciousness. So important. "I wonder if I might trouble you for some ballpoint pens. The Sharpies I brought are going to bleed if I have to autograph these wet magazines…"
"I was just going to ask you about that," he said. "The buffet table seems to have been set up for… some sort of signing?" I had arrived early to hang the poster-sized blowup of the cover in just the right spot, scotch taped over Sebastian's original Keith Haring lithograph. The Haring seemed a tad pretentious anyway.
"Yes, that's right," I answered. He had an expression that I clearly mistook for annoyance.
"There are magazines stacked all over the buffet table," he said.
I raised an eyebrow. "I brought plenty to accommodate the crowd so –"
"There are only fifteen people here…"
"…so they might be able to share with their friends and loved ones," I finished.
Sebastian breathed a little too strongly through his nostrils for a moment. "If it's all the same to you," he said, rather slowly, "I really need the buffet table."
"You need the buffet table?" This was the first I had heard of this. I bet Khloe has people for this sort of thing.
"Yes," he said. "I need the buffet table. For the buffet."
Jealousy is a common response to intense fame. You see it all the time. Well, maybe not you. But I do.
My road to sizzling celebrity began a few months ago, when I was invited to appear on the cover of POZ Magazine because of an essay I had contributed about HIV stigma among gay men. I give full credit to the staff of the publication, for instinctively knowing exactly what the world needs right now.
And if you're thinking the answer is me, well, that's lovely and understandable but not really true. What the world needs now is a message of tolerance toward people living with HIV.
Delivered by me.
Negotiations between myself and the publication were heated, I will admit. First they claimed Leibovitz was busy and Scavullo was dead, and then they rejected my request for body painting at the studio to sculpt my abs. Oh, and I had to wear a shirt.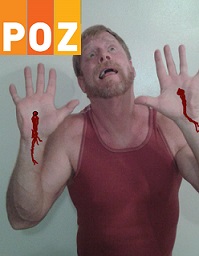 I don't mean to embarrass anyone, but allow me to share with you portions of the email I received from the POZ editorial team. They responded together, they said, to put a stop to my "playing staff members against one another and telling us each that you liked us best or that a fellow staff person wanted us fired." Like I would be caught doing that.
They then went on to say that "while we appreciate your enthusiasm for this cover shoot, we don't believe that having you pictured in the throes of actual stigmata would serve the story or our readership." My concept was meant to be ironic, although I can't really explain why and it's my response to most situations in which I don't get my way.
"And although we do acknowledge that Carrie is an iconic film about stigma," the irksome memo continued, "our readers might respond unfavorably to a cover model with a bucket of pig's blood dumped on their head. People with HIV are sensitive about blood. Even pig's blood. Your being outfitted in a prom dress does little to minimize the impact."
They said nothing about the remake of Carrie to be released this fall, and the obvious promotional tie-ins I had outlined in my proposal. Which is all to say that we must stand tall against those who wish to blunt our artistic vision.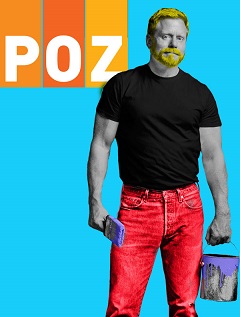 Now that the June issue has been released, available everywhere fine periodicals about HIV are available, I'm mulling over the idea of a multi-city tour or better yet, an AIDS benefit in which famous artists recreate my POZ Magazine cover, people like Peter Max or Warhol, and then auction them off. The powers that be at POZ, as you might guess, say this idea is quite impossible for reasons they refuse to enumerate.
I considered all this as the poz social was drawing to a close and I was slipping copies of the issue under the windshield wipers of the cars on the street. Face down, of course, so my face might greet the driver as he settles in his seat. I continued up the neighboring blocks, because good literature appeals to everyone and Sebastian was giving me attitude about the boxes of magazines he claimed were blocking his driveway.
Should you care for a personal appearance at your next gala, by all means contact me. I require the usual fees, plus Perrier water, Intelence, Norvir, Isentress, and Flomax. And please find me a sizable entourage, to do entouragey things with me.
If it's good enough for Khloe, it's good enough for me.
Mark
————————————————————–
My friends,
All kidding aside, I could not be more humbled and heartened by the response to my POZ Magazine essay on HIV stigma and gay male community. Even if you have read the piece, I would encourage you to visit the comments section on the POZ site — now with over 100 comments that will inspire you, anger you, and break your heart.
Tags: aids, culture, gay, help others, hiv, Recreation
Posted in Books and Writings, Gay Life, Living with HIV/AIDS, My Fabulous Disease, News | 8 Comments »
Wednesday, May 8th, 2013
"A boy's best friend is his mother."
– Norman Bates, Psycho

I was standing at the ticket counter of the movie theater and couldn't believe my ears. They were telling me that "Theater of Blood," with the great Vincent Price, was rated "R" and they were not letting me in without a parent. I was a horror-movie obsessed boy of 12, and was inconsolable. "I won't look at any sexy stuff," I remember pleading, "I just came for the gore!"
With visions of decapitations fading like an old blood stain, I made the long walk back home and exposed my broken heart to Mother, who made one of the grandest gestures of my childhood: she took me back for the late show. On a school night.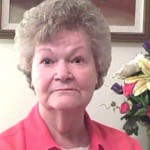 It wouldn't be the last time she had my back. Over the years she proved a trustworthy ally, and this was never more true than in the 1980′s, when gay men often lost their mothers — hell, their entire families – when an AIDS diagnosis was revealed.
Mom never abandoned me or my gay older brother, Dick (is there no gayer name than Dick King? Did my parents consult the Falcon Video Book of Baby Names?). I tested positive in 1985, and Mom immediately went to work educating herself on HIV.
My brother was spared HIV infection but suffered its cruelty nevertheless: his lover of 13 years, Emil, died of AIDS in the early, scorched-earth years of the epidemic.
In this special Mother's Day episode of my ongoing video series "My Fabulous Disease," I sat Mom down to find out things I've never asked before. What did she really feel when she found out I was positive? Did she believe I would die? Do mothers have a right to know? What advice would she offer other families? We also talk about the loss of Emil and the repercussions from it we still feel today.
Mom is no expert. She isn't an AIDS researcher and she doesn't march on Washington. She just loves her kids and tries to understand what is happening in their lives and how she can help. If your mother is like mine, we have a lot to celebrate (or remember) this Mother's Day weekend.
Enjoy the video, and please, stay well.
Mark
(This post originally appeared on Mothers Day, 2010, and I'm happy to report that Mom is doing just great. I wanted to share this with you again. — Mark)
——————————————————-
PLUS…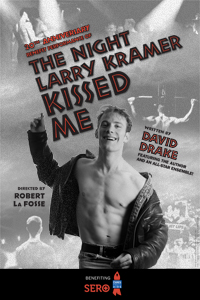 While Larry Kramer's The Normal Heart has been getting the Broadway love the last few years, another, equally stunning AIDS play from that era is getting a deserved remounting. The Night Larry Kramer Kissed Me, a one man show about being gay and AIDS activism by the engaging David Drake, is being performed for one night only in New York City on Monday, May 20, at Gerard W. Lynch Theater at John Jay College. It's a benefit for Broadway CARES and The SERO Project. Even more exciting, Broadway stars have joined the effort and have made David's one man show into a ensemble piece. If you are anywhere in the area, follow this link and get your tickets now! For a terrific interview with David about the transformation of his historic show, read his interview in POZ Magazine.
Posted in Family and Friends, Gay Life, Living with HIV/AIDS, My Fabulous Disease | 5 Comments »
Sunday, March 24th, 2013
I have some amazing friends for you to meet.
Beginning two years ago, TheBody.com asked me to produce a series of videos ("A Day in the Life: Keeping Up With Your HIV Meds") that would profile a person living with HIV, what their day looks like, and how their medication regimen fits into their daily routine. It was a great opportunity to highlight the everyday lives of people living with HIV, but also to let their spirit and passions come through, and show we are whole people — not simply the virus.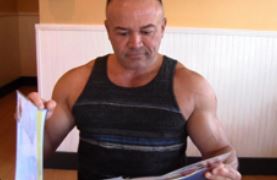 The profile subjects came from all walks of life, in various cities around the United States, and their personalities and interests — their families, their hobbies, and even how they became HIV positive — were all I needed for inspiration.
Below are the eleven videos that have been produced to date for the series (an ongoing feature on TheBody.com and they also have an entire resource center about keeping up with your meds). You can watch the videos here, or follow the link in the title to view the post as it appeared on TheBody. They are each less than ten minutes long; just scroll through them below and find a story that sounds like yours — or better yet, hear what the journey of someone completely different from you is like! Are you ready?
Damaries is from South Florida and could not have been more lovely; we laughed a lot during our day together. Her strength is what impressed me most: she did not come to the decision to start HIV medications lightly. She really did her research before she began a regimen. Filming her story was also a great excuse to hit the beach, since she loves to find her peace and tranquility on that gorgeous sand.
Well, first of all, Tree is adorable. So there's that. He also has an equally adorable dog, who tried mightily to extend his few minutes of fame by sneaking into the camera shots and barking woefully from the other room. For his part, Tree does a great job explaining how he kept his medication regimen despite multiple moves and even being homeless for a brief period. I really like the Brooklyn montage of Tree's neighborhood at the beginning of the video.
What an elegant woman Eva is. She was so gracious during our day together and had an almost regal sense of self. She really impressed me. Not only did she make peace with the man who infected her many years ago, she became an advocate for all women living with HIV and devoted quite a lot of time to volunteer work. She's also an avid traveler — I've never seen so many magnets from exotic places on one fridge in my life.
What a hoot! Robert (Bobby) Darrow and I were childhood friends, when we both performed in community theater together in Shreveport, Louisiana (we were both newsboys in Gypsy, for all you musical theater queens). As we grew, he always got the good parts and I ended up working the spotlight — shining it on him — but I'm not bitter, I swear! Producing this video was a great chance to honor my lifelong friend for the activism he has done since the beginning of the AIDS epidemic. And it also allowed me to honor theater itself, and how Bobby is now back in the very place he and I so loved when we were kids. This one is special to me.
You're going to be blown away by the strength of this woman's convictions — and the strength of her marriage. Brooke learned she was HIV positive during her pregnancy, and not only was her husband completely supportive, he stood by proudly as Brooke became a visible advocate for woman's health, the importance of HIV testing, and their personal struggle to afford HIV medications so that their baby would have a better chance of being born without HIV. And speaking of babies, guess who steals the show in this video?
Khafre was one of the most immediately spiritual people I met during this series. He has a very strong sense of faith and a commitment to his own spiritual principles. He was also in the midst of organizing a fund raising bike ride across the country to benefit HIV/AIDS services for people of color, and I admired his dedication and pure energy. The time he devoted each day to prayer and meditation was really lovely to observe and capture in the video.
Episode 7: Petra Berrios and Efrain Carrasquillo
Petra & Efrain could give the other couples in the series a real run for their money for the title of Most Romantic. You can't help but grin, watching Efrain describe seeing his future wife for the first time at an AIDS conference, where both were community advocates and both were living with HIV. They not only lift up one another during the frustrations of HIV life, they know how to take time to love and enjoy one another, as their salsa demonstration clearly shows.
Tales of triumph over adversity don't come more dramatic than the story of Fortunata. Not only is she the single, proud parent of a gorgeous daughter (the apple doesn't fall far from the beauty tree), she had a devastating accident when she was hit by a car walking across the street — and then had to manage her HIV meds along with a host of others while she recuperated. The fact that she relates all this with such grace was amazing to me. I had so much footage of her simply looking ethereal and lovely, the video could have been twice as long.
Anyone who follows my blog — or HIV/AIDS advocacy — knows what a gift Nelson is to our community. He's been our own Jack LaLanne of HIV, teaching the importance of health, exercise and nutrition since the beginning of the epidemic — the video blogs he did with me on nutrition (where he cleans out my fridge) and exercise (where we hit the gym together) are hilarious and very informative. And, of course, he has a hot body. It might come as some surprise, then, that he's very modest when it comes to showing it. I had all sorts of shots and angles I wanted to do that would have shown of his physique, and he politely demurred. He also was always focused in our interview on what would apply to regular folks living with HIV, rather than the more privileged among us. In other words, the man is a class act, with a humility that speaks volumes about his integrity and commitment.
I've been watching Robert grow as an HIV/AIDS advocate for several years now, since he began POZIAM social network and radio show while still in his twenties. I had fun doing the fast cuts that open his video because I thought it captured the sense of motion and vitality he has. When I become disheartened, wondering where are the next generation of activists on the scene, I remind myself there are people like Robert.
I've always been open on my blog about being in recovery from drug addiction, and George — who survived 27 years of street drugs — and I had an immediate connection. He devotes his life today to service for others, whether it is at an AIDS agency or through various addiction activities. In fact, something he said about his recovery during our interview really made sense to me, and I stopped the camera and shared some of my own story. For nearly thirty minutes he let me pour out some of my own fears and challenges, and listened with the attention of a man who has been there. I think his spirit is well-represented in this video.
To watch George's video, just follow this link to TheBody. This video is so hot-off-the-presses that I'm not able to share it here yet. Follow the link and hear his story.
I learned a lot of each of these people, and I know they represent a tiny fraction of the courage and daily fortitude displayed by people living with HIV every single day. I really want to thank this group for taking me into their homes and lives and allowing me to share their stories with you.
Thanks for watching, and please be well.
Mark
Tags: aids, gay, help others, hiv, lipo, physician, recovery, research, Sexuality, testing
Posted in All Other Video Postings, Gay Life, Living with HIV/AIDS, Meth and Recovery, My Fabulous Disease, Prevention and Policy | 1 Comment »
Monday, February 18th, 2013
In the course of a few short months, Lee Thompson ("Uncle Poodle" to reality TV watchers) has managed to personify a variety of hot button issues among gay men today. He has come out as gay and HIV positive. He has sent an ex-lover to jail and sent nude pictures via Grindr.
Or not. Depending on whom you believe. Let's break down the strange case of Uncle Poodle.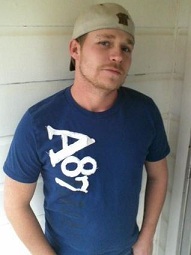 In what we can all agree was a positive development, Thompson publicly came out as gay last year and evidently has the love and support of much of his family, the colorful clan of the TLC reality show "Here Comes Honey Boo Boo." He instantly became an ally and friend of gays everywhere. So far, so good.
Then, in a recent interview with the Atlanta gay magazine Fenuxe, Thompson made the announcement that he tested HIV positive in May of 2012. What was startling, though, was his explanation of his infection. Thompson claimed that not only had an ex-lover knowingly infected him, but that the man is currently serving a five-year sentence for non-disclosure of his HIV status (an example of what is known as HIV Criminalization).
Almost immediately the details of the story were questioned (by everyone except Fenuxe magazine, which did not delve into the prosecution in their piece; the writer simply "applauded" Thompson's bravery). Journalist Todd Heywood posed serious questions about the case, including the timeline between Thompson's infection and the reported prosecution, which would have happened in mere months. Heywood also scoured court records from Georgia to Alabama and could find no evidence of any such case. Requests for more information from Thompson's people have garnered no response. The defendant has never been identified.
Did Uncle Poodle lie about sending the ex-lover to jail? And why the hell would he do that?
It is my opinion that Thompson made up the prosecution story. And in doing so, he behaved in much the same way that most everyone does who tests HIV positive these days. He looked for someone else to blame. He played the innocent victim. He released himself from personal responsibility.
Because everybody knows that when you test HIV positive, you don't call your doctor to start treatment. You call the police to press charges.
Stigma is driving these actions, of course. People who become positive today are judged for being "bad," for not following the rules, for failing the community and becoming one of the great unwashed. It makes no difference that they were simply caught being human, that they let down their guard for a moment or got drunk or didn't care or stupidly fell in love. Their friends will furrow their brows. Their dating life will wither.
And so, someone must pay for these indignities. That is one reason HIV criminalization laws have prospered – they appeal to our sense of vengeance. They are also vessels of homophobia, sexism and racism, considering how badly the laws are applied and how often prosecutions run counter to public health or even common sense (some convictions have imposed jail time for decades even when condoms were used and no one was infected, and advocates believe people forgo HIV testing in fear of being prosecuted). Conservative lawmakers and prosecutors — who don't believe people with HIV should be having sex at all — are more than willing to exploit our feelings of revenge when testing positive so they can lock up some diseased fags.
I empathize with those who test positive today. They suddenly find themselves on my side of the viral divide, and for some, their hearts and minds may not have made the crossing yet. Perhaps they have unresolved issues about becoming infected. Whatever their circumstances, testing positive is a major life event and I can understand if some have an impulse to lash out.
And I believe that Lee Thompson did exactly that when he reported sending the man who infected him to jail. The man who no one can identify. The case that no one can locate.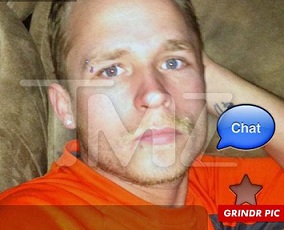 Things have just gotten a little more complicated for our Uncle Poodle. Now, someone who claims to have communicated with Thompson on Grindr is trying to sell naked photos that Thompson supposedly sent him (isn't humanity grand?). Thompson being linked to Grindr — the app about which controversy recently arose when a survey indicated half of its users were engaging in bareback sex — presents a delicate situation indeed.
People living with HIV have every right to "full and satisfying sexual and emotional lives," as the Denver Principles stated thirty years ago. There is no evidence or details about Thompson's sexual life or choices, so let's simply hope he is conducting himself as someone with intimate knowledge of HIV non-disclosure laws, considering his contention that he sent someone to jail for withholding their status. The sword cuts both ways, and I worry for him.
Lee Thompson certainly has faced his share of scrutiny, living as an HIV positive gay man in the rural South, much less someone connected to a wildly popular reality series. But he should consider his moves, both public and private, very, very carefully. Because we don't simply like to tear down celebrities, or save our judgment and revenge for those with the thickest skin.
As we prove time and again, we can do it to the very best of friends.
Mark
PLUS…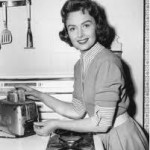 Thank you for your stunning readership in recent weeks, my friends. In particular, the recent post "Your Mother Liked It Bareback" broke all traffic records on this site. I will admit to being precociously provocative with that one, and especially appreciate the comments you left, which proved far more interesting than the post itself. I do believe, as Gus Cairns remarked, that much of this passionate debate is driven by the pure grief so many of us experienced — and that is nothing to be taken lightly. My point remains that our emotions have little to no effect on the fact that nearly half of gay men don't use condoms at least some of the time; validating other prevention tools isn't a threat to condom use; and finally, what are we doing for the 50% of gay men not using condoms — or are they expendable?
Posted in Gay Life, Living with HIV/AIDS, My Fabulous Disease, News, Prevention and Policy | 2 Comments »
Monday, January 28th, 2013
Whenever a new study of gay men is released showing that we are having bareback sex, the arbiters of sexual conduct among us clutch their pearls and decry this shameful, shocking, murderous behavior. So you can just imagine runaway pearls showering the floor when a recent survey showed that nearly half the users of the gay phone app Grindr engage in unprotected sex.
I really wish that people would put down their smelling salts and try to understand the reasons why. Instead, every time some half-assed study demonstrates what we already know, they stand there in stunned outrage, frozen in their outdated indignation like they've been caught baking bread in Pompeii.
There's nothing new here, except our seemingly endless fascination with gay men behaving in exactly the same way as nearly every other man on this planet.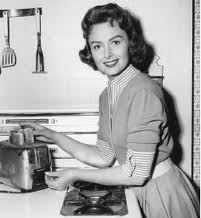 Maybe those who find bareback sex distasteful believe they are being politically correct, that their strident judgments about the sex lives of others are in the service of HIV prevention, that criticizing other gay men for acting like human beings will somehow alter instincts that evolution built over millions of years.
Perhaps this is part of our new gay agenda, to demonstrate to straight society that we're just as good at shaming gay men as they are, that we'll gladly be neutered for equal rights and be denied the same pleasures they take for granted, that if they only give us gay marriage we won't talk about the unprotected butt fucking that will happen on the wedding night.
Somehow, we have come to the homophobic conclusion that when gay men engage in the romantic, emotional, spiritual act of intercourse without a barrier we label it psychotic barebacking, but when straight people do it we call it sex.
This double standard is ludicrous. Your mother barebacked. It is a natural and precious act that has been going on, quite literally, since the beginning of mankind. Abraham (barebacked and) begat Isaac; and Isaac (barebacked and) begat Jacob; and Jacob (barebacked and) begat Judas and his brethren (Matthew 1:2).
Maybe you have the uncanny ability to enjoy sex while your penis is wrapped in latex. That is terrific, really. Please continue. You are using a classic prevention tool, a real golden oldie. Or maybe you and your boyfriend are HIV negative and have the good fortune to be in a committed, monogamous relationship in which you are having sex without condoms. Or perhaps, by whatever Olympian discipline you possess, you are capable of using a condom each and every time you have sex, no matter what. You are to be commended, and you are, regrettably, in the minority.
All of these scenarios are valid and worth replicating whenever possible. They do not, however, represent a superior high ground from which to make pronouncements about someone else's choices.
There was an unspoken agreement that gay men made amongst ourselves during the AIDS crisis of the 1980's. We accepted that we would use condoms – at the time it was the only "safer sex" option that existed – until whatever time the crisis abated. Many of us believed this contract would be in effect for the rest of lives, if only because we thought we would be dead within a few short years. But none of us could have fathomed that, thirty years later, we would still be held to these strict and oppressive guidelines.
Even then, some of us didn't follow them. One might assume that the cascade of death we experienced would have led to long term behavioral change. In fact, many of us responded to the crisis in a profoundly human way: we found comfort by making love with one another, often without a condom. It was a life affirming gesture, and an enormous "fuck you" to AIDS.
In fact, a 1988 study of gay men showed that almost half of them never used condoms, and most did not use them all of the time. These figures are strikingly similar to the recent Grindr results. Everything old is new again. Or it never went out of style in the first place.
The 1988 study is particularly interesting when you consider how many gay men consider that period a time of great sexual austerity — and some of them are wishing for a return to those times a bit too ardently. Gay men who witnessed the early AIDS carnage will sometimes say, "If only younger men knew what we went through. If they had seen it, they wouldn't be behaving this way."
That's sick. I do not wish young gay men could witness the soul crushing things that I did. I worked in the trenches very, very hard so that they might have the option of being apathetic. I prefer their blissful ignorance to burying them.
And make no mistake about it, the number of gay men in the United States dying from AIDS is a small fraction of what it once was. Cigarettes are now killing more people with HIV than the virus itself. HIV/AIDS has become a dangerous but largely manageable disease, and fear tactics that suggest otherwise are being ignored because they simply are not true. Sex is sex, it is affirming and natural, and anyone who wishes to equate unprotected sex to death and disease really needs to get some therapy.
Condom usage will almost certainly continue to decrease in the future because of new tools that have joined the growing list of HIV prevention options. Pre-exposure prophylaxis (PrEP) – taking medication in advance of sex with an infected person – has been shown to significantly reduce the risk of transmission (and some insurance plans in the United States are covering the cost). Many people living with HIV are limiting sex partners to those who share their HIV status, known as serosorting. Positive gay men have largely dismissed scary fireside stories of the ultimate boogeyman, the reinfection SuperVirus, who has never materialized.
We also know that when those with HIV have an undetectable viral load the risk of transmission is negligible, so "treatment as prevention" efforts have increased (a new British study of straight couples showed that an undetectable viral load is more effective in preventing transmission than condoms, and those researchers believe the same will hold true for gay men).
Gleaming on the horizon are rectal microbicides. These products, currently in development, will come in the form of lubricants or douches that will prevent HIV infection, and they could make the endless debate and judgments about condoms moot, once and for all.
We don't have to do this anymore. We don't have to clobber each other with condom fascism, discredit the value of our sex lives, or promote a singular strategy that doesn't work for everyone. We can accept that gay men are making educated choices to engage in a variety of risk reduction techniques. We can acknowledge that all of these techniques reduce the risk of HIV infection and all of them constitute "safer sex."
And finally, we can stop pretending that those who remain fixated on condom usage have the moral upper hand.
The emperor has no clothes. And he isn't wearing a rubber, either.
Mark
—————————–
SEE ALSO:
"Is 'Dawson's 20 Load Weekend' the Most Important Gay Porn Film Ever Made?" This posting dissects the sexual choreography of modern bareback porn, and puts it into historical context with gay porn of the last several decades.
Posted in Gay Life, Living with HIV/AIDS, My Fabulous Disease, News, Prevention and Policy | 93 Comments »