News
Saturday, July 28th, 2012
Our little summer camp for global AIDS advocates (and physicians, and commercial interests) has come to a close, and there are images that will be knocking around in my head for weeks to come (and some, forever).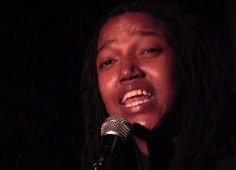 The seven foot Mexican drag queen handing out condoms springs to mind, of course. The astonishingly talented performance poet Mary Bowman (right), showing us her heart and soul on stage. And escape artist Daniel Bauer's highly personal show mixing magic with confessions from his life as a gay man living with HIV. Seeing presentations by mentors I admire, such as Sean Strub and Edwin Bernard. The Australian chief justice with a gay partner of 43 years, giving me suggestions on maintaining a long marriage ("Give in," he advised).
In this farewell video posting, I pay tribute to the people on the front lines who are the very essence of this conference. They are the ones with the "star power," and they fill me with renewed commitment and energy that might possibly last until AIDS2014 in Melbourne, Australia.
Thanks for watching, my friends. It has been my privilege to be your tour guide and I deeply appreciate your many notes and cross-posts and "likes" on Facebook. I like you very much, too.
Please be well,
Mark
Tags: aids, criminalization, culture, drag, hiv, physician, politics, research, Sexuality, testing
Posted in Gay Life, Living with HIV/AIDS, My Fabulous Disease, News, Prevention and Policy | 4 Comments »
Friday, July 27th, 2012
It's time for a tour of the heart and soul of the international AIDS conference in Washington, DC: The Global Village. This massive hall is the only part of the conference open to the public, and it has a grass-roots feel, crafted from the love and devotion of hundreds of community groups who are doing "the work on the ground" in cities and small towns throughout the world.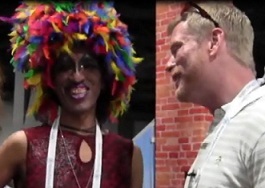 Thank God I'm a video blogger, because words escape me when trying to describe the colors and displays and most importantly, the committed people behind it all. You're about to meet drag queens who make their living handing out condoms, sex workers demanding an end to criminalization, young prevention workers from far-flung corners of the planet, a stunning photo exhibit from the Ukraine… the list goes on.
Why wait? Take a look at my video report. Welcome to the Global Village!
Thanks for watching, and please be well.
Mark
Tags: aids, criminalization, culture, gay, hiv, politics, Sexuality, testing
Posted in Gay Life, Living with HIV/AIDS, My Fabulous Disease, News, Prevention and Policy | 5 Comments »
Thursday, July 26th, 2012
It's difficult sometimes, writing about an event that so easily lends itself to images and sound. Such is the case with the AIDS2012 March to End AIDS, the subject of today's video blog episode from the conference.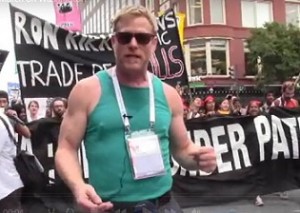 The people included in the video can speak for themselves, and quite eloquently. Maybe it was the emotions of the event — anger, nervousness, pride — but it was an exhausting day. I felt the residue of grief for lost friends in a way I haven't experienced in years.
Just before the various HIV/AIDS marching groups convened in front of the White House, my camera person (Tina Robles of HealthCentral) and I had lunch a few blocks away. I realized that she's in her twenties and no one who lived through AIDS in the 1980′s had ever described for her what those years were like. I told her about the foxhole mentality, the guest rooms that became makeshift hospices, and the pure horror of waiting to be the next to go.
"Well…" she asked softly, after listening to my tales, "how can you possibly keep such a positive attitude after going through all that?"
"Because my joy is an enormous 'Fuck You' to AIDS," I said. And it's only in that moment that I realized how right that seemed, and that my departed friends would approve — and would be cheering me on during the protest.
Tina had never been to any kind of street demonstration, and was bravely filming our antics at the front of the massive line of protesters at the front fence of the White House. But, bless her heart, when the cops came out in force and demanded that we retreat, Tina handed me the camera and wished me luck and took safety in the park across the street. I don't blame her. The crowd was edgy and the adrenaline was pumping.
This is my favorite episode of my AIDS2012 coverage so far, and I hope you will enjoy it and share it with others.
Thanks, and please be well.
Mark
Tags: aids, criminalization, gay, hiv, politics, Sexuality, testing
Posted in Gay Life, Living with HIV/AIDS, My Fabulous Disease, News, Prevention and Policy | 14 Comments »
Wednesday, July 25th, 2012
Day Two of the international AIDS conference (AIDS2012) roared through its first full day on Monday, and there are sights to behold.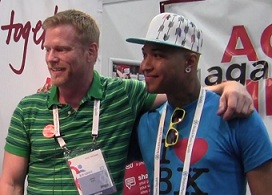 I spent some time in the exhibit hall critiquing the fashions (and the issues) of various attendees with fashion maven Jack Mackenroth, started a YouTube rivalry with inspirational singer Jamar Rogers ("The Voice," right), and learned about HIV and aging from an expert with the Terrence Higgins Trust.
And, with all the talk at the conference about the devastating effects of HIV stigma, I found validation of my own HIV status in the unlikeliest of places: the Gallery Place subway station.
Coming up: the amazing Global Village and a march on Washington by advocates from around the world!
Meanwhile, my friends, please be well.
Mark
Posted in Gay Life, Living with HIV/AIDS, My Fabulous Disease, News, Prevention and Policy | 5 Comments »
Tuesday, July 24th, 2012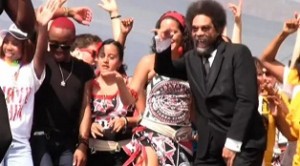 On the first official day of AIDS2012, the schedule is light but the party is rolling, with an outdoor concert steps away from the AIDS quilt featuring Weyclef Sean and Cornel West (!), dancing dignitaries, and a somewhat surprise ending!
Coming up: Jack Mackenroth hasn't lost his fashion sense (or found a shirt with sleeves), singer Jamar Rogers ("The Voice") opens up about his status and we begin a YouTube rivalry, and the director of CDC's HIV/AIDS prevention efforts talks about HIV stigma and stopping HIV "together."
Enjoy the report, and please be well.
Mark
Posted in Living with HIV/AIDS, My Fabulous Disease, News, Prevention and Policy | 4 Comments »
Monday, July 23rd, 2012
Here is my first report from the International AIDS Conference in Washington, D.C.!
Since less than 5% of the programming for AIDS 2012 is targeting to MSMs (Men who have Sex with Men), a special one-day pre-conference is held the day AIDS 2012 convenes to address the needs and issues of this population.
My report includes a chat with United States Rep. Barbara Lee, who has just introduced comprehensive HIV prevention and anti-stigma legislation; the advocates fighting laws that criminalize people with HIV, a little social research on Grindr (the gay man's cruise phone app), a chat with Positive Frontiers editor Alex Garner about getting rejected (and rejected others) during the dating process, and a visit to an AIDS2012 Reunion poz social event.
Stay tuned! The week is just getting started, with opening ceremonies to come, the opening of the colorful and provocative Global Village, and amazing sights and people ahead.
Thanks for watching, and please be well.
Posted in Gay Life, Living with HIV/AIDS, My Fabulous Disease, News, Prevention and Policy | 6 Comments »
Wednesday, July 18th, 2012
Lynne Rhys and I were never supposed to become friends. It was just too unlikely.
She is a divorced woman raising a teenaged daughter, and was barely aware of a "gay community" until she stepped tentatively out of the closet in midlife. She has a quiet and soft-spoken grace. She has manners. She readily burdens the blame if it means saving your feelings. She's one of those people who apologize when I miss a turn while driving us somewhere, as if it must have been her fault.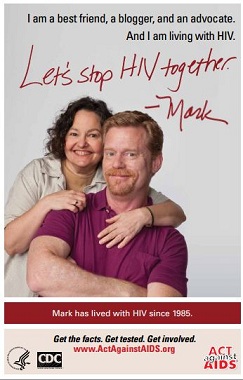 When she walked into an audition for a play I was directing a few years ago, she was certain she wasn't good enough, but her insecurity was unacceptable to her – the struggle between her ferocious talent and her painful modesty has been waged her entire life – and she gave an audition of such humanity and pathos that I changed the script I had written to showcase her gifts.
"Stand slightly more to your left," I would ask as we rehearsed. "I'm sorry," would be the reply, to that or to any request or observation, including the weather. How could a creature of such obvious worth have such an absence of ego? I often wondered, before immediately returning to other, more important thoughts. About myself.
Two months later her performance was the kind that required the audience to listen closely, and they leaned in, drawn to her in the same way I was throughout the rehearsal process. She broke their hearts with such deliberate precision that people still speak of it.
Lynne doesn't like talking about herself. But oh, how she loves to hear stories from Mark, and that's when our budding friendship began to make sense to me. For hours I blather on, towering over her small frame, fluffing the curls on her head below me as she indulges my excesses and wonders when I will take my hands out of her hair. Please. I'm sorry.
I am the closest friend she has ever known to have HIV. Her personal knowledge of the crisis was largely limited to watching it unfold on television and thinking that people treated "that young boy Ryan White really badly." So our friendship has meant lessons for her on t-cells, viral loads and why my medication bag is the same size as my gym bag. She listens and learns, and no longer believes that she must keep her distance when she has a cold or else I could die.
She has now had conversations with her daughter about safer sex, and then for good measure had the same conversation with her daughter's boyfriend.
When the Centers for Disease Control and Prevention (CDC) asked me to participate in their new campaign, "Let's Stop HIV Together," I was impressed with their concept of pairing people living with HIV with an HIV negative member of their support system. The message is clear: we all share a responsibility for curbing HIV infections and supporting each other, positive and negative. And I knew right away who my "negative" would be.
Lynne was flattered and then questioned my selection, certain I must have better options. I knew that the woman who modeled humility to me every day was my only choice, and I insisted. The campaign involved visiting a production facility complete with wardrobe decisions, make-up artists, a photo shoot and an interview on video with both of us. She felt like the Queen of Sheba. Watching her was the very best part of the day, and the memory of it has brightened many days since.
In the photo of us, my cocksure grin and her enveloping embrace are the very essence of a friendship that I treasure deeply today. Seeing it in print has also brought to mind the many friends that came before Lynne who are now lost. But Lynne is not a placeholder and she is not a substitute. She is a gift of my survival, and the right friend at the right time to help me conduct my advancing years with more maturity than I might muster alone.
Moments after the photo was taken, Lynne slipped from the box on which she was standing and fell hard. Several of us rushed to help her, but she didn't fret or make a sound. That is, except to say "I'm sorry."
After a few days of pain, Lynne visited the doctor and discovered her foot was broken. "Why didn't you say something?" I asked her, disbelieving, when she admitted it was hurting that day during our video interview. "Because I was afraid they might stop," she said, "and I was having so much fun being with you."
Much has been written by me about the "viral divide" between those who are HIV positive and those who are not. But not today. Today, the CDC has a new campaign with hopes of bridging this divide. On one of their posters, Lynne Rhys is beaming beside me, luxuriating in the joy of friendship, and confident that she is right where she belongs.
And she doesn't look the least bit sorry.
Mark
(My thanks to the good people at the CDC's Division of HIV/AIDS for their work on this campaign. Please visit the Let's Stop HIV Together site, where you can watch videos from other pairings, download posters and other materials, watch the public service announcement, or "like" the Facebook page.)
—————————————————–
PLUS…

Brace yourself, my friends. Beginning on Monday, July 23rd, I will be posting new video blogs daily, for the week of AIDS2012, the international AIDS conference in Washington, DC. I can promise you some lively, inspiring and colorful reports from the proceedings! This would be a good week to join us email list for alerts (at the top right of this page) or just keep a close eye on this space. I can't wait!
Posted in Family and Friends, Living with HIV/AIDS, My Fabulous Disease, News, Prevention and Policy | 5 Comments »
Friday, June 8th, 2012
I knew it. I felt it. It was as clear as the incessant call of crystal meth itself, on those nights when a seductive phantom of the drug cozies up to me in bed and brings its knitting.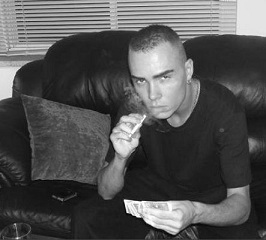 In a Huffington Post news article on accused killer Luka Rocco Magnotta, buried in the story pages deep, a former lover says that the alleged murderer used methamphetamine, the drug popular among gay men that has claimed years of my life and left countless men in utter wreckage.
The story of the Canadian "low budget porn actor" has horrified the public with its harrowing details of torture, cannibalism, and necrophilia. The young man has been accused of killing a student, cutting him to pieces, and then mailing body parts to various locations. He allegedly consumed some of his victim and performed sexual acts with the body. He is also accused of uploading a video recording of the crime onto the internet.
Horrific, yes. But the sheer madness of the crimes, and the killer's insane determination to make it as shocking as possible, was sickeningly familiar to a recovering methamphetamine addict like me. There is no evidence yet that crystal meth played a role in these crimes, but allow me to explain why the mix of porn, insanity and meth use struck a disturbing chord with me.
Among gay men who use recreational drugs, crystal meth abuse remains epidemic, sought for its fabled power to heighten sexual desire. In the last ten years, "crystal" has emptied nightclubs and sentenced friends to the isolation of online porn or to the emotional wasteland of "party and play" orgies frequented by fellow addicts, where syringes are common and condoms are not, and which feature exhausted, drug-driven sexual compulsives. The events have all the charm of dead bodies having sex.
Just as the drug demands more in its pursuit of the thrill of that first transformative rush, so does the sexual psyche. Before long, typical sexual behavior isn't enough in the life of a crystal addict, and more extreme components are brought into play, such as risk and location, props and posturing, all as users experience a darkening of the sexual landscape that would cause your very soul to shudder.
In my experience, finding sexual fantasies to stimulate the weathered sexuality of meth abuse means exploring alien territory, where nothing is off-limits and the darker, the better. It becomes a perverse game of one-upmanship between addicts on the depths each will plummet for the sexual shock needed. You think about violence, one might ask the other. Fine, but have you ever thought about this? That's hot, says the other, but what I really think about doing… is this.
Never mind that the images they are conjuring have never occurred to either of them prior to their addiction. They are mining something much darker than their authentic sexuality has ever known, all in the service of an insatiable sexual craving poisoned by a drug made with ingredients like ether, Drano and brake fluid. And so their perverse tales build and accelerate, tossed back and forth like playing volleyball with a severed head.
This is why the exploits of Mr. Magnotta set off my meth addict radar. The very outrageousness of his vile acts felt, to me, like an addict who had explored the depths of his imagination and come up short, for whom the depravity couldn't be satisfied any longer without being made flesh. Whether his pre-existing insanity carried him across a mortal line or crystal meth pushed him over it, we don't yet know. But meth addicts like me were shaking their heads at the accounts of Magnotta's heinous acts and wondering why the rest of the world hadn't suspected the connection, and why news reports hardly mentioned his crystal use as if it weren't particularly relevant.
There are horrors that don't arise from childhood abuse, or sociopathology or even garden variety insanity. They come from a white crystallized substance that promises everything and delivers nothing, that rewires your brain and twists your most human instincts into something that repulses even you.
Do meth addicts regularly commit murder? Of course not. But I have spent a few sleepless nights since the Magnotta story surfaced, haunted by fantasies I shared with other addicts that I had hoped to never face again.
I received a gift that too many addicts do not, the gift of finding help and taking it. Without my personal fortitude, without the trip to rehab or hitting bottom or the grace of God himself, my meth-soaked daydreams might have eventually hungered for something more intense, and beyond the safety of simple fantasy.
Instead, I have been saved, today, from what lies behind the darkest curtain. But make no mistake, I carry the burden of regrets, and they include those with a very human toll.
During the bleary days and nights of my last crystal meth relapse, I happened across a friend with whom I had been acquainted in a mutual program of drug addiction recovery. We didn't speak of it during our few hours together, satisfied to smoke and inject meth without the intrusion of cleaner days. But being in his company vexed me. I had always ignored and denied my relapses to others in recovery and this occasion would be no different. If you didn't see me do it, it didn't happen. But this friend had seen, had known, and could later finger me as a liar.
If he came back into recovery, that is. And so, when considering this chance meeting of two meth users adrift, I had only one thought. One selfish, depraved and evil thought.
Maybe he won't come back. Then no one will know about my lies.
For this addict in recovery, those who don't come back from an extended relapse usually have met one of several possible fates, most of them dire. They may have been arrested and now face time in our horrendous penal system, or they are strapped to a gurney somewhere with serious bodily injury or a broken mind, or maybe they're dead. To secretly hope anyone doesn't come back from a relapse feels downright sociopathic.
What is the difference, I might ask, between taking a life outright and hoping another suffering addict continues sticking toxic needles in his arm, sentencing him to serious if not mortal consequences?
That man with whom I shared part of my relapse deserves to be in recovery – and I actually wished he wouldn't find it. To call him my friend is a disgrace.
I might as well have cut him up into little pieces.
Mark
—————————————–
PLUS…


AIDS2012, the international AIDS conference held every two years, is next month in Washington, DC, and I'm going to make sure you don't miss all the most colorful and inspiring parts! As I did at AIDS2010 in Vienna, I will be posting videos every day from the event. I keep the scientific reporting to the experts and instead focus on the stories of the people who make up this remarkable and massive conference. If you haven't signed up for my email updates (above right), NOW is the time to get on board so you don't miss the sights, sounds and personal stories that make this a truly unique event.
Tags: gay, meth, recovery, Sexuality
Posted in Meth and Recovery, My Fabulous Disease, News | 9 Comments »
Monday, May 21st, 2012
The music my friends liked when I was a teenager intimidated me. It was the head-banging rock of the early seventies, and it felt alien and unappetizing. Most of all, it just felt… straight, in a way I knew I could never be. Alone in my room, I listened to my beloved Broadway musicals, and resigned myself to the fact that popular music would never really speak to me.
And then in 1977, when I was sixteen years old, I began sneaking into the only gay bar in Shreveport, Louisiana. Inside I found joy and liberty, fashioned with bell bottomed pants and handsome smiles and the dance floor – oh my God the dance floor – centering the nightclub was a glorious explosion of colored light and swinging hips and arms reaching up, up to the sky as if we could clutch it in our hands. The music was an entrancing bombardment of sound, and one song, one mesmerizing invitation to touch the heavens, was played again and again.
It was Donna Summer. And she was singing "I Feel Love."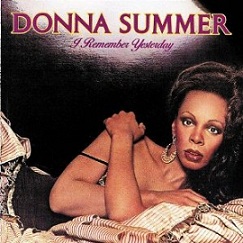 The track was really the triumph of producer Giorgio Moroder, who created the driving, synthesized beat that would define Donna Summer's music for years to come. But I knew I had to own this amazing song, and soon I stood proudly at the record store cashier to buy my very first popular album, Donna Summer's I Remember Yesterday.
I had found my music, my voice, and my lifelong muse.
The following year I had come out as a senior in high school, and Donna Summer was still in her "whisper period." It was never my favorite sound from her – it felt like playing chopsticks on a grand piano – and I knew from her other album tracks that she could let it rip. As I was graduating she did just that, with the release of her iconic "Last Dance." Her full-throttle pipes were on stunning display. Dance parties would never be the same.
By the time I left home for college in New Orleans, the music of Donna Summer had exploded into popular culture. I felt so proud of her, as if I had discovered her myself. My nights in the French Quarter were spent in the Parade disco on Bourbon Street, dancing to "Hot Stuff" and "Bad Girls."
The feeling of joyous exuberance that surrounded that disco is hard to describe. It was a sea of shirtless men, staking claim to our sexuality and the promise of infinite possibilities ahead. The incessant thump! thump! thump! of the beat was our clarion call, and it shouted Here! Here! Your tribe is here! We were so beautiful, in ways we were much too young to know.
And then soon, of course, the lights began to dim.
By 1982, I was struggling in Los Angeles as an aspiring actor, and Donna Summer was having a musical identity crisis. Record executives wanted a new sound for her to accompany the changing times, and her longtime producer Giorgio Moroder had been replaced by a succession of others. The red-hot Quincy Jones produced her Donna Summer album that year and their studio clashes became legendary. The album floundered and produced no significant hits.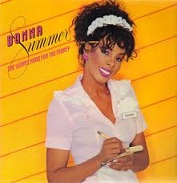 At the Los Angeles gay pride festival the next year, I was thrilled to hear Donna's voice again, sounding gorgeous and almighty, singing "She Works Hard for the Money." I took to the dance floor but was somehow unable to muster the joy I had known only a few years before. Life had intervened. And it had brutal plans for the men under the dance floor tent.
Donna Summer produced dance floor singles, if not hits, in the years that followed, but we weren't paying attention. The night club crowds dissipated, as a silent killer plucked men away one by one. AIDS had begun its murderous march through the gay community.
The villain wasn't simply the disease in those darkest of days. It was ignorance, and the judgment that rose up from social conservatives who saw Godly retribution in the horrific deaths of our friends. And so, when Donna Summer became a born-again Christian during this period and announced she would no longer perform her early, erotically charged hit "Love to Love You, Baby," her gay audience viewed her with immediate suspicion.
An ugly rumor began. Someone claimed to have heard her make a homophobic remark during a concert appearance. Depending on who was repeating the story, she had either said AIDS was God's judgment, or that God made Adam and Eve, not Adam and Steve. The unsubstantiated rumor swirled and grew, in an environment in which gay men were particularly sensitive to ignorance and hatred. By the time Donna Summer took it all seriously enough to set the record straight, it was too late. What was left of her popularity fell victim to the social maelstrom of AIDS.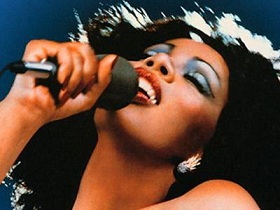 I never believed the story, and defiantly continued buying her albums, though they appeared with less regularity. Donna Summer would have only one more true hit, "This Time I Know It's for Real," which I chose to perform for my maiden appearance in drag at an AIDS benefit. The fact that during this time Donna Summer was raising money for AIDS research gained little traction among emotionally bruised and unforgiving gay men.
Today, disco may be dead, but Donna Summer's music laid the groundwork for everyone from Madonna to Lady GaGa, even if my body has found it harder to approximate the dance floor moves of my youth. But in my mind, as I blast "Dim All the Lights" in the privacy of my living room, I am young and powerful and life is making promises that are wonderful and possible.
Donna Summer is among the spirits now, joining the legions of ghosts haunting brightly colored discos from another era. She is still cooing to them, to these throngs of boisterous men, inviting them to the dance, where there is everything to celebrate and nothing to forgive.
The men are moving to the beat and laughing and holding one another. They are all beautiful, and they know it.
And they feel love.
Tags: acting, Aging, aids, culture, drag, gay, Recreation, Sexuality
Posted in Anita Mann and Acting Gigs, Books and Writings, Gay Life, Living with HIV/AIDS, My Fabulous Disease, News | 20 Comments »
Thursday, February 23rd, 2012
The image in my mind has never left me, even after many years of trying, of applying layers of wallpaper to that corner of my mind. I am in someone's bedroom — it could have been anyone, really — and I am offered a syringe to inject crystal meth. The syringe has been used. I take it. I consider the consequences for a brief moment, but I am cavalier. And very, very high. I use the syringe.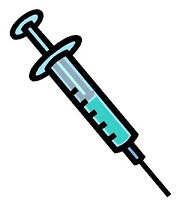 It wasn't the threat of HIV that gave me pause. It was hepatitis C, which I knew was serious… and that's about it. But I can tell you this, now, my friends: More U.S. residents are now dying of hepatitis C complications than HIV-related illnesses, as reported recently by Tim Horn in Hepatitis News.
Within days of using that syringe, maybe two weeks, I become horrifically ill. The acute infection swept through me like a freight train, exhausting me, turning my urine brown, making it impossible to perform routine tasks. Doctors diagnosed it quickly, and then gave me the grave treatment plan: 11 months of interferon, coupled with ribavirin. The interferon, a ferocious chemotherapy, would cause mood swings, deep depression, and would be administered, ironically, by injecting myself with it each week.
Depression is so severe among interferon patients that they do not allow pilots to fly who are being treated with it, for fear they will deliberately crash the plane.
The months I endured with hepatitis C and the treatment protocol remains the worst period of health in my life. The mental side effects were as devastating as the illness. Everything hurt. Everything made me angry. Or want to cry. Or convinced me you were against me. Those eleven months crawled by without mercy.
The good news, thank God, is that the treatment plan worked, and I cleared hepatitis C from my body. There has been no recurrence.
I've said that the disease most likely to kill me is addiction, not HIV, and hepatitis C was a terrible by-product of my addiction.
While I am drug-free today and maintaining good health, the report that hepatitis C has overtaken HIV as a cause of death brought up some strong emotions. It reminded me of the insanity of the interferon treatment, and then, of course, the insanity of my drug addiction. And it made me wonder how many of those who are dying of hepatitis C acquired it the same way I did.
My life is filled with unlikely rescues. To have lived with HIV for thirty years and to be here typing on my laptop is amazing. To have thumbed my nose at that fact, and reward my good fortune by sticking needles in my arm, well, that is as alarming and sad to me as it must be to you. It's tough to feel worthy of the grace that has saved me, again and again. So I'll simply be grateful to be clean and alive today.
Get tested for hepatitis and get the vaccine for A and B if you have not already been exposed. And should you be an injection drug user, bring your own clean needles where ever you use. You and I both know that, when the choice is a used needle or getting high, all of our good fortune can disappear in a flash.
Mark
p.s. May I sneak back on my HIV criminalization soap box for a moment? (My face-off between a poz man and the sex partner accusing him of not revealing his status has garnered some interesting comments, and the attention of advocates worldwide.) If 26 U.S. States have laws criminalizing the potential exposure of HIV to another person, than why don't they have laws against exposing someone to hepatitis C, which is now officially more deadly than HIV? Thank you. That will be all.
————————————————————————————
On a ridiculously different note, may I say with some pleasure that I always win the Oscar pool. If you are headed to an Oscar party this weekend, by all means, listen up! Here are my predictions. I am including the "little" categories because that is how you rack up points! If you must vary from my experienced guesses, be forewarned: you never win the Oscar pool by going with your passions. This is a game of politics and timing.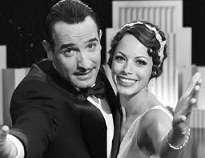 BEST PICTURE: The Artist. The Descendants had great momentum earlier this year until this adorable gem appeared. The statue has already been engraved.
BEST DIRECTOR: Michel Hazanavicius (The Artist). Your first lesson: when in doubt, choose whatever nominee is attached to the clear Best Picture winner.
BEST ACTOR: George Clooney (The Descendants). George has a supporting statuette already, but the Academy loves the man, and so do I. He will edge out the leading actor from The Artist, who's name I don't feel like looking up and spelling out.
BEST ACTRESS: Viola Davis (The Help). Even Meryl wants her to win, for God's sake.
BEST SUPPORTING ACTOR: Christopher Plummer (The Beginners). Mr. Plummer, in a cozy role in a slight film, benefits from the George Burns rule: give it to the old guy with a long history. And he made a nice acceptance speech at the Golden Globes, which Academy voters see as auditions.
BEST SUPPORTING ACTRESS: Octavia Spencer (The Help). This early favorite of a film will sweep the actress categories. Good for them.
BEST SCREENPLAY: Woody Allen (Midnight in Paris). The more he demurs, the more they love him.
BEST ADAPTED SCREENPLAY: Alexander Payne (The Descendants). A terrific film and a deserving win.
BEST SOUND EDITING: War Horse
BEST SOUND MIXING: Hugo
BEST MAKEUP: The Iron Lady (closely followed by Albert Nobbs).
BEST DOCUMENTARY SHORT: Saving Face
BEST DOCUMENTARY FEATURE: Pina
BEST ANIMATED SHORT: La Luna (Pixar gets its first short-form Oscar in over a decade).
BEST LIVE ACTION SHORT: The Shore. I actually saw these nominees, and would strongly favor Raju from India, but The Shore has bigger names (and influence) attached.
ANIMATED FEATURE: Rango. Surely the most bizarre film to win an Oscar this year. Johnny Depp is smiling.
ART DIRECTION: Hugo
CINEMATOGRAPHY: The Tree of Life. Terrence Malick, the mysterious and cultish director, started as a camera man and his shots still make the Academy swoon.
COSTUMES: Hugo (which will rack up some of these techy categories since it won't win anything big).
EDITING: The Artist
FOREIGN FILM: A Separation. A brooding, surprising domestic thriller.
SCORE: The Artist
SONG: The Muppets
SPECIAL EFFECTS: Rise of the Planet of the Apes
Enjoy the show! Good luck, Billy!
Tags: criminalization, culture, gay, hiv, meth, recovery, research
Posted in Gay Life, Living with HIV/AIDS, Meth and Recovery, My Fabulous Disease, News | 3 Comments »