Posts Tagged 'acting'
Wednesday, April 3rd, 2013
This memory still brings back fear and melancholy, like a ghost story that stubbornly haunts me after all these years…
Over and over, footage of Rock Hudson standing next to Doris Day was playing on television, and he looked ghastly. His skin was wrinkled and sunken as if by very old age. It was 1985, and it was one of the last close-up images most of us would ever see of the movie icon. And it was terrifying.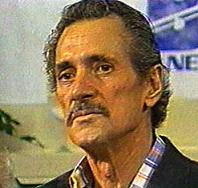 My heart was pounding, and I tried to listen to the voice-over, which spoke of the sudden illness of Rock Hudson and speculation that he might have AIDS. Throughout the newscast, memories of a night in 1982, nearly three years earlier, sprang to life. The images taunted me and screamed at me and said gonna getcha gonna getcha gonna getcha …
Charley and I had recently moved to Los Angeles and the city still held such mystery and promise for us. We were excited about spending our anniversary at the gay restaurant New York Company, where you got a candle on your table and mushrooms on your prime rib and they would probably sing to us or bring a special piece of cake.
No sooner had we settled at our table and ordered drinks than Charley started nudging my arm and staring at something behind me. I glanced in that direction, and was stunned to find Rock Hudson seated there, talking with another man.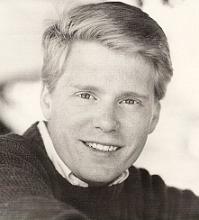 In our short time in Los Angeles, I had developed the attitude that famous people deserved their privacy and one shouldn't ogle them. I thought it was cool not to care they were there, even though I was dying to look. In any case, Charley was staring across our table in a gay restaurant directly at Rock Hudson and I wanted him to stop right this minute.
I was definitely jealous, not only of being upstaged by a movie star at my anniversary dinner, but because I wanted to look at him so badly myself, and Charley had the perfect view. So I pestered poor Charley for the next ten minutes about how rude he was and how I couldn't believe he found the man so fascinating and why couldn't he pay attention to me on this special night and all sorts of other such lies.
"You men having any fun?"
There was no mistaking the voice, and I looked up from my pouting stance to Charley, who was grinning across our table at the man behind me. "Sure," Charley managed to say. I turned around and Rock Hudson was smiling at me. I was a star struck boy and there was no hiding it now.
"Yeah, me too," I said. How completely embarrassing.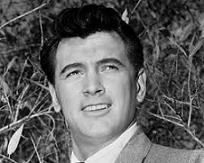 "You sure?" he asked, "Because my friend and I were just discussing it, and I was saying that the two of you were having a fight."
Rock Hudson was discussing me. Rock Hudson was discussing me.
"Uh no, not at all," I lied, jumping in before Charley had a chance to say what a bitch I was and how I thought you shouldn't ogle movie stars. "I think we're just kinda tired. As a matter of fact, today is our anniversary and we're celebrating."
"Yeah," said Charley, "we're doing fine. How are you tonight?" He was playing along, had forgiven me, and was asking Rock Hudson a question. This was unbelievable.
"It's really wonderful that you two are having an anniversary. How long have you been together?"
"Three years," we said in unison.
"That's just great. Congratulations." At this point he introduced his friend, who went "way back" and who's name I couldn't tell you in a million years, and then he offered an invitation. "Come sit with us, boys. Have a drink. It's a special occasion."
I looked at Charley, holding on to my "protect their privacy" stance for a few more seconds, but he had already risen to join them. What the hell. Like I would have refused. I took my spot beside Rock Hudson because I would have broken Charley's arm if he had tried that seat and he knew it. Another round of drinks appeared, and the star launched into clever stories that I don't quite remember but were more than fascinating at the time.
The conversation wandered onto Trivial Pursuit, the game which was then new and all the rage.
"Yes, I've heard of that," Rock said. "I haven't played it yet."
"We've got the game, Rock," Charley said. "You should really come over some time and we'll play it with you." I couldn't believe what he was saying. He actually called Mr. Rock Hudson "Rock." Furthermore, my partner had just invited this man "over some time," like that was really in the realm of possibility.
More drinks arrived. This man can drink like a cow, I thought, and not even show it. He was playful, though, and shot a few looks my way that I would have taken quite differently if it weren't clear I was celebrating my anniversary with the man to my immediate left.

"It's a great game," I found myself saying. "You wanna come over and play it with us?" I was a teensy bit smashed, no doubt about it.
"Yes, I would."
I'm sure there was more to it, more of a rationale as to why he felt comfortable crashing our anniversary evening, but I don't remember. His friend kindly begged off of the event, and it was decided that Charley would take his friend home while I rode with Rock so he had no problem finding our apartment. I still will never believe he parked his classy import on Edgewood Avenue, because it made me nervous parking my car there. Once inside, I found a full bottle of Scotch, poured him a drink, and gave him a tour of our tiny apartment until Charley got back.
I was no fool. What we had here was a prescription for something… unseemly. But I was barreling through these bizarre circumstances and wasn't weighing the specific possibilities. That's a lie. I was pursuing it because I suspected what was to come.
We played the game for a couple of hours, Rock winning and drinking. Before it was over the Scotch would be history and I would offer to roll a joint. "Pot makes me horny," he said, "so I don't know if I should–" and of course I was passing him the joint faster than you could say Star Fucker.
He talked about movies. And sex. And people he loved and hated. The juiciest tales began with "I was really drunk one night when" and the meanest had to do with people he thought had treated him badly professionally ("You need Julie Andrews like you need a knife in your back," said he).
Charley had taken it all in, but knew when enough was enough. He excused himself quite late to go to bed, Rock offered to go, I wouldn't hear of it, and we continued sitting in the dining room passing the joint.
I knew what was being played out. Questions floated about in the back balcony of my head, just within earshot. What kind of guy was I? Was I going to have sex with this man right here in the living room? What about my anniversary? What about the man I loved asleep in the bedroom? Was Rock Hudson as well hung as everyone said? Some questions got my attention more than others.
Rock made motions for the umpteenth time that it was time to go home, so while he whispered another insincere goodnight, I drunkenly opened the pants of Mr. Rock Hudson. The fact that this was a famous escapade had overruled the anniversary etiquette issues.
Thirty minutes or so later, I stood in my robe outside the bathroom, wondering what Rock Hudson thought about the rust stained bathtub in which he was quickly showering. The sex had been in near dark, and without the pretext of romance — no tender caresses or meaningful glances.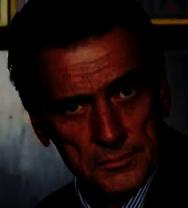 I can remember only one direct look from the man. I stared down upon his face after the exhaustion of labored sex — too much bourbon, too much pot — and my eyes tried adjusting to his face in the dark. And then there it was, staring back at me, with a surprisingly impatient look. Stern and almost elderly.
"Are you done?" he asked blankly.
Well, life ain't the damned movies, I suppose.
I would make small talk with him as he toweled dry and dressed, and then me, in a final act of staking my claim, asking for his autograph. Yes, so help me, I asked the damp, drunk and spent star to scribble "All my best, Rock Hudson" on a piece of notebook paper before his hasty exit down the duplex stairs and out to the dingy street below.
I watched the car pull away and walked slowly back to the bedroom, where Charley was sound asleep and snoring. I laid down in the dark and the night replayed in my mind. Was I triumphant? Excited, thrilled, guilty? I had just bedded the ultimate male screen icon of a generation, and I hadn't the slightest idea how to feel about it.
Rock Hudson was now a ghastly figure on a television screen in my living room. My heart raced every time the evening news began and some new tidbit of information about his disease, his sex life, his kiss with Linda Evans on "Dynasty," his lovers and his drug treatments were reported with morbid tones and oh-my-God urgency.
I had not yet been tested for HIV. In 1985, what was the point? There were no known effective treatments, the first drug treatment, AZT, was just being introduced and people with AIDS were dropping like flies. It was politically incorrect to get tested because it could lead to discrimination, brand you as terminal and assure you that every pathetic image of a dying AIDS patient applied directly to you.
And that is exactly what the Rock Hudson coverage was doing to me, test or no test. Magazines and Dan Rather news stories were talking to me specifically. ROCK HUDSON HAS AIDS, the headlines screamed, AND MARK KING WILL DIE AS WELL.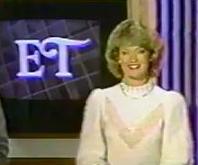 "Rock Hudson is now resting in his Los Angeles home beyond a doctors care," reported Mary Hart on Entertainment Tonight, "and Mark, you're an idiot if you think you can escape this now. You're dead as a door nail, buddy. What were you thinking?"
I would stare at the coverage without a word, and nod my head at parties when someone said how tragic it was and excuse myself.
My parents had been told the censored version of the anniversary night story that very next day, and called me in Los Angeles shortly after Rock was reported ill. "Why not go down to the hospital?" my father asked. "You could try to cheer him up, maybe bring Trivial Pursuit!" I explained the man had a million fans and wouldn't remember me, without mentioning how trivial the pursuit had been.
In October of 1985, Rock Hudson died in his home. News reports tortured me for months to come.
—————————————–
(Edited from A Place Like This, by Mark S. King. Copyright 2008.)
I love checking the analytical data produced by my blog software. It tells me what pages of my site you are visiting, what link sent you here, and even where you live (Hello, Cleveland! G'day, Sidney!). It also tells me what keyword searches bring people to my site, and once I sort through all the porn references (that piece on porn star Dawson still reels in the readers), the most popular Google search that brings people to my site, still, is the two words "Rock Hudson."
Since interest in him remains so high, I don't mind sharing this piece again (it appeared on my site in 2010). It allows me to provide a perspective on AIDS, celebrity, and our communal fear during the 1980′s that those Google visitors might never have expected.
Thanks for reading, and please be well.
Mark
Tags: A Place Like This, acting, aids, culture, gay, hiv, Recreation, Sexuality, testing
Posted in Books and Writings, Family and Friends, My Fabulous Disease | 8 Comments »
Monday, October 22nd, 2012
The story behind the title of Michael Kearns' memoir The Truth is Bad Enough is as delicious as the title itself. As Kearns' parents – themselves worthy of a Tennessee Williams subplot — battled each other at their divorce proceeding when Michael was a child, his father presented damning surveillance of his mother's many infidelities. The evidence was unimpeachable, but then the father tried raising the stakes by charging that the woman also physically abused him.
Kearns' mother couldn't be contained and interrupted the proceedings. "Your honor," she said. "Why is this man lying? The truth is bad enough!"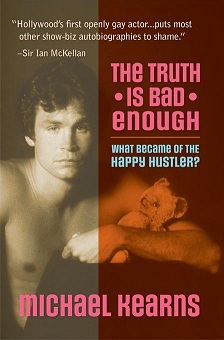 The truth is sometimes difficult, to be sure, but in the case of this engaging and fast moving autobiography, it's also hilarious. There's nothing more formidable than a drama queen with legitimate drama on their hands, and the life of talented, alcoholic, HIV infected, highly theatrical and perpetually horny Michael Kearns has had more peril than an Aaron Spelling series.
Kearns began his career in the midst of the "gay lib" of the 1970's even if Hollywood was tight lipped on the topic, and it is that disconnect that pushes the openly gay Kearns into an unintended activist role and confounds his career aspirations.
After a featured role playing the older brother of John-Boy on The Waltons, Kearns' future seemed secure. But test audiences reacted poorly to their scenes together because they showed the characters away at college. Kearns' character never appeared again. Rumors that he was fired because he was openly gay were untrue but persisted for years.
Meanwhile, Kearns had a boyfriend who had written a fictional book called The Happy Hustler, and for which Kearns had modeled for the cover image. In order to generate book sales, a plan was hatched to present Kearns as the actual Happy Hustler – the book's author – and send him on a press tour. Having been banished from Walton Mountain and still hungry for stardom of some kind, any kind, Kearns agreed to take on the counterfeit persona as a sort of exercise in ongoing performance art.
Keans' drunken appearance as The Happy Hustler (a role he began taking far too literally in his private life) during a 1976 Tom Snyder interview sets the stage for both career success and life on a runaway crazy train. Kearns revels in drug and alcohol abuse as tricks and acting jobs come and go. He sleeps with celebrities and strangers with equal apathy. His status as the first openly gay actor of note invites curiosity and derision. He agrees to reveal his HIV positive status for an NBC interview almost as a lark, leading to a period of portraying "the gay guy with AIDS" in a collection of acting gigs.
I was drawn to Kearns' story for the Hollywood gossip –– but I kept reading because of something deeper and far more riveting. And it had everything to do with how our lives were fated to overlap.
My own memoir A Place Like This travels some of the same West Hollywood streets. I was a bottom-feeder on the Hollywood scene (an expression I should probably withdraw now for its literal inaccuracy) and I never knew Kearns, but we did have a liaison in common: our bedding of the detached and unhappy Rock Hudson. However, let the record show that while Kearns' dalliance was what gay men refer to as "standup sex," mine was brief but at least horizontal. So, um, I win.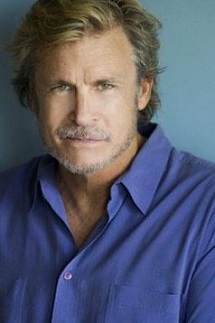 Many other famous faces populate the book – gay, straight, porn stars of various stripes, and the hypocritically closeted that Kearns, God bless him, outs on his pages with regularity. His characterizations of personalities we thought we knew are enlightening, gentle when need be, and sometimes quite sad.
The funny but famously acerbic Paul Lynde was kind and helpful to Kearns. Stage legend Leonard Frey (birthday boy Harold from Boys in the Band) sat despondently during a sexy gay house party, where looks trumped celebrity. The "monstrous" Charles Nelson Reilly was so threatened by Kearns' sexual identity that he cut short their visit in Florida to work on a project, throwing Kearns out of the guest house and squawking insults from the porch in his orange caftan as Kearns was driven away.
And then, Kearns' story includes a bizarre intersection between us that I found so revelatory and disturbing that I had to actually put the book down for several days while I reexamined an entire section of my life.
During the 1980's I owned a gay phone sex company, Telerotic. It predated party lines and the internet; customers called our office and "ordered" the type man they wished to speak with, and one of my employees (struggling actors, every one) would call back the customer and take on the persona of whatever the client had ordered. I had opened the company after working for a competitor and discovering I was a very popular choice among the clients and had, well, a way with words.
One day, playwright James Carroll Pickett contacted me. He wanted to interview me, observe me doing calls with clients, and get a feel for the business as research for a play he was writing. We spent a few evenings together, as I answered questions, smoked cigarettes, made funny faces while talking to clients, and snorted copious amounts of cocaine in my bathroom.
Months later I attended a performance of Dream Man, which would become the most heralded collaboration between the playwright and his theatrical partner, who performed the role of the phone sex caller in the searing one-man show.
The actor was Michael Kearns.
Watching the performance nearly thirty years ago was a surreal experience, but it was the playwrights inclusion of the mechanics of my nightly calls that were so striking to me: the rolodex box filled with client notes, the gimmicks I used to appear more engaged than I actually was, my tricks to get the client to call again by teasing him with an upcoming sexual adventure I wanted to be sure to share with him.
And I missed the point entirely. It wasn't until I read Kearns' book that the facts of the character he portrayed came into view: an isolated, frenzied and increasingly unhinged gay man with no prospects or esteem, playing to an audience of one – whatever desolate client he could hold hostage during their phone call.
The play was an aria of anguish, but all I could focus on during that performance so many years ago was the damn rolodex cards. I was incapable of facing the "dark density" of the character, because if I scratched its surface I would have clearly identified the drug addicted, desperate young man that the playwright had come to interview. And I may have revealed far more to him than I ever imagined.
Dream Man would be performed across the country, in Spain, Ireland, Germany. And through those years I continued my destructive path, having lost an opportunity for my own moment of clarity in the dim light of that West Hollywood playhouse. Reading about it now, in this book, rattled me to the core, and the book sat untouched on my nightstand for several days.
The last third of the book focuses on Kearns' adoption of a baby girl born to a crack addicted mother, his selfless love for her, and how their bond throughout her upbringing conjures everything from his fears of AIDS mortality to his unresolved issues with his own troubled parents. These pages are filled with a grace and maturity that are miles away from the drug- and celebrity-induced selfishness of his life thus far, as Kearns gently guides the reader down to earth, into the bosom of family, after pages and years of breathless shenanigans.
"Acceptance is the answer to all my problems today" is a common refrain among those, like Kearns, dealing with recovery from drug and alcohol addiction. His book is imbued with that acceptance, just as reading it allowed me to accept whatever part of me was on display in the lonely, reckless stage creation Kearns most famously brought to shattering existence.
Mark
Tags: A Place Like This, acting, aids, culture, help others, hiv, meth, recovery
Posted in Books and Writings, Gay Life, Living with HIV/AIDS, Meth and Recovery, My Fabulous Disease | 5 Comments »
Monday, May 21st, 2012
The music my friends liked when I was a teenager intimidated me. It was the head-banging rock of the early seventies, and it felt alien and unappetizing. Most of all, it just felt… straight, in a way I knew I could never be. Alone in my room, I listened to my beloved Broadway musicals, and resigned myself to the fact that popular music would never really speak to me.
And then in 1977, when I was sixteen years old, I began sneaking into the only gay bar in Shreveport, Louisiana. Inside I found joy and liberty, fashioned with bell bottomed pants and handsome smiles and the dance floor – oh my God the dance floor – centering the nightclub was a glorious explosion of colored light and swinging hips and arms reaching up, up to the sky as if we could clutch it in our hands. The music was an entrancing bombardment of sound, and one song, one mesmerizing invitation to touch the heavens, was played again and again.
It was Donna Summer. And she was singing "I Feel Love."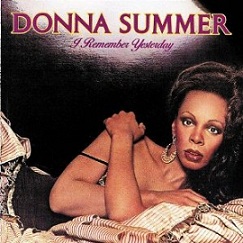 The track was really the triumph of producer Giorgio Moroder, who created the driving, synthesized beat that would define Donna Summer's music for years to come. But I knew I had to own this amazing song, and soon I stood proudly at the record store cashier to buy my very first popular album, Donna Summer's I Remember Yesterday.
I had found my music, my voice, and my lifelong muse.
The following year I had come out as a senior in high school, and Donna Summer was still in her "whisper period." It was never my favorite sound from her – it felt like playing chopsticks on a grand piano – and I knew from her other album tracks that she could let it rip. As I was graduating she did just that, with the release of her iconic "Last Dance." Her full-throttle pipes were on stunning display. Dance parties would never be the same.
By the time I left home for college in New Orleans, the music of Donna Summer had exploded into popular culture. I felt so proud of her, as if I had discovered her myself. My nights in the French Quarter were spent in the Parade disco on Bourbon Street, dancing to "Hot Stuff" and "Bad Girls."
The feeling of joyous exuberance that surrounded that disco is hard to describe. It was a sea of shirtless men, staking claim to our sexuality and the promise of infinite possibilities ahead. The incessant thump! thump! thump! of the beat was our clarion call, and it shouted Here! Here! Your tribe is here! We were so beautiful, in ways we were much too young to know.
And then soon, of course, the lights began to dim.
By 1982, I was struggling in Los Angeles as an aspiring actor, and Donna Summer was having a musical identity crisis. Record executives wanted a new sound for her to accompany the changing times, and her longtime producer Giorgio Moroder had been replaced by a succession of others. The red-hot Quincy Jones produced her Donna Summer album that year and their studio clashes became legendary. The album floundered and produced no significant hits.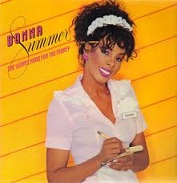 At the Los Angeles gay pride festival the next year, I was thrilled to hear Donna's voice again, sounding gorgeous and almighty, singing "She Works Hard for the Money." I took to the dance floor but was somehow unable to muster the joy I had known only a few years before. Life had intervened. And it had brutal plans for the men under the dance floor tent.
Donna Summer produced dance floor singles, if not hits, in the years that followed, but we weren't paying attention. The night club crowds dissipated, as a silent killer plucked men away one by one. AIDS had begun its murderous march through the gay community.
The villain wasn't simply the disease in those darkest of days. It was ignorance, and the judgment that rose up from social conservatives who saw Godly retribution in the horrific deaths of our friends. And so, when Donna Summer became a born-again Christian during this period and announced she would no longer perform her early, erotically charged hit "Love to Love You, Baby," her gay audience viewed her with immediate suspicion.
An ugly rumor began. Someone claimed to have heard her make a homophobic remark during a concert appearance. Depending on who was repeating the story, she had either said AIDS was God's judgment, or that God made Adam and Eve, not Adam and Steve. The unsubstantiated rumor swirled and grew, in an environment in which gay men were particularly sensitive to ignorance and hatred. By the time Donna Summer took it all seriously enough to set the record straight, it was too late. What was left of her popularity fell victim to the social maelstrom of AIDS.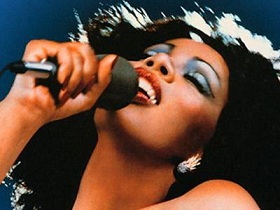 I never believed the story, and defiantly continued buying her albums, though they appeared with less regularity. Donna Summer would have only one more true hit, "This Time I Know It's for Real," which I chose to perform for my maiden appearance in drag at an AIDS benefit. The fact that during this time Donna Summer was raising money for AIDS research gained little traction among emotionally bruised and unforgiving gay men.
Today, disco may be dead, but Donna Summer's music laid the groundwork for everyone from Madonna to Lady GaGa, even if my body has found it harder to approximate the dance floor moves of my youth. But in my mind, as I blast "Dim All the Lights" in the privacy of my living room, I am young and powerful and life is making promises that are wonderful and possible.
Donna Summer is among the spirits now, joining the legions of ghosts haunting brightly colored discos from another era. She is still cooing to them, to these throngs of boisterous men, inviting them to the dance, where there is everything to celebrate and nothing to forgive.
The men are moving to the beat and laughing and holding one another. They are all beautiful, and they know it.
And they feel love.
Tags: acting, Aging, aids, culture, drag, gay, Recreation, Sexuality
Posted in Anita Mann and Acting Gigs, Books and Writings, Gay Life, Living with HIV/AIDS, My Fabulous Disease, News | 20 Comments »
Thursday, March 15th, 2012
"We're born naked… and the rest is drag." — RuPaul/center>

When I was nine years old, I took my parents' album of the Broadway musical "Damn Yankees" and memorized every syllable of Gwen Verdon's show stopper, "Who's Got the Pain When They Do the Mambo?" Once I was satisfied with my lip-synching and choreography (I decided that a mambo was a dance in which young boys gyrated and flung themselves on and off the living room sofa), the number was ready for public display.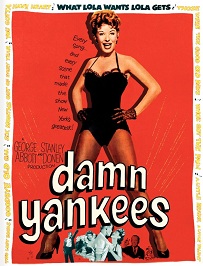 The premiere was a simple affair, exclusive and unannounced. Mrs. May from across the street had stopped in for afternoon coffee, and opportunity knocked when Mother busied herself in the kitchen for a few minutes.
Not a smart move, Mother, leaving Mark alone with the company.
"Mrs. May, would you like to see me do a song?" The unsuspecting woman gave a polite "yes, that sounds nice" and before Mother could run interference I had turned on the stereo and dropped the needle at the precise moment where Gwen breaks into song.
Mrs. May stared and stared, her hands folded neatly in her lap, as I brought out every sashay, twist and thrust in my dancing arsenal. My moves may have been imperfect but I vocalized brilliantly, thanks to Gwen. As I struck my final pose, arms reaching for the heavens, frozen and triumphant, I saw mother standing in the doorway, holding a plate of cookies and breathing heavily through her nostrils.
Future performances would be limited to my bedroom, where I could conjure an audience cheering with acclamation and mothers wouldn't put you on restriction.
It is that boy, the cheerful but feminine performer, that I always feared would creep out of me as I navigated young adulthood as a gay man. I worked to shed his characteristics, to replace every soft gesture with a wooden one, to embrace the gym and tank tops and Levi jeans with the same fervor I once had for my beloved Broadway musicals, with mixed success.
And then, a lifetime later, as I worked for an AIDS agency in Atlanta in the 90's, destiny called. An upcoming drag contest to benefit our agency was suffering from poor participation, and my boss asked if I would consider entering.
Being a drag queen, even for a night, terrified and delighted me. But the performer in me won out, wouldn't you know, and Anita Mann was born. I created an interactive video rendition of Donna Summer's "This Time I Know It's for Real," (even then, long before this blog, I was toying with the possibilities of video) and won the contest.
Soon I was performing with "the camp drag queens of the south," The Armorettes, who hosted a Sunday night show to raise funds for AIDS organizations. Over the years they have raised over $1 million dollars, and their show was a sellout every week. But my own phobic notions lingered.
I didn't want to be known as a drag queen ("It's comedy! I'm a performer!" I would insist). I never appeared anywhere in drag but on that stage – I would always get dressed at the show, and was often out of drag for the final curtain call, in a bid to display whatever masculine credentials I had to offer.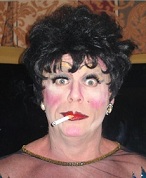 I would hear other gay men make disparaging remarks about drag and I withered, unable to admit I was playing to a packed room every Sunday.
The nexus of shame and shamelessness is a complicated one. Each week I put on full display the very things about myself that I had worked so hard to reject – my femininity, my silly pursuit of acceptance through laughter and applause. And just as I gained confidence in what I was doing and why, I would lose a potential boyfriend when he learned of my weekend talents.
As a growing drug addiction encroached on my free time, I abandoned Anita Mann to its demands. For many years thereafter, Anita's dress and wig would be relegated to a duffel bag hidden in the back of the hallway closet. I had found a vocation in drugs that offered twice the shame and every bit of the need to keep quiet about it.
It took a few years in recovery from my addiction before Anita would make her comeback. Armed with a TV set and a sense of the absurd, Anita performed at a benefit for those of us in recovery, in what may have been her finest hour. Her rendition of "Don't Get Around Much Anymore" grows more insane by the moment, and perfectly embodied my interest in multi-media performance.
And yes, I am aware that I speak of her in the third person. Maybe it is because I view her as a character I have created, and perhaps it is the remnants of shame, and of my need to keep her at a distance.
It's strange, how those things about which we have drawn the most shame are also able to liberate us, not to mention help others. My HIV status. My drug addiction. My drag personality. As I have embraced each of these, I've found self-acceptance and a way to carry a message of hope, and even joy, to others.
Anita Mann limits her performances these days to recovery related engagements. It seems fitting that these two aspects of my life, both once secretive, have found their place together. Anita has a voice now as well, doing a sort of recovery stand-up and even singing live when the occasion permits. Anyone in recovery might enjoy watching the highlights of her recent stint at the Crystal Meth Anonymous conference in Atlanta, which includes her bittersweet rendition of "Happiness is…"
Meanwhile, I still struggle with the need to project as much masculinity as I can muster. I swagger more than I sashay. I sport a beard when possible. And I work to maintain a strict gym regimen.
It's important for me to stay in shape if I expect to fit in that dress.
———————————————————————–
PLUS…
The HIV Cruise Retreat is going to be sold out early this year, because the cruise ship, unlike previous years, is taking back unsold cabins from the cruise organizer that are not sold within the next week. In years past, cabins for our group could be sold much closer to departure. This is probably due to the popularity of the Halloween voyage, and it means you must act now to get a spot. I love this event. Contact Paul Stalbuam at 888-640-7447 or visit www.HIVCruise.com.
Tags: acting, culture, drag, gay, help others, hiv, meth, recovery, Recreation
Posted in Anita Mann and Acting Gigs, Family and Friends, Gay Life, Meth and Recovery, My Fabulous Disease | 9 Comments »
Wednesday, October 19th, 2011
Last night I kissed a straight guy full on the lips. Then he tenderly put his arms around me and kissed me back. Tonight I'm going to do it again.
It sounds like… conquest. Or breaking a taboo. At the very least it fulfills the fantasies of many a gay man.
And it makes me wonder why.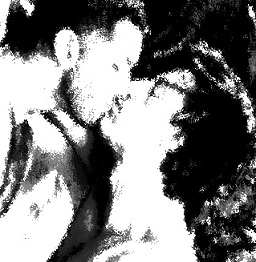 The object of my affections is a man named Travis, and he plays my lover in a play we're performing about a gay couple doomed by drug abuse.
Travis is most certainly straight, judging by the dorm room condition of his dressing area, his raunchy jokes and the effortless masculinity he possesses and that I can only approximate.
At an early rehearsal, long before any kissing would ensue, the director motioned me aside to share some surprising words.
"Let's take our time working up to the kisses," said the director. He lowered his voice a little. "Travis has never kissed a man. He's straight." It sounded like a condition.
And in a way, it was. It immediately colored how I acted around him, on stage and off. The play covers our courtship and as we rehearsed I felt another type of courtship happening. Was he watching me, thinking that's the guy I have to kiss? Was I masculine enough? Did he think I was cute? Did he even care if I was attractive or not? Was he disgusted at the thought of touching me?
Obviously he was comfortable enough to take the role. But to be honest, he was nervous and it showed. I finally got the nerve to say something about it during a break.
"So Travis…" I began. "You're straight and you've never kissed a guy I hear."
"Yeah, yeah," he said. "Sorry about that." He was actually apologizing for being straight, and I felt like doing the same thing for being gay. "I guess it's an issue for me but I'll get more comfortable. I did a nude scene with a gay guy before, but I wasn't playing gay and we didn't kiss or anything."
This man was on stage naked and found it easier than kissing a guy? I would French kiss the entire cast and crew of "Ugly Betty" before you would find me dangling uncovered on stage.
Bringing it up helped immensely. We not only joked about his "condition," but we also discussed mine: HIV. It allowed me to engage in some basic HIV prevention education with someone who might not otherwise get candid answers to his concerns. Yes, he knew you couldn't get it from kissing, but hearing it definitively made him more at ease.
We made a deal that we would start kissing when we no longer needed to hold scripts, and when that time came, I didn't hesitate. And bless him, neither did he.
It was a brief, perfectly ordinary kiss. And it was done.
Once the occasion had passed I think we both realized it was much ado about nothing. But it got me thinking about why the fact he is straight made the idea of kissing him somehow more… exciting. Why? It may be as simple as wanting what you can not have. And that's a common desire.
It's the other implications that bother me. Do I see a straight man as innately more appealing than myself? As better, as a more authentic specimen of Man? That would suggest I think of myself as less than ideal because of my sexuality.
Whatever the reasons, it's not the only preconceived ideas I had about my straight co-star. I questioned if he could pull off the gay thing. Or would something, like his macho pride or his clueless heterosexuality, prevent his performance from being "authentic."
But something happens every performance that surprises me and shames my prejudices. This lumbering straight dude who bristles when I call him "sweetheart" offstage becomes an affectionate, giving lover onstage. His eyes smile at me. He pulls me closer in our bedroom scene. He shows a sensitive, willing and playful vulnerability.
It has been an enlightening experience. I now realize how little faith I had in his talent, much less his humanity. I'm not alone. Half the cast is gay, and almost all of us play multiple roles in various sexual combinations. Between our sincere desire to understand our characters and getting to know each other, the backstage chatter runs somewhere between Dr. Phil and Jerry Springer.
We've all learned a lot. I learned that if something got in the way of portraying a gay couple on stage, it wasn't the straight man's phobias.
It was mine.
(This posting is from the December, 2007 archives, during a theater stint in my beloved Atlanta, where I will return to live in January. On another note, I thank everyone for your messages of concern and support over my recent breakup; they have sustained me during a difficult time. — Mark)
————————————————————
PLUS…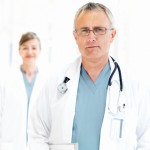 I was familiar with studies showing that attractive people tend to get favorable treatment in our society, but did you know that your likeability can affect the quality of your health care? A new posting on Klick Pharm's blog "Digital Rx" shares a study which finds this to be true. "As an educated and knowledgeable contributor to the process the e-patient must bring forward what he or she knows," says writer Brad Einarsen, "but it seems that it is important to do it in a collaborative and, for lack of a better term, friendly way."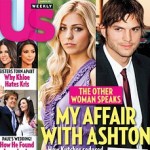 This week in pop sleaze reports, Ashton Kutcher is still fending off rumors of a tryst in a hot tub, while his wife Demi Moore showed up at her latest movie premiere looking ghastly; her stick-thin figure reignited concerns about her health and drug use. But among all the salacious reporting was a terrific article by Jennifer Morton of POZ Magazine that carried a simple question: "Dude, Where's Your Condom?" wanted to know why Ashton, according to the US Magazine story by his one night stand-er Sara Leal, engaged in what we gays call barebacking. "Quite frankly, whatever happens between Ashton Kutcher and Demi Moore is their business," writes Morton. "But if Leal's account is true and he is having unprotected sex with strangers, he's risking a whole lot more than his marriage."
Tags: acting, culture, gay, hiv, recovery, Recreation, Sexuality
Posted in Anita Mann and Acting Gigs, Books and Writings, Gay Life, Living with HIV/AIDS, My Fabulous Disease | 5 Comments »
Tuesday, September 20th, 2011
According to family lore, my arrival at birth with a full head of orange hair was met with shock and awe. My five older siblings ran the gamut from blond to dark brown, but they otherwise lacked my peculiar genetic mutation. Although the hospital nursery staff was abuzz with delight, my own family debated whether the color would last while they double checked the identification tags.
It lasted. In fact, the color bloomed like a Van Gogh painting. Before long I would learn the price of being different — and how intense childhood ridicule can be.
Look, it's Freckle Face Strawberry! Howdy Doody. Bozo. Opie. I didn't know whether to chop off my hair or hide underneath it. Only little old ladies and a few teachers seemed to appreciate it, but their cooing and stroking — they always needed to touch it, like a lucky charm — never endeared me to the bullies at school.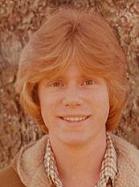 When puberty hit and the startling orange hue crept further down my torso I was beyond mortified. How could my body play such a cruel joke? Did this adolescent sissy really need another reason to be kicked and taunted? I actually made it through two years of junior high gym class without once taking a shower, usually by fiddling around at my locker — folding and arranging my clothes, feigning trouble with my combination lock — until it was safe to get dressed.
When I came bursting from the closet while in high school, I managed to finally celebrate my red hair along with my sexuality, and reveled in both. I mastered every hair product known to man, blow drying and spraying my head into a Farrah Fawcett extravaganza before a night out at the local gay bar. I discovered the men who loved redheads, and at last, I'd found the ideal purpose for the trait that once humiliated me.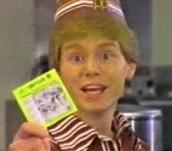 It even became crucial to my vocation, during a brief stint in my twenties in television commercials. Casting directors saw dollar signs on my head, and I became the freckled pitchman for everything from McDonalds to Popeye's to Barq's root beer. I treated my hair as a gay Samson might, with the latest gels and shampoos and conditioners, and in return it made me money and got me laid.
Whatever I became through the years, this single aspect of my identity pre-dated everything. Before the writer, before the AIDS activist and the drug addict and the actor and the childhood sissy, I was a redhead. From the very womb.
And then, not quite. Sometime in my thirties, the color began to slowly drain from my scalp. The orange and reds eventually surrendered to a strawberry blond, and even those tones became weaker, like watering down a pitcher of Kool-Aid, as my fiftieth year approached.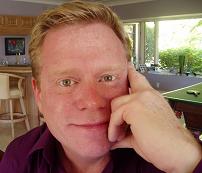 It must sound ridiculous, but I felt the loss deeply. We had been through so much together, my red hair and I.
I tried to take heart in having, whatever the color, a full, thick head of healthy hair, guaranteed for life by the family gene pool. That is, until a few months ago, when I stood in the shower and felt strands of hair sliding down my face, in a massive march from my head to the drain. After decades taking HIV medications, I had begun a new treatment regimen and its woeful side effects were ruthless and immediate. Within weeks my hair was thinner, dulled and brittle to the touch.
One of my private, most selfish fears has been realized. I have AIDS Hair.
But while removing clumps from the shower drain is a jolt to my vanity, it isn't the trauma it might have been. After living with HIV for nearly thirty years, I've witnessed how creative it can be in its cruelty, down to the slightest of indignities. The sudden damage to my hair has been worrisome, I'll admit, but part of me knows that it had long since served its purpose. There is something correct, even poetic, in this twilight of the redhead.
Years ago, as I began rebuilding my life after years of drug addiction, my therapist made a withering observation. "You've got no second act, Mark," he said after one of my self-absorbed ramblings. "You make a nice first impression. But then what? Not much."
The work that I've done in the years since his pronouncement have taught me the value of more important traits, of lending a hand or paying attention to friends or standing up for our community. And this evolution appears to have swept away one of my most stubborn sources of willful pride.
The last decade has given me the gift of other, more meaningful assets. They lie beneath, away from the gaze of strangers and first impressions.
My best features are now visible only to those who really know me. And they are just beautiful.
Mark
—————————————–
PLUS…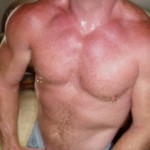 Sometimes I blurt out a blog posting that belies my supposed serenity and enlightenment, like the rant I posted on The Bilerico Project ("For God's Sake, Put Your Shirt On") about gay guys who can't seem to keep their clothes on when posting pictures on mainstream social media sites like Facebook. Pecs and traps and biceps? On glorious display. The friends who are beside them in the photo? Cropped out. Guys will even chop off their own faces, as not to distract from the wonder that is their abs (and, as we all know, it's not the friends you keep, but the abs you maintain). Anyway, I had some fun calling them out about it, and the comments have been kind. Well, except for the twenty-something that claimed I was just jealous I wasn't sleeping with young hotties. Umm, ouch.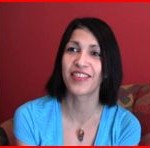 My favorite HIV/AIDS online resource, TheBody.com, has just opened a brand new section on the importance of drug adherence and tips on maintaining your regimen. As part of it, I was asked to produce some short "Day in the Life" videos of people living with HIV and how they fit their pills into their schedule. It was terrific to produce a video about Damaries Cruz of south Florida (right), who shares her misgivings about starting therapy at all, and her collaborative relationship with her physician. And the story of Tree Alexander is an inspiration, as he works to maintain his treatment regimen even during a period of homelessness. The reaction of his large family to his HIV diagnosis was wonderful and astounding: they threw him a "stay healthy" party!
Tags: acting, Aging, culture, family, gay, gratitude, help others, hiv, meth, recovery
Posted in Family and Friends, Gay Life, Living with HIV/AIDS, Meth and Recovery, My Fabulous Disease | 11 Comments »
Tuesday, June 21st, 2011
When I was 15 years old, I couldn't wait to attend a local community theater production of The Boys in the Band. I was intrigued by the play's dark and mysterious reputation, and had heard that it included a lot of homosexuality (funny how that word isn't used much anymore). It sounded like exactly what this budding young queer needed: some lessons about the yellow brick road ahead.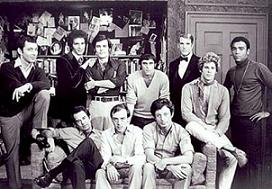 I didn't like what I saw. The characters, a group of gay men celebrating a birthday, were mean and sad and angry with one another. And they were all presented like weird, exotic animals, bitching and crying for the lascivious thrill of a very shocked audience in Shreveport, Louisiana. I left the show feeling terribly disenchanted, fearing my life was destined to be drunken and pathetic.
It was the theatrical opposite of an It Gets Better video.
In the insightful and appropriately melancholy new documentary Making the Boys, the remarkable journey of the groundbreaking play and movie adaptation is discussed by playwright Mart Crowley and a host of gay cultural voices, old and new.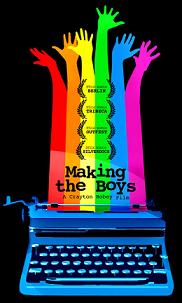 When The Boys in the Band opened off-Broadway in 1968, homosexuality was still classified as a mental illness. The play's behind-the-scenes peek at gay men in their natural habitat was fascinating to audiences and greeted with enthusiasm from the gay community. Yes, they were maladjusted, self hating fags, but they were our maladjusted, self hating fags.
But in 1969, as the movie version was being filmed only blocks from the Stonewall bar, a riot occurred at the club in response to constant police harassment. The modern gay rights movement was born. Seemingly overnight, New York gays stood up for themselves and demanded some respect — from others and, more importantly, themselves. By the time the film version of The Boys in the Band opened in 1970, the story and its sad characters felt like a politically incorrect relic. We wanted nothing to do with these old, bitter friends anymore. They didn't reflect our "pride."
Opinions about the show vary wildly, as evidenced by the interviews in the documentary. Gay playwright Edward Albee ("Who's Afraid of Virginia Wolfe?") always hated the show and still does. The surviving actors (the theatrical cast all recreated their roles for the film) staunchly defend the humanity of their characters. And younger gays interviewed about the show have no idea what the hell we're talking about. "I don't really know about any boys in the band," states perplexed fashion star Christian Siriano. "Honey, I've got dresses to make!"
The Boys in the Band has become a litmus test for how you view our ability to love ourselves. And those boys continue to reverberate and reflect our attitudes and tribulations as gay men, and that includes the AIDS crisis.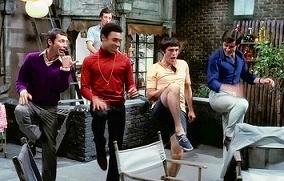 Watching the film today, I'm struck with an odd compulsion. I see these characters laughing and bitching, and I want to reach through the screen and shake them and warn them, to tell them about something coming, something too awful to describe, of a plague they can't possibly comprehend that is coming to kill them all.
Indeed, at one point in Making the Boys, we are shown photos of the actors, of the men who played these iconic characters we loved and then hated and then, finally, simply accepted. And listed under each of the actors' names is the year he died of AIDS. 1984. 1985. 1988. On and on it goes, through what appears to be a majority of the cast.
The moment brings about such emotional confusion, of regret and interrupted affections. It's like hearing of a death of a long lost friend with whom you had a troubled relationship.
Our boys continue to live on through the film, performing their roles on that screen exactly the same way, defiant in their stereotypes, no matter how many times we revisit the movie.
What has changed, for better and for worse, is us.
—————————————————–
PLUS…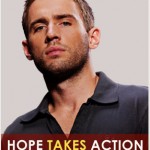 HVTN 505, also known as the HIV vaccine clinical trial, continues to struggle to find study participants, and that's a shame. You know I never miss an opportunity to encourage HIV negative gay men and engage them in the HIV/AIDS arena, and this is the best possible way in which they can make a difference to public health. But… maybe they just aren't sure what is involved. Well, Kyle Bella outlines his experience as a trial participant in great detail in a recent Bilerico Project posting — from the criteria to the risks to his physical exam — and it's great information for anyone who might be interested. And be sure to visit Hope Takes Action to browse the list of trial sites.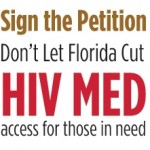 The ADAP Advocacy Association (aaa+) has a new petition that is easy to access and sign — and it adds your voice to all of us who are horrified about this national disgrace. Most recently, Sir Elton John joined the chorus of advocates demanding that Gov. Rick Scott of Florida do something to alleviate the waiting list (there are more than 3500 patients in Florida alone who are waiting to participate in this program). So… just click here to sign a petition at the Elton John AIDS Foundation, asking that ADAP get the funding it desperately needs.
Tags: acting, Aging, aids, culture, gay, Recreation, Sexuality
Posted in Books and Writings, Gay Life, Living with HIV/AIDS, My Fabulous Disease | 10 Comments »
Tuesday, March 15th, 2011
There were moments while reading It Gets Better, the new book inspired by the YouTube video project to help bullied youth, when my heart leapt to my throat and hovered there. It happened a few times, quite unexpectedly, usually while in the middle of some essay from an author I'd never heard of. In an instant, I found myself fighting back tears over the pain of someone who was once convinced they would never be happy or accepted in this world.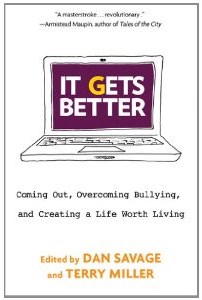 These emotional bombshells are the secret weapon in this collection of essays: moments of aching truth that pierce the sometimes distracting hype associated with the "It Gets Better" project and deliver an emotional wallop.
In case you don't know (really?), the It Gets Better Project is the brainchild of writer Dan Savage and his partner Terry Miller. In response to a rash of gay teen suicides due to bullying, the couple realized they didn't "need permission from parents or an invitation from a school" to reach troubled LGBT teens. All they needed was YouTube to talk to them directly, telling kids to hang on, that "it gets better."
Months before social media helped topple governments across the globe, this simple idea led a revolution of its own. It reached millions of kids and made The Trevor Project, a crisis hotline for LGBT or questioning youth, a household name. As the YouTube channel exploded, celebrities and elected officials joined the chorus of messages from everyday folks.
And now, the book. It Gets Better: Coming Out, Overcoming Bullying, and Creating a Life Worth Living (released on March 22) is "inspired" by the video project, meaning some of the essays are original written pieces while others are edited transcripts directly from videos. It's an earnest, uneven, truly inspirational collection, with enough of those heart-in-your-throat moments to keep you reading.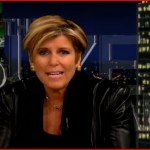 Interestingly, the most famous names in the book have the least impact. Barack Obama, Hillary Clinton, Al Franken, Suze Orman (left), and even Ellen Degeneres are all here, but their pieces feel about as passionate as thumbing through their cue cards. Maybe fame leads to caution.
You'll have to settle for celebrity twice-removed to tap a wellspring of real emotion. Randy Roberts Potts is the grandson of the late, ultra-homophobic televangelist Oral Roberts, and Randy shares a family secret more salacious than his own homosexuality: his uncle, Ronald David Roberts, was also gay, and he was so despondent after coming out to his famous father that he killed himself with a gunshot to his heart.
Randy's own story is filled with religious and social trials, but there is victory. "I had to fight hard for it, but it finally happened," he writes, "the freedom to just be myself." And then he can't resist this: "My grandfather was famous for telling people, 'Something good is going to happen to you!' And, it's strange to admit it, but he was right."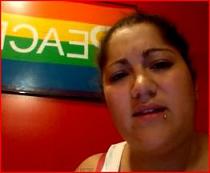 I still have the voice of lesbian Gabrielle Rivera ringing in my ears. Gabrielle appears on page 45 and not a moment too soon, bursting with truth and anger and passion. "It kind of doesn't get better," she proclaims. "…but what happens is this: You get stronger. You learn how to love yourself. You learn that other people are just crazy and caught up in their own crap."
I've never been more moved by a dinner menu then I was reading the entry of food blogger Adam Roberts, who shares exactly what he prepared the night his parents came for dinner to meet the parents of his partner, Craig. Adam intersperses his coming out story with details of the night's short rib and polenta, and the care, the sheer detail and love, with which he prepares the meal touched me deeply. By the time he served the flourless chocolate cake I was a complete mess.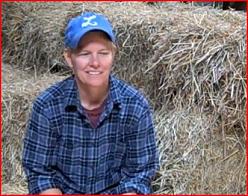 Krissy Mahan from upstate New York (why are so many of my favorites from lesbians?) assures her readers that "not all gay people are urban… I've been really happy being a big rural dyke." She loves country living but says "I'm sure there are some things that are kind of frustrating to you, and you're probably rockin' the flannel shirt every now and then, but that is going to be totally hot to somebody someday. It's gonna get real better."
And even an actual reformed bully makes an appearance in the book. Joseph Odysseus Mastro is a straight 29-year-old from Oakland, California, and he has a confession to make. During high school, Joseph "was belligerent toward kids I recognized as being in the theater group, screaming 'Fag! Faggot!' at them."
Beyond apologizing to them, Joseph turned to community service. At 19, he began handing out condoms and lube outside gay clubs on behalf of an AIDS agency. "Some of my straight friends would ask 'why are you helping out the gays?' which is a reprehensible question in the first place, but I respond that… there are gay men who have HIV, and they're who I want to help." Joseph wins the Reformed Bully of the Year Award, hands down.
The real excitement of this book is imagining where it will end up " a public library in South Dakota, the reading room of a youth center on an Air Force base — and how, because we must, we get this book on the shelves on every junior high and high school in the country.
Last year, my (also gay) brother Dick and I sat down at our Mom's house and turned on the camera. For the next few minutes we traded stories about growing up gay in the same family " about 15 years apart " and even brought out photos from our youth. We teased each other like brothers do, and it was apparent we love one another, because we do.
Our It Gets Better video became a popular entry, and we were honored to be included in this book. There we are on page 300, near the back, in a transcript of our chat that reads like a sassy play with two very gay characters. It is neither the best nor the most moving essay in the book, but it does show an easy love between us, and that alone may be of value to a LGBT youth out there. I couldn't be more proud.
Like many people who grew up gay and afraid, my soul may have survived those years but I have a few scars left behind. It Gets Better gently strokes these wounds — the toughened and the still-tender ones — so that young people today might take heart and make the journey to adulthood a little more safely.
There's no denying the power of this project, and what could easily be the most important book of the year.
————————————————————–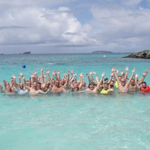 Word from the organizers of the annual HIV Cruise Retreat is that there are now more registrants for the November cruise to the Caribbean than ever before! I was honored to be the M.C. for the cruise last year, and honestly I had more fun than I could have imagined (nope, I'm not getting paid to participate or to promote this event). Take a look at the web site for video from last year's event and consider joining us. It's a largely gay group with straight allies, but without barriers or attitude, just sincere support and a lot of fun.
Tags: acting, culture, family, gay, gratitude, help others, politics, Sexuality
Posted in Books and Writings, Family and Friends, Gay Life, My Fabulous Disease, News | 4 Comments »
Tuesday, February 22nd, 2011
"The suspense is terrible. I hope it will last."
– Oscar Wilde, The Importance of Being Ernest
How was this judged, exactly? I was afraid you might ask. Not on the number of hits or any formal voting procedure. I relied purely on feedback received through the year and from posted comments, but mostly, umm, I picked my favorites. So there.
The Top Ten Posts from My Fabulous Disease
presented in reverse order
—-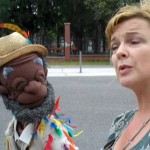 #10. The Wisdom of Youth at AIDS2010. My skills (and physical stamina) were sorely tested when TheBody.com sent me to Vienna for the 2010 International AIDS Conference. Every day was a sprint around the massive conference center in search of stories that inspired or amused me. In this episode, I was blown away by a collection of teenage (!) activists from around the globe who gave a press conference and then chatted with me (try being nineteen and an HIV advocate in Afghanistan). Then I interviewed an actual muppet with No Strings, a program that uses puppetry to communicate with African children about AIDS, transmission, and grief. Awesome.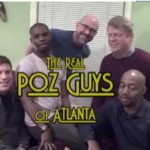 #9. The Real Poz Guys of Atlanta. Nothing has been more important to my long term sanity and well-being than the support of friends, so I decided to let you meet a few of them in this ongoing series of videos. In this, our second get together, my friends Craig, James, Antron and Eric and I (all of us are living with HIV) bake brownies — recipe included in the post! — and dish about our HIV, doctors, families and love lives. To top it off we all engage in some surprisingly moving "show 'n tell," by bringing things to our dinner that represent something about life with HIV. If you need to feel the love of friends right now, check this out.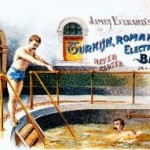 #8. Locker 32, your room is ready… to be hosed and sanitized. Okay, so here's my bawdy comedy side, in a farewell essay to the gay baths. In my former, youthful and/or drug fueled days, I was a staple in such establishments, and the value of how one looked sauntering about in a towel was a misguided priority that, frankly, I'm still working to shake from my world view. But there's no such depth in this funny essay, just a final look at the baths on my very last visit, or as the piece begins, "the last time I went to the baths… I stepped in poop." Hold your nose, and enjoy!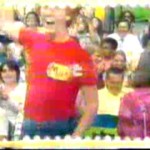 #7. The Price is Right, thirty years after coming on down. "When I was 19 years old, I vacationed to Los Angeles and won a car on The Price is Right." So begins my book "A Place Like This," my first-person account of my years in Hollywood in the 1980′s. I use the game show story to reflect on the young man I was and what dreams I had, while AIDS looms in the near distance ready to wreck the plans of a generation. I've always liked this as its own essay, though, and thought it would be fun to include the actual footage of my winning the car, so the reader can watch the little story come to life.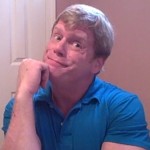 #6. My T-cells Could Use a Facelift. I've probably posted the heart and soul right out of this poor video, using it more than once this year, but it remains a favorite of mine because it strikes the heart of my issues as a gay man, a man with HIV, and an aging one at that. We're the guys that can still remember being youthful but we just don't quite hack it in the cruise clubs anymore. I know I shouldn't miss it, and yet… The video also lets me show off my butt pads and discuss my not-so-subtle tactics to avoid growing up. Maturity is hard won in my household, my friends.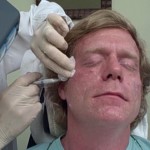 #5. A Facial Wasting Update. This is when I realized the real potential of my little digital camera: when Dr. Gerald Pierone agreed to let me film our consultation about my facial wasting (lipoatrophy), and the procedure to remedy it. This episode is actually our second video together, when I returned for a follow-up treatment — it reviews footage from the first visit but also gives a more accurate look at the treatment results. At the end of the first episode, I was so pleased with my new face that I shot my closing with such bright light I looked like I was voguing in a Madonna video. I don't make that mistake again.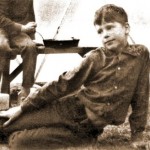 #4. I am the man my father built. Why are there passages in our life that we return to, again and again, those milestones that shape us and serve as references points our entire lives? Camping in the woods would seem an unmemorable scenario for a young gay boy like me (behold my pubescent self, right, in repose). Dad wasn't trying to butch me up, he simply reveled in being different, like pitching a clear plastic tent when all the other fathers and sons on the campout had normal ones. But every time dad instilled in me the value of being different ("that's the beauty of it," was his most common exclamation), he was preparing his son for the world in a way he never imagined. A love letter to my dad, and I hope you'll read it.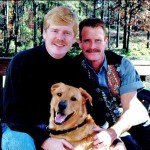 #3. Examining death, including the one I caused. To be honest, I thought I was doing my ex-partner Chris Glaser a favor by reviewing his most recent book. But that blithe arrogance evaporated when I read his elegant book about death, "The Final Deadline." Chris devotes chapters to manners of death and their lessons for the living, and to my surprise includes one about the death of our relationship and there, suddenly and in black and white, was the wreckage of a romance, and the crushing hurt I had caused when I chose my escalating drug addiction over my partner. Reading this book would enlighten anyone, but no one more than me. Chris' capacity for forgiveness and finding teachable moments is more beautifully rendered in his book than anything I might conjure.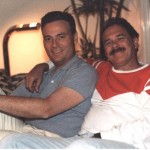 #2. Once, When We Were Heroes. Another one I've posted to death — the video version has been on my main page for ages — but it's as if I'm afraid I'll never write something quite like it again. It sprang from my observations about so many of us that lived through the horror of the 1980′s and how mundane our lives are today. So many of us were called upon to do courageous things, or withstand terrible grief, and today we're shopping at Macy's and planning brunch. Which is a miracle and perfectly allowed, of course. It just makes me realize that you can never know what the man on the treadmill at the gym might have once withstood, or how resilient our own spirits are, when we once thought they might never survive.
And the #1 blog posting of my first year is…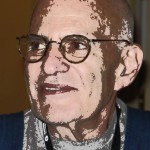 #1. The Day Larry Kramer Dissed Me. Pure whimsy, no doubt about it, and the funniest part of this fictional account of a disastrous trip to the mall with Larry Kramer was how many people didn't know I made the damn thing up. Not until they read the footnote. Reactions were all over the place: how dare I ridicule an icon, they wanted to know. I would be dead if it were not for him, they wailed. And "this is hilarious, please do HRC next!" I have not had the honor of meeting Larry Kramer but idolize him as an activist and as a writer. And if my "six degrees of Larry Kramer" friends are telling the truth, the man himself got the joke and liked it (and even left a posted comment for all to see).
Honorable mentions: My provocative chat with activist and POZ Magazine founder Sean Strub, "Five Things About HIV They're Not Telling You," had prevention advocates either impressed or aghast, and that's a good thing. My favorite little video was the Gay Pride PSA That Will Never Air, which begins with funny stories before it punches you in the gut with a message about drug addiction. And speaking of addiction, there's a precious vision of recovery is in the simple essay "A Dance to an Atlanta Night," in which I enjoy some simple pleasures with friends who have seen me at my worst.
I feel like I'm hitting my stride. Thanks to all of you for your words of encouragement, and I mean that. This has been an awesome adventure because of you. As always, please be well.
Mark
——————————————–
I hope you will consider "sharing" this via the buttons below with anyone who might enjoy an introduction to the blog. I love reaching new readers. Thanks.
Tags: A Place Like This, acting, Aging, aids, barebacking, culture, drag, family, gay, help others, hiv, lipo, meth, physician, politics, recovery, Recreation, serosorting, Sexuality
Posted in All Other Video Postings, Books and Writings, Family and Friends, Gay Life, Living with HIV/AIDS, Meth and Recovery, My Fabulous Disease, News, Prevention and Policy | 2 Comments »
Tuesday, February 15th, 2011
Here is a brief description and link to the entire collection of My Fabulous Disease videos, stretching back to the premiere episode in 2008. The videos have been viewed in classrooms, at conferences and in support groups, and you're welcome to re-post and share with proper credit.
This list is always available to you for browsing — just look under Categories on your right for "A LIST OF ALL "MFD" VIDEOS."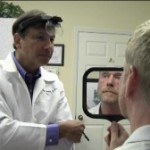 Treating My Facial Wasting with Artefill January 24, 2013. For several years now, I've made the occasional pilgrimage to Vero Beach, Florida, to be treated by Dr. Gerald Pierone for facial wasting, or lipoatrophy. And for all of these years, we have battled The Look: the sunken cheeks and sagging face of someone who has been on HIV medications for a long time. In my latest video blog below, you're going to see our progress, step by step.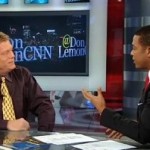 The Night Don Lemon Hugged Me December 13, 2012. We talked about HIV stigma and Madonna lighting. He shared a story of seeing an AIDS patient on a New York City street years ago. We were two very different men comfortable in our own skin, who refused to allow shame a place at the table. At the end of our interview I began to shake his hand and something remarkable happened. Don stood and reached out for a hug. The humanity – and perhaps even bravery – of his simple act wasn't lost on viewers, many of whom wrote to tell me how moving it was.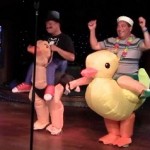 On Board the 2012 HIV Cruise Retreat November 15, 2012. Sailing from Ft Lauderdale to various islands of the Caribbean, the Cruise Retreat included more than 200 gay men, women and our supporters. Along the way, there were games, shore excursions and even budding romances. The protective walls that often surround those of us living with HIV came crumbling down, replaced with new relationships, email addresses and phone numbers. I don't expect that everyone has the ability to afford the trip, but the message of the event – reach out for support and friendships where ever you might find them – echoes in my mind and heart today.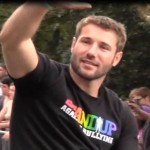 Is There Pride in Being HIV Positive? October 30, 2012. During the Atlanta Gay Pride Parade, it struck me how many contingents there were of people from all segments of the LGBT community celebrating their pride. And then it struck me how absent the HIV/AIDS organizations were, or at least people living with HIV themselves. What, then, is the intersection of HIV and Pride? Is there pride in being HIV positive? I posed this question to various people attending the parade and festival, and came away with some very surprising answers.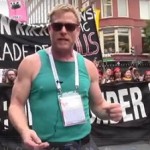 AIDS2012: The Complete Video Blog Collection. My adventures at the international AIDS conference in Washington, DC, are all documented here, in a review of the six video blogs (!) I produced during the week. The videos are funny, dramatic (the March to End AIDS may be my favorite), and feature both HIV/AIDS "stars" and the amazing people doing the work on the ground who never can get enough credit. Includes Jack Mackenroth ("Project Runway" and POZ Army), Jamar Rogers ("The Voice"), Daniel Bauer ("Beyond Belief"), Dr. "Johno" Mermin of CDC, Sean Strub (The SERO Project), Edwin Bernard (HIV Justice Network), protesters, drag queens, sex workers, and so much more!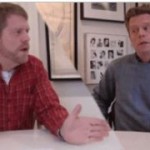 HIV Criminalization Face-Off: One Poz Man and His Accuser. February 7, 2012. What if you could witness a face-to-face confrontation between a man living with HIV and the sex partner accusing him of not revealing his status? Wouldn't you like to be a fly on that wall? The fireworks could be mighty, as emotions raged between the furious accuser and the positive person trying to defend his actions. What might that meeting look like, exactly? In this video, you're going to find out. I was proud of how this video turned out, and gratified by advocates who considered it a solid and well balanced look at this controversial issue.
The 'My Fabulous Disease' Holiday Spectacular! December 13, 2011. That's right folks, this is fun for the whole family! In fact, MY whole family gets in the act, as we share holiday cheer, get a lesson on Christmas cookies from Mom, and even get a visit from Santa. When we filmed this video, I told my family that there were people watching my blog who didn't have a close relationship with their family, and discussing HIV was out of the question. They took this to heart, as you will see, and their compassion shines through. Merry merry!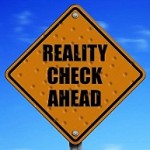 The Long Road Home from Relapse. November 29, 2011. Okay, this isn't a video but I didn't want you to miss it so I'm making an exception. This is a honest account of my drug relapse and it quickly became the most viewed blog posting in the history of this site. While my perception of the reasons and fallout from my relapse continue to evolve, this is how I felt at that time. I hope it might help others — either to give you a sense of addictive thinking, or remind you why you never, ever want to go back to using.
Sailing the 2011 HIV Cruise Retreat. November 15, 2011. I realize how fortunate I am. So many of us are not able to take the time or devote the money for a cruise like this. It's my hope that this video blog will inspire you to seek community, in whatever way you can, and never forget that a sense of humor sure does help the journey. And what a journey this 7-day Caribbean cruise was! There was plenty of social events, educational workshops, excursions to the shores of various islands, and let us now forget the parties — The Mad Hatter Party was worth the fare alone, but then The Blue Party, hosted by my comic alter ego Anita Mann, reached new levels of madness and joy. You can get more info about the event at www.HIVCruise.com. The event welcomes men and women, gay and straight, and they are a truly inspiring, fun filled group.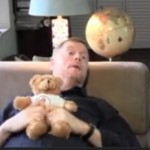 Divorce, Stress, HIV… and no jokes. November 3, 2011. This is a rather personal blog video, there's no doubt about that. I was even a little apprehensive because it doesn't offer the usual helpful tips or the "entertainment value" of my other videos. But one of my problems has always been trying to be the life of the party when I'm not feeling it. So I was relieved and pleased that there was so much love for this video, in which I sit down with my friend (and a therapist) David Fawcett to discuss divorce, loss, HIV, and what to do when life isn't all that damn fabulous. This is a different Mark than you might be used to, unplugged and exposed.
Finding Support in an e-Patient World. September 26, 2011. You're part of a healthcare revolution in cyberspace, my friends. It's changing the way people find treatment information, relate to their doctor, and support one another. In this video blog from the e-Patient Connections conference, you get to meet some of the marvelous people who are leading the charge. And guess what? It turns out that there are people living with a wide variety of conditions who are online and advocating for themselves and others. This moving and funny video will teach you something.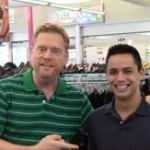 7 Ways to Save Money on Your Meds. August 16, 2011. With all the doctor appointments and wellness activities we engage in, living with HIV/AIDS can be a full-time job. And the truth is, it doesn't pay very well. We've all been feeling the pinch of tough economic times. So I hope you'll find some savings in this video blog, "7 Ways to Save Money on Meds," featuring Jason King, a patient advocate for the AIDS Healthcare Foundation. Jason has some tips that your pharmacist may not be telling you.
I'm Gonna Wipe That AIDS Right Off of My Face. August 2, 2011. Most of us know "the look," and I've started to get it. It's the telltale gullies and sunken cheeks associated with longtime HIV infection or (more likely) medications. Many of my friends and colleagues in this struggle suffer from it, and they may either be comfortable with it, proud of it as a badge of honor, or simply resigned to it. I salute us all, whether our features tells our HIV story or not. But meanwhile, I'll do what I can to wipe that shit off my face. In this video, I revisit Dr. Gerald Pierone for a treatment of Radiesse and Sculptra, and get information about the more permanent facial filler, Artefill.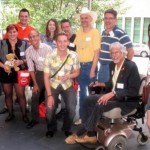 The Entire 2011 ADAP Conference in Nine Minutes! July 19, 2011. The 2011 ADAP Advocacy Association (aaa+) conference held July 5-7 in Washington, DC, was bursting with spirit. Dozens of advocates from across the country met for three days of workshops and speakers, and in this video blog, you'll see the entire conference boiled down to only nine minutes. I'm the cliff notes of HIV/AIDS events! The AIDS Drug Assistance Program waiting list continues to grow on a daily basis, denying patients the very medications that can keep them alive. This national disgrace deserves our attention and our phone calls to our elected officials, urging them not to forget the most vulnerable among us.
Should AIDS Activists and Pharma just get along? July 12, 2011. Am I an AIDS activist, ready to question authority and demand high standards of service for those living with HIV/AIDS? Or am I a "resource" for the pharmaceutical industry, so that they might craft more effective community programs that will lead AIDS patients to "care." This video on treatment activism mulls over the conflict, provides some historical context, and keeps the red spray paint at hand, in case the activism needs to go "old school." This became the most "shared" blog posting of mine to date, and very quickly, too. I think people responded to the mix of education and edgy advocacy.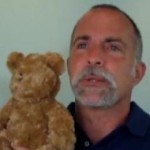 Dab Garner's 30 Year Story of Survival. June 28, 2011. This video is quite simple, really. One man explains to you what happened to him, from becoming one of the first AIDS patients in San Francisco to his life today in the service of others with HIV. Dab Garner has clearly put things into perspective, and his calm manner shows a man at peace with his fate, his survival, and the ghosts around him. It's an amazing story, actually. And considering the importance of passing our history down to younger people, it might not be a bad idea to share this video with someone you know, maybe even someone under 35 years old.
Vacations and Retreats for People with HIV/AIDS. April 28, 2011. Summer is approaching and vacation plans are being made " but have you ever considered a retreat or getaway with other people living with HIV/AIDS? It might sound odd to seek out a vacation event just for people with HIV. For me, my status is only a part of who I am, and I've gotten pretty good at disclosing when I need to. But for many of us it's tough getting past that hurdle. So joining a group of others living with HIV might be a fun solution if you're looking to make friends with other people living with HIV and build your support network.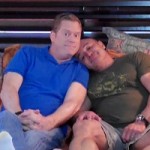 The Hard Facts on Erectile Dysfunction: Pills, Pumps and Prosthetics. April 6, 2011. My friend and HIV fitness author Nelson Vergel ("Testosterone: A Man's Guide") returns for another visit, this time to discuss erectile dysfunction and HIV, including the treatments available and issues specific to those of us with HIV. He also gives detailed information on the use of testosterone replacement therapy. Quite an informative video.
A Special One-Year Anniversary Posting! March 8, 2011. After weeks of teasing you with announcements and Top Ten listing, I finally put an end to milking the occasion with this, a special video celebrating one year of blogging on my site. This is lightweight, no doubt, but I do answer the most popular questions I get about myself and the blog, and it gives me a great opportunity to thank you, my readers and watchers. It has indeed been a great first year, and this video demonstrates my gratitude.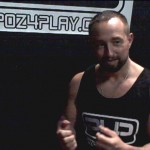 Touring an HIV+ Gay Sex Club. Plus: The Porn Stars that Got Away. March 1, 2011. I revisit a video tour of a public sex venue from last year and catch up with the host of "Poz4Play," a monthly gathering of HIV positive gay men. Along the way we discuss serosorting (limiting partners to those who share your HIV status) and if these parties offer real prevention or a false sense of security from other STD's. Meanwhile, I share what happens when you get "too real" in your line of questioning with porn stars (hint: they stop returning your e-mails).
The Hilarious Idiocy of Anonymous Gay Sex. February 7, 2011. When someone brought this YouTube video to my attention, I laughed out loud at its amazing recreation of an online hookup between two gay men, and the level of stupidity that is often involved when negotiating sex. The person who created this video prefers the anonymity of cyberspace, but I think he deserves a medal for perfectly demonstrating what we're up against when it comes to making intelligent sexual choices.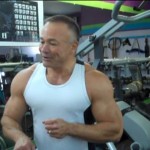 Hitting the Gym with HIV Fitness Expert Nelson Vergel. February 3, 2011. Fitness expert and author Nelson Vergel gets my growing waistline to the gym for a lesson in aerobic activity and weight training and the benefits and risks to those with HIV. Part Two in an ongoing series of fitness and nutrition videos with Nelson.
AIDS Activism 101: Steps to end the ADAP crisis. January 31, 2011. An interesting and practical look at the steps to take to have a voice with your elected official, by getting the activists at the 2011 ADAP Summit to cle4arly explain what was happening with the program, and then easy directions to contact your elected official about this (or any!) advocacy issue.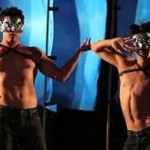 Five Things About HIV (They're Not Telling You). January 18, 2011. Activist and POZ Magazine Founder Sean Strub stops by for a game of ping pong and then a very provocative discussion of why public health campaigns keep getting it wrong in terms of messages to gay men, and some things that gay men should know that have not been widely reported.
HIV Fitness Stud Nelson Vergel Raids My Fridge. January 11, 2011. The first in a series of fitness and nutrition videos with HIV fitness expert Nelson Vergel. In this video, Nelson raids my fridge and gives simple, practical tips on eating right, mysterious "diet" labels, and the importance of proper pooping!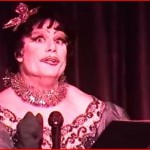 Recovering Joy. December 14, 2010. Why include a video of my performing in drag at a Christmas benefit for people in recovery from drugs and alcohol? Because it's funny. And because I wasn't very funny when i was an active addict, and there are a lot of wise messages contained in this very funny rendition of "Twas the Night Before Christmas," as read by my alter ego, Ms. Anita Mann.
Once, When We Were Heroes. November 28, 2010. This is an essay that won a 2008 award from the National Lesbian and Gay Journalism Association, for best written piece of the year, but I created this video version because I wanted another way of sharing its message. It potently describes the early days of the AIDS epidemic, and draws a bittersweet line between life than, and now. The best of my work.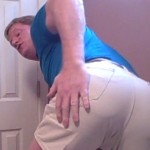 My T-cells could use a facelift. November 11, 2010. This is the video that might be my personal favorite because it is funny and speaks to my issues of aging and regret and selfishly trying to hold on to old behaviors. Watch as, through video editing magic, my mature self and my young, selfish self argue about the effects of aging in a gay culture. Funny and wise, I think.
My Video Report aboard the HIV Cruise Retreat. November 1, 2010. During my maiden voyage as M.C. for the HIV Cruise Retreat, I didn't know what to expect. But as you'll see in this rollicking video diary, our group bonded and laughed and learned. Absent were so many of the social tensions that usually follow a group of largely gay men around. We all just cared for one another and had a terrific time. I hope I can return every year!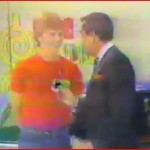 The Price is Right, 30 Years after Coming on Down. October 18, 2010. Would you believe I won a car on the Price is Right, back in 1980 when Bob Barker still had dark hair, and I have the video to prove it? I sure do! You'll watch the video and get to read an essay about the entire experience, and how it haunted me for years, when the advent of AIDS ruined all those wonderful plans I had told Bob Barker I was making for my life.
In Praise of HIV Negative Gay Men. October 13, 2010. Oh man, did this one ever get me into trouble. Here I thought I had such a great idea, doing a video to praise an encourage HIV negative gay men for staying that way, and acknowledging the fact that, in many ways, their struggles without HIV are harder than mine with it. Oops… this video offended just about everyone, mostly for a perceived sarcasm in my delivery. I'll let you watch and decide for yourself.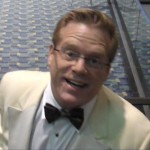 The 2010 HRC Dinner (in under four minutes!). October 10, 2010. I attended this national dinner for the Human Rights Campaign in Washington, DC, and had fun teasing the event by presenting the bloated evening in less than four minutes. My snarkiness was rewarded — it has become my most-watched video because, as it turns out, there appear to be quite a lot of people who like people being snarky about HRC. Just sayin'.
Fighting Back Hard Against Bullying. October 5, 2010. This essay about gay bullying includes the video "It Gets Better with the King Brothers," the video I made with my (also gay) brother Dick. We had no idea it would become one of the most watched videos for the project, and it now slated to be included in the "It Gets Better" book out in March, 2011. People seemed to like our brotherly love!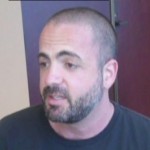 Condoms & Bareback Sex at the Gay Summit. (September 20, 2010.) As gay sexual advocates met at the annual Gay Men's Health Summit in Ft Lauderdale, there was an assortment of workshops and speakers focused on a golden oldie: promoting condom usage among gay men and how to address barebacking. Included is an interview with activist (and one-time bareback poster boy) Tony Valenzuela.
My Forbidden Love for Gay Monsters. September 28, 2010. This essay on my crush on Quentin Collins from Dark Shadows, and love for horror movies, gave me a chance to show off a video I produced for a stage production of Night of the Living Dead. I had such a blast making it!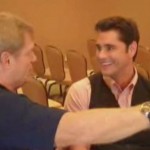 HIV Stigma (and my lover Jack) at USCA. September 14, 2010. At the United States Conference on AIDS held in Orlando, I learned about a new project to address HIV stigma (which seems to be growing, not shrinking) and the reasons why. I also provide a tour of the conference itself and get some designs lessons from Jack Mackenroth, the Project Runway hunk who is HIV positive and is behind a public awareness campaign.
Sex While HIV Positive: The New Criminals. September 6, 2010. This video was significant to me for two big reasons: making it introduced me to the heroic activist Sean Strub for the first time in person, and it gave Sean a chance to very clearly outline a misunderstood topic. At a time when treatment successes and public acceptance of HIV/AIDS has made strides, why are there horrific laws that not only unfairly fault those with HIV, but are based on bad science?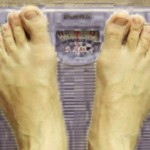 Does the Gay Men's Health Summit make me look fat? August 26, 2010. Also while at the Gay Men's Summit in Ft Lauderdale, I attended a workshop on body image and gay men — and not a moment too soon, since my expanding waistline was threatening what my culture (and I) valued about the perfect body.
AIDS2010 for Dummies: An Entertaining Review. August 3, 2010. This is a collection of ALL the videos I produced while in Vienna for the 2010 International AIDS Conference, and it's quite a colorful collection. I left the research-oriented reporting to others and followed the people, sights and sounds of this amazing conference — teenagers from around the world teaching about condoms! An AIDS prevention musical featuring sex workers (STAR WHORES)! The rallies and the protests and the celebrities are all here. My thanks to TheBody.com for sending me to this event as their correspondent!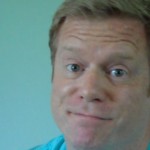 The Gay Pride PSA (that will never air!). June 15, 2010. What begins as a funny reflection of what gay pride has meant to me (organizing a parade starring ME as a drag queen — when I was eleven), becomes something much, much different in this short video. I guess the wreckage of my drug addiction was still haunting me. What results is a sweet message about PRIDE that suddenly punches you in the gut. I'm proud of this one.
Six Tips for Choosing Your HIV Doctor. May 28, 2010. When I began making plans to move from Atlanta back to Ft Lauderdale, the most daunting task was having to find the right doctor in my new city. Luckily, my Atlanta physician, Dr. David Morris, walked me through some practical tips that anyone can use. Watch his advice — and then watch as my cameras capture my very first meeting (really!) with my new doctor in Ft Lauderdale, as I follow the tips and grill him with questions!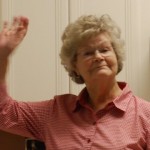 What It Feels Like for a Mom. May 4, 2010. How does our HIV status affect the ones who love us most? What fears are they not telling us? I've always wondered, so I sat my mother down for an interview about my HIV, what it was like raising two gay sons, and how it affected the family when we experienced our own AIDS tragedy. She never flinched at the questions, and her answers are sincere and revealing.
Has My AIDS Crisis Ended? April 18, 2010. As the annual AIDS Walk strolled through my community, I remembered the crisis mentality of earlier Walks — and how getting myself to a Walk at all no longer seemed so important. Has my "crisis" lifted? As part of this video I sat down with U.S. Congressman Barney Frank and asked him about the difference between the emotional toll to gay men, "then" and now.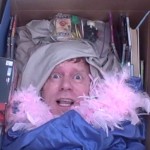 Facing Change. March 25, 2010. While packing for my move back to Ft Lauderdale from Atlanta, the chore of separating my belongings ("deciding what to keep and what to throw away…") brings up some emotions (it also brings up a face in a box, more than ready to tease me for feeling blue). I give the packing a rest long enough to get honest about the reasons for the move, and the beauty of second chances.
The Real Poz Guys of Atlanta. March 11, 2010 (originally posted on TheBody.com on February 23, 2010). Another fun evening of friendship and chocolate and secrets with my supportive group of friends in Atlanta. This time, we bake brownies and talk about everything from our doctors to our love lives, and then have Show 'n Tell! A great example of the value of strong social support for people living with HIV/AIDS.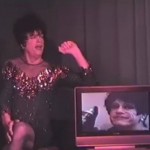 Anita Mann's Infamous TV Set Number. (Filmed in 2008). Set to Nancy Lamott's "Don't Get Around Much Anymore," my drag queen alter ego battles herself locked in a TV set in this, her finest hour on stage. This performance was taped at a fund raiser for gay and lesbians in recovery from drugs an alcohol, since Anita (and I) are in recovery from crystal meth addiction. Laughter isn't just good for my t-cells, it is also vital to my recovery from addiction!
A Facial Wasting Update. (Originally appeared on TheBody.com on February 2, 2010). In a previous video I took you along to my first appointment with Dr. Gerald Pierone to address my facial wasting, and that video focused on how my wasting affected me personally. This video, told more from the perspective of Dr. Gerald Pierone, takes you along on my third visit for facial fillers to treat my wasting (lipoatrophy) with Sculptra and Radiesse. Hope you're not afraid of needles.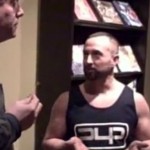 Serosorting and Sex Clubs. (Originally appeared on TheBody.com on January 4, 2010.) This quickly became my most-viewed video blog to date. Was it the intelligent discussion about serosorting (limited one's sexual partners to those who share your HIV status), or was it the guided tour of a gay sex club? Hmm. At any rate, Poz4Play sex party host Bill Trimble leads me through the titillating hallways of his monthly sex party "exclusively for HIV positive gay men." Then we have a seat next to the sling and enjoy an equally interesting conversation about the sexual choices gay men make — and why Bill believes he is providing important HIV prevention.
My Search for Meaning. (Originally appeared on TheBody.com on May 27, 2009.) Such a tiny topic, eh? And yet when you are faced with such tragedy like the AIDS crisis you can find yourself asking, "What's it all about?" I've shared my frustration with the topic and then conduct interviews with psychiatrist Dr. Jesse Peel, AIDS physician Dr. David Morris, and gay theologian Rev. Chris Glaser. Interesting food for thought.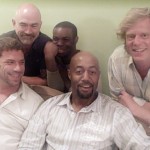 You Gotta Have Friends. (Originally appeared on TheBody.com on April 22, 2009) So many people wrote to express their appreciation of this video and its simple plot: I invited four friends over for dinner and conversation, and all of us are living with HIV. The intimacy of the conversation is real; these are, in fact, good friends of mine. We cover everything from how we disclose our HIV status to friends and dates, to what our mothers think (and which ones are supportive). Antron, Craig, Eric and James demonstrate that in the sometimes stressful world of HIV, friends really matter.
Treating My Facial Wasting. (Originally appeared on TheBody.com on March 25, 2009.) After dealing with facial lipoatrophy (wasting) and seeing it so evident in my videos, I decided to do something about it by visiting Dr. Gerald Pierone in Vero Beach, FL and being treated with injections of facial fillers. Facial wasting and fat displacement are common side effects of both HIV infection and the medications used to treat it. This topic was updated in a later video when I returned to Dr. Pierone, "Facial Wasting Update."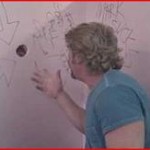 Mark's R-Rated Sex Pig Blog. (Originally appeared on TheBody.com on January 28, 2009.) Barebacking, glory holes, casual sex and disclosing my HIV status are all discussed in this bawdy, provocative episode. Aging and negotiating sex as a gay man is as funny as it is frustrating, if you ask me. My favorite part: negotiating safer sex through a glory hole. The video is notable for another, unrelated reason: I was only one month clean from my crystal meth addiction and you can still see the ravages of drugs on my face, which is a lesson all its own.
The Drug Addict Takes a Holiday. (Originally appeared on TheBody.com on January 13, 2009.) Ouch. This one is tough for me to watch. After my former partner Ben ended our relationship when I ended up in drug rehab, I visited him in the home we had shared in Ft Lauderdale and tried to make sense of our past and what may happen in our future. This video is also a visual testament to age, past drug abuse and HIV meds catching up with me, as evidenced by the lipoatrophy (facial wasting) so apparent on my face.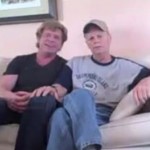 Taking Care of Hal. (Originally appeared on TheBody.com on November 20, 2008.) I never dreamed I would be spending two months in Michigan helping my oldest brother through chemotherapy. But it got me outside of my head, beyond my own HIV diagnosis, and helped me focus on helping someone else. Sometimes, that's the best medicine of all. (My brother, Harold R. King, Jr., passed away in the Fall of 2010.)
Oprah Comes Calling. (Originally appeared on TheBody.com on November 10, 2008.) In this, only the second episode of my ongoing video series, Oprah reaches out to touch me! It leads to bittersweet memories of Louise Hay (the "Hayrides" of the 1980s in West Hollywood), and of my gay brother Dick and his partner's struggle with AIDS. Also, I get an annual physical with Dr. David Morris. Interesting in that you can see me trying to find a balance between humor and helpfulness.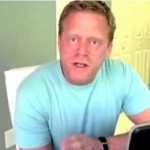 The PREMIERE of My Fabulous Disease! (Originally appeared on TheBody.com on September 24, 2008.) In September of 2008, my video series "My Fabulous Disease" debuted on the best HIV resource on the net, TheBody.com. Here is that episode, which introduces me as a gay man in recovery living with HIV/AIDS. Little did I know what video adventures would lie ahead!
Tags: acting, Aging, aids, barebacking, culture, drag, family, gay, gratitude, help others, hiv, lipo, Louise Hay, meth, Oprah, physical, physician, politics, Radiesse, recovery, Recreation, research, Sculptra, serosorting, Sexuality, testing
Posted in A LIST OF ALL "MFD" VIDEOS, My Fabulous Disease | 1 Comment »