Posts Tagged 'aids'
Wednesday, April 3rd, 2013
This memory still brings back fear and melancholy, like a ghost story that stubbornly haunts me after all these years…
Over and over, footage of Rock Hudson standing next to Doris Day was playing on television, and he looked ghastly. His skin was wrinkled and sunken as if by very old age. It was 1985, and it was one of the last close-up images most of us would ever see of the movie icon. And it was terrifying.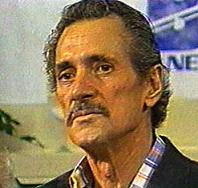 My heart was pounding, and I tried to listen to the voice-over, which spoke of the sudden illness of Rock Hudson and speculation that he might have AIDS. Throughout the newscast, memories of a night in 1982, nearly three years earlier, sprang to life. The images taunted me and screamed at me and said gonna getcha gonna getcha gonna getcha …
Charley and I had recently moved to Los Angeles and the city still held such mystery and promise for us. We were excited about spending our anniversary at the gay restaurant New York Company, where you got a candle on your table and mushrooms on your prime rib and they would probably sing to us or bring a special piece of cake.
No sooner had we settled at our table and ordered drinks than Charley started nudging my arm and staring at something behind me. I glanced in that direction, and was stunned to find Rock Hudson seated there, talking with another man.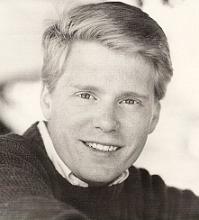 In our short time in Los Angeles, I had developed the attitude that famous people deserved their privacy and one shouldn't ogle them. I thought it was cool not to care they were there, even though I was dying to look. In any case, Charley was staring across our table in a gay restaurant directly at Rock Hudson and I wanted him to stop right this minute.
I was definitely jealous, not only of being upstaged by a movie star at my anniversary dinner, but because I wanted to look at him so badly myself, and Charley had the perfect view. So I pestered poor Charley for the next ten minutes about how rude he was and how I couldn't believe he found the man so fascinating and why couldn't he pay attention to me on this special night and all sorts of other such lies.
"You men having any fun?"
There was no mistaking the voice, and I looked up from my pouting stance to Charley, who was grinning across our table at the man behind me. "Sure," Charley managed to say. I turned around and Rock Hudson was smiling at me. I was a star struck boy and there was no hiding it now.
"Yeah, me too," I said. How completely embarrassing.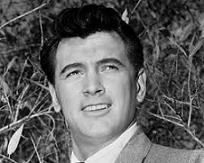 "You sure?" he asked, "Because my friend and I were just discussing it, and I was saying that the two of you were having a fight."
Rock Hudson was discussing me. Rock Hudson was discussing me.
"Uh no, not at all," I lied, jumping in before Charley had a chance to say what a bitch I was and how I thought you shouldn't ogle movie stars. "I think we're just kinda tired. As a matter of fact, today is our anniversary and we're celebrating."
"Yeah," said Charley, "we're doing fine. How are you tonight?" He was playing along, had forgiven me, and was asking Rock Hudson a question. This was unbelievable.
"It's really wonderful that you two are having an anniversary. How long have you been together?"
"Three years," we said in unison.
"That's just great. Congratulations." At this point he introduced his friend, who went "way back" and who's name I couldn't tell you in a million years, and then he offered an invitation. "Come sit with us, boys. Have a drink. It's a special occasion."
I looked at Charley, holding on to my "protect their privacy" stance for a few more seconds, but he had already risen to join them. What the hell. Like I would have refused. I took my spot beside Rock Hudson because I would have broken Charley's arm if he had tried that seat and he knew it. Another round of drinks appeared, and the star launched into clever stories that I don't quite remember but were more than fascinating at the time.
The conversation wandered onto Trivial Pursuit, the game which was then new and all the rage.
"Yes, I've heard of that," Rock said. "I haven't played it yet."
"We've got the game, Rock," Charley said. "You should really come over some time and we'll play it with you." I couldn't believe what he was saying. He actually called Mr. Rock Hudson "Rock." Furthermore, my partner had just invited this man "over some time," like that was really in the realm of possibility.
More drinks arrived. This man can drink like a cow, I thought, and not even show it. He was playful, though, and shot a few looks my way that I would have taken quite differently if it weren't clear I was celebrating my anniversary with the man to my immediate left.

"It's a great game," I found myself saying. "You wanna come over and play it with us?" I was a teensy bit smashed, no doubt about it.
"Yes, I would."
I'm sure there was more to it, more of a rationale as to why he felt comfortable crashing our anniversary evening, but I don't remember. His friend kindly begged off of the event, and it was decided that Charley would take his friend home while I rode with Rock so he had no problem finding our apartment. I still will never believe he parked his classy import on Edgewood Avenue, because it made me nervous parking my car there. Once inside, I found a full bottle of Scotch, poured him a drink, and gave him a tour of our tiny apartment until Charley got back.
I was no fool. What we had here was a prescription for something… unseemly. But I was barreling through these bizarre circumstances and wasn't weighing the specific possibilities. That's a lie. I was pursuing it because I suspected what was to come.
We played the game for a couple of hours, Rock winning and drinking. Before it was over the Scotch would be history and I would offer to roll a joint. "Pot makes me horny," he said, "so I don't know if I should–" and of course I was passing him the joint faster than you could say Star Fucker.
He talked about movies. And sex. And people he loved and hated. The juiciest tales began with "I was really drunk one night when" and the meanest had to do with people he thought had treated him badly professionally ("You need Julie Andrews like you need a knife in your back," said he).
Charley had taken it all in, but knew when enough was enough. He excused himself quite late to go to bed, Rock offered to go, I wouldn't hear of it, and we continued sitting in the dining room passing the joint.
I knew what was being played out. Questions floated about in the back balcony of my head, just within earshot. What kind of guy was I? Was I going to have sex with this man right here in the living room? What about my anniversary? What about the man I loved asleep in the bedroom? Was Rock Hudson as well hung as everyone said? Some questions got my attention more than others.
Rock made motions for the umpteenth time that it was time to go home, so while he whispered another insincere goodnight, I drunkenly opened the pants of Mr. Rock Hudson. The fact that this was a famous escapade had overruled the anniversary etiquette issues.
Thirty minutes or so later, I stood in my robe outside the bathroom, wondering what Rock Hudson thought about the rust stained bathtub in which he was quickly showering. The sex had been in near dark, and without the pretext of romance — no tender caresses or meaningful glances.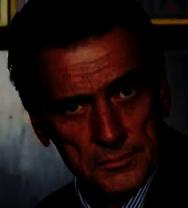 I can remember only one direct look from the man. I stared down upon his face after the exhaustion of labored sex — too much bourbon, too much pot — and my eyes tried adjusting to his face in the dark. And then there it was, staring back at me, with a surprisingly impatient look. Stern and almost elderly.
"Are you done?" he asked blankly.
Well, life ain't the damned movies, I suppose.
I would make small talk with him as he toweled dry and dressed, and then me, in a final act of staking my claim, asking for his autograph. Yes, so help me, I asked the damp, drunk and spent star to scribble "All my best, Rock Hudson" on a piece of notebook paper before his hasty exit down the duplex stairs and out to the dingy street below.
I watched the car pull away and walked slowly back to the bedroom, where Charley was sound asleep and snoring. I laid down in the dark and the night replayed in my mind. Was I triumphant? Excited, thrilled, guilty? I had just bedded the ultimate male screen icon of a generation, and I hadn't the slightest idea how to feel about it.
Rock Hudson was now a ghastly figure on a television screen in my living room. My heart raced every time the evening news began and some new tidbit of information about his disease, his sex life, his kiss with Linda Evans on "Dynasty," his lovers and his drug treatments were reported with morbid tones and oh-my-God urgency.
I had not yet been tested for HIV. In 1985, what was the point? There were no known effective treatments, the first drug treatment, AZT, was just being introduced and people with AIDS were dropping like flies. It was politically incorrect to get tested because it could lead to discrimination, brand you as terminal and assure you that every pathetic image of a dying AIDS patient applied directly to you.
And that is exactly what the Rock Hudson coverage was doing to me, test or no test. Magazines and Dan Rather news stories were talking to me specifically. ROCK HUDSON HAS AIDS, the headlines screamed, AND MARK KING WILL DIE AS WELL.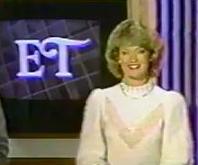 "Rock Hudson is now resting in his Los Angeles home beyond a doctors care," reported Mary Hart on Entertainment Tonight, "and Mark, you're an idiot if you think you can escape this now. You're dead as a door nail, buddy. What were you thinking?"
I would stare at the coverage without a word, and nod my head at parties when someone said how tragic it was and excuse myself.
My parents had been told the censored version of the anniversary night story that very next day, and called me in Los Angeles shortly after Rock was reported ill. "Why not go down to the hospital?" my father asked. "You could try to cheer him up, maybe bring Trivial Pursuit!" I explained the man had a million fans and wouldn't remember me, without mentioning how trivial the pursuit had been.
In October of 1985, Rock Hudson died in his home. News reports tortured me for months to come.
—————————————–
(Edited from A Place Like This, by Mark S. King. Copyright 2008.)
I love checking the analytical data produced by my blog software. It tells me what pages of my site you are visiting, what link sent you here, and even where you live (Hello, Cleveland! G'day, Sidney!). It also tells me what keyword searches bring people to my site, and once I sort through all the porn references (that piece on porn star Dawson still reels in the readers), the most popular Google search that brings people to my site, still, is the two words "Rock Hudson."
Since interest in him remains so high, I don't mind sharing this piece again (it appeared on my site in 2010). It allows me to provide a perspective on AIDS, celebrity, and our communal fear during the 1980′s that those Google visitors might never have expected.
Thanks for reading, and please be well.
Mark
Tags: A Place Like This, acting, aids, culture, gay, hiv, Recreation, Sexuality, testing
Posted in Books and Writings, Family and Friends, My Fabulous Disease | 8 Comments »
Sunday, March 24th, 2013
I have some amazing friends for you to meet.
Beginning two years ago, TheBody.com asked me to produce a series of videos ("A Day in the Life: Keeping Up With Your HIV Meds") that would profile a person living with HIV, what their day looks like, and how their medication regimen fits into their daily routine. It was a great opportunity to highlight the everyday lives of people living with HIV, but also to let their spirit and passions come through, and show we are whole people — not simply the virus.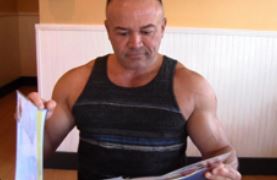 The profile subjects came from all walks of life, in various cities around the United States, and their personalities and interests — their families, their hobbies, and even how they became HIV positive — were all I needed for inspiration.
Below are the eleven videos that have been produced to date for the series (an ongoing feature on TheBody.com and they also have an entire resource center about keeping up with your meds). You can watch the videos here, or follow the link in the title to view the post as it appeared on TheBody. They are each less than ten minutes long; just scroll through them below and find a story that sounds like yours — or better yet, hear what the journey of someone completely different from you is like! Are you ready?
Damaries is from South Florida and could not have been more lovely; we laughed a lot during our day together. Her strength is what impressed me most: she did not come to the decision to start HIV medications lightly. She really did her research before she began a regimen. Filming her story was also a great excuse to hit the beach, since she loves to find her peace and tranquility on that gorgeous sand.
Well, first of all, Tree is adorable. So there's that. He also has an equally adorable dog, who tried mightily to extend his few minutes of fame by sneaking into the camera shots and barking woefully from the other room. For his part, Tree does a great job explaining how he kept his medication regimen despite multiple moves and even being homeless for a brief period. I really like the Brooklyn montage of Tree's neighborhood at the beginning of the video.
What an elegant woman Eva is. She was so gracious during our day together and had an almost regal sense of self. She really impressed me. Not only did she make peace with the man who infected her many years ago, she became an advocate for all women living with HIV and devoted quite a lot of time to volunteer work. She's also an avid traveler — I've never seen so many magnets from exotic places on one fridge in my life.
What a hoot! Robert (Bobby) Darrow and I were childhood friends, when we both performed in community theater together in Shreveport, Louisiana (we were both newsboys in Gypsy, for all you musical theater queens). As we grew, he always got the good parts and I ended up working the spotlight — shining it on him — but I'm not bitter, I swear! Producing this video was a great chance to honor my lifelong friend for the activism he has done since the beginning of the AIDS epidemic. And it also allowed me to honor theater itself, and how Bobby is now back in the very place he and I so loved when we were kids. This one is special to me.
You're going to be blown away by the strength of this woman's convictions — and the strength of her marriage. Brooke learned she was HIV positive during her pregnancy, and not only was her husband completely supportive, he stood by proudly as Brooke became a visible advocate for woman's health, the importance of HIV testing, and their personal struggle to afford HIV medications so that their baby would have a better chance of being born without HIV. And speaking of babies, guess who steals the show in this video?
Khafre was one of the most immediately spiritual people I met during this series. He has a very strong sense of faith and a commitment to his own spiritual principles. He was also in the midst of organizing a fund raising bike ride across the country to benefit HIV/AIDS services for people of color, and I admired his dedication and pure energy. The time he devoted each day to prayer and meditation was really lovely to observe and capture in the video.
Episode 7: Petra Berrios and Efrain Carrasquillo
Petra & Efrain could give the other couples in the series a real run for their money for the title of Most Romantic. You can't help but grin, watching Efrain describe seeing his future wife for the first time at an AIDS conference, where both were community advocates and both were living with HIV. They not only lift up one another during the frustrations of HIV life, they know how to take time to love and enjoy one another, as their salsa demonstration clearly shows.
Tales of triumph over adversity don't come more dramatic than the story of Fortunata. Not only is she the single, proud parent of a gorgeous daughter (the apple doesn't fall far from the beauty tree), she had a devastating accident when she was hit by a car walking across the street — and then had to manage her HIV meds along with a host of others while she recuperated. The fact that she relates all this with such grace was amazing to me. I had so much footage of her simply looking ethereal and lovely, the video could have been twice as long.
Anyone who follows my blog — or HIV/AIDS advocacy — knows what a gift Nelson is to our community. He's been our own Jack LaLanne of HIV, teaching the importance of health, exercise and nutrition since the beginning of the epidemic — the video blogs he did with me on nutrition (where he cleans out my fridge) and exercise (where we hit the gym together) are hilarious and very informative. And, of course, he has a hot body. It might come as some surprise, then, that he's very modest when it comes to showing it. I had all sorts of shots and angles I wanted to do that would have shown of his physique, and he politely demurred. He also was always focused in our interview on what would apply to regular folks living with HIV, rather than the more privileged among us. In other words, the man is a class act, with a humility that speaks volumes about his integrity and commitment.
I've been watching Robert grow as an HIV/AIDS advocate for several years now, since he began POZIAM social network and radio show while still in his twenties. I had fun doing the fast cuts that open his video because I thought it captured the sense of motion and vitality he has. When I become disheartened, wondering where are the next generation of activists on the scene, I remind myself there are people like Robert.
I've always been open on my blog about being in recovery from drug addiction, and George — who survived 27 years of street drugs — and I had an immediate connection. He devotes his life today to service for others, whether it is at an AIDS agency or through various addiction activities. In fact, something he said about his recovery during our interview really made sense to me, and I stopped the camera and shared some of my own story. For nearly thirty minutes he let me pour out some of my own fears and challenges, and listened with the attention of a man who has been there. I think his spirit is well-represented in this video.
To watch George's video, just follow this link to TheBody. This video is so hot-off-the-presses that I'm not able to share it here yet. Follow the link and hear his story.
I learned a lot of each of these people, and I know they represent a tiny fraction of the courage and daily fortitude displayed by people living with HIV every single day. I really want to thank this group for taking me into their homes and lives and allowing me to share their stories with you.
Thanks for watching, and please be well.
Mark
Tags: aids, gay, help others, hiv, lipo, physician, recovery, research, Sexuality, testing
Posted in All Other Video Postings, Gay Life, Living with HIV/AIDS, Meth and Recovery, My Fabulous Disease, Prevention and Policy | 1 Comment »
Wednesday, February 27th, 2013
The turning point could be traced to August of 1998. It was the month that, for the first time in well over a decade, the Bay Area Reporter did not have a single AIDS obituary submitted for publication. The promise of protease inhibitor medications had been realized, and it felt for many that our long community nightmare was coming to a close.
The milestone in the life of San Francisco's LGBT newspaper was celebrated around the country and became a media story unto itself. "AIDS Deaths Take Holiday," trumpeted the Pittsburgh Post-Gazette. "For Once, No AIDS," said the Wilmington Morning Star. The headline in the Spokesman Review assured us that "No News is Good News." The Bay Area Reporter's own front page carried two words in enormous type: "No Obits."
That could be seen as the moment in which coverage of HIV in gay media began to fade.
Today, the LGBT community is celebrating other milestones with joyful regularity. The right to serve openly in the military. Marriage. Growing acceptance and political muscle.
HIV/AIDS has largely moved off the front page and out of public consciousness. Despite newsworthy data such as increased HIV transmission among gay men and the ongoing slaughter of gay black men in particular, those stories feel stale. It has all been said so many times before. Even new storylines, such as Pre- and Post-Exposure Prophylaxis, cure research advocacy, and tools on the horizon such as rectal microbicides, it's become harder to capture the imagination or interest of the gay community. When new data was reported recently showing that half of the 20-year-old gay men today will have HIV by the time they're 50 (and if they're black, that figure rises to a whopping 70 percent), the news barely rated a tweet or newspaper item.
What, then, is the responsibility of LGBT media in this climate of rising infection rates and a bored readership? Are they simply reflecting the community's waning interest, or do they have a responsibility to keep HIV in the headlines, to serve as advocates for better public awareness?
I was just in the perfect place to ask these questions: The 2013 LGBT Media Journalists Convening, held in Philadelphia and sponsored by the National Lesbian and Gay Journalists Association. About 100 media professionals, including a healthy dose of bloggers like myself, attended the event, which educates LGBT journalists on various issues so they we might report on them with more authority. Those issues this year were transgenders, immigration, aging, labor, and international rights.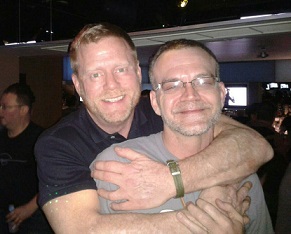 The absence of HIV/AIDS wasn't lost on me, I assure you (AIDS activists called them out about this in real time in the event's Twitter feed at #LGBTmedia13) and it became the topic of my interviews with various people in attendance. Their very personal answers – and undeniable passion for the cause of HIV in many cases – sure made it a little easier to understand the tough choices they are making every day. I will be very interested in your reaction.
Aside from my griping over HIV coverage, it really was terrific to be in the company of a lot of dedicated journalists, and I appreciate very much the work done to mount the event, including the contributions of Bil Browning of The Bilerico Project (pictured with me above, at right).
Is sparse HIV coverage just a sign of the times? Is it progress? And what can we do to increase visibility again?
The journalists in my video provide some answers, but I especially liked the observation by gay political activist David Mixner, who reminded me that coming out, whether as gay men or as someone living with HIV, is the greatest tool in fighting stigma and helping people see the importance of the issue. I'm glad I have some company in the poz blogosphere, but we can always use more voices. Anyone who has the ability to share their story, online or across the dinner table, can make an awesome contribution.
Meanwhile, I'm going to keep nudging my LGBT media colleagues, and I encourage you to do the same.
Thanks for watching, and please be well.
Mark
Tags: aids, barebacking, criminalization, culture, gay, hiv, politics, research, serosorting, Sexuality, testing
Posted in Books and Writings, Living with HIV/AIDS, My Fabulous Disease, News, Prevention and Policy | 7 Comments »
Thursday, January 24th, 2013
For several years now, I've made the occasional pilgrimage to Vero Beach, Florida, to be treated by Dr. Gerald Pierone for facial wasting, or lipoatrophy. And for all of these years, we have battled The Look: the sunken cheeks and sagging face of someone who has been on HIV medications for a long time. In my latest video blog below, you're going to see our progress, step by step.
It was all well and good to be front-and-center as an HIV-positive man during the first years of the AIDS crisis. It's easier being a role model when your face looks good on the poster. But my dismay over the telltale wasting that began to appear on my face surprised me, and it pitted two strong emotions against one another: my pride in being a longtime HIV/AIDS survivor, and my shame for looking like one. I'm only human.
There is an emotional component to facial wasting, because it forces us to address our own vanity, as well as the very real, physical results of HIV medications, which often affect people who have had no other manifestations of the disease. I've tried to address these issues in past blogs, but to be honest, I have put more time and effort into just trying to wipe the AIDS right off of my face.
For my earlier treatments, Dr. Pierone used Sculptra and Radiesse, both effective but temporary solutions to facial wasting (results vary, but typically last somewhere between six months and two years).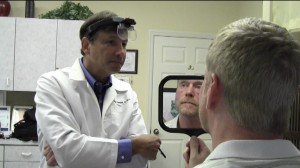 Beginning with my last appointment a year ago (shown in a previous video blog), Dr. Pierone began using Artefill, a more permanent filler product (Dr. Pierone wisely does these treatments in careful stages). But, because Artefill is not FDA approved specifically for facial wasting (it is approved for cosmetic use), it cannot offer the same kind of patient assistance programs as the ones offered by Sculptra and Radiesse. New studies are underway now to show what we already know: Artefill is safe and effective for facial wasting. Once approved for this purpose, one can assume the manufacturer will join the patient assistance bandwagon.
Thanks for watching, and please be well.
Mark
(It's worth mentioning that I do not receive promotional consideration from the makers of any of these products. I'm simply sharing my experience with facial wasting, and I'm sure that "results may vary," as they say. — Mark)
Tags: Aging, aids, hiv, lipo, physician, Radiesse, Sculptra
Posted in Living with HIV/AIDS, My Fabulous Disease, News | 4 Comments »
Wednesday, January 2nd, 2013
"My most courageous self, the best man that I'll ever be, lived more than two decades ago during the first years of a horrific plague… I miss the man I was forced to become."
– "Once, When We Were Heroes," 2007
AIDS did not kill Spencer Cox in the first, bloodiest battles of the 1980's. It spared him that.
The reprieve allowed Spencer's brilliance as co-founder of the Treatment Action Group (TAG) to forge new FDA guidelines for drug approval and help make effective HIV medications a reality, saving an untold number of lives.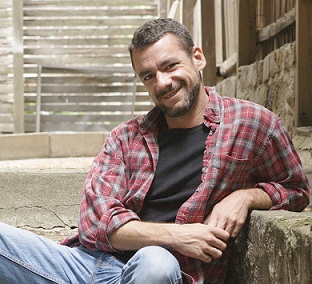 Such triumph by a man still in his twenties might have signaled even greater achievements ahead. Instead, Spencer found himself adrift in the same personal crisis as many of his contemporaries, who struggled for a meaningful existence after years of combating the most frightening public health crisis of modern times.
Gay activists like Spencer were consumed by AIDS for so many gruesome years that many of them were shocked, once the war abated, to see how little around them had changed. Climbing from the trenches, they saw a gay culture that must have seemed ludicrous, packed with the same drug addictions, sexual compulsions and soulless shenanigans that AIDS, in its singular act of goodwill, had arrested for a decade or so.
They found themselves in a world in which no one wants to see battle scars, where intimacy is manufactured on keyboards and web sites, where any sense of community had long since faded from the AIDS organizations and now only makes brief appearances in 12-step meetings, or as likely, in the fraternity of active crystal meth addicts chasing deliverance in a dangerous shell game of bliss and desolation.
The dark allure of meth, a drug so devoured and fetished by gay men today that it is now a leading indicator of new HIV infections, enticed Spencer at some point along the way. The drug is known to whisper empty promises about limitless power and sexual escape, while calming the addict's ghosts and sorrows for miserably brief periods of time.
When Spencer Cox died on December 18, 2012, in New York City, the official cause of death was AIDS-related complications, which is understandable if post-traumatic stress, despair and drug addiction are complications related to AIDS.
Spencer believed that this connection exists. His own writings for the Medius Institute for Gay Men's Health (an organization he co-founded after his work with TAG) focus on exactly the issues that were distressing him personally: Crystal meth abuse. Loneliness. Risk taking. Feelings of confusion after years of accomplishment and purpose.
In retrospect you can read his work and break the private code written between the lines. It spells out "HELP ME."
Spencer's life during this period and beyond was difficult, by many accounts. The Medius Institute failed due to a lack of funding, defeating Spencer's effort to address mental health issues among gay men. His drug addiction spiraled and ebbed and raged again, until he finally retreated to Georgia to live with family for a few years.
When Spencer returned to New York City last September, many of his closest friends had lost track of him. There is uncertainty about his last months, and no evidence that his addiction was active, but what little medication compliance he managed had been abandoned completely, setting the stage for his final hospitalization.
Spencer Cox died without the benefit of the very drugs he had helped make available to the world. He perished from pneumonia, in an ironic clinical time warp that transported him back to 1985. It was as if, having survived the deadliest years of AIDS, having come so close to complete escape, Spencer was snatched up by the Fates in a vengeful piece of unfinished business.
AIDS has always been creative in its cruelty. And it has learned to reach through the decades with the second-hand tools of disillusionment and depression and heart-numbing traumas. Or, perhaps, using the simple weapon of crystal meth, with all of its seductions and deceits.
Yes. There are many complications related to AIDS.
To consider "survivor's guilt" the culprit behind the death of Spencer Cox is a popular explanation but not necessarily an accurate one. That condition suggests surviving when other, presumably worthier people, did not. Sometimes guilt has nothing to do with it.
For many of our AIDS war veterans, the real challenge today is living with the horror of having survived at all.
Mark
(PHOTO CREDIT: Walter Kurtz)
Tags: aids, culture, hiv, meth, physician, politics, recovery, research, Sexuality
Posted in Books and Writings, Gay Life, Living with HIV/AIDS, Meth and Recovery, My Fabulous Disease, News, Prevention and Policy | 50 Comments »
Monday, October 22nd, 2012
The story behind the title of Michael Kearns' memoir The Truth is Bad Enough is as delicious as the title itself. As Kearns' parents – themselves worthy of a Tennessee Williams subplot — battled each other at their divorce proceeding when Michael was a child, his father presented damning surveillance of his mother's many infidelities. The evidence was unimpeachable, but then the father tried raising the stakes by charging that the woman also physically abused him.
Kearns' mother couldn't be contained and interrupted the proceedings. "Your honor," she said. "Why is this man lying? The truth is bad enough!"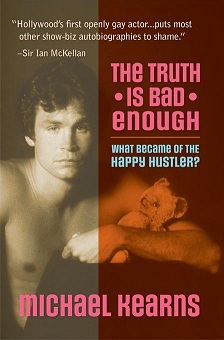 The truth is sometimes difficult, to be sure, but in the case of this engaging and fast moving autobiography, it's also hilarious. There's nothing more formidable than a drama queen with legitimate drama on their hands, and the life of talented, alcoholic, HIV infected, highly theatrical and perpetually horny Michael Kearns has had more peril than an Aaron Spelling series.
Kearns began his career in the midst of the "gay lib" of the 1970's even if Hollywood was tight lipped on the topic, and it is that disconnect that pushes the openly gay Kearns into an unintended activist role and confounds his career aspirations.
After a featured role playing the older brother of John-Boy on The Waltons, Kearns' future seemed secure. But test audiences reacted poorly to their scenes together because they showed the characters away at college. Kearns' character never appeared again. Rumors that he was fired because he was openly gay were untrue but persisted for years.
Meanwhile, Kearns had a boyfriend who had written a fictional book called The Happy Hustler, and for which Kearns had modeled for the cover image. In order to generate book sales, a plan was hatched to present Kearns as the actual Happy Hustler – the book's author – and send him on a press tour. Having been banished from Walton Mountain and still hungry for stardom of some kind, any kind, Kearns agreed to take on the counterfeit persona as a sort of exercise in ongoing performance art.
Keans' drunken appearance as The Happy Hustler (a role he began taking far too literally in his private life) during a 1976 Tom Snyder interview sets the stage for both career success and life on a runaway crazy train. Kearns revels in drug and alcohol abuse as tricks and acting jobs come and go. He sleeps with celebrities and strangers with equal apathy. His status as the first openly gay actor of note invites curiosity and derision. He agrees to reveal his HIV positive status for an NBC interview almost as a lark, leading to a period of portraying "the gay guy with AIDS" in a collection of acting gigs.
I was drawn to Kearns' story for the Hollywood gossip –– but I kept reading because of something deeper and far more riveting. And it had everything to do with how our lives were fated to overlap.
My own memoir A Place Like This travels some of the same West Hollywood streets. I was a bottom-feeder on the Hollywood scene (an expression I should probably withdraw now for its literal inaccuracy) and I never knew Kearns, but we did have a liaison in common: our bedding of the detached and unhappy Rock Hudson. However, let the record show that while Kearns' dalliance was what gay men refer to as "standup sex," mine was brief but at least horizontal. So, um, I win.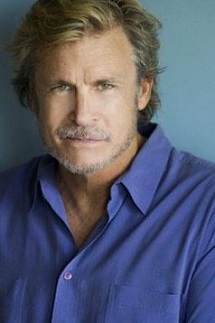 Many other famous faces populate the book – gay, straight, porn stars of various stripes, and the hypocritically closeted that Kearns, God bless him, outs on his pages with regularity. His characterizations of personalities we thought we knew are enlightening, gentle when need be, and sometimes quite sad.
The funny but famously acerbic Paul Lynde was kind and helpful to Kearns. Stage legend Leonard Frey (birthday boy Harold from Boys in the Band) sat despondently during a sexy gay house party, where looks trumped celebrity. The "monstrous" Charles Nelson Reilly was so threatened by Kearns' sexual identity that he cut short their visit in Florida to work on a project, throwing Kearns out of the guest house and squawking insults from the porch in his orange caftan as Kearns was driven away.
And then, Kearns' story includes a bizarre intersection between us that I found so revelatory and disturbing that I had to actually put the book down for several days while I reexamined an entire section of my life.
During the 1980's I owned a gay phone sex company, Telerotic. It predated party lines and the internet; customers called our office and "ordered" the type man they wished to speak with, and one of my employees (struggling actors, every one) would call back the customer and take on the persona of whatever the client had ordered. I had opened the company after working for a competitor and discovering I was a very popular choice among the clients and had, well, a way with words.
One day, playwright James Carroll Pickett contacted me. He wanted to interview me, observe me doing calls with clients, and get a feel for the business as research for a play he was writing. We spent a few evenings together, as I answered questions, smoked cigarettes, made funny faces while talking to clients, and snorted copious amounts of cocaine in my bathroom.
Months later I attended a performance of Dream Man, which would become the most heralded collaboration between the playwright and his theatrical partner, who performed the role of the phone sex caller in the searing one-man show.
The actor was Michael Kearns.
Watching the performance nearly thirty years ago was a surreal experience, but it was the playwrights inclusion of the mechanics of my nightly calls that were so striking to me: the rolodex box filled with client notes, the gimmicks I used to appear more engaged than I actually was, my tricks to get the client to call again by teasing him with an upcoming sexual adventure I wanted to be sure to share with him.
And I missed the point entirely. It wasn't until I read Kearns' book that the facts of the character he portrayed came into view: an isolated, frenzied and increasingly unhinged gay man with no prospects or esteem, playing to an audience of one – whatever desolate client he could hold hostage during their phone call.
The play was an aria of anguish, but all I could focus on during that performance so many years ago was the damn rolodex cards. I was incapable of facing the "dark density" of the character, because if I scratched its surface I would have clearly identified the drug addicted, desperate young man that the playwright had come to interview. And I may have revealed far more to him than I ever imagined.
Dream Man would be performed across the country, in Spain, Ireland, Germany. And through those years I continued my destructive path, having lost an opportunity for my own moment of clarity in the dim light of that West Hollywood playhouse. Reading about it now, in this book, rattled me to the core, and the book sat untouched on my nightstand for several days.
The last third of the book focuses on Kearns' adoption of a baby girl born to a crack addicted mother, his selfless love for her, and how their bond throughout her upbringing conjures everything from his fears of AIDS mortality to his unresolved issues with his own troubled parents. These pages are filled with a grace and maturity that are miles away from the drug- and celebrity-induced selfishness of his life thus far, as Kearns gently guides the reader down to earth, into the bosom of family, after pages and years of breathless shenanigans.
"Acceptance is the answer to all my problems today" is a common refrain among those, like Kearns, dealing with recovery from drug and alcohol addiction. His book is imbued with that acceptance, just as reading it allowed me to accept whatever part of me was on display in the lonely, reckless stage creation Kearns most famously brought to shattering existence.
Mark
Tags: A Place Like This, acting, aids, culture, help others, hiv, meth, recovery
Posted in Books and Writings, Gay Life, Living with HIV/AIDS, Meth and Recovery, My Fabulous Disease | 5 Comments »
Tuesday, July 31st, 2012
AIDS2012 was exactly as I had hoped: an enormous "summer camp" for advocates from around the globe, and I had a blast bringing their stories to you. Let others cover the medical updates and the big name speakers. I wanted to give you a sense of the people who are doing the work on the front lines – with a few bigwig interviews along the way.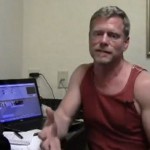 Every day I sought out stories I thought would interest you and took a ton of footage (with the help of my talented camera person and schlepper Tina Robles). After a bite of free food from whatever reception was happening, I tried to make it to at least one evening event. And then back to my hotel, where I reviewed the footage, did my best to conceive a theme for the day, and then started editing. I'm quick at the editing part, but it still took 4-5 hours, into the wee hours of the morning. Then I'd sleep for a couple hours and start again. I'll need the two years between now and AIDS2014 just to catch up!
Here are links and a review of each of the six video blogs I produced during the week. Simply click the title to see the posting and watch the video.
The MSM Pre-Conference ("Gay Day")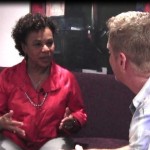 Since less than 5% of the programming for AIDS 2012 is targeting to MSMs (Men who have Sex with Men), a special one-day pre-conference is held the day AIDS 2012 convenes to address the needs and issues of this population.
My report includes a chat with United States Rep. Barbara Lee (right), who has just introduced comprehensive HIV prevention and anti-stigma legislation; the advocates fighting laws that criminalize people with HIV (like Sean Strub and Edwin Bernard), a little social research on Grindr (the gay man's cruise phone app), a chat with Positive Frontiers editor Alex Garner about getting rejected (and rejected others) during the dating process, and a visit to an AIDS2012 Reunion poz social event.
Opening Ceremonies at the AIDS2012 Conference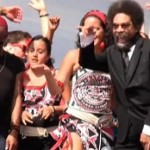 In this brief video episode from the first official day of AIDS2012 the party is rolling, with an outdoor concert (steps away from the AIDS quilt) featuring Weyclef Sean and Cornel West (!), dancing dignitaries, and a somewhat surprise ending!
The fact is, Day One was a light day, the calm before the storm, as people poured into DC and braced themselves for the busy week ahead. And it was my last chance to get a decent night's sleep.
AIDS2012 Day Two: Stigma, Singers and Subways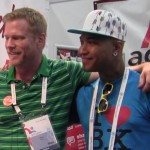 Day Two of the international AIDS conference (AIDS2012) roared through its first full day on Monday, and there are sights to behold. This episode is a lot of fun.
I spent some time in the exhibit hall critiquing the fashions (and the issues) of various attendees with fashion maven Jack Mackenroth (poz and proud veteran of "Project Runway"), started a YouTube rivalry with inspirational singer Jamar Rogers ("The Voice," right), and learned about HIV and aging from an expert with the Terrence Higgins Trust. I also had the chance to speak with the head of the CDC's HIV/AIDS Division about their new "Let's Stop HIV Together" campaign, in which Jamar and myself both participate.
And, with all the talk at the conference about the devastating effects of HIV stigma, I found validation of my own HIV status in the unlikeliest of places: the Gallery Place subway station.
AIDS2012 Day Three: The March to End AIDS!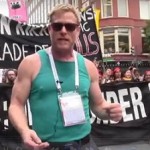 I know my tank top looks kinda slutty, but it was damn hot, people.
Several contingents marched and protested separately throughout the city – marching for housing, and civil rights, and in protest of the pharmaceutical industry's "intellectual property" policies – and then convened in front of the White House. Whereas the march and rally at AIDS2010 in Vienna was a peaceful affair, our proximity to the White House, the aggressive crowd and the police on horseback all lent an air of old time activism circa 1987.
The people included in the video can speak for themselves, and quite eloquently. Maybe it was the emotions of the event — anger, nervousness, pride — but it was an exhausting day. I felt the residue of grief for lost friends in a way I haven't experienced in years.
This is my favorite, no doubt, and I'm proud of the visual and audio techniques I employed to give some historical context to the event.
AIDS2012 Day Four: The Global Village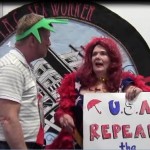 It was time for a tour of the heart and soul of AIDS2012: The Global Village. This massive hall is the only part of the conference open to the public, and it has a grass-roots feel, crafted from the love and devotion of hundreds of community groups who are doing "the work on the ground" in cities and small towns throughout the world.
Thank God I'm a video blogger, because words escape me when trying to describe the colors and displays and most importantly, the committed people behind it all. You're about to meet drag queens who make their living handing out condoms, sex workers demanding an end to criminalization, young prevention workers from far-flung corners of the planet, a stunning photo exhibit from the Ukraine… the list goes on.
AIDS2012 Day Five: Farewell to the Voices of the World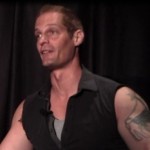 Our little summer camp for global AIDS advocates (and physicians, and commercial interests) had come to a close, and there are images that will be knocking around in my head for weeks to come (and some, forever).
I begin this video with the astonishingly talented performance poet Mary Bowman, a young woman with HIV showing us her heart and soul on stage. It's a jumping off point for this final, brief video, in which I pay tribute to the people on the front lines who are the very essence of this conference. They are the ones with the "star power."
This opportunity to share my experiences at AIDS2012 was a distinct honor and privilege, my friends. My deepest thanks to you all for the many cross-postings and shares and tweets. This was a week I will never forget.
Enjoy the videos, and please be well.
Mark
Tags: Aging, aids, barebacking, criminalization, culture, drag, gay, gratitude, help others, hiv, physician, politics, recovery, Recreation, research, Sexuality, testing
Posted in All Other Video Postings, Books and Writings, Family and Friends, Gay Life, Living with HIV/AIDS, Meth and Recovery, My Fabulous Disease, News, Prevention and Policy | 5 Comments »
Saturday, July 28th, 2012
Our little summer camp for global AIDS advocates (and physicians, and commercial interests) has come to a close, and there are images that will be knocking around in my head for weeks to come (and some, forever).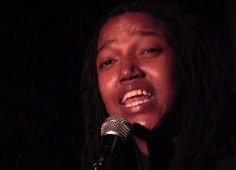 The seven foot Mexican drag queen handing out condoms springs to mind, of course. The astonishingly talented performance poet Mary Bowman (right), showing us her heart and soul on stage. And escape artist Daniel Bauer's highly personal show mixing magic with confessions from his life as a gay man living with HIV. Seeing presentations by mentors I admire, such as Sean Strub and Edwin Bernard. The Australian chief justice with a gay partner of 43 years, giving me suggestions on maintaining a long marriage ("Give in," he advised).
In this farewell video posting, I pay tribute to the people on the front lines who are the very essence of this conference. They are the ones with the "star power," and they fill me with renewed commitment and energy that might possibly last until AIDS2014 in Melbourne, Australia.
Thanks for watching, my friends. It has been my privilege to be your tour guide and I deeply appreciate your many notes and cross-posts and "likes" on Facebook. I like you very much, too.
Please be well,
Mark
Tags: aids, criminalization, culture, drag, hiv, physician, politics, research, Sexuality, testing
Posted in Gay Life, Living with HIV/AIDS, My Fabulous Disease, News, Prevention and Policy | 4 Comments »
Friday, July 27th, 2012
It's time for a tour of the heart and soul of the international AIDS conference in Washington, DC: The Global Village. This massive hall is the only part of the conference open to the public, and it has a grass-roots feel, crafted from the love and devotion of hundreds of community groups who are doing "the work on the ground" in cities and small towns throughout the world.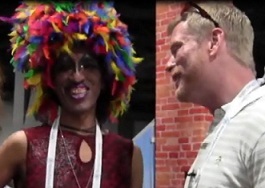 Thank God I'm a video blogger, because words escape me when trying to describe the colors and displays and most importantly, the committed people behind it all. You're about to meet drag queens who make their living handing out condoms, sex workers demanding an end to criminalization, young prevention workers from far-flung corners of the planet, a stunning photo exhibit from the Ukraine… the list goes on.
Why wait? Take a look at my video report. Welcome to the Global Village!
Thanks for watching, and please be well.
Mark
Tags: aids, criminalization, culture, gay, hiv, politics, Sexuality, testing
Posted in Gay Life, Living with HIV/AIDS, My Fabulous Disease, News, Prevention and Policy | 5 Comments »
Thursday, July 26th, 2012
It's difficult sometimes, writing about an event that so easily lends itself to images and sound. Such is the case with the AIDS2012 March to End AIDS, the subject of today's video blog episode from the conference.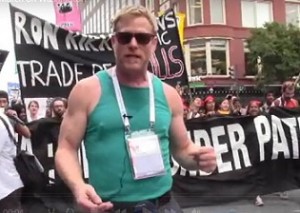 The people included in the video can speak for themselves, and quite eloquently. Maybe it was the emotions of the event — anger, nervousness, pride — but it was an exhausting day. I felt the residue of grief for lost friends in a way I haven't experienced in years.
Just before the various HIV/AIDS marching groups convened in front of the White House, my camera person (Tina Robles of HealthCentral) and I had lunch a few blocks away. I realized that she's in her twenties and no one who lived through AIDS in the 1980′s had ever described for her what those years were like. I told her about the foxhole mentality, the guest rooms that became makeshift hospices, and the pure horror of waiting to be the next to go.
"Well…" she asked softly, after listening to my tales, "how can you possibly keep such a positive attitude after going through all that?"
"Because my joy is an enormous 'Fuck You' to AIDS," I said. And it's only in that moment that I realized how right that seemed, and that my departed friends would approve — and would be cheering me on during the protest.
Tina had never been to any kind of street demonstration, and was bravely filming our antics at the front of the massive line of protesters at the front fence of the White House. But, bless her heart, when the cops came out in force and demanded that we retreat, Tina handed me the camera and wished me luck and took safety in the park across the street. I don't blame her. The crowd was edgy and the adrenaline was pumping.
This is my favorite episode of my AIDS2012 coverage so far, and I hope you will enjoy it and share it with others.
Thanks, and please be well.
Mark
Tags: aids, criminalization, gay, hiv, politics, Sexuality, testing
Posted in Gay Life, Living with HIV/AIDS, My Fabulous Disease, News, Prevention and Policy | 14 Comments »