Posts Tagged 'aids'
Thursday, November 28th, 2013
My brother Richard smiles a lot. He has an easy laugh. But there was a time, years ago, when he held a poisonous drink in his hands and begged his dying lover not to swallow it. A time when Richard held the concoction they had prepared together and wept.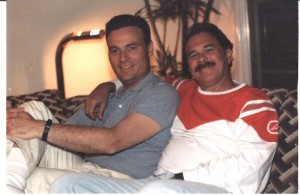 Emil couldn't wait. He took the drink from Richard quickly, because the release it offered was something more rapturous than the appeals of his lover of thirteen years.
It was Emil's wish to die on his own terms if living became unbearable, a promise made one to the other. When that time arrived, however, Richard wanted another moment, just a little more time to say, "I love you, Emil," over and over again, before the drink would close Emil's eyes and quietly kill him.
Richard has a charming store in my hometown today, where he sells collectibles and does theater in his free time. The drink was consumed over twenty years ago.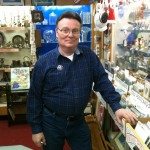 There were people who displayed remarkable courage then. People who lived and died by their promises and shared the intimacy of death, and then the world moved forward and grief subsided and lives moved on. But make no mistake, there are heroes among us right now.
There is a shy, friendly man at my gym. There was a time when his sick roommate deliberately overdosed after his father told him that people with unspeakable diseases will suffer in hell. My gym friend performed CPR for an hour before help arrived, but the body never heard a loving word again.
There is courage among us, astonishing courage, and we summoned it and survived. And then years passed. We got new jobs and changed gyms.
There was a time when old friends called to say goodbye, and by "goodbye" they meant forever. When all of us had a file folder marked "Memorial" that outlined how we wanted our service to be conducted. When people shot themselves and jumped off bridges after getting their test results.
There is profound, shocking sadness here, right here among us, but years went by and medicine got better and we found other lives to lead. Our sadness is a distant, dark dream.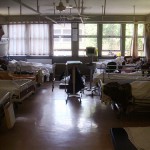 My best friend Stephen just bought a new condo. He's having a ball picking out furniture. But there was a time when he knew all the intensive care nurses by name. When a phone call late at night always meant someone had died. And just who, exactly, was anyone's guess.
Stephen tested positive in the 1980s, shortly after I did. A few months after the devastating news, he agreed to facilitate a support group with me. We regularly saw men join the group, get sick and die, often within weeks.
Watching them disintegrate felt like a preview of coming attractions. But Stephen was remarkable, a reassuring presence to everyone, and worked with the group for more than a year despite the emotional toll and the high body count.
There is bravery here, still, living all around us. But the bravest time was many years ago, and times change and the yard needs landscaping and there's a brunch tomorrow.
There was a time when I sat beside friends in their very last minutes of life, and I helped them relax, perhaps surrender, and told them comforting stories. And lied to them.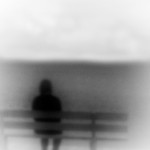 Jeremy lost his mind weeks before he died. Sometimes he had moments of sanity, when we could have a coherent conversation before his dementia engulfed him again. It was a time when you were given masks and gloves to visit friends in the hospital.
He was agitated with the business of dying, and told me he couldn't bear to miss what might happen after he'd gone. I had an idea.
"I tell you what," I offered, "I'm from the future, and I can tell you anything you would like to know."
"OK then, what happens to my parents?" he asked. I thought it might be a distracting game, but Jeremy's confused mind took it very seriously.
"They went to Hollywood and won big on a game show, so they never did need your support in their old age," I answered. He barely took the time to enjoy this thought before his hand grabbed my wrist, tightly, almost frantically. He pulled me closer.
"When…" he began, and a mournful sob swelled inside him in an instant, his eyes begging for relief. "When does this end?" There was an awful, helpless silence. His eyes beckoned for a truth he could die believing.
"It does end," I finally managed, although nothing suggested it would. "It ends, Jeremy, but not for a really long time." He digested each word like a revelation, and slowly relaxed into sleep.
There is compassion here, enough for all the world's deities and saints acting in concert. Infinite compassion for men who lived in fear and checked every spot when they showered for Kaposi sarcoma, and for disowned sons wasting away in the guest room of whoever had the space. But we get older, and friends don't ask us to hold their hand when they stop breathing, and the fear fades and I bought new leather loafers and the White Party is coming.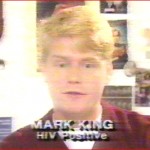 The truth is simply this, and no one will convince me otherwise: My most courageous self, the best man that I'll ever be, lived more than two decades ago during the first years of a horrific plague.
He worked relentlessly alongside a million others who had no choice but to act. He secretly prayed to survive, even above the lives of others, and his horrible prayer was answered with the death of nearly everyone close to him.
To say I miss that brutal decade would only be partially true. I miss the man I was forced to become, when an entire community abandoned tea dances for town hall meetings, when I learned to offer help to those facing what terrified me most.
Today, the lives of those of us who witnessed the horror have become relatively normal again, perhaps mundane. We prefer it. We have new lives in a world that isn't choking on disease.
But once, there was a time when we were heroes.
(I was honored to receive an award from the National Gay and Lesbian Journalists Association for this piece in 2007, written to commemorate World AIDS Day. It has since become my annual post to commemorate the day. Here's to a joyous and healthy holiday season for us all. — Mark)
—————————————————–
PLUS…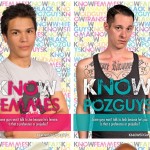 "Know Stigma" (I hereby pronounce "stigma" the Word of the Year) is a terrific site devotes to photos and video that challenge our attitudes towards one another as gay, straight, femme, old, poz guys, etc. There are some really intimate, honest videos with people discussing the impact of stigma on all aspects of their lives. "We want to create a conversation around how we treat each other as gay, queer, bi, trans, and straight men," says their site. "Like everyone, we have our biases and prejudices. Many of us are made to feel invisible because of age, body type or skin color. How can we say what we want without hurting others? How do we imagine our actions and words might make someone else feel?" Check it out.
After a lot of talk about HIV stigma, there is now a project in the United States that wants to actually quantify it and address it through leadership by people with HIV. "The People Living with HIV Stigma Index" has been launched in dozens of countries but only now has received funding to implement it in the U.S. It measures HIV stigma in the lives of people with the virus, and does so by training and employing people with HIV themselves to conduct the surveys. Watch a video of Laurel Sprague of the Global Network of People Living with HIV discussing stigma and this project with Eric Sawyer of UNAIDS.
Tags: Aging, aids, culture, gay, help others, hiv, physician, politics, research, Sexuality, testing
Posted in Family and Friends, Gay Life, Living with HIV/AIDS, My Fabulous Disease, News | 3 Comments »
Thursday, November 21st, 2013
Lesley was my closest friend to become sick in the 1980′s, and he fought bravely until his death from AIDS. Today, there are little rituals I have to honor his memory, and I often write about him, the first of many friends lost to the epidemic.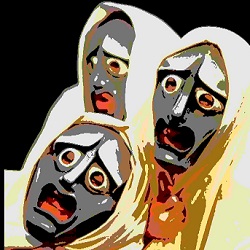 But there's something I will not do. I will not dig up Lesley's body and beat young gay men with his corpse. Lesley didn't perish so I could use him as a scare tactic. He wasn't a cautionary tale. He wasn't a martyr. He was a man with the same passions and faults as anyone else, and I won't use his death as a blunt instrument.
Plenty of us are more than happy to rob graves, however, in an attempt to frighten gay men into acceptable behaviors. This kind of horror-by-proxy happens all the time. Concerned but misguided gay men of a certain age hear whatever the latest HIV infection rates are, and they pull the AIDS Crisis Card.
"If their friends all died like mine did, maybe they would think twice before having sex without a condom," goes a typical remark, drenched in self pity and tenuous logic.
This statement misrepresents our lost friends and oversimplifies the state of HIV today. It projects our grief in the direction of those who bear no responsibility or resemblance to what we experienced. It subtly blames our departed friends for their mistakes, and then tries to equate them with a new generation of gay men who are much too smart to buy into it.
So frozen in time is our victimhood, it hardly allows for the facts of the here and now. Young gay men are more aware of HIV than my generation ever was. They simply relate to it differently, having come of age since the advent of successful treatments. Asking them to fear something they have literally grown to accept is as realistic as asking them to perform "duck and cover" drills in case Russia drops the bomb.
To view these young men and say, in effect, "if only you saw all the death that I saw…" is a wishful fantasy that disturbs me on all sorts of levels, and it says far more about us than it does about them.
I understand these attitudes come from a place of complicated emotions, ranging from grief, primarily, to our own shame or guilt over dodging a bullet — and it may come from a sincere need to share our experience with others. The punishing tone that often accompanies it, though, isn't going to win the respect or investment of younger men. It makes us as relevant as old men on the front lawn waving a rake at youngsters.
I take our community history very seriously. I've written a book about the dawn of AIDS in Hollywood, have read And the Band Played On more than once, cheered on the activists in the documentary How to Survive a Plague, and can't wait for the release of Sean Strub's upcoming AIDS memoir, Body Counts. There is enormous value in preserving our history — and in recognizing that many of us still carry trauma born of that time.
Community advocates have stepped up work to help us process what we went through a generation ago. Post Traumatic Stress Disorder (PTSD) is a very real phenomenon for longtime survivors, and excellent community forums have been mounted to explore these areas by the Medius Working Group in New York City and the "Let's Kick (ASS) AIDS Survivor Syndrome" project in San Francisco. Hopefully, other cities and LGBT organizations will follow suit.
That important work is quite different, however, from allowing our past to blind us to the present. When we raise our finger and say in a voice filled with foreboding, "people think you only have to take a few pills and that's it," we are denying the actual experience of a lot of people with HIV. For many like me, taking a few pills a day is, in fact, the only impact HIV has on my life. Research suggests I will live a normal lifespan and am more likely to die from cigarettes than HIV. And I'm not going to deny all that in order to advance a fright-show storyline that isn't my experience.
There are young voices telling new stories, thankfully. Gay writers living with HIV such as Patrick Ingram, Josh Robbins, Tyler Curry, Aaron Laxton, Robert Breining and the irascible Josh Kruger are peering across the generational divide (I have HIV antibodies older than they are) and they seem bemused. Their blogs suggest a post-AIDS life of full engagement and purpose. I consider this progress. If their lives (and writings) don't include burying friends or serious health concerns, wasn't that our goal all along?
Nowhere has our AIDS tragedy mindset done more damage than in the rollout of the unfairly maligned Pre-Exposure Prophylaxis (PrEP), the prevention breakthrough that allows HIV negative people to take anti-HIV medication to avoid infection. It is largely viewed as an alternative to condoms, which has quickly labeled HIV negative men taking PrEP as "barebacking sluts" by people coming unhinged at the very idea of unprotected sex. (Note: I remember when gay sex never involved condoms. It was glorious. I always thought getting back to a place where we had a real choice in the matter was kind of the point.)
There is something about the simplicity of PrEP (a pill a day! no condom negotiation! no guilt or judgment!) that is driving older gay men up the wall, considering their resistance to it and spurious claims of inefficacy, cost, and side effects. Tellingly, younger gay men have voiced fewer objections.
The facts are these: PrEP is at least as effective as condoms when used properly. The drug currently used for PrEP, Truvada, is well tolerated with few side effects. And despite fears and misinformation, it is being covered by insurance providers (do you know of even one claimant that has been denied?). For those without insurance, Gilead, the maker of Truvada, has a generous patient assistance program that allows you to earn a sizeable income and still get the medication.
Perhaps, in the end, we are simply victims of our own success as advocates. We successfully entrenched the immediate, mortal danger of HIV, the shameless inaction of our government, and the profit-driven, opportunistic role of the pharmaceutical industry. Anything that veers from that narrative, especially for those of us who lived it, feels like betrayal. Yet here we sit, in an age that confounds so much of what we once knew to be true.
The 1980′s are history. They are not a prevention strategy. The war as we once knew it to be, the one Lesley and so many others fought so valiantly, is over.
May they rest in peace.
Mark
————————————————————————-
PLUS…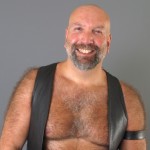 My friend and early mentor, Eric Rofes, was an out, gay, kinky, deep thinking anthropologist that wrote the important book Reviving the Tribe, about building community among gay men during the AIDS epidemic, and Dry Bones Breathe, his follow-up work. He was one of the first to write about the value and even spiritual importance of anal sex for gay men and even exchanging bodily fluids (when he said as much at a forum for gay men in Atlanta I organized in 1995, it was as if a bomb went off, such was the hysteria). For a thoughtful overview of Eric's work and influence, check out a piece from Charles Stephens about the Rofes legacy — and where his worked wasn't fully realized. Whenever I fear my writing might seem provocative, I think of Eric Rofes, his bravery, and his lasting influence on the work of many of our leaders. Eric died far too early in 2006 of a heart attack. (Photo credit: Markichester.com)
Tags: A Place Like This, aids, barebacking, culture, gay, hiv, physician, serosorting, Sexuality
Posted in Family and Friends, Gay Life, Living with HIV/AIDS, My Fabulous Disease, News, Prevention and Policy | 31 Comments »
Tuesday, October 22nd, 2013
Just because it's over
doesn't mean it didn't happen…
Doesn't mean it wasn't beautiful,
even with the pain.
– "Beautiful Sadness," sung by chanteuse and gay favorite Jane Oliver
In the first minutes of Dallas Buyers Club, the astounding new film about the darkest years of the AIDS crisis, rodeo cowboy Ron Woodroof (a gaunt and barely recognizable Matthew McConaughey) is punched in the face. He has it coming. The self-serving crook has a lot of enemies.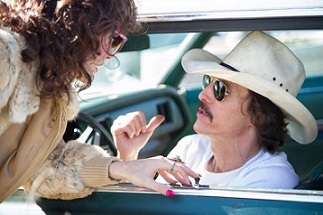 The blood spills from his mouth and glows a bright crimson, an almost clownish contrast to his drained, ghostly pallor — which itself is evidence of a raging HIV infection he has yet to discover. Another gash on his forehead is a sickly collection of reds, and unlike most movies in which injuries disappear by the next scene, the wound remains. And remains. For many scenes thereafter, the blood on Woodroof's forehead is in full view, a disconcerting reminder of what lies beneath, until you wish he would just put on a bandage already.
But Dallas Buyers Club isn't interested in making the truth very pretty. A river of infected blood runs through it. So, too, does practically every other bodily fluid, along with bruises that won't heal and purple skin lesions and flakes of dry, reddened skin. And that's kind of beautiful. Because that's what AIDS looked like in 1985, and it's been ages since we have fully remembered it (this movie doesn't concern itself with the modern day notion of "living with HIV," since having the virus in those days typically meant an AIDS diagnosis and fast and efficient death).
I have never seen AIDS shown this way in a film. And of all the movie portrayals of the disease, from Parting Glances to I Love You Phillip Morris, nothing else has captured the ugly physicality of the disease like Dallas Buyers Club. Even the tearful hospital bed goodbyes in Longtime Companion seem overly romanticized by comparison.
The based-on-a-true-story concerns Woodroof, a hard living cowboy and drug addict, who must face certain death and the cruelty of his redneck buddies when he tests HIV positive. Woodroof also lives the sheltered life of a southern homophobe, so watching him negotiate the AIDS community terrain of queers and drag queens is fascinating viewing and provides some of the surprisingly plentiful humor in the film.
But Woodroof hasn't successfully dodged the consequences of his petty crimes for nothing. He quickly cheats the system to acquire the poisonous medication AZT and, after an eye-opening trip to Mexico, he figures out how to profit from the sale of unapproved drugs to the throngs of support group members back home.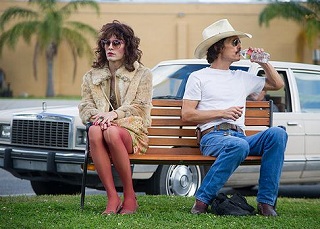 Along the way he allows himself a guarded friendship with a drug addicted transgendered salesperson, Rayon (Jared Leto in an effective and quietly humble performance), and eventually accepts to some degree the gratitude and generosity of the many gay people around him.
Nearly everyone in the story, patients and physicians alike, is a wretched outcast, damaged by drug addiction or homophobia or loneliness or their own destructive behaviors. No one is healed, no one fully conquers their demons, and no one gets out unscathed. The fact that the filmmakers make you root for every one of them is a testament to terrific storytelling and a vexing main character you grow to love and admire.
These characters also live a world away from the more sophisticated New York City activists that populate the Oscar-nominated documentary from last year, How to Survive a Plague. In fact, the big city AIDS battles being waged elsewhere barely register in this story about southern vice and ingenuity. When Woodroof and his rodeo buddies first learn of the death of Rock Hudson, the actor is dismissed as a cocksucker, except for one of them who doesn't know who Hudson is. His buddies scoff. "Haven't you ever seen North by Northwest?" one asks.
Woodroof's entrepreneurial efforts ultimately create the Dallas Buyers Club, a real business that provided unapproved medications to very desperate people with AIDS. As someone who once used a buyer's club to purchase Compound Q and other pharmacological footnotes in HIV/AIDS history, I can attest that everything from the cheap cinder block setup in the film to the anxious expressions on the customers felt tragically familiar.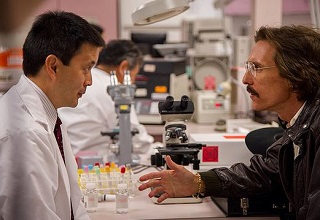 The real villain in the story, other than the virus itself, would have to be the early, toxic drug AZT and its manufacturer. Although the film uses a fictional pharmaceutical name, let history show that AZT was produced by Burroughs Wellcome (eventually absorbed into Glaxo SmithKline), who downplayed side effects in a complicated rush by the FDA to have a drug, any drug, to treat the growing pandemic.
Matthew McConaughey is a revelation. His physical transformation alone would be Oscar bait were it not for his ability to gain our affections for such a self-serving swindler. Calling the performance free of vanity is an understatement. His harrowing depiction of living with AIDS makes the award-winning Philadelphia look about as realistic as Dark Victory. It reminds me of when we settled for scraps in Hollywood's depiction of AIDS, when any major actor brave enough to play a gay man won an Oscar.
There is a moment late in the story during which Woodroof checks himself in the mirror before an evening out. Suddenly he finds himself staring, and in the dim bathroom light he sees the undamaged face of the man he might have been. He allows the slightest expression of pride, for the things he has accomplished, for those he has helped. And then, as those of us who lived through the 1980′s know so well, the face returns to a look of both hope and despair, of the beautiful sadness that always brought too many questions about the fate that was barreling towards us.
It is that face in Dallas Buyers Club, the one free of blood and injury, that is the most haunting of all.
Mark
(Photo credit: Anne Marie Fox / Focus Features)
—————————————————–
ALSO…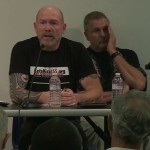 For those who survived the deadliest AIDS years of the 1980′s, there is a growing movement to address the kind of post-traumatic stress and "crisis of meaning" that has plagued many of us. Some of this comes as a response to the death of activist Spencer Cox last year, although it is a long overdue issue to be addressed. You might appreciate coverage of the New York City forum held earlier this year, "Is This My Beautiful Life?" (a video recap is here)or the more recent forum in San Francisco, "Kick ASS (AIDS Survivor Syndrome)" (with a video chronicle of the event here). My hope is for more forums like these in other cities, and an ongoing, programmatic response from service organizations to respond to these issues.
Tags: acting, aids, culture, drag, gay, hiv, research, Sexuality
Posted in Gay Life, Living with HIV/AIDS, My Fabulous Disease, News | 5 Comments »
Sunday, September 29th, 2013
This is a clever social media campaign: Healthline, an online health community, has asked people who have been living with HIV to create videos for those who have recently tested positive, known as "You've Got This." Think of it as "It Gets Better" for those with HIV.
Of course, I had to create a video in my own peculiar way — something that demonstrates the sense of humor that has served me well over the course of 30 years living with HIV. Maybe my video will help someone you know.
To be honest, I barely remember testing positive in 1985, when the test became publicly available (my doctor and I estimate my infection occurred as far back as 1981). I was already self-medicating with a growing drug addiction — it was Los Angeles, I was young and stupid, and people started dying; cocaine seemed like a reasonable response at the time — and the test result felt like my license to continue using.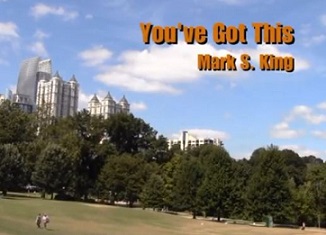 Today, it's hard for me to recall a time in which I was afraid of becoming infected. I only know a life living with the virus, and my fears of HIV itself are long past. So I should probably approach any advice for the newly infected with care. They are experiencing a profound event that happened to me a lifetime ago. I hope my light touch will give them a needed lift or bring them a smile.
It's easy for me to make the mistake of assuming new infections only happen to younger people, and I even make an apologetic joke in the video about my being "old." The fact is, most new infections in the United States happen to people over 30, not under. We might want to check ourselves when we bemoan infections among "these kids today," (although of the various age groups with new infections, those under 30 remains the largest).
To participate in "You've Got This" with a video of your own, visit the Healthline site for details. Or leave your own word of advice in the comments section below!
Mark
Tags: aids, culture, drag, gay, help others, hiv, testing
Posted in Anita Mann and Acting Gigs, Family and Friends, Gay Life, Living with HIV/AIDS, My Fabulous Disease, Prevention and Policy | 7 Comments »
Tuesday, September 24th, 2013
Note: This essay has been shared more than 15,000 times from this site since it posted in July of 2012. Some readers responded angrily, and the barebacking aspect of the story brought both cheers and derision (one comment accused director Max Sohl of "crimes against humanity"). Frankly, I just thought the story of the film and its sociological impact was worth investigating; I appreciated the candidness of those connected to the film, as well as the social scientists and CDC officials who served as background.
The annual Folsom Street Fair in San Francisco is noted for its unbridled embrace of every star in our sexual constellation. Even the fearless leather community that founded the event can sometimes appear tame amidst the outlandish kinks and clothing – and lack thereof – on display along the city's tilted streets.
In the middle of this rowdy bacchanalia in the fall of 2003, Paul Morris stood at the booth for Treasure Island Media (TIM), the gay porn outfit he founded that features unprotected sex (barebacking) between its actors. This particular specialty was the singular driving force behind his smashingly successful and relatively new company.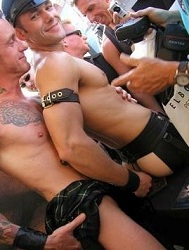 Then, like the legend of Lana Turner fortuitously cozying up to the counter at Schwab's, a beautiful and achingly masculine young man approached the TIM booth. He liked the TIM videos, he liked them very much indeed, and he hoped to one day document a few fantasies of his own. TIM star Jesse O'Toole was on hand and someone snapped a photograph of the two of them together (right). In it, the grinning young man with a leather cap appears to have found his long lost tribe, and O'Toole looks as if he has found a seven-course meal.
The photo was sent to Max Sohl, a sometime porn actor with a theater background whom Morris had commissioned to conceive and direct what would be Sohl's first porn film. Sohl met with the aspiring model and asked him to complete a form that included a simple question: What is one of your fantasy scenes? In response, the young man wrote simply, "me getting nailed and seeded by a gang of hot guys."
"The Black Party was coming," Sohl explained in a recent interview, referring to the annual New York City weekend of leather men, parties and sexual adventures, "and I thought, 'Okay. Let's see how many men he can take.'"
And that is how Dawson's 20 Load Weekend was born.
Prior to the onset of AIDS, condom usage in gay pornography was nonexistent – but that was before bodily fluids became synonymous with death and disease. For well over a decade after the crisis began, gay porn videos featured not only tightly wrapped penises, but their storylines – indeed, the actors themselves – suffered from a sort of dramatic malaise, as if sleepwalking through their sexual routine while trying to pay no attention to the man with KS lesions behind the curtain. The videos mirrored our own lack of interest in gallivanting about with the pizza man or diving into an orgy with strangers, with or without condoms. Many viewers simply returned to their stash of pre-AIDS pornography, which was condom-less but "justified."
As AIDS deaths subsided with the advent of new medications in 1996, gay male culture responded with a vengeance. Circuit parties were born of celebration (before succumbing to their own excesses), safer sex behaviors relaxed, and there was a palpable longing to escape the horrors of the previous years. Reclaiming a bold sexuality – something many gay men believed had been lost forever – was a tonic for the post-traumatic stress they suffered. Younger gay men, who had listened to stories of an earlier, sexually liberated time as if it were a lost era of paleontology, were more than willing to explore whatever modern version might await them.
Unprotected sex since the arrival of HIV is nothing new – it is, after all, the primary reason for new infections that have continued fairly steadily since AIDS began – but in the late 1990's the gay community proved again how comically adept it is at applying a little branding to any phenomenon, and "barebacking" entered the public lexicon. The irony may be that a new word was developed for the oldest sexual activity imaginable: having sex without a barrier. It wasn't the sex that had changed, but the meaning and judgment associated with it towards, most specifically, gay men. Or, as AIDS advocate Jim Pickett said at a recent conference for people living with HIV, "When a friend announces they are expecting a child, I feel like screaming 'You barebacked!'"
But while intelligent minds and passionate advocates argued about the reasons and the proper response to barebacking, no one had dared document it on videotape for the erotic pleasure of others. Yet.
In 1998, two renegade companies formed to make bareback videos exclusively: Hot Desert Knights and Treasure Island Media (links definitely NSFW). None of the leading gay pornographers would consider producing them (although they were eager to market their highly-profitable backlists of videos produced "pre-AIDS" that featured bareback sex). The cheaply made videos by the upstart porn producers brought the sexual choices of an increasing number of men out of the closet and onto DVD players and computer screens.
The videos were uniform in their low production values, the older ages of the actors, and the fact that several of them appeared to have the physical manifestations of HIV. It was as if a group of men who had literally lived through AIDS said, "oh, what the hell," and demonstrated the kind of sex they had been having amongst themselves for some time. Their exploits were perceived as an underground fetish that would never break the surface of more mainstream gay pornography.
But then Max Sohl met that ferociously attractive man from the Folsom Street Fair who was so eager to "get seeded" by a string of strangers, and with the sexual zeitgeist now primed for their arrival, they made a film that would forever change the porn industry and quite arguably influence the sexual behavior of countless gay men.
Re-christened "Dawson," the budding porn star was served up in a hotel room over the course of New York City's 2004 Black Party weekend to an ongoing parade of bareback tops. Their sex was filmed in a documentary fashion, without music, scripted dialogue, or any effort to hide the many cables and cameras crowding the room. Dawson's fantasy had been fulfilled, and Sohl had the footage to prove it.
In June of 2004, Dawson's 20 Load Weekend was released and was precisely as advertised.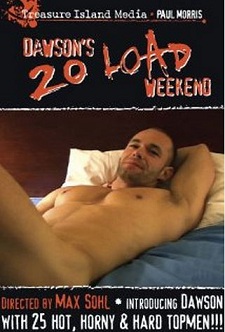 It might first strike the viewer that the video was created in an unsettling world in which HIV is utterly absent; that is, until a revamped sexual choreography is pointedly repeated again and again. While orgasms in gay porn before AIDS typically showed the top withdrawing from his partner and spilling his semen across his partner's backside, the tops servicing Dawson had a different and very deliberate mission: to withdraw only long enough to prove their orgasm, and then re-enter Dawson immediately to show the injection of semen.
This was not a film that was made in the absence of HIV, but was created because of HIV. You can practically hear a disembodied voice whispering, "Watch closely. This is how gay men have sex now. That is where semen belongs. Fuck AIDS."
Depending on your point of view, it is either a transgressive act of eroticism or an incredibly irresponsible act that demonstrates how to become infected with HIV. Or perhaps both.
In the center of all of this was Dawson himself, and never has bareback porn had such a virile and athletic leading man, much less one that bottomed with such disarming delight. "He was a higher quality male model that hadn't been seen in that kind of extreme scene," said Sohl. "The movie changed things because of Dawson. He was adorable, and actually smiles and laughs. He is Cialis joyful in that movie."
"Bareback porn companies have blood on their hands," became a common refrain among gay men and health advocates. Gay sex advice columnist Dan Savage equated the videos to child porn, believing they take advantage of the naïve and the vulnerable. Some accused TIM of making snuff films.
The video was wildly successful, ubiquitous wherever porn was shown. Even Sohl was surprised. "Our staff and even my friends would say 'I go into a porn booth, a sex party, a hookup, and its playing,'" he said. "It was everywhere."
Adult bookstores which had previously shunned TIM videos responded to customer demand and began stocking them, even creating bareback sections on their shelves. Gay porn sites that once refused to feature bareback clips began including them. Dawson and the film became the definitive symbol of a bare, wanton sexuality that eschewed condoms and refused to be denied or intimidated by the virus.
Soon, more companies produced bareback porn, and they were able to attract "collegiate jock" types who were younger, more muscular and the very picture of health and vitality. The faces and bodies in bareback videos had been transformed, erasing all evidence of HIV, much like the invisibility of HIV/AIDS in our broader culture.
When considering the legacy of his film, Sohl is more pragmatic than proud. "The concept of taking twenty loads in 2004 was beyond taboo, but to say it in 2012… it doesn't seem as extreme today," he said. "I'm sure someone else would have done it. It just so happened to be us."
Neither does Sohl admit to any trepidation about the safety of his actors, then or now. "I've been doing this since 2004, with thousands of men, and have had only one guy claim to get an STD (on my set)," he explained. "Probably 50 percent of my casting job is being an HIV counselor," he adds, without a hint of irony. "I spend a lot of time talking about HIV. My feeling is that people need to be responsible for their own actions and make informed decisions."
One of the people making decisions while living with HIV is none other than the actor known as Dawson, who disclosed his HIV positive status to The Windy City Times in 2005. While his HIV status may surprise no one, something else he said in the interview was sadly revealing. "It was after turning positive that I made the decision to look into doing a movie for Treasure Island Media," he said at the time. "I had seroconverted a few months before…"
After an HIV diagnosis, many people use it as an opportunity to re-examine their lives, make different choices, or otherwise take steps to enjoy their life in whatever ways are important to them. For the man who would be Dawson, his seroconversion was followed by the choice to be an unapologetic cum whore in front of video cameras. This may have been his fantasy, but it certainly fuels the stigmatizing belief that people with HIV are irresponsible vectors of disease, spreading infection and abandoning whatever sexual values they may have previously held.
Perhaps, then, the film was a treatise on the kind of sexual liberation available to HIV positive gay men today, demonstrating the "new normal" for those who take their meds, eliminate the viral activity in their blood, and "fuck freely and without fear," as TIM founder Paul Morris once put it. Or did it simply portray poz men as sluts, a charge leveled by disgusted (and possibly jealous) HIV negative men?
"What a person is seeing has more to do with them than with us," said Sohl. "The best mode of action is not to confirm or deny anything. I will see a scene online that I directed," he says, referring to the many porn sites that pirate pieces of his work and give them new titles, "and it will be renamed 'negative bottom takes poz loads,' as if it were a conversion scene. We never said that. Or people think the bottom is using crystal meth. That says more about the guy watching it than what actually happened."
That relationship, between porn and viewer, is something of particular concern to some HIV prevention advocates who believe bareback porn encourages unsafe sex in real life. This resulted in AIDS Healthcare Foundation's recent campaign to mandate condom use on pornography sets, a move that was popular on a simplistic level but did nothing to address the myriad of factors associated with actual HIV risk and relative safety, such as an undetectable viral load, serosorting, or the precise sexual behaviors involved.
While social cognitive theory states that we make behavioral decisions based on watching others, very little research has been conducted on the causal relationship between bareback porn and real behavior. In what little has been studied, researchers can't decide if barebackers watch a lot of bareback porn, or bareback porn makes people barebackers.
It is a riddle that Max Sohl is surprisingly happy to solve. "Absolutely" he said. "Of course it is going to influence what people do." When asked, then, what is the responsibility of porn, Sohl would have none of it. "The responsibility of porn," he says impishly, "is to make the guy watching it shoot a load."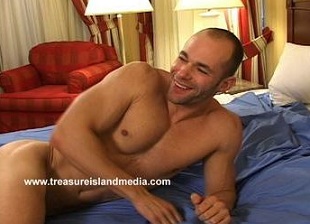 Dawson is, now and forever, committed to videotape and featured on dozens of online porn sites, happily receiving the prize he so ardently desires. He and his progeny of newer, younger porn actors have crossed a line and they're never coming back. Their video escapades are available online everywhere and for everyone, including young gay men who are just coming out and surfing the internet for validation of their sexuality.
What those young men will almost certainly see online are depictions of unprotected sex, because bareback videos now outperform scenes of condom usage on every site that carries them – and most of them now do. It is unquestionable that bareback sex will be viewed as typical to the uninitiated, and anyone crafting safer sex messages to those young men is going to have a difficult time trumping those images. The "use a condom every time" message is officially dead, drowned in buckets of bodily fluids by Dawson and his barebacking brethren.
Dawson's 20 Load Weekend redefined bareback porn and the men who appear in them. It influenced subsequent videos and expanded the availability of bareback films. It depicted a prevailing truth about gay sexual behavior "post AIDS," and arguably encouraged risky sexual adventure-seeking. It led to the saturation of bareback porn online, making unprotected sex normative to whomever might be watching. To dismiss this film, to minimize its social and cultural impact, would be to demonstrate a profound misunderstanding of gay sexuality today.
"Barebacking is a right," gay anthropologist Eric Rofes once wrote. "After all, practically every straight guy in the world gets to do it without being told they are irresponsible, foolish, or suicidal… Barebacking is liberation. Barebacking is defiance."
How foolish, prescient, liberating, enlightening or destructive barebacking may ultimately become is something that may only be revealed in the next chapter of our gay community's troubled history.
(Photo of Dawson and Jesse O'Toole courtesy of Max Sohl and edited for content. Other images courtesy of Treasure Island Media [NSFW].)
————————————————-
TWO MORE POSTS ON BAREBACKING and/or GAY SEX:
"Your Mother Liked it Bareback" loses all patience with the finger pointing and judgments being hurled around between gay men when it comes to choices about unprotected sex. In short, it asks us to broaden what it means to have "safer sex," and to acknowledge there are now many prevention techniques that do not involve condoms. Check it out.
"Why I Stopped Going to the Baths" is a riot, explaining my decision to stop, well, going to the baths. Any posting that begins with "The last time I went to the baths I stepped in poop," can't be all bad, right?
Tags: aids, barebacking, culture, gay, hiv, meth, Recreation, research, serosorting, Sexuality, testing
Posted in Books and Writings, Family and Friends, Gay Life, Living with HIV/AIDS, Meth and Recovery, My Fabulous Disease, Prevention and Policy | 1 Comment »
Friday, July 26th, 2013
"Did I ever tell you about the night that Emil died?" my brother Richard asked me. It was 1992, and AIDS had taken Richard's lover a full three years earlier. The death ended a love affair that had lasted more than a decade.
I cocked my head. "Well, I was there, Richard, so I mean – "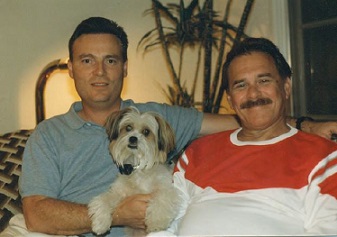 "You were there after," he said, and downed his drink. "Don't you wonder what it was like just before?" He asked the question nervously, a perfect match for the cigarette he held in one hand — a long broken habit, suddenly resumed — and the cocktail in the other, which had been requested shortly upon his arrival to my apartment.
"It's not like I was trying to keep it from you, Mark," he said, and he offered the glass for replacement. It was an odd thing for him to say.
I walked to the kitchen and unscrewed the vodka bottle, beginning to feel nervous myself. Richard talked as I cracked an ice tray.
"Emil had one of those lines that went way in inside him…" He was beginning a story I wasn't sure I wanted to hear.
"A hickman," I said.
"Yeah," he answered, and he reached for the drink while the ice was still twirling. "But something was wrong with it the night before. It was swelling. So we took it out."
I returned to the couch. Richard paced.
"The next morning the nurse came and Emil was being stubborn. He didn't want the new Hickman." He gulped his drink and took a breath. "I got an inkling what he was up to when the nurse said 'Emil, starving yourself is not a pretty way to go.' But Emil kept saying, 'no, no, I won't do this!' and I remember he looked so weary, Mark. Just exhausted."
This isn't the visit I planned, I thought to myself. I meant for my brother to see the new ceiling fan I had installed. But my handiwork couldn't compete with the story that was now rumbling out of him.
"I walked the nurse out and went back to Emil. He reached up for my hand, and he said, 'you knew that today would be the day, didn't you?'"
Richard looked at me but didn't acknowledge what must have been a growing expression of shock on my face.
"I knew Emil wanted me to say yes, so I did. But inside I was screaming 'NO! NO!' "
Richard stopped, and I found the silence torturous. "Well," I said, "it sounds like he was, uh, in charge of himself."
"Oh, he was in control all right," he responded. "He told me to go get the book. The one about how to kill yourself."
Richard's next few remarks would be lost on me. I couldn't get past The Book.
"So I'm reading him the chapter we had picked out," Richard was saying, "and it suggests washing down the pills with alcohol. We had some Seconal and I found some Scotch."
I knew about assisted suicide but had never heard of the mechanics of it firsthand, or considered the logistics a caring lover would undertake — or had witnessed the haunted result like the one that now sat chain smoking across my living room.
"I made some toast for him just like the book said," he continued, "and while we waited for him to digest the toast I opened the capsules and put the stuff into a glass."
I imagined my brother sprinkling powder into cialis soft tabs a glass while Emil looked on. I wondered what kind of small talk that activity encouraged.
"I poured the scotch, a couple of good-sized shots, and he wanted it right away." His voice trailed to a whisper. "I wanted him to wait, to wait, to wait… I wanted to hug him. I wanted to do it right, you know? But he kept reaching for the glass, and I would say, 'no, Emil, wait, please wait, I want to say I love you again…'"
Tears were filling Richard's eyes. His hand shook, knocking his glass loudly on the coffee table as he set it down and brought his hands to his face.
And even so, he went on.
"Emil downed the glass in one gulp and made a face, and then he just laid back on the pillow. It took about twenty minutes." Richard looked up at me and managed a sad grimace. "Emil always said that when you go, you go alone. I hated that for him. I wanted him to feel me there, you know? So I held his hand real tight…"
I stared at my brother. Tears now streamed from his face. His eyes conducted a dazed search around the room as they tried to focus on something, anything that would bring some comfort or clarity.
I couldn't tell what I was feeling about this. Was it pity? Was it shock? How many kinds of pain can we distinguish within our soul?
"The book said to wait twenty minutes after his heart stopped, you know, before calling the doctor. I kept leaning over him and trying… trying to hear his heart. But I couldn't because my own blood was pounding in my ears! And those next twenty minutes…"
"What were you doing…" I asked, startled by the sound of my own voice, "during those twenty minutes?"
"Screaming," he said simply.
Silence engulfed my apartment, surrounding the word.
I put my arm around him and he continued to weep. Please be all right, I thought. Please be happy again, Richard. My brother. My brother.
He received my embrace but his heart had taken distant refuge. It had long been numbed by the effects of the spent cocktail glass, sitting impassively on the coffee table, occasionally clinking with the sound of shifting, melting ice.
Mark
NOTE:
This post is adapted from A Place Like This, my chronicle of life in Los Angeles during the dawn of the AIDS epidemic. (Photo above: Richard, left, and Emil in 1986.)
Suicide was a common feature of life for gay men in the 1980's. But rather than it being a result of bullying or despair, with which it is often associated today, it was very often a gesture of empowerment for embattled AIDS patients wanting to die on their own terms, sometimes with the assistance of those who loved them most.
Our elderly have always shared these mortal intimacies. Assisted suicide has even been institutionalized with the common use of a morphine drip in hospitals and hospices, which calms the patient and, when increased to certain levels, hastens death by shutting down the body.
As for Richard, he has recovered from his loss 25 years ago and lives happily today in our home town. "I often think of that night, and consider my feelings about it," he told me recently. "I can honestly say I don't feel even a twinge of guilt. I have plenty of regrets, but not about that."
Tags: A Place Like This, Aging, aids, family, gay, help others, hiv, physician
Posted in Books and Writings, Family and Friends, Gay Life, Living with HIV/AIDS, My Fabulous Disease | 5 Comments »
Tuesday, July 16th, 2013
You haven't lived until you have hosted a game show in a cemetery. There I was, laughing and being silly while standing directly over the remains of more than 25,000 of the dearly departed. And I was doing it with the authorities.
When I asked the president of Congressional Cemetery, Paul Williams, if he would play a game with me on camera for this blog, he took it all in stride. I even suggested he use the top of a gravestone as a buzzer, so he could punch it whenever he knew the answer to a question. He hardly batted an eye.
"You have to have a sense of humor to be in this industry," Paul told me after a lightening round of "Are you smarter than a Cemetery President?" (Are you? Watch my video blog and find out. Paul's answers, when wrong, are hilarious.)
Because my blog has always been about living joyfully with HIV, perhaps this video brings that philosophy to its logical conclusion: accepting the passing of our lives with gratitude and happiness.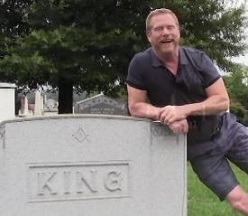 During our rollicking tour of the historic cemetery, you're going to get a quick lesson on one of the pioneers of gay rights buried there, Leonard Matlovich, and his contributions to HIV/AIDS awareness before his death in 1988. If you haven't heard his name before, or haven't thought of him in some time, listen up. His legacy deserves our attention.
You'll also learn about some mysterious happenings around the gravesite of a certain former FBI director, involving high heels and mysterious visitors keeping vigil. Yes, really.
I'd like to thank Paul Williams and hope you will visit the Congressional Cemetery site. If you're in the neighborhood, don't miss their costumed 5K run through the cemetery ("Dead Man's Run") held every year.
Thanks for watching, and please be well.
Mark
——————————————————–
PLUS…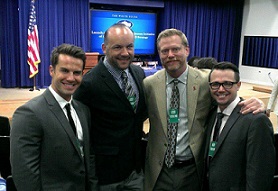 At a recent White House event to announce their "HIV Care Continuum Initiative" (more on that later), I was pleased to join friends old and new, including three men involved in reducing HIV stigma, a huge issue to me as you know. Pictured (left to right) are the dapper Tyler Curry, founder of The Needle Prick Project, a campaign to create dialogue on what it means to be HIV positive today; Alex Garner of NMAC, who is the former editor of Positive Frontiers and a big part of the brain trust I'm constantly accessing for my writings; myself; and the witty Chris Richey, co-founder of The Stigma Project, which educates about HIV stigma through social media and advertising.
Tags: aids, culture, gay, gratitude, hiv, Recreation, Sexuality
Posted in Gay Life, Living with HIV/AIDS, My Fabulous Disease | 10 Comments »
Wednesday, July 10th, 2013
"There were people who displayed remarkable courage then. People who lived and died by their promises and shared the intimacy of death…"
– Once, When We Were Heroes
My brother Richard would later refer to it as a "command performance." It was 1989, and he had phoned me after weeks of frustrating silence about the declining health of his lover Emil. Richard said that Emil wanted to see me. "Tonight," he said. Charlie, my partner at the time, and I walked through their front door within an hour.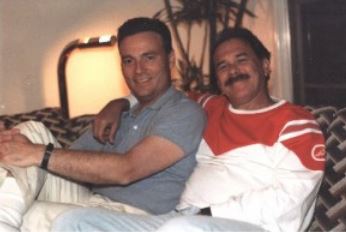 Richard led us to the sofa in the den where what looked like a mountain of blankets had been piled. I looked toward the blankets, and Emil's head — small, ancient and childlike at once — peered out. A curved brass reading lamp reached over Emil's face, casting a dramatic yellow glow across his forehead and onto his face.
It was as harsh as the fluorescent strips I had often seen above the hospital bed of so many dying friends — shining straight down, showcasing the sickness beneath. Who lights these guys? I wondered absently.
"Hey there, Emil," Charlie said. "How's it going?" I had learned not to lead off with a remark like that.
"Hello, Charlie," Emil said weakly. His voice was a strained breath that worked without the cooperation of vocal chords. He looked shrunken.
Emil proceeded to express how much he had valued our friendship. "…and Mark," he breathed out, "I want to tell you how much I appreciate you giving that blood for me…"
It had been an experimental treatment for people with AIDS, giving them the blood of people who were HIV positive and healthy. It was nothing, really. Sixty minutes of my life. Like so many promising treatments, it didn't work.
"It was easy, Emil, really –"
"Nevertheless," he interrupted, willful to the end.
The blankets moved slightly, and Emil produced a tiny, aged hand from them. It trembled slightly as he motioned to Richard, who acknowledged the signal and left the room. Charlie and I sat there wondering what more to say, finally surrendering to the silence.
Richard returned with an envelope and placed it in my hands. A lovely parting gift? I thought, astounded.
I smiled toward Charlie and noticed that Richard and Emil were without expression, lost in their silent, exhausted daze. I opened the envelope and pulled out a $100 gift certificate to Macy's. Charlie and I looked at the paper admiringly, and I said how thankful I was.
Richard managed an almost perfectly horizontal smile, and I knew at once he was the one who bought it. I thought of him driving across town for the item, on strict orders from Emil to purchase the certificate and from what store, and Richard wondering if his lover would be alive when he got back.
Emil cast sleepy eyes on Richard and I knew it was time to leave. I leaned forward toward Emil and barely brushed my hand across the blanket as a farewell. Richard led us out, and stood on the porch as we drove away. I watched him close the front door. The porch light blinked out.
We drove through the lovely, tree-lined streets of their neighborhood with our mouths half opened, with words begun and then abandoned. Only after driving for miles did I succeed in delivering a full sentence.
"So, Charlie," I said, realizing I still held the envelope tightly in my hands, "how do you think we should spend the gift certificate?"
Two nights later we would find ourselves on their sofa again, in circumstances far more grave. Charlie and I were bleary-eyed from the chaos that had begun with Richard's phone announcement an hour before, delivered with stunned clarity, that Emil had died.
We were in the den where we had received the gift certificate only days before, but Emil wasn't there. He had spent his last days in the master bedroom, by Richard's side. Charlie turned to the windows behind us and pulled the blinds away. We could hear a vehicle approach.
"Don't," I said. "We shouldn't. We better not look." He released the blinds and the car — or hearse, or coroner's truck — drew nearer and was now chugging just outside the window, just beneath us and beside the front steps.
We stared at each other, dissecting every sound, and then knowing when Emil was being taken. We heard wheels, barely squeaking across tile floors, rolling out of the master bedroom toward the front door. A heavy door opened and then closed. I wanted to pull the shades wide open and see for myself, and I didn't dare.
The vehicle changed gears and began the retreat down the driveway. We held our breath as it drove slowly down the hill and faded away.
Richard walked in to the den and we sat up straight. Just shut the hell up Mark, I said to myself. Don't start talking now because you'll just screw it all up.
Richard asked me to stay the night, and Charlie went home to await further instructions. Richard and I didn't stay up, didn't talk much at all. He went to bed and I feel asleep on the couch.
I was awakened in the morning by Richard's voice. He was on the phone across the room, speaking to someone culled from the worn pages of an address book he held cradled in his lap. I quietly rolled over and watched him. He was beyond the grasp of any healing embrace.
Every call began the same, with his weary hello and then saying he had some very bad news. And then he would say it out loud. Emil had died. It was something he had been terrified of ever saying, but that now would be repeated a dozen times on the morning of his lover's death. He usually made it through the first minute or so, but then would be barraged with condolences and have to say "thank you" and "yes, he certainly was" and "I know he is no longer in pain" a few times during each call. And it was that part that would break him, until he convulsed again into sobs and his goodbye would be hard to understand.
He would sit there and catch his breath, finding the next name in the address book through teary eyes, and then pick up the phone again. And again.
It is one of the most powerful images of my brother that I have.
I sometimes dream of it.
Mark
(This is adapted from my book, A Place Like This, about the dawn of the AIDS epidemic in Los Angeles. I am so grateful for our progress since then, but also feel strongly about sharing the truth, and the intimacies that we experienced as a community during the darkest years. Scenes like the one above are still playing out — 7,000 gay men die of AIDS in the United States every year. Pictured above are Richard (left) and Emil. — Mark)
Tags: A Place Like This, aids, family, gay, hiv
Posted in Books and Writings, Family and Friends, Gay Life, Living with HIV/AIDS, My Fabulous Disease | 10 Comments »
Monday, June 24th, 2013
My first "AIDS job" in 1987 was at the first AIDS organization in Los Angeles, LA Shanti, and we provided emotional support to clients with AIDS who were usually in their last weeks of life. The intimacy our trained volunteers experienced with the dying, helping them find some inner peace as they left us, is worthy of its own blog posting sometime. Let's just say it was intense.
We hoped for a cure early on, and then our hope faded. Before long, we didn't dare hope any longer. We just wanted treatment to ease the suffering and slow the dying, and those prayers were answered in 1996 with the advent of protease inhibitors. It seemed greedy to tempt the fates and begin asking for a total cure again.
But greed isn't what is driving the treatment advocates you are about to meet in my latest video blog. Far from it. They have faith, based on scientific research and some hopefulness of their own, that a cure for HIV disease can be found. And they care enough about our community to keep pressing the issue at HIV research conferences.
They are cautiously optimistic. But their faith is contagious, if you'll pardon the choice of words. And they also know that that we got protease inhibitors because of the same kind of tireless community efforts that they are displaying now.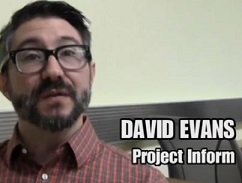 In fact, one can easily connect the dots from the activists shown in the Oscar nominated documentary How to Survive a Plague to this current crop of treatment advocates who are trying to take HIV research across the finish line.
You can take part in all of this, of course. To volunteer for a clinical trial or see what might be happening in your area, visit ResearchMatch.org or ClinicalTrials.gov. If you'd like to join the advocates in their work or follow their progress more closely, check out the AIDS Treatment Activists Coalition.
I'd like to thank the always resourceful Nelson Vergel for gaining me access to a gathering of these community activists. For updates of current cure research, Nelson has excellent posts on TheBody.com like this one.
I'd like to thank those who participated on-camera: Jeff Berry from Positively Aware, Jeff Taylor of the AIDS Treatment Activism Coalition, Moises Agosto of the National Minority AIDS Council, Steven Wakefield of the HIV Vaccine Trials Network, David Evans of Project Inform, and poz activists Mark Hubbard and Matt Sharp.
Thanks for watching, and please be well.
Mark
Tags: aids, gay, help others, hiv, physician, research, testing
Posted in Gay Life, Living with HIV/AIDS, My Fabulous Disease, News, Prevention and Policy | 6 Comments »
Thursday, June 20th, 2013
National HIV Testing Day is next Thursday, June 27, and there is no better time to praise the many HIV negative gay men who are making smart decisions to remain that way. Hooray, HIV negative gay men! Let's show some love for our negative brothers, who's with me?
Oh, Lord. Now I've done it. By showing support for negative guys, I am clearly demeaning HIV positive men. But wait! I'm HIV positive myself. So, that must mean I'm being sarcastic in my support of negative guys, because there's so little room for sincerity and goodwill in the chasm between HIV positive and negative gay men. That space is already so crowded, what with all the stigma and simmering resentments.
Some days I just want to go back to bed.
When I produced the quick video above three years ago, my intent was to celebrate the accomplishment of any gay man who is sexually active and has managed to remain HIV negative. It was produced by myself and my gay, HIV negative older brother to spread a little love across the viral divide and encourage HIV testing. That was it. No other agenda.
While initial reactions to the posting were quite good from both HIV positive and negative people, the pendulum swung quickly. Comments began to label my overly theatrical style (ouch!) as sarcastic. Some found the message demeaning to positive people. Some found the message demeaning to negative people. My goodwill became shrouded in a fog of distrust and what-about-me?–ism.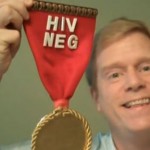 You can watch and decide for yourself (now that I've tainted the thing, darn it). But I stand by my sincere intentions to offer a hearty pat on the back to HIV negative men and support for their personal set of challenges and anxieties. I hope you'll share it with an HIV negative friend you care about (the direct YouTube link is here.)
I would do it differently today, however. At one point in the video, I suggest that negative guys might like to have unprotected sex, but that they shouldn't "do that." That's an outdated and judgmental mandate. Today, with new tools such as pre-exposure prophylactic treatments, and new understandings about what it means to be HIV positive and undetectable, what constitutes "safer sex" is a much broader list than simply whether or not you engage in sex with a condom or not.
Or, as I like to say, your mother liked it bareback.
Oops. I stepped in it again. Release the Kracken!
Mark
—————————————————————————
PLUS…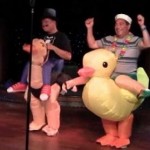 The annual HIV Cruise Retreat is in its last stages of booking, and it will be the largest group of HIV positive men and women the cruise has ever had aboard. Even though the cruise does not sail until early November, several cabin categories have sold out. If this is something you are considering I would urge you to contact Design Cruise Travel NOW for information. I have the pleasure of being the MC of this trip again this year, but I receive no compensation other than a cheaper rate on my cabin. I do it happily because I am in favor of anything that builds community among people living with HIV. Check out my video blog posting from last year!
Tags: aids, barebacking, culture, gay, help others, hiv, politics, serosorting, Sexuality, testing
Posted in Gay Life, Living with HIV/AIDS, My Fabulous Disease, News, Prevention and Policy | 3 Comments »