Posts Tagged 'aids'
Monday, July 14th, 2014
(NOTE: My AIDS2014 coverage is exclusive to TheBody.com this year and you can find my daily videos on their main page beginning this Sunday, July 20th.)
Are you ready for a theater piece about HIV that takes place on an enormous bed that doubles as a boxing ring? How about a candlelight march with thousands of advocates from around the world? And don't forget my favorite — the Global Village, stuffed with art and advocacy from every corner of the planet? All this and more will be part of my coverage of the upcoming International AIDS Conference!
I'm headed down under for AIDS2014 in Melbourne from July 19-25! I'm so excited to be creating exclusive coverage for TheBody, the site that sent me my first camera and said, "just do what you do." I'm so proud of my association with this tremendous online resource.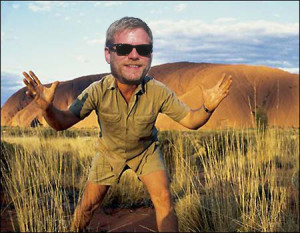 To watch my coverage, you'll have to go to TheBody.com. My whimsical, sometimes emotional reporting will be hard to miss from their main page and should begin on Sunday, July 20th.
In Melbourne, I'm going to leave the clinical data and research to those better qualified. Instead, I hope to provide you with something you might not see anywhere else: the advocates, the people living with HIV from around the world, and the awesome visuals of the music and dance and theater and human drama of the conference.
Are you ready? Let's go!
Mark
p.s. To watch my coverage, just head to TheBody and look for my video coverage, beginning Sunday, July 20th. I hope to post every day!
Tags: aids, conferences, criminalization, help others, physician, research, Sexuality, testing
Posted in Gay Life, Living with HIV/AIDS, My Fabulous Disease, News, Prevention and Policy | No Comments »
Sunday, June 29th, 2014
There was no way I could attend a recent conference with Avram Finkelstein, one of the artists behind the iconic SILENCE=DEATH image, and not make him sit down with me and spill all the juicy details about the creation of that image. He agreed, and boy howdy, he did not disappoint (video below).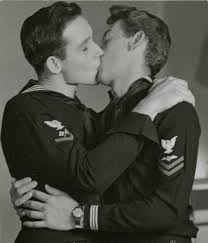 Some of his best stories, in fact, weren't even about the most famous poster for which he is known. As part of an artist collective that met privately during the earliest years of AIDS and then as an adjunct committee of ACT UP New York, Avram was in the middle of the action during an amazingly productive and creative time. You're going to recognize most if not all of the striking social messages they created.
My favorite backstage detail is probably that of the gay pseudo porn star whose image they "acquired" (i.e. stole) from an old magazine. They used the photo for an incredibly successful campaign you will certainly recognize and everything was going swimmingly… until Avram received a startling phone call. What happened next, as the online meme goes, will surprise you and then break your heart.
These images rest in the history books now, but Avram has a fascinating way of keeping these stories exciting and immediate. I can't wait for you to meet him.
Mark
p.s. <sigh> I have now upgraded to a super duper audio system for recording future interviews. Just sayin'.
Tags: aids, culture, gay, hiv, politics, Sexuality
Posted in Living with HIV/AIDS, My Fabulous Disease, Prevention and Policy | 4 Comments »
Monday, June 16th, 2014
Charles Sanchez skips a lot. It is a natural, vivacious skip, an outpouring of unabashed joy that melds the cheerfulness of The Sound of Music with the bliss of the Pharrell Williams "Happy" video. Nothing stands in the way of his delight. Not even life with HIV.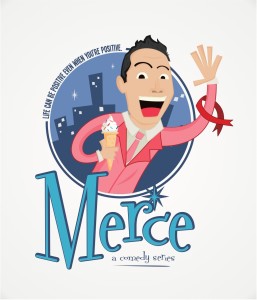 It is that joyful vibrancy that makes Merce, the web series in development by Charles and his production partner Tyne Firmin, feel so refreshing. Considering that characters living with HIV on television are few and far between — or presented as tragic — the project feels, well, almost subversive. And that's exactly why Charles is pursuing his dream of bringing Merce to life.
"There's something brave in Merce as a character," said Charles in an interview. "I think Merce is me, if I had not been so worried about what people thought of me. He's honest and hopeful, and I think that's something people don't always expect in someone who is HIV positive."
Indeed. In a YouTube video, Charles asked people on the streets of New York what their favorite HIV character on television was. The answers, when anything at all came to mind, was decades-old portrayals from cancelled series, or actual people, like Magic Johnson or Mondo Guerra from Project Runway. "The only ongoing television character living with HIV is a Muppet," said Charles. The production team hopes to add another character to the HIV canon that isn't dying or a criminal.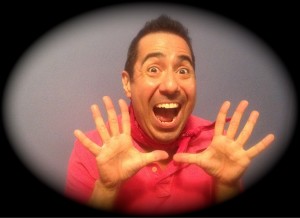 "Usually, you can practically hear the foreboding dum dum DUUUM in the soundtrack when someone discloses," said Charles (left). "Or on Law & Order, they'll find the bottle of AZT in the dead man's medicine cabinet and say, 'well, that explains that.' I think it's time for us to have a conversation about normal life and HIV."
Merce grew from another series created by Charles and Tyne, Manhattan Man-Travels, that revolved around the lives of gay men in New York. Filmed guerilla style using a Flip cam, the series has the low-budget appeal of early John Waters. "Our only budget was for apple fritters," said Charles. "We love apple fritters."
For Merce, the producers are using an IndieGoGo campaign to raise $15,000 for costumes, better camera equipment, and higher production values overall (tax deductible donations for as little as ten dollars can be made to the campaign until July 4th, which is administered through the non-profit arts organization Fractured Atlas).
As with most comedy, Merce grew from something more serious. In a video explanation of his own life with HIV, Charles recalls one of his first jobs in New York as an actor in 1987 — playing the part of AIDS Related Complex (ARC) in Attack of the Killer Virus, a musical geared to educating youth about the new disease. Before long, it was Charles himself who would be discovered by his roommate, sick and unconscious, in their apartment. His AIDS diagnosis brought a new urgency to his art and how best to use it to educate and inform.
Having survived that, and the love Charles has for musical theater, might help explain the skipping. "I'm a pretty happy and optimistic person, and I wanted Merce to have that in abundance," Charles said. "I'm creating a show with a main character who doesn't let his HIV define him or keep him from all the joys of life. Merce makes a lot of mistakes, but he celebrates life. Why not grin and laugh at life? Life is hilarious."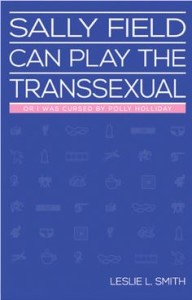 While television may still be grappling with how to portray HIV in contemporary life, literary fiction remains a few steps ahead. In his challenging, sometimes frustrating new novel, Sally Field Can Play the Transsexual, author Leslie L. Smith asks us to examine the nature of modern gay sexual behaviors. Do we engage in unprotected sex out of defiance, grief, pleasure, or pathology?
There is much to consider in Smith's story of David Matthews, an entitled gay escort engaged primarily in his own self-interest. When a benefactor wills David riches and asks him to pay it forward, the immature hooker begins a quest to reconcile his small-town upbringing with the numbed pleasure-seeking of his vocation.
Anyone who escaped home to pursue gay life elsewhere will relate to that journey, but the central device of the novel — the ghost of the rich man appears to David and sticks around to provide vague counsel or witty bon mots — reads like a uneasy grafting of gay sexual politics and the movie Ghost. The infusion of farce into an otherwise thoughtful reflection on what it means to be a responsible gay man today is jarring.
That's a shame, because there are scenes in this book that go straight to the heart of our common experience navigating sex in the age of HIV. During a visit to his Arkansas home town set a few years ago, David hooks up with a local hottie and they fall into bed together. The reaction of his conquest when David attempts to forgo a condom is heartbreaking. "I've heard of people doing this," the hottie says plaintively as he ends their encounter, "but I didn't think it was true." Even today, in a time of PrEP and undetectable viral loads, the simplicity of the statement will have gay men everywhere reflecting on their choices.
Bringing important discussions to life is why Leslie L. Smith should keep writing. His ear for the here and now is acute and authentic. He just doesn't need spectral accoutrements.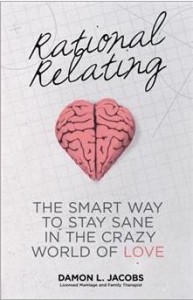 Navigating relationships is also on the mind of Damon L. Jacobs, a New York based gay therapist who provides clear, helpful advice to couples in his book, Rational Relating. Although the guide is meant for couples of every stripe, Damon thoughtfully includes plenty of tips for gay men in particular.
His advice is deceptively simple and easy to apply to our lives. His "five pillars" of integrity, communication, compassion, responsibility, and compromise are all examined through his work with various couples and the challenges they face in building a life together. The book is meant as a resource that couples might draw upon, and the result is a helpful tool that can benefit anyone.
Damon is widely known for his advocacy around Pre-exposure prophylaxis (PrEP), but that's not his purpose in Rational Relating. It is nice to see, though, that what makes him a strong advocate is grounded in his professional experience helping people find integrity and meaning in their personal relationships.
Mark
Tags: acting, aids, barebacking, culture, gay, hiv, Recreation, Sexuality
Posted in Gay Life, Living with HIV/AIDS, My Fabulous Disease | No Comments »
Thursday, May 22nd, 2014
While growing up gay in Bossier City, Lousiana, I would get saved at the drop of a hat. I loved the pageantry of church youth revivals, the thrill of coming forward to give my life to Christ, and that tingly feeling of being part of something greater than myself, of feeling truly blessed. Of being forgiven.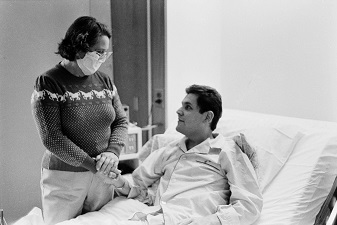 The church seemed like the cure for what ailed me. My shame over my sexuality was washed away with each baptism, and trust me, my brothers and sisters, there were many. For youth revivals and baptisms, Louisiana was a big circuit.  It was a rinse and repeat ritual that I sought out on a regular basis as a way to correct the vexing thoughts and deeds of my overactive teenage libido.
I remember telling my parents I was going to band practice just to slip away to my latest baptism obligation. I reveled in the full body dunking and then retreated to the dressing area and watched, transfixed, as the other male celebrants changed out of their soaked underwear. My yearning made me wonder if I should step back into the baptismal fount for another dip.
I don't get baptized anymore. I abandoned the habit long before moving to Los Angeles in my early twenties, just as AIDS began its murderous march through my West Hollywood neighborhood. Not only had religion dismissed me personally, it was clearly unequipped to handle the throngs of dying  and disfigured gay men who suffered from the new plague.
In many respects the church became the enemy. Activists getting the word out about HIV transmission and safer sex clashed head-on with religious groups unwilling to discuss sexuality or condoms. The opposing views became a battle for the soul of AIDS.
In Body Counts, the personal chronicle by Sean Strub of AIDS politics and survival, Sean recounts in moving detail a 1985 ACT UP protest at St. Patrick's Cathedral in New York City. Raised in the faith, Sean struggles with memories of his upbringing while his fellow protesters shout, throw condoms and decry the Catholic resistance to the basics of HIV prevention. Sean emotionally receives communion before announcing to the priest offering the wafer, "May the Lord bless the man I love, who died a year ago this week."
Cardinal John O'Connor, who led the mass, met the chaos with an opportunistic cynicism. "He sits with his head in his hands, melodramatically trying to convey spiritual pain," Sean writes. "Photographs of the media-savvy cardinal looking tragically besieged will elicit overwhelming sympathy when they appear on the front page of Monday's newspaper."
"The church failed," says Rev. Chris Glaser, a longtime Presbyterian gay activist and writer, about the AIDS response from organized religion. "There were exceptions, and eventually the church remembered how Jesus would have responded." (One of those exceptions would have to be Mother Teresa, who opened her first AIDS hospice in New York City in 1985. Her reference to  the homeless, "This is Christ in distressing disguise," has obvious applications to people living with AIDS.)
Gay men filled the spiritual vacuum with alternatives. Metaphysics became popular in the crisis years, as well as the teachings of spiritualists like popular author Louise Hay. At "Hayride" events throughout the mid-1980's, the West Hollywood community auditorium was stuffed tighter than a Cher concert with gay men, most of them sick and all of them hungry for the grace of Hay's simple message: "You are loved."
The personal price of religion's failed ministry can be measured in children cast out from families and lonely deaths and assurances of eternal damnation.
In an intriguing new documentary still in production, Memories of a Penitent Heart, filmmaker Cecilia Aldarondo unwraps the mystery of her gay uncle, Miguel Dieppa, who died of AIDS in 1987. Miguel supposedly repented of his homosexuality on his deathbed, leaving behind a live-in partner who was kept from the funeral, a devout Catholic mother, and a lot of troubling rumors.
The film charts Cecilia's investigation into this unresolved past, taking an abrupt turn when Miguel's partner suddenly reappears after two years of dead ends — as a Franciscan monk living in Pasadena. He's waited 25 years to tell his version of the story. Cecilia and the team behind the film have launched an Indiegogo campaign in order to complete the project (see the trailer below).
Memories of a Penitent Heart is "a cautionary tale about missed opportunities, the intricacies of religious belief, and the most quietly insidious forms of bigotry," according to promotional materials.
"The religion aspect is underexplored in the narrative of AIDS," Cecilia told me. "Although it has been a very strong current running through the crisis, and a lot more common than we have discussed in our culture. These issues are still with us today."
"This is not a film that tries to demonize my grandmother," she said, in reference to the religious sway Miguel's mother may have held over her son during his dying process. "She was acting out of fear, not out of hatred. What I think is possible is that Miguel really loved his mother and (offered his repentance) to her as a gift. I also think he was a practicing Christian, and that it mattered to him."
The film's themes bring up a lot of unresolved anger and grief for me. So many people and institutions failed us when we needed them, most ironically the ones that purport to bring comfort and aid.
"I hope the film helps us have a different conversation with each other," Celilia said. "Whether it's about the past or the present."
"There are a lot of wounds that have to heal," she added thoughtfully, as someone who had weathered the damage in her own family. "Wounds on both sides."
Mark
(Pictured above: Miguel Dieppa and his mother, 1985. The Indiegogo campaign for Memories of a Penitent Heart ends on June 18.)
Tags: aids, culture, family, gay, Louise Hay, politics, Sexuality
Posted in Family and Friends, Living with HIV/AIDS, My Fabulous Disease, News | 2 Comments »
Monday, May 19th, 2014
May is National Masturbation Month — Hurry, folks! Only a few days left to celebrate! — and I will admit to feeling smug, because I have more experience with gay men masturbating than anyone else I know.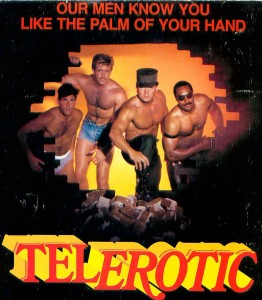 During my years in Los Angeles in the 1980's, I owned and operated Telerotic, a gay men's "phone fantasy" company.
This was long before Grindr or Manhunt, or even the automated phone lines of the 90's.  Instead, men called an 800 number and used a credit card to spend $40 on the man of their dreams, who would call them back after the charge was approved.
As a struggling young actor, I had begun this odd vocation by working for an outfit as one of their "fantasy callers." The company called me at home with the name and number of the customer and his fantasy man description, and I would assume the desired character and call him back.
My job was to sound credible in roles ranging from cocky Venice Beach bodybuilder to volunteer firefighter to leather daddy, and manipulate the customer toward the prime objective within the typical call duration of thirteen minutes. It helped if I could convince him that our connection was mutually mind-blowing to help ensure he would call again.
As it turns out, I had a way with words. After a few months learning the ropes I struck out on my own, and Telerotic was born.
Over the years of my vocation I spoke to thousands of men. Some of them faithfully requested me every week, uttering secrets to me they had never spoken aloud before. It was amazing insight into the realm of fantasy, loneliness and desire. It was also, quite literally, a social anthropologist's wet dream.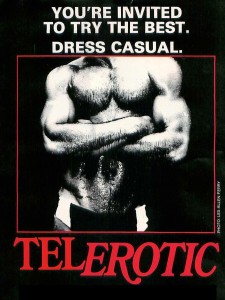 My customers were usually trapped in a life without a gay outlet. Some of them were in a straight marriage, but most of them lived in small towns and were helpless to locate male companionship. (Remember, this was the early 1980's, which compared to the LGBT advances of today might as well have been the Old West).
Their desires were not so bizarre that they they had to resort to phone sex to speak of them. Their requests were simple and almost touchingly mundane. Touch me there. Let me tell you what I think about. Watch me do this. 
I learned a lot about what makes gay men tick. Yes, we have a size fixation. My clients wanted everything supersized, from muscles to dick to sexual prowess. But I soon realized that these were surface interests. They asked for what they saw in porn flicks, but it wasn't what ultimately satisfied them.
They wanted something bigger, more masculine, and better hung than themselves because it was their way of asking to be taken care of, to be released of their own worries and responsibilities and turn over the driving to someone else. Any of us can recognize that need, and the loving act we perform when we provide it to our partner.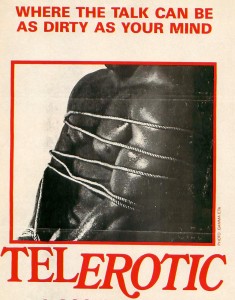 Our chats were a lifeline to many of my regular customers. For those who didn't abruptly hang up after the sex talk had reached its conclusion, our pillow talk afterwards sometimes featured their achingly honest hopes and dreams. They would recount their loves lost or found, the pain of isolation and their dreams of having a life with the right man someday.
Occasionally their patronage would end after news of a potential boyfriend — or resume when it didn't work out. Sometimes our calls ran long, as I gently led a faceless, suffering voice away from unexpected grief or embarrassed tears.
Truly revealing myself, however, was an occupational hazard I never risked. I held tight to the gravelly voice I maintained for our calls. I only responded as my adopted character might. Every orgasm of mine with a phone customer was earth shuddering, passionate, and entirely faked. No matter what intimacies they had the courage to share about themselves, they got nothing of the kind in return, whether they knew it or not. I simply wouldn't compromise my fantasy persona to admit I was actually a skinny redhead trying to make a buck in Hollywood.
As the AIDS headlines during that time increased, so did business. And at long last, something jolted me from my shallow priorities of phone sex profits.
I'd had enough of the charade. It was wearing on me, being taken into the confidence of all of these men and giving them bullshit in return. What was the satisfaction, much less the pride, in representing a bogus sexual ideal for the sake of my continued prosperity, in being an incredibly convincing lie?
Soon enough, I could no longer reconcile the dream world my phone calls inhabited with the encroaching nightmare of the very real AIDS crisis.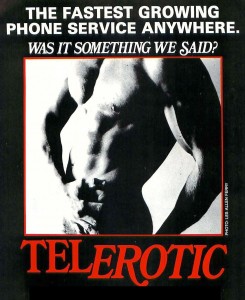 Maybe the end came when a customer, in the midst of our graphic call, helpfully offered to get a condom from the drawer so I could put it on. AIDS had permeated his psyche so completely it had pierced his very fantasies. His presence of mind to protect himself — and by extension me, the phone whore on the other end of the line — was a bittersweet gesture so filled with grace, and so steeped in the realities of the new epidemic, that it stopped me in my tracks and broke my cynical heart.
It wasn't long before I sold the company and ended my stint as a sexual entrepreneur. For a while I entertained friends with the most unusual sexual idiosyncracies that had once been shared with me by voices on the phone. But that exercise didn't feel comfortable for very long. It felt like betrayal.
Today, what I remember most is the sound of men chasing a glancing, counterfeit intimacy because it was all life would afford them, and hearing their desire for something lasting in life and their doubts about finding it.
And I am haunted, deeply and forever, by the sound of profound longing in their voices.
Mark
(This period of my life is covered in more detail in my book, A Place Like This.)
Tags: A Place Like This, acting, aids, culture
Posted in Gay Life, Living with HIV/AIDS, My Fabulous Disease | 2 Comments »
Wednesday, April 2nd, 2014
Maybe we should blame the criminal prosecutions of people with HIV on the mythical legend of Gaetan Dugas, also known by his slanderous nickname, Patient Zero. Dugas was a gay flight attendant from Canada who, according to Randy Shilts' 1987 book And the Band Played On, was among the first people with HIV in the United States.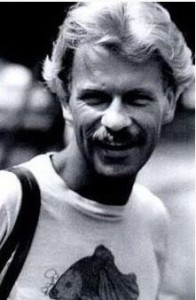 As the story goes, energetic Dugas (right) spent lots of time in the very early 1980's getting laid in practically every city with an airport, even after learning he had the mysterious new "gay cancer." He wanted to go out with a bang, the book claimed, and he didn't particularly care who he might infect in the process. The book repeated rumors that after sex with bath house tricks Dugas would point out his skin lesions and then announce, "now you have it."
Except the story isn't true. Two years ago, Shilts' former editor admitted the book needed a "literary device" and had encouraged Shilts to create the epidemic's first "AIDS monster." The scandalous sex life of Gaetan Dugas fit the bill nicely. Dugas died in 1984, never having the opportunity to answer his accusers regarding his alleged behaviors.
Instead of placing responsibility with everyone having sex, the book painted people with HIV as suicide bombers. The damage, to the truth and to the public image of people with AIDS, still reverberates today.
Laws exist in more than 30 States that criminalize people with HIV for not disclosing their status to sexual partners. Even where there are no HIV-specific laws, charges range from assault to attempted murder to bioterrorism. It should be noted that the vast majority of prosecutions do not involve the transmission of HIV. Often, the person charged used a condom, had an undetectable viral load, or engaged in sexual behavior that could not have infected their partner.
Anyone with HIV and a pissed off ex-lover should feel worried, since these cases often become a matter of whom you believe. Prosecutors and unfriendly juries are often shocked that people with HIV are having sex at all. They couldn't care less about condoms or undetectable viral loads. They just want people who don't disclose their status to face serious charges.
A lot of people see this as righteous and are taking the bait. Many of us know someone infected by a sex partner who lied about their status, and we want that jerk to pay for it. This sense of vengeance plays into the hands of a conservative legal system that is more than happy to send some diseased fags to jail. For a really long time. Regardless of the actual harm inflicted.
This issue is a real mine field of emotion, justice, science, and payback. Fortunately, an upcoming event will bring together advocates, legal experts and people living with HIV to discuss criminalization and map out a strategy to address it.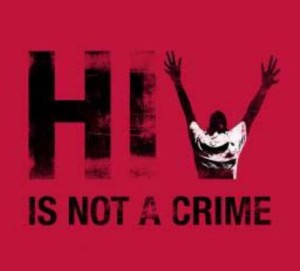 "HIV is Not a Crime" is the first national conference on HIV criminalization.  It will be held on June 2-5, 2014, in Grinnell, Iowa.  Yes, Iowa. Some of the most effective activism around this issue is happening there, where State legislators are actually re-thinking their own laws and health policies as a result of smart advocacy and education. I urge you to alert your local HIV advocates about this important event.
Regardless of your views on criminalization, we can all agree that anyone who intentionally seeks to harm another person should be held accountable for it. That's why we have laws against hurting other people.
But why are there laws on the books specific to HIV non-disclosure? HIV has its very own laws ordering people to disclose if they have it. The same cannot be said for other infectious viruses such as Human Papillomavirus (HPV) or Hepatitis C, which actually kill more people each year. The reason, in the mind of many advocates, is because those viral conditions are not as closely associated with gay sexuality. Or race. Or the disenfranchised. I hope you're getting the picture.
Criminalization is not limited to whether or not someone discloses, even if those scenarios capture our imagination the most. Laws have other ways to punish those with HIV. 
Charges for an unrelated crime can be elevated if the defendant is HIV positive. Prostitution, or spitting at a cop, or punching somebody in the face in a bar, can carry more severe sentences based on the fact the accused is HIV positive.
In other words, defendants are guilty of living with HIV. That should give you real pause.
Surveys conducted by The SERO Project indicate that knowing about the risk of being charged with non-disclosure is an impediment to HIV testing. After witnessing how people with HIV are being treated by the judicial system, getting tested might feel like exposing yourself to potential prosecution.
These prosecutions do not rely upon the context of HIV disclosure, either. "The moral obligation to disclose increases with the degree of risk present," said Sean Strub, founder of The SERO Project and one of the organizers of the Iowa conference, "but the context of the sexual encounter is also a factor.  In the context of a committed relationships, the disclosure obligation is much greater than in a sex club, for example."
The key point here is morality. Disclosing your status is a moral issue, not a criminal one. Even in the worst years of AIDS, when the virus reliably killed you, we called our doctors to start treatment when we got infected. We didn't call the cops. Blaming someone for our own risk behaviors seemed ludicrous. It still does.
You wouldn't know it from news reports, which often feature race-driven cases of predatory men lurking around the countryside infecting the populous. Suicide bombers continue to titillate the media.
Look closely at the stories and you will find that "not disclosing" is usually equated with "intentionally infecting." It's as if sex of any kind on the part of someone with HIV is malicious. One side effect of HIV infection, it would seem, is a pathological bloodlust.
Never forget that these juicy legal stories represent the lives of real people. Sentences amounting to decades are being wielded. The convicted are having to register as sex offenders. In the often confusing landscape of sexual risk and negotiation, the person with HIV is facing grave consequences for decisions often made in the heat of the moment, or simply because they chose to protect their privacy when no risk to their partner existed.
HIV criminalization does nothing to reduce the impact of a new HIV infection.  It doubles it.
Mark
ALSO…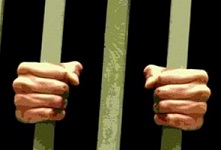 There's a lot of great reporting and blogging about this issue right now, and here's some of the best: Jake Sobo, the always intriguingly transparent blogger behind Promiscuous Gay Nerd, shares the frightening encounter a poz friend had when he visited his local health department and ended up accused of maliciously spreading HIV. HealthlineNews has posted an update on cases in Iowa that involve the very advocates doing such inspiring work there. The Gay and Lesbian Alliance Against Defamation (GLAAD) has made the gutsy choice to post an essay on the media's role in perpetuating ignorance about criminalization (even though many of their usual media outlets refused to run it).  The most comprehensive piece on criminalization, though, could be "Sex, Lies, and HIV," a ProPublica piece recently re-posted by HIVPlus Magazine that examines several of the most high-profile cases.
Tags: aids, criminalization, culture, gay, hiv, politics, Sexuality, testing
Posted in Living with HIV/AIDS, My Fabulous Disease, News, Prevention and Policy | 5 Comments »
Friday, February 28th, 2014
In the late 1980's, I let this odd, fussy man into my office at LA Shanti, my first AIDS agency job. He seemed earnest and harmless and he just wanted a few minutes of my time. "I have the cure for AIDS," he politely announced. Sadly, he wasn't the first person to say that to me, but we practiced more suspension of disbelief during that wretched decade so making such a statement wasn't immediate cause for removal from my office.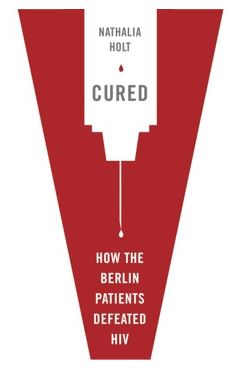 He set a wooden box on my desk, the size of a breadbox and with unfinished wood, like something you had just started building in shop class. He opened it to reveal a jumble of wires and what appeared to be a very large battery of some kind. It looked like a bomb.
"Electromagnetics," he said, with his index finger up, like a teacher. I was so entranced by the device that I didn't notice him attaching one of the wires to my finger with a clip. I felt it softly bite my skin and looked down, horrified.
His scholarly tone didn't change at all. "When I attach this to your other hand," he said, reaching for it, "the magnetic field will purge your body and your blood." I saw him taking my other hand. "This is science," he added proudly. He was smiling.
I sprang from his grasp and shook the clip from my finger. I suddenly remembered I had a staff meeting. An extremely important staff meeting. I thanked him and excused myself to get to my very important, life saving staff meeting.
It's tricky in the HIV community, using the "C" word. Long term survivors like me have had our hopes raised so many times, only for the rug to be pulled out from under us, again and again.  The list of miracles-in-waiting goes as far back as the dawn of the AIDS crisis itself. Herbal remedies. Rare fish guts. Tribal potions from exotic locales.
And so picking up a new book with that word right in the title, well, you can imagine the skepticism.
CURED: How the Berlin Patients Defeated HIV and Forever Changed Medical Science is exactly as advertised and a little more. Nathalia Holt's (below) engaging new book is quite a pleasant surprise, taking a user-friendly approach to its complicated subject. Not only does it provide the timeline of the advancements to date in HIV cure research, it gives us juicy, humanizing details about all of the players involved.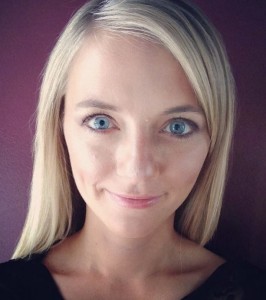 Much of Holt's book has the characterizations and forward motion of a good novel. We meet "Christian" (not his real name), the first Berlin patient who has achieved a functional cure to date. We find out exactly what happened in that Berlin clinic when he received his HIV tests results, what he was feeling, how it affected his relationships. We learn that it was Christian, not doctors or scientists, who elected to end treatment after several months (beginning very soon after his infection), leading to the discovery that his virus was under control and has not flared up since.
The same goes for Timothy Brown, who achieved even more notoriety as the later "Berlin Patient" because of the drama of his curative process (he had two bone marrow transplants and nearly died more than once) and because he has been willing to be public about it.
Timothy is the real heart of CURED. His endearing humility draws you to him as the book follows everything from his medical journey to his love life to his surprisingly modest existence today.
(In both Christian and Timothy, minute amounts of HIV virus have been located in their bodies since their treatment, but these reservoirs have not caused health problems. This is known as a "functional cure.")
All the principle players evidently cooperated with Holt, an HIV researcher herself, and the level of access shows. We not only learn who each of the major researchers are, but what brought them here, what their families are like, and what personal sacrifices they faced along the way. Particularly juicy are the stories of egos and competition among the scientists — and how people who made no contribution at all to various studies scrambled to get their names attached because of the cutthroat world known as academic publications.
Science has never been my thing. I'm not confident writing about it, and intimidated by reading about it. But, except in its last chapters when Holt hurriedly catches us up on the latest research, CURED is easy to follow and has engaging insight into the very real people behind the headlines.
And hey, how cool is it that no one was electrocuted as part of this research?
Mark
Tags: aids, physical, research
Posted in Living with HIV/AIDS, My Fabulous Disease, News | 5 Comments »
Tuesday, February 25th, 2014
The music my friends liked when I was a teenager intimidated me. It was the head-banging rock of the early seventies, and it felt alien and unappetizing. Most of all, it just felt… straight, in a way I knew I could never be. Alone in my room, I listened to my beloved Broadway musicals, and resigned myself to the fact that popular music would never really speak to me.
And then in 1977, when I was sixteen years old, I began sneaking into the only gay bar in Shreveport, Louisiana. Inside I found joy and liberty, fashioned with bell bottomed pants and handsome smiles and the dance floor – oh my God the dance floor – centering the nightclub was a glorious explosion of colored light and swinging hips and arms reaching up, up to the sky as if we could clutch it in our hands. The music was an entrancing bombardment of sound, and one song, one mesmerizing invitation to touch the heavens, was played again and again.
It was Donna Summer. And she was singing "I Feel Love."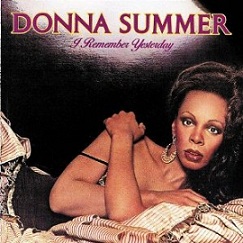 The track was really the triumph of producer Giorgio Moroder, who created the driving, synthesized beat that would define Donna Summer's music for years to come. But I knew I had to own this amazing song, and soon I stood proudly at the record store cashier to buy my very first popular album, Donna Summer's I Remember Yesterday.
I had found my music, my voice, and my lifelong muse.
The following year I had come out as a senior in high school, and Donna Summer was still in her "whisper period." It was never my favorite sound from her – it felt like playing chopsticks on a grand piano – and I knew from her other album tracks that she could let it rip. As I was graduating she did just that, with the release of her iconic "Last Dance." Her full-throttle pipes were on stunning display. Dance parties would never be the same.
By the time I left home for college in New Orleans, the music of Donna Summer had exploded into popular culture. I felt so proud of her, as if I had discovered her myself. My nights in the French Quarter were spent in the Parade disco on Bourbon Street, dancing to "Hot Stuff" and "Bad Girls."
The feeling of joyous exuberance that surrounded that disco is hard to describe. It was a sea of shirtless men, staking claim to our sexuality and the promise of infinite possibilities ahead. The incessant thump! thump! thump! of the beat was our clarion call, and it shouted Here! Here! Your tribe is here! We were so beautiful, in ways we were much too young to know.
And then soon, of course, the lights began to dim.
By 1982, I was struggling in Los Angeles as an aspiring actor, and Donna Summer was having a musical identity crisis. Record executives wanted a new sound for her to accompany the changing times, and her longtime producer Giorgio Moroder had been replaced by a succession of others. The red-hot Quincy Jones produced her Donna Summer album that year and their studio clashes became legendary. The album floundered and produced no significant hits.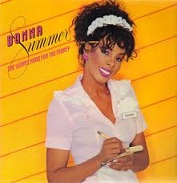 At the Los Angeles gay pride festival the next year, I was thrilled to hear Donna's voice again, sounding gorgeous and almighty, singing "She Works Hard for the Money." I took to the dance floor but was somehow unable to muster the joy I had known only a few years before. Life had intervened. And it had brutal plans for the men under the dance floor tent.
Donna Summer produced dance floor singles, if not hits, in the years that followed, but we weren't paying attention. The night club crowds dissipated, as a silent killer plucked men away one by one. AIDS had begun its murderous march through the gay community.
The villain wasn't simply the disease in those darkest of days. It was ignorance, and the judgment that rose up from social conservatives who saw Godly retribution in the horrific deaths of our friends. And so, when Donna Summer became a born-again Christian during this period and announced she would no longer perform her early, erotically charged hit "Love to Love You, Baby," her gay audience viewed her with immediate suspicion.
An ugly rumor began. Someone claimed to have heard her make a homophobic remark during a concert appearance. Depending on who was repeating the story, she had either said AIDS was God's judgment, or that God made Adam and Eve, not Adam and Steve. The unsubstantiated rumor swirled and grew, in an environment in which gay men were particularly sensitive to ignorance and hatred. By the time Donna Summer took it all seriously enough to set the record straight, it was too late. What was left of her popularity fell victim to the social maelstrom of AIDS.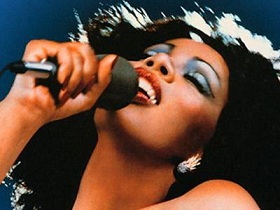 I never believed the story, and defiantly continued buying her albums, though they appeared with less regularity. Donna Summer would have only one more true hit, "This Time I Know It's for Real," which I chose to perform for my maiden appearance in drag at an AIDS benefit. The fact that during this time Donna Summer was raising money for AIDS research gained little traction among emotionally bruised and unforgiving gay men.
Today, disco may be dead, but Donna Summer's music laid the groundwork for everyone from Madonna to Lady GaGa, even if my body has found it harder to approximate the dance floor moves of my youth. But in my mind, as I blast "Dim All the Lights" in the privacy of my living room, I am young and powerful and life is making promises that are wonderful and possible.
Donna Summer is among the spirits now, joining the legions of ghosts haunting brightly colored discos from another era. She is still cooing to them, to these throngs of boisterous men, inviting them to the dance, where there is everything to celebrate and nothing to forgive.
The men are moving to the beat and laughing and holding one another. They are all beautiful, and they know it.
And they feel love.
Mark
(This originally appeared on this blog in May of 2012, shortly after her death. I continue to play Donna's music, or at least hear it playing in my memories, every single day.)
Tags: aids, culture, gay, Recreation
Posted in Gay Life, Living with HIV/AIDS, My Fabulous Disease | 9 Comments »
Monday, January 27th, 2014
"We don't know the side effects of this drug. It's too expensive. Insurance won't cover it. It hasn't been studied enough. It will encourage slutty behavior. And why the hell don't people just use condoms?"  
– Objections raised to the oral contraceptive progesterone ("The Pill"), approved by the FDA      54 years ago.
When the drug Truvada achieved FDA approval in July of 2012 as a medication to prevent HIV infection among people who are negative (a strategy known as pre-exposure prophylaxis, or PrEP), it's as if the ghosts of naysayers from the 1960's rose from their resting places, delighted and re-energized, and began drilling their mid-century objections into the hearts and minds of contemporary society.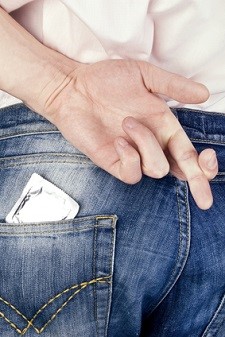 Maybe proponents of PrEP like myself believed the response to the drug would be more enthusiastic. Surely anyone who lived through the horror of early AIDS would thank God that a new prevention strategy exists that doesn't rely upon condoms alone. The fury of the response has been a little startling to me.
Fortunately, Facebook groups and online sites that explain the facts about PrEP are springing up everywhere to address misinformation and to clarify legitimate areas of concern. Here are the most persistent objections to PrEP, and the facts as we know them.
People wouldn't need PrEP if they would use condoms. They just want to bareback. Studies show that people on PrEP do not have an increase in high risk sexual behavior, but cynics have visions of wanton orgies ahead worthy of vintage gay porn. Alas, what others do in their sex lives is out of our control, whether that drives people up the wall or not.
The facts are these: more than half of gay men do not use condoms or do not use them consistently. This fact has remained true throughout the 30 years condom use has been measured among gay men, including during the darkest years of the AIDS crisis. We can address 50,000 new infections a year or we can have a useless moral debate.
The lack of condom use is what makes PrEP so exciting as a prevention method. The very first large study of Prep was the iPrEX Study, an international study of 2,500 people that was comprised mostly of gay men and some transgender women. The study showed that people who use Truvada as PrEP correctly (taking a pill every day) can have their risk reduced by 90% or more, depending on adherence. Some models show an efficacy rate of up to 99% based on near-perfect adherence.
PrEP is also not dependent on last minute decisions in the heat of passion. Taking a pill in the morning is calmly detached from having sex that night.
PrEP is not necessarily an either/or proposition, because lots of people taking PrEP are also using condoms. But let's be real. Most people seeking out PrEP already don't use condoms or they don't want to use them anymore. Since they are trading one prevention device for something that has a better success rate and is easier to use, what's it to you?
We don't know the side effects of Truvada. We have years of data of Truvada side effects on people with HIV (it's been FDA approved to treat HIV since 2004). Truvada was selected for clinical trials as a PrEP drug because of its favorable safety profile.
It is true that there are some reports of bone density and kidney problems among people with HIV using Truvada as part of their treatment regimen. These side effects have sometimes been serious. We can't assume the experience of HIV negative people will be the same, and that's why Truvada patients, positive and negative, should be routinely tested for bone density and kidney function.
More and more HIV negative writers and bloggers (and even a gay porn star) are sharing their experiences on PrEP but, thus far, side effects haven't been part of their story. Watching them share their progress publicly over time should be quite interesting.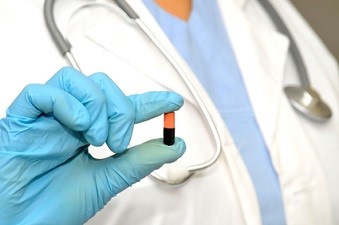 Understanding side effects is part of the assumed risk we take with medications, as any television commercial for a pharmaceutical drug will attest. If you don't want to cough up blood, for instance, or have bloody stools or nausea or a ringing in your ears, don't take aspirin. Those side effects are uncommon, and so are the side effects for Truvada.
People taking PrEP also have the option of discontinuing Truvada depending on life events and necessity. Maybe you stop dating the HIV positive guy, or take a break from casual sex, or return to condoms for a while. Starting and stopping the drug in this way does not lead to resistance as long as a medical professional verifies you are HIV negative before restarting.
If you are wary of Truvada side effects, don't use it. And allow others to make that same determination for themselves.
PrEP is too expensive and insurance won't cover it. This argument is losing steam rapidly. The Affordable Care Act in the United States is underway and by all accounts every insurance company as well as Medicaid is covering Truvada — although it may require pre-authorization from a doctor for use as PrEP (the CDC has produced a handy document available online to help explain PrEP  to your physician).
For those without insurance or money for a co-pay, Gilead (the maker of Truvada) has a patient assistance program that can provide the drug outright or supply co-pay cards worth up to $200 per month. Even if none of this were true, the potential benefits of a drug should not be assessed solely by its price tag.
The people who need it most can't access it anyway so what's the point? It's a good thing we don't have this attitude towards condoms. Access isn't the same as efficacy.
But it is certainly true that young gay black men, whom the epidemic is affecting in shocking numbers, have less access to healthcare. This is a systemic problem and it is unfair, frankly, to expect PrEP to solve it. It is also true that PrEP can be an occasion for HIV negative people to seek care, and once on PrEP they are typically required to have medical follow-ups throughout the year, which offers obvious benefits.
The biggest hurdle is often physicians themselves. HIV negative people may have a doctor unfamiliar with HIV care, much less PrEP, and those doctors are often intimidated by what they see as the complexities of HIV treatment. Until more professional education is done, potential PrEP users must learn to advocate for themselves and share CDC recommendations with their doctor.
People won't adhere to PrEP and that will create resistant strains. It is true that in some early PrEP trials adherence was a problem. Real life behaviors, though, differ from clinical trials in some important ways.
Trial participants have no idea if they are taking the actual drug or not, and in trials the efficacy of the drug hasn't even been proven. So, the commitment of trial participants to stay adherent to the drug is less rigorous than users today, who know that the drug works, know they're getting the real thing, and are invested in remaining HIV negative. People taking PrEP today have more skin in the game, as it were.
For those who do miss the occasional dose, Truvada is somewhat forgiving. The protective ability of the drug doesn't drop if you miss a single dose because Truvada remains in the blood for up to 72 hours (compare that to missing a condom occasionally, which CDC statistics show to be as risky as never using them at all). That being said, it is optimal and recommended that Truvada be taken consistently each day, and users should take seven daily doses for Truvada to achieve optimal protection.
Taking Truvada alone when a PrEP user doesn't know they are already positive can lead to resistance and significantly reduce treatment options. Resistance has not been found with individuals who were verified HIV negative at the time they started Truvada, but it has happened in people who became HIV positive due to low adherence.
PrEP is just putting money into the pockets of pharmaceuticals when we have cheaper solutions.  I can't imagine anyone telling HIV positive people not to take their medications because their drugs are making profits for Big Pharma. The argument that HIV negative people aren't worth a fraction of that investment astounds me. I suppose we should wait until negative people get infected before it's okay for them make a profit for the drug companies.
And those are the facts as we know them about PrEP. I have no delusions that the debate will calm any time soon, of course. Human nature is far too predictable for that.
Just recently, politician Mike Huckabee addressed a gathering of fellow Republicans. Part of his remarks, delivered half a century after The Pill was approved for contraception, was his belief that "smart" women don't need the government "providing them a prescription each month for birth control because they cannot control their libido."
Right. Because birth control, as critics have been saying since 1960, would be unnecessary if women only showed some restraint and didn't behave like barebacking sluts.
Everything old is new again.
Mark
My thanks to HIV advocate Jim Pickett of AIDS Foundation Chicago for his expertise on this issue. Jim is active in the development of rectal microbicides (lubes and douches that kill HIV on contact). Damon L. Jacobs, who writes about his personal experience taking PrEP, also served as a resource.
Tags: aids, barebacking, culture, physician, research, Sexuality, testing
Posted in Gay Life, My Fabulous Disease, News, Prevention and Policy | 20 Comments »
Sunday, January 19th, 2014
If you're considering how to best disclose your HIV positive status to everyone you know, here's one suggestion: learn to sew. Television's long-running reality hit Project Runway could be holding a spot just for you.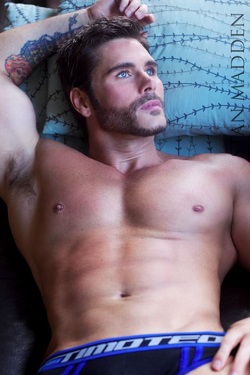 Over the course of a dozen seasons, the fashion competition series has tackled everything from drug addiction to racism to gender reassignment among contestants, and it has hosted more HIV disclosures than any other reality show. The latest addition to the trend is designer Viktor Luna, the contestant who sported the fluttering handheld fan on this year's Project Runway: All Stars.
Exactly how these disclosures have come about over the years is a study in contrasts, as different as the three HIV positive contestants themselves – and the whims of show producers.
In 1998, season four of Project Runway introduced the world to designer Jack Mackenroth (pictured right), the competitive swimmer, model, and all-around sex symbol who had already been living openly with HIV for 17 years. His casual disclosure during an early direct camera interview during his season showed a man comfortable with himself and his status.
"The producers knew I was positive because we fill out a stack of background information," Mackenroth told HIV Plus. "They had my entire medical history, like every other contestant on the show."
Already an HIV advocate at the time, Mackenroth knew the producers would eventually use his HIV as a dramatic device, but "that was fine with me," he said, "because I saw it as an important tool as well, for HIV visibility and as a chance to fight stigma."
That opportunity was lost when fate intervened. Before he could disclose to his fellow contestants on camera, Mackenroth developed a serious infection unrelated to HIV that forced him to withdraw from the show five episodes into the season.
"Tim Gunn sat me down and reassured me," said Mackenroth. "He told me that everything happens for a reason, and in that moment I was like, Yeah, right. I was exhausted and emotional. But the truth is, that show gave me my platform. It worked out great."
It would be years later until an HIV positive contestant would actually disclose their status to the cast on camera, but when it finally happened it brought all the drama and emotion the famously controlling Project Runway producers could ever imagine.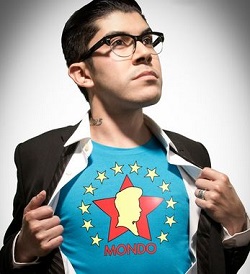 In 2010, season eight of the series included Mondo Guerra (pictured left), an insanely talented young designer who was as guarded as he was endearing. Although one should be mindful that footage is carefully edited to create characters and increase drama, Guerra certainly seemed like an artist with a painful secret or two.
During a challenge to create an original textile, Guerra designed a graphic print with a conspicuous "plus" sign throughout it. In direct camera segments, he revealed that the design reflected his HIV-positive status but otherwise kept his inspiration to himself, having not disclosed to even his own family at that point.
When pressed on the runway later to explain his design, Guerra demurred again. The judges stared in wonder. The music swelled. Filled with nervous emotion, Mondo haltingly revealed his HIV status as the inspiration for his textile. Viewers saw not only his tears but something more: a humble sort of triumph.
"I feel free," Guerra said plainly.
Guerra's disclosure was given generous air time during the episode and was the dramatic centerpiece of the entire season. The moment has been replayed endlessly on YouTube and was shown to a packed ballroom at the 2013 United States Conference on AIDS. It was undeniably inspiring, seemingly spontaneous, and brilliant television.
"Knowing Mondo, I think that happened organically," said Mackenroth. "Of course, everyone is working nonstop, producing a full season in 35 days. When these vulnerable situations come up, we hardly have time to think it through."
"When the judges genuinely wanted to know the story behind my print and design, that felt like the right moment," Guerra told HIV Plus. "So I told them what it really represented and that moment was a turning point in my life."
If Mondo provided the pinnacle of televised disclosures, the current season of Project Runway: All Stars has given us the most curious presentation of The Big Reveal.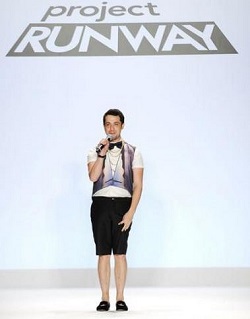 In one episode, designer Viktor Luna (pictured right) and the cast were scampering about, hard at work, and suddenly Luna begins speaking of his great anxiety in voice-over. Something is weighing heavily on him. He takes two designer pals aside and quickly shares his HIV-positive status. His friends say supportive things, they hug, and then they all dash back to their sewing machines as if they'd just had a quick smoke break. Luna's status is never mentioned again.
Luna's disclosure, as edited, felt like an afterthought, as if the producers noticed a lull in the excitement and cued Luna to bring on the drama. Producers might have hoped for something touching, but the hurried editing actually minimized the complicated nature of HIV disclosure. Everything about it felt false.
You know we are living in a more fortunate time when the merits of one televised HIV disclosure over another are being argued.
"Regardless of how it's produced, it's all a win," says Mackenroth. "Whenever this or any show combats stigma, the HIV community benefits from it."
Guerra sees a personal benefit too.
"Personally, it wasn't until I was open about my status that I started to take better care of myself," Mondo told us. "For that reason, I applaud Jack's openness about his status."
Today, Mackenroth continues his advocacy as one of the creators of the HIV=Equal campaign. Guerra has entered the fashion design stratosphere and is a key player in the Project iDesign Campaign, which encourages doctor/patient partnership. Luna wrote about his HIV disclosure on Huffington Post, sharing the details of his HIV journey that were not included in his Project Runway: All Stars episode.
Nothing is assured, in fame or fashion. Project Runway contestants are often struggling designers who leave whatever jobs they have to compete on the show. For any of them to put their personal lives on the line, to take the sometimes frightening step of revealing their HIV status to the world, takes a special kind of courage.
Many people with HIV may not be fashion designers, but they can certainly relate to that.
Mark
(This is a slightly edited version of my essay that originally appeared on the site of HIV Plus Magazine. Jack Mackenroth photo by Stan Madden. Viktor Luna photographed at Mercedes Benz Fashion Week by Fernanda Calfat/Getty Images.)
Tags: aids, culture, gay, hiv, Recreation, Sexuality
Posted in Living with HIV/AIDS, My Fabulous Disease, News | 2 Comments »