Posts Tagged 'aids'
Wednesday, August 17th, 2016
There's no way of saying this without it sounding like a humble brag, at best, so I'm just going to come right out with it.
My Fabulous Disease has won the prestigious "Excellence in Blogging" award from the National Lesbian and Gay Journalists Association (NLGJA). This is the second time my blog has been honored with this award, having won in 2014, the year the category was created. So if you're keeping score, that's two for three.
Evidently I'm too excited to do the humble part of the brag. My apologies!
The award is part of the annual Excellence in Journalism Awards, sponsored by NLGJA. They actually wield enormous influence, with members from outlets as varied as CNN to The New York Times to POZ Magazine and, well, little guys like myself. As stated in their press release this morning, "The NLGJA Excellence in Journalism Awards were established in 1993 to foster, recognize and reward excellence in journalism on issues related to the LGBTQ community."
One of the judges had this to say in awarding My Fabulous Disease their honor:
Mark S. King is one of the few people still doing blogging in the traditional sense, and he does it quite well. There's news, there's context, there's personal input and it's compelling and accessible. For example, his coverage of the ways

Charlie Sheen was discussing HIV

were spot on and unrivaled and I was delighted to revisit it as part of his nominated material. King displays excellence in HIV coverage year after year. 



But ultimately, this is really about you, my readers and those involved in HIV advocacy, because you are usually the topic of my writing. Whereas my blog was almost strictly personality-driven in its early years, I have enjoyed, more and more, shining a spotlight on the work of other people. Yes, I am still capable of an opinionated rant (and how I so love writing those), but it is clear to me that my blog's success it tied to the work of people just like you.
Just as exciting is the fact that HIV coverage was well represented this year, across the map of categories.
Placing second in the Excellence in Radio award was an important story from Jim Burress of WABE-FM, "Fulton County Doesn't Spend, Loses HIV Prevention Money," about the misuse (or non-use) of crucial HIV prevention dollars.
The amazingly prolific Ben Ryan (the "nearly naked AIDS advocate" I profiled a few months ago), was awarded second place for his POZ Magazine piece, "When Can We Expect PrEP 2.0?" It's a topic that is still very much on his mind.
"PrEP is a fast-moving train in the United States, with use rising dramatically in major cities," Ben told me about his win. "It's been exciting to cover the science behind this new prevention tool, from a molecular to a public health and sociological level. The news will likely keep getting better as new forms of PrEP hit the market in the future, offering a long-term injectable form and less toxic oral drugs. A major concern I have, however, is that PrEP is largely being used by white gay men in a select handful of major cities, such as New York, San Francisco, LA and Seattle. I anticipate that PrEP will effectively widen racial disparities in HIV rates in the coming years. If people wind up proclaiming victory due to a collapsed HIV rate among white gay men, what will happen to minorities? Will people lose interest in the HIV fight?"
Bisexual writer Heather Boerner (her sexuality bears mentioning, considering how "invisible" the B in LGBT can be) took top honors in the HIV/AIDS Coverage category, for her "Ongoing HIV Prevention/Treatment Coverage" for The Daily Beast and TheBody.com.
"I started my career in the LGBT press, writing for the now-defunct New York Blade," Heather told me, "so to win an award from NLGJA is especially meaningful to me. But it's also meaningful to me because the stories I submitted were all about HIV/AIDS, yes, but they weren't only about HIV/AIDS from an LGBT perspective. I will say that there's still so much to say and do and write about HIV–even more so now that more and more research is proving what some couples have known for years, which is that treatment really can prevent transmission, and there's no reason to be afraid of the virus."
Following Heather is second place in that category is Daniel Villarreal and Topher Williams for "'Trust Him?': Why Are The Images Debating PrEP Use So Consistently Shitty?" for Daniel's site, UnicornBooty.com.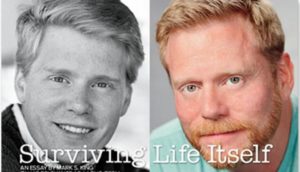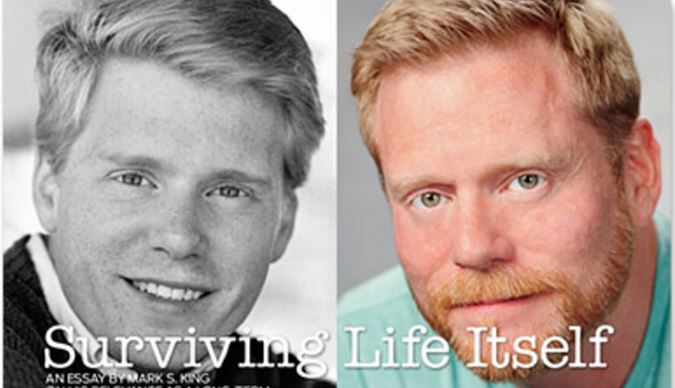 And in an embarrassment of hardware riches, I also won second place in the Feature/Editorial Writing category, for my POZ Magazine essay, "Surviving Life Itself," chronicling my life as a long-time HIV survivor. That particular piece was a real high point for me as a writer, and I am grateful as always to editor Oriol Gutierrez for his shepherding of my work.
Let's just consider this another opportunity for me to thank my literary colleagues, including many sites and editors who have supported the voices of people living with HIV.
Let's keep speaking up, y'all.
Mark
Tags: advocacy, aids, culture, gay, gratitude, hiv, physician, politics, PrEP, Sexuality, stigma
Posted in Gay Life, Living with HIV/AIDS, Meth and Recovery, My Fabulous Disease, News | 1 Comment »
Tuesday, August 2nd, 2016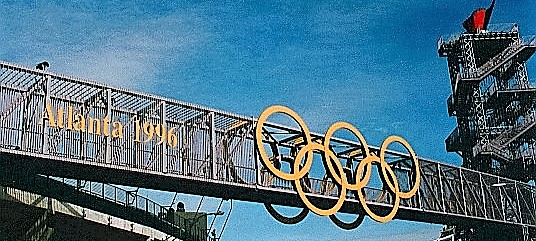 The International Olympic Committee (IOC) is a very touchy organization, most especially when it comes to the Olympic rings. They guard their trademark jealously and litigiously, commonly suing anyone who dares to approximate the iconic rings for their own purposes. Even local street vendors during the Games have been shut down for violating copyright.
Anthony Braswell wasn't thinking about that when he and a co-worker came up with a dangerous idea. It was 1995, and Atlanta was in the height of Olympic fever as the city prepared to host the 1996 Summer Games.
Braswell served as Director of the Grady Health System Infectious Disease Program (IDP), Atlanta's new HIV clinic. One day he and his medical director, Dr. Jeff Lennox, were chatting about the enormous HIV education opportunity the Games presented. If only they could garner the attention of the worldwide media that would soon be streaming into the city for a two-week stay.
"A basket of condoms was sitting on the conference table," Braswell said in an interview with My Fabulous Disease. "Jeff took five condoms out and starting arranging them on the table, and joked that we should make the Olympic rings out of them. I remember looking at him and saying, 'yeah. Play safe.' And that is how it started."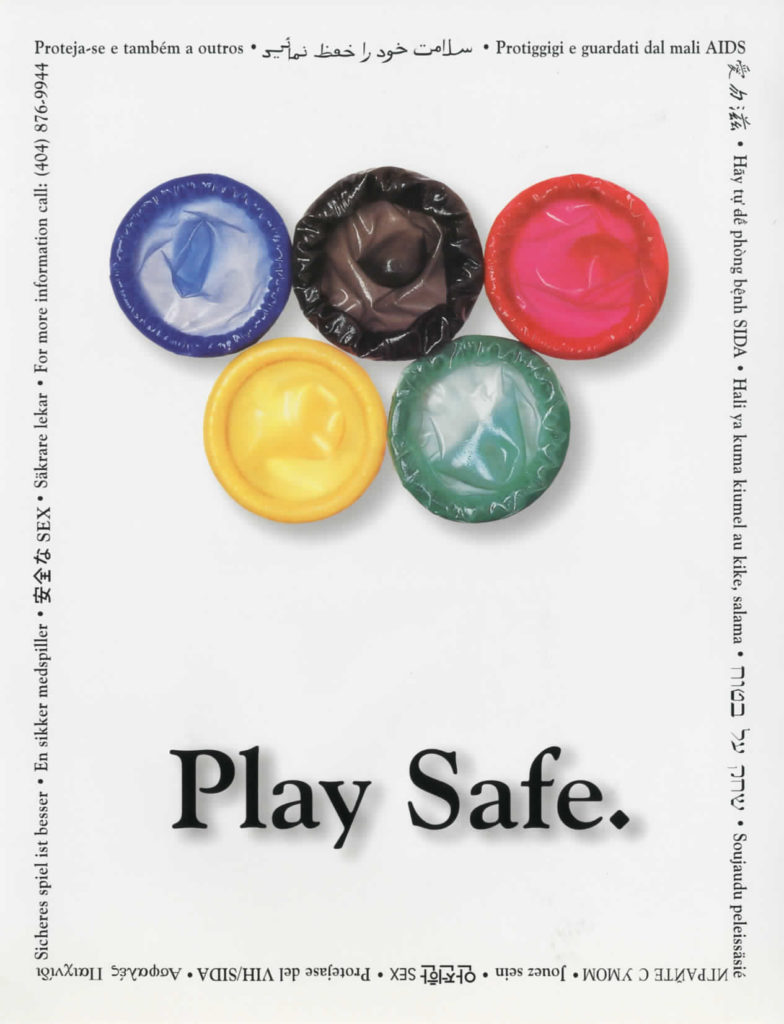 At the time, they didn't burden themselves with whether or not creating such a campaign was legal, or what the response of the mighty IOC might be. Or exactly how it might be done. They just started working.
"We didn't think about next steps," said Braswell. "We were just enjoying the simplicity of the message. There was no budget, no money at all for this idea." That problem solved itself when people began offering free services to design, photograph, print, and distribute a full-color poster of the fledgling idea.
A marketing company in Los Angeles stepped in with a photographer and studio time. "They took great care in matching the color of the condoms to the Olympic ring colors," said Braswell. "They also learned that the lubricated condoms caused damage to their camera lens, so they had to scrap those and find unlubricated ones."
When the drafts of the poster arrived from a volunteer marketing company, Braswell couldn't believe that "our crazy idea came to life. But it was missing something."
Meeting with others on his clinic staff, the group realized the "Play Safe" message simply would not translate to scores of international Olympic visitors. "To be effective we needed to communicate with many different nationalities, many different cultures," Braswell recalled, "so we contacted all sorts of international groups to determine how the 'play safe' message would translate."
They added a border to the central image that spells out the "play safe" message in eighteen languages. "The hardest one was Chinese," said Braswell. "There were no symbols that delivered the message of safe sex, and we wound up saying 'have good sex.' But they did not have a symbol for 'sex,' either, so in the text we actually had to spell out the word in English."
A final graphic detail was adding the phone number for the Georgia AIDS Information Line, a number that still operates today. "We didn't ask their permission," Braswell said, because he wanted to protect them.
By then, a growing array of Atlanta HIV advocates, from gay men to the staff of AIDS service agencies to health department employees, had heard of the campaign plans and stood ready to accomplish the most daunting task of all: distributing the 750,000 copies of the poster, which a Los Angeles movie studio had paid to print and shipped directly to Braswell's home.
"The weekend before the Olympics, several large trucks pulled up in front of my house," Braswell said. "Over one thousand boxes were on them. I was horrified. We filled every inch of my house, floor to ceiling with boxes, and there were still more to go. We took one truck to the clinic and hid about 400 boxes in the storeroom. Even my neighbor put a hundred boxes in her living room."
Braswell, and the army of volunteers ready to unleash the campaign, knew full well how much the poster would infuriate the IOC. Any potential fallout very likely emboldened them, as much for the publicity as for the fact there was no love lost between the citizens of Atlanta and the IOC. The aloof and arrogant president of the IOC, Juan Antonio Samaranch, had actually asked locals to address him as "your excellency," a request that went over like stale cornbread in a Southern city so unpretentious it featured a fleet of pickup trucks in its opening ceremonies.
On the opening weekend of the Atlanta Olympic Games, the plan was executed. "It was all very covert," said Braswell. "Friends working in the Olympic Village helped us sneak the posters in." Meanwhile, other volunteers had jobs at the hotels, including those where media was staying, so under every door they slipped press packets that included the poster and a statement about the need for AIDS awareness and safer sex materials. The poster was wall-papered on light posts, in store windows and in restaurants throughout the city.
Figures differ about the availability and number of condoms distributed in Olympic villages over the years. In a recent Slate article, Atlanta in 1996 shows a significant dip from the number of condoms distributed in previous Olympic villages – and even these figures are disputed.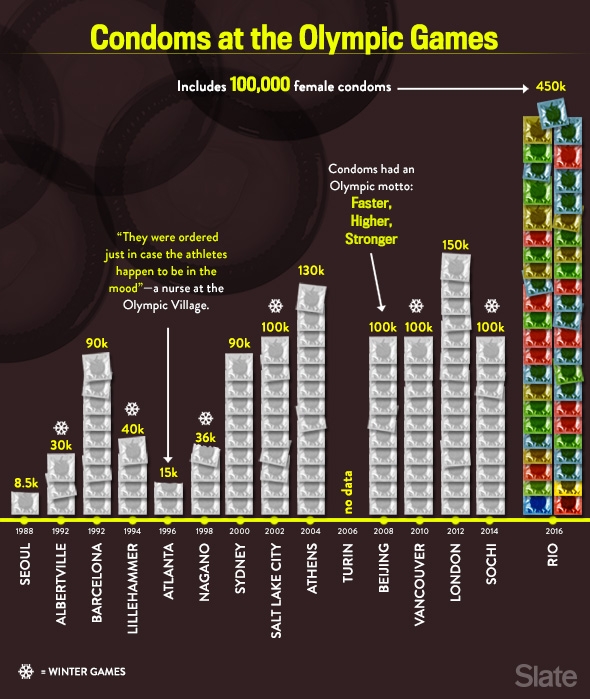 Braswell doesn't believe many condoms were distributed in Atlanta's Olympic village. "When we asked about making condoms available, the Atlanta Olympic Committee said no, telling us that there would be no sex in the village. Oh my God." The attitude contrasts sharply with the 450,000 condoms that will be made available to athletes in Rio. "What a different world we live in now," said Braswell.
The 1996 poster effort, once the Games began and the materials got out, yielded… not much. At first.
"For a couple of days we heard nothing," said Braswell. "And then the press began. Officials from the IOC and the Atlanta committee were looking for the people 'who had done this to the Olympic rings.'"
In a city containing more press than any place on earth during that time, the Olympic condom rings gained traction, leading to officials having to answer questions about whether or not there was an "official condom of the 1996 Olympic Games." Reporters gleefully reported the answer that no, there was not.
The attention was glorious but short-lived. During the second weekend of the Games, a bomb was detonated in Centennial Olympic Park, an act of homegrown terrorism that stole the headlines and broke the hearts of the good people of Atlanta.
The tragedy took the heat off of the condom poster controversy and shifted attention to the very serious business of security and the bomb's aftermath. The poster disappeared from media reports as quickly as it had appeared.
As with most acts of activism, whether a flash mob or a protest, the Olympic condom ring poster found an audience, made its point, and was gone.
"In the end, the campaign worked," Braswell said. "I am so proud of the people who believed in this effort. And this was twenty years ago, before the power of social media!"
"No matter," Braswell concludes. "It worked. And we pulled it off."
Mark
(Condom distribution chart: Holly Allen, Slate.)
Tags: advocacy, aids, culture, gay, hiv, physical, physician, politics, Recreation, Sexuality, stigma, testing
Posted in My Fabulous Disease, News, Prevention and Policy | 2 Comments »
Tuesday, July 26th, 2016
The people, the parties, the protests! AIDS2016, the international AIDS conference held in Durban, South Africa from July 16-22, had it all. And it was my privilege to bring you the stunning sights and sounds of the gathering, sponsored by The Global Forum of MSM and HIV. My special thanks, too, to my amazing videographer, Australian HIV advocate Theo Tsipiras.
My coverage was featured on the most comprehensive HIV resource on the net, TheBody.com (you can also view my full set of videos there), as well as on MSMGF.org and even on Queerty.com, the world's largest pop culture site for gay men.
So here they are, each of the five video blogs I produced at AIDS2016, below.
Allow me to let these videos, and the inspiring people from around the world who populate them, to speak for themselves. Enjoy!
The MSMGF Pre-Conference (Gay Day!)
The MSMGF pre-conference is uniquely designed to address the issues and needs of men who have sex with men (MSM) around the world.
Included: openly gay International AIDS Society President
Chris Beyrer
; Truvada drug smuggling (sort of) with German advocate
Nicholas Feustel
; a chat about the prevalence of
chem sex
in London; and gay advocates from countries in which their sexuality – and even their services for gay men – are criminalized.
The Thrilling Treatment Access March on the Streets of Durban
The may be no way to adequately describe the intensity of the #Treatment4All march that wound its way through the streets of Durban. Fortunately, my videographer Theo and I dropped ourselves into the middle of the action. The results are amazing.
Included: the thousands of advocates calling out the disparities in the world when it comes to HIV treatment access; the individual activists explaining why they are taking to the streets (including some of the women of the
Positive Women's Network
).
BONUS Video: An Interview with PrEP Advocate Jim Pickett
Here is a man who does not mince words. Jim Pickett of
AIDS Foundation Chicago
explains why AIDS2016 should be known as "the PrEP conference," and then has some very candid thoughts about the efforts of
AIDS Healthcare Foundation (AHF)
to block a California bill that would provide
PrEP education
to those at risk. Included: information on how you can support the bill.
An HIV+ Gay Man is Erased by the Military and a Plenary Protest
The advocacy around HIV criminalization has grown enormously is just the last two years. I take you to the Beyond Blame pre-conference, and then jump into a demonstration by criminalization activists at an AIDS2016 plenary – which included the newly minted activists and grandchildren of icon Elizabeth Taylor, working on behalf of the Elizabeth Taylor AIDS Foundation.
Also: a very candid gay activist from New Zealand confides with me about just how cruisy the conference is for he and his fellow advocates. Hint: activists ready to hook up are less than 20 feet away.
Included: Interviews with
LTC Ken Pinkela
, who lost his appeals to the military over trumped-up non-disclosure charges;
Edwin Bernard
of the
HIV Justice Network
; Joel Goldman of the
Elizabeth Taylor AIDS Foundation
(and her HIV activist grandchildren), and our first visit to the amazing Global Village.
The Eye-Popping Global Village and a Party Without Pants
In my final report from AIDS2016, we immerse ourselves in the sights and awesome advocates of the Global Village – and then let off some steam at "No Pants, No Problem," a dance party like nothing else on the planet.
Included: African grandmothers fighting for support, the
"Disclosure Sofa,"
interviews with international HIV advocates
Gus Cairns
and
Julian Hows
, gay teenage HIV advocates from South Africa,
Jessica Whitbread
, organizer of the pantless dance party, and my final thoughts about this wondrous experience.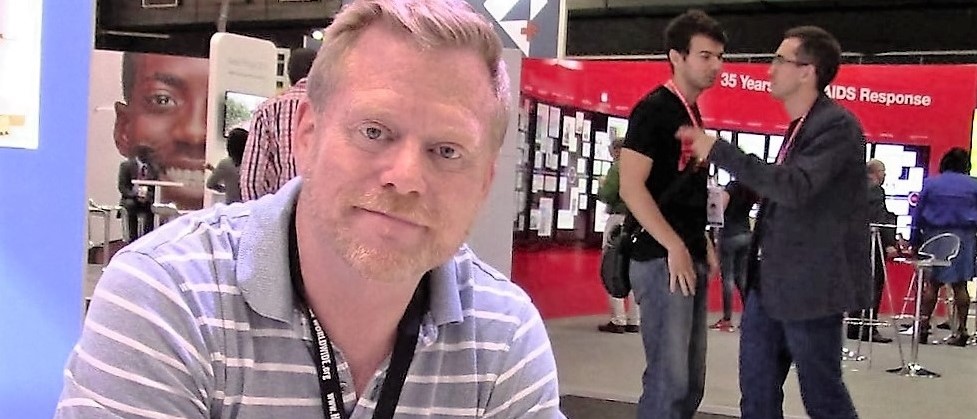 Thanks for watching, and for your lovely messages of support throughout this conference. It means the world to me. And now, let the anticipation begin for AIDS2018 in Amsterdam.
Amsterdam, y'all. Can you imagine?
Mark
Tags: advocacy, Aging, aids, barebacking, conferences, criminalization, culture, gay, gratitude, help others, hiv, meth, physical, physician, politics, PrEP, recovery, Recreation, research, serosorting, Sexuality, stigma, testing
Posted in Family and Friends, Gay Life, Living with HIV/AIDS, Meth and Recovery, My Fabulous Disease, News, Prevention and Policy | No Comments »
Monday, July 18th, 2016
(UPDATE: See all of my video blogs from AIDS2016 right here.)
Conference coverage might just be the most enjoyable aspect of blogging for me. There's nothing like capturing a protest breaking out, or the emotions of advocates from struggling countries, or a drag queen on stilts handing out condoms. I've never met an eye-boggling sight that I didn't love – and put on camera.
My coverage of the international AIDS conference (AIDS2016) in Durban, South Africa is happening right now. I am in Durban, scurrying about the conference with other advocates from around the globe, and my primary purpose is to give you the feeling that you are right there at my side.

My AIDS2016 coverage is sponsored by MSMGF.org.
This year I am proud to be sponsored by The Global Forum of MSM and HIV (MSMGF). My coverage can be viewed on the site that birthed my own blog, TheBody.com, and at MSMGF.org. Queerty will step also step in and feature at least one of my video reports.

My coverage can also be viewed right here on TheBody.com.
My Australian camera man Theo Tsipiras and I will capture the human stories that make the conference so compelling. That isn't to say we won't include breaking stories about research. I have no problem rushing a scientist and getting him to explain the latest news to me. I just want to be sure he does it in a way that makes sense to everyone back home.
I will admit to it being exhausting. We're filming morning to evening every day, and then I'm editing footage all night to produce the video for the day. It's a diet of pure adrenaline. But how can I not do this? What a joy and a privilege it is for me to be active and engaged, after so many years, and bringing these people and their stories to life.
Thanks for checking out my video coverage at the links above, and please be well.
Mark
Tags: advocacy, aids, conferences, criminalization, culture, gay, help others, hiv, physical, physician, politics, PrEP, research, serosorting, Sexuality, stigma, testing
Posted in Family and Friends, Gay Life, Living with HIV/AIDS, My Fabulous Disease, News, Prevention and Policy | 1 Comment »
Thursday, July 7th, 2016
In a cramped meeting room in New York City on May 27, 2016, a dozen gay men, HIV positive and negative alike, came together to answer a vexing question: How do gay men bridge a divide that has been forged through decades of HIV stigma, distrust, and mutual blame? Or, at the very least, what might be done to start a conversation about the divide and begin to heal the wounds?
Convened by Avram Finkelstein, the HIV-negative artist and HIV activist who was part of the collective that created the iconic SILENCE=DEATH artwork in the 1980s, and Mark S. King, the HIV-positive blogger and advocate, the Viral Divide Flash Collective sought to begin a difficult conversation and find a graphic way to present it. The collective was sponsored by Visual AIDS and made possible through funding from Broadway Cares/Equity Fights AIDS and GMHC.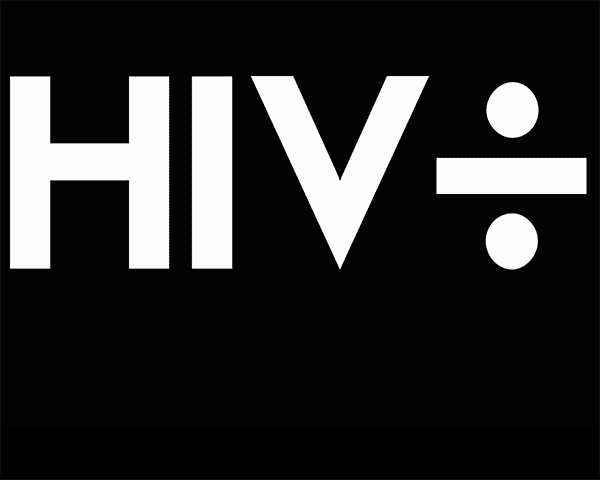 A "flash collective" is an exercise in artistic advocacy involving group facilitation and the common pursuit of a graphic message to communicate a concept for the public sphere. In other words, the gathering of gay men had mere hours to discuss the HIV viral divide, vent their frustrations about their lives and each other, and then find common ground. It was, in a word, intense.
Before the group even finished consuming their breakfast bagels, the walls of the room were covered in reams of butcher paper scrawled with the frustrations and issues viewed as crucial to members of the collective.
Important topics were raised, such as race, privilege, and the science driving the new HIV landscape. Again and again, the group talked through these concerns and then returned to their primary purpose of crafting a message about the viral divide among gay men.
"This message is the first sentence in a conversation," Avram Finkelstein reminded the collective throughout the day. "It does not have to tell the entire story. It is meant as the starting point for important conversations."
The result, HIV ÷, features the tagline, "The virus divides. It doesn't have to. No walls between gay men." The graphic image includes an animation that outlines the various ways in which the divide affects gay men: age, joy, relationships, sex, race, and love.
And the graphic image has an impressive coming out party on the way. It will be projected onto the façade of the Bronx Museum on July 13, 2016, as part of the opening of ART AIDS AMERICA, a retrospective of AIDS-related art through the years. The Illuminators, most widely known for their work projecting graphic messages on the New York City skyscape on behalf of Occupy Wall Street, will coordinate the projection. The work of the Viral Divide Flash Collective is viewed by the museum as the very latest in a history of AIDS artwork that dates back more than thirty years.
The Viral Divide Flash Collective has set up a Tumblr page featuring the final artwork and of the collective's day together. Photos of the projection onto the Bronx Museum will be added after the event on July 13. Anyone is welcome to post their thoughts on the Tumblr page or to share the images on social media.
The HIV ÷ message comes just as gay men are grappling with a host of new scientific realities that are altering the social landscape.
The increased adoption of pre-exposure prophylaxis (PrEP) has re-energized activists and provided a way for HIV negative gay men to participate fully in their own HIV prevention.
Meanwhile, research has definitively shown that people living with HIV who are on treatment and maintain an undetectable viral load are uninfectious. A new group, Prevention Access Campaign, is aggressively promoting the scientific evidence that undetectable people living with HIV cannot pass on the virus.
Online dating apps, where divisions between HIV positive and negative gay men have been most prominently on display, have now incorporated profile choices that include being on PrEP or being HIV positive and undetectable. So there is movement afoot, even as HIV stigma remains a stubborn roadblock to bridging the viral divide.
It would appear that now, more than ever, gay men can relieve themselves of the social walls that have divided them along the lines of their sero status. The HIV ÷ graphic message is only a small part of multiple efforts to repair relationships among two factions of gay men that have often been at odds with one another.
After so many years of mortal fear, irrational and otherwise, bridging the viral divide will surely be easier said than done. The members of the Viral Divide Flash Collective have started an important conversation. It will be up to countless others to continue it.
Mark
PLUS…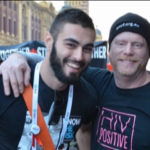 I could not be more excited about returning to the international AIDS conference next week. AIDS2016 in Durban, South Africa, is sure to offer exactly the kinds of sights, sounds, and people that I love capturing in my video blog coverage. I am proud to have the sponsorship of MSMGF, the global organization working for the health and rights of gay men (men who have sex with men) around the world. Beginning with pre-conferences that begin on July 16, you will be able to follow my coverage on the MSMGF site or by checking in with TheBody.com, the most comprehensive HIV site anywhere. As with my past conference coverage, I leave the research and panels to others, while my trusty camera man Theodore and I train our sights on the colorful people who make this conference like none other. See my teaser video here, and wish me luck!
Tags: advocacy, aids, criminalization, culture, gay, gratitude, help others, hiv, politics, PrEP, Recreation, serosorting, Sexuality, stigma, testing
Posted in Gay Life, Living with HIV/AIDS, My Fabulous Disease, News, Prevention and Policy | No Comments »
Monday, June 6th, 2016
My friend Olivia G. Ford (she got that whole middle initial thing from me, I'm convinced of it) speaks even faster than I do. That's a rare distinction.
Olivia is also an editor. She was my editor during her years at TheBody.com. I am afraid of editors. They know too much. They might even know I'm not the writer people think I am. Not on the first draft, anyway.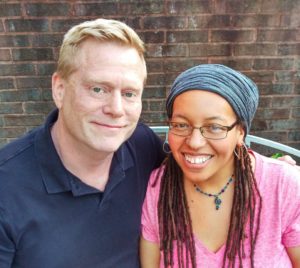 A few months ago, Olivia invited me to join her as the guest editors of a special issue of Positively Aware magazine and the result, "Our Golden Years," explores aging and HIV from the viewpoint of people who are already post-retirement age. (Check out the link to read a digital version, or find a copy at your local HIV clinic or pharmacy.)
In our initial conversations about how to approach the topic of HIV and aging – and let's face it, we've all been seeing it in HIV media a lot in recent years – we hit upon the fact that, while there are so many people post-retirement age who are living with HIV, most stories on HIV and aging tend to focus on "the AIDS generation" preparing to age, rather than those who are already experiencing their advanced years right now.
From our editor's letter in the issue:
We believe that the story of aging and HIV must include people who were in their 30s and beyond when the epidemic began, as well as the newly diagnosed who are already over 50 (who now account for roughly 1 in 6 new HIV cases). Those who have surpassed retirement age have been largely absent from the conversation and media coverage of HIV/AIDS.

The more we considered this, the more we became committed to sharing the stories and lived experience of elder people with HIV for this issue, "Our Golden Years."
The idea of featuring the lived experience of older people with HIV got us excited, and led to some terrific pieces on mental health (written by two therapists and longtime survivors), a conversation between generations of black gay men, women with HIV post-menopause, how to address the needs of transgender women as they age, and a frank and revealing piece on sex and dating in later years.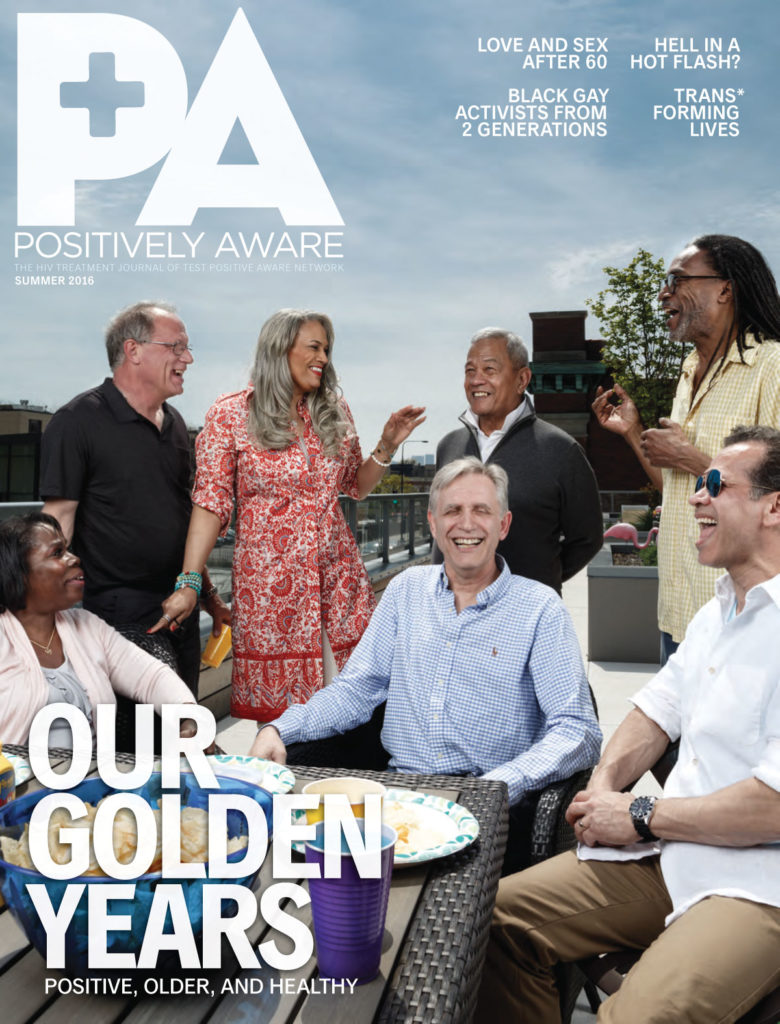 We were really fortunate to have such talented HIV writers and advocates join us for this issue, including David Duran, Kenyon Farrow, Sharon Lee, Rae Lewis-Thornton, Kellee Terrell, David Alain Wohl, and David Fawcett. The issue was overseen by the dynamic duo from Positively Aware, editor Jeff Berry and creative director Rick Guasco.
More from our editor's letter:
So many cultures throughout human civilization have bestowed great honor and value upon their most senior members. We believe it is inherent upon us all, as people who care deeply about a health crisis that impacts us socially as much as medically, to do the same.

Welcome to our golden years.
Being a part of this collaboration with Olivia was truly a delight, and while it may have demystified the role of an editor for me – I've never done this before – it absolutely increased my respect for Olivia and her talents, and for all those people out there who are conceiving and shaping HIV publications and web sites on a monthly basis.
So, while I'm at it, a shout-out to the late, great Bonnie Goldman, the founding editor of TheBody.com, where My Fabulous Disease was born. And to JD Davids, the scary smart editor there now.  And then there is the sly and brilliant Oriol Gutierrez at POZ Magazine (with the amazing Jennifer Morton, their very own wonder woman), the lovely Bob Leahy at PositiveLite in Canada, and the nurturing and insightful talents of Diane Anderson-Minshall at PLUS Magazine. And Chris Bull at Queerty has been a real advocate for informative and challenging HIV content on their site. Editors, editors everywhere!
But don't get me wrong. I'm still afraid of them.
Mark
p.s. Check out the digital issue of Positively Aware, look for it at your local clinic or pharmacy, or get your own subscription to the print edition right here.
Tags: Aging, aids, culture, hiv, lipo, physical, physician, Sexuality, stigma
Posted in Living with HIV/AIDS, My Fabulous Disease, News | 1 Comment »
Sunday, June 5th, 2016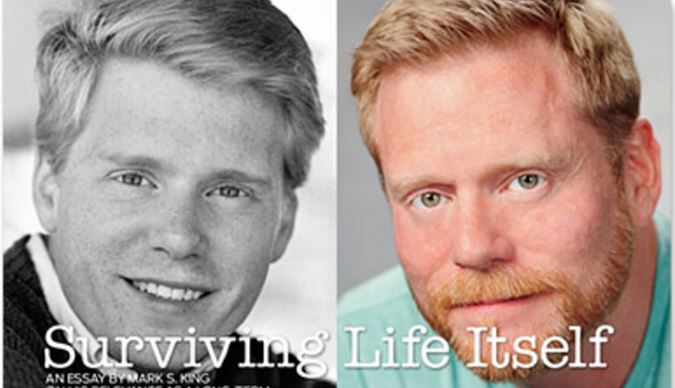 The young woman sitting across from me on the bus is in her mid-20s. She turns to her companion and her voice grows serious.
"I know someone who died," she says in the hushed tone reserved for tales of mortality. Her friend looks up from his phone. "He was a good friend of my brother," she goes on. "He was killed in a motorcycle accident a few months ago. It was just awful." As her friend offers words of comfort, my own thoughts produce a rueful smile and a nagging question.
Just one? You know just one person who died?
By the time I was her age, death in my social circle was so commonplace the body count approached the toll of a commercial airline tragedy.
I listen as the woman reverently shares the details of the accident, of the shock waves that surged through the family, of what the dead friend was like and who freaked out at his funeral. And then a bittersweet realization strikes me.
The friend she lost has a story of his very own. It is the chronicle of one tragic death, with all of its intimate details and reverberations. His story will be repeated by the young woman for years, and by her brother and by the remaining loved ones of the absent friend. And they will grieve and remember this individual death and grant it the weight of a rare tragedy.
***
I didn't get many chances to do that, living as a young gay man in Los Angeles in the 1980s. There were very few singular deaths. It seemed like everyone was doing it. And among them, a dozen friends close to me, struck down within months of one another, with whom I shared a history of youthful secrets, joys and indiscretions, never to be spoken between us again.
Already I have indulged in a regrettable pastime that aggravates me when others pander to it. I am counting my lost friends like selfishly guarded chips in a morbid poker game, claiming my grief as if the high tally amplifies the legitimacy of my loss. There is no hierarchy of misery. The death of one person close to you is quite enough.
And yet there are harrowing, undeniable moments from my past, drawn from 30 years living with HIV, that have shaped my attitudes and the senseless tragedies that befall us. I can conjure them but I must do it deliberately, for they are held captive in secluded corners of my mind and I release them with great caution. Perhaps now is the right time to unlock a few of those images.
The fluids in Lesley's dying body percolating like a coffee maker as we stood at his bedside awaiting his last breath. The anguished admission by my brother, Richard, that he helped his critically ill lover swallow a deadly, Seconal-laced cocktail in order for him to die on his own terms and avoid the final indignities of AIDS. My visit to Pablo in intensive care during his pitiful throes of dementia, nodding my head reassuringly as I tried to decipher his final, incoherent pleas.
They are a litany of despair, these heartrending tales, but I feel compelled to reveal them as part of another common exercise: to authenticate my history as a "long-term survivor." I have misgivings about that unsettling designation because it doesn't speak to my other, parallel life experiences and it suggests a dismissal of my relevance in the here and now.
***
In the decades since those sorrowful days, I have faced a host of perilous circumstances apart from AIDS, including a car crash, drug addiction, serious medical procedures and weapons pointed in my direction. Like everyone else, positive and negative alike, I am a survivor of life itself.
That life has included falling in love, changing careers, teasing my friends, watching my cats wrestle one another, and looking forward to whatever lies ahead with a deep sense of gratitude and joyful anticipation.
And it is this prism—one that includes AIDS as only a segment of my life—through which I view the world today. My status as a long-term HIV survivor does not make me a champion or a museum piece to be examined and admired. I am a man in the prime of his life. My age and maturity guide me, not the virus that has failed miserably to kill me.
The grief-stricken young man I once was held no clue about the mystifying speed with which time passes. The swift interval between the early days of AIDS and merciful treatment breakthroughs confounds me even now. Suddenly I blinked, and when I opened my eyes I was 40 years old and the world was a far different place.
***
Many of us remember that new world, when people with AIDS were saved by a miraculous "cocktail" of new medications. Living with HIV before the mid-1990s, when these medications were introduced, has become the popular line of demarcation for entry into the fellowship of long-term survivors.
My work in HIV advocacy continued during this time while others retreated to lives away from daily reminders of the epidemic. I did not fault them for that, in fact I envied them, but the army of our earliest activists, forged in the first years of the plague, had diminished.
By then, women and people of color had gained more traction and acknowledgment in the HIV arena, though without the national fervor or the generous support enjoyed by the original, largely gay agencies.
It was a time of such hope and encouraging progress, but if you scratched the surface of these victories you found they were dependent on privilege, money and access. Deaths continued unabated behind a dark curtain of racism and poverty.
The gay community began to avert its eyes from the continued infections of people unlike ourselves, and I joined many other exhausted activists who abandoned town hall forums devoted to HIV for the celebratory relief of the dance floor. Massive circuit party events became a vibrant diversion, summoning revelers by promoting their dubious contributions to AIDS service organizations. After a generation of relentless mortality I felt entitled to the party, to the steroids and the gym membership and the body-thumping beats of house music.
That is, until the festivities morphed into drug-fueled bacchanalias that required ambulances with the same regularity that had once been needed at AIDS hospices. I fell victim to their excesses, and my drug addiction and recovery process removed me from HIV advocacy for the next several years.
***
I blinked again and now find myself here, sitting in my home office as a man in his 50s. My workspace is populated with relics of the epidemic, the walls filled with posters from AIDS Walks and photos of protests and triumphant arrests. A vast collection of name badges from AIDS conferences are strung from a single hook in an enormous, colorful bouquet. And everywhere around me are reminders of the missing. Pictures of friends whose faces will not age. Borrowed sweaters in the closet that need never be returned.
They comfort me, these tangible reminders of strife, victory, love and loss. They help me embrace and appreciate my life history. Perhaps I don't find the title of "long-term survivor" so unsettling after all. There are worse things.
Most of all, the trauma that had once consumed me is now shrouded in the fog of a fading dream.
What remains are the wondrous developments of the present, like treatments that have also rendered people with HIV non-infectious and the amazing potential of pre-exposure prophylaxis (PrEP), a pill to prevent someone from contracting the virus. The advent of PrEP is the most significant prevention advancement in a generation. It is just the kind of miracle we once prayed for as we sat silently in pews at memorial services.
But astoundingly, these developments have been nearly as controversial as they have been celebrated.
There are thoughtful conversations about the cultural and medical effects of PrEP. What a shame they are being drowned out by clanging arguments about who is using condoms and who is not. The ludicrous chatter about who is a whore, a role model or a rebel foolishly reduces human sexual behavior to a problem that must be solved. Much of it seeks to impose sexual sterility in the way homophobic conservatives once denounced all gay bedroom antics, whether they were risky or not.
I remember what sex was like before gay men started using condoms. It was glorious. It still is. I always thought that finding our way back to enjoying sex without a barrier was kind of the point. Even the popular slang for sex without condoms, "barebacking," evokes some kind of deviant sexual pathology. The entire history of human sexuality would suggest otherwise.
I watch the absurd finger-pointing today, the naïve segregation of positive and negative, the lack of empathy granted to human failings, the tendency of the newly infected to call the police before they call a doctor, the fracturing of the advocacy efforts built over decades, and I weep for the community we once were.
***
Our hand-wringing over how to engage young people bemuses me, particularly our morbid fascination with aggressively foisting upon them the horrors we once endured, as if clubbing them with fear will somehow make them rethink their youthful transgressions. Our heartbreaking past is important history that should be preserved. It is not a prevention strategy.
Trying to imprint our life lessons on the young is a fool's errand practiced without effect for millennia. I have never walked up to anyone who served in Vietnam and asked him to sit down and tell me all about it. I may respect the elderly soldiers in Veterans Day parades, but whatever post-traumatic disorders or multiple losses we may share fail to unite us. I watch them roll by in wheelchairs, festooned with medals and shriveled into nothingness, and then I have the audacity to wonder why younger gay men don't consider my life experiences relevant.
Our influence as long-term survivors may be limited, but we can find meaning and engagement as cultural elders and mentors. To whatever degree younger people are receptive, we have so much to offer about the nuances of treatment, the various side effects and the failings of the pharmaceutical complex that we have rallied against so effectively through the years.
Regardless, nothing should deter us from being of service to one another. We must support the emerging networks of other survivors and work to find solace in our shared history. We are a displaced segment of a community that once ministered to us. Our bond is vital to finding solutions to the issues we face as an aging population.
As wearying as our battles have been, as unwelcome as we may sometimes feel in the modern advocacy movement, we have plenty to contribute. We had better do it while we still can.
I am sensitive to the passage of time because I have seen lives with great promise left unfulfilled. I may no longer fear dying, but I am sorely afraid of not taking full advantage of these precious additional years that were once unimaginable. Regrets, the things unsaid and undone, are what frighten me and urge me onward.
The mysteries of life and time will be revealed in due course: to the woman on the bus grieving her singular loss, to those who would howl at the moon over behaviors they do not understand, to survivors grappling with the meaning of tragedy, to young people negotiating the sexual terrain, to you and to me and to all the rest.
Enlightenment awaits. All we have to do is blink.
Mark
(This essay appeared in the June, 2015 issue of POZ Magazine and is shared with their permission. Today is HIV Long-Term Survivor Awareness Day.)
Tags: advocacy, Aging, aids, barebacking, criminalization, culture, family, gay, gratitude, help others, hiv, lipo, meth, physical, physician, politics, PrEP, recovery, Recreation, research, serosorting, Sexuality, stigma, testing
Posted in Family and Friends, Gay Life, Living with HIV/AIDS, Meth and Recovery, My Fabulous Disease, News, Prevention and Policy | No Comments »
Thursday, June 2nd, 2016
The issues of race, gender and privilege crackled through the recent HIV Is Not A Crime (II) conference like a live wire, throwing sparks at every turn. From the main stage to the hallways, attendees called out white classism, the utter failure of the criminal justice system (unless its purpose is solely to imprison black men), and what it truly means to be an ally of marginalized communities.
It was at turns exhilarating and a little unnerving. White male advocates like myself might have lost our bearings from time to time, wondering why we felt self-conscious at a conference devoted to an issue we care deeply about. No matter. The anti-criminalization movement is largely populated by women and people of color, and their job isn't to make me comfortable (activism rarely is). Changing laws that imprison innocent people living with HIV is the goal, along with condemning the social and legal systems responsible.
HIV advocacy has always been driven by those with the most to lose. An argument could be made that gay white men, now decades after the plague years, have increasingly exited the activism scene and are off somewhere getting gay married and enjoying access to HIV treatment and PrEP. Left behind to do the heavy lifting are women and people of color. They have been core advocates in the fight all along, of course, but have had to watch as other populations got what they came for and then peeled away.
If you go with that thesis, then the prominence of women and people of color at HIV Is Not A Crime is as bittersweet as it is triumphant.
Produced by The Sero Project and the activism powerhouse Positive Women's Network USA, the conference served as a "training academy" for advocates working to reform or repeal State-wide HIV criminalization statutes, and the work of organizers is a testament to our common bond: the empowerment of people living with HIV, speaking about ourselves, for ourselves.
The intersections of race, gender, and sexuality were given as much weight as strategy sessions on working with legislators and lawyers, and the program repeatedly drove home the fact that criminalizing behaviors related to specific groups of people is as American as apple pie. Plenary speakers included advocates for women (including transgender women), current and former sex workers, immigration reform and drug legalization advocates, and, most powerfully, people who have been prosecuted under HIV criminalization statutes.
My video coverage of the HIV Is Not A Crime (II) Training Academy provides a glimpse of demographic landscape the conference offered, even if I managed to chronicle remarks by elevated HIV advocate Mary Fisher while not capturing enough of the electrifying words of grassroots activists like Maxx Boykin, Ashton P. Woods, and Marco Castro-Bojorquez, or criminalization survivors like Ken Pinkela and Monique Moree (add them to your Twitter feed anyway). My special thanks to Nicholas Feustel, a Berlin filmmaker who is creating his own film about the conference, for allowing me to tag along during his interviews (and take advantage of his awesome lighting).
It is tough to describe the experience of being on the campus of University of Alabama in Huntsville with these fierce advocates for four days, living together in dorms and taking our meals in the cafeteria. HIV Is Not A Crime may be the most perk-free conference any of us have ever experienced, with no exhibit hall or pharmaceutical sponsors bearing swag bags, and I don't believe we would have it any other way.

For more information on HIV criminalization, and why this continues to be the defining moral HIV issue of our time, I urge you to visit The Sero Project for video interviews with those who have been prosecuted and a state-by-state map of HIV statutes.
Meanwhile, my friends, please be well.
Mark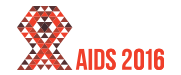 p.s. Speaking of conference coverage, I'm thrilled to announce that I will return to the International AIDS Conference for AIDS2016 in Durban, South Africa in July. My video blog coverage is sponsored by MSMGF and will appear on their site as well as TheBody.com. I look forward to bringing you the sights, sounds, breaking news, and most especially the people that make the bi-annual conference so memorable. Look for more details very soon.
Tags: advocacy, aids, barebacking, conferences, criminalization, gay, hiv, physical, politics, PrEP, serosorting, Sexuality, stigma, testing
Posted in Living with HIV/AIDS, My Fabulous Disease, News, Prevention and Policy | 1 Comment »
Thursday, May 12th, 2016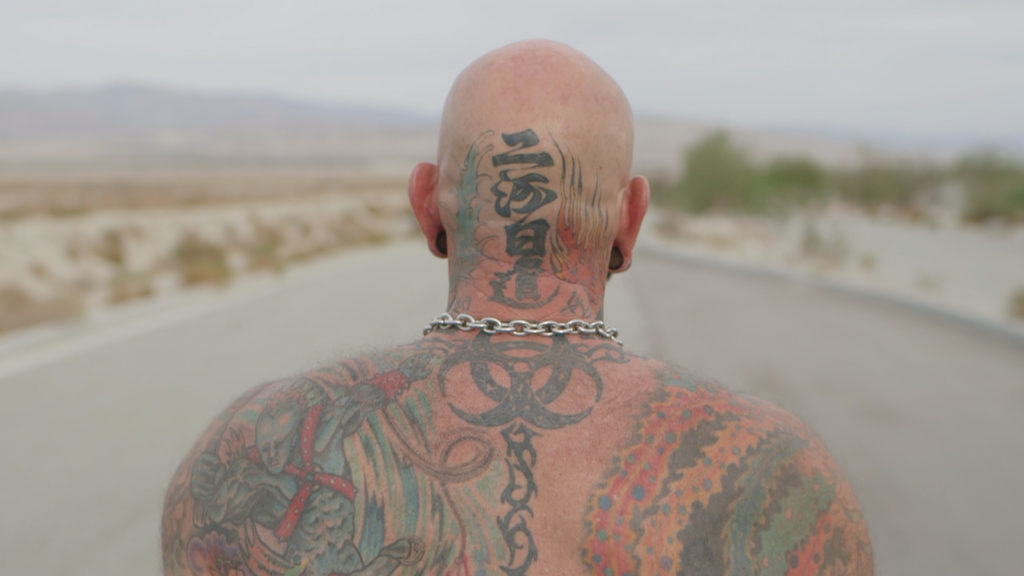 Daniel Cardone's essential but relentlessly grim documentary about longtime AIDS survivors, Desert Migration, is fascinated with the bodies of the gay men it profiles.
The film begins with lingering shots of each of the subjects as they begin their day.  It follows them through their routine, some of them naked, as they prepare breakfast, shower, shave, meditate. Their faces peer directly at us — a few of them handsome, all of them weathered — in high definition close-up.
We are being asked to study them closely.  Look at the skin, the camera is saying, the muscles, the sags, the piercings, the facial wasting, the extended stomachs, the disfigurement, the open wounds. Desert Migration does not want us to turn away from what the gay plague of 30 years ago has wrought in the here and now.
It's an almost clinical look at the after-effects of a catastrophe, like the documentaries that examine Hiroshima survivors decades after the bomb.
Desert Migration documents the results of a specific pilgrimage that became popular among gay men who were dying of AIDS decades ago: relocating to Palm Springs from major cities in the west, Los Angeles in particular. Once there, their fates and often their fortunes were reversed with the arrival of new medications in the mid 1990s. They experienced the emotional whiplash of renewed health in a world they had settled on leaving, as well as the unexpected financial burden of an extended lifespan.
The film is a crucial addition to the AIDS artistic catalogue because gay community is only now beginning to process and devote resources, artistic and otherwise, to the long term effects of the early AIDS crisis and the walking wounded who survived. That said, director Cordone doesn't make it easy for us.
There is an unyielding melancholy that permeates the film.  The men profiled are almost uniformly isolated or at least wistful. The languid pace of the storytelling is underscored by Gil Talmi's ethereal original music, a slow pulse of electronica, like a dry desert breeze.
The men all speak of searching for purpose in the desert after having resigned to die there. They come from various levels of money and privilege, including some who outlived their bank accounts, and they are not without the sociological trappings of gay men, meaning, a fixation on self image and the pursuit of sexual or romantic partners.
"In this town, being 60, I'm chicken," says one. Several of them are battling the aging process mightily with trips to the gym and a regimen of steroids ("All the best looking guys have HIV," one of the men advises), all while the Palm Springs gay clothing stores mock them with windows filled with slender mannequins, dressed in tiny and unforgiving speedos.
More than one of them debates whether or not they would have reached their current level of spirituality, of self love, if they had not come face to face with their own mortality so young. "I don't know if my life would have such richness if I wasn't positive," one of them admits.
The real star of the film may be Austin Ahlborg's sumptuous cinematography, which makes the most of the desert landscape, often contrasting the men's flesh and blood with endless vistas of withered brush and rock.
Throughout the city of Palm Springs are hundreds of acres of modern, silently whirling windmills. The film focuses on them like a fetish, their propellers turning round and round, and the more Desert Migration returns to these monuments the more they appear to be clocks, ticking away, time always turning, slowing for no one. The image repeats itself, in shots of rotating ceiling fans and mechanical sculptures turning this way and that. Time is always moving, and it is unstoppable. Tick Tock.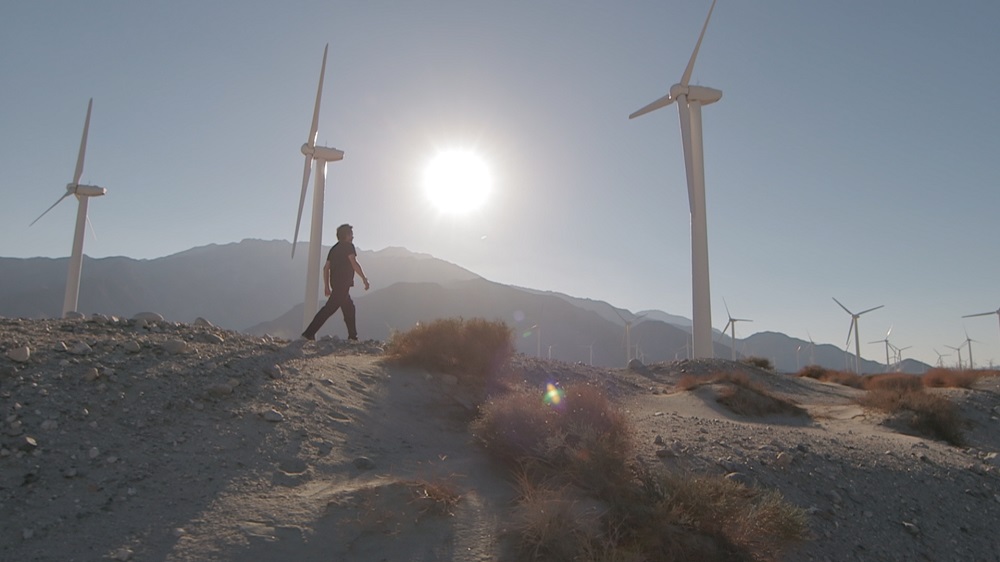 There is so much in Desert Migration that will be familiar to gay men of a certain age, from the brutal to the romantic. Living life in five year increments, the sudden loss of friends, the confusion, the great love affairs cut short, the lives hijacked by drug addiction after having survived AIDS. There is comfort in identifying with these men, for those who need to, even if the film limits itself to their shared calamity.
After more than an hour of bleak pronouncements – and exactly one shot of someone laughing in the entire film – it becomes clear that filmmaker Cardone is almost exclusively fixated on the tragic aspects of these men's stories.
It's easy, maybe even lazy, to reduce AIDS survivors to their profound loss and a struggle for meaning in their later years (which, come to think of it, is a lifelong riddle everyone must contend with, after all).
Where is the joy? A brief dinner party suggests the good humor these men surely must incorporate into their lives, but otherwise filmmaker Cardone sticks to his theme of isolation and distress. "I just think that I'm very tired," one of the men says, after unsuccessful attempts at connection and romance. "I just don't know how much longer I even want to fight."
"The optimistic ones survive," one of the more privileged men offers, as night descends and he lowers the drapes of his condo, finely appointed with a leather sofa and a gleaming Judy Garland movie poster. Another subject begins the evening by welcoming a sex partner to warm up his sling. Optimism and escapism have their utilities.
Another man takes comfort in his own loneliness and solitude. "You're a lot more free when you don't believe much and you don't have any hope," he says, in an existential moment that might depress Sartre. "If you're holding on to hope, then you've still got something in the way of enjoying what is."
After all this, I wished to God that one of these guys was shown performing in musical theater or binge watching RuPaul's Drag Race.
The film draws to a close in the darkness of the desert, as our day with these men ends. Throughout the mountain passes surrounding Palm Springs, out there in the dark, those windmills are surely still twirling.
They continue to spin, marking time, without regard for the riddles of life or the trials of gay men.
Mark
(Visit the Desert Migration site for information on film festival screenings in your area, or for news about the DVD release.)
Tags: Aging, aids, culture, gay, help others, hiv, lipo, recovery, Recreation, serosorting, Sexuality, stigma
Posted in Book Review, Gay Life, Living with HIV/AIDS, My Fabulous Disease, News | 2 Comments »
Tuesday, April 12th, 2016
Stigma is insidiously quiet. It is conjured in the mind, born of discomfort and fear, and then it is projected at "the other" among us. It judges them and isolates them. And it happens without a sound.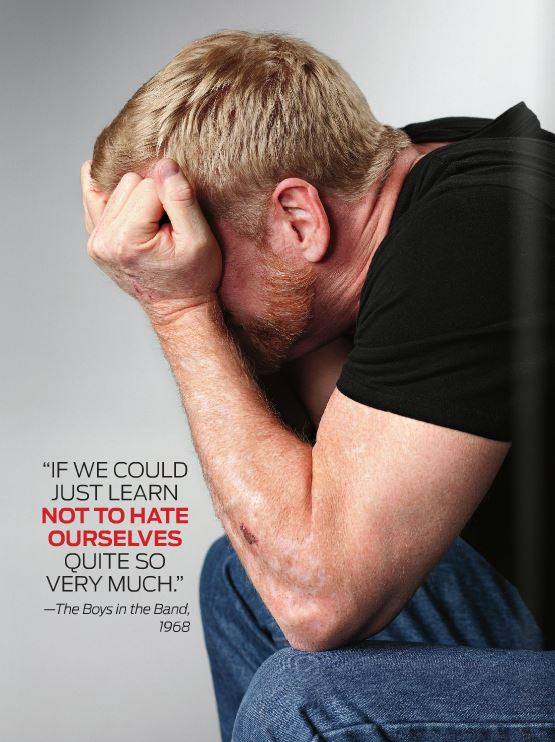 Stigma lets us take comfort in seeing things in others about which, we believe, they must be ashamed. It is a lazy way to feel better about ourselves—and therefore a popular human activity—and gay men are remarkably good at it. So many of us survive childhood taunts that by the time we come of age we have developed fairly lethal claws of our own. We know how to hurt others before they can hurt us.
But when the AIDS pandemic began over 30 years ago, gay men learned that whatever cleverness we possessed was no match for a crisis that questioned nothing less than our existence on this earth. Churches said we were damned. Politicians wanted us quarantined.
Gay men prefer to remember the earliest days of AIDS as a heroic time, and there is no doubt that many of us behaved that way, but stigma also was a fearsome, daily aspect of our lives in the early 1980s. Heterosexual parents were not the only people disowning someone with an AIDS diagnosis. Gay men also were driven by ignorance and fear. We kicked out our sick roommates. We refused to give them manicures or cut their hair. We turned away from their sunken faces at the neighborhood bar, when they had the guts to show up at all.
Once the initial hysteria subsided and the virus and its routes of transmission were identified, stigma between gay men calmed somewhat, if only because there was so much work to be done to care for the dying. Our brothers with AIDS were not so much stigmatized as pitied for their loss of dignity and humiliating deaths. They were tragic victims, exalted as martyrs.
Until they weren't. With the advent of breakthrough treatment in 1996, the dying nearly stopped in its tracks. Patients got up from their deathbeds and rejoined the living. There were cheers all around. Within a few years, even the word "AIDS" had nearly disappeared from the gay lexicon.
Those former patients, and the many gay men with HIV to come after them, had no interest in playing tragedy, or in being wizened and terminal and predictable. They wanted to take their rightful places in our social scene, to date and fall in love, to enjoy the bars and the clubs and the house parties. They wanted to laugh and dance and live.
And fuck.
And that is when, in the deviously quiet way in which stigma operates, all hell broke loose. We built social fortresses to separate Us from Them. We didn't have to bother labeling one another because the disease did it for us, creating an HIV hierarchy that started with "positive" and "negative."
The more HIV treatments improved, the wider the viral divide became. Our mutual resentments and jealousies worsened. As the physical scars of AIDS faded—the skin lesions, the wasted faces—our anxiety level rose as HIV status became less apparent. You can just imagine the frustration of the discerning gay man, no longer capable of telling the positive from the negative. Where's the comfort of stigmatizing someone when you can't tell who they are?
Today, our attitudes about HIV and other gay men range from self-righteousness to outright contempt. From whatever our vantage point, we have shamed and stigmatized everyone else into a corner, and the result is a community in revolt against itself. We are a snake eating its tail.
It might be easy to doubt this gloomy view of the gay community. None of us like to believe ourselves guilty of treating "the other" badly. The only thing we admit for sure is that we have been mistreated and misunderstood. Our self-interest is telling.
Maybe the problem is that, beyond the convenient anonymity of online hookup sites or mobile apps, you don't usually see HIV stigma in all of its black-and-white ugliness. You don't hear its voice.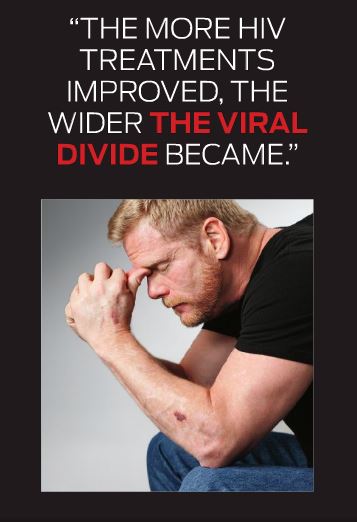 Listen closely to the ugly words of stigma. A special version even exists for the newly diagnosed.
Gay men who get infected today are out of their minds. They are the failed ones, the grave disappointments, the apathetic, the careless, the irresponsible. They spit upon the memories of our courageous dead. They have no respect for our history, for our monumental tragedy.
We might make motions to comfort them, but it is the kind of patronizing back-patting that we reserve for the truly stupid. We tell them they will be fine, really, and we don't look them in the eyes for very long. Our weary judgment shows.
Never mind that they are guilty of nothing more than being human, of being in love or getting drunk or trusting the wrong person or saying yes when they should have said no. Their weak excuses will be met with furrowed brows, and their dating life will wither. They will be marked and socially downgraded. They should be ashamed, and something inside us hopes that they are.
Do you hear it? Keep listening. There is so much more to say.
Before long, those newly diagnosed will join the promiscuous ranks of sexually active HIV-positive men. They are the unclean ones, the barebackers trolling the Internet, the murderers with tainted blood on their hands, the crystal meth addicts lounging in bathhouses with the door ajar. They are the unrepentant, the whores, the vile merchants of death.
Never mind that these men struggle to disclose their status, that they are routinely rejected socially and sexually, that their waning self-esteem is being strangled by our judgment, that sometimes their lives feel so forsaken they settle on whatever community will have them. The fact that stigma and depression often lead to escapist behavior is of no interest to us. We fear they could be having more sex than we are—hotter sex maybe—and the chance it might not be hurting anyone is infuriating. They should be ashamed, and we will make damn sure that they are.
The lowest rung of the gay HIV hierarchy is inhabited by older gay men who have lived with the virus for decades. They are the dependent ones, the sunken-faced humpbacks cashing their disability checks and wiling away their days sipping coffee in Café Disabilité. They are the aging invisibles and the sexually worthless.
They try to mask their feeble wasting with testosterone injections and protein shakes and facial fillers, but we know the truth. We see. They remind us of our darkest days, these unwelcome relics, and though we ignore them their haunting persists, in the daylight of the grocery store and the darkness of the bars. We avert our eyes and anticipate their extinction.
Never mind that they were among our earliest activists, our courageous long-term survivors, the men who scrawled words like "empowerment" and "advocacy" across the bureaucracies of their time. Forget that they have seen death in obscene quantity, that whatever joy they possess is a triumph of spirit. They should be ashamed, but we don't regard them with enough interest to care.
Do the words sound familiar at all? Do you hear the voice? It isn't nearly done.
Take a hard look at HIV-negative gay men. They are the superior ones, the corrupt morality police, the hypocrites, the gentlemen in waiting. Above all else they are the supremely lucky, because they can't possibly live by the crushing code of conduct they impose on the rest of us.
They reject us as damaged goods. They promote how "drug and disease free" they are. They publicly advertise their outdated HIV results. They tell us we would make better friends than sex partners and then they don't call again. They find clean, disease-free love with other, similarly superior men so they might have a life out of reach of the great unwashed.
Never mind that they have successfully avoided infection thus far, that they have buried friends and comforted lovers, that they withstand the unnerving ritual of HIV testing and worry about whether or not they will pass or fail. And please, pay no attention to the fact that they fear HIV stigma at least as much as positive men do, which is one compelling reason they hold tight to their negative status with such fervor.
None of their circumstances can excuse their indictment of the rest of us. We marvel at their lack of shame, and wonder bitterly if their attitudes might change if they became infected.
At least they don't suffer the same wrath as do HIV-negative men taking Truvada, the HIV medication used as a pre-exposure prophylaxis, or PrEP. They are the traitorous ones, thumbing their noses at their elevated negative status by intentionally dipping themselves in the viral soup of casual sex. They are obviously barebacking infected guys or they wouldn't be popping pills that blunt the consequences of being a poz-loving slut.
And God help those who don't admit they are infected and have sex with a negative person, because they are the criminal ones, the terrorists, the dangerous liars who must pay dearly for what they've done. They belong in jail and off the streets, like drug dealers and rapists.
Never mind that, for reasons we all well know, they can't always bring themselves to disclose, that they may use condoms, that they may be adherent to their meds and undetectable, and that no single case of an undetectable person transmitting the virus has ever been verified. Disregard the fact that conservative lawmakers and prosecutors are more than happy to exploit our thirst for vengeance and lock up some diseased fags who dare to have sex at all. Forget that during the first years of AIDS, when the virus reliably killed you, those who became infected took personal responsibility and called their doctors to start treatment and not the police to press charges.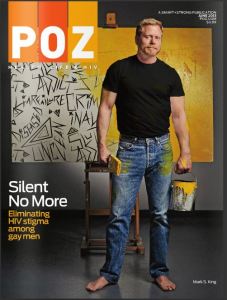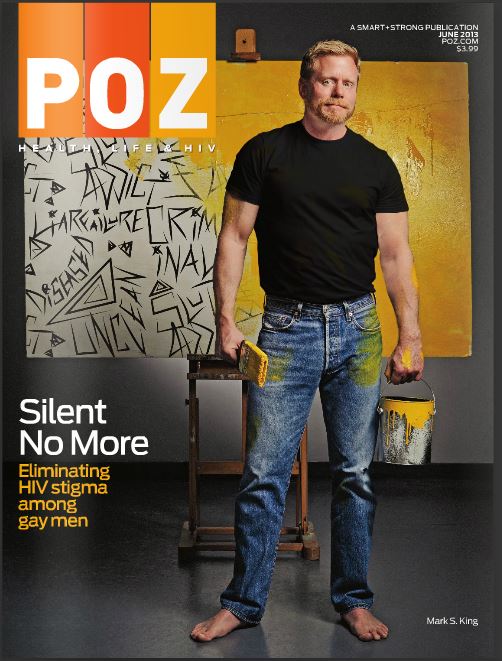 That is the sound of stigma. It is bitter and rageful and terribly afraid. I can hear my own tones in it, like a voice in a chorus, when it says the words I would never admit to thinking. Do you hear your own?
Gay men have known since the AIDS pandemic began that empowerment is the antidote to stigma, that the more proactively we approach our health care and build support networks, the less stigmatized we feel. The answer lies in our refusal to be marked and shamed. But our own community challenges us at every turn.
Stigma operates exactly like the deadly virus we claim to oppose: It infects pieces of us and then turns those factions against the rest, until the entire body is weakened and vulnerable. We all know how that process ends.
That is what the gay community has become. We are AIDS itself.
When HIV disease is over—and some day it surely will be—our jubilation will be beyond all imagining. We will have finally put an end to the health crisis that has plagued us for generations, a crisis that polarized nearly everyone, most particularly us as gay men. And once the celebrations fade, another equally important moment will come.
We will take a look around at our friends and lovers on both sides of the viral divide—at all of our brothers whom we stigmatized for one reason or another—and our old judgments will be transformed to a deep regret. Hopefully, in that moment, a certain kind of grace will emerge. We will clearly see the deep, private wounds of HIV stigma, and we will finally allow that we are all simply and imperfectly human. And then everyone will have some explaining to do.
It wouldn't be too soon for that moment to happen now.
Mark
(This article originally appeared as a cover story in the June, 2013 issue of POZ Magazine but has never been posted on my blog until now. It remains one of my proudest moments as a writer. You can view my remarks about writing this piece, presented at the 2013 International Conference on Stigma, here. Photos: Jonathan Timmes Photography.)
Tags: advocacy, Aging, aids, barebacking, culture, family, gay, gratitude, help others, hiv, physical, physician, politics, PrEP, recovery, Recreation, serosorting, Sexuality, testing
Posted in Gay Life, Living with HIV/AIDS, Meth and Recovery, My Fabulous Disease, Prevention and Policy | 4 Comments »