Posts Tagged 'culture'
Monday, November 10th, 2014
When Mary E. Bowman stepped to the stage five years ago at SpitDat, an open mic night in Washington, DC, she was 20 years old and terrified. She was about to perform "Dandelions," her first poem to reveal a secret that her own family had long kept quiet: that Mary had lived with HIV since birth, the result of a mother addicted to drugs who died when Mary was only three.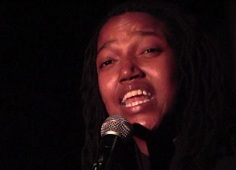 "I had not memorized the poem yet," Mary told me, "and the paper I held was shaking. It is usually kind of a loud environment, but when I started to read, the room went silent. That made it even more nerve-wracking."
Mary was nervous about the audience response, about what they would say, and if any of them would even be her friend once her poem was done. She needn't have worried.
"It was such a loving environment," she said. "It was so accepting, like a family. When I was done, everyone applauded. I walked to my seat and a young lady was crying, and all she said to me was 'thank you.' I realized the poem wasn't just about me. It was about other people, too."
"Dandelions" explored her feelings about the mother Mary hardly knew, a loss that Mary has felt deeply her entire life. "I was eventually raised by my biological father," Mary explained. "He wasn't married to my mother. He would come to see me when I was a baby and find me on the sofa alone… and my mother out of the house."
Mary's father witnessed the scene "far too many times" and took the child home to his wife, who fell in love immediately and raised Mary as her own.
Mary's talent lies not only in her poetic words, but the sheer passionate force of the emotions behind them. It's impossible to watch her and not to be moved. She grabs you by the heart and doesn't let go.
Today, Mary works in policy and advocacy at The Women's Collective in Washington, DC, but only after spending her younger years without very much social support for her status. "My family was very quiet about HIV," she said. "Even when I was at the hospital growing up, I didn't have an outlet to talk about it."
Things have changed. In addition to her advocacy work, Mary has performed at HIV conferences and for events such as AIDSWatch in Washington. Her work as a performance artist and poet is a unique niche among young advocates, but it is when working with other women that the loss of her own mother sweeps over her.
A lot of the women have drug addiction histories. They have had their children taken away. "They are my support system," Mary says, "and it reminds me that my mother isn't here. They tell me stories. I just wish someone had saved my Mom as well. She didn't have the services available to her that they do now."
Working with these women has been a melancholy gift to the young artist.
"I've been caught up in emotion several times, when performing for women," she says, and their bond has become her only connection to a woman lost to time and sad circumstance. She pauses to consider the many faces of the women for whom she has recited "Dandelions."
"They are my mother," she adds.
Mark
Dandelions
A dandelion in the midst of rose bushes would stick out like a sore thumb to ignorant souls
But I know the road this dandelion endured
This weed that all gardeners want to destroy is more appreciated by God than any seemingly beautiful bush of roses
Though that misunderstood dandelion wont for long last
Let it be known that God gave it the role of the outcast for divine importance
My mother was a dandelion in the midst of roses
Ignorant of her purpose she uprooted her soul and unknowingly left herself for dead
It has been said that my mother when above the influence transmuted broken hearts into smiles
All the while dying on the inside
AIDS didn't kill my mother
It put her at rest
Now this song bird whistles in the key of silence
And I the latter of five write poems documenting the struggle unknown to my family
The sickness she denied lies in my blood with a lesser value
People speak I don't know how you can live with knowing nothing but owning the growing disease that your mother for so long fought
But see that's the difference between a rose and a dandelion
Roses were created with thorns to warn hand approaching without caution
Dandelions were not given that option
But they were created by an all knowing God
And that all knowing God created dandelions with the strength to withstand ignorance and hatred
Dandelions live in this matrix of life understanding the price
Roses live like the world was handed
Dandelions take the world and won't leave a rose stranded
But my mother died before she got the chance to realize that dandelions are blessings in disguise
She I dare say died before her time
That thought lingers in my mind conflicting my belief in the divine
My mama raised me in the faith that the day God sweeps you away is a day proclaimed way before the manifestation
But I can't help but experience devastation knowing nothing about the woman who carried me toting guns in the defense of my father
It is even harder knowing nothing about her but knowing the reason the hospital has become my second home is because this dandelion
chose to roam with the buffalo
But I seek serenity in the fact that she just didn't know
That she a dandelion was just as beautiful as a rose
And I will go forth knowing my purpose as a dandelion
This life is worth all the crying and all the dying I have to do just so someone in my shoes can live
I will gladly give myself as the sacrifice if it means that all the dandelions in the world become viewed as more than the consequence of sins behind closed doors
You can lay me on my back and present me life less to God if it means that dandelions with unseen scares will not be viewed as odd
But as gifts from God to show the world that beauty lies not in the pedals of flowers but in the power of unconditional love
And in the strength of the untouched, un-hugged, sometimes unloved but most important of all un-budged dandelions

Tags: aids, culture, gratitude, hiv, recovery, Recreation
Posted in Living with HIV/AIDS, My Fabulous Disease | No Comments »
Thursday, October 16th, 2014
My friend Carlton is a chain smoker, even if all his cigarettes are imaginary.
His standard pose consists of one hand resting on his hip — elbow jutting out as if in the midst of a runway strut — while the other arm is forever in motion, his hand swiveling constantly around his face and shoulders.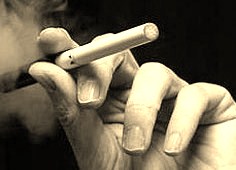 All that's missing is the cigarette, which you would swear you witnessed him smoking after having met him. Carlton even punctuates wry remarks by tapping his index fingers soundly on some phantom, extended filter. If his remark is particularly withering or at least gets a laugh, he'll bring two fingers to his lips and add "puff puff, darling!"
Carlton's age lies somewhere on the distant side of sixty. He came of age after Stonewall but on a far more moneyed block of New York City, where discussion of queers was verboten. Even today, Carlton insists that coming out to his wealthy mother would be quite disastrous and a completely surprising bit of news to her.
"I lived in Dallas, dear, years ago" Carlton is saying during our lunch. We had just switched tables twice, trying to escape the draft that's been stalking my friend since Reagan was ignoring AIDS. "And let me tell you something darling. The ranch hands one would meet out in the bars had terrible personal hygiene. And I had a few, trust me. Just wretched."
I wasn't sure what line of questioning to pursue. What might constitute an authentic ranch hand, I wondered, or why one of them might wander into the kind of bars Carlton favored. But I was in no hurry to expose his curious thinking. Multiple opportunities would typically present themselves.
"Really?" I asked politely.
"Oh let me tell you! That Brokeback movie? There was a real lack of cleanliness, didn't you see that? Those straight boys… maybe they were adorable, but my God! I was holding my nose just watching that movie."
"Carlton, the guys weren't straight. They were gay and living a lie. That was the whole point of the film."
"Oh they were straight," he reiterated, despite all evidence, cinematic and otherwise, to the contrary, "believe you me."
Carlton insists that his conquests be straight, or at least a reasonable facsimile. A simple claim of heterosexuality will do. As he funds drink orders from male strippers at his local club, slipping bills personalized with his cell number into their posing straps, he is most likely to pause for any utterance that includes the words "my girlfriend," "kind of hard up," or "bus station."
He keeps attachments at a proper distance, which also helps avoid bothersome questions from Mother. Romance, alas, is simply a matter of commerce.
"I had a fabulous date this week," Carlton is saying. "Square jawed. Handsome. And everything just where it should be, darling. Puff puff!"
"You can't call them a date if you pay them, Carl." I liked injecting the proceedings with jolts of sanity, like a random slice of sunlight piercing a forgotten attic.
"Don't say that! You're terrible," he cries, waving me away, his fingers gripping his phantom Benson & Hedges Menthol 100.
"This is reality checking in, Carlton. They're called prostitutes. Street hustlers, knowing you."
"Stop!" He protested, and then feigned resignation. "He was straight, believe you me. And I think he really likes me."
I was tempted to respond, knowing the remark would lead down an entertaining rabbit hole of delusion and denial, but it felt like poking an animal with a stick. I let it pass.
"Carlton," I scolded, "you should watch yourself." I was truly concerned for his safety. His friends have all made it clear that he isn't allowed to live in a building without security cameras and a doorman. We want footage to broadcast on America's Most Wanted when the time comes.
"Oh please. I know, I know!" he relented, in an apparent moment of self realization. "I couldn't possibly take time for a longterm relationship right now, you are completely correct." The moment had passed. "Besides, my phone is ringing off the hook this week." He giggled and sipped his wine. "My dance card is filled, darling."
"Oh Carlton…" I sighed. "It's the first of the month."
"And so?"
"Rent is due, sweetie." My eyes met a blank stare. "And so… your friends are calling for dates."
He wrinkled his nose, considering whether one fact had anything to do with the other. He was unconvinced.
"Be that as it may," he said finally, returning to his wine. "But please, darling, don't try to take away from my funsy-poo."
"Funsy-poo?" I responded. He smiled sweetly. Whatever bottle of lube rests on Carlton's nightstand, you can bet it sits on an embroidered doily. From Mother.
Further discussion of his dating risks was a fool's errand, and that went double for anything related to HIV, about which he spoke in faraway terms, like a Daughter of the Confederacy discussing the recent unpleasantness.
"I'm speaking at an AIDS conference next week," I said suddenly, to test my own theory. Carlton glanced from his wine glass with a pitiful smile and then wiped it away with his napkin.
"Good for you, my dear. I would do more charity work myself but with my travel schedule!" He managed to find something fascinating in the bottom of his wine glass and his voice trailed off.
I have made remarks about HIV testing to Carlton but he waves them away, often with a joke about his pitiful sex life, despite what he may say about his dance card. He knows I write a blog about living with HIV but he certainly has never visited it. He is a generous patron of other sites, however. Sites with secure transactions that help him populate date nights with young men who, if you believe them as fervently as Carlton does, are just a little hard up or without a girlfriend or need a bus ticket back home.
We strolled out of the restaurant and I madly craved a cigarette after all that Carlton had seemingly consumed. He lightly brushed me with a kiss and promised to call in a few days if he could possibly find the time. He slowly sauntered away, taking in window displays and the busboy at a sidewalk eatery with equal interest. He was without care.
Never have I known anyone who so charmingly operates only within acceptable truths. For Carlton, self preservation long ago vanquished self discovery.
It's a delicate balance, believe you me.
Mark
———————————————————————————————————-
I wondered while writing this in Ft Lauderdale (it was first posted in 2011), if people like Carlton are specific to gay resort areas — all that gay retired money crossing paths with desperate youths (or sly hustlers) and other unfortunates. When do our fantasies — romantic, sexual and otherwise — trump our better judgment, our need for safety, or even reality? — Mark
Tags: Aging, culture, gay, hiv, Recreation, Sexuality
Posted in Family and Friends, Gay Life, My Fabulous Disease | 1 Comment »
Thursday, October 9th, 2014
Tyler Helms won't stop teasing his boyfriend during our video chat interview. He fiddles with Michael's ear, or tickles his face, from his seat slightly behind him. No matter if Michael Lucas, adult film producer and PrEP user, is trying to make a point. The childish joy of a relatively new love is at play, and Tyler can't help himself. It's adorable and telling.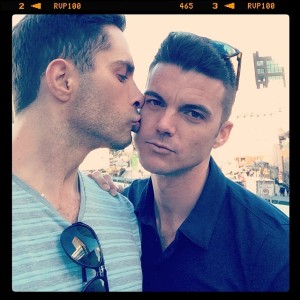 We've been meaning to conduct the interview for months, but they wanted time to enjoy their budding relationship before discussing it publicly. That bud is now in full bloom, it would appear. They are both open and approachable, allowing me to get away with a lot of very personal questions.
Yes, there is the prurient intrigue of Michael being a famous gay porn star, and how that impacts their relationship. But what truly interests me is the fact they are engaged in the most modern of gay romances. It isn't simply because one of them is HIV positive and the other negative. It's about what they are doing about it. Between them, they are practicing both of the most exciting developments in HIV prevention of the last generation. They're an HIV prevention two-for-one.
"We're taking our time," Tyler says. But that's not keeping them from spending nearly every night together and constantly keeping in touch.
Their love affair elicits some interesting reactions among their friends. Some of them patronize Michael, as if being in a relationship with a man living with HIV was an act of charity. "People say, 'oh, good for you,' as if it's something special," says Michael. He shakes his head. "I'm not performing an heroic act."
"There's a whole lot more that needs to happen in our community," Tyler adds. He is a formidable advocate in his own right (he serves on the board of GMHC), but one whose visibility has risen further since his new relationship began. "We need to talk about the modern day face of HIV," he insists.
Tyler was infected in 2007, and it came as some surprise. "I was tested every three months and was in a committed relationship," he says. It is a common story, actually, because one of the leading risk factors of HIV infection is via a primary partner, such as a lover or fuck buddy.
Whatever the circumstances, Tyler is entirely at peace with it today. "I'm only on Atripla," he says, "and it made me crazy for a few months. But now I'm better than ever and have been undetectable for two years." Because Tyler is undetectable, research shows there is no real risk of transmitting HIV to his partner.
Treating people with HIV to reduce their virus to undetectable levels so they can't infect others is known as "Treatment as Prevention," or TasP, and it has become a major public health strategy since studies proved its effectiveness.
On a personal level, "HIV is really a moot issue between us," Tyler says. The topic of HIV may be resolved between them, but that hasn't kept them both from discussing their sexual choices and risk strategies in very public forums.
Michael has been using PrEP for some time now, and has bartered his notoriety to voice his strong beliefs about it. For that matter, Michael has strong beliefs about a lot of things, including his unwavering support for Israel. He even produced the mainstream documentary, "Undressing Israel: Gay Men in the Promised Land."
"Oh yes," Tyler interjects slyly when that topic, and the views for which Michael has been both heralded and vilified, come up. "Do ask about Israel!" He grins at the more serious Michael, and pokes him again. It's hard to imagine anyone else who might get away with it, teasing Michael about his passions. But Michael takes it in affectionate stride and allows himself a grin of his own.
I turn to Michael's profession and ask about it gingerly, as if it's a careful secret or something. I really could use more experience speaking to porn stars.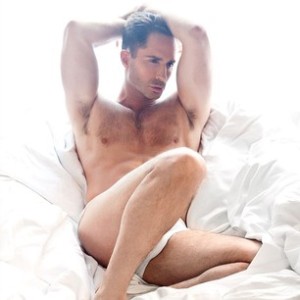 "I'm used to being defined as a porn star," Michael says easily. "I would not have the platform I have without that. My opinions would only be in the comments section. But I write under my own name, and I use my platform to discuss things I am passionate about. And I do my research."
That research is evident in a number of articles Michael has authored about his use of PrEP, or pre-exposure prophylaxis through the use of the medication Truvada on a daily basis. Research shows PrEP is effective in preventing transmission into the high 90% range, and there is an enormous push among community advocates for the adoption of PrEP for those at risk. It sits alongside TasP as the other most promising HIV prevention strategy — one for those living with HIV and the other for those who are not — and Michael appreciates the piece of mind it provides.
"People ask me all the time, 'are you nervous?' People of my generation saw the dying and I was always scared of becoming HIV positive," Michael says. "It was in the back of my mind all the time. So people ask that question, but it's only because they don't know the new data and research about PrEP."
His taking PrEP, though, actually has little to do with Michael's HIV positive boyfriend. "If I was only having sex with Tyler, I would not be taking PrEP," Michael says simply. "I know there is no way for a person who is undetectable to transmit to me. I believe in science."
Science aside, I have to ask Tyler how he feels about Michael occasionally stepping in front of the cameras for porn scenes. His response is without alarm or even a hint of jealousy. "I've never dated someone who does porn," he says, "but it's just not something I think about." It does come with plenty of assumptions from others, however.
"The most misunderstood thing about us," Tyler says, "is that people assume our relationship is purely sex-based. Some people don't understand it. They think Michael must have sex constantly, which is untrue."
"Most people I know have more sex than I do," Michael interjects. "With Grindr, people can have sex nonstop. I can't reach some of my friends anymore because they're on Grindr getting laid."
"Michael is rarely on set," adds Tyler. "His main job is the corporation." That company, Lucas Entertainment (NSFW), has become a leading adult film production outfit, and recently made the controversial change to produce gay porn without condoms, a reflection of Michael's belief in other prevention methods like PrEP and TasP.
"I recommend and talk to my actors about PrEP," he says. "I know a lot of people on it." While Michael has been quoted as saying that porn, bareback or not, is a fantasy intended only to help men get off, he certainly hasn't shied away from promoting options that make unprotected sex considerably safer.
So, somewhere along the road of their individual advocacy work, about a year ago, the two men and their respective prevention techniques ran across one another on Tinder, which seems almost quaint, and very of-the-moment. It wasn't a hookup.
"I liked his profile," says Michael, and he searches his phone and finds the wording of it. "It says he is 'a loyal and kind friend, passionate and selfless about a few things here and there.' There was maturity in that. No matter how much I'm attracted to someone, you have to be mature. That's Tyler."
They eye each other knowingly. "I believe it takes a lot of time to know a person," Michael says finally. "Don't confuse sexual attraction with real love."
Two men, engaged in their own intimacies while allowing their sexual choices to be laid bare for all to see. It can't always be comfortable for them.
It's usually a fool's errand to make assumptions about the private lives of public people, and the happy couple I have been watching in our video chat is no exception. You would probably get it wrong anyway, if you were to attempt to translate their public image — the advocate living with HIV and the opinionated porn star provocateur — into their authentic identities.
"I believe in love," Tyler says, and he stops tickling Michael's ear for a moment. He takes a look at the object of his new romance and smiles. "But I think Michael believes in love even more than me."
Mark
___________________________________________________
PLUS…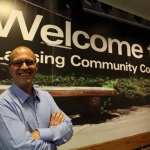 There are few better ways to empower people with HIV than with political might, in any form we might acquire it. Michigan HIV advocate Todd Heywood is living with HIV and making a run for the Lansing Community College Board of Trustees, and I couldn't be more excited about his candidacy. My friend Todd fully understands its impact. "By running as an out HIV-positive candidate, I am directly challenging stigma, and showing folks that HIV does not stop us from contributing to the betterment of our community." If you happen to be in his community, he's your man on November 4th. In any case, check out his web site and consider a little poz political contribution!
Tags: barebacking, culture, gay, hiv, research, testing
Posted in Gay Life, Living with HIV/AIDS, My Fabulous Disease, Prevention and Policy | 1 Comment »
Monday, September 29th, 2014
I have twenty staples in my back holding an incision together. It hurts.
Just making that rather gruesome statement leaves me feeling conflicted. Yes, I want sympathy. Yes, this pain has been a constant companion for the last two months, from throwing out my back again to discovering from an MRI that a nerve was being crushed to a serious back surgery and then a slow recovery with more pain than I bargained for.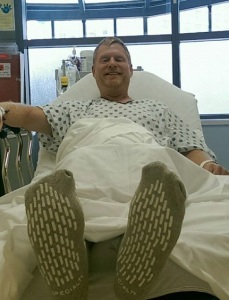 But the self-indulgence bothers me. How can we possibly complain, about anything really, in relation to the trials of others?
It reminds me of the 1980's, when there were so many deaths from AIDS that we couldn't grieve properly for individuals losses. The problem with living during that time, and seeing such mortality, was that everyone was doing it. There was no room in our aching hearts to feel for them all. And how in the world was I supposed to feel sorry for myself, the one with HIV who was healthy and alive?
Soliciting sympathy is a perilous enterprise. I'm That Funny Guy with HIV. Revealing that I'm hurting and feeling miserable feels like I'm going off-script, that these words don't belong on this blog, that you'll see me as self-centered and a whiner, that I'm hurting "my brand" and web traffic will suffer. But mostly, that my selfishness will become apparent, or at least show more than usual.
The self-pity comes and goes, like the muscle spasms, like the ocean of pain that ebbs and flows, like my own attitude toward what has happened to me, or what is yet to come. It's a kaleidoscope of impatience and gratitude and hope and anger. So I don't talk about it much or I make light of it and try to keep things in perspective.
During my hospital stays these last weeks, I witnessed true medical emergencies, and saw other patients awaiting care who clearly were more frail, and more afraid, than I was. Meanwhile, I was cracking jokes with the nurses as I was being prepped for surgery and looking forward to the bliss of sedation, as any red-blooded addict in recovery would. I liked the attention, the drama of something serious underway, and how, at least for a few hours, it was all about me.
But then the surgery happened. And it isn't funny anymore. And I understand the legitimate use of oxycodone. And I can't put on my own socks.
So, for long periods of time during each day, I don't care about the suffering of others or the inhumanity of war or the latest HIV infection rates. Because what I am going through right now hurts. And it's really hard.
And I want a pain of my very own.
It is that very realization, of wanting to hold tight to something shared by no one else, that shatters my selfishness. Because if there's anything I believe in, it is that we heal and strengthen by sharing our common challenges. Whether it is living with HIV or a death in the family or a breakup, we get stronger when we talk about it.
I have a folder of special emails called my Rainy Day Folder, and in it are messages I have collected over the years. They are from people all over the world thanking me for a posting on my blog or sharing their own stories with me of stigma or fear or loneliness. And during this entire experience of mine, I have neglected to do the very thing for which that folder is intended: when I'm feeling low, read some of the emails and take heart that I'm making a difference by sharing my truth or offering advice.
So, this morning I opened the folder and began to read. And one piece of advice, something I offered repeatedly to others who were experiencing misfortune, stunned me with its precision and irony. "You are going to get through this," I said, more than once. "And one day you are going to be able to say to someone, 'I know what you're going through. I understand. And this is how I got to the other side.'"
Seeing the intersection of hurt and healing in those emails released something in me. The really good cry that followed was about me, and them, and all of us.
And I felt no pain at all.
Mark
————————
Update: The staples have been removed, and the surgeon was practically gleeful during our appointment that I am walking nearly normally. He said that during surgery he was alarmed by the nerve damage and he feared for my mobility. So I dodged a bullet, thanks to taking fast action, getting good advice, and walking (or limping) through the experience. Thanks for all the kind messages of support. I'm on the mend.
Tags: culture, gratitude, help others, physician, recovery
Posted in Living with HIV/AIDS, My Fabulous Disease, News | 6 Comments »
Tuesday, September 2nd, 2014
It is no secret that I am a crystal meth addict in recovery. But writing about it, at least in the often humorous style for which my blog is known, escapes me. My process of recovery feels too precious, too personal, and yes, even too delicate.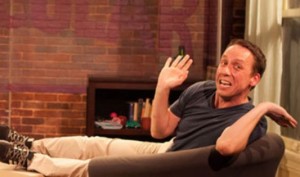 So it was with some skepticism that I recently attended the Chicago premiere of Methtacular!, an autobiographical one-man show in which the star leads us through his descent into drug addiction through music, comedy, and even a game show segment using audience members as contestants.
I laughed with bittersweet recognition and sat amazed at the talents of writer and performer Steven Strafford. Even more, though, I was impressed by how much the audience as a whole enjoyed the show. I don't mean to stereotype, but I don't believe the young straight couples or the elderly subscription holders in attendance were intimately familiar with the bathhouse antics of meth users on a five day binge. But God bless 'em, they were laughing heartily.
I should have known better than to question their ability to relate to someone overcoming painful adversity and combatting the shame that so often accompanies it with humor. It's the very reason people without HIV read my blog, or watch films about the difficult lives of others. As much as we may fear revealing our secrets, it is that intimacy, that sharing of ourselves, that we all truly desire and that has such healing properties.
If you are anywhere near Chicago before the show closes September 28, please contact Theater Wit and make your reservations. If you are not in the area, enjoy my video blog about the production and then start bugging the producers to bring the show to your city. You're going to love it.
Mark
———————————————————————————————-
Speaking of my drug addiction (for someone so reticent on the topic, I won't seem to shut up about it lately), I would like to share my two minute acceptance speech for the National Lesbian and Gay Journalists Association award for "Excellence in Blogging" that I received last week. First, because I'm proud of it, but actually because it contains a very personal message about crystal meth, and if I'm going to encourage people to talk about it I might as well take my own advice.

Tags: culture, gay, help others, recovery, Recreation, Sexuality
Posted in Gay Life, Meth and Recovery, My Fabulous Disease, News | 3 Comments »
Wednesday, August 6th, 2014
In 1977, I ran for senior class president, hoping against hope that my penchant for wearing platform shoes and fellating men in my spare time might somehow get overlooked by my high school classmates in Bossier City, Louisiana. I lost that faith when my campaign signs throughout the school hallways were vandalized. As the student body arrived that morning we were greeted with the word "FAG" scrawled across the posters in red spray paint.
Trying to comfort me, our student counselor Mrs. Berry gave me some advice. "When you put yourself out there in a position of leadership, you open yourself up to… criticism." She stumbled over her word choice, unsatisfied with it, but I knew what she meant.
Still, a dozen posters with "FAG" painted on them seemed a little harsh.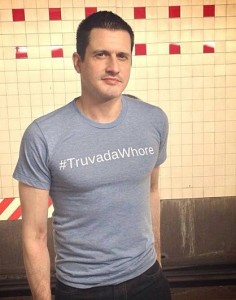 That lesson isn't lost in the treacherous and very adult arena of gay sexual politics and PrEP (pre-exposure prophylaxis, or preventing HIV infection using the drug Truvada). Speaking up in favor of the prevention strategy often leads to being labeled as anti-condom or simply a barebacking slut. So much for the complexities of modern HIV prevention.
And then there's the dark excesses of the internet age, in which people are symbols, hardly human at all, and serve only as place holders for a polarizing issue to be judged and dissected. It's the contemporary version of red spray paint, obliterating the individual in favor of a single, cruel label.
One might expect Damon L. Jacobs, then, who has proferred himself to the world as a gay man using PrEP, to be a little bruised and resentful after two years of constant media exposure — and vulnerable to the name calling and labels thrust upon him. Nothing could be further from the truth.
Damon, who has spoken openly and sometimes explicitly about his sex life before and after PrEP to everyone from Huffington Post to The New York Times, takes the criticism and his accelerated celebrity all in stride. "It's not personal," he told me, referring to those who criticize the use of Truvada and his engagement in particular. "They don't have any idea who I really am. Some anonymous people behind a keyboard do not matter."
Instead, Damon believes we are in the midst of a community-wide teaching moment, so long as we do it carefully.
"We can't underestimate the role of fear," he said, suggesting his expertise as a New York therapist with a private practice. "For years, we have had to live a certain way by using condoms or die. Then suddenly things change. That's where the attacks come from. Their belief system is threatened. I think attitudes are genuinely changing — the last year or so a lot of people have changed their views — but they have to go through a transition for that to happen. And they must be respected during that process."
Although public scrutiny this intense is new for Damon, advocacy on behalf of gay men's health is not. For years, Damon worked on behalf of an HIV vaccine trial, becoming a regular presence in the New York gay club scene to spread the word about enrollment. He continued the work even after opening his own therapy practice.
By the time the vaccine trial was discontinued in early 2013, Damon had been privately taking PrEP for nearly two years. After having heard about early, encouraging results of PrEP research — and facing the fact that he wasn't using condoms as often as he once had — Damon talked to his physician and started taking Truvada independently long before it garnered FDA approval.
It was a prescient move on his part, but not a choice he had been discussing openly with the many gay men with whom he had been in contact through his vaccine work. A drag queen changed all that.
Damon had worked with her during his bar outreach about the vaccine trial, and when they crossed paths again he mentioned he was taking PrEP. "What's that?" she asked. When he explained it, her face "just dropped," he said.
"Why didn't you ever tell me about this?" she asked him. "I just tested HIV positive."
"No one was getting the message out," Damon told me. "Not public health, not HIV organizations, not on social media. Nobody." When Damon began a Facebook group about PrEP in July of 2013, the response was nearly immediate. "Things snowballed," he said.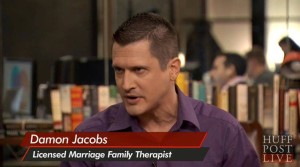 What followed has been a firestorm of newspaper, television and online coverage of PrEP, often using Damon as a personal illustration. By participating, Damon has had to discuss the most personal aspects of his sexual life, including his growing reluctance to use condoms consistently, being a receptive sexual partner for whom exchanging semen has meaning and, perhaps most heretical after a generation of fear and mortality, the importance of pleasure and satisfaction in our sex lives as gay men.
"Pleasure and death have been one in the same," he said. "For so long, pleasure could only result in something tragic, rather than seen as something important and powerful. To challenge that belief system, we need to have patience and compassion and empathy."
Transparency about our sex lives — as they actually are, in the real world — has always been key in understanding behaviors and crafting HIV prevention messages. Moral debates only benefit the virus. But Damon's honesty has enraged many gay men for "promoting" choices that are viewed as irresponsible and even dangerous. He responds to those attacks with his usual calm and a unyielding personal philosophy.
"I'm a student of A Course in Miracles," he says, referring to the self-help curriculum popularized by Marianne Williamson in the 1980's. Williamson was also very active in the earliest response to AIDS in Los Angeles. "I'm here doing God's work," Damon says simply. "And that work is to promote love in this world. I don't usually talk about this, but I want to help people reduce fear. Depression, drugs, suicide, and even attacks on me, they're all manifestations of fear."
Honestly, I had expected to find an advocate more battered than this one. I was interested in the toll such constant scrutiny might take on a man. But Damon surrenders only the merest suggestion of the challenges of such explicit and public honesty.
"Most of the feedback about my work around PrEP has been great," he said. "But a lot of hate and aggression has been unprecedented. It's not the level I am used to. But I can sleep. A lot of people who stand up for love are going to be attacked."
My high school campaign posters, a painful memory some forty years behind me, came again to mind. And in the calm of Damon's convictions, those signs, dripping in spray paint, began to lose a great deal of their damaging power.
Mark
Tags: aids, barebacking, culture, gay, hiv, research, Sexuality, testing
Posted in Gay Life, My Fabulous Disease, News, Prevention and Policy | 4 Comments »
Tuesday, July 29th, 2014
The AIDS2014 International AIDS Conference in Melbourne, Australia, proved to be as colorful and exhausting as I had anticipated. There was no lack of images in the gorgeous city to share in my daily video blogs, and that included the faces of countless advocates from around the world.
My deep thanks to my friends at TheBody.com, who sent me to the conference and for whom I created exclusive content of the event. My Fabulous Disease was born on their site and it is a real gift to continue a collaboration that spans nearly twenty years.
My gratitude, too, to my new Aussie mates at Living Positive Victoria, an impressively active and engaged organization of people living with HIV/AIDS. They welcomed me warmly and were indispensable in providing guidance and access to a multitude of events.
Follow the links below to view each video at its home on TheBodyPro. Here's a breakdown of each video episode and a little background on each.
Video #1: At MSM Global Forum, the Shock of Tragedy and the Road Forward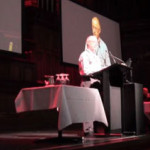 No one could have foreseen that the conference would begin in tragedy, as news of the crash of Malaysia flight MH17 circulated among delegates just as we arrived in Melbourne. Initial reports that more than 100 delegates had perished proved to be untrue, but the sting of loss was deeply felt nonetheless. At the pre-conference event sponsored by The Global Forum on MSM and HIV (MSMGF), emotions were high as prepared remarks were tossed in order to deal with the unthinkable events.
My own preparations for the day were jostled as well, because I knew my usual lighthearted reporting had no place among the broken hearts in the hall. I focused instead on the impact of the tragedy and how MSMGF had dealt with the events in the previous hours. And then, as we have come to know so well in the last 30 years, we soldiered on in memory of those no longer with us. A difficult day, even with the inspiring work that was presented.
Video #2: Criminal and Mannequins, Both Fighting HIV Stigma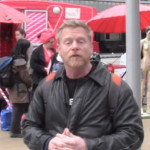 The next pre-conference event, Beyond Blame, focused on the international issue of HIV criminalization. I have covered this topic before as it relates to the United States but it was awesome to see the international community at least as engaged as we are. Expert Edwin Bernard weighed in on breaking news from the US, while the inspiring Laurel Sprague puts the issue in context of women and power struggles.
Strolling the streets of Melbourne revealed a city very engaged in the conference, with bus signs and art installations everywhere. Wait until you meet Madam Kim of Positively Fabulous, who has funneled her "obsessive behaviors" into a hot pink avalanche of awareness and art that shines a light on women and HIV. You'll also see reminders that the plane tragedy was still very much on the minds of the conference and the still-mourning city.
Video #3: The Global March and Candlelight Vigil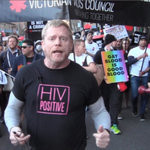 Always one of my favorite events of the international conference, this video drops you smack in the middle of the march and allows the passionate advocates to tell you exactly why they are there. It's the first time in my video coverage you get to meet so many of the international delegates face-to-face, and they do not disappoint. You'll be cheering for them!
The Candlelight Vigil following the march took place in one of the most gorgeous pavilions I have ever seen, in downtown Melbourne. Because of my own issues with grief and loss – I'm one of those people that is afraid that if I start crying I may never stop – I reached out to delegate and psychotherapist David Fawcett about the nature of grief and why it is important to express these feelings as a community. His insight provided the perfect context to my footage of hundreds of people who had come to mourn the loss of so many over the years – and those who perished in the plane tragedy only days earlier.
Video #4: One World, One Place, Thousands of Voices: The Awesome Advocates of AIDS2014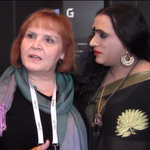 With countless global advocates convening in Melbourne, there is no shortage of impassioned voices. I realized soon enough that they needed little prompting from me, so I simply turned the camera on them and let them go for it. The result is a montage of voices, ringing out against all the ism's of our modern world when it comes to HIV.
My new friend from Nigeria, who risks a decade in jail simply for providing services to gay men, sounded a truth that still rings in my ears. "We cannot let them die simply because of who they love," he told me simply. Watching him celebrate at a dance party a few days later, in the safe company of his fellow delegates, told me everything about the resilience of our basic humanity, and how stubborn a thing like joy can be.
Video #5: Activist Theater, Condom Tryouts, and a Mystery Man Revealed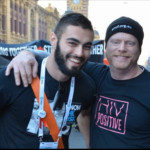 There's no way I can produce these video blogs alone. It's true that I operate on little sleep because after a full day of events I repair to my room to begin editing, a process that takes most of the night. But getting that footage in the first place means depending upon a camera man and assistant that shadows me day and night, maintains the schedule, and generally keeps me sane and laughs at my jokes.
Through Living Positive Victoria I found my professional dream date: Theodore, an Aussie from Sydney that had the perfect blend of patience, organization and good humor. He also happens to stop traffic with a towering physical presence and a smile that melts everyone, gay and straight, in his path. "Your camera man is so hot" became a running joke of the week.
Fortunately, I got to know the very heart of the man, and I'm much better for it. In this video, which takes you behind the scenes of theater being performed about HIV in Melbourne among other gems, I turned the tables on Theo and surprised him by getting him on camera for a change. You're welcome.
Thank you, my friends, for the privilege of bringing the sights and sounds of AIDS2014 to you. I am deeply grateful for the opportunity, and hope the coverage provides just a glimpse of the spirit of the conference.
As always, thanks for watching, and please be well.
Mark
Tags: aids, barebacking, conferences, criminalization, culture, gay, help others, hiv, Recreation, research, Sexuality
Posted in Family and Friends, Gay Life, Living with HIV/AIDS, Meth and Recovery, My Fabulous Disease, News, Prevention and Policy | 2 Comments »
Sunday, June 29th, 2014
There was no way I could attend a recent conference with Avram Finkelstein, one of the artists behind the iconic SILENCE=DEATH image, and not make him sit down with me and spill all the juicy details about the creation of that image. He agreed, and boy howdy, he did not disappoint (video below).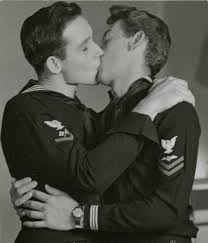 Some of his best stories, in fact, weren't even about the most famous poster for which he is known. As part of an artist collective that met privately during the earliest years of AIDS and then as an adjunct committee of ACT UP New York, Avram was in the middle of the action during an amazingly productive and creative time. You're going to recognize most if not all of the striking social messages they created.
My favorite backstage detail is probably that of the gay pseudo porn star whose image they "acquired" (i.e. stole) from an old magazine. They used the photo for an incredibly successful campaign you will certainly recognize and everything was going swimmingly… until Avram received a startling phone call. What happened next, as the online meme goes, will surprise you and then break your heart.
These images rest in the history books now, but Avram has a fascinating way of keeping these stories exciting and immediate. I can't wait for you to meet him.
Mark
p.s. <sigh> I have now upgraded to a super duper audio system for recording future interviews. Just sayin'.
Tags: aids, culture, gay, hiv, politics, Sexuality
Posted in Living with HIV/AIDS, My Fabulous Disease, Prevention and Policy | 4 Comments »
Monday, June 16th, 2014
Charles Sanchez skips a lot. It is a natural, vivacious skip, an outpouring of unabashed joy that melds the cheerfulness of The Sound of Music with the bliss of the Pharrell Williams "Happy" video. Nothing stands in the way of his delight. Not even life with HIV.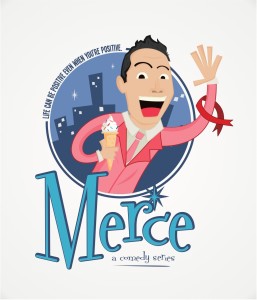 It is that joyful vibrancy that makes Merce, the web series in development by Charles and his production partner Tyne Firmin, feel so refreshing. Considering that characters living with HIV on television are few and far between — or presented as tragic — the project feels, well, almost subversive. And that's exactly why Charles is pursuing his dream of bringing Merce to life.
"There's something brave in Merce as a character," said Charles in an interview. "I think Merce is me, if I had not been so worried about what people thought of me. He's honest and hopeful, and I think that's something people don't always expect in someone who is HIV positive."
Indeed. In a YouTube video, Charles asked people on the streets of New York what their favorite HIV character on television was. The answers, when anything at all came to mind, was decades-old portrayals from cancelled series, or actual people, like Magic Johnson or Mondo Guerra from Project Runway. "The only ongoing television character living with HIV is a Muppet," said Charles. The production team hopes to add another character to the HIV canon that isn't dying or a criminal.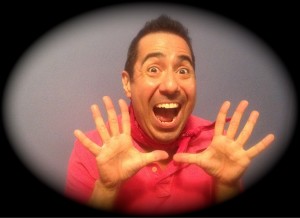 "Usually, you can practically hear the foreboding dum dum DUUUM in the soundtrack when someone discloses," said Charles (left). "Or on Law & Order, they'll find the bottle of AZT in the dead man's medicine cabinet and say, 'well, that explains that.' I think it's time for us to have a conversation about normal life and HIV."
Merce grew from another series created by Charles and Tyne, Manhattan Man-Travels, that revolved around the lives of gay men in New York. Filmed guerilla style using a Flip cam, the series has the low-budget appeal of early John Waters. "Our only budget was for apple fritters," said Charles. "We love apple fritters."
For Merce, the producers are using an IndieGoGo campaign to raise $15,000 for costumes, better camera equipment, and higher production values overall (tax deductible donations for as little as ten dollars can be made to the campaign until July 4th, which is administered through the non-profit arts organization Fractured Atlas).
As with most comedy, Merce grew from something more serious. In a video explanation of his own life with HIV, Charles recalls one of his first jobs in New York as an actor in 1987 — playing the part of AIDS Related Complex (ARC) in Attack of the Killer Virus, a musical geared to educating youth about the new disease. Before long, it was Charles himself who would be discovered by his roommate, sick and unconscious, in their apartment. His AIDS diagnosis brought a new urgency to his art and how best to use it to educate and inform.
Having survived that, and the love Charles has for musical theater, might help explain the skipping. "I'm a pretty happy and optimistic person, and I wanted Merce to have that in abundance," Charles said. "I'm creating a show with a main character who doesn't let his HIV define him or keep him from all the joys of life. Merce makes a lot of mistakes, but he celebrates life. Why not grin and laugh at life? Life is hilarious."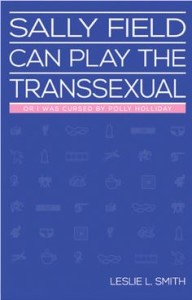 While television may still be grappling with how to portray HIV in contemporary life, literary fiction remains a few steps ahead. In his challenging, sometimes frustrating new novel, Sally Field Can Play the Transsexual, author Leslie L. Smith asks us to examine the nature of modern gay sexual behaviors. Do we engage in unprotected sex out of defiance, grief, pleasure, or pathology?
There is much to consider in Smith's story of David Matthews, an entitled gay escort engaged primarily in his own self-interest. When a benefactor wills David riches and asks him to pay it forward, the immature hooker begins a quest to reconcile his small-town upbringing with the numbed pleasure-seeking of his vocation.
Anyone who escaped home to pursue gay life elsewhere will relate to that journey, but the central device of the novel — the ghost of the rich man appears to David and sticks around to provide vague counsel or witty bon mots — reads like a uneasy grafting of gay sexual politics and the movie Ghost. The infusion of farce into an otherwise thoughtful reflection on what it means to be a responsible gay man today is jarring.
That's a shame, because there are scenes in this book that go straight to the heart of our common experience navigating sex in the age of HIV. During a visit to his Arkansas home town set a few years ago, David hooks up with a local hottie and they fall into bed together. The reaction of his conquest when David attempts to forgo a condom is heartbreaking. "I've heard of people doing this," the hottie says plaintively as he ends their encounter, "but I didn't think it was true." Even today, in a time of PrEP and undetectable viral loads, the simplicity of the statement will have gay men everywhere reflecting on their choices.
Bringing important discussions to life is why Leslie L. Smith should keep writing. His ear for the here and now is acute and authentic. He just doesn't need spectral accoutrements.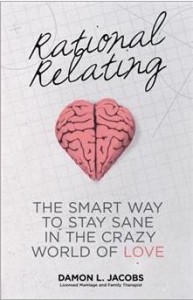 Navigating relationships is also on the mind of Damon L. Jacobs, a New York based gay therapist who provides clear, helpful advice to couples in his book, Rational Relating. Although the guide is meant for couples of every stripe, Damon thoughtfully includes plenty of tips for gay men in particular.
His advice is deceptively simple and easy to apply to our lives. His "five pillars" of integrity, communication, compassion, responsibility, and compromise are all examined through his work with various couples and the challenges they face in building a life together. The book is meant as a resource that couples might draw upon, and the result is a helpful tool that can benefit anyone.
Damon is widely known for his advocacy around Pre-exposure prophylaxis (PrEP), but that's not his purpose in Rational Relating. It is nice to see, though, that what makes him a strong advocate is grounded in his professional experience helping people find integrity and meaning in their personal relationships.
Mark
Tags: acting, aids, barebacking, culture, gay, hiv, Recreation, Sexuality
Posted in Book Review, Gay Life, Living with HIV/AIDS, My Fabulous Disease | No Comments »
Tuesday, May 27th, 2014
We're on a dirt road in the cotton fields, sitting in the back of his Plymouth. It had been my idea to stop and look at the sky, and it doesn't come off like a sneaky move now, because the moon is full and bright and gorgeous. I've been playing along but I wish he would make his move. This is the part that's always kind of boring. He's nice, though, and good looking, maybe around 35.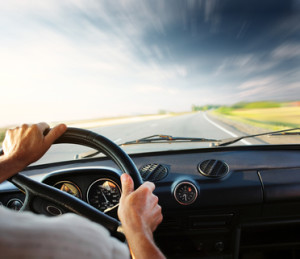 It's a balmy Louisiana night in 1975. And I'm fourteen years old.
Everything goes as planned, and he gets me home on time so no one suspects. But he was a lot more nervous about it than I was.
And that was the routine during my teenage years. I had given up trying to mess around with other boys because it took forever to talk them into anything and I didn't want them to freak out about it. So, I got involved in community theater productions during the summer, playing bit parts or working the spotlight, just to be in the company of gay men. Then it was just a matter of getting some time alone with them.
My strategy for getting laid worked with some regularity, and it never occurred to me there might be something inappropriate or perverse or even criminal about it. At least, it never occurred to me.
People tell me the criminal ramifications most certainly occurred to them. They say I was molested or abused, and that it was the very definition of the word "statutory." They say I was dealing with adults who had the capacity to know better. And, most bruising to my ego, they tell me that my seductive charms were irrelevant, and that perhaps it was they who were doing the manipulating.
Now, forty years later, I wonder if my teenage memories are trustworthy, and if it set the stage for an adulthood in ways I've failed to acknowledge. Before I became a man, before the failed relationships and the sexual compulsions and the drug addiction, there was an adolescent who traveled side roads with strangers and took dangerous walks in public parks. And it is that boy, not the legion of adults I encountered, who fascinates and saddens me.
Was my fate sealed in the cotton fields of Louisiana?
The men I coaxed to those dusty roads aren't villainous to me, and I still can't allow them to be left dangling in guilt and shame. I won't reduce them to simple pathology.
I met Jim in August, right before my freshman year in high school. The summer musical was 1776 and I was a stagehand. It was practically an all male cast, so it was a busy summer.
After a matinee performance one afternoon, I asked Jim for a ride to a pool party someone was throwing for the cast and crew. Once inside his car I told him I forgot my bathing suit and could we stop at his place so I could borrow one? What followed was a pitiful half naked fashion show in his bedroom, and a brief, awkward encounter between us.
Afterwards, I happily got back in the car but Jim wasn't talking much. He had become really quiet as soon as we were done.
We had driven a few blocks when Jim let out a kind of cough, like he was trying to stifle something and it burst out anyway. I looked over and his whole face was wet.
"What's wrong?" I asked. I had seen men in some personal situations, but I had never seen one cry.
He pulled the car over and turned it off. Suddenly, everything felt quiet and important.
"What is it?" I asked in a careful voice. "Am I in trouble?"
He was searching the car console for something and found a packet of Kleenex. He held it in his lap and started to speak while he opened it.
"I'm twice your age, Mark," he said into his lap. His eyes were little cups of water, spilling. He turned to me. "You're fifteen years old. I'm twice your age. Twice."
His mathematics meant nothing to me. His expression toward me, sad and quizzical, felt like he was trying to read my mind. It made me uncomfortable. I didn't know what he wanted. I sat there and said nothing.
He turned away and gulped back more tears. And then he asked the most mysterious question of all.
"Don't you… just want to be fifteen, Mark?"
I had no idea what the man was talking about. I sat staring at him with my mouth open. I was completely stumped. Seconds went by and the car was silent.
My confusion seemed to disappoint him, because he shook his head slowly and looked back out the window. He was still very upset.
He wasn't simply crying out of guilt, they tell me now. They insist he was deflecting his own criminal behavior by blaming me for not acting my age. They tell me that he was the one who had trapped me and I didn't even know it.
Either way, I think Jim got more than he bargained for. I think he was a little frightened by the manipulative and unemotional fifteen year old sitting in his car that afternoon. And I think it saddened him because he cared about me.
And yes, I felt trapped all right, if only because I felt trapped in his car in this moment, where things were not going as planned, because after ten minutes we're still parked on the side of the road and Jim won't stop crying. I am staring at my shoelaces because I can't imagine a grown guy would want anyone to see him like this. He must be so embarrassed. And I wish he would start the car, because the party is going on and there's probably lots of people having fun around the pool and I really want to be there.
I finally look over at him and he's blowing his nose. Maybe that means we'll get moving again, I'm thinking. Jim doesn't say anything else but he does finally turn the ignition and the car rumbles to a start.
I'm so relieved. I really want to see what's happening at the party.
Mark
——————————————————————-
My own views and memories on this topic remain conflicted, but I certainly do not intend to minimize sexual abuse when it does occur. If you are are trying to overcome childhood abuse, please consider contacting the Adult Survivors of Child Abuse (ASCA). — Mark
Tags: Aging, culture, gay, Sexuality
Posted in Gay Life, My Fabulous Disease | 6 Comments »