Posts Tagged 'culture'
Tuesday, May 27th, 2014
We're on a dirt road in the cotton fields, sitting in the back of his Plymouth. It had been my idea to stop and look at the sky, and it doesn't come off like a sneaky move now, because the moon is full and bright and gorgeous. I've been playing along but I wish he would make his move. This is the part that's always kind of boring. He's nice, though, and good looking, maybe around 35.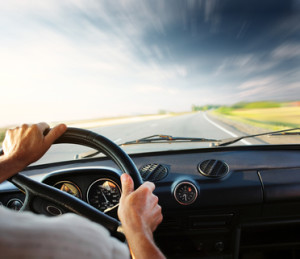 It's a balmy Louisiana night in 1975. And I'm fourteen years old.
Everything goes as planned, and he gets me home on time so no one suspects. But he was a lot more nervous about it than I was.
And that was the routine during my teenage years. I had given up trying to mess around with other boys because it took forever to talk them into anything and I didn't want them to freak out about it. So, I got involved in community theater productions during the summer, playing bit parts or working the spotlight, just to be in the company of gay men. Then it was just a matter of getting some time alone with them.
My strategy for getting laid worked with some regularity, and it never occurred to me there might be something inappropriate or perverse or even criminal about it. At least, it never occurred to me.
People tell me the criminal ramifications most certainly occurred to them. They say I was molested or abused, and that it was the very definition of the word "statutory." They say I was dealing with adults who had the capacity to know better. And, most bruising to my ego, they tell me that my seductive charms were irrelevant, and that perhaps it was they who were doing the manipulating.
Now, forty years later, I wonder if my teenage memories are trustworthy, and if it set the stage for an adulthood in ways I've failed to acknowledge. Before I became a man, before the failed relationships and the sexual compulsions and the drug addiction, there was an adolescent who traveled side roads with strangers and took dangerous walks in public parks. And it is that boy, not the legion of adults I encountered, who fascinates and saddens me.
Was my fate sealed in the cotton fields of Louisiana?
The men I coaxed to those dusty roads aren't villainous to me, and I still can't allow them to be left dangling in guilt and shame. I won't reduce them to simple pathology.
I met Jim in August, right before my freshman year in high school. The summer musical was 1776 and I was a stagehand. It was practically an all male cast, so it was a busy summer.
After a matinee performance one afternoon, I asked Jim for a ride to a pool party someone was throwing for the cast and crew. Once inside his car I told him I forgot my bathing suit and could we stop at his place so I could borrow one? What followed was a pitiful half naked fashion show in his bedroom, and a brief, awkward encounter between us.
Afterwards, I happily got back in the car but Jim wasn't talking much. He had become really quiet as soon as we were done.
We had driven a few blocks when Jim let out a kind of cough, like he was trying to stifle something and it burst out anyway. I looked over and his whole face was wet.
"What's wrong?" I asked. I had seen men in some personal situations, but I had never seen one cry.
He pulled the car over and turned it off. Suddenly, everything felt quiet and important.
"What is it?" I asked in a careful voice. "Am I in trouble?"
He was searching the car console for something and found a packet of Kleenex. He held it in his lap and started to speak while he opened it.
"I'm twice your age, Mark," he said into his lap. His eyes were little cups of water, spilling. He turned to me. "You're fifteen years old. I'm twice your age. Twice."
His mathematics meant nothing to me. His expression toward me, sad and quizzical, felt like he was trying to read my mind. It made me uncomfortable. I didn't know what he wanted. I sat there and said nothing.
He turned away and gulped back more tears. And then he asked the most mysterious question of all.
"Don't you… just want to be fifteen, Mark?"
I had no idea what the man was talking about. I sat staring at him with my mouth open. I was completely stumped. Seconds went by and the car was silent.
My confusion seemed to disappoint him, because he shook his head slowly and looked back out the window. He was still very upset.
He wasn't simply crying out of guilt, they tell me now. They insist he was deflecting his own criminal behavior by blaming me for not acting my age. They tell me that he was the one who had trapped me and I didn't even know it.
Either way, I think Jim got more than he bargained for. I think he was a little frightened by the manipulative and unemotional fifteen year old sitting in his car that afternoon. And I think it saddened him because he cared about me.
And yes, I felt trapped all right, if only because I felt trapped in his car in this moment, where things were not going as planned, because after ten minutes we're still parked on the side of the road and Jim won't stop crying. I am staring at my shoelaces because I can't imagine a grown guy would want anyone to see him like this. He must be so embarrassed. And I wish he would start the car, because the party is going on and there's probably lots of people having fun around the pool and I really want to be there.
I finally look over at him and he's blowing his nose. Maybe that means we'll get moving again, I'm thinking. Jim doesn't say anything else but he does finally turn the ignition and the car rumbles to a start.
I'm so relieved. I really want to see what's happening at the party.
Mark
——————————————————————-
My own views and memories on this topic remain conflicted, but I certainly do not intend to minimize sexual abuse when it does occur. If you are are trying to overcome childhood abuse, please consider contacting the Adult Survivors of Child Abuse (ASCA). — Mark
Tags: Aging, culture, gay, Sexuality
Posted in Gay Life, My Fabulous Disease | 5 Comments »
Thursday, May 22nd, 2014
While growing up gay in Bossier City, Lousiana, I would get saved at the drop of a hat. I loved the pageantry of church youth revivals, the thrill of coming forward to give my life to Christ, and that tingly feeling of being part of something greater than myself, of feeling truly blessed. Of being forgiven.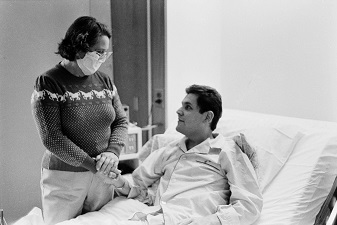 The church seemed like the cure for what ailed me. My shame over my sexuality was washed away with each baptism, and trust me, my brothers and sisters, there were many. For youth revivals and baptisms, Louisiana was a big circuit.  It was a rinse and repeat ritual that I sought out on a regular basis as a way to correct the vexing thoughts and deeds of my overactive teenage libido.
I remember telling my parents I was going to band practice just to slip away to my latest baptism obligation. I reveled in the full body dunking and then retreated to the dressing area and watched, transfixed, as the other male celebrants changed out of their soaked underwear. My yearning made me wonder if I should step back into the baptismal fount for another dip.
I don't get baptized anymore. I abandoned the habit long before moving to Los Angeles in my early twenties, just as AIDS began its murderous march through my West Hollywood neighborhood. Not only had religion dismissed me personally, it was clearly unequipped to handle the throngs of dying  and disfigured gay men who suffered from the new plague.
In many respects the church became the enemy. Activists getting the word out about HIV transmission and safer sex clashed head-on with religious groups unwilling to discuss sexuality or condoms. The opposing views became a battle for the soul of AIDS.
In Body Counts, the personal chronicle by Sean Strub of AIDS politics and survival, Sean recounts in moving detail a 1985 ACT UP protest at St. Patrick's Cathedral in New York City. Raised in the faith, Sean struggles with memories of his upbringing while his fellow protesters shout, throw condoms and decry the Catholic resistance to the basics of HIV prevention. Sean emotionally receives communion before announcing to the priest offering the wafer, "May the Lord bless the man I love, who died a year ago this week."
Cardinal John O'Connor, who led the mass, met the chaos with an opportunistic cynicism. "He sits with his head in his hands, melodramatically trying to convey spiritual pain," Sean writes. "Photographs of the media-savvy cardinal looking tragically besieged will elicit overwhelming sympathy when they appear on the front page of Monday's newspaper."
"The church failed," says Rev. Chris Glaser, a longtime Presbyterian gay activist and writer, about the AIDS response from organized religion. "There were exceptions, and eventually the church remembered how Jesus would have responded." (One of those exceptions would have to be Mother Teresa, who opened her first AIDS hospice in New York City in 1985. Her reference to  the homeless, "This is Christ in distressing disguise," has obvious applications to people living with AIDS.)
Gay men filled the spiritual vacuum with alternatives. Metaphysics became popular in the crisis years, as well as the teachings of spiritualists like popular author Louise Hay. At "Hayride" events throughout the mid-1980's, the West Hollywood community auditorium was stuffed tighter than a Cher concert with gay men, most of them sick and all of them hungry for the grace of Hay's simple message: "You are loved."
The personal price of religion's failed ministry can be measured in children cast out from families and lonely deaths and assurances of eternal damnation.
In an intriguing new documentary still in production, Memories of a Penitent Heart, filmmaker Cecilia Aldarondo unwraps the mystery of her gay uncle, Miguel Dieppa, who died of AIDS in 1987. Miguel supposedly repented of his homosexuality on his deathbed, leaving behind a live-in partner who was kept from the funeral, a devout Catholic mother, and a lot of troubling rumors.
The film charts Cecilia's investigation into this unresolved past, taking an abrupt turn when Miguel's partner suddenly reappears after two years of dead ends — as a Franciscan monk living in Pasadena. He's waited 25 years to tell his version of the story. Cecilia and the team behind the film have launched an Indiegogo campaign in order to complete the project (see the trailer below).
Memories of a Penitent Heart is "a cautionary tale about missed opportunities, the intricacies of religious belief, and the most quietly insidious forms of bigotry," according to promotional materials.
"The religion aspect is underexplored in the narrative of AIDS," Cecilia told me. "Although it has been a very strong current running through the crisis, and a lot more common than we have discussed in our culture. These issues are still with us today."
"This is not a film that tries to demonize my grandmother," she said, in reference to the religious sway Miguel's mother may have held over her son during his dying process. "She was acting out of fear, not out of hatred. What I think is possible is that Miguel really loved his mother and (offered his repentance) to her as a gift. I also think he was a practicing Christian, and that it mattered to him."
The film's themes bring up a lot of unresolved anger and grief for me. So many people and institutions failed us when we needed them, most ironically the ones that purport to bring comfort and aid.
"I hope the film helps us have a different conversation with each other," Celilia said. "Whether it's about the past or the present."
"There are a lot of wounds that have to heal," she added thoughtfully, as someone who had weathered the damage in her own family. "Wounds on both sides."
Mark
(Pictured above: Miguel Dieppa and his mother, 1985. The Indiegogo campaign for Memories of a Penitent Heart ends on June 18.)
Tags: aids, culture, family, gay, Louise Hay, politics, Sexuality
Posted in Family and Friends, Living with HIV/AIDS, My Fabulous Disease, News | 2 Comments »
Monday, May 19th, 2014
May is National Masturbation Month — Hurry, folks! Only a few days left to celebrate! — and I will admit to feeling smug, because I have more experience with gay men masturbating than anyone else I know.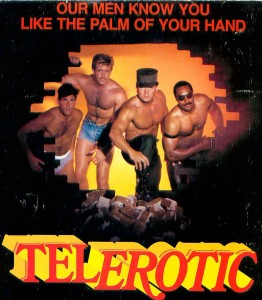 During my years in Los Angeles in the 1980's, I owned and operated Telerotic, a gay men's "phone fantasy" company.
This was long before Grindr or Manhunt, or even the automated phone lines of the 90's.  Instead, men called an 800 number and used a credit card to spend $40 on the man of their dreams, who would call them back after the charge was approved.
As a struggling young actor, I had begun this odd vocation by working for an outfit as one of their "fantasy callers." The company called me at home with the name and number of the customer and his fantasy man description, and I would assume the desired character and call him back.
My job was to sound credible in roles ranging from cocky Venice Beach bodybuilder to volunteer firefighter to leather daddy, and manipulate the customer toward the prime objective within the typical call duration of thirteen minutes. It helped if I could convince him that our connection was mutually mind-blowing to help ensure he would call again.
As it turns out, I had a way with words. After a few months learning the ropes I struck out on my own, and Telerotic was born.
Over the years of my vocation I spoke to thousands of men. Some of them faithfully requested me every week, uttering secrets to me they had never spoken aloud before. It was amazing insight into the realm of fantasy, loneliness and desire. It was also, quite literally, a social anthropologist's wet dream.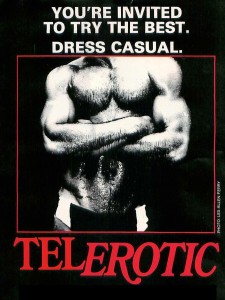 My customers were usually trapped in a life without a gay outlet. Some of them were in a straight marriage, but most of them lived in small towns and were helpless to locate male companionship. (Remember, this was the early 1980's, which compared to the LGBT advances of today might as well have been the Old West).
Their desires were not so bizarre that they they had to resort to phone sex to speak of them. Their requests were simple and almost touchingly mundane. Touch me there. Let me tell you what I think about. Watch me do this. 
I learned a lot about what makes gay men tick. Yes, we have a size fixation. My clients wanted everything supersized, from muscles to dick to sexual prowess. But I soon realized that these were surface interests. They asked for what they saw in porn flicks, but it wasn't what ultimately satisfied them.
They wanted something bigger, more masculine, and better hung than themselves because it was their way of asking to be taken care of, to be released of their own worries and responsibilities and turn over the driving to someone else. Any of us can recognize that need, and the loving act we perform when we provide it to our partner.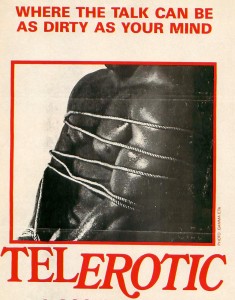 Our chats were a lifeline to many of my regular customers. For those who didn't abruptly hang up after the sex talk had reached its conclusion, our pillow talk afterwards sometimes featured their achingly honest hopes and dreams. They would recount their loves lost or found, the pain of isolation and their dreams of having a life with the right man someday.
Occasionally their patronage would end after news of a potential boyfriend — or resume when it didn't work out. Sometimes our calls ran long, as I gently led a faceless, suffering voice away from unexpected grief or embarrassed tears.
Truly revealing myself, however, was an occupational hazard I never risked. I held tight to the gravelly voice I maintained for our calls. I only responded as my adopted character might. Every orgasm of mine with a phone customer was earth shuddering, passionate, and entirely faked. No matter what intimacies they had the courage to share about themselves, they got nothing of the kind in return, whether they knew it or not. I simply wouldn't compromise my fantasy persona to admit I was actually a skinny redhead trying to make a buck in Hollywood.
As the AIDS headlines during that time increased, so did business. And at long last, something jolted me from my shallow priorities of phone sex profits.
I'd had enough of the charade. It was wearing on me, being taken into the confidence of all of these men and giving them bullshit in return. What was the satisfaction, much less the pride, in representing a bogus sexual ideal for the sake of my continued prosperity, in being an incredibly convincing lie?
Soon enough, I could no longer reconcile the dream world my phone calls inhabited with the encroaching nightmare of the very real AIDS crisis.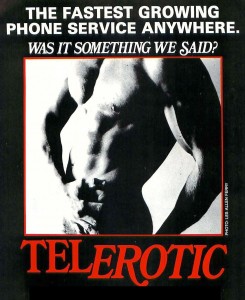 Maybe the end came when a customer, in the midst of our graphic call, helpfully offered to get a condom from the drawer so I could put it on. AIDS had permeated his psyche so completely it had pierced his very fantasies. His presence of mind to protect himself — and by extension me, the phone whore on the other end of the line — was a bittersweet gesture so filled with grace, and so steeped in the realities of the new epidemic, that it stopped me in my tracks and broke my cynical heart.
It wasn't long before I sold the company and ended my stint as a sexual entrepreneur. For a while I entertained friends with the most unusual sexual idiosyncracies that had once been shared with me by voices on the phone. But that exercise didn't feel comfortable for very long. It felt like betrayal.
Today, what I remember most is the sound of men chasing a glancing, counterfeit intimacy because it was all life would afford them, and hearing their desire for something lasting in life and their doubts about finding it.
And I am haunted, deeply and forever, by the sound of profound longing in their voices.
Mark
(This period of my life is covered in more detail in my book, A Place Like This.)
Tags: A Place Like This, acting, aids, culture
Posted in Gay Life, Living with HIV/AIDS, My Fabulous Disease | 2 Comments »
Wednesday, April 23rd, 2014
"Talk to me like you talk to your friends when no one is around."
That was my only request when I sat down with each of four HIV negative gay men to create a short film about their lives and attitudes (video below).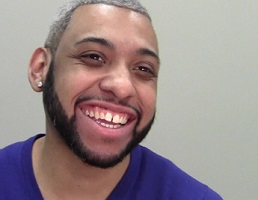 They held back nothing, sharing details of their sex lives, their fears of becoming infected, and, perhaps most surprising, what they really think of HIV positive guys. I couldn't believe their candor, and have worked to distill two days of explicit conversations into ten minutes of brutal honesty (the language is sometimes NSFW).
They don't speak for every gay man, only for themselves, and the differences of opinion between them is really striking. It really is a snapshot of what it means to be a negative and sexually active gay man these days. No matter which of these men you might relate to the most, there's no doubt they are all just trying to carve out a satisfying sexual existence during a pretty confusing time.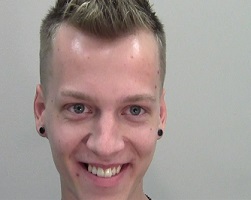 I couldn't help thinking of The Golden Girls when I was editing, because all the archetypes are here: the reserved one, the sensible one, the endearing one, the man-eater. Just saying this makes me guilty of the very thing the video is meant to address: how easily we label ourselves and others, and how we try to assign the same perspective to entire groups of people.
I deliberately produced this without any particular context. No one is presented as right or wrong. It is meant to provide a forum for these men to speak their truth without interruption — and perhaps help us see them as men stumbling through life as we all are, trying to make the best decisions they can with the information they have. I refuse to judge them for that.
If there is anything to be learned from this video, it is that there is no monolithic "HIV negative perspective." Gay men are far too diverse for that. That's a lesson our community seems to have to learn over and over again.
Mark
Tags: barebacking, culture, hiv, serosorting, Sexuality, testing
Posted in Family and Friends, Gay Life, My Fabulous Disease, News, Prevention and Policy | 25 Comments »
Wednesday, April 2nd, 2014
Maybe we should blame the criminal prosecutions of people with HIV on the mythical legend of Gaetan Dugas, also known by his slanderous nickname, Patient Zero. Dugas was a gay flight attendant from Canada who, according to Randy Shilts' 1987 book And the Band Played On, was among the first people with HIV in the United States.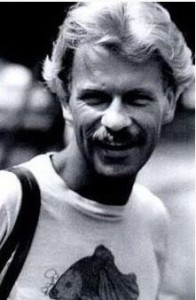 As the story goes, energetic Dugas (right) spent lots of time in the very early 1980's getting laid in practically every city with an airport, even after learning he had the mysterious new "gay cancer." He wanted to go out with a bang, the book claimed, and he didn't particularly care who he might infect in the process. The book repeated rumors that after sex with bath house tricks Dugas would point out his skin lesions and then announce, "now you have it."
Except the story isn't true. Two years ago, Shilts' former editor admitted the book needed a "literary device" and had encouraged Shilts to create the epidemic's first "AIDS monster." The scandalous sex life of Gaetan Dugas fit the bill nicely. Dugas died in 1984, never having the opportunity to answer his accusers regarding his alleged behaviors.
Instead of placing responsibility with everyone having sex, the book painted people with HIV as suicide bombers. The damage, to the truth and to the public image of people with AIDS, still reverberates today.
Laws exist in more than 30 States that criminalize people with HIV for not disclosing their status to sexual partners. Even where there are no HIV-specific laws, charges range from assault to attempted murder to bioterrorism. It should be noted that the vast majority of prosecutions do not involve the transmission of HIV. Often, the person charged used a condom, had an undetectable viral load, or engaged in sexual behavior that could not have infected their partner.
Anyone with HIV and a pissed off ex-lover should feel worried, since these cases often become a matter of whom you believe. Prosecutors and unfriendly juries are often shocked that people with HIV are having sex at all. They couldn't care less about condoms or undetectable viral loads. They just want people who don't disclose their status to face serious charges.
A lot of people see this as righteous and are taking the bait. Many of us know someone infected by a sex partner who lied about their status, and we want that jerk to pay for it. This sense of vengeance plays into the hands of a conservative legal system that is more than happy to send some diseased fags to jail. For a really long time. Regardless of the actual harm inflicted.
This issue is a real mine field of emotion, justice, science, and payback. Fortunately, an upcoming event will bring together advocates, legal experts and people living with HIV to discuss criminalization and map out a strategy to address it.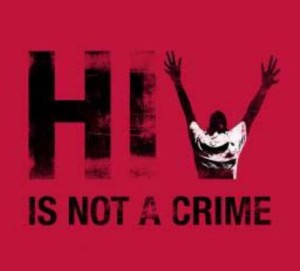 "HIV is Not a Crime" is the first national conference on HIV criminalization.  It will be held on June 2-5, 2014, in Grinnell, Iowa.  Yes, Iowa. Some of the most effective activism around this issue is happening there, where State legislators are actually re-thinking their own laws and health policies as a result of smart advocacy and education. I urge you to alert your local HIV advocates about this important event.
Regardless of your views on criminalization, we can all agree that anyone who intentionally seeks to harm another person should be held accountable for it. That's why we have laws against hurting other people.
But why are there laws on the books specific to HIV non-disclosure? HIV has its very own laws ordering people to disclose if they have it. The same cannot be said for other infectious viruses such as Human Papillomavirus (HPV) or Hepatitis C, which actually kill more people each year. The reason, in the mind of many advocates, is because those viral conditions are not as closely associated with gay sexuality. Or race. Or the disenfranchised. I hope you're getting the picture.
Criminalization is not limited to whether or not someone discloses, even if those scenarios capture our imagination the most. Laws have other ways to punish those with HIV. 
Charges for an unrelated crime can be elevated if the defendant is HIV positive. Prostitution, or spitting at a cop, or punching somebody in the face in a bar, can carry more severe sentences based on the fact the accused is HIV positive.
In other words, defendants are guilty of living with HIV. That should give you real pause.
Surveys conducted by The SERO Project indicate that knowing about the risk of being charged with non-disclosure is an impediment to HIV testing. After witnessing how people with HIV are being treated by the judicial system, getting tested might feel like exposing yourself to potential prosecution.
These prosecutions do not rely upon the context of HIV disclosure, either. "The moral obligation to disclose increases with the degree of risk present," said Sean Strub, founder of The SERO Project and one of the organizers of the Iowa conference, "but the context of the sexual encounter is also a factor.  In the context of a committed relationships, the disclosure obligation is much greater than in a sex club, for example."
The key point here is morality. Disclosing your status is a moral issue, not a criminal one. Even in the worst years of AIDS, when the virus reliably killed you, we called our doctors to start treatment when we got infected. We didn't call the cops. Blaming someone for our own risk behaviors seemed ludicrous. It still does.
You wouldn't know it from news reports, which often feature race-driven cases of predatory men lurking around the countryside infecting the populous. Suicide bombers continue to titillate the media.
Look closely at the stories and you will find that "not disclosing" is usually equated with "intentionally infecting." It's as if sex of any kind on the part of someone with HIV is malicious. One side effect of HIV infection, it would seem, is a pathological bloodlust.
Never forget that these juicy legal stories represent the lives of real people. Sentences amounting to decades are being wielded. The convicted are having to register as sex offenders. In the often confusing landscape of sexual risk and negotiation, the person with HIV is facing grave consequences for decisions often made in the heat of the moment, or simply because they chose to protect their privacy when no risk to their partner existed.
HIV criminalization does nothing to reduce the impact of a new HIV infection.  It doubles it.
Mark
ALSO…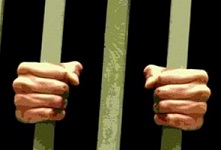 There's a lot of great reporting and blogging about this issue right now, and here's some of the best: Jake Sobo, the always intriguingly transparent blogger behind Promiscuous Gay Nerd, shares the frightening encounter a poz friend had when he visited his local health department and ended up accused of maliciously spreading HIV. HealthlineNews has posted an update on cases in Iowa that involve the very advocates doing such inspiring work there. The Gay and Lesbian Alliance Against Defamation (GLAAD) has made the gutsy choice to post an essay on the media's role in perpetuating ignorance about criminalization (even though many of their usual media outlets refused to run it).  The most comprehensive piece on criminalization, though, could be "Sex, Lies, and HIV," a ProPublica piece recently re-posted by HIVPlus Magazine that examines several of the most high-profile cases.
Tags: aids, criminalization, culture, gay, hiv, politics, Sexuality, testing
Posted in Living with HIV/AIDS, My Fabulous Disease, News, Prevention and Policy | 5 Comments »
Monday, March 24th, 2014
Last night I kissed a straight guy full on the lips. Then he tenderly put his arms around me and kissed me back. Tonight I'm going to do it again.
It sounds like conquest. Or breaking a taboo. At the very least it fulfills the fantasies of many a gay man.
And it makes me wonder why.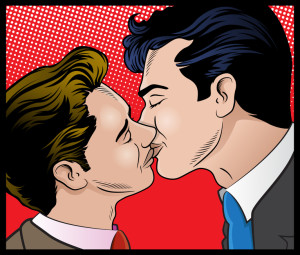 The object of my affections is a man named Travis, and he plays my lover in a play we're performing about a gay couple doomed by drug abuse.
Travis is most certainly straight, judging by the dorm room condition of his dressing area, his raunchy jokes and the effortless masculinity he possesses and that I can only approximate.
At an early rehearsal, long before any kissing would ensue, the director motioned me aside to share some surprising words.
"Let's take our time working up to the kisses," said the director. He lowered his voice a little. "Travis has never kissed a man. He's straight." It sounded like a condition.
And in a way, it was. It immediately colored how I acted around him, on stage and off. The play covers our courtship and as we rehearsed I felt another type of courtship happening. Was he watching me, thinking "that's the guy I have to kiss?" Was I masculine enough? Did he think I was cute? Did he even care if I was attractive or not? Was he disgusted at the thought of touching me?
Obviously he was comfortable enough to take the role. But to be honest, he was nervous and it showed. I finally got the nerve to say something about it during a break.
"So Travis," I began. "You're straight and you've never kissed a guy I hear."
"Yeah, yeah," he said. "Sorry about that." He was actually apologizing for being straight, and I felt like doing the same thing for being gay. "I guess it's an issue for me but I'll get more comfortable. I did a nude scene with a gay guy before, but I wasn't playing gay and we didn't kiss or anything."
This man was on stage naked and found it easier than kissing a guy? I would French kiss the entire cast and crew of "Ugly Betty" before you would find me dangling uncovered on stage.
Bringing it up helped immensely. We not only joked about his "condition," but we also discussed mine: HIV. It allowed me to engage in some basic HIV prevention education with someone who might not otherwise get candid answers to his concerns. Yes, he knew you couldn't get it from kissing, but hearing it definitively made him more at ease.
We made a deal that we would start kissing when we no longer needed to hold scripts, and when that time came, I didn't hesitate. And bless him, neither did he.
It was a brief, perfectly ordinary kiss. And it was done.
Once the occasion had passed I think we both realized it was much ado about nothing. But it got me thinking about why the fact he is straight made the idea of kissing him somehow more exciting. Why? It may be as simple as wanting what you can not have. And that's a common desire.
It's the other implications that bother me. Do I see a straight man as innately more appealing than myself? As "better," as a more authentic specimen of Man? That would suggest I think of myself as less than ideal because of my sexuality.
Whatever the reasons, it's not the only preconceived ideas I had about my straight co-star. I questioned if he could pull off the gay thing. Or would something, like his macho pride or his clueless heterosexuality, prevent his performance from being "authentic?"
But something happens every performance that surprises me and shames my prejudices. This lumbering straight dude who bristles when I call him "sweetheart" offstage becomes a giving, affectionate lover onstage. His eyes smile at me. He pulls me closer in our bedroom scene. He shows a sensitive, willing and playful vulnerability.
It has been an enlightening experience. I now realize how little faith I had in his talent, much less his humanity. I'm not alone. Half the cast is gay, and almost all of us play multiple roles in various sexual combinations. Between our sincere desire to understand our characters and getting to know each other, the backstage chatter runs somewhere between Dr. Phil and Jerry Springer.
We've all learned a lot. I learned that if something got in the way of portraying a gay couple on stage, it wasn't the straight man's phobias.
It was mine.
Mark
This piece originally appeared on my blog in October of 2011, but now I am ready to unmask my straight co-star! He is none other than the talented Travis Young, who has gone on to an exciting career as a television actor (he's a regular on the new Resurrection). You can check out his Facebook page here. As for me, well, I'm still gay. — Mark
PLUS…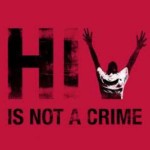 It remains the defining HIV issue of our time: HIV criminalization, or people with HIV being arrested and prosecuted for not disclosing their status to sex partners, for instance. This is a very real thing, folks. Rather than an actual public health service, prosecutions seemed to be based on a belief that people with HIV shouldn't be having sex at all, and they usually ignore the actual risks involved (judges and juries don't seem to care if condoms were used, or even if anyone was infected or not). Some of the most exciting advocacy around this issue is being led by advocates in Iowa (yes, Iowa), so it's fitting that the first national "HIV is Not a Crime" conference on criminalization will take place there. I urge you to look into this issue, and the best place to start would be the web site for The Sero Project.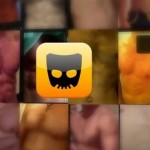 My occasional health-related items for the pop culture site Queerty (possibly the most trafficked site for younger gay men) have been fun and challenging. Mostly, I'm intimidated writing in a "young, snappy" style that might appeal to their audience, especially since I'd rather just go lie down. So far my pieces have included explaining the new "undetectable" study; the role of meth and the health of people with HIV; and how at least one health department is joining the cruisers on Grindr. I'm really grateful for the opportunity to reach this audience and will keep on trying not to let my age show.
Tags: acting, criminalization, culture, gay, hiv, recovery, Recreation, Sexuality
Posted in Anita Mann and Acting Gigs, Gay Life, My Fabulous Disease, News | 1 Comment »
Tuesday, February 25th, 2014
The music my friends liked when I was a teenager intimidated me. It was the head-banging rock of the early seventies, and it felt alien and unappetizing. Most of all, it just felt… straight, in a way I knew I could never be. Alone in my room, I listened to my beloved Broadway musicals, and resigned myself to the fact that popular music would never really speak to me.
And then in 1977, when I was sixteen years old, I began sneaking into the only gay bar in Shreveport, Louisiana. Inside I found joy and liberty, fashioned with bell bottomed pants and handsome smiles and the dance floor – oh my God the dance floor – centering the nightclub was a glorious explosion of colored light and swinging hips and arms reaching up, up to the sky as if we could clutch it in our hands. The music was an entrancing bombardment of sound, and one song, one mesmerizing invitation to touch the heavens, was played again and again.
It was Donna Summer. And she was singing "I Feel Love."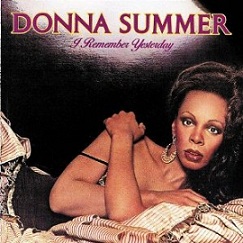 The track was really the triumph of producer Giorgio Moroder, who created the driving, synthesized beat that would define Donna Summer's music for years to come. But I knew I had to own this amazing song, and soon I stood proudly at the record store cashier to buy my very first popular album, Donna Summer's I Remember Yesterday.
I had found my music, my voice, and my lifelong muse.
The following year I had come out as a senior in high school, and Donna Summer was still in her "whisper period." It was never my favorite sound from her – it felt like playing chopsticks on a grand piano – and I knew from her other album tracks that she could let it rip. As I was graduating she did just that, with the release of her iconic "Last Dance." Her full-throttle pipes were on stunning display. Dance parties would never be the same.
By the time I left home for college in New Orleans, the music of Donna Summer had exploded into popular culture. I felt so proud of her, as if I had discovered her myself. My nights in the French Quarter were spent in the Parade disco on Bourbon Street, dancing to "Hot Stuff" and "Bad Girls."
The feeling of joyous exuberance that surrounded that disco is hard to describe. It was a sea of shirtless men, staking claim to our sexuality and the promise of infinite possibilities ahead. The incessant thump! thump! thump! of the beat was our clarion call, and it shouted Here! Here! Your tribe is here! We were so beautiful, in ways we were much too young to know.
And then soon, of course, the lights began to dim.
By 1982, I was struggling in Los Angeles as an aspiring actor, and Donna Summer was having a musical identity crisis. Record executives wanted a new sound for her to accompany the changing times, and her longtime producer Giorgio Moroder had been replaced by a succession of others. The red-hot Quincy Jones produced her Donna Summer album that year and their studio clashes became legendary. The album floundered and produced no significant hits.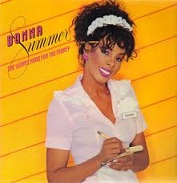 At the Los Angeles gay pride festival the next year, I was thrilled to hear Donna's voice again, sounding gorgeous and almighty, singing "She Works Hard for the Money." I took to the dance floor but was somehow unable to muster the joy I had known only a few years before. Life had intervened. And it had brutal plans for the men under the dance floor tent.
Donna Summer produced dance floor singles, if not hits, in the years that followed, but we weren't paying attention. The night club crowds dissipated, as a silent killer plucked men away one by one. AIDS had begun its murderous march through the gay community.
The villain wasn't simply the disease in those darkest of days. It was ignorance, and the judgment that rose up from social conservatives who saw Godly retribution in the horrific deaths of our friends. And so, when Donna Summer became a born-again Christian during this period and announced she would no longer perform her early, erotically charged hit "Love to Love You, Baby," her gay audience viewed her with immediate suspicion.
An ugly rumor began. Someone claimed to have heard her make a homophobic remark during a concert appearance. Depending on who was repeating the story, she had either said AIDS was God's judgment, or that God made Adam and Eve, not Adam and Steve. The unsubstantiated rumor swirled and grew, in an environment in which gay men were particularly sensitive to ignorance and hatred. By the time Donna Summer took it all seriously enough to set the record straight, it was too late. What was left of her popularity fell victim to the social maelstrom of AIDS.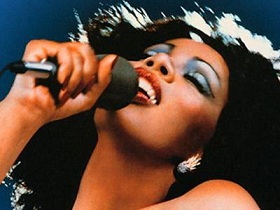 I never believed the story, and defiantly continued buying her albums, though they appeared with less regularity. Donna Summer would have only one more true hit, "This Time I Know It's for Real," which I chose to perform for my maiden appearance in drag at an AIDS benefit. The fact that during this time Donna Summer was raising money for AIDS research gained little traction among emotionally bruised and unforgiving gay men.
Today, disco may be dead, but Donna Summer's music laid the groundwork for everyone from Madonna to Lady GaGa, even if my body has found it harder to approximate the dance floor moves of my youth. But in my mind, as I blast "Dim All the Lights" in the privacy of my living room, I am young and powerful and life is making promises that are wonderful and possible.
Donna Summer is among the spirits now, joining the legions of ghosts haunting brightly colored discos from another era. She is still cooing to them, to these throngs of boisterous men, inviting them to the dance, where there is everything to celebrate and nothing to forgive.
The men are moving to the beat and laughing and holding one another. They are all beautiful, and they know it.
And they feel love.
Mark
(This originally appeared on this blog in May of 2012, shortly after her death. I continue to play Donna's music, or at least hear it playing in my memories, every single day.)
Tags: aids, culture, gay, Recreation
Posted in Gay Life, Living with HIV/AIDS, My Fabulous Disease | 9 Comments »
Monday, January 27th, 2014
"We don't know the side effects of this drug. It's too expensive. Insurance won't cover it. It hasn't been studied enough. It will encourage slutty behavior. And why the hell don't people just use condoms?"  
– Objections raised to the oral contraceptive progesterone ("The Pill"), approved by the FDA      54 years ago.
When the drug Truvada achieved FDA approval in July of 2012 as a medication to prevent HIV infection among people who are negative (a strategy known as pre-exposure prophylaxis, or PrEP), it's as if the ghosts of naysayers from the 1960's rose from their resting places, delighted and re-energized, and began drilling their mid-century objections into the hearts and minds of contemporary society.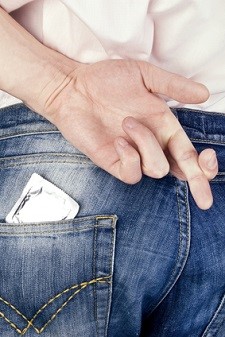 Maybe proponents of PrEP like myself believed the response to the drug would be more enthusiastic. Surely anyone who lived through the horror of early AIDS would thank God that a new prevention strategy exists that doesn't rely upon condoms alone. The fury of the response has been a little startling to me.
Fortunately, Facebook groups and online sites that explain the facts about PrEP are springing up everywhere to address misinformation and to clarify legitimate areas of concern. Here are the most persistent objections to PrEP, and the facts as we know them.
People wouldn't need PrEP if they would use condoms. They just want to bareback. Studies show that people on PrEP do not have an increase in high risk sexual behavior, but cynics have visions of wanton orgies ahead worthy of vintage gay porn. Alas, what others do in their sex lives is out of our control, whether that drives people up the wall or not.
The facts are these: more than half of gay men do not use condoms or do not use them consistently. This fact has remained true throughout the 30 years condom use has been measured among gay men, including during the darkest years of the AIDS crisis. We can address 50,000 new infections a year or we can have a useless moral debate.
The lack of condom use is what makes PrEP so exciting as a prevention method. The very first large study of Prep was the iPrEX Study, an international study of 2,500 people that was comprised mostly of gay men and some transgender women. The study showed that people who use Truvada as PrEP correctly (taking a pill every day) can have their risk reduced by 90% or more, depending on adherence. Some models show an efficacy rate of up to 99% based on near-perfect adherence.
PrEP is also not dependent on last minute decisions in the heat of passion. Taking a pill in the morning is calmly detached from having sex that night.
PrEP is not necessarily an either/or proposition, because lots of people taking PrEP are also using condoms. But let's be real. Most people seeking out PrEP already don't use condoms or they don't want to use them anymore. Since they are trading one prevention device for something that has a better success rate and is easier to use, what's it to you?
We don't know the side effects of Truvada. We have years of data of Truvada side effects on people with HIV (it's been FDA approved to treat HIV since 2004). Truvada was selected for clinical trials as a PrEP drug because of its favorable safety profile.
It is true that there are some reports of bone density and kidney problems among people with HIV using Truvada as part of their treatment regimen. These side effects have sometimes been serious. We can't assume the experience of HIV negative people will be the same, and that's why Truvada patients, positive and negative, should be routinely tested for bone density and kidney function.
More and more HIV negative writers and bloggers (and even a gay porn star) are sharing their experiences on PrEP but, thus far, side effects haven't been part of their story. Watching them share their progress publicly over time should be quite interesting.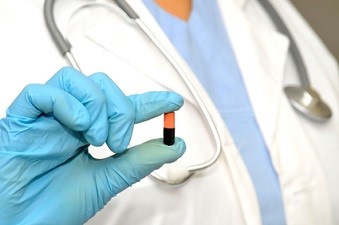 Understanding side effects is part of the assumed risk we take with medications, as any television commercial for a pharmaceutical drug will attest. If you don't want to cough up blood, for instance, or have bloody stools or nausea or a ringing in your ears, don't take aspirin. Those side effects are uncommon, and so are the side effects for Truvada.
People taking PrEP also have the option of discontinuing Truvada depending on life events and necessity. Maybe you stop dating the HIV positive guy, or take a break from casual sex, or return to condoms for a while. Starting and stopping the drug in this way does not lead to resistance as long as a medical professional verifies you are HIV negative before restarting.
If you are wary of Truvada side effects, don't use it. And allow others to make that same determination for themselves.
PrEP is too expensive and insurance won't cover it. This argument is losing steam rapidly. The Affordable Care Act in the United States is underway and by all accounts every insurance company as well as Medicaid is covering Truvada — although it may require pre-authorization from a doctor for use as PrEP (the CDC has produced a handy document available online to help explain PrEP  to your physician).
For those without insurance or money for a co-pay, Gilead (the maker of Truvada) has a patient assistance program that can provide the drug outright or supply co-pay cards worth up to $200 per month. Even if none of this were true, the potential benefits of a drug should not be assessed solely by its price tag.
The people who need it most can't access it anyway so what's the point? It's a good thing we don't have this attitude towards condoms. Access isn't the same as efficacy.
But it is certainly true that young gay black men, whom the epidemic is affecting in shocking numbers, have less access to healthcare. This is a systemic problem and it is unfair, frankly, to expect PrEP to solve it. It is also true that PrEP can be an occasion for HIV negative people to seek care, and once on PrEP they are typically required to have medical follow-ups throughout the year, which offers obvious benefits.
The biggest hurdle is often physicians themselves. HIV negative people may have a doctor unfamiliar with HIV care, much less PrEP, and those doctors are often intimidated by what they see as the complexities of HIV treatment. Until more professional education is done, potential PrEP users must learn to advocate for themselves and share CDC recommendations with their doctor.
People won't adhere to PrEP and that will create resistant strains. It is true that in some early PrEP trials adherence was a problem. Real life behaviors, though, differ from clinical trials in some important ways.
Trial participants have no idea if they are taking the actual drug or not, and in trials the efficacy of the drug hasn't even been proven. So, the commitment of trial participants to stay adherent to the drug is less rigorous than users today, who know that the drug works, know they're getting the real thing, and are invested in remaining HIV negative. People taking PrEP today have more skin in the game, as it were.
For those who do miss the occasional dose, Truvada is somewhat forgiving. The protective ability of the drug doesn't drop if you miss a single dose because Truvada remains in the blood for up to 72 hours (compare that to missing a condom occasionally, which CDC statistics show to be as risky as never using them at all). That being said, it is optimal and recommended that Truvada be taken consistently each day, and users should take seven daily doses for Truvada to achieve optimal protection.
Taking Truvada alone when a PrEP user doesn't know they are already positive can lead to resistance and significantly reduce treatment options. Resistance has not been found with individuals who were verified HIV negative at the time they started Truvada, but it has happened in people who became HIV positive due to low adherence.
PrEP is just putting money into the pockets of pharmaceuticals when we have cheaper solutions.  I can't imagine anyone telling HIV positive people not to take their medications because their drugs are making profits for Big Pharma. The argument that HIV negative people aren't worth a fraction of that investment astounds me. I suppose we should wait until negative people get infected before it's okay for them make a profit for the drug companies.
And those are the facts as we know them about PrEP. I have no delusions that the debate will calm any time soon, of course. Human nature is far too predictable for that.
Just recently, politician Mike Huckabee addressed a gathering of fellow Republicans. Part of his remarks, delivered half a century after The Pill was approved for contraception, was his belief that "smart" women don't need the government "providing them a prescription each month for birth control because they cannot control their libido."
Right. Because birth control, as critics have been saying since 1960, would be unnecessary if women only showed some restraint and didn't behave like barebacking sluts.
Everything old is new again.
Mark
My thanks to HIV advocate Jim Pickett of AIDS Foundation Chicago for his expertise on this issue. Jim is active in the development of rectal microbicides (lubes and douches that kill HIV on contact). Damon L. Jacobs, who writes about his personal experience taking PrEP, also served as a resource.
Tags: aids, barebacking, culture, physician, research, Sexuality, testing
Posted in Gay Life, My Fabulous Disease, News, Prevention and Policy | 20 Comments »
Sunday, January 19th, 2014
If you're considering how to best disclose your HIV positive status to everyone you know, here's one suggestion: learn to sew. Television's long-running reality hit Project Runway could be holding a spot just for you.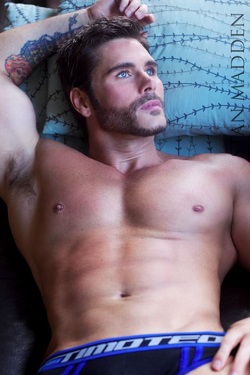 Over the course of a dozen seasons, the fashion competition series has tackled everything from drug addiction to racism to gender reassignment among contestants, and it has hosted more HIV disclosures than any other reality show. The latest addition to the trend is designer Viktor Luna, the contestant who sported the fluttering handheld fan on this year's Project Runway: All Stars.
Exactly how these disclosures have come about over the years is a study in contrasts, as different as the three HIV positive contestants themselves – and the whims of show producers.
In 1998, season four of Project Runway introduced the world to designer Jack Mackenroth (pictured right), the competitive swimmer, model, and all-around sex symbol who had already been living openly with HIV for 17 years. His casual disclosure during an early direct camera interview during his season showed a man comfortable with himself and his status.
"The producers knew I was positive because we fill out a stack of background information," Mackenroth told HIV Plus. "They had my entire medical history, like every other contestant on the show."
Already an HIV advocate at the time, Mackenroth knew the producers would eventually use his HIV as a dramatic device, but "that was fine with me," he said, "because I saw it as an important tool as well, for HIV visibility and as a chance to fight stigma."
That opportunity was lost when fate intervened. Before he could disclose to his fellow contestants on camera, Mackenroth developed a serious infection unrelated to HIV that forced him to withdraw from the show five episodes into the season.
"Tim Gunn sat me down and reassured me," said Mackenroth. "He told me that everything happens for a reason, and in that moment I was like, Yeah, right. I was exhausted and emotional. But the truth is, that show gave me my platform. It worked out great."
It would be years later until an HIV positive contestant would actually disclose their status to the cast on camera, but when it finally happened it brought all the drama and emotion the famously controlling Project Runway producers could ever imagine.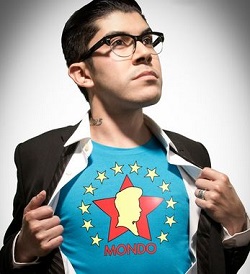 In 2010, season eight of the series included Mondo Guerra (pictured left), an insanely talented young designer who was as guarded as he was endearing. Although one should be mindful that footage is carefully edited to create characters and increase drama, Guerra certainly seemed like an artist with a painful secret or two.
During a challenge to create an original textile, Guerra designed a graphic print with a conspicuous "plus" sign throughout it. In direct camera segments, he revealed that the design reflected his HIV-positive status but otherwise kept his inspiration to himself, having not disclosed to even his own family at that point.
When pressed on the runway later to explain his design, Guerra demurred again. The judges stared in wonder. The music swelled. Filled with nervous emotion, Mondo haltingly revealed his HIV status as the inspiration for his textile. Viewers saw not only his tears but something more: a humble sort of triumph.
"I feel free," Guerra said plainly.
Guerra's disclosure was given generous air time during the episode and was the dramatic centerpiece of the entire season. The moment has been replayed endlessly on YouTube and was shown to a packed ballroom at the 2013 United States Conference on AIDS. It was undeniably inspiring, seemingly spontaneous, and brilliant television.
"Knowing Mondo, I think that happened organically," said Mackenroth. "Of course, everyone is working nonstop, producing a full season in 35 days. When these vulnerable situations come up, we hardly have time to think it through."
"When the judges genuinely wanted to know the story behind my print and design, that felt like the right moment," Guerra told HIV Plus. "So I told them what it really represented and that moment was a turning point in my life."
If Mondo provided the pinnacle of televised disclosures, the current season of Project Runway: All Stars has given us the most curious presentation of The Big Reveal.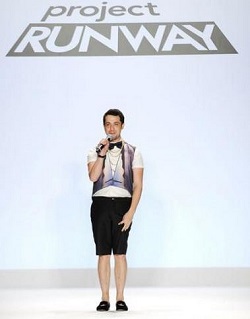 In one episode, designer Viktor Luna (pictured right) and the cast were scampering about, hard at work, and suddenly Luna begins speaking of his great anxiety in voice-over. Something is weighing heavily on him. He takes two designer pals aside and quickly shares his HIV-positive status. His friends say supportive things, they hug, and then they all dash back to their sewing machines as if they'd just had a quick smoke break. Luna's status is never mentioned again.
Luna's disclosure, as edited, felt like an afterthought, as if the producers noticed a lull in the excitement and cued Luna to bring on the drama. Producers might have hoped for something touching, but the hurried editing actually minimized the complicated nature of HIV disclosure. Everything about it felt false.
You know we are living in a more fortunate time when the merits of one televised HIV disclosure over another are being argued.
"Regardless of how it's produced, it's all a win," says Mackenroth. "Whenever this or any show combats stigma, the HIV community benefits from it."
Guerra sees a personal benefit too.
"Personally, it wasn't until I was open about my status that I started to take better care of myself," Mondo told us. "For that reason, I applaud Jack's openness about his status."
Today, Mackenroth continues his advocacy as one of the creators of the HIV=Equal campaign. Guerra has entered the fashion design stratosphere and is a key player in the Project iDesign Campaign, which encourages doctor/patient partnership. Luna wrote about his HIV disclosure on Huffington Post, sharing the details of his HIV journey that were not included in his Project Runway: All Stars episode.
Nothing is assured, in fame or fashion. Project Runway contestants are often struggling designers who leave whatever jobs they have to compete on the show. For any of them to put their personal lives on the line, to take the sometimes frightening step of revealing their HIV status to the world, takes a special kind of courage.
Many people with HIV may not be fashion designers, but they can certainly relate to that.
Mark
(This is a slightly edited version of my essay that originally appeared on the site of HIV Plus Magazine. Jack Mackenroth photo by Stan Madden. Viktor Luna photographed at Mercedes Benz Fashion Week by Fernanda Calfat/Getty Images.)
Tags: aids, culture, gay, hiv, Recreation, Sexuality
Posted in Living with HIV/AIDS, My Fabulous Disease, News | 2 Comments »
Thursday, January 9th, 2014
In the summer of 2013, thousands of subscribers to Nelson Vergel's "PozHealth" listserv received a startling email from the HIV positive fitness and nutrition expert.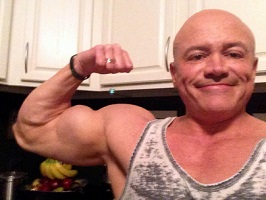 "You are probably wondering why I have been so quiet the last few weeks…" the message began. Vergel, a trained chemical engineer who devoted himself to HIV treatment advocacy after testing positive in 1985, had a troubling explanation for his online absence. A diagnosis of cancer.
"It took me months to come out to the poz group," Vergel said about revealing his diagnosis to his listerv. "It was a struggle for me."
Vergel had begun the group in 1999 when lipodystrophy was a hot topic among people with HIV/AIDS and they needed a place to compare notes, and it has since become the largest treatment information listerv for people living with HIV. It still thrives at a time when the exchange of HIV treatment information among peers has waned.
The success of the group perfectly reflects the dedication of its host, a gay bodybuilder whose own serious struggle with AIDS over the years belies his appearance of physical strength. Group members clearly admire Vergel and see themselves in his medical challenges and triumphs.
So it was with some trepidation that Vergel revealed a new health crisis to the group, one that forced his HIV to the back burner. "I was very concerned that people might panic, not about me, but themselves. I didn't want them to think this applied to them," Vergel said. "I really was more concerned with them projecting my challenge onto themselves."
He had little choice, however. His condition was serious.
In June, Vergel was experiencing stomach problems that doctors initially believed to be ulcers. Then came a diagnosis of H Pilori, a stomach bacteria. Vergel requested an upper GI endoscopy, during which ulcers were found and biopsied. While treatment with antibiotics killed the bacteria, the news from the biopsies was grave: Vergel had a aggressive brand of cancer known as non-Hodgkins lymphoma.
"I was shocked," said Vergel. It wasn't the feeling of impending death he had experienced when he tested HIV positive in 1985, but something more incredulous. "It hit me really hard. I had been preparing for heart attacks, or anal cancers, which I have checked every year. I was controlling those high risk situations. But this…?"
Despite the cruel irony of battling mightily against one disease and then facing another, it didn't take long for Vergel's instincts as a treatment advocate to take hold. "After I got the news, I got into my car and cried a little," he said. "And then, before I called my partner, I got on the phone and did a Google search."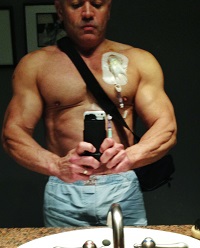 His research confirmed the treatment plan of chemotherapy that his doctor recommended, but he soon discovered that cancer healthcare isn't nearly as accustomed to empowered, involved patients as is the world of HIV.
"I realized how behind oncology is from HIV," Vergel said, "because there are fewer online resources for patients. It felt like early HIV. They don't discuss side effects until they happen to you. I kept finding out things randomly. It made me realize how good we have it in HIV. In oncology all they care about is killing the cancer. But part of the goal should be protecting the patient from side effects."
His treatment as a patient was often the antithesis of what he has advocated for HIV patients for decades. That advocacy, and Vergel's influence in crafting programs to empower HIV patients, is considerable.
Vergel educated himself on HIV pathology and medications after his HIV diagnosis, and became involved in several national health commissions, leading to his founding of the Program for Wellness Restoration in 1994. Because of his interest in physical fitness, he pushed for federal funding for studies of anabolic steroids and promoted results of earlier studies that showed that once you reach 55% of lean body mass, your chances of survival drop precipitously.
He was convinced that resistance training, nutrition and supplements are a key weapon against HIV. His 1998 book, Built to Survive, found a place on the shelf of nearly every gay man who had HIV and a gym membership.
For better or worse, the image of muscled gay men with HIV that emerged in the 1990's, pumped up from weight training and anabolic steroids, can be directly attributed to the seminal work of Nelson Vergel, who trumpeted the importance of lean body mass in fighting HIV infection and maintaining a healthy immune system.
Unfortunately, his own HIV has been multi-drug resistant, and Vergel is currently on the last available regimen to treat his disease. The clinical expression for patients like him is "treatment failure." Vergel hates the term.
"Being called a failure sends the wrong message to patients," he said. "and I have been trying to change that language in the treatment world. It's demeaning to patients who are adherent."
As his cancer treatment progressed, other differences between his two health crisis emerged.
"A good friend of mine was diagnosed with cancer the week before me. He said, 'I have neighbors cooking for me. Doing my laundry. Isn't it sad that I could never disclose my HIV, but I can disclose this and everyone rushes to help? This is a diagnosis that my community can get behind. Isn't it sad that HIV isn't the same way?'"
The good news is that, unlike Vergel's history with HIV medication, the cancer treatment seems to have worked.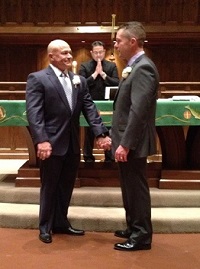 "There is no cancer based on my last biopsy," Vergel said. True to form, Vergel made the decision himself to stop the rounds of chemo early because he was concerned with its effect on his immune system. But he remains vigilant. "You are never cured of cancer. Like HIV, you have to keep an eye on it."
The last six months have been "the most intense of my life," he said, but it has also included signs that life, and joy, can go on. Vergel and his longtime partner were married in Washington, DC, on September 21.
"Always enjoy the moment," Vergel said. And then he adds an observation for those living with HIV. "Apply what you have learned in HIV and take control of your own health, no matter what the diagnosis. Oncologists are not used to seeing patients like us. Long time HIV survivors have many years of experience dealing with the healthcare environment, we have gathered lessons on second opinions, questioning our doctors, we're relatively young and healthy and have learned a lot of skills."
Today, Vergel is again busy posting to his POZHealth listserv, offering advice in TheBody.com's "Ask the Experts" forum, and he just founded a new men's health program, ExcelMale . Even the hair he lost during chemo is growing back.
"I didn't know how resilient I was until I went through this," Vergel says, and then there is a thoughtful pause. "Resilience. I like that word."
Mark
Some of the most popular My Fabulous Disease videos have shown Nelson trying to whip me into shape. "Fitness Stud Nelson Vergel Raids My Fridge" is hilarious and informative, "Hitting the Gym with Fitness Expert Nelson Vergel" benefits from his tight tank top, and "The Hard Facts on Erectile Dysfunction" offers advice on, well, you know (and opens with us in bed together). Check them out!
Tags: aids, culture, help others, hiv, physical, physician, research
Posted in Gay Life, Living with HIV/AIDS, My Fabulous Disease, Prevention and Policy | 7 Comments »