Posts Tagged 'drag'
Tuesday, October 30th, 2012
During my new video blog episode, below, someone asks me incredulously if I would actually march down the street telling people I was HIV positive.
Well, actually, I would. And have. Many Gay Pride parades ago, in 1994, I marched while wearing a t-shirt that said "NO ONE KNOWS I'M HIV POSITIVE." This was prior to the advent of protease inhibitors, when many were still dying. The shirt felt like an enormous "screw you" to the virus, to the body count, and to anyone who had a problem with my status.
But I have a peculiar lack of shame, or if you will, I'm shameless. And I am very, very fortunate that I can exercise this trait with a minimum of consequences. It's not something that many people with HIV are able to do. Why? Beyond their personal reticence, there is still an appalling lack of empathy (and education) within families, workplaces, and social networks. The issue of HIV criminalization and the increased prosecutions of people for not disclosing their status only increases the risks of sharing your status.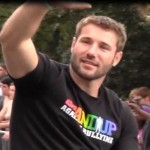 It may be instructive to point out that, unlike cancer or diabetes, people with HIV are stigmatized, rejected and even prosecuted for their status — and not a small amount of social stigma comes from within our community (HIV is the only viral condition for which you can be prosecuted for not disclosing, even though others, such as Hep C, have become deadlier). I believe one antidote to stigma is pride, and by taking pride in our HIV status we can foster a feeling of responsibility and openness — to seek medical care, to disclose to our partners, to serve as models for those who are too afraid of HIV to even get tested.
During the Atlanta Pride parade and festival, I tried to reconcile my own "HIV OUT" status with those who can't speak for themselves, and I investigated a simple question: if HIV is nothing to be ashamed of, can it be something to be proud of?
Thanks for watching, and please be well.
Mark
PLUS…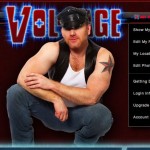 There's one thing that Volttage (the new online dating site for HIV positive gay men) will never lack: artwork of hot naked men. Not when it has been created in part by HIV hottie and physique model Jack Mackenroth. If you're gay and poz and single, you might appreciate a dating site in which the maddening question "are you clean?" will never be asked. This kind of selective coupling is known as serosorting (check out the video tour of an HIV positive sex club I did last year), and it can be helpful to both peace of mind and HIV infection risk. But of course, love always enjoys complicating things, so save some room in that heart of yours, just in case the man of your dreams is HIV negative!
Tags: culture, drag, gay, gratitude, hiv, Recreation, Sexuality
Posted in Anita Mann and Acting Gigs, Gay Life, Living with HIV/AIDS, My Fabulous Disease | 12 Comments »
Tuesday, July 31st, 2012
AIDS2012 was exactly as I had hoped: an enormous "summer camp" for advocates from around the globe, and I had a blast bringing their stories to you. Let others cover the medical updates and the big name speakers. I wanted to give you a sense of the people who are doing the work on the front lines – with a few bigwig interviews along the way.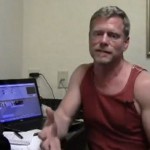 Every day I sought out stories I thought would interest you and took a ton of footage (with the help of my talented camera person and schlepper Tina Robles). After a bite of free food from whatever reception was happening, I tried to make it to at least one evening event. And then back to my hotel, where I reviewed the footage, did my best to conceive a theme for the day, and then started editing. I'm quick at the editing part, but it still took 4-5 hours, into the wee hours of the morning. Then I'd sleep for a couple hours and start again. I'll need the two years between now and AIDS2014 just to catch up!
Here are links and a review of each of the six video blogs I produced during the week. Simply click the title to see the posting and watch the video.
The MSM Pre-Conference ("Gay Day")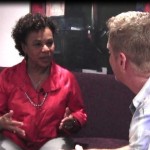 Since less than 5% of the programming for AIDS 2012 is targeting to MSMs (Men who have Sex with Men), a special one-day pre-conference is held the day AIDS 2012 convenes to address the needs and issues of this population.
My report includes a chat with United States Rep. Barbara Lee (right), who has just introduced comprehensive HIV prevention and anti-stigma legislation; the advocates fighting laws that criminalize people with HIV (like Sean Strub and Edwin Bernard), a little social research on Grindr (the gay man's cruise phone app), a chat with Positive Frontiers editor Alex Garner about getting rejected (and rejected others) during the dating process, and a visit to an AIDS2012 Reunion poz social event.
Opening Ceremonies at the AIDS2012 Conference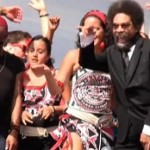 In this brief video episode from the first official day of AIDS2012 the party is rolling, with an outdoor concert (steps away from the AIDS quilt) featuring Weyclef Sean and Cornel West (!), dancing dignitaries, and a somewhat surprise ending!
The fact is, Day One was a light day, the calm before the storm, as people poured into DC and braced themselves for the busy week ahead. And it was my last chance to get a decent night's sleep.
AIDS2012 Day Two: Stigma, Singers and Subways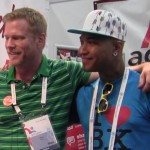 Day Two of the international AIDS conference (AIDS2012) roared through its first full day on Monday, and there are sights to behold. This episode is a lot of fun.
I spent some time in the exhibit hall critiquing the fashions (and the issues) of various attendees with fashion maven Jack Mackenroth (poz and proud veteran of "Project Runway"), started a YouTube rivalry with inspirational singer Jamar Rogers ("The Voice," right), and learned about HIV and aging from an expert with the Terrence Higgins Trust. I also had the chance to speak with the head of the CDC's HIV/AIDS Division about their new "Let's Stop HIV Together" campaign, in which Jamar and myself both participate.
And, with all the talk at the conference about the devastating effects of HIV stigma, I found validation of my own HIV status in the unlikeliest of places: the Gallery Place subway station.
AIDS2012 Day Three: The March to End AIDS!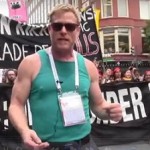 I know my tank top looks kinda slutty, but it was damn hot, people.
Several contingents marched and protested separately throughout the city – marching for housing, and civil rights, and in protest of the pharmaceutical industry's "intellectual property" policies – and then convened in front of the White House. Whereas the march and rally at AIDS2010 in Vienna was a peaceful affair, our proximity to the White House, the aggressive crowd and the police on horseback all lent an air of old time activism circa 1987.
The people included in the video can speak for themselves, and quite eloquently. Maybe it was the emotions of the event — anger, nervousness, pride — but it was an exhausting day. I felt the residue of grief for lost friends in a way I haven't experienced in years.
This is my favorite, no doubt, and I'm proud of the visual and audio techniques I employed to give some historical context to the event.
AIDS2012 Day Four: The Global Village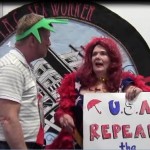 It was time for a tour of the heart and soul of AIDS2012: The Global Village. This massive hall is the only part of the conference open to the public, and it has a grass-roots feel, crafted from the love and devotion of hundreds of community groups who are doing "the work on the ground" in cities and small towns throughout the world.
Thank God I'm a video blogger, because words escape me when trying to describe the colors and displays and most importantly, the committed people behind it all. You're about to meet drag queens who make their living handing out condoms, sex workers demanding an end to criminalization, young prevention workers from far-flung corners of the planet, a stunning photo exhibit from the Ukraine… the list goes on.
AIDS2012 Day Five: Farewell to the Voices of the World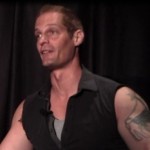 Our little summer camp for global AIDS advocates (and physicians, and commercial interests) had come to a close, and there are images that will be knocking around in my head for weeks to come (and some, forever).
I begin this video with the astonishingly talented performance poet Mary Bowman, a young woman with HIV showing us her heart and soul on stage. It's a jumping off point for this final, brief video, in which I pay tribute to the people on the front lines who are the very essence of this conference. They are the ones with the "star power."
This opportunity to share my experiences at AIDS2012 was a distinct honor and privilege, my friends. My deepest thanks to you all for the many cross-postings and shares and tweets. This was a week I will never forget.
Enjoy the videos, and please be well.
Mark
Tags: Aging, aids, barebacking, criminalization, culture, drag, gay, gratitude, help others, hiv, physician, politics, recovery, Recreation, research, Sexuality, testing
Posted in All Other Video Postings, Books and Writings, Family and Friends, Gay Life, Living with HIV/AIDS, Meth and Recovery, My Fabulous Disease, News, Prevention and Policy | 5 Comments »
Saturday, July 28th, 2012
Our little summer camp for global AIDS advocates (and physicians, and commercial interests) has come to a close, and there are images that will be knocking around in my head for weeks to come (and some, forever).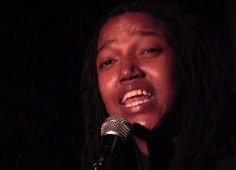 The seven foot Mexican drag queen handing out condoms springs to mind, of course. The astonishingly talented performance poet Mary Bowman (right), showing us her heart and soul on stage. And escape artist Daniel Bauer's highly personal show mixing magic with confessions from his life as a gay man living with HIV. Seeing presentations by mentors I admire, such as Sean Strub and Edwin Bernard. The Australian chief justice with a gay partner of 43 years, giving me suggestions on maintaining a long marriage ("Give in," he advised).
In this farewell video posting, I pay tribute to the people on the front lines who are the very essence of this conference. They are the ones with the "star power," and they fill me with renewed commitment and energy that might possibly last until AIDS2014 in Melbourne, Australia.
Thanks for watching, my friends. It has been my privilege to be your tour guide and I deeply appreciate your many notes and cross-posts and "likes" on Facebook. I like you very much, too.
Please be well,
Mark
Tags: aids, criminalization, culture, drag, hiv, physician, politics, research, Sexuality, testing
Posted in Gay Life, Living with HIV/AIDS, My Fabulous Disease, News, Prevention and Policy | 4 Comments »
Monday, May 21st, 2012
The music my friends liked when I was a teenager intimidated me. It was the head-banging rock of the early seventies, and it felt alien and unappetizing. Most of all, it just felt… straight, in a way I knew I could never be. Alone in my room, I listened to my beloved Broadway musicals, and resigned myself to the fact that popular music would never really speak to me.
And then in 1977, when I was sixteen years old, I began sneaking into the only gay bar in Shreveport, Louisiana. Inside I found joy and liberty, fashioned with bell bottomed pants and handsome smiles and the dance floor – oh my God the dance floor – centering the nightclub was a glorious explosion of colored light and swinging hips and arms reaching up, up to the sky as if we could clutch it in our hands. The music was an entrancing bombardment of sound, and one song, one mesmerizing invitation to touch the heavens, was played again and again.
It was Donna Summer. And she was singing "I Feel Love."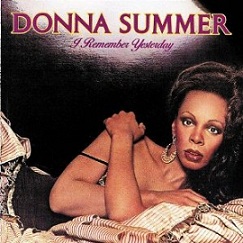 The track was really the triumph of producer Giorgio Moroder, who created the driving, synthesized beat that would define Donna Summer's music for years to come. But I knew I had to own this amazing song, and soon I stood proudly at the record store cashier to buy my very first popular album, Donna Summer's I Remember Yesterday.
I had found my music, my voice, and my lifelong muse.
The following year I had come out as a senior in high school, and Donna Summer was still in her "whisper period." It was never my favorite sound from her – it felt like playing chopsticks on a grand piano – and I knew from her other album tracks that she could let it rip. As I was graduating she did just that, with the release of her iconic "Last Dance." Her full-throttle pipes were on stunning display. Dance parties would never be the same.
By the time I left home for college in New Orleans, the music of Donna Summer had exploded into popular culture. I felt so proud of her, as if I had discovered her myself. My nights in the French Quarter were spent in the Parade disco on Bourbon Street, dancing to "Hot Stuff" and "Bad Girls."
The feeling of joyous exuberance that surrounded that disco is hard to describe. It was a sea of shirtless men, staking claim to our sexuality and the promise of infinite possibilities ahead. The incessant thump! thump! thump! of the beat was our clarion call, and it shouted Here! Here! Your tribe is here! We were so beautiful, in ways we were much too young to know.
And then soon, of course, the lights began to dim.
By 1982, I was struggling in Los Angeles as an aspiring actor, and Donna Summer was having a musical identity crisis. Record executives wanted a new sound for her to accompany the changing times, and her longtime producer Giorgio Moroder had been replaced by a succession of others. The red-hot Quincy Jones produced her Donna Summer album that year and their studio clashes became legendary. The album floundered and produced no significant hits.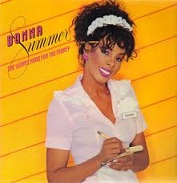 At the Los Angeles gay pride festival the next year, I was thrilled to hear Donna's voice again, sounding gorgeous and almighty, singing "She Works Hard for the Money." I took to the dance floor but was somehow unable to muster the joy I had known only a few years before. Life had intervened. And it had brutal plans for the men under the dance floor tent.
Donna Summer produced dance floor singles, if not hits, in the years that followed, but we weren't paying attention. The night club crowds dissipated, as a silent killer plucked men away one by one. AIDS had begun its murderous march through the gay community.
The villain wasn't simply the disease in those darkest of days. It was ignorance, and the judgment that rose up from social conservatives who saw Godly retribution in the horrific deaths of our friends. And so, when Donna Summer became a born-again Christian during this period and announced she would no longer perform her early, erotically charged hit "Love to Love You, Baby," her gay audience viewed her with immediate suspicion.
An ugly rumor began. Someone claimed to have heard her make a homophobic remark during a concert appearance. Depending on who was repeating the story, she had either said AIDS was God's judgment, or that God made Adam and Eve, not Adam and Steve. The unsubstantiated rumor swirled and grew, in an environment in which gay men were particularly sensitive to ignorance and hatred. By the time Donna Summer took it all seriously enough to set the record straight, it was too late. What was left of her popularity fell victim to the social maelstrom of AIDS.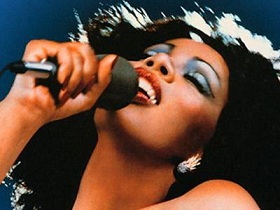 I never believed the story, and defiantly continued buying her albums, though they appeared with less regularity. Donna Summer would have only one more true hit, "This Time I Know It's for Real," which I chose to perform for my maiden appearance in drag at an AIDS benefit. The fact that during this time Donna Summer was raising money for AIDS research gained little traction among emotionally bruised and unforgiving gay men.
Today, disco may be dead, but Donna Summer's music laid the groundwork for everyone from Madonna to Lady GaGa, even if my body has found it harder to approximate the dance floor moves of my youth. But in my mind, as I blast "Dim All the Lights" in the privacy of my living room, I am young and powerful and life is making promises that are wonderful and possible.
Donna Summer is among the spirits now, joining the legions of ghosts haunting brightly colored discos from another era. She is still cooing to them, to these throngs of boisterous men, inviting them to the dance, where there is everything to celebrate and nothing to forgive.
The men are moving to the beat and laughing and holding one another. They are all beautiful, and they know it.
And they feel love.
Tags: acting, Aging, aids, culture, drag, gay, Recreation, Sexuality
Posted in Anita Mann and Acting Gigs, Books and Writings, Gay Life, Living with HIV/AIDS, My Fabulous Disease, News | 20 Comments »
Thursday, March 15th, 2012
"We're born naked… and the rest is drag." — RuPaul/center>

When I was nine years old, I took my parents' album of the Broadway musical "Damn Yankees" and memorized every syllable of Gwen Verdon's show stopper, "Who's Got the Pain When They Do the Mambo?" Once I was satisfied with my lip-synching and choreography (I decided that a mambo was a dance in which young boys gyrated and flung themselves on and off the living room sofa), the number was ready for public display.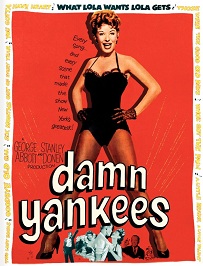 The premiere was a simple affair, exclusive and unannounced. Mrs. May from across the street had stopped in for afternoon coffee, and opportunity knocked when Mother busied herself in the kitchen for a few minutes.
Not a smart move, Mother, leaving Mark alone with the company.
"Mrs. May, would you like to see me do a song?" The unsuspecting woman gave a polite "yes, that sounds nice" and before Mother could run interference I had turned on the stereo and dropped the needle at the precise moment where Gwen breaks into song.
Mrs. May stared and stared, her hands folded neatly in her lap, as I brought out every sashay, twist and thrust in my dancing arsenal. My moves may have been imperfect but I vocalized brilliantly, thanks to Gwen. As I struck my final pose, arms reaching for the heavens, frozen and triumphant, I saw mother standing in the doorway, holding a plate of cookies and breathing heavily through her nostrils.
Future performances would be limited to my bedroom, where I could conjure an audience cheering with acclamation and mothers wouldn't put you on restriction.
It is that boy, the cheerful but feminine performer, that I always feared would creep out of me as I navigated young adulthood as a gay man. I worked to shed his characteristics, to replace every soft gesture with a wooden one, to embrace the gym and tank tops and Levi jeans with the same fervor I once had for my beloved Broadway musicals, with mixed success.
And then, a lifetime later, as I worked for an AIDS agency in Atlanta in the 90's, destiny called. An upcoming drag contest to benefit our agency was suffering from poor participation, and my boss asked if I would consider entering.
Being a drag queen, even for a night, terrified and delighted me. But the performer in me won out, wouldn't you know, and Anita Mann was born. I created an interactive video rendition of Donna Summer's "This Time I Know It's for Real," (even then, long before this blog, I was toying with the possibilities of video) and won the contest.
Soon I was performing with "the camp drag queens of the south," The Armorettes, who hosted a Sunday night show to raise funds for AIDS organizations. Over the years they have raised over $1 million dollars, and their show was a sellout every week. But my own phobic notions lingered.
I didn't want to be known as a drag queen ("It's comedy! I'm a performer!" I would insist). I never appeared anywhere in drag but on that stage – I would always get dressed at the show, and was often out of drag for the final curtain call, in a bid to display whatever masculine credentials I had to offer.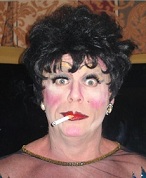 I would hear other gay men make disparaging remarks about drag and I withered, unable to admit I was playing to a packed room every Sunday.
The nexus of shame and shamelessness is a complicated one. Each week I put on full display the very things about myself that I had worked so hard to reject – my femininity, my silly pursuit of acceptance through laughter and applause. And just as I gained confidence in what I was doing and why, I would lose a potential boyfriend when he learned of my weekend talents.
As a growing drug addiction encroached on my free time, I abandoned Anita Mann to its demands. For many years thereafter, Anita's dress and wig would be relegated to a duffel bag hidden in the back of the hallway closet. I had found a vocation in drugs that offered twice the shame and every bit of the need to keep quiet about it.
It took a few years in recovery from my addiction before Anita would make her comeback. Armed with a TV set and a sense of the absurd, Anita performed at a benefit for those of us in recovery, in what may have been her finest hour. Her rendition of "Don't Get Around Much Anymore" grows more insane by the moment, and perfectly embodied my interest in multi-media performance.
And yes, I am aware that I speak of her in the third person. Maybe it is because I view her as a character I have created, and perhaps it is the remnants of shame, and of my need to keep her at a distance.
It's strange, how those things about which we have drawn the most shame are also able to liberate us, not to mention help others. My HIV status. My drug addiction. My drag personality. As I have embraced each of these, I've found self-acceptance and a way to carry a message of hope, and even joy, to others.
Anita Mann limits her performances these days to recovery related engagements. It seems fitting that these two aspects of my life, both once secretive, have found their place together. Anita has a voice now as well, doing a sort of recovery stand-up and even singing live when the occasion permits. Anyone in recovery might enjoy watching the highlights of her recent stint at the Crystal Meth Anonymous conference in Atlanta, which includes her bittersweet rendition of "Happiness is…"
Meanwhile, I still struggle with the need to project as much masculinity as I can muster. I swagger more than I sashay. I sport a beard when possible. And I work to maintain a strict gym regimen.
It's important for me to stay in shape if I expect to fit in that dress.
———————————————————————–
PLUS…
The HIV Cruise Retreat is going to be sold out early this year, because the cruise ship, unlike previous years, is taking back unsold cabins from the cruise organizer that are not sold within the next week. In years past, cabins for our group could be sold much closer to departure. This is probably due to the popularity of the Halloween voyage, and it means you must act now to get a spot. I love this event. Contact Paul Stalbuam at 888-640-7447 or visit www.HIVCruise.com.
Tags: acting, culture, drag, gay, help others, hiv, meth, recovery, Recreation
Posted in Anita Mann and Acting Gigs, Family and Friends, Gay Life, Meth and Recovery, My Fabulous Disease | 9 Comments »
Thursday, January 19th, 2012
Even in darkness, in the bitter cold of northern Pennsylvania on a January night, the town of Milford can't help displaying its charm. I'm walking through Main Street and the shops splash warm light in my path as strolling shoppers offer smiles and salutations.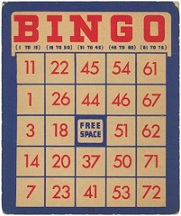 This isn't a night for shopping, however. It's Bingo Night, and I am making my way down a side street for the local church. I follow the sounds of a boisterous crowd that lead me to the fellowship hall.
The tables in the small hall are stuffed with people and the elevated sounds of good cheer reverberates throughout. Many in the crowd turn to me, the bundled up stranger, and they call out welcomes, whoever I am. Tables are littered with bowls of chili and chips and salsa.
I give a woman in an apron my ten dollars, which affords me chili, all the brownies I can eat, and a bingo card.
A chorus of cheers suddenly rings out, and there in the doorway is my host Sean Strub, not the AIDS activist of queer history but the civic pioneer who has done so much for the renovation of Milford. The cheers give way to a round of friendly applause, and Sean makes his way to me as chili and brownies and soda are enthusiastically offered him from every direction.
If these townspeople are living a Frank Capra fantasy, then Sean is their George Bailey, popular and humble, a friend to all. I keep waiting for someone to raise a toast "to the richest person I know."
It's impressive and sincere. The entire scene is imbued with the kind of openheartedness that a jaded gay man like myself hardly recognizes anymore. I'm a bit dumbstruck.
"Really, Sean?" I ask him as he finally arrives at my table. "I mean, really. Applause?"
Sean blushes and beams in equal measure, both convincingly. He steps to the head of the room to take his position calling the numbers, naturally.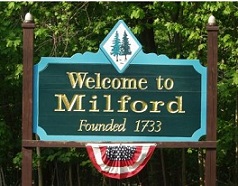 For a week I've been in Milford, Sean's idyllic town a short drive from New York City, to stay with him and work on the issue of HIV criminalization. There has been a startling rash of new prosecutions of people with HIV who did not disclose their status to sex partners. It is a topic Sean has been passionate about for years now, but only recently have people like myself paid much attention.
It's an uphill battle, not simply convincing lawmakers that these prosecutions are bad for public health because they discourage HIV testing, but because even a majority of gay men support the laws. As HIV as an issue has aged, stigma has risen. Younger gay men who find themselves infected are judged far more than were men of my generation. The shame of becoming infected "when you should know better" and the certain rejection they will face from their peers ("I'm drug and disease free, you be too") make them more likely to want to hold someone else responsible for their infection.
It's a sad blame game, fueled by vengeance and humiliation. With lawyers and jail sentences involved.
A ten year old girl, all curls and colorful hair clips, cries "bingo!" and the crowd responds enthusiastically. She approaches the prize table to select her reward with the careful discernment of a grocer choosing the most perfectly ripened fruit.
Beside me, a gay couple, one of many who split their time between careers in New York and a home in Milford, are bringing me up to speed on gay life in the bucolic town.
"There's gay dances about once a month in a hotel basement up the street," one is saying. "We even had a drag show last year." I'm skeptical of the local drag talent pool, but the couple assures me that corporate attorneys and physicians aren't the only highly skilled professionals that make weekend escapes to the serenity of Milford. "It was an all-star lineup," he continues. "Matter of fact, there's a birthday party tonight at a lounge on main street for one of the drag queens. Should be lots of fun. You should check it out! It's probably already started."
The incongruity of church bingo and a drag queen birthday is too much to resist. I surrender my bingo card to one of the kids and give a wave to Sean.
The lounge resides in the parlor of one of the town's handsome, renovated hotels, but the crowd isn't what I had hoped. A pair of men are playing pool, dividing their attentions between the table and college football skirmishes on the overhead monitors. They are clearly unaware of any drag festivities afoot, and I wasn't about to be the one to inform them.
And then, sitting at the bar with his hands folded neatly in his lap, I find evidence of another party attendee. He is a gay man of a certain age, with frosted hair and a small, sparkling package on the bar before him. It is bejeweled from the efforts of a hot glue gun and a dozen or so rhinestones.
He is sitting patiently with his offering, and I wonder of his relationship with the drag queen in question, deciding that he is a devoted fan ready to pay his respects. He appears unfazed by the nonexistent party turnout and sips from his white wine glass without care.
The gay couple from the bingo game appear, and their apologies are written across their faces. "It's okay, it's probably too early for a party anyway," I say. I'm sure the drag queen will eventually make an entrance, but something about an outrageous wig, sequins and enormous eyelashes on the scene feels as if it will spoil the natural environment. It's time to head out. I don't want to break the spell of Milford.
That spell is one of belonging, of community, of home. After a couple of months of a nomadic existence, visiting family and now Sean after my breakup and exit from Ft Lauderdale, my spirits are lifted just as my longing for my own sense of community has heightened. I see the settled, peaceful faces of the residents here and want it for myself. I know that my work with the criminalization issue is valuable, and yet I wonder if Sean knew that he was also giving me safe haven and a chance to be valued beyond our project, all in the warmth of new friends and domestic tranquility after a couple of rough months.
The more my spirits are raised, the more I know I must move on, to Atlanta, where friends and an anxious realtor await me, where my belongings are boxed and stored and ready to find their place.
I want to know that place, too. It's time to find home again.
Tags: criminalization, culture, drag, Recreation
Posted in Books and Writings, Family and Friends, Gay Life, My Fabulous Disease | 3 Comments »
Tuesday, December 13th, 2011
My mother's home here in Shreveport, Louisiana, was fraught with excitement last week. Christmas decorations littered the living room, the almond scent of cookies filled the air, and last minute phone calls and arrangements made it all feel like a major production was underway.
And there was. The event that had everyone scrambling was held on a Sunday afternoon, when siblings and extended family arrived for the taping of The 'My Fabulous Disease' Holiday Spectacular.
Now just take that in for a moment. My family was enthusiastically participating in a video about my life with HIV. And they were much more concerned with choosing a fun holiday outfit than being publicly associated with their HIV positive relative. For them, sitting down for an interview about my HIV status, well, that was the easy part. They had no problem being candid about my HIV, as you will see.
I am an extremely blessed and fortunate man.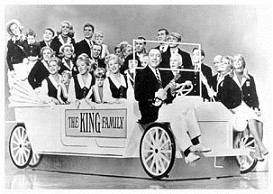 When I was young, I remember watching "The King Family" on television (right), a big happy bunch that sang really well and wore lots of matching outfits. I was starstruck, and always wondered if that King family might bear some relation to mine. And if they didn't, would they let me come be on their show anyway?
Well, today, I'm proud of my own family for displaying our dubious talents, and by going a big step further by discussing the importance of supporting those of us living with HIV/AIDS. For far too many, the difficulty in disclosing our status — or the result of doing so — has distanced them from the people they need most during times of challenge.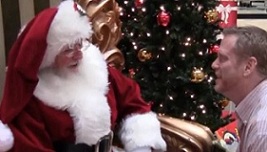 The Holiday Spectacular includes some family greetings, a cooking segment with Mom (you'll want that divine almond scent wafting through your home, too), some holiday drag, a surprise here and there, and even an appearance by the big man himself, Santa Claus.

You may remember my mother from "What it Feels Like for a Mom," a bracingly honest video created for Mother's Day. You might also remember my gay brother Dick, who made an It Gets Better video with me. He was also one of the main subjects of the award winning "Once, When We Were Heroes" posting I made for World AIDS Day several years ago. But today, you're also going to meet sisters, nieces and in-laws who have special holiday greetings just for you.

Enjoy the holiday special, my friends. I hope you'll share it with anyone that could use some holiday cheer, or needs a reminder that they are loved. And as always, please be well.

Mark

p.s. As promised in the video, here is the recipe for Mom's Christmas Cookies. I'm certain they're fantastic for your t-cells.

MOM'S CHRISTMAS TREE COOKIES


(Note: Mother uses a MIRRO Food Press, a device that must have been manufactured during the Eisenhower era, judging from the faded instruction manual she still keeps handy. I found one on E-Bay for you for less than four bucks, or you can use a more modern appliance, if you must. I don't guarantee the cookies will taste the same!)

Time: 10-12 minutes… Temp: 375F… Yield: 7 dozen

1 cup shortening
3/4 cup sugar
1 egg
1/8 tspn salt
1/4 tspn baking soda
1 tspn almond extract
2 1/4 cups sifted flour
Green food coloring

1. Cream shortening, adding sugar gradually
2. Add unbeaten egg, dry ingredients, flavoring, and a few drops of food coloring. Mix well.
3. Fill the cookie press and form cookies on ungreased sheet. Sprinkle with sugar and bake.
4. Frost and sprinkle something fabulous on top of them (this is Mom's provocative departure from the original recipe. That's just how she rolls.).

———————————————————-

Tags: aids, culture, drag, family, gay, gratitude, help others, hiv, recovery, Recreation
Posted in Anita Mann and Acting Gigs, Family and Friends, Gay Life, Living with HIV/AIDS, My Fabulous Disease | 21 Comments »

Tuesday, November 15th, 2011

It was my distinct privilege to serve as host and M.C. for a second time on The HIV Cruise Retreat, the labor of love by openly HIV positive travel agent Paul Stalbaum of Cruise Designs Travel. Paul has become the go-to man for gay travel groups " in addition to the HIV cruise he organizes a gay cruise and even a gay bear cruise " and he says without question that the HIV cruise is nearest and dearest to him.

As Paul and my fellow co-hosts planned the cruise events over the last few months, I was amazed by the level of detail and care with which Paul approached the task. Then again, he's been actively involved in the HIV community since setting up and facilitating the earliest support groups in Ft Lauderdale nearly 30 years ago. His heart is in this.

It may seem curious that so many people living with HIV would spend their vacation time and money on an vacation alongside over 200 others living with the disease. But our common issue is inspiring and even a source of humor and fun.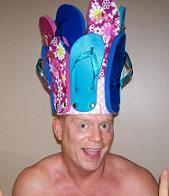 The happy vacationers come from all walks of life and across the country, and many of them hail from smaller cities where they don't have this type of fun social outlet for people with HIV. It's pure pleasure being in their company.
After an opening cocktail reception (Princess Cruise Lines accommodated our large group by giving us exclusive use of various venues around the ship), hosts Nate Klarfeld and Grover Lawlis moderated an AIDS 101 presentation for the sprinkling of cruisers who were fairly newly diagnosed.
But on to the parties! This year there were two bashes: The Mad Hatter Party, where guests were invited to get creative with their headgear (I wore a crown made entirely of flip-flops), and The Blue Party, which asked the revelers to interpret the color in any way they chose. The creativity at both did not disappoint.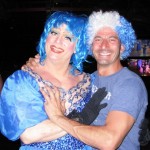 My comic alter ego Anita Mann (near right, in an odd, mutual chest grope with one of the passengers) made her Cruise Retreat debut this year, hosting The Blue Party and ensuring I would never date anyone on the ship, once they witnessed Anita in all her peculiar glory.
All sorts of fun events sprang up throughout the week, such as an improv class led by host Jonathan Goldman, who also provided mud masks for our day on the Aruba beach (a sight in itself I assure you). Paul also arranged our own excursions in each of the ports, so we could snorkel or tour bat caves as a group.
We had so much fun with our own events and yet the ship itself offered nearly nonstop entertainment " a casino, live shows, games on deck, and one of our group members even won the highly coveted Karaoke contest!
On our last day at sea I facilitated "Mark's Poz Time Machine," a multi-media review of the last 30 years of HIV. It featured images and video clips along the timeline, but relied on audience members who fleshed out the years by sharing their experiences. Thanks to their recollections and candid memories, it was a bittersweet and enlightening event. I believe so strongly in the power and importance of telling our stories and sharing our history living with this pandemic. I'm so grateful for the contributions of the attendees.
I realize how fortunate I am. So many of us are not able to take the time or devote the money for a cruise like this. It's my hope that this video blog will inspire you to seek community, in whatever way you can, and never forget that a sense of humor sure does help the journey.
After all, you don't really need a cruise ship as an occasion to wear flip-flops on your head.
As always, my friends, please be well.
Mark
Tags: aids, culture, drag, gay, gratitude, hiv, Recreation
Posted in Anita Mann and Acting Gigs, Family and Friends, Gay Life, Living with HIV/AIDS, My Fabulous Disease | 12 Comments »
Friday, September 9th, 2011
July and August were almost frantically productive for me, and I've followed it by the longest period of, well, nothing, since I began producing this blog. Sorry. Sometimes an HIV guy just needs to lay around and catch up on Top Chef and Real Housewives (God bless you, Bravo).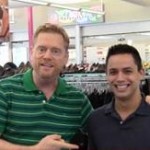 Hopefully you caught my most recent videos, such as the my examination of activism in "Should AIDS Activists and Pharma Just Get Along?" (complete with red paint foisting), or the video update on my facial filler procedure with Dr. Gerald Pierone (very informative but not for the squeamish), or the helpful tips for saving money with the knowledgeable Jason King (right) of AIDS Healthcare Foundation, whom the camera adores, and about whom I am harboring a jealous resentment (I may be petty but my grammar is pristine). And finally, it's always ironic when hours of video editing can't compete with one written posting the comes straight from the heart, like my tribute to Facebook putting my life together again.
But moving on.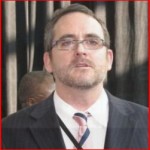 If anyone deserves being highlighted in the media for his commitment to HIV prevention, it's Jim Pickett of the AIDS Foundation of Chicago. In a well-written profile of Jim in the Windy City Times, you can follow his journey from waiter to activist to the man touting rectal microbicides as the next best weapon in our HIV prevention toolbox (I keep finding myself wearing a sticker proclaiming "I have Rectal Pride!" after visiting his booth at conferences). I've admired Jim's work for years and this fun profile explains why. "Expecting everyone to use condoms all the time is ridiculous," said Jim in the article. "People don't want to use condoms their whole life. As great as they can be, there are a lot of issues with condoms."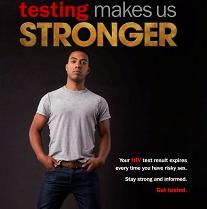 At the recent 2011 HIV Prevention Conference in Atlanta hosted by the CDC, I was thrilled to meet some of the dedicated members of the HIV/AIDS prevention team. What was even more satisfying was seeing their new prevention campaign targeting black MSM's ("men who have sex with men," who don't always identify as gay). To date, there have been limited data about the factors contributing to the high burden of HIV among black MSM, particularly those who are young " and yet the latest CDC data show that new infections among this group are increasing every year. Fortunately, the CDC is focused strongly on this population, and previewed a major new campaign being developed to increase HIV testing among black MSM " called "Testing Makes Us Stronger" " as the next phase of its ongoing Act Against AIDS campaign.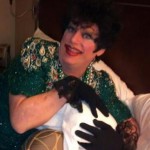 Thank God I'm clean and sober and alive today. If I was still an active crystal meth addict, I would have missed an astounding recovery conference during Labor Day weekend, which introduced me to some amazing people and strengthened my resolve to keep working to restore and rebuild my life. While I'm always coy about which method of recovery I have chosen (I don't wish to promote one over another), I will tell you that my camp alter ego Anita Mann (left) wasn't coy at all, and — get this — she actually sang live during one of the evening's entertainments. Alas, neither she nor I sing very well, but the message of recovery is clear, and she shares some funny, wise words with the audience after her song. Watch the clip here, but be kind.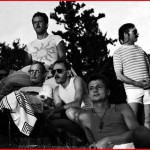 The emotion of "We Were Here," the documentary about the darkest days of the AIDS epidemic and its effect on a group of gay men, can be felt just by reading the reviews, like the rave it just received in The New York Times. I'm almost nervous to see it because I know the trauma and grief it could summon, but I also know I absolutely must. If you can't find it playing at a festival or cinema near you, then for goodness sake, go directly to Netflix or some other DVD rental site and put it on your list. I often speak of honoring the past — in fact, my favorite video on this site, "Once, When We Were Heroes," recounts those days and is always worth another look.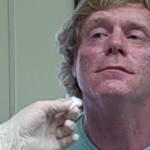 My (healthy?) fixation on repairing my facial lipoatrophy (also known as facial wasting) continues, and I am pleased to report that I have begun treatments with Artefill, the "permanent facial filler" product, under the continued care of Dr. Gerald Pierone in Vero Beach, Florida. My past treatment with other products is well documented, but I've got to say that these results are well beyond those of Sculptra or Radiesse, truly. The bad news: Artefill is not approved specifically for lipoatrophy, so there are no patient assistance programs for those of us with HIV, making the treatment expensive (in the thousands of dollars). While I don't expect many of my fellow HIVers can afford it, I felt compelled to share with you the very positive results.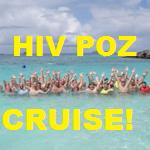 I am the MC for the annual HIV Poz Cruise Retreat, set for this November 5-12 to set sail from Ft Lauderdale. There was such an abundance of fellowship and acceptance last year that I had to do it again. There are sometimes last-minute rooms and cancellations, so if you would like to check it out be sure to visit the web site. You can also watch my video blog from last year, which gives you a great feel for the event and the fun people aboard. Kudos to the dedicated Paul, a long time AIDS advocate and man living with HIV, who has shepherded the cruises for the last nine years.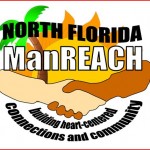 Some of the most progressive events for building gay male community and preventing HIV are being developed in the Florida panhandle, of all places. On Monday October 10, I'm honored to be participating in the "Our Gay Generation" forum for gay men in Pensecola, which will explore what it means to be a healthy, satisfied gay man today by looking at our past and rededicating ourselves to one another. Sponsored by the Oasis Community Center (and Butch McKay, the formidable force behind the annual Positive Living conference), the forum transcends political issues like gay marriage, and focuses instead on personal satisfaction, community, and the value of friends. Later in the month, the same group will host a ManReach retreat for 40 gay men at a remote retreat center. Contact Oasis for more information on either event.
Whew! Okay, I'm caught up. Thanks for your patience, my good friends, and please be well.
Mark
Tags: aids, culture, drag, gay, gratitude, hiv, lipo, physician, recovery, Sculptra
Posted in Anita Mann and Acting Gigs, Family and Friends, Living with HIV/AIDS, Meth and Recovery, My Fabulous Disease, News, Prevention and Policy | 8 Comments »
Tuesday, June 14th, 2011
I shuttered myself from most of the hoopla surrounding the "AIDS at 30″ milestone (we seem to have agreed on June 5, 1981, when an item in the Morbidity and Mortality Weekly Report reported deaths among gay men). The trauma of those early years is tough for me to revisit. Every media piece seemed to be about the past and it all felt emotionally overwrought and indulgent. I skimmed the coverage and secretly wished it would just go away.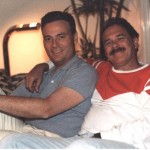 Revealing the intensely personal isn't normally a problem for me; I wasn't shy about addressing our darkest days in my video blog entry Once, When We Were Heroes (right), so it's not like I can't go there. Maybe the sheer volume this month of tragic stories and heartfelt blogs and "I Was There" interviews was too much for my scarred psyche.
It could also be an ego thing. All these extra voices showing up and piling on their stories. Hey Missy, that's my gig, move it along, thank you very much. During the media frenzy of "AIDS at 30″ I felt like a professional drag queen refusing to venture out on Halloween. Too much competition. And from such amateurs.
This week I finally paid more attention to what has been written this month, and of course, it's pretty damn good.
The 30th (what? Celebration? Anniversary? Commemoration? Did we decide on something?) yielded some tremendous coverage at The Body, my favorite online HIV resource. And obviously, how the hell can people appreciate our AIDS history is we don't document it at every opportunity?
Asking the gay bloggers at The Body to speak back and forth between generations about their HIV/AIDS experience was inspired. Anyone under 35 is my favorite audience, although the over-40 crowd probably understand me a lot better.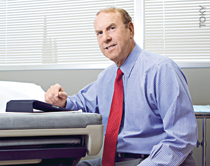 I also really enjoyed Nelson Vergel's interview with Dr. Michael Gottlieb (left), the man who published the first report of some rather strange deaths among gay men. Dr. Gottlieb also happened to be my physician in Los Angeles when I was diagnosed with HIV in 1985. During those days, I once forced Dr. Gottlieb to tell me his best guess for my lifespan, and he went out on a limb to say I could make it to 40. That birthday came and went, ten years ago. When the preeminent expert in the field gets it that wrong, you know we've had more success treating this virus than anyone had hoped in the early days. Thank God.

Elsewhere, I admired Regan Hofmann's (right) recent editorial at Poz Magazine immensely. With nary a glance backward, she sat squarely in the present and outlined the thirty issues that are most important to the crisis today and in the future. It was also a solid primer on the emergence (and debates about) new prevention theories like Post-exposure and pre-exposure prophylaxis and "test and treat."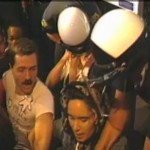 Once I allowed myself to "face the past" by checking out Karen Ocamb's amazing reports from the early days of the crisis, I was happy I did. Karen is a Frontiers news editor who has been covering LGBT issues in Los Angeles for 30 years, and in her collection of stories from the AIDS frontlines of the 1980′s (complete with video she shot herself), she takes us along to an early AIDS protest (left), to early treatment activism meetings and to the unfolding of the AIDS quilt. Karen's close relationship with history and her "home movies" give the stories amazing intimacy. I recommend the series highly.
The media rush of tragedy and inspiration known as "AIDS at 30″ is dying down. As much as I want coverage of HIV and for there to be constant prevention messages, I'm a little relieved. I can comfortably go back to debating our current treatments and campaigns, sharing sweet and funny stories about my life with HIV, and wondering why the hell the media doesn't pay more attention to HIV/AIDS.
We all have our coping mechanisms. Allow me a little healthy denial.
As always, my friends, please be well.
Mark
—————————————–
PLUS…
Sean Strub is once again ringing the bell about criminalizing people who do not disclose their HIV status, and it tolls for thee. We covered some of this ground when Sean and I discussed Five Things About HIV They're Not Telling You, but in Sean's newest posting at Poz.com, he takes this a bit further. Are we a few short steps away from prosecuting those who do not take their medications? Sean sees the intersection of "test and treat" and the treatment of those with HIV as criminals as a dangerous mix that could theoretically lead to forced treatment, just as a prisoner might be compelled to take meds. It's a bit chilling, and perhaps fantastical, but whoever thought there would be people with HIV sentenced to jail for 20 years for spitting?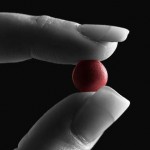 Our national disgrace known as the AIDS Drug Assistance Program (ADAP) Waiting Lists continues, and the lines keep getting longer for patients waiting to receive life-saving medications. There are reports of patients who have died during that wait. The ADAP Advocacy Association (aaa+) continues its mission to combat this lack of funding, and in their recent blog they offer evidence that the most effective weapon in our advocacy tool kit is you, referencing a study showing that when people like you and me simply pick up the phone, it matters as much as high-powered lobbyists. And it's simple! Take a look at my video blog from the last ADAP Summit and you can get instructions on exactly what to do. Meanwhile, I'll be attending the upcoming ADAP Conference in Washington, DC, and will share everything I can with you.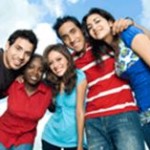 How do we bridge the LGBT generation gap? That's been the topic of two really terrific postings this month around Gay Pride, and the communication disconnect between young and old seems to be the culprit. I'd love to be an "older mentor," but who would have me? What spaces encourage dialogue and a chance to share our history? Olivia Ford of The Body.com raises these concerns in her excellent piece What's It Really Going to Take to Make it Better? Olivia knows that we have a lot to gain from inter-generational interaction, but beyond the It Gets Better Project, how do we accomplish this? Meanwhile, some people think that younger gay men are ungrateful little snots. Jake Weinraub is totally over it, in his piece What Sucks About Most Privileged Gay Men for The Bilerico Project. Both are definitely worth your time, and you should always join the conversation by posting a comment!
Tags: aids, culture, drag, hiv, politics, research
Posted in Gay Life, Living with HIV/AIDS, My Fabulous Disease, News, Prevention and Policy | 3 Comments »