Posts Tagged 'gratitude'
Tuesday, July 7th, 2015
"We ask ourselves, 'Who am I to be brilliant, gorgeous, talented and fabulous?' Actually, who are you not to be?" — Marianne Williamson
The first time I met Amy Ferris, several years ago, she cupped my jawline in her hands and gave me a kiss full on the lips. There were none of the usual pleasantries or the polite distance maintained by a new acquaintance. Instead, she kept my face in her grasp and she told me I was incredibly important. And a hero. Those are the words she used.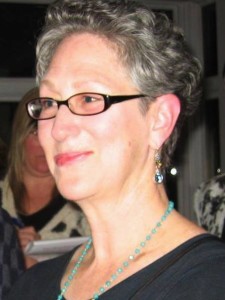 Her eyes – green, filled with wonder and a thousand miles wide – never released their grip on mine. There was no escape from her relentless affections. It was an entirely unnerving experience.
I responded to that first meeting as any reasonable person would. I doubted her enthusiasm and her strident belief that I am all that special. No one is worthy of so much fuss. And it did cross my mind that Amy Ferris might not be, well, for real.
It turns out that Amy is a perfectly functioning human being who believes that you, and I mean you, you there reading this, are amazing beyond belief and have the potential to change this world. Or, as she might write in one of her morning Facebook postings, "You. CAN. Change. This. Fucking. World."
She has demonstrated her powerful talents many times over as a celebrated author and screenwriter. Her smashingly successful book, Marrying George Clooney, became a rallying cry for women everywhere who were facing down middle age and needed Amy's funny, dirty, and emotionally raw chronicle of a "full term in menopause prison." In her most recent book, Dancing at the Shame Prom, she curates stories from women who unburden themselves of secret, shameful events. Amy may be a loving earth mother, but she isn't afraid to cut to the bone.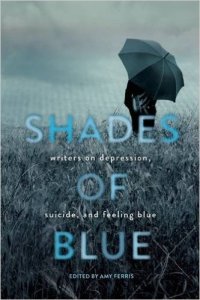 Last year, Amy asked me to contribute to a new book she was editing. By then she had become an intimate of mine – there is no choice, really, it is part of the social contract when you meet her. Amy believed, fervently of course, that I had something to offer Shades of Blue: Writers on Depression, Suicide, and Feeling Blue, an anthology that would tackle the subject through first-person accounts and help those suffering from depression.
I harbor epic self-doubt, so being included in a batch of well-known writers in a major fall release brought my uncertainty charging forward. Amy convinced me otherwise, of course, and her belief isn't simply encouraging. Five minutes in her company is intoxicating. You wonder if you should shake it off and then hope you never do.
My essay for Shades of Blue, "Suicide: A Love Story," is an intimate and explicit glimpse into the saddest, darkest days of AIDS. It recounts the night my brother, Richard, helped his terminally ill lover kill himself, and the destructive grief that haunted Richard for the next several years.
Amy responded to my piece with grateful emails and Facebook posts of high praise, writing that she couldn't stop "ugly crying" and was as convinced as ever that the book will open hearts and change lives.
I have stopped questioning the sincerity or utter authority of Amy Ferris when it comes to these things. We define visionaries only in retrospect, as if we couldn't possibly be watching someone extraordinary in real time. What if powerful people don't all live somewhere beyond our reach but right here, in our circle of friends? What if that person might be you?
Knowing Amy, especially when I revisit our time together and her seductive certainty, helps me believe in myself more. It makes no sense to doubt that Amy Ferris might change the world when she has already changed mine.
At my wedding this year, Amy radiated her usual joy, kissing everyone in sight like a bee pollinating in the height of spring. When Amy kisses me now, I kiss her back, and I hold her embrace for as long as the woman wants.
I caught her attention at the reception and invited her to sit with me so I could make an introduction. "Amy, this is my brother, Richard," I said. "I wrote about him in my essay for your book."
The realization of who Richard was, the tortured story from his past and his present day joy and resilience, washed over Amy in a transparent swell of emotion. Her eyes filled with tears.
And then, Amy Ferris reached forward and took my brother's face in her hands. As she looked at Richard with poignant recognition, her fingers lovingly caressed him in a familiar, healing embrace.
Mark
p.s. Shades of Blue will be released by Seal Press this September. You can pre-order your copy here.
Tags: A Place Like This, culture, family, gay, gratitude, help others, recovery
Posted in Book Review, Family and Friends, Living with HIV/AIDS, My Fabulous Disease, News | 1 Comment »
Monday, June 1st, 2015
June is Pride Month in the LGBT community, and I was honored to be asked by Visual AIDS to curate a "web gallery" on the topic. Immediately, I considered a question that I had once posed to readers of my blog.
If living with HIV is nothing to be ashamed of, is it something to be proud of?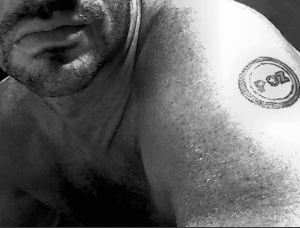 It was a really interesting exercise to explore this question, and I hope you will head over to Visual AIDS to check out the exhibit online. Visual AIDS has thousands of images of artwork that represent the artistic expression of hundreds of artists living with HIV.
Of course, including these artists in my exhibit meant that I was assigning meaning to their work in a way they may never have intended. That's okay. Art is gloriously subjective. In the image Self-Enforced Disclosure (Greg Mitchell, 2007) above, I could help but believe that a man who would tattoo his HIV status on his body did not do it to shame himself. But is it an act of pride?
From my curator statement:
No one should be marked or shamed for living with HIV. But, should someone claim to be proud of being positive, there is a lingering, implicit threat to the statement, as if their pride is untrustworthy, or worse, that having the audacity to feel proud of living with the virus must mean they want to infect everyone else.

We must reject the stigma that labels people with HIV as predatory, irresponsible, and lacking in self-respect. Being proud of all that we are is hardly the same as wishing it on others.
I hope you will check this out and share your thoughts.
Mark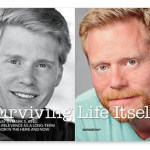 p.s. My writing is my artistic expression, and I really appreciate the response I have received to my essay in the new June issue of POZ Magazine, "Surviving Life Itself." The piece reflects on my relevance, and lack thereof, as a 30-year survivor of HIV, and what kind of impact others like myself can have in the here and now. I hope you will grab a copy at your local clinic or pharmacy, or read it online here.
Tags: aids, culture, gay, gratitude, hiv, Recreation, Sexuality
Posted in Gay Life, Living with HIV/AIDS, My Fabulous Disease | No Comments »
Monday, May 25th, 2015
This post will never be as romantic as I would like it to be. And it could never be as romantic as the truth.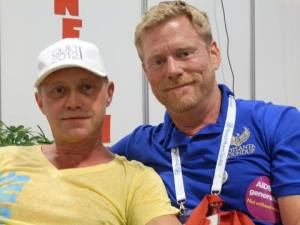 On the evening of July 22, 2012, Michael Mitchell went to a mixer at Cobalt, a gay club in Washington, DC. The international AIDS conference was being held in town and Michael, a DC resident who had once served as director of an AIDS agency, decided on a whim to go check it out.
I had been shooting video all day for my conference coverage for TheBody.com, and thought the name of the mixer — Meet the Men of AIDS2012! – had an inviting ring to it.
During the reception Michael and I engaged in some mutual cruising from across the bar before Michael, God bless him, made his move. He walked up and introduced himself. Even with dance music thumping and a boisterous crowd surrounding us, he had an adorable humility about him that came through loud and clear.
So did the remnants of a southern twang, and we quickly established we were both southerners born in Alabama. We talked about his work implementing the Affordable Care Act and I was struck by how proud he was to help provide health insurance to millions of Americans.
"I'm a blogger, I write about HIV," I said after a while.
"Oh, I know," Michael answered, and he grinned. "I've been reading you for years." He leaned in closer and flexed his dimples. "And you should get new pictures. You're much better looking in person."
I swallowed the line like a cold glass of sweet tea.
For the remaining nights of the conference, I sat at the foot of Michael's bed and edited video footage into the wee hours while he slept. We toured the Global Village at the conference center and got our picture taken (above). We held hands, casually and almost immediately. When I left a few days later there were tears at the bus stop.
You would think that after many years writing about living joyfully with HIV that my own happiness would be a given. That's hardly been the case. After several false starts and some complete misfires — primarily due to my own deficiencies — I had stopped believing I would ever get the whole relationship thing right. What are the odds of getting another chance, after so many wasted ones?
"I am not a very good boyfriend," I told Michael in a frank conversation early on, the kind that is meant to drive the poor guy away before he is taken hostage. "I've either been terribly immature or in active drug addiction. I've never been faithful, or even very thoughtful."
"That doesn't mean you can't be," he replied, as if it were the simplest response in the world, as if none of my past faults had any bearing on the here and now. Suddenly it clicked, a switch in my head I had been grappling with my whole adult life, and Michael's statement made perfect sense. Why couldn't I just behave differently, and do it because I love Michael and to hurt him would crush me?
I am going to marry that man.
On June 6, a small group of friends and family will gather in the lush woods of Pennsylvania a few feet away from where I proposed on Christmas Eve (below). During our ceremony I will make promises that I have every intention, at long, long last, of keeping. Our vows will be emotional but a mere formality, because for three years we have adored one another without a single cruel word between us.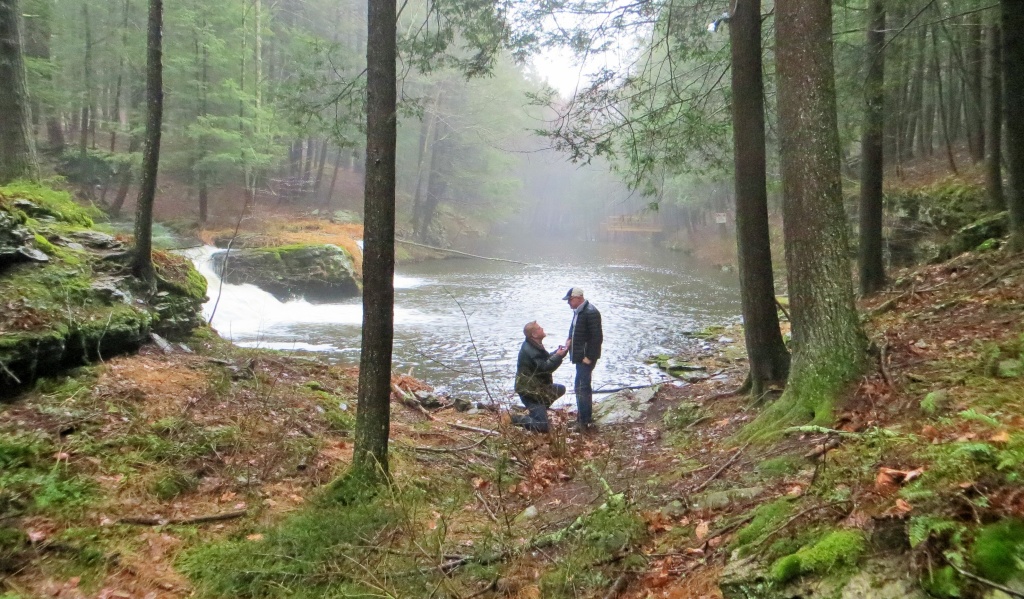 When I was growing up I could never find anything in the house; the right socks, my school assignment, my lunch money. I would call downstairs to mother and complain that I just couldn't find it, whatever it was.
"You haven't found it yet," she would reply with the preternatural calm that had mercifully accompanied her through years of raising six children.
My search has continued, for those things misplaced or never claimed to begin with, and I have actually found a few of them. Feeling comfortable in my own skin. Self-esteem. Sobriety. An acceptance of life on its own terms. An unselfish love for another human being.
The search may have been maddening, but the guidance of a good mom usually holds true.
I just hadn't found them yet.
Mark
Tags: Aging, conferences, culture, family, gay, gratitude, hiv, recovery, Sexuality
Posted in Family and Friends, Gay Life, Living with HIV/AIDS, Meth and Recovery, My Fabulous Disease | 6 Comments »
Saturday, May 9th, 2015
"A boy's best friend is his mother."
— Norman Bates, Psycho
I was standing at the ticket counter of the movie theater and couldn't believe my ears. They were telling me that Theater of Blood, with the great Vincent Price, was rated "R" and they were not letting me in without a parent. I was a horror-movie obsessed boy of 12, and was inconsolable. "I won't look at any sexy stuff," I remember pleading, "I just came for the gore!"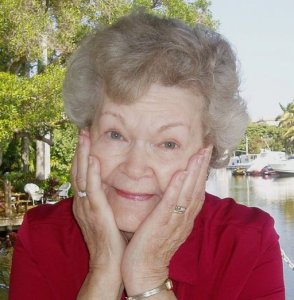 With visions of decapitations fading like an old blood stain, I made the long walk back home and exposed my broken heart to Mother, who made one of the grandest gestures of my childhood: she took me back for the late show. On a school night.
It wouldn't be the last time she had my back. Over the years she proved a trustworthy ally, and this was never more true than in the 1980's, when gay men often lost their mothers — hell, their entire families – when an AIDS diagnosis was revealed.
Mom never abandoned me or my gay older brother, Dick (is there no gayer name than Dick King? Did my parents consult the Falcon Video Book of Baby Names?). I tested positive in 1985, and Mom immediately went to work educating herself on HIV.
My brother was spared HIV infection but suffered its cruelty nevertheless: his lover of 13 years, Emil, died of AIDS in the early, scorched-earth years of the epidemic.
In this video, I sat Mom down to find out things I've never asked before. What did she really feel when she found out I was positive? Did she believe I would die? Do mothers have a right to know? What advice would she offer other families? We also talk about the loss of Emil and the repercussions from it we still feel today.
Mom is no expert. She isn't an AIDS researcher and she doesn't march on Washington. She just loves her kids and tries to understand what is happening in their lives and how she can help. If your mother is like mine, we have a lot to celebrate (or remember) this Mother's Day weekend.
Enjoy the video, and please, stay well.
Mark
Tags: aids, family, gay, gratitude, Recreation
Posted in Family and Friends, Gay Life, Living with HIV/AIDS, My Fabulous Disease | No Comments »
Monday, February 23rd, 2015
The annual HIV Cruise Retreat, commonly referred to as "The Poz Cruise," will set sail this November 8-15 aboard the Ruby Princess, departing Los Angeles and cruising the Mexican Riviera cities of Mazatlan, Puerto Vallarta and Cabo San Lucas.
This year, though, there will be a somewhat ironic special guest on board: Timothy Ray Brown, the first man to be cured of HIV.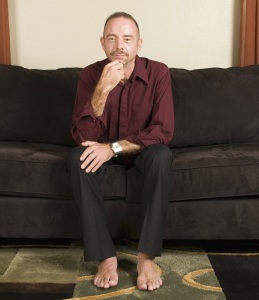 "Timothy and his partner will be joining us, and we're thrilled," says cruise director Paul Stalbaum, a longtime HIV survivor and travel agent who began organizing the cruise over a decade ago. "He will participate in a presentation and Q&A on cure research and share his story with us. His personal grace and his public education efforts since becoming 'the Berlin Patient' are deeply admired. I know our passengers can't wait to meet him and have some fun on the Mexican Riviera."
Brown, co-founder of the Cure for AIDS Coalition and Cure Report, maintains that his identity hasn't really changed since his cure in 2007, the result of a stem cell transplant for the leukemia he was battling at the time. (The transplant donor had the CCR5 gene mutation that blocks HIV from entering human cells.)
While the procedure hasn't been successfully duplicated in other HIV patients precisely, it has led to advances in gene therapy treatments that incorporate what was learned from Brown's case.
"Remember, I was HIV positive twice as long as I have been cured," Brown says about joining the Poz Cruise. "I still consider myself part of the HIV community. I wouldn't have it any other way."
"There's something special that happens when so many people living with HIV are together," says Stalbaum of the hundreds of cruise articipants. "All the social walls that divide us just fall away. Our happy group of poz cruisers, who are often joined by their negative partners and family members, aren't concerned with HIV status or age or appearance. It creates an environment where true friendships—and, yes, even some romance—are free to bloom. Our group watches their friend list on social media explode after every cruise."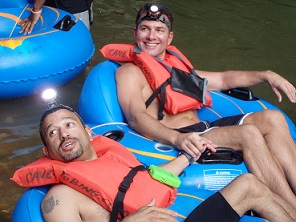 The HIV Cruise Retreat brings together people living with HIV, their loved ones and allies for a week of exclusive theme parties, private excursions and educational events. While not a fully chartered ship like RSVP or Atlantis, the parties, events and even dinner arrangements for participants are exclusive.
Otherwise, says Stalbaum, "we mix with other people, just like in real life. And we're holding hands and feeling proud. We usually commandeer one of the pools on the first day, and it's quite a sight to watch the other passengers realize we are a colorful group indeed. A lot of the women on board ditch their husbands to hang out poolside with us instead. We're a lot more fun."
This will be the first time in seven years that the cruise has departed from the West Coast, and it's expected to be a sold-out cruise. Special group cabin rates are available until Feb. 28. More information, including video blogs from past cruises, is available at HIVCruise.com or through Paul Stalbaum at (954) 566-3377.
This article was written by Mark S. King and originally appeared in Frontiers Magazine in Los Angeles. Timothy Ray Brown photo: Scott Taber. Cruise tubing photo: Brian Molenaar.
(Building community among those of us living with HIV is a passion of mine. I realize that although the cruise is reasonably priced it is also out of reach for some of my readers, and I hope you will understand my enthusiasm for supporting this event. This will be my 5th year to volunteer as MC of the cruise — I pay for my expenses like everyone else — and it has become a yearly vacation that I truly look forward to. I hope you will check it out! — Mark)
PLUS…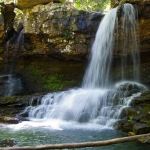 If you are gay, HIV+ and in recovery, have I got the perfect retreat for you. The POZitively Fabulous weekend retreat is now in its 3rd year and growing by leaps and bounds. Created by and for HIV+ gay men in recovery, it offers fellowship, workshops, speakers, and plenty of time to enjoy the gorgeous Cloudland Canyon State Park in Georgia. I've attended and it was terrific. Get all the details at SoberPlus.com.
Tags: aids, culture, gay, gratitude, hiv, Recreation
Posted in Family and Friends, Gay Life, Living with HIV/AIDS, My Fabulous Disease, News | No Comments »
Friday, January 23rd, 2015
For twenty-five years I have been writing about living openly as a gay man living with HIV. Along the way I have spilled secrets, opened up about sex and relationships, highlighted the work of those who inspire me, come clean about my history of addiction and recovery, focused my video camera on international conferences and the lives of HIV negative gay men, and have found myself in some hot water once or twice.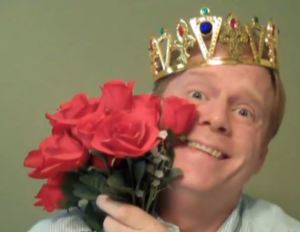 Living out, loud and proud is an enormous privilege I don't take lightly. There are countless people who don't have supportive families or understanding workplaces or even friends to whom they can rely. And it is those people who are most often on my mind as I write this blog. Your comments and emails inspire and humble me, and that includes the criticism of my admittedly strong opinions. You make me think twice, very often after the fact, and you can be assured that you teach me.
So my nomination for Outstanding Blog as part of the national GLAAD Media Awards has me excited, flummoxed and feeling reflective. I wouldn't be a good recovering addict if somewhere in my mind I didn't feel unworthy. Like many of us living with a shame that never truly washes away, there is a part of me that feels like a fraud.
If you only knew me, it whispers, you wouldn't accept me. You wouldn't give me an award. Maybe you wouldn't love me. It is the sad reverberation of growing up gay, of feeling socially damaged by HIV, of the guilt of having once turned to drugs to block my doubts and fears.
Today, I will not be bowed by misgivings and undeserved shame. I will even indulge my dangerous ego and admit that I'm terribly proud and feel like one of the Oscar nominees I track with religious verve. And that is the simple, elegant value of efforts like the GLAAD awards. They remind us that we're okay, celebrated even, and it chips away at the internal homophobia we carry with us in quiet places.
The fact that the highly visible GLAAD Awards focus most notably on film and television depictions of LGBT people makes this situation all the more unreal. The glamour of it all appeals to every gay bone in my body.
Will there be a red carpet? Can I lose enough weight to walk it? Can I convince openly HIV positive fashion designer Mondo Guerra to lend me a jacket (I'm working on it)? Can I make a statement about how those of us living with HIV are crafting lives of joy and engagement and responsibility?
It might be more productive to shift the focus away from myself and share with you the other nominees in my category. They surely deserve that. GLAAD does us all a great service by bringing art and resources to our attention that may be unfamiliar to us. I've been stalking the other nominated blogs below and the inspiration to be found there has transformed a common platitude into a sincere fact: it is, without a doubt, an honor just to be nominated.
The Art of Transliness
The triumph of visible trans advocates like Laverne Cox makes headlines, but this blog provides insight on the ongoing, day-to-day challenges of the trans community.
AutoStraddle
My favorite blog name ever. This site devoted to queer women, or "girl-on-girl culture" as they describe it, is a hip blog mixing pop stories and stigma-bashing commentary.
Box Turtle Bulletin
Anti-gay rhetoric doesn't stand a chance in the face of this site providing news, analysis, and fact-checking.
Holy Bullies and Headless Monsters
Lies in the name of God are still lies. This site analyzes and refutes the LGBT inaccuracies of religious conservative organizations.
Thank you, my friends. I have said that finding my voice through this blog has saved my life, and those words ring especially true today. And in case I don't have the opportunity for an acceptance speech, allow me to thank the most important person now.
Michael, I love you. Being engaged to a man like you is the biggest reward of them all.
Mark
Tags: aids, barebacking, conferences, criminalization, culture, gay, gratitude, hiv, recovery, Recreation, Sexuality
Posted in Family and Friends, Gay Life, Living with HIV/AIDS, Meth and Recovery, My Fabulous Disease, News | 7 Comments »
Friday, December 12th, 2014
(I can't resist posting this each Holiday Season. The video below is my very favorite, of the more than 60 I have produced over the years. Enjoy!)
My mother's home here in Shreveport, Louisiana, was fraught with excitement last week. Christmas decorations littered the living room, the almond scent of cookies filled the air, and last minute phone calls and arrangements made it all feel like a major production was underway.
And there was. The event that had everyone scrambling was held on a Sunday afternoon, when siblings and extended family arrived for the taping of The 'My Fabulous Disease' Holiday Spectacular.
Now just take that in for a moment. My family was enthusiastically participating in a video about my life with HIV. And they were much more concerned with choosing a fun holiday outfit than being publicly associated with their HIV positive relative. For them, sitting down for an interview about my HIV status, well, that was the easy part. They had no problem being candid about my HIV, as you will see.
I am an extremely blessed and fortunate man.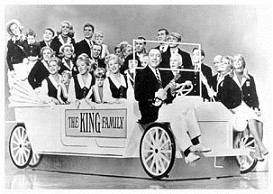 When I was young, I remember watching "The King Family" on television (right), a big happy bunch that sang really well and wore lots of matching outfits. I was starstruck, and always wondered if that King family might bear some relation to mine. And if they didn't, would they let me come be on their show anyway?
Well, today, I'm proud of my own family for displaying our dubious talents, and by going a big step further by discussing the importance of supporting those of us living with HIV/AIDS. For far too many, the difficulty in disclosing our status — or the result of doing so — has distanced them from the people they need most during times of challenge.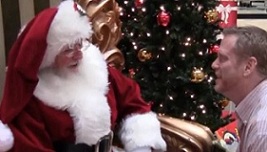 The Holiday Spectacular includes some family greetings, a cooking segment with Mom (you'll want that divine almond scent wafting through your home, too), some holiday drag, a surprise here and there, and even an appearance by the big man himself, Santa Claus.
You may remember my mother from "What it Feels Like for a Mom," a bracingly honest video created for Mother's Day. You might also remember my gay brother Dick, who made an It Gets Better video with me. He was also one of the main subjects of the award winning "Once, When We Were Heroes" posting I made for World AIDS Day several years ago. But today, you're also going to meet sisters, nieces and in-laws who have special holiday greetings just for you.
Enjoy the holiday special, my friends. I hope you'll share it with anyone that could use some holiday cheer, or needs a reminder that they are loved. And as always, please be well.
Mark
p.s. As promised in the video, here is the recipe for Mom's Christmas Cookies. I'm certain they're fantastic for your t-cells.
MOM'S CHRISTMAS TREE COOKIES
(Note: Mother uses a MIRRO Food Press, a device that must have been manufactured during the Eisenhower era, judging from the faded instruction manual she still keeps handy.
I found one on E-Bay for you
for less than four bucks, or you can use a more modern appliance, if you must. I don't guarantee the cookies will taste the same!)
Time: 10-12 minutes… Temp: 375F… Yield: 7 dozen
1 cup shortening
3/4 cup sugar
1 egg
1/8 tspn salt
1/4 tspn baking soda
1 tspn almond extract
2 1/4 cups sifted flour
Green food coloring
1. Cream shortening, adding sugar gradually
2. Add unbeaten egg, dry ingredients, flavoring, and a few drops of food coloring. Mix well.
3. Fill the cookie press and form cookies on ungreased sheet. Sprinkle with sugar and bake.
4. Frost and sprinkle something fabulous on top of them (this is Mom's provocative departure from the original recipe. That's just how she rolls.).
Tags: drag, family, gratitude, hiv, Recreation
Posted in Anita Mann and Acting Gigs, Family and Friends, Gay Life, Living with HIV/AIDS, My Fabulous Disease | 3 Comments »
Friday, November 28th, 2014
My brother Richard smiles a lot. He has an easy laugh. But there was a time, years ago, when he held a poisonous drink in his hands and begged his dying lover not to swallow it. A time when Richard held the concoction they had prepared together and wept.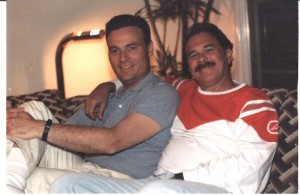 Emil couldn't wait. He took the drink from Richard quickly, because the release it offered was something more rapturous than the appeals of his lover of thirteen years.
It was Emil's wish to die on his own terms if living became unbearable, a promise made one to the other. When that time arrived, however, Richard wanted another moment, just a little more time to say, "I love you, Emil," over and over again, before the drink would close Emil's eyes and quietly kill him.
Richard has a charming store in my hometown today, where he sells collectibles and does theater in his free time. The drink was consumed over twenty years ago.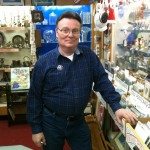 There were people who displayed remarkable courage then. People who lived and died by their promises and shared the intimacy of death, and then the world moved forward and grief subsided and lives moved on. But make no mistake, there are heroes among us right now.
There is a shy, friendly man at my gym. There was a time when his sick roommate deliberately overdosed after his father told him that people with unspeakable diseases will suffer in hell. My gym friend performed CPR for an hour before help arrived, but the body never heard a loving word again.
There is courage among us, astonishing courage, and we summoned it and survived. And then years passed. We got new jobs and changed gyms.
There was a time when old friends called to say goodbye, and by "goodbye" they meant forever. When all of us had a file folder marked "Memorial" that outlined how we wanted our service to be conducted. When people shot themselves and jumped off bridges after getting their test results.
There is profound, shocking sadness here, right here among us, but years went by and medicine got better and we found other lives to lead. Our sadness is a distant, dark dream.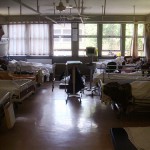 My best friend Stephen just bought a new condo. He's having a ball picking out furniture. But there was a time when he knew all the intensive care nurses by name. When a phone call late at night always meant someone had died. And just who, exactly, was anyone's guess.
Stephen tested positive in the 1980s, shortly after I did. A few months after the devastating news, he agreed to facilitate a support group with me. We regularly saw men join the group, get sick and die, often within weeks.
Watching them disintegrate felt like a preview of coming attractions. But Stephen was remarkable, a reassuring presence to everyone, and worked with the group for more than a year despite the emotional toll and the high body count.
There is bravery here, still, living all around us. But the bravest time was many years ago, and times change and the yard needs landscaping and there's a brunch tomorrow.
There was a time when I sat beside friends in their very last minutes of life, and I helped them relax, perhaps surrender, and told them comforting stories. And lied to them.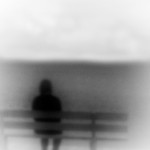 Jeremy lost his mind weeks before he died. Sometimes he had moments of sanity, when we could have a coherent conversation before his dementia engulfed him again. It was a time when you were given masks and gloves to visit friends in the hospital.
He was agitated with the business of dying, and told me he couldn't bear to miss what might happen after he'd gone. I had an idea.
"I tell you what," I offered, "I'm from the future, and I can tell you anything you would like to know."
"OK then, what happens to my parents?" he asked. I thought it might be a distracting game, but Jeremy's confused mind took it very seriously.
"They went to Hollywood and won big on a game show, so they never did need your support in their old age," I answered. He barely took the time to enjoy this thought before his hand grabbed my wrist, tightly, almost frantically. He pulled me closer.
"When…" he began, and a mournful sob swelled inside him in an instant, his eyes begging for relief. "When does this end?" There was an awful, helpless silence. His eyes beckoned for a truth he could die believing.
"It does end," I finally managed, although nothing suggested it would. "It ends, Jeremy, but not for a really long time." He digested each word like a revelation, and slowly relaxed into sleep.
There is compassion here, enough for all the world's deities and saints acting in concert. Infinite compassion for men who lived in fear and checked every spot when they showered for Kaposi sarcoma, and for disowned sons wasting away in the guest room of whoever had the space. But we get older, and friends don't ask us to hold their hand when they stop breathing, and the fear fades and I bought new leather loafers and the White Party is coming.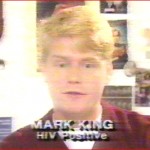 The truth is simply this, and no one will convince me otherwise: My most courageous self, the best man that I'll ever be, lived more than two decades ago during the first years of a horrific plague.
He worked relentlessly alongside a million others who had no choice but to act. He secretly prayed to survive, even above the lives of others, and his horrible prayer was answered with the death of nearly everyone close to him.
To say I miss that brutal decade would only be partially true. I miss the man I was forced to become, when an entire community abandoned tea dances for town hall meetings, when I learned to offer help to those facing what terrified me most.
Today, the lives of those of us who witnessed the horror have become relatively normal again, perhaps mundane. We prefer it. We have new lives in a world that isn't choking on disease.
But once, there was a time when we were heroes.
(I was honored to receive an award from the National Gay and Lesbian Journalists Association for this piece in 2007, written to commemorate World AIDS Day. It has since become my annual post to commemorate the day. Here's to a joyous and healthy holiday season for us all. — Mark)
—————————————————–
Two Great Ways to Participate in World AIDS Day!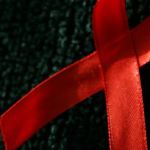 Our friends at TheBody.com have a fun social media campaign known as #RedRemindsMe, and it's pretty easy. What does the red in the ribbon remind you of? Take a photo of something red, use the hashtag #RedRemindsMe, and post it on social media like Twitter, Facebook or Instagram — or post it directly to the World AIDS Day page on TheBody.com. You have until December 12, and the most interesting images will be awarded fabulous prizes!You can get all the details right here.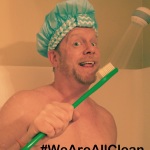 The cyber dynamo Jack Mackenroth is at it again. This time he is breaking the internet with his HIV stigma campaign, #WeAreALLClean, another photo-based social media effort. It addresses the ill-advised habit of people saying they are "clean" when they are HIV negative, which suggests that those living with HIV are somehow "dirty." I wrote about this annoying phenomenon in my post from 2012, "The Stupid Question: Are You Clean?" Jack's campaign is exploding with shots both sexy and demure, and even some funny ones like my own (above). Turn on the shower and get out the camera phone!
Tags: A Place Like This, aids, family, gay, gratitude, Sexuality
Posted in Family and Friends, Gay Life, Living with HIV/AIDS, My Fabulous Disease, News | 4 Comments »
Monday, November 10th, 2014
When Mary E. Bowman stepped to the stage five years ago at SpitDat, an open mic night in Washington, DC, she was 20 years old and terrified. She was about to perform "Dandelions," her first poem to reveal a secret that her own family had long kept quiet: that Mary had lived with HIV since birth, the result of a mother addicted to drugs who died when Mary was only three.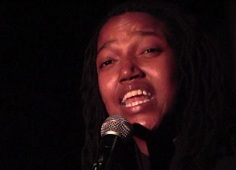 "I had not memorized the poem yet," Mary told me, "and the paper I held was shaking. It is usually kind of a loud environment, but when I started to read, the room went silent. That made it even more nerve-wracking."
Mary was nervous about the audience response, about what they would say, and if any of them would even be her friend once her poem was done. She needn't have worried.
"It was such a loving environment," she said. "It was so accepting, like a family. When I was done, everyone applauded. I walked to my seat and a young lady was crying, and all she said to me was 'thank you.' I realized the poem wasn't just about me. It was about other people, too."
"Dandelions" explored her feelings about the mother Mary hardly knew, a loss that Mary has felt deeply her entire life. "I was eventually raised by my biological father," Mary explained. "He wasn't married to my mother. He would come to see me when I was a baby and find me on the sofa alone… and my mother out of the house."
Mary's father witnessed the scene "far too many times" and took the child home to his wife, who fell in love immediately and raised Mary as her own.
Mary's talent lies not only in her poetic words, but the sheer passionate force of the emotions behind them. It's impossible to watch her and not to be moved. She grabs you by the heart and doesn't let go.
Today, Mary works in policy and advocacy at The Women's Collective in Washington, DC, but only after spending her younger years without very much social support for her status. "My family was very quiet about HIV," she said. "Even when I was at the hospital growing up, I didn't have an outlet to talk about it."
Things have changed. In addition to her advocacy work, Mary has performed at HIV conferences and for events such as AIDSWatch in Washington. Her work as a performance artist and poet is a unique niche among young advocates, but it is when working with other women that the loss of her own mother sweeps over her.
A lot of the women have drug addiction histories. They have had their children taken away. "They are my support system," Mary says, "and it reminds me that my mother isn't here. They tell me stories. I just wish someone had saved my Mom as well. She didn't have the services available to her that they do now."
Working with these women has been a melancholy gift to the young artist.
"I've been caught up in emotion several times, when performing for women," she says, and their bond has become her only connection to a woman lost to time and sad circumstance. She pauses to consider the many faces of the women for whom she has recited "Dandelions."
"They are my mother," she adds.
Mark
Dandelions
A dandelion in the midst of rose bushes would stick out like a sore thumb to ignorant souls
But I know the road this dandelion endured
This weed that all gardeners want to destroy is more appreciated by God than any seemingly beautiful bush of roses
Though that misunderstood dandelion wont for long last
Let it be known that God gave it the role of the outcast for divine importance
My mother was a dandelion in the midst of roses
Ignorant of her purpose she uprooted her soul and unknowingly left herself for dead
It has been said that my mother when above the influence transmuted broken hearts into smiles
All the while dying on the inside
AIDS didn't kill my mother
It put her at rest
Now this song bird whistles in the key of silence
And I the latter of five write poems documenting the struggle unknown to my family
The sickness she denied lies in my blood with a lesser value
People speak I don't know how you can live with knowing nothing but owning the growing disease that your mother for so long fought
But see that's the difference between a rose and a dandelion
Roses were created with thorns to warn hand approaching without caution
Dandelions were not given that option
But they were created by an all knowing God
And that all knowing God created dandelions with the strength to withstand ignorance and hatred
Dandelions live in this matrix of life understanding the price
Roses live like the world was handed
Dandelions take the world and won't leave a rose stranded
But my mother died before she got the chance to realize that dandelions are blessings in disguise
She I dare say died before her time
That thought lingers in my mind conflicting my belief in the divine
My mama raised me in the faith that the day God sweeps you away is a day proclaimed way before the manifestation
But I can't help but experience devastation knowing nothing about the woman who carried me toting guns in the defense of my father
It is even harder knowing nothing about her but knowing the reason the hospital has become my second home is because this dandelion
chose to roam with the buffalo
But I seek serenity in the fact that she just didn't know
That she a dandelion was just as beautiful as a rose
And I will go forth knowing my purpose as a dandelion
This life is worth all the crying and all the dying I have to do just so someone in my shoes can live
I will gladly give myself as the sacrifice if it means that all the dandelions in the world become viewed as more than the consequence of sins behind closed doors
You can lay me on my back and present me life less to God if it means that dandelions with unseen scares will not be viewed as odd
But as gifts from God to show the world that beauty lies not in the pedals of flowers but in the power of unconditional love
And in the strength of the untouched, un-hugged, sometimes unloved but most important of all un-budged dandelions

Tags: aids, culture, gratitude, hiv, recovery, Recreation
Posted in Living with HIV/AIDS, My Fabulous Disease | No Comments »
Monday, September 29th, 2014
I have twenty staples in my back holding an incision together. It hurts.
Just making that rather gruesome statement leaves me feeling conflicted. Yes, I want sympathy. Yes, this pain has been a constant companion for the last two months, from throwing out my back again to discovering from an MRI that a nerve was being crushed to a serious back surgery and then a slow recovery with more pain than I bargained for.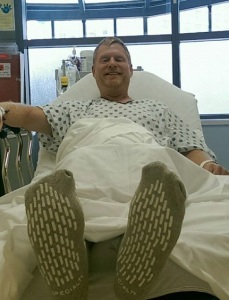 But the self-indulgence bothers me. How can we possibly complain, about anything really, in relation to the trials of others?
It reminds me of the 1980's, when there were so many deaths from AIDS that we couldn't grieve properly for individuals losses. The problem with living during that time, and seeing such mortality, was that everyone was doing it. There was no room in our aching hearts to feel for them all. And how in the world was I supposed to feel sorry for myself, the one with HIV who was healthy and alive?
Soliciting sympathy is a perilous enterprise. I'm That Funny Guy with HIV. Revealing that I'm hurting and feeling miserable feels like I'm going off-script, that these words don't belong on this blog, that you'll see me as self-centered and a whiner, that I'm hurting "my brand" and web traffic will suffer. But mostly, that my selfishness will become apparent, or at least show more than usual.
The self-pity comes and goes, like the muscle spasms, like the ocean of pain that ebbs and flows, like my own attitude toward what has happened to me, or what is yet to come. It's a kaleidoscope of impatience and gratitude and hope and anger. So I don't talk about it much or I make light of it and try to keep things in perspective.
During my hospital stays these last weeks, I witnessed true medical emergencies, and saw other patients awaiting care who clearly were more frail, and more afraid, than I was. Meanwhile, I was cracking jokes with the nurses as I was being prepped for surgery and looking forward to the bliss of sedation, as any red-blooded addict in recovery would. I liked the attention, the drama of something serious underway, and how, at least for a few hours, it was all about me.
But then the surgery happened. And it isn't funny anymore. And I understand the legitimate use of oxycodone. And I can't put on my own socks.
So, for long periods of time during each day, I don't care about the suffering of others or the inhumanity of war or the latest HIV infection rates. Because what I am going through right now hurts. And it's really hard.
And I want a pain of my very own.
It is that very realization, of wanting to hold tight to something shared by no one else, that shatters my selfishness. Because if there's anything I believe in, it is that we heal and strengthen by sharing our common challenges. Whether it is living with HIV or a death in the family or a breakup, we get stronger when we talk about it.
I have a folder of special emails called my Rainy Day Folder, and in it are messages I have collected over the years. They are from people all over the world thanking me for a posting on my blog or sharing their own stories with me of stigma or fear or loneliness. And during this entire experience of mine, I have neglected to do the very thing for which that folder is intended: when I'm feeling low, read some of the emails and take heart that I'm making a difference by sharing my truth or offering advice.
So, this morning I opened the folder and began to read. And one piece of advice, something I offered repeatedly to others who were experiencing misfortune, stunned me with its precision and irony. "You are going to get through this," I said, more than once. "And one day you are going to be able to say to someone, 'I know what you're going through. I understand. And this is how I got to the other side.'"
Seeing the intersection of hurt and healing in those emails released something in me. The really good cry that followed was about me, and them, and all of us.
And I felt no pain at all.
Mark
————————
Update: The staples have been removed, and the surgeon was practically gleeful during our appointment that I am walking nearly normally. He said that during surgery he was alarmed by the nerve damage and he feared for my mobility. So I dodged a bullet, thanks to taking fast action, getting good advice, and walking (or limping) through the experience. Thanks for all the kind messages of support. I'm on the mend.
Tags: culture, gratitude, help others, physician, recovery
Posted in Living with HIV/AIDS, My Fabulous Disease, News | 6 Comments »