Posts Tagged 'physician'
Tuesday, September 15th, 2015
Not to get all southern gothic on you, but I depend upon the kindness of strangers. Especially when producing video blogs at conferences.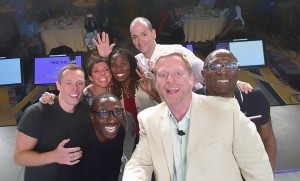 "Excuse me, would you please just hold this camera and point it at me while I talk to these people?" I must have said that sentence at least 40 times during the United States Conference on AIDS (USCA), held recently in Washington, DC. Every single interview you see in my video blog below was shot by whomever was wandering by at the time. Thanks, y'all!
The video contains three AIDS czars, one stripper pole, a ferocious batch of trans protestors, and more inspirational front-line workers than you can shake a stick at. My congratulations to the National Minority AIDS Council for their famously creative production of the weekend.
The spirit shared by the advocates, healthcare providers, and organizations who convened for USCA was electrifying, and just the boost many of us need to keep our energy up and our dedication renewed.
Oh, and special thanks to the CDC's Act Against AIDS campaign for letting me take over their Instagram page during the conference (follow them here), and to Gilead Sciences for sponsoring the "Mind the Gap" session on social media and inviting me to host it.
I love what I do. I love the work you're doing, too. As always, you are welcome to re-post my content, share it, take the YouTube video above and post it within your page, whatever might help share the messages of this amazing event and the awesome people who attended.
Thanks, my friends, and please be well.
Mark
(The photo above was the selfie the Social to Mobile speakers took at the end of our session, and includes – left to right – YouTube star Davey Wavey, blogger Guy Anthony, Michelle Samplin-Salgado of AIDS.gov, Luvvie Ajayi of the Red Pump Project, Miguel Gomez of AIDS.gov, myself, and Michael Crawford from Freedom to Marry.)
Tags: advocacy, aids, conferences, criminalization, culture, gay, help others, hiv, physician, politics, PrEP, recovery, research, serosorting, Sexuality, testing
Posted in Family and Friends, Gay Life, Living with HIV/AIDS, My Fabulous Disease, News, Prevention and Policy | 6 Comments »
Monday, June 29th, 2015
Sometimes it's helpful to get back to basics, and there is no more basic, effective tool to fight the HIV epidemic than to encourage testing. How long has it been for you, my friend? Here are five important facts about HIV testing that I hope will convince you to get busy and get tested — again.
1. You could be HIV positive and not even know it.
According to the Centers for Disease Control (CDC), one in eight people with HIV in this country don't know they have it. Some estimates are higher. With 50,000 brand new infections every year in the United States, it is absolutely crucial that you know your status.
2. Knowing your status is one of the very best ways to stop the epidemic from growing.
No matter your HIV test results, taking the test means you are already doing your part to protect yourself and others. If you test negative, you will know you haven't put anyone at risk – and it will probably encourage you to keep making smart decisions. It might also be the wake-up call you need to re-assess your risks or to consider pre-exposure prophylaxis (PrEP), a medication proven to greatly lower your chances of becoming infected.
If you test positive, you can take advantage of a variety of medications (with fewer pills and side effects than ever) that can reduce the virus in your body to undetectable levels. Science has proven that people with HIV who have an undetectable viral load are not transmitting HIV to their partners. Getting people with HIV to undetectable levels is a huge factor in slowing the epidemic–not to mention keeping your own body healthy and ready for more action.
Yes, getting testing can be scary. But so is having HIV and not treating it. Ask any gay friend who survived the 1980's, when there weren't effective medications. It wasn't pretty.
3. An old HIV test result is even worse than an outdated Grindr photo.
When was your last test, and how many risky things – unprotected sex, drug or alcohol use, wild nights out – have you done since then? Being confident of your status is about being consistent.
The CDC recommends an HIV test for everyone between the ages of 13 and 64 as part of routine health care. For those at higher risk – that would be gay men like me and those with drug addiction histories – a test at least twice a year is recommended, especially if your bedroom dance card has been full or you've been partying.
4. Getting tested is easier than ever, and you have plenty of choices.
Boys, do you have options. Choose one and get 'er done:
Visit Get Tested and enter your ZIP code.
Text your ZIP code to KNOWIT (566948), and you will receive a text back with a testing site near you.
Call 800-CDC-INFO (800-232-4636) to ask for free testing sites in your area.
Contact your local health department or HIV service agency.
Get a home testing kit (the Home Access HIV-1 Test System or the OraQuick In-Home HIV Test) from a drugstore.
5. Everyone can make a difference. We can stop HIV together.
Offer to go with a buddy to support him emotionally as he gets his results. Get tested alongside that sexy beast you've been seeing. Ask friends about the last time they took the test.
You could go the extra mile by sharing this article. Or visit the Act Against AIDS page for free materials, ads, videos, and banners you can share online.
Mark
(A version of this article appeared on Queerty for National HIV Testing Day. It is good advice all year long.)
Tags: advocacy, barebacking, gay, hiv, physical, physician, recovery, Sexuality, testing
Posted in Gay Life, Living with HIV/AIDS, Meth and Recovery, My Fabulous Disease, Prevention and Policy | No Comments »
Thursday, June 25th, 2015
(I was proud to join four fellow activists contributing to this story, which originally appeared on the site HIV Equal. If you have ever wondered what all the fuss is about — or think the conflicts activists have with AIDS Healthcare Foundation are just industry "inside baseball" — here are ten reasons to believe otherwise.)
You would think that the largest global HIV and AIDS service organization with the biggest budget a non-profit could ask for would be interested in removing the stigma of HIV and working in unison with people living with the virus. But even a passing glance at AIDS Healthcare Foundation's (AHF) record of offenses against the community it claims to serve says otherwise.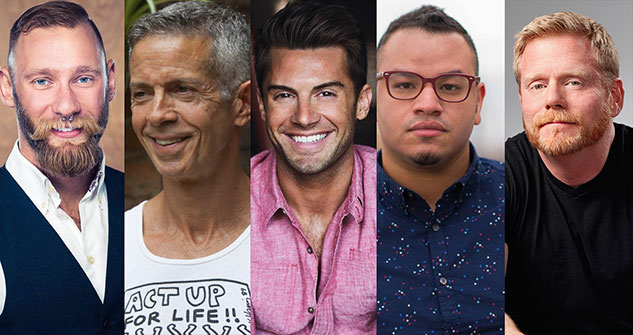 It is unfair to color the efforts of the people of AHF as categorically corrupt. The massive organization is staffed with thousands of wonderful, passionate, and well-meaning people who are unfairly criticized and whose work is slighted. There are fantastic doctors and wonderful programs that do a great deal of good under the AHF brand, but this does little to remove the stains created by the poor leadership and direction of one man: Michael Weinstein.
In the past 15 years, Weinstein has racked up quite the record of wrongdoings against the collective effort to reduce HIV transmission and stigma. Well known HIV activists Peter Staley, Mark S. King, Eric Paul Leue, Mathew Rodriguez, and Tyler Curry assembled a list of the top 10 worst offenses of AHF by way of Weinstein.
1. Anti-Union Practices
In 2013, when AHF medical doctors were overworked in understaffed clinics, they felt that the quality of patient care was being ignored and wanted to unionize under the National Union of Healthcare Workers. Medical staff told the Los Angeles Times that decisions were driven by concerns for profit, not patient care, but AHF said that they considered doctors "management," and Weinstein said any efforts to unionize that included doctors were "tainted.
If AHF or Weinstein did deny its doctors the right to unionize, AHF squarely falls not only against its own medical staff, but implies that it does not want its clients to have the highest standard of care – deliberately shunting the health of HIV-positive people onto the backburner. — Mathew Rodriguez, HIV activist and community editor of TheBody.com
2. Paid Editorials Campaigning Against PrEP
I guess its good to be king, because no matter how skewed your opinion may be, your dollar will always get your words published. On June 16, 2015, Weinstein paid to distribute his most recent editorial ad campaign, "The War on Prevention." Although AHF's stance has changed significantly since the days where the organization called the pill a "party drug," Weinstein still trumpets the use of condoms over PrEP as the only effective large-scale measure of preventing HIV transmission.
"AIDS Healthcare Foundation is not against PrEP," Weinstein writes. "Truvada can absolutely be the right decision for specific patients who, in consultation with their doctors, decide this is the best choice. However, the entire body of scientific data demonstrates that Truvada will not be successful as a mass public health intervention. Yet, this is exactly what PrEP advocates, including the Centers for Disease Control and Prevention, recommend."
To clarify, the CDC is not in the business of PrEP advocacy, but rather scientific research. There are no specific scientific claims that Weinstien tries to disprove in the "advertorial." But he does give plenty of unsubstantiated statements himself, such as, "Mass PrEP administration is a dangerous experiment that is not supported by medical science and is currently resisted by doctors and patients alike."
Sounds scary, huh? It is also bullshit. Yet, this advertisement ran in LGBT newspapers and magazines in eight markets nationwide (Chicago, South Florida, San Francisco Bay Area, Washington D.C., Seattle, Dallas, New York, and Los Angeles). — Tyler Curry, HIV activist and senior editor of HIV Equal Online
3. Anti-Science AIDS Activism
AIDS treatment activism has a beautiful legacy, built by groups like Project Inform, ACT UP New York, Treatment Action Group (TAG), and South Africa's Treatment Action Campaign (TAC). Collectively, we've helped change the course of AIDS, and saved millions of lives. One of our central tenants is that science should drive our advocacy. Science has been our compass, and our source of credibility and power to do the most good for the most people. Science has kept us from letting the personal dogma of any single activist steer the movement in a harmful direction.
Michael Weinstein has been spitting on this legacy for almost 15 years, long before he launched his PrEP denialism campaign. He has been spitting on the graves of lost heroes, like Martin Delaney, Project Inform's founder, who warned me years ago that Weinstein was "dangerous" and "self-serving." He has been spitting on the graves of Spencer Cox, and Carlton Hogan, who were instrumental in pushing us towards a science-driven path. Some of us should be forgiven for feeling protective of the legacy of AIDS activism built by these fallen comrades, and for our anger at those who arrogantly rebuke it. — Peter Staley, HIV activist and founder of Treatment Action Group (TAG)
4. Stigma-Fueled, Anti-PrEP Messaging
In April 2014, Weinstein called Truvada for PrEP a "party drug," that would give gay and bisexual men a license to have unprotected sex, which would lead to a "public health disaster." Weinstein's "party drug" comment is disrespectful to anyone who has ever had sex — or plans to. Firstly, calling any HIV medication a "party drug" is disrespectful to HIV-positive people who take the drug in order to suppress the virus and live fully realized lives.
The sex-negative comment, borne of internalized homophobia, shames people of all sexualities who derive meaning from sexual activities — whether natural or with a condom — and is an ultra-conservative attack on (generally gay) people's identities as sexual beings. His comment is also completely gender-blind and ignores women, straight and queer, who enjoy condomless sex on PrEP or use PrEP in order to have a child — you know, a real party. — Mathew Rodriguez, community editor of TheBody.com
5. Overbilling of Federal Funds in Los Angeles County
A California Judge ruled in April 2015 that, "AIDS Healthcare Foundation must face claims by Los Angeles County officials that it overbilled the county $5.2 million for patient treatment." It is alleged that, similar to the overbilling claims in Florida, AHF has been defrauding federal-funding sources for people affected by HIV in L.A. County for about eight years. In addition to the $5.2 million, which was discovered in audits, the county has had to spend over $1.8 million to defend itself against lawsuits involving AHF. Considering the scarcity of public health funds, a loss of $7 million is a serious threat to much needed services for people affected by HIV in the county.
Ensuing the overbilling charges against AHF in L.A. County, now retired Supervisor Zev Yaroslavsky said of Weinstein: "He's used his nonprofit organization in a crass and bullying political way to get his way, which is to avoid being held accountable."
Afterwards, an internal email authored by Weinstein was discovered that read, "We need to go after Zev [Yaroslavsky] directly and hard. He is the real power behind our problems with the county on porn, the audit and fee-for service. Plus, he is a lame duck and an arrogant jerk. His Berman-Waxman power base is dead and he and others need to be taught a lesson." — Eric Paul Leue, HIV activist and director of sexual health and education at Kink.com
6. Fear-Based Safe-Sex Campaigns That Further HIV Stigma
A recent series of AHF advertisements depicted two people or various races and gender in bed, presumably post-coitus, with the caption "Trust him?"
This stigmatic view of sex and trust is both reductive in personal responsibility and stigmatizing towards HIV-positive people. It suggests that people living with the disease are akin to criminals who lie in order to have sex, or even intentionally spread the virus. Sure, the people behind the AHF campaign may argue differently. However, it is hard to ignore the criminal theme of the advertisements that, by default, further marginalize people living with HIV and keeps fear in the forefront of safer sex messaging. As one Facebook user stated, "This does not say 'fear HIV.' It says, 'fear people living with HIV.'" — Tyler Curry, HIV activist and senior editor of HIV Equal Online
7. Intimidating Other Organizations, People, and Practices Who Get In Their Way
The famously litigious agency has sued (or threatened to sue) many individuals and organizations in their path over the years, including counties, cities, departments of health, and even smaller agencies with whom AHF had territorial disputes. AHF even withdrew funding from a Louisiana advocacy event when they learned a plaintiff in their whistleblower lawsuit was involved in its planning. After this was revealed, they reinstated the funding without apology — and promptly counter-sued the whistleblowers. AHF's latest strategy is to simply gobble up the competition, as in the recent announcement they have acquired the largest community-based agency in the south, AID Atlanta. — Mark S. King, HIV activist and writer at MyFabulousDisease.com
8. Financial Leveraging Against Smaller Organizations
In a 2014 lawsuit against L.A. County, AHF's attorney, Samantha Azulay, argued for the invalidation of county funding contracts with smaller HIV and AIDS organizations with the words: "…You know, there might be some impact on these contracts, but maybe you've got to cut up a couple trees to save the forest."
Reach LA, a youth organization with specific focus on HIV-affected African-American, Latino, and transgender youth, was among the "couple of trees" and it lost $100,000 funding.
In a 2013 dispute, AHF refused to pay rent for a space it had occupied since 2003 from Maitri, an AIDS hospice in San Francisco. The dispute arose when AHF refused to pay fair market rent for the property after opting for the renewal of the rent contract. Maitri has an operating budget of about $2 million, while Weinstein claims that AHF has a budget of $1 billion. The rent refusal caused Maitri an approximate loss of more than $300,000. AHF only had to pay $60,000. — Eric Paul Leue, HIV activist and director of sexual health and education at Kink.com
9. Forcing Condoms in Porn
In the last two years, AHF has led a costly media campaign to push forward legislation that would enforce condom use in adult film productions. But what may sounded like a good idea can actually be a dangerous limitation of access to other and possibly more adequate prevention options — and it threatens performers with serious infringements on medical and personal privacy. For the past five years, many public health officials have repeatedly argued that this was a waste of money, as the adult film industry, with zero on-set HIV infections over the past ten years, is not where the epidemic demands our attention.
In a recent hearing in front of the California Occupational Safety & Health Standards Board, 19 organizations, numerous performers, and unaffiliated medical professionals all opposed AHFs proposal, which Weinstein is now trying to push through in form of a state-ballot initiative. Many are appalled by AHFs proposal to ignore highly efficacious and proven prevention options such as PrEP and specific industry-developed testing protocols, all-the-while removing performer's rights for personal choice to access and control. — Eric Paul Leue, HIV activist and director of sexual health and education at Kink.com
10. An Alleged Pattern of Criminal Conspiracy
A stunning whistle-blower lawsuit made public this year against AHF charges the agency with ten counts of defrauding the government, conspiracy, and a "multi-State kickback scheme" to maintain service quotas and keep the government-funded gravy train rolling. The suit, brought by three former senior staff members of the agency, includes internal documents that outline payments to both staff members and clients in an attempt to direct people who test positive into care at an AHF clinic — without properly offering them choices to seek care elsewhere. This strategy, known as "captive care," then allegedly allows AHF to bill freely for client services obtained illegally, according to the lawsuit. — Mark S. King, HIV activist and writer at MyFabulousDisease.com
Tags: advocacy, aids, barebacking, conferences, hiv, physician, Sexuality, testing
Posted in Living with HIV/AIDS, My Fabulous Disease, News, Prevention and Policy | No Comments »
Thursday, April 9th, 2015
Michael Weinstein, the polarizing and famously litigious head of AIDS Healthcare Foundation (AHF) just got a taste of his own medicine when a stunning Whistleblower lawsuit against AHF filed last year was unsealed and made public.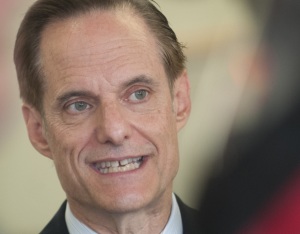 The 34-page suit, brought by three former staffers who claim they were fired when they raised questions of financial impropriety, charges the agency with ten counts of defrauding the government, conspiracy, and a "multi-State kickback scheme" to maintain service quotas and keep the government-funded gravy train rolling.
In exclusive interviews with My Fabulous Disease, one of the plaintiffs, Jack Carrel of Louisiana, his lead counsel Theodore Leopold, and several prominent figures in the HIV arena spoke out about the details of the charges and what the lawsuit could mean for the beleaguered head of the country's largest provider of HIV clinical services.
A "CRIMINAL EFFORT"
The plaintiffs accuse AHF of an "organizational-wide criminal effort" across at least 12 States in the form of kick-backs to AHF clients and staffers. They believe that AHF has defrauded governmental programs out of tens of millions of dollars, based on their own experience with the agency going back to at least 2010.
The three plaintiffs, all former managers at AHF who were in a position to be familiar with agency policy, also include Mauricio Ferrer of Florida and Shawn Loftis of New York.
When someone tested positive in an AHF clinic, the suit claims, they were offered cash or other inducements to be linked to care in AHF clinics. Furthermore, AHF staff were provided commissions when they successfully linked someone with a positive test result to AHF services. This procedure was developed first in Los Angeles and then spread across all States where AHF has a presence.
The policy wasn't exactly clandestine. In fact, it was written right into the "AHF Linkage to Care Training Manual" included as an exhibit in the lawsuit (partial snapshot below).

This kind of incentive is flagrantly illegal. Defying the Federal Anti-Kickback Statute is a felony offense. Grant monies received from the government, such as through the Ryan White CARE Act, CDC, or other HHS programs like Medicare, strictly forbid kickbacks.
The Anti-Kickback Statute ensures "there are no behind-the-scenes shenanigans for profit reasons," said lead counsel Theodore Leopold of Cohen Milstein, the firm representing the plaintiffs in the case. "The Federal law is quite clear. We want to be sure the clients are getting proper care and treatment." Medical decisions should be for the betterment of the patient, Leopold said, "and not to put money into AHF's pockets."
"This case is about AHF gaming the system," Leopold said. He explained that kickbacks "can lead to an over-utilization of services, corrupt the process, and exploit the population most in need of services." The suit claims that although AHF was formed as a not-for-profit agency, it "exhibited a for-profit corporate mindset and a voracious appetite for any and all revenues associated with HIV patient referrals.
"We are seeking monetary recovery on behalf of the government for funds," Leopold said, which the suit contends were billed through improper means.
ONE PLAINTIFF SPEAKS OUT
Jack Carrel holds a Master's Degree in Public Health and is working on his doctorate. He came to AHF in 2012 after working in the HIV field for nearly 30 years. He is also HIV positive and feels a strong connection to those testing positive and seeking services.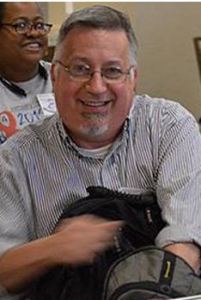 As Director of Public Health for AHF's Southern Bureau, Carrel questioned the financial incentive policy that directed people who tested positive into AHF clinics, but was "assured it was perfectly fine," Carrel said. "And then when we had meetings with funders, other (AHF staffers) in the meeting would tell funders that we would invite clients to use any other clinic they wanted, and I knew that wasn't true." Carrel was fired after objecting to the "linkage to care" policy.
"I tried to do something about it and I wasn't able to," Carrel said. "I'm HIV positive and I work in this field. I want people to be in care and to achieve viral suppression. But this system didn't give clients the choice for getting services where they wanted."
People who have just received HIV positive test results are often in shock, emotionally vulnerable, and susceptible to nearly any suggestion. AHF staffers were financially rewarded for influencing their clients' healthcare decision-making, according to the lawsuit. They allegedly plied clients with money, free fast-food lunches, and rides directly to AHF clinics.
Attorney Leopold is careful to point out that this is a civil matter and not a criminal one. A tepid statement released by AHF in response to the suit contends they did "nothing wrong" and use as proof of their innocence the fact that the government has declined to intervene in the legal action.
The mere fact the government has not, as of yet, chosen to intervene "is no reflection on the validity of the case," contends Leopold, citing that this is not uncommon when there is already outside counsel involved. In other words, the government may be more than happy to allow this lawsuit to do the legwork for them and then use it to build a case for later criminal charges.
"WE WILL SUE YOU!"
The lawsuit places much of the responsibility for the AHF scandal squarely at the feet of Michael Weinstein who, at a 2013 AHF Leadership Summit, personally advocated for increased "positivity rates," more linkage directly to AHF services, and "the payment of financial incentives to patients for the purpose on inducing self-referrals to AHF medical care," according to the suit.
The irony of the Whistleblower action is the rich history AHF has of threatening others with litigation. Under the direction of Weinstein, AHF participated in their own, profitable Whistleblower lawsuit against Bristol-Myers Squibb in 2010 and Weinstein has always used potential litigation toward others as a playing card.
(Weinstein has also engaged in expensive petitions to mandate condom use in porn, called the pre-exposure prophylaxis [PrEP] medication Truvada "a party drug," and taken out full page ads that significantly misrepresent PrEP efficacy findings, all to the consternation of his peers.)
The animosity Weinstein has engendered among other HIV advocates can be traced back for decades. Sue Crumpton served as the director of LA Shanti, the first HIV support agency founded in Los Angeles, from 1992-1998. She remembers L.A. County planning council meetings "filled with drama, courtesy of Mr. Weinstein."
"Michael never showed up to Planning Council meetings unless there was grant money on the table," Crumpton said. "And then if things didn't go his way, his first response was to say 'we will sue you!' The other agencies didn't have the resources to respond to a lawsuit, so he would get his way."
PrEP activist and former AHF poster boy Eric Paul Leue, who broke ties with the agency after Weinstein's widely maligned objections to PrEP, has little patience with such tactics. "AHF has sued counties, cities, and departments of health, and has bullied smaller organizations into submission with litigation that real non-profits cannot afford to fight," he said.
Leue relates the story of AHF attorney Samantha Azulay who, during a case in which AHF fought to have funding taken away from a small organization serving Los Angeles youth, stated that "maybe you've got to cut up a couple trees to save the forest."
"That's what it comes down to," said Leue, who began a #RemoveWeinstein petition last year. "AHF leadership is the forest and they do not care about the community. They care about their bottom line of one billion dollars per year."
Weinstein's litigious nature and the sheer size of his agency intimidated plaintiff Jack Carrel and gave him pause when considering what to do about the policies he knew to be wrong. "AHF is a very big organization," Carrel said. "And I'm one HIV educator. So that was, and still is, scary."
"A THUG AND A CROOK"
Weinstein's battles with HIV advocates and agencies have largely marginalized him from HIV advocacy circles, where he is derisively known as the Tea Party of the HIV movement.
Lifelong HIV activist Peter Staley (How to Survive a Plague) believes the legal fallout from Weinstein's actions is long overdue. "For those of us who have been fighting Michael Weinstein from day one," he said, "when he started ignoring the great legacy of science-driven AIDS treatment activism, this lawsuit couldn't have come soon enough. And yes," he adds, "it feels like payback."
Long term AIDS survivor Michael Petrelis, whose own blog The Petrelis Files is best known for holding HIV service agencies accountable by publishing their IRS 990 forms, has long criticized AHF for failing to post its 990 on their agency website.
"It's possible the charges in the lawsuit are just the tip of the iceberg," Petrelis said. "Since AHF is a behemoth with national and global offices – not to mention lobbyists in Washington – and negotiates directly with drug manufacturers among its various endeavors, there should be an AHF Watch Network… keeping a close eye on the organization, its Board and executives."
Peter Staley is already writing Weinstein's professional obituary while remaining concerned for the well-being of thousands of AHF clients. "We knew Weinstein was a thug and a crook," he said, "but his downfall will be bittersweet, because it could also bring down the empire he built, which includes lots of HIV/AIDS specialists and thousands of low-income patients."
"If I were on the AHF Board," Staley adds, "I would quickly clean house. All of this can be set right once Weinstein is gone, and AHF can live on under new management."
Plaintiff Jack Carrel thinks that, were something catastrophic to happen to AHF, "other agencies would step up" to fill the needs in service. And when asked if Weinstein deserves to keep his job, Carrel will only say that "when you're CEO of an organization, you are responsible for what it does."
Removing Weinstein may actually become an imperative for the AHF Board, Sue Crumpton believes.
"Michael always cultivated his own Board, which acquiesce to his whims, and he has always served as its Chair," she said, "but those other Board members also have a fiduciary responsibility to the agency. They could be held personally liable for this lawsuit. A Board can be ensured against many things, but negligence is not one of them. If they don't seek to remedy this situation, in my opinion, they are negligent."
For his part, lead counsel Theodore Leopold isn't particularly shocked by the alleged unlawfulness of AHF policy. "I've been doing this a long time," he said, "so not too many things, as it relates to corporate greed, surprise me."
Mark
(Photo credit of Michael Weinstein: Mitchell Zachs/AP)
————————————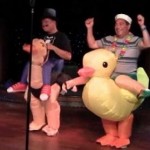 Need something completely different? Discounted cabins for the 2015 HIV Cruise Retreat this November 8-15 are going fast. Join a few hundred brand new friends on a cruise along the Mexican Riviera! We have our own theme parties, outrageous game shows, and excursions at ports of call — plus a special guest, Timothy Ray Brown, the first man to be cured of HIV. We will be sailing roundtrip from San Pedro (just outside of Long Beach/ Los Angeles) to an exotic mix of beach towns on the Mexican Western Riviera. Each town has its very own local charm and flavor. For more info, check out HIVCruise.com or contact our cruise director Paul Stalbaum at 888-640-7447.
Tags: hiv, physical, physician, research, testing
Posted in Living with HIV/AIDS, My Fabulous Disease, News, Prevention and Policy | 11 Comments »
Tuesday, February 17th, 2015
My fear of all things anal began when I was an early teen. My older brother David took great delight in bursting into our bathroom to startle me, especially if I was on the john. And, since I was a pubescent redhead, his sudden visits included a lot of laughing and pointing.
I was mortified beyond belief. To this day, I must be sure no one is in the house, and then close and lock the bedroom and bathroom doors before I can properly relax. And I live alone.
But you can't avoid everything anal if you're growing up gay. Not if you want to do the really fun stuff.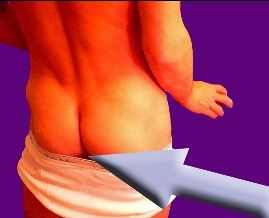 Thus my conundrum as a youth: exploring the pleasures of my tush while fighting the terror that something stinky might be going on down there. And I suspect I am not alone in this particular anxiety.
I discovered soon enough that if someone had serious intentions in regard to my backside, I couldn't simply rely upon a bran muffin and a Hail Mary to be properly prepared. God forbid I would, you know, not be… well, you know. This ongoing fear had a habit of wrecking the mood and the evening.
My exclamations during sex were usually panicked calls to turn the lights up, so I could carefully inspect the situation. Or a plea to stop altogether. "Okay, that's fine, no wait!" I would cry out. "Am I okay down there? I mean, is it… okay go ahead… no hold on! Are you sure I'm…?" I was usually so involved with my protestations that I would hardly notice my date gathering his things to leave.
There are cleansing products meant to address this situation, but they require a certain comfort level with your own body and a little patience, meaning, they were incomprehensible to me. But I tried my best.
Drugstore enemas always felt too clinical, like something a nurse should be administering so you could "move your bowels," a phrase I hope I never have to hear again, much less type.
But never fear. Leave it to gay men to popularize the "shower shot," a long hose which screws into your shower head and ends in a narrow nozzle, just right for sliding up your bum for a thorough internal rinse.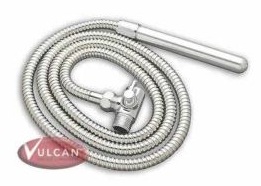 The modulation of this instrument, however — and I cannot stress this enough — is of utmost importance. Too little water pressure and you've got a dribble with little cleansing effect. Too much, and you've just inserted a pressure washer into your ass that could peel the paint off a building.
I was first introduced to this contraption in my early twenties, when my first-time date invited me to visit the bathroom to "rinse out" while he relaxed in bed and waited. I stepped in the shower and surveyed the dangling metal hose. I turned on the water. I considered how it all might operate, and I made my best guess, standing there for God knows how long, hose inserted and whistling a happy tune.
I must say in my defense that no one had ever explained the device to me, much less how to gauge the input versus the output.
That poor, unfortunate man. He had really pretty designer sheets, covered with a gorgeous blue and white pinstripe blanket that I can still see clear as day. Such a lovely bedroom. That is, until a few passionate moments later, when all of it was soaked with a solid gallon of spoiled water that had been percolating in my poopchute, exploding from me in a streaming rush that looked like the wake of an outboard motor hurtling across Lake Erie. The word "apocalyptic" comes to mind.
Only as I matured did I realize I had options (and I will now introduce cute baseball analogies to illustrate my point). I discovered I did not, in fact, always have to play catcher, and I stepped onto the pitcher's mound with great enthusiasm. But as much as I enjoyed the view from above, I worried still, that maybe I wasn't holding up my end of the bargain. It was only after pitching a near-perfect game one day that my partner in the dugout helped me make a simple decision.
"Mark," he said. "Why don't you just stick to what you do well?" And it was this generous assessment that gave me the confidence to hang up the hiney hose forever.
Yes, that's right. I'm now a dedicated top. I'll allow you a few moments of incredulous wonderment.
What's even more amazing is my having a boyfriend who is not only loving and adorable, but absolutely expert at the exotic mysteries of booty sex preparation. It really is an impressive talent, if you ask me. Like walking on your hands, or spinning plates on sticks.
This is all to tell you, dear reader, that sometimes you must find solutions to your fears in order to take care of yourself. And sometimes you have to face your damn fears head-on. I was reminded of this recently when, at fifty-two years old, I had my first colonoscopy. I don't think I have to explain my anxiety level going in to this procedure.
Everything checked out fine, thanks. I had heard the anesthesia they give you can produce some odd behavior, but other than proposing to the physician and asking the recovery nurse if they located my pet hamster, I behaved myself quite admirably.
The only side effect of my colonoscopy was a bloated feeling and a case of the gurgles. Well, and a few hours later I had the longest, most continuous release of gas I have ever experienced in all my days. I'm talking a minute plus, people.
I really wish my older brother David had been here. He loves that kind of thing.
Mark
(Artwork courtesy of Andrews's Anus, via LifeLube. This piece was originally posted on my blog in January of 2013, but for some reason continues to be one of the most popular pages on this site. So don't say I'm not giving the public what they want!)
———————————————————–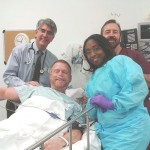 My Friends,
If I can face my deepest fears, so can you. Did you know that studies show people living with HIV have a higher incidence of "colonic neoplasms" (the polyps they are looking for during a colonoscopy), which should be checked out for cancerous cell growth? Anyone aged 50 should get a colonoscopy, and some protocols suggest that people with HIV start this screening at age 45. Please don't delay. Call your doctor! (At right, a picture of my happy procedure team just prior to my colonoscopy.)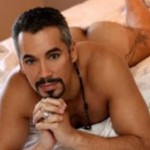 And speaking of rectal douching (and why not? We really should discuss this topic more, considering it is such a common practice among gay men), I cannot say enough about LifeLube, the blog created by the AIDS Foundation of Chicago to help gay men address sexuality and their bodies. They have an entire section devoted to rectal douching (did you know there are new douches that limit the amount of healthy bacteria removed?) and another feature, Andrew's Anus, that provides engaging answers to the questions you're afraid to ask. The blog is no longer active – meaning, no new postings – but there is a wealth of information here and you should definitely check it out.
Tags: Aging, family, gay, help others, physical, physician, research, Sexuality
Posted in Family and Friends, Gay Life, My Fabulous Disease, Prevention and Policy | No Comments »
Tuesday, February 3rd, 2015
The lobby of the Melbourne convention center at the international AIDS conference last July was packed with scientists, community educators, and activists. I was busy wrangling interviews for my daily video blogs.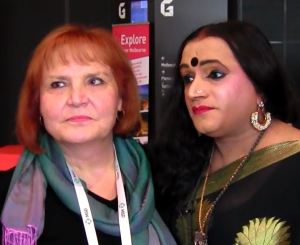 Across the room I spotted JoAnne Keatley and Laxmi Narayan Tripathi, two of the most visible transgender women in the world and experts on transgender issues. I scurried up to them for a sound bite on their thoughts about the conference.
"This has been quite a year for trans people," I began, as an ill-conceived question began forming in my tiny brain, "what with the visibility of trans people like actress Laverne Cox. That must help a lot, huh?"
The women stared at me as if I were mad.
"Our visibility is due to grass-roots organizations doing the hard work of education and advocacy," JoAnne responded with a gracious but cool reserve. She went on to explain that transgender people face enormous challenges just to make ends meet financially. "We are victims of discrimination and violence on a daily basis," she said. "Too many of us, in order to survive, have to engage in sex work. The number one intervention for the trans population is to make it safe for us to participate in the workplace."
I felt like an idiot, but my insensitivity knew no bounds and I wasn't done yet. The activists were accompanied by a third woman who was quite lovely but declined contributing to the interview. As I thanked JoAnne and Laxmi for their time, I turned to their companion and good-naturedly said, "ah, the quiet, pretty one."
Because the real litmus test for a successful trans person is whether or not they are attractive.
The women were already walking away, presumably to find someone who could avoid insulting them, when JoAnne glanced back to pointedly call out, "we are all pretty!"
I like to consider myself an enlightened gay man. A career in HIV advocacy has taught me a lot about sexuality, racism, and women's issues. But I'll be damned if I have managed to learn very much about the T in LGBT, despite the issue bubbling up throughout popular culture. My sensitivity level is long overdue for some transitioning of its own.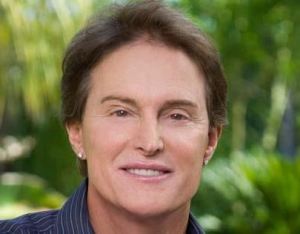 Transgender people throughout the world may not know who Bruce Jenner is either, but it appears the former Olympian is about to grant many of us another such teachable moment. The gold medal winner and famously reluctant participant on the Keeping Up with the Kardashians reality show is the subject of numerous media reports that (s)he is transitioning – I don't even know at what point it is customary for the pronoun to change – and there will be a special series on the E! Network devoted to it, including visits to physicians and mental health professionals.
If handled with sensitivity – admittedly, a tall order for the network that brought us the Kardashian clan – Bruce's story has the potential to provide an educational lesson not unlike Magic Johnson's coming out as HIV positive in 1991: an American sports hero, someone many of us think we know, revealing a private part of themselves to a public woefully ignorant on the topic. Oprah must be chomping at the bit.
Easy does it. While it may be true that Bruce is ready to share his story, transgender people face enormous physical and mental challenges even after their transition, including continued risk of suicide, and their stories are singular and vary widely. Let's hope Bruce has supportive counsel and is braced for the media barrage.
All this in a year that has seen the Amazon series Transparent win awards and the President say the word "transgender" for the first time in a State of the Union speech, and not long after Chaz Bono shook his groove thing on Dancing with the Stars.
I have sincere enthusiasm for these developments yet still find myself judging those who would be advocates, placing the likes of Laverne Cox, imbued with a winning I'm-just-happy-to-be-here spirit, in stark contrast to the more confrontational author and activist Janet Mock, who beneath her high wattage smile looks like she is inches away from slapping the stupid out of somebody.
God forbid transgender people make us uncomfortable. You know, like liberated women once did, and gay rights protesters and marchers in Selma and AIDS activists.
How difficult it must be for an entire segment of humanity to contend with score keeping like mine, to be judged by whomever spoke up last, to be seen as a monolithic "community" without nuance, to have to continually respond to dangerous ignorance without losing it completely.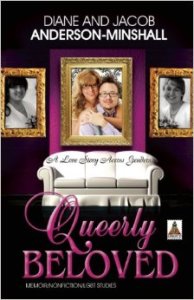 My curiosity about all things trans was largely satisfied recently by reading Queerly Beloved: A Love Story Across Genders by married couple Diane and Jacob Anderson-Minshall. It is a remarkable tale about their former lives as a lesbian couple and what happened when they were faced with the realization that one of them, Suzy, is a transgender man who would eventually take the name Jacob.
There are revelations on every page of Queerly Beloved about issues I have wondered about and even more that have never occurred to me. Diane and Jacob chronicle every step of the transition and never make the reader feel like an inappropriate voyeur.
And trust me, the journey is a labyrinth of sexual and gender identity, as questions about being lesbian or straight, male or female, are raised in increasingly complicated permutations. These questions are all the more urgent to Diane and Jacob, given their careers as feminists working in the lesbian publishing arena.
Jacob is bracingly candid about his initial doubts about his transgender status and the couple's misgivings about losing their identity in the lesbian community. However freeing his masculine transformation may have been, he does not shy away from the reservations that accompanied it and the ramifications he faced afterward.
Jacob includes fascinating insight into the riddle of nature vs. nurture, including the numbing of emotions he experienced when testosterone treatment began and how, in his new identity as male, he found himself in the foreign, privileged fellowship of men — and realized he was suddenly deferred to by women. Ultimately, Jacob challenges us to think again and again about what it means to be male.
For her part, Diane achingly shares her confusion and heartbreak over losing the woman of her dreams to his transition and hormone therapy, and writes of her lover's femininity slipping away in ways subtle and profound: his unwillingness to talk through feelings as he once did, the light touch of his hands being replaced by a thicker skin, literally, and a numbing of emotions that robs him of his highs and lows.
In a particularly telling scene, they both attend a book reading where a gay man who came out late in life describes the impact on his former wife. The sad and rueful glance that Diane gives Jacob during the reading makes you realize that, whatever the nature of the coming out process, there are often unintended casualties in its wake.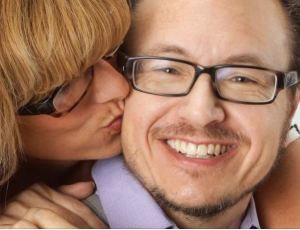 Diane and Jacob reveal in intimate detail what we may have long suspected. Masculine and feminine are a continuum, intersecting both our gender and sexuality, and the enormous world we inhabit contains gradations of it all.
Yet, as the book's title makes clear, this is a love story. And despite confused presumptions from family and friends about the nature of their relationship and even their sex life, the couple continue to find joy and satisfaction in the arms of the same person they have adored from the very beginning.
Although they go to great lengths to patiently answer questions in their inspiring memoir, the love Diane and Jacob have for one another is the final, simple answer.
Let that be a lesson to us all.
Mark
Tags: conferences, culture, gay, physician, Sexuality
Posted in Book Review, Gay Life, My Fabulous Disease, News | 1 Comment »
Tuesday, January 13th, 2015
The first time I contracted gonorrhea, which in my day was affectionately called The Clap, I was 20 years old and had just moved to West Hollywood, California. It was 1981, disco was still thumping in the bars, and the bath houses were packed. My dance card was filled.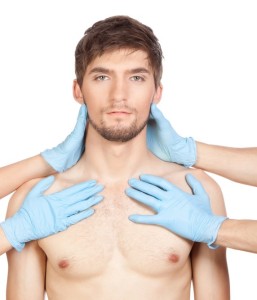 When I admitted my telltale symptoms to a friend, he directed me to the local clinic in the heart of the gay strip. The waiting area, filled to the brim with gay men, had the undeniable scent of Brut cologne and testosterone, and despite the circumstances we all cruised one another through sheepish glances.
It was embarrassing but not the worst day of my life. The clinician touched me in private places with rubber gloves and the shot he gave me worked. Life went on.
During my early years of recreational sex in the busy gay mecca, I caught The Clap so many times I called it The Applause.
No one told me I should be using condoms, not in the clinic and not among friends. The very suggestion would have been ludicrous. Half the fun of being gay was the blithe disregard for rubbers. We knew the symptoms of trouble and dealt with it accordingly. An STI (sexually transmitted infection) was an annoying rite of passage and little more. We had not yet met a virus that could harm us in any significant way.
Which brings me to a common objection to the use of pre-exposure prophylaxis (PrEP) for the prevention of HIV transmission. Skeptics of the strategy warn that taking a pill to prevent HIV does not guard against other STI's and therefore condoms must continue to be used.
When did avoiding every possible STI become the new goal for gay sexual behavior? Syphilis, chlamydia, and gonorrhea are all easily treated and cured. Scary campfire tales of a spreading superbug impervious to all treatment have failed to materialize. The very idea of getting The Clap again just makes me feel nostalgic.
No longer is avoiding HIV the prime objective; we must also now use a condom every time so that we are never exposed to, well, whatever. How many hoops must we jump through in order to fuck in a pleasurable way? We can't win for losing.
I'm beginning to wonder if the avoidance of pleasure has become the real objective; after a generation of fear and mortality, we don't see pleasure – and I mean sweaty nasty bodily fluid exploding pleasure – as a basic human need we can enjoy as gay men, much less deserve. Meanwhile, heterosexuals acquire STI's or get pregnant with the same regularity as always. Our gay sin is always greater.
Whatever moderate concern we once had for contracting an STI (and empathy for those getting one) has been transformed into a fearsome judgment of any repercussions of gay sex, regardless of its actual threat to our health. It's a shame-based, sex-negative ideology and it is painful to observe, particularly within my own community.
There are many ways to avoid HIV infection that can still give you an STI. That's true. And every person should engage in sober reflection and make their own assessment of what risks they are willing to take. I am a proponent of "shoot the alligator closest to the boat," meaning, prioritize the risk and act accordingly.
Gay men who take steps to avoid HIV practice a number of strategies: they choose PrEP, or limit themselves to oral sex with partners whom they don't know, or they only top, or they know their partner is undetectable, or they are themselves on successful treatment. All of these methods can prevent HIV transmission but can still expose someone to an STI.
I consider the man who employs these strategies, and maintains a relationship with his health care provider to monitor any infections, a success story. I have no interest in telling him to jump through a few more hoops if he wants to be truly, totally, super safe from all of life's ills. There is a cost to being human and of the pleasures we seek, whether it's sex or fast cars or that second piece of cake.
Unfortunately, because the topic is gay sexuality, it tends to make some of those alligators appear much larger than they really are.
Mark
Tags: A Place Like This, aids, barebacking, culture, gay, hiv, physician, serosorting, Sexuality, testing
Posted in Gay Life, Living with HIV/AIDS, My Fabulous Disease, Prevention and Policy | 35 Comments »
Wednesday, November 12th, 2014
When Chanse, a 19-year-old gay man living in Shreveport, Louisiana, tested HIV positive a few months ago, his mother reacted with understandable emotion and concern. And then she did something both odd and beautiful: she threw Chanse a coming out party.
"We had a couple of dozen family members and friends there," Chanse told me during my recent visit to my hometown. "And halfway through the party we started pinning red ribbons on everyone. They didn't know what to make of it."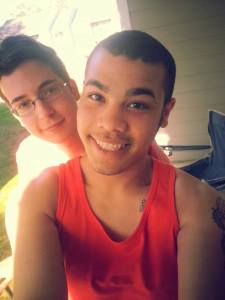 His mother then called the group to attention and said she had an important announcement to make. "She wanted everyone to know that something had happened and I would need their support," he said. "And then she told them that I had tested positive and that she loves me."
The response from the party attendees was immediate and moving. There were tears, yes, but they also congratulated Chanse for taking charge of his health and starting treatment. Since then, several family members have begun to volunteer for The Philadelphia Center, the local HIV services agency where Chanse was tested and participates in ongoing wellness programs.
HIV continues to devastate the South with alarming infection rates. One might assume that in the most stubborn of Red States, gay men have lives of rejection and misery, that they are apathetic about HIV, that they are ignorant about seeking treatment or accessing prevention strategies such as pre-exposure prophylaxis (PrEP), or that living as a gay teenager brings so many challenges that HIV falls far down the ladder of priorities.
That is clearly not the case for Chanse or for his boyfriend Josh, also 19 years old, who both swept into action when Chanse tested positive and, in another room of the agency, Josh learned he was HIV negative.
"I told him right away that I wouldn't leave him," said Josh. "We cried in the hallways for a few minutes, and then we both wanted to know right away what to do about it. One of the men at the agency, Eric Evans, told me about PrEP. I did some research and knew I wanted to start taking it."
(I wish to thank the very good people of
Allied Media Productions
in Shreveport, Louisiana, for sharing this interview clip with me. They are real public servants, producing video content for agencies like
The Philadelphia Center
and
The Deaf Action Center
.)
Tags: culture, gay, hiv, physician, PrEP, Sexuality, testing
Posted in Gay Life, Living with HIV/AIDS, My Fabulous Disease, News, Prevention and Policy | 10 Comments »
Monday, September 29th, 2014
I have twenty staples in my back holding an incision together. It hurts.
Just making that rather gruesome statement leaves me feeling conflicted. Yes, I want sympathy. Yes, this pain has been a constant companion for the last two months, from throwing out my back again to discovering from an MRI that a nerve was being crushed to a serious back surgery and then a slow recovery with more pain than I bargained for.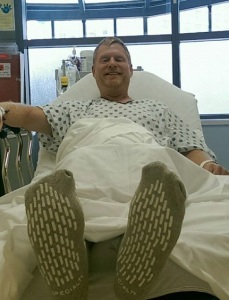 But the self-indulgence bothers me. How can we possibly complain, about anything really, in relation to the trials of others?
It reminds me of the 1980's, when there were so many deaths from AIDS that we couldn't grieve properly for individuals losses. The problem with living during that time, and seeing such mortality, was that everyone was doing it. There was no room in our aching hearts to feel for them all. And how in the world was I supposed to feel sorry for myself, the one with HIV who was healthy and alive?
Soliciting sympathy is a perilous enterprise. I'm That Funny Guy with HIV. Revealing that I'm hurting and feeling miserable feels like I'm going off-script, that these words don't belong on this blog, that you'll see me as self-centered and a whiner, that I'm hurting "my brand" and web traffic will suffer. But mostly, that my selfishness will become apparent, or at least show more than usual.
The self-pity comes and goes, like the muscle spasms, like the ocean of pain that ebbs and flows, like my own attitude toward what has happened to me, or what is yet to come. It's a kaleidoscope of impatience and gratitude and hope and anger. So I don't talk about it much or I make light of it and try to keep things in perspective.
During my hospital stays these last weeks, I witnessed true medical emergencies, and saw other patients awaiting care who clearly were more frail, and more afraid, than I was. Meanwhile, I was cracking jokes with the nurses as I was being prepped for surgery and looking forward to the bliss of sedation, as any red-blooded addict in recovery would. I liked the attention, the drama of something serious underway, and how, at least for a few hours, it was all about me.
But then the surgery happened. And it isn't funny anymore. And I understand the legitimate use of oxycodone. And I can't put on my own socks.
So, for long periods of time during each day, I don't care about the suffering of others or the inhumanity of war or the latest HIV infection rates. Because what I am going through right now hurts. And it's really hard.
And I want a pain of my very own.
It is that very realization, of wanting to hold tight to something shared by no one else, that shatters my selfishness. Because if there's anything I believe in, it is that we heal and strengthen by sharing our common challenges. Whether it is living with HIV or a death in the family or a breakup, we get stronger when we talk about it.
I have a folder of special emails called my Rainy Day Folder, and in it are messages I have collected over the years. They are from people all over the world thanking me for a posting on my blog or sharing their own stories with me of stigma or fear or loneliness. And during this entire experience of mine, I have neglected to do the very thing for which that folder is intended: when I'm feeling low, read some of the emails and take heart that I'm making a difference by sharing my truth or offering advice.
So, this morning I opened the folder and began to read. And one piece of advice, something I offered repeatedly to others who were experiencing misfortune, stunned me with its precision and irony. "You are going to get through this," I said, more than once. "And one day you are going to be able to say to someone, 'I know what you're going through. I understand. And this is how I got to the other side.'"
Seeing the intersection of hurt and healing in those emails released something in me. The really good cry that followed was about me, and them, and all of us.
And I felt no pain at all.
Mark
————————
Update: The staples have been removed, and the surgeon was practically gleeful during our appointment that I am walking nearly normally. He said that during surgery he was alarmed by the nerve damage and he feared for my mobility. So I dodged a bullet, thanks to taking fast action, getting good advice, and walking (or limping) through the experience. Thanks for all the kind messages of support. I'm on the mend.
Tags: culture, gratitude, help others, physician, recovery
Posted in Living with HIV/AIDS, My Fabulous Disease, News | 6 Comments »
Monday, July 14th, 2014
(NOTE: My AIDS2014 coverage is exclusive to TheBody.com this year and you can find my daily videos on their main page beginning this Sunday, July 20th.)
Are you ready for a theater piece about HIV that takes place on an enormous bed that doubles as a boxing ring? How about a candlelight march with thousands of advocates from around the world? And don't forget my favorite — the Global Village, stuffed with art and advocacy from every corner of the planet? All this and more will be part of my coverage of the upcoming International AIDS Conference!
I'm headed down under for AIDS2014 in Melbourne from July 19-25! I'm so excited to be creating exclusive coverage for TheBody, the site that sent me my first camera and said, "just do what you do." I'm so proud of my association with this tremendous online resource.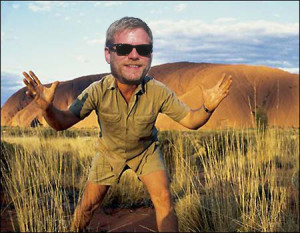 To watch my coverage, you'll have to go to TheBody.com. My whimsical, sometimes emotional reporting will be hard to miss from their main page and should begin on Sunday, July 20th.
In Melbourne, I'm going to leave the clinical data and research to those better qualified. Instead, I hope to provide you with something you might not see anywhere else: the advocates, the people living with HIV from around the world, and the awesome visuals of the music and dance and theater and human drama of the conference.
Are you ready? Let's go!
Mark
p.s. To watch my coverage, just head to TheBody and look for my video coverage, beginning Sunday, July 20th. I hope to post every day!
Tags: aids, conferences, criminalization, help others, physician, research, Sexuality, testing
Posted in Gay Life, Living with HIV/AIDS, My Fabulous Disease, News, Prevention and Policy | No Comments »