Posts Tagged 'politics'
Wednesday, November 25th, 2015
A variety of gay men spill their guts about their lives and HIV diagnosis. They are bracingly honest, sexually explicit, heartbreaking and hilarious. They are the men of The Infection Monologues, a theatrical event getting a 10th Anniversary staged reading at the Human Rights Campaign this Wednesday, December 2, 2015.
The event is FREE, with food and drinks starting at 6:00pm and the performance at 7:00pm. You can RSVP right here.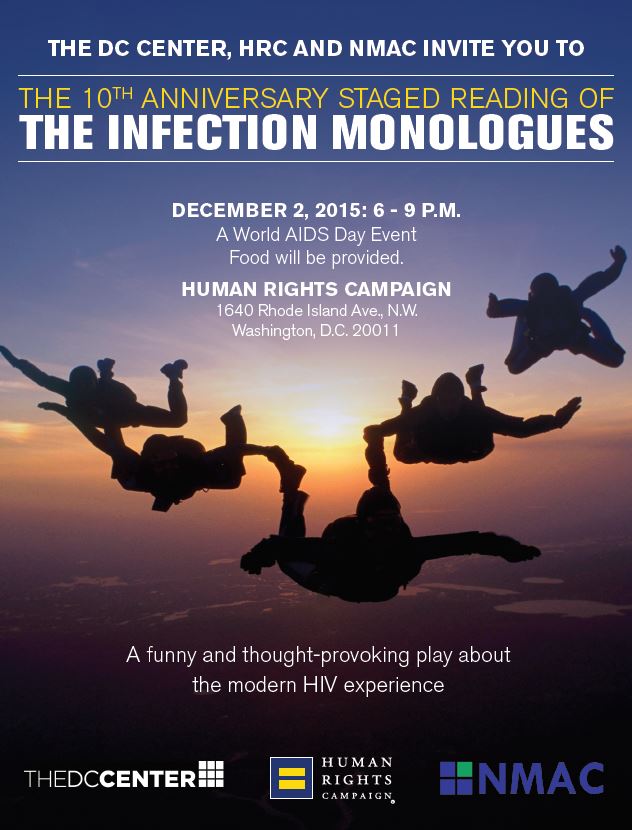 I will be reading the role of Jack, the "older" member of the group of characters. I remember my ingénue days on stage as if they were yesterday, but I'll save my existential crisis for another time.
Created by the enormously influential gay anthropologist Eric Rofes (Reviving the Tribe), and written by Rofes and writer and advocate Alex Garner, The Infection Monologues provides a snapshot of the lives of gay men living in the epicenter of the crisis, and is based on hours of real-life interviews.
Eric Rofes died far too soon, taken by a heart attack in 2006 not long after The Infection Monologues premiered. Alex Garner has continued a respected career as a journalist and HIV advocate, currently leading a national PrEP education effort for the National Minority AIDS Council.
Alex and I had a chat about the play, the politics of barebacking, gay "respectability," and putting gay sex back into the social agenda.
First of all, Alex, congrats on having this work of art revived after ten years.
Thanks, Mark. We are excited to be able to breathe life into this script again. I always learn something new when I reread it.
Can I give a shout-out to the late, great, gay anthropologist Eric Rofes, with whom you wrote the play? His book Reviving the Tribe changed my advocacy forever. I recently read it again.
I can't say enough great things about Eric Rofes. None of this would have been possible without his insight and vision. His impact is ongoing and his books changed me, too.
I invited Eric to lead a gay men's town hall forum in Atlanta in the mid-1990's. He was the first person I knew to say publicly that bareback sex was critical to his sexual experience. He said it that night, and it was like a bomb went off in the auditorium. I thought the attendees would riot.
Eric was ahead of his time but such a needed voice about gay sex and gay men's health. Those early years of the bareback debate were so raw and emotional — no pun intended.
I'm wondering if the themes in The Infection Monologues have remain constant, or if we've seen any progress at all…
The themes remain constant in so many ways but the world has changed drastically. The themes of stigma, disclosure, dating/relationships, and sex are just as relevant and compelling today but scientific advancements — treatment as prevention and PrEP — have radically changed the landscape.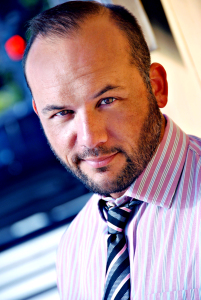 Does it feel like something is missing not talking about PrEP, then? I think the stigma underscoring PrEP among gay men has really always been there.
I don't think it feels like something is missing. I think it feels like a specific moment in time. The more things changes the more things stay the same. Much of the stigma associated with PrEP is the stigma associated with condomless sex. The bareback debate has simply evolved because of PrEP and unfortunately some PrEP users utilize PrEP as their shield of respectability: "I'm responsible" or "I'm protected so it's ok when I bareback." I have zero interest in respectability politics.
The voices in The Infection Monologues are such complete human beings. Funny, flawed, horny, scared. Tell me the process of how those voices came to be.
Eric was a great researcher and he conducted initial interviews of men who seroconverted after 2000. We used that research, as well as my own lived experience to create the three core characters. The additional characters were developed from writers in Los Angeles who drew from their lived experiences.
I'm all about telling the story of what happened to us — and what continues to happen. But these days it feels like so many of our wounds in the gay community are self-inflicted. Is that a fair observation?
I don't think that is a fair observation. I don't like that term. So much of our struggles are still institutionalized, whether it's around homophobia and stigma, poverty, transphobia and sexism, lack of education, religion, etc. I believe we haven't focused enough on our resiliency. As a community we endured the worst epidemic in modern history yet the lessons from that seem to be unknown. How did we survive? How did we find community, support, hope? How did we lose or find our humanity and how did we decide they were not going to destroy us. Ours is such a struggle of resistance and I think much of that has been understood simply in the modern marriage equality context.
Some advocates draw a straight line from the AIDS crisis to marriage equality. Do you agree?
I do see a straight line but not necessarily in the same way. The advent of anti-retrovirals allowed us to be healthy, presentable, and respectable. The movement could drop the messy, icky part and the part dealing with our sex, and focus on love and respectability. Strategically it was a brilliant move, but the impact was a desexualized movement. We now have the opportunity to make sex, pleasure and intimacy a top priority of our lives and our politics.
In my everyday life, I'm often torn between wanting to "tell the story" at every opportunity of what happened to us, and thinking I should just shut up already. Something about the trauma we experienced comes back to me, in some way, every damn day. So of course, the choice is to keep talking.
Who are we if not a collection of stories? That is art at its core and for those of us who have been marginalized, stories are a way to exert our humanity.
I'm honored I get to read the role of the "older" gay guy in the play. Actually, I'm actually older than the older gay character I am reading. Don't get me started. I'll use concealer that night.
(laughs) The "older" gay man is a very important perspective in the epidemic especially because he seroconverted after having lived through the war years. So much great complex emotion there.
Congratulations, Alex. It's nice having a dialogue about the monologues.
Thanks. And I hope that others will explore creative ways to tell the stories of our complex and fascinating community.
Tags: aids, barebacking, culture, gay, hiv, physical, politics, PrEP, Recreation, Sexuality, testing
Posted in Anita Mann and Acting Gigs, Gay Life, Living with HIV/AIDS, My Fabulous Disease | No Comments »
Tuesday, September 15th, 2015
Not to get all southern gothic on you, but I depend upon the kindness of strangers. Especially when producing video blogs at conferences.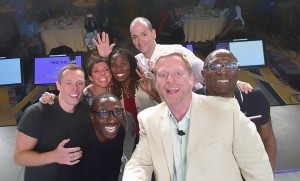 "Excuse me, would you please just hold this camera and point it at me while I talk to these people?" I must have said that sentence at least 40 times during the United States Conference on AIDS (USCA), held recently in Washington, DC. Every single interview you see in my video blog below was shot by whomever was wandering by at the time. Thanks, y'all!
The video contains three AIDS czars, one stripper pole, a ferocious batch of trans protestors, and more inspirational front-line workers than you can shake a stick at. My congratulations to the National Minority AIDS Council for their famously creative production of the weekend.
The spirit shared by the advocates, healthcare providers, and organizations who convened for USCA was electrifying, and just the boost many of us need to keep our energy up and our dedication renewed.
Oh, and special thanks to the CDC's Act Against AIDS campaign for letting me take over their Instagram page during the conference (follow them here), and to Gilead Sciences for sponsoring the "Mind the Gap" session on social media and inviting me to host it.
I love what I do. I love the work you're doing, too. As always, you are welcome to re-post my content, share it, take the YouTube video above and post it within your page, whatever might help share the messages of this amazing event and the awesome people who attended.
Thanks, my friends, and please be well.
Mark
(The photo above was the selfie the Social to Mobile speakers took at the end of our session, and includes – left to right – YouTube star Davey Wavey, blogger Guy Anthony, Michelle Samplin-Salgado of AIDS.gov, Luvvie Ajayi of the Red Pump Project, Miguel Gomez of AIDS.gov, myself, and Michael Crawford from Freedom to Marry.)
Tags: advocacy, aids, conferences, criminalization, culture, gay, help others, hiv, physician, politics, PrEP, recovery, research, serosorting, Sexuality, testing
Posted in Family and Friends, Gay Life, Living with HIV/AIDS, My Fabulous Disease, News, Prevention and Policy | 6 Comments »
Wednesday, August 26th, 2015
When Alana Oldham was only 17 years old, she found out the meaning of activism. A close friend had received an AIDS diagnosis and he wasn't expected to live very long. Alana wanted to take action — to make a difference and vent her grief and frustration — but there were two major obstacles in her way.
It was 1989, and she lived in Shreveport, Louisiana.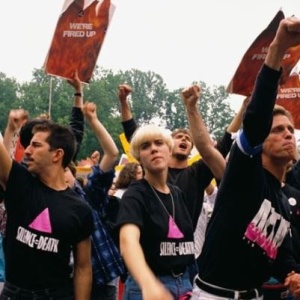 "I had to do what I could to help my friend," says Alana. "What was happening was cruel. People were discriminated against everywhere. Another friend of mine was fired from his job for having AIDS."
And so, Alana Oldham did something in Shreveport that many people assume was only possible in much larger cities. She accepted an invitation from founding member Debbie Allen to attend an ACT UP meeting, one of the first to be held by the fledgling Shreveport group. And very soon thereafter, Alana took to the streets of her southern home town as part of angry protests. (Alana in 1990, above center.)
Robert Darrow, a founding member of ACT UP Shreveport, was right by her side. After years away from home, living in New York City and dealing with his own AIDS diagnosis, Robert had returned to Shreveport to die near his family. Instead, his health stabilized as he took part in a small town revolution.
"We were an angry bunch of young people," Robert said. "We were angry at local doctors for turning us away. We were angry at judgmental families. Even at the only local clinic that would treat us, they installed an exhaust fan to get rid of the air we breathed."
The group of activists were stunningly effective, showing up regularly on the front page of The Shreveport Times and on local television, and leading to the formation of an HIV clinic and a community-based AIDS service agency, The Philadelphia Center.
ACT UP New York activist Peter Staley (profiled in the Oscar-nominated documentary How to Survive a Plague) recalls taking notice. "I remember the thrill we got in New York when we heard about the launch of ACT UP Shreveport," he said. "We had breached the Deep South!"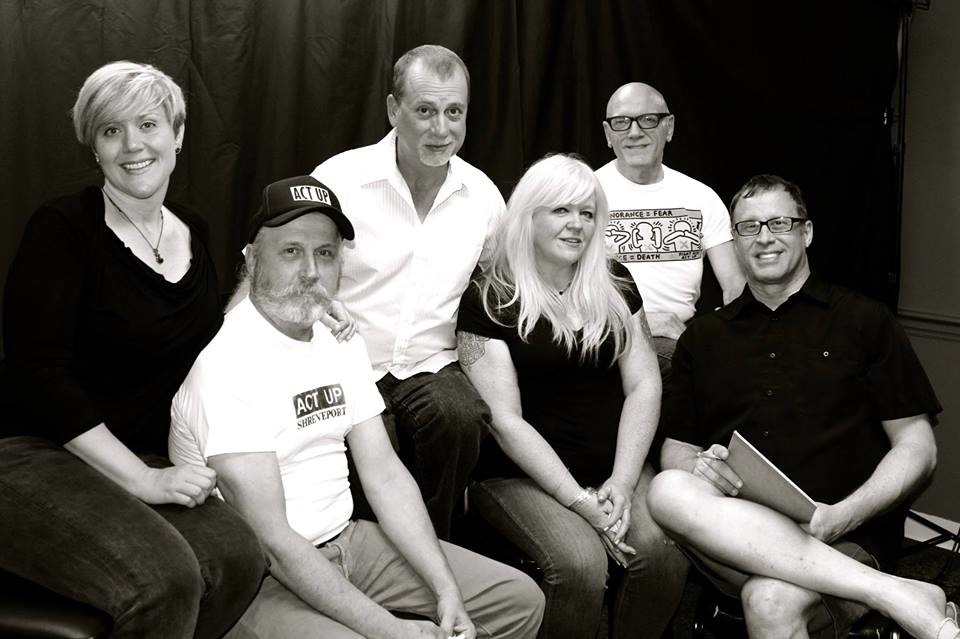 ACT UP Shreveport members today: (l-r) Alana Oldham, Gary Cathby, Buddy Williamson, Debbie Allen, Robert Darrrow, and Small Town Rage co-producer David Hylan.)
But not everyone in Shreveport was a fan.
"Even people in the gay community wanted us to go away," said Robert. "They thought we were appalling." Robert believes it was more difficult for ACT UP Shreveport to speak out than activists elsewhere, citing the hugely conservative majority in Louisiana. The disapproval of in-your-face activism also mirrored the self-hatred felt by so many gay men living in the Bible Belt.
David Hylan was one of those men. Married and closeted at the time, David watched ACT UP from the sidelines. "They were scary," he said. "The radical nature of it was off-putting, especially since the south found all gay people immoral. And now there was this deadly disease."
David realizes now that his discomfort had as much to do with his own masked sexuality as it did with the angry street activists he saw on the local news.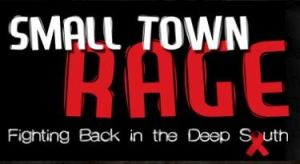 So it feels satisfyingly, poetic even, that David is now co-producer of Small Town Rage: Fighting Back in the Deep South, a documentary in the works about the history of ACT UP Shreveport. The film features interviews with many of the surviving activists and with family members of those who were lost to the epidemic.
A new Kickstarter campaign has already raised one-third of the project's $15,000 budget. Dozens of hours of interviews have been filmed, and funds raised will cover remaining production costs and efforts to feature Small Town Rage at film festivals. Tom Viola, the influential head of Broadway Cares/Equity Fights AIDS, has issued a personal appeal in support of the project on his Facebook page.
"This whole journey has been a learning experience," said David Hylan. "I've come to appreciate the people who were just fighting for their dignity." His personal evolution led to a second marriage earlier this year, when David married his boyfriend.
The Kickstarter promotional video for Small Town Rage.
The Philadelphia Center in Shreveport, forged by the efforts of ACT UP, remains the only HIV service provider in northern Louisiana.
Robert Darrow, the ACT UP member who had gone home to die and helped form ACT UP instead, served as The Philadelphia Center's first executive director. Robert says that of all ACT UP Shreveport's accomplishments, he is most proud that the agency serves thousands of clients. And there's something else that gives him pride.
"I'm proud we did not remain silent," he says.
Mark
(Visit the Small Town Rage site and consider even a modest token of support. I pledged $25 but any amount is welcome. Stay up to date on the film's progress through their Facebook page or Twitter feed.)
Tags: advocacy, aids, family, gay, hiv, politics, Sexuality
Posted in Living with HIV/AIDS, My Fabulous Disease, News | 1 Comment »
Tuesday, April 21st, 2015
AIDS Healthcare Foundation (AHF) has quietly reinstated funding to a Louisiana AIDS advocacy event, two weeks after pulling their support because one of the event organizers is involved in a whistleblower lawsuit against AHF. But AHF is really, totally committed to supporting the event this time, they say, and also claim the withdrawal of funding never happened in the first place because, well, they say so. Despite their own records to the contrary.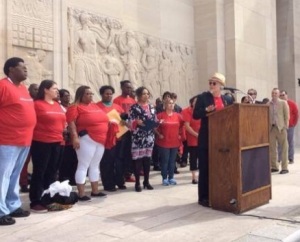 The AHF monies were meant to provide transportation for dozens of Louisiana residents living with HIV to travel to Baton Rouge to meet with their State legislators (the 2014 event at right), organized by the Louisiana AIDS Advocacy Network (LAAN). Jack Carrel, one of the plaintiffs named in the whistleblower lawsuit against AHF, is a volunteer helping to organize the event.
The seemingly punitive action against those working with Carrel and the people they serve is backed up by email and voice mail records, but don't tell that to AHF, which has taken a peculiar stance on the withdrawal of support: they didn't do it.
In an April 17 email to Dorian-gray Alexander, Chair of LAAN, from AHF Southern Bureau Chief Michael Kahane, Kahane writes:
This email will confirm that AHF NEVER reversed its position to support LAAN by providing transportation to this event. In point of fact, (AHF staffer) has continued working to reserve the bus and I believe she has communicated all of these details to LAAN. I'm really not sure what more we can do to reassure you that we are committed to supporting LAAN on this issue, but if there is something more please let me know. But please also accept this email as a commitment that AHF is providing transportation for LAAN to the event (…)
Well, if it's in writing from AHF, it must be true. Except that their withdrawal of funding for the event had also been in writing, in an April 9 email from the local AHF advocacy staffer to whistleblower Jack Carrel himself. That email read:
Sorry, unfortunately at this time we, AIDS Healthcare Foundation, cannot participate in the lobby day scheduled for May 19, 2015, nor can we provide monetary resources for transportation, for May 18, 2015 and May 19, 2015. Thanks and sorry for any inconveniences.
Sounds pretty definitive. And all official-sounding and stuff. It seems unlikely the staffer was having a psychotic break when she sent it. And in case there was any doubt, the AHF staffer also left Carrel a voice message in which she explicitly spelled out why AHF was pulling the funds.
"… unfortunately, uh, we are unable to fund the buses due to your name being on a lawsuit against AHF and it breaks my heart but, um, sorry but we cannot uh, continue to, to do that…"
So you can imagine how confused LAAN Chair Alexander was when AHF told him (soon after my posting on all this) that AHF was, in fact, committed to the event. Alexander asked for it in writing. Again.
"I didn't want to make assumptions," Alexander told me. "I have had some back-and-forth with AHF in the last two weeks. They agreed to continue working with us, and I just felt I needed someone to confirm it in writing."
Let's all hope AHF's commitment to serving people with HIV in Louisiana is worth, well, the computer screen it's written on. AHF's denial that the support was withdrawn in the first place not only defies the facts, it comes without explanation – or apology.
"That would have been nice," Alexander said. "But I didn't ask for an apology." And AHF could always deny that they apologized anyway. Or that they even know Dorian-gray Alexander. Or that they know what an email looks like or how to read.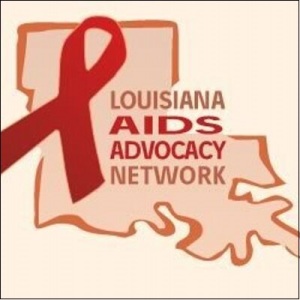 The loss of support had sent LAAN scrambling, and they started a GoFundMe page to make up for the loss hours after my posting about all this. The $1,600 raised will now help provide food and lodging for the people attending their advocacy event, slated for May 19. That is, if AHF sticks to their most recent pronouncement.
"We're all volunteers at LAAN," said Alexander. "And this is a tough state to advocate for HIV issues." Louisiana does not have Medicaid expansion and New Orleans ranks second in the nation of cities with new HIV infections.
It's good to know AHF and their local "advocacy consultant" has (re)committed to an actual advocacy event in a state that desperately needs the help.
Fingers crossed.
Mark
Tags: advocacy, aids, politics, testing
Posted in Living with HIV/AIDS, My Fabulous Disease, News, Prevention and Policy | No Comments »
Monday, April 20th, 2015
On October 1, 1991, I joined furious LGBT protestors who took to the streets of West Hollywood, California. The newly elected Governor Pete Wilson, who had met with advocates during his campaign and assured them he would support AB101, a state-wide LGBT anti-discrimination statute, had just vetoed the bill.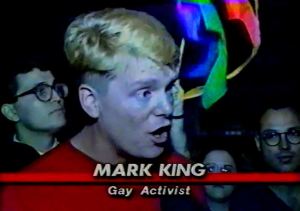 Thousands of us stalked the Governor at appearances he was making that day, burning him in effigy, chanting "LIAR!" and blasting the Governor to the media (right). We thought the State had elected an ally. What we got was a traitor.
But the controversy waned, as these things do. After a few days of raucous protests, I returned to my primary focus of AIDS advocacy. Pete Wilson weathered the storm, eventually signing a watered down version of the bill the following year, and was re-elected in 1994.
That was a lifetime ago, and the contrast between then and now would certainly suggest that things are a whole lot better for LGBT Americans. And yet, just when many gay men like me are making wedding plans and feeling encouraged by the winds of social change, a new book argues we must not settle for anything less than full civil rights and that we must reject the "covering" and "victory blindness" that has characterized our strategy in recent years.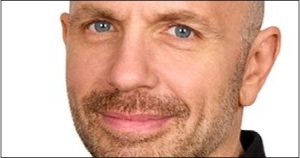 In his book, It's Not Over: Getting Beyond Tolerance, Defeating Homophobia, & Winning True Equality, award-winning journalist and radio host Michelangelo Signorile (left) makes a compelling argument for accelerating the fight for LGBT rights – and resisting the urge to grow complacent simply because nationwide marriage equality is within our grasp. In his first pages, Signorile offers a serious reality check:
We're overcome by the heady whirl of a narrative of victory, a kind of bedtime story that tells us we've reached the promised land, that can make everything else seem like a blur. Even with the enormously positive developments (…) homophobia rages on in America, as sports stars are practically rewarded after spouting hate, as TV sitcoms still make gay and transgender people the insulting punch line, as the media respects and airs bigoted views of the "other side," as businesses now flaunt a "no gays allowed" policy, as many workers fear coming out on the job more than ever, as federal civil rights protections seem further away than ever before, and as we are not often well served by a gay establishment that apologizes for and lauds political leaders rather than demanding action. Maybe it's time to get rid of the bedtime story and wake up from the dream.
Signorile fears a backlash against LGBT people akin to what women experienced when a post-feminist belief that "the battle was over" led to setbacks on abortion rights and other gains women had made. This kind of "victory blindness," Signorile writes, can crush our progress and debilitate our advocacy efforts.
Signorile is a shrewd social critic. His 1997 book, Life Outside, made quite an impression on me. It was an indictment of "the cult of masculinity" among gay men, examining the post-AIDS culture of circuit parties, steroids and dance floor drugs – in other words, everything I happened to be doing at the time. Recognizing myself on its pages made it more than a trenchant read; it was a shot to the heart.
It's Not Over takes a broader and more political view, pulling back from gay culture to the basic human right of LGBT people to live and love freely in this country. Signorile believes we are complicit in the growing threats to our civil rights because we keep settling for scraps when we should demand the whole banquet. And he isn't afraid to call out people and organizations (you might want to duck, HRC and GLAAD) who suck up to national leaders like star-struck teens, celebrating incremental change when, Signorile contends, it is time to be bold and uncompromising.
The book overflows with wrenching tales (culled from news reports and guests interviews from Signorile's SiriusXM radio program) of teenage suicides, unfair workplace firings, the punishing effects of "religious freedom" bills, and violence against LGBT people. The sum of these stories paints an America quite unlike the one we may think marriage equality will create.
Signorile maintains that victory blindness is lowering our guard when strong advocacy is needed most. He applies the notion to nearly every scenario of half-hearted advocacy and it is a compelling argument – including its application to the HIV crisis. The rhetoric of "an end to AIDS," while new infections mount each year among gay men and an estimated one-third of transgender women are HIV positive, is victory blindness.
Another recurring theme in the book is the concept of "covering," a term Signorile credits to author Kenji Yoshino (Covering: The Hidden Assault on Our Civil Rights). Signorile writes:
Yoshino defines "covering" as an attempt to downplay difference, making it palatable or at least inoffensive. Prevalent among women, members of sexual and racial minorities, and disabled people, covering becomes particularly strong, Yoshino argues, when people believe they have achieved the rights and recognition they've sought, and begin to fear losing them (emphasis mine). It's an attempt to fit in and be "team players" under the assumption that the playing field is now even (…) I would argue that, by pleading for more magnanimous treatment of our opponents, gay thought leaders were unconsciously applying the covering demand to the LGBT equality movement as a whole.
Throughout his book Signorile calls out the practice of covering and his strong case becomes easy to apply to our own lives. When we try not to rock the boat by not insisting on legislation that might actually protect us once and for all, when Mitchell & Cam engage in a relationship indistinguishable from the other characters on Modern Family, when we describe ourselves as "straight acting," or when we choose what t-shirt slogan to wear based on where we're headed, we are covering.
Beyond the litany of personal injustices outlined in the book, I was most angered by Signorile's painfully accurate depiction of contemporary media, where homophobic crackpots are trotted out during any discussion of LGBT issues and allowed to make ignorant, scientifically disproven statements by virtue of their representing "the other side." Nowhere in media – with the possible exception of FOX News – would so-called experts be allowed to spout discriminatory and hateful speech about racial minorities, but the same respect isn't granted to LGBT people. Signorile is fed up with it and his takedown of this media practice is epic.
In his proposed plan of action to address all of this, Signorile aims very high. His path forward includes teaching self-defense (a practical and self-esteem tool that has served women well but has been largely ignored by LGBT people), providing LGBT history courses in public schools to de-stigmatize LGBT people and highlight our accomplishments, and settling for nothing less than full civil rights on the federal level. "Incrementalism is dead," he writes.
It's Not Over will get your blood pumping, which is exactly Signorile's point. We haven't been mad enough or demanded enough, not in a long time.
Mark
Tags: criminalization, gay, politics
Posted in Book Review, Gay Life, Living with HIV/AIDS, My Fabulous Disease, News, Prevention and Policy | 3 Comments »
Wednesday, April 15th, 2015
ACT UP has always intimidated me. In the 1980's, while working at LA Shanti to provide emotional support to those dying of AIDS, I doubted my activist cred while watching the dramatic, inspiring actions of ACT UP. Everyone has a role to play, of course, but I so admired the courage and laser-focused anger of ACT UP, as evidenced in the Oscar-nominated documentary How to Survive a Plague.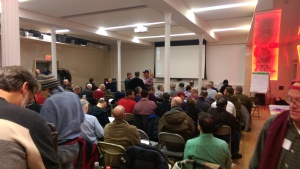 So it was with excitement, yes, but also a great deal of trepidation that I accepted an invitation to speak at ACT UP NYC's first town hall forum on AIDS long term survivors last November. I certainly qualified, having tested in 1985. But what could I possibly offer a room filled with activists who had literally defined the word empowerment and had stomped their way across New York City during the most ravaging days of AIDS and beyond?
The forum was held at the NYC LGBT Community Center, in the very room where Larry Kramer had founded ACT UP decades earlier. I bought an ACT UP button at a side table, with tears in my eyes. The sense of history was palpable.
Any doubts about the relevance of addressing long term survivors were answered by a packed room. The program included presentations by Graham Harriman, Director of the HIV/AIDS Bureau, Mark Brennan-Ing of the ACRIA Center on HIV & Aging, and popular local gay therapist Scott A. Kramer.
When it came my time to speak, to offer my personal perspective on a lifetime with HIV, I abandoned my note cards and the story came pouring out of me. My voice quivered the entire time. I cried and told my secrets and my shame and my grief in ways I have never revealed on my blog.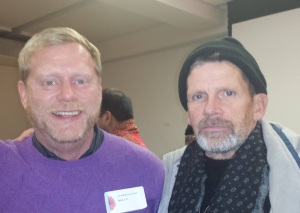 The room responded with warmth and acceptance. Afterwards, iconic ACT UP members whose names I recognized greeted me and thanked me (like Ed Barron, at left). It was one of the most nerve-wracking and proudest days of my life.
OUT FM featured my remarks recently on their weekly radio show on WBAI/NY, and it is through their courtesy that I am able to share this recording of my presentation. It includes a little adult language here and there (sorry, Mom!).
Our most effective tool as people living with HIV, and as long term survivors in particular, is simply telling our story. There is such power in the personal.
My deepest gratitude goes to ACT UP NYC for everything, both then and now. Thanks for listening, and please be well.
Mark
Tags: Aging, culture, gay, help others, hiv, meth, politics, recovery, Sexuality, testing
Posted in Gay Life, Living with HIV/AIDS, Meth and Recovery, My Fabulous Disease, News | 8 Comments »
Monday, April 13th, 2015
The AIDS Healthcare Foundation scandal has taken a downright creepy turn.
Only one day after a stunning whistleblower lawsuit against AIDS Healthcare Foundation (AHF) was made public, the embattled organization withdrew funding from an upcoming HIV advocacy event because one of the plaintiffs is involved in its planning, according to records obtained by My Fabulous Disease. The apparent strong-arm tactic has reached beyond whistleblower Jack Carrel and has had a "real impact" on the State-wide advocacy event, according to organizers.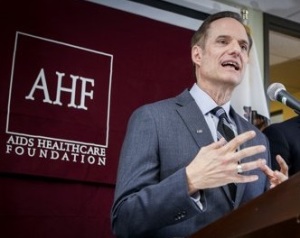 The AHF monies were meant to provide transportation for dozens of Louisiana residents living with HIV to travel to Baton Rouge to meet with their State legislators. Jack Carrel, one of the plaintiffs named in the lawsuit against AHF, is helping to organize the event.
In a voice mail to Carrel, a local AHF staffer states that Carrel's involvement in the whistleblower case was the reason for AHF's withdrawal. Carrel is participating in the suit alongside former AHF managers Mauricio Ferrer of Florida and Shawn Loftis of New York.
The lead counsel for the whistleblowers believes this is a retaliatory action on the part of AHF head Michael Weinstein that unfairly punishes his client and those around him. "This reaction by Mr. Weinstein is at its core indicative of what this lawsuit is about," said attorney Theodore Leopold of Cohen Milstein. "Although on the surface they claim that people with HIV are their primary concern, when you lift the veil it is all about profitability. They end up taking this (lawsuit) out on those who are most in need of services."
According to Leopold, there is no legal reason for AHF to stop participating in the event simply because Jack Carrrel is one of the people helping to organize it. "There is nothing to prevent them from communicating with Jack," said Leopold, as long as they do not discuss the pending suit. No other solution to Jack Carrel being involved in the advocacy effort were offered or discussed with organizers, according to email documents and a voice mail.
The whistleblower suit claims Carrel was fired from his position as AHF's Director of Public Health in the Southern Bureau after raising questions of financial impropriety. The suit claims fraud, conspiracy, and that AHF unlawfully acquired patients for its clinics. Having worked in the field for thirty years, Carrel has since continued advocating as a person living with HIV and was hired last year as an HIV health educator for a Baton Rouge non-profit organization.
In an exclusive interview, Carrel explained that he had been working quite comfortably with the local AHF staffer to arrange for buses to bring people living with HIV to Baton Rouge for a day of advocacy training and visits to elected officials. The event is organized by the Louisiana AIDS Advocacy Network (LAAN), for which Carrel volunteers as Chair of the Mobilization Committee.
"I met in person with the AHF staff person on Friday (March 3) and we planned it all out," Carrel said. "She was working on identifying the bus company and making the plans for it. We were good to go."
The AHF employee coordinated the effort with Carrel and others right up until Wednesday, April 8, the day the whistleblower suit was made public. On Thursday, April 9, Carrel received the following email from the AHF staffer:
Hi Jack,
Sorry, unfortunately at this time we, AIDS Healthcare Foundation, cannot participate in the lobby day scheduled for May 19, 2015, nor can we provide monetary resources for transportation, for May 18, 2015 and May 19, 2015. Thanks and sorry for any inconveniences.
Hours later, the same AHF employee left Carrel a voice mail and explicitly stated the reason AHF was pulling their support. The voice message transcript:
"Hi Jack how ya doing, this is (the AHF staffer), I've been trying to reach you since yesterday, but unfortunately, uh, we are unable to fund the buses due to your name being on a lawsuit against AHF and it breaks my heart but, um, sorry but we cannot uh, continue to, to do that. Alright. Talk to you later, thanks, bye."
Carrel said the AHF staffer "is a great person. She's been active here for a number of years," and believes she was caught in a terrible situation created by AHF management. "There are many dedicated people working at AHF," said Carrel.

The withdrawal of organizational and financial support has left organizers with LAAN holding the bag less than five weeks before the event date of May 19.
"This has had an impact," said Dorian-gray Alexander, the Chair of LAAN, "because we had been planning on AHF support to increase the number of participants lobbying their legislature this year. We're working to find a Plan B." Others involved in State advocacy declined to be interviewed, citing the risk of further impact on people living with HIV in the State.
It is not clear why AHF, if they had concerns about working with Carrel, did not work with other organizers instead, rather than engaging in a seemingly punitive action that affected the entire event and the people hoping to attend. It is also unclear if AHF will now withdraw all funds or cease collaborating with any person or agency associated with Jack Carell, something their actions suggest is entirely possible. Considering how close-knit the Louisiana HIV advocacy movement is, such a blanket blacklist could have a troubling effect.
On its web site, AHF includes legislative advocacy as one of its primary activities. That is, when they are not undermining the State-wide advocacy efforts organized in part by people they don't like. Allegedly.
AHF could not be reached for comment.
Mark
UPDATE: The Louisiana AIDS Advocacy Network has now set up a GoFundMe page to raise the funds needed to provide transportation and support for their advocacy event. I'm sure they would appreciate every single dollar they can get.
Tags: hiv, politics, testing
Posted in Living with HIV/AIDS, My Fabulous Disease, News, Prevention and Policy | 6 Comments »
Wednesday, January 28th, 2015
Before my interview with activist Sean Strub, author of Body Counts: A Memoir of Politics, Sex, AIDS, and Survival, let me share a revealing story.
It was late 2011 and my life was in shambles. The breakup of a long term relationship had sent me into a spiral, followed closely by a devastating drug addiction relapse. I had weathered the fallout and taken refuge at my mother's home in Louisiana.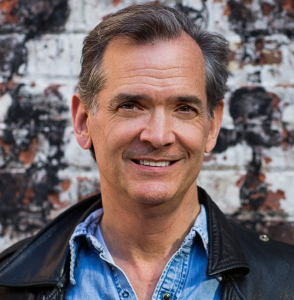 And then came a phone call from Sean Strub, founder of POZ Magazine and lifelong advocate for those of us living with HIV. We were acquainted but not yet close friends and the request he made during the call surprised me. Would I be willing, he wondered, to come visit him for a few weeks and help get his new HIV anti-criminalization effort, The Sero Project, off the ground?
Sean had read a blog posting I had written about my breakup and relapse, and must have known I wasn't exactly firing on all cylinders. I was a recovering addict with a trail of wreckage in my recent past, and yet he wanted me to come work with him. Like, in his home.
Within days I drove 1,400 miles to his Pennsylvania town. I managed to get some work done but mostly I piddled around his home office, getting my bearings again while we traded war stories and gossip from across our desks. Sean was passionate about every topic and a great teacher on contemporary HIV advocacy issues.
Before long, the real purpose of Sean's long distance invitation became clear to me. He didn't really need much help, but he knew that I did. He saw someone with potential who would benefit from a little mentorship, encouragement, and a friend. And God, he was right. Our time together strengthened and refocused me. Since then, I have heard many stories about Sean Strub taking people under his wing and helping to lift them up to a better place.
My admiration makes it nearly impossible to objectively review his remarkable memoir, Body Counts. I am an unapologetic fan and grateful friend. That being said, you must finish reading this article and go directly to Amazon and buy his book.
Body Counts is one of the most wide-ranging and well written remembrances to come out of the AIDS crisis. It seamlessly combines the social, political, and sexual landscape of Sean's journey. It moved me to tears more than once, and taught me a lot about what happened behind the scenes during the dawn of the century's greatest public health crisis.
All that, and there's a ton of great celebrity stories about people like John and Yoko (Sean was there the night Lennon was shot), Andy Warhol, and a host of colorful others.
Sean agreed to a conversation to discuss everything from his memoir to body image, sexual abuse, the legacy of AIDS, and the state of the HIV community today.
Here is that conversation: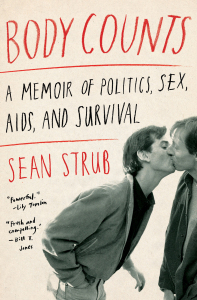 Body Counts is such a marvelous achievement, Sean. So much history here, personal and otherwise, and witnessed from such close proximity. Thanks for not holding back the juicy stuff about politicians and celebrities!
For better or worse, politicians and celebrities are intertwined with the history of the epidemic, in ways both bad and good. My perspective at times is unusual–like when I was running the "Senators Only" elevator in the U.S. Capitol–and I tried to present the humanity, good and bad, of those I write about.
Also, in terms of the epidemic, it was a conscious decision and key strategy to exploit celebrities to gain attention and action in response to the epidemic. Elizabeth Taylor knew this better than anyone and she was amazing at getting others to join her in spending their celebrity capital on behalf of something important.
And you're our tour guide through those years. I think your criticism of President Bill Clinton's AIDS response might be surprising to people. Aren't we supposed to love him?
Others have suggested that Clinton's post-presidency focus on the global epidemic is an effort to atone for his failing in this regard during his presidency. When salon.com published an excerpt from Body Counts that was about the Clinton Administration, it generated a lot of nasty comments. It was the epidemic driving a generation of gay men out of the closet and into activism that ultimately was critical to electing Bill Clinton, yet as soon as he was elected it seems like the air was let out of our activist balloon.
In some ways I think we–as a queer community–are more effective as outsiders, where we had to learn to survive, than we are as insiders, where we haven't been as welcome or skilled. When Clinton was elected, many of our leaders became insiders and didn't take everyone with them.
I'm glad you're not letting people off the hook. Was it important for you to save our AIDS history from those who might revision it?
Initially the impetus for writing Body Counts came from the realization that, as time passed, there were fewer and fewer of us around from the early days who could tell what happened first-hand. It was also a way of validating my own life. I didn't grow up wanting to be an AIDS activist; I had other plans, but in the early 80's my life was hijacked by the epidemic. Writing Body Counts gave me some understanding of why I made the choices I made.
But the more I dug into the history I also saw how those years have been misrepresented or misunderstood, particularly the role of people with AIDS and HIV. Grassroots community efforts are often dismissed, minimized or ignored.
Historical truth is always more complex than the simplified–and sometimes manipulated–version of popular history we are led to believe. The epidemic's history has been, to an extent, commodified, rewritten to serve some agenda.
I think it is important to have as many first-person accounts, especially from people with HIV who were on the frontlines, so our experiences get documented and preserved. And as time passes, there will be more archives available, with documents from those years that will tell an even fuller picture.
As we get more perspective, the epidemic and our response to it, is understood in new ways and that's a good thing.
The ongoing theme to your AIDS work, in fact, has been a respect and focus on people living with the virus themselves. You carry that banner fiercely.
I don't think the LGBT community, or people with HIV, have gotten the credit we deserve for what we did in those early years. How we came together to love and care for each other was something remarkable. We should the world our very best face and what we did then should be celebrated and recognized as a model, worthy of emulation in many kinds of situations. I also know that it was other people with HIV who comforted me, educated me and enabled me to survive.
The book is a reclamation on your body — from shame about it, from infection, from the sexual abuse you suffered. Do you think it's a common challenge for gay men to love their physical selves?
The title, Body Counts, is an intentional double entendre, referring to the loss of life from the epidemic, of course, but also my personal lifelong struggle for control of my body. It has had many enemies: the Catholic church which taught me that they owned my body, sexual abusers who exploited me, a government that sought to control my sexual expression, HIV itself and even the drugs to treat HIV. It has gotten better over time, but shame-shedding doesn't happen in an instant, it is incremental and I suspect, for me, will be a lifelong process.
I can't imagine revisiting some of the trauma you describe in the book, such as childhood sexual abuse and a rape by a roommate. Was it brutal to write?
I wouldn't call revisiting those memories brutal, but it was at times emotionally draining. Ultimately, it was healthy for me to process pain, hurt, guilt and shame that I had carried for years.
You write that it took 20 years to recognize the rape for what it was. Do we have a problem as gay men seeing ourselves as victims of this sort of abuse?
When it happened I didn't even think of the word rape as having any applicability to men. I was still so ashamed of my sexual desire and also conflicted about the degree of responsibility I bore for what happened. For many years I blocked out the sexual abuse and sexual violence I had experienced; it made me uncomfortable to think about because I didn't think there was anything constructive I could do with those memories except feel bad about them.
Now I can look back and see that while I may have been precocious in some ways, I was incredibly naive and vulnerable in other ways. In the process, I not only forgave those who hurt me but I ended up, quite unexpectedly, forgiving myself as well.
You were absolutely on death's door for a few years, and squeaked through in time for new medications to save you. And you were outright defiant about showing the Karposi's Sarcoma (KS) lesions that covered your body during that time.
I think if more of my identity and self-worth had been found in my body I might have been more likely to pursue cosmetic treatments for the KS. And the objectification of bodies is practically in the DNA of gay culture. Even as I began to accept my own body, it was within a context that clearly told me the body I had wasn't a gay ideal. I'm skinny, have no chest and am not especially athletic.
On the other hand, not conforming to that ideal, not being as invested in it, made it perhaps a bit easier when my body become so obviously ravaged by AIDS and, especially, Kaposi's Sarcoma. Less of my self-identity was in my body, so its decline didn't degrade my self-worth as much as it might have for others.
I didn't treat the visible KS lesions because I knew there were no treatments that would slow their growth and I already spent too much time in doctors offices. That was almost unimaginable to many people who were horrified that I had visible lesions and took no steps to even disguise them with makeup.
I make the mistake of assuming people know that AIDS advocacy changed the entire patient/physician dynamic, or that our response to what we endured will forever be remembered. Obviously that isn't necessarily so, and why books like yours are important.
There is an understanding that AIDS has been different, in many ways, and has had a profound impact on the culture, society, the healthcare system, drug development and approval processes, even geopolitics. I don't think it is widely understood how different the epidemic might have been had it not been for the self-empowerment movement, or how truly radical those early PWA pioneers were.
While ACT UP has been an important part of my life and advocacy, so too has the advocacy that precedes ACT UP, that set the stage for our movement. That earliest history hasn't been as well studied or understood and I tried to give some attention to those years in Body Counts. Randy Shilts' And the Band Played On provide an important and detailed view of the early years from his vantage point in San Francisco; the story from those years in New York hasn't been nearly as thoroughly explored. Also, And the Band Played On was written before ACT UP came on the scene.
When you first arrived at the offices of a coalition of people with AIDS, you write about having found a place you belonged, at last, even after having begun a business career and worked in politics. What about it struck you so deeply?
Total solidarity. I felt so welcome and safe that it enabled me to overcome the fear of stigma. That's what I've tried to do for others ever since.
What are the greatest threats to people living with HIV today, or at least to the kind of empowerment groups for us that have been so important to you?
Lack of respect for the principle of patient autonomy. This is happening across the board, as public health becomes militarized, disease securitized and treatments more complex and costly. The concept of the physician as a healer, providing individualized treatment, has too often given way to the physician as an extension of and agent of the state and the pharmaceutical industry, treating populations instead of individuals.
You are known to be skeptical of pharma and caution that medication side effects are too often ignored. Some people might find that ironic, given that new medications saved your life. Is that fair?
I think skepticism about pharma, when it was pharmaceutical treatments that saved my life, isn't ironic but common sense. Anti-retrovirals, like many medicines, are powerful treatments. Anything very powerful can be used in a negative or positive way; the more powerful the more important it is to be careful, cautious and skeptical.
Skepticism saved my life. Had I not been so skeptical, I would have taken more treatments that, in hindsight, we now know would have hurt me more than helped me. I am alive because I was lucky or smart or skeptical enough to refuse pharmaceutical treatments at one point, when they were strongly recommended to me by the medical establishment, as well as because they were available to me and I took them at another point, when I needed them.
The irony isn't found in me. The irony is that a healthcare system that purports to heal and a scientific establishment that purports to be interested in discovery has so often refused to listen to or learn from those living with the disease. Had our voices been valued more highly, the epidemic would never have gotten as big as it has.
I'm a little surprised that your book is the first memoir by a major imprint about those early years in New York City and the early ACT UP era. What do you make of the recent interest on film about AIDS in the 1980's, such as How to Survive a Plague and Dallas Buyers Club?
Enough time has past since the worst years that those who survived can reflect with greater objectivity. Many survivors feel compelled to remember the dead and bear witness to what we experienced. That has become a sense of obligation, even a compulsion, for many of us, particularly as we age and realize there are fewer and fewer of us around to speak first-hand about those years.
For many it is a delayed grieving; when friends were dying so fast and in such great numbers it wasn't possible to fully grieve them. But we filed away that pain, to process later. Now it is later.
The explosion in cultural production in the last few years, the films you mention as well as books and exhibitions, is somewhat analogous to the cultural production following the Holocaust. Not so much in the 40's and 50's, but by the early 60's it had started to grow dramatically. Yet 15 or 20 years past the worst of those days, the memories and words and testimonials start to come forth.
But even Dallas Buyers Club and other works of art haven't done well with their bottom line. We might be taking a look back, but it isn't exactly a highly commercial enterprise, is it?
No, it isn't, to many people anything about AIDS is such a downer they aren't interested. Many gay men have created lives that have protected them, emotionally, from the pain of the epidemic and they don't want to be reminded of it.
But I'm not sure we would be in any better position in terms of addressing the epidemic if the books and films about its earlier years were enormously profitable. There is an historical record that, in time, will be vastly more important than how many copies or tickets are sold today.
Body Counts seemingly has everything, from Washington politics to brushes with celebrity to your own sex life, and the book had major endorsements. I will admit I thought it would be a bestseller, and rightfully so. Or at least it should have been.
I suspect every author wishes their book sold better and I'm no exception. But while I didn't make the NY Times bestseller list, Body Counts has gotten excellent reviews — almost across the board — and hundreds of people who read it have contacted me with appreciative comments, which is cool.
The publisher early on told me she expected the book to have a long sale and she has been proven correct. It is getting assigned in college coursework and continues to sell, even though it has been a year since the original publication date.
College kids are studying your book? That has to be gratifying, and it sounds like the perfect use for your account of this history.
Yeah, that's cool, isn't it? I spoke at a dozen colleges and universities last year and found student audiences to be engaged, stimulating and helpful for keeping my own thinking fresh.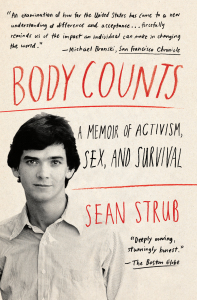 The cover artwork and even the subtitle of the book were changed for the paperback. Why?
The hardcover has a picture of me kissing Michael Misove, my partner who died in 1988 and the subtitle was "A Memoir of Politics, Sex, AIDS and Survival." For the paperback, the photograph was changed to one of a young and cute me looking directly at the camera. The thought was that the picture of Michael and me, while very sweet, may imply the book is about that one relationship between these two men and if someone wasn't interested in that they may pass on the book. The picture of just me alone wouldn't be so narrow.
The subtitle for the paperback was changed to "A Memoir of Politics, Activism and Survival" in the belief that the word "AIDS" may turn off some buyers. That was weird, but I think probably true. My point was and remains to get as many people to read the book as possible, so I was supportive of any change that would help achieve that goal.
So what next for you? I know you've been doing a book tour and events.
I want to continue working to help people with HIV find greater agency and empowerment, particularly through support of and strengthening of networks of people with HIV. In time, I think the self-empowerment advocacy will start to blur the lines of specific distinctions between diseases and conditions; it will be about a broader movement to take back healthcare and choices about our health and bodies from the corporate grip that has been so damaging to the lives and health of many.
I'm increasingly aware of the march of time. Is it too soon to ask how you want to be remembered?
There's no question but that time becomes more precious as one ages and for those of us, like you and me, who have been lucky to survive when so many of our peers did not, it only makes that sense more intense.
It is peculiar to think about how one would like to be remembered because, first of all, no one wants to be remembered for spending much time thinking about how they would like to be remembered. What is important is what I am doing today and if I'm doing that well, it won't matter how I'm remembered.
I think I'm going to start this piece by telling people about your kindness to me after my breakup. Would that embarrass you?
I'm beyond embarrassment, I think. And I could not be more proud of our friendship.
(Thanks for reading, my friends, and please be well. — Mark)
Tags: Aging, aids, criminalization, culture, gay, help others, hiv, politics, recovery, Sexuality
Posted in Book Review, Family and Friends, Gay Life, Living with HIV/AIDS, Meth and Recovery, My Fabulous Disease, Prevention and Policy | 5 Comments »
Sunday, June 29th, 2014
There was no way I could attend a recent conference with Avram Finkelstein, one of the artists behind the iconic SILENCE=DEATH image, and not make him sit down with me and spill all the juicy details about the creation of that image. He agreed, and boy howdy, he did not disappoint (video below).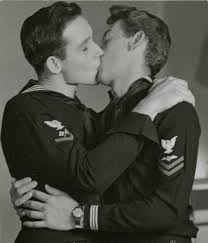 Some of his best stories, in fact, weren't even about the most famous poster for which he is known. As part of an artist collective that met privately during the earliest years of AIDS and then as an adjunct committee of ACT UP New York, Avram was in the middle of the action during an amazingly productive and creative time. You're going to recognize most if not all of the striking social messages they created.
My favorite backstage detail is probably that of the gay pseudo porn star whose image they "acquired" (i.e. stole) from an old magazine. They used the photo for an incredibly successful campaign you will certainly recognize and everything was going swimmingly… until Avram received a startling phone call. What happened next, as the online meme goes, will surprise you and then break your heart.
These images rest in the history books now, but Avram has a fascinating way of keeping these stories exciting and immediate. I can't wait for you to meet him.
Mark
p.s. <sigh> I have now upgraded to a super duper audio system for recording future interviews. Just sayin'.
Tags: aids, culture, gay, hiv, politics, Sexuality
Posted in Living with HIV/AIDS, My Fabulous Disease, Prevention and Policy | 4 Comments »
Wednesday, June 11th, 2014
The most powerful speaker at the recent "HIV is Not a Crime" conference was a man named Kerry Thomas. He held the crowd of more than 150 advocates spellbound for a full twenty minutes. And he never even took the stage.
When one of the conference organizers, Reed Vreeland, stepped forward to introduce the next speaker during the opening night program, the energized audience had already heard a few stories of both injustice and inspiration. Everywhere in the United States, people living with HIV are being sent to jail for little more than their HIV status alone. But Reed had something else entirely to present.
"Kerry Thomas was prosecuted of not disclosing his HIV status to someone," Reed began. Everyone knew that prosecutions for that crime are too often a matter of he/she said. How do you prove a private conversation? "Kerry also had an undetectable viral load," Reed went on, "and he protected his partner by using a condom. No one was infected, and no one could have been. Kerry won't get out of jail until the year 2038. Fortunately, we have him with us here this evening."
And with that, Reed lifted his cell phone to the podium, and the strong, clear voice of Kerry Thomas, six years into his sentence at Idaho Correctional Facility, began to speak.
"Thank you, thank you for gathering to discuss this issue," he said, and the stunned silence of the room was deafening. No one could begin to imagine what the man on the other end of the line must be going through.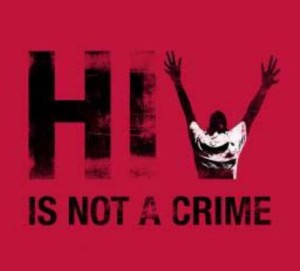 Kerry spoke of life behind bars, of his love for his family, of the prosecution led by people who didn't believe he should be having sex at all. Then, he encouraged everyone in the room to work as hard as they could on reforming HIV criminalization laws, so that no one would have to go through the nightmare he was experiencing. He remained upbeat and gracious throughout.
The officials at the correctional facility who made it possible for Kerry to speak on the phone were thanked, and then Reed said some final words to Kerry. "Thank you for speaking to us," Reed said.
The crowd swallowed the lump in their throats and came to life, beginning to applaud Kerry, and then to cheer, and it soon became an emotional outpouring of love and sadness and support that shook the auditorium.
"The room is applauding you," Reed said into the phone. "Can you hear that?" How Reed kept his composure during the heartbreaking, inspiring moment was itself a considerable feat. Kerry's response was drowned out by the thunderous ovation, so Reed continued relaying what he was witnessing from the stage.
"They are standing for you, Kerry," he said calmly, as the ovation grew. "They are standing and applauding for you. They want you to know how much they support you."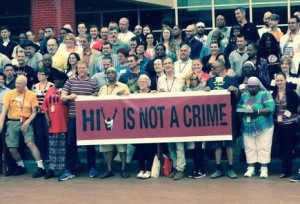 The moment was singular, no doubt, but only one of a number of moving moments in three days of advocacy work. And the conference was definitely work, as advocates from around the country met to strategize how best to reform State laws that have little regard for the modern realities of HIV. In fact, there are people serving sentences right now for "exposing" others to HIV for actions that defy science as we know it, such as biting or spitting.
This video review of the conference will introduce you to the issue of HIV criminalization, the advocates fighting it, and some of those who have served jail time under the statutes.
Thanks for watching, please be well, and consider how precious your freedom is today. Many of us could be suffering the unjust fate of Kerry Thomas, the man who brought a national conference to a stunned, emotional halt.
Mark
————————————————–
For more information, please check out The SERO Project, the Positive Justice Project, or the international efforts of the HIV Justice Network.
Tags: criminalization, gay, hiv, politics, Sexuality, testing
Posted in Living with HIV/AIDS, My Fabulous Disease, News, Prevention and Policy | 3 Comments »