Posts Tagged 'Recreation'
Sunday, May 22nd, 2016
When Benjamin "Ben" Ryan began taking dance classes ten years ago, the personal venture was a complete whim. After all, he was in his late twenties at the time – ancient for a beginning dancer – and by his own admission, was "just awful" for the first few years of classes. And nothing about his vocation as a writer specializing in the science of HIV suggested that Gene Kelly was trapped inside.
Cue the victorious final production number of your favorite musical. Not only did Ben get better – a whole lot better – he was cast in the spectacular HIV fundraiser Broadway Bares seven years ago and each year since, hoofing alongside actual Broadway dancers. Performers can also raise money through the event's "Stripathon" page, through which Ben has raised more than $80,000 for beneficiary Broadway Cares/Equity Fights AIDS (you can visit Ben's stripathon page here and add to that impressive tally).
Oh, and Ben Ryan has done all of this while wearing very, very little on stage.
When the curtain rises for "On Demand," the newest Broadway Bares show to be performed in New York City on June 19th, Ben will be back, appearing for a third time in the opening number. With its generous blend of almost-and-sometimes-totally-naked men and women, celebrity cameos, and risqué burlesque, the show is sure to add significant funds to the $14 million the event has raised to date for people living with HIV and other health initiatives. For Ben, it's all an unlikely dream come true.
"For the last 15 years," Ben said, "I've written about the HIV epidemic as a reporter." He currently covers science as editor-at-large for POZ Magazine, and getting his facts straight is incredibly important to him — especially when every detail of each new study is parsed and debated online. "The way I make sure my back is covered is I fact check like crazy," he said. "Even one word can change the meaning of something. If I do get something wrong, I'm really upset. I'm a perfectionist."
Those same qualities have served him well as a late-blooming dancer. When he started out, "I was at the rock bottom of my dance class with a bunch of kids," Ben said. "Even my teacher made fun of me. Until she didn't." He still finds it hard to believe he now shares the stage every year with Broadway professionals.
But what must the scene be like backstage, with all that naked flesh running around? "Most of the guys in the show are really friendly," Ben said coyly. (For more visual information on the scene backstage, check out Ben's own photography page for images of all the action behind the curtain. You're welcome.)
Ben has nothing but love for special guest performers like Laverne Cox and Judith Light. "The whole room exploded at rehearsal last year when they announced that Laverne would perform," he said. "She was such a darling, always hanging out with everyone. And Judith will just wander around backstage with this amazing grin on her face. She gives a speech at the end of the show that always gives me goosebumps."
Star power is great, but nothing beats a volunteer like Ben who knows how to raise money. "Ben is not content to take the stage in bare-bottomed pride," said Tom Viola, the highly regarded director of Broadway Cares/Equity Fights AIDS. "He raised $17,346 just last year and was named Mr. Stripathon." Tom also credits Ben with helping to craft HIV prevention and treatment messages that are shared with the entire company each year, "so everyone associated with the production understands how to take care of themselves and each other."
Amidst all the revealing fun, Ben knows Broadway Bares isn't simply being titillating for its own sake. "Ultimately, the show is a celebration of the body," he said. "We harken back to a time when we were afraid to touch each other, so to celebrate our sexuality is a profound thing. That, as opposed to HIV stigma and anxiety about sex and transmitting disease."
Ben also admits that the show is a nice escape from his more cerebral work in HIV science. "It's so much fun to be silly and outrageous," he said. "I wanted to be involved in an event that I thought was the most exciting thing in New York City. And I am!"
Mark
(Ben's fund raising page for Broadway Bares is here.)
Tags: acting, culture, gay, gratitude, help others, hiv, Recreation, research, Sexuality, stigma
Posted in Gay Life, Living with HIV/AIDS, My Fabulous Disease, News | 1 Comment »
Thursday, May 12th, 2016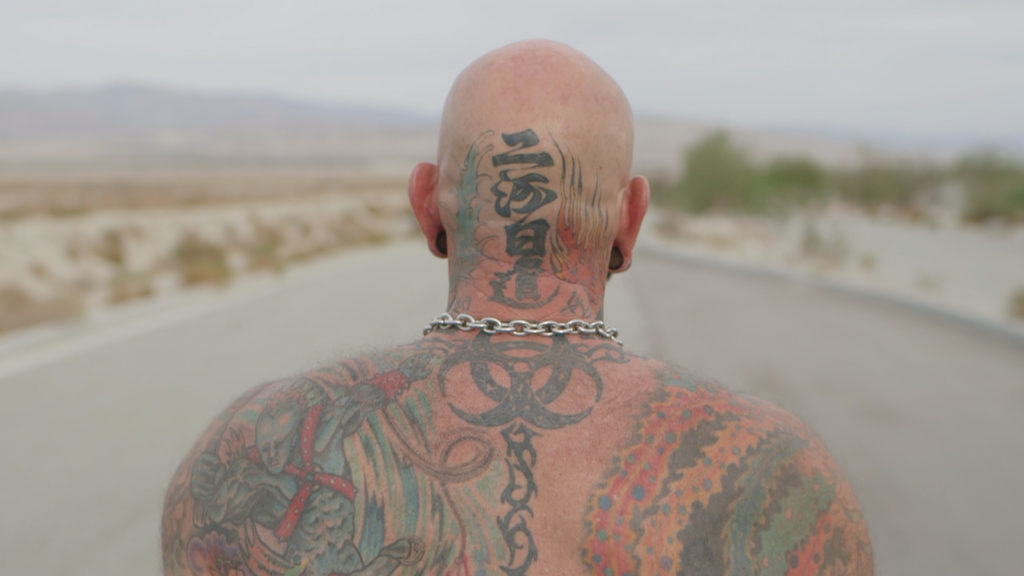 Daniel Cardone's essential but relentlessly grim documentary about longtime AIDS survivors, Desert Migration, is fascinated with the bodies of the gay men it profiles.
The film begins with lingering shots of each of the subjects as they begin their day.  It follows them through their routine, some of them naked, as they prepare breakfast, shower, shave, meditate. Their faces peer directly at us — a few of them handsome, all of them weathered — in high definition close-up.
We are being asked to study them closely.  Look at the skin, the camera is saying, the muscles, the sags, the piercings, the facial wasting, the extended stomachs, the disfigurement, the open wounds. Desert Migration does not want us to turn away from what the gay plague of 30 years ago has wrought in the here and now.
It's an almost clinical look at the after-effects of a catastrophe, like the documentaries that examine Hiroshima survivors decades after the bomb.
Desert Migration documents the results of a specific pilgrimage that became popular among gay men who were dying of AIDS decades ago: relocating to Palm Springs from major cities in the west, Los Angeles in particular. Once there, their fates and often their fortunes were reversed with the arrival of new medications in the mid 1990s. They experienced the emotional whiplash of renewed health in a world they had settled on leaving, as well as the unexpected financial burden of an extended lifespan.
The film is a crucial addition to the AIDS artistic catalogue because gay community is only now beginning to process and devote resources, artistic and otherwise, to the long term effects of the early AIDS crisis and the walking wounded who survived. That said, director Cordone doesn't make it easy for us.
There is an unyielding melancholy that permeates the film.  The men profiled are almost uniformly isolated or at least wistful. The languid pace of the storytelling is underscored by Gil Talmi's ethereal original music, a slow pulse of electronica, like a dry desert breeze.
The men all speak of searching for purpose in the desert after having resigned to die there. They come from various levels of money and privilege, including some who outlived their bank accounts, and they are not without the sociological trappings of gay men, meaning, a fixation on self image and the pursuit of sexual or romantic partners.
"In this town, being 60, I'm chicken," says one. Several of them are battling the aging process mightily with trips to the gym and a regimen of steroids ("All the best looking guys have HIV," one of the men advises), all while the Palm Springs gay clothing stores mock them with windows filled with slender mannequins, dressed in tiny and unforgiving speedos.
More than one of them debates whether or not they would have reached their current level of spirituality, of self love, if they had not come face to face with their own mortality so young. "I don't know if my life would have such richness if I wasn't positive," one of them admits.
The real star of the film may be Austin Ahlborg's sumptuous cinematography, which makes the most of the desert landscape, often contrasting the men's flesh and blood with endless vistas of withered brush and rock.
Throughout the city of Palm Springs are hundreds of acres of modern, silently whirling windmills. The film focuses on them like a fetish, their propellers turning round and round, and the more Desert Migration returns to these monuments the more they appear to be clocks, ticking away, time always turning, slowing for no one. The image repeats itself, in shots of rotating ceiling fans and mechanical sculptures turning this way and that. Time is always moving, and it is unstoppable. Tick Tock.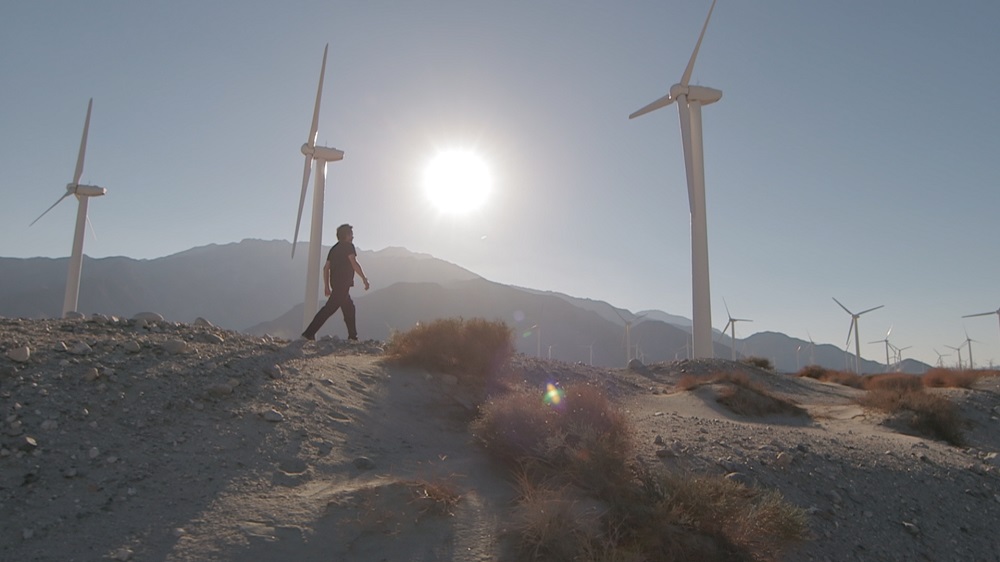 There is so much in Desert Migration that will be familiar to gay men of a certain age, from the brutal to the romantic. Living life in five year increments, the sudden loss of friends, the confusion, the great love affairs cut short, the lives hijacked by drug addiction after having survived AIDS. There is comfort in identifying with these men, for those who need to, even if the film limits itself to their shared calamity.
After more than an hour of bleak pronouncements – and exactly one shot of someone laughing in the entire film – it becomes clear that filmmaker Cardone is almost exclusively fixated on the tragic aspects of these men's stories.
It's easy, maybe even lazy, to reduce AIDS survivors to their profound loss and a struggle for meaning in their later years (which, come to think of it, is a lifelong riddle everyone must contend with, after all).
Where is the joy? A brief dinner party suggests the good humor these men surely must incorporate into their lives, but otherwise filmmaker Cardone sticks to his theme of isolation and distress. "I just think that I'm very tired," one of the men says, after unsuccessful attempts at connection and romance. "I just don't know how much longer I even want to fight."
"The optimistic ones survive," one of the more privileged men offers, as night descends and he lowers the drapes of his condo, finely appointed with a leather sofa and a gleaming Judy Garland movie poster. Another subject begins the evening by welcoming a sex partner to warm up his sling. Optimism and escapism have their utilities.
Another man takes comfort in his own loneliness and solitude. "You're a lot more free when you don't believe much and you don't have any hope," he says, in an existential moment that might depress Sartre. "If you're holding on to hope, then you've still got something in the way of enjoying what is."
After all this, I wished to God that one of these guys was shown performing in musical theater or binge watching RuPaul's Drag Race.
The film draws to a close in the darkness of the desert, as our day with these men ends. Throughout the mountain passes surrounding Palm Springs, out there in the dark, those windmills are surely still twirling.
They continue to spin, marking time, without regard for the riddles of life or the trials of gay men.
Mark
(Visit the Desert Migration site for information on film festival screenings in your area, or for news about the DVD release.)
Tags: Aging, aids, culture, gay, help others, hiv, lipo, recovery, Recreation, serosorting, Sexuality, stigma
Posted in Book Review, Gay Life, Living with HIV/AIDS, My Fabulous Disease, News | 2 Comments »
Monday, April 18th, 2016
When Sadiq Ali heard about a clinical trial for pre-exposure prophylaxis (PrEP) happening in the United Kingdom in 2013, the athletic 26-year old hesitated. He worried about what starting PrEP might say to people about his sexual behavior. The stigma he associated with being on the prevention pill was just too much for him.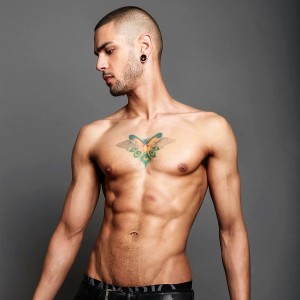 "I was ashamed to even be offered this thing, even though I barely knew what it was," the Londoner says now. "I thought that only highly promiscuous and risky sex practitioners would take this. I went through this process of 'slut shaming' myself. I was still very naïve at this point."
So, Sadiq waited a few more months, had second thoughts, and decided to enroll in the PrEP study after all. Unfortunately, fate had dealt him a crushing blow.
Between the time Sadiq heard about the study and before he actually began taking PrEP, he was infected with HIV. It occurred literally days before he started taking the pill. His first HIV test during the study, in January of 2014, revealed the infection.
"I thought if I took PrEP it would make me all the things I didn't think were me. Things that I didn't want to be," he says, pointing to the promiscuity about which many gay men taking PrEP are accused. "But instead, not taking it resulted in me contracting HIV."
The irony of Sadiq's tragic timing forged an advocate who is fighting both HIV stigma and for the adoption of PrEP in the United Kingdom (it is an advocacy issue that was further ignited when the UK National Health Services took action that has delayed the approval of Truvada as PrEP, perhaps for years).
This past year, Sadiq won the title of Mr. Gay Great Britain, and his advocacy platform is something he now understands all too well: HIV stigma among gay men, and why PrEP is such an important new prevention tool.
In his emotional and inspiring video as a contestant for Mr Gay World – the finals are happening this week on the island of Malta — Sadiq courageously shares his story of deciding to join the PrEP trial too late, and what the experience has taught him about internalized stigma.
"Something was lifted from my shoulders when I filmed the video," Sadiq says. "I can now be in a position to educate."
British PrEP advocate and gay internet personality Greg Owen understands just how frustrating the unfortunate timing of Sadiq's HIV diagnosis was. Greg, too, was infected with HIV just as he was to begin participating in a PrEP trial. The two men – one a longtime advocate, the other a newly minted one – filmed an interview for #GregChats that is as good-natured as it is emotional.
As for Sadiq's week ahead in Malta, he intends to showcase both his advocacy and his eye-popping skill as a gymnast and circus performer. Anyone in the world can vote for Sadiq right here.
"The community support I'm receiving behind me is swelling up" he says. "I am more motivated than I have ever been and I feel proud. I know that I am doing the right thing. I want to tell people that there is a way to protect yourself, and there is no need to judge yourself for that. To take your status into your own hands is something empowering."
He also has no preconceived expectations about his chances to take home the title of Mr. Gay World. Winning is beside the point, Sadiq believes.
"Of course," he says, "I have already won."
Mark
(Photo credit: Josh Auke. Videos produced by Nuno Lopes.)
Tags: advocacy, culture, gay, gratitude, help others, hiv, PrEP, Recreation, Sexuality, testing
Posted in Gay Life, Living with HIV/AIDS, My Fabulous Disease, News, Prevention and Policy | 1 Comment »
Tuesday, April 12th, 2016
Stigma is insidiously quiet. It is conjured in the mind, born of discomfort and fear, and then it is projected at "the other" among us. It judges them and isolates them. And it happens without a sound.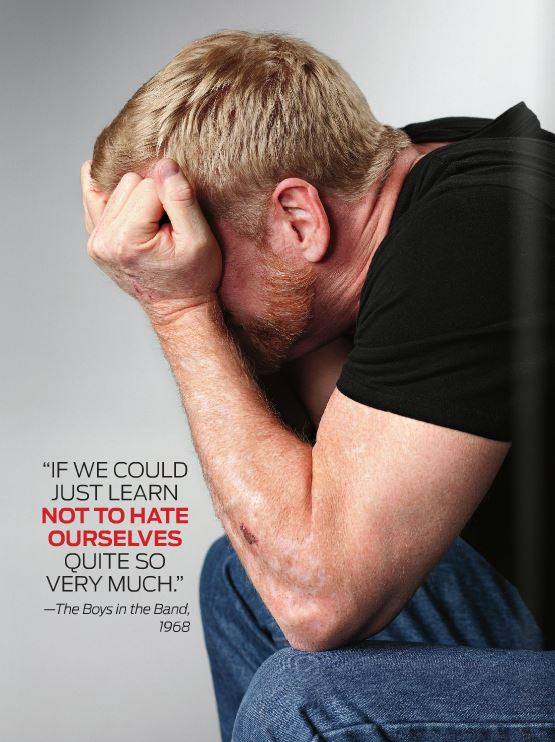 Stigma lets us take comfort in seeing things in others about which, we believe, they must be ashamed. It is a lazy way to feel better about ourselves—and therefore a popular human activity—and gay men are remarkably good at it. So many of us survive childhood taunts that by the time we come of age we have developed fairly lethal claws of our own. We know how to hurt others before they can hurt us.
But when the AIDS pandemic began over 30 years ago, gay men learned that whatever cleverness we possessed was no match for a crisis that questioned nothing less than our existence on this earth. Churches said we were damned. Politicians wanted us quarantined.
Gay men prefer to remember the earliest days of AIDS as a heroic time, and there is no doubt that many of us behaved that way, but stigma also was a fearsome, daily aspect of our lives in the early 1980s. Heterosexual parents were not the only people disowning someone with an AIDS diagnosis. Gay men also were driven by ignorance and fear. We kicked out our sick roommates. We refused to give them manicures or cut their hair. We turned away from their sunken faces at the neighborhood bar, when they had the guts to show up at all.
Once the initial hysteria subsided and the virus and its routes of transmission were identified, stigma between gay men calmed somewhat, if only because there was so much work to be done to care for the dying. Our brothers with AIDS were not so much stigmatized as pitied for their loss of dignity and humiliating deaths. They were tragic victims, exalted as martyrs.
Until they weren't. With the advent of breakthrough treatment in 1996, the dying nearly stopped in its tracks. Patients got up from their deathbeds and rejoined the living. There were cheers all around. Within a few years, even the word "AIDS" had nearly disappeared from the gay lexicon.
Those former patients, and the many gay men with HIV to come after them, had no interest in playing tragedy, or in being wizened and terminal and predictable. They wanted to take their rightful places in our social scene, to date and fall in love, to enjoy the bars and the clubs and the house parties. They wanted to laugh and dance and live.
And fuck.
And that is when, in the deviously quiet way in which stigma operates, all hell broke loose. We built social fortresses to separate Us from Them. We didn't have to bother labeling one another because the disease did it for us, creating an HIV hierarchy that started with "positive" and "negative."
The more HIV treatments improved, the wider the viral divide became. Our mutual resentments and jealousies worsened. As the physical scars of AIDS faded—the skin lesions, the wasted faces—our anxiety level rose as HIV status became less apparent. You can just imagine the frustration of the discerning gay man, no longer capable of telling the positive from the negative. Where's the comfort of stigmatizing someone when you can't tell who they are?
Today, our attitudes about HIV and other gay men range from self-righteousness to outright contempt. From whatever our vantage point, we have shamed and stigmatized everyone else into a corner, and the result is a community in revolt against itself. We are a snake eating its tail.
It might be easy to doubt this gloomy view of the gay community. None of us like to believe ourselves guilty of treating "the other" badly. The only thing we admit for sure is that we have been mistreated and misunderstood. Our self-interest is telling.
Maybe the problem is that, beyond the convenient anonymity of online hookup sites or mobile apps, you don't usually see HIV stigma in all of its black-and-white ugliness. You don't hear its voice.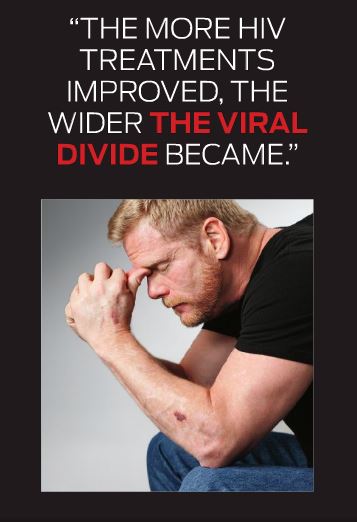 Listen closely to the ugly words of stigma. A special version even exists for the newly diagnosed.
Gay men who get infected today are out of their minds. They are the failed ones, the grave disappointments, the apathetic, the careless, the irresponsible. They spit upon the memories of our courageous dead. They have no respect for our history, for our monumental tragedy.
We might make motions to comfort them, but it is the kind of patronizing back-patting that we reserve for the truly stupid. We tell them they will be fine, really, and we don't look them in the eyes for very long. Our weary judgment shows.
Never mind that they are guilty of nothing more than being human, of being in love or getting drunk or trusting the wrong person or saying yes when they should have said no. Their weak excuses will be met with furrowed brows, and their dating life will wither. They will be marked and socially downgraded. They should be ashamed, and something inside us hopes that they are.
Do you hear it? Keep listening. There is so much more to say.
Before long, those newly diagnosed will join the promiscuous ranks of sexually active HIV-positive men. They are the unclean ones, the barebackers trolling the Internet, the murderers with tainted blood on their hands, the crystal meth addicts lounging in bathhouses with the door ajar. They are the unrepentant, the whores, the vile merchants of death.
Never mind that these men struggle to disclose their status, that they are routinely rejected socially and sexually, that their waning self-esteem is being strangled by our judgment, that sometimes their lives feel so forsaken they settle on whatever community will have them. The fact that stigma and depression often lead to escapist behavior is of no interest to us. We fear they could be having more sex than we are—hotter sex maybe—and the chance it might not be hurting anyone is infuriating. They should be ashamed, and we will make damn sure that they are.
The lowest rung of the gay HIV hierarchy is inhabited by older gay men who have lived with the virus for decades. They are the dependent ones, the sunken-faced humpbacks cashing their disability checks and wiling away their days sipping coffee in Café Disabilité. They are the aging invisibles and the sexually worthless.
They try to mask their feeble wasting with testosterone injections and protein shakes and facial fillers, but we know the truth. We see. They remind us of our darkest days, these unwelcome relics, and though we ignore them their haunting persists, in the daylight of the grocery store and the darkness of the bars. We avert our eyes and anticipate their extinction.
Never mind that they were among our earliest activists, our courageous long-term survivors, the men who scrawled words like "empowerment" and "advocacy" across the bureaucracies of their time. Forget that they have seen death in obscene quantity, that whatever joy they possess is a triumph of spirit. They should be ashamed, but we don't regard them with enough interest to care.
Do the words sound familiar at all? Do you hear the voice? It isn't nearly done.
Take a hard look at HIV-negative gay men. They are the superior ones, the corrupt morality police, the hypocrites, the gentlemen in waiting. Above all else they are the supremely lucky, because they can't possibly live by the crushing code of conduct they impose on the rest of us.
They reject us as damaged goods. They promote how "drug and disease free" they are. They publicly advertise their outdated HIV results. They tell us we would make better friends than sex partners and then they don't call again. They find clean, disease-free love with other, similarly superior men so they might have a life out of reach of the great unwashed.
Never mind that they have successfully avoided infection thus far, that they have buried friends and comforted lovers, that they withstand the unnerving ritual of HIV testing and worry about whether or not they will pass or fail. And please, pay no attention to the fact that they fear HIV stigma at least as much as positive men do, which is one compelling reason they hold tight to their negative status with such fervor.
None of their circumstances can excuse their indictment of the rest of us. We marvel at their lack of shame, and wonder bitterly if their attitudes might change if they became infected.
At least they don't suffer the same wrath as do HIV-negative men taking Truvada, the HIV medication used as a pre-exposure prophylaxis, or PrEP. They are the traitorous ones, thumbing their noses at their elevated negative status by intentionally dipping themselves in the viral soup of casual sex. They are obviously barebacking infected guys or they wouldn't be popping pills that blunt the consequences of being a poz-loving slut.
And God help those who don't admit they are infected and have sex with a negative person, because they are the criminal ones, the terrorists, the dangerous liars who must pay dearly for what they've done. They belong in jail and off the streets, like drug dealers and rapists.
Never mind that, for reasons we all well know, they can't always bring themselves to disclose, that they may use condoms, that they may be adherent to their meds and undetectable, and that no single case of an undetectable person transmitting the virus has ever been verified. Disregard the fact that conservative lawmakers and prosecutors are more than happy to exploit our thirst for vengeance and lock up some diseased fags who dare to have sex at all. Forget that during the first years of AIDS, when the virus reliably killed you, those who became infected took personal responsibility and called their doctors to start treatment and not the police to press charges.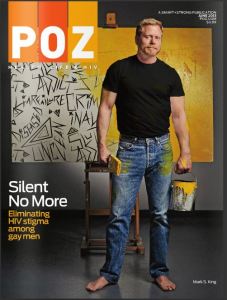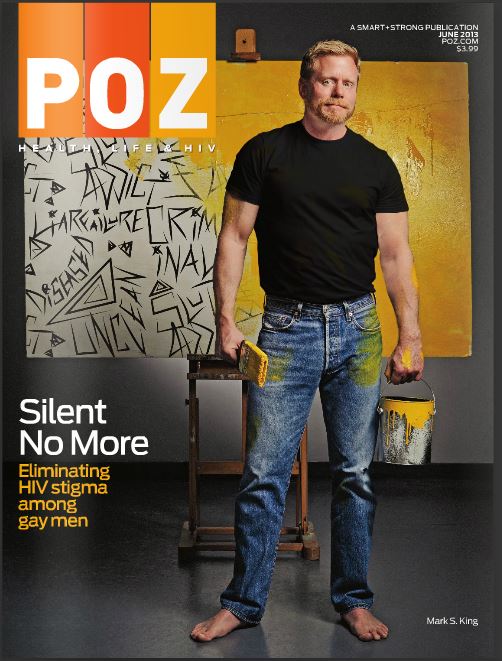 That is the sound of stigma. It is bitter and rageful and terribly afraid. I can hear my own tones in it, like a voice in a chorus, when it says the words I would never admit to thinking. Do you hear your own?
Gay men have known since the AIDS pandemic began that empowerment is the antidote to stigma, that the more proactively we approach our health care and build support networks, the less stigmatized we feel. The answer lies in our refusal to be marked and shamed. But our own community challenges us at every turn.
Stigma operates exactly like the deadly virus we claim to oppose: It infects pieces of us and then turns those factions against the rest, until the entire body is weakened and vulnerable. We all know how that process ends.
That is what the gay community has become. We are AIDS itself.
When HIV disease is over—and some day it surely will be—our jubilation will be beyond all imagining. We will have finally put an end to the health crisis that has plagued us for generations, a crisis that polarized nearly everyone, most particularly us as gay men. And once the celebrations fade, another equally important moment will come.
We will take a look around at our friends and lovers on both sides of the viral divide—at all of our brothers whom we stigmatized for one reason or another—and our old judgments will be transformed to a deep regret. Hopefully, in that moment, a certain kind of grace will emerge. We will clearly see the deep, private wounds of HIV stigma, and we will finally allow that we are all simply and imperfectly human. And then everyone will have some explaining to do.
It wouldn't be too soon for that moment to happen now.
Mark
(This article originally appeared as a cover story in the June, 2013 issue of POZ Magazine but has never been posted on my blog until now. It remains one of my proudest moments as a writer. You can view my remarks about writing this piece, presented at the 2013 International Conference on Stigma, here. Photos: Jonathan Timmes Photography.)
Tags: advocacy, Aging, aids, barebacking, culture, family, gay, gratitude, help others, hiv, physical, physician, politics, PrEP, recovery, Recreation, serosorting, Sexuality, testing
Posted in Gay Life, Living with HIV/AIDS, Meth and Recovery, My Fabulous Disease, Prevention and Policy | 4 Comments »
Thursday, March 17th, 2016
In the gorgeous and sometimes maddening web series Unsure/Positive, we follow the life of a Boston gay man, Kieran, literally from the moment he gets his HIV positive test result. Kieran's journey in the six-episode first season (available for only $3.99 on Vimeo) covers some difficult terrain – shame, disclosure, sex and drugs – and many HIV positive guys and our friends will identify with it.
This is poz-adjacent art that is absolutely worth your time and a few bucks, most particularly because it doesn't beg for your affections. It is messy and sad and hilarious and sometimes impenetrable. Like life.
I must also mention that this series contains a five-minute conversation about crystal meth that might be the best writing on the topic I have ever witnessed on the screen. For anyone with an addiction background or who is trying to understand someone with one, those few moments alone are worth your time.
I spoke with series creator, writer and star Christian Daniel Kiley, and he is every bit as earnest and enthusiastic as one might hope a young new talent might be. We chatted about the show, bad gay movies, John Updike quotes, meth-driven orgies, and the fact something in his show absolutely pissed me off.
First of all, Unsure/Positive is beautiful. It has the production value of network television. I want to challenge you on some of it and we'll get to that, but there is artistry and a story here that is immediate and compelling. And the emotional payoff in the final episode blew me away.
Mark, stop making me blush! And thank you for saying so. We were very careful to keep the production values high, because we wanted to make something with the potential to go mainstream.
You succeeded. And no need to be modest! You're doing your thing, Christian.
Part of the reason that the show looks so good is because we threw all the money we raised right at the screen. The downside to that is we didn't budget in a dedicated publicist. So our show has polish, yes. But at this point we're reaching only a fraction of our potential audience.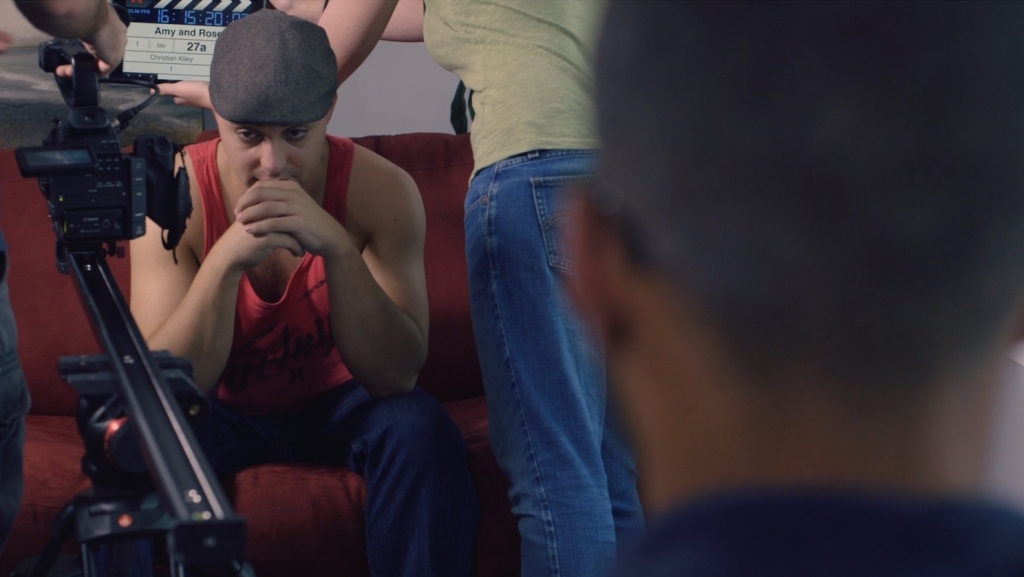 Christian on set during the filming of Unsure/Positive.
You wrote, produced and starred in Unsure/Positive, and I'm assuming the storyline of a newly diagnosed gay man is very close to your personal one. Why was your own story something you felt so strongly about telling?
Well, after I was diagnosed in 2007, I made a choice not to tell anyone about it. My friends were in the dark, my family was in the dark. Where it took (lead character) Kieran three months to come out of the closet, it took me more like three years. I think the post-diagnosis anxiety and depression — once I had recovered from it enough to see it for what it was — was actually the most damaging aspect of testing positive for me.
A writer, maybe John Updike, once said that a writer must believe their life is interesting.
I think Updike also said something like "willingness to risk excess on behalf of one's obsessions, is what distinguishes artists from entertainers." Although I actually don't think that artists and entertainers are mutually exclusive labels.
I'm furiously Googling for more John Updike quotes, as you clearly are doing as we speak, so I give up.
I just found this one: "He skates saucily over great tracts of confessed ignorance." That's Updike, referring to another author.
My first grade teacher wrote on my report card that I "skipped nicely to music." Now I wish she had said I "skipped saucily." Either way, she had me pegged.
I'm surprised she didn't say you "skipped gaily."
Shut up. You don't know me. Anyway, I have this theory that "gay art" typically sucks. Gay movies are usually not very good, gay plays can be awful, and even gay restaurants have better cruising than cuisine. And we're supposedly the most creative people in the world! Maybe we become self-conscious or something. Is that fair?
Yeah. I've seen a lot of pretty bad stuff in the LGBT section of Netflix. But you have to consider the exceptions, like Tony Kushner. On the other hand, Eating Out is like, worse than Tyler Perry movies. Then you've got something like The Outs, a very popular web series that my friend Adam Goldman produced.
I was going to mention Eating Out but I didn't want to trash anything specifically. God, you're such a hater.
I'm not a hater, Mark! I swear! I just hate things, like, when appropriate.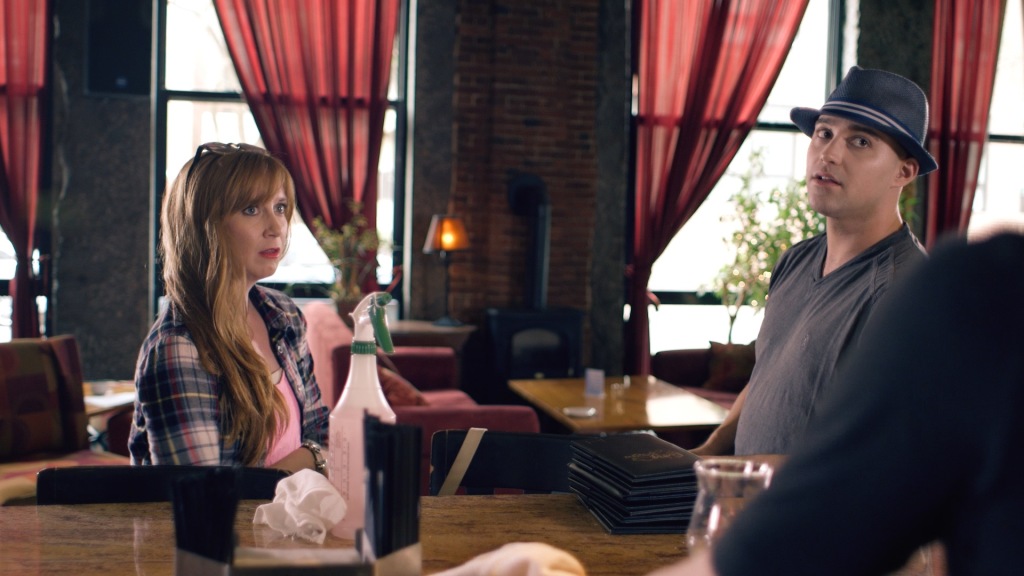 Kieran's best friend and confidant Allie is played by the marvelous actress Amy DePaola.
You mentioned how tough it has been to not only produce Unsure/Positive, but for it to find an audience. Okay, I guess some idiot blogger that says "gay art sucks" doesn't help very much. But this series absolutely deserves an audience. Where the hell are they?
It's been a struggle, yeah, to grow our audience. The audience we have so far is very engaged. I get emails and texts every few days from someone new who watches the show and wants to reach out. We make that pretty easy on our website. And that is, without a doubt, awesome. But it's also a slow burn, and there's no budget for publicity.
I also have a theory that people, even HIV positive people, see a series about HIV and think "let's put a pin in that, yeah? We could watch the new John Oliver." I do that all the time.
Your show shares some creative bandwidth with another web series with a gay HIV positive lead, the musical comedy Merce. The similarities end there. Merce is a low budget romp with enormous heart and silly giggles.
I really love Merce! It's funny, Merce was released while I was still in post-production for my show, and it sort of took the wind out of my sails when (Merce creator) Charles Sanchez beat me to the punch with an HIV-positive protagonist. I actually asked Charles to consider a crossover — doing a cameo as Merce, out on a date with Kieran. We're always thinking of ways to expand laugh potential in season two!
Speaking of big laughs, Kieran in Unsure/Positive has a history with the drug crystal meth. Personally, I'm grateful the topic continues to crop up, in books like Lust, Men and Meth, in new actions from ACT UP New York, and Danny Pintauro has been writing about his own meth history. I was a meth train wreck for so long. Its grip on our gay friends is just so heartbreaking and it hasn't let up at all.
Well, Mark, I must say that I have drawn a fair amount of inspiration from your previous writings about your addiction. I would go as far as to say that, had I not stumbled upon your internet presence back in the day, my show wouldn't have gotten made in the first place.
Shooting the scene (of men using meth together) was one of the most incredible experiences in my life. I mean, here I am, a former user, explaining to a roomful of actors and crew exactly how meth orgies amongst gay men go down, and finding real catharsis in doing that and maintaining my professional wherewithal. I feel so much more in control of my addiction and recovery after putting myself through those paces.
My sponsor would slap my face and ship me off to rehab if I even considered recreating a meth sex party, even a fictional one.
Well, I certainly understand that. I was never a "heavy" meth user, as I understand it, but I was in deep enough that it ruined a few years of my life. Still, you'd be surprised what confronting your triggers can do to disarm them, at least for someone like me.
Trust me, I don't need to be testing my triggers, even to disarm them. I'm a true addict, to the bone.
Fair enough.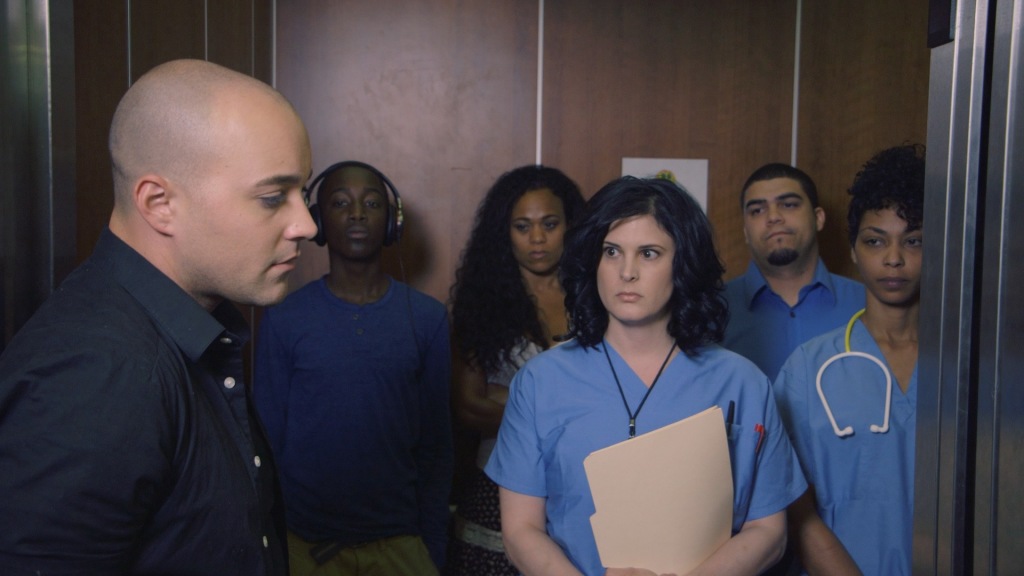 Moments after his test result, Kieran already feels the self-consciousness of the newly diagnosed.
Let me tell you what bothered me before I tell you what infuriated me. I felt like Kieran moped around too long after testing positive. I wanted to slap him. I wanted him to open up to friends. But then, when he finally does, it is so emotional and traumatic for him to admit that I got all choked up. Who the hell wants to admit they just tested HIV positive in 2016? Someone testing positive today is treated like a personal disappointment and a public health failure. So your storyline made me check myself.
I'm glad to hear that the series made you reconsider your original impression of Kieran. I think he's a character who, for better or worse, is a depressive. It was, for the record, a deliberate choice to make Kieran so ambivalent that an audience would question whether they like him. But (poz activist hottie) Jack Mackenroth, for example, told a friend of mine that he only watched the first couple of episodes and then he stopped because he thought the character was a jerk.
Do not fuck with my sister-from-another-mister Jack Mackenroth. He will cut you.
I wish he had given the entire show a chance. It's only 55 minutes long!
Try to get a hold of yourself, Christian. We have an even larger chasm to cross. There is a twist in the finale that I guess I shouldn't reveal. But it made me so, so mad. I refuse to discuss it! But I'm still mad.
I want the controversy. I think any show that has people talking about it around the water cooler is doing something right.
OK, fine, we won't discuss it at length during this interview. We'll take it outside when we're done and settle it like men.
What kind of men?
Never you mind, Missy. Forget it. I forgive you because anyone who reads my blog knows how much I love the intersection of HIV advocacy and art, and your show is a wonderful example of that. All my best, Christian! And more sex in season two, please. Sober sex.
Sober sex is already in the outline!
Halleluiah!
Tags: acting, advocacy, culture, gay, hiv, meth, physician, recovery, Recreation, Sexuality, testing
Posted in Family and Friends, Gay Life, Living with HIV/AIDS, Meth and Recovery, My Fabulous Disease, News | No Comments »
Tuesday, March 8th, 2016
It was 1975 and I was 14 years old, all gangly limbs and stubborn acne, and I was sitting in the passenger seat of a parked car.  Splayed across my lap was the magazine, open to the page my companion had selected. I was staring at the photo with something like revelation.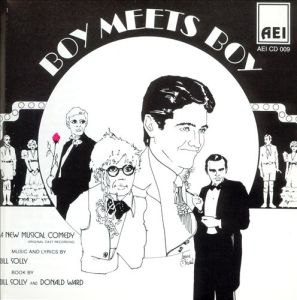 "I wasn't sure if I should show this to you," he said. He was a little nervous. "But I think it's wonderful."
He had the exquisite name of Pericles Alexander, and was once the arts critic for The Shreveport Times, my hometown paper. Now, in his retirement, he had found a willing pupil in me, a teenager that loved working on summer musicals while secretly grappling with my own emerging sexuality.
Pericles was a kind mentor, nothing more. He drove me to local plays and regaled me with stories of Broadway actors and theatrical gossip. We would huddle together in the dusty seats of our community theater, me hanging on to his every whispered word as the house lights dimmed for the latest production.
When he parked his car in front of my family's house that night after a show, he quietly pulled the magazine out of a plain brown envelope. He thumbed through it while I watched, suddenly nervous about what the pages might reveal, and then he handed it to me. I set the magazine in my lap and my eyes quickly grew the size of serving platters. Never in my young years had I seen anything as startling as the image before me.
There were men in the midst of a musical production number of some kind, and they were all nearly naked. Among them, the unmistakable and familiar face of a man, grinning buoyantly, with nothing but a bedazzled butterfly the size of the palm of my hand covering his crotch.
That man, the one with the rhinestone butterfly as a makeshift jock, was my older brother, Richard. And he looked triumphant in his grand pose.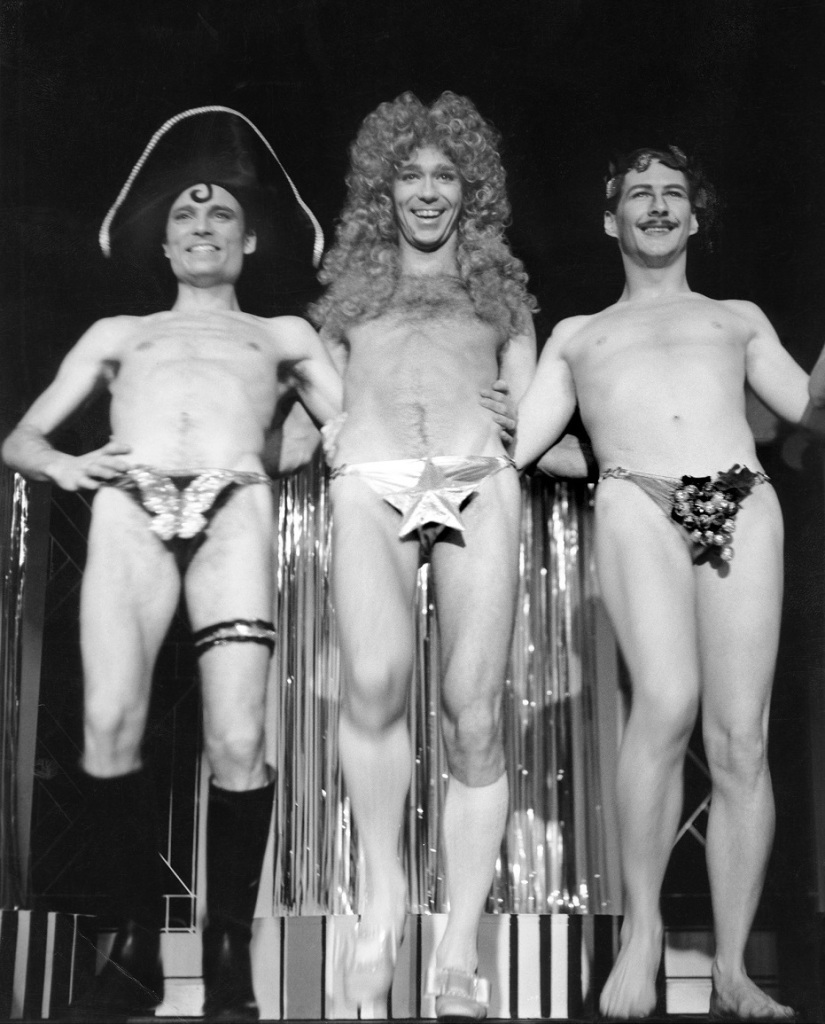 I forced my eyes away from Richard and scanned the page for an explanation. The article was about Boy Meets Boy, an off-Broadway sensation set in the 1930's that adopted the spirit of an old Fred Astaire and Ginger Rogers musical. Except that, in this story, there were two Fred Astaires and no Ginger Rogers.
My brother is in a gay musical in New York City, I marveled to myself. My brother is nearly naked. My brother is in a glossy magazine. My brother is nearly naked.
"Are you alright?" Pericles asked.
"Sure," I said tentatively, and I flipped the magazine over to its cover. The Advocate, it said. The National Gay Newsmagazine.
I had never heard of such a thing. My own struggle to accept myself was purely internal, and often in conflict with nearly everything I witnessed or read growing up in Louisiana. My southern instincts suggested the magazine must be perverse, but something inside me knew better.
And my mind was still trying to process that photo of my brother, captured in an outlandish moment, yes, but performing on stage and doing what he loved. Even if he had never mentioned the show to me during one of his phone calls from New York, much less come out to me.
Richard and I weren't close, not yet. He was fifteen years older and had left home to pursue his acting dreams by the time I was a toddler. Many years later we would both find ourselves living in Los Angeles and that gave us the chance, finally, to carve out a loving friendship as adults. But in that moment, as I sat in that car in the dark, Richard was simply a happy gay man frozen in an outrageous pose of defiance and joy.
"I think appearing off-Broadway is really impressive," Pericles offered. "So I thought you would enjoy this. But… maybe you better not take this inside." He gently slid the magazine from my grasp. He returned it to the brown envelope and tucked it beside his seat.
"Sure, okay," I answered, and I reached for the door.  My head was swimming. "Thanks, Pericles. Yeah. I'm excited for him." And that much was true.
I trotted inside and gave my parents a report about the play I had just seen, parroting the review Pericles had given me on the ride home. And then I went upstairs to bed.
I slept soundly that night, my dreams filled with theater and music, butterflies and rhinestones, and an unfamiliar but comforting emotion.  It felt like the inauguration of a special kind of pride.
Mark
(I was invited to write this for a special issue of The Georgia Voice by its new editor, Darian Aaron.  Darian is killing it down there in his new position. — Mark)
PLUS…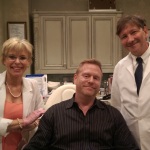 Even with so-called "permanent fillers" to treat facial lipoatrophy (facial wasting), the product loses a percentage of its volume over time. So, whenever I am in southern Florida I pay an occasional visit to Dr. Gerald Pierone to let him adjust me a bit, as I did earlier this month (that's Dr. Pierone at right, in his new Orlando satellite office, with his assistant Aime Evans). The topic remains the thing I am asked about most often because facial wasting affects so many long time survivors of HIV, and I want to be transparent about the fairly dramatic change in my face over the last years. You can watch Dr. Pierone's treatment — and see the striking before and after photos — by checking out my video blogs of my treatment.
Tags: acting, Aging, culture, drag, family, gay, Recreation, Sexuality
Posted in Anita Mann and Acting Gigs, Family and Friends, Gay Life, My Fabulous Disease, News | No Comments »
Saturday, March 5th, 2016
In a forsaken block of Santa Monica Boulevard, off the street and through an imposing industrial alley, a Hollywood disco opened in the late 1970s that made promises the other gay clubs were loathe to keep.
The two-story face of a clown, with an enormous, yawning mouth serving as the front doorway, stood sentry. There were no rules for entrance, no discerning bouncers selecting the lucky ones, no outfits to be appraised. Anyone who scraped together the cover charge was welcome.
Across town in the shining gay mecca of West Hollywood, dance clubs and bars like Studio One and Mother Lode pulsated with the new, synthesized beat of Donna Summer. Her mind-blowing dancefloor smash, "I Feel Love," played on a seemingly endless loop. But love was often conditional in those clubs, which were populated by gay men with impossibly muscled bodies and skin only as dark as a California tan would allow. Love had standards.
Circus Disco — along with the Los Angeles black gay club, Jewel's Catch One — practiced a truer level of acceptance, filling its dance floor with a largely Latino and black clientele, but the crowd didn't simply cross racial divides. Peppered among the partying throngs were transgender pioneers and leather men and drag queens, gyrating to the new music of the B-52s and sharing powdery glass vials from one clutch of dancers to another.
I was one of those misfits when I discovered Circus Disco in the late 1980s. I bore the inner mark of the new plague, having tested positive for HIV in 1985, and it felt like a secret that disqualified me from the male magazine perfection of West Hollywood. The murderous storm of AIDS struck without interest in outward appearances, of course, but with my feelings of woeful damage I needed desperately to believe that Circus Disco was the oasis it promised to be.
It did not disappoint. A buoyant cross section of humanity greeted me each weekend to a tempestuous party where you could fall urgently in love while in line for the bathroom and furtive sexual fumblings happened in plain sight. The citywide racial tensions that would eventually lead the city into riots were mercifully muted. The dance floor crowd was as multi-colored as the light show.
Joyous exuberance reverberated with the thundering dance floor beat as shirtless men celebrated a confident sexuality and the limitless possibilities of life ahead. The constant thump! thump! thump! of the music was our clarion call and it proclaimed, Here! Here! Your tribe is here!
We were so beautiful, in ways we were much too young to know.
Circus Disco partied on through the 1990s and beyond, impervious to fickle music trends and even resisting pressure to remove the word "disco" from its name. The crowds ebbed over the years but the club never faltered, right through its recent closure, in the genuineness of its welcome.
And now, in a story that might only happen in Los Angeles, historic preservationists have convinced new property developers that the Circus Disco building warrants respect for its place in LGBT history. Portions of the club, such as the dance floor and mirrored ball and even the clown face entrance, will be incorporated into the design of the apartment building the site will become.
Like many of my dance partners from those nights at Circus Disco, I am now many years and thousands of miles from the magic of the club's brightly lighted floor. We are a scattered people.
There are those, too, who were swept away by the firestorm of AIDS. Remembering the lost, their lives extinguished in the very years they found the community they sought, makes me all the more grateful that Circus Disco will be memorialized. It was as much a force for good in our community, in its own way, as any LGBT organization of that perilous time.
Circus Disco is lost to the ages now, but residents of the new apartment building would be wise to listen carefully for sounds coming from another era. The DJ is spinning and the disco divas are cooing, inviting legions of spirits back to the dance. There are boisterous people, a glare of silhouettes in a laser show, stepping onto the floor. The crowd is swaying to the beat and laughing and holding one another. They are all beautiful, and they know it at last.
And they feel love.
Mark
(I was invited to write this piece for TheAdvocate.com. I will admit to borrowing memories and images from my loving tribute to Donna Summer a few years ago. — Mark)
Tags: Aging, aids, culture, gay, hiv, Recreation
Posted in Gay Life, Living with HIV/AIDS, Meth and Recovery, My Fabulous Disease, News | No Comments »
Monday, December 21st, 2015

Each year, several hundred people living with HIV – primarily gay men, with a happy sprinkling of straight women and our supporters – embark on the HIV Cruise Retreat ("The Poz Cruise") for a week of fun and frolic on the high seas. The event started with a group of HIV positive friends and has grown enormously over more than a dozen years. The week is organized by one travel agent and a team of dedicated volunteers (and that includes me as one of the hosts and MC).
The days and nights are packed with exclusive shore excursions, private parties and all the perks of being aboard a large passenger ship — but nothing can compete with the freedom of making new friends without fearing HIV disclosure or stigma.
Here are five things I have learned aboard the HIV Cruise Retreat.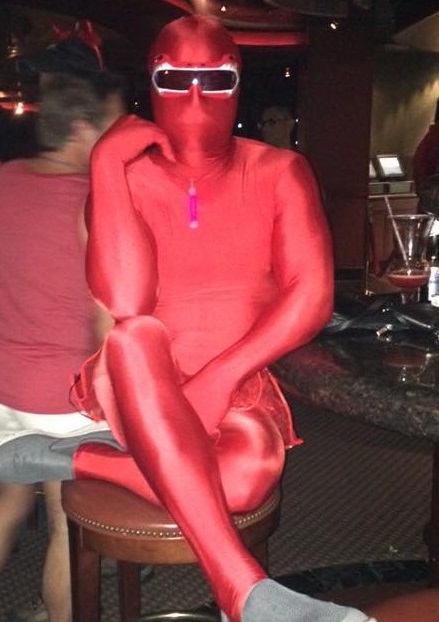 1. We'll take a party over another medical seminar, thank you.
Poz guys are as educated about our condition as ever before, and we're no longer clamoring for the very latest bits of information. Gone are the medical update lectures that were once a staple of the week-long Poz Cruise, replaced with more socials (like the infamous Red Party, right) and events like the Dating Game.
2. When searching for friendship, cast a wide net.
Years ago, the Poz Cruise provided separate events for the gay men and the (mostly female) heterosexuals. It just didn't feel right to be kept apart. The gays actually loved the sense of family the women brought onboard, and the women loved our joy and uncanny ability to nail loungewear. The groups joined forces, and today some of the deepest bonding has nothing to do with sexual orientation or any of the other ways in which we often separate ourselves from potential friendships. It's an important lesson for us all.
3. A zip line is the great equalizer.
It does not matter if that hunk you have been cruising by the pool puts the mucho in macho. When you have been pushed off a wooden platform a million feet above the ground and are whizzing across a thin steel cable, everyone screams like a girl. Not that there's anything wrong with that. (There's some rather acrobatic zip lining happening in the cruise video, above.)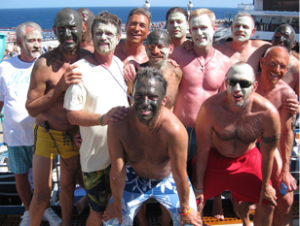 4. Long term survivors are particularly hungry for community.
Growing older is never a picnic – and that goes double for a gay man – but long-term HIV survivors have additional challenges ranging from survivor's guilt to post-traumatic stress disorder. "Long time survivors really love the idea of getting away from it all with friends who really get it," said Paul Stalbaum, the travel agent who has organized the Poz Cruise for the last 12 years and is a longtime survivor himself. "That may be why so many 'men of a certain age' join the Poz Cruise each year," Stalbaum added. "The older survivors bond over shared histories while the younger cruisers have a ready-made group of mature friends and mentors." If everyone rallies together for an afternoon of mud masks on the beach (above), all the better.
5. Sharing our greatest challenge is the very thing that can help someone else.
Before I said a word to other cruisers, I already knew them. Or at least, I knew a large and significant part of their lives. Being in each other's company, whether or not the topic of HIV came up in conversation, brought a kind of immediate intimacy that is difficult to describe. It reminded me that the meaning of life is to take that about which we have the most shame or difficulty and use it as a tool to help someone else.
The 2016 HIV Cruise Retreat is a Caribbean voyage from Ft. Lauderdale, October 29 – November 6th. Find out more here or contact agent Paul Stalbaum at 888-640-7447.
Tags: Aging, aids, family, gay, hiv, Recreation
Posted in Gay Life, Living with HIV/AIDS, My Fabulous Disease, News | 2 Comments »
Wednesday, December 9th, 2015
(I can't resist posting this each Holiday Season. The video below is my very favorite, of the more than 70 I have produced over the years. Enjoy!)
My mother's home here in Shreveport, Louisiana, was fraught with excitement last week. Christmas decorations littered the living room, the almond scent of cookies filled the air, and last minute phone calls and arrangements made it all feel like a major production was underway.
And there was. The event that had everyone scrambling was held on a Sunday afternoon, when siblings and extended family arrived for the taping of The 'My Fabulous Disease' Holiday Spectacular.
Now just take that in for a moment. My family was enthusiastically participating in a video about my life with HIV. And they were much more concerned with choosing a fun holiday outfit than being publicly associated with their HIV positive relative. For them, sitting down for an interview about my HIV status, well, that was the easy part. They had no problem being candid about my HIV, as you will see.
I am an extremely blessed and fortunate man.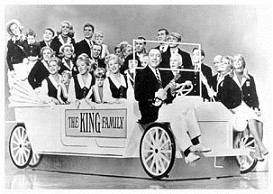 When I was young, I remember watching "The King Family" on television (right), a big happy bunch that sang really well and wore lots of matching outfits. I was starstruck, and always wondered if that King family might bear some relation to mine. And if they didn't, would they let me come be on their show anyway?
Well, today, I'm proud of my own family for displaying our dubious talents, and by going a big step further by discussing the importance of supporting those of us living with HIV/AIDS. For far too many, the difficulty in disclosing our status — or the result of doing so — has distanced them from the people they need most during times of challenge.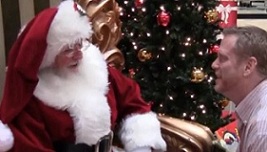 The Holiday Spectacular includes some family greetings, a cooking segment with Mom (you'll want that divine almond scent wafting through your home, too), some holiday drag, a surprise here and there, and even an appearance by the big man himself, Santa Claus.
You may remember my mother from "What it Feels Like for a Mom," a bracingly honest video created for Mother's Day. You might also remember my gay brother Dick, who made an It Gets Better video with me. He was also one of the main subjects of the award winning "Once, When We Were Heroes" posting I made for World AIDS Day several years ago. But today, you're also going to meet sisters, nieces and in-laws who have special holiday greetings just for you.
Enjoy the holiday special, my friends. I hope you'll share it with anyone that could use some holiday cheer, or needs a reminder that they are loved. And as always, please be well.
Mark
p.s. As promised in the video, here is the recipe for Mom's Christmas Cookies. I'm certain they're fantastic for your t-cells.
MOM'S CHRISTMAS TREE COOKIES
(Note: Mother uses a MIRRO Food Press, a device that must have been manufactured during the Eisenhower era, judging from the faded instruction manual she still keeps handy.
I found one on E-Bay for you
for less than four bucks, or you can use a more modern appliance, if you must. I don't guarantee the cookies will taste the same!)
Time: 10-12 minutes… Temp: 375F… Yield: 7 dozen
1 cup shortening
3/4 cup sugar
1 egg
1/8 tspn salt
1/4 tspn baking soda
1 tspn almond extract
2 1/4 cups sifted flour
Green food coloring
1. Cream shortening, adding sugar gradually
2. Add unbeaten egg, dry ingredients, flavoring, and a few drops of food coloring. Mix well.
3. Fill the cookie press and form cookies on ungreased sheet. Sprinkle with sugar and bake.
4. Frost and sprinkle something fabulous on top of them (this is Mom's provocative departure from the original recipe. That's just how she rolls.).
Tags: acting, Aging, aids, culture, drag, family, gay, gratitude, help others, hiv, recovery, Recreation
Posted in Anita Mann and Acting Gigs, Family and Friends, Gay Life, Living with HIV/AIDS, Meth and Recovery, My Fabulous Disease | No Comments »
Wednesday, November 25th, 2015
A variety of gay men spill their guts about their lives and HIV diagnosis. They are bracingly honest, sexually explicit, heartbreaking and hilarious. They are the men of The Infection Monologues, a theatrical event getting a 10th Anniversary staged reading at the Human Rights Campaign this Wednesday, December 2, 2015.
The event is FREE, with food and drinks starting at 6:00pm and the performance at 7:00pm. You can RSVP right here.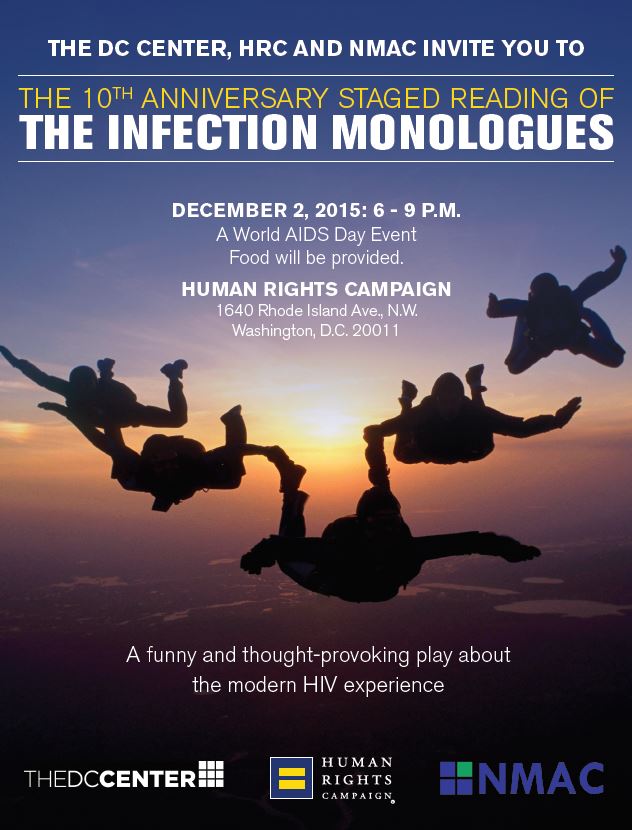 I will be reading the role of Jack, the "older" member of the group of characters. I remember my ingénue days on stage as if they were yesterday, but I'll save my existential crisis for another time.
Created by the enormously influential gay anthropologist Eric Rofes (Reviving the Tribe), and written by Rofes and writer and advocate Alex Garner, The Infection Monologues provides a snapshot of the lives of gay men living in the epicenter of the crisis, and is based on hours of real-life interviews.
Eric Rofes died far too soon, taken by a heart attack in 2006 not long after The Infection Monologues premiered. Alex Garner has continued a respected career as a journalist and HIV advocate, currently leading a national PrEP education effort for the National Minority AIDS Council.
Alex and I had a chat about the play, the politics of barebacking, gay "respectability," and putting gay sex back into the social agenda.
First of all, Alex, congrats on having this work of art revived after ten years.
Thanks, Mark. We are excited to be able to breathe life into this script again. I always learn something new when I reread it.
Can I give a shout-out to the late, great, gay anthropologist Eric Rofes, with whom you wrote the play? His book Reviving the Tribe changed my advocacy forever. I recently read it again.
I can't say enough great things about Eric Rofes. None of this would have been possible without his insight and vision. His impact is ongoing and his books changed me, too.
I invited Eric to lead a gay men's town hall forum in Atlanta in the mid-1990's. He was the first person I knew to say publicly that bareback sex was critical to his sexual experience. He said it that night, and it was like a bomb went off in the auditorium. I thought the attendees would riot.
Eric was ahead of his time but such a needed voice about gay sex and gay men's health. Those early years of the bareback debate were so raw and emotional — no pun intended.
I'm wondering if the themes in The Infection Monologues have remain constant, or if we've seen any progress at all…
The themes remain constant in so many ways but the world has changed drastically. The themes of stigma, disclosure, dating/relationships, and sex are just as relevant and compelling today but scientific advancements — treatment as prevention and PrEP — have radically changed the landscape.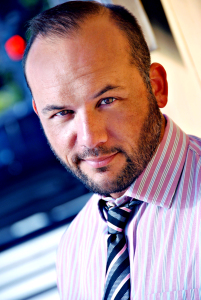 Does it feel like something is missing not talking about PrEP, then? I think the stigma underscoring PrEP among gay men has really always been there.
I don't think it feels like something is missing. I think it feels like a specific moment in time. The more things changes the more things stay the same. Much of the stigma associated with PrEP is the stigma associated with condomless sex. The bareback debate has simply evolved because of PrEP and unfortunately some PrEP users utilize PrEP as their shield of respectability: "I'm responsible" or "I'm protected so it's ok when I bareback." I have zero interest in respectability politics.
The voices in The Infection Monologues are such complete human beings. Funny, flawed, horny, scared. Tell me the process of how those voices came to be.
Eric was a great researcher and he conducted initial interviews of men who seroconverted after 2000. We used that research, as well as my own lived experience to create the three core characters. The additional characters were developed from writers in Los Angeles who drew from their lived experiences.
I'm all about telling the story of what happened to us — and what continues to happen. But these days it feels like so many of our wounds in the gay community are self-inflicted. Is that a fair observation?
I don't think that is a fair observation. I don't like that term. So much of our struggles are still institutionalized, whether it's around homophobia and stigma, poverty, transphobia and sexism, lack of education, religion, etc. I believe we haven't focused enough on our resiliency. As a community we endured the worst epidemic in modern history yet the lessons from that seem to be unknown. How did we survive? How did we find community, support, hope? How did we lose or find our humanity and how did we decide they were not going to destroy us. Ours is such a struggle of resistance and I think much of that has been understood simply in the modern marriage equality context.
Some advocates draw a straight line from the AIDS crisis to marriage equality. Do you agree?
I do see a straight line but not necessarily in the same way. The advent of anti-retrovirals allowed us to be healthy, presentable, and respectable. The movement could drop the messy, icky part and the part dealing with our sex, and focus on love and respectability. Strategically it was a brilliant move, but the impact was a desexualized movement. We now have the opportunity to make sex, pleasure and intimacy a top priority of our lives and our politics.
In my everyday life, I'm often torn between wanting to "tell the story" at every opportunity of what happened to us, and thinking I should just shut up already. Something about the trauma we experienced comes back to me, in some way, every damn day. So of course, the choice is to keep talking.
Who are we if not a collection of stories? That is art at its core and for those of us who have been marginalized, stories are a way to exert our humanity.
I'm honored I get to read the role of the "older" gay guy in the play. Actually, I'm actually older than the older gay character I am reading. Don't get me started. I'll use concealer that night.
(laughs) The "older" gay man is a very important perspective in the epidemic especially because he seroconverted after having lived through the war years. So much great complex emotion there.
Congratulations, Alex. It's nice having a dialogue about the monologues.
Thanks. And I hope that others will explore creative ways to tell the stories of our complex and fascinating community.
Tags: aids, barebacking, culture, gay, hiv, physical, politics, PrEP, Recreation, Sexuality, testing
Posted in Anita Mann and Acting Gigs, Gay Life, Living with HIV/AIDS, My Fabulous Disease | 1 Comment »