Posts Tagged 'research'
Monday, July 14th, 2014
(NOTE: My AIDS2014 coverage is exclusive to TheBody.com this year and you can find my daily videos on their main page beginning this Sunday, July 20th.)
Are you ready for a theater piece about HIV that takes place on an enormous bed that doubles as a boxing ring? How about a candlelight march with thousands of advocates from around the world? And don't forget my favorite — the Global Village, stuffed with art and advocacy from every corner of the planet? All this and more will be part of my coverage of the upcoming International AIDS Conference!
I'm headed down under for AIDS2014 in Melbourne from July 19-25! I'm so excited to be creating exclusive coverage for TheBody, the site that sent me my first camera and said, "just do what you do." I'm so proud of my association with this tremendous online resource.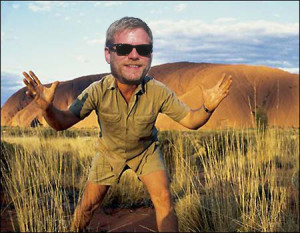 To watch my coverage, you'll have to go to TheBody.com. My whimsical, sometimes emotional reporting will be hard to miss from their main page and should begin on Sunday, July 20th.
In Melbourne, I'm going to leave the clinical data and research to those better qualified. Instead, I hope to provide you with something you might not see anywhere else: the advocates, the people living with HIV from around the world, and the awesome visuals of the music and dance and theater and human drama of the conference.
Are you ready? Let's go!
Mark
p.s. To watch my coverage, just head to TheBody and look for my video coverage, beginning Sunday, July 20th. I hope to post every day!
Tags: aids, conferences, criminalization, help others, physician, research, Sexuality, testing
Posted in Gay Life, Living with HIV/AIDS, My Fabulous Disease, News, Prevention and Policy | No Comments »
Tuesday, March 11th, 2014
There is a classic episode of Oprah from 1987 that can still raise my blood pressure. That year, the tiny town of Williamson, West Virginia, became part of a national discussion about AIDS when Mike Sisco, who had returned to his home town to die of the disease, dared to step into a public pool.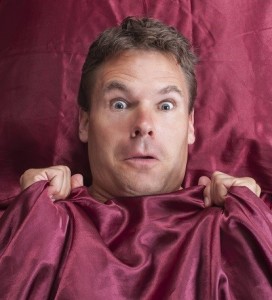 The community freakout was immediate. Sisco was quickly labeled a psychopath (rumors emerged accusing him of spitting into food at the grocery store), and the town pool was closed the next day to begin a Silkwood-style pressurized cleaning.
Soon thereafter, Oprah Winfrey arrived with cameras for a town hall forum about the incident.  Fear was the order of the day. "If there's just one chance in a million that somebody could catch that virus from a swimming pool," the town's mayor told Winfrey's worldwide audience, "I think I did the right thing."
Sure. Why not react in the most extreme way possible, if there is a chance in a million?
Williamson citizens were not swayed by health officials who calmly explained the established routes of HIV transmission and the impossibility of infection from a pool. "The doctors can say you can't get it this way," a woman countered, "but what if they come back someday and say, 'We were wrong?'"
Indeed. What if? If there's a chance in a million…?
That broadcast might have remained a sad footnote in HIV/AIDS history, an instructive example of people ignoring scientific fact to protect a satisfying fear, if history didn't enjoy repeating itself so much. Today, though, the willful ignorance isn't coming from uneducated residents of a southern town you can barely find on a map.
It's coming from gay men. And they are just as threatened, frightened, and dismissive of science as the townsfolk of Williamson were thirty years ago.
Recently, research known as The PARTNER Study was presented at the prestigious Conference on Retroviruses and Opportunistic Infections (CROI). PARTNER proved something HIV advocates have long suspected: people with HIV with an undetectable viral load are not transmitting the virus to their partners. The study included nearly 800 couples, all involved in an HIV positive/negative relationship, gay and straight, with the positive partner maintaining an undetectable viral load. Over the course of two years, more than 30,000 sex acts were reported and documented (couples were chosen based on their tendency to have sex without condoms).
Not a single HIV transmission occurred during the study from someone with an undetectable viral load. If PARTNER had been researching a new medication, they would have stopped the trial and dispensed the drug immediately.
The PARTNER results bolster the prevention strategy known as "Treatment as Prevention" (TasP), meaning, a positive person on successful treatment prevents new infections. To date, there is not a single confirmed report of someone with an undetectable viral load infecting someone else, in studies or in real life.
Just don't tell that to a sizable contingent of skeptical gay men, many of whom took to their keyboards to dismiss the PARTNER findings. Phrases like "false sense of security," "positive guys lie," "junk science," and "if there's even a small risk" appeared on Facebook postings and in web site comment sections. The people of Williamson must be slowly nodding their heads.
Resistance to the PARTNER study corresponds with stubborn doubts about PrEP (pre-exposure prophylaxis, or HIV negative people taking the drug Truvada to prevent infection). Although virtually every nervous argument against PrEP has been overruled by the facts, naysayers continue to either reject the evidence outright or make moral judgments about the sex lives of HIV negative gay men on PrEP.
Yes, there are unknowns. There always are when scientific studies meet the real world. And every strategy will not work for every person. But the vehement rejection of such profound breakthroughs suggests there is something more, something deeper, going on in the minds of gay men. What is it?
Our collective memories of AIDS horror are hard to shake, and that's a good place to start. On a gut level, any study suggesting that HIV could be neutralized is met with a weary doubt. Good news is no match for the enduring grief that has shadowed us for 30 years.
The PARTNER study also threatens the view that positive men are nothing more than risks that must be managed. The study kills the HIV positive boogeyman. It means positive gay men who know their status might actually care enough about their health to seek out care, get on treatment, and become undetectable. And, once the positive partner is no longer a particular danger, both partners would bear responsibility for their actions. What an enormous psychic change that would require in our community.
It's tough to do that when fear creeps in and "what if?" fantasy scenarios take hold. What if my partner missed a dose yesterday and, even though HIV meds stay in the bloodstream for extended periods, his viral load has inexplicably shot up? What if he isn't being truthful about his viral load? What if he doesn't know?
The greater threat, folks, isn't positive guys who think they are undetectable but are not. It's men who think they are HIV negative but are not. But we'd rather stay focused on the positive person being at fault, because, well, people with HIV lie a lot. We miss doses constantly because we have a death wish or we're too busy finding our next victim.
I have some "what if?" questions of my own. What if these unrealistic fears were meant to stigmatize and isolate HIV positive people? What if I am undetectable and feel no responsibility to discuss my status with a sex partner because I don't care to engage in a science lesson? What if everyone availed themselves to prevention options that worked best for them? What if my HIV status were none of your damn business?
These risks could be alleviated, of course, if everyone simply protected their own bodies when having sex with people they don't know or trust. But that would place an equal burden on negative men, and what a bother that is.  Better to leave that discomfort to those with HIV, vectors of disease that we are. Just consider us criminals, lying to you about our viral loads and spitting in the food in Williamson, just waiting to infect you when we get the chance.
As long as we're giving undue attention to fantasy scenarios we're not focused on the real threats. The rates of STD's are up. Young gay black men in the United States don't have proper access to healthcare and have infection rates worse than any developed country. Our community is plagued by  alcoholism, addiction, and mental illness. Do we want to debate established science or should we devote that energy to other challenges to gay men's health?
If you still have the arrogance to believe you could win the HIV Powerball Lottery and be the one person who gets infected in ways science has disproven, you're perfectly entitled to that point of view.
Here are some helpful instructions, however. Carefully step away from your computer and don't touch the cords because 50 people die of product related electrocutions each year. Walk slowly to your bedroom, being mindful of debris in your path because slip-and-falls kill 55 people every single day. Once there, refuse food or water because, well, you never know. Now slip into your bed of willful ignorance and try to make yourself comfortable.
The good people of Williamson are keeping a spot warm just for you.
Mark
p.s. In the time it took you to read this article, the number of people who were infected by someone with HIV who had no viral load was zero.
Tags: barebacking, criminalization, gay, research, Sexuality, testing
Posted in Gay Life, Living with HIV/AIDS, My Fabulous Disease, News, Prevention and Policy | 38 Comments »
Friday, February 28th, 2014
In the late 1980′s, I let this odd, fussy man into my office at LA Shanti, my first AIDS agency job. He seemed earnest and harmless and he just wanted a few minutes of my time. "I have the cure for AIDS," he politely announced. Sadly, he wasn't the first person to say that to me, but we practiced more suspension of disbelief during that wretched decade so making such a statement wasn't immediate cause for removal from my office.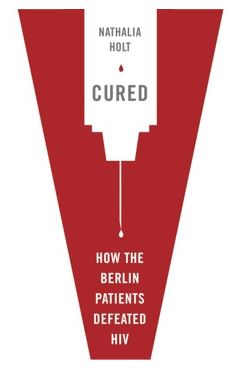 He set a wooden box on my desk, the size of a breadbox and with unfinished wood, like something you had just started building in shop class. He opened it to reveal a jumble of wires and what appeared to be a very large battery of some kind. It looked like a bomb.
"Electromagnetics," he said, with his index finger up, like a teacher. I was so entranced by the device that I didn't notice him attaching one of the wires to my finger with a clip. I felt it softly bite my skin and looked down, horrified.
His scholarly tone didn't change at all. "When I attach this to your other hand," he said, reaching for it, "the magnetic field will purge your body and your blood." I saw him taking my other hand. "This is science," he added proudly. He was smiling.
I sprang from his grasp and shook the clip from my finger. I suddenly remembered I had a staff meeting. An extremely important staff meeting. I thanked him and excused myself to get to my very important, life saving staff meeting.
It's tricky in the HIV community, using the "C" word. Long term survivors like me have had our hopes raised so many times, only for the rug to be pulled out from under us, again and again.  The list of miracles-in-waiting goes as far back as the dawn of the AIDS crisis itself. Herbal remedies. Rare fish guts. Tribal potions from exotic locales.
And so picking up a new book with that word right in the title, well, you can imagine the skepticism.
CURED: How the Berlin Patients Defeated HIV and Forever Changed Medical Science is exactly as advertised and a little more. Nathalia Holt's (below) engaging new book is quite a pleasant surprise, taking a user-friendly approach to its complicated subject. Not only does it provide the timeline of the advancements to date in HIV cure research, it gives us juicy, humanizing details about all of the players involved.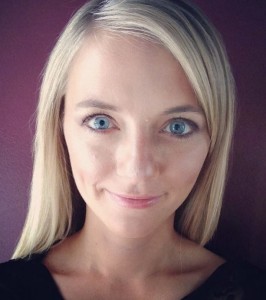 Much of Holt's book has the characterizations and forward motion of a good novel. We meet "Christian" (not his real name), the first Berlin patient who has achieved a functional cure to date. We find out exactly what happened in that Berlin clinic when he received his HIV tests results, what he was feeling, how it affected his relationships. We learn that it was Christian, not doctors or scientists, who elected to end treatment after several months (beginning very soon after his infection), leading to the discovery that his virus was under control and has not flared up since.
The same goes for Timothy Brown, who achieved even more notoriety as the later "Berlin Patient" because of the drama of his curative process (he had two bone marrow transplants and nearly died more than once) and because he has been willing to be public about it.
Timothy is the real heart of CURED. His endearing humility draws you to him as the book follows everything from his medical journey to his love life to his surprisingly modest existence today.
(In both Christian and Timothy, minute amounts of HIV virus have been located in their bodies since their treatment, but these reservoirs have not caused health problems. This is known as a "functional cure.")
All the principle players evidently cooperated with Holt, an HIV researcher herself, and the level of access shows. We not only learn who each of the major researchers are, but what brought them here, what their families are like, and what personal sacrifices they faced along the way. Particularly juicy are the stories of egos and competition among the scientists — and how people who made no contribution at all to various studies scrambled to get their names attached because of the cutthroat world known as academic publications.
Science has never been my thing. I'm not confident writing about it, and intimidated by reading about it. But, except in its last chapters when Holt hurriedly catches us up on the latest research, CURED is easy to follow and has engaging insight into the very real people behind the headlines.
And hey, how cool is it that no one was electrocuted as part of this research?
Mark
Tags: aids, physical, research
Posted in Living with HIV/AIDS, My Fabulous Disease, News | 5 Comments »
Monday, January 27th, 2014
"We don't know the side effects of this drug. It's too expensive. Insurance won't cover it. It hasn't been studied enough. It will encourage slutty behavior. And why the hell don't people just use condoms?"  
– Objections raised to the oral contraceptive progesterone ("The Pill"), approved by the FDA      54 years ago.
When the drug Truvada achieved FDA approval in July of 2012 as a medication to prevent HIV infection among people who are negative (a strategy known as pre-exposure prophylaxis, or PrEP), it's as if the ghosts of naysayers from the 1960′s rose from their resting places, delighted and re-energized, and began drilling their mid-century objections into the hearts and minds of contemporary society.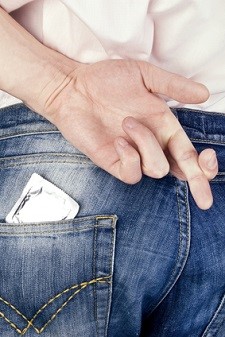 Maybe proponents of PrEP like myself believed the response to the drug would be more enthusiastic. Surely anyone who lived through the horror of early AIDS would thank God that a new prevention strategy exists that doesn't rely upon condoms alone. The fury of the response has been a little startling to me.
Fortunately, Facebook groups and online sites that explain the facts about PrEP are springing up everywhere to address misinformation and to clarify legitimate areas of concern. Here are the most persistent objections to PrEP, and the facts as we know them.
People wouldn't need PrEP if they would use condoms. They just want to bareback. Studies show that people on PrEP do not have an increase in high risk sexual behavior, but cynics have visions of wanton orgies ahead worthy of vintage gay porn. Alas, what others do in their sex lives is out of our control, whether that drives people up the wall or not.
The facts are these: more than half of gay men do not use condoms or do not use them consistently. This fact has remained true throughout the 30 years condom use has been measured among gay men, including during the darkest years of the AIDS crisis. We can address 50,000 new infections a year or we can have a useless moral debate.
The lack of condom use is what makes PrEP so exciting as a prevention method. The very first large study of Prep was the iPrEX Study, an international study of 2,500 people that was comprised mostly of gay men and some transgender women. The study showed that people who use Truvada as PrEP correctly (taking a pill every day) can have their risk reduced by 90% or more, depending on adherence. Some models show an efficacy rate of up to 99% based on near-perfect adherence.
PrEP is also not dependent on last minute decisions in the heat of passion. Taking a pill in the morning is calmly detached from having sex that night.
PrEP is not necessarily an either/or proposition, because lots of people taking PrEP are also using condoms. But let's be real. Most people seeking out PrEP already don't use condoms or they don't want to use them anymore. Since they are trading one prevention device for something that has a better success rate and is easier to use, what's it to you?
We don't know the side effects of Truvada. We have years of data of Truvada side effects on people with HIV (it's been FDA approved to treat HIV since 2004). Truvada was selected for clinical trials as a PrEP drug because of its favorable safety profile.
It is true that there are some reports of bone density and kidney problems among people with HIV using Truvada as part of their treatment regimen. These side effects have sometimes been serious. We can't assume the experience of HIV negative people will be the same, and that's why Truvada patients, positive and negative, should be routinely tested for bone density and kidney function.
More and more HIV negative writers and bloggers (and even a gay porn star) are sharing their experiences on PrEP but, thus far, side effects haven't been part of their story. Watching them share their progress publicly over time should be quite interesting.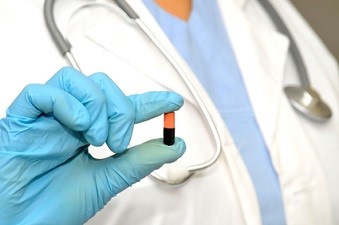 Understanding side effects is part of the assumed risk we take with medications, as any television commercial for a pharmaceutical drug will attest. If you don't want to cough up blood, for instance, or have bloody stools or nausea or a ringing in your ears, don't take aspirin. Those side effects are uncommon, and so are the side effects for Truvada.
People taking PrEP also have the option of discontinuing Truvada depending on life events and necessity. Maybe you stop dating the HIV positive guy, or take a break from casual sex, or return to condoms for a while. Starting and stopping the drug in this way does not lead to resistance as long as a medical professional verifies you are HIV negative before restarting.
If you are wary of Truvada side effects, don't use it. And allow others to make that same determination for themselves.
PrEP is too expensive and insurance won't cover it. This argument is losing steam rapidly. The Affordable Care Act in the United States is underway and by all accounts every insurance company as well as Medicaid is covering Truvada — although it may require pre-authorization from a doctor for use as PrEP (the CDC has produced a handy document available online to help explain PrEP  to your physician).
For those without insurance or money for a co-pay, Gilead (the maker of Truvada) has a patient assistance program that can provide the drug outright or supply co-pay cards worth up to $200 per month. Even if none of this were true, the potential benefits of a drug should not be assessed solely by its price tag.
The people who need it most can't access it anyway so what's the point? It's a good thing we don't have this attitude towards condoms. Access isn't the same as efficacy.
But it is certainly true that young gay black men, whom the epidemic is affecting in shocking numbers, have less access to healthcare. This is a systemic problem and it is unfair, frankly, to expect PrEP to solve it. It is also true that PrEP can be an occasion for HIV negative people to seek care, and once on PrEP they are typically required to have medical follow-ups throughout the year, which offers obvious benefits.
The biggest hurdle is often physicians themselves. HIV negative people may have a doctor unfamiliar with HIV care, much less PrEP, and those doctors are often intimidated by what they see as the complexities of HIV treatment. Until more professional education is done, potential PrEP users must learn to advocate for themselves and share CDC recommendations with their doctor.
People won't adhere to PrEP and that will create resistant strains. It is true that in some early PrEP trials adherence was a problem. Real life behaviors, though, differ from clinical trials in some important ways.
Trial participants have no idea if they are taking the actual drug or not, and in trials the efficacy of the drug hasn't even been proven. So, the commitment of trial participants to stay adherent to the drug is less rigorous than users today, who know that the drug works, know they're getting the real thing, and are invested in remaining HIV negative. People taking PrEP today have more skin in the game, as it were.
For those who do miss the occasional dose, Truvada is somewhat forgiving. The protective ability of the drug doesn't drop if you miss a single dose because Truvada remains in the blood for up to 72 hours (compare that to missing a condom occasionally, which CDC statistics show to be as risky as never using them at all). That being said, it is optimal and recommended that Truvada be taken consistently each day, and users should take seven daily doses for Truvada to achieve optimal protection.
Taking Truvada alone when a PrEP user doesn't know they are already positive can lead to resistance and significantly reduce treatment options. Resistance has not been found with individuals who were verified HIV negative at the time they started Truvada, but it has happened in people who became HIV positive due to low adherence.
PrEP is just putting money into the pockets of pharmaceuticals when we have cheaper solutions.  I can't imagine anyone telling HIV positive people not to take their medications because their drugs are making profits for Big Pharma. The argument that HIV negative people aren't worth a fraction of that investment astounds me. I suppose we should wait until negative people get infected before it's okay for them make a profit for the drug companies.
And those are the facts as we know them about PrEP. I have no delusions that the debate will calm any time soon, of course. Human nature is far too predictable for that.
Just recently, politician Mike Huckabee addressed a gathering of fellow Republicans. Part of his remarks, delivered half a century after The Pill was approved for contraception, was his belief that "smart" women don't need the government "providing them a prescription each month for birth control because they cannot control their libido."
Right. Because birth control, as critics have been saying since 1960, would be unnecessary if women only showed some restraint and didn't behave like barebacking sluts.
Everything old is new again.
Mark
My thanks to HIV advocate Jim Pickett of AIDS Foundation Chicago for his expertise on this issue. Jim is active in the development of rectal microbicides (lubes and douches that kill HIV on contact). Damon L. Jacobs, who writes about his personal experience taking PrEP, also served as a resource.
Tags: aids, barebacking, culture, physician, research, Sexuality, testing
Posted in Gay Life, My Fabulous Disease, News, Prevention and Policy | 19 Comments »
Thursday, January 9th, 2014
In the summer of 2013, thousands of subscribers to Nelson Vergel's "PozHealth" listserv received a startling email from the HIV positive fitness and nutrition expert.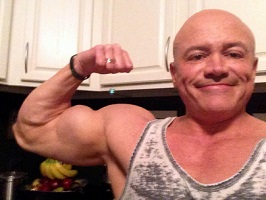 "You are probably wondering why I have been so quiet the last few weeks…" the message began. Vergel, a trained chemical engineer who devoted himself to HIV treatment advocacy after testing positive in 1985, had a troubling explanation for his online absence. A diagnosis of cancer.
"It took me months to come out to the poz group," Vergel said about revealing his diagnosis to his listerv. "It was a struggle for me."
Vergel had begun the group in 1999 when lipodystrophy was a hot topic among people with HIV/AIDS and they needed a place to compare notes, and it has since become the largest treatment information listerv for people living with HIV. It still thrives at a time when the exchange of HIV treatment information among peers has waned.
The success of the group perfectly reflects the dedication of its host, a gay bodybuilder whose own serious struggle with AIDS over the years belies his appearance of physical strength. Group members clearly admire Vergel and see themselves in his medical challenges and triumphs.
So it was with some trepidation that Vergel revealed a new health crisis to the group, one that forced his HIV to the back burner. "I was very concerned that people might panic, not about me, but themselves. I didn't want them to think this applied to them," Vergel said. "I really was more concerned with them projecting my challenge onto themselves."
He had little choice, however. His condition was serious.
In June, Vergel was experiencing stomach problems that doctors initially believed to be ulcers. Then came a diagnosis of H Pilori, a stomach bacteria. Vergel requested an upper GI endoscopy, during which ulcers were found and biopsied. While treatment with antibiotics killed the bacteria, the news from the biopsies was grave: Vergel had a aggressive brand of cancer known as non-Hodgkins lymphoma.
"I was shocked," said Vergel. It wasn't the feeling of impending death he had experienced when he tested HIV positive in 1985, but something more incredulous. "It hit me really hard. I had been preparing for heart attacks, or anal cancers, which I have checked every year. I was controlling those high risk situations. But this…?"
Despite the cruel irony of battling mightily against one disease and then facing another, it didn't take long for Vergel's instincts as a treatment advocate to take hold. "After I got the news, I got into my car and cried a little," he said. "And then, before I called my partner, I got on the phone and did a Google search."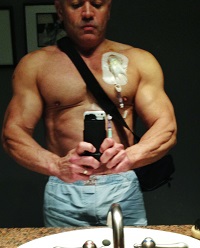 His research confirmed the treatment plan of chemotherapy that his doctor recommended, but he soon discovered that cancer healthcare isn't nearly as accustomed to empowered, involved patients as is the world of HIV.
"I realized how behind oncology is from HIV," Vergel said, "because there are fewer online resources for patients. It felt like early HIV. They don't discuss side effects until they happen to you. I kept finding out things randomly. It made me realize how good we have it in HIV. In oncology all they care about is killing the cancer. But part of the goal should be protecting the patient from side effects."
His treatment as a patient was often the antithesis of what he has advocated for HIV patients for decades. That advocacy, and Vergel's influence in crafting programs to empower HIV patients, is considerable.
Vergel educated himself on HIV pathology and medications after his HIV diagnosis, and became involved in several national health commissions, leading to his founding of the Program for Wellness Restoration in 1994. Because of his interest in physical fitness, he pushed for federal funding for studies of anabolic steroids and promoted results of earlier studies that showed that once you reach 55% of lean body mass, your chances of survival drop precipitously.
He was convinced that resistance training, nutrition and supplements are a key weapon against HIV. His 1998 book, Built to Survive, found a place on the shelf of nearly every gay man who had HIV and a gym membership.
For better or worse, the image of muscled gay men with HIV that emerged in the 1990′s, pumped up from weight training and anabolic steroids, can be directly attributed to the seminal work of Nelson Vergel, who trumpeted the importance of lean body mass in fighting HIV infection and maintaining a healthy immune system.
Unfortunately, his own HIV has been multi-drug resistant, and Vergel is currently on the last available regimen to treat his disease. The clinical expression for patients like him is "treatment failure." Vergel hates the term.
"Being called a failure sends the wrong message to patients," he said. "and I have been trying to change that language in the treatment world. It's demeaning to patients who are adherent."
As his cancer treatment progressed, other differences between his two health crisis emerged.
"A good friend of mine was diagnosed with cancer the week before me. He said, 'I have neighbors cooking for me. Doing my laundry. Isn't it sad that I could never disclose my HIV, but I can disclose this and everyone rushes to help? This is a diagnosis that my community can get behind. Isn't it sad that HIV isn't the same way?'"
The good news is that, unlike Vergel's history with HIV medication, the cancer treatment seems to have worked.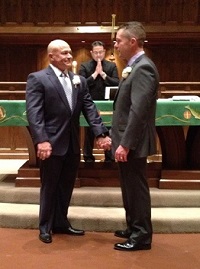 "There is no cancer based on my last biopsy," Vergel said. True to form, Vergel made the decision himself to stop the rounds of chemo early because he was concerned with its effect on his immune system. But he remains vigilant. "You are never cured of cancer. Like HIV, you have to keep an eye on it."
The last six months have been "the most intense of my life," he said, but it has also included signs that life, and joy, can go on. Vergel and his longtime partner were married in Washington, DC, on September 21.
"Always enjoy the moment," Vergel said. And then he adds an observation for those living with HIV. "Apply what you have learned in HIV and take control of your own health, no matter what the diagnosis. Oncologists are not used to seeing patients like us. Long time HIV survivors have many years of experience dealing with the healthcare environment, we have gathered lessons on second opinions, questioning our doctors, we're relatively young and healthy and have learned a lot of skills."
Today, Vergel is again busy posting to his POZHealth listserv, offering advice in TheBody.com's "Ask the Experts" forum, and he just founded a new men's health program, ExcelMale . Even the hair he lost during chemo is growing back.
"I didn't know how resilient I was until I went through this," Vergel says, and then there is a thoughtful pause. "Resilience. I like that word."
Mark
Some of the most popular My Fabulous Disease videos have shown Nelson trying to whip me into shape. "Fitness Stud Nelson Vergel Raids My Fridge" is hilarious and informative, "Hitting the Gym with Fitness Expert Nelson Vergel" benefits from his tight tank top, and "The Hard Facts on Erectile Dysfunction" offers advice on, well, you know (and opens with us in bed together). Check them out!
Tags: aids, culture, help others, hiv, physical, physician, research
Posted in Gay Life, Living with HIV/AIDS, My Fabulous Disease, Prevention and Policy | 6 Comments »
Thursday, November 28th, 2013
My brother Richard smiles a lot. He has an easy laugh. But there was a time, years ago, when he held a poisonous drink in his hands and begged his dying lover not to swallow it. A time when Richard held the concoction they had prepared together and wept.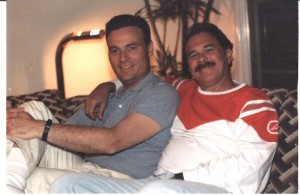 Emil couldn't wait. He took the drink from Richard quickly, because the release it offered was something more rapturous than the appeals of his lover of thirteen years.
It was Emil's wish to die on his own terms if living became unbearable, a promise made one to the other. When that time arrived, however, Richard wanted another moment, just a little more time to say, "I love you, Emil," over and over again, before the drink would close Emil's eyes and quietly kill him.
Richard has a charming store in my hometown today, where he sells collectibles and does theater in his free time. The drink was consumed over twenty years ago.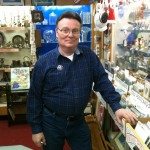 There were people who displayed remarkable courage then. People who lived and died by their promises and shared the intimacy of death, and then the world moved forward and grief subsided and lives moved on. But make no mistake, there are heroes among us right now.
There is a shy, friendly man at my gym. There was a time when his sick roommate deliberately overdosed after his father told him that people with unspeakable diseases will suffer in hell. My gym friend performed CPR for an hour before help arrived, but the body never heard a loving word again.
There is courage among us, astonishing courage, and we summoned it and survived. And then years passed. We got new jobs and changed gyms.
There was a time when old friends called to say goodbye, and by "goodbye" they meant forever. When all of us had a file folder marked "Memorial" that outlined how we wanted our service to be conducted. When people shot themselves and jumped off bridges after getting their test results.
There is profound, shocking sadness here, right here among us, but years went by and medicine got better and we found other lives to lead. Our sadness is a distant, dark dream.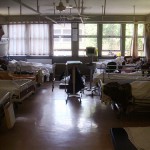 My best friend Stephen just bought a new condo. He's having a ball picking out furniture. But there was a time when he knew all the intensive care nurses by name. When a phone call late at night always meant someone had died. And just who, exactly, was anyone's guess.
Stephen tested positive in the 1980s, shortly after I did. A few months after the devastating news, he agreed to facilitate a support group with me. We regularly saw men join the group, get sick and die, often within weeks.
Watching them disintegrate felt like a preview of coming attractions. But Stephen was remarkable, a reassuring presence to everyone, and worked with the group for more than a year despite the emotional toll and the high body count.
There is bravery here, still, living all around us. But the bravest time was many years ago, and times change and the yard needs landscaping and there's a brunch tomorrow.
There was a time when I sat beside friends in their very last minutes of life, and I helped them relax, perhaps surrender, and told them comforting stories. And lied to them.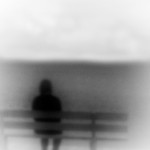 Jeremy lost his mind weeks before he died. Sometimes he had moments of sanity, when we could have a coherent conversation before his dementia engulfed him again. It was a time when you were given masks and gloves to visit friends in the hospital.
He was agitated with the business of dying, and told me he couldn't bear to miss what might happen after he'd gone. I had an idea.
"I tell you what," I offered, "I'm from the future, and I can tell you anything you would like to know."
"OK then, what happens to my parents?" he asked. I thought it might be a distracting game, but Jeremy's confused mind took it very seriously.
"They went to Hollywood and won big on a game show, so they never did need your support in their old age," I answered. He barely took the time to enjoy this thought before his hand grabbed my wrist, tightly, almost frantically. He pulled me closer.
"When…" he began, and a mournful sob swelled inside him in an instant, his eyes begging for relief. "When does this end?" There was an awful, helpless silence. His eyes beckoned for a truth he could die believing.
"It does end," I finally managed, although nothing suggested it would. "It ends, Jeremy, but not for a really long time." He digested each word like a revelation, and slowly relaxed into sleep.
There is compassion here, enough for all the world's deities and saints acting in concert. Infinite compassion for men who lived in fear and checked every spot when they showered for Kaposi sarcoma, and for disowned sons wasting away in the guest room of whoever had the space. But we get older, and friends don't ask us to hold their hand when they stop breathing, and the fear fades and I bought new leather loafers and the White Party is coming.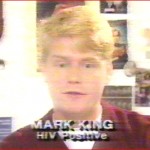 The truth is simply this, and no one will convince me otherwise: My most courageous self, the best man that I'll ever be, lived more than two decades ago during the first years of a horrific plague.
He worked relentlessly alongside a million others who had no choice but to act. He secretly prayed to survive, even above the lives of others, and his horrible prayer was answered with the death of nearly everyone close to him.
To say I miss that brutal decade would only be partially true. I miss the man I was forced to become, when an entire community abandoned tea dances for town hall meetings, when I learned to offer help to those facing what terrified me most.
Today, the lives of those of us who witnessed the horror have become relatively normal again, perhaps mundane. We prefer it. We have new lives in a world that isn't choking on disease.
But once, there was a time when we were heroes.
(I was honored to receive an award from the National Gay and Lesbian Journalists Association for this piece in 2007, written to commemorate World AIDS Day. It has since become my annual post to commemorate the day. Here's to a joyous and healthy holiday season for us all. — Mark)
—————————————————–
PLUS…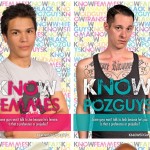 "Know Stigma" (I hereby pronounce "stigma" the Word of the Year) is a terrific site devotes to photos and video that challenge our attitudes towards one another as gay, straight, femme, old, poz guys, etc. There are some really intimate, honest videos with people discussing the impact of stigma on all aspects of their lives. "We want to create a conversation around how we treat each other as gay, queer, bi, trans, and straight men," says their site. "Like everyone, we have our biases and prejudices. Many of us are made to feel invisible because of age, body type or skin color. How can we say what we want without hurting others? How do we imagine our actions and words might make someone else feel?" Check it out.
After a lot of talk about HIV stigma, there is now a project in the United States that wants to actually quantify it and address it through leadership by people with HIV. "The People Living with HIV Stigma Index" has been launched in dozens of countries but only now has received funding to implement it in the U.S. It measures HIV stigma in the lives of people with the virus, and does so by training and employing people with HIV themselves to conduct the surveys. Watch a video of Laurel Sprague of the Global Network of People Living with HIV discussing stigma and this project with Eric Sawyer of UNAIDS.
Tags: Aging, aids, culture, gay, help others, hiv, physician, politics, research, Sexuality, testing
Posted in Family and Friends, Gay Life, Living with HIV/AIDS, My Fabulous Disease, News | 3 Comments »
Tuesday, October 22nd, 2013
Just because it's over
doesn't mean it didn't happen…
Doesn't mean it wasn't beautiful,
even with the pain.
– "Beautiful Sadness," sung by chanteuse and gay favorite Jane Oliver
In the first minutes of Dallas Buyers Club, the astounding new film about the darkest years of the AIDS crisis, rodeo cowboy Ron Woodroof (a gaunt and barely recognizable Matthew McConaughey) is punched in the face. He has it coming. The self-serving crook has a lot of enemies.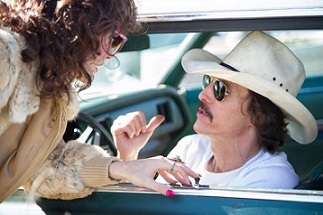 The blood spills from his mouth and glows a bright crimson, an almost clownish contrast to his drained, ghostly pallor — which itself is evidence of a raging HIV infection he has yet to discover. Another gash on his forehead is a sickly collection of reds, and unlike most movies in which injuries disappear by the next scene, the wound remains. And remains. For many scenes thereafter, the blood on Woodroof's forehead is in full view, a disconcerting reminder of what lies beneath, until you wish he would just put on a bandage already.
But Dallas Buyers Club isn't interested in making the truth very pretty. A river of infected blood runs through it. So, too, does practically every other bodily fluid, along with bruises that won't heal and purple skin lesions and flakes of dry, reddened skin. And that's kind of beautiful. Because that's what AIDS looked like in 1985, and it's been ages since we have fully remembered it (this movie doesn't concern itself with the modern day notion of "living with HIV," since having the virus in those days typically meant an AIDS diagnosis and fast and efficient death).
I have never seen AIDS shown this way in a film. And of all the movie portrayals of the disease, from Parting Glances to I Love You Phillip Morris, nothing else has captured the ugly physicality of the disease like Dallas Buyers Club. Even the tearful hospital bed goodbyes in Longtime Companion seem overly romanticized by comparison.
The based-on-a-true-story concerns Woodroof, a hard living cowboy and drug addict, who must face certain death and the cruelty of his redneck buddies when he tests HIV positive. Woodroof also lives the sheltered life of a southern homophobe, so watching him negotiate the AIDS community terrain of queers and drag queens is fascinating viewing and provides some of the surprisingly plentiful humor in the film.
But Woodroof hasn't successfully dodged the consequences of his petty crimes for nothing. He quickly cheats the system to acquire the poisonous medication AZT and, after an eye-opening trip to Mexico, he figures out how to profit from the sale of unapproved drugs to the throngs of support group members back home.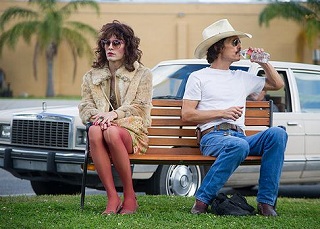 Along the way he allows himself a guarded friendship with a drug addicted transgendered salesperson, Rayon (Jared Leto in an effective and quietly humble performance), and eventually accepts to some degree the gratitude and generosity of the many gay people around him.
Nearly everyone in the story, patients and physicians alike, is a wretched outcast, damaged by drug addiction or homophobia or loneliness or their own destructive behaviors. No one is healed, no one fully conquers their demons, and no one gets out unscathed. The fact that the filmmakers make you root for every one of them is a testament to terrific storytelling and a vexing main character you grow to love and admire.
These characters also live a world away from the more sophisticated New York City activists that populate the Oscar-nominated documentary from last year, How to Survive a Plague. In fact, the big city AIDS battles being waged elsewhere barely register in this story about southern vice and ingenuity. When Woodroof and his rodeo buddies first learn of the death of Rock Hudson, the actor is dismissed as a cocksucker, except for one of them who doesn't know who Hudson is. His buddies scoff. "Haven't you ever seen North by Northwest?" one asks.
Woodroof's entrepreneurial efforts ultimately create the Dallas Buyers Club, a real business that provided unapproved medications to very desperate people with AIDS. As someone who once used a buyer's club to purchase Compound Q and other pharmacological footnotes in HIV/AIDS history, I can attest that everything from the cheap cinder block setup in the film to the anxious expressions on the customers felt tragically familiar.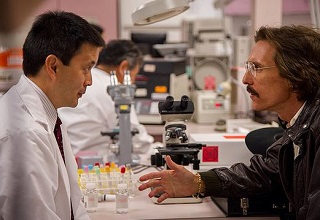 The real villain in the story, other than the virus itself, would have to be the early, toxic drug AZT and its manufacturer. Although the film uses a fictional pharmaceutical name, let history show that AZT was produced by Burroughs Wellcome (eventually absorbed into Glaxo SmithKline), who downplayed side effects in a complicated rush by the FDA to have a drug, any drug, to treat the growing pandemic.
Matthew McConaughey is a revelation. His physical transformation alone would be Oscar bait were it not for his ability to gain our affections for such a self-serving swindler. Calling the performance free of vanity is an understatement. His harrowing depiction of living with AIDS makes the award-winning Philadelphia look about as realistic as Dark Victory. It reminds me of when we settled for scraps in Hollywood's depiction of AIDS, when any major actor brave enough to play a gay man won an Oscar.
There is a moment late in the story during which Woodroof checks himself in the mirror before an evening out. Suddenly he finds himself staring, and in the dim bathroom light he sees the undamaged face of the man he might have been. He allows the slightest expression of pride, for the things he has accomplished, for those he has helped. And then, as those of us who lived through the 1980′s know so well, the face returns to a look of both hope and despair, of the beautiful sadness that always brought too many questions about the fate that was barreling towards us.
It is that face in Dallas Buyers Club, the one free of blood and injury, that is the most haunting of all.
Mark
(Photo credit: Anne Marie Fox / Focus Features)
—————————————————–
ALSO…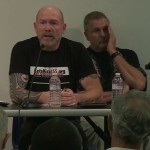 For those who survived the deadliest AIDS years of the 1980′s, there is a growing movement to address the kind of post-traumatic stress and "crisis of meaning" that has plagued many of us. Some of this comes as a response to the death of activist Spencer Cox last year, although it is a long overdue issue to be addressed. You might appreciate coverage of the New York City forum held earlier this year, "Is This My Beautiful Life?" (a video recap is here)or the more recent forum in San Francisco, "Kick ASS (AIDS Survivor Syndrome)" (with a video chronicle of the event here). My hope is for more forums like these in other cities, and an ongoing, programmatic response from service organizations to respond to these issues.
Tags: acting, aids, culture, drag, gay, hiv, research, Sexuality
Posted in Gay Life, Living with HIV/AIDS, My Fabulous Disease, News | 5 Comments »
Tuesday, September 24th, 2013
Note: This essay has been shared more than 15,000 times from this site since it posted in July of 2012. Some readers responded angrily, and the barebacking aspect of the story brought both cheers and derision (one comment accused director Max Sohl of "crimes against humanity"). Frankly, I just thought the story of the film and its sociological impact was worth investigating; I appreciated the candidness of those connected to the film, as well as the social scientists and CDC officials who served as background.
The annual Folsom Street Fair in San Francisco is noted for its unbridled embrace of every star in our sexual constellation. Even the fearless leather community that founded the event can sometimes appear tame amidst the outlandish kinks and clothing – and lack thereof – on display along the city's tilted streets.
In the middle of this rowdy bacchanalia in the fall of 2003, Paul Morris stood at the booth for Treasure Island Media (TIM), the gay porn outfit he founded that features unprotected sex (barebacking) between its actors. This particular specialty was the singular driving force behind his smashingly successful and relatively new company.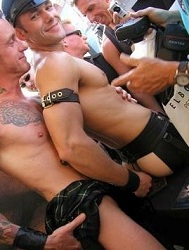 Then, like the legend of Lana Turner fortuitously cozying up to the counter at Schwab's, a beautiful and achingly masculine young man approached the TIM booth. He liked the TIM videos, he liked them very much indeed, and he hoped to one day document a few fantasies of his own. TIM star Jesse O'Toole was on hand and someone snapped a photograph of the two of them together (right). In it, the grinning young man with a leather cap appears to have found his long lost tribe, and O'Toole looks as if he has found a seven-course meal.
The photo was sent to Max Sohl, a sometime porn actor with a theater background whom Morris had commissioned to conceive and direct what would be Sohl's first porn film. Sohl met with the aspiring model and asked him to complete a form that included a simple question: What is one of your fantasy scenes? In response, the young man wrote simply, "me getting nailed and seeded by a gang of hot guys."
"The Black Party was coming," Sohl explained in a recent interview, referring to the annual New York City weekend of leather men, parties and sexual adventures, "and I thought, 'Okay. Let's see how many men he can take.'"
And that is how Dawson's 20 Load Weekend was born.
Prior to the onset of AIDS, condom usage in gay pornography was nonexistent – but that was before bodily fluids became synonymous with death and disease. For well over a decade after the crisis began, gay porn videos featured not only tightly wrapped penises, but their storylines – indeed, the actors themselves – suffered from a sort of dramatic malaise, as if sleepwalking through their sexual routine while trying to pay no attention to the man with KS lesions behind the curtain. The videos mirrored our own lack of interest in gallivanting about with the pizza man or diving into an orgy with strangers, with or without condoms. Many viewers simply returned to their stash of pre-AIDS pornography, which was condom-less but "justified."
As AIDS deaths subsided with the advent of new medications in 1996, gay male culture responded with a vengeance. Circuit parties were born of celebration (before succumbing to their own excesses), safer sex behaviors relaxed, and there was a palpable longing to escape the horrors of the previous years. Reclaiming a bold sexuality – something many gay men believed had been lost forever – was a tonic for the post-traumatic stress they suffered. Younger gay men, who had listened to stories of an earlier, sexually liberated time as if it were a lost era of paleontology, were more than willing to explore whatever modern version might await them.
Unprotected sex since the arrival of HIV is nothing new – it is, after all, the primary reason for new infections that have continued fairly steadily since AIDS began – but in the late 1990's the gay community proved again how comically adept it is at applying a little branding to any phenomenon, and "barebacking" entered the public lexicon. The irony may be that a new word was developed for the oldest sexual activity imaginable: having sex without a barrier. It wasn't the sex that had changed, but the meaning and judgment associated with it towards, most specifically, gay men. Or, as AIDS advocate Jim Pickett said at a recent conference for people living with HIV, "When a friend announces they are expecting a child, I feel like screaming 'You barebacked!'"
But while intelligent minds and passionate advocates argued about the reasons and the proper response to barebacking, no one had dared document it on videotape for the erotic pleasure of others. Yet.
In 1998, two renegade companies formed to make bareback videos exclusively: Hot Desert Knights and Treasure Island Media (links definitely NSFW). None of the leading gay pornographers would consider producing them (although they were eager to market their highly-profitable backlists of videos produced "pre-AIDS" that featured bareback sex). The cheaply made videos by the upstart porn producers brought the sexual choices of an increasing number of men out of the closet and onto DVD players and computer screens.
The videos were uniform in their low production values, the older ages of the actors, and the fact that several of them appeared to have the physical manifestations of HIV. It was as if a group of men who had literally lived through AIDS said, "oh, what the hell," and demonstrated the kind of sex they had been having amongst themselves for some time. Their exploits were perceived as an underground fetish that would never break the surface of more mainstream gay pornography.
But then Max Sohl met that ferociously attractive man from the Folsom Street Fair who was so eager to "get seeded" by a string of strangers, and with the sexual zeitgeist now primed for their arrival, they made a film that would forever change the porn industry and quite arguably influence the sexual behavior of countless gay men.
Re-christened "Dawson," the budding porn star was served up in a hotel room over the course of New York City's 2004 Black Party weekend to an ongoing parade of bareback tops. Their sex was filmed in a documentary fashion, without music, scripted dialogue, or any effort to hide the many cables and cameras crowding the room. Dawson's fantasy had been fulfilled, and Sohl had the footage to prove it.
In June of 2004, Dawson's 20 Load Weekend was released and was precisely as advertised.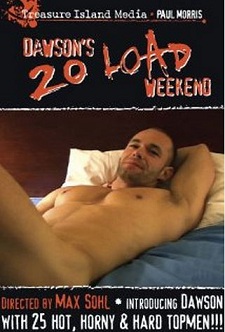 It might first strike the viewer that the video was created in an unsettling world in which HIV is utterly absent; that is, until a revamped sexual choreography is pointedly repeated again and again. While orgasms in gay porn before AIDS typically showed the top withdrawing from his partner and spilling his semen across his partner's backside, the tops servicing Dawson had a different and very deliberate mission: to withdraw only long enough to prove their orgasm, and then re-enter Dawson immediately to show the injection of semen.
This was not a film that was made in the absence of HIV, but was created because of HIV. You can practically hear a disembodied voice whispering, "Watch closely. This is how gay men have sex now. That is where semen belongs. Fuck AIDS."
Depending on your point of view, it is either a transgressive act of eroticism or an incredibly irresponsible act that demonstrates how to become infected with HIV. Or perhaps both.
In the center of all of this was Dawson himself, and never has bareback porn had such a virile and athletic leading man, much less one that bottomed with such disarming delight. "He was a higher quality male model that hadn't been seen in that kind of extreme scene," said Sohl. "The movie changed things because of Dawson. He was adorable, and actually smiles and laughs. He is Cialis joyful in that movie."
"Bareback porn companies have blood on their hands," became a common refrain among gay men and health advocates. Gay sex advice columnist Dan Savage equated the videos to child porn, believing they take advantage of the naïve and the vulnerable. Some accused TIM of making snuff films.
The video was wildly successful, ubiquitous wherever porn was shown. Even Sohl was surprised. "Our staff and even my friends would say 'I go into a porn booth, a sex party, a hookup, and its playing,'" he said. "It was everywhere."
Adult bookstores which had previously shunned TIM videos responded to customer demand and began stocking them, even creating bareback sections on their shelves. Gay porn sites that once refused to feature bareback clips began including them. Dawson and the film became the definitive symbol of a bare, wanton sexuality that eschewed condoms and refused to be denied or intimidated by the virus.
Soon, more companies produced bareback porn, and they were able to attract "collegiate jock" types who were younger, more muscular and the very picture of health and vitality. The faces and bodies in bareback videos had been transformed, erasing all evidence of HIV, much like the invisibility of HIV/AIDS in our broader culture.
When considering the legacy of his film, Sohl is more pragmatic than proud. "The concept of taking twenty loads in 2004 was beyond taboo, but to say it in 2012… it doesn't seem as extreme today," he said. "I'm sure someone else would have done it. It just so happened to be us."
Neither does Sohl admit to any trepidation about the safety of his actors, then or now. "I've been doing this since 2004, with thousands of men, and have had only one guy claim to get an STD (on my set)," he explained. "Probably 50 percent of my casting job is being an HIV counselor," he adds, without a hint of irony. "I spend a lot of time talking about HIV. My feeling is that people need to be responsible for their own actions and make informed decisions."
One of the people making decisions while living with HIV is none other than the actor known as Dawson, who disclosed his HIV positive status to The Windy City Times in 2005. While his HIV status may surprise no one, something else he said in the interview was sadly revealing. "It was after turning positive that I made the decision to look into doing a movie for Treasure Island Media," he said at the time. "I had seroconverted a few months before…"
After an HIV diagnosis, many people use it as an opportunity to re-examine their lives, make different choices, or otherwise take steps to enjoy their life in whatever ways are important to them. For the man who would be Dawson, his seroconversion was followed by the choice to be an unapologetic cum whore in front of video cameras. This may have been his fantasy, but it certainly fuels the stigmatizing belief that people with HIV are irresponsible vectors of disease, spreading infection and abandoning whatever sexual values they may have previously held.
Perhaps, then, the film was a treatise on the kind of sexual liberation available to HIV positive gay men today, demonstrating the "new normal" for those who take their meds, eliminate the viral activity in their blood, and "fuck freely and without fear," as TIM founder Paul Morris once put it. Or did it simply portray poz men as sluts, a charge leveled by disgusted (and possibly jealous) HIV negative men?
"What a person is seeing has more to do with them than with us," said Sohl. "The best mode of action is not to confirm or deny anything. I will see a scene online that I directed," he says, referring to the many porn sites that pirate pieces of his work and give them new titles, "and it will be renamed 'negative bottom takes poz loads,' as if it were a conversion scene. We never said that. Or people think the bottom is using crystal meth. That says more about the guy watching it than what actually happened."
That relationship, between porn and viewer, is something of particular concern to some HIV prevention advocates who believe bareback porn encourages unsafe sex in real life. This resulted in AIDS Healthcare Foundation's recent campaign to mandate condom use on pornography sets, a move that was popular on a simplistic level but did nothing to address the myriad of factors associated with actual HIV risk and relative safety, such as an undetectable viral load, serosorting, or the precise sexual behaviors involved.
While social cognitive theory states that we make behavioral decisions based on watching others, very little research has been conducted on the causal relationship between bareback porn and real behavior. In what little has been studied, researchers can't decide if barebackers watch a lot of bareback porn, or bareback porn makes people barebackers.
It is a riddle that Max Sohl is surprisingly happy to solve. "Absolutely" he said. "Of course it is going to influence what people do." When asked, then, what is the responsibility of porn, Sohl would have none of it. "The responsibility of porn," he says impishly, "is to make the guy watching it shoot a load."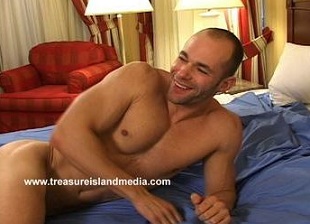 Dawson is, now and forever, committed to videotape and featured on dozens of online porn sites, happily receiving the prize he so ardently desires. He and his progeny of newer, younger porn actors have crossed a line and they're never coming back. Their video escapades are available online everywhere and for everyone, including young gay men who are just coming out and surfing the internet for validation of their sexuality.
What those young men will almost certainly see online are depictions of unprotected sex, because bareback videos now outperform scenes of condom usage on every site that carries them – and most of them now do. It is unquestionable that bareback sex will be viewed as typical to the uninitiated, and anyone crafting safer sex messages to those young men is going to have a difficult time trumping those images. The "use a condom every time" message is officially dead, drowned in buckets of bodily fluids by Dawson and his barebacking brethren.
Dawson's 20 Load Weekend redefined bareback porn and the men who appear in them. It influenced subsequent videos and expanded the availability of bareback films. It depicted a prevailing truth about gay sexual behavior "post AIDS," and arguably encouraged risky sexual adventure-seeking. It led to the saturation of bareback porn online, making unprotected sex normative to whomever might be watching. To dismiss this film, to minimize its social and cultural impact, would be to demonstrate a profound misunderstanding of gay sexuality today.
"Barebacking is a right," gay anthropologist Eric Rofes once wrote. "After all, practically every straight guy in the world gets to do it without being told they are irresponsible, foolish, or suicidal… Barebacking is liberation. Barebacking is defiance."
How foolish, prescient, liberating, enlightening or destructive barebacking may ultimately become is something that may only be revealed in the next chapter of our gay community's troubled history.
(Photo of Dawson and Jesse O'Toole courtesy of Max Sohl and edited for content. Other images courtesy of Treasure Island Media [NSFW].)
————————————————-
TWO MORE POSTS ON BAREBACKING and/or GAY SEX:
"Your Mother Liked it Bareback" loses all patience with the finger pointing and judgments being hurled around between gay men when it comes to choices about unprotected sex. In short, it asks us to broaden what it means to have "safer sex," and to acknowledge there are now many prevention techniques that do not involve condoms. Check it out.
"Why I Stopped Going to the Baths" is a riot, explaining my decision to stop, well, going to the baths. Any posting that begins with "The last time I went to the baths I stepped in poop," can't be all bad, right?
Tags: aids, barebacking, culture, gay, hiv, meth, Recreation, research, serosorting, Sexuality, testing
Posted in Family and Friends, Gay Life, Living with HIV/AIDS, Meth and Recovery, My Fabulous Disease, Prevention and Policy | 1 Comment »
Monday, June 24th, 2013
My first "AIDS job" in 1987 was at the first AIDS organization in Los Angeles, LA Shanti, and we provided emotional support to clients with AIDS who were usually in their last weeks of life. The intimacy our trained volunteers experienced with the dying, helping them find some inner peace as they left us, is worthy of its own blog posting sometime. Let's just say it was intense.
We hoped for a cure early on, and then our hope faded. Before long, we didn't dare hope any longer. We just wanted treatment to ease the suffering and slow the dying, and those prayers were answered in 1996 with the advent of protease inhibitors. It seemed greedy to tempt the fates and begin asking for a total cure again.
But greed isn't what is driving the treatment advocates you are about to meet in my latest video blog. Far from it. They have faith, based on scientific research and some hopefulness of their own, that a cure for HIV disease can be found. And they care enough about our community to keep pressing the issue at HIV research conferences.
They are cautiously optimistic. But their faith is contagious, if you'll pardon the choice of words. And they also know that that we got protease inhibitors because of the same kind of tireless community efforts that they are displaying now.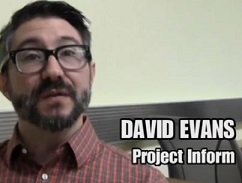 In fact, one can easily connect the dots from the activists shown in the Oscar nominated documentary How to Survive a Plague to this current crop of treatment advocates who are trying to take HIV research across the finish line.
You can take part in all of this, of course. To volunteer for a clinical trial or see what might be happening in your area, visit ResearchMatch.org or ClinicalTrials.gov. If you'd like to join the advocates in their work or follow their progress more closely, check out the AIDS Treatment Activists Coalition.
I'd like to thank the always resourceful Nelson Vergel for gaining me access to a gathering of these community activists. For updates of current cure research, Nelson has excellent posts on TheBody.com like this one.
I'd like to thank those who participated on-camera: Jeff Berry from Positively Aware, Jeff Taylor of the AIDS Treatment Activism Coalition, Moises Agosto of the National Minority AIDS Council, Steven Wakefield of the HIV Vaccine Trials Network, David Evans of Project Inform, and poz activists Mark Hubbard and Matt Sharp.
Thanks for watching, and please be well.
Mark
Tags: aids, gay, help others, hiv, physician, research, testing
Posted in Gay Life, Living with HIV/AIDS, My Fabulous Disease, News, Prevention and Policy | 6 Comments »
Sunday, March 24th, 2013
I have some amazing friends for you to meet.
Beginning two years ago, TheBody.com asked me to produce a series of videos ("A Day in the Life: Keeping Up With Your HIV Meds") that would profile a person living with HIV, what their day looks like, and how their medication regimen fits into their daily routine. It was a great opportunity to highlight the everyday lives of people living with HIV, but also to let their spirit and passions come through, and show we are whole people — not simply the virus.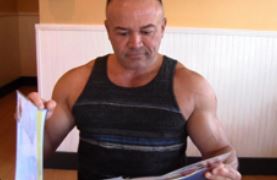 The profile subjects came from all walks of life, in various cities around the United States, and their personalities and interests — their families, their hobbies, and even how they became HIV positive — were all I needed for inspiration.
Below are the eleven videos that have been produced to date for the series (an ongoing feature on TheBody.com and they also have an entire resource center about keeping up with your meds). You can watch the videos here, or follow the link in the title to view the post as it appeared on TheBody. They are each less than ten minutes long; just scroll through them below and find a story that sounds like yours — or better yet, hear what the journey of someone completely different from you is like! Are you ready?
Damaries is from South Florida and could not have been more lovely; we laughed a lot during our day together. Her strength is what impressed me most: she did not come to the decision to start HIV medications lightly. She really did her research before she began a regimen. Filming her story was also a great excuse to hit the beach, since she loves to find her peace and tranquility on that gorgeous sand.
Well, first of all, Tree is adorable. So there's that. He also has an equally adorable dog, who tried mightily to extend his few minutes of fame by sneaking into the camera shots and barking woefully from the other room. For his part, Tree does a great job explaining how he kept his medication regimen despite multiple moves and even being homeless for a brief period. I really like the Brooklyn montage of Tree's neighborhood at the beginning of the video.
What an elegant woman Eva is. She was so gracious during our day together and had an almost regal sense of self. She really impressed me. Not only did she make peace with the man who infected her many years ago, she became an advocate for all women living with HIV and devoted quite a lot of time to volunteer work. She's also an avid traveler — I've never seen so many magnets from exotic places on one fridge in my life.
What a hoot! Robert (Bobby) Darrow and I were childhood friends, when we both performed in community theater together in Shreveport, Louisiana (we were both newsboys in Gypsy, for all you musical theater queens). As we grew, he always got the good parts and I ended up working the spotlight — shining it on him — but I'm not bitter, I swear! Producing this video was a great chance to honor my lifelong friend for the activism he has done since the beginning of the AIDS epidemic. And it also allowed me to honor theater itself, and how Bobby is now back in the very place he and I so loved when we were kids. This one is special to me.
You're going to be blown away by the strength of this woman's convictions — and the strength of her marriage. Brooke learned she was HIV positive during her pregnancy, and not only was her husband completely supportive, he stood by proudly as Brooke became a visible advocate for woman's health, the importance of HIV testing, and their personal struggle to afford HIV medications so that their baby would have a better chance of being born without HIV. And speaking of babies, guess who steals the show in this video?
Khafre was one of the most immediately spiritual people I met during this series. He has a very strong sense of faith and a commitment to his own spiritual principles. He was also in the midst of organizing a fund raising bike ride across the country to benefit HIV/AIDS services for people of color, and I admired his dedication and pure energy. The time he devoted each day to prayer and meditation was really lovely to observe and capture in the video.
Episode 7: Petra Berrios and Efrain Carrasquillo
Petra & Efrain could give the other couples in the series a real run for their money for the title of Most Romantic. You can't help but grin, watching Efrain describe seeing his future wife for the first time at an AIDS conference, where both were community advocates and both were living with HIV. They not only lift up one another during the frustrations of HIV life, they know how to take time to love and enjoy one another, as their salsa demonstration clearly shows.
Tales of triumph over adversity don't come more dramatic than the story of Fortunata. Not only is she the single, proud parent of a gorgeous daughter (the apple doesn't fall far from the beauty tree), she had a devastating accident when she was hit by a car walking across the street — and then had to manage her HIV meds along with a host of others while she recuperated. The fact that she relates all this with such grace was amazing to me. I had so much footage of her simply looking ethereal and lovely, the video could have been twice as long.
Anyone who follows my blog — or HIV/AIDS advocacy — knows what a gift Nelson is to our community. He's been our own Jack LaLanne of HIV, teaching the importance of health, exercise and nutrition since the beginning of the epidemic — the video blogs he did with me on nutrition (where he cleans out my fridge) and exercise (where we hit the gym together) are hilarious and very informative. And, of course, he has a hot body. It might come as some surprise, then, that he's very modest when it comes to showing it. I had all sorts of shots and angles I wanted to do that would have shown of his physique, and he politely demurred. He also was always focused in our interview on what would apply to regular folks living with HIV, rather than the more privileged among us. In other words, the man is a class act, with a humility that speaks volumes about his integrity and commitment.
I've been watching Robert grow as an HIV/AIDS advocate for several years now, since he began POZIAM social network and radio show while still in his twenties. I had fun doing the fast cuts that open his video because I thought it captured the sense of motion and vitality he has. When I become disheartened, wondering where are the next generation of activists on the scene, I remind myself there are people like Robert.
I've always been open on my blog about being in recovery from drug addiction, and George — who survived 27 years of street drugs — and I had an immediate connection. He devotes his life today to service for others, whether it is at an AIDS agency or through various addiction activities. In fact, something he said about his recovery during our interview really made sense to me, and I stopped the camera and shared some of my own story. For nearly thirty minutes he let me pour out some of my own fears and challenges, and listened with the attention of a man who has been there. I think his spirit is well-represented in this video.
To watch George's video, just follow this link to TheBody. This video is so hot-off-the-presses that I'm not able to share it here yet. Follow the link and hear his story.
I learned a lot of each of these people, and I know they represent a tiny fraction of the courage and daily fortitude displayed by people living with HIV every single day. I really want to thank this group for taking me into their homes and lives and allowing me to share their stories with you.
Thanks for watching, and please be well.
Mark
Tags: aids, gay, help others, hiv, lipo, physician, recovery, research, Sexuality, testing
Posted in Gay Life, Living with HIV/AIDS, Meth and Recovery, My Fabulous Disease, Prevention and Policy | 1 Comment »