Posts Tagged 'Sexuality'
Tuesday, September 27th, 2016
The Centers for Disease Control and Prevention (CDC) has produced a music video that joyfully educates gay men about HIV prevention options. And it is foot-stomping fabulous.
The song, "Collect My Love," was released by The Knocks and it features vocals by Alex Newell, the young gender-bending singer who rose to fame by stealing season three of the television series, Glee (his rendition of "Boogie Shoes" on that show is a one-way ticket to my happy place).
In the CDC music video released today, Newell performs the song in a crowded, gay-friendly dance club. The atmosphere is ebullient and cruisy, with gay men making connections left and right. That's where HIV prevention comes in.
Gay couples meeting at the club are shown later, as their relationships develop. There is a condom negotiation, a man shown taking PrEP, and even a character who discloses he is HIV positive and undetectable. The CDC has filled the video with every prevention method available, and they do it in a sex-positive, non-judgmental atmosphere. The video was created as part of the "Start Talking. Stop HIV." campaign that reaches out to men who have sex with men (MSM), particularly African-American and Latino gay men.
In an exclusive interview with Alberto Santana of the CDC's Division of HIV/AIDS Prevention and Manny Rodriguez, part of the creative team at agency FHI360, both men made clear that solid research was their guide.
"This is an authentic campaign," said Rodriguez, "with gay men involved in both the campaign staff and creative team. Our goal was to marry CDC research with something that is accessible and enjoyable to watch."
"We know that having conversations about HIV can increase good health outcomes and strengthen relationships," said Santana. "We also wanted to playfully connect to pop culture. We are putting out important information, and doing it outside the normal means."
The CDC is exceedingly careful to provide scientifically accurate messages, but has certainly never delivered these messages in such an innovative and entertaining way. The video incorporates both PrEP and the fact people with HIV can become undetectable — two important and often misunderstood issues being heavily discussed among the gay community right this minute.
The men featured in the video are youthful and attractive, but blessedly, they look like young men you might actually meet in a club, not unattainable icons from the pages of Men's Fitness. In fact, there's a plus-sized bear seen tearing up the dance floor who walks away with the video during his few seconds on camera. In my mind's eye, that jubilant, self-possessed man is not going home alone.
Sure, the world conjured in the CDC video may not reflect all interactions among gay men as we know them to be. Stigma and judgment still exist and are practiced nightly in clubs throughout the country. But I wholeheartedly support this alternative, aspirational world, where gay men live joyfully and play responsibly. That's the world I want to live in.
The video will be shared on social media and through CDC's community partners. But why wait? Check it out, and share it with your networks. Discuss it. Start a conversation about the ways we can protect ourselves and our community.
And put on your dancing shoes.
Mark
Tags: acting, advocacy, culture, gay, hiv, physician, PrEP, Recreation, research, serosorting, Sexuality, stigma, testing
Posted in Gay Life, Living with HIV/AIDS, My Fabulous Disease, News, Prevention and Policy | 4 Comments »
Thursday, September 22nd, 2016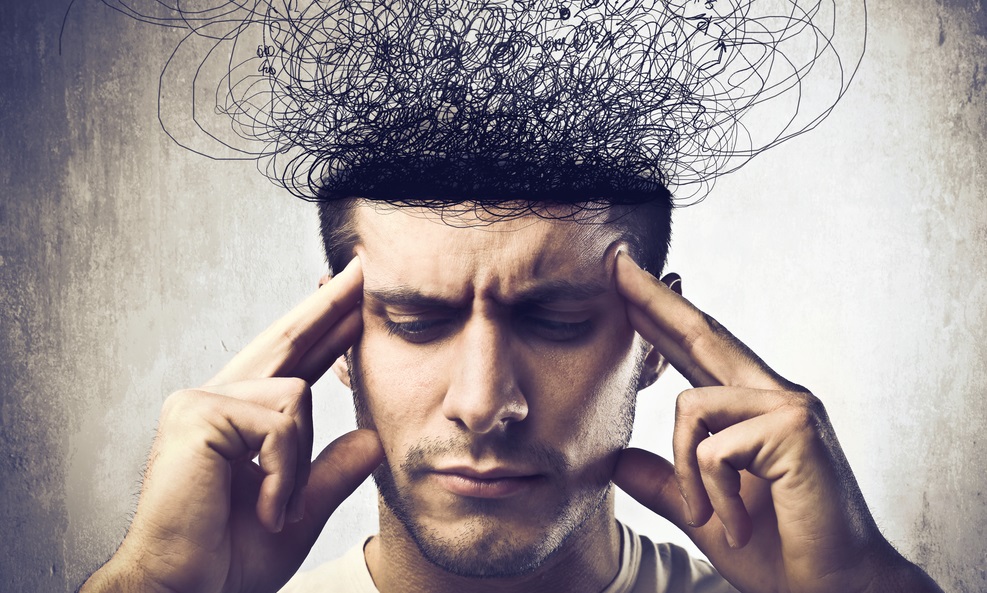 Amidst the happy haze of good news about the efficacy of PrEP in preventing new HIV infections and the growing consensus that people living with HIV who are undetectable are not infectious, there is troubling news from the CDC in two new reports about the golden oldies of sexually transmitted infections (STI's): rates of syphilis are on the rise and antibiotics to treat gonorrhea may be nearing the end of their usefulness.
The news underscores a simmering tension between those of us who celebrate the lowered risk of HIV infection – and the diminishing role condoms might play in HIV prevention during this new era of PrEP and being undetectable – and the rise in reported cases of syphilis and gonorrhea. And I don't mind being the first to call myself out.
RETHINKING MY GONORRHEA NOSTALGIA
In my cheeky post from last year, "My Gonorrhea Nostalgia," I argued that what was once a simple rite of passage for many gay men – finding yourself at a clinic with the clap – has been judged and scorned so harshly these days that it has "raised the bar" on what we consider to be acceptable gay sexual behavior. From that piece:
When did avoiding every possible STI become the new goal for gay sexual behavior? Syphilis, chlamydia, and gonorrhea are all easily treated and cured. Scary campfire tales of a spreading superbug impervious to all treatment have failed to materialize. The very idea of getting The Clap again just makes me feel nostalgic.

No longer is avoiding HIV the prime objective; we must also now use a condom every time so that we are never exposed to, well, whatever. How many hoops must we jump through in order to fuck in a pleasurable way? We can't win for losing.
While I stand by the basic tenants of my rant – gay men are held to a higher standard because we are viewed as sexual outlaws – new data runs counter to my assertion that STI's are "easily treated and cured."
HAZARDS AHEAD?
"If current trends continue, strains of gonorrhea could become resistant to all available antibiotics, putting the 800,000 Americans who contract the sexually transmitted infection (STI) annually at risk of an untreatable case," writes Ben Ryan for POZ, citing a new CDC report. He goes on to explain that at least one cluster of gonorrhea cases has begun to evade our current treatment arsenal and that's why the CDC is sounding the alarm about it.
While gonorrhea remains universally treatable, there is evidence of a weakening of current treatments, and there are no other approved medications in the wings. Should untreatable strains begin to circulate, we may soon find ourselves without an effective solution, although a new drug in clinical trials is showing some promise.
Meanwhile, yet another new CDC report, this one charting syphilis cases by State, reinforces data that syphilis cases have spiked 15%. In the State-by-State comparison, a CDC graph shows the largest increases are mostly located – you guessed it – in the South (congrats on your win, North Carolina, although your victory is a hollow one since Georgia, the perennial favorite State for syphilis, is not included for lack of reporting data). The data also indicates an increase in syphilis diagnosis among gay men that has persisted since the year 2000.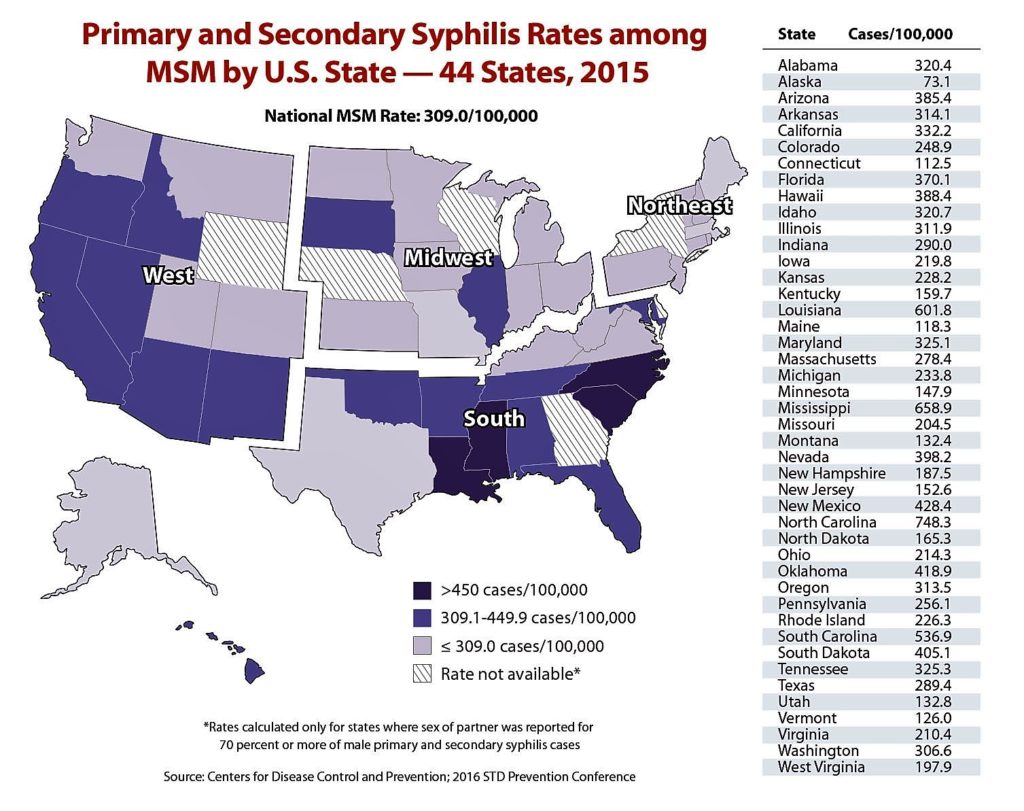 It isn't clear from the CDC report whether an increase in syphilis screening might account for the increase in reported syphilis cases. But still. "Although we have been treating syphilis effectively with penicillin for decades," said CDC epidemiologist Cyprian Wejnert, the presenter of the screening data, "the risks of not being treated include visual impairment, damage to the nervous system, and stroke."
TWO HIV ADVOCACY CAMPS OFTEN AT ODDS
And herein lies the tension. There are two distinct schools of thought on modern gay sexual politics and HIV, and too often they are loathe to overlap.
First, there are those, like me, who are thrilled that after a generation of mortal fear there are now ways for us to have pleasurable sex without condoms that does not pose a risk of HIV infection. It is just that sense of liberation that has propelled much of my writing, such as "Your Mother Liked It Bareback," and it has led to a welcome increase in conversations about the value of sexual pleasure.
And then, there are those who have been more cautious, pointing out the risk of STI's in general and among those using PrEP in particular. This has led to some acrimony. POZ science writer Ben Ryan, who has written quite a lot about PrEP, was blocked from the highly influential "PrEP Facts" Facebook page earlier this year for not adhering to group guidelines. Ryan had previously posted numerous articles that have taken a more circumspect view of PrEP or have reported on the prevalence of STI's, and his work continues to be posted and discussed in the group.
The new CDC articles on gonorrhea and syphilis do not correlate the increase in STI's to those using PrEP or to those who may have eschewed condoms because they are HIV undetectable. But that doesn't mean that people on both sides of a widening chasm between the cautious and the sex-positive won't try to score points from the CDC report or attempt to dissect its accuracy. Advocates trying to adhere to a singular message can be touchy. Been there, wrote that.
As for me, I'll switch to the combination platter, thanks. While I will continue to celebrate the breakthroughs that have given us more options to "fuck without fear," as the notable and quotable PrEP advocate Damon Jacobs likes to say, I'm going to dial back my cavalier posture about the risk of being infected with an STI. In light of mounting data on STI's, some of my own past writing makes me cringe.
The only constant in the world of HIV is change. I remember when taking an HIV test was politically incorrect, when I took AZT every four hours and, more recently, when I believed a simple case of gonorrhea was worthy of clever mirth. I've had an attitude adjustment.
While catching the clap might have once been an amusing rite of passage to me, it can have real and very serious consequences for someone else.
Mark
Tags: advocacy, aids, barebacking, gay, hiv, physician, politics, PrEP, research, serosorting, Sexuality, stigma, testing
Posted in Gay Life, Living with HIV/AIDS, My Fabulous Disease, News, Prevention and Policy | 1 Comment »
Tuesday, September 13th, 2016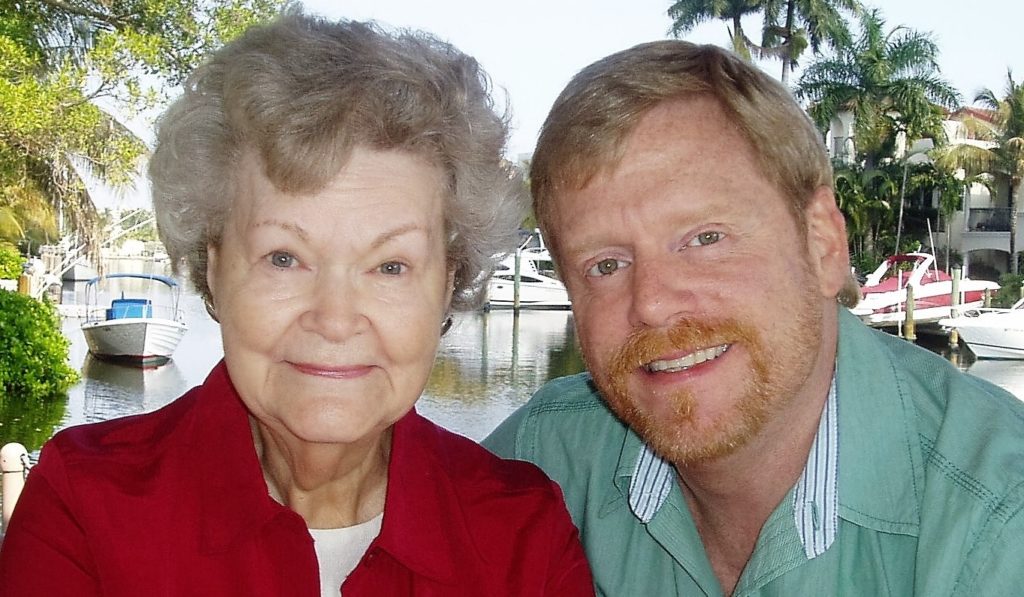 (My mother, Anne King, turns 90 this month. This story is my tribute, and you can hear her story in her own words in the video below.)
I was standing at the ticket counter of the movie theater and couldn't believe my ears. They were telling me that Theater of Blood, with the great Vincent Price, was rated "R" and they were not letting me in without a parent. I was a horror-movie obsessed boy of 12, and was inconsolable. "I won't look at any sexy stuff," I remember pleading, "I just came for the gore!"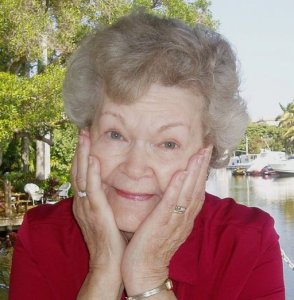 With visions of decapitations fading like an old blood stain, I made the long walk back home and exposed my broken heart to Mother, who made one of the grandest gestures of my childhood: she took me back for the late show. On a school night.
It wouldn't be the last time she had my back. Over the years she has proved herself a trustworthy ally, and this was never more true than in the 1980's, when gay men often lost their mothers — hell, their entire families — when an AIDS diagnosis was revealed.
Mom never abandoned me or my gay older brother, Dick (is there no gayer name than Dick King? Did my parents consult the Falcon Video Book of Baby Names?). I tested positive in 1985, and Mom immediately went to work educating herself on HIV.
My brother was spared HIV infection but suffered its cruelty nevertheless: his lover of 13 years, Emil, died of AIDS in the early, scorched-earth years of the epidemic.
In this video from 2010, I sat Mom down to find out things I've never asked before. What did she really feel when she found out I was positive? Did she believe I would die? Do mothers have a right to know? What advice would she offer other families? We also talk about the loss of Emil and the repercussions from it we still feel today.
(If your browser has issues with the video below, you can watch it on YouTube here.)
Mom is no expert. She isn't an AIDS researcher and she doesn't march on Washington. She just loves her kids and tries to understand what is happening in their lives and how she can help. If your mother is like mine, we have a lot to celebrate (or remember) this Mother's Day weekend.
Enjoy the video, and please, stay well.
Mark
Tags: Aging, aids, culture, family, gay, gratitude, hiv, Sexuality, stigma
Posted in Family and Friends, Gay Life, Living with HIV/AIDS, My Fabulous Disease | No Comments »
Monday, August 22nd, 2016
TO:         Richard Larison, CEO, Chase Brexton
FROM:     Your Executive Assistant
RE:         Five points about the recent unpleasantness
Sir,
I know you've asked me not to disturb you when you are sealed in your hyperbaric chamber. Regrettably, it has been days since you have emerged and there are developments. (Note to self: throw something over Mr. Larison's glass tomb before leaving office; the housekeeping staff is complaining again; use some of those stored AIDS Quilt panels Mr. Larison found "needlessly depressing.")
Your termination of the five managers here at Chase Brexton appears to have had an unintended effect. Rather than frighten the indentured ungrateful uppity low-level employees into rejecting their own unionizing effort, the firings appear to have emboldened them. It would appear they do, in fact, have minds of their own. And this, only days before their vote to unionize on August 25th.
At the risk of upsetting you again (I have replaced your shattered "World's Greatest Boss" coffee mug and cleaned the stains; my injuries were minor), allow me to enumerate five key developments of the last week.
1. A protest was held Friday. They don't like us.
Since I don't believe you can hear from within your sealed chamber (and if so, I swear to you that the existential cries of "why me?" and "what cruel hell is this?" were not coming from my cubicle), allow me to share the unsettling news that the protest against our union-busting efforts was spirited and well attended. It also included many members of the gay, lesbian, and transgender community for whom this agency was founded, which explains why no one in the executive offices has any idea who they are.
The media has caught wind of all this, I regret to say. Lots of stories that present our actions accurately in unfavorable light, including an Op-Ed in the Baltimore Sun by two of our own medical physicians (the doctors actually spill the beans on our efforts to limit doctor-patient time and cut salaries). A #SaveChaseBrexton web page with photo and videos exists, and the protestors and speakers look, well, empowered, although I know how you despise that word.
2. It appears we are screwing with the wrong people.
It was reasonable to expect that the recent terminations would be as uneventful as the past (two hundred? three?) firings during your four-year reign occupation tenure (I have prepared your weekly "Chopping Block" list; we can go alphabetically, pick someone at random, or I believe you enjoyed tossing darts at names). However, these recent firings appear to have galvanized employees, volunteers, and clinic patients alike.
The protest was attended by several elected officials, such as Maryland delegate Cheryl Glenn, who delivered a rousing indictment of our union-busting efforts. She also ended with a song that sounded communist to me; I can plant social media comments to that effect if you think it would be helpful.
3. Those union-busting advisors we hired might be actual criminals.
Yes, I know the three of you bonded over your shared love of hunting endangered species, but I have misgivings. It would appear that the two gentlemen who conducted our intimidation misinformation educational session about unions for employees, Martin Dreiss and Jon J. Burress, have faced charges between them ranging from fraud and conspiracy to embezzlement. I understand you find this endearing, sir, but we might consider avoiding these "union avoidance" fellows in the future. We have our own foggy legalities to negotiate, such as…
4. They found out we faked that letter to the patients of the nurse you fired.
You know that letter we sent to the patients of infidel sacrificial lamb nurse practitioner Jill Crank, making it look like she left all by herself and we totally, absolutely had nothing to do with it? Turns out people actually read the damn thing. They quickly deciphered the fact it wasn't she who sent it, probably due to the multiple spelling and grammatical errors.
We're not completely certain that faking a letter from Ms. Crank without her consent is precisely legal, but that ethical ship has sailed, I think you will agree.
Speaking of which, sir, may I add how delightful it is to conduct ourselves so freely, unmoored from complex concepts such as integrity or loyalty to Chase Brexton's community legacy! This is all a direct result of your terrifying brave leadership, Mr. Larison.
5. Our new committee to "rebuild trust" has people laughing. A great deal.
Regrettably, the new President of Operations position you announced carries the moniker of POO, which is a fair assessment of the resume of this new hire, if we're being honest. As vexing as you find the need for relevant experience, it appears that Mr. Joseph Lavelle, hired to smooth over staff conflict, has no LGBT-focused background, has no experience in a community-based clinical setting, and worked for gargantuan medical conglomerates that got sued a lot. But that's not the funny part.
If you venture beyond your nesting place office, you may hear giggling coming from "the minimals," as you call them. It seems that the staff email from Board Chair Carolyn Kennedy announcing the formation of an ad-hoc committee has been met with derision, if not sustained guffaws. The phrase "rebuild your trust" appears to be the big punch line. One might even say we are closing the barn door after the unfair labor practices horses have left, but I know you find popular expressions that do not end with "therefore improving our bottom line" to be most disagreeable.
Lastly, much of the attention now appears to be focused on removing you as CEO. Should this abomination occur, rest assured I will follow you, hyperbaric chamber in tow. You frighten me, yes, and you have single-handedly crippled our reputation throughout Baltimore, but my personal value system is so damaged I am actually willing to trust your stewardship despite all evidence to the contrary.
Which, come to think of it, would make me an excellent member of the Board.
Fearfully, endlessly,
Your Executive Assistant
(In the latest non-satiric news: Victory (for now)! The first group of Chase Brexton employees eligible to join the union voted on August 25 IN FAVOR of joining SEIU1199. And get this: the margin was 87 to 9. Moire than ever, it appears the tactics of management have backfired. Management will almost certainly attempt to contest the results, and this struggle may drag on, continuing to destroy the reputation of Chase Brexton. For the moment, employees have real reason to celebrate. They are unified. — Mark)
Tags: advocacy, aids, culture, gay, hiv, physical, physician, politics, Sexuality, testing
Posted in Gay Life, Living with HIV/AIDS, My Fabulous Disease, News, Prevention and Policy | 3 Comments »
Wednesday, August 17th, 2016
There's no way of saying this without it sounding like a humble brag, at best, so I'm just going to come right out with it.
My Fabulous Disease has won the prestigious "Excellence in Blogging" award from the National Lesbian and Gay Journalists Association (NLGJA). This is the second time my blog has been honored with this award, having won in 2014, the year the category was created. So if you're keeping score, that's two for three.
Evidently I'm too excited to do the humble part of the brag. My apologies!
The award is part of the annual Excellence in Journalism Awards, sponsored by NLGJA. They actually wield enormous influence, with members from outlets as varied as CNN to The New York Times to POZ Magazine and, well, little guys like myself. As stated in their press release this morning, "The NLGJA Excellence in Journalism Awards were established in 1993 to foster, recognize and reward excellence in journalism on issues related to the LGBTQ community."
One of the judges had this to say in awarding My Fabulous Disease their honor:
Mark S. King is one of the few people still doing blogging in the traditional sense, and he does it quite well. There's news, there's context, there's personal input and it's compelling and accessible. For example, his coverage of the ways

Charlie Sheen was discussing HIV

were spot on and unrivaled and I was delighted to revisit it as part of his nominated material. King displays excellence in HIV coverage year after year. 



But ultimately, this is really about you, my readers and those involved in HIV advocacy, because you are usually the topic of my writing. Whereas my blog was almost strictly personality-driven in its early years, I have enjoyed, more and more, shining a spotlight on the work of other people. Yes, I am still capable of an opinionated rant (and how I so love writing those), but it is clear to me that my blog's success it tied to the work of people just like you.
Just as exciting is the fact that HIV coverage was well represented this year, across the map of categories.
Placing second in the Excellence in Radio award was an important story from Jim Burress of WABE-FM, "Fulton County Doesn't Spend, Loses HIV Prevention Money," about the misuse (or non-use) of crucial HIV prevention dollars.
The amazingly prolific Ben Ryan (the "nearly naked AIDS advocate" I profiled a few months ago), was awarded second place for his POZ Magazine piece, "When Can We Expect PrEP 2.0?" It's a topic that is still very much on his mind.
"PrEP is a fast-moving train in the United States, with use rising dramatically in major cities," Ben told me about his win. "It's been exciting to cover the science behind this new prevention tool, from a molecular to a public health and sociological level. The news will likely keep getting better as new forms of PrEP hit the market in the future, offering a long-term injectable form and less toxic oral drugs. A major concern I have, however, is that PrEP is largely being used by white gay men in a select handful of major cities, such as New York, San Francisco, LA and Seattle. I anticipate that PrEP will effectively widen racial disparities in HIV rates in the coming years. If people wind up proclaiming victory due to a collapsed HIV rate among white gay men, what will happen to minorities? Will people lose interest in the HIV fight?"
Bisexual writer Heather Boerner (her sexuality bears mentioning, considering how "invisible" the B in LGBT can be) took top honors in the HIV/AIDS Coverage category, for her "Ongoing HIV Prevention/Treatment Coverage" for The Daily Beast and TheBody.com.
"I started my career in the LGBT press, writing for the now-defunct New York Blade," Heather told me, "so to win an award from NLGJA is especially meaningful to me. But it's also meaningful to me because the stories I submitted were all about HIV/AIDS, yes, but they weren't only about HIV/AIDS from an LGBT perspective. I will say that there's still so much to say and do and write about HIV–even more so now that more and more research is proving what some couples have known for years, which is that treatment really can prevent transmission, and there's no reason to be afraid of the virus."
Following Heather is second place in that category is Daniel Villarreal and Topher Williams for "'Trust Him?': Why Are The Images Debating PrEP Use So Consistently Shitty?" for Daniel's site, UnicornBooty.com.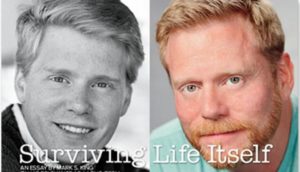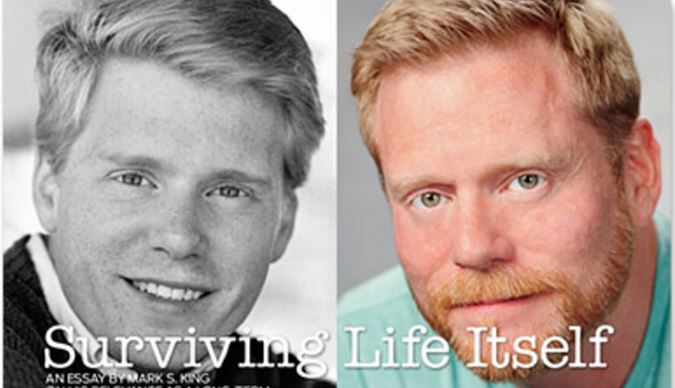 And in an embarrassment of hardware riches, I also won second place in the Feature/Editorial Writing category, for my POZ Magazine essay, "Surviving Life Itself," chronicling my life as a long-time HIV survivor. That particular piece was a real high point for me as a writer, and I am grateful as always to editor Oriol Gutierrez for his shepherding of my work.
Let's just consider this another opportunity for me to thank my literary colleagues, including many sites and editors who have supported the voices of people living with HIV.
Let's keep speaking up, y'all.
Mark
Tags: advocacy, aids, culture, gay, gratitude, hiv, physician, politics, PrEP, Sexuality, stigma
Posted in Gay Life, Living with HIV/AIDS, Meth and Recovery, My Fabulous Disease, News | 1 Comment »
Tuesday, August 2nd, 2016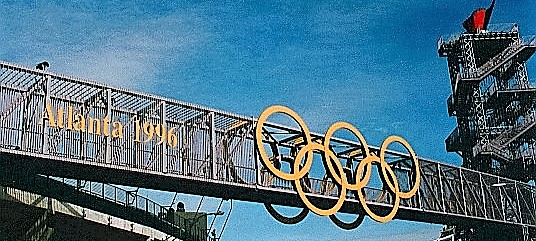 The International Olympic Committee (IOC) is a very touchy organization, most especially when it comes to the Olympic rings. They guard their trademark jealously and litigiously, commonly suing anyone who dares to approximate the iconic rings for their own purposes. Even local street vendors during the Games have been shut down for violating copyright.
Anthony Braswell wasn't thinking about that when he and a co-worker came up with a dangerous idea. It was 1995, and Atlanta was in the height of Olympic fever as the city prepared to host the 1996 Summer Games.
Braswell served as Director of the Grady Health System Infectious Disease Program (IDP), Atlanta's new HIV clinic. One day he and his medical director, Dr. Jeff Lennox, were chatting about the enormous HIV education opportunity the Games presented. If only they could garner the attention of the worldwide media that would soon be streaming into the city for a two-week stay.
"A basket of condoms was sitting on the conference table," Braswell said in an interview with My Fabulous Disease. "Jeff took five condoms out and starting arranging them on the table, and joked that we should make the Olympic rings out of them. I remember looking at him and saying, 'yeah. Play safe.' And that is how it started."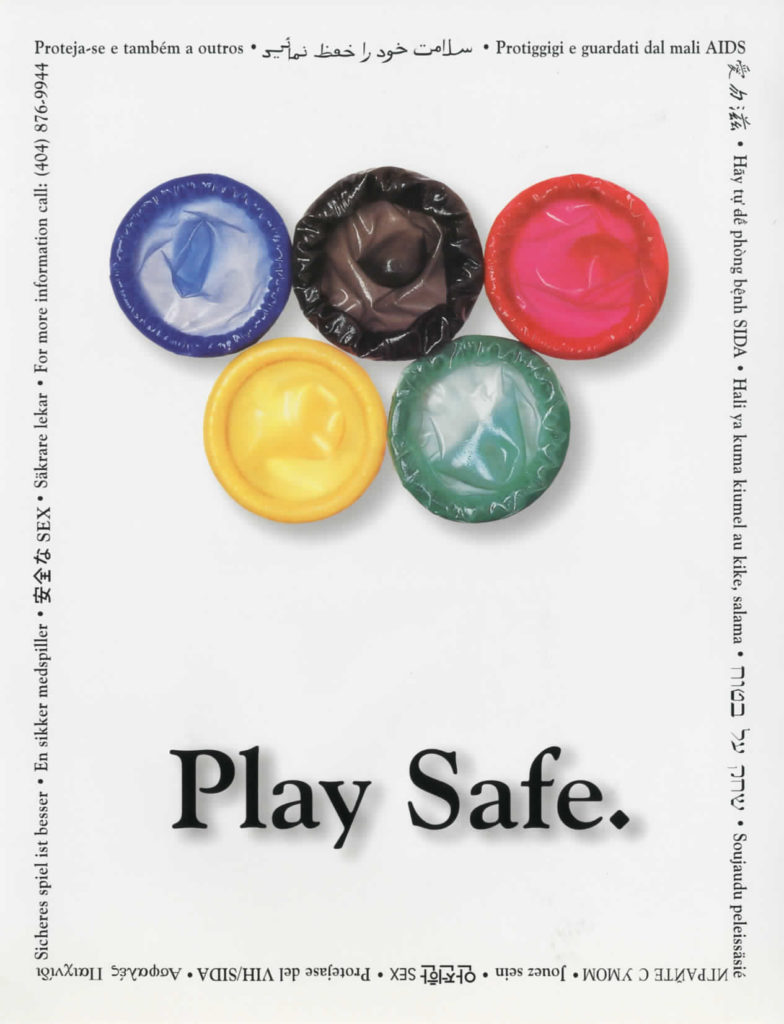 At the time, they didn't burden themselves with whether or not creating such a campaign was legal, or what the response of the mighty IOC might be. Or exactly how it might be done. They just started working.
"We didn't think about next steps," said Braswell. "We were just enjoying the simplicity of the message. There was no budget, no money at all for this idea." That problem solved itself when people began offering free services to design, photograph, print, and distribute a full-color poster of the fledgling idea.
A marketing company in Los Angeles stepped in with a photographer and studio time. "They took great care in matching the color of the condoms to the Olympic ring colors," said Braswell. "They also learned that the lubricated condoms caused damage to their camera lens, so they had to scrap those and find unlubricated ones."
When the drafts of the poster arrived from a volunteer marketing company, Braswell couldn't believe that "our crazy idea came to life. But it was missing something."
Meeting with others on his clinic staff, the group realized the "Play Safe" message simply would not translate to scores of international Olympic visitors. "To be effective we needed to communicate with many different nationalities, many different cultures," Braswell recalled, "so we contacted all sorts of international groups to determine how the 'play safe' message would translate."
They added a border to the central image that spells out the "play safe" message in eighteen languages. "The hardest one was Chinese," said Braswell. "There were no symbols that delivered the message of safe sex, and we wound up saying 'have good sex.' But they did not have a symbol for 'sex,' either, so in the text we actually had to spell out the word in English."
A final graphic detail was adding the phone number for the Georgia AIDS Information Line, a number that still operates today. "We didn't ask their permission," Braswell said, because he wanted to protect them.
By then, a growing array of Atlanta HIV advocates, from gay men to the staff of AIDS service agencies to health department employees, had heard of the campaign plans and stood ready to accomplish the most daunting task of all: distributing the 750,000 copies of the poster, which a Los Angeles movie studio had paid to print and shipped directly to Braswell's home.
"The weekend before the Olympics, several large trucks pulled up in front of my house," Braswell said. "Over one thousand boxes were on them. I was horrified. We filled every inch of my house, floor to ceiling with boxes, and there were still more to go. We took one truck to the clinic and hid about 400 boxes in the storeroom. Even my neighbor put a hundred boxes in her living room."
Braswell, and the army of volunteers ready to unleash the campaign, knew full well how much the poster would infuriate the IOC. Any potential fallout very likely emboldened them, as much for the publicity as for the fact there was no love lost between the citizens of Atlanta and the IOC. The aloof and arrogant president of the IOC, Juan Antonio Samaranch, had actually asked locals to address him as "your excellency," a request that went over like stale cornbread in a Southern city so unpretentious it featured a fleet of pickup trucks in its opening ceremonies.
On the opening weekend of the Atlanta Olympic Games, the plan was executed. "It was all very covert," said Braswell. "Friends working in the Olympic Village helped us sneak the posters in." Meanwhile, other volunteers had jobs at the hotels, including those where media was staying, so under every door they slipped press packets that included the poster and a statement about the need for AIDS awareness and safer sex materials. The poster was wall-papered on light posts, in store windows and in restaurants throughout the city.
Figures differ about the availability and number of condoms distributed in Olympic villages over the years. In a recent Slate article, Atlanta in 1996 shows a significant dip from the number of condoms distributed in previous Olympic villages – and even these figures are disputed.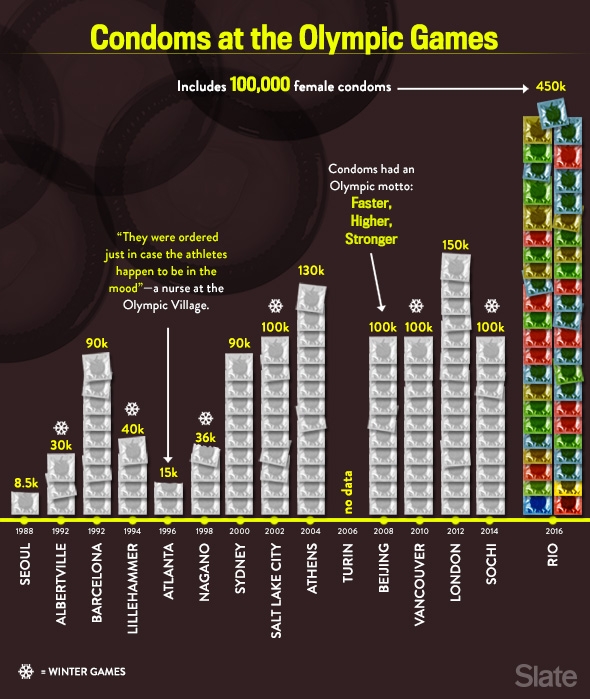 Braswell doesn't believe many condoms were distributed in Atlanta's Olympic village. "When we asked about making condoms available, the Atlanta Olympic Committee said no, telling us that there would be no sex in the village. Oh my God." The attitude contrasts sharply with the 450,000 condoms that will be made available to athletes in Rio. "What a different world we live in now," said Braswell.
The 1996 poster effort, once the Games began and the materials got out, yielded… not much. At first.
"For a couple of days we heard nothing," said Braswell. "And then the press began. Officials from the IOC and the Atlanta committee were looking for the people 'who had done this to the Olympic rings.'"
In a city containing more press than any place on earth during that time, the Olympic condom rings gained traction, leading to officials having to answer questions about whether or not there was an "official condom of the 1996 Olympic Games." Reporters gleefully reported the answer that no, there was not.
The attention was glorious but short-lived. During the second weekend of the Games, a bomb was detonated in Centennial Olympic Park, an act of homegrown terrorism that stole the headlines and broke the hearts of the good people of Atlanta.
The tragedy took the heat off of the condom poster controversy and shifted attention to the very serious business of security and the bomb's aftermath. The poster disappeared from media reports as quickly as it had appeared.
As with most acts of activism, whether a flash mob or a protest, the Olympic condom ring poster found an audience, made its point, and was gone.
"In the end, the campaign worked," Braswell said. "I am so proud of the people who believed in this effort. And this was twenty years ago, before the power of social media!"
"No matter," Braswell concludes. "It worked. And we pulled it off."
Mark
(Condom distribution chart: Holly Allen, Slate.)
Tags: advocacy, aids, culture, gay, hiv, physical, physician, politics, Recreation, Sexuality, stigma, testing
Posted in My Fabulous Disease, News, Prevention and Policy | 2 Comments »
Tuesday, July 26th, 2016
The people, the parties, the protests! AIDS2016, the international AIDS conference held in Durban, South Africa from July 16-22, had it all. And it was my privilege to bring you the stunning sights and sounds of the gathering, sponsored by The Global Forum of MSM and HIV. My special thanks, too, to my amazing videographer, Australian HIV advocate Theo Tsipiras.
My coverage was featured on the most comprehensive HIV resource on the net, TheBody.com (you can also view my full set of videos there), as well as on MSMGF.org and even on Queerty.com, the world's largest pop culture site for gay men.
So here they are, each of the five video blogs I produced at AIDS2016, below.
Allow me to let these videos, and the inspiring people from around the world who populate them, to speak for themselves. Enjoy!
The MSMGF Pre-Conference (Gay Day!)
The MSMGF pre-conference is uniquely designed to address the issues and needs of men who have sex with men (MSM) around the world.
Included: openly gay International AIDS Society President
Chris Beyrer
; Truvada drug smuggling (sort of) with German advocate
Nicholas Feustel
; a chat about the prevalence of
chem sex
in London; and gay advocates from countries in which their sexuality – and even their services for gay men – are criminalized.
The Thrilling Treatment Access March on the Streets of Durban
The may be no way to adequately describe the intensity of the #Treatment4All march that wound its way through the streets of Durban. Fortunately, my videographer Theo and I dropped ourselves into the middle of the action. The results are amazing.
Included: the thousands of advocates calling out the disparities in the world when it comes to HIV treatment access; the individual activists explaining why they are taking to the streets (including some of the women of the
Positive Women's Network
).
BONUS Video: An Interview with PrEP Advocate Jim Pickett
Here is a man who does not mince words. Jim Pickett of
AIDS Foundation Chicago
explains why AIDS2016 should be known as "the PrEP conference," and then has some very candid thoughts about the efforts of
AIDS Healthcare Foundation (AHF)
to block a California bill that would provide
PrEP education
to those at risk. Included: information on how you can support the bill.
An HIV+ Gay Man is Erased by the Military and a Plenary Protest
The advocacy around HIV criminalization has grown enormously is just the last two years. I take you to the Beyond Blame pre-conference, and then jump into a demonstration by criminalization activists at an AIDS2016 plenary – which included the newly minted activists and grandchildren of icon Elizabeth Taylor, working on behalf of the Elizabeth Taylor AIDS Foundation.
Also: a very candid gay activist from New Zealand confides with me about just how cruisy the conference is for he and his fellow advocates. Hint: activists ready to hook up are less than 20 feet away.
Included: Interviews with
LTC Ken Pinkela
, who lost his appeals to the military over trumped-up non-disclosure charges;
Edwin Bernard
of the
HIV Justice Network
; Joel Goldman of the
Elizabeth Taylor AIDS Foundation
(and her HIV activist grandchildren), and our first visit to the amazing Global Village.
The Eye-Popping Global Village and a Party Without Pants
In my final report from AIDS2016, we immerse ourselves in the sights and awesome advocates of the Global Village – and then let off some steam at "No Pants, No Problem," a dance party like nothing else on the planet.
Included: African grandmothers fighting for support, the
"Disclosure Sofa,"
interviews with international HIV advocates
Gus Cairns
and
Julian Hows
, gay teenage HIV advocates from South Africa,
Jessica Whitbread
, organizer of the pantless dance party, and my final thoughts about this wondrous experience.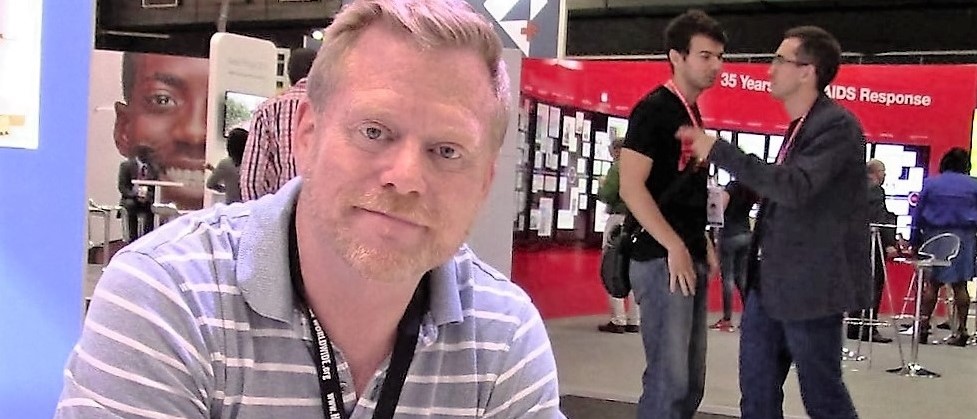 Thanks for watching, and for your lovely messages of support throughout this conference. It means the world to me. And now, let the anticipation begin for AIDS2018 in Amsterdam.
Amsterdam, y'all. Can you imagine?
Mark
Tags: advocacy, Aging, aids, barebacking, conferences, criminalization, culture, gay, gratitude, help others, hiv, meth, physical, physician, politics, PrEP, recovery, Recreation, research, serosorting, Sexuality, stigma, testing
Posted in Family and Friends, Gay Life, Living with HIV/AIDS, Meth and Recovery, My Fabulous Disease, News, Prevention and Policy | No Comments »
Monday, July 18th, 2016
(UPDATE: See all of my video blogs from AIDS2016 right here.)
Conference coverage might just be the most enjoyable aspect of blogging for me. There's nothing like capturing a protest breaking out, or the emotions of advocates from struggling countries, or a drag queen on stilts handing out condoms. I've never met an eye-boggling sight that I didn't love – and put on camera.
My coverage of the international AIDS conference (AIDS2016) in Durban, South Africa is happening right now. I am in Durban, scurrying about the conference with other advocates from around the globe, and my primary purpose is to give you the feeling that you are right there at my side.

My AIDS2016 coverage is sponsored by MSMGF.org.
This year I am proud to be sponsored by The Global Forum of MSM and HIV (MSMGF). My coverage can be viewed on the site that birthed my own blog, TheBody.com, and at MSMGF.org. Queerty will step also step in and feature at least one of my video reports.

My coverage can also be viewed right here on TheBody.com.
My Australian camera man Theo Tsipiras and I will capture the human stories that make the conference so compelling. That isn't to say we won't include breaking stories about research. I have no problem rushing a scientist and getting him to explain the latest news to me. I just want to be sure he does it in a way that makes sense to everyone back home.
I will admit to it being exhausting. We're filming morning to evening every day, and then I'm editing footage all night to produce the video for the day. It's a diet of pure adrenaline. But how can I not do this? What a joy and a privilege it is for me to be active and engaged, after so many years, and bringing these people and their stories to life.
Thanks for checking out my video coverage at the links above, and please be well.
Mark
Tags: advocacy, aids, conferences, criminalization, culture, gay, help others, hiv, physical, physician, politics, PrEP, research, serosorting, Sexuality, stigma, testing
Posted in Family and Friends, Gay Life, Living with HIV/AIDS, My Fabulous Disease, News, Prevention and Policy | 1 Comment »
Thursday, July 7th, 2016
In a cramped meeting room in New York City on May 27, 2016, a dozen gay men, HIV positive and negative alike, came together to answer a vexing question: How do gay men bridge a divide that has been forged through decades of HIV stigma, distrust, and mutual blame? Or, at the very least, what might be done to start a conversation about the divide and begin to heal the wounds?
Convened by Avram Finkelstein, the HIV-negative artist and HIV activist who was part of the collective that created the iconic SILENCE=DEATH artwork in the 1980s, and Mark S. King, the HIV-positive blogger and advocate, the Viral Divide Flash Collective sought to begin a difficult conversation and find a graphic way to present it. The collective was sponsored by Visual AIDS and made possible through funding from Broadway Cares/Equity Fights AIDS and GMHC.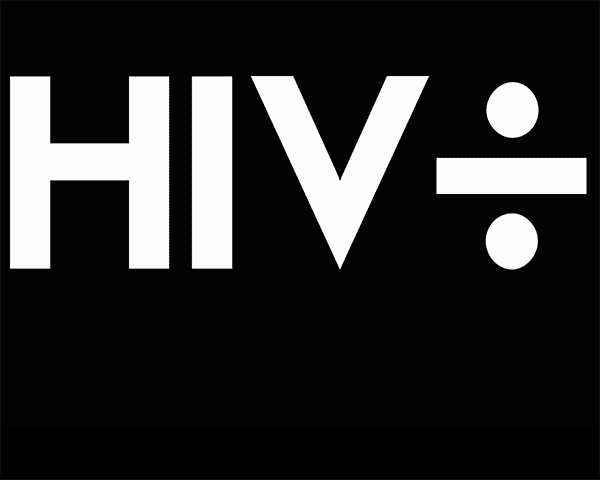 A "flash collective" is an exercise in artistic advocacy involving group facilitation and the common pursuit of a graphic message to communicate a concept for the public sphere. In other words, the gathering of gay men had mere hours to discuss the HIV viral divide, vent their frustrations about their lives and each other, and then find common ground. It was, in a word, intense.
Before the group even finished consuming their breakfast bagels, the walls of the room were covered in reams of butcher paper scrawled with the frustrations and issues viewed as crucial to members of the collective.
Important topics were raised, such as race, privilege, and the science driving the new HIV landscape. Again and again, the group talked through these concerns and then returned to their primary purpose of crafting a message about the viral divide among gay men.
"This message is the first sentence in a conversation," Avram Finkelstein reminded the collective throughout the day. "It does not have to tell the entire story. It is meant as the starting point for important conversations."
The result, HIV ÷, features the tagline, "The virus divides. It doesn't have to. No walls between gay men." The graphic image includes an animation that outlines the various ways in which the divide affects gay men: age, joy, relationships, sex, race, and love.
And the graphic image has an impressive coming out party on the way. It will be projected onto the façade of the Bronx Museum on July 13, 2016, as part of the opening of ART AIDS AMERICA, a retrospective of AIDS-related art through the years. The Illuminators, most widely known for their work projecting graphic messages on the New York City skyscape on behalf of Occupy Wall Street, will coordinate the projection. The work of the Viral Divide Flash Collective is viewed by the museum as the very latest in a history of AIDS artwork that dates back more than thirty years.
The Viral Divide Flash Collective has set up a Tumblr page featuring the final artwork and of the collective's day together. Photos of the projection onto the Bronx Museum will be added after the event on July 13. Anyone is welcome to post their thoughts on the Tumblr page or to share the images on social media.
The HIV ÷ message comes just as gay men are grappling with a host of new scientific realities that are altering the social landscape.
The increased adoption of pre-exposure prophylaxis (PrEP) has re-energized activists and provided a way for HIV negative gay men to participate fully in their own HIV prevention.
Meanwhile, research has definitively shown that people living with HIV who are on treatment and maintain an undetectable viral load are uninfectious. A new group, Prevention Access Campaign, is aggressively promoting the scientific evidence that undetectable people living with HIV cannot pass on the virus.
Online dating apps, where divisions between HIV positive and negative gay men have been most prominently on display, have now incorporated profile choices that include being on PrEP or being HIV positive and undetectable. So there is movement afoot, even as HIV stigma remains a stubborn roadblock to bridging the viral divide.
It would appear that now, more than ever, gay men can relieve themselves of the social walls that have divided them along the lines of their sero status. The HIV ÷ graphic message is only a small part of multiple efforts to repair relationships among two factions of gay men that have often been at odds with one another.
After so many years of mortal fear, irrational and otherwise, bridging the viral divide will surely be easier said than done. The members of the Viral Divide Flash Collective have started an important conversation. It will be up to countless others to continue it.
Mark
PLUS…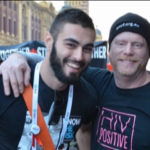 I could not be more excited about returning to the international AIDS conference next week. AIDS2016 in Durban, South Africa, is sure to offer exactly the kinds of sights, sounds, and people that I love capturing in my video blog coverage. I am proud to have the sponsorship of MSMGF, the global organization working for the health and rights of gay men (men who have sex with men) around the world. Beginning with pre-conferences that begin on July 16, you will be able to follow my coverage on the MSMGF site or by checking in with TheBody.com, the most comprehensive HIV site anywhere. As with my past conference coverage, I leave the research and panels to others, while my trusty camera man Theodore and I train our sights on the colorful people who make this conference like none other. See my teaser video here, and wish me luck!
Tags: advocacy, aids, criminalization, culture, gay, gratitude, help others, hiv, politics, PrEP, Recreation, serosorting, Sexuality, stigma, testing
Posted in Gay Life, Living with HIV/AIDS, My Fabulous Disease, News, Prevention and Policy | No Comments »
Wednesday, June 15th, 2016

There is a folder, tucked within a folder, buried deep in my computer files. I shouldn't be looking at its contents, yet I can't bring myself to delete it altogether. It is labeled MARCUS, and inside the folder is my disease.
During my years of crystal meth addiction I went by the name of Marcus, at least to dealers and tricks and fellow addicts. It helped me determine who was calling my cell phone — those calling for Mark or Marcus usually had very different agendas — and Marcus even became an alternate persona as my drug addiction progressed.
When partying as Marcus, I felt confident and aloof. I took awful chances. I never met a strobe light I didn't like or a box on a dance floor I wouldn't jump on. A steroid-crazed gym regimen and the dehydration of drug abuse transformed my body into the low fat, pumped up gay ideal. My body was my currency, traded for sex and drugs.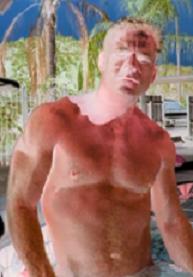 Photographs of that body, in full, preening strut, are the contents of the MARCUS folder. The pictures were my calling card for drug-fueled pursuits. They suggest nudity but are cropped modestly — although God knows that much more damning images of me surely exist in the dark corners of cyberspace.
In one of the few pictures showing my face, I stand under a running shower — a pitiful Playgirl pose, spray nozzle in hand — with a blank, wet face and shipwrecked eyes. The only emotion on display, just around the edges, is a dull fear.
My life was precisely as pictured. It wouldn't be long before my drug use trumped my gym schedule, and my status in online chat rooms devolved from intriguing hottie to that crazy mess that doesn't look like his pictures.
Since then, my recovery from drug addiction has helped me understand that the Gay Strut is key to my disease. It is a sly porthole back to raging insanity.
Explaining all this feels idiotic. What vanity I possess, asking you to gaze upon my former, overwrought beauty as I complain about the consequences. It feels like an invitation to tell me how much healthier I look now, or that recovery is "an inside job." I know this. I'm just sharing the curious road that got me here.
My recovery depends on healing my mind, body and spirit. At the moment I'm two out of three, even after several years of clean living.
My spirit is happy. My smiles are joyful and plentiful. My mind is clear, although I don't kid myself, there are remnants of a brain pickled in methamphetamine for many years. But healing is underway, and my mind and spirit are enjoying the process.
Only my body lags behind, injured, resentful, and suspicious of the path to well being. I'm sedentary and stubborn. I relate being physically fit with something traumatic that once hounded and eventually ruined me.
I want to be healthier, and to control my weight and rising cholesterol. I need to fix this, I tell myself, but I'm afraid to fix this. There's the potential that I'll go back to a lifestyle more horrible than my expanding waistline.
It's good to get in shape again, I tell myself with sincere intentions. The treadmill is really taking off the pounds and I should start weight lifting again and hot damn, that muscle recall really works just look at my arms and I should buy new tank tops and work out even harder and get steroids prescribed again and what's wrong with hanging out at a bar shirtless and shooting pool and sure I'll do one hit of that, thanks, and man I would look damn hot at a sex party right now and who's your dealer and do you have needles…?
Getting back in shape is an easy call. Except my mind puts physical fitness on the same crazy train as my drug addiction. The fact I acknowledge my insanity is a good start. Now I can begin the process of teaching my body new tricks. When I'm working out, I try to remain in a state of gratitude for my life, for my physical self, and for the fact I no longer have to live as I once did, using my body as currency.
There are traps on the road to recovery, as anyone getting clean and sober will tell you. The vigilance it requires is a full time job. A dangerous choice might look perfectly innocent. It might be a reasonable part of life. It could even be a healthy choice, at least for you.
That's the cunning nature of drug addiction. My very reckoning can look as pretty as a picture.
Mark
(The photos above are the only Marcus images that remain, gratefully. This re-post is inspired by my friend Will Armstrong, whom I recently profiled about his addiction and body image. Please note: I always speak generically about my recovery from addiction, and do not publicly promote one model or another. The point is, help is available for the asking.)
Tags: Aging, culture, gay, gratitude, hiv, meth, recovery, Recreation, Sexuality
Posted in Gay Life, Living with HIV/AIDS, Meth and Recovery, My Fabulous Disease, Prevention and Policy | 1 Comment »