Posts Tagged 'Sexuality'
Wednesday, August 26th, 2015
When Alana Oldham was only 17 years old, she found out the meaning of activism. A close friend had received an AIDS diagnosis and he wasn't expected to live very long. Alana wanted to take action — to make a difference and vent her grief and frustration — but there were two major obstacles in her way.
It was 1989, and she lived in Shreveport, Louisiana.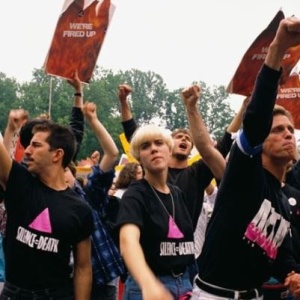 "I had to do what I could to help my friend," says Alana. "What was happening was cruel. People were discriminated against everywhere. Another friend of mine was fired from his job for having AIDS."
And so, Alana Oldham did something in Shreveport that many people assume was only possible in much larger cities. She accepted an invitation from founding member Debbie Allen to attend an ACT UP meeting, one of the first to be held by the fledgling Shreveport group. And very soon thereafter, Alana took to the streets of her southern home town as part of angry protests. (Alana in 1990, above center.)
Robert Darrow, a founding member of ACT UP Shreveport, was right by her side. After years away from home, living in New York City and dealing with his own AIDS diagnosis, Robert had returned to Shreveport to die near his family. Instead, his health stabilized as he took part in a small town revolution.
"We were an angry bunch of young people," Robert said. "We were angry at local doctors for turning us away. We were angry at judgmental families. Even at the only local clinic that would treat us, they installed an exhaust fan to get rid of the air we breathed."
The group of activists were stunningly effective, showing up regularly on the front page of The Shreveport Times and on local television, and leading to the formation of an HIV clinic and a community-based AIDS service agency, The Philadelphia Center.
ACT UP New York activist Peter Staley (profiled in the Oscar-nominated documentary How to Survive a Plague) recalls taking notice. "I remember the thrill we got in New York when we heard about the launch of ACT UP Shreveport," he said. "We had breached the Deep South!"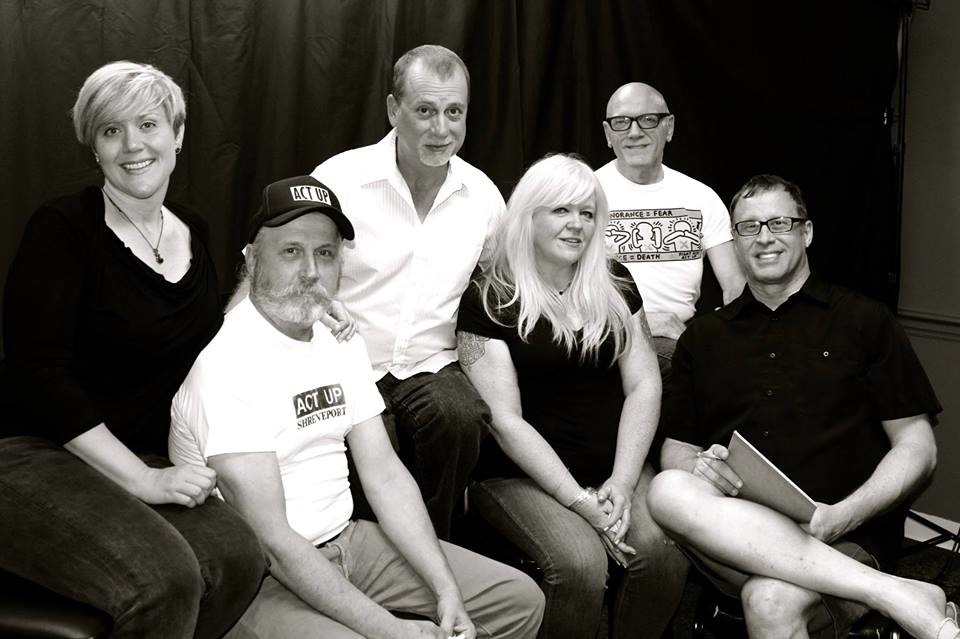 ACT UP Shreveport members today: (l-r) Alana Oldham, Gary Cathby, Buddy Williamson, Debbie Allen, Robert Darrrow, and Small Town Rage co-producer David Hylan.)
But not everyone in Shreveport was a fan.
"Even people in the gay community wanted us to go away," said Robert. "They thought we were appalling." Robert believes it was more difficult for ACT UP Shreveport to speak out than activists elsewhere, citing the hugely conservative majority in Louisiana. The disapproval of in-your-face activism also mirrored the self-hatred felt by so many gay men living in the Bible Belt.
David Hylan was one of those men. Married and closeted at the time, David watched ACT UP from the sidelines. "They were scary," he said. "The radical nature of it was off-putting, especially since the south found all gay people immoral. And now there was this deadly disease."
David realizes now that his discomfort had as much to do with his own masked sexuality as it did with the angry street activists he saw on the local news.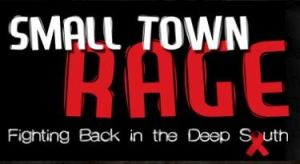 So it feels satisfyingly, poetic even, that David is now co-producer of Small Town Rage: Fighting Back in the Deep South, a documentary in the works about the history of ACT UP Shreveport. The film features interviews with many of the surviving activists and with family members of those who were lost to the epidemic.
A new Kickstarter campaign has already raised one-third of the project's $15,000 budget. Dozens of hours of interviews have been filmed, and funds raised will cover remaining production costs and efforts to feature Small Town Rage at film festivals. Tom Viola, the influential head of Broadway Cares/Equity Fights AIDS, has issued a personal appeal in support of the project on his Facebook page.
"This whole journey has been a learning experience," said David Hylan. "I've come to appreciate the people who were just fighting for their dignity." His personal evolution led to a second marriage earlier this year, when David married his boyfriend.
The Kickstarter promotional video for Small Town Rage.
The Philadelphia Center in Shreveport, forged by the efforts of ACT UP, remains the only HIV service provider in northern Louisiana.
Robert Darrow, the ACT UP member who had gone home to die and helped form ACT UP instead, served as The Philadelphia Center's first executive director. Robert says that of all ACT UP Shreveport's accomplishments, he is most proud that the agency serves thousands of clients. And there's something else that gives him pride.
"I'm proud we did not remain silent," he says.
Mark
(Visit the Small Town Rage site and consider even a modest token of support. I pledged $25 but any amount is welcome. Stay up to date on the film's progress through their Facebook page or Twitter feed.)
Tags: advocacy, aids, family, gay, hiv, politics, Sexuality
Posted in Living with HIV/AIDS, My Fabulous Disease, News | No Comments »
Tuesday, August 18th, 2015
Any campaign that blends living with HIV with a sense of empowerment and joy always grabs my attention. Stigma remains one of the most damaging forces in our struggle to both combat new infections and support those of us with the virus.
Australian Nic Holas 33, co-created the social and advocacy platform for people living with HIV, The Institute of Many (TIM) only weeks after he tested HIV positive in 2012, and it nurtures exactly the kind of peer support that so many advocates find the most effective.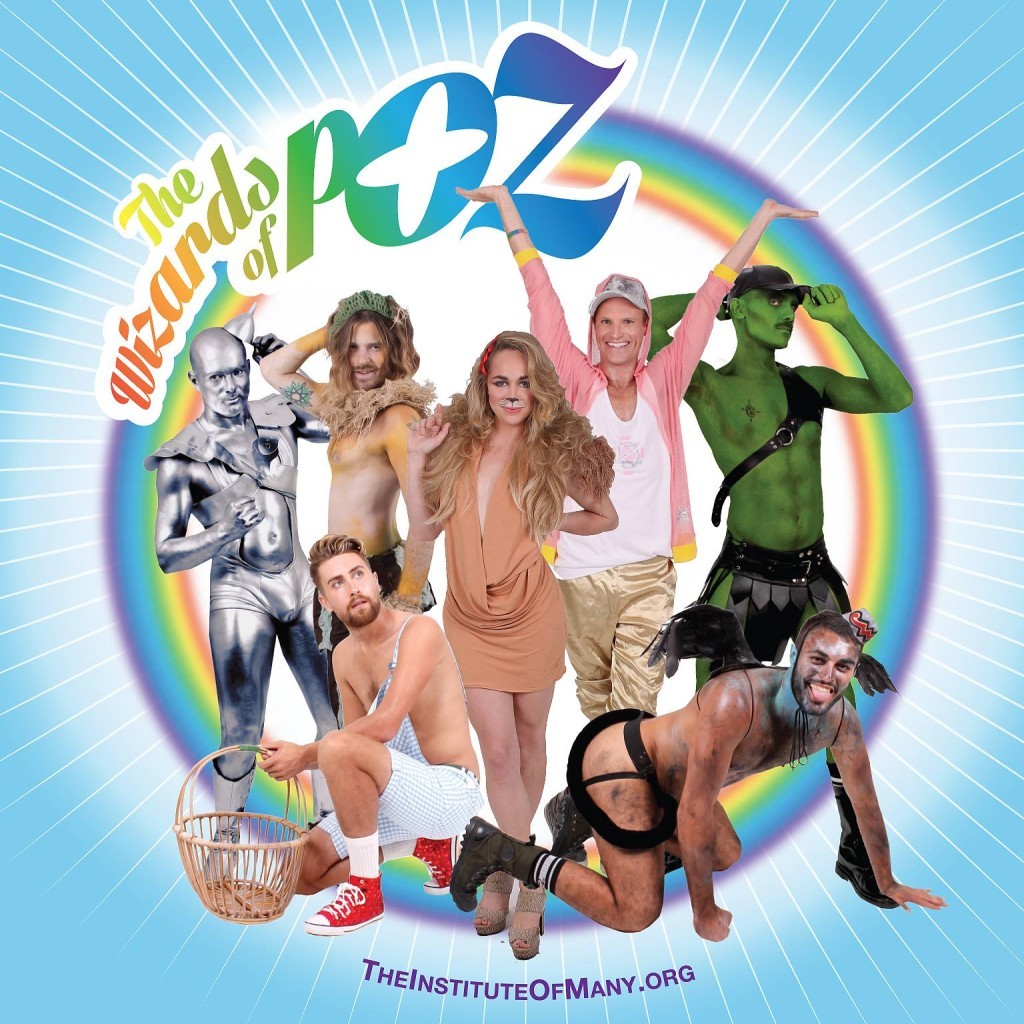 And now, TIM has launched The Wizards of Poz, a social media campaign that celebrates people living with HIV who are taking charge of their lives.
Nic and I spoke about his Wizards of Poz campaign, the Aussie epidemic, "glamorizing" HIV, and a certain sexy monkey.
So, Nic, you've taken one of the most iconic films loved by the gays… and made it gayer. That's no small feat.
Thanks! It was so much fun. The campaign all started from a joke that Jeff Lange (TIM's American-based co-founder) and I had – namely that I was the Wicked Witch of TIM who stirred trouble, and he was the Good Witch who would just float down every once in a while, smile and leave! When we started to dream up what the campaign looked like, we wanted to extend that image to other members of TIM, and honor their contribution – as well as send a new message to the wider HIV community.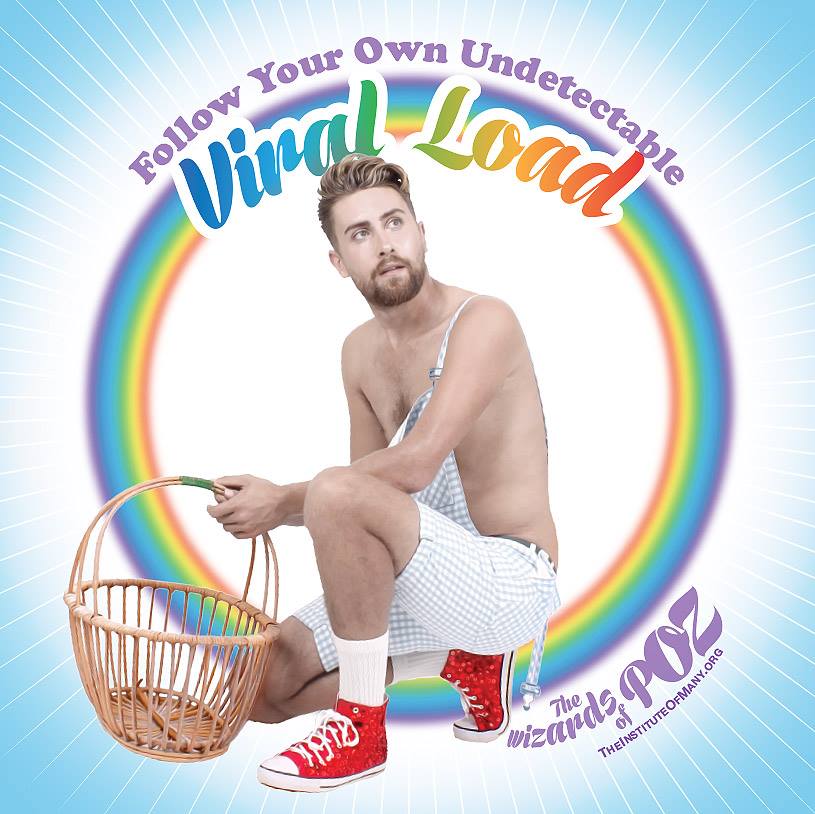 TIM: Our Dorothy is a wide-eyed hipster dream in gingham cut offs, just starting his journey to "follow the undetectable viral load."
I also like the playful way in which you take subcultures such as queers, radical fairies, sissies, and leather queens and make them something to be exalted and enjoyed.
Those subcultures exist, and they're all valid! With this campaign, we're trying to celebrate all the diverse ways queer culture presents itself, in a way as a reaction to the pressure for us to "be normal" at the moment.
I love that a woman is the lioness.
It was so important to me that Abby Landy be our lioness. Positive women are very underrepresented in Australian media depictions of poz living, or when they are, it's often a betrayal/victim narrative. Abby has been very brave to step into the spotlight to tell her story, and I thought turning her into the anything-but-cowardly lioness was a fitting tribute.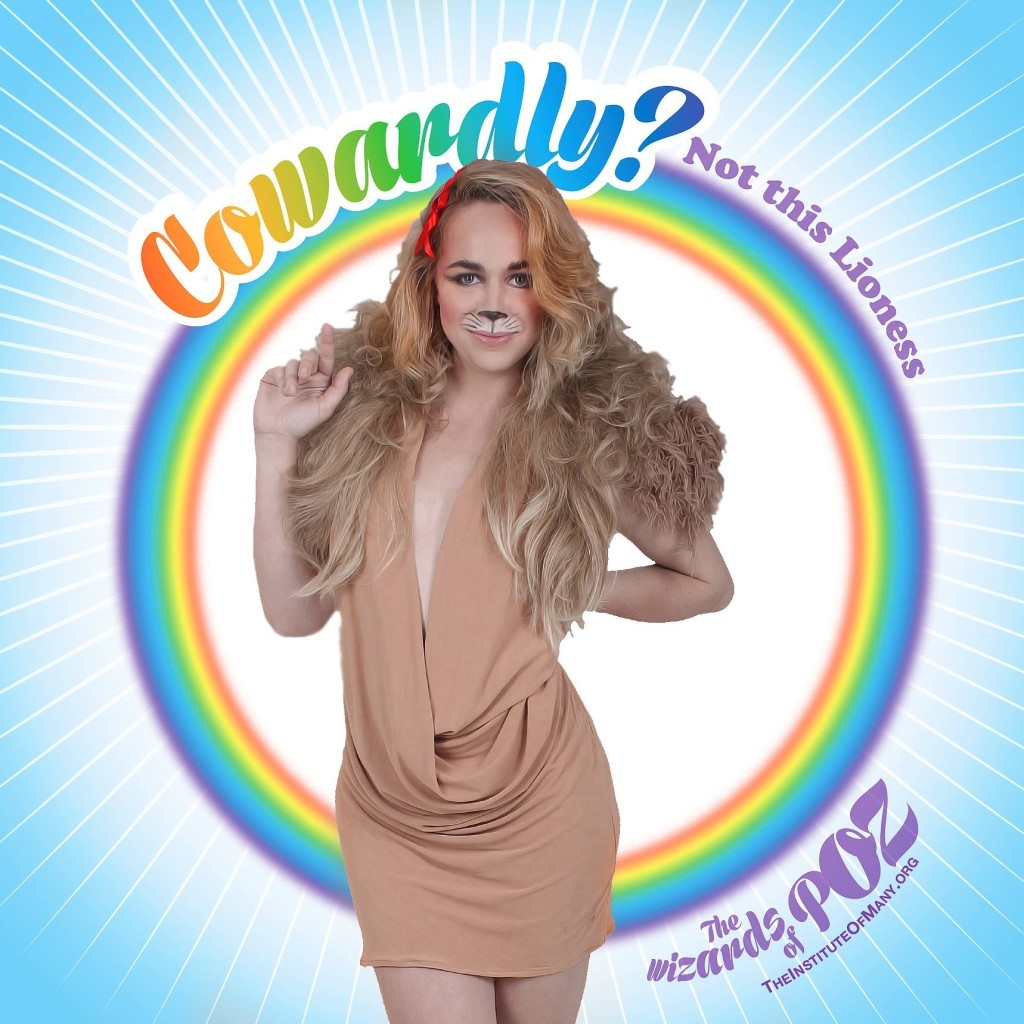 TIM: Our Lioness is today's young poz woman and is anything but cowardly, and in control of her sexuality and her choices.
How are racial demographics different down under? Here in the United States, including people of color in campaigns like this is important.
This is something that was a bit of a struggle. I could see when I was amassing our "cast" that it lacked diversity. I wanted to pay tribute to the TIM members who had put themselves out there in the media for TIM, but what that has helped me realize is what sort of narrative the media is looking for in Australia, or rather which narratives are being excluded. We have a burgeoning population of Sub-Saharan African migrants and refugees in Australia, plus Asian international students and migrants, and of course our Aboriginal and Torres Strait Islander First Australians. Those communities and their experiences with HIV need to be honored.
I laughed but wasn't a bit surprised to see Theodore, my hottie Aussie cameraman from my video reports at AIDS2014 in Melbourne, half naked and on his hands and knees! Thank you for completing the Theo fantasy shared by most everyone who meets him.
Ha! It's an honor and a privilege to find ways to bring Theo's bare ass to the world.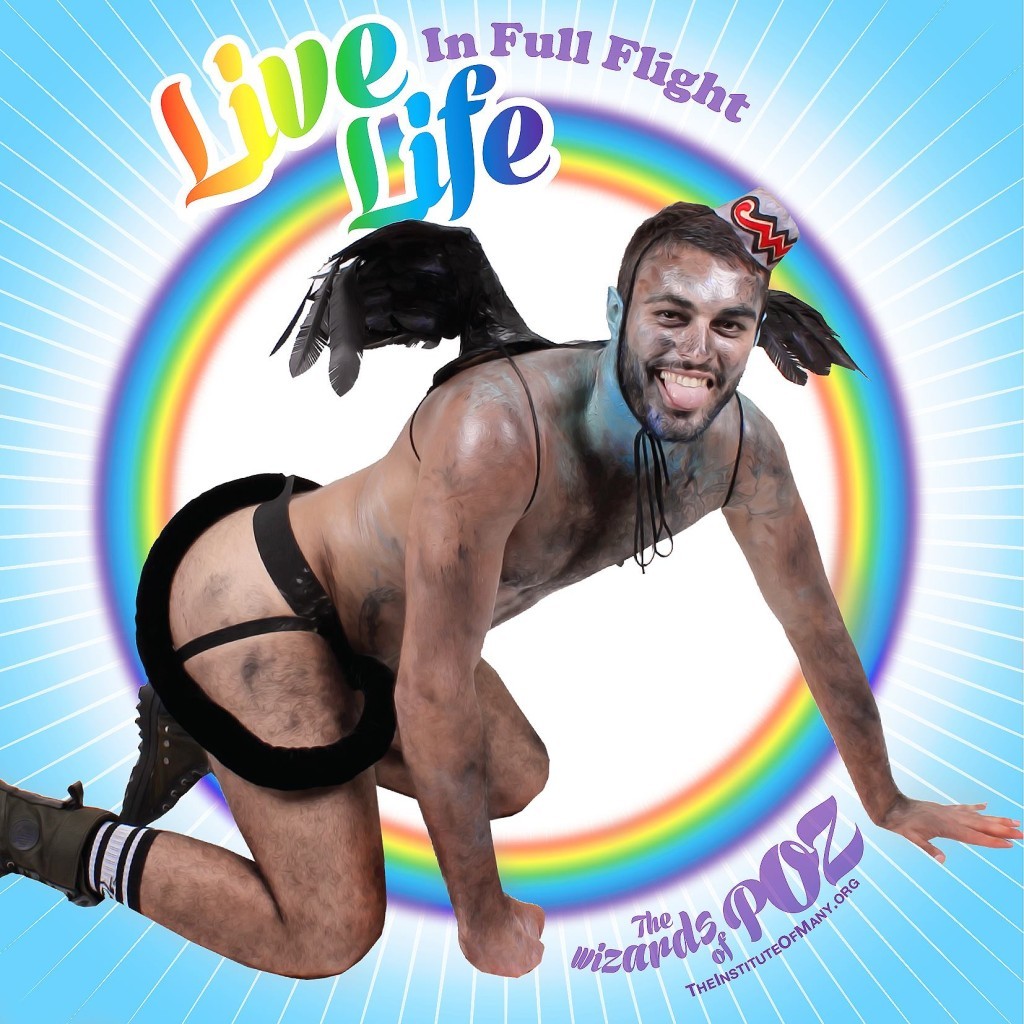 TIM: The Flying Monkey won't let HIV stop him soaring high in the sky, no matter who tries to clip his wings.
In the materials for the campaign, you speak about "paying rent on our privilege to be HIV+ in Australia in 2015." I like the throwback to those who came earlier, and the sense of gratitude for our lives today. Tell me more about that.
"Paying rent on our privilege" is one of TIM's core beliefs. The movement started because Jeff (the Good Witch) and I weren't that knocked about by our diagnoses. For me, that meant that I owed it to the ones who fought and worked to give us that freedom, and to those diagnosed alongside us who still consider HIV to be a life-limiting event (not to mention of course the millions of PLHIV around the world who cannot access treatment, who are criminalized, and discriminated).
And oh my dear, you have to paint me a picture of what the photo shoot was like. I imagine strange colors and fur and feathers and exposed skin all over the place. And a lot of laughs.
Oh God, the shoot was ridiculous! I've done my fair share of wild shoots in the past, and I knew how long things take and how mad it can get. This is the first time though I've had to art direct something while being painted Wicked Witch green! The incredible thing was that practically everyone on the shoot was HIV+, and if they weren't poz they were dating someone that was and got roped in to help! It's a testament to the creative power and community spirit of the poz universe.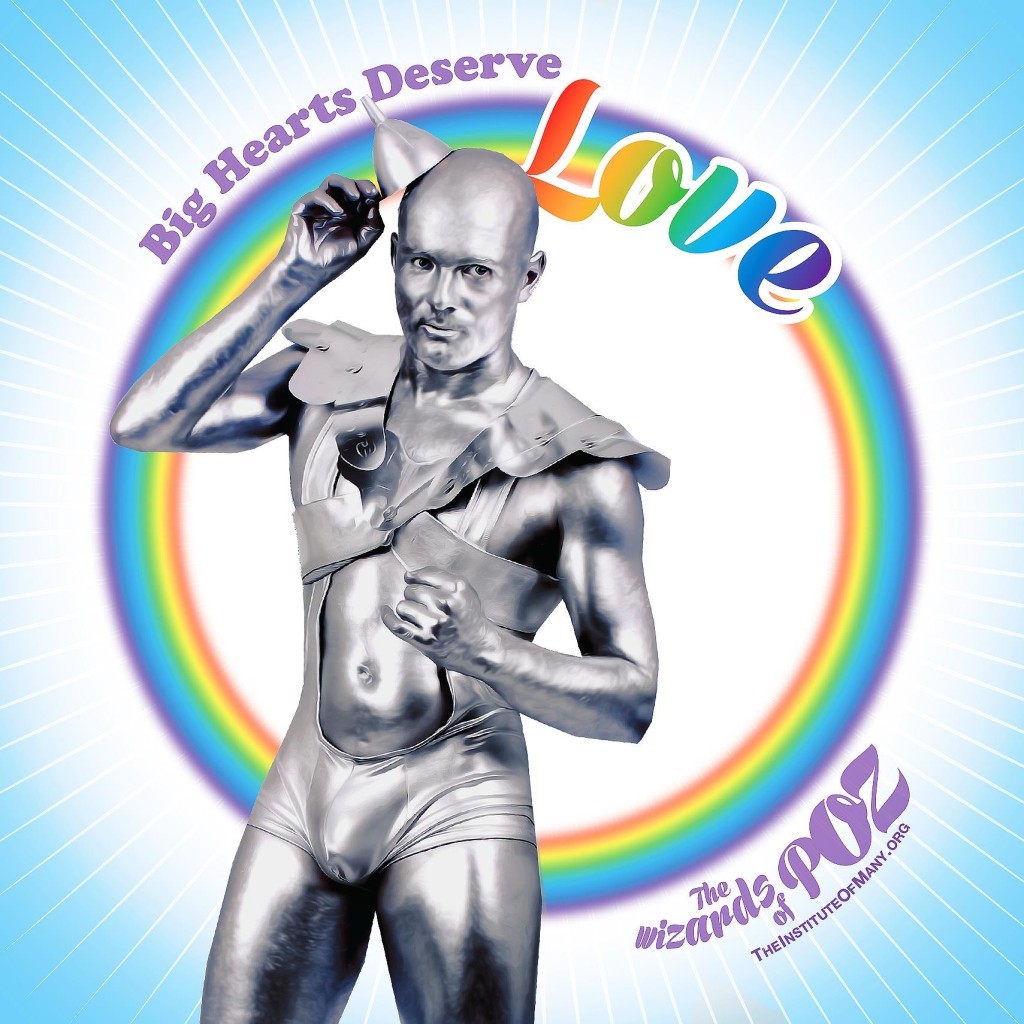 TIM: Tin Man is a flashback to the heydays of 90s raver queer culture, and knows his big heart can find love on the dance floor, online, or anywhere – and his status won't stop him.
Have you had any negative reactions to the campaign?
Some people have criticized the campaign saying it glamorizes HIV.
Oh. That again.
It's ridiculous. The campaign glamourizes HIV+ people. And why shouldn't we feel glamorous and fuckable and hot? If you can't tell the difference between making poz people feel good about themselves and making HIV seem "attractive," then you can't see us beyond our status. And that makes you a pozphobic fool.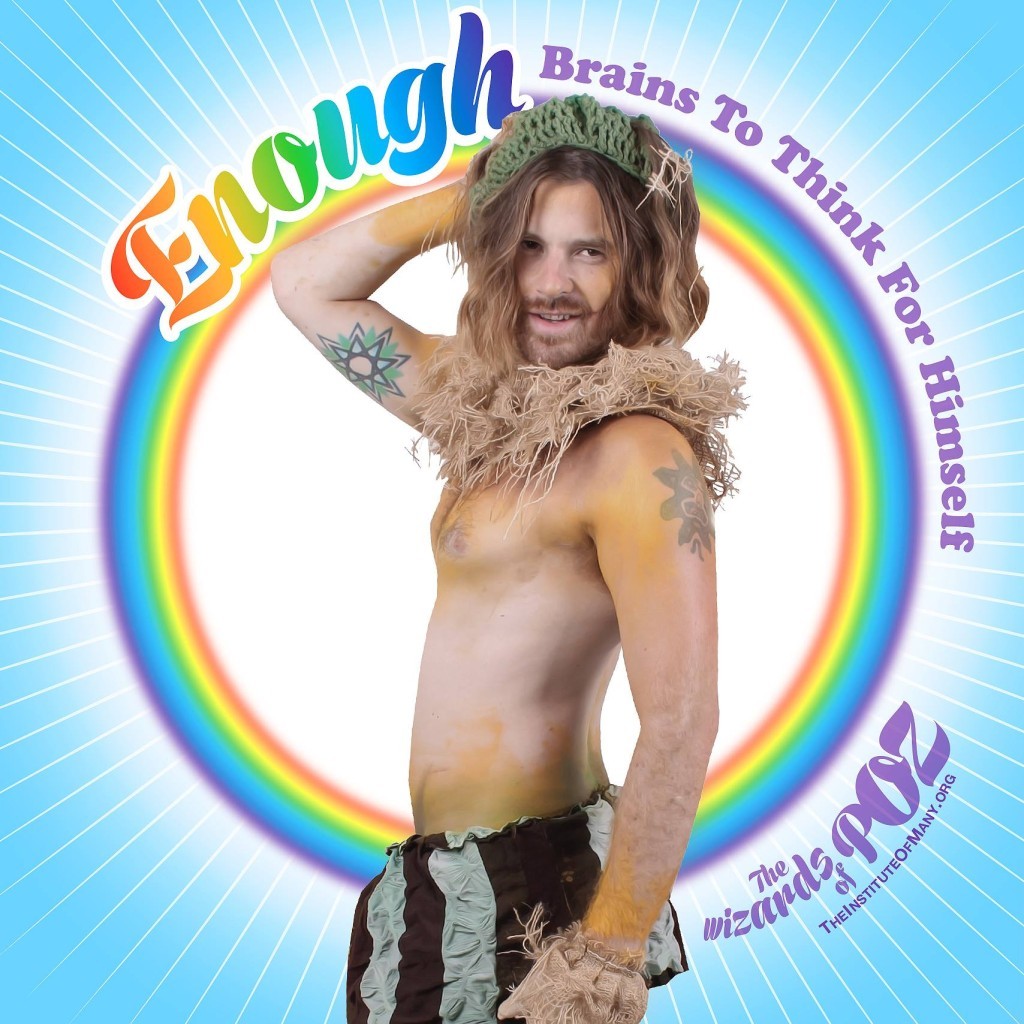 TIM: Scarecrow is a 100% organic radical faerie who turns toxicity into spirituality, and who knows HIV requires philosophy – and he's got the brain for it.
What is the state of the HIV epidemic in Australia, by the way?
There are approximately 26,000 people diagnosed with HIV here. One of the leading responses has been needle exchange programs and sex worker empowerment, which means gay men are the main affected population (not the only one, of course).  There are virtually no AIDS deaths any more due to treatment uptake in the 90% because of universal healthcare. So, we have the luxury of focusing on stigma.
As progressive as Australia is, many people will be surprised to learn that pre-exposure prophylaxis (PrEP) isn't available there.
PrEP isn't an inevitability here. Truvada still needs to be approved for use as PrEP, then put on something called the PBS (Pharmaceutical Benefits Scheme) so anyone can access it. It is still two years away, at least.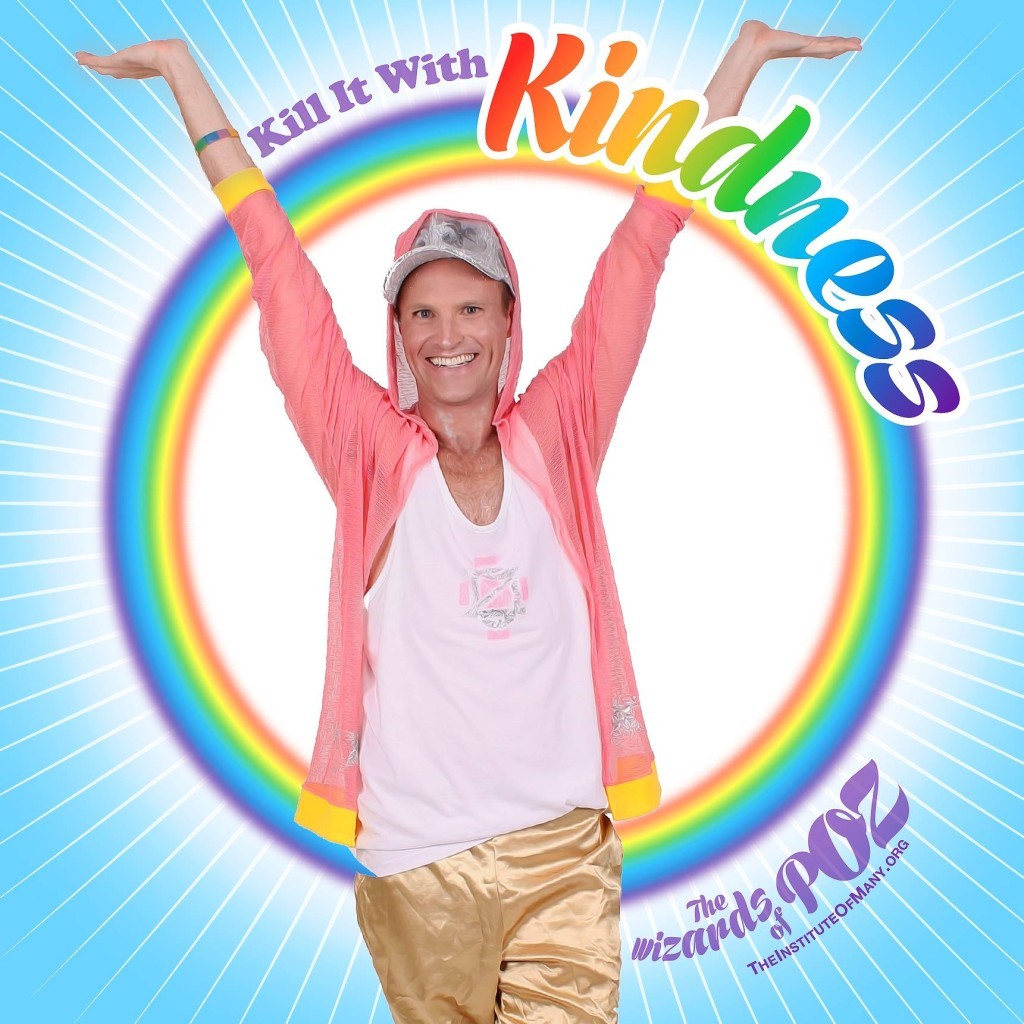 TIM: The Good Witch is a sissy swagger jock. Along with the Wicked Witch, these witches are two sides of the same coin doing what needs to be done to keep The Land of Poz moving forward, in their own unique way – naughty or nice.
Is TIM limited to those in Australia?  There may be people elsewhere who see this campaign and want to join in the online social support you offer.
The TIM group is global! It's all back to the "paying rent on our privilege" thing. The TIM digital space (a private group on Facebook) not only lets people find community, it can put our HIV into perspective. As I've had to say in the past, "TIM wasn't set up to help you, it was set up so we could help each other."
That's great. If the FB group is private, how might people who read this story join the group if they are interested?
Anyone interested can check out this page on the website, or contact us through the public Facebook page.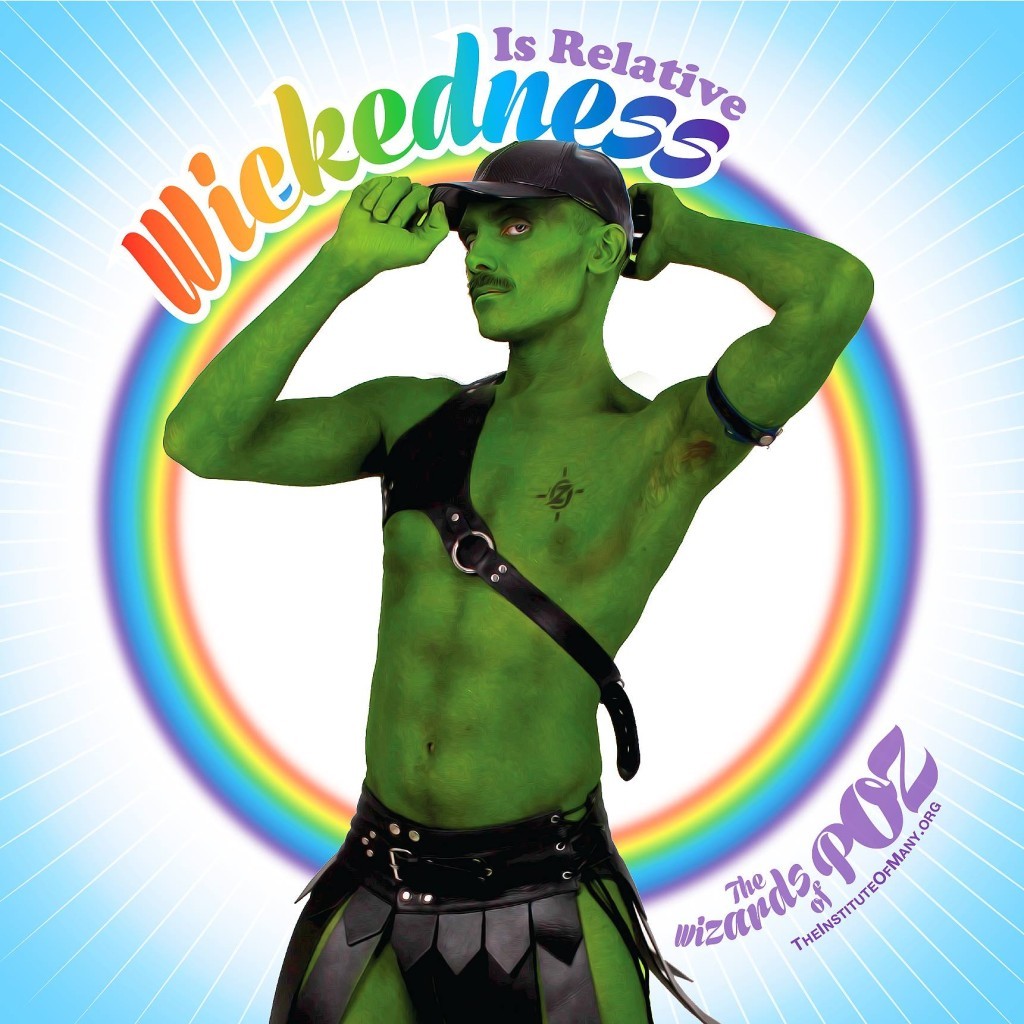 TIM: The Wicked Witch is a a dirty leather queen. Along with the Good Witch, these witches are two sides of the same coin doing what needs to be done to keep The Land of Poz moving forward, in their own unique way – naughty or nice.
Thanks for this work, Nic.
No worries!
Mark
(Campaign models are all members of The Institute of Many, and include Sebastian Robinson as Scarecrow, Dean Camilleri as Tin Man, Charlie Tredway as Dorothy, Jeff Lange as Glinda, Theodore Tsipiras as Winged Monkey, Abby Landy as the Lioness, and Nic Holas the the Wicked Witch.)
Tags: advocacy, criminalization, culture, gay, hiv, PrEP, Sexuality
Posted in Gay Life, Living with HIV/AIDS, My Fabulous Disease, News | 4 Comments »
Monday, June 29th, 2015
Sometimes it's helpful to get back to basics, and there is no more basic, effective tool to fight the HIV epidemic than to encourage testing. How long has it been for you, my friend? Here are five important facts about HIV testing that I hope will convince you to get busy and get tested — again.
1. You could be HIV positive and not even know it.
According to the Centers for Disease Control (CDC), one in eight people with HIV in this country don't know they have it. Some estimates are higher. With 50,000 brand new infections every year in the United States, it is absolutely crucial that you know your status.
2. Knowing your status is one of the very best ways to stop the epidemic from growing.
No matter your HIV test results, taking the test means you are already doing your part to protect yourself and others. If you test negative, you will know you haven't put anyone at risk – and it will probably encourage you to keep making smart decisions. It might also be the wake-up call you need to re-assess your risks or to consider pre-exposure prophylaxis (PrEP), a medication proven to greatly lower your chances of becoming infected.
If you test positive, you can take advantage of a variety of medications (with fewer pills and side effects than ever) that can reduce the virus in your body to undetectable levels. Science has proven that people with HIV who have an undetectable viral load are not transmitting HIV to their partners. Getting people with HIV to undetectable levels is a huge factor in slowing the epidemic–not to mention keeping your own body healthy and ready for more action.
Yes, getting testing can be scary. But so is having HIV and not treating it. Ask any gay friend who survived the 1980's, when there weren't effective medications. It wasn't pretty.
3. An old HIV test result is even worse than an outdated Grindr photo.
When was your last test, and how many risky things – unprotected sex, drug or alcohol use, wild nights out – have you done since then? Being confident of your status is about being consistent.
The CDC recommends an HIV test for everyone between the ages of 13 and 64 as part of routine health care. For those at higher risk – that would be gay men like me and those with drug addiction histories – a test at least twice a year is recommended, especially if your bedroom dance card has been full or you've been partying.
4. Getting tested is easier than ever, and you have plenty of choices.
Boys, do you have options. Choose one and get 'er done:
Visit Get Tested and enter your ZIP code.
Text your ZIP code to KNOWIT (566948), and you will receive a text back with a testing site near you.
Call 800-CDC-INFO (800-232-4636) to ask for free testing sites in your area.
Contact your local health department or HIV service agency.
Get a home testing kit (the Home Access HIV-1 Test System or the OraQuick In-Home HIV Test) from a drugstore.
5. Everyone can make a difference. We can stop HIV together.
Offer to go with a buddy to support him emotionally as he gets his results. Get tested alongside that sexy beast you've been seeing. Ask friends about the last time they took the test.
You could go the extra mile by sharing this article. Or visit the Act Against AIDS page for free materials, ads, videos, and banners you can share online.
Mark
(A version of this article appeared on Queerty for National HIV Testing Day. It is good advice all year long.)
Tags: advocacy, barebacking, gay, hiv, physical, physician, recovery, Sexuality, testing
Posted in Gay Life, Living with HIV/AIDS, Meth and Recovery, My Fabulous Disease, Prevention and Policy | No Comments »
Thursday, June 25th, 2015
(I was proud to join four fellow activists contributing to this story, which originally appeared on the site HIV Equal. If you have ever wondered what all the fuss is about — or think the conflicts activists have with AIDS Healthcare Foundation are just industry "inside baseball" — here are ten reasons to believe otherwise.)
You would think that the largest global HIV and AIDS service organization with the biggest budget a non-profit could ask for would be interested in removing the stigma of HIV and working in unison with people living with the virus. But even a passing glance at AIDS Healthcare Foundation's (AHF) record of offenses against the community it claims to serve says otherwise.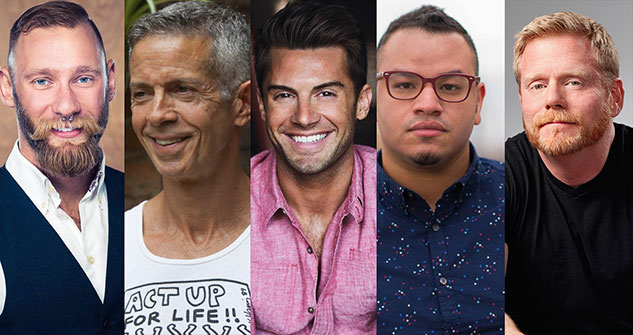 It is unfair to color the efforts of the people of AHF as categorically corrupt. The massive organization is staffed with thousands of wonderful, passionate, and well-meaning people who are unfairly criticized and whose work is slighted. There are fantastic doctors and wonderful programs that do a great deal of good under the AHF brand, but this does little to remove the stains created by the poor leadership and direction of one man: Michael Weinstein.
In the past 15 years, Weinstein has racked up quite the record of wrongdoings against the collective effort to reduce HIV transmission and stigma. Well known HIV activists Peter Staley, Mark S. King, Eric Paul Leue, Mathew Rodriguez, and Tyler Curry assembled a list of the top 10 worst offenses of AHF by way of Weinstein.
1. Anti-Union Practices
In 2013, when AHF medical doctors were overworked in understaffed clinics, they felt that the quality of patient care was being ignored and wanted to unionize under the National Union of Healthcare Workers. Medical staff told the Los Angeles Times that decisions were driven by concerns for profit, not patient care, but AHF said that they considered doctors "management," and Weinstein said any efforts to unionize that included doctors were "tainted.
If AHF or Weinstein did deny its doctors the right to unionize, AHF squarely falls not only against its own medical staff, but implies that it does not want its clients to have the highest standard of care – deliberately shunting the health of HIV-positive people onto the backburner. — Mathew Rodriguez, HIV activist and community editor of TheBody.com
2. Paid Editorials Campaigning Against PrEP
I guess its good to be king, because no matter how skewed your opinion may be, your dollar will always get your words published. On June 16, 2015, Weinstein paid to distribute his most recent editorial ad campaign, "The War on Prevention." Although AHF's stance has changed significantly since the days where the organization called the pill a "party drug," Weinstein still trumpets the use of condoms over PrEP as the only effective large-scale measure of preventing HIV transmission.
"AIDS Healthcare Foundation is not against PrEP," Weinstein writes. "Truvada can absolutely be the right decision for specific patients who, in consultation with their doctors, decide this is the best choice. However, the entire body of scientific data demonstrates that Truvada will not be successful as a mass public health intervention. Yet, this is exactly what PrEP advocates, including the Centers for Disease Control and Prevention, recommend."
To clarify, the CDC is not in the business of PrEP advocacy, but rather scientific research. There are no specific scientific claims that Weinstien tries to disprove in the "advertorial." But he does give plenty of unsubstantiated statements himself, such as, "Mass PrEP administration is a dangerous experiment that is not supported by medical science and is currently resisted by doctors and patients alike."
Sounds scary, huh? It is also bullshit. Yet, this advertisement ran in LGBT newspapers and magazines in eight markets nationwide (Chicago, South Florida, San Francisco Bay Area, Washington D.C., Seattle, Dallas, New York, and Los Angeles). — Tyler Curry, HIV activist and senior editor of HIV Equal Online
3. Anti-Science AIDS Activism
AIDS treatment activism has a beautiful legacy, built by groups like Project Inform, ACT UP New York, Treatment Action Group (TAG), and South Africa's Treatment Action Campaign (TAC). Collectively, we've helped change the course of AIDS, and saved millions of lives. One of our central tenants is that science should drive our advocacy. Science has been our compass, and our source of credibility and power to do the most good for the most people. Science has kept us from letting the personal dogma of any single activist steer the movement in a harmful direction.
Michael Weinstein has been spitting on this legacy for almost 15 years, long before he launched his PrEP denialism campaign. He has been spitting on the graves of lost heroes, like Martin Delaney, Project Inform's founder, who warned me years ago that Weinstein was "dangerous" and "self-serving." He has been spitting on the graves of Spencer Cox, and Carlton Hogan, who were instrumental in pushing us towards a science-driven path. Some of us should be forgiven for feeling protective of the legacy of AIDS activism built by these fallen comrades, and for our anger at those who arrogantly rebuke it. — Peter Staley, HIV activist and founder of Treatment Action Group (TAG)
4. Stigma-Fueled, Anti-PrEP Messaging
In April 2014, Weinstein called Truvada for PrEP a "party drug," that would give gay and bisexual men a license to have unprotected sex, which would lead to a "public health disaster." Weinstein's "party drug" comment is disrespectful to anyone who has ever had sex — or plans to. Firstly, calling any HIV medication a "party drug" is disrespectful to HIV-positive people who take the drug in order to suppress the virus and live fully realized lives.
The sex-negative comment, borne of internalized homophobia, shames people of all sexualities who derive meaning from sexual activities — whether natural or with a condom — and is an ultra-conservative attack on (generally gay) people's identities as sexual beings. His comment is also completely gender-blind and ignores women, straight and queer, who enjoy condomless sex on PrEP or use PrEP in order to have a child — you know, a real party. — Mathew Rodriguez, community editor of TheBody.com
5. Overbilling of Federal Funds in Los Angeles County
A California Judge ruled in April 2015 that, "AIDS Healthcare Foundation must face claims by Los Angeles County officials that it overbilled the county $5.2 million for patient treatment." It is alleged that, similar to the overbilling claims in Florida, AHF has been defrauding federal-funding sources for people affected by HIV in L.A. County for about eight years. In addition to the $5.2 million, which was discovered in audits, the county has had to spend over $1.8 million to defend itself against lawsuits involving AHF. Considering the scarcity of public health funds, a loss of $7 million is a serious threat to much needed services for people affected by HIV in the county.
Ensuing the overbilling charges against AHF in L.A. County, now retired Supervisor Zev Yaroslavsky said of Weinstein: "He's used his nonprofit organization in a crass and bullying political way to get his way, which is to avoid being held accountable."
Afterwards, an internal email authored by Weinstein was discovered that read, "We need to go after Zev [Yaroslavsky] directly and hard. He is the real power behind our problems with the county on porn, the audit and fee-for service. Plus, he is a lame duck and an arrogant jerk. His Berman-Waxman power base is dead and he and others need to be taught a lesson." — Eric Paul Leue, HIV activist and director of sexual health and education at Kink.com
6. Fear-Based Safe-Sex Campaigns That Further HIV Stigma
A recent series of AHF advertisements depicted two people or various races and gender in bed, presumably post-coitus, with the caption "Trust him?"
This stigmatic view of sex and trust is both reductive in personal responsibility and stigmatizing towards HIV-positive people. It suggests that people living with the disease are akin to criminals who lie in order to have sex, or even intentionally spread the virus. Sure, the people behind the AHF campaign may argue differently. However, it is hard to ignore the criminal theme of the advertisements that, by default, further marginalize people living with HIV and keeps fear in the forefront of safer sex messaging. As one Facebook user stated, "This does not say 'fear HIV.' It says, 'fear people living with HIV.'" — Tyler Curry, HIV activist and senior editor of HIV Equal Online
7. Intimidating Other Organizations, People, and Practices Who Get In Their Way
The famously litigious agency has sued (or threatened to sue) many individuals and organizations in their path over the years, including counties, cities, departments of health, and even smaller agencies with whom AHF had territorial disputes. AHF even withdrew funding from a Louisiana advocacy event when they learned a plaintiff in their whistleblower lawsuit was involved in its planning. After this was revealed, they reinstated the funding without apology — and promptly counter-sued the whistleblowers. AHF's latest strategy is to simply gobble up the competition, as in the recent announcement they have acquired the largest community-based agency in the south, AID Atlanta. — Mark S. King, HIV activist and writer at MyFabulousDisease.com
8. Financial Leveraging Against Smaller Organizations
In a 2014 lawsuit against L.A. County, AHF's attorney, Samantha Azulay, argued for the invalidation of county funding contracts with smaller HIV and AIDS organizations with the words: "…You know, there might be some impact on these contracts, but maybe you've got to cut up a couple trees to save the forest."
Reach LA, a youth organization with specific focus on HIV-affected African-American, Latino, and transgender youth, was among the "couple of trees" and it lost $100,000 funding.
In a 2013 dispute, AHF refused to pay rent for a space it had occupied since 2003 from Maitri, an AIDS hospice in San Francisco. The dispute arose when AHF refused to pay fair market rent for the property after opting for the renewal of the rent contract. Maitri has an operating budget of about $2 million, while Weinstein claims that AHF has a budget of $1 billion. The rent refusal caused Maitri an approximate loss of more than $300,000. AHF only had to pay $60,000. — Eric Paul Leue, HIV activist and director of sexual health and education at Kink.com
9. Forcing Condoms in Porn
In the last two years, AHF has led a costly media campaign to push forward legislation that would enforce condom use in adult film productions. But what may sounded like a good idea can actually be a dangerous limitation of access to other and possibly more adequate prevention options — and it threatens performers with serious infringements on medical and personal privacy. For the past five years, many public health officials have repeatedly argued that this was a waste of money, as the adult film industry, with zero on-set HIV infections over the past ten years, is not where the epidemic demands our attention.
In a recent hearing in front of the California Occupational Safety & Health Standards Board, 19 organizations, numerous performers, and unaffiliated medical professionals all opposed AHFs proposal, which Weinstein is now trying to push through in form of a state-ballot initiative. Many are appalled by AHFs proposal to ignore highly efficacious and proven prevention options such as PrEP and specific industry-developed testing protocols, all-the-while removing performer's rights for personal choice to access and control. — Eric Paul Leue, HIV activist and director of sexual health and education at Kink.com
10. An Alleged Pattern of Criminal Conspiracy
A stunning whistle-blower lawsuit made public this year against AHF charges the agency with ten counts of defrauding the government, conspiracy, and a "multi-State kickback scheme" to maintain service quotas and keep the government-funded gravy train rolling. The suit, brought by three former senior staff members of the agency, includes internal documents that outline payments to both staff members and clients in an attempt to direct people who test positive into care at an AHF clinic — without properly offering them choices to seek care elsewhere. This strategy, known as "captive care," then allegedly allows AHF to bill freely for client services obtained illegally, according to the lawsuit. — Mark S. King, HIV activist and writer at MyFabulousDisease.com
Tags: advocacy, aids, barebacking, conferences, hiv, physician, Sexuality, testing
Posted in Living with HIV/AIDS, My Fabulous Disease, News, Prevention and Policy | No Comments »
Monday, June 1st, 2015
June is Pride Month in the LGBT community, and I was honored to be asked by Visual AIDS to curate a "web gallery" on the topic. Immediately, I considered a question that I had once posed to readers of my blog.
If living with HIV is nothing to be ashamed of, is it something to be proud of?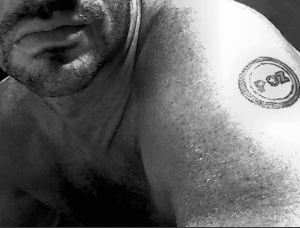 It was a really interesting exercise to explore this question, and I hope you will head over to Visual AIDS to check out the exhibit online. Visual AIDS has thousands of images of artwork that represent the artistic expression of hundreds of artists living with HIV.
Of course, including these artists in my exhibit meant that I was assigning meaning to their work in a way they may never have intended. That's okay. Art is gloriously subjective. In the image Self-Enforced Disclosure (Greg Mitchell, 2007) above, I could help but believe that a man who would tattoo his HIV status on his body did not do it to shame himself. But is it an act of pride?
From my curator statement:
No one should be marked or shamed for living with HIV. But, should someone claim to be proud of being positive, there is a lingering, implicit threat to the statement, as if their pride is untrustworthy, or worse, that having the audacity to feel proud of living with the virus must mean they want to infect everyone else.

We must reject the stigma that labels people with HIV as predatory, irresponsible, and lacking in self-respect. Being proud of all that we are is hardly the same as wishing it on others.
I hope you will check this out and share your thoughts.
Mark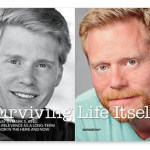 p.s. My writing is my artistic expression, and I really appreciate the response I have received to my essay in the new June issue of POZ Magazine, "Surviving Life Itself." The piece reflects on my relevance, and lack thereof, as a 30-year survivor of HIV, and what kind of impact others like myself can have in the here and now. I hope you will grab a copy at your local clinic or pharmacy, or read it online here.
Tags: aids, culture, gay, gratitude, hiv, Recreation, Sexuality
Posted in Gay Life, Living with HIV/AIDS, My Fabulous Disease | No Comments »
Monday, May 25th, 2015
This post will never be as romantic as I would like it to be. And it could never be as romantic as the truth.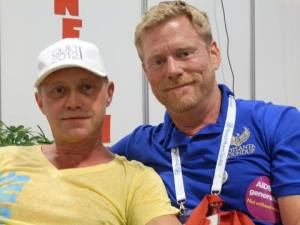 On the evening of July 22, 2012, Michael Mitchell went to a mixer at Cobalt, a gay club in Washington, DC. The international AIDS conference was being held in town and Michael, a DC resident who had once served as director of an AIDS agency, decided on a whim to go check it out.
I had been shooting video all day for my conference coverage for TheBody.com, and thought the name of the mixer — Meet the Men of AIDS2012! – had an inviting ring to it.
During the reception Michael and I engaged in some mutual cruising from across the bar before Michael, God bless him, made his move. He walked up and introduced himself. Even with dance music thumping and a boisterous crowd surrounding us, he had an adorable humility about him that came through loud and clear.
So did the remnants of a southern twang, and we quickly established we were both southerners born in Alabama. We talked about his work implementing the Affordable Care Act and I was struck by how proud he was to help provide health insurance to millions of Americans.
"I'm a blogger, I write about HIV," I said after a while.
"Oh, I know," Michael answered, and he grinned. "I've been reading you for years." He leaned in closer and flexed his dimples. "And you should get new pictures. You're much better looking in person."
I swallowed the line like a cold glass of sweet tea.
For the remaining nights of the conference, I sat at the foot of Michael's bed and edited video footage into the wee hours while he slept. We toured the Global Village at the conference center and got our picture taken (above). We held hands, casually and almost immediately. When I left a few days later there were tears at the bus stop.
You would think that after many years writing about living joyfully with HIV that my own happiness would be a given. That's hardly been the case. After several false starts and some complete misfires — primarily due to my own deficiencies — I had stopped believing I would ever get the whole relationship thing right. What are the odds of getting another chance, after so many wasted ones?
"I am not a very good boyfriend," I told Michael in a frank conversation early on, the kind that is meant to drive the poor guy away before he is taken hostage. "I've either been terribly immature or in active drug addiction. I've never been faithful, or even very thoughtful."
"That doesn't mean you can't be," he replied, as if it were the simplest response in the world, as if none of my past faults had any bearing on the here and now. Suddenly it clicked, a switch in my head I had been grappling with my whole adult life, and Michael's statement made perfect sense. Why couldn't I just behave differently, and do it because I love Michael and to hurt him would crush me?
I am going to marry that man.
On June 6, a small group of friends and family will gather in the lush woods of Pennsylvania a few feet away from where I proposed on Christmas Eve (below). During our ceremony I will make promises that I have every intention, at long, long last, of keeping. Our vows will be emotional but a mere formality, because for three years we have adored one another without a single cruel word between us.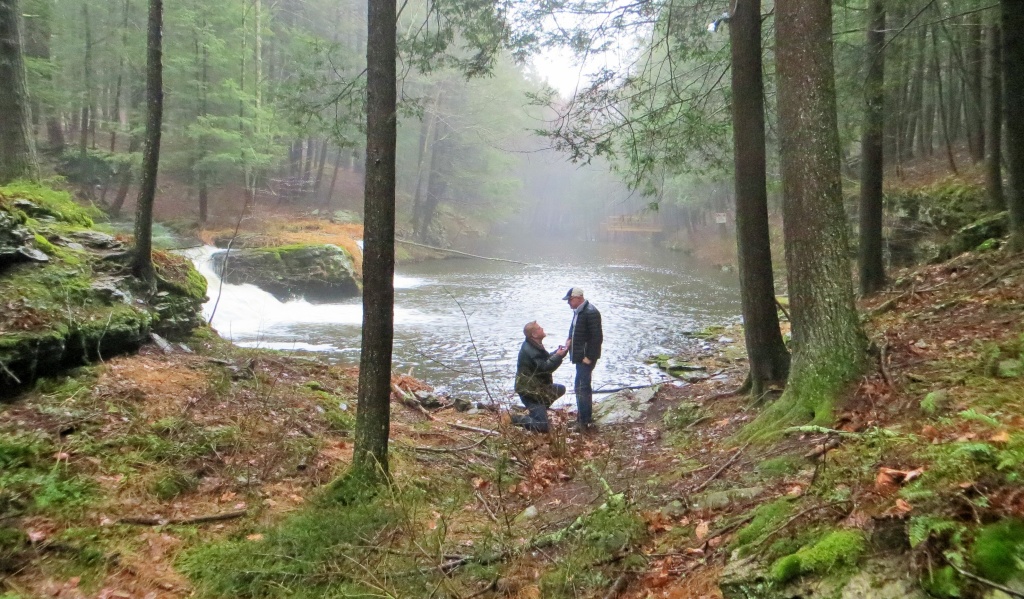 When I was growing up I could never find anything in the house; the right socks, my school assignment, my lunch money. I would call downstairs to mother and complain that I just couldn't find it, whatever it was.
"You haven't found it yet," she would reply with the preternatural calm that had mercifully accompanied her through years of raising six children.
My search has continued, for those things misplaced or never claimed to begin with, and I have actually found a few of them. Feeling comfortable in my own skin. Self-esteem. Sobriety. An acceptance of life on its own terms. An unselfish love for another human being.
The search may have been maddening, but the guidance of a good mom usually holds true.
I just hadn't found them yet.
Mark
Tags: Aging, conferences, culture, family, gay, gratitude, hiv, recovery, Sexuality
Posted in Family and Friends, Gay Life, Living with HIV/AIDS, Meth and Recovery, My Fabulous Disease | 6 Comments »
Wednesday, April 15th, 2015
ACT UP has always intimidated me. In the 1980's, while working at LA Shanti to provide emotional support to those dying of AIDS, I doubted my activist cred while watching the dramatic, inspiring actions of ACT UP. Everyone has a role to play, of course, but I so admired the courage and laser-focused anger of ACT UP, as evidenced in the Oscar-nominated documentary How to Survive a Plague.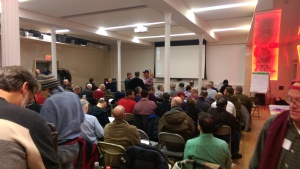 So it was with excitement, yes, but also a great deal of trepidation that I accepted an invitation to speak at ACT UP NYC's first town hall forum on AIDS long term survivors last November. I certainly qualified, having tested in 1985. But what could I possibly offer a room filled with activists who had literally defined the word empowerment and had stomped their way across New York City during the most ravaging days of AIDS and beyond?
The forum was held at the NYC LGBT Community Center, in the very room where Larry Kramer had founded ACT UP decades earlier. I bought an ACT UP button at a side table, with tears in my eyes. The sense of history was palpable.
Any doubts about the relevance of addressing long term survivors were answered by a packed room. The program included presentations by Graham Harriman, Director of the HIV/AIDS Bureau, Mark Brennan-Ing of the ACRIA Center on HIV & Aging, and popular local gay therapist Scott A. Kramer.
When it came my time to speak, to offer my personal perspective on a lifetime with HIV, I abandoned my note cards and the story came pouring out of me. My voice quivered the entire time. I cried and told my secrets and my shame and my grief in ways I have never revealed on my blog.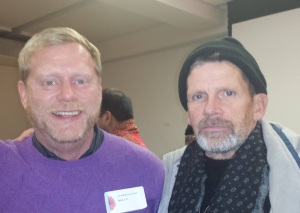 The room responded with warmth and acceptance. Afterwards, iconic ACT UP members whose names I recognized greeted me and thanked me (like Ed Barron, at left). It was one of the most nerve-wracking and proudest days of my life.
OUT FM featured my remarks recently on their weekly radio show on WBAI/NY, and it is through their courtesy that I am able to share this recording of my presentation. It includes a little adult language here and there (sorry, Mom!).
Our most effective tool as people living with HIV, and as long term survivors in particular, is simply telling our story. There is such power in the personal.
My deepest gratitude goes to ACT UP NYC for everything, both then and now. Thanks for listening, and please be well.
Mark
Tags: Aging, culture, gay, help others, hiv, meth, politics, recovery, Sexuality, testing
Posted in Gay Life, Living with HIV/AIDS, Meth and Recovery, My Fabulous Disease, News | 8 Comments »
Saturday, March 28th, 2015
Why Andy Cohen isn't badgering me with phone calls to bring this series to Bravo, I'll never know. At any rate, you will find all three videos of the series below.
During the first year of producing my blog videos back in early 2009, it occurred to me how much of my health and happiness was the result of having a solid support network. I wanted to find a way of showing this through my blog, and the result would be three video episodes that remain among my favorites produced for My Fabulous Disease.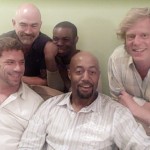 What might it be like, I wondered, if I invited some friends living with HIV over to my place and the video chronicled our evening together? Was there value in showing our support and friendship? My cinema verite experiment could be inspiring — or a complete bore.
I needn't have worried. When Craig, Eric, James and Antron arrived for dinner, they plunged into the evening with startling honesty and affection for one another. While my BFF Charles worked the camera (the man is a saint; he didn't eat at the table with us so it wouldn't intrude on the filming), the five of us let down our guards and shared on a variety of topics.
We talked about our mothers, and how and when we disclosed to family and friends. We talked about dating, and loneliness, and what we tell people who have just tested positive.
Viewers loved doe-eyed Antron, the 23 year old with the heartbreaking story of his mother's reaction to learning his status. They left comments about the tattooed, sexy James, and his candid stories of sex and disclosure. They swooned over the philosophical Craig, and his moving description of his mother's face the moment he revealed his status, and equally, how Eric created his "HIV Team" of physicians and family to combat his disease.
As for me, I look back at this episode and wish my video editing skills were as honed as they are now, and I regret filming when my face was swollen from my initial facial filler treatment (I look like I'm welcoming you to Munchkin land). But I couldn't have been more thrilled with the response to the video and knew that I would have to produce another episode with this amazing group.
That would happen a year later, when "The Real Poz Guys of Atlanta" was posted on TheBody.com on February 23, 2010. This time we skipped dinner and went directly to dessert, as I taught my friends how to bake my legendary brownies. Then we sat by the fire for a conversation even more intense than our last, sharing about partners lost to AIDS, our sex lives and what constituted "acting out," and even a round of show and tell, as each of us brought something of meaning to our lives with HIV.
When another year later we met up again, sparks flew. These guys were really getting the hang of this, because we discussed and revealed things like never before. From crystal meth addiction to our mothers, nothing was off limits. There's even a (NSFW-ish) chat about tops and bottoms, modern gay sexual politics, and which one of us absolutely loves using the female condom. I love hearing my friends talk dirty for a good reason. And about reaching out for help when you really need it.
And having these conversations is really what this project was about for me. The healing grace of our friends, and how that support comes in handy during trying times.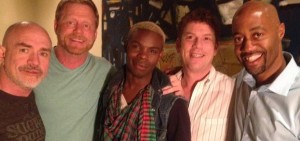 Do you have a strong circle of friends who know your status or otherwise have your back? I'd love to hear some of your experiences and what you might advise someone who is considering whether or not to disclose their status to their social circle.
In the meantime, my dear friends, please be well.
Mark
Tags: barebacking, culture, family, recovery, Recreation, serosorting, Sexuality
Posted in Family and Friends, Gay Life, Living with HIV/AIDS, Meth and Recovery, My Fabulous Disease | No Comments »
Friday, March 20th, 2015
It wasn't easy keeping my composure when I interviewed for my first job for an AIDS agency in 1987. Sitting across from me was Daniel P. Warner, the founder of the first AIDS organization in Los Angeles, LA Shanti. Daniel was achingly beautiful. He had brown eyes as big as serving platters and muscles that fought the confines of the safe sex t-shirt he was wearing.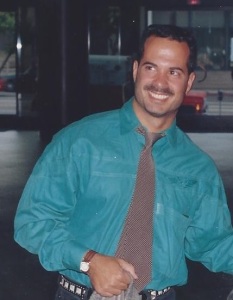 At 26 years old, with my red hair and freckles that had not yet faded, I wasn't used to having conversations with the kind of gorgeous man you might spy across a gay bar and wonder plaintively what it might be like to have him as a friend. But Daniel, one of legions of people who had abandoned whatever career they had planned and went to work building support programs for the sick and dying, did his best to put me at ease. He hired me as his assistant on the spot, and then spent the next few years teaching me the true meaning of community service.
My new mentor and friend quite literally embodied Shanti's mission to provide a non-judgmental, compassionate presence to our clients, many of whom were in the final stages of life.
Daniel was also our secret weapon when it came to fund raising. Whether shirtless in a dunking booth, dressed in full leather regalia, or spruced up to meet a major donor, it was tough to resist his charms. He knew his gifts, organizationally and otherwise, and offered them liberally for the benefit of our fledgling agency.
As time went on, Shanti grew enormously but Daniel's health faltered. He eventually made the decision to move to San Francisco to retire, but we all knew what that really meant. I was resigned to never see him again.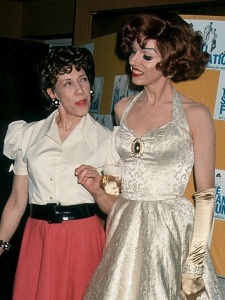 In 1993, Shanti hosted our biggest, most star-studded fundraiser we had ever produced. It was a tribute to the recently departed entertainer Peter Allen, lost to AIDS, and the magnitude of celebrities who came to perform or pay their respects was like nothing I have ever seen. By that time I had become our director of public relations, and it was my job to corral the stars into the media room for interviews.
Celebrities like Lily Tomlin, Barry Manilow, Lypsinka, Ann-Margret, Bruce Vilanch, and AIDS icon Michael Callen were making their way through the gauntlet of cameras in the crowded media room. I had tried to no avail to convince our headliner Bette Midler to make herself available to the expectant press, but as I stood in her dressing room pleading my case, she firmly declined, explaining that she had an early morning call for the filming of the television remake of Gypsy. I had tried to insist until she waved me away and started removing her panty hose right in front of me. I nearly tripped through the doorway during my frantic retreat.
Back up in the media room, one of my volunteers approached me with a look of shock and excitement on his face. He pulled me from the doorway. "I didn't know he was going to be here," he said with wide eyes. "I mean –"
"Who?" I asked. On my God. Tom Hanks? Richard Gere?
"He's with Miss America, Mark," he said. "They're right behind me." We both turned as the couple rounded the corner of the hallway. They entered the light of the media room and I barely kept a gasp from escaping.
Beautiful Leanza Cornett, who had been crowned Miss America, in part, by being the first winner to have HIV prevention as her platform, had a very small man at her side. His head bore the inflated effects of chemotherapy, which had apparently done little to stem the lesions that were horribly visible across his face, his neck, his hands. His eyes were swollen nearly shut. In defiance of all this, his lips were parted in a pearly, shining smile that matched the one worn by his gorgeous escort.
I stepped into the media room, wanting to collect myself, to wipe the look of pity off my face. I swallowed hard and stepped into the doorway to announce them to the press.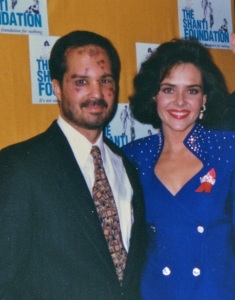 "Ladies and gentlemen," I said. "Miss America 1993 Leanza Cornett, escorted by Mr. Daniel Warner, co-founder of the Los Angeles Shanti Foundation."
The couple walked into the bright light and several flashes went off at once. And then the condition of Miss America's companion dawned on the camera crews. A few flashes continued, slowly, like a strobe light, and across the room a few of the photographers lifted their eyes from their equipment to be sure their lenses had not deceived them.
Daniel looked to me with a graceful smile, and it became a full, sunny grin as he looked to the beauty queen beside him and put his arm around her. She pulled him closer to her. Their faces sparkled and beamed – glorious, joyful, defiant – in the blazing light of the room.
That man, I thought to myself, that brave, incredible man is the biggest star I have ever seen.
And then the pace of the flashes began to grow as the photographers realized they were witnessing something profound. The couple walked the path through the room and toward the other door. "Just one more, Mr. Warner?" one suddenly called out. "Miss America! Just another?" The room became a cacophony of fluttering lenses and calls to look this way and that, all of it powered by two incandescent smiles.
Daniel and Leanza held tight to each other, their delight lifted another notch as they basked in their final call. Every moment of grace, every example of bravery and resilience I have known from people living with HIV, can be summed up in that glorious instant of joy and empowerment.
"Boss!" I said to him as they exited the room. "I didn't know you would be here. It's just… so great."
He winked at me. "I'll be around," he said. "I brought my whole family with me tonight. I need to get to the party and show off my new girlfriend!" The three of us laughed, and then I watched Daniel and Miss America, arm in arm, disappear down the hall and into the reception.
Only months later, I was at my desk in Atlanta in my new position as director of a coalition of people living with HIV when I received a phone call.
"Mark, this is Daniel," said a weakened voice. "Monday is my birthday, and I thought that might be a good day to leave." Daniel had always been fiercely supportive of the right of the terminally ill to die with dignity and on their own terms. We shared some of our favorite memories of our days at Shanti and I was able to thank him for his faith in me and setting into motion a lifetime of work devoted to those of us living with HIV.
Daniel P. Warner, as promised, died on his birthday on Monday, June 14, 1993. He was 38 years old.
Mark
(This story is adapted from my book, A Place Like This. Photo credits: Daniel Warner by Jim Blevins; Lily Tomlin and Lypsinka by Ron Galella; and Leanza Cornett and Daniel Warner by Karen Ocamb.)
Tags: A Place Like This, aids, culture, gay, help others, hiv, Recreation, Sexuality
Posted in Family and Friends, Gay Life, Living with HIV/AIDS, My Fabulous Disease | 8 Comments »
Tuesday, February 17th, 2015
My fear of all things anal began when I was an early teen. My older brother David took great delight in bursting into our bathroom to startle me, especially if I was on the john. And, since I was a pubescent redhead, his sudden visits included a lot of laughing and pointing.
I was mortified beyond belief. To this day, I must be sure no one is in the house, and then close and lock the bedroom and bathroom doors before I can properly relax. And I live alone.
But you can't avoid everything anal if you're growing up gay. Not if you want to do the really fun stuff.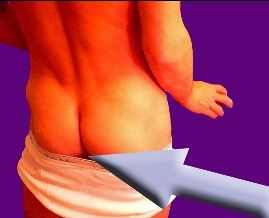 Thus my conundrum as a youth: exploring the pleasures of my tush while fighting the terror that something stinky might be going on down there. And I suspect I am not alone in this particular anxiety.
I discovered soon enough that if someone had serious intentions in regard to my backside, I couldn't simply rely upon a bran muffin and a Hail Mary to be properly prepared. God forbid I would, you know, not be… well, you know. This ongoing fear had a habit of wrecking the mood and the evening.
My exclamations during sex were usually panicked calls to turn the lights up, so I could carefully inspect the situation. Or a plea to stop altogether. "Okay, that's fine, no wait!" I would cry out. "Am I okay down there? I mean, is it… okay go ahead… no hold on! Are you sure I'm…?" I was usually so involved with my protestations that I would hardly notice my date gathering his things to leave.
There are cleansing products meant to address this situation, but they require a certain comfort level with your own body and a little patience, meaning, they were incomprehensible to me. But I tried my best.
Drugstore enemas always felt too clinical, like something a nurse should be administering so you could "move your bowels," a phrase I hope I never have to hear again, much less type.
But never fear. Leave it to gay men to popularize the "shower shot," a long hose which screws into your shower head and ends in a narrow nozzle, just right for sliding up your bum for a thorough internal rinse.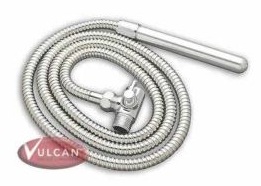 The modulation of this instrument, however — and I cannot stress this enough — is of utmost importance. Too little water pressure and you've got a dribble with little cleansing effect. Too much, and you've just inserted a pressure washer into your ass that could peel the paint off a building.
I was first introduced to this contraption in my early twenties, when my first-time date invited me to visit the bathroom to "rinse out" while he relaxed in bed and waited. I stepped in the shower and surveyed the dangling metal hose. I turned on the water. I considered how it all might operate, and I made my best guess, standing there for God knows how long, hose inserted and whistling a happy tune.
I must say in my defense that no one had ever explained the device to me, much less how to gauge the input versus the output.
That poor, unfortunate man. He had really pretty designer sheets, covered with a gorgeous blue and white pinstripe blanket that I can still see clear as day. Such a lovely bedroom. That is, until a few passionate moments later, when all of it was soaked with a solid gallon of spoiled water that had been percolating in my poopchute, exploding from me in a streaming rush that looked like the wake of an outboard motor hurtling across Lake Erie. The word "apocalyptic" comes to mind.
Only as I matured did I realize I had options (and I will now introduce cute baseball analogies to illustrate my point). I discovered I did not, in fact, always have to play catcher, and I stepped onto the pitcher's mound with great enthusiasm. But as much as I enjoyed the view from above, I worried still, that maybe I wasn't holding up my end of the bargain. It was only after pitching a near-perfect game one day that my partner in the dugout helped me make a simple decision.
"Mark," he said. "Why don't you just stick to what you do well?" And it was this generous assessment that gave me the confidence to hang up the hiney hose forever.
Yes, that's right. I'm now a dedicated top. I'll allow you a few moments of incredulous wonderment.
What's even more amazing is my having a boyfriend who is not only loving and adorable, but absolutely expert at the exotic mysteries of booty sex preparation. It really is an impressive talent, if you ask me. Like walking on your hands, or spinning plates on sticks.
This is all to tell you, dear reader, that sometimes you must find solutions to your fears in order to take care of yourself. And sometimes you have to face your damn fears head-on. I was reminded of this recently when, at fifty-two years old, I had my first colonoscopy. I don't think I have to explain my anxiety level going in to this procedure.
Everything checked out fine, thanks. I had heard the anesthesia they give you can produce some odd behavior, but other than proposing to the physician and asking the recovery nurse if they located my pet hamster, I behaved myself quite admirably.
The only side effect of my colonoscopy was a bloated feeling and a case of the gurgles. Well, and a few hours later I had the longest, most continuous release of gas I have ever experienced in all my days. I'm talking a minute plus, people.
I really wish my older brother David had been here. He loves that kind of thing.
Mark
(Artwork courtesy of Andrews's Anus, via LifeLube. This piece was originally posted on my blog in January of 2013, but for some reason continues to be one of the most popular pages on this site. So don't say I'm not giving the public what they want!)
———————————————————–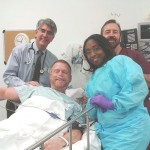 My Friends,
If I can face my deepest fears, so can you. Did you know that studies show people living with HIV have a higher incidence of "colonic neoplasms" (the polyps they are looking for during a colonoscopy), which should be checked out for cancerous cell growth? Anyone aged 50 should get a colonoscopy, and some protocols suggest that people with HIV start this screening at age 45. Please don't delay. Call your doctor! (At right, a picture of my happy procedure team just prior to my colonoscopy.)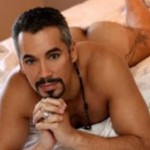 And speaking of rectal douching (and why not? We really should discuss this topic more, considering it is such a common practice among gay men), I cannot say enough about LifeLube, the blog created by the AIDS Foundation of Chicago to help gay men address sexuality and their bodies. They have an entire section devoted to rectal douching (did you know there are new douches that limit the amount of healthy bacteria removed?) and another feature, Andrew's Anus, that provides engaging answers to the questions you're afraid to ask. The blog is no longer active – meaning, no new postings – but there is a wealth of information here and you should definitely check it out.
Tags: Aging, family, gay, help others, physical, physician, research, Sexuality
Posted in Family and Friends, Gay Life, My Fabulous Disease, Prevention and Policy | No Comments »