Posts Tagged 'recovery'
Wednesday, October 7th, 2015
My discomfort began as I sat in front of my web cam, waiting to join Danny Pintauro in a segment on Huffington Post Live. Danny had recently announced on an Oprah special that he was living with HIV, which was big news for fans of "Who's the Boss?" and those who loved the precocious little boy Danny played. Before my virtual entrance, Danny was telling host Nancy Redd how he was infected with HIV.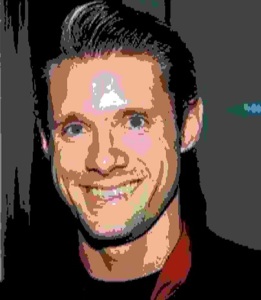 He wanted to explore "rougher sides" of his sexuality, he explained. And wouldn't you know it, the first guy he hooks up with for that purpose offers him crystal meth. "And you combine meth, which completely ruins your immune system," he said earnestly, "you combine having been up a good 12 or 13 hours… you combine that with some rough but safe sex, believe it or not, and it's just a potent combination."
My jaw dropped. Did Danny Pintauro just attribute his HIV infection to using meth and being tired? Did he just say that he had safe sex, "believe it or not?"
No, Danny. I don't believe it.  While gay meth addicts are many times more likely to test HIV positive, it is because they engage in high risk behaviors, specifically unprotected anal sex, and not because they missed a good night's sleep.
Danny went on to explain, or at least presume, that his sex partner's viral load "had to have been very high, because that's the easiest way to contract it if you're not being unsafe."
I was incredulous. I began to mentally prepare retorts to the celebrity. If you are not being unsafe, Danny, you will not become infected with HIV, regardless of your partner's viral load. Prevention is a two-way street. Your partner posed no threat to you if you were being safe, which you say you were. Which is ludicrous because you were high on crystal meth, a sex drug known for evaporating condoms instantaneously. Statements like "we were safe, believe it or not" would be pure comedy gold at any Crystal Meth Anonymous meeting.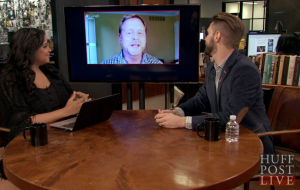 But I actually said nothing to challenge his statements.  When I appeared on the segment a few minutes later, I welcomed Danny to the world of poz activism and identified myself as a fellow meth addict in recovery. I then threw out an inane softball question to our newly-minted HIV positive celebrity/cautionary tale, because, well, he was on a popular sitcom and has the power to reach a lot of people.
And because I totally wimped out.
We don't always get the spokesperson we want. We have to work with the celebrity we are dealt (ask any transgender activist in this Year of Caitlyn). And it's unfair to expect a random person with a celebrity past to be conversant on every aspect of HIV important to us. Besides, Danny's messaging around meth and gay men alone is worthy of our gratitude.
It is also true that Danny has set himself up for criticism and public judgments. In a universally vilified segment on The View, one of the hosts, a breathtakingly clueless idiot named Candace Cameron Bure, challenged Danny to "take responsibility" for his actions, as if she had just nabbed an interview with the latest mass shooter.
If that was your last exposure to Mr. Pintauro, you're probably feeling for him about now. So was I. That is, until he doubled down on his "I had safe sex" statements by telling US Magazine that not only had he been a condom-loving crystal meth addict, he was actually infected through oral sex.
I better take a breath here. Ahem. Okay. Moving on.
There's no way to know the level of shame Danny Pintauro may be feeling around his addiction and HIV infection. And he must sincerely value his beloved place in television pop culture and hate to discolor it with his personal revelations. That took courage.
But attributing his HIV infection to the infinitesimal risk of oral sex – because God forbid anyone picture the former child actor taking bare dick and semen up his ass – isn't the kind of transparency needed for a gay, HIV positive spokesperson.
And then, oddly, Danny added in his US Magazine interview that the "irresponsible" man he believes infected him — whose name escaped Danny for many years because there were presumably many nameless others during his meth binges – has been on his mind and he has been trying to find him, even searching through obituaries and what-not.
Danny's strange fixation isn't just a little creepy, it suggests a blame game that goes beyond Danny's assertion that he just wants to be sure the guy "is okay." Let us all hope that the man in question is living a healthy life somewhere, safe from Danny's well-intentioned but pointless quest to contact him.
That man deserves his privacy at least as much as Danny Pintauro deserves his rocky, vexing media tour.
Mark
Tags: acting, advocacy, barebacking, culture, gay, hiv, recovery, Sexuality
Posted in Gay Life, Living with HIV/AIDS, Meth and Recovery, My Fabulous Disease, News, Prevention and Policy | 12 Comments »
Wednesday, September 30th, 2015
For more than a decade I was an active crystal meth addict. They were the darkest years of my life.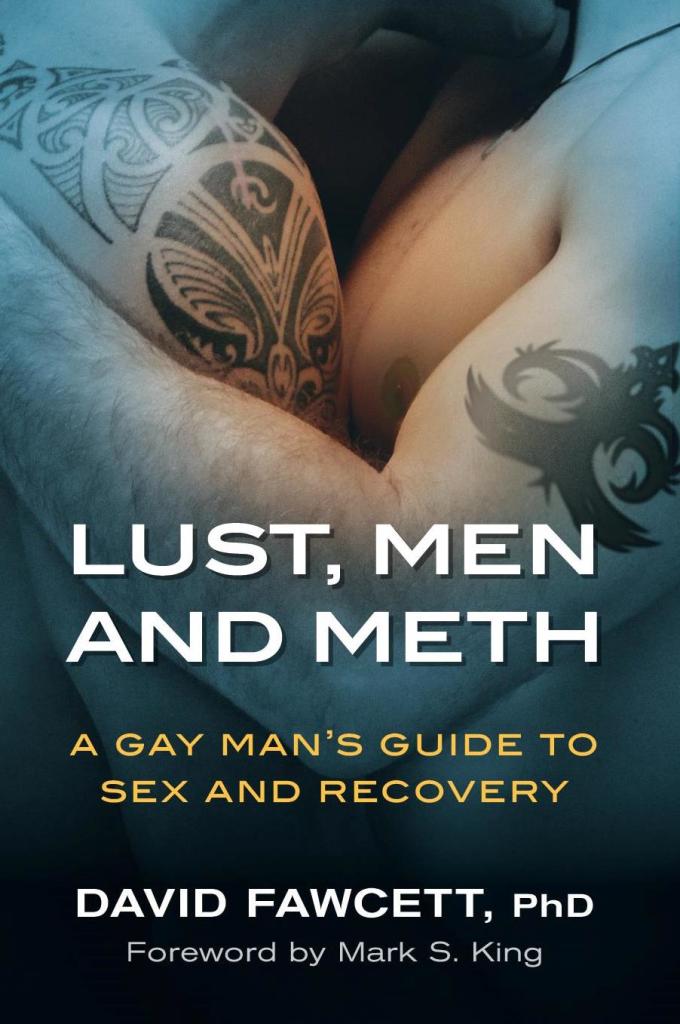 I suffered numerous relapses as I struggled to get clean, and my woeful journey back to crystal meth was always the same. First, small changes crept into my behavior; not about crystal meth precisely, but vaguely related habits that had once accompanied my active drug use would begin entering my routine again.
A return to the gym and a shallow fixation on my body. An abandoned cigarette habit that returned in secretive fits and starts. A feeling of entitlement—to do as I pleased, to eat junk or rejoin the lurid party scene—swept over me like a declaration of freedom that hid its true intentions in the fine print.
And then the clarion call became more explicit as involuntary images of using drugs bombarded me, plaguing my sleep and my daydreams. The images became ever more seductive, promising euphoria and an escape from my own feelings.
But the most formidable thoughts that drew me back to active addiction were always about sex.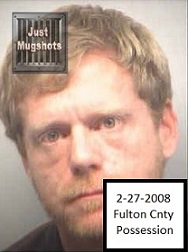 It feels ludicrous to me now. The sex life of a meth addict is as compulsive as it is pathetic. The drug ignited an obsession I had never known, taking my authentic sexuality and twisting it into something unrecognizable to me today. It was a constant pursuit of sex partners, naked video chats, pornography, and increasingly extreme and dangerous behaviors that lasted days and weeks at a time. It was an endless loop of desire and disappointment, played out over many years.
Incredibly, I believed the allure of hot sex was worth the consequences that piled up. Visits to the emergency room. An arrest. The company of psychotic and paranoid addicts. Weapons pointed in my direction. I simply wasn't capable of seeing the wreckage for what it was.
Throughout my years of addiction, and even during my recovery process, I couldn't help but wonder why. How could an intelligent and otherwise healthy man turn his life over to such a pitiful existence? What was going on in my mind?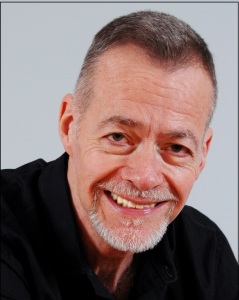 Therapist and addiction specialist David Fawcett (right), in his remarkable new book, Lust, Men and Meth: A Gay Man's Guide to Sex and Recovery, answers these questions and many more about the nature of addiction and the stubborn link between crystal meth and sexual compulsion. I cannot tell you how reassuring it was for me to read that there are physiological reasons for my addictive behaviors. There is comfort in knowing I am not alone in the mental changes that happen to crystal meth addicts, and that these changes are reversible.
I recognized myself on page after page of this book, including the fusing of sexuality and meth addiction, the stumbling blocks of recovery, and the deep and sometimes crippling shame that haunts active addiction and the recovery process.
Most importantly, this book maps a way back to normalcy. I am grateful to say that I recognized myself in these chapters as well, as the slow but steady process of rebuilding my brain took hold during my first years of solid recovery.
Whether you are a health care provider, the loved one of an addict, or are questioning your own addictive behaviors, this book reveals the most personal—and therefore, the most shame-filled—aspect of crystal meth addiction, and it provides guidance for a way out. Make no mistake, there is joy, engagement, and a worthwhile sex life on the other side of crystal meth addiction.
I am happy today. I am in a committed relationship that is rooted in honesty and has none of the selfishness and deceit with which I conducted myself during my dark and treacherous decade. Despite fears that my sexuality had been irreparably harmed, my sex life today is healthy and rooted in affection, love, and mutual care.
There are many avenues of recovery, but the science of addiction is always the same. This book outlines that science, while revealing the stories of addicts who, like me, have questioned if their sex lives might ever be the same again.
Thankfully, the answer is yes.
Mark
(This is an edited version of the book's Foreward, which I was honored to write. I not only recommend this book, I urge you to share it with someone you know who may be struggling. You can purchase it here.)
Tags: culture, gay, help others, hiv, meth, recovery, Sexuality
Posted in Book Review, Gay Life, Living with HIV/AIDS, Meth and Recovery, My Fabulous Disease, News, Prevention and Policy | 4 Comments »
Wednesday, September 23rd, 2015
When Miss Florida 1992, Leanza Cornett, competed for the crown of Miss America 1993, she didn't just have gay hearts aflutter over our love for pageant competitions. We adored her because she proudly chose an AIDS awareness platform — and she meant it down to her lovely bones.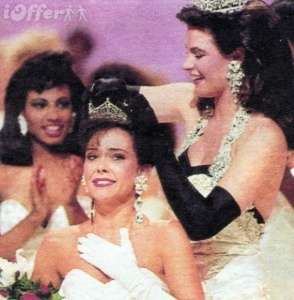 When she won, she made good on her promise to bring HIV issues to an audience that wasn't used to Miss America hanging out with dying gay men or performing condom demonstrations.
My interview with the groundbreaking title-holder is proof that, more than twenty years later, she is as feisty as ever.  Our chat includes her HIV advocacy memories, some backstage dish from the pageant, recovery, sex, her love for the gays, and whatever happened to that jeweled, delicate crown.
Tell me about your exposure, as it were, to the AIDS crisis prior to becoming Miss Florida in 1992. Was it already on your mind?
The first time I heard the word "AIDS" I was 11 years old. It was 1982 and I heard a newscaster say the word and what I remember most was that it was a disease that was killing people. I was in my very small Appalachian hometown of Big Stone Gap, Virginia, and I went into full panic mode because I had eaten almost an entire box of what I thought was candy, called "AYDS" at my grandmother's house. (AYDS was a chocolate diet suppressant, I found out later). So, as an 11 year old, I thought I was surely doomed. Fast forward, as years progressed so did the disease and thankfully so did our knowledge. When I was 16, I began working professionally in theater and met someone living with AIDS, an actor and a friend. Suddenly, the news story had a face, a name and a relationship with me.
During 1991, the year you were crowned Miss Florida, nearly 30,000 people in the US died of AIDS, and it was the leading cause of death among those age 24-44. It's sometimes easy to forget the nightmare of those statistics.
By 1991, I was volunteering at two different places in Florida. Hope and Help, was an HIV service organization in Orlando. I did everything from answering phones to taking clients to doctor appointments. That's where I met Guy Carswell, who became my best friend. I took him to appointments where he would have his Karposi Sarcoma (KS) lesions frozen off. I left every appointment with him in tears but also feeling incredibly empowered that the doctors were making strides toward a cure.
I saw an article in the Orlando Sentinel about a couple who had decided to take in foster children that were born with HIV. Jim and Charlene White turned their home into a non-profit organization called Serenity House and I began volunteering twice a week, taking care of those sweet children. Some were newborn infants and a few were toddlers. It was that year that I competed in Miss Florida and won. So yes, it was very much already on my mind and a huge part of my life.
Was AIDS your platform for the Miss Florida pageant?
No, and I regret that. I listened to people who said I'd never win, it was too controversial. I always felt like that was a compromise I should never have made. But, in the long run, if it had been something standing in the way, I may never have had the national platform I ended up with. Funny how things work out.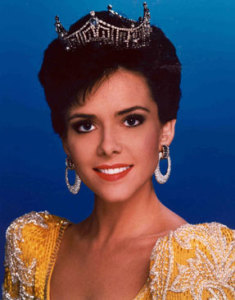 Tell me about how you decided to use AIDS as your Miss America platform, then. I have to assume it wasn't a popular choice.  Did you get pushback from your sponsors or pageant officials?
I had decided to champion AIDS as my cause going to Miss America no matter what. I met with the Executive Director of Miss Florida and told her and the rest of the Board that it wasn't an option for me to do or speak out for anything else. The Florida board and everyone I worked with supported me wholeheartedly. I was surprised, simply because in 1992 the only people you heard about as activists were groups like ACT UP.
I absolutely must know about the final moments, among the finalists, before you were crowned and when you name was called as Miss America 1992.  Please, spare no emotional detail! I live vicariously for this sort of thing.
I knew I was going to make Top Ten at Miss America, not because I was super egotistical or clairvoyant, but because a hairdresser had seen the list and I was on it and she told me. I even knew where I was in the placement — number six. So I was pretty thrilled with just that alone. Once I made it to the Top Five and I got to speak and answer questions about my platform on stage, that was the cherry on top. For me, personally, that would've been enough.
Thank God for video because I honestly don't remember those final moments except for what I witness in watching it back now. I remember saying to Miss Iowa (Cathy Herd) that she would make a great Miss America. Everyone thought she would win — she was a double preliminary winner. I remember when Regis Philbin announced me as the new Miss America that it must be a mistake. I was wearing white gloves and I remember thinking that they were borrowed and I didn't want to get makeup on them when I wiped my tears. I thought about the boyfriend who'd broken up with me and hoped he and his whole family were watching. I was just stunned. Completely stunned. Have never been so shocked in my whole life.
Hold on one minute. Your boyfriend broke up with you before the pageant? Is the best revenge winning Miss America?
No, he broke up with me my first year of college, and funny enough, we're still friends today. But he broke my heart and I wanted to see him squirm, that's for sure.
I happen to have a sash and crown in the back of my closet, for the 2015 Miss Summer Serenity Pageant, a camp drag thing they do in Washington to benefit people in recovery like me. So, take that.  I didn't cry when I won, I was very regal. Although those sharp stays in the crown were killing me.
I love it that you have a crown and sash…everyone in recovery deserves that but I'm especially glad you won!
Are contestants by and large sincere and gracious behind the scenes, worse, or somewhere in between, like all of us?
I think by the time most contestants get to Miss America, the catty ones have been weeded out. Girls are girls just like gays are gays (laughs) but it's kept in check during pageant week. It felt less like a competition and more like putting on a great show. I'm still friends and communicate often with several of the girls from my year.
I know gay men who can rattle off former title-holders, their states, and what color they wore for swimsuit.  I remember actual squeals coming from my gay friends when we saw you backstage at the Shanti Tribute to Peter Allen in 1993. We're talking high-pitched sirens of delight.
I'm very, very proud to have been able to speak out on behalf of People Living with AIDS and gay men who probably suffered the most, especially during those early years. I think I confused the lesbians, because they typically hated Miss America, but loved anyone who stood up for AIDS. I was a conundrum!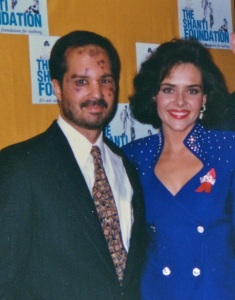 Of course, your appearance at that event for Shanti was a bittersweet moment for me, as you know I have written about. You accompanied our founding director, Daniel P. Warner, to the event, and he was covered in KS lesions. You handled yourself with such graciousness toward him, holding tight to his arm.
Because I was so closely involved as a volunteer prior to ever winning, I felt really comfortable with a hands on, no-holds barred approach. I was criticized and questioned many times along the way. I remember I was photographed at a hospital kissing a child who was HIV positive and it made the front page of the paper. I got so much mail over that!
Thanks for referring to us as "people living with AIDS" during that time. You know your language.
I was reading an article published in People Magazine about the AIDS epidemic and the journalist kept referring to the people she was profiling as "victims." I wrote a letter to People, correcting the journalist and explaining how important it was to write about "people living with AIDS" as opposed to victims. They published the letter, and a few months later I was in attendance at a Ryan White Awards banquet and Greg Louganis was a speaker. He cited my letter to People and thanked me for standing up for PLWAs. It was a God-shot for me, proof that standing up and speaking out reaches to so many places.
Speaking of God, you're a woman of faith, and so many people with AIDS were traumatized by some of the rhetoric by religious fundamentalists during the early years. I'm thinking Jerry Falwell, for instance. How did you reconcile that, or explain to conservatives the importance of ministering, in the truest sense, to those living with the disease?
Great question. Well, I don't know anyone who hasn't been traumatized by religious fundamentalists at some point, no matter if it had to do with AIDS or anything else. I definitely felt the sting of that while I was in the thick of advocacy. Thankfully, I have a lot of Biblical training and knowledge, and anytime I felt I had to reconcile anything, I could always refer to the love, the merciful love that Christ shows to all of us. I understand that even more, in recovery, because that gift of powerlessness — knowing that we can't control what people think or say or believe — it's very freeing. The most important thing is to love, to show tolerance. I recall telling a minister once, when he criticized me about how vocal I was, that perhaps he should just pray for me and leave the rest to God.
It feels like we still get hung up talking about sex even today, which only benefits the spread of HIV, yet you were teaching people how to use a condom 25 years ago. Is our reticence about sex still the biggest obstacle?
I think we've certainly come a long way when it comes to talking about sex, and sexuality. As a parent now, I think the biggest obstacle is knowing when to have an open discussion with kids, because they are much more open minded about almost everything — race, gender issues, sexuality, differences. I think it's incredibly important to have age appropriate, honest conversations with children as early as possible. This helps them grow into tolerant, open minded adults, which is what the generation before ours, and our own as well, missed out on. I also think that adults need to be exposed to that same honest talk, through schools, clubs, churches… Talking about sex has never scared me, but the results of NOT talking about it absolutely scare the hell out of me.
You were part of the ceremonies when the entire AIDS Quilt appeared on the Ellipse in Washington, DC, in 1992. I still can't walk through a display of the quilt without losing it. What kind of impact did it have on you then?
Oh my goodness. That was one of the most powerful moments I've ever experienced. I traveled quite a bit with the Quilt and worked so closely with NAMES Project. Yes, the impact stays with me.
Did you make a panel?
I did make a panel for Guy when he passed. It still remains one of the most emotionally charged and difficult thing I've ever done. Labor of love doesn't even begin to describe it.
How do you feel about the arrival of pre-exposure prophylaxis (PrEP), the pill that prevents HIV infection? For me, it's the kind of thing we prayed for back in the day, but the uptake among those at risk of infection has been slow.
Wouldn't the landscape of the disease be so very different if that had been available "back in the day?" I know I would take it, and I would encourage anyone who's sexually active to do the same. I think any kind of shame in taking a preventative pill would pale in comparison to the possible ramifications for not taking it. That's not to say that there should be ANY shame in contracting and living with HIV/AIDS. Men and women who I respect, admire and love with all my heart are living with the disease, but would, I'm pretty certain choose not to if they could.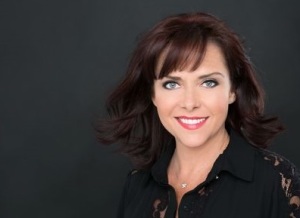 You're in Florida now, hosting a morning show called The Chat. How's life today, and does HIV advocacy still have a presence in it?
Life is so good. I'm on a leave from the show for now, so I can spend some time with my two boys and family in California, but I'll be back! The show is formatted like The View, with very opinionated, funny, smart women and it's really fun and informative, too. I stay involved with HIV/AIDS organizations. I don't have the national platform like I did in 1992-93 but whenever I'm asked to do anything, I say yes. I advocate as much as I can and will for as long as people remain uneducated and people living with HIV/AIDS are ignored or mistreated.
Many gay men like myself can take a kind of bittersweet pride in having stepped up at a time when it felt like the world had turned against us. And you were our ally when you didn't have to be. I hope you still take a lot of pride in that.
I really do. And thank you. It's one of the best decisions I ever made to step into the ring and fight with all of you, gay and straight alike. I'm so proud of what we have accomplished and continue to accomplish. It isn't lost on me that I was, as Miss America, invited into places that other activists weren't. Churches, schools, Rotary Clubs, private organizations, the White House. I am so very proud to have been able to use my title to make a difference and have the absolute time of my life doing it. The friendships that were born through advocacy are some of the most important and meaningful relationships I have. I worked with some real rock stars. I'm very grateful.
When was the last time you put your Miss America crown on? If you haven't done it in many years I am going to be really disappointed.
Honey, every time I vacuum that crown is on. Haha! No, actually I put it on while doing The Chat last year. It's here in California with me now, and since you mentioned it I may just have to put it on today just for fun.
Oh yes, please.  You know I love you for that.
Ironically, my producer on the show put it on and broke it! It was so funny. She was mortified. So, a little super glue and it's all good.
Lucky for us, your spirit is unbreakable. Thank you Leanza, for so many things.
And thank you. Your spirit and passion is contagious and inspiring. I mean that.
I inspire Miss America! I'm telling everyone. Take care, and think of me when you vacuum.
You take care as well, and thank you!
(Crowning photo from Miss America 1993 DVD; Portrait photo courtesy Miss America pageant; Photo of Daniel P. Warner and Leanza Cornett by Karen Ocamb; present-day photo by Renee Parenteau Photography)
Tags: aids, culture, drag, gay, help others, hiv, PrEP, recovery, Recreation, Sexuality
Posted in Gay Life, Living with HIV/AIDS, Meth and Recovery, My Fabulous Disease | 3 Comments »
Tuesday, September 15th, 2015
Not to get all southern gothic on you, but I depend upon the kindness of strangers. Especially when producing video blogs at conferences.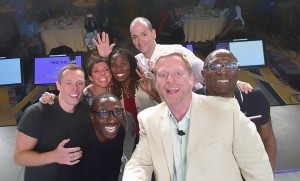 "Excuse me, would you please just hold this camera and point it at me while I talk to these people?" I must have said that sentence at least 40 times during the United States Conference on AIDS (USCA), held recently in Washington, DC. Every single interview you see in my video blog below was shot by whomever was wandering by at the time. Thanks, y'all!
The video contains three AIDS czars, one stripper pole, a ferocious batch of trans protestors, and more inspirational front-line workers than you can shake a stick at. My congratulations to the National Minority AIDS Council for their famously creative production of the weekend.
The spirit shared by the advocates, healthcare providers, and organizations who convened for USCA was electrifying, and just the boost many of us need to keep our energy up and our dedication renewed.
Oh, and special thanks to the CDC's Act Against AIDS campaign for letting me take over their Instagram page during the conference (follow them here), and to Gilead Sciences for sponsoring the "Mind the Gap" session on social media and inviting me to host it.
I love what I do. I love the work you're doing, too. As always, you are welcome to re-post my content, share it, take the YouTube video above and post it within your page, whatever might help share the messages of this amazing event and the awesome people who attended.
Thanks, my friends, and please be well.
Mark
(The photo above was the selfie the Social to Mobile speakers took at the end of our session, and includes – left to right – YouTube star Davey Wavey, blogger Guy Anthony, Michelle Samplin-Salgado of AIDS.gov, Luvvie Ajayi of the Red Pump Project, Miguel Gomez of AIDS.gov, myself, and Michael Crawford from Freedom to Marry.)
Tags: advocacy, aids, conferences, criminalization, culture, gay, help others, hiv, physician, politics, PrEP, recovery, research, serosorting, Sexuality, testing
Posted in Family and Friends, Gay Life, Living with HIV/AIDS, My Fabulous Disease, News, Prevention and Policy | 6 Comments »
Tuesday, July 7th, 2015
"We ask ourselves, 'Who am I to be brilliant, gorgeous, talented and fabulous?' Actually, who are you not to be?" — Marianne Williamson
The first time I met Amy Ferris, several years ago, she cupped my jawline in her hands and gave me a kiss full on the lips. There were none of the usual pleasantries or the polite distance maintained by a new acquaintance. Instead, she kept my face in her grasp and she told me I was incredibly important. And a hero. Those are the words she used.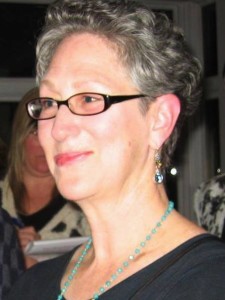 Her eyes – green, filled with wonder and a thousand miles wide – never released their grip on mine. There was no escape from her relentless affections. It was an entirely unnerving experience.
I responded to that first meeting as any reasonable person would. I doubted her enthusiasm and her strident belief that I am all that special. No one is worthy of so much fuss. And it did cross my mind that Amy Ferris might not be, well, for real.
It turns out that Amy is a perfectly functioning human being who believes that you, and I mean you, you there reading this, are amazing beyond belief and have the potential to change this world. Or, as she might write in one of her morning Facebook postings, "You. CAN. Change. This. Fucking. World."
She has demonstrated her powerful talents many times over as a celebrated author and screenwriter. Her smashingly successful book, Marrying George Clooney, became a rallying cry for women everywhere who were facing down middle age and needed Amy's funny, dirty, and emotionally raw chronicle of a "full term in menopause prison." In her most recent book, Dancing at the Shame Prom, she curates stories from women who unburden themselves of secret, shameful events. Amy may be a loving earth mother, but she isn't afraid to cut to the bone.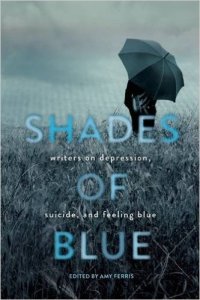 Last year, Amy asked me to contribute to a new book she was editing. By then she had become an intimate of mine – there is no choice, really, it is part of the social contract when you meet her. Amy believed, fervently of course, that I had something to offer Shades of Blue: Writers on Depression, Suicide, and Feeling Blue, an anthology that would tackle the subject through first-person accounts and help those suffering from depression.
I harbor epic self-doubt, so being included in a batch of well-known writers in a major fall release brought my uncertainty charging forward. Amy convinced me otherwise, of course, and her belief isn't simply encouraging. Five minutes in her company is intoxicating. You wonder if you should shake it off and then hope you never do.
My essay for Shades of Blue, "Suicide: A Love Story," is an intimate and explicit glimpse into the saddest, darkest days of AIDS. It recounts the night my brother, Richard, helped his terminally ill lover kill himself, and the destructive grief that haunted Richard for the next several years.
Amy responded to my piece with grateful emails and Facebook posts of high praise, writing that she couldn't stop "ugly crying" and was as convinced as ever that the book will open hearts and change lives.
I have stopped questioning the sincerity or utter authority of Amy Ferris when it comes to these things. We define visionaries only in retrospect, as if we couldn't possibly be watching someone extraordinary in real time. What if powerful people don't all live somewhere beyond our reach but right here, in our circle of friends? What if that person might be you?
Knowing Amy, especially when I revisit our time together and her seductive certainty, helps me believe in myself more. It makes no sense to doubt that Amy Ferris might change the world when she has already changed mine.
At my wedding this year, Amy radiated her usual joy, kissing everyone in sight like a bee pollinating in the height of spring. When Amy kisses me now, I kiss her back, and I hold her embrace for as long as the woman wants.
I caught her attention at the reception and invited her to sit with me so I could make an introduction. "Amy, this is my brother, Richard," I said. "I wrote about him in my essay for your book."
The realization of who Richard was, the tortured story from his past and his present day joy and resilience, washed over Amy in a transparent swell of emotion. Her eyes filled with tears.
And then, Amy Ferris reached forward and took my brother's face in her hands. As she looked at Richard with poignant recognition, her fingers lovingly caressed him in a familiar, healing embrace.
Mark
p.s. Shades of Blue will be released by Seal Press this September. You can pre-order your copy here.
Tags: A Place Like This, culture, family, gay, gratitude, help others, recovery
Posted in Book Review, Family and Friends, Living with HIV/AIDS, My Fabulous Disease, News | 1 Comment »
Monday, June 29th, 2015
Sometimes it's helpful to get back to basics, and there is no more basic, effective tool to fight the HIV epidemic than to encourage testing. How long has it been for you, my friend? Here are five important facts about HIV testing that I hope will convince you to get busy and get tested — again.
1. You could be HIV positive and not even know it.
According to the Centers for Disease Control (CDC), one in eight people with HIV in this country don't know they have it. Some estimates are higher. With 50,000 brand new infections every year in the United States, it is absolutely crucial that you know your status.
2. Knowing your status is one of the very best ways to stop the epidemic from growing.
No matter your HIV test results, taking the test means you are already doing your part to protect yourself and others. If you test negative, you will know you haven't put anyone at risk – and it will probably encourage you to keep making smart decisions. It might also be the wake-up call you need to re-assess your risks or to consider pre-exposure prophylaxis (PrEP), a medication proven to greatly lower your chances of becoming infected.
If you test positive, you can take advantage of a variety of medications (with fewer pills and side effects than ever) that can reduce the virus in your body to undetectable levels. Science has proven that people with HIV who have an undetectable viral load are not transmitting HIV to their partners. Getting people with HIV to undetectable levels is a huge factor in slowing the epidemic–not to mention keeping your own body healthy and ready for more action.
Yes, getting testing can be scary. But so is having HIV and not treating it. Ask any gay friend who survived the 1980's, when there weren't effective medications. It wasn't pretty.
3. An old HIV test result is even worse than an outdated Grindr photo.
When was your last test, and how many risky things – unprotected sex, drug or alcohol use, wild nights out – have you done since then? Being confident of your status is about being consistent.
The CDC recommends an HIV test for everyone between the ages of 13 and 64 as part of routine health care. For those at higher risk – that would be gay men like me and those with drug addiction histories – a test at least twice a year is recommended, especially if your bedroom dance card has been full or you've been partying.
4. Getting tested is easier than ever, and you have plenty of choices.
Boys, do you have options. Choose one and get 'er done:
Visit Get Tested and enter your ZIP code.
Text your ZIP code to KNOWIT (566948), and you will receive a text back with a testing site near you.
Call 800-CDC-INFO (800-232-4636) to ask for free testing sites in your area.
Contact your local health department or HIV service agency.
Get a home testing kit (the Home Access HIV-1 Test System or the OraQuick In-Home HIV Test) from a drugstore.
5. Everyone can make a difference. We can stop HIV together.
Offer to go with a buddy to support him emotionally as he gets his results. Get tested alongside that sexy beast you've been seeing. Ask friends about the last time they took the test.
You could go the extra mile by sharing this article. Or visit the Act Against AIDS page for free materials, ads, videos, and banners you can share online.
Mark
(A version of this article appeared on Queerty for National HIV Testing Day. It is good advice all year long.)
Tags: advocacy, barebacking, gay, hiv, physical, physician, recovery, Sexuality, testing
Posted in Gay Life, Living with HIV/AIDS, Meth and Recovery, My Fabulous Disease, Prevention and Policy | No Comments »
Monday, May 25th, 2015
This post will never be as romantic as I would like it to be. And it could never be as romantic as the truth.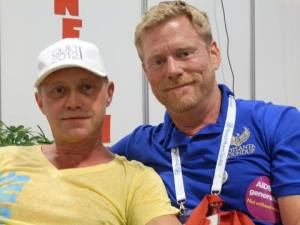 On the evening of July 22, 2012, Michael Mitchell went to a mixer at Cobalt, a gay club in Washington, DC. The international AIDS conference was being held in town and Michael, a DC resident who had once served as director of an AIDS agency, decided on a whim to go check it out.
I had been shooting video all day for my conference coverage for TheBody.com, and thought the name of the mixer — Meet the Men of AIDS2012! – had an inviting ring to it.
During the reception Michael and I engaged in some mutual cruising from across the bar before Michael, God bless him, made his move. He walked up and introduced himself. Even with dance music thumping and a boisterous crowd surrounding us, he had an adorable humility about him that came through loud and clear.
So did the remnants of a southern twang, and we quickly established we were both southerners born in Alabama. We talked about his work implementing the Affordable Care Act and I was struck by how proud he was to help provide health insurance to millions of Americans.
"I'm a blogger, I write about HIV," I said after a while.
"Oh, I know," Michael answered, and he grinned. "I've been reading you for years." He leaned in closer and flexed his dimples. "And you should get new pictures. You're much better looking in person."
I swallowed the line like a cold glass of sweet tea.
For the remaining nights of the conference, I sat at the foot of Michael's bed and edited video footage into the wee hours while he slept. We toured the Global Village at the conference center and got our picture taken (above). We held hands, casually and almost immediately. When I left a few days later there were tears at the bus stop.
You would think that after many years writing about living joyfully with HIV that my own happiness would be a given. That's hardly been the case. After several false starts and some complete misfires — primarily due to my own deficiencies — I had stopped believing I would ever get the whole relationship thing right. What are the odds of getting another chance, after so many wasted ones?
"I am not a very good boyfriend," I told Michael in a frank conversation early on, the kind that is meant to drive the poor guy away before he is taken hostage. "I've either been terribly immature or in active drug addiction. I've never been faithful, or even very thoughtful."
"That doesn't mean you can't be," he replied, as if it were the simplest response in the world, as if none of my past faults had any bearing on the here and now. Suddenly it clicked, a switch in my head I had been grappling with my whole adult life, and Michael's statement made perfect sense. Why couldn't I just behave differently, and do it because I love Michael and to hurt him would crush me?
I am going to marry that man.
On June 6, a small group of friends and family will gather in the lush woods of Pennsylvania a few feet away from where I proposed on Christmas Eve (below). During our ceremony I will make promises that I have every intention, at long, long last, of keeping. Our vows will be emotional but a mere formality, because for three years we have adored one another without a single cruel word between us.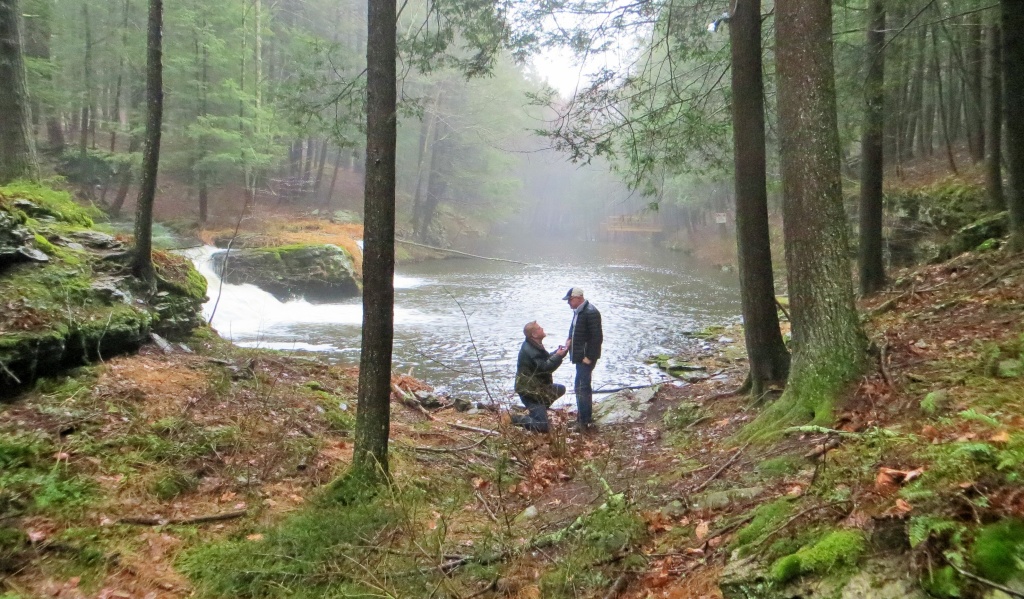 When I was growing up I could never find anything in the house; the right socks, my school assignment, my lunch money. I would call downstairs to mother and complain that I just couldn't find it, whatever it was.
"You haven't found it yet," she would reply with the preternatural calm that had mercifully accompanied her through years of raising six children.
My search has continued, for those things misplaced or never claimed to begin with, and I have actually found a few of them. Feeling comfortable in my own skin. Self-esteem. Sobriety. An acceptance of life on its own terms. An unselfish love for another human being.
The search may have been maddening, but the guidance of a good mom usually holds true.
I just hadn't found them yet.
Mark
Tags: Aging, conferences, culture, family, gay, gratitude, hiv, recovery, Sexuality
Posted in Family and Friends, Gay Life, Living with HIV/AIDS, Meth and Recovery, My Fabulous Disease | 6 Comments »
Wednesday, April 15th, 2015
ACT UP has always intimidated me. In the 1980's, while working at LA Shanti to provide emotional support to those dying of AIDS, I doubted my activist cred while watching the dramatic, inspiring actions of ACT UP. Everyone has a role to play, of course, but I so admired the courage and laser-focused anger of ACT UP, as evidenced in the Oscar-nominated documentary How to Survive a Plague.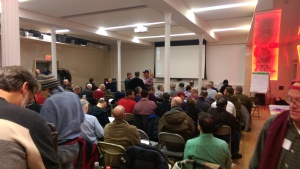 So it was with excitement, yes, but also a great deal of trepidation that I accepted an invitation to speak at ACT UP NYC's first town hall forum on AIDS long term survivors last November. I certainly qualified, having tested in 1985. But what could I possibly offer a room filled with activists who had literally defined the word empowerment and had stomped their way across New York City during the most ravaging days of AIDS and beyond?
The forum was held at the NYC LGBT Community Center, in the very room where Larry Kramer had founded ACT UP decades earlier. I bought an ACT UP button at a side table, with tears in my eyes. The sense of history was palpable.
Any doubts about the relevance of addressing long term survivors were answered by a packed room. The program included presentations by Graham Harriman, Director of the HIV/AIDS Bureau, Mark Brennan-Ing of the ACRIA Center on HIV & Aging, and popular local gay therapist Scott A. Kramer.
When it came my time to speak, to offer my personal perspective on a lifetime with HIV, I abandoned my note cards and the story came pouring out of me. My voice quivered the entire time. I cried and told my secrets and my shame and my grief in ways I have never revealed on my blog.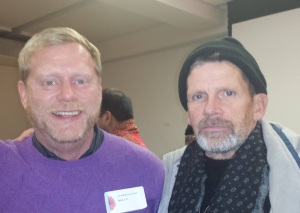 The room responded with warmth and acceptance. Afterwards, iconic ACT UP members whose names I recognized greeted me and thanked me (like Ed Barron, at left). It was one of the most nerve-wracking and proudest days of my life.
OUT FM featured my remarks recently on their weekly radio show on WBAI/NY, and it is through their courtesy that I am able to share this recording of my presentation. It includes a little adult language here and there (sorry, Mom!).
Our most effective tool as people living with HIV, and as long term survivors in particular, is simply telling our story. There is such power in the personal.
My deepest gratitude goes to ACT UP NYC for everything, both then and now. Thanks for listening, and please be well.
Mark
Tags: Aging, culture, gay, help others, hiv, meth, politics, recovery, Sexuality, testing
Posted in Gay Life, Living with HIV/AIDS, Meth and Recovery, My Fabulous Disease, News | 8 Comments »
Saturday, March 28th, 2015
Why Andy Cohen isn't badgering me with phone calls to bring this series to Bravo, I'll never know. At any rate, you will find all three videos of the series below.
During the first year of producing my blog videos back in early 2009, it occurred to me how much of my health and happiness was the result of having a solid support network. I wanted to find a way of showing this through my blog, and the result would be three video episodes that remain among my favorites produced for My Fabulous Disease.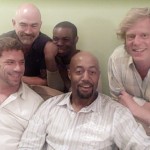 What might it be like, I wondered, if I invited some friends living with HIV over to my place and the video chronicled our evening together? Was there value in showing our support and friendship? My cinema verite experiment could be inspiring — or a complete bore.
I needn't have worried. When Craig, Eric, James and Antron arrived for dinner, they plunged into the evening with startling honesty and affection for one another. While my BFF Charles worked the camera (the man is a saint; he didn't eat at the table with us so it wouldn't intrude on the filming), the five of us let down our guards and shared on a variety of topics.
We talked about our mothers, and how and when we disclosed to family and friends. We talked about dating, and loneliness, and what we tell people who have just tested positive.
Viewers loved doe-eyed Antron, the 23 year old with the heartbreaking story of his mother's reaction to learning his status. They left comments about the tattooed, sexy James, and his candid stories of sex and disclosure. They swooned over the philosophical Craig, and his moving description of his mother's face the moment he revealed his status, and equally, how Eric created his "HIV Team" of physicians and family to combat his disease.
As for me, I look back at this episode and wish my video editing skills were as honed as they are now, and I regret filming when my face was swollen from my initial facial filler treatment (I look like I'm welcoming you to Munchkin land). But I couldn't have been more thrilled with the response to the video and knew that I would have to produce another episode with this amazing group.
That would happen a year later, when "The Real Poz Guys of Atlanta" was posted on TheBody.com on February 23, 2010. This time we skipped dinner and went directly to dessert, as I taught my friends how to bake my legendary brownies. Then we sat by the fire for a conversation even more intense than our last, sharing about partners lost to AIDS, our sex lives and what constituted "acting out," and even a round of show and tell, as each of us brought something of meaning to our lives with HIV.
When another year later we met up again, sparks flew. These guys were really getting the hang of this, because we discussed and revealed things like never before. From crystal meth addiction to our mothers, nothing was off limits. There's even a (NSFW-ish) chat about tops and bottoms, modern gay sexual politics, and which one of us absolutely loves using the female condom. I love hearing my friends talk dirty for a good reason. And about reaching out for help when you really need it.
And having these conversations is really what this project was about for me. The healing grace of our friends, and how that support comes in handy during trying times.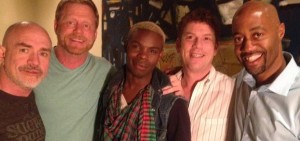 Do you have a strong circle of friends who know your status or otherwise have your back? I'd love to hear some of your experiences and what you might advise someone who is considering whether or not to disclose their status to their social circle.
In the meantime, my dear friends, please be well.
Mark
Tags: barebacking, culture, family, recovery, Recreation, serosorting, Sexuality
Posted in Family and Friends, Gay Life, Living with HIV/AIDS, Meth and Recovery, My Fabulous Disease | No Comments »
Wednesday, January 28th, 2015
Before my interview with activist Sean Strub, author of Body Counts: A Memoir of Politics, Sex, AIDS, and Survival, let me share a revealing story.
It was late 2011 and my life was in shambles. The breakup of a long term relationship had sent me into a spiral, followed closely by a devastating drug addiction relapse. I had weathered the fallout and taken refuge at my mother's home in Louisiana.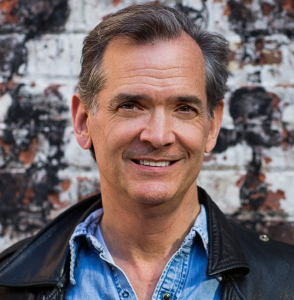 And then came a phone call from Sean Strub, founder of POZ Magazine and lifelong advocate for those of us living with HIV. We were acquainted but not yet close friends and the request he made during the call surprised me. Would I be willing, he wondered, to come visit him for a few weeks and help get his new HIV anti-criminalization effort, The Sero Project, off the ground?
Sean had read a blog posting I had written about my breakup and relapse, and must have known I wasn't exactly firing on all cylinders. I was a recovering addict with a trail of wreckage in my recent past, and yet he wanted me to come work with him. Like, in his home.
Within days I drove 1,400 miles to his Pennsylvania town. I managed to get some work done but mostly I piddled around his home office, getting my bearings again while we traded war stories and gossip from across our desks. Sean was passionate about every topic and a great teacher on contemporary HIV advocacy issues.
Before long, the real purpose of Sean's long distance invitation became clear to me. He didn't really need much help, but he knew that I did. He saw someone with potential who would benefit from a little mentorship, encouragement, and a friend. And God, he was right. Our time together strengthened and refocused me. Since then, I have heard many stories about Sean Strub taking people under his wing and helping to lift them up to a better place.
My admiration makes it nearly impossible to objectively review his remarkable memoir, Body Counts. I am an unapologetic fan and grateful friend. That being said, you must finish reading this article and go directly to Amazon and buy his book.
Body Counts is one of the most wide-ranging and well written remembrances to come out of the AIDS crisis. It seamlessly combines the social, political, and sexual landscape of Sean's journey. It moved me to tears more than once, and taught me a lot about what happened behind the scenes during the dawn of the century's greatest public health crisis.
All that, and there's a ton of great celebrity stories about people like John and Yoko (Sean was there the night Lennon was shot), Andy Warhol, and a host of colorful others.
Sean agreed to a conversation to discuss everything from his memoir to body image, sexual abuse, the legacy of AIDS, and the state of the HIV community today.
Here is that conversation: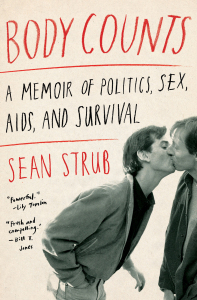 Body Counts is such a marvelous achievement, Sean. So much history here, personal and otherwise, and witnessed from such close proximity. Thanks for not holding back the juicy stuff about politicians and celebrities!
For better or worse, politicians and celebrities are intertwined with the history of the epidemic, in ways both bad and good. My perspective at times is unusual–like when I was running the "Senators Only" elevator in the U.S. Capitol–and I tried to present the humanity, good and bad, of those I write about.
Also, in terms of the epidemic, it was a conscious decision and key strategy to exploit celebrities to gain attention and action in response to the epidemic. Elizabeth Taylor knew this better than anyone and she was amazing at getting others to join her in spending their celebrity capital on behalf of something important.
And you're our tour guide through those years. I think your criticism of President Bill Clinton's AIDS response might be surprising to people. Aren't we supposed to love him?
Others have suggested that Clinton's post-presidency focus on the global epidemic is an effort to atone for his failing in this regard during his presidency. When salon.com published an excerpt from Body Counts that was about the Clinton Administration, it generated a lot of nasty comments. It was the epidemic driving a generation of gay men out of the closet and into activism that ultimately was critical to electing Bill Clinton, yet as soon as he was elected it seems like the air was let out of our activist balloon.
In some ways I think we–as a queer community–are more effective as outsiders, where we had to learn to survive, than we are as insiders, where we haven't been as welcome or skilled. When Clinton was elected, many of our leaders became insiders and didn't take everyone with them.
I'm glad you're not letting people off the hook. Was it important for you to save our AIDS history from those who might revision it?
Initially the impetus for writing Body Counts came from the realization that, as time passed, there were fewer and fewer of us around from the early days who could tell what happened first-hand. It was also a way of validating my own life. I didn't grow up wanting to be an AIDS activist; I had other plans, but in the early 80's my life was hijacked by the epidemic. Writing Body Counts gave me some understanding of why I made the choices I made.
But the more I dug into the history I also saw how those years have been misrepresented or misunderstood, particularly the role of people with AIDS and HIV. Grassroots community efforts are often dismissed, minimized or ignored.
Historical truth is always more complex than the simplified–and sometimes manipulated–version of popular history we are led to believe. The epidemic's history has been, to an extent, commodified, rewritten to serve some agenda.
I think it is important to have as many first-person accounts, especially from people with HIV who were on the frontlines, so our experiences get documented and preserved. And as time passes, there will be more archives available, with documents from those years that will tell an even fuller picture.
As we get more perspective, the epidemic and our response to it, is understood in new ways and that's a good thing.
The ongoing theme to your AIDS work, in fact, has been a respect and focus on people living with the virus themselves. You carry that banner fiercely.
I don't think the LGBT community, or people with HIV, have gotten the credit we deserve for what we did in those early years. How we came together to love and care for each other was something remarkable. We should the world our very best face and what we did then should be celebrated and recognized as a model, worthy of emulation in many kinds of situations. I also know that it was other people with HIV who comforted me, educated me and enabled me to survive.
The book is a reclamation on your body — from shame about it, from infection, from the sexual abuse you suffered. Do you think it's a common challenge for gay men to love their physical selves?
The title, Body Counts, is an intentional double entendre, referring to the loss of life from the epidemic, of course, but also my personal lifelong struggle for control of my body. It has had many enemies: the Catholic church which taught me that they owned my body, sexual abusers who exploited me, a government that sought to control my sexual expression, HIV itself and even the drugs to treat HIV. It has gotten better over time, but shame-shedding doesn't happen in an instant, it is incremental and I suspect, for me, will be a lifelong process.
I can't imagine revisiting some of the trauma you describe in the book, such as childhood sexual abuse and a rape by a roommate. Was it brutal to write?
I wouldn't call revisiting those memories brutal, but it was at times emotionally draining. Ultimately, it was healthy for me to process pain, hurt, guilt and shame that I had carried for years.
You write that it took 20 years to recognize the rape for what it was. Do we have a problem as gay men seeing ourselves as victims of this sort of abuse?
When it happened I didn't even think of the word rape as having any applicability to men. I was still so ashamed of my sexual desire and also conflicted about the degree of responsibility I bore for what happened. For many years I blocked out the sexual abuse and sexual violence I had experienced; it made me uncomfortable to think about because I didn't think there was anything constructive I could do with those memories except feel bad about them.
Now I can look back and see that while I may have been precocious in some ways, I was incredibly naive and vulnerable in other ways. In the process, I not only forgave those who hurt me but I ended up, quite unexpectedly, forgiving myself as well.
You were absolutely on death's door for a few years, and squeaked through in time for new medications to save you. And you were outright defiant about showing the Karposi's Sarcoma (KS) lesions that covered your body during that time.
I think if more of my identity and self-worth had been found in my body I might have been more likely to pursue cosmetic treatments for the KS. And the objectification of bodies is practically in the DNA of gay culture. Even as I began to accept my own body, it was within a context that clearly told me the body I had wasn't a gay ideal. I'm skinny, have no chest and am not especially athletic.
On the other hand, not conforming to that ideal, not being as invested in it, made it perhaps a bit easier when my body become so obviously ravaged by AIDS and, especially, Kaposi's Sarcoma. Less of my self-identity was in my body, so its decline didn't degrade my self-worth as much as it might have for others.
I didn't treat the visible KS lesions because I knew there were no treatments that would slow their growth and I already spent too much time in doctors offices. That was almost unimaginable to many people who were horrified that I had visible lesions and took no steps to even disguise them with makeup.
I make the mistake of assuming people know that AIDS advocacy changed the entire patient/physician dynamic, or that our response to what we endured will forever be remembered. Obviously that isn't necessarily so, and why books like yours are important.
There is an understanding that AIDS has been different, in many ways, and has had a profound impact on the culture, society, the healthcare system, drug development and approval processes, even geopolitics. I don't think it is widely understood how different the epidemic might have been had it not been for the self-empowerment movement, or how truly radical those early PWA pioneers were.
While ACT UP has been an important part of my life and advocacy, so too has the advocacy that precedes ACT UP, that set the stage for our movement. That earliest history hasn't been as well studied or understood and I tried to give some attention to those years in Body Counts. Randy Shilts' And the Band Played On provide an important and detailed view of the early years from his vantage point in San Francisco; the story from those years in New York hasn't been nearly as thoroughly explored. Also, And the Band Played On was written before ACT UP came on the scene.
When you first arrived at the offices of a coalition of people with AIDS, you write about having found a place you belonged, at last, even after having begun a business career and worked in politics. What about it struck you so deeply?
Total solidarity. I felt so welcome and safe that it enabled me to overcome the fear of stigma. That's what I've tried to do for others ever since.
What are the greatest threats to people living with HIV today, or at least to the kind of empowerment groups for us that have been so important to you?
Lack of respect for the principle of patient autonomy. This is happening across the board, as public health becomes militarized, disease securitized and treatments more complex and costly. The concept of the physician as a healer, providing individualized treatment, has too often given way to the physician as an extension of and agent of the state and the pharmaceutical industry, treating populations instead of individuals.
You are known to be skeptical of pharma and caution that medication side effects are too often ignored. Some people might find that ironic, given that new medications saved your life. Is that fair?
I think skepticism about pharma, when it was pharmaceutical treatments that saved my life, isn't ironic but common sense. Anti-retrovirals, like many medicines, are powerful treatments. Anything very powerful can be used in a negative or positive way; the more powerful the more important it is to be careful, cautious and skeptical.
Skepticism saved my life. Had I not been so skeptical, I would have taken more treatments that, in hindsight, we now know would have hurt me more than helped me. I am alive because I was lucky or smart or skeptical enough to refuse pharmaceutical treatments at one point, when they were strongly recommended to me by the medical establishment, as well as because they were available to me and I took them at another point, when I needed them.
The irony isn't found in me. The irony is that a healthcare system that purports to heal and a scientific establishment that purports to be interested in discovery has so often refused to listen to or learn from those living with the disease. Had our voices been valued more highly, the epidemic would never have gotten as big as it has.
I'm a little surprised that your book is the first memoir by a major imprint about those early years in New York City and the early ACT UP era. What do you make of the recent interest on film about AIDS in the 1980's, such as How to Survive a Plague and Dallas Buyers Club?
Enough time has past since the worst years that those who survived can reflect with greater objectivity. Many survivors feel compelled to remember the dead and bear witness to what we experienced. That has become a sense of obligation, even a compulsion, for many of us, particularly as we age and realize there are fewer and fewer of us around to speak first-hand about those years.
For many it is a delayed grieving; when friends were dying so fast and in such great numbers it wasn't possible to fully grieve them. But we filed away that pain, to process later. Now it is later.
The explosion in cultural production in the last few years, the films you mention as well as books and exhibitions, is somewhat analogous to the cultural production following the Holocaust. Not so much in the 40's and 50's, but by the early 60's it had started to grow dramatically. Yet 15 or 20 years past the worst of those days, the memories and words and testimonials start to come forth.
But even Dallas Buyers Club and other works of art haven't done well with their bottom line. We might be taking a look back, but it isn't exactly a highly commercial enterprise, is it?
No, it isn't, to many people anything about AIDS is such a downer they aren't interested. Many gay men have created lives that have protected them, emotionally, from the pain of the epidemic and they don't want to be reminded of it.
But I'm not sure we would be in any better position in terms of addressing the epidemic if the books and films about its earlier years were enormously profitable. There is an historical record that, in time, will be vastly more important than how many copies or tickets are sold today.
Body Counts seemingly has everything, from Washington politics to brushes with celebrity to your own sex life, and the book had major endorsements. I will admit I thought it would be a bestseller, and rightfully so. Or at least it should have been.
I suspect every author wishes their book sold better and I'm no exception. But while I didn't make the NY Times bestseller list, Body Counts has gotten excellent reviews — almost across the board — and hundreds of people who read it have contacted me with appreciative comments, which is cool.
The publisher early on told me she expected the book to have a long sale and she has been proven correct. It is getting assigned in college coursework and continues to sell, even though it has been a year since the original publication date.
College kids are studying your book? That has to be gratifying, and it sounds like the perfect use for your account of this history.
Yeah, that's cool, isn't it? I spoke at a dozen colleges and universities last year and found student audiences to be engaged, stimulating and helpful for keeping my own thinking fresh.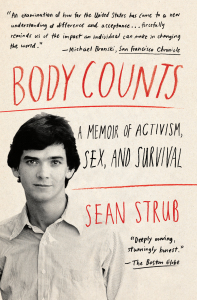 The cover artwork and even the subtitle of the book were changed for the paperback. Why?
The hardcover has a picture of me kissing Michael Misove, my partner who died in 1988 and the subtitle was "A Memoir of Politics, Sex, AIDS and Survival." For the paperback, the photograph was changed to one of a young and cute me looking directly at the camera. The thought was that the picture of Michael and me, while very sweet, may imply the book is about that one relationship between these two men and if someone wasn't interested in that they may pass on the book. The picture of just me alone wouldn't be so narrow.
The subtitle for the paperback was changed to "A Memoir of Politics, Activism and Survival" in the belief that the word "AIDS" may turn off some buyers. That was weird, but I think probably true. My point was and remains to get as many people to read the book as possible, so I was supportive of any change that would help achieve that goal.
So what next for you? I know you've been doing a book tour and events.
I want to continue working to help people with HIV find greater agency and empowerment, particularly through support of and strengthening of networks of people with HIV. In time, I think the self-empowerment advocacy will start to blur the lines of specific distinctions between diseases and conditions; it will be about a broader movement to take back healthcare and choices about our health and bodies from the corporate grip that has been so damaging to the lives and health of many.
I'm increasingly aware of the march of time. Is it too soon to ask how you want to be remembered?
There's no question but that time becomes more precious as one ages and for those of us, like you and me, who have been lucky to survive when so many of our peers did not, it only makes that sense more intense.
It is peculiar to think about how one would like to be remembered because, first of all, no one wants to be remembered for spending much time thinking about how they would like to be remembered. What is important is what I am doing today and if I'm doing that well, it won't matter how I'm remembered.
I think I'm going to start this piece by telling people about your kindness to me after my breakup. Would that embarrass you?
I'm beyond embarrassment, I think. And I could not be more proud of our friendship.
(Thanks for reading, my friends, and please be well. — Mark)
Tags: Aging, aids, criminalization, culture, gay, help others, hiv, politics, recovery, Sexuality
Posted in Book Review, Family and Friends, Gay Life, Living with HIV/AIDS, Meth and Recovery, My Fabulous Disease, Prevention and Policy | 5 Comments »