Posts Tagged 'recovery'
Monday, November 28th, 2016

In the towering new novel Christodora, author Tim Murphy harnesses decades of personal and professional experience as an HIV journalist into a story that sweeps back and forth between the last several decades and beyond. It has the scope of great literature, but Christodora is also a deeply personal chronicle from a man who knows his terrain.
The book's namesake is a century-old apartment building in New York City's East Village, silently weathering the indignities of time, economics, and social change that is mirrored in a host of characters connected to the building through the years. They include a privileged young couple, both of them artists, their adopted child, revelers of the gay dance clubs in the village, social activists and fledgling health department professionals. Since the story takes root in the 1980s, we know our characters are poised to confront something they can never imagine.
Yes, there are AIDS horrors here, of the multitudes who die around the edges of the book's pages. But Murphy's lens is more interested in close-ups, in the intimate impact of calamity, in various forms, on the lives of his characters. He also writes with the distance and maturity to know that AIDS wasn't the only crisis in town for New Yorkers during this period, and even within it, AIDS greedily intersected with numerous other social ills and personal struggles.
With hardly a false move, Murphy glides effortlessly among the worlds of addiction and recovery, the academic art scene, AIDS activism, and the darkened corners of mental illness.
It is a gift for any writer to find the interior voice of a character – the cyclical doubts and fears, the ongoing internal debates in which we all engage that propel our lives and choices – and so it is with Murphy, who has multiplied the feat by populating the novel with an astounding number of flesh-and-blood people who behave with all the faults and courageousness that humanity allows.
Murphy is coy about providing too many historical names and places. The inner workings of ACT UP and its more establishment-friendly offspring, Treatment Action Group, are dramatized at great length but the groups are never mentioned by name. It releases Murphy from the job of shackling his story to actual people and organizations; this is not historical autobiography in the vein of Sean Strub's Body Counts or Cleve Jones' upcoming When We Rise. The emerging AIDS activism scene is portrayed, Murphy has us feel, because some of his characters happen to be there. They come first.
That said, anyone familiar with the gay New York City scene from this era will enjoy the parlor game of spotting the real people who inspired several major characters. Some are transparent, others not. Christodora had me Googling the names and affiliations of my guesses more than once.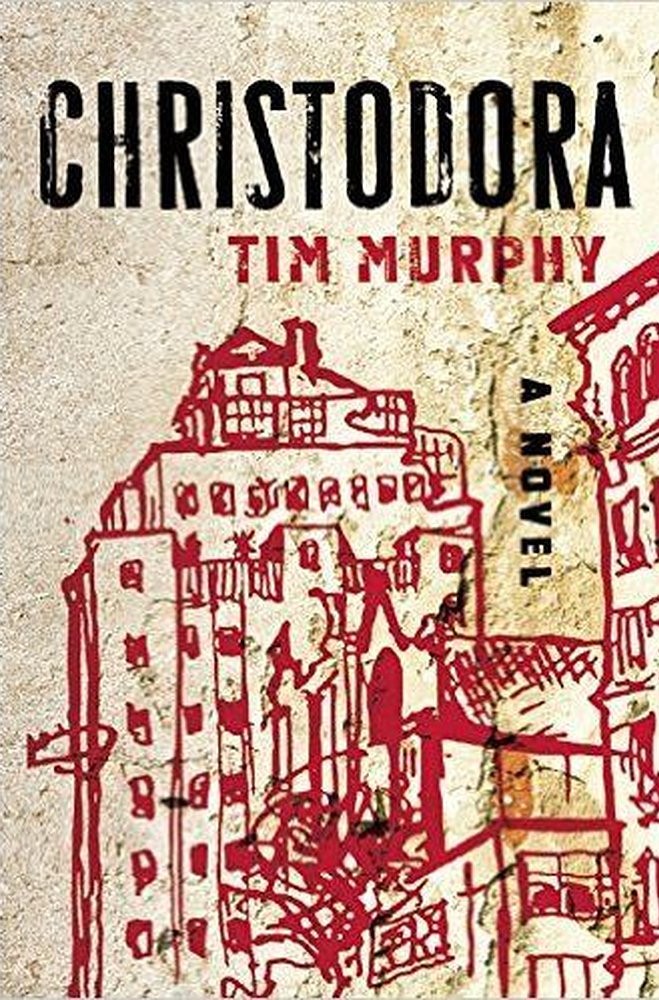 The most searing passages in Christodora deal with the wreckage of drugs and those engulfed by them, calibrated for maximum heartbreak. For any of us who turned to substance abuse during or after the plague years, who live with the confusion and guilt of having survived a public health emergency only to surrender ourselves to small baggies of crystalized catastrophe, Murphy knows us, and he intimately (and sometimes explicitly) offers us front row seats to the destruction of major characters. The brutality of addiction cannot be divorced from the story of AIDS.
Christodora even has the audacity to look beyond the present, providing glimpses into years we have not yet seen. Audacious, because Murphy knows there is no AIDS survivor among us who hasn't considered what lies ahead, as the crisis years continue to fade from view, and he delicately provides an answer that is rooted in the personal destinies of his characters.
Ultimately, Murphy glides the reader to a gentle landing spot. After all the fury of AIDS activism, broken families and lifelong resentments, the flawed and sometimes flailing characters of Christodora are provided with a lovely parting gift. To all of this rancor, Murphy calls a kind of merciful truce.
The final notes of charity in Christodora are all the more bittersweet given they were written by an HIV journalist who, one suspects, longs for moments of healing grace every bit as wistfully as we do.
Mark
(Christodora would make an ideal gift to yourself for this World AIDS Day, or a great Kindle stuffer for someone you love – or for someone who could use a better understanding of the impact of these last thirty years. Check it out on Amazon here.)
Tags: A Place Like This, advocacy, Aging, aids, culture, gay, hiv, meth, physician, politics, recovery, Recreation, research, Sexuality
Posted in Book Review, Gay Life, Living with HIV/AIDS, Meth and Recovery, My Fabulous Disease, News | No Comments »
Tuesday, August 16th, 2016
Jill Crank misses her patients terribly. And she is worried about them.
"The last thing I want is for them to think I abandoned them," Jill said. "I'm afraid they might not know what to do."
During almost nine years as a nurse practitioner at Chase Brexton Health Care in Baltimore, and more recently as their Assistant Medical Director, Jill had a caseload of about 600 clients. It included patients, largely from the LGBT community, who were being helped with mental health issues, HIV treatment and prevention, transgender health, and addiction and recovery services.
They are the kind of patients who rely on the trust built between them and their healthcare provider. They are often awash in social stigma and barriers to quality care. They count on people like Jill Crank.
"They trusted me, yes," Jill says. She is still finding it difficult to discuss them without getting emotional. "That trust translated into our making positive decisions about their health together. So many of them were in the middle of life-changing issues, like choosing to recover from addiction or deciding on new HIV treatment. These issues are not easily resolved by a quick fix-it visit with a new provider."
Those crucial relationships were abruptly broken last week, when Jill and four other management-level employees at Chase Brexton, the largest provider of clinical services to Baltimore's most vulnerable populations, were unceremoniously fired from their jobs.
All five employees had exemplary records of service, some dating back decades. They have been honored for their work, received glowing performance reviews, and had virtually no warning their careers at Chase Brexton were about to end.
That end came as the result of a chillingly vindictive move on the part of Chase Brexton senior management. With a union organizing effort underway by employees — who cite an unreasonable workload that is having an effect on the quality of patient care – senior management evidently tried one of the oldest, and most cruelly transparent, tricks in the playbook. They fired managers (who are not eligible to join the union themselves but might be seen as supportive of the change) in an apparent effort to intimidate those seeking to join the union.
To speak to those five employees, who were interviewed individually for this story, is to hear a litany of confusion and heartbreak. The word "devastated" is used by all of them. Without exception, they mention a deep concern for their patients, who were notified of the disappearance of their provider without explanation.
"I had dedicated my life to that agency," said Warren Conner, a case management supervisor who began his career at Chase Brexton as an intern more than 21 years ago.
His statement is hardly an exaggeration for someone who considered his professional co-workers part of his family. "I met my husband there, years ago. He was working in the mental health department. We've been together ever since. I really thought I would retire from there," he said.
Fired without severance pay despite stellar performance reviews, Warren fears for his future. The seniority he had achieved isn't easily translatable to the current job market. "I'm working on my resume," he said. "But I haven't looked for a job in 21 years. I'm not sure how to do it, honestly."
Ken Ruby, the fired Director of Psychosocial Services who devoted 22 years of his life to the agency, still has great pride in the agency and his work there, despite the circumstances. "Chase Brexton has been a huge player in HIV treatment and prevention," he said, noting their recent efforts to educate the community about the prevention strategy PrEP, the pill proven to prevent HIV transmission.
"I saw Chase Brexton helping to achieve zero HIV transmissions. That was our goal. I just don't see how that won't be slowed down, since several of us who were fired were really involved in setting up PrEP services."
"I had so many ideas, so many projects left to do," Ken said, and then his emotions well up again and his voice breaks. "I feel like I've lost a piece of me, and it's still there, in that agency," he said.
Brian Owens is Lead Organizer for SEIU District 1199, the healthcare and social service union that Chase Brexton employees are trying to join. He believes the firings were an attempt to "coerce and intimidate employees eligible to join the union," but that the move has backfired tremendously. "It has galvanized the employees to speak up for themselves and for their co-workers who were fired," he said.
Brian points to the unionization of Whitman-Walker twenty years ago, the Capitol's largest provider of HIV services. In that case, management allowed union organizing to take its course without their interference.
By contrast, Chase Brexton employees received an email earlier this month from Richard L. Larison, the now-embattled CEO, urging them not to join the union and promising educational sessions that would convince them not to. Instead, those meetings have become an outlet for employees to express their outrage over the dismissals.
Community backlash has been swift and unified. More than a dozen local LGBTQ organizations have signed an open letter posted by FreeState Justice denouncing the firings and urging Chase Brexton to support the rights of workers. A petition stating that CEO Larison is "failing the community" and calling to reinstate the fired employees has already gathered more than 1,000 signatures.
And coming on Friday, a community protest is scheduled on the steps of Chase Brexton's Mt Vernon location. Even Maryland State Delegate Maggie McIntosh has posted her displeasure with the union-busting, asking Chase Brexton to "rehire the terminated employees and allow the union election process to proceed free of intimidation or interference."
What makes the union pushback by Chase Brexton management so curious is the fact that unionizing is just the sort of progressive value that one would expect from an agency that was founded as a health clinic for gay men. "At this point," said union organizer Brian Owens, "the folks who are running Chase Brexton do not share those progressive ideals."
That shift is being laid firmly at the feet of CEO Larison, who is widely viewed as having abandoned the collaborative culture Chase Brexton once enjoyed, replacing it with a hard-hitting management style that has seen the departure or firing of dozens of employees at every level during his four-year tenure. His office did not respond to an interview request and there has been no formal response to recent events from senior management.
The silence has left the five terminated employees to sort out their emotions, and their lives, on their own. "Over the past week I have felt sad, angry, and extremely frustrated," said Catherine Fowler, a nurse manager who was fired. "I'm very concerned for my patients, for my nursing team, and for the organization and its future."
"I don't want to go somewhere else," said fired programs manager Bethany Henderson. "There's nothing else like this. I want my job back. I would go back in a heartbeat."
Others are not so sure. They are conflicted, caught between wanting to support the efforts to reinstate them while still feeling the bruises inflicted by an agency they no longer trust.
They are not paralyzed by their confusion, however. The five employees have retained an attorney who has filed action with the National Labor Relations Board in an effort to stall the terminations, citing unfair labor practices.
Meanwhile, at the main offices of Chase Brexton in Mt Vernon, where all five of the former employees worked, the main pavilion is undergoing repairs. The loud and messy activity is a fitting metaphor for the turmoil the agency is experiencing.
Enormous jackhammers are destroying the foundation. Bulldozers are collecting the concrete debris. The destruction is reverberating through the underground garage and thunderous shudders can be felt in the offices several floors above.
The sound is deafening.
Tags: advocacy, gay, hiv, physical, physician, politics, PrEP, recovery, stigma, testing
Posted in Gay Life, Living with HIV/AIDS, My Fabulous Disease, News, Prevention and Policy | 5 Comments »
Tuesday, July 26th, 2016
The people, the parties, the protests! AIDS2016, the international AIDS conference held in Durban, South Africa from July 16-22, had it all. And it was my privilege to bring you the stunning sights and sounds of the gathering, sponsored by The Global Forum of MSM and HIV. My special thanks, too, to my amazing videographer, Australian HIV advocate Theo Tsipiras.
My coverage was featured on the most comprehensive HIV resource on the net, TheBody.com (you can also view my full set of videos there), as well as on MSMGF.org and even on Queerty.com, the world's largest pop culture site for gay men.
So here they are, each of the five video blogs I produced at AIDS2016, below.
Allow me to let these videos, and the inspiring people from around the world who populate them, to speak for themselves. Enjoy!
The MSMGF Pre-Conference (Gay Day!)
The MSMGF pre-conference is uniquely designed to address the issues and needs of men who have sex with men (MSM) around the world.
Included: openly gay International AIDS Society President
Chris Beyrer
; Truvada drug smuggling (sort of) with German advocate
Nicholas Feustel
; a chat about the prevalence of
chem sex
in London; and gay advocates from countries in which their sexuality – and even their services for gay men – are criminalized.
The Thrilling Treatment Access March on the Streets of Durban
The may be no way to adequately describe the intensity of the #Treatment4All march that wound its way through the streets of Durban. Fortunately, my videographer Theo and I dropped ourselves into the middle of the action. The results are amazing.
Included: the thousands of advocates calling out the disparities in the world when it comes to HIV treatment access; the individual activists explaining why they are taking to the streets (including some of the women of the
Positive Women's Network
).
BONUS Video: An Interview with PrEP Advocate Jim Pickett
Here is a man who does not mince words. Jim Pickett of
AIDS Foundation Chicago
explains why AIDS2016 should be known as "the PrEP conference," and then has some very candid thoughts about the efforts of
AIDS Healthcare Foundation (AHF)
to block a California bill that would provide
PrEP education
to those at risk. Included: information on how you can support the bill.
An HIV+ Gay Man is Erased by the Military and a Plenary Protest
The advocacy around HIV criminalization has grown enormously is just the last two years. I take you to the Beyond Blame pre-conference, and then jump into a demonstration by criminalization activists at an AIDS2016 plenary – which included the newly minted activists and grandchildren of icon Elizabeth Taylor, working on behalf of the Elizabeth Taylor AIDS Foundation.
Also: a very candid gay activist from New Zealand confides with me about just how cruisy the conference is for he and his fellow advocates. Hint: activists ready to hook up are less than 20 feet away.
Included: Interviews with
LTC Ken Pinkela
, who lost his appeals to the military over trumped-up non-disclosure charges;
Edwin Bernard
of the
HIV Justice Network
; Joel Goldman of the
Elizabeth Taylor AIDS Foundation
(and her HIV activist grandchildren), and our first visit to the amazing Global Village.
The Eye-Popping Global Village and a Party Without Pants
In my final report from AIDS2016, we immerse ourselves in the sights and awesome advocates of the Global Village – and then let off some steam at "No Pants, No Problem," a dance party like nothing else on the planet.
Included: African grandmothers fighting for support, the
"Disclosure Sofa,"
interviews with international HIV advocates
Gus Cairns
and
Julian Hows
, gay teenage HIV advocates from South Africa,
Jessica Whitbread
, organizer of the pantless dance party, and my final thoughts about this wondrous experience.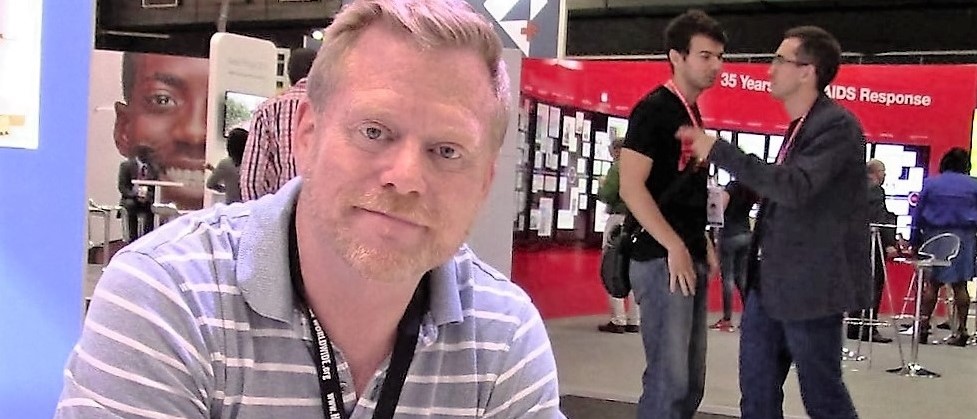 Thanks for watching, and for your lovely messages of support throughout this conference. It means the world to me. And now, let the anticipation begin for AIDS2018 in Amsterdam.
Amsterdam, y'all. Can you imagine?
Mark
Tags: advocacy, Aging, aids, barebacking, conferences, criminalization, culture, gay, gratitude, help others, hiv, meth, physical, physician, politics, PrEP, recovery, Recreation, research, serosorting, Sexuality, stigma, testing
Posted in Family and Friends, Gay Life, Living with HIV/AIDS, Meth and Recovery, My Fabulous Disease, News, Prevention and Policy | No Comments »
Wednesday, June 15th, 2016

There is a folder, tucked within a folder, buried deep in my computer files. I shouldn't be looking at its contents, yet I can't bring myself to delete it altogether. It is labeled MARCUS, and inside the folder is my disease.
During my years of crystal meth addiction I went by the name of Marcus, at least to dealers and tricks and fellow addicts. It helped me determine who was calling my cell phone — those calling for Mark or Marcus usually had very different agendas — and Marcus even became an alternate persona as my drug addiction progressed.
When partying as Marcus, I felt confident and aloof. I took awful chances. I never met a strobe light I didn't like or a box on a dance floor I wouldn't jump on. A steroid-crazed gym regimen and the dehydration of drug abuse transformed my body into the low fat, pumped up gay ideal. My body was my currency, traded for sex and drugs.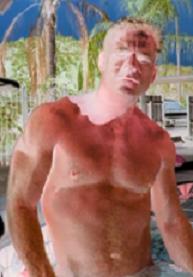 Photographs of that body, in full, preening strut, are the contents of the MARCUS folder. The pictures were my calling card for drug-fueled pursuits. They suggest nudity but are cropped modestly — although God knows that much more damning images of me surely exist in the dark corners of cyberspace.
In one of the few pictures showing my face, I stand under a running shower — a pitiful Playgirl pose, spray nozzle in hand — with a blank, wet face and shipwrecked eyes. The only emotion on display, just around the edges, is a dull fear.
My life was precisely as pictured. It wouldn't be long before my drug use trumped my gym schedule, and my status in online chat rooms devolved from intriguing hottie to that crazy mess that doesn't look like his pictures.
Since then, my recovery from drug addiction has helped me understand that the Gay Strut is key to my disease. It is a sly porthole back to raging insanity.
Explaining all this feels idiotic. What vanity I possess, asking you to gaze upon my former, overwrought beauty as I complain about the consequences. It feels like an invitation to tell me how much healthier I look now, or that recovery is "an inside job." I know this. I'm just sharing the curious road that got me here.
My recovery depends on healing my mind, body and spirit. At the moment I'm two out of three, even after several years of clean living.
My spirit is happy. My smiles are joyful and plentiful. My mind is clear, although I don't kid myself, there are remnants of a brain pickled in methamphetamine for many years. But healing is underway, and my mind and spirit are enjoying the process.
Only my body lags behind, injured, resentful, and suspicious of the path to well being. I'm sedentary and stubborn. I relate being physically fit with something traumatic that once hounded and eventually ruined me.
I want to be healthier, and to control my weight and rising cholesterol. I need to fix this, I tell myself, but I'm afraid to fix this. There's the potential that I'll go back to a lifestyle more horrible than my expanding waistline.
It's good to get in shape again, I tell myself with sincere intentions. The treadmill is really taking off the pounds and I should start weight lifting again and hot damn, that muscle recall really works just look at my arms and I should buy new tank tops and work out even harder and get steroids prescribed again and what's wrong with hanging out at a bar shirtless and shooting pool and sure I'll do one hit of that, thanks, and man I would look damn hot at a sex party right now and who's your dealer and do you have needles…?
Getting back in shape is an easy call. Except my mind puts physical fitness on the same crazy train as my drug addiction. The fact I acknowledge my insanity is a good start. Now I can begin the process of teaching my body new tricks. When I'm working out, I try to remain in a state of gratitude for my life, for my physical self, and for the fact I no longer have to live as I once did, using my body as currency.
There are traps on the road to recovery, as anyone getting clean and sober will tell you. The vigilance it requires is a full time job. A dangerous choice might look perfectly innocent. It might be a reasonable part of life. It could even be a healthy choice, at least for you.
That's the cunning nature of drug addiction. My very reckoning can look as pretty as a picture.
Mark
(The photos above are the only Marcus images that remain, gratefully. This re-post is inspired by my friend Will Armstrong, whom I recently profiled about his addiction and body image. Please note: I always speak generically about my recovery from addiction, and do not publicly promote one model or another. The point is, help is available for the asking.)
Tags: Aging, culture, gay, gratitude, hiv, meth, recovery, Recreation, Sexuality
Posted in Gay Life, Living with HIV/AIDS, Meth and Recovery, My Fabulous Disease, Prevention and Policy | 1 Comment »
Tuesday, June 7th, 2016
So don't mind if I fall apart
There's more room in a broken heart.
— Carly Simon, "Coming Around Again"
When
Will Armstrong
emerges from heart surgery in just a few days, he will have weeks of hospitalization ahead. He will also have expensive new hardware in his chest and a devoted animal waiting anxiously at home.
What he will not have is a pulse.
Will, a 44-year-old living in Atlanta, is having a Left Ventricular Assist Device (LVAD) implanted, and it will push the blood flow through his heart so smoothly that the throb of a pulse will be virtually nonexistent. Unlike a pacemaker, the LVAD needs electricity to function, provided by a battery pack to be carried by Will at all times. With an extra battery always on hand. And a couple more charging at home.
The last year may have been devastating for Will, but the process has had an unexpected effect on his emotional state.
"I'm happier than I was before I got sick," Will says now. Allowing himself to receive the love and support of his wide circle of friends has had an enormous impact. "A lot of people will never know that kind of love while they are alive," Will says. "To be able to know that is an incredible gift."
The bearded weight-lifter has always cut an imposing figure, and he admits he used his physicality as armor while navigating life as a gay man. "I had to project this image," Will says. "It was such a fraud." His intimidating posture kept people at a distance, even as he struggled with life events that called out desperately for support.
Will tested HIV positive twenty years ago. Coming to terms with the stigma attached to the virus is something he managed to resolve some time ago, until he found himself facing another disease that posed a more immediate threat: crystal meth addiction.
Once he began a recovery program for meth addicts, populated largely by other gay men, Will was surprised to learn how many of his fellow addicts were also HIV positive but uncomfortable saying so. "That surprised me," he says, "that people could feel stigmatized for their HIV, even among other gay people in recovery." Will responded by becoming one of the founders of Pozitively Fabulous, an annual retreat weekend for people in recovery living with HIV, now in its fifth year.
As his years of successful recovery passed, however, Will continued to hold tight to his ultra-masculine persona. His social media pages were littered with gym selfies and bicep measurements. It was an unhealthy fixation on self, Will now admits, and it eventually caught up with him.
In May of 2015, after seven years of clean living, Will relapsed on meth for two full weeks.
"I ended up in the emergency room," he says. "I thought I was having panic attacks, but I was in kidney failure. I was in total disbelief when they diagnosed my heart failure. I've never even had high blood pressure."
"It could have been anything, HIV, diet pills, steroids, crystal meth, genetics," Will says. But he knows that, when it comes to addiction, the most obvious answer is usually the right one. "People will sometimes say how ironic it is that I 'escaped drug addiction' and then this happened. No. I didn't escape drug addiction. This is what happened."
What has followed is a year of medical trial and error, as doctors tried to keep Will's heart viable while exploring alternatives. He has been denied a heart transplant due to HIV, and his doctors say there are no heart transplants happening in the United States for people with HIV, anyway (the very few organ transplants that are happening, such as liver transplants, are between HIV positive patients and donors).
"I went through a couple months where I didn't want to live anymore, I was suicidal," Will says. "I didn't want to be here anymore."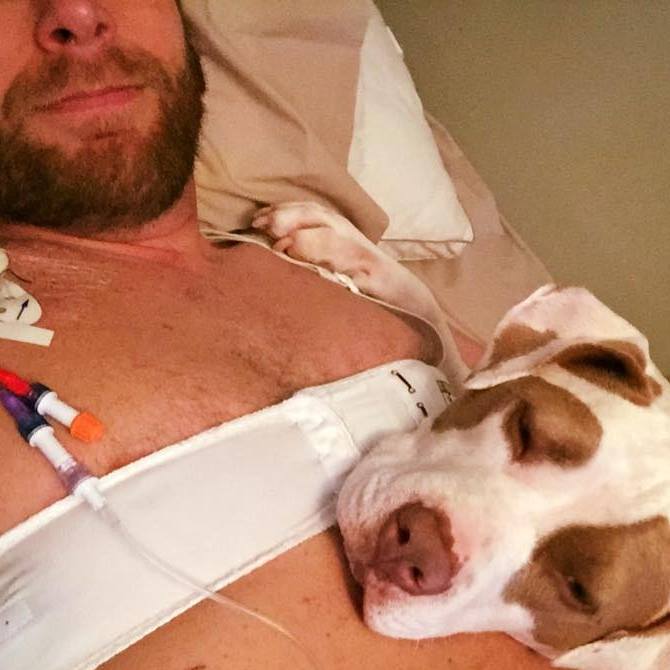 And this is where Addie comes in, the "creature more spiritual than anything in my life," says Will.
Addie is the pit bull that is glued to Will's side, constantly vigilant for a hug from him or signs of a treat or a walk. "Addie is the reason I'm still here. I live alone, I'm single, I didn't have a boyfriend or the fabulous life I thought I would have. But Addie forced me to get up every day and take her out. She's the reason I stuck around."
"When I met her at the dog rescue two years ago, they told me she was hard to adopt because she was high strung and not great around kids or dogs." Being a pit bull probably didn't help her chances, either.
It was a match made in shelter heaven. Both Will and Addie might have been outwardly intimidating to others, but what they really needed was some unconditional love. "I connected with her and fell in love," said Will. "When I'm with her, I try to be as happy as she is. She is always right here in the moment, and she believes everything will be okay. She adores me. I've never had this type of relationship with anything."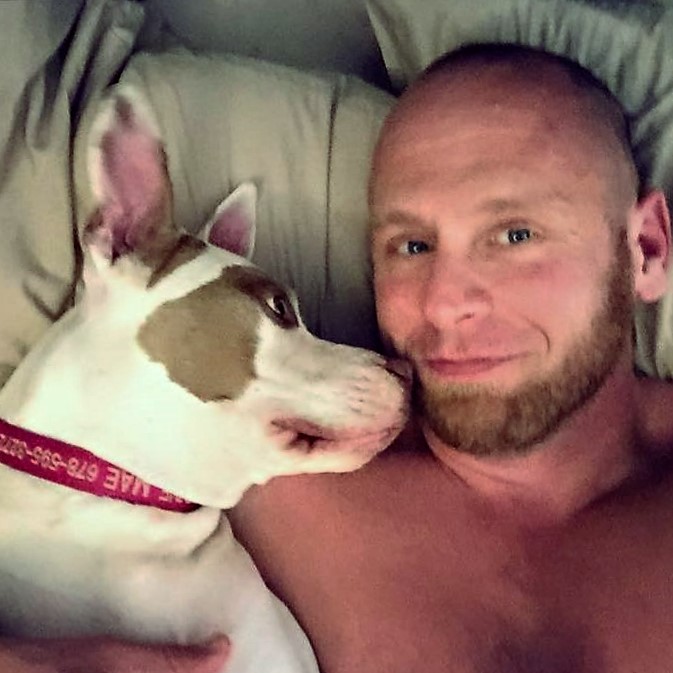 Will has a team of friends at the ready as he mentally prepares for the five-hour LVAD surgery in a few days, but he wants them to be focused on Addie, who will miss him terribly. "She is too big and hyper to sneak into the hospital to see me," Will said, "but I'll be doing video calls with her."
Will has watched YouTube videos of the surgery ("gruesome stuff") and knows the risks of complications. He understands the LVAD will probably be attached to him for the rest of his life ("batteries are important, but I can plug myself in anywhere, including the car"). Whatever anxiety Will may be experiencing is blanketed by a deep sense of gratitude.
"Today, I look at situations that really should aggravate me, and I'm just not there. All that shit I thought you should think about me doesn't matter. Things like money and romance aren't important to me now, or being super macho so people don't think I have feelings. What is important to me are things I already have."
"My biggest challenges have been readjusting my expectations," Will adds. "Sure, I have a lot of uncertainty in my life, but I've got so much love the last year from my friends and family. And you know what? I allow people to love me. They want to be helpful, and the biggest thing I can do for them is let them love me."
As Will considers his close brush with mortality this year and the recovery process ahead, he sounds like a man who is comfortable, at long last, in his own skin.
"I'm grateful I have been given a year to resolve things, let things go, take care of things," Will says. "If I were to leave this planet, I would be okay with that. I'm okay if it's my time." His affairs are in order, including a new home for his beloved Addie, just in case.
"All that said," Will offers finally, "I don't want to go."
Mark
(UPDATE: Great news! Will Armstrong's friends had created a GoFundMe page to help him with basic living expenses, but after successful LVAD surgery and a robust recovery, Will is walking the dog and taking on small work projects. The GoFundMe project has ended, but Will sincerely thanks everyone who has carried him through this time. "I plan on 'paying it forward' for a very long time," Will said.)
Tags: advocacy, Aging, gay, gratitude, help others, hiv, meth, physical, physician, recovery, Recreation, Sexuality, stigma
Posted in Gay Life, Living with HIV/AIDS, Meth and Recovery, My Fabulous Disease, News | 2 Comments »
Sunday, June 5th, 2016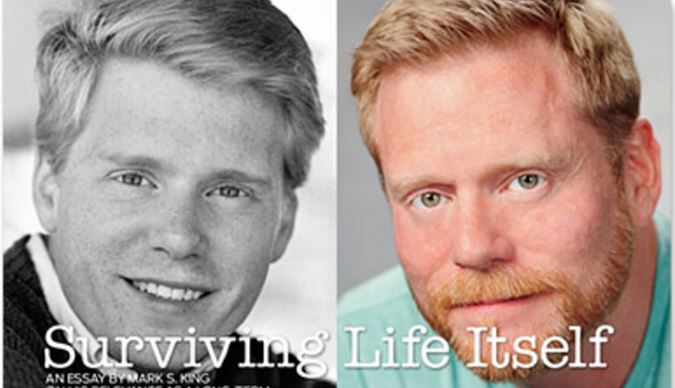 The young woman sitting across from me on the bus is in her mid-20s. She turns to her companion and her voice grows serious.
"I know someone who died," she says in the hushed tone reserved for tales of mortality. Her friend looks up from his phone. "He was a good friend of my brother," she goes on. "He was killed in a motorcycle accident a few months ago. It was just awful." As her friend offers words of comfort, my own thoughts produce a rueful smile and a nagging question.
Just one? You know just one person who died?
By the time I was her age, death in my social circle was so commonplace the body count approached the toll of a commercial airline tragedy.
I listen as the woman reverently shares the details of the accident, of the shock waves that surged through the family, of what the dead friend was like and who freaked out at his funeral. And then a bittersweet realization strikes me.
The friend she lost has a story of his very own. It is the chronicle of one tragic death, with all of its intimate details and reverberations. His story will be repeated by the young woman for years, and by her brother and by the remaining loved ones of the absent friend. And they will grieve and remember this individual death and grant it the weight of a rare tragedy.
***
I didn't get many chances to do that, living as a young gay man in Los Angeles in the 1980s. There were very few singular deaths. It seemed like everyone was doing it. And among them, a dozen friends close to me, struck down within months of one another, with whom I shared a history of youthful secrets, joys and indiscretions, never to be spoken between us again.
Already I have indulged in a regrettable pastime that aggravates me when others pander to it. I am counting my lost friends like selfishly guarded chips in a morbid poker game, claiming my grief as if the high tally amplifies the legitimacy of my loss. There is no hierarchy of misery. The death of one person close to you is quite enough.
And yet there are harrowing, undeniable moments from my past, drawn from 30 years living with HIV, that have shaped my attitudes and the senseless tragedies that befall us. I can conjure them but I must do it deliberately, for they are held captive in secluded corners of my mind and I release them with great caution. Perhaps now is the right time to unlock a few of those images.
The fluids in Lesley's dying body percolating like a coffee maker as we stood at his bedside awaiting his last breath. The anguished admission by my brother, Richard, that he helped his critically ill lover swallow a deadly, Seconal-laced cocktail in order for him to die on his own terms and avoid the final indignities of AIDS. My visit to Pablo in intensive care during his pitiful throes of dementia, nodding my head reassuringly as I tried to decipher his final, incoherent pleas.
They are a litany of despair, these heartrending tales, but I feel compelled to reveal them as part of another common exercise: to authenticate my history as a "long-term survivor." I have misgivings about that unsettling designation because it doesn't speak to my other, parallel life experiences and it suggests a dismissal of my relevance in the here and now.
***
In the decades since those sorrowful days, I have faced a host of perilous circumstances apart from AIDS, including a car crash, drug addiction, serious medical procedures and weapons pointed in my direction. Like everyone else, positive and negative alike, I am a survivor of life itself.
That life has included falling in love, changing careers, teasing my friends, watching my cats wrestle one another, and looking forward to whatever lies ahead with a deep sense of gratitude and joyful anticipation.
And it is this prism—one that includes AIDS as only a segment of my life—through which I view the world today. My status as a long-term HIV survivor does not make me a champion or a museum piece to be examined and admired. I am a man in the prime of his life. My age and maturity guide me, not the virus that has failed miserably to kill me.
The grief-stricken young man I once was held no clue about the mystifying speed with which time passes. The swift interval between the early days of AIDS and merciful treatment breakthroughs confounds me even now. Suddenly I blinked, and when I opened my eyes I was 40 years old and the world was a far different place.
***
Many of us remember that new world, when people with AIDS were saved by a miraculous "cocktail" of new medications. Living with HIV before the mid-1990s, when these medications were introduced, has become the popular line of demarcation for entry into the fellowship of long-term survivors.
My work in HIV advocacy continued during this time while others retreated to lives away from daily reminders of the epidemic. I did not fault them for that, in fact I envied them, but the army of our earliest activists, forged in the first years of the plague, had diminished.
By then, women and people of color had gained more traction and acknowledgment in the HIV arena, though without the national fervor or the generous support enjoyed by the original, largely gay agencies.
It was a time of such hope and encouraging progress, but if you scratched the surface of these victories you found they were dependent on privilege, money and access. Deaths continued unabated behind a dark curtain of racism and poverty.
The gay community began to avert its eyes from the continued infections of people unlike ourselves, and I joined many other exhausted activists who abandoned town hall forums devoted to HIV for the celebratory relief of the dance floor. Massive circuit party events became a vibrant diversion, summoning revelers by promoting their dubious contributions to AIDS service organizations. After a generation of relentless mortality I felt entitled to the party, to the steroids and the gym membership and the body-thumping beats of house music.
That is, until the festivities morphed into drug-fueled bacchanalias that required ambulances with the same regularity that had once been needed at AIDS hospices. I fell victim to their excesses, and my drug addiction and recovery process removed me from HIV advocacy for the next several years.
***
I blinked again and now find myself here, sitting in my home office as a man in his 50s. My workspace is populated with relics of the epidemic, the walls filled with posters from AIDS Walks and photos of protests and triumphant arrests. A vast collection of name badges from AIDS conferences are strung from a single hook in an enormous, colorful bouquet. And everywhere around me are reminders of the missing. Pictures of friends whose faces will not age. Borrowed sweaters in the closet that need never be returned.
They comfort me, these tangible reminders of strife, victory, love and loss. They help me embrace and appreciate my life history. Perhaps I don't find the title of "long-term survivor" so unsettling after all. There are worse things.
Most of all, the trauma that had once consumed me is now shrouded in the fog of a fading dream.
What remains are the wondrous developments of the present, like treatments that have also rendered people with HIV non-infectious and the amazing potential of pre-exposure prophylaxis (PrEP), a pill to prevent someone from contracting the virus. The advent of PrEP is the most significant prevention advancement in a generation. It is just the kind of miracle we once prayed for as we sat silently in pews at memorial services.
But astoundingly, these developments have been nearly as controversial as they have been celebrated.
There are thoughtful conversations about the cultural and medical effects of PrEP. What a shame they are being drowned out by clanging arguments about who is using condoms and who is not. The ludicrous chatter about who is a whore, a role model or a rebel foolishly reduces human sexual behavior to a problem that must be solved. Much of it seeks to impose sexual sterility in the way homophobic conservatives once denounced all gay bedroom antics, whether they were risky or not.
I remember what sex was like before gay men started using condoms. It was glorious. It still is. I always thought that finding our way back to enjoying sex without a barrier was kind of the point. Even the popular slang for sex without condoms, "barebacking," evokes some kind of deviant sexual pathology. The entire history of human sexuality would suggest otherwise.
I watch the absurd finger-pointing today, the naïve segregation of positive and negative, the lack of empathy granted to human failings, the tendency of the newly infected to call the police before they call a doctor, the fracturing of the advocacy efforts built over decades, and I weep for the community we once were.
***
Our hand-wringing over how to engage young people bemuses me, particularly our morbid fascination with aggressively foisting upon them the horrors we once endured, as if clubbing them with fear will somehow make them rethink their youthful transgressions. Our heartbreaking past is important history that should be preserved. It is not a prevention strategy.
Trying to imprint our life lessons on the young is a fool's errand practiced without effect for millennia. I have never walked up to anyone who served in Vietnam and asked him to sit down and tell me all about it. I may respect the elderly soldiers in Veterans Day parades, but whatever post-traumatic disorders or multiple losses we may share fail to unite us. I watch them roll by in wheelchairs, festooned with medals and shriveled into nothingness, and then I have the audacity to wonder why younger gay men don't consider my life experiences relevant.
Our influence as long-term survivors may be limited, but we can find meaning and engagement as cultural elders and mentors. To whatever degree younger people are receptive, we have so much to offer about the nuances of treatment, the various side effects and the failings of the pharmaceutical complex that we have rallied against so effectively through the years.
Regardless, nothing should deter us from being of service to one another. We must support the emerging networks of other survivors and work to find solace in our shared history. We are a displaced segment of a community that once ministered to us. Our bond is vital to finding solutions to the issues we face as an aging population.
As wearying as our battles have been, as unwelcome as we may sometimes feel in the modern advocacy movement, we have plenty to contribute. We had better do it while we still can.
I am sensitive to the passage of time because I have seen lives with great promise left unfulfilled. I may no longer fear dying, but I am sorely afraid of not taking full advantage of these precious additional years that were once unimaginable. Regrets, the things unsaid and undone, are what frighten me and urge me onward.
The mysteries of life and time will be revealed in due course: to the woman on the bus grieving her singular loss, to those who would howl at the moon over behaviors they do not understand, to survivors grappling with the meaning of tragedy, to young people negotiating the sexual terrain, to you and to me and to all the rest.
Enlightenment awaits. All we have to do is blink.
Mark
(This essay appeared in the June, 2015 issue of POZ Magazine and is shared with their permission. Today is HIV Long-Term Survivor Awareness Day.)
Tags: advocacy, Aging, aids, barebacking, criminalization, culture, family, gay, gratitude, help others, hiv, lipo, meth, physical, physician, politics, PrEP, recovery, Recreation, research, serosorting, Sexuality, stigma, testing
Posted in Family and Friends, Gay Life, Living with HIV/AIDS, Meth and Recovery, My Fabulous Disease, News, Prevention and Policy | No Comments »
Thursday, May 12th, 2016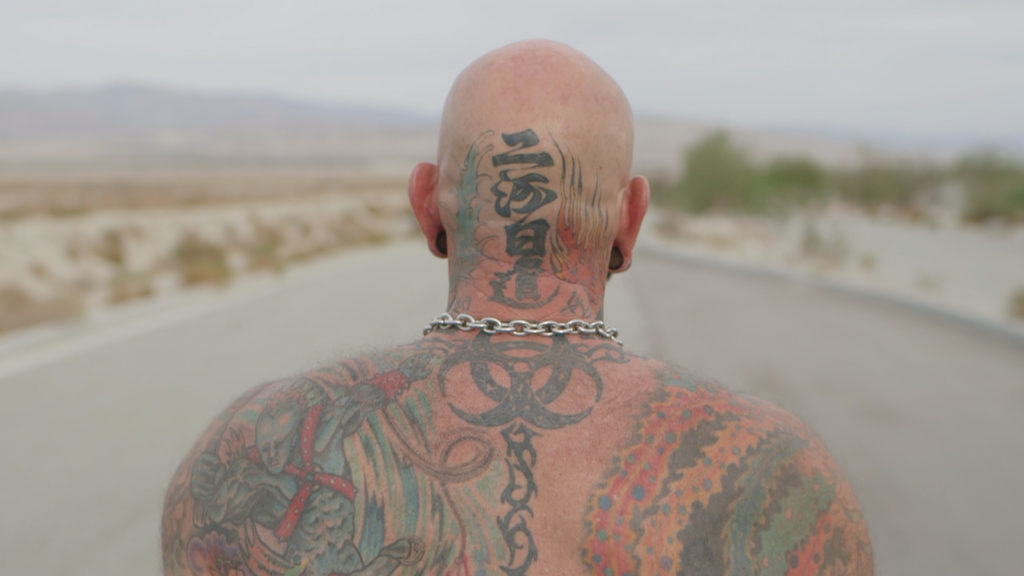 Daniel Cardone's essential but relentlessly grim documentary about longtime AIDS survivors, Desert Migration, is fascinated with the bodies of the gay men it profiles.
The film begins with lingering shots of each of the subjects as they begin their day.  It follows them through their routine, some of them naked, as they prepare breakfast, shower, shave, meditate. Their faces peer directly at us — a few of them handsome, all of them weathered — in high definition close-up.
We are being asked to study them closely.  Look at the skin, the camera is saying, the muscles, the sags, the piercings, the facial wasting, the extended stomachs, the disfigurement, the open wounds. Desert Migration does not want us to turn away from what the gay plague of 30 years ago has wrought in the here and now.
It's an almost clinical look at the after-effects of a catastrophe, like the documentaries that examine Hiroshima survivors decades after the bomb.
Desert Migration documents the results of a specific pilgrimage that became popular among gay men who were dying of AIDS decades ago: relocating to Palm Springs from major cities in the west, Los Angeles in particular. Once there, their fates and often their fortunes were reversed with the arrival of new medications in the mid 1990s. They experienced the emotional whiplash of renewed health in a world they had settled on leaving, as well as the unexpected financial burden of an extended lifespan.
The film is a crucial addition to the AIDS artistic catalogue because gay community is only now beginning to process and devote resources, artistic and otherwise, to the long term effects of the early AIDS crisis and the walking wounded who survived. That said, director Cordone doesn't make it easy for us.
There is an unyielding melancholy that permeates the film.  The men profiled are almost uniformly isolated or at least wistful. The languid pace of the storytelling is underscored by Gil Talmi's ethereal original music, a slow pulse of electronica, like a dry desert breeze.
The men all speak of searching for purpose in the desert after having resigned to die there. They come from various levels of money and privilege, including some who outlived their bank accounts, and they are not without the sociological trappings of gay men, meaning, a fixation on self image and the pursuit of sexual or romantic partners.
"In this town, being 60, I'm chicken," says one. Several of them are battling the aging process mightily with trips to the gym and a regimen of steroids ("All the best looking guys have HIV," one of the men advises), all while the Palm Springs gay clothing stores mock them with windows filled with slender mannequins, dressed in tiny and unforgiving speedos.
More than one of them debates whether or not they would have reached their current level of spirituality, of self love, if they had not come face to face with their own mortality so young. "I don't know if my life would have such richness if I wasn't positive," one of them admits.
The real star of the film may be Austin Ahlborg's sumptuous cinematography, which makes the most of the desert landscape, often contrasting the men's flesh and blood with endless vistas of withered brush and rock.
Throughout the city of Palm Springs are hundreds of acres of modern, silently whirling windmills. The film focuses on them like a fetish, their propellers turning round and round, and the more Desert Migration returns to these monuments the more they appear to be clocks, ticking away, time always turning, slowing for no one. The image repeats itself, in shots of rotating ceiling fans and mechanical sculptures turning this way and that. Time is always moving, and it is unstoppable. Tick Tock.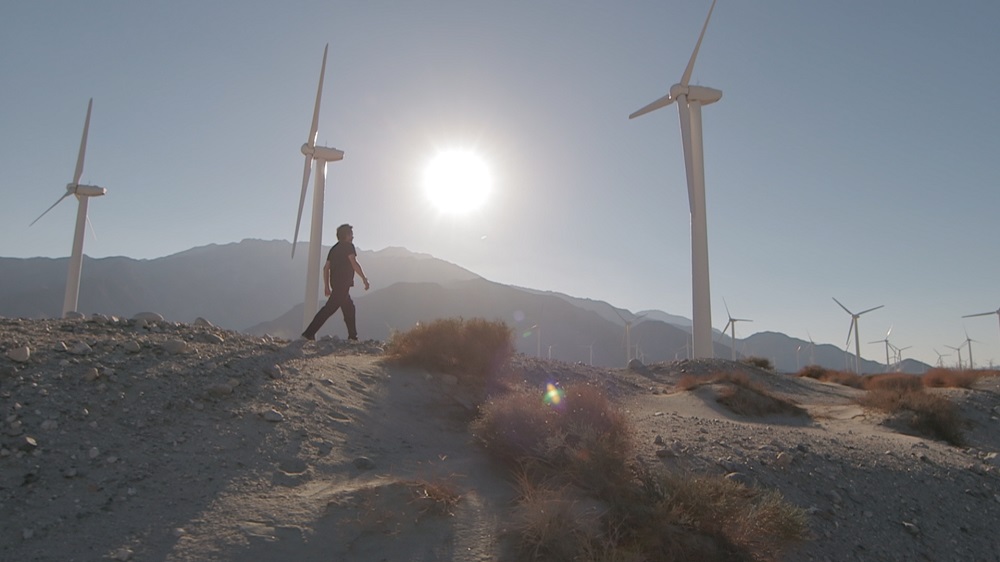 There is so much in Desert Migration that will be familiar to gay men of a certain age, from the brutal to the romantic. Living life in five year increments, the sudden loss of friends, the confusion, the great love affairs cut short, the lives hijacked by drug addiction after having survived AIDS. There is comfort in identifying with these men, for those who need to, even if the film limits itself to their shared calamity.
After more than an hour of bleak pronouncements – and exactly one shot of someone laughing in the entire film – it becomes clear that filmmaker Cardone is almost exclusively fixated on the tragic aspects of these men's stories.
It's easy, maybe even lazy, to reduce AIDS survivors to their profound loss and a struggle for meaning in their later years (which, come to think of it, is a lifelong riddle everyone must contend with, after all).
Where is the joy? A brief dinner party suggests the good humor these men surely must incorporate into their lives, but otherwise filmmaker Cardone sticks to his theme of isolation and distress. "I just think that I'm very tired," one of the men says, after unsuccessful attempts at connection and romance. "I just don't know how much longer I even want to fight."
"The optimistic ones survive," one of the more privileged men offers, as night descends and he lowers the drapes of his condo, finely appointed with a leather sofa and a gleaming Judy Garland movie poster. Another subject begins the evening by welcoming a sex partner to warm up his sling. Optimism and escapism have their utilities.
Another man takes comfort in his own loneliness and solitude. "You're a lot more free when you don't believe much and you don't have any hope," he says, in an existential moment that might depress Sartre. "If you're holding on to hope, then you've still got something in the way of enjoying what is."
After all this, I wished to God that one of these guys was shown performing in musical theater or binge watching RuPaul's Drag Race.
The film draws to a close in the darkness of the desert, as our day with these men ends. Throughout the mountain passes surrounding Palm Springs, out there in the dark, those windmills are surely still twirling.
They continue to spin, marking time, without regard for the riddles of life or the trials of gay men.
Mark
(Visit the Desert Migration site for information on film festival screenings in your area, or for news about the DVD release.)
Tags: Aging, aids, culture, gay, help others, hiv, lipo, recovery, Recreation, serosorting, Sexuality, stigma
Posted in Book Review, Gay Life, Living with HIV/AIDS, My Fabulous Disease, News | 2 Comments »
Tuesday, April 12th, 2016
Stigma is insidiously quiet. It is conjured in the mind, born of discomfort and fear, and then it is projected at "the other" among us. It judges them and isolates them. And it happens without a sound.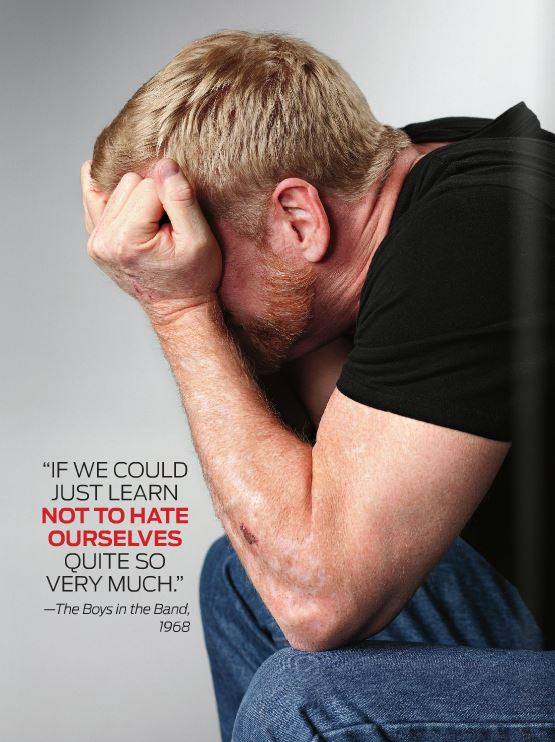 Stigma lets us take comfort in seeing things in others about which, we believe, they must be ashamed. It is a lazy way to feel better about ourselves—and therefore a popular human activity—and gay men are remarkably good at it. So many of us survive childhood taunts that by the time we come of age we have developed fairly lethal claws of our own. We know how to hurt others before they can hurt us.
But when the AIDS pandemic began over 30 years ago, gay men learned that whatever cleverness we possessed was no match for a crisis that questioned nothing less than our existence on this earth. Churches said we were damned. Politicians wanted us quarantined.
Gay men prefer to remember the earliest days of AIDS as a heroic time, and there is no doubt that many of us behaved that way, but stigma also was a fearsome, daily aspect of our lives in the early 1980s. Heterosexual parents were not the only people disowning someone with an AIDS diagnosis. Gay men also were driven by ignorance and fear. We kicked out our sick roommates. We refused to give them manicures or cut their hair. We turned away from their sunken faces at the neighborhood bar, when they had the guts to show up at all.
Once the initial hysteria subsided and the virus and its routes of transmission were identified, stigma between gay men calmed somewhat, if only because there was so much work to be done to care for the dying. Our brothers with AIDS were not so much stigmatized as pitied for their loss of dignity and humiliating deaths. They were tragic victims, exalted as martyrs.
Until they weren't. With the advent of breakthrough treatment in 1996, the dying nearly stopped in its tracks. Patients got up from their deathbeds and rejoined the living. There were cheers all around. Within a few years, even the word "AIDS" had nearly disappeared from the gay lexicon.
Those former patients, and the many gay men with HIV to come after them, had no interest in playing tragedy, or in being wizened and terminal and predictable. They wanted to take their rightful places in our social scene, to date and fall in love, to enjoy the bars and the clubs and the house parties. They wanted to laugh and dance and live.
And fuck.
And that is when, in the deviously quiet way in which stigma operates, all hell broke loose. We built social fortresses to separate Us from Them. We didn't have to bother labeling one another because the disease did it for us, creating an HIV hierarchy that started with "positive" and "negative."
The more HIV treatments improved, the wider the viral divide became. Our mutual resentments and jealousies worsened. As the physical scars of AIDS faded—the skin lesions, the wasted faces—our anxiety level rose as HIV status became less apparent. You can just imagine the frustration of the discerning gay man, no longer capable of telling the positive from the negative. Where's the comfort of stigmatizing someone when you can't tell who they are?
Today, our attitudes about HIV and other gay men range from self-righteousness to outright contempt. From whatever our vantage point, we have shamed and stigmatized everyone else into a corner, and the result is a community in revolt against itself. We are a snake eating its tail.
It might be easy to doubt this gloomy view of the gay community. None of us like to believe ourselves guilty of treating "the other" badly. The only thing we admit for sure is that we have been mistreated and misunderstood. Our self-interest is telling.
Maybe the problem is that, beyond the convenient anonymity of online hookup sites or mobile apps, you don't usually see HIV stigma in all of its black-and-white ugliness. You don't hear its voice.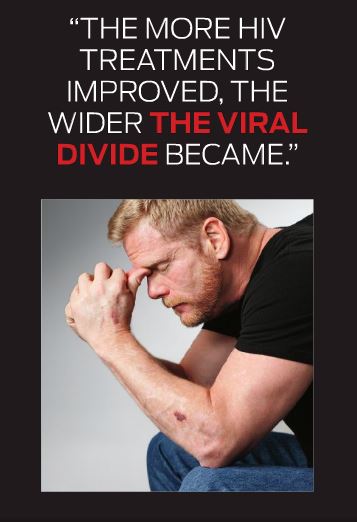 Listen closely to the ugly words of stigma. A special version even exists for the newly diagnosed.
Gay men who get infected today are out of their minds. They are the failed ones, the grave disappointments, the apathetic, the careless, the irresponsible. They spit upon the memories of our courageous dead. They have no respect for our history, for our monumental tragedy.
We might make motions to comfort them, but it is the kind of patronizing back-patting that we reserve for the truly stupid. We tell them they will be fine, really, and we don't look them in the eyes for very long. Our weary judgment shows.
Never mind that they are guilty of nothing more than being human, of being in love or getting drunk or trusting the wrong person or saying yes when they should have said no. Their weak excuses will be met with furrowed brows, and their dating life will wither. They will be marked and socially downgraded. They should be ashamed, and something inside us hopes that they are.
Do you hear it? Keep listening. There is so much more to say.
Before long, those newly diagnosed will join the promiscuous ranks of sexually active HIV-positive men. They are the unclean ones, the barebackers trolling the Internet, the murderers with tainted blood on their hands, the crystal meth addicts lounging in bathhouses with the door ajar. They are the unrepentant, the whores, the vile merchants of death.
Never mind that these men struggle to disclose their status, that they are routinely rejected socially and sexually, that their waning self-esteem is being strangled by our judgment, that sometimes their lives feel so forsaken they settle on whatever community will have them. The fact that stigma and depression often lead to escapist behavior is of no interest to us. We fear they could be having more sex than we are—hotter sex maybe—and the chance it might not be hurting anyone is infuriating. They should be ashamed, and we will make damn sure that they are.
The lowest rung of the gay HIV hierarchy is inhabited by older gay men who have lived with the virus for decades. They are the dependent ones, the sunken-faced humpbacks cashing their disability checks and wiling away their days sipping coffee in Café Disabilité. They are the aging invisibles and the sexually worthless.
They try to mask their feeble wasting with testosterone injections and protein shakes and facial fillers, but we know the truth. We see. They remind us of our darkest days, these unwelcome relics, and though we ignore them their haunting persists, in the daylight of the grocery store and the darkness of the bars. We avert our eyes and anticipate their extinction.
Never mind that they were among our earliest activists, our courageous long-term survivors, the men who scrawled words like "empowerment" and "advocacy" across the bureaucracies of their time. Forget that they have seen death in obscene quantity, that whatever joy they possess is a triumph of spirit. They should be ashamed, but we don't regard them with enough interest to care.
Do the words sound familiar at all? Do you hear the voice? It isn't nearly done.
Take a hard look at HIV-negative gay men. They are the superior ones, the corrupt morality police, the hypocrites, the gentlemen in waiting. Above all else they are the supremely lucky, because they can't possibly live by the crushing code of conduct they impose on the rest of us.
They reject us as damaged goods. They promote how "drug and disease free" they are. They publicly advertise their outdated HIV results. They tell us we would make better friends than sex partners and then they don't call again. They find clean, disease-free love with other, similarly superior men so they might have a life out of reach of the great unwashed.
Never mind that they have successfully avoided infection thus far, that they have buried friends and comforted lovers, that they withstand the unnerving ritual of HIV testing and worry about whether or not they will pass or fail. And please, pay no attention to the fact that they fear HIV stigma at least as much as positive men do, which is one compelling reason they hold tight to their negative status with such fervor.
None of their circumstances can excuse their indictment of the rest of us. We marvel at their lack of shame, and wonder bitterly if their attitudes might change if they became infected.
At least they don't suffer the same wrath as do HIV-negative men taking Truvada, the HIV medication used as a pre-exposure prophylaxis, or PrEP. They are the traitorous ones, thumbing their noses at their elevated negative status by intentionally dipping themselves in the viral soup of casual sex. They are obviously barebacking infected guys or they wouldn't be popping pills that blunt the consequences of being a poz-loving slut.
And God help those who don't admit they are infected and have sex with a negative person, because they are the criminal ones, the terrorists, the dangerous liars who must pay dearly for what they've done. They belong in jail and off the streets, like drug dealers and rapists.
Never mind that, for reasons we all well know, they can't always bring themselves to disclose, that they may use condoms, that they may be adherent to their meds and undetectable, and that no single case of an undetectable person transmitting the virus has ever been verified. Disregard the fact that conservative lawmakers and prosecutors are more than happy to exploit our thirst for vengeance and lock up some diseased fags who dare to have sex at all. Forget that during the first years of AIDS, when the virus reliably killed you, those who became infected took personal responsibility and called their doctors to start treatment and not the police to press charges.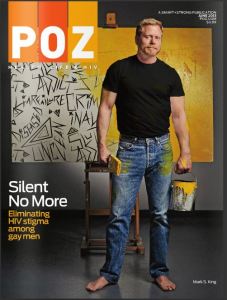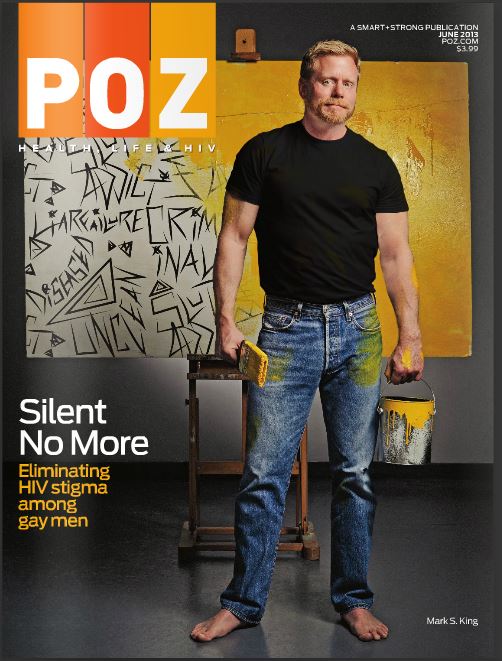 That is the sound of stigma. It is bitter and rageful and terribly afraid. I can hear my own tones in it, like a voice in a chorus, when it says the words I would never admit to thinking. Do you hear your own?
Gay men have known since the AIDS pandemic began that empowerment is the antidote to stigma, that the more proactively we approach our health care and build support networks, the less stigmatized we feel. The answer lies in our refusal to be marked and shamed. But our own community challenges us at every turn.
Stigma operates exactly like the deadly virus we claim to oppose: It infects pieces of us and then turns those factions against the rest, until the entire body is weakened and vulnerable. We all know how that process ends.
That is what the gay community has become. We are AIDS itself.
When HIV disease is over—and some day it surely will be—our jubilation will be beyond all imagining. We will have finally put an end to the health crisis that has plagued us for generations, a crisis that polarized nearly everyone, most particularly us as gay men. And once the celebrations fade, another equally important moment will come.
We will take a look around at our friends and lovers on both sides of the viral divide—at all of our brothers whom we stigmatized for one reason or another—and our old judgments will be transformed to a deep regret. Hopefully, in that moment, a certain kind of grace will emerge. We will clearly see the deep, private wounds of HIV stigma, and we will finally allow that we are all simply and imperfectly human. And then everyone will have some explaining to do.
It wouldn't be too soon for that moment to happen now.
Mark
(This article originally appeared as a cover story in the June, 2013 issue of POZ Magazine but has never been posted on my blog until now. It remains one of my proudest moments as a writer. You can view my remarks about writing this piece, presented at the 2013 International Conference on Stigma, here. Photos: Jonathan Timmes Photography.)
Tags: advocacy, Aging, aids, barebacking, culture, family, gay, gratitude, help others, hiv, physical, physician, politics, PrEP, recovery, Recreation, serosorting, Sexuality, testing
Posted in Gay Life, Living with HIV/AIDS, Meth and Recovery, My Fabulous Disease, Prevention and Policy | 4 Comments »
Thursday, March 17th, 2016
In the gorgeous and sometimes maddening web series Unsure/Positive, we follow the life of a Boston gay man, Kieran, literally from the moment he gets his HIV positive test result. Kieran's journey in the six-episode first season (available for only $3.99 on Vimeo) covers some difficult terrain – shame, disclosure, sex and drugs – and many HIV positive guys and our friends will identify with it.
This is poz-adjacent art that is absolutely worth your time and a few bucks, most particularly because it doesn't beg for your affections. It is messy and sad and hilarious and sometimes impenetrable. Like life.
I must also mention that this series contains a five-minute conversation about crystal meth that might be the best writing on the topic I have ever witnessed on the screen. For anyone with an addiction background or who is trying to understand someone with one, those few moments alone are worth your time.
I spoke with series creator, writer and star Christian Daniel Kiley, and he is every bit as earnest and enthusiastic as one might hope a young new talent might be. We chatted about the show, bad gay movies, John Updike quotes, meth-driven orgies, and the fact something in his show absolutely pissed me off.
First of all, Unsure/Positive is beautiful. It has the production value of network television. I want to challenge you on some of it and we'll get to that, but there is artistry and a story here that is immediate and compelling. And the emotional payoff in the final episode blew me away.
Mark, stop making me blush! And thank you for saying so. We were very careful to keep the production values high, because we wanted to make something with the potential to go mainstream.
You succeeded. And no need to be modest! You're doing your thing, Christian.
Part of the reason that the show looks so good is because we threw all the money we raised right at the screen. The downside to that is we didn't budget in a dedicated publicist. So our show has polish, yes. But at this point we're reaching only a fraction of our potential audience.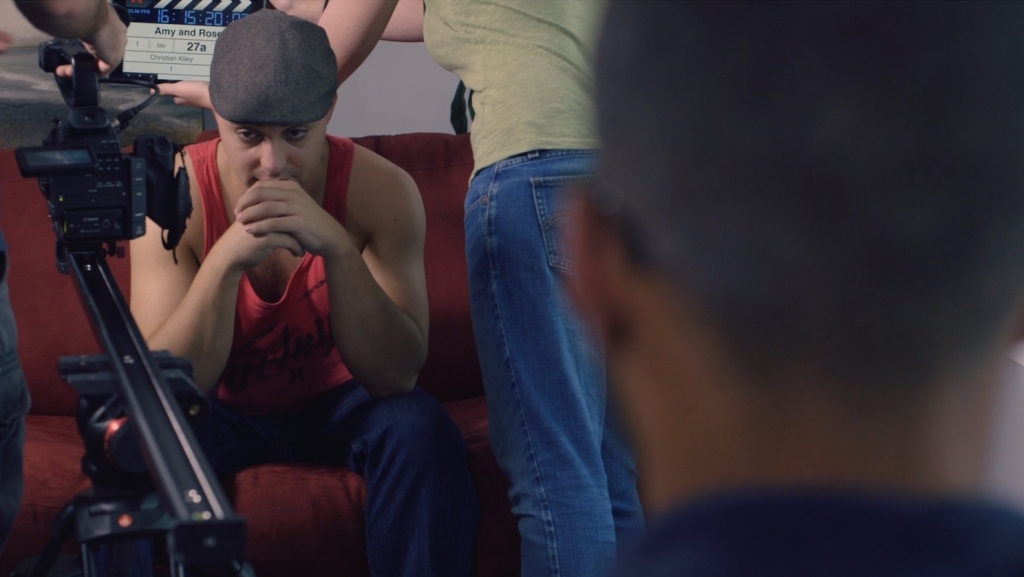 Christian on set during the filming of Unsure/Positive.
You wrote, produced and starred in Unsure/Positive, and I'm assuming the storyline of a newly diagnosed gay man is very close to your personal one. Why was your own story something you felt so strongly about telling?
Well, after I was diagnosed in 2007, I made a choice not to tell anyone about it. My friends were in the dark, my family was in the dark. Where it took (lead character) Kieran three months to come out of the closet, it took me more like three years. I think the post-diagnosis anxiety and depression — once I had recovered from it enough to see it for what it was — was actually the most damaging aspect of testing positive for me.
A writer, maybe John Updike, once said that a writer must believe their life is interesting.
I think Updike also said something like "willingness to risk excess on behalf of one's obsessions, is what distinguishes artists from entertainers." Although I actually don't think that artists and entertainers are mutually exclusive labels.
I'm furiously Googling for more John Updike quotes, as you clearly are doing as we speak, so I give up.
I just found this one: "He skates saucily over great tracts of confessed ignorance." That's Updike, referring to another author.
My first grade teacher wrote on my report card that I "skipped nicely to music." Now I wish she had said I "skipped saucily." Either way, she had me pegged.
I'm surprised she didn't say you "skipped gaily."
Shut up. You don't know me. Anyway, I have this theory that "gay art" typically sucks. Gay movies are usually not very good, gay plays can be awful, and even gay restaurants have better cruising than cuisine. And we're supposedly the most creative people in the world! Maybe we become self-conscious or something. Is that fair?
Yeah. I've seen a lot of pretty bad stuff in the LGBT section of Netflix. But you have to consider the exceptions, like Tony Kushner. On the other hand, Eating Out is like, worse than Tyler Perry movies. Then you've got something like The Outs, a very popular web series that my friend Adam Goldman produced.
I was going to mention Eating Out but I didn't want to trash anything specifically. God, you're such a hater.
I'm not a hater, Mark! I swear! I just hate things, like, when appropriate.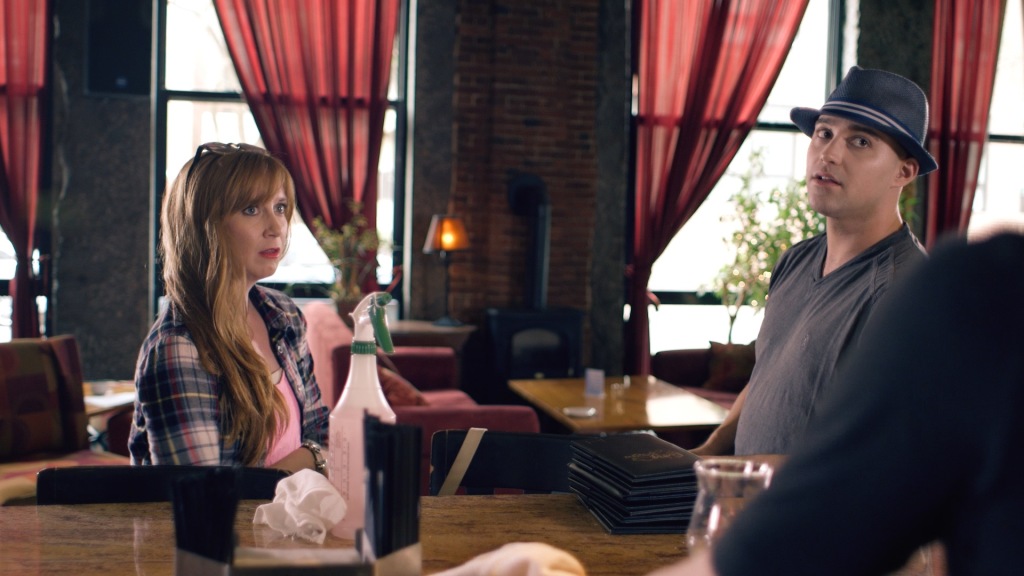 Kieran's best friend and confidant Allie is played by the marvelous actress Amy DePaola.
You mentioned how tough it has been to not only produce Unsure/Positive, but for it to find an audience. Okay, I guess some idiot blogger that says "gay art sucks" doesn't help very much. But this series absolutely deserves an audience. Where the hell are they?
It's been a struggle, yeah, to grow our audience. The audience we have so far is very engaged. I get emails and texts every few days from someone new who watches the show and wants to reach out. We make that pretty easy on our website. And that is, without a doubt, awesome. But it's also a slow burn, and there's no budget for publicity.
I also have a theory that people, even HIV positive people, see a series about HIV and think "let's put a pin in that, yeah? We could watch the new John Oliver." I do that all the time.
Your show shares some creative bandwidth with another web series with a gay HIV positive lead, the musical comedy Merce. The similarities end there. Merce is a low budget romp with enormous heart and silly giggles.
I really love Merce! It's funny, Merce was released while I was still in post-production for my show, and it sort of took the wind out of my sails when (Merce creator) Charles Sanchez beat me to the punch with an HIV-positive protagonist. I actually asked Charles to consider a crossover — doing a cameo as Merce, out on a date with Kieran. We're always thinking of ways to expand laugh potential in season two!
Speaking of big laughs, Kieran in Unsure/Positive has a history with the drug crystal meth. Personally, I'm grateful the topic continues to crop up, in books like Lust, Men and Meth, in new actions from ACT UP New York, and Danny Pintauro has been writing about his own meth history. I was a meth train wreck for so long. Its grip on our gay friends is just so heartbreaking and it hasn't let up at all.
Well, Mark, I must say that I have drawn a fair amount of inspiration from your previous writings about your addiction. I would go as far as to say that, had I not stumbled upon your internet presence back in the day, my show wouldn't have gotten made in the first place.
Shooting the scene (of men using meth together) was one of the most incredible experiences in my life. I mean, here I am, a former user, explaining to a roomful of actors and crew exactly how meth orgies amongst gay men go down, and finding real catharsis in doing that and maintaining my professional wherewithal. I feel so much more in control of my addiction and recovery after putting myself through those paces.
My sponsor would slap my face and ship me off to rehab if I even considered recreating a meth sex party, even a fictional one.
Well, I certainly understand that. I was never a "heavy" meth user, as I understand it, but I was in deep enough that it ruined a few years of my life. Still, you'd be surprised what confronting your triggers can do to disarm them, at least for someone like me.
Trust me, I don't need to be testing my triggers, even to disarm them. I'm a true addict, to the bone.
Fair enough.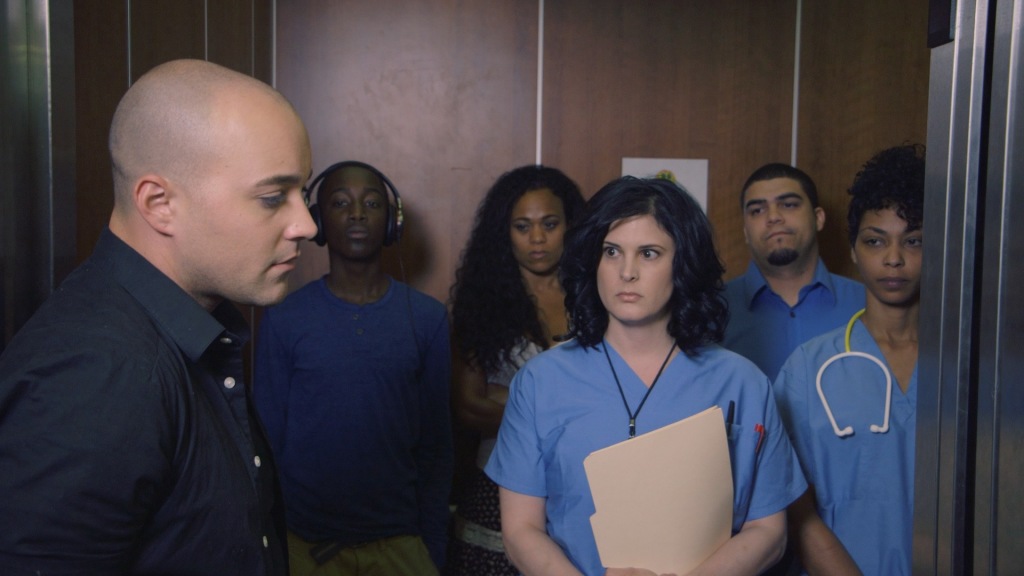 Moments after his test result, Kieran already feels the self-consciousness of the newly diagnosed.
Let me tell you what bothered me before I tell you what infuriated me. I felt like Kieran moped around too long after testing positive. I wanted to slap him. I wanted him to open up to friends. But then, when he finally does, it is so emotional and traumatic for him to admit that I got all choked up. Who the hell wants to admit they just tested HIV positive in 2016? Someone testing positive today is treated like a personal disappointment and a public health failure. So your storyline made me check myself.
I'm glad to hear that the series made you reconsider your original impression of Kieran. I think he's a character who, for better or worse, is a depressive. It was, for the record, a deliberate choice to make Kieran so ambivalent that an audience would question whether they like him. But (poz activist hottie) Jack Mackenroth, for example, told a friend of mine that he only watched the first couple of episodes and then he stopped because he thought the character was a jerk.
Do not fuck with my sister-from-another-mister Jack Mackenroth. He will cut you.
I wish he had given the entire show a chance. It's only 55 minutes long!
Try to get a hold of yourself, Christian. We have an even larger chasm to cross. There is a twist in the finale that I guess I shouldn't reveal. But it made me so, so mad. I refuse to discuss it! But I'm still mad.
I want the controversy. I think any show that has people talking about it around the water cooler is doing something right.
OK, fine, we won't discuss it at length during this interview. We'll take it outside when we're done and settle it like men.
What kind of men?
Never you mind, Missy. Forget it. I forgive you because anyone who reads my blog knows how much I love the intersection of HIV advocacy and art, and your show is a wonderful example of that. All my best, Christian! And more sex in season two, please. Sober sex.
Sober sex is already in the outline!
Halleluiah!
Tags: acting, advocacy, culture, gay, hiv, meth, physician, recovery, Recreation, Sexuality, testing
Posted in Family and Friends, Gay Life, Living with HIV/AIDS, Meth and Recovery, My Fabulous Disease, News | No Comments »
Thursday, January 14th, 2016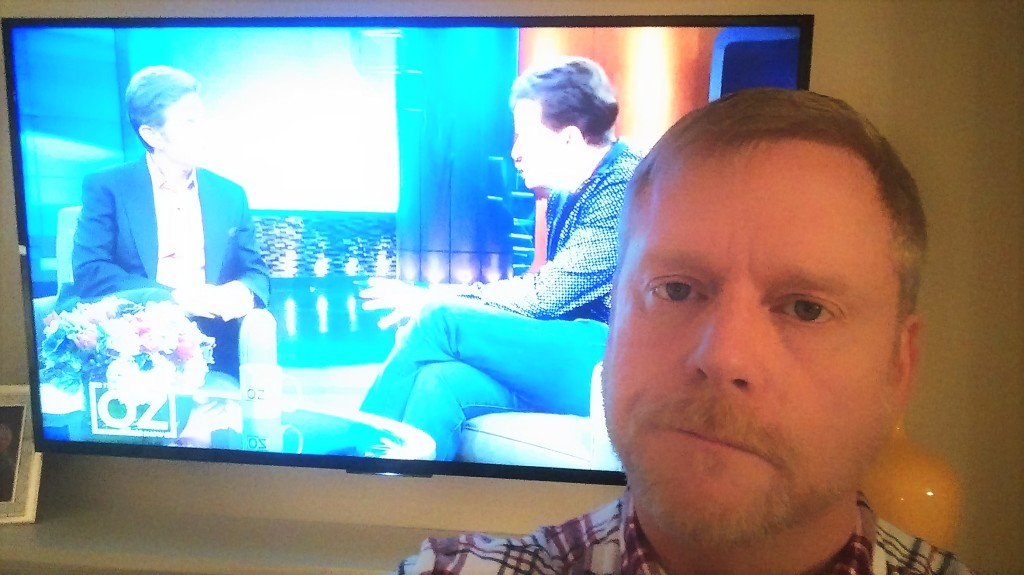 Dr. Oz has a very strange verbal compulsion. He can't stop making lame metaphors.
When taking an early morning jog with Charlie Sheen, in the first of their two-part interview for The Dr. Oz Show, the doctor sees metaphors everywhere. "You have to look down so you don't see how steep the hill is," he says as they putter upwards. "It's sort of like life, isn't it?"
Descending the hill sparks another metaphoric burst from the talk show physician. "It's always easier going downhill," he says to Charlie. "What's going downhill like now that you're public about your HIV?"
It became tough not to participate. Oh look, doctor. A rock. It's like the hard place Charlie has found himself. Or maybe it's the blunt instrument I will use to bash my head in after watching this inane, dangerously misinformed interview.
I had such high hopes. Charlie's coming out interview on The Today Show was as focused and informative as anyone could have expected from the troubled star. I was actually moved by Charlie's discomfort, and related to his obvious apprehension about making such a public disclosure. Better yet, the interview had the entire world talking about the meaning of "undetectable viral load," something I never saw coming and a great service to HIV education.
Well, it was great while it lasted. I am dismayed to report that Tiger Blood Charlie is back and he has gone rogue. And his Chasing the Cure! conversation with Dr. Oz might be the worst thing to ever happen to AIDS cure research, or at least the most irresponsible reporting about it.
But first, before the TV show bothers to get to the "provocative development in his search for a cure," we must wade through the first hour and tour the home of the we're-pretty-sure-he's-not-batshit-crazy-anymore star. He makes healthy shakes! He loves movies! He throws a baseball! Hey, there's the tastefully appointed bedroom where he banged and allegedly assaulted women!
Charlie does discuss his treatment and their side effects. "Poopy pants," he reveals. His advice is to wear black underwear. I intend to contact Treatment Action Group immediately to share this revelation.
To his minimal credit, Dr. Oz shows concern for the various addictions of his guest, from gambling to cocaine, but his light touch suggests this circus can't afford for the star to bolt. Never mind that Charlie claims he only stopped drinking once the Today Show interview was complete, and that he has tried to stop "hundreds of times" before. Appearing on national television is apparently much more therapeutic than finding the nearest rehab facility.
But on to the second hour, an in-studio interview with a live audience. This is where it gets really interesting — and gruesome and creepy and utterly insane.
Dr. Oz revisits Charlie's hard-partying lifestyle and then asks him more questions about the horrendous, terrible news that he tested positive. The sum of the conversation was that Charlie Sheen's diagnosis – and by extension, all of us living with HIV – is comeuppance for his crimes against nature.
But the best was yet to come. Finally, well into the second hour, Charlie reveals that his Chasing the Cure! led him not to actual experts in the field, but to Dr. Samir Chachoua, a doctor in Mexico about which little is known, except that he resembles Grizzly Adams after a hard night in Tijuana. Charlie had such faith in his quest that he stopped taking his medications in anticipation of seeing this nut.
And this Doctor of Quackery, in a phone interview with Dr. Oz, claims to have cured Charlie of HIV. "He's the first person in history to go HIV negative," says the Mexican madman, apparently unaware of the name Timothy Ray Brown. It's like a crazytown online denialist come to life. But wait, there's more.
Chachoua says, and Charlie concurs, that he drew blood from Charlie and then injected it into himself to prove his case, and that Charlie remained undetectable. Never mind that this was mere days after Charlie had discontinued his meds, which surely were still working in his bloodstream. The entire, bizarre scenario was like something out of American Horror Story: AIDS.
Back in the studio, Charlie's own doctors reveal that his viral load has spiked again. His personal physician pleads with Charlie to go back on his meds. Charlie sunnily agrees. "What, am I crazy?" he jokes, to scattered, confused applause. Thus ends his first chapter of Chasing a Cure!
I prayed that Dr Oz would then introduce someone from the American Foundation for AIDS Research (AmFAR) to preset real facts about the current state of cure studies. Wouldn't treatment activism icon Peter Staley make an excellent guest? David Evans from Project Inform? Please God, anyone. My prayers went unanswered.
Instead, Dr Oz turns from the actual physicians in the studio to pursue a far more important line of questioning. At this critical juncture in the interview, it was important to discuss movies.
"You describe your journey, chasing a cure for HIV," Dr. Oz says in his most empathetic voice, "in a way that is similar to your dad's journey in Apocalypse Now." I'm sure Martin Sheen watched with pride, knowing his film career had become relevant again. "Has your diagnosis with HIV brought you closer to him?" The camera moves in to Charlie greedily.
Somewhere Barbara Walters was rummaging through her penthouse for a rope to hang herself.
There were actually a group of HIV positive women in the studio that day, some representing Positive Women's Network, and during the taping they were given the opportunity to offer what was undoubtedly some much-needed perspective. But evidently they had nothing to say about Apocalypse Now or they were really bad at metaphors, because the segment was cut from the broadcast.
Charlie Sheen isn't going anywhere soon. There is always hope he may regain his senses and become the high-profile cure advocate we need. But what we are currently witnessing is the exploitation of a deeply troubled man with multiple addictions.
Whether Charlie Sheen follows the path of other distressed celebrities, be it recovering addict Robert Downey Jr. or the very dead Amy Winehouse, remains to be seen.
Mark
(This piece originally appeared as one of my blog postings for POZ.com — Mark)
Tags: advocacy, aids, culture, help others, hiv, physician, politics, recovery, research, testing
Posted in Living with HIV/AIDS, Meth and Recovery, My Fabulous Disease, News, Prevention and Policy | No Comments »