Posts Tagged 'recovery'
Wednesday, October 30th, 2013
I don't write about my drug addiction very often anymore. There's no shame there; I'm really proud of my recovery process. It just seems too delicate, too precious to share as publicly as I do my journey with HIV. That's interesting, considering of the two diseases, my addiction is far more likely to kill me. So, when a member of The Tweakers Project invited me to contribute to an ongoing column in Frontiers magazine that spotlights people recovering from meth addiction, I felt it was an appropriate venue to briefly share my experience. Here is my column as it appeared in Frontiers:
I thought I had a right to get high; that I deserved it for all my pain. I figured any gay man who suffered through the 1980s needed to medicate. Living in West Hollywood as a young man, I was dodging bullets in a war zone, busily planning memorials and attending town halls while hoping to God I wasn't next. My prayer was answered but came with a price — watching scores of men die around me.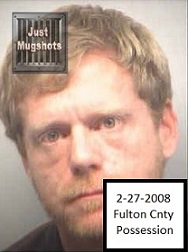 Pop a pill. Snort a line. Check your nose and visit your friend in the ICU. Maybe others found healthier ways to cope, but I wasn't equipped for the onslaught of mortality, the preachers on television proudly announcing the evidence of God's wrath against people like me, the dire news that no medications could combat this plague and my own HIV-positive test results. I couldn't comprehend my emotions, much less face them. So when treatments improved years later and the dying abated, I felt entitled to celebrate.
Pop a pill. Smoke a bowl. Stash the drugs and get back on the dance floor. That's when I knew I was a drug addict. When any occasion qualified. Whether we were dying or living, I was high. Maintaining a functional existence slipped away, just slowly enough not to alarm me, as if the drugs were quietly sneaking out the door with my life. And along with it, all those broken promises it made about euphoric deliverance and endless nights of pleasure.
There wasn't a single event that brought it to an end, because the truth is my recovery from drugs has been uneven and imperfect. Through the help of professionals and fellow addicts, I have slowly gathered the tools I need to remain clean and sober. Vigilance. Patience. And more honesty than is ever comfortable to me.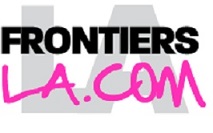 For the last 10 years I've been climbing back out of a hole I had finally stopped digging. I've managed to locate the man I had once hoped to be. I have found my joy again, which is truly the guiding emotion that helps me remain clean. I have come to terms with surviving AIDS and for living when so many worthy men did not. I have forgiven myself for having such good fortune and responding to it by sticking needles in my arm.
Today, my health and recovery are primary to my daily life. I have regained gifts and talents that had laid dormant for many years, and I use them in the service of others.
As a writer and HIV activist, I'm known for my sense of humor. But I'm dead serious about my addiction. I don't want to go back there. I love this life too much.
Mark
Photo credit: Fulton County Sheriff Department, after my arrest for drug possession in February of 2008. If you have an issue with substance abuse, help is available. Consider programs like Alcoholics Anonymous, Narcotics Anonymous or even Crystal Meth Anonymous (find out more about 12-step programs here and if one would be right for you), or check out reviews of treatment centers available at TheFix.com.
———————————–
Other Posts on Drug Addiction:
"The Crystal Meth Connection of the Gay Porn Killer." If ever a posting had enough searchable Google words, this might be it. A look at the Canadian accused murderer and why his alleged meth use made sense to me.
"My Muscles, My Disease: A Snapshot of Drug Addiction." How my body-conscious lifestyle only fueled (and still reminds me of) my drug addiction.
"The Long Road Home from Relapse." Assessing the destruction of a harrowing relapse as I drive a thousand miles home to family.
————————————
ALSO…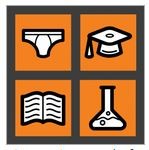 He calls it an exhilarating "exercise in perversion," but I call it fascinating. A prominent gay health advocate who blogs anonymously as Promiscuous Gay Nerd asked himself the question, "What makes sex good for me?" To find out, he created a spread sheet and then tracked every sexual detail of 50 encounters (43 of them unique, living up to his promiscuous name). Reading his analysis and viewing the spreadsheet in all its grinding glory is a lesson in gay sex, pursuit, and why we chase "the strange" rather than "the intimate." More ironic is the fact that the blogger rates the more connected and intimate encounters as the best ones. Might there be a lesson there about hanging up his promiscuous lifestyle and finding an ongoing partner? "I had boring sex with boyfriends sometimes, just as I have boring sex with strangers sometimes," he told me in an online comment. "Perhaps that's why all my exes are exes! I look forward to finding a man who can change that."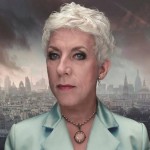 "Travels With My Nephew" is a new book of fiction that covers the life of Dorothy DeMoore, a proper British woman with enough Auntie Mame in her bones to satisfy her gay nephew. Their adventures take them back and forth across the pond, as her horny nephew samples love and Dorothy learns lessons about cabarets and gay rights. The story is told by Dorothy to the writer of her memoirs, and the interplay between the two as she weaves her tale provides droll entertainment. Curiously, the occasional references to the dawn of AIDS seem out of step with an otherwise pleasant comedy of manners. But no matter — author Guy Wilson (of the Wilsons Arts Project, which has produced the book as a theatrical musical) keeps things moving at a fun clip. The cover photo of Dorothy (above), I might add, looks suspiciously like Guy's husband, Nic Wilson. Just sayin'.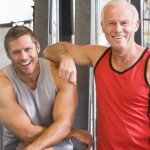 Our favorite poz fitness and nutrition expert Nelson Vergel (people still write me about the funny and informative video he and I did together, when Nelson raided my fridge to teach me a lesson) is involved in a new health site for men, ExcelMale.com, that provides nutrition and supplement information and forum chats with other people. It is not specific to HIV but does have great info. It offers a free membership to participate in postings (and they do hope you'll purchase their products), but I was able to wander freely on the site and get good info without signing up.
Tags: gay, gratitude, help others, meth, recovery, Sexuality
Posted in Books and Writings, Meth and Recovery, My Fabulous Disease | 4 Comments »
Tuesday, September 3rd, 2013
Why Andy Cohen isn't badgering me with phone calls to bring this series to Bravo, I'll never know.
Nearly four years ago, I invited four friends living with HIV over to my place for a night of devouring brownies and sharing secrets, while my friend Charles captured it on video. The result was "You Gotta Have Friends," the first episode of what would be renamed "The Real Poz Guys of Atlanta." The second episode was posted more than a year later (you can see a recap and both previous episodes here). And now, episode three.
These guys must be getting the hang of this, because we discussed and revealed things like never before. From crystal meth addiction to our mothers, nothing was off limits. There's even a (NSFW-ish) chat about tops and bottoms and modern gay sexual politics. And dealing with loss. And reaching out for help when you really need it.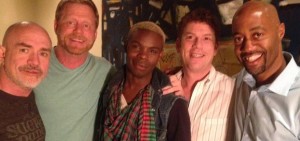 I'm not going to lie, I'm proud of this video. It's clear that my editing skills have improved since our first episode along with the group's ability to keep it real. More importantly, the video series represents a lot of issues I feel passionately about – combating HIV stigma with honesty about our status, the crucial importance of social support, and living joyfully. That, and I love hearing my friends talk dirty for a good reason.
I really hope you share this one with your friends and networks (select one of the share features below). I think it represents what this site does best. And judging from the emails I receive, there's a real need for people with HIV, particularly the newly diagnosed, to know that life, and friendship, doesn't end with a positive test result.
I look forward to your comments! Thanks for watching, and please be well.
Mark
(The Poz Guys pictured above are (left to right) James, myself, Antron, Eric, and Craig. I'm the only one who isn't single; I know they would appreciate me mentioning that.)
——————————————————————
PLUS…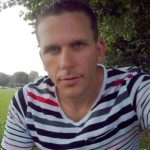 Our friend Jeff Berry from Positively Aware has announced the fourth annual "A Day with HIV" photo campaign, and this project is so cool – and so damn easy to participate in – that I tramadol dosage for dogs want to challenge you to just do it. It works like this: they collect photographs and captions from hundreds of people from a single day, Saturday, September 21, to help the world better understand the trials and triumphs of living with HIV. Some are artsy, some are simple photos (like the 2012 submission from Jason Zupke at right). Select photos will appear in the November/December issue of Positively Aware, and all of the photos submitted will appear on the campaign's website. Give it a click to find out more.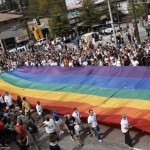 If you are anywhere near Atlanta this October 13, would you like to join me in my role as a Grand Marshal for the Atlanta Pride Parade? When I learned of this honor recently, I knew I needed to share it with friends like you or else my ego might blow my head open halfway down the parade route. I'm asking people living with HIV and our allies to walk beside my car (I'm hoping for a red convertible!). I would love a message of solidarity and support for people with HV, and anti-stigma messages like "I love my Poz boyfriend!" and "HIV Educated – UB2." The first 20 people to show up will get a free HIV POSITIVE t-shirt provided by AIDS Foundation Chicago. I'm excited to already have the support of The Stigma Project and the CDC's Let's Stop HIV Together campaign. To get the latest details, go to Facebook and join the My Fabulous Disease page. See you then!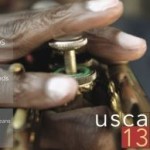 The United States Conference on AIDS (USCA) is in New Orleans this weekend. I love this conference, because it provides skills building for people working on the front lines in community based organizations and public health — exactly where I spent a lot of the early years of HIV/AIDS. Anyway, I'll be video blogging from the event and providing you the sights, sounds and people who are making a difference. If you happen to be there, please join me for a panel presentation this Sunday morning at 10:30am, when those of us participating in the CDC's "Let's Stop HIV Together" campaign discuss living with HIV and our commitment to HIV prevention.
Tags: Aging, barebacking, culture, family, gay, help others, hiv, meth, physician, recovery, Recreation, Sexuality, testing
Posted in Family and Friends, Gay Life, Living with HIV/AIDS, Meth and Recovery, My Fabulous Disease, News | 3 Comments »
Wednesday, August 7th, 2013
"We're born naked… and the rest is drag." — RuPaul
When I was nine years old, I took my parents' album of the Broadway musical "Damn Yankees" and memorized every syllable of Gwen Verdon's show stopper, "Who's Got the Pain When They Do the Mambo?" Once I was satisfied with my lip-synching and choreography (I decided that a mambo was a dance in which young boys gyrated and flung themselves on and off the living room sofa), the number was ready for public display.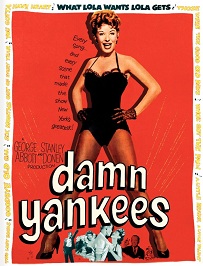 The premiere was a simple affair, exclusive and unannounced. Mrs. May from across the street had stopped in for afternoon coffee, and opportunity knocked when Mother busied herself in the kitchen for a few minutes.
Not a smart move, Mother, leaving Mark alone with the company.
"Mrs. May, would you like to see me do a song?" The unsuspecting woman gave a polite "yes, that sounds nice" and before Mother could run interference I had turned on the stereo and dropped the needle at the precise moment where Gwen breaks into song.
Mrs. May stared and stared, her hands folded neatly in her lap, as I brought out every sashay, twist and thrust in my dancing arsenal. My moves may have been imperfect but I vocalized brilliantly, thanks to Gwen. As I struck my final pose, arms reaching for the heavens, frozen and triumphant, I saw mother standing in the doorway, holding a plate of cookies and breathing heavily through her nostrils.
Future performances would be limited to my bedroom, where I could conjure an audience cheering with acclamation and mothers wouldn't put you on restriction.
It is that boy, the cheerful but feminine performer, that I always feared would creep out of me as I navigated young adulthood as a gay man. I worked to shed his characteristics, to replace every soft gesture with a wooden one, to embrace the gym and tank tops and Levi jeans with the same fervor I once had for my beloved Broadway musicals, with mixed success.
And then, a lifetime later, as I worked for an AIDS agency in Atlanta in the 90's, destiny called. An upcoming drag contest to benefit our agency was suffering from poor participation, and my boss asked if I would consider entering.
Being a drag queen, even for a night, terrified and delighted me. But the performer in me won out, wouldn't you know, and Anita Mann was born. I created an interactive video rendition of Donna Summer's "This Time I Know It's for Real" (below) and won the contest.
Soon I was performing with "the camp drag queens of the south," The Armorettes, who hosted a Sunday night show at Atlanta's now-demolished Armory to raise funds for AIDS organizations (they are still performing, now at Burkhart's). Over the years they vigrx info have raised over $2 million dollars, and their show was a sellout every week. But my own phobic notions lingered.
I didn't want to be known as a drag queen ("It's comedy! I'm a performance artist!" I would insist). I never appeared anywhere in drag but on that stage – I would always get dressed at the show, and was out of drag for the final curtain call, in a bid to display whatever masculine credentials I had to offer.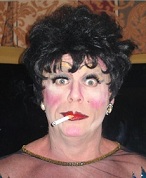 I would hear other gay men make disparaging remarks about drag and I withered, unable to admit I was playing to a packed room every Sunday.
The nexus of shame and shamelessness is a complicated one. Each week I put on full display the very things about myself that I had worked so hard to reject — my femininity, my silly pursuit of acceptance through laughter and applause. And just as I gained confidence in what I was doing and why, I would lose a potential boyfriend when he learned of my weekend talents.
As a growing meth addiction encroached on my free time, I abandoned Anita Mann to its demands. Anita's dress and wig would be relegated to a duffel bag hidden in the back of the hallway closet. I had found a vocation in drugs that offered twice the shame and every bit of the need to keep quiet about it.
It took a few years before Anita would make her comeback. Armed with a TV set and a sense of the absurd, Anita performed at a sober fund raising event. Her rendition of "Don't Get Around Much Anymore" (below) grows more insane by the moment (watch out for the swinging TV set!).
And yes, I am aware that I speak of her in the third person. Maybe it is because I view her as a character I have created, and perhaps it is the remnants of shame, and of my need to keep her at a distance.
It's strange, how those things about which we have drawn the most shame are also able to liberate us, not to mention help others. My HIV status. My drug addiction and recovery process. My drag personality. As I have embraced each of these, I've found self-acceptance and a way to carry a message of hope, and even joy, to others.
Meanwhile, I still struggle with the need to project as much masculinity as I can muster. I swagger more than I sashay. I sport a beard when possible. And I work to maintain a strict gym regimen.
It's important for me to stay in shape if I expect to fit in that dress.
Mark
—————————–
(This is a revised version of a posting that appeared on this site on March 15, 2012. Good drag bears repeating. — Mark)
Tags: acting, culture, drag, help others, meth, recovery, Recreation
Posted in Anita Mann and Acting Gigs, Books and Writings, Gay Life, Living with HIV/AIDS, Meth and Recovery, My Fabulous Disease | No Comments »
Thursday, June 6th, 2013
You must know this, because it matters. Because it has already changed your life, no matter who you are, and you may not even realize it. Because as we search for a new national voice for people living with HIV (since the ugly demise of The National Association of People with AIDS), and as LGBT community leaders pledge to re-commit themselves to HIV issues, the voice of people with HIV matters more than ever.
That isn't about a vague concept. It began at a very real meeting, which gave birth to a very real, tangible document. And it happened exactly thirty years ago this month.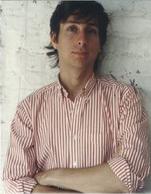 It was 1983. Just a year prior, Acquired Immune Deficiency Syndrome (AIDS) became the fearful nameplate for the murderer of gay friends and lovers. The virus that caused it, HIV, had only been identified a few weeks earlier. Amidst this atmosphere of unremitting grief and fear, a group of activists met in Denver as part of a gay and lesbian health conference. Among them, a dozen men with AIDS. And among their number, the inspirational Michael Callen of New York City, pictured at right, and safe sex architect Richard Berkowitz (Sex Positive), the only surviving member of the group today. They were about to do something that would change our response to AIDS — and health care in general — forever.
As the conference drew to a close, the activists asked to address the attendees. Rather than having a report presented about the state of the AIDS crisis, they wanted to speak for themselves. If the word "empowerment" hadn't yet been a part of the health care lexicon, it was about to be.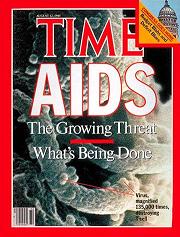 The group took turns reading a document to the conference they had just created themselves, during hours sitting in a hospitality suite of the hotel. It was their Bill of Rights and Declaration of Independence rolled into one. It would be known as The Denver Principles, and it began like this: "We condemn attempts to label us as 'victims,' which implies defeat, and we are only occasionally 'patients,' which implies passivity, helplessness, and dependence upon the care of others. We are 'people with AIDS.'"
The seminal moment in AIDS activism was arguably those few minutes, when the principles were outlined by these brave "people with AIDS." Identifying themselves as such, that alone, was startling at the time. How could they not be seen as anything but victims of an arbitrary and cruel killer? But they would have none of it. And they did not stop there.
They outlined 17 principles that covered everything from health care decisions to civil rights to sexual conduct. And their impact on all of us is so obvious today it can easily be taken for granted. Please honor their service and read on.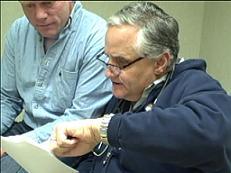 They demanded that physicians see their patients as "whole people," and provide "accurate information." They believed their opinion on their care should be awarded equal weight, and this was revolutionary. The next time your doctor consults you about a change of medications or whether a diagnostic test may be required, you can thank The Denver Principles.
They asked "all people" to fight against AIDS discrimination in the workplace and in housing, which was a provocative concept in the fearsome days of 1983 when people recoiled from those with HIV.
Astonishingly, they even advocated for "as full and satisfying sexual and emotional lives as anyone else" for people with AIDS. Imagine that, at a time when a new blood- and sexual contact-driven disease was in full bloom, a group of people suffering from it wanted sexual rights. Amazing. And yet today, if you are HIV positive and disclose your status to potential partners without feeling like a diseased pariah (or you have observed sexual evolution, like serosorting and sex clubs for positives), you can thank The Denver Principles. For that matter, if you're HIV negative and negotiate sex with partners of any stripe, you can thank the Principles for believing that we all deserve a satisfying sexual life.
While gay men were the designers of the document, The Subversive Librarian notes that this was a situation in which lesbians and gay men worked together really effectively. As Walt Senterfitt wrote in 1998: "Part of the widespread acceptance of the notion of self-empowerment must be attributed to lessons learned from the feminist and civil rights struggles. Many of the earliest and most vocal supporters of the right to self-empowerment were the lesbians and feminists among the AIDS Network attendees."
A clear line can be drawn between how all of us participate in our own health care decisions and The Denver Principles. It has influenced the doctor/patient relationship in every disease category, benefiting millions of patients.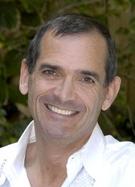 When longtime activist and POZ Magazine founder Sean Strub delivered the keynote speech at the Campaign to End AIDS' 5th Anniversary event a few years ago, he devoted his powerful remarks to the historic importance of The Denver Principles and announced a plan to create a Denver Principles Empowerment Index that will hold AIDS groups accountable to the people they serve. That sort of work continues today, with plans underway to conduct a "Stigma Index" survey in the United States, measuring levels of HIV stigma and employing people with HIV in the process.
Sean knows a thing or two about accountability. When I worked for various AIDS organizations through the 1980′s and 90′s, we were shaking in our boots each year when POZ Magazine produced their chart outlining which of the country's AIDS organizations met certain criteria. The chart rated things like financial transparency, the cost of fund raising, and how many HIV positive people served on the Board (for which, by the way, you can thank The Denver Principles, which demanded people with AIDS "be included in all AIDS forums.")
The Empowerment Index that Sean and others are creating (he's open to input) would chart similar criteria for AIDS organizations and other health care providers, by measuring the degree to which their clients feel empowered and involved in their own decisions. It would tangibly rate things like fund raising, transparency, HIV+ representation and the delivery of services.
So the Denver Principles live on. A list of profound basic rights were outlined during the dawn of this epidemic that continue to have an impact on us today. Anyone facing a chronic illness should laud the amazing journey and profound importance of this document.
Mark
(This is an updated version of something I posted in both 2010 and 2011. But as a man who blogs about living with HIV — and for you, reading my content — The Denver Principles and what they represent are that important. Are they outdated, since most people living with HIV today have never heard of them? I don't believe so. I wasn't around for the creation of the Bill of Rights and might not be able to recite them all to you, but I sure do want my leaders and governance using them for guidance. — Mark)
—————————————————–
ALSO…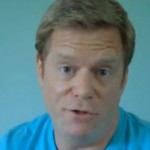 As we enter June and all of the various Gay Pride festivities around the country, let me offer this gentle reminder that pride is about a lot more than drink tickets and cover charges and body image. Yes, that's easy for me to say, since I'm as guilty as the next guy about my GYM OCD and aging fears — and Gay Pride only worsens my anxieties. I'm working on it. BUT. Back to you. I hope you will take three minutes and watch my "Gay Pride PSA" that I post each year around this time. If you haven't seen it, it's very funny. Well, until it isn't. And it leaves you with a message I hope you will carry through this month and share with your friends. Check it out!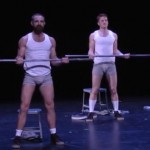 If, on the other hand, you prefer to leave the emoting to actual theatrical professionals (haters!), then you might really enjoy a five-minute highlights compilation from the one-night-only re-staging of David Drake's important play on being gay and early AIDS activism, The Night Larry Kramer Kissed Me. Only 600 very lucky people could be seated in the hottest ticket in town that night (my ticket, and my plane fare and hotel and entourage, were evidently lost in the mail, and I'm firing my assistant), but now you can get a glimpse of some of the magic witnessed that evening. The most moving moment? Seeing that angry lion himself, Larry Kramer, in a photograph with Drake after the performance. It reminds me of one of my favorite buttons from the 1980′s: "Annoy them… SURVIVE!"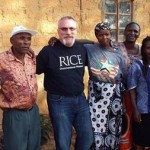 In the "Gratitude for Our Privileged Lives" department, how about the amazing David Phillips, a long time poz activist from Maryland who has been crisscrossing Kenya with a group of students and their professor from The George Washington University School of Media & Public Affairs. "On June 4 we visited with Mama Beatrice and several of the people living with HIV whom she has aided," David said in a Facebook posting. "The stories of discrimination and stigma which they shared were jarring for the students to hear." Most humbling to me, though, was this: "Some of these fellow HIVers were shocked to know that mzungus (white people) get HIV, too," David said, "and all were excited to meet someone thriving in the face of HIV for over 10 years, amazed by 31." Are you feeling blessed right now? You're welcome.
Tags: aids, culture, gay, hiv, politics, recovery, Sexuality
Posted in Living with HIV/AIDS, My Fabulous Disease, News, Prevention and Policy | 2 Comments »
Sunday, March 24th, 2013
I have some amazing friends for you to meet.
Beginning two years ago, TheBody.com asked me to produce a series of videos ("A Day in the Life: Keeping Up With Your HIV Meds") that would profile a person living with HIV, what their day looks like, and how their medication regimen fits into their daily routine. It was a great opportunity to highlight the everyday lives of people living with HIV, but also to let their spirit and passions come through, and show we are whole people — not simply the virus.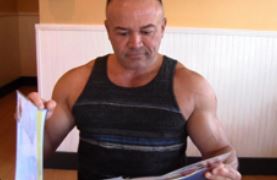 The profile subjects came from all walks of life, in various cities around the United States, and their personalities and interests — their families, their hobbies, and even how they became HIV positive — were all I needed for inspiration.
Below are the eleven videos that have been produced to date for the series (an ongoing feature on TheBody.com and they also have an entire resource center about keeping up with your meds). You can watch the videos here, or follow the link in the title to view the post as it appeared on TheBody. They are each less than ten minutes long; just scroll through them below and find a story that sounds like yours — or better yet, hear what the journey of someone completely different from you is like! Are you ready?
Damaries is from South Florida and could not have been more lovely; we laughed a lot during our day together. Her strength is what impressed me most: she did not come to the decision to start HIV medications lightly. She really did her research before she began a regimen. Filming her story was also a great excuse to hit the beach, since she loves to find her peace and tranquility on that gorgeous sand.
Well, first of all, Tree is adorable. So there's that. He also has an equally adorable dog, who tried mightily to extend his few minutes of fame by sneaking into the camera shots and barking woefully from the other room. For his part, Tree does a great job explaining how he kept his medication regimen despite multiple moves and even being homeless for a brief period. I really like the Brooklyn montage of Tree's neighborhood at the beginning of the video.
What an elegant woman Eva is. She was so gracious during our day together and had an almost regal sense of self. She really impressed me. Not only did she make peace with the man who infected her many years ago, she became an advocate for all women living with HIV and devoted quite a lot of time to volunteer work. She's also an avid traveler — I've never seen so many magnets from exotic places on one fridge in my life.
What a hoot! Robert (Bobby) Darrow and I were childhood friends, when we both performed in community theater together in Shreveport, Louisiana (we were both newsboys in Gypsy, for all you musical theater queens). As we grew, he always got the good parts and I ended up working the spotlight — shining it on him — but I'm not bitter, I swear! Producing this video was a great chance to honor my lifelong friend for the activism he has done since the beginning of the AIDS epidemic. And it also allowed me to honor theater itself, and how Bobby is now back in the very place he and I so loved when we were kids. This one is special to me.
You're going to be blown away by the strength of this woman's convictions — and the strength of her marriage. Brooke learned she was HIV positive during her pregnancy, and not only was her husband completely supportive, he stood by proudly as Brooke became a visible advocate for woman's health, the importance of HIV testing, and their personal struggle to afford HIV medications so that their baby would have a better chance of being born without HIV. And speaking of babies, guess who steals the show in this video?
Khafre was one of the most immediately spiritual people I met during this series. He has a very strong sense of faith and a commitment to his own spiritual principles. He was also in the midst of organizing a fund raising bike ride across the country to benefit HIV/AIDS services for people of color, and I admired his dedication and pure energy. The time he devoted each day to prayer and meditation was really lovely to observe and capture in the video.
Episode 7: Petra Berrios and Efrain Carrasquillo
Petra & Efrain could give the other couples in the series a real run for their money for the title of Most Romantic. You can't help but grin, watching Efrain describe seeing his future wife for the first time at an AIDS conference, where both were community advocates and both were living with HIV. They not only lift up one another during the frustrations of HIV life, they know how to take time to love and enjoy one another, as their salsa demonstration clearly shows.
Tales of triumph over adversity don't come more dramatic than the story of Fortunata. Not only is she the single, proud parent of a gorgeous daughter (the apple doesn't fall far from the beauty tree), she had a devastating accident when she was hit by a car walking across the street — and then had to manage her HIV meds along with a host of others while she recuperated. The fact that she relates all this with such grace was amazing to me. I had so much footage of her simply looking ethereal and lovely, the video could have been twice as long.
Anyone who follows my blog — or HIV/AIDS advocacy — knows what a gift Nelson is to our community. He's been our own Jack LaLanne of HIV, teaching the importance of health, exercise and nutrition since the beginning of the epidemic — the video blogs he did with me on nutrition (where he cleans out my fridge) and exercise (where we hit the gym together) are hilarious and very informative. And, of course, he has a hot body. It might come as some surprise, then, that he's very modest when it comes to showing it. I had all sorts of shots and angles I wanted to do that would have shown of his physique, and he politely demurred. He also was always focused in our interview on what would apply to regular folks living with HIV, rather than the more privileged among us. In other words, the man is a class act, with a humility that speaks volumes about his integrity and commitment.
I've been watching Robert grow as an HIV/AIDS advocate for several years now, since he began POZIAM social network and radio show while still in his twenties. I had fun doing the fast cuts that open his video because I thought it captured the sense of motion and vitality he has. When I become disheartened, wondering where are the next generation of activists on the scene, I remind myself there are people like Robert.
I've always been open on my blog about being in recovery from drug addiction, and George — who survived 27 years of street drugs — and I had an immediate connection. He devotes his life today to service for others, whether it is at an AIDS agency or through various addiction activities. In fact, something he said about his recovery during our interview really made sense to me, and I stopped the camera and shared some of my own story. For nearly thirty minutes he let me pour out some of my own fears and challenges, and listened with the attention of a man who has been there. I think his spirit is well-represented in this video.
To watch George's video, just follow this link to TheBody. This video is so hot-off-the-presses that I'm not able to share it here yet. Follow the link and hear his story.
I learned a lot of each of these people, and I know they represent a tiny fraction of the courage and daily fortitude displayed by people living with HIV every single day. I really want to thank this group for taking me into their homes and lives and allowing me to share their stories with you.
Thanks for watching, and please be well.
Mark
Tags: aids, gay, help others, hiv, lipo, physician, recovery, research, Sexuality, testing
Posted in All Other Video Postings, Gay Life, Living with HIV/AIDS, Meth and Recovery, My Fabulous Disease, Prevention and Policy | 1 Comment »
Wednesday, January 2nd, 2013
"My most courageous self, the best man that I'll ever be, lived more than two decades ago during the first years of a horrific plague… I miss the man I was forced to become."
– "Once, When We Were Heroes," 2007
AIDS did not kill Spencer Cox in the first, bloodiest battles of the 1980's. It spared him that.
The reprieve allowed Spencer's brilliance as co-founder of the Treatment Action Group (TAG) to forge new FDA guidelines for drug approval and help make effective HIV medications a reality, saving an untold number of lives.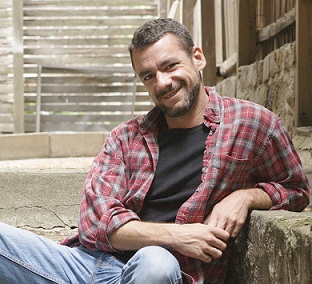 Such triumph by a man still in his twenties might have signaled even greater achievements ahead. Instead, Spencer found himself adrift in the same personal crisis as many of his contemporaries, who struggled for a meaningful existence after years of combating the most frightening public health crisis of modern times.
Gay activists like Spencer were consumed by AIDS for so many gruesome years that many of them were shocked, once the war abated, to see how little around them had changed. Climbing from the trenches, they saw a gay culture that must have seemed ludicrous, packed with the same drug addictions, sexual compulsions and soulless shenanigans that AIDS, in its singular act of goodwill, had arrested for a decade or so.
They found themselves in a world in which no one wants to see battle scars, where intimacy is manufactured on keyboards and web sites, where any sense of community had long since faded from the AIDS organizations and now only makes brief appearances in 12-step meetings, or as likely, in the fraternity of active crystal meth addicts chasing deliverance in a dangerous shell game of bliss and desolation.
The dark allure of meth, a drug so devoured and fetished by gay men today that it is now a leading indicator of new HIV infections, enticed Spencer at some point along the way. The drug is known to whisper empty promises about limitless power and sexual escape, while calming the addict's ghosts and sorrows for miserably brief periods of time.
When Spencer Cox died on December 18, 2012, in New York City, the official cause of death was AIDS-related complications, which is understandable if post-traumatic stress, despair and drug addiction are complications related to AIDS.
Spencer believed that this connection exists. His own writings for the Medius Institute for Gay Men's Health (an organization he co-founded after his work with TAG) focus on exactly the issues that were distressing him personally: Crystal meth abuse. Loneliness. Risk taking. Feelings of confusion after years of accomplishment and purpose.
In retrospect you can read his work and break the private code written between the lines. It spells out "HELP ME."
Spencer's life during this period and beyond was difficult, by many accounts. The Medius Institute failed due to a lack of funding, defeating Spencer's effort to address mental health issues among gay men. His drug addiction spiraled and ebbed and raged again, until he finally retreated to Georgia to live with family for a few years.
When Spencer returned to New York City last September, many of his closest friends had lost track of him. There is uncertainty about his last months, and no evidence that his addiction was active, but what little medication compliance he managed had been abandoned completely, setting the stage for his final hospitalization.
Spencer Cox died without the benefit of the very drugs he had helped make available to the world. He perished from pneumonia, in an ironic clinical time warp that transported him back to 1985. It was as if, having survived the deadliest years of AIDS, having come so close to complete escape, Spencer was snatched up by the Fates in a vengeful piece of unfinished business.
AIDS has always been creative in its cruelty. And it has learned to reach through the decades with the second-hand tools of disillusionment and depression and heart-numbing traumas. Or, perhaps, using the simple weapon of crystal meth, with all of its seductions and deceits.
Yes. There are many complications related to AIDS.
To consider "survivor's guilt" the culprit behind the death of Spencer Cox is a popular explanation but not necessarily an accurate one. That condition suggests surviving when other, presumably worthier people, did not. Sometimes guilt has nothing to do with it.
For many of our AIDS war veterans, the real challenge today is living with the horror of having survived at all.
Mark
(PHOTO CREDIT: Walter Kurtz)
Tags: aids, culture, hiv, meth, physician, politics, recovery, research, Sexuality
Posted in Books and Writings, Gay Life, Living with HIV/AIDS, Meth and Recovery, My Fabulous Disease, News, Prevention and Policy | 50 Comments »
Monday, October 22nd, 2012
The story behind the title of Michael Kearns' memoir The Truth is Bad Enough is as delicious as the title itself. As Kearns' parents – themselves worthy of a Tennessee Williams subplot — battled each other at their divorce proceeding when Michael was a child, his father presented damning surveillance of his mother's many infidelities. The evidence was unimpeachable, but then the father tried raising the stakes by charging that the woman also physically abused him.
Kearns' mother couldn't be contained and interrupted the proceedings. "Your honor," she said. "Why is this man lying? The truth is bad enough!"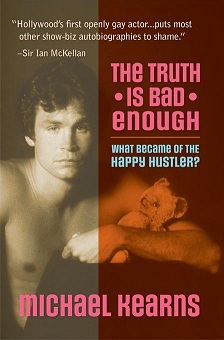 The truth is sometimes difficult, to be sure, but in the case of this engaging and fast moving autobiography, it's also hilarious. There's nothing more formidable than a drama queen with legitimate drama on their hands, and the life of talented, alcoholic, HIV infected, highly theatrical and perpetually horny Michael Kearns has had more peril than an Aaron Spelling series.
Kearns began his career in the midst of the "gay lib" of the 1970's even if Hollywood was tight lipped on the topic, and it is that disconnect that pushes the openly gay Kearns into an unintended activist role and confounds his career aspirations.
After a featured role playing the older brother of John-Boy on The Waltons, Kearns' future seemed secure. But test audiences reacted poorly to their scenes together because they showed the characters away at college. Kearns' character never appeared again. Rumors that he was fired because he was openly gay were untrue but persisted for years.
Meanwhile, Kearns had a boyfriend who had written a fictional book called The Happy Hustler, and for which Kearns had modeled for the cover image. In order to generate book sales, a plan was hatched to present Kearns as the actual Happy Hustler – the book's author – and send him on a press tour. Having been banished from Walton Mountain and still hungry for stardom of some kind, any kind, Kearns agreed to take on the counterfeit persona as a sort of exercise in ongoing performance art.
Keans' drunken appearance as The Happy Hustler (a role he began taking far too literally in his private life) during a 1976 Tom Snyder interview sets the stage for both career success and life on a runaway crazy train. Kearns revels in drug and alcohol abuse as tricks and acting jobs come and go. He sleeps with celebrities and strangers with equal apathy. His status as the first openly gay actor of note invites curiosity and derision. He agrees to reveal his HIV positive status for an NBC interview almost as a lark, leading to a period of portraying "the gay guy with AIDS" in a collection of acting gigs.
I was drawn to Kearns' story for the Hollywood gossip –– but I kept reading because of something deeper and far more riveting. And it had everything to do with how our lives were fated to overlap.
My own memoir A Place Like This travels some of the same West Hollywood streets. I was a bottom-feeder on the Hollywood scene (an expression I should probably withdraw now for its literal inaccuracy) and I never knew Kearns, but we did have a liaison in common: our bedding of the detached and unhappy Rock Hudson. However, let the record show that while Kearns' dalliance was what gay men refer to as "standup sex," mine was brief but at least horizontal. So, um, I win.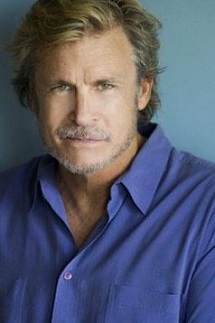 Many other famous faces populate the book – gay, straight, porn stars of various stripes, and the hypocritically closeted that Kearns, God bless him, outs on his pages with regularity. His characterizations of personalities we thought we knew are enlightening, gentle when need be, and sometimes quite sad.
The funny but famously acerbic Paul Lynde was kind and helpful to Kearns. Stage legend Leonard Frey (birthday boy Harold from Boys in the Band) sat despondently during a sexy gay house party, where looks trumped celebrity. The "monstrous" Charles Nelson Reilly was so threatened by Kearns' sexual identity that he cut short their visit in Florida to work on a project, throwing Kearns out of the guest house and squawking insults from the porch in his orange caftan as Kearns was driven away.
And then, Kearns' story includes a bizarre intersection between us that I found so revelatory and disturbing that I had to actually put the book down for several days while I reexamined an entire section of my life.
During the 1980's I owned a gay phone sex company, Telerotic. It predated party lines and the internet; customers called our office and "ordered" the type man they wished to speak with, and one of my employees (struggling actors, every one) would call back the customer and take on the persona of whatever the client had ordered. I had opened the company after working for a competitor and discovering I was a very popular choice among the clients and had, well, a way with words.
One day, playwright James Carroll Pickett contacted me. He wanted to interview me, observe me doing calls with clients, and get a feel for the business as research for a play he was writing. We spent a few evenings together, as I answered questions, smoked cigarettes, made funny faces while talking to clients, and snorted copious amounts of cocaine in my bathroom.
Months later I attended a performance of Dream Man, which would become the most heralded collaboration between the playwright and his theatrical partner, who performed the role of the phone sex caller in the searing one-man show.
The actor was Michael Kearns.
Watching the performance nearly thirty years ago was a surreal experience, but it was the playwrights inclusion of the mechanics of my nightly calls that were so striking to me: the rolodex box filled with client notes, the gimmicks I used to appear more engaged than I actually was, my tricks to get the client to call again by teasing him with an upcoming sexual adventure I wanted to be sure to share with him.
And I missed the point entirely. It wasn't until I read Kearns' book that the facts of the character he portrayed came into view: an isolated, frenzied and increasingly unhinged gay man with no prospects or esteem, playing to an audience of one – whatever desolate client he could hold hostage during their phone call.
The play was an aria of anguish, but all I could focus on during that performance so many years ago was the damn rolodex cards. I was incapable of facing the "dark density" of the character, because if I scratched its surface I would have clearly identified the drug addicted, desperate young man that the playwright had come to interview. And I may have revealed far more to him than I ever imagined.
Dream Man would be performed across the country, in Spain, Ireland, Germany. And through those years I continued my destructive path, having lost an opportunity for my own moment of clarity in the dim light of that West Hollywood playhouse. Reading about it now, in this book, rattled me to the core, and the book sat untouched on my nightstand for several days.
The last third of the book focuses on Kearns' adoption of a baby girl born to a crack addicted mother, his selfless love for her, and how their bond throughout her upbringing conjures everything from his fears of AIDS mortality to his unresolved issues with his own troubled parents. These pages are filled with a grace and maturity that are miles away from the drug- and celebrity-induced selfishness of his life thus far, as Kearns gently guides the reader down to earth, into the bosom of family, after pages and years of breathless shenanigans.
"Acceptance is the answer to all my problems today" is a common refrain among those, like Kearns, dealing with recovery from drug and alcohol addiction. His book is imbued with that acceptance, just as reading it allowed me to accept whatever part of me was on display in the lonely, reckless stage creation Kearns most famously brought to shattering existence.
Mark
Tags: A Place Like This, acting, aids, culture, help others, hiv, meth, recovery
Posted in Books and Writings, Gay Life, Living with HIV/AIDS, Meth and Recovery, My Fabulous Disease | 5 Comments »
Friday, September 28th, 2012
There is a folder, tucked within a folder, buried deep in my computer files. I shouldn't be looking at its contents, yet I can't bring myself to delete it altogether. It is labeled MARCUS, and inside the folder is my disease.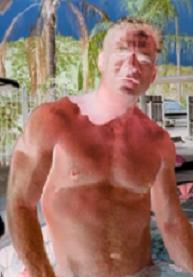 During my years of crystal meth addiction I went by the name of Marcus, at least to dealers and tricks and fellow addicts. It helped me determine who was calling my cell phone — those calling for Mark or Marcus usually had very different agendas — and Marcus even became an alternate persona as my drug addiction progressed.
When partying as Marcus, I felt confident and aloof. I took awful chances. I never met a strobe light I didn't like or a box on a dance floor I wouldn't jump on. A steroid-crazed gym regimen and the dehydration of drug abuse transformed my body into the low fat, pumped up gay ideal.
Photographs of that body, in full, preening strut, are the contents of the MARCUS folder. The pictures were my calling card for online sex-and-drug pursuits. They suggest nudity but are cropped modestly — although God knows that much more damning images of me surely exist in the dark corners of cyberspace.

In one of the few pictures showing my face, I stand under a running shower — a pitiful Playgirl pose, spray nozzle in hand — with a blank face and shipwrecked eyes. The only emotion on display, just around the edges, is a dull fear.
My life was precisely as pictured. It wouldn't be long before my drug use trumped my gym schedule, and my status in online chat rooms devolved from intriguing hottie to that crazy mess that doesn't look like his pictures.
Since then, my recovery from drug addiction has helped me understand that the Gay Strut is key to my disease. It is a sly porthole back to raging insanity.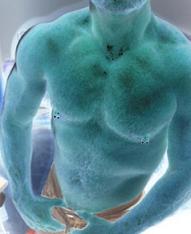 Explaining all this feels idiotic. What vanity I possess, asking you to gaze upon my former, overwrought beauty as I complain about the consequences. It feels like an invitation to tell me how much healthier I look now, or that recovery is "an inside job." I know this. I'm just sharing the curious road that got me here.
My recovery depends on healing my mind, body and spirit. At the moment I'm two out of three.
My spirit is happy today. My smiles are joyful and plentiful. My mind is clear, although I don't kid myself, there are remnants of a brain pickled in methamphetamine for many years. But healing is underway, and my mind and spirit are enjoying the process.
Only my body lags behind, injured, resentful, and suspicious of the path to well being. I'm sedentary and stubborn. I relate being physically fit with something traumatic that once hounded and eventually ruined me.
I want to be healthier, and to control my weight and rising cholesterol. I need to fix this, I tell myself, but I'm afraid to fix this. There's the potential that I'll go back to a lifestyle more horrible than my expanding waistline.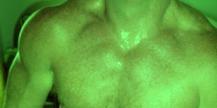 It's good to get in shape again, I tell myself with sincere intentions. The treadmill is really taking off the pounds and I should start weight lifting again and hot damn, that muscle recall really works just look at my arms and I should buy new tank tops and work out even harder and get steroids prescribed again and what's wrong with hanging out at a bar shirtless and shooting pool and sure I'll do one hit of that, thanks, and man this body of mine would look damn hot at a sex party right now and who's your dealer and do you have needles…?
Getting back in shape is an easy call. Except my mind puts physical fitness on the same crazy train as my drug addiction.
There is a solution. There always is. And I'm working on it. The fact I acknowledge my insanity is a good start. Now I can begin the process of teaching my body new tricks.
There are traps on the road to recovery, as anyone getting clean and sober will tell you. I'm much better at seeing them clearly than I used to be. But the vigilance it requires is a full time job.
I get afraid that a dangerous choice might look perfectly innocent. Or be a reasonable part of life. It could be a healthy choice, even, at least for you.
But sometimes, my very reckoning can look as pretty as a picture.
———————————————————————
This piece originally appeared on my blog last year, and is featured in Trevor Hoppe's upcoming book, Beyond Masculinity. I felt obliged to show some of the Marcus photos, but have cropped and altered them into something less decadent. Any similarity to pictures you may have seen in online chat rooms is purely coincidental. This topic is also something I've done my best to separate from my series of fitness videos with expert Nelson Vergel. Why burden the guy with my insanity? — Mark
Tags: Aging, culture, gay, hiv, meth, recovery
Posted in Books and Writings, Gay Life, Meth and Recovery, My Fabulous Disease | 8 Comments »
Tuesday, July 31st, 2012
AIDS2012 was exactly as I had hoped: an enormous "summer camp" for advocates from around the globe, and I had a blast bringing their stories to you. Let others cover the medical updates and the big name speakers. I wanted to give you a sense of the people who are doing the work on the front lines – with a few bigwig interviews along the way.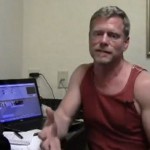 Every day I sought out stories I thought would interest you and took a ton of footage (with the help of my talented camera person and schlepper Tina Robles). After a bite of free food from whatever reception was happening, I tried to make it to at least one evening event. And then back to my hotel, where I reviewed the footage, did my best to conceive a theme for the day, and then started editing. I'm quick at the editing part, but it still took 4-5 hours, into the wee hours of the morning. Then I'd sleep for a couple hours and start again. I'll need the two years between now and AIDS2014 just to catch up!
Here are links and a review of each of the six video blogs I produced during the week. Simply click the title to see the posting and watch the video.
The MSM Pre-Conference ("Gay Day")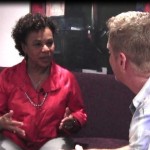 Since less than 5% of the programming for AIDS 2012 is targeting to MSMs (Men who have Sex with Men), a special one-day pre-conference is held the day AIDS 2012 convenes to address the needs and issues of this population.
My report includes a chat with United States Rep. Barbara Lee (right), who has just introduced comprehensive HIV prevention and anti-stigma legislation; the advocates fighting laws that criminalize people with HIV (like Sean Strub and Edwin Bernard), a little social research on Grindr (the gay man's cruise phone app), a chat with Positive Frontiers editor Alex Garner about getting rejected (and rejected others) during the dating process, and a visit to an AIDS2012 Reunion poz social event.
Opening Ceremonies at the AIDS2012 Conference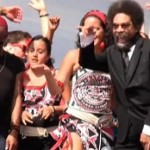 In this brief video episode from the first official day of AIDS2012 the party is rolling, with an outdoor concert (steps away from the AIDS quilt) featuring Weyclef Sean and Cornel West (!), dancing dignitaries, and a somewhat surprise ending!
The fact is, Day One was a light day, the calm before the storm, as people poured into DC and braced themselves for the busy week ahead. And it was my last chance to get a decent night's sleep.
AIDS2012 Day Two: Stigma, Singers and Subways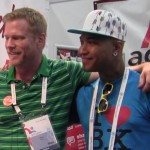 Day Two of the international AIDS conference (AIDS2012) roared through its first full day on Monday, and there are sights to behold. This episode is a lot of fun.
I spent some time in the exhibit hall critiquing the fashions (and the issues) of various attendees with fashion maven Jack Mackenroth (poz and proud veteran of "Project Runway"), started a YouTube rivalry with inspirational singer Jamar Rogers ("The Voice," right), and learned about HIV and aging from an expert with the Terrence Higgins Trust. I also had the chance to speak with the head of the CDC's HIV/AIDS Division about their new "Let's Stop HIV Together" campaign, in which Jamar and myself both participate.
And, with all the talk at the conference about the devastating effects of HIV stigma, I found validation of my own HIV status in the unlikeliest of places: the Gallery Place subway station.
AIDS2012 Day Three: The March to End AIDS!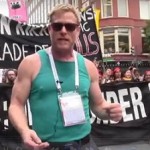 I know my tank top looks kinda slutty, but it was damn hot, people.
Several contingents marched and protested separately throughout the city – marching for housing, and civil rights, and in protest of the pharmaceutical industry's "intellectual property" policies – and then convened in front of the White House. Whereas the march and rally at AIDS2010 in Vienna was a peaceful affair, our proximity to the White House, the aggressive crowd and the police on horseback all lent an air of old time activism circa 1987.
The people included in the video can speak for themselves, and quite eloquently. Maybe it was the emotions of the event — anger, nervousness, pride — but it was an exhausting day. I felt the residue of grief for lost friends in a way I haven't experienced in years.
This is my favorite, no doubt, and I'm proud of the visual and audio techniques I employed to give some historical context to the event.
AIDS2012 Day Four: The Global Village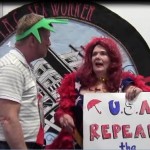 It was time for a tour of the heart and soul of AIDS2012: The Global Village. This massive hall is the only part of the conference open to the public, and it has a grass-roots feel, crafted from the love and devotion of hundreds of community groups who are doing "the work on the ground" in cities and small towns throughout the world.
Thank God I'm a video blogger, because words escape me when trying to describe the colors and displays and most importantly, the committed people behind it all. You're about to meet drag queens who make their living handing out condoms, sex workers demanding an end to criminalization, young prevention workers from far-flung corners of the planet, a stunning photo exhibit from the Ukraine… the list goes on.
AIDS2012 Day Five: Farewell to the Voices of the World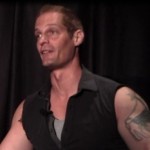 Our little summer camp for global AIDS advocates (and physicians, and commercial interests) had come to a close, and there are images that will be knocking around in my head for weeks to come (and some, forever).
I begin this video with the astonishingly talented performance poet Mary Bowman, a young woman with HIV showing us her heart and soul on stage. It's a jumping off point for this final, brief video, in which I pay tribute to the people on the front lines who are the very essence of this conference. They are the ones with the "star power."
This opportunity to share my experiences at AIDS2012 was a distinct honor and privilege, my friends. My deepest thanks to you all for the many cross-postings and shares and tweets. This was a week I will never forget.
Enjoy the videos, and please be well.
Mark
Tags: Aging, aids, barebacking, criminalization, culture, drag, gay, gratitude, help others, hiv, physician, politics, recovery, Recreation, research, Sexuality, testing
Posted in All Other Video Postings, Books and Writings, Family and Friends, Gay Life, Living with HIV/AIDS, Meth and Recovery, My Fabulous Disease, News, Prevention and Policy | 5 Comments »
Friday, June 8th, 2012
I knew it. I felt it. It was as clear as the incessant call of crystal meth itself, on those nights when a seductive phantom of the drug cozies up to me in bed and brings its knitting.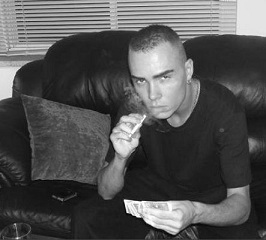 In a Huffington Post news article on accused killer Luka Rocco Magnotta, buried in the story pages deep, a former lover says that the alleged murderer used methamphetamine, the drug popular among gay men that has claimed years of my life and left countless men in utter wreckage.
The story of the Canadian "low budget porn actor" has horrified the public with its harrowing details of torture, cannibalism, and necrophilia. The young man has been accused of killing a student, cutting him to pieces, and then mailing body parts to various locations. He allegedly consumed some of his victim and performed sexual acts with the body. He is also accused of uploading a video recording of the crime onto the internet.
Horrific, yes. But the sheer madness of the crimes, and the killer's insane determination to make it as shocking as possible, was sickeningly familiar to a recovering methamphetamine addict like me. There is no evidence yet that crystal meth played a role in these crimes, but allow me to explain why the mix of porn, insanity and meth use struck a disturbing chord with me.
Among gay men who use recreational drugs, crystal meth abuse remains epidemic, sought for its fabled power to heighten sexual desire. In the last ten years, "crystal" has emptied nightclubs and sentenced friends to the isolation of online porn or to the emotional wasteland of "party and play" orgies frequented by fellow addicts, where syringes are common and condoms are not, and which feature exhausted, drug-driven sexual compulsives. The events have all the charm of dead bodies having sex.
Just as the drug demands more in its pursuit of the thrill of that first transformative rush, so does the sexual psyche. Before long, typical sexual behavior isn't enough in the life of a crystal addict, and more extreme components are brought into play, such as risk and location, props and posturing, all as users experience a darkening of the sexual landscape that would cause your very soul to shudder.
In my experience, finding sexual fantasies to stimulate the weathered sexuality of meth abuse means exploring alien territory, where nothing is off-limits and the darker, the better. It becomes a perverse game of one-upmanship between addicts on the depths each will plummet for the sexual shock needed. You think about violence, one might ask the other. Fine, but have you ever thought about this? That's hot, says the other, but what I really think about doing… is this.
Never mind that the images they are conjuring have never occurred to either of them prior to their addiction. They are mining something much darker than their authentic sexuality has ever known, all in the service of an insatiable sexual craving poisoned by a drug made with ingredients like ether, Drano and brake fluid. And so their perverse tales build and accelerate, tossed back and forth like playing volleyball with a severed head.
This is why the exploits of Mr. Magnotta set off my meth addict radar. The very outrageousness of his vile acts felt, to me, like an addict who had explored the depths of his imagination and come up short, for whom the depravity couldn't be satisfied any longer without being made flesh. Whether his pre-existing insanity carried him across a mortal line or crystal meth pushed him over it, we don't yet know. But meth addicts like me were shaking their heads at the accounts of Magnotta's heinous acts and wondering why the rest of the world hadn't suspected the connection, and why news reports hardly mentioned his crystal use as if it weren't particularly relevant.
There are horrors that don't arise from childhood abuse, or sociopathology or even garden variety insanity. They come from a white crystallized substance that promises everything and delivers nothing, that rewires your brain and twists your most human instincts into something that repulses even you.
Do meth addicts regularly commit murder? Of course not. But I have spent a few sleepless nights since the Magnotta story surfaced, haunted by fantasies I shared with other addicts that I had hoped to never face again.
I received a gift that too many addicts do not, the gift of finding help and taking it. Without my personal fortitude, without the trip to rehab or hitting bottom or the grace of God himself, my meth-soaked daydreams might have eventually hungered for something more intense, and beyond the safety of simple fantasy.
Instead, I have been saved, today, from what lies behind the darkest curtain. But make no mistake, I carry the burden of regrets, and they include those with a very human toll.
During the bleary days and nights of my last crystal meth relapse, I happened across a friend with whom I had been acquainted in a mutual program of drug addiction recovery. We didn't speak of it during our few hours together, satisfied to smoke and inject meth without the intrusion of cleaner days. But being in his company vexed me. I had always ignored and denied my relapses to others in recovery and this occasion would be no different. If you didn't see me do it, it didn't happen. But this friend had seen, had known, and could later finger me as a liar.
If he came back into recovery, that is. And so, when considering this chance meeting of two meth users adrift, I had only one thought. One selfish, depraved and evil thought.
Maybe he won't come back. Then no one will know about my lies.
For this addict in recovery, those who don't come back from an extended relapse usually have met one of several possible fates, most of them dire. They may have been arrested and now face time in our horrendous penal system, or they are strapped to a gurney somewhere with serious bodily injury or a broken mind, or maybe they're dead. To secretly hope anyone doesn't come back from a relapse feels downright sociopathic.
What is the difference, I might ask, between taking a life outright and hoping another suffering addict continues sticking toxic needles in his arm, sentencing him to serious if not mortal consequences?
That man with whom I shared part of my relapse deserves to be in recovery – and I actually wished he wouldn't find it. To call him my friend is a disgrace.
I might as well have cut him up into little pieces.
Mark
—————————————–
PLUS…


AIDS2012, the international AIDS conference held every two years, is next month in Washington, DC, and I'm going to make sure you don't miss all the most colorful and inspiring parts! As I did at AIDS2010 in Vienna, I will be posting videos every day from the event. I keep the scientific reporting to the experts and instead focus on the stories of the people who make up this remarkable and massive conference. If you haven't signed up for my email updates (above right), NOW is the time to get on board so you don't miss the sights, sounds and personal stories that make this a truly unique event.
Tags: gay, meth, recovery, Sexuality
Posted in Meth and Recovery, My Fabulous Disease, News | 12 Comments »