News
Thursday, November 28th, 2013
My brother Richard smiles a lot. He has an easy laugh. But there was a time, years ago, when he held a poisonous drink in his hands and begged his dying lover not to swallow it. A time when Richard held the concoction they had prepared together and wept.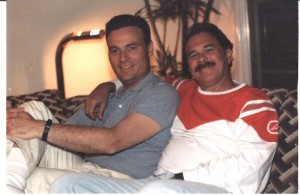 Emil couldn't wait. He took the drink from Richard quickly, because the release it offered was something more rapturous than the appeals of his lover of thirteen years.
It was Emil's wish to die on his own terms if living became unbearable, a promise made one to the other. When that time arrived, however, Richard wanted another moment, just a little more time to say, "I love you, Emil," over and over again, before the drink would close Emil's eyes and quietly kill him.
Richard has a charming store in my hometown today, where he sells collectibles and does theater in his free time. The drink was consumed over twenty years ago.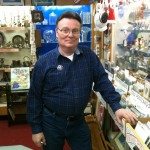 There were people who displayed remarkable courage then. People who lived and died by their promises and shared the intimacy of death, and then the world moved forward and grief subsided and lives moved on. But make no mistake, there are heroes among us right now.
There is a shy, friendly man at my gym. There was a time when his sick roommate deliberately overdosed after his father told him that people with unspeakable diseases will suffer in hell. My gym friend performed CPR for an hour before help arrived, but the body never heard a loving word again.
There is courage among us, astonishing courage, and we summoned it and survived. And then years passed. We got new jobs and changed gyms.
There was a time when old friends called to say goodbye, and by "goodbye" they meant forever. When all of us had a file folder marked "Memorial" that outlined how we wanted our service to be conducted. When people shot themselves and jumped off bridges after getting their test results.
There is profound, shocking sadness here, right here among us, but years went by and medicine got better and we found other lives to lead. Our sadness is a distant, dark dream.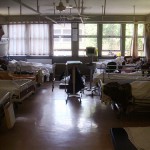 My best friend Stephen just bought a new condo. He's having a ball picking out furniture. But there was a time when he knew all the intensive care nurses by name. When a phone call late at night always meant someone had died. And just who, exactly, was anyone's guess.
Stephen tested positive in the 1980s, shortly after I did. A few months after the devastating news, he agreed to facilitate a support group with me. We regularly saw men join the group, get sick and die, often within weeks.
Watching them disintegrate felt like a preview of coming attractions. But Stephen was remarkable, a reassuring presence to everyone, and worked with the group for more than a year despite the emotional toll and the high body count.
There is bravery here, still, living all around us. But the bravest time was many years ago, and times change and the yard needs landscaping and there's a brunch tomorrow.
There was a time when I sat beside friends in their very last minutes of life, and I helped them relax, perhaps surrender, and told them comforting stories. And lied to them.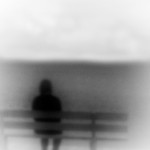 Jeremy lost his mind weeks before he died. Sometimes he had moments of sanity, when we could have a coherent conversation before his dementia engulfed him again. It was a time when you were given masks and gloves to visit friends in the hospital.
He was agitated with the business of dying, and told me he couldn't bear to miss what might happen after he'd gone. I had an idea.
"I tell you what," I offered, "I'm from the future, and I can tell you anything you would like to know."
"OK then, what happens to my parents?" he asked. I thought it might be a distracting game, but Jeremy's confused mind took it very seriously.
"They went to Hollywood and won big on a game show, so they never did need your support in their old age," I answered. He barely took the time to enjoy this thought before his hand grabbed my wrist, tightly, almost frantically. He pulled me closer.
"When…" he began, and a mournful sob swelled inside him in an instant, his eyes begging for relief. "When does this end?" There was an awful, helpless silence. His eyes beckoned for a truth he could die believing.
"It does end," I finally managed, although nothing suggested it would. "It ends, Jeremy, but not for a really long time." He digested each word like a revelation, and slowly relaxed into sleep.
There is compassion here, enough for all the world's deities and saints acting in concert. Infinite compassion for men who lived in fear and checked every spot when they showered for Kaposi sarcoma, and for disowned sons wasting away in the guest room of whoever had the space. But we get older, and friends don't ask us to hold their hand when they stop breathing, and the fear fades and I bought new leather loafers and the White Party is coming.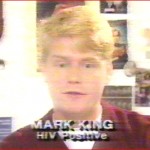 The truth is simply this, and no one will convince me otherwise: My most courageous self, the best man that I'll ever be, lived more than two decades ago during the first years of a horrific plague.
He worked relentlessly alongside a million others who had no choice but to act. He secretly prayed to survive, even above the lives of others, and his horrible prayer was answered with the death of nearly everyone close to him.
To say I miss that brutal decade would only be partially true. I miss the man I was forced to become, when an entire community abandoned tea dances for town hall meetings, when I learned to offer help to those facing what terrified me most.
Today, the lives of those of us who witnessed the horror have become relatively normal again, perhaps mundane. We prefer it. We have new lives in a world that isn't choking on disease.
But once, there was a time when we were heroes.
(I was honored to receive an award from the National Gay and Lesbian Journalists Association for this piece in 2007, written to commemorate World AIDS Day. It has since become my annual post to commemorate the day. Here's to a joyous and healthy holiday season for us all. — Mark)
—————————————————–
PLUS…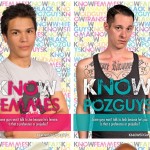 "Know Stigma" (I hereby pronounce "stigma" the Word of the Year) is a terrific site devotes to photos and video that challenge our attitudes towards one another as gay, straight, femme, old, poz guys, etc. There are some really intimate, honest videos with people discussing the impact of stigma on all aspects of their lives. "We want to create a conversation around how we treat each other as gay, queer, bi, trans, and straight men," says their site. "Like everyone, we have our biases and prejudices. Many of us are made to feel invisible because of age, body type or skin color. How can we say what we want without hurting others? How do we imagine our actions and words might make someone else feel?" Check it out.
After a lot of talk about HIV stigma, there is now a project in the United States that wants to actually quantify it and address it through leadership by people with HIV. "The People Living with HIV Stigma Index" has been launched in dozens of countries but only now has received funding to implement it in the U.S. It measures HIV stigma in the lives of people with the virus, and does so by training and employing people with HIV themselves to conduct the surveys. Watch a video of Laurel Sprague of the Global Network of People Living with HIV discussing stigma and this project with Eric Sawyer of UNAIDS.
Tags: Aging, aids, culture, gay, help others, hiv, physician, politics, research, Sexuality, testing
Posted in Family and Friends, Gay Life, Living with HIV/AIDS, My Fabulous Disease, News | 3 Comments »
Thursday, November 21st, 2013
Lesley was my closest friend to become sick in the 1980′s, and he fought bravely until his death from AIDS. Today, there are little rituals I have to honor his memory, and I often write about him, the first of many friends lost to the epidemic.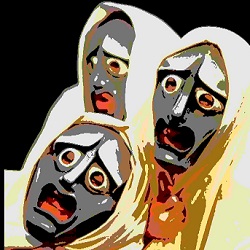 But there's something I will not do. I will not dig up Lesley's body and beat young gay men with his corpse. Lesley didn't perish so I could use him as a scare tactic. He wasn't a cautionary tale. He wasn't a martyr. He was a man with the same passions and faults as anyone else, and I won't use his death as a blunt instrument.
Plenty of us are more than happy to rob graves, however, in an attempt to frighten gay men into acceptable behaviors. This kind of horror-by-proxy happens all the time. Concerned but misguided gay men of a certain age hear whatever the latest HIV infection rates are, and they pull the AIDS Crisis Card.
"If their friends all died like mine did, maybe they would think twice before having sex without a condom," goes a typical remark, drenched in self pity and tenuous logic.
This statement misrepresents our lost friends and oversimplifies the state of HIV today. It projects our grief in the direction of those who bear no responsibility or resemblance to what we experienced. It subtly blames our departed friends for their mistakes, and then tries to equate them with a new generation of gay men who are much too smart to buy into it.
So frozen in time is our victimhood, it hardly allows for the facts of the here and now. Young gay men are more aware of HIV than my generation ever was. They simply relate to it differently, having come of age since the advent of successful treatments. Asking them to fear something they have literally grown to accept is as realistic as asking them to perform "duck and cover" drills in case Russia drops the bomb.
To view these young men and say, in effect, "if only you saw all the death that I saw…" is a wishful fantasy that disturbs me on all sorts of levels, and it says far more about us than it does about them.
I understand these attitudes come from a place of complicated emotions, ranging from grief, primarily, to our own shame or guilt over dodging a bullet — and it may come from a sincere need to share our experience with others. The punishing tone that often accompanies it, though, isn't going to win the respect or investment of younger men. It makes us as relevant as old men on the front lawn waving a rake at youngsters.
I take our community history very seriously. I've written a book about the dawn of AIDS in Hollywood, have read And the Band Played On more than once, cheered on the activists in the documentary How to Survive a Plague, and can't wait for the release of Sean Strub's upcoming AIDS memoir, Body Counts. There is enormous value in preserving our history — and in recognizing that many of us still carry trauma born of that time.
Community advocates have stepped up work to help us process what we went through a generation ago. Post Traumatic Stress Disorder (PTSD) is a very real phenomenon for longtime survivors, and excellent community forums have been mounted to explore these areas by the Medius Working Group in New York City and the "Let's Kick (ASS) AIDS Survivor Syndrome" project in San Francisco. Hopefully, other cities and LGBT organizations will follow suit.
That important work is quite different, however, from allowing our past to blind us to the present. When we raise our finger and say in a voice filled with foreboding, "people think you only have to take a few pills and that's it," we are denying the actual experience of a lot of people with HIV. For many like me, taking a few pills a day is, in fact, the only impact HIV has on my life. Research suggests I will live a normal lifespan and am more likely to die from cigarettes than HIV. And I'm not going to deny all that in order to advance a fright-show storyline that isn't my experience.
There are young voices telling new stories, thankfully. Gay writers living with HIV such as Patrick Ingram, Josh Robbins, Tyler Curry, Aaron Laxton, Robert Breining and the irascible Josh Kruger are peering across the generational divide (I have HIV antibodies older than they are) and they seem bemused. Their blogs suggest a post-AIDS life of full engagement and purpose. I consider this progress. If their lives (and writings) don't include burying friends or serious health concerns, wasn't that our goal all along?
Nowhere has our AIDS tragedy mindset done more damage than in the rollout of the unfairly maligned Pre-Exposure Prophylaxis (PrEP), the prevention breakthrough that allows HIV negative people to take anti-HIV medication to avoid infection. It is largely viewed as an alternative to condoms, which has quickly labeled HIV negative men taking PrEP as "barebacking sluts" by people coming unhinged at the very idea of unprotected sex. (Note: I remember when gay sex never involved condoms. It was glorious. I always thought getting back to a place where we had a real choice in the matter was kind of the point.)
There is something about the simplicity of PrEP (a pill a day! no condom negotiation! no guilt or judgment!) that is driving older gay men up the wall, considering their resistance to it and spurious claims of inefficacy, cost, and side effects. Tellingly, younger gay men have voiced fewer objections.
The facts are these: PrEP is at least as effective as condoms when used properly. The drug currently used for PrEP, Truvada, is well tolerated with few side effects. And despite fears and misinformation, it is being covered by insurance providers (do you know of even one claimant that has been denied?). For those without insurance, Gilead, the maker of Truvada, has a generous patient assistance program that allows you to earn a sizeable income and still get the medication.
Perhaps, in the end, we are simply victims of our own success as advocates. We successfully entrenched the immediate, mortal danger of HIV, the shameless inaction of our government, and the profit-driven, opportunistic role of the pharmaceutical industry. Anything that veers from that narrative, especially for those of us who lived it, feels like betrayal. Yet here we sit, in an age that confounds so much of what we once knew to be true.
The 1980′s are history. They are not a prevention strategy. The war as we once knew it to be, the one Lesley and so many others fought so valiantly, is over.
May they rest in peace.
Mark
————————————————————————-
PLUS…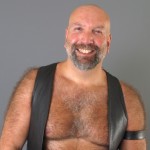 My friend and early mentor, Eric Rofes, was an out, gay, kinky, deep thinking anthropologist that wrote the important book Reviving the Tribe, about building community among gay men during the AIDS epidemic, and Dry Bones Breathe, his follow-up work. He was one of the first to write about the value and even spiritual importance of anal sex for gay men and even exchanging bodily fluids (when he said as much at a forum for gay men in Atlanta I organized in 1995, it was as if a bomb went off, such was the hysteria). For a thoughtful overview of Eric's work and influence, check out a piece from Charles Stephens about the Rofes legacy — and where his worked wasn't fully realized. Whenever I fear my writing might seem provocative, I think of Eric Rofes, his bravery, and his lasting influence on the work of many of our leaders. Eric died far too early in 2006 of a heart attack. (Photo credit: Markichester.com)
Tags: A Place Like This, aids, barebacking, culture, gay, hiv, physician, serosorting, Sexuality
Posted in Family and Friends, Gay Life, Living with HIV/AIDS, My Fabulous Disease, News, Prevention and Policy | 31 Comments »
Tuesday, November 12th, 2013
Another year, another magical Caribbean adventure with a happy community of people living with HIV and our loved ones. It could only be the annual HIV Cruise Retreat, also known as "the Poz Cruise."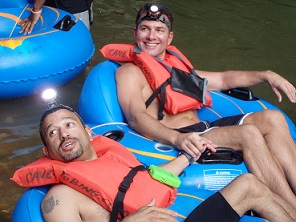 We gathered in Miami from around the world, with a record attendance of almost 300 people. There was a couple from Sweden, a guy from Germany, and a family of five from the West coast. The only thing we had in common was the presence of HIV in our lives — but you would have hardly known it from our high spirits and passion for living. When you're flying through the rain forest on a zip line with a couple hundred new friends, some of life's worries just naturally fall away.
I have such affection for this group and this event. Maybe it's because of the pure joy we have in each other's company, or the fact that no one feels alone. We take care of each other. It doesn't feel like a modeling competition the way so many gay events do. Where ever we fall on hotness meter, we are all embraced and welcomed by the group. I think that mutual support shines through in my video blog of the event, below.
And that included the more than 50 straight members of our group. While these men and women have conducted their own activities in years past, our group was far more integrated this year because we all really wanted to be. Not only did it add another dimension to our time together, but it added a naughty quality to our version of The Dating Game (we did a gay game and a straight one, one after another). I don't think anything on board was funnier than the gay men in the audience cheering on the explicit answers from the straight bachelorettes!
I'm still adding new friends to my Facebook page, and some folks, as usually happens, became more than friends. At least one couple was celebrating an anniversary that commemorated meeting on the cruise retreat in the past. The gay and straight couples in The Newlywed Game really battled it out, and a gay couple prevailed (go team!).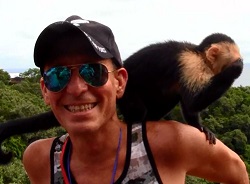 I should include my usual disclaimer that neither myself nor any of the other hosts are compensated for our participation in the HIV Cruise Retreat. I pay for my cabin like everybody else. The reason I have attended now for four years and serve as M.C. is because I support anything that builds community and lifts up those of us searching for acceptance and social support.
I also know how privileged I am to afford this type of vacation (rates begin around $600). Frankly, I send our cruise director Paul Stalbaum small checks throughout the year so the expense doesn't sneak up on me. I hope you will forgive me for sharing my good fortune and please know that my intention is to encourage you to seek joy where ever you might find it.
Get ready for next year: it will be the event's 10th Anniversary and everything about the vacation is improved, from the cruise line (the #1 ranked Celebrity Cruises) to the exciting ports of call leaving from San Juan, Puerto Rico. Check out reviews of The Celebrity Summit here by former passengers!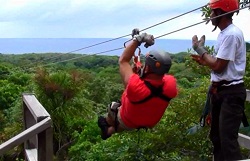 The 2014 HIV Cruise Retreat will take place November 1-8, 2014, and you can find out more by visiting www.HIVCruise.com (the site will be updated with 2014 info soon) or simply contact our travel agent and cruise director Paul Stalbaum (888-640-7447). Paul is living openly with HIV and began leading support groups for people with AIDS more than 20 years ago in Ft. Lauderdale. He is our advocate and champion when it comes to getting us the best price and exclusive perks while on board.
Thanks for watching, and please be well.
Mark
Posted in Family and Friends, Gay Life, Living with HIV/AIDS, My Fabulous Disease, News | 8 Comments »
Tuesday, October 22nd, 2013
Just because it's over
doesn't mean it didn't happen…
Doesn't mean it wasn't beautiful,
even with the pain.
– "Beautiful Sadness," sung by chanteuse and gay favorite Jane Oliver
In the first minutes of Dallas Buyers Club, the astounding new film about the darkest years of the AIDS crisis, rodeo cowboy Ron Woodroof (a gaunt and barely recognizable Matthew McConaughey) is punched in the face. He has it coming. The self-serving crook has a lot of enemies.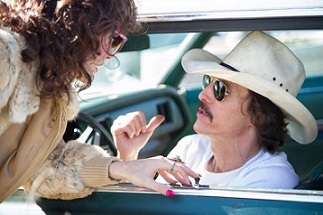 The blood spills from his mouth and glows a bright crimson, an almost clownish contrast to his drained, ghostly pallor — which itself is evidence of a raging HIV infection he has yet to discover. Another gash on his forehead is a sickly collection of reds, and unlike most movies in which injuries disappear by the next scene, the wound remains. And remains. For many scenes thereafter, the blood on Woodroof's forehead is in full view, a disconcerting reminder of what lies beneath, until you wish he would just put on a bandage already.
But Dallas Buyers Club isn't interested in making the truth very pretty. A river of infected blood runs through it. So, too, does practically every other bodily fluid, along with bruises that won't heal and purple skin lesions and flakes of dry, reddened skin. And that's kind of beautiful. Because that's what AIDS looked like in 1985, and it's been ages since we have fully remembered it (this movie doesn't concern itself with the modern day notion of "living with HIV," since having the virus in those days typically meant an AIDS diagnosis and fast and efficient death).
I have never seen AIDS shown this way in a film. And of all the movie portrayals of the disease, from Parting Glances to I Love You Phillip Morris, nothing else has captured the ugly physicality of the disease like Dallas Buyers Club. Even the tearful hospital bed goodbyes in Longtime Companion seem overly romanticized by comparison.
The based-on-a-true-story concerns Woodroof, a hard living cowboy and drug addict, who must face certain death and the cruelty of his redneck buddies when he tests HIV positive. Woodroof also lives the sheltered life of a southern homophobe, so watching him negotiate the AIDS community terrain of queers and drag queens is fascinating viewing and provides some of the surprisingly plentiful humor in the film.
But Woodroof hasn't successfully dodged the consequences of his petty crimes for nothing. He quickly cheats the system to acquire the poisonous medication AZT and, after an eye-opening trip to Mexico, he figures out how to profit from the sale of unapproved drugs to the throngs of support group members back home.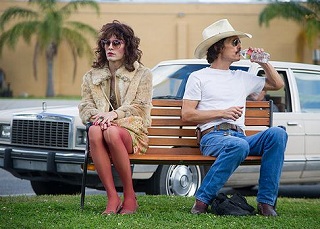 Along the way he allows himself a guarded friendship with a drug addicted transgendered salesperson, Rayon (Jared Leto in an effective and quietly humble performance), and eventually accepts to some degree the gratitude and generosity of the many gay people around him.
Nearly everyone in the story, patients and physicians alike, is a wretched outcast, damaged by drug addiction or homophobia or loneliness or their own destructive behaviors. No one is healed, no one fully conquers their demons, and no one gets out unscathed. The fact that the filmmakers make you root for every one of them is a testament to terrific storytelling and a vexing main character you grow to love and admire.
These characters also live a world away from the more sophisticated New York City activists that populate the Oscar-nominated documentary from last year, How to Survive a Plague. In fact, the big city AIDS battles being waged elsewhere barely register in this story about southern vice and ingenuity. When Woodroof and his rodeo buddies first learn of the death of Rock Hudson, the actor is dismissed as a cocksucker, except for one of them who doesn't know who Hudson is. His buddies scoff. "Haven't you ever seen North by Northwest?" one asks.
Woodroof's entrepreneurial efforts ultimately create the Dallas Buyers Club, a real business that provided unapproved medications to very desperate people with AIDS. As someone who once used a buyer's club to purchase Compound Q and other pharmacological footnotes in HIV/AIDS history, I can attest that everything from the cheap cinder block setup in the film to the anxious expressions on the customers felt tragically familiar.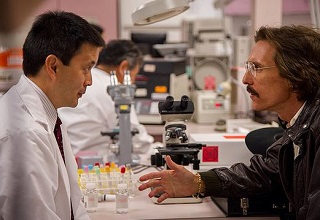 The real villain in the story, other than the virus itself, would have to be the early, toxic drug AZT and its manufacturer. Although the film uses a fictional pharmaceutical name, let history show that AZT was produced by Burroughs Wellcome (eventually absorbed into Glaxo SmithKline), who downplayed side effects in a complicated rush by the FDA to have a drug, any drug, to treat the growing pandemic.
Matthew McConaughey is a revelation. His physical transformation alone would be Oscar bait were it not for his ability to gain our affections for such a self-serving swindler. Calling the performance free of vanity is an understatement. His harrowing depiction of living with AIDS makes the award-winning Philadelphia look about as realistic as Dark Victory. It reminds me of when we settled for scraps in Hollywood's depiction of AIDS, when any major actor brave enough to play a gay man won an Oscar.
There is a moment late in the story during which Woodroof checks himself in the mirror before an evening out. Suddenly he finds himself staring, and in the dim bathroom light he sees the undamaged face of the man he might have been. He allows the slightest expression of pride, for the things he has accomplished, for those he has helped. And then, as those of us who lived through the 1980′s know so well, the face returns to a look of both hope and despair, of the beautiful sadness that always brought too many questions about the fate that was barreling towards us.
It is that face in Dallas Buyers Club, the one free of blood and injury, that is the most haunting of all.
Mark
(Photo credit: Anne Marie Fox / Focus Features)
—————————————————–
ALSO…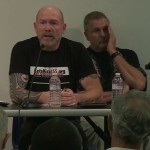 For those who survived the deadliest AIDS years of the 1980′s, there is a growing movement to address the kind of post-traumatic stress and "crisis of meaning" that has plagued many of us. Some of this comes as a response to the death of activist Spencer Cox last year, although it is a long overdue issue to be addressed. You might appreciate coverage of the New York City forum held earlier this year, "Is This My Beautiful Life?" (a video recap is here)or the more recent forum in San Francisco, "Kick ASS (AIDS Survivor Syndrome)" (with a video chronicle of the event here). My hope is for more forums like these in other cities, and an ongoing, programmatic response from service organizations to respond to these issues.
Tags: acting, aids, culture, drag, gay, hiv, research, Sexuality
Posted in Gay Life, Living with HIV/AIDS, My Fabulous Disease, News | 5 Comments »
Monday, September 16th, 2013
At the recent 2013 United States Conference on AIDS (USCA) in New Orleans, the word "stigma" wafted through the event, in workshops and throughout the exhibit hall, like an annoying new pop song you couldn't stop humming.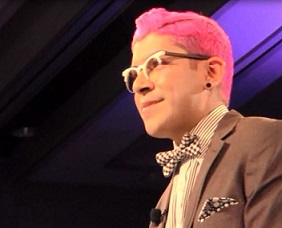 The Stigma Project. The Mr. Friendly campaign. The CDC "Let's Stop HIV Together" media campaign. My own POZ Magazine stigma cover story issue ("The Sound of Stigma"), an indictment of gay community and the antipathy between positive and negative, sat in stacks at the POZ booth. Panel discussions and workshops were held on identifying stigma, combating it, living with it. If Lady GaGa would only record an anthem about it, she could finally knock Katy Perry off the charts.
But there's good reason for it. As Peter Staley (How to Survive a Plague) said in a session of people living with HIV, "One of the biggest generational shifts that I find most depressing is that most of the stigma we deal with now comes from within communities."
In my video blog recap, you'll meet as lot of people addressing this issue in various ways. You're also going to meet advocates of both the celebrity variety (Mondo Guerra of Project Runway (photo at top), and photographer Duane Cramer) and those doing the work on the ground in communities large and small. As usual, it was the people and their personal commitment that caught my attention, and this recap is a salute to their efforts.
The generational differences Peter Staley spoke of is also a curious new bend in the culture of HIV. Once upon a time, our communal experience of AIDS, at least as gay men, was much the same. Our lives were bound in the sameness of death, despair, and then, hope. But since then our generations have separated, with younger gay men less traumatized or fearful about the virus, and (too Xanax many) older gay men judging them for behaviors and mistakes we ourselves made in our youth. This too is a subject ripe for conversation, with writers like the irritatingly young Tyler Curry broaching the topic, and public forums springing up to address the matter of post-traumatic stress among "the AIDS generation," which I suppose means me.
To some, conferences like USCA represent "AIDS, Inc.," or a waste of resources that feels self-congratulatory and a poor excuse for plane flights and rubber chicken plenary lunches. I disagree. If the pharmaceutical industry, highly visible and paying much of the tab at events like these, wants to underwrite sessions while promoting their key messages and products, they can be my guest. Conference attendess are sharp enough to take what they need and leave the rest, and the pure energy and support between those doing the work is worth the cost in my mind.
As Paul Kawata, of the National Minority AIDS Council, the producers of the event, said to me, "If we can inspire people to devote one more to year fighting this epidemic, I feel like we've won."
Thanks for watching, and please be well.
Mark
———————————————————————————-
PLUS…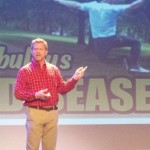 I have the privilege of presenting "Mark's Poz Time Machine" at a retreat for poz men in Montana this weekend, hosted by the Montana Gay Men's Task Force. I really enjoy this presentation, which is an interactive walk through the history of of HIV/AIDS, from 1981 to the present, using video clips and photos, my own story, and drawing upon the life experiences of participants along the way. From my pre-AIDS win on The Price is Right to the tears of the mid 1980′s and then a re-established HIV culture, it allows everyone to contribute some powerful storytelling and a shared history. If you would like more information, contact me. I come cheap.
Posted in Gay Life, My Fabulous Disease, News, Prevention and Policy | 5 Comments »
Tuesday, September 3rd, 2013
Why Andy Cohen isn't badgering me with phone calls to bring this series to Bravo, I'll never know.
Nearly four years ago, I invited four friends living with HIV over to my place for a night of devouring brownies and sharing secrets, while my friend Charles captured it on video. The result was "You Gotta Have Friends," the first episode of what would be renamed "The Real Poz Guys of Atlanta." The second episode was posted more than a year later (you can see a recap and both previous episodes here). And now, episode three.
These guys must be getting the hang of this, because we discussed and revealed things like never before. From crystal meth addiction to our mothers, nothing was off limits. There's even a (NSFW-ish) chat about tops and bottoms and modern gay sexual politics. And dealing with loss. And reaching out for help when you really need it.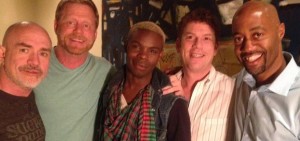 I'm not going to lie, I'm proud of this video. It's clear that my editing skills have improved since our first episode along with the group's ability to keep it real. More importantly, the video series represents a lot of issues I feel passionately about – combating HIV stigma with honesty about our status, the crucial importance of social support, and living joyfully. That, and I love hearing my friends talk dirty for a good reason.
I really hope you share this one with your friends and networks (select one of the share features below). I think it represents what this site does best. And judging from the emails I receive, there's a real need for people with HIV, particularly the newly diagnosed, to know that life, and friendship, doesn't end with a positive test result.
I look forward to your comments! Thanks for watching, and please be well.
Mark
(The Poz Guys pictured above are (left to right) James, myself, Antron, Eric, and Craig. I'm the only one who isn't single; I know they would appreciate me mentioning that.)
——————————————————————
PLUS…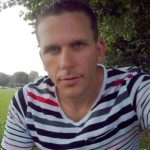 Our friend Jeff Berry from Positively Aware has announced the fourth annual "A Day with HIV" photo campaign, and this project is so cool – and so damn easy to participate in – that I tramadol dosage for dogs want to challenge you to just do it. It works like this: they collect photographs and captions from hundreds of people from a single day, Saturday, September 21, to help the world better understand the trials and triumphs of living with HIV. Some are artsy, some are simple photos (like the 2012 submission from Jason Zupke at right). Select photos will appear in the November/December issue of Positively Aware, and all of the photos submitted will appear on the campaign's website. Give it a click to find out more.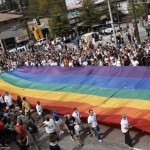 If you are anywhere near Atlanta this October 13, would you like to join me in my role as a Grand Marshal for the Atlanta Pride Parade? When I learned of this honor recently, I knew I needed to share it with friends like you or else my ego might blow my head open halfway down the parade route. I'm asking people living with HIV and our allies to walk beside my car (I'm hoping for a red convertible!). I would love a message of solidarity and support for people with HV, and anti-stigma messages like "I love my Poz boyfriend!" and "HIV Educated – UB2." The first 20 people to show up will get a free HIV POSITIVE t-shirt provided by AIDS Foundation Chicago. I'm excited to already have the support of The Stigma Project and the CDC's Let's Stop HIV Together campaign. To get the latest details, go to Facebook and join the My Fabulous Disease page. See you then!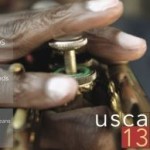 The United States Conference on AIDS (USCA) is in New Orleans this weekend. I love this conference, because it provides skills building for people working on the front lines in community based organizations and public health — exactly where I spent a lot of the early years of HIV/AIDS. Anyway, I'll be video blogging from the event and providing you the sights, sounds and people who are making a difference. If you happen to be there, please join me for a panel presentation this Sunday morning at 10:30am, when those of us participating in the CDC's "Let's Stop HIV Together" campaign discuss living with HIV and our commitment to HIV prevention.
Tags: Aging, barebacking, culture, family, gay, help others, hiv, meth, physician, recovery, Recreation, Sexuality, testing
Posted in Family and Friends, Gay Life, Living with HIV/AIDS, Meth and Recovery, My Fabulous Disease, News | 3 Comments »
Monday, June 24th, 2013
My first "AIDS job" in 1987 was at the first AIDS organization in Los Angeles, LA Shanti, and we provided emotional support to clients with AIDS who were usually in their last weeks of life. The intimacy our trained volunteers experienced with the dying, helping them find some inner peace as they left us, is worthy of its own blog posting sometime. Let's just say it was intense.
We hoped for a cure early on, and then our hope faded. Before long, we didn't dare hope any longer. We just wanted treatment to ease the suffering and slow the dying, and those prayers were answered in 1996 with the advent of protease inhibitors. It seemed greedy to tempt the fates and begin asking for a total cure again.
But greed isn't what is driving the treatment advocates you are about to meet in my latest video blog. Far from it. They have faith, based on scientific research and some hopefulness of their own, that a cure for HIV disease can be found. And they care enough about our community to keep pressing the issue at HIV research conferences.
They are cautiously optimistic. But their faith is contagious, if you'll pardon the choice of words. And they also know that that we got protease inhibitors because of the same kind of tireless community efforts that they are displaying now.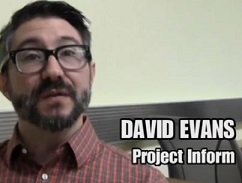 In fact, one can easily connect the dots from the activists shown in the Oscar nominated documentary How to Survive a Plague to this current crop of treatment advocates who are trying to take HIV research across the finish line.
You can take part in all of this, of course. To volunteer for a clinical trial or see what might be happening in your area, visit ResearchMatch.org or ClinicalTrials.gov. If you'd like to join the advocates in their work or follow their progress more closely, check out the AIDS Treatment Activists Coalition.
I'd like to thank the always resourceful Nelson Vergel for gaining me access to a gathering of these community activists. For updates of current cure research, Nelson has excellent posts on TheBody.com like this one.
I'd like to thank those who participated on-camera: Jeff Berry from Positively Aware, Jeff Taylor of the AIDS Treatment Activism Coalition, Moises Agosto of the National Minority AIDS Council, Steven Wakefield of the HIV Vaccine Trials Network, David Evans of Project Inform, and poz activists Mark Hubbard and Matt Sharp.
Thanks for watching, and please be well.
Mark
Tags: aids, gay, help others, hiv, physician, research, testing
Posted in Gay Life, Living with HIV/AIDS, My Fabulous Disease, News, Prevention and Policy | 6 Comments »
Thursday, June 20th, 2013
National HIV Testing Day is next Thursday, June 27, and there is no better time to praise the many HIV negative gay men who are making smart decisions to remain that way. Hooray, HIV negative gay men! Let's show some love for our negative brothers, who's with me?
Oh, Lord. Now I've done it. By showing support for negative guys, I am clearly demeaning HIV positive men. But wait! I'm HIV positive myself. So, that must mean I'm being sarcastic in my support of negative guys, because there's so little room for sincerity and goodwill in the chasm between HIV positive and negative gay men. That space is already so crowded, what with all the stigma and simmering resentments.
Some days I just want to go back to bed.
When I produced the quick video above three years ago, my intent was to celebrate the accomplishment of any gay man who is sexually active and has managed to remain HIV negative. It was produced by myself and my gay, HIV negative older brother to spread a little love across the viral divide and encourage HIV testing. That was it. No other agenda.
While initial reactions to the posting were quite good from both HIV positive and negative people, the pendulum swung quickly. Comments began to label my overly theatrical style (ouch!) as sarcastic. Some found the message demeaning to positive people. Some found the message demeaning to negative people. My goodwill became shrouded in a fog of distrust and what-about-me?–ism.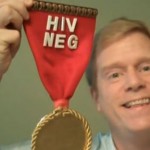 You can watch and decide for yourself (now that I've tainted the thing, darn it). But I stand by my sincere intentions to offer a hearty pat on the back to HIV negative men and support for their personal set of challenges and anxieties. I hope you'll share it with an HIV negative friend you care about (the direct YouTube link is here.)
I would do it differently today, however. At one point in the video, I suggest that negative guys might like to have unprotected sex, but that they shouldn't "do that." That's an outdated and judgmental mandate. Today, with new tools such as pre-exposure prophylactic treatments, and new understandings about what it means to be HIV positive and undetectable, what constitutes "safer sex" is a much broader list than simply whether or not you engage in sex with a condom or not.
Or, as I like to say, your mother liked it bareback.
Oops. I stepped in it again. Release the Kracken!
Mark
—————————————————————————
PLUS…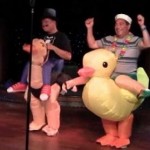 The annual HIV Cruise Retreat is in its last stages of booking, and it will be the largest group of HIV positive men and women the cruise has ever had aboard. Even though the cruise does not sail until early November, several cabin categories have sold out. If this is something you are considering I would urge you to contact Design Cruise Travel NOW for information. I have the pleasure of being the MC of this trip again this year, but I receive no compensation other than a cheaper rate on my cabin. I do it happily because I am in favor of anything that builds community among people living with HIV. Check out my video blog posting from last year!
Tags: aids, barebacking, culture, gay, help others, hiv, politics, serosorting, Sexuality, testing
Posted in Gay Life, Living with HIV/AIDS, My Fabulous Disease, News, Prevention and Policy | 3 Comments »
Thursday, June 6th, 2013
You must know this, because it matters. Because it has already changed your life, no matter who you are, and you may not even realize it. Because as we search for a new national voice for people living with HIV (since the ugly demise of The National Association of People with AIDS), and as LGBT community leaders pledge to re-commit themselves to HIV issues, the voice of people with HIV matters more than ever.
That isn't about a vague concept. It began at a very real meeting, which gave birth to a very real, tangible document. And it happened exactly thirty years ago this month.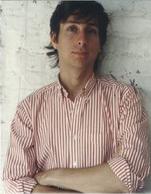 It was 1983. Just a year prior, Acquired Immune Deficiency Syndrome (AIDS) became the fearful nameplate for the murderer of gay friends and lovers. The virus that caused it, HIV, had only been identified a few weeks earlier. Amidst this atmosphere of unremitting grief and fear, a group of activists met in Denver as part of a gay and lesbian health conference. Among them, a dozen men with AIDS. And among their number, the inspirational Michael Callen of New York City, pictured at right, and safe sex architect Richard Berkowitz (Sex Positive), the only surviving member of the group today. They were about to do something that would change our response to AIDS — and health care in general — forever.
As the conference drew to a close, the activists asked to address the attendees. Rather than having a report presented about the state of the AIDS crisis, they wanted to speak for themselves. If the word "empowerment" hadn't yet been a part of the health care lexicon, it was about to be.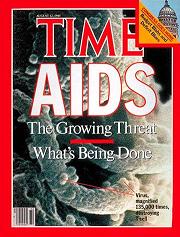 The group took turns reading a document to the conference they had just created themselves, during hours sitting in a hospitality suite of the hotel. It was their Bill of Rights and Declaration of Independence rolled into one. It would be known as The Denver Principles, and it began like this: "We condemn attempts to label us as 'victims,' which implies defeat, and we are only occasionally 'patients,' which implies passivity, helplessness, and dependence upon the care of others. We are 'people with AIDS.'"
The seminal moment in AIDS activism was arguably those few minutes, when the principles were outlined by these brave "people with AIDS." Identifying themselves as such, that alone, was startling at the time. How could they not be seen as anything but victims of an arbitrary and cruel killer? But they would have none of it. And they did not stop there.
They outlined 17 principles that covered everything from health care decisions to civil rights to sexual conduct. And their impact on all of us is so obvious today it can easily be taken for granted. Please honor their service and read on.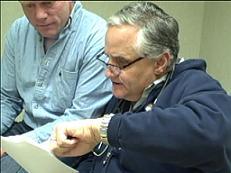 They demanded that physicians see their patients as "whole people," and provide "accurate information." They believed their opinion on their care should be awarded equal weight, and this was revolutionary. The next time your doctor consults you about a change of medications or whether a diagnostic test may be required, you can thank The Denver Principles.
They asked "all people" to fight against AIDS discrimination in the workplace and in housing, which was a provocative concept in the fearsome days of 1983 when people recoiled from those with HIV.
Astonishingly, they even advocated for "as full and satisfying sexual and emotional lives as anyone else" for people with AIDS. Imagine that, at a time when a new blood- and sexual contact-driven disease was in full bloom, a group of people suffering from it wanted sexual rights. Amazing. And yet today, if you are HIV positive and disclose your status to potential partners without feeling like a diseased pariah (or you have observed sexual evolution, like serosorting and sex clubs for positives), you can thank The Denver Principles. For that matter, if you're HIV negative and negotiate sex with partners of any stripe, you can thank the Principles for believing that we all deserve a satisfying sexual life.
While gay men were the designers of the document, The Subversive Librarian notes that this was a situation in which lesbians and gay men worked together really effectively. As Walt Senterfitt wrote in 1998: "Part of the widespread acceptance of the notion of self-empowerment must be attributed to lessons learned from the feminist and civil rights struggles. Many of the earliest and most vocal supporters of the right to self-empowerment were the lesbians and feminists among the AIDS Network attendees."
A clear line can be drawn between how all of us participate in our own health care decisions and The Denver Principles. It has influenced the doctor/patient relationship in every disease category, benefiting millions of patients.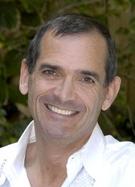 When longtime activist and POZ Magazine founder Sean Strub delivered the keynote speech at the Campaign to End AIDS' 5th Anniversary event a few years ago, he devoted his powerful remarks to the historic importance of The Denver Principles and announced a plan to create a Denver Principles Empowerment Index that will hold AIDS groups accountable to the people they serve. That sort of work continues today, with plans underway to conduct a "Stigma Index" survey in the United States, measuring levels of HIV stigma and employing people with HIV in the process.
Sean knows a thing or two about accountability. When I worked for various AIDS organizations through the 1980′s and 90′s, we were shaking in our boots each year when POZ Magazine produced their chart outlining which of the country's AIDS organizations met certain criteria. The chart rated things like financial transparency, the cost of fund raising, and how many HIV positive people served on the Board (for which, by the way, you can thank The Denver Principles, which demanded people with AIDS "be included in all AIDS forums.")
The Empowerment Index that Sean and others are creating (he's open to input) would chart similar criteria for AIDS organizations and other health care providers, by measuring the degree to which their clients feel empowered and involved in their own decisions. It would tangibly rate things like fund raising, transparency, HIV+ representation and the delivery of services.
So the Denver Principles live on. A list of profound basic rights were outlined during the dawn of this epidemic that continue to have an impact on us today. Anyone facing a chronic illness should laud the amazing journey and profound importance of this document.
Mark
(This is an updated version of something I posted in both 2010 and 2011. But as a man who blogs about living with HIV — and for you, reading my content — The Denver Principles and what they represent are that important. Are they outdated, since most people living with HIV today have never heard of them? I don't believe so. I wasn't around for the creation of the Bill of Rights and might not be able to recite them all to you, but I sure do want my leaders and governance using them for guidance. — Mark)
—————————————————–
ALSO…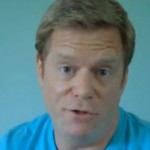 As we enter June and all of the various Gay Pride festivities around the country, let me offer this gentle reminder that pride is about a lot more than drink tickets and cover charges and body image. Yes, that's easy for me to say, since I'm as guilty as the next guy about my GYM OCD and aging fears — and Gay Pride only worsens my anxieties. I'm working on it. BUT. Back to you. I hope you will take three minutes and watch my "Gay Pride PSA" that I post each year around this time. If you haven't seen it, it's very funny. Well, until it isn't. And it leaves you with a message I hope you will carry through this month and share with your friends. Check it out!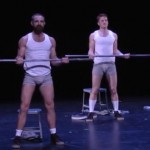 If, on the other hand, you prefer to leave the emoting to actual theatrical professionals (haters!), then you might really enjoy a five-minute highlights compilation from the one-night-only re-staging of David Drake's important play on being gay and early AIDS activism, The Night Larry Kramer Kissed Me. Only 600 very lucky people could be seated in the hottest ticket in town that night (my ticket, and my plane fare and hotel and entourage, were evidently lost in the mail, and I'm firing my assistant), but now you can get a glimpse of some of the magic witnessed that evening. The most moving moment? Seeing that angry lion himself, Larry Kramer, in a photograph with Drake after the performance. It reminds me of one of my favorite buttons from the 1980′s: "Annoy them… SURVIVE!"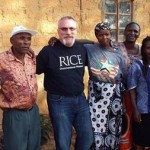 In the "Gratitude for Our Privileged Lives" department, how about the amazing David Phillips, a long time poz activist from Maryland who has been crisscrossing Kenya with a group of students and their professor from The George Washington University School of Media & Public Affairs. "On June 4 we visited with Mama Beatrice and several of the people living with HIV whom she has aided," David said in a Facebook posting. "The stories of discrimination and stigma which they shared were jarring for the students to hear." Most humbling to me, though, was this: "Some of these fellow HIVers were shocked to know that mzungus (white people) get HIV, too," David said, "and all were excited to meet someone thriving in the face of HIV for over 10 years, amazed by 31." Are you feeling blessed right now? You're welcome.
Tags: aids, culture, gay, hiv, politics, recovery, Sexuality
Posted in Living with HIV/AIDS, My Fabulous Disease, News, Prevention and Policy | 2 Comments »
Wednesday, May 29th, 2013
Every month or so, a group of people in my area host "poz socials," a house party for people living with HIV. I found myself at one recently, because I thought it was important to make an appearance since becoming a literary superstar.
I was settled into the living room sofa and liked the spot very much. Sharing a couch with regular folk has an air of humility about it, while its angle allowed me to be viewed by a large number of the guests milling about.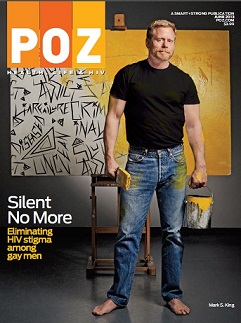 The man next to me leaned in closely to be heard over the hubbub of the party. "Are you on the cover of that magazine…?" he asked, of course.
I should proceed with caution, I thought. If he is a stalker and I engage him haphazardly, he'll steal my social security number and soon claim we're Minnesota's latest newlyweds.
"Well now, what magazine do you mean…?" I said, and then I smiled demurely. It's best to display warmth when you are recognized in public. But carry mace.
"The magazine you're holding in your lap…" he said, "with the cover facing me? I saw some copies on a table at the front door, I think. That's you, right?"
"Oh, this magazine!" I said, waving it in my hand as if I'd just discovered it, "yes, well, they're sending me so many you know, boxes of them, I just thought people might appreciate me bringing a few of them to –"
"…and there's a stack of them in the bathroom, too," he continued, "which I thought was odd, and outside on the back lawn. Someone laid them across the grass to spell out OZ. Is this magazine about The Wizard of –"
"No! POZ." I fingered the cover's masthead like I was teaching the alphabet on Sesame Street. "P-O-Z? POZ. POZ Magazine."
"Well, it just says 'OZ' in the back yard now. I think they had to make room for the lawn chairs."
This man was irritating me. He hadn't even begun to ask about my thoughts on fame or on balancing family with my public persona or about Having It All. I became concerned with his comprehension skills.
"I wouldn't worry about it," he went on, "it's sprinkling now so I don't think anybody is out there anyway."
"It's what?" I asked. I scrambled up and dashed outside to retrieve what were now slightly soggy copies of the magazine off the lawn.
I settled for a while on the back patio, carefully dabbing the magazine covers and giving the crowd inside some relief from the excitement of my presence. I wondered if the Kardashians ever had to dry their own magazines. I suddenly realized how very alike we are, those girls and I. Well, maybe not Kim. Unlike her, my sex video was a crystal meth-induced camera phone escapade that I have refused to commercialize. No, Khloe is my true soul mate. The sassy one.
The party's host, Sebastian, stepped outside.
"Hello, Sebastian. You have a lovely home," I offered. Graciousness. So important. "I wonder if I might trouble you for some ballpoint pens. The Sharpies I brought are going to bleed if I have to autograph these wet magazines…"
"I was just going to ask you about that," he said. "The buffet table seems to have been set up for… some sort of signing?" I had arrived early to hang the poster-sized blowup of the cover in just the right spot, scotch taped over Sebastian's original Keith Haring lithograph. The Haring seemed a tad pretentious anyway.
"Yes, that's right," I answered. He had an expression that I clearly mistook for annoyance.
"There are magazines stacked all over the buffet table," he said.
I raised an eyebrow. "I brought plenty to accommodate the crowd so –"
"There are only fifteen people here…"
"…so they might be able to share with their friends and loved ones," I finished.
Sebastian breathed a little too strongly through his nostrils for a moment. "If it's all the same to you," he said, rather slowly, "I really need the buffet table."
"You need the buffet table?" This was the first I had heard of this. I bet Khloe has people for this sort of thing.
"Yes," he said. "I need the buffet table. For the buffet."
Jealousy is a common response to intense fame. You see it all the time. Well, maybe not you. But I do.
My road to sizzling celebrity began a few months ago, when I was invited to appear on the cover of POZ Magazine because of an essay I had contributed about HIV stigma among gay men. I give full credit to the staff of the publication, for instinctively knowing exactly what the world needs right now.
And if you're thinking the answer is me, well, that's lovely and understandable but not really true. What the world needs now is a message of tolerance toward people living with HIV.
Delivered by me.
Negotiations between myself and the publication were heated, I will admit. First they claimed Leibovitz was busy and Scavullo was dead, and then they rejected my request for body painting at the studio to sculpt my abs. Oh, and I had to wear a shirt.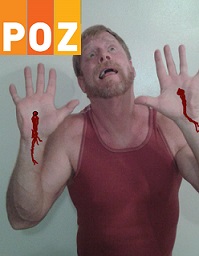 I don't mean to embarrass anyone, but allow me to share with you portions of the email I received from the POZ editorial team. They responded together, they said, to put a stop to my "playing staff members against one another and telling us each that you liked us best or that a fellow staff person wanted us fired." Like I would be caught doing that.
They then went on to say that "while we appreciate your enthusiasm for this cover shoot, we don't believe that having you pictured in the throes of actual stigmata would serve the story or our readership." My concept was meant to be ironic, although I can't really explain why and it's my response to most situations in which I don't get my way.
"And although we do acknowledge that Carrie is an iconic film about stigma," the irksome memo continued, "our readers might respond unfavorably to a cover model with a bucket of pig's blood dumped on their head. People with HIV are sensitive about blood. Even pig's blood. Your being outfitted in a prom dress does little to minimize the impact."
They said nothing about the remake of Carrie to be released this fall, and the obvious promotional tie-ins I had outlined in my proposal. Which is all to say that we must stand tall against those who wish to blunt our artistic vision.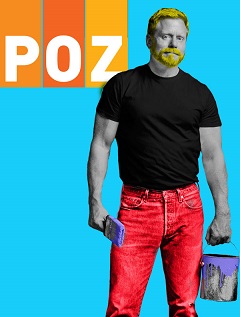 Now that the June issue has been released, available everywhere fine periodicals about HIV are available, I'm mulling over the idea of a multi-city tour or better yet, an AIDS benefit in which famous artists recreate my POZ Magazine cover, people like Peter Max or Warhol, and then auction them off. The powers that be at POZ, as you might guess, say this idea is quite impossible for reasons they refuse to enumerate.
I considered all this as the poz social was drawing to a close and I was slipping copies of the issue under the windshield wipers of the cars on the street. Face down, of course, so my face might greet the driver as he settles in his seat. I continued up the neighboring blocks, because good literature appeals to everyone and Sebastian was giving me attitude about the boxes of magazines he claimed were blocking his driveway.
Should you care for a personal appearance at your next gala, by all means contact me. I require the usual fees, plus Perrier water, Intelence, Norvir, Isentress, and Flomax. And please find me a sizable entourage, to do entouragey things with me.
If it's good enough for Khloe, it's good enough for me.
Mark
————————————————————–
My friends,
All kidding aside, I could not be more humbled and heartened by the response to my POZ Magazine essay on HIV stigma and gay male community. Even if you have read the piece, I would encourage you to visit the comments section on the POZ site — now with over 100 comments that will inspire you, anger you, and break your heart.
Tags: aids, culture, gay, help others, hiv, Recreation
Posted in Books and Writings, Gay Life, Living with HIV/AIDS, My Fabulous Disease, News | 8 Comments »