News
Tuesday, February 7th, 2012
What if you could witness a face-to-face confrontation between a man living with HIV and the sex partner accusing him of not revealing his status? Wouldn't you like to be a fly on that wall? The fireworks could be mighty, as emotions raged between the furious accuser and the positive person trying to defend his actions. What might that meeting look like, exactly?
In this video, you're about to find out.
Amidst the highly charged emotions of the HIV criminalization debate, "sides" are developing. One side believes that those with HIV who do not tell their sex partners about their status should go to jail. Period. But others claim that there is little public health benefit to laws against non-disclosure because they discourage people from getting tested – you can't be prosecuted if you don't know your status — and there are often prosecutions in which the risk of transmission is remote or even non-existent.
But taking firmly entrenched sides helps no one. We've simply got to get educated beyond our gut reactions to these prosecutions. We all could use more understanding about HIV criminalization laws, how they are being applied, and whether or not they are truly serving the public good. It's also important that we understand the anger of those who feel they were put at risk and are seeking retribution.
A full list of HIV criminalization laws – and convictions globally (including for each of the states of the USA ) can be found at http://www.gnpplus.net/criminalisation/. To find multiple resources on what to do if one is at risk of prosecution, who to call for help, what the law is in every state, or get palm cards with links to resources, visit The Positive Justice Project.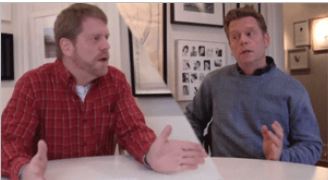 But back to the video: I couldn't help but wonder what might happen if an HIV positive man had to sit down with his accuser and explain himself. So, through the magic of some creative editing, I produced this video episode of "My Fabulous Disease" to give a voice to the opinions and feelings of both parties. You can decide if I was successful.
I used this editing technique to comic effect in the "My T-cells Could Use a Facelift" episode (the infamous video about butt padding, among other things). I've been looking for a good reason to do it again, and I thought this topic fit the format perfectly.
Thanks for watching, and please be well.
Mark
(I'm always glad when you "share" my postings with the buttons below. But this post could mean the difference between someone understanding the law — and making a mistake that could land them in jail. So I encourage you to share and re-post this one in particular. Thanks.)
Tags: aids, barebacking, criminalization, culture, politics, Sexuality
Posted in Gay Life, Living with HIV/AIDS, My Fabulous Disease, News, Prevention and Policy | 23 Comments »
Thursday, December 29th, 2011
This may be the defining HIV issue of our time, and it is a true test of our compassion and understanding of both HIV stigma and the law. Please read this closely.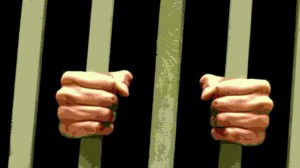 Around the country, and without leadership or guidelines from the Federal government, individual states have taken it upon themselves to draft laws that "protect" people from those of us with HIV. Whether using bio-terrorism statutes (!) or simple "assault with a deadly weapon," people with HIV who do not disclose their status to their sexual partners are risking arrest and prosecution.
You're already having a visceral response to this scenario, aren't you? You may have the vague feeling that anyone who doesn't disclose their HIV+ status to a partner probably deserves to be punished. Don't worry, you're not alone. Not only do most people support laws forbidding sex without disclosing an HIV+ status, but even a majority of gay men support such laws, and it is understandable, albeit a misinformed view, as to why.
Many of us know someone who was infected by a partner who didn't disclose their status, or even lied about it. I have friends who dated someone claiming to be negative, until they found a telltale prescription drug bottle and then discovered they had been infected. Worse yet are the news reports showing some big, scary black man who has been raping white women and infecting them with HIV. How could anyone argue against bringing these liars and malicious infectors to justice?
But the sad fact is, most prosecutions under these laws are not being imposed against those who are deliberately malicious or even criminally negligent. They are being imposed using not science, but the same ignorance, stigma, homophobia and racism that has plagued HIV/AIDS throughout the years. And well intentioned people like you and me are buying into it.
In Texas, a man is serving more than twenty years for spitting on a cop, despite the impossibility of transmitting HIV. And in the vast majority of cases against people having sex without disclosing, no transmission even occurred. In fact, whether or not there was any real risk of transmission is of little concern to prosecutors. People on medication with no viral load, for whom transmission is a remote possibility if at all, are being sentenced to jail time for not disclosing — even if they used a condom and did not transmit a thing. And the sentences are outrageous: decades of jail time in many cases.
Consider the black woman for whom disclosing her HIV status is more than a mere embarrassment; it could mean the collapse of her support network, the loss of a job or even physical danger. She is a compliant patient with no viral load, and insists her sex partner uses a condom. He somehow learns of her HIV status, calls the cops, and she is prosecuted and imprisoned. These are not fantasy scenarios, they are happening with increasing speed around the country.
The effect of these laws on public health is sobering. If those who know their status risk prosecution for not disclosing, and those who don't get tested at all can have sex without legal consequences, how does that draw people into HIV testing? As activist Sean Strub says, "Take the test and risk arrest."
The laws in some states are written so strictly that it is a legal risk for any HIV positive person to have sex at all. All the prosecutors need is to know you are HIV positive and you had sex with your accuser. If the accuser claims you didn't disclose, you're in for an uphill battle convincing a judge otherwise. You're saddled with the distasteful nature of any positive person actually having sex, and if it was gay sex, well, God help you.
Activist Sean Strub has taken this issue up as a personal crusade. I first met Sean two years ago when I produced a video blog with him discussing the issue of HIV criminalization. He took it to the United Nations AIDS Committee last month, and brought along two heartbreaking stories in the testimony of Robert Suttle and Nick Rhoades.
Please take three minutes to watch the testimony of Robert, who was jailed for six months and will be labeled a sex offender for years — it is emblazoned on his driver's license in red block letters.
And then watch Nick describe how he had protected sex with a partner, and an undetectable viral load, and by not disclosing his status he found himself in solitary confinement for months.
Sean's own testimony about people with HIV being viewed as "vectors of disease," with less rights but more responsibility to disclose, and you may view this issue quite differently than you do now.
Sean has also produced a trailer for a film he is producing, "HIV is Not a Crime," and I urge you to watch it.
I have been invited by Sean to assist him in his work for the next several weeks, and will devote the month of January to helping him establish an online resource for the issue, culminate stories of those prosecuted, and bring the maddening personal stories of those prosecuted to a broader audience.
Is your record of disclosing your status perfect? Mine isn't. I have been a compliant patient for many years and have an undetectable viral load. There has been instances in which disclosure felt unsafe, or I was in environments such as public sex clubs in which no one is asking or telling.
I don't believe I deserve to go to jail for those indiscretions. Do you?
Tags: aids, culture, gay, hiv, politics, serosorting, Sexuality, testing
Posted in Living with HIV/AIDS, My Fabulous Disease, News, Prevention and Policy | 25 Comments »
Monday, September 26th, 2011
You're part of a healthcare revolution in cyberspace, my friends. It's changing the way people find treatment information, relate to their doctor, and support one another. And you're about to meet some of the marvelous people who are leading the charge.
Did you know that 80% of internet users spend time gathering health information? That makes it the third most popular online pursuit, following only e-mail and using a search engine (and yes, that means more than porn. Is your mind officially blown?). The ramifications are enormous for patient empowerment " and for the companies who want to reach us as consumers.
In this new video episode of My Fabulous Disease, I attend e-Patient Connections 2011, a conference devoted to showing healthcare how to reach patients online. You may remember from my previous video blog "Should AIDS Activists and Pharma Just Get Along?" that my relationship with Big Pharma is a complicated one, so this new episode sidesteps most of the e-Patient Conference program and focuses instead on something truly remarkable.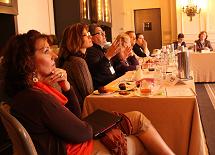 I participated in a gathering of twenty bloggers the day before the conference, all of us living with chronic disease and writing about our experience (watch the episode, and prepare to be inspired).
The meeting, co-sponsored by HealthCentral and Klick Pharma, was a revelation. Never have I had the privilege of meeting so many online advocates living with other health conditions " cancer, diabetes, rheumatoid arthritis, multiple sclerosis, lupus, and more " and hearing about their lives and challenges.
In a day-long session moderated by Digital Health Coalition, the group began drafting a set of values " sort of a digital health consumer Bill of Rights. It's a work in progress (organizers promise follow up sessions to continue the process) that seeks to define and protect us as "e-patients," such as transparency when it comes to online messages from pharma, or asking that our physicians get savvy enough to email lab results if we want.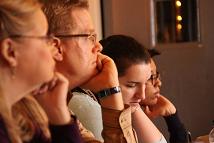 As much as I tend to view HIV/AIDS as "terminally unique," there's something comforting about how much I had in common with the other bloggers. Yes, it did occur to me that I was the only person in the room with a condition that could get me arrested for having sex, for instance, but this wasn't the time or forum to announce our differences. What we shared, and what they taught me about being a more effective advocate, was considerable.
I'll let my new friends speak for themselves in the video. Meanwhile, check out their sites, especially if you might be living with one of the conditions they are blogging about. My fellow workshop participants were Eileen Bailey (ADHD), Ann Bartlett (Diabetes), Phil Baumann (Men's Health), Robert Breining (HIV/AIDS), Donna Cryer (Ulcerative Colitis), Dave deBronkart (Cancer), Bennett Dunlap (Diabetes), Lisa Emrich (MS and Rheumatoid Arthritis), Amy Gurowitz (Multiple Sclerosis), PJ Hamel (Breast Cancer, Osteoporosis), Tiffany Peterson (Lupus), Jenny Pettit (Sjogren's Syndrome, Fibromyalgia), Teri Robert (Migraine), Casey Quinlan (Cancer), Rudy Sims (Disability), Michael Weiss (Chron's Disease), and Kelly Young (Rheumatoid Arthitis).
Finally, those who use the internet (and are discerning about what they find) are far more likely to bring ideas to their care provider, or understand side effects or otherwise take an active role in their care. So keep it up, fellow e-patients!
To paraphrase a golden oldie, the healthcare revolution will be televised… on Youtube and Skype and TheBody and Wego Health and HealthCentral and even right here, on My Fabulous Disease.
Please be well, and as always, you're welcome to use the "share" feature below to enlighten your friends and colleagues. ;]
Mark
——————————————————–
PLUS…
Ready for your good deed of activism for the day? After scores of unjustified prosecutions of people living with HIV (with long sentences for spitting on cops or not disclosing your HIV status to partners even when using protection), a little sanity may be entering the scene. U.S. Representative Barbara Lee (right) has introduced the REPEAL HIV Discrimination Act to congress. It would require a review of all federal and state laws, policies, and regulations regarding the criminal prosecution of individuals for HIV-related offenses. Now here's your job to do: visit this site to get the phone number of your elected U.S. representative, and then call to simply say "I support Rep. Lee's REPEAL HIV Discrimination Act." Then, treat yourself to some ice cream. Ready, set, go!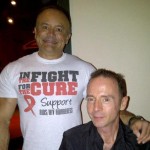 Since "the Berlin patient" Timothy Brown was effectively cured of HIV last year, new energy and enthusiasm has been created around finding a cure for HIV disease, not simply finding treatments. Nelson Vergel (near right, with Timothy Brown) dares to ask "Is a cure for HIV possible in my lifetime?" in his new video blog at TheBody.com. "Everyone can do something now to raise awareness and funds not only for research but also for advocacy and education in this important new and expanding area," Nelson says.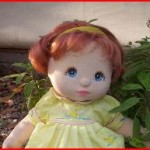 No sooner had I posted my piece last week on the demise of my red hair ("The Twilight of the Redhead") did this news item appear: the world's largest sperm bank is no longer taking donations from redheads. And the reason is even more bruising: a lack of demand. "There are too many redheads in relation to demand," the sperm bank's director said. "I do not think you chose a redhead, unless the partner — for example, the sterile male — has red hair, or because the lone woman has a preference for redheads. And that's perhaps not so many, especially in the latter case." It ain't easy being orange.
Tags: aids, culture, help others, hiv, physician, politics, research
Posted in Living with HIV/AIDS, My Fabulous Disease, News, Prevention and Policy | 14 Comments »
Friday, September 9th, 2011
July and August were almost frantically productive for me, and I've followed it by the longest period of, well, nothing, since I began producing this blog. Sorry. Sometimes an HIV guy just needs to lay around and catch up on Top Chef and Real Housewives (God bless you, Bravo).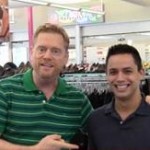 Hopefully you caught my most recent videos, such as the my examination of activism in "Should AIDS Activists and Pharma Just Get Along?" (complete with red paint foisting), or the video update on my facial filler procedure with Dr. Gerald Pierone (very informative but not for the squeamish), or the helpful tips for saving money with the knowledgeable Jason King (right) of AIDS Healthcare Foundation, whom the camera adores, and about whom I am harboring a jealous resentment (I may be petty but my grammar is pristine). And finally, it's always ironic when hours of video editing can't compete with one written posting the comes straight from the heart, like my tribute to Facebook putting my life together again.
But moving on.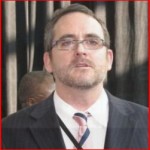 If anyone deserves being highlighted in the media for his commitment to HIV prevention, it's Jim Pickett of the AIDS Foundation of Chicago. In a well-written profile of Jim in the Windy City Times, you can follow his journey from waiter to activist to the man touting rectal microbicides as the next best weapon in our HIV prevention toolbox (I keep finding myself wearing a sticker proclaiming "I have Rectal Pride!" after visiting his booth at conferences). I've admired Jim's work for years and this fun profile explains why. "Expecting everyone to use condoms all the time is ridiculous," said Jim in the article. "People don't want to use condoms their whole life. As great as they can be, there are a lot of issues with condoms."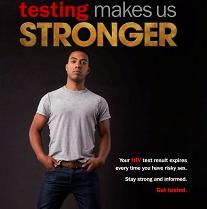 At the recent 2011 HIV Prevention Conference in Atlanta hosted by the CDC, I was thrilled to meet some of the dedicated members of the HIV/AIDS prevention team. What was even more satisfying was seeing their new prevention campaign targeting black MSM's ("men who have sex with men," who don't always identify as gay). To date, there have been limited data about the factors contributing to the high burden of HIV among black MSM, particularly those who are young " and yet the latest CDC data show that new infections among this group are increasing every year. Fortunately, the CDC is focused strongly on this population, and previewed a major new campaign being developed to increase HIV testing among black MSM " called "Testing Makes Us Stronger" " as the next phase of its ongoing Act Against AIDS campaign.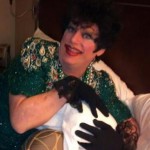 Thank God I'm clean and sober and alive today. If I was still an active crystal meth addict, I would have missed an astounding recovery conference during Labor Day weekend, which introduced me to some amazing people and strengthened my resolve to keep working to restore and rebuild my life. While I'm always coy about which method of recovery I have chosen (I don't wish to promote one over another), I will tell you that my camp alter ego Anita Mann (left) wasn't coy at all, and — get this — she actually sang live during one of the evening's entertainments. Alas, neither she nor I sing very well, but the message of recovery is clear, and she shares some funny, wise words with the audience after her song. Watch the clip here, but be kind.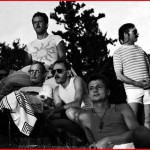 The emotion of "We Were Here," the documentary about the darkest days of the AIDS epidemic and its effect on a group of gay men, can be felt just by reading the reviews, like the rave it just received in The New York Times. I'm almost nervous to see it because I know the trauma and grief it could summon, but I also know I absolutely must. If you can't find it playing at a festival or cinema near you, then for goodness sake, go directly to Netflix or some other DVD rental site and put it on your list. I often speak of honoring the past — in fact, my favorite video on this site, "Once, When We Were Heroes," recounts those days and is always worth another look.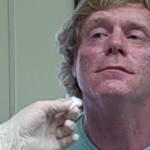 My (healthy?) fixation on repairing my facial lipoatrophy (also known as facial wasting) continues, and I am pleased to report that I have begun treatments with Artefill, the "permanent facial filler" product, under the continued care of Dr. Gerald Pierone in Vero Beach, Florida. My past treatment with other products is well documented, but I've got to say that these results are well beyond those of Sculptra or Radiesse, truly. The bad news: Artefill is not approved specifically for lipoatrophy, so there are no patient assistance programs for those of us with HIV, making the treatment expensive (in the thousands of dollars). While I don't expect many of my fellow HIVers can afford it, I felt compelled to share with you the very positive results.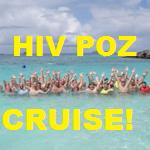 I am the MC for the annual HIV Poz Cruise Retreat, set for this November 5-12 to set sail from Ft Lauderdale. There was such an abundance of fellowship and acceptance last year that I had to do it again. There are sometimes last-minute rooms and cancellations, so if you would like to check it out be sure to visit the web site. You can also watch my video blog from last year, which gives you a great feel for the event and the fun people aboard. Kudos to the dedicated Paul, a long time AIDS advocate and man living with HIV, who has shepherded the cruises for the last nine years.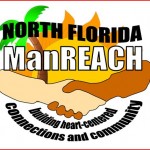 Some of the most progressive events for building gay male community and preventing HIV are being developed in the Florida panhandle, of all places. On Monday October 10, I'm honored to be participating in the "Our Gay Generation" forum for gay men in Pensecola, which will explore what it means to be a healthy, satisfied gay man today by looking at our past and rededicating ourselves to one another. Sponsored by the Oasis Community Center (and Butch McKay, the formidable force behind the annual Positive Living conference), the forum transcends political issues like gay marriage, and focuses instead on personal satisfaction, community, and the value of friends. Later in the month, the same group will host a ManReach retreat for 40 gay men at a remote retreat center. Contact Oasis for more information on either event.
Whew! Okay, I'm caught up. Thanks for your patience, my good friends, and please be well.
Mark
Tags: aids, culture, drag, gay, gratitude, hiv, lipo, physician, recovery, Sculptra
Posted in Anita Mann and Acting Gigs, Family and Friends, Living with HIV/AIDS, Meth and Recovery, My Fabulous Disease, News, Prevention and Policy | 8 Comments »
Tuesday, August 16th, 2011
With all the doctor appointments and wellness activities we engage in, living with HIV/AIDS can be a full-time job. And the truth is, it doesn't pay very well. We've all been feeling the pinch of tough economic times. So I hope you'll find some savings in this new video blog, "7 Ways to Save Money on Meds."
Jason King, a pharmacy specialist and patient advocate at AIDS Healthcare Foundation in Ft Lauderdale, was kind enough to give me a tour of their "Out of the Closet" thrift store and then sit down to discuss ways to save money that your pharmacist might not be telling you.
Most of these tips, by the way, can also apply to medications which are not HIV specific. And we have even included a tip just for our HIV-negative friends. I'm an equal opportunity money saver!
I'm amazed at how many people don't know about co-pay assistance cards, a program in which the pharmaceutical picks up your co-pay costs. It's a simple program to use without any income restrictions, and you can save up to $400 per year per medication! Fabulous. Your pharmacy or physician should have cards for you, or Google your medication along with "co-pay assistance" and you should find cards or information to print out.
Specialty pharmacies are a smart move these days. They focus on a particular disease, like HIV, but provide a full spectrum of medications like other pharmacies. The difference is usually service: their technicians are trained in HIV and know more about interactions, for instance, and they are more likely to point out savings opportunities like co-pay cards and patient assistance programs.
When I recently chose a new pharmacy, I went to a specialty pharmacy and just asked them, what can you do for me that Walgreens doesn't? A lot, as it turns out. They offered free delivery and free shipping anywhere in the continental U.S., and they said they would provide free supplements with a prescription from my doctor! I made the switch, and along with my HIV meds, they provide my vitamins and fish oil at no charge. It pays to ask about perks.

AIDS Healthcare Foundation pharmacy isn't the only HIV specialty pharmacy in town. Others include BioScrip and Commcare, and they will all ship to you if you don't have one in your area.
I was intrigued by the idea of buying generic meds from out of the country, but kept getting the icks. What if they make these meds in some ratty factory somewhere with no quality control? I mean, ick.
A little research put my mind at ease. The helpful folks at AIDSDrugsOnline.net reminded me that people have been purchasing medications from Canada for decades because of the low cost. And India, which produces most of the generic HIV meds available, is the 2nd largest pharmaceutical industry in the world, with FDA-approved facilities.
And the prices. Wow. No wonder people who are without insurance (or in the doughnut hole) are purchasing their meds this way. And there are many others players in this game, such as Canada Prescriptions Plus. Shop around.)
The laws are vague about the legality of this, but at any rate are not enforced. Generally speaking, it appears that people can purchase up to a 90-day supply of a medication from other countries as long as it is for personal use. If you're shopping around and want to be sure the manufacturer is legit, visit pharmacychecker.com to do your research.
Compounding pharmacies, like APSMeds.com, are able to create special versions of generic medications in whatever strength or format (pill, capsule, liquid) that your physician requests. And their product is a lot less expensive than you are paying for the medication in its regular form! Since they only deal with generics, this is a tip for medications like testosterone gels or Lipitor or Flomax.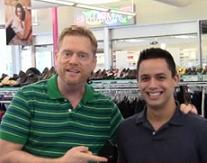 Finally, there are patient assistance programs offered by the pharmaceuticals that you might qualify for. There are doughnut hole programs for people with insurance that cover your meds when you fall into that financial abyss, and other programs for people with no insurance at all. The best resource online to navigate your way through these programs is NeedyMeds.org.
Between the co-pay cards and the supplements provided by my specialty pharmacy, I'll be saving hundreds of dollars on my medications this year. I hope you'll find similar savings.
Now, if we could create universal healthcare in the great United States, we would not be scrambling to pay for medications, and people from other countries would stop snickering and shaking their heads at the necessity of this blog posting.
Feel free to share/post/like this posting, in case it might save your friends some money! In the meantime, please be well.
Mark
Tags: aids, help others, hiv, physician
Posted in Living with HIV/AIDS, My Fabulous Disease, News, Prevention and Policy | 10 Comments »
Tuesday, August 2nd, 2011
Several years ago, I told someone that I was HIV positive before I agreed to his invitation for a date. "Yeah, I know," he casually replied, and then he looked a little embarrassed, as if he shouldn't have said it. It was too late, of course; I knew exactly what he meant. He knew my HIV status because of the appearance of my face.
I was crestfallen, and felt something close to shame, certainly embarrassment. Why is it that I can produce this blog, proudly march with HIV POSITIVE on my t-shirt in gay parades, and even write a book about coming of age during the dawn of AIDS — but I get upset if someone can tell I'm positive by how I look?
When I choose to disclose, privately or publicly, it's on my terms. I choose how and when to tell you. I want you to know.
Facial wasting (known as lipodystrophy) takes that choice away. It's as if the disease is intruding, is taking the upper hand somehow, and worse, taking away my decision about when and to whom I disclose my status. And as much as I want to claim "Most Out Poz Guy Ever," I don't like wearing HIV across my face.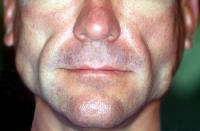 Most of us know "the look." It's the telltale gullies and sunken cheeks associated with longtime HIV infection or (more likely) medications (right). Many of my friends and colleagues in this struggle suffer from it, and they may either be comfortable with it, proud of it as a badge of honor, or simply resigned to it. I salute us all, whether our features tells our HIV story or not. But meanwhile, I'll do what I can to wipe that shit off my face.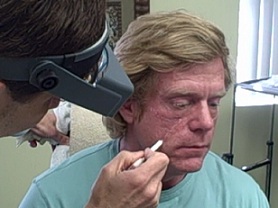 A few years ago I visited Dr. Gerald Pierone in Vero Beach, Florida (regarded as the leading expert in fillers and one of the Ask the Experts team at TheBody.com), and I documented that first visit and my facial filler treatments in a video blog, Treating My Facial Wasting (left). In that video I focused on my own attitudes — Was I ashamed? Trying to look younger? Simply vain? — and on the procedure process itself. Nearly a year later I revisited Dr. Pierone and got another treatment and documented it in my video blog, A Facial Wasting Update.
In this video episode of My Fabulous Disease, I revisit Dr. Pierone for a new treatment with the facial filler products Sculptra and Radiesse. While I'm there, I learn enough about Artefill, the only FDA approved permanent facial filler, to make me strongly consider the product the next time my face needs fluffing.
This video also focuses on very specific information about the actual costs of facial filler treatment. Both Sculptra and Radiesse have patient assistance programs that significantly reduce the cost of the medication, but you still need to pay the physician to do the procedure, and that price can vary. TheBody.com has a great article that outlines all the facial filler choices and how much they cost.
Tip: don't allow any street corner vendor (or gym or even doctor office) to inject stuff into your face. Do some research and above all, find a physician who has done this many, many times (over 500 would be a good start). Be a smart shopper and empowered patient and ask about their experience level first.
I hope you find the video helpful and that you aren't too afraid of needles!
In the meantime, my friends, please be well.
Mark
—————————————————–
PLUS…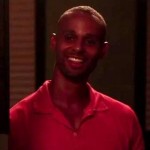 Compelling, sexy, and courageously paced, the short film "SLOW" by filmmaker Darius Clark Monroe is worth your time. In 13 minutes, the film takes two African-American men on a sexy journey in which one of them discovers that the fast way (to sex, to real intimacy) isn't the only way. If you are working with MSM outreach, this is a wonderful discussion tool. If you appreciate confident film making with a gay theme, this is it. Director Darius Clark Monroe told me he had nothing to add to the film's message: "everything I wanted to say is expressed in the work…" and indeed it is. The video is NSFW, due only to brief nudity, but otherwise this flick wants to stimulate you mentally much more than by parading naked men around — a lazy tactic employed by most gay films today. I hope you'll check it out!
Tags: aids, hiv, lipo, physician, Radiesse, Sculptra
Posted in Gay Life, Living with HIV/AIDS, My Fabulous Disease, News | 4 Comments »
Tuesday, July 19th, 2011
The 2011 ADAP Advocacy Association (aaa+) conference held July 5-7 in Washington, DC, was bursting with spirit. Dozens of advocates from across the country met for three days of workshops and speakers, and in this video blog, you'll see the entire conference boiled down to only nine minutes. I'm the cliff notes of HIV/AIDS events!
From people like Robert Breining of POZIAM from Philly to Lepena Powell Reed from Tampa, there was no shortage of passionate voices. But there were more than a few things on the conference agenda that really surprised and educated me — and provided resources I never knew existed.
Take the Patient Advocate Foundation, for instance, my great discovery of the conference. Did you know there is a non-profit foundation that focuses on resolving disputes between you and your insurance company or medical provider? Whether they are refusing to pay for a medication, or questioning a procedure, this Foundation will fight for you. They have garnered such a reputation that many companies just fold when they see the Foundation coming.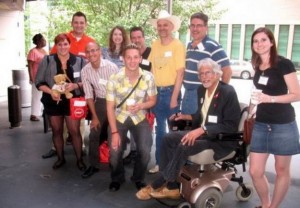 There may be politics involved here about which I am unaware, but where were our large national organizations? Frankly, I was disappointed to see a conference devoted to arguably the most pressing HIV issue of the day, held right in the DC home of most national agencies, and yet major organizations like the National Minority AIDS Council (NMAC) were not represented. As one speaker shouted from the podium, "WHERE YOU AT?"
(To NMAC's credit, they recently launched their own web site devoted to the ADAP crisis, with much of the same information available through aaa+. The more the merrier, of course, but I sure wish large organizations would pool their efforts and support one another.)
As usual at these type events, the real value is in the company of like-minded folks trying to do the right thing, and some of our greatest champions were there, like Butch McKay of the Positive Living Conference (one of the last conferences serving those living with HIV, and the best of them all), Dab Garner of Dab the AIDS Bear Project, and Bill Arnold of the Community Access National Network (CANN).
We shared meals and gossiped about news in the HIV/AIDS arena, and ventured out in DC for a dinner here and there. Some of us ventured even later, and further, but young activists these days, whatcha gonna do? I wish I had the stamina of advocates like blogger Christopher Myron, or World AIDS Institute founder David Purdy!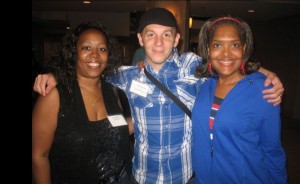 But back to some great resources for you. Have you heard of the Pre-Existing Insurance Plan (PCIP)? It provides health insurance to those who have been uninsured for six months or have been denied coverage. It's a governmental program designed to help get people insured while we're waiting for the new health plan to kick in, which happens in 2014. If it sounds like you qualify, I urge you to contact them at 866-717-5826. The premiums are based on what a healthy person would pay in the same market.
Attending conferences like this one is a privilege and a responsibility. The AIDS Drug Assistance Program waiting list continues to grow on a daily basis, denying patients the very medications that can keep them alive. This national disgrace deserves our attention and our phone calls to our elected officials, urging them not to forget the most vulnerable among us, even in times of fiscal crisis. Today is a great day to pick up the phone and contact your U.S. representatives, and tell them that you want them to support (or keep supporting) funding for ADAP.
In the meantime, my friends, please be well.
Mark
——————————————————
PLUS…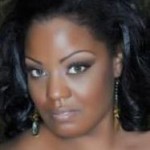 It appears that poz queens like me have got nothing on Michelle Anderson. The Texas beauty was recently crowned the 2011 Ms. Plus America (which celebrates "the essence of the full-figured woman"), and Michelle's platform is the impact of HIV among women, especially women of color. But there's more. Michelle is also the first openly HIV positive woman to win a national beauty pageant title! She knew all along that entering the pageant could mean becoming a high-profile HIV positive role model. "I entered the pageant to create a voice for women, while raising awareness, educating and empowering women," Michelle says. "I wanted to show that in spite of my diagnosis, I can still live a happy and prosperous life!" (Photo credit: Brett Vander Photography)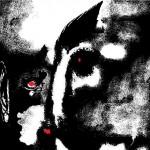 Artist Emilio Aponte is influenced, as he says, "by everything I see, feel and experience…" Considering Emilio is an HIV risk reduction coordinator at the Pride Center in Ft Lauderdale, it's no wonder that his current exhibit there, "Ribbon HIV," focuses on HIV prevention and education (at right, a detail shot from his piece, "Mutants"). And what a stunning collection it is — high contrast black and white "manipulated photos" that all have a touch of red somewhere, reminding us the virus is still present in everyone's lives. Beyond the images themselves, Emilio accompanies them with brief, positive statements about protecting oneself from HIV risk, or taking care of yourself if you are living with HIV. It's a beautiful collection with a terrific message. The exhibition is open to the public at the Pride Center, Main hall from July 5 to August 7, 2011 from 11:00 am to 9:00 pm.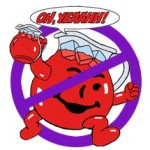 Two exciting new clinical trials have shown the efficacy of "pre-exposure prophylaxis" therapy (taking a drug to reduce your risk of infection before engaging in risky activity). This seemingly bolsters the strategy of using meds for HIV negative people who are at risk of becoming infected, as well as the "treatment as prevention" strategy of having those with HIV on drug treatment. Not so fast, says Poz.com editor Regan Hofmann in her latest blog posting, "Not Drinking the PrEP Kool-AIDS." Regan isn't sure the study data is strong enough, and the daunting task of delivering meds to every negative person who might need it is a tall order. She doesn't mince her words: "PrEP is a profit-driven sex toy for rich Westerners, disguised as a harm-reduction and prevention tool for disenfranchised people at risk for HIV."
Tags: aids, help others, physical, politics, research
Posted in Living with HIV/AIDS, My Fabulous Disease, News, Prevention and Policy | 12 Comments »
Tuesday, July 12th, 2011
I'm having an identity crisis. Am I an AIDS activist, ready to question authority and demand high standards of service for those living with HIV/AIDS? Or am I a "resource" for the pharmaceutical industry, so that they might craft more effective community programs that will lead AIDS patients to "care."
And that care, no matter how they frame it or how sunny the smiles of their community liaisons, ideally would lead patients to their HIV drug product line.
In this video episode of My Fabulous Disease, I take you along to a community advisory board meeting (CAB) for HIV drug manufacturer Janssen Therapeutics, formerly known as Tibotec. There was something about the cordial way in which the invited HIV advocates provided helpful feedback to the pharmaceutical executives that felt… a little strange.
Although I have agreed to keep the particulars of the meeting private, I will say that there were no fireworks on display " or any real antagonism to speak of. We advocates ("activists" seems like too strong a word) offered our best advice to Janssen, they appreciated it very much, lunch was served, and everyone left happy.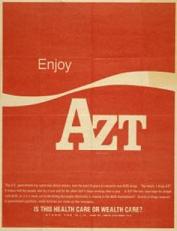 And I felt as if I had failed somehow. I had allowed the topics to be entirely in the hands of our hosts, and any issues that deserved discussion but were not on our elegantly typed agenda " educating patients about treatment risks, or, God forbid, drug pricing " were never discussed. I didn't feel like much of an activist. I felt like a focus group member.
It's very possible that my attitude here is outdated. In the early days, we took to the streets because societal apathy and ignorance demanded it. We protested and threw red paint and otherwise shamed the pharmaceuticals into better medications, broader access and more community involvement. Those battles were waged (and largely succeeded) many years ago, while pharma has come through with an astounding arsenal of successful HIV medications. Why does something deep inside me resist civil dialogue that advances our mutual interests? Am I living in the past, being an activist without a cause?
Clearly, we have some common goals, chief among them HIV testing and access to treatment. And pharma has resources that community organizations could only dream of, so advising them on creating the best campaigns possible (to get tested, to "get into care") makes sense. So why was I so ambivalent?
Activism should make people uncomfortable. Just ask Larry Kramer. I watched the late, great Martin Delaney, founder of Project Inform, demand in similar meetings that more be done in terms of drug efficacy and proper data and experimental drug access. He made me very uncomfortable and I was on his side. Martin usually got what he wanted. And he wanted it for you and me.
At least, through this video, I get an opportunity to discuss some pressing concerns not covered in the community meeting. I question some basic assumptions, such as whether our hard work on the ADAP crisis is pulling attention and resources from the "big picture" of pharma drug pricing and generics, and I offer an indictment of our U.S. health care system for good measure.
There are still confrontations to have and tough arguments to make, and the agendas of advocates and pharma alike should always be questioned.
It just might be a little uncomfortable.
Mark
("Enjoy AZT" image credit: ACT UP New York)
——————————————
PLUS…
This blog is officially an "award winning" blog! The hard working folks at the ADAP Advocacy Association (aaa+) have honored me — and I most sincerely am quite honored — with an award for Social Media Campaign of the Year. The award was part of their first annual ADAP leadership awards dinner, held as part of the ADAP conference held in Washington, DC. aaa+ was impressed with my video blog about the ADAP summit last year, particularly with the simple instructions it gave on contacting your elected official about funding ADAP (it's not too late to do that, you know). I am in good company: other award winners include Dab "the AIDS Bear" Garner, Butch McKay of the Positive Living Conference, and even my local pharmacy patient advocate here in Ft Lauderdale, Jason King (no relation) of AIDS Healthcare Foundation Pharmacy.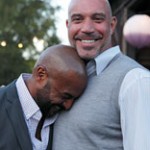 I may not be on the singles market, but I sure do appreciate the advice provided by AARP (!) in their online feature, "The Gay Man's Guide to Dating Over 50." Most of the piece, by gay writer Dave Singleton, is solid self-esteem building, which is great advice for any age. I'm particularly guilty of being age conscious and grieving my distant youth, so I needed to read this: "Give up trying to be perfect, too, especially if that's a code word for 'young.' Yes, it's important to take care of your body and your health, but no need to obsess. Instead of trying to be 25 again, get comfortable in your skin. Feel good about your body. That way, when someone touches you, they'll really feel you, and not a bundle of self-critical tension. Think more about keeping a sparkle in your eyes and less on fighting the fine lines around them." Maybe next time, Dave will offer a little safer sex advice for those over 50 who actually get lucky.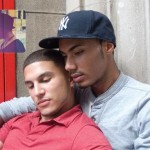 You may know that, in a 2010 CDC study of 21 major cities, 1 in 5 gay men were HIV positive. But did you know that half of them do not know they are positive? And that young black and Latino men under 25 were the least likely to know their status? Gay Men's Health Crisis (GMHC) in New York is hoping to change that in their new "Kiss and Tell" campaign. "Kiss & Tell" encourages black and Latino young gay men to have discussions with partners about their sexual history and HIV status, and includes education, networking and skills training. "This campaign reinforces GMHC's ongoing commitment — since our earliest days — to addressing homophobia and reducing the spread of HIV among gay men," said Marjorie Hill, PhD, Chief Executive Officer of GMHC. "The campaign directly challenges homophobia, and acknowledges the value of relationships in the lives of young gay men while encouraging dialogue."
Tags: aids, hiv, politics, research
Posted in Living with HIV/AIDS, My Fabulous Disease, News, Prevention and Policy | 20 Comments »
Tuesday, June 28th, 2011
Storytelling is a crucial part of our culture, and not simply for entertainment value. Sharing our stories can heal our pain, educate others, and help us relive our happiest triumphs.
This video is quite simple, really. One man explains to you what happened to him, from becoming one of the first AIDS patients in San Francisco to his life today in the service of others with HIV. Dab Garner has clearly put things into perspective, and his calm manner shows a man at peace with his fate, his survival, and the ghosts around him.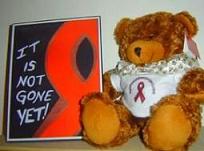 It's an amazing story, actually. And considering the importance of passing our history down to younger people, it might not be a bad idea to share this video with someone you know, maybe even someone under 35 years old.
But for now, let's allow Dab Garner to simply speak for himself.
Thanks for watching, and please be well.
Mark
——————————————-
PLUS…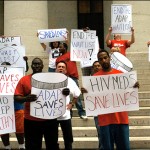 The latest volley in the debate among prevention advocates regarding "test and treat" is an interesting article by AIDS Healthcare Foundation consultant James Driscoll. His Washington Post piece, "HIV Treatment can be HIV prevention," urges more access to medications and better funding for programs like the AIDS Drug Assistance Program. Driscoll is convinced that we can get a handle on the epidemic through increased testing and by treating those who test positive. As he writes: "Science has proven what many at the people doing primary care and others at the forefront of the epidemic have long suspected: HIV treatment is remarkably effective HIV prevention. A recent study from the National Institutes of Health has shown that treating HIV patients with antiviral drugs makes them 96 percent less likely to pass on the virus."
Tags: aids, culture
Posted in All Other Video Postings, Living with HIV/AIDS, My Fabulous Disease, News | 9 Comments »
Tuesday, June 14th, 2011
I shuttered myself from most of the hoopla surrounding the "AIDS at 30″ milestone (we seem to have agreed on June 5, 1981, when an item in the Morbidity and Mortality Weekly Report reported deaths among gay men). The trauma of those early years is tough for me to revisit. Every media piece seemed to be about the past and it all felt emotionally overwrought and indulgent. I skimmed the coverage and secretly wished it would just go away.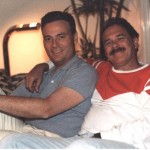 Revealing the intensely personal isn't normally a problem for me; I wasn't shy about addressing our darkest days in my video blog entry Once, When We Were Heroes (right), so it's not like I can't go there. Maybe the sheer volume this month of tragic stories and heartfelt blogs and "I Was There" interviews was too much for my scarred psyche.
It could also be an ego thing. All these extra voices showing up and piling on their stories. Hey Missy, that's my gig, move it along, thank you very much. During the media frenzy of "AIDS at 30″ I felt like a professional drag queen refusing to venture out on Halloween. Too much competition. And from such amateurs.
This week I finally paid more attention to what has been written this month, and of course, it's pretty damn good.
The 30th (what? Celebration? Anniversary? Commemoration? Did we decide on something?) yielded some tremendous coverage at The Body, my favorite online HIV resource. And obviously, how the hell can people appreciate our AIDS history is we don't document it at every opportunity?
Asking the gay bloggers at The Body to speak back and forth between generations about their HIV/AIDS experience was inspired. Anyone under 35 is my favorite audience, although the over-40 crowd probably understand me a lot better.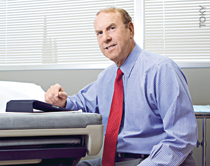 I also really enjoyed Nelson Vergel's interview with Dr. Michael Gottlieb (left), the man who published the first report of some rather strange deaths among gay men. Dr. Gottlieb also happened to be my physician in Los Angeles when I was diagnosed with HIV in 1985. During those days, I once forced Dr. Gottlieb to tell me his best guess for my lifespan, and he went out on a limb to say I could make it to 40. That birthday came and went, ten years ago. When the preeminent expert in the field gets it that wrong, you know we've had more success treating this virus than anyone had hoped in the early days. Thank God.

Elsewhere, I admired Regan Hofmann's (right) recent editorial at Poz Magazine immensely. With nary a glance backward, she sat squarely in the present and outlined the thirty issues that are most important to the crisis today and in the future. It was also a solid primer on the emergence (and debates about) new prevention theories like Post-exposure and pre-exposure prophylaxis and "test and treat."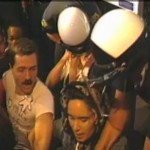 Once I allowed myself to "face the past" by checking out Karen Ocamb's amazing reports from the early days of the crisis, I was happy I did. Karen is a Frontiers news editor who has been covering LGBT issues in Los Angeles for 30 years, and in her collection of stories from the AIDS frontlines of the 1980′s (complete with video she shot herself), she takes us along to an early AIDS protest (left), to early treatment activism meetings and to the unfolding of the AIDS quilt. Karen's close relationship with history and her "home movies" give the stories amazing intimacy. I recommend the series highly.
The media rush of tragedy and inspiration known as "AIDS at 30″ is dying down. As much as I want coverage of HIV and for there to be constant prevention messages, I'm a little relieved. I can comfortably go back to debating our current treatments and campaigns, sharing sweet and funny stories about my life with HIV, and wondering why the hell the media doesn't pay more attention to HIV/AIDS.
We all have our coping mechanisms. Allow me a little healthy denial.
As always, my friends, please be well.
Mark
—————————————–
PLUS…
Sean Strub is once again ringing the bell about criminalizing people who do not disclose their HIV status, and it tolls for thee. We covered some of this ground when Sean and I discussed Five Things About HIV They're Not Telling You, but in Sean's newest posting at Poz.com, he takes this a bit further. Are we a few short steps away from prosecuting those who do not take their medications? Sean sees the intersection of "test and treat" and the treatment of those with HIV as criminals as a dangerous mix that could theoretically lead to forced treatment, just as a prisoner might be compelled to take meds. It's a bit chilling, and perhaps fantastical, but whoever thought there would be people with HIV sentenced to jail for 20 years for spitting?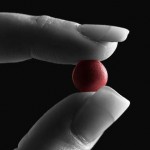 Our national disgrace known as the AIDS Drug Assistance Program (ADAP) Waiting Lists continues, and the lines keep getting longer for patients waiting to receive life-saving medications. There are reports of patients who have died during that wait. The ADAP Advocacy Association (aaa+) continues its mission to combat this lack of funding, and in their recent blog they offer evidence that the most effective weapon in our advocacy tool kit is you, referencing a study showing that when people like you and me simply pick up the phone, it matters as much as high-powered lobbyists. And it's simple! Take a look at my video blog from the last ADAP Summit and you can get instructions on exactly what to do. Meanwhile, I'll be attending the upcoming ADAP Conference in Washington, DC, and will share everything I can with you.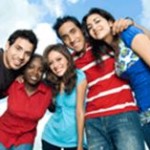 How do we bridge the LGBT generation gap? That's been the topic of two really terrific postings this month around Gay Pride, and the communication disconnect between young and old seems to be the culprit. I'd love to be an "older mentor," but who would have me? What spaces encourage dialogue and a chance to share our history? Olivia Ford of The Body.com raises these concerns in her excellent piece What's It Really Going to Take to Make it Better? Olivia knows that we have a lot to gain from inter-generational interaction, but beyond the It Gets Better Project, how do we accomplish this? Meanwhile, some people think that younger gay men are ungrateful little snots. Jake Weinraub is totally over it, in his piece What Sucks About Most Privileged Gay Men for The Bilerico Project. Both are definitely worth your time, and you should always join the conversation by posting a comment!
Tags: aids, culture, drag, hiv, politics, research
Posted in Gay Life, Living with HIV/AIDS, My Fabulous Disease, News, Prevention and Policy | 3 Comments »