Prevention and Policy
Thursday, July 26th, 2012
It's difficult sometimes, writing about an event that so easily lends itself to images and sound. Such is the case with the AIDS2012 March to End AIDS, the subject of today's video blog episode from the conference.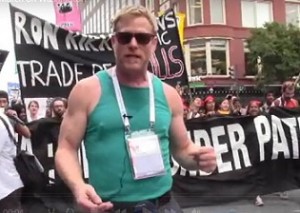 The people included in the video can speak for themselves, and quite eloquently. Maybe it was the emotions of the event — anger, nervousness, pride — but it was an exhausting day. I felt the residue of grief for lost friends in a way I haven't experienced in years.
Just before the various HIV/AIDS marching groups convened in front of the White House, my camera person (Tina Robles of HealthCentral) and I had lunch a few blocks away. I realized that she's in her twenties and no one who lived through AIDS in the 1980′s had ever described for her what those years were like. I told her about the foxhole mentality, the guest rooms that became makeshift hospices, and the pure horror of waiting to be the next to go.
"Well…" she asked softly, after listening to my tales, "how can you possibly keep such a positive attitude after going through all that?"
"Because my joy is an enormous 'Fuck You' to AIDS," I said. And it's only in that moment that I realized how right that seemed, and that my departed friends would approve — and would be cheering me on during the protest.
Tina had never been to any kind of street demonstration, and was bravely filming our antics at the front of the massive line of protesters at the front fence of the White House. But, bless her heart, when the cops came out in force and demanded that we retreat, Tina handed me the camera and wished me luck and took safety in the park across the street. I don't blame her. The crowd was edgy and the adrenaline was pumping.
This is my favorite episode of my AIDS2012 coverage so far, and I hope you will enjoy it and share it with others.
Thanks, and please be well.
Mark
Tags: aids, criminalization, gay, hiv, politics, Sexuality, testing
Posted in Gay Life, Living with HIV/AIDS, My Fabulous Disease, News, Prevention and Policy | 14 Comments »
Wednesday, July 25th, 2012
Day Two of the international AIDS conference (AIDS2012) roared through its first full day on Monday, and there are sights to behold.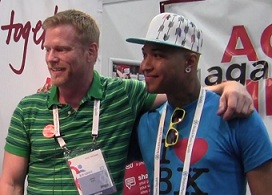 I spent some time in the exhibit hall critiquing the fashions (and the issues) of various attendees with fashion maven Jack Mackenroth, started a YouTube rivalry with inspirational singer Jamar Rogers ("The Voice," right), and learned about HIV and aging from an expert with the Terrence Higgins Trust.
And, with all the talk at the conference about the devastating effects of HIV stigma, I found validation of my own HIV status in the unlikeliest of places: the Gallery Place subway station.
Coming up: the amazing Global Village and a march on Washington by advocates from around the world!
Meanwhile, my friends, please be well.
Mark
Posted in Gay Life, Living with HIV/AIDS, My Fabulous Disease, News, Prevention and Policy | 5 Comments »
Tuesday, July 24th, 2012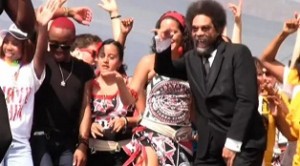 On the first official day of AIDS2012, the schedule is light but the party is rolling, with an outdoor concert steps away from the AIDS quilt featuring Weyclef Sean and Cornel West (!), dancing dignitaries, and a somewhat surprise ending!
Coming up: Jack Mackenroth hasn't lost his fashion sense (or found a shirt with sleeves), singer Jamar Rogers ("The Voice") opens up about his status and we begin a YouTube rivalry, and the director of CDC's HIV/AIDS prevention efforts talks about HIV stigma and stopping HIV "together."
Enjoy the report, and please be well.
Mark
Posted in Living with HIV/AIDS, My Fabulous Disease, News, Prevention and Policy | 4 Comments »
Monday, July 23rd, 2012
Here is my first report from the International AIDS Conference in Washington, D.C.!
Since less than 5% of the programming for AIDS 2012 is targeting to MSMs (Men who have Sex with Men), a special one-day pre-conference is held the day AIDS 2012 convenes to address the needs and issues of this population.
My report includes a chat with United States Rep. Barbara Lee, who has just introduced comprehensive HIV prevention and anti-stigma legislation; the advocates fighting laws that criminalize people with HIV, a little social research on Grindr (the gay man's cruise phone app), a chat with Positive Frontiers editor Alex Garner about getting rejected (and rejected others) during the dating process, and a visit to an AIDS2012 Reunion poz social event.
Stay tuned! The week is just getting started, with opening ceremonies to come, the opening of the colorful and provocative Global Village, and amazing sights and people ahead.
Thanks for watching, and please be well.
Posted in Gay Life, Living with HIV/AIDS, My Fabulous Disease, News, Prevention and Policy | 6 Comments »
Wednesday, July 18th, 2012
Lynne Rhys and I were never supposed to become friends. It was just too unlikely.
She is a divorced woman raising a teenaged daughter, and was barely aware of a "gay community" until she stepped tentatively out of the closet in midlife. She has a quiet and soft-spoken grace. She has manners. She readily burdens the blame if it means saving your feelings. She's one of those people who apologize when I miss a turn while driving us somewhere, as if it must have been her fault.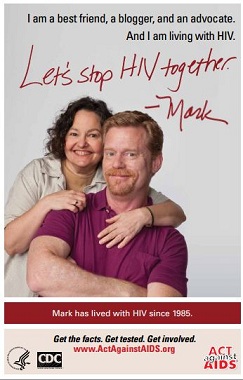 When she walked into an audition for a play I was directing a few years ago, she was certain she wasn't good enough, but her insecurity was unacceptable to her – the struggle between her ferocious talent and her painful modesty has been waged her entire life – and she gave an audition of such humanity and pathos that I changed the script I had written to showcase her gifts.
"Stand slightly more to your left," I would ask as we rehearsed. "I'm sorry," would be the reply, to that or to any request or observation, including the weather. How could a creature of such obvious worth have such an absence of ego? I often wondered, before immediately returning to other, more important thoughts. About myself.
Two months later her performance was the kind that required the audience to listen closely, and they leaned in, drawn to her in the same way I was throughout the rehearsal process. She broke their hearts with such deliberate precision that people still speak of it.
Lynne doesn't like talking about herself. But oh, how she loves to hear stories from Mark, and that's when our budding friendship began to make sense to me. For hours I blather on, towering over her small frame, fluffing the curls on her head below me as she indulges my excesses and wonders when I will take my hands out of her hair. Please. I'm sorry.
I am the closest friend she has ever known to have HIV. Her personal knowledge of the crisis was largely limited to watching it unfold on television and thinking that people treated "that young boy Ryan White really badly." So our friendship has meant lessons for her on t-cells, viral loads and why my medication bag is the same size as my gym bag. She listens and learns, and no longer believes that she must keep her distance when she has a cold or else I could die.
She has now had conversations with her daughter about safer sex, and then for good measure had the same conversation with her daughter's boyfriend.
When the Centers for Disease Control and Prevention (CDC) asked me to participate in their new campaign, "Let's Stop HIV Together," I was impressed with their concept of pairing people living with HIV with an HIV negative member of their support system. The message is clear: we all share a responsibility for curbing HIV infections and supporting each other, positive and negative. And I knew right away who my "negative" would be.
Lynne was flattered and then questioned my selection, certain I must have better options. I knew that the woman who modeled humility to me every day was my only choice, and I insisted. The campaign involved visiting a production facility complete with wardrobe decisions, make-up artists, a photo shoot and an interview on video with both of us. She felt like the Queen of Sheba. Watching her was the very best part of the day, and the memory of it has brightened many days since.
In the photo of us, my cocksure grin and her enveloping embrace are the very essence of a friendship that I treasure deeply today. Seeing it in print has also brought to mind the many friends that came before Lynne who are now lost. But Lynne is not a placeholder and she is not a substitute. She is a gift of my survival, and the right friend at the right time to help me conduct my advancing years with more maturity than I might muster alone.
Moments after the photo was taken, Lynne slipped from the box on which she was standing and fell hard. Several of us rushed to help her, but she didn't fret or make a sound. That is, except to say "I'm sorry."
After a few days of pain, Lynne visited the doctor and discovered her foot was broken. "Why didn't you say something?" I asked her, disbelieving, when she admitted it was hurting that day during our video interview. "Because I was afraid they might stop," she said, "and I was having so much fun being with you."
Much has been written by me about the "viral divide" between those who are HIV positive and those who are not. But not today. Today, the CDC has a new campaign with hopes of bridging this divide. On one of their posters, Lynne Rhys is beaming beside me, luxuriating in the joy of friendship, and confident that she is right where she belongs.
And she doesn't look the least bit sorry.
Mark
(My thanks to the good people at the CDC's Division of HIV/AIDS for their work on this campaign. Please visit the Let's Stop HIV Together site, where you can watch videos from other pairings, download posters and other materials, watch the public service announcement, or "like" the Facebook page.)
—————————————————–
PLUS…

Brace yourself, my friends. Beginning on Monday, July 23rd, I will be posting new video blogs daily, for the week of AIDS2012, the international AIDS conference in Washington, DC. I can promise you some lively, inspiring and colorful reports from the proceedings! This would be a good week to join us email list for alerts (at the top right of this page) or just keep a close eye on this space. I can't wait!
Posted in Family and Friends, Living with HIV/AIDS, My Fabulous Disease, News, Prevention and Policy | 5 Comments »
Monday, July 9th, 2012
The annual Folsom Street Fair in San Francisco is noted for its unbridled embrace of every star in our sexual constellation. Even the fearless leather community that founded the event can sometimes appear tame amidst the outlandish kinks and clothing – and lack thereof – on display along the city's tilted streets.
In the middle of this rowdy bacchanalia in the fall of 2003, Paul Morris stood at the booth for Treasure Island Media (TIM), the gay porn outfit he founded that features unprotected sex (barebacking) between its actors. This particular specialty was the singular driving force behind his smashingly successful and relatively new company.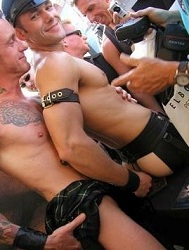 Then, like the legend of Lana Turner fortuitously cozying up to the counter at Schwab's, a beautiful and achingly masculine young man approached the TIM booth. He liked the TIM videos, he liked them very much indeed, and he hoped to one day document a few fantasies of his own. TIM star Jesse O'Toole was on hand and someone snapped a photograph of the two of them together (right). In it, the grinning young man with a leather cap appears to have found his long lost tribe, and O'Toole looks as if he has found a seven-course meal.
The photo was sent to Max Sohl, a sometime porn actor with a theater background whom Morris had commissioned to conceive and direct what would be Sohl's first porn film. Sohl met with the aspiring model and asked him to complete a form that included a simple question: What is one of your fantasy scenes? In response, the young man wrote simply, "me getting nailed and seeded by a gang of hot guys."
"The Black Party was coming," Sohl explained in a recent interview, referring to the annual New York City weekend of leather men, parties and sexual adventures, "and I thought, 'Okay. Let's see how many men he can take.'"
And that is how Dawson's 20 Load Weekend was born.
Prior to the onset of AIDS, condom usage in gay pornography was nonexistent – but that was before bodily fluids became synonymous with death and disease. For well over a decade after the crisis began, gay porn videos featured not only tightly wrapped penises, but their storylines – indeed, the actors themselves – suffered from a sort of dramatic malaise, as if sleepwalking through their sexual routine while trying to pay no attention to the man with KS lesions behind the curtain. The videos mirrored our own lack of interest in gallivanting about with the pizza man or diving into an orgy with strangers, with or without condoms. Many viewers simply returned to their stash of pre-AIDS pornography, which was condom-less but "justified."
As AIDS deaths subsided with the advent of new medications in 1996, gay male culture responded with a vengeance. Circuit parties were born of celebration (before succumbing to their own excesses), safer sex behaviors relaxed, and there was a palpable longing to escape the horrors of the previous years. Reclaiming a bold sexuality – something many gay men believed had been lost forever – was a tonic for the post-traumatic stress they suffered. Younger gay men, who had listened to stories of an earlier, sexually liberated time as if it were a lost era of paleontology, were more than willing to explore whatever modern version might await them.
Unprotected sex since the arrival of HIV is nothing new – it is, after all, the primary reason for new infections that have continued fairly steadily since AIDS began – but in the late 1990's the gay community proved again how comically adept it is at applying a little branding to any phenomenon, and "barebacking" entered the public lexicon. The irony may be that a new word was developed for the oldest sexual activity imaginable: having sex without a barrier. It wasn't the sex that had changed, but the meaning and judgment associated with it towards, most specifically, gay men. Or, as AIDS advocate Jim Pickett said at a recent conference for people living with HIV, "When a friend announces they are expecting a child, I feel like screaming 'You barebacked!'"
But while intelligent minds and passionate advocates argued about the reasons and the proper response to barebacking, no one had dared document it on videotape for the erotic pleasure of others. Yet.
In 1998, two renegade companies formed to make bareback videos exclusively: Hot Desert Knights and Treasure Island Media (links definitely NSFW). None of the leading gay pornographers would consider producing them (although they were eager to market their highly-profitable backlists of videos produced "pre-AIDS" that featured bareback sex). The cheaply made videos by the upstart porn producers brought the sexual choices of an increasing number of men out of the closet and onto DVD players and computer screens.
The videos were uniform in their low production values, the older ages of the actors, and the fact that several of them appeared to have the physical manifestations of HIV. It was as if a group of men who had literally lived through AIDS said, "oh, what the hell," and demonstrated the kind of sex they had been having amongst themselves for some time. Their exploits were perceived as an underground fetish that would never break the surface of more mainstream gay pornography.
But then Max Sohl met that ferociously attractive man from the Folsom Street Fair who was so eager to "get seeded" by a string of strangers, and with the sexual zeitgeist now primed for their arrival, they made a film that would forever change the porn industry and quite arguably influence the sexual behavior of countless gay men.
Re-christened "Dawson," the budding porn star was served up in a hotel room over the course of New York City's 2004 Black Party weekend to an ongoing parade of bareback tops. Their sex was filmed in a documentary fashion, without music, scripted dialogue, or any effort to hide the many cables and cameras crowding the room. Dawson's fantasy had been fulfilled, and Sohl had the footage to prove it.
In June of 2004, Dawson's 20 Load Weekend was released and was precisely as advertised.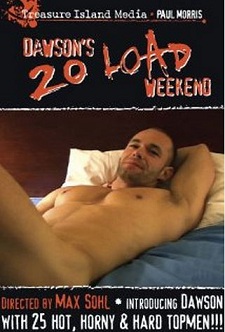 It might first strike the viewer that the video was created in an unsettling world in which HIV is utterly absent; that is, until a revamped sexual choreography is pointedly repeated again and again. While orgasms in gay porn before AIDS typically showed the top withdrawing from his partner and spilling his semen across his partner's backside, the tops servicing Dawson had a different and very deliberate mission: to withdraw only long enough to prove their orgasm, and then re-enter Dawson immediately to show the injection of semen.
This was not a film that was made in the absence of HIV, but was created because of HIV. You can practically hear a disembodied voice whispering, "Watch closely. This is how gay men have sex now. That is where semen belongs. Fuck AIDS."
Depending on your point of view, it is either a transgressive act of eroticism or an incredibly irresponsible act that demonstrates how to become infected with HIV. Or perhaps both.
In the center of all of this was Dawson himself, and never has bareback porn had such a virile and athletic leading man, much less one that bottomed with such disarming delight. "He was a higher quality male model that hadn't been seen in that kind of extreme scene," said Sohl. "The movie changed things because of Dawson. He was adorable, and actually smiles and laughs. He is joyful in that movie."
"Bareback porn companies have blood on their hands," became a common refrain among gay men and health advocates. Gay sex advice columnist Dan Savage equated the videos to child porn, believing they take advantage of the naïve and the vulnerable. Some accused TIM of making snuff films.
The video was wildly successful, ubiquitous wherever porn was shown. Even Sohl was surprised. "Our staff and even my friends would say 'I go into a porn booth, a sex party, a hookup, and its playing,'" he said. "It was everywhere."
Adult bookstores which had previously shunned TIM videos responded to customer demand and began stocking them, even creating bareback sections on their shelves. Gay porn sites that once refused to feature bareback clips began including them. Dawson and the film became the definitive symbol of a bare, wanton sexuality that eschewed condoms and refused to be denied or intimidated by the virus.
Soon, more companies produced bareback porn, and they were able to attract "collegiate jock" types who were younger, more muscular and the very picture of health and vitality. The faces and bodies in bareback videos had been transformed, erasing all evidence of HIV, much like the invisibility of HIV/AIDS in our broader culture.
When considering the legacy of his film, Sohl is more pragmatic than proud. "The concept of taking twenty loads in 2004 was beyond taboo, but to say it in 2012… it doesn't seem as extreme today," he said. "I'm sure someone else would have done it. It just so happened to be us."
Neither does Sohl admit to any trepidation about the safety of his actors, then or now. "I've been doing this since 2004, with thousands of men, and have had only one guy claim to get an STD (on my set)," he explained. "Probably 50 percent of my casting job is being an HIV counselor," he adds, without a hint of irony. "I spend a lot of time talking about HIV. My feeling is that people need to be responsible for their own actions and make informed decisions."
One of the people making decisions while living with HIV is none other than the actor known as Dawson, who disclosed his HIV positive status to The Windy City Times in 2005. While his HIV status may surprise no one, something else he said in the interview was sadly revealing. "It was after turning positive that I made the decision to look into doing a movie for Treasure Island Media," he said at the time. "I had seroconverted a few months before…"
After an HIV diagnosis, many people use it as an opportunity to re-examine their lives, make different choices, or otherwise take steps to enjoy their life in whatever ways are important to them. For the man who would be Dawson, his seroconversion was followed by the choice to be an unapologetic cum whore in front of video cameras. This may have been his fantasy, but it certainly fuels the stigmatizing belief that people with HIV are irresponsible vectors of disease, spreading infection and abandoning whatever sexual values they may have previously held.
Perhaps, then, the film was a treatise on the kind of sexual liberation available to HIV positive gay men today, demonstrating the "new normal" for those who take their meds, eliminate the viral activity in their blood, and "fuck freely and without fear," as TIM founder Paul Morris once put it. Or did it simply portray poz men as sluts, a charge leveled by disgusted (and possibly jealous) HIV negative men?
"What a person is seeing has more to do with them than with us," said Sohl. "The best mode of action is not to confirm or deny anything. I will see a scene online that I directed," he says, referring to the many porn sites that pirate pieces of his work and give them new titles, "and it will be renamed 'negative bottom takes poz loads,' as if it were a conversion scene. We never said that. Or people think the bottom is using crystal meth. That says more about the guy watching it than what actually happened."
That relationship, between porn and viewer, is something of particular concern to some HIV prevention advocates who believe bareback porn encourages unsafe sex in real life. This resulted in AIDS Healthcare Foundation's recent campaign to mandate condom use on pornography sets, a move that was popular on a simplistic level but did nothing to address the myriad of factors associated with actual HIV risk and relative safety, such as an undetectable viral load, serosorting, or the precise sexual behaviors involved.
While social cognitive theory states that we make behavioral decisions based on watching others, very little research has been conducted on the causal relationship between bareback porn and real behavior. In what little has been studied, researchers can't decide if barebackers watch a lot of bareback porn, or bareback porn makes people barebackers.
It is a riddle that Max Sohl is surprisingly happy to solve. "Absolutely" he said. "Of course it is going to influence what people do." When asked, then, what is the responsibility of porn, Sohl would have none of it. "The responsibility of porn," he says impishly, "is to make the guy watching it shoot a load."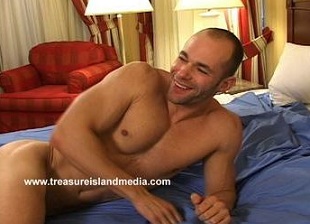 Dawson is, now and forever, committed to videotape and featured on dozens of online porn sites, happily receiving the prize he so ardently desires. He and his progeny of newer, younger porn actors have crossed a line and they're never coming back. Their video escapades are available online everywhere and for everyone, including young gay men who are just coming out and surfing the internet for validation of their sexuality.
What those young men will almost certainly see online are depictions of unprotected sex, because bareback videos now outperform scenes of condom usage on every site that carries them – and most of them now do. It is unquestionable that bareback sex will be viewed as typical to the uninitiated, and anyone crafting safer sex messages to those young men is going to have a difficult time trumping those images. The "use a condom every time" message is officially dead, drowned in buckets of bodily fluids by Dawson and his barebacking brethren.
Dawson's 20 Load Weekend redefined bareback porn and the men who appear in them. It influenced subsequent videos and expanded the availability of bareback films. It depicted a prevailing truth about gay sexual behavior "post AIDS," and arguably encouraged risky sexual adventure-seeking. It led to the saturation of bareback porn online, making unprotected sex normative to whomever might be watching. To dismiss this film, to minimize its social and cultural impact, would be to demonstrate a profound misunderstanding of gay sexuality today.
"Barebacking is a right," gay anthropologist Eric Rofes once wrote. "After all, practically every straight guy in the world gets to do it without being told they are irresponsible, foolish, or suicidal… Barebacking is liberation. Barebacking is defiance."
How foolish, prescient, liberating, enlightening or destructive barebacking may ultimately become is something that may only be revealed in the next chapter of our gay community's troubled history.
(Photo of Dawson and Jesse O'Toole courtesy of Max Sohl and edited for content. Other images courtesy of Treasure Island Media [NSFW].)
Tags: aids, barebacking, culture, gay, hiv, serosorting, Sexuality, testing
Posted in Books and Writings, Gay Life, Living with HIV/AIDS, My Fabulous Disease, Prevention and Policy | 33 Comments »
Thursday, June 21st, 2012
I took a shower this morning. I am clean. I might work out at the gym later, or maybe the trash bag will break on the way outside and I will scoop up coffee grounds and put them back into the bag. I will then be dirty. I will shower again. And I will be clean.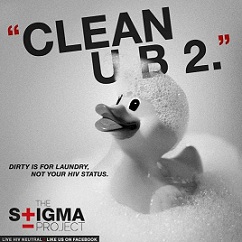 Anyone who questions whether or not HIV stigma is on the rise need look no further than online profiles and hookup sites, in which "Are you clean?" is asked with infuriating regularity. Or perhaps you have suffered the indignity of someone asking you "The Stupid Question" while negotiating a tryst. The sheer ignorance boggles the mind.
Implying that I am somehow "dirty" because I am HIV positive may not be the intention of the person asking the question. Perhaps they are sincerely trying to assess the level of risk they might be taking. But it also implies that they may raise their level of risk-taking should you answer "Yes, I am clean." To place one's trust in this answer, and to base your sexual behavior on it, is precisely how people become infected with HIV.
The person being asked may not have tested recently. Or has been infected since the last test. Or is lying because they're afraid, or ashamed, or nervous, or don't feel safe being honest because of ramifications about which you have no idea. So it's ultimately a fairly useless exercise.
Thus, the ignorance and danger of The Stupid Question. And, because it is asked fairly exclusively by people who believe themselves to be HIV negative, it sets up an "Us vs. Them" mentality. Positive vs. Negative. Clean vs. Dirty.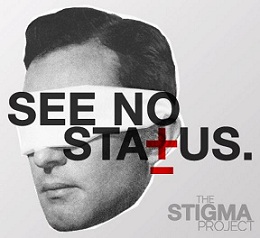 "They don't mean any harm," you may be thinking. Well, words have meaning, my friend. The ignorance evident in The Stupid Question makes it no less offensive. While the intent may be harmless, is does do harm to people with HIV by increasing stigma and driving a further wedge between HIV positive and negative people. Like it or not, it is an assessment of the sexual viability of someone, and by extension, their "worthiness" as a human being.
In my more hedonistic days — which admittedly were not exactly long ago in a galaxy far, far away — I was dumbstruck by the conversations I would have in gay public sex venues, even the most anonymous ones. "Are you clean?" would come the question by the gentleman who was fully prepared to engage in unsafe sex should my answer please him. "Really?" I would answer, "I mean, are you serious? You're going to take the word of someone in a dark room that you couldn't pick out of a lineup?" I would then explain, spoken at times through a three-inch hole in the wall, that if this question was his sole criteria, then he really needed to leave this place and go directly to an HIV and STD testing center. Post haste.
Can we please remove this insulting, dangerous and unproductive question from our lexicon?
There is an alternative to The Stupid Question. You can simply offer your HIV status and see if your partner does the same. If he does not or you don't like the answer, it is your right to decline having sex. It is not your right to berate them for their response. Whatever the case, if you are trying to remain negative then sex with someone you don't know well should only include low-risk activities. If the relationship progresses, you can offer to get tested together and be present for the test results of one another. And that is the alternative to The Stupid Question.
An interesting social marketing campaign has been created by a new organization known as The Stigma Project, which aims to reduce stigma by calling out questions like "Are You Clean?" I appreciate its mission "…to lower the HIV infection rate by defeating the stigma that strengthens it." If nothing else, it has instigated a dialogue by addressing some of the misconceptions and clumsy thinking that stigmatizes people with HIV.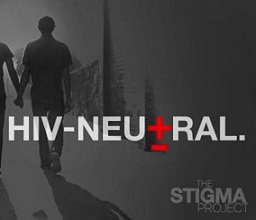 The environment we have created with questions like this one has implications beyond mere social awkwardness. It has bled into our criminal justice system. Laws now on the books are being used against people with HIV who don't disclose their status to sex partners – even when they engaged in safe sex, used a condom, and no transmission occurred. The prosecutions are being conducted in a world in which disclosing your status – admitting you are "not clean" – has become increasingly difficult to do because of the very stigma generated by things like The Stupid Question.
To learn more about how criminalization has become a Kafkaesque nightmare for many people, check out some new addictions to the video library for the new organization The SERO Project, the brainchild of activist Sean Strub that is directly addressing HIV criminalization.
If you really want to be heard and make a contribution to this dialogue, I strongly urge you to take a few minutes and answer The SERO Project's new survey that gauges your attitudes about when and whether people should disclose their HIV status. Even (and perhaps especially) if your views run counter to mine, your input is most welcome and extremely valuable.
Finally, National HIV Testing Day is next week on June 27th. If you're reading this after that day, please replace it with any date in the next month. Because the funny thing about HIV-negative test results is that they have a very short shelf life.
Last year I produced a short video, "In Praise of HIV Negative Gay Men," because as an HIV positive man I feel more of a license to say things freely, such as what an accomplishment it is for a sexually active gay man to remain negative. And it was meant with all sincerity (as with all my videos, be my guest to re-post). Alas, it's awfully tough to heap praise toward one side of the "viral divide" without offending the other, and the video was received with decidedly mixed reviews. Some people thought my delivery was deliberately sarcastic. Or demeaning to those who were positive.
While I admit my theatrical presentation could possibly be misconstrued, I do find it interesting how people project their own attitudes onto what they view, particularly when it comes to HIV status. People are touchy. You know, like when they get asked The Stupid Question. At any rate, check out the video, clear your mind, remember I'm actually a totally sweet guy, and see how the message strikes you.
"Are You Clean?" meanwhile, isn't a message with value in any context. As a matter of fact, it's downright filthy.
Mark
(Artwork credit: The Stigma Project)
Posted in All Other Video Postings, Gay Life, Living with HIV/AIDS, My Fabulous Disease, Prevention and Policy | 28 Comments »
Tuesday, February 7th, 2012
What if you could witness a face-to-face confrontation between a man living with HIV and the sex partner accusing him of not revealing his status? Wouldn't you like to be a fly on that wall? The fireworks could be mighty, as emotions raged between the furious accuser and the positive person trying to defend his actions. What might that meeting look like, exactly?
In this video, you're about to find out.
Amidst the highly charged emotions of the HIV criminalization debate, "sides" are developing. One side believes that those with HIV who do not tell their sex partners about their status should go to jail. Period. But others claim that there is little public health benefit to laws against non-disclosure because they discourage people from getting tested – you can't be prosecuted if you don't know your status — and there are often prosecutions in which the risk of transmission is remote or even non-existent.
But taking firmly entrenched sides helps no one. We've simply got to get educated beyond our gut reactions to these prosecutions. We all could use more understanding about HIV criminalization laws, how they are being applied, and whether or not they are truly serving the public good. It's also important that we understand the anger of those who feel they were put at risk and are seeking retribution.
A full list of HIV criminalization laws – and convictions globally (including for each of the states of the USA ) can be found at http://www.gnpplus.net/criminalisation/. To find multiple resources on what to do if one is at risk of prosecution, who to call for help, what the law is in every state, or get palm cards with links to resources, visit The Positive Justice Project.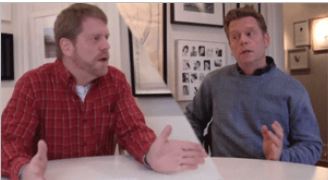 But back to the video: I couldn't help but wonder what might happen if an HIV positive man had to sit down with his accuser and explain himself. So, through the magic of some creative editing, I produced this video episode of "My Fabulous Disease" to give a voice to the opinions and feelings of both parties. You can decide if I was successful.
I used this editing technique to comic effect in the "My T-cells Could Use a Facelift" episode (the infamous video about butt padding, among other things). I've been looking for a good reason to do it again, and I thought this topic fit the format perfectly.
Thanks for watching, and please be well.
Mark
(I'm always glad when you "share" my postings with the buttons below. But this post could mean the difference between someone understanding the law — and making a mistake that could land them in jail. So I encourage you to share and re-post this one in particular. Thanks.)
Tags: aids, barebacking, criminalization, culture, politics, Sexuality
Posted in Gay Life, Living with HIV/AIDS, My Fabulous Disease, News, Prevention and Policy | 23 Comments »
Thursday, December 29th, 2011
This may be the defining HIV issue of our time, and it is a true test of our compassion and understanding of both HIV stigma and the law. Please read this closely.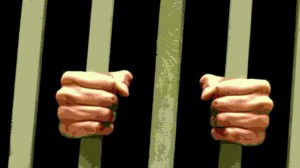 Around the country, and without leadership or guidelines from the Federal government, individual states have taken it upon themselves to draft laws that "protect" people from those of us with HIV. Whether using bio-terrorism statutes (!) or simple "assault with a deadly weapon," people with HIV who do not disclose their status to their sexual partners are risking arrest and prosecution.
You're already having a visceral response to this scenario, aren't you? You may have the vague feeling that anyone who doesn't disclose their HIV+ status to a partner probably deserves to be punished. Don't worry, you're not alone. Not only do most people support laws forbidding sex without disclosing an HIV+ status, but even a majority of gay men support such laws, and it is understandable, albeit a misinformed view, as to why.
Many of us know someone who was infected by a partner who didn't disclose their status, or even lied about it. I have friends who dated someone claiming to be negative, until they found a telltale prescription drug bottle and then discovered they had been infected. Worse yet are the news reports showing some big, scary black man who has been raping white women and infecting them with HIV. How could anyone argue against bringing these liars and malicious infectors to justice?
But the sad fact is, most prosecutions under these laws are not being imposed against those who are deliberately malicious or even criminally negligent. They are being imposed using not science, but the same ignorance, stigma, homophobia and racism that has plagued HIV/AIDS throughout the years. And well intentioned people like you and me are buying into it.
In Texas, a man is serving more than twenty years for spitting on a cop, despite the impossibility of transmitting HIV. And in the vast majority of cases against people having sex without disclosing, no transmission even occurred. In fact, whether or not there was any real risk of transmission is of little concern to prosecutors. People on medication with no viral load, for whom transmission is a remote possibility if at all, are being sentenced to jail time for not disclosing — even if they used a condom and did not transmit a thing. And the sentences are outrageous: decades of jail time in many cases.
Consider the black woman for whom disclosing her HIV status is more than a mere embarrassment; it could mean the collapse of her support network, the loss of a job or even physical danger. She is a compliant patient with no viral load, and insists her sex partner uses a condom. He somehow learns of her HIV status, calls the cops, and she is prosecuted and imprisoned. These are not fantasy scenarios, they are happening with increasing speed around the country.
The effect of these laws on public health is sobering. If those who know their status risk prosecution for not disclosing, and those who don't get tested at all can have sex without legal consequences, how does that draw people into HIV testing? As activist Sean Strub says, "Take the test and risk arrest."
The laws in some states are written so strictly that it is a legal risk for any HIV positive person to have sex at all. All the prosecutors need is to know you are HIV positive and you had sex with your accuser. If the accuser claims you didn't disclose, you're in for an uphill battle convincing a judge otherwise. You're saddled with the distasteful nature of any positive person actually having sex, and if it was gay sex, well, God help you.
Activist Sean Strub has taken this issue up as a personal crusade. I first met Sean two years ago when I produced a video blog with him discussing the issue of HIV criminalization. He took it to the United Nations AIDS Committee last month, and brought along two heartbreaking stories in the testimony of Robert Suttle and Nick Rhoades.
Please take three minutes to watch the testimony of Robert, who was jailed for six months and will be labeled a sex offender for years — it is emblazoned on his driver's license in red block letters.
And then watch Nick describe how he had protected sex with a partner, and an undetectable viral load, and by not disclosing his status he found himself in solitary confinement for months.
Sean's own testimony about people with HIV being viewed as "vectors of disease," with less rights but more responsibility to disclose, and you may view this issue quite differently than you do now.
Sean has also produced a trailer for a film he is producing, "HIV is Not a Crime," and I urge you to watch it.
I have been invited by Sean to assist him in his work for the next several weeks, and will devote the month of January to helping him establish an online resource for the issue, culminate stories of those prosecuted, and bring the maddening personal stories of those prosecuted to a broader audience.
Is your record of disclosing your status perfect? Mine isn't. I have been a compliant patient for many years and have an undetectable viral load. There has been instances in which disclosure felt unsafe, or I was in environments such as public sex clubs in which no one is asking or telling.
I don't believe I deserve to go to jail for those indiscretions. Do you?
Tags: aids, culture, gay, hiv, politics, serosorting, Sexuality, testing
Posted in Living with HIV/AIDS, My Fabulous Disease, News, Prevention and Policy | 25 Comments »
Tuesday, December 6th, 2011
Remember when we were little, and if we wanted something we simply asked for it? It felt easy. It seemed natural. And if there was really something special we had to have, there was a golden opportunity every year to ask the person who made all things possible. Santa Claus.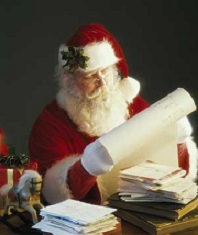 But then we got older, and life became more complex, and we were told it was better to give than to receive. Asking for what we wanted felt selfish, and many even a sign of weakness.
I wish we could look at this differently. Admitting we want something can be liberating. It acknowledges we are human, and there is grace, beauty even, in revealing our need and being vulnerable and allowing someone to help us.
Just because we don't ask for toys anymore doesn't mean we don't want anything. We want friendship. We want to be accepted. We want our health. Maybe it's asking a friend to listen, or wanting a medication with fewer side effects.
Just saying, I need this. I want to feel better. Or, I need you.
Wanting is not limited to children, my friends. But we might take a lesson from their transparency. Sometimes the answer, the help we need, the gift waiting for us, will only appear when we take a chance, when we finally have the courage to ask for what we want.
Happy holidays, and please be well.
Mark
————————————————–
(I don't think I've ever been more excited about a video blog than the one premiering here next week: The "My Fabulous Disease" Holiday Spectacular! A dozen of my relatives have come together to bring you comedy, Christmas cookies, a little drag, a visit from Santa — and some very candid feelings about loving a family member with HIV/AIDS. I hope you'll come back next week and meet the family! — Mark)
————————————————-
PLUS…
A word, if I may, about my recent posting "The Long Road Home from Relapse," which managed to break traffic records on my blog, generate amazingly supportive comments, and also became its own source of concern among some of my fellows in recovery. As a few of the comments suggested, my drug relapse was a serious event that even I may not fully appreciate just yet, much less be able to distill its lessons to my readers. Some felt that writing about it so soon after the fact seemed cavalier. I'd like to say that my actual recovery process — the work I do on a daily basis to rebuild and maintain a clean and sober life — involves many things that are completely unrelated to my writing. It is ongoing and intimate and I take it very seriously. I considered withholding the relapse from my blog, but it just felt dishonest not to talk about it. My point is, there is work ahead for me that I hold dear and will keep to myself, my sponsor and my God. As Tony Kushner writes in the last line of Angels in America, "the great work continues."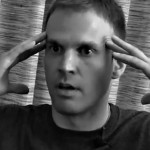 The madness continues of criminalizing those with HIV who do not (allegedly) reveal their HIV status to their partners, and new cases are piling up around the country. These include many prosecutions in which protection was used and no transmission occurred. But only now have we been able to hear the voices of those who have experienced this Kafkaesque nightmare. In his upcoming documentary "HIV is Not a Crime," AIDS activist and writer Sean Strub gives voice to the "criminals." Their stories are riveting and heartbreaking, like that of Nick Rhoades, right. You can view a terrific trailer on YouTube, and I dare you not to let it make your blood boil, positive or not. I urge you to take a look and get educated on what is becoming a defining HIV issue for our time.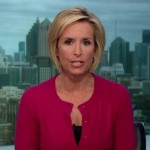 Did you catch all the media attention last week stating that people with HIV aren't taking very good care of themselves? Oh yes indeedy, the news reports, with headlines like Few in US with HIV have virus under control, and HIV Out Of Control In US Patients, seemed to suggest that it was people living with HIV who somehow haven't been doing the right thing to maintain their health. And that's a load of hooey, as my dad used to say. It turns out that the reports were misrepresenting a new CDC study showing that less than half of HIV patients have access to proper treatment. As in, not their fault. This distinction was made in an eye-opening blog posting by Housing Works, in which the actual study vs. the media reporting is clearly explained. "We are facing major budget cuts in homeless services, housing, testing and prevention," blogger Kenyon Farrow states. "These all prevent people with HIV from staying healthy and make many more people vulnerable to infection… By focusing media scrutiny on government officials, the public would be better informed about who's really 'out of control.'"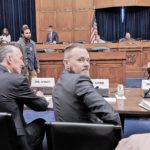 The Windy City Times continued a remarkable year-long commitment to covering AIDS this week, which is really a story in itself — a gay paper intent on maintaining visibility of the crisis in commemoration of the 30-year milestone. So I am especially excited that the paper chose to run a profile about My Fabulous Disease as part of their World AIDS Day coverage. Writer Joe Franco, intrepid journalist that he is, took the time to both interview me and actually watch most of my videos, if you can imagine. In his piece he manages to discuss AIDS, community, comedy, drug addiction and drag. In other words, it's a fair representation of what you get around here on a regular basis. My mom loved it.
Tags: culture, family, gratitude, help others, hiv, politics, recovery, Sexuality
Posted in Books and Writings, Living with HIV/AIDS, My Fabulous Disease, Prevention and Policy | 6 Comments »