This post will never be as romantic as I would like it to be. And it could never be as romantic as the truth.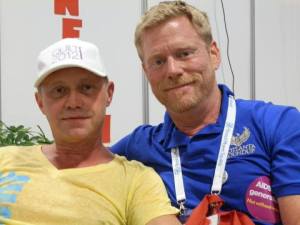 On the evening of July 22, 2012, Michael Mitchell went to a mixer at Cobalt, a gay club in Washington, DC. The international AIDS conference was being held in town and Michael, a DC resident who had once served as director of an AIDS agency, decided on a whim to go check it out.
I had been shooting video all day for my conference coverage for TheBody.com, and thought the name of the mixer — Meet the Men of AIDS2012! – had an inviting ring to it.
During the reception Michael and I engaged in some mutual cruising from across the bar before Michael, God bless him, made his move. He walked up and introduced himself. Even with dance music thumping and a boisterous crowd surrounding us, he had an adorable humility about him that came through loud and clear.
So did the remnants of a southern twang, and we quickly established we were both southerners born in Alabama. We talked about his work implementing the Affordable Care Act and I was struck by how proud he was to help provide health insurance to millions of Americans.
"I'm a blogger, I write about HIV," I said after a while.
"Oh, I know," Michael answered, and he grinned. "I've been reading you for years." He leaned in closer and flexed his dimples. "And you should get new pictures. You're much better looking in person."
I swallowed the line like a cold glass of sweet tea.
For the remaining nights of the conference, I sat at the foot of Michael's bed and edited video footage into the wee hours while he slept. We toured the Global Village at the conference center and got our picture taken (above). We held hands, casually and almost immediately. When I left a few days later there were tears at the bus stop.
You would think that after many years writing about living joyfully with HIV that my own happiness would be a given. That's hardly been the case. After several false starts and some complete misfires — primarily due to my own deficiencies — I had stopped believing I would ever get the whole relationship thing right. What are the odds of getting another chance, after so many wasted ones?
"I am not a very good boyfriend," I told Michael in a frank conversation early on, the kind that is meant to drive the poor guy away before he is taken hostage. "I've either been terribly immature or in active drug addiction. I've never been faithful, or even very thoughtful."
"That doesn't mean you can't be," he replied, as if it were the simplest response in the world, as if none of my past faults had any bearing on the here and now. Suddenly it clicked, a switch in my head I had been grappling with my whole adult life, and Michael's statement made perfect sense. Why couldn't I just behave differently, and do it because I love Michael and to hurt him would crush me?
I am going to marry that man.
On June 6, a small group of friends and family will gather in the lush woods of Pennsylvania a few feet away from where I proposed on Christmas Eve (below). During our ceremony I will make promises that I have every intention, at long, long last, of keeping. Our vows will be emotional but a mere formality, because for three years we have adored one another without a single cruel word between us.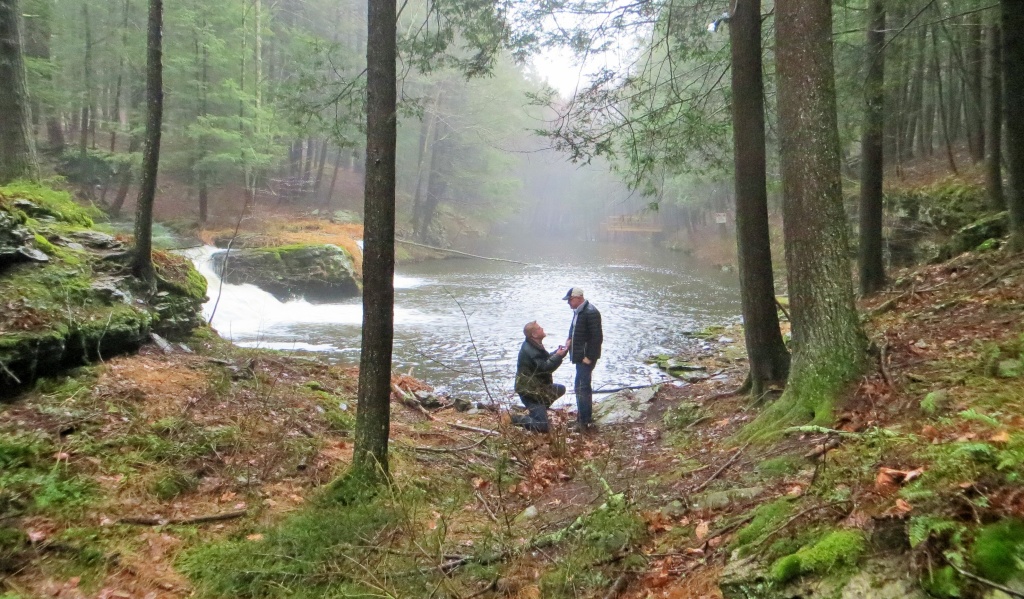 When I was growing up I could never find anything in the house; the right socks, my school assignment, my lunch money. I would call downstairs to mother and complain that I just couldn't find it, whatever it was.
"You haven't found it yet," she would reply with the preternatural calm that had mercifully accompanied her through years of raising six children.
My search has continued, for those things misplaced or never claimed to begin with, and I have actually found a few of them. Feeling comfortable in my own skin. Self-esteem. Sobriety. An acceptance of life on its own terms. An unselfish love for another human being.
The search may have been maddening, but the guidance of a good mom usually holds true.
I just hadn't found them yet.
Mark
Comments