Posts Tagged 'hiv'
Monday, June 29th, 2015
Sometimes it's helpful to get back to basics, and there is no more basic, effective tool to fight the HIV epidemic than to encourage testing. How long has it been for you, my friend? Here are five important facts about HIV testing that I hope will convince you to get busy and get tested — again.
1. You could be HIV positive and not even know it.
According to the Centers for Disease Control (CDC), one in eight people with HIV in this country don't know they have it. Some estimates are higher. With 50,000 brand new infections every year in the United States, it is absolutely crucial that you know your status.
2. Knowing your status is one of the very best ways to stop the epidemic from growing.
No matter your HIV test results, taking the test means you are already doing your part to protect yourself and others. If you test negative, you will know you haven't put anyone at risk – and it will probably encourage you to keep making smart decisions. It might also be the wake-up call you need to re-assess your risks or to consider pre-exposure prophylaxis (PrEP), a medication proven to greatly lower your chances of becoming infected.
If you test positive, you can take advantage of a variety of medications (with fewer pills and side effects than ever) that can reduce the virus in your body to undetectable levels. Science has proven that people with HIV who have an undetectable viral load are not transmitting HIV to their partners. Getting people with HIV to undetectable levels is a huge factor in slowing the epidemic–not to mention keeping your own body healthy and ready for more action.
Yes, getting testing can be scary. But so is having HIV and not treating it. Ask any gay friend who survived the 1980's, when there weren't effective medications. It wasn't pretty.
3. An old HIV test result is even worse than an outdated Grindr photo.
When was your last test, and how many risky things – unprotected sex, drug or alcohol use, wild nights out – have you done since then? Being confident of your status is about being consistent.
The CDC recommends an HIV test for everyone between the ages of 13 and 64 as part of routine health care. For those at higher risk – that would be gay men like me and those with drug addiction histories – a test at least twice a year is recommended, especially if your bedroom dance card has been full or you've been partying.
4. Getting tested is easier than ever, and you have plenty of choices.
Boys, do you have options. Choose one and get 'er done:
Visit Get Tested and enter your ZIP code.
Text your ZIP code to KNOWIT (566948), and you will receive a text back with a testing site near you.
Call 800-CDC-INFO (800-232-4636) to ask for free testing sites in your area.
Contact your local health department or HIV service agency.
Get a home testing kit (the Home Access HIV-1 Test System or the OraQuick In-Home HIV Test) from a drugstore.
5. Everyone can make a difference. We can stop HIV together.
Offer to go with a buddy to support him emotionally as he gets his results. Get tested alongside that sexy beast you've been seeing. Ask friends about the last time they took the test.
You could go the extra mile by sharing this article. Or visit the Act Against AIDS page for free materials, ads, videos, and banners you can share online.
Mark
(A version of this article appeared on Queerty for National HIV Testing Day. It is good advice all year long.)
Tags: advocacy, barebacking, gay, hiv, physical, physician, recovery, Sexuality, testing
Posted in Gay Life, Living with HIV/AIDS, Meth and Recovery, My Fabulous Disease, Prevention and Policy | No Comments »
Thursday, June 25th, 2015
(I was proud to join four fellow activists contributing to this story, which originally appeared on the site HIV Equal. If you have ever wondered what all the fuss is about — or think the conflicts activists have with AIDS Healthcare Foundation are just industry "inside baseball" — here are ten reasons to believe otherwise.)
You would think that the largest global HIV and AIDS service organization with the biggest budget a non-profit could ask for would be interested in removing the stigma of HIV and working in unison with people living with the virus. But even a passing glance at AIDS Healthcare Foundation's (AHF) record of offenses against the community it claims to serve says otherwise.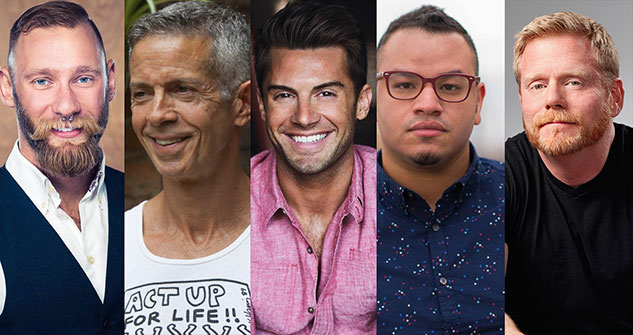 It is unfair to color the efforts of the people of AHF as categorically corrupt. The massive organization is staffed with thousands of wonderful, passionate, and well-meaning people who are unfairly criticized and whose work is slighted. There are fantastic doctors and wonderful programs that do a great deal of good under the AHF brand, but this does little to remove the stains created by the poor leadership and direction of one man: Michael Weinstein.
In the past 15 years, Weinstein has racked up quite the record of wrongdoings against the collective effort to reduce HIV transmission and stigma. Well known HIV activists Peter Staley, Mark S. King, Eric Paul Leue, Mathew Rodriguez, and Tyler Curry assembled a list of the top 10 worst offenses of AHF by way of Weinstein.
1. Anti-Union Practices
In 2013, when AHF medical doctors were overworked in understaffed clinics, they felt that the quality of patient care was being ignored and wanted to unionize under the National Union of Healthcare Workers. Medical staff told the Los Angeles Times that decisions were driven by concerns for profit, not patient care, but AHF said that they considered doctors "management," and Weinstein said any efforts to unionize that included doctors were "tainted.
If AHF or Weinstein did deny its doctors the right to unionize, AHF squarely falls not only against its own medical staff, but implies that it does not want its clients to have the highest standard of care – deliberately shunting the health of HIV-positive people onto the backburner. — Mathew Rodriguez, HIV activist and community editor of TheBody.com
2. Paid Editorials Campaigning Against PrEP
I guess its good to be king, because no matter how skewed your opinion may be, your dollar will always get your words published. On June 16, 2015, Weinstein paid to distribute his most recent editorial ad campaign, "The War on Prevention." Although AHF's stance has changed significantly since the days where the organization called the pill a "party drug," Weinstein still trumpets the use of condoms over PrEP as the only effective large-scale measure of preventing HIV transmission.
"AIDS Healthcare Foundation is not against PrEP," Weinstein writes. "Truvada can absolutely be the right decision for specific patients who, in consultation with their doctors, decide this is the best choice. However, the entire body of scientific data demonstrates that Truvada will not be successful as a mass public health intervention. Yet, this is exactly what PrEP advocates, including the Centers for Disease Control and Prevention, recommend."
To clarify, the CDC is not in the business of PrEP advocacy, but rather scientific research. There are no specific scientific claims that Weinstien tries to disprove in the "advertorial." But he does give plenty of unsubstantiated statements himself, such as, "Mass PrEP administration is a dangerous experiment that is not supported by medical science and is currently resisted by doctors and patients alike."
Sounds scary, huh? It is also bullshit. Yet, this advertisement ran in LGBT newspapers and magazines in eight markets nationwide (Chicago, South Florida, San Francisco Bay Area, Washington D.C., Seattle, Dallas, New York, and Los Angeles). — Tyler Curry, HIV activist and senior editor of HIV Equal Online
3. Anti-Science AIDS Activism
AIDS treatment activism has a beautiful legacy, built by groups like Project Inform, ACT UP New York, Treatment Action Group (TAG), and South Africa's Treatment Action Campaign (TAC). Collectively, we've helped change the course of AIDS, and saved millions of lives. One of our central tenants is that science should drive our advocacy. Science has been our compass, and our source of credibility and power to do the most good for the most people. Science has kept us from letting the personal dogma of any single activist steer the movement in a harmful direction.
Michael Weinstein has been spitting on this legacy for almost 15 years, long before he launched his PrEP denialism campaign. He has been spitting on the graves of lost heroes, like Martin Delaney, Project Inform's founder, who warned me years ago that Weinstein was "dangerous" and "self-serving." He has been spitting on the graves of Spencer Cox, and Carlton Hogan, who were instrumental in pushing us towards a science-driven path. Some of us should be forgiven for feeling protective of the legacy of AIDS activism built by these fallen comrades, and for our anger at those who arrogantly rebuke it. — Peter Staley, HIV activist and founder of Treatment Action Group (TAG)
4. Stigma-Fueled, Anti-PrEP Messaging
In April 2014, Weinstein called Truvada for PrEP a "party drug," that would give gay and bisexual men a license to have unprotected sex, which would lead to a "public health disaster." Weinstein's "party drug" comment is disrespectful to anyone who has ever had sex — or plans to. Firstly, calling any HIV medication a "party drug" is disrespectful to HIV-positive people who take the drug in order to suppress the virus and live fully realized lives.
The sex-negative comment, borne of internalized homophobia, shames people of all sexualities who derive meaning from sexual activities — whether natural or with a condom — and is an ultra-conservative attack on (generally gay) people's identities as sexual beings. His comment is also completely gender-blind and ignores women, straight and queer, who enjoy condomless sex on PrEP or use PrEP in order to have a child — you know, a real party. — Mathew Rodriguez, community editor of TheBody.com
5. Overbilling of Federal Funds in Los Angeles County
A California Judge ruled in April 2015 that, "AIDS Healthcare Foundation must face claims by Los Angeles County officials that it overbilled the county $5.2 million for patient treatment." It is alleged that, similar to the overbilling claims in Florida, AHF has been defrauding federal-funding sources for people affected by HIV in L.A. County for about eight years. In addition to the $5.2 million, which was discovered in audits, the county has had to spend over $1.8 million to defend itself against lawsuits involving AHF. Considering the scarcity of public health funds, a loss of $7 million is a serious threat to much needed services for people affected by HIV in the county.
Ensuing the overbilling charges against AHF in L.A. County, now retired Supervisor Zev Yaroslavsky said of Weinstein: "He's used his nonprofit organization in a crass and bullying political way to get his way, which is to avoid being held accountable."
Afterwards, an internal email authored by Weinstein was discovered that read, "We need to go after Zev [Yaroslavsky] directly and hard. He is the real power behind our problems with the county on porn, the audit and fee-for service. Plus, he is a lame duck and an arrogant jerk. His Berman-Waxman power base is dead and he and others need to be taught a lesson." — Eric Paul Leue, HIV activist and director of sexual health and education at Kink.com
6. Fear-Based Safe-Sex Campaigns That Further HIV Stigma
A recent series of AHF advertisements depicted two people or various races and gender in bed, presumably post-coitus, with the caption "Trust him?"
This stigmatic view of sex and trust is both reductive in personal responsibility and stigmatizing towards HIV-positive people. It suggests that people living with the disease are akin to criminals who lie in order to have sex, or even intentionally spread the virus. Sure, the people behind the AHF campaign may argue differently. However, it is hard to ignore the criminal theme of the advertisements that, by default, further marginalize people living with HIV and keeps fear in the forefront of safer sex messaging. As one Facebook user stated, "This does not say 'fear HIV.' It says, 'fear people living with HIV.'" — Tyler Curry, HIV activist and senior editor of HIV Equal Online
7. Intimidating Other Organizations, People, and Practices Who Get In Their Way
The famously litigious agency has sued (or threatened to sue) many individuals and organizations in their path over the years, including counties, cities, departments of health, and even smaller agencies with whom AHF had territorial disputes. AHF even withdrew funding from a Louisiana advocacy event when they learned a plaintiff in their whistleblower lawsuit was involved in its planning. After this was revealed, they reinstated the funding without apology — and promptly counter-sued the whistleblowers. AHF's latest strategy is to simply gobble up the competition, as in the recent announcement they have acquired the largest community-based agency in the south, AID Atlanta. — Mark S. King, HIV activist and writer at MyFabulousDisease.com
8. Financial Leveraging Against Smaller Organizations
In a 2014 lawsuit against L.A. County, AHF's attorney, Samantha Azulay, argued for the invalidation of county funding contracts with smaller HIV and AIDS organizations with the words: "…You know, there might be some impact on these contracts, but maybe you've got to cut up a couple trees to save the forest."
Reach LA, a youth organization with specific focus on HIV-affected African-American, Latino, and transgender youth, was among the "couple of trees" and it lost $100,000 funding.
In a 2013 dispute, AHF refused to pay rent for a space it had occupied since 2003 from Maitri, an AIDS hospice in San Francisco. The dispute arose when AHF refused to pay fair market rent for the property after opting for the renewal of the rent contract. Maitri has an operating budget of about $2 million, while Weinstein claims that AHF has a budget of $1 billion. The rent refusal caused Maitri an approximate loss of more than $300,000. AHF only had to pay $60,000. — Eric Paul Leue, HIV activist and director of sexual health and education at Kink.com
9. Forcing Condoms in Porn
In the last two years, AHF has led a costly media campaign to push forward legislation that would enforce condom use in adult film productions. But what may sounded like a good idea can actually be a dangerous limitation of access to other and possibly more adequate prevention options — and it threatens performers with serious infringements on medical and personal privacy. For the past five years, many public health officials have repeatedly argued that this was a waste of money, as the adult film industry, with zero on-set HIV infections over the past ten years, is not where the epidemic demands our attention.
In a recent hearing in front of the California Occupational Safety & Health Standards Board, 19 organizations, numerous performers, and unaffiliated medical professionals all opposed AHFs proposal, which Weinstein is now trying to push through in form of a state-ballot initiative. Many are appalled by AHFs proposal to ignore highly efficacious and proven prevention options such as PrEP and specific industry-developed testing protocols, all-the-while removing performer's rights for personal choice to access and control. — Eric Paul Leue, HIV activist and director of sexual health and education at Kink.com
10. An Alleged Pattern of Criminal Conspiracy
A stunning whistle-blower lawsuit made public this year against AHF charges the agency with ten counts of defrauding the government, conspiracy, and a "multi-State kickback scheme" to maintain service quotas and keep the government-funded gravy train rolling. The suit, brought by three former senior staff members of the agency, includes internal documents that outline payments to both staff members and clients in an attempt to direct people who test positive into care at an AHF clinic — without properly offering them choices to seek care elsewhere. This strategy, known as "captive care," then allegedly allows AHF to bill freely for client services obtained illegally, according to the lawsuit. — Mark S. King, HIV activist and writer at MyFabulousDisease.com
Tags: advocacy, aids, barebacking, conferences, hiv, physician, Sexuality, testing
Posted in Living with HIV/AIDS, My Fabulous Disease, News, Prevention and Policy | No Comments »
Monday, June 1st, 2015
June is Pride Month in the LGBT community, and I was honored to be asked by Visual AIDS to curate a "web gallery" on the topic. Immediately, I considered a question that I had once posed to readers of my blog.
If living with HIV is nothing to be ashamed of, is it something to be proud of?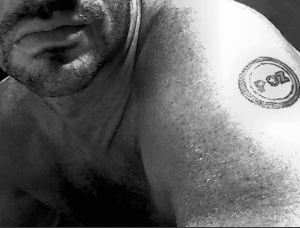 It was a really interesting exercise to explore this question, and I hope you will head over to Visual AIDS to check out the exhibit online. Visual AIDS has thousands of images of artwork that represent the artistic expression of hundreds of artists living with HIV.
Of course, including these artists in my exhibit meant that I was assigning meaning to their work in a way they may never have intended. That's okay. Art is gloriously subjective. In the image Self-Enforced Disclosure (Greg Mitchell, 2007) above, I could help but believe that a man who would tattoo his HIV status on his body did not do it to shame himself. But is it an act of pride?
From my curator statement:
No one should be marked or shamed for living with HIV. But, should someone claim to be proud of being positive, there is a lingering, implicit threat to the statement, as if their pride is untrustworthy, or worse, that having the audacity to feel proud of living with the virus must mean they want to infect everyone else.

We must reject the stigma that labels people with HIV as predatory, irresponsible, and lacking in self-respect. Being proud of all that we are is hardly the same as wishing it on others.
I hope you will check this out and share your thoughts.
Mark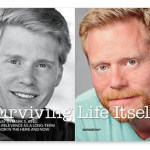 p.s. My writing is my artistic expression, and I really appreciate the response I have received to my essay in the new June issue of POZ Magazine, "Surviving Life Itself." The piece reflects on my relevance, and lack thereof, as a 30-year survivor of HIV, and what kind of impact others like myself can have in the here and now. I hope you will grab a copy at your local clinic or pharmacy, or read it online here.
Tags: aids, culture, gay, gratitude, hiv, Recreation, Sexuality
Posted in Gay Life, Living with HIV/AIDS, My Fabulous Disease | No Comments »
Monday, May 25th, 2015
This post will never be as romantic as I would like it to be. And it could never be as romantic as the truth.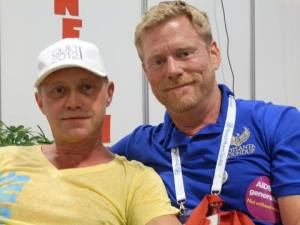 On the evening of July 22, 2012, Michael Mitchell went to a mixer at Cobalt, a gay club in Washington, DC. The international AIDS conference was being held in town and Michael, a DC resident who had once served as director of an AIDS agency, decided on a whim to go check it out.
I had been shooting video all day for my conference coverage for TheBody.com, and thought the name of the mixer — Meet the Men of AIDS2012! – had an inviting ring to it.
During the reception Michael and I engaged in some mutual cruising from across the bar before Michael, God bless him, made his move. He walked up and introduced himself. Even with dance music thumping and a boisterous crowd surrounding us, he had an adorable humility about him that came through loud and clear.
So did the remnants of a southern twang, and we quickly established we were both southerners born in Alabama. We talked about his work implementing the Affordable Care Act and I was struck by how proud he was to help provide health insurance to millions of Americans.
"I'm a blogger, I write about HIV," I said after a while.
"Oh, I know," Michael answered, and he grinned. "I've been reading you for years." He leaned in closer and flexed his dimples. "And you should get new pictures. You're much better looking in person."
I swallowed the line like a cold glass of sweet tea.
For the remaining nights of the conference, I sat at the foot of Michael's bed and edited video footage into the wee hours while he slept. We toured the Global Village at the conference center and got our picture taken (above). We held hands, casually and almost immediately. When I left a few days later there were tears at the bus stop.
You would think that after many years writing about living joyfully with HIV that my own happiness would be a given. That's hardly been the case. After several false starts and some complete misfires — primarily due to my own deficiencies — I had stopped believing I would ever get the whole relationship thing right. What are the odds of getting another chance, after so many wasted ones?
"I am not a very good boyfriend," I told Michael in a frank conversation early on, the kind that is meant to drive the poor guy away before he is taken hostage. "I've either been terribly immature or in active drug addiction. I've never been faithful, or even very thoughtful."
"That doesn't mean you can't be," he replied, as if it were the simplest response in the world, as if none of my past faults had any bearing on the here and now. Suddenly it clicked, a switch in my head I had been grappling with my whole adult life, and Michael's statement made perfect sense. Why couldn't I just behave differently, and do it because I love Michael and to hurt him would crush me?
I am going to marry that man.
On June 6, a small group of friends and family will gather in the lush woods of Pennsylvania a few feet away from where I proposed on Christmas Eve (below). During our ceremony I will make promises that I have every intention, at long, long last, of keeping. Our vows will be emotional but a mere formality, because for three years we have adored one another without a single cruel word between us.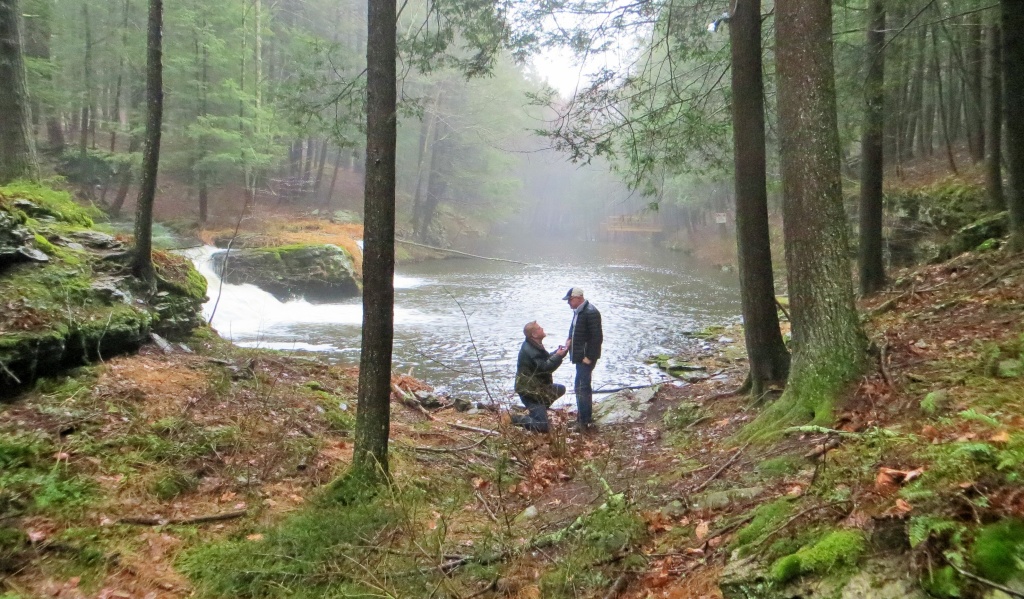 When I was growing up I could never find anything in the house; the right socks, my school assignment, my lunch money. I would call downstairs to mother and complain that I just couldn't find it, whatever it was.
"You haven't found it yet," she would reply with the preternatural calm that had mercifully accompanied her through years of raising six children.
My search has continued, for those things misplaced or never claimed to begin with, and I have actually found a few of them. Feeling comfortable in my own skin. Self-esteem. Sobriety. An acceptance of life on its own terms. An unselfish love for another human being.
The search may have been maddening, but the guidance of a good mom usually holds true.
I just hadn't found them yet.
Mark
Tags: Aging, conferences, culture, family, gay, gratitude, hiv, recovery, Sexuality
Posted in Family and Friends, Gay Life, Living with HIV/AIDS, Meth and Recovery, My Fabulous Disease | 5 Comments »
Wednesday, April 15th, 2015
ACT UP has always intimidated me. In the 1980's, while working at LA Shanti to provide emotional support to those dying of AIDS, I doubted my activist cred while watching the dramatic, inspiring actions of ACT UP. Everyone has a role to play, of course, but I so admired the courage and laser-focused anger of ACT UP, as evidenced in the Oscar-nominated documentary How to Survive a Plague.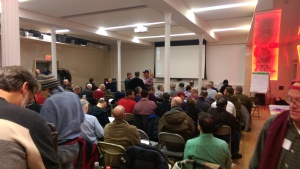 So it was with excitement, yes, but also a great deal of trepidation that I accepted an invitation to speak at ACT UP NYC's first town hall forum on AIDS long term survivors last November. I certainly qualified, having tested in 1985. But what could I possibly offer a room filled with activists who had literally defined the word empowerment and had stomped their way across New York City during the most ravaging days of AIDS and beyond?
The forum was held at the NYC LGBT Community Center, in the very room where Larry Kramer had founded ACT UP decades earlier. I bought an ACT UP button at a side table, with tears in my eyes. The sense of history was palpable.
Any doubts about the relevance of addressing long term survivors were answered by a packed room. The program included presentations by Graham Harriman, Director of the HIV/AIDS Bureau, Mark Brennan-Ing of the ACRIA Center on HIV & Aging, and popular local gay therapist Scott A. Kramer.
When it came my time to speak, to offer my personal perspective on a lifetime with HIV, I abandoned my note cards and the story came pouring out of me. My voice quivered the entire time. I cried and told my secrets and my shame and my grief in ways I have never revealed on my blog.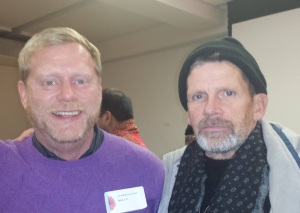 The room responded with warmth and acceptance. Afterwards, iconic ACT UP members whose names I recognized greeted me and thanked me (like Ed Barron, at left). It was one of the most nerve-wracking and proudest days of my life.
OUT FM featured my remarks recently on their weekly radio show on WBAI/NY, and it is through their courtesy that I am able to share this recording of my presentation. It includes a little adult language here and there (sorry, Mom!).
Our most effective tool as people living with HIV, and as long term survivors in particular, is simply telling our story. There is such power in the personal.
My deepest gratitude goes to ACT UP NYC for everything, both then and now. Thanks for listening, and please be well.
Mark
Tags: Aging, culture, gay, help others, hiv, meth, politics, recovery, Sexuality, testing
Posted in Gay Life, Living with HIV/AIDS, Meth and Recovery, My Fabulous Disease, News | 8 Comments »
Monday, April 13th, 2015
The AIDS Healthcare Foundation scandal has taken a downright creepy turn.
Only one day after a stunning whistleblower lawsuit against AIDS Healthcare Foundation (AHF) was made public, the embattled organization withdrew funding from an upcoming HIV advocacy event because one of the plaintiffs is involved in its planning, according to records obtained by My Fabulous Disease. The apparent strong-arm tactic has reached beyond whistleblower Jack Carrel and has had a "real impact" on the State-wide advocacy event, according to organizers.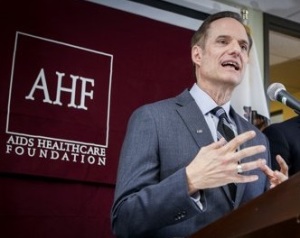 The AHF monies were meant to provide transportation for dozens of Louisiana residents living with HIV to travel to Baton Rouge to meet with their State legislators. Jack Carrel, one of the plaintiffs named in the lawsuit against AHF, is helping to organize the event.
In a voice mail to Carrel, a local AHF staffer states that Carrel's involvement in the whistleblower case was the reason for AHF's withdrawal. Carrel is participating in the suit alongside former AHF managers Mauricio Ferrer of Florida and Shawn Loftis of New York.
The lead counsel for the whistleblowers believes this is a retaliatory action on the part of AHF head Michael Weinstein that unfairly punishes his client and those around him. "This reaction by Mr. Weinstein is at its core indicative of what this lawsuit is about," said attorney Theodore Leopold of Cohen Milstein. "Although on the surface they claim that people with HIV are their primary concern, when you lift the veil it is all about profitability. They end up taking this (lawsuit) out on those who are most in need of services."
According to Leopold, there is no legal reason for AHF to stop participating in the event simply because Jack Carrrel is one of the people helping to organize it. "There is nothing to prevent them from communicating with Jack," said Leopold, as long as they do not discuss the pending suit. No other solution to Jack Carrel being involved in the advocacy effort were offered or discussed with organizers, according to email documents and a voice mail.
The whistleblower suit claims Carrel was fired from his position as AHF's Director of Public Health in the Southern Bureau after raising questions of financial impropriety. The suit claims fraud, conspiracy, and that AHF unlawfully acquired patients for its clinics. Having worked in the field for thirty years, Carrel has since continued advocating as a person living with HIV and was hired last year as an HIV health educator for a Baton Rouge non-profit organization.
In an exclusive interview, Carrel explained that he had been working quite comfortably with the local AHF staffer to arrange for buses to bring people living with HIV to Baton Rouge for a day of advocacy training and visits to elected officials. The event is organized by the Louisiana AIDS Advocacy Network (LAAN), for which Carrel volunteers as Chair of the Mobilization Committee.
"I met in person with the AHF staff person on Friday (March 3) and we planned it all out," Carrel said. "She was working on identifying the bus company and making the plans for it. We were good to go."
The AHF employee coordinated the effort with Carrel and others right up until Wednesday, April 8, the day the whistleblower suit was made public. On Thursday, April 9, Carrel received the following email from the AHF staffer:
Hi Jack,
Sorry, unfortunately at this time we, AIDS Healthcare Foundation, cannot participate in the lobby day scheduled for May 19, 2015, nor can we provide monetary resources for transportation, for May 18, 2015 and May 19, 2015. Thanks and sorry for any inconveniences.
Hours later, the same AHF employee left Carrel a voice mail and explicitly stated the reason AHF was pulling their support. The voice message transcript:
"Hi Jack how ya doing, this is (the AHF staffer), I've been trying to reach you since yesterday, but unfortunately, uh, we are unable to fund the buses due to your name being on a lawsuit against AHF and it breaks my heart but, um, sorry but we cannot uh, continue to, to do that. Alright. Talk to you later, thanks, bye."
Carrel said the AHF staffer "is a great person. She's been active here for a number of years," and believes she was caught in a terrible situation created by AHF management. "There are many dedicated people working at AHF," said Carrel.

The withdrawal of organizational and financial support has left organizers with LAAN holding the bag less than five weeks before the event date of May 19.
"This has had an impact," said Dorian-gray Alexander, the Chair of LAAN, "because we had been planning on AHF support to increase the number of participants lobbying their legislature this year. We're working to find a Plan B." Others involved in State advocacy declined to be interviewed, citing the risk of further impact on people living with HIV in the State.
It is not clear why AHF, if they had concerns about working with Carrel, did not work with other organizers instead, rather than engaging in a seemingly punitive action that affected the entire event and the people hoping to attend. It is also unclear if AHF will now withdraw all funds or cease collaborating with any person or agency associated with Jack Carell, something their actions suggest is entirely possible. Considering how close-knit the Louisiana HIV advocacy movement is, such a blanket blacklist could have a troubling effect.
On its web site, AHF includes legislative advocacy as one of its primary activities. That is, when they are not undermining the State-wide advocacy efforts organized in part by people they don't like. Allegedly.
AHF could not be reached for comment.
Mark
UPDATE: The Louisiana AIDS Advocacy Network has now set up a GoFundMe page to raise the funds needed to provide transportation and support for their advocacy event. I'm sure they would appreciate every single dollar they can get.
Tags: hiv, politics, testing
Posted in Living with HIV/AIDS, My Fabulous Disease, News, Prevention and Policy | 6 Comments »
Thursday, April 9th, 2015
Michael Weinstein, the polarizing and famously litigious head of AIDS Healthcare Foundation (AHF) just got a taste of his own medicine when a stunning Whistleblower lawsuit against AHF filed last year was unsealed and made public.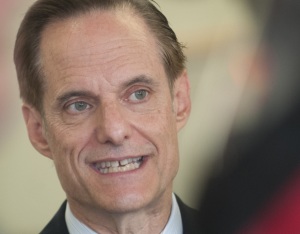 The 34-page suit, brought by three former staffers who claim they were fired when they raised questions of financial impropriety, charges the agency with ten counts of defrauding the government, conspiracy, and a "multi-State kickback scheme" to maintain service quotas and keep the government-funded gravy train rolling.
In exclusive interviews with My Fabulous Disease, one of the plaintiffs, Jack Carrel of Louisiana, his lead counsel Theodore Leopold, and several prominent figures in the HIV arena spoke out about the details of the charges and what the lawsuit could mean for the beleaguered head of the country's largest provider of HIV clinical services.
A "CRIMINAL EFFORT"
The plaintiffs accuse AHF of an "organizational-wide criminal effort" across at least 12 States in the form of kick-backs to AHF clients and staffers. They believe that AHF has defrauded governmental programs out of tens of millions of dollars, based on their own experience with the agency going back to at least 2010.
The three plaintiffs, all former managers at AHF who were in a position to be familiar with agency policy, also include Mauricio Ferrer of Florida and Shawn Loftis of New York.
When someone tested positive in an AHF clinic, the suit claims, they were offered cash or other inducements to be linked to care in AHF clinics. Furthermore, AHF staff were provided commissions when they successfully linked someone with a positive test result to AHF services. This procedure was developed first in Los Angeles and then spread across all States where AHF has a presence.
The policy wasn't exactly clandestine. In fact, it was written right into the "AHF Linkage to Care Training Manual" included as an exhibit in the lawsuit (partial snapshot below).

This kind of incentive is flagrantly illegal. Defying the Federal Anti-Kickback Statute is a felony offense. Grant monies received from the government, such as through the Ryan White CARE Act, CDC, or other HHS programs like Medicare, strictly forbid kickbacks.
The Anti-Kickback Statute ensures "there are no behind-the-scenes shenanigans for profit reasons," said lead counsel Theodore Leopold of Cohen Milstein, the firm representing the plaintiffs in the case. "The Federal law is quite clear. We want to be sure the clients are getting proper care and treatment." Medical decisions should be for the betterment of the patient, Leopold said, "and not to put money into AHF's pockets."
"This case is about AHF gaming the system," Leopold said. He explained that kickbacks "can lead to an over-utilization of services, corrupt the process, and exploit the population most in need of services." The suit claims that although AHF was formed as a not-for-profit agency, it "exhibited a for-profit corporate mindset and a voracious appetite for any and all revenues associated with HIV patient referrals.
"We are seeking monetary recovery on behalf of the government for funds," Leopold said, which the suit contends were billed through improper means.
ONE PLAINTIFF SPEAKS OUT
Jack Carrel holds a Master's Degree in Public Health and is working on his doctorate. He came to AHF in 2012 after working in the HIV field for nearly 30 years. He is also HIV positive and feels a strong connection to those testing positive and seeking services.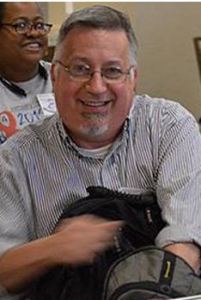 As Director of Public Health for AHF's Southern Bureau, Carrel questioned the financial incentive policy that directed people who tested positive into AHF clinics, but was "assured it was perfectly fine," Carrel said. "And then when we had meetings with funders, other (AHF staffers) in the meeting would tell funders that we would invite clients to use any other clinic they wanted, and I knew that wasn't true." Carrel was fired after objecting to the "linkage to care" policy.
"I tried to do something about it and I wasn't able to," Carrel said. "I'm HIV positive and I work in this field. I want people to be in care and to achieve viral suppression. But this system didn't give clients the choice for getting services where they wanted."
People who have just received HIV positive test results are often in shock, emotionally vulnerable, and susceptible to nearly any suggestion. AHF staffers were financially rewarded for influencing their clients' healthcare decision-making, according to the lawsuit. They allegedly plied clients with money, free fast-food lunches, and rides directly to AHF clinics.
Attorney Leopold is careful to point out that this is a civil matter and not a criminal one. A tepid statement released by AHF in response to the suit contends they did "nothing wrong" and use as proof of their innocence the fact that the government has declined to intervene in the legal action.
The mere fact the government has not, as of yet, chosen to intervene "is no reflection on the validity of the case," contends Leopold, citing that this is not uncommon when there is already outside counsel involved. In other words, the government may be more than happy to allow this lawsuit to do the legwork for them and then use it to build a case for later criminal charges.
"WE WILL SUE YOU!"
The lawsuit places much of the responsibility for the AHF scandal squarely at the feet of Michael Weinstein who, at a 2013 AHF Leadership Summit, personally advocated for increased "positivity rates," more linkage directly to AHF services, and "the payment of financial incentives to patients for the purpose on inducing self-referrals to AHF medical care," according to the suit.
The irony of the Whistleblower action is the rich history AHF has of threatening others with litigation. Under the direction of Weinstein, AHF participated in their own, profitable Whistleblower lawsuit against Bristol-Myers Squibb in 2010 and Weinstein has always used potential litigation toward others as a playing card.
(Weinstein has also engaged in expensive petitions to mandate condom use in porn, called the pre-exposure prophylaxis [PrEP] medication Truvada "a party drug," and taken out full page ads that significantly misrepresent PrEP efficacy findings, all to the consternation of his peers.)
The animosity Weinstein has engendered among other HIV advocates can be traced back for decades. Sue Crumpton served as the director of LA Shanti, the first HIV support agency founded in Los Angeles, from 1992-1998. She remembers L.A. County planning council meetings "filled with drama, courtesy of Mr. Weinstein."
"Michael never showed up to Planning Council meetings unless there was grant money on the table," Crumpton said. "And then if things didn't go his way, his first response was to say 'we will sue you!' The other agencies didn't have the resources to respond to a lawsuit, so he would get his way."
PrEP activist and former AHF poster boy Eric Paul Leue, who broke ties with the agency after Weinstein's widely maligned objections to PrEP, has little patience with such tactics. "AHF has sued counties, cities, and departments of health, and has bullied smaller organizations into submission with litigation that real non-profits cannot afford to fight," he said.
Leue relates the story of AHF attorney Samantha Azulay who, during a case in which AHF fought to have funding taken away from a small organization serving Los Angeles youth, stated that "maybe you've got to cut up a couple trees to save the forest."
"That's what it comes down to," said Leue, who began a #RemoveWeinstein petition last year. "AHF leadership is the forest and they do not care about the community. They care about their bottom line of one billion dollars per year."
Weinstein's litigious nature and the sheer size of his agency intimidated plaintiff Jack Carrel and gave him pause when considering what to do about the policies he knew to be wrong. "AHF is a very big organization," Carrel said. "And I'm one HIV educator. So that was, and still is, scary."
"A THUG AND A CROOK"
Weinstein's battles with HIV advocates and agencies have largely marginalized him from HIV advocacy circles, where he is derisively known as the Tea Party of the HIV movement.
Lifelong HIV activist Peter Staley (How to Survive a Plague) believes the legal fallout from Weinstein's actions is long overdue. "For those of us who have been fighting Michael Weinstein from day one," he said, "when he started ignoring the great legacy of science-driven AIDS treatment activism, this lawsuit couldn't have come soon enough. And yes," he adds, "it feels like payback."
Long term AIDS survivor Michael Petrelis, whose own blog The Petrelis Files is best known for holding HIV service agencies accountable by publishing their IRS 990 forms, has long criticized AHF for failing to post its 990 on their agency website.
"It's possible the charges in the lawsuit are just the tip of the iceberg," Petrelis said. "Since AHF is a behemoth with national and global offices – not to mention lobbyists in Washington – and negotiates directly with drug manufacturers among its various endeavors, there should be an AHF Watch Network… keeping a close eye on the organization, its Board and executives."
Peter Staley is already writing Weinstein's professional obituary while remaining concerned for the well-being of thousands of AHF clients. "We knew Weinstein was a thug and a crook," he said, "but his downfall will be bittersweet, because it could also bring down the empire he built, which includes lots of HIV/AIDS specialists and thousands of low-income patients."
"If I were on the AHF Board," Staley adds, "I would quickly clean house. All of this can be set right once Weinstein is gone, and AHF can live on under new management."
Plaintiff Jack Carrel thinks that, were something catastrophic to happen to AHF, "other agencies would step up" to fill the needs in service. And when asked if Weinstein deserves to keep his job, Carrel will only say that "when you're CEO of an organization, you are responsible for what it does."
Removing Weinstein may actually become an imperative for the AHF Board, Sue Crumpton believes.
"Michael always cultivated his own Board, which acquiesce to his whims, and he has always served as its Chair," she said, "but those other Board members also have a fiduciary responsibility to the agency. They could be held personally liable for this lawsuit. A Board can be ensured against many things, but negligence is not one of them. If they don't seek to remedy this situation, in my opinion, they are negligent."
For his part, lead counsel Theodore Leopold isn't particularly shocked by the alleged unlawfulness of AHF policy. "I've been doing this a long time," he said, "so not too many things, as it relates to corporate greed, surprise me."
Mark
(Photo credit of Michael Weinstein: Mitchell Zachs/AP)
————————————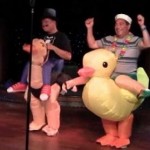 Need something completely different? Discounted cabins for the 2015 HIV Cruise Retreat this November 8-15 are going fast. Join a few hundred brand new friends on a cruise along the Mexican Riviera! We have our own theme parties, outrageous game shows, and excursions at ports of call — plus a special guest, Timothy Ray Brown, the first man to be cured of HIV. We will be sailing roundtrip from San Pedro (just outside of Long Beach/ Los Angeles) to an exotic mix of beach towns on the Mexican Western Riviera. Each town has its very own local charm and flavor. For more info, check out HIVCruise.com or contact our cruise director Paul Stalbaum at 888-640-7447.
Tags: hiv, physical, physician, research, testing
Posted in Living with HIV/AIDS, My Fabulous Disease, News, Prevention and Policy | 11 Comments »
Friday, March 20th, 2015
It wasn't easy keeping my composure when I interviewed for my first job for an AIDS agency in 1987. Sitting across from me was Daniel P. Warner, the founder of the first AIDS organization in Los Angeles, LA Shanti. Daniel was achingly beautiful. He had brown eyes as big as serving platters and muscles that fought the confines of the safe sex t-shirt he was wearing.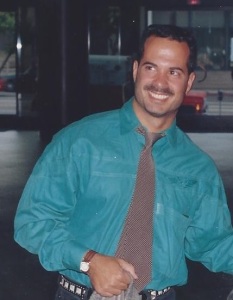 At 26 years old, with my red hair and freckles that had not yet faded, I wasn't used to having conversations with the kind of gorgeous man you might spy across a gay bar and wonder plaintively what it might be like to have him as a friend. But Daniel, one of legions of people who had abandoned whatever career they had planned and went to work building support programs for the sick and dying, did his best to put me at ease. He hired me as his assistant on the spot, and then spent the next few years teaching me the true meaning of community service.
My new mentor and friend quite literally embodied Shanti's mission to provide a non-judgmental, compassionate presence to our clients, many of whom were in the final stages of life.
Daniel was also our secret weapon when it came to fund raising. Whether shirtless in a dunking booth, dressed in full leather regalia, or spruced up to meet a major donor, it was tough to resist his charms. He knew his gifts, organizationally and otherwise, and offered them liberally for the benefit of our fledgling agency.
As time went on, Shanti grew enormously but Daniel's health faltered. He eventually made the decision to move to San Francisco to retire, but we all knew what that really meant. I was resigned to never see him again.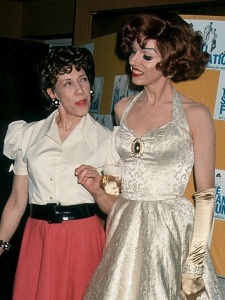 In 1993, Shanti hosted our biggest, most star-studded fundraiser we had ever produced. It was a tribute to the recently departed entertainer Peter Allen, lost to AIDS, and the magnitude of celebrities who came to perform or pay their respects was like nothing I have ever seen. By that time I had become our director of public relations, and it was my job to corral the stars into the media room for interviews.
Celebrities like Lily Tomlin, Barry Manilow, Lypsinka, Ann-Margret, Bruce Vilanch, and AIDS icon Michael Callen were making their way through the gauntlet of cameras in the crowded media room. I had tried to no avail to convince our headliner Bette Midler to make herself available to the expectant press, but as I stood in her dressing room pleading my case, she firmly declined, explaining that she had an early morning call for the filming of the television remake of Gypsy. I had tried to insist until she waved me away and started removing her panty hose right in front of me. I nearly tripped through the doorway during my frantic retreat.
Back up in the media room, one of my volunteers approached me with a look of shock and excitement on his face. He pulled me from the doorway. "I didn't know he was going to be here," he said with wide eyes. "I mean –"
"Who?" I asked. On my God. Tom Hanks? Richard Gere?
"He's with Miss America, Mark," he said. "They're right behind me." We both turned as the couple rounded the corner of the hallway. They entered the light of the media room and I barely kept a gasp from escaping.
Beautiful Leanza Cornett, who had been crowned Miss America, in part, by being the first winner to have HIV prevention as her platform, had a very small man at her side. His head bore the inflated effects of chemotherapy, which had apparently done little to stem the lesions that were horribly visible across his face, his neck, his hands. His eyes were swollen nearly shut. In defiance of all this, his lips were parted in a pearly, shining smile that matched the one worn by his gorgeous escort.
I stepped into the media room, wanting to collect myself, to wipe the look of pity off my face. I swallowed hard and stepped into the doorway to announce them to the press.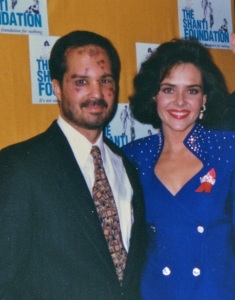 "Ladies and gentlemen," I said. "Miss America 1993 Leanza Cornett, escorted by Mr. Daniel Warner, co-founder of the Los Angeles Shanti Foundation."
The couple walked into the bright light and several flashes went off at once. And then the condition of Miss America's companion dawned on the camera crews. A few flashes continued, slowly, like a strobe light, and across the room a few of the photographers lifted their eyes from their equipment to be sure their lenses had not deceived them.
Daniel looked to me with a graceful smile, and it became a full, sunny grin as he looked to the beauty queen beside him and put his arm around her. She pulled him closer to her. Their faces sparkled and beamed – glorious, joyful, defiant – in the blazing light of the room.
That man, I thought to myself, that brave, incredible man is the biggest star I have ever seen.
And then the pace of the flashes began to grow as the photographers realized they were witnessing something profound. The couple walked the path through the room and toward the other door. "Just one more, Mr. Warner?" one suddenly called out. "Miss America! Just another?" The room became a cacophony of fluttering lenses and calls to look this way and that, all of it powered by two incandescent smiles.
Daniel and Leanza held tight to each other, their delight lifted another notch as they basked in their final call. Every moment of grace, every example of bravery and resilience I have known from people living with HIV, can be summed up in that glorious instant of joy and empowerment.
"Boss!" I said to him as they exited the room. "I didn't know you would be here. It's just… so great."
He winked at me. "I'll be around," he said. "I brought my whole family with me tonight. I need to get to the party and show off my new girlfriend!" The three of us laughed, and then I watched Daniel and Miss America, arm in arm, disappear down the hall and into the reception.
Only months later, I was at my desk in Atlanta in my new position as director of a coalition of people living with HIV when I received a phone call.
"Mark, this is Daniel," said a weakened voice. "Monday is my birthday, and I thought that might be a good day to leave." Daniel had always been fiercely supportive of the right of the terminally ill to die with dignity and on their own terms. We shared some of our favorite memories of our days at Shanti and I was able to thank him for his faith in me and setting into motion a lifetime of work devoted to those of us living with HIV.
Daniel P. Warner, as promised, died on his birthday on Monday, June 14, 1993. He was 38 years old.
Mark
(This story is adapted from my book, A Place Like This. Photo credits: Daniel Warner by Jim Blevins; Lily Tomlin and Lypsinka by Ron Galella; and Leanza Cornett and Daniel Warner by Karen Ocamb.)
Tags: A Place Like This, aids, culture, gay, help others, hiv, Recreation, Sexuality
Posted in Family and Friends, Gay Life, Living with HIV/AIDS, My Fabulous Disease | 8 Comments »
Monday, February 23rd, 2015
The annual HIV Cruise Retreat, commonly referred to as "The Poz Cruise," will set sail this November 8-15 aboard the Ruby Princess, departing Los Angeles and cruising the Mexican Riviera cities of Mazatlan, Puerto Vallarta and Cabo San Lucas.
This year, though, there will be a somewhat ironic special guest on board: Timothy Ray Brown, the first man to be cured of HIV.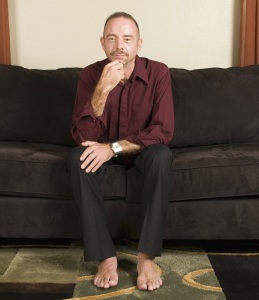 "Timothy and his partner will be joining us, and we're thrilled," says cruise director Paul Stalbaum, a longtime HIV survivor and travel agent who began organizing the cruise over a decade ago. "He will participate in a presentation and Q&A on cure research and share his story with us. His personal grace and his public education efforts since becoming 'the Berlin Patient' are deeply admired. I know our passengers can't wait to meet him and have some fun on the Mexican Riviera."
Brown, co-founder of the Cure for AIDS Coalition and Cure Report, maintains that his identity hasn't really changed since his cure in 2007, the result of a stem cell transplant for the leukemia he was battling at the time. (The transplant donor had the CCR5 gene mutation that blocks HIV from entering human cells.)
While the procedure hasn't been successfully duplicated in other HIV patients precisely, it has led to advances in gene therapy treatments that incorporate what was learned from Brown's case.
"Remember, I was HIV positive twice as long as I have been cured," Brown says about joining the Poz Cruise. "I still consider myself part of the HIV community. I wouldn't have it any other way."
"There's something special that happens when so many people living with HIV are together," says Stalbaum of the hundreds of cruise articipants. "All the social walls that divide us just fall away. Our happy group of poz cruisers, who are often joined by their negative partners and family members, aren't concerned with HIV status or age or appearance. It creates an environment where true friendships—and, yes, even some romance—are free to bloom. Our group watches their friend list on social media explode after every cruise."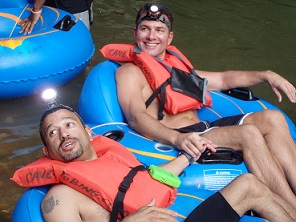 The HIV Cruise Retreat brings together people living with HIV, their loved ones and allies for a week of exclusive theme parties, private excursions and educational events. While not a fully chartered ship like RSVP or Atlantis, the parties, events and even dinner arrangements for participants are exclusive.
Otherwise, says Stalbaum, "we mix with other people, just like in real life. And we're holding hands and feeling proud. We usually commandeer one of the pools on the first day, and it's quite a sight to watch the other passengers realize we are a colorful group indeed. A lot of the women on board ditch their husbands to hang out poolside with us instead. We're a lot more fun."
This will be the first time in seven years that the cruise has departed from the West Coast, and it's expected to be a sold-out cruise. Special group cabin rates are available until Feb. 28. More information, including video blogs from past cruises, is available at HIVCruise.com or through Paul Stalbaum at (954) 566-3377.
This article was written by Mark S. King and originally appeared in Frontiers Magazine in Los Angeles. Timothy Ray Brown photo: Scott Taber. Cruise tubing photo: Brian Molenaar.
(Building community among those of us living with HIV is a passion of mine. I realize that although the cruise is reasonably priced it is also out of reach for some of my readers, and I hope you will understand my enthusiasm for supporting this event. This will be my 5th year to volunteer as MC of the cruise — I pay for my expenses like everyone else — and it has become a yearly vacation that I truly look forward to. I hope you will check it out! — Mark)
PLUS…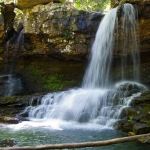 If you are gay, HIV+ and in recovery, have I got the perfect retreat for you. The POZitively Fabulous weekend retreat is now in its 3rd year and growing by leaps and bounds. Created by and for HIV+ gay men in recovery, it offers fellowship, workshops, speakers, and plenty of time to enjoy the gorgeous Cloudland Canyon State Park in Georgia. I've attended and it was terrific. Get all the details at SoberPlus.com.
Tags: aids, culture, gay, gratitude, hiv, Recreation
Posted in Family and Friends, Gay Life, Living with HIV/AIDS, My Fabulous Disease, News | No Comments »
Wednesday, January 28th, 2015
Before my interview with activist Sean Strub, author of Body Counts: A Memoir of Politics, Sex, AIDS, and Survival, let me share a revealing story.
It was late 2011 and my life was in shambles. The breakup of a long term relationship had sent me into a spiral, followed closely by a devastating drug addiction relapse. I had weathered the fallout and taken refuge at my mother's home in Louisiana.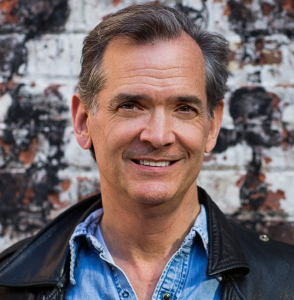 And then came a phone call from Sean Strub, founder of POZ Magazine and lifelong advocate for those of us living with HIV. We were acquainted but not yet close friends and the request he made during the call surprised me. Would I be willing, he wondered, to come visit him for a few weeks and help get his new HIV anti-criminalization effort, The Sero Project, off the ground?
Sean had read a blog posting I had written about my breakup and relapse, and must have known I wasn't exactly firing on all cylinders. I was a recovering addict with a trail of wreckage in my recent past, and yet he wanted me to come work with him. Like, in his home.
Within days I drove 1,400 miles to his Pennsylvania town. I managed to get some work done but mostly I piddled around his home office, getting my bearings again while we traded war stories and gossip from across our desks. Sean was passionate about every topic and a great teacher on contemporary HIV advocacy issues.
Before long, the real purpose of Sean's long distance invitation became clear to me. He didn't really need much help, but he knew that I did. He saw someone with potential who would benefit from a little mentorship, encouragement, and a friend. And God, he was right. Our time together strengthened and refocused me. Since then, I have heard many stories about Sean Strub taking people under his wing and helping to lift them up to a better place.
My admiration makes it nearly impossible to objectively review his remarkable memoir, Body Counts. I am an unapologetic fan and grateful friend. That being said, you must finish reading this article and go directly to Amazon and buy his book.
Body Counts is one of the most wide-ranging and well written remembrances to come out of the AIDS crisis. It seamlessly combines the social, political, and sexual landscape of Sean's journey. It moved me to tears more than once, and taught me a lot about what happened behind the scenes during the dawn of the century's greatest public health crisis.
All that, and there's a ton of great celebrity stories about people like John and Yoko (Sean was there the night Lennon was shot), Andy Warhol, and a host of colorful others.
Sean agreed to a conversation to discuss everything from his memoir to body image, sexual abuse, the legacy of AIDS, and the state of the HIV community today.
Here is that conversation: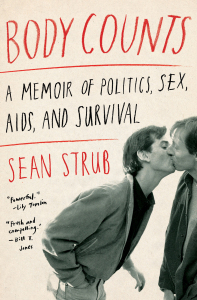 Body Counts is such a marvelous achievement, Sean. So much history here, personal and otherwise, and witnessed from such close proximity. Thanks for not holding back the juicy stuff about politicians and celebrities!
For better or worse, politicians and celebrities are intertwined with the history of the epidemic, in ways both bad and good. My perspective at times is unusual–like when I was running the "Senators Only" elevator in the U.S. Capitol–and I tried to present the humanity, good and bad, of those I write about.
Also, in terms of the epidemic, it was a conscious decision and key strategy to exploit celebrities to gain attention and action in response to the epidemic. Elizabeth Taylor knew this better than anyone and she was amazing at getting others to join her in spending their celebrity capital on behalf of something important.
And you're our tour guide through those years. I think your criticism of President Bill Clinton's AIDS response might be surprising to people. Aren't we supposed to love him?
Others have suggested that Clinton's post-presidency focus on the global epidemic is an effort to atone for his failing in this regard during his presidency. When salon.com published an excerpt from Body Counts that was about the Clinton Administration, it generated a lot of nasty comments. It was the epidemic driving a generation of gay men out of the closet and into activism that ultimately was critical to electing Bill Clinton, yet as soon as he was elected it seems like the air was let out of our activist balloon.
In some ways I think we–as a queer community–are more effective as outsiders, where we had to learn to survive, than we are as insiders, where we haven't been as welcome or skilled. When Clinton was elected, many of our leaders became insiders and didn't take everyone with them.
I'm glad you're not letting people off the hook. Was it important for you to save our AIDS history from those who might revision it?
Initially the impetus for writing Body Counts came from the realization that, as time passed, there were fewer and fewer of us around from the early days who could tell what happened first-hand. It was also a way of validating my own life. I didn't grow up wanting to be an AIDS activist; I had other plans, but in the early 80's my life was hijacked by the epidemic. Writing Body Counts gave me some understanding of why I made the choices I made.
But the more I dug into the history I also saw how those years have been misrepresented or misunderstood, particularly the role of people with AIDS and HIV. Grassroots community efforts are often dismissed, minimized or ignored.
Historical truth is always more complex than the simplified–and sometimes manipulated–version of popular history we are led to believe. The epidemic's history has been, to an extent, commodified, rewritten to serve some agenda.
I think it is important to have as many first-person accounts, especially from people with HIV who were on the frontlines, so our experiences get documented and preserved. And as time passes, there will be more archives available, with documents from those years that will tell an even fuller picture.
As we get more perspective, the epidemic and our response to it, is understood in new ways and that's a good thing.
The ongoing theme to your AIDS work, in fact, has been a respect and focus on people living with the virus themselves. You carry that banner fiercely.
I don't think the LGBT community, or people with HIV, have gotten the credit we deserve for what we did in those early years. How we came together to love and care for each other was something remarkable. We should the world our very best face and what we did then should be celebrated and recognized as a model, worthy of emulation in many kinds of situations. I also know that it was other people with HIV who comforted me, educated me and enabled me to survive.
The book is a reclamation on your body — from shame about it, from infection, from the sexual abuse you suffered. Do you think it's a common challenge for gay men to love their physical selves?
The title, Body Counts, is an intentional double entendre, referring to the loss of life from the epidemic, of course, but also my personal lifelong struggle for control of my body. It has had many enemies: the Catholic church which taught me that they owned my body, sexual abusers who exploited me, a government that sought to control my sexual expression, HIV itself and even the drugs to treat HIV. It has gotten better over time, but shame-shedding doesn't happen in an instant, it is incremental and I suspect, for me, will be a lifelong process.
I can't imagine revisiting some of the trauma you describe in the book, such as childhood sexual abuse and a rape by a roommate. Was it brutal to write?
I wouldn't call revisiting those memories brutal, but it was at times emotionally draining. Ultimately, it was healthy for me to process pain, hurt, guilt and shame that I had carried for years.
You write that it took 20 years to recognize the rape for what it was. Do we have a problem as gay men seeing ourselves as victims of this sort of abuse?
When it happened I didn't even think of the word rape as having any applicability to men. I was still so ashamed of my sexual desire and also conflicted about the degree of responsibility I bore for what happened. For many years I blocked out the sexual abuse and sexual violence I had experienced; it made me uncomfortable to think about because I didn't think there was anything constructive I could do with those memories except feel bad about them.
Now I can look back and see that while I may have been precocious in some ways, I was incredibly naive and vulnerable in other ways. In the process, I not only forgave those who hurt me but I ended up, quite unexpectedly, forgiving myself as well.
You were absolutely on death's door for a few years, and squeaked through in time for new medications to save you. And you were outright defiant about showing the Karposi's Sarcoma (KS) lesions that covered your body during that time.
I think if more of my identity and self-worth had been found in my body I might have been more likely to pursue cosmetic treatments for the KS. And the objectification of bodies is practically in the DNA of gay culture. Even as I began to accept my own body, it was within a context that clearly told me the body I had wasn't a gay ideal. I'm skinny, have no chest and am not especially athletic.
On the other hand, not conforming to that ideal, not being as invested in it, made it perhaps a bit easier when my body become so obviously ravaged by AIDS and, especially, Kaposi's Sarcoma. Less of my self-identity was in my body, so its decline didn't degrade my self-worth as much as it might have for others.
I didn't treat the visible KS lesions because I knew there were no treatments that would slow their growth and I already spent too much time in doctors offices. That was almost unimaginable to many people who were horrified that I had visible lesions and took no steps to even disguise them with makeup.
I make the mistake of assuming people know that AIDS advocacy changed the entire patient/physician dynamic, or that our response to what we endured will forever be remembered. Obviously that isn't necessarily so, and why books like yours are important.
There is an understanding that AIDS has been different, in many ways, and has had a profound impact on the culture, society, the healthcare system, drug development and approval processes, even geopolitics. I don't think it is widely understood how different the epidemic might have been had it not been for the self-empowerment movement, or how truly radical those early PWA pioneers were.
While ACT UP has been an important part of my life and advocacy, so too has the advocacy that precedes ACT UP, that set the stage for our movement. That earliest history hasn't been as well studied or understood and I tried to give some attention to those years in Body Counts. Randy Shilts' And the Band Played On provide an important and detailed view of the early years from his vantage point in San Francisco; the story from those years in New York hasn't been nearly as thoroughly explored. Also, And the Band Played On was written before ACT UP came on the scene.
When you first arrived at the offices of a coalition of people with AIDS, you write about having found a place you belonged, at last, even after having begun a business career and worked in politics. What about it struck you so deeply?
Total solidarity. I felt so welcome and safe that it enabled me to overcome the fear of stigma. That's what I've tried to do for others ever since.
What are the greatest threats to people living with HIV today, or at least to the kind of empowerment groups for us that have been so important to you?
Lack of respect for the principle of patient autonomy. This is happening across the board, as public health becomes militarized, disease securitized and treatments more complex and costly. The concept of the physician as a healer, providing individualized treatment, has too often given way to the physician as an extension of and agent of the state and the pharmaceutical industry, treating populations instead of individuals.
You are known to be skeptical of pharma and caution that medication side effects are too often ignored. Some people might find that ironic, given that new medications saved your life. Is that fair?
I think skepticism about pharma, when it was pharmaceutical treatments that saved my life, isn't ironic but common sense. Anti-retrovirals, like many medicines, are powerful treatments. Anything very powerful can be used in a negative or positive way; the more powerful the more important it is to be careful, cautious and skeptical.
Skepticism saved my life. Had I not been so skeptical, I would have taken more treatments that, in hindsight, we now know would have hurt me more than helped me. I am alive because I was lucky or smart or skeptical enough to refuse pharmaceutical treatments at one point, when they were strongly recommended to me by the medical establishment, as well as because they were available to me and I took them at another point, when I needed them.
The irony isn't found in me. The irony is that a healthcare system that purports to heal and a scientific establishment that purports to be interested in discovery has so often refused to listen to or learn from those living with the disease. Had our voices been valued more highly, the epidemic would never have gotten as big as it has.
I'm a little surprised that your book is the first memoir by a major imprint about those early years in New York City and the early ACT UP era. What do you make of the recent interest on film about AIDS in the 1980's, such as How to Survive a Plague and Dallas Buyers Club?
Enough time has past since the worst years that those who survived can reflect with greater objectivity. Many survivors feel compelled to remember the dead and bear witness to what we experienced. That has become a sense of obligation, even a compulsion, for many of us, particularly as we age and realize there are fewer and fewer of us around to speak first-hand about those years.
For many it is a delayed grieving; when friends were dying so fast and in such great numbers it wasn't possible to fully grieve them. But we filed away that pain, to process later. Now it is later.
The explosion in cultural production in the last few years, the films you mention as well as books and exhibitions, is somewhat analogous to the cultural production following the Holocaust. Not so much in the 40's and 50's, but by the early 60's it had started to grow dramatically. Yet 15 or 20 years past the worst of those days, the memories and words and testimonials start to come forth.
But even Dallas Buyers Club and other works of art haven't done well with their bottom line. We might be taking a look back, but it isn't exactly a highly commercial enterprise, is it?
No, it isn't, to many people anything about AIDS is such a downer they aren't interested. Many gay men have created lives that have protected them, emotionally, from the pain of the epidemic and they don't want to be reminded of it.
But I'm not sure we would be in any better position in terms of addressing the epidemic if the books and films about its earlier years were enormously profitable. There is an historical record that, in time, will be vastly more important than how many copies or tickets are sold today.
Body Counts seemingly has everything, from Washington politics to brushes with celebrity to your own sex life, and the book had major endorsements. I will admit I thought it would be a bestseller, and rightfully so. Or at least it should have been.
I suspect every author wishes their book sold better and I'm no exception. But while I didn't make the NY Times bestseller list, Body Counts has gotten excellent reviews — almost across the board — and hundreds of people who read it have contacted me with appreciative comments, which is cool.
The publisher early on told me she expected the book to have a long sale and she has been proven correct. It is getting assigned in college coursework and continues to sell, even though it has been a year since the original publication date.
College kids are studying your book? That has to be gratifying, and it sounds like the perfect use for your account of this history.
Yeah, that's cool, isn't it? I spoke at a dozen colleges and universities last year and found student audiences to be engaged, stimulating and helpful for keeping my own thinking fresh.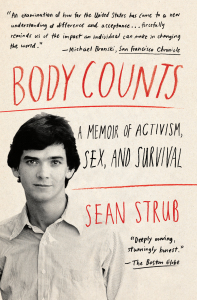 The cover artwork and even the subtitle of the book were changed for the paperback. Why?
The hardcover has a picture of me kissing Michael Misove, my partner who died in 1988 and the subtitle was "A Memoir of Politics, Sex, AIDS and Survival." For the paperback, the photograph was changed to one of a young and cute me looking directly at the camera. The thought was that the picture of Michael and me, while very sweet, may imply the book is about that one relationship between these two men and if someone wasn't interested in that they may pass on the book. The picture of just me alone wouldn't be so narrow.
The subtitle for the paperback was changed to "A Memoir of Politics, Activism and Survival" in the belief that the word "AIDS" may turn off some buyers. That was weird, but I think probably true. My point was and remains to get as many people to read the book as possible, so I was supportive of any change that would help achieve that goal.
So what next for you? I know you've been doing a book tour and events.
I want to continue working to help people with HIV find greater agency and empowerment, particularly through support of and strengthening of networks of people with HIV. In time, I think the self-empowerment advocacy will start to blur the lines of specific distinctions between diseases and conditions; it will be about a broader movement to take back healthcare and choices about our health and bodies from the corporate grip that has been so damaging to the lives and health of many.
I'm increasingly aware of the march of time. Is it too soon to ask how you want to be remembered?
There's no question but that time becomes more precious as one ages and for those of us, like you and me, who have been lucky to survive when so many of our peers did not, it only makes that sense more intense.
It is peculiar to think about how one would like to be remembered because, first of all, no one wants to be remembered for spending much time thinking about how they would like to be remembered. What is important is what I am doing today and if I'm doing that well, it won't matter how I'm remembered.
I think I'm going to start this piece by telling people about your kindness to me after my breakup. Would that embarrass you?
I'm beyond embarrassment, I think. And I could not be more proud of our friendship.
(Thanks for reading, my friends, and please be well. — Mark)
Tags: Aging, aids, criminalization, culture, gay, help others, hiv, politics, recovery, Sexuality
Posted in Book Review, Family and Friends, Gay Life, Living with HIV/AIDS, Meth and Recovery, My Fabulous Disease, Prevention and Policy | 5 Comments »