Posts Tagged 'hiv'
Tuesday, July 29th, 2014
The AIDS2014 International AIDS Conference in Melbourne, Australia, proved to be as colorful and exhausting as I had anticipated. There was no lack of images in the gorgeous city to share in my daily video blogs, and that included the faces of countless advocates from around the world.
My deep thanks to my friends at TheBody.com, who sent me to the conference and for whom I created exclusive content of the event. My Fabulous Disease was born on their site and it is a real gift to continue a collaboration that spans nearly twenty years.
My gratitude, too, to my new Aussie mates at Living Positive Victoria, an impressively active and engaged organization of people living with HIV/AIDS. They welcomed me warmly and were indispensable in providing guidance and access to a multitude of events.
Follow the links below to view each video at its home on TheBodyPro. Here's a breakdown of each video episode and a little background on each.
Video #1: At MSM Global Forum, the Shock of Tragedy and the Road Forward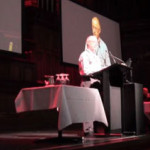 No one could have foreseen that the conference would begin in tragedy, as news of the crash of Malaysia flight MH17 circulated among delegates just as we arrived in Melbourne. Initial reports that more than 100 delegates had perished proved to be untrue, but the sting of loss was deeply felt nonetheless. At the pre-conference event sponsored by The Global Forum on MSM and HIV (MSMGF), emotions were high as prepared remarks were tossed in order to deal with the unthinkable events.
My own preparations for the day were jostled as well, because I knew my usual lighthearted reporting had no place among the broken hearts in the hall. I focused instead on the impact of the tragedy and how MSMGF had dealt with the events in the previous hours. And then, as we have come to know so well in the last 30 years, we soldiered on in memory of those no longer with us. A difficult day, even with the inspiring work that was presented.
Video #2: Criminal and Mannequins, Both Fighting HIV Stigma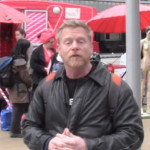 The next pre-conference event, Beyond Blame, focused on the international issue of HIV criminalization. I have covered this topic before as it relates to the United States but it was awesome to see the international community at least as engaged as we are. Expert Edwin Bernard weighed in on breaking news from the US, while the inspiring Laurel Sprague puts the issue in context of women and power struggles.
Strolling the streets of Melbourne revealed a city very engaged in the conference, with bus signs and art installations everywhere. Wait until you meet Madam Kim of Positively Fabulous, who has funneled her "obsessive behaviors" into a hot pink avalanche of awareness and art that shines a light on women and HIV. You'll also see reminders that the plane tragedy was still very much on the minds of the conference and the still-mourning city.
Video #3: The Global March and Candlelight Vigil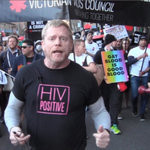 Always one of my favorite events of the international conference, this video drops you smack in the middle of the march and allows the passionate advocates to tell you exactly why they are there. It's the first time in my video coverage you get to meet so many of the international delegates face-to-face, and they do not disappoint. You'll be cheering for them!
The Candlelight Vigil following the march took place in one of the most gorgeous pavilions I have ever seen, in downtown Melbourne. Because of my own issues with grief and loss – I'm one of those people that is afraid that if I start crying I may never stop – I reached out to delegate and psychotherapist David Fawcett about the nature of grief and why it is important to express these feelings as a community. His insight provided the perfect context to my footage of hundreds of people who had come to mourn the loss of so many over the years – and those who perished in the plane tragedy only days earlier.
Video #4: One World, One Place, Thousands of Voices: The Awesome Advocates of AIDS2014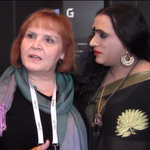 With countless global advocates convening in Melbourne, there is no shortage of impassioned voices. I realized soon enough that they needed little prompting from me, so I simply turned the camera on them and let them go for it. The result is a montage of voices, ringing out against all the ism's of our modern world when it comes to HIV.
My new friend from Nigeria, who risks a decade in jail simply for providing services to gay men, sounded a truth that still rings in my ears. "We cannot let them die simply because of who they love," he told me simply. Watching him celebrate at a dance party a few days later, in the safe company of his fellow delegates, told me everything about the resilience of our basic humanity, and how stubborn a thing like joy can be.
Video #5: Activist Theater, Condom Tryouts, and a Mystery Man Revealed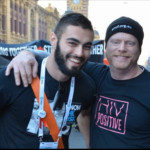 There's no way I can produce these video blogs alone. It's true that I operate on little sleep because after a full day of events I repair to my room to begin editing, a process that takes most of the night. But getting that footage in the first place means depending upon a camera man and assistant that shadows me day and night, maintains the schedule, and generally keeps me sane and laughs at my jokes.
Through Living Positive Victoria I found my professional dream date: Theodore, an Aussie from Sydney that had the perfect blend of patience, organization and good humor. He also happens to stop traffic with a towering physical presence and a smile that melts everyone, gay and straight, in his path. "Your camera man is so hot" became a running joke of the week.
Fortunately, I got to know the very heart of the man, and I'm much better for it. In this video, which takes you behind the scenes of theater being performed about HIV in Melbourne among other gems, I turned the tables on Theo and surprised him by getting him on camera for a change. You're welcome.
Thank you, my friends, for the privilege of bringing the sights and sounds of AIDS2014 to you. I am deeply grateful for the opportunity, and hope the coverage provides just a glimpse of the spirit of the conference.
As always, thanks for watching, and please be well.
Mark
Tags: aids, barebacking, conferences, criminalization, culture, gay, help others, hiv, Recreation, research, Sexuality
Posted in Family and Friends, Gay Life, Living with HIV/AIDS, Meth and Recovery, My Fabulous Disease, News, Prevention and Policy | 2 Comments »
Sunday, June 29th, 2014
There was no way I could attend a recent conference with Avram Finkelstein, one of the artists behind the iconic SILENCE=DEATH image, and not make him sit down with me and spill all the juicy details about the creation of that image. He agreed, and boy howdy, he did not disappoint (video below).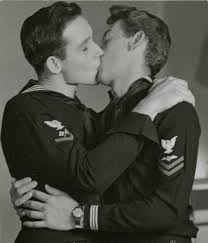 Some of his best stories, in fact, weren't even about the most famous poster for which he is known. As part of an artist collective that met privately during the earliest years of AIDS and then as an adjunct committee of ACT UP New York, Avram was in the middle of the action during an amazingly productive and creative time. You're going to recognize most if not all of the striking social messages they created.
My favorite backstage detail is probably that of the gay pseudo porn star whose image they "acquired" (i.e. stole) from an old magazine. They used the photo for an incredibly successful campaign you will certainly recognize and everything was going swimmingly… until Avram received a startling phone call. What happened next, as the online meme goes, will surprise you and then break your heart.
These images rest in the history books now, but Avram has a fascinating way of keeping these stories exciting and immediate. I can't wait for you to meet him.
Mark
p.s. <sigh> I have now upgraded to a super duper audio system for recording future interviews. Just sayin'.
Tags: aids, culture, gay, hiv, politics, Sexuality
Posted in Living with HIV/AIDS, My Fabulous Disease, Prevention and Policy | 4 Comments »
Monday, June 16th, 2014
Charles Sanchez skips a lot. It is a natural, vivacious skip, an outpouring of unabashed joy that melds the cheerfulness of The Sound of Music with the bliss of the Pharrell Williams "Happy" video. Nothing stands in the way of his delight. Not even life with HIV.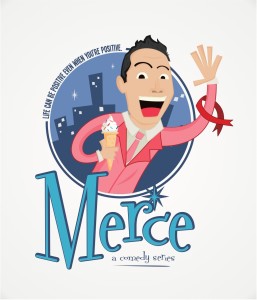 It is that joyful vibrancy that makes Merce, the web series in development by Charles and his production partner Tyne Firmin, feel so refreshing. Considering that characters living with HIV on television are few and far between — or presented as tragic — the project feels, well, almost subversive. And that's exactly why Charles is pursuing his dream of bringing Merce to life.
"There's something brave in Merce as a character," said Charles in an interview. "I think Merce is me, if I had not been so worried about what people thought of me. He's honest and hopeful, and I think that's something people don't always expect in someone who is HIV positive."
Indeed. In a YouTube video, Charles asked people on the streets of New York what their favorite HIV character on television was. The answers, when anything at all came to mind, was decades-old portrayals from cancelled series, or actual people, like Magic Johnson or Mondo Guerra from Project Runway. "The only ongoing television character living with HIV is a Muppet," said Charles. The production team hopes to add another character to the HIV canon that isn't dying or a criminal.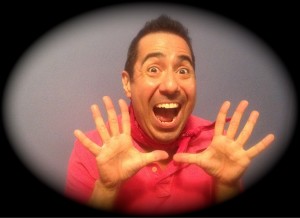 "Usually, you can practically hear the foreboding dum dum DUUUM in the soundtrack when someone discloses," said Charles (left). "Or on Law & Order, they'll find the bottle of AZT in the dead man's medicine cabinet and say, 'well, that explains that.' I think it's time for us to have a conversation about normal life and HIV."
Merce grew from another series created by Charles and Tyne, Manhattan Man-Travels, that revolved around the lives of gay men in New York. Filmed guerilla style using a Flip cam, the series has the low-budget appeal of early John Waters. "Our only budget was for apple fritters," said Charles. "We love apple fritters."
For Merce, the producers are using an IndieGoGo campaign to raise $15,000 for costumes, better camera equipment, and higher production values overall (tax deductible donations for as little as ten dollars can be made to the campaign until July 4th, which is administered through the non-profit arts organization Fractured Atlas).
As with most comedy, Merce grew from something more serious. In a video explanation of his own life with HIV, Charles recalls one of his first jobs in New York as an actor in 1987 — playing the part of AIDS Related Complex (ARC) in Attack of the Killer Virus, a musical geared to educating youth about the new disease. Before long, it was Charles himself who would be discovered by his roommate, sick and unconscious, in their apartment. His AIDS diagnosis brought a new urgency to his art and how best to use it to educate and inform.
Having survived that, and the love Charles has for musical theater, might help explain the skipping. "I'm a pretty happy and optimistic person, and I wanted Merce to have that in abundance," Charles said. "I'm creating a show with a main character who doesn't let his HIV define him or keep him from all the joys of life. Merce makes a lot of mistakes, but he celebrates life. Why not grin and laugh at life? Life is hilarious."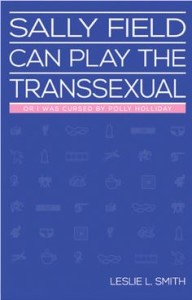 While television may still be grappling with how to portray HIV in contemporary life, literary fiction remains a few steps ahead. In his challenging, sometimes frustrating new novel, Sally Field Can Play the Transsexual, author Leslie L. Smith asks us to examine the nature of modern gay sexual behaviors. Do we engage in unprotected sex out of defiance, grief, pleasure, or pathology?
There is much to consider in Smith's story of David Matthews, an entitled gay escort engaged primarily in his own self-interest. When a benefactor wills David riches and asks him to pay it forward, the immature hooker begins a quest to reconcile his small-town upbringing with the numbed pleasure-seeking of his vocation.
Anyone who escaped home to pursue gay life elsewhere will relate to that journey, but the central device of the novel — the ghost of the rich man appears to David and sticks around to provide vague counsel or witty bon mots — reads like a uneasy grafting of gay sexual politics and the movie Ghost. The infusion of farce into an otherwise thoughtful reflection on what it means to be a responsible gay man today is jarring.
That's a shame, because there are scenes in this book that go straight to the heart of our common experience navigating sex in the age of HIV. During a visit to his Arkansas home town set a few years ago, David hooks up with a local hottie and they fall into bed together. The reaction of his conquest when David attempts to forgo a condom is heartbreaking. "I've heard of people doing this," the hottie says plaintively as he ends their encounter, "but I didn't think it was true." Even today, in a time of PrEP and undetectable viral loads, the simplicity of the statement will have gay men everywhere reflecting on their choices.
Bringing important discussions to life is why Leslie L. Smith should keep writing. His ear for the here and now is acute and authentic. He just doesn't need spectral accoutrements.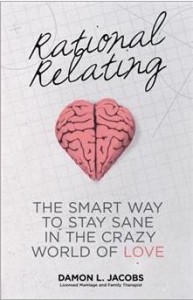 Navigating relationships is also on the mind of Damon L. Jacobs, a New York based gay therapist who provides clear, helpful advice to couples in his book, Rational Relating. Although the guide is meant for couples of every stripe, Damon thoughtfully includes plenty of tips for gay men in particular.
His advice is deceptively simple and easy to apply to our lives. His "five pillars" of integrity, communication, compassion, responsibility, and compromise are all examined through his work with various couples and the challenges they face in building a life together. The book is meant as a resource that couples might draw upon, and the result is a helpful tool that can benefit anyone.
Damon is widely known for his advocacy around Pre-exposure prophylaxis (PrEP), but that's not his purpose in Rational Relating. It is nice to see, though, that what makes him a strong advocate is grounded in his professional experience helping people find integrity and meaning in their personal relationships.
Mark
Tags: acting, aids, barebacking, culture, gay, hiv, Recreation, Sexuality
Posted in Gay Life, Living with HIV/AIDS, My Fabulous Disease | No Comments »
Wednesday, June 11th, 2014
The most powerful speaker at the recent "HIV is Not a Crime" conference was a man named Kerry Thomas. He held the crowd of more than 150 advocates spellbound for a full twenty minutes. And he never even took the stage.
When one of the conference organizers, Reed Vreeland, stepped forward to introduce the next speaker during the opening night program, the energized audience had already heard a few stories of both injustice and inspiration. Everywhere in the United States, people living with HIV are being sent to jail for little more than their HIV status alone. But Reed had something else entirely to present.
"Kerry Thomas was prosecuted of not disclosing his HIV status to someone," Reed began. Everyone knew that prosecutions for that crime are too often a matter of he/she said. How do you prove a private conversation? "Kerry also had an undetectable viral load," Reed went on, "and he protected his partner by using a condom. No one was infected, and no one could have been. Kerry won't get out of jail until the year 2038. Fortunately, we have him with us here this evening."
And with that, Reed lifted his cell phone to the podium, and the strong, clear voice of Kerry Thomas, six years into his sentence at Idaho Correctional Facility, began to speak.
"Thank you, thank you for gathering to discuss this issue," he said, and the stunned silence of the room was deafening. No one could begin to imagine what the man on the other end of the line must be going through.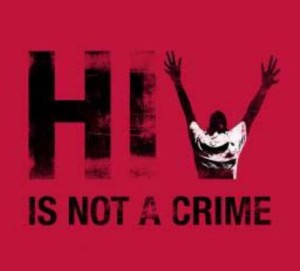 Kerry spoke of life behind bars, of his love for his family, of the prosecution led by people who didn't believe he should be having sex at all. Then, he encouraged everyone in the room to work as hard as they could on reforming HIV criminalization laws, so that no one would have to go through the nightmare he was experiencing. He remained upbeat and gracious throughout.
The officials at the correctional facility who made it possible for Kerry to speak on the phone were thanked, and then Reed said some final words to Kerry. "Thank you for speaking to us," Reed said.
The crowd swallowed the lump in their throats and came to life, beginning to applaud Kerry, and then to cheer, and it soon became an emotional outpouring of love and sadness and support that shook the auditorium.
"The room is applauding you," Reed said into the phone. "Can you hear that?" How Reed kept his composure during the heartbreaking, inspiring moment was itself a considerable feat. Kerry's response was drowned out by the thunderous ovation, so Reed continued relaying what he was witnessing from the stage.
"They are standing for you, Kerry," he said calmly, as the ovation grew. "They are standing and applauding for you. They want you to know how much they support you."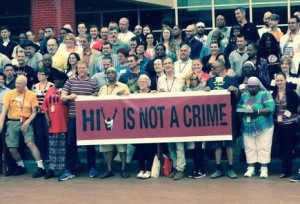 The moment was singular, no doubt, but only one of a number of moving moments in three days of advocacy work. And the conference was definitely work, as advocates from around the country met to strategize how best to reform State laws that have little regard for the modern realities of HIV. In fact, there are people serving sentences right now for "exposing" others to HIV for actions that defy science as we know it, such as biting or spitting.
This video review of the conference will introduce you to the issue of HIV criminalization, the advocates fighting it, and some of those who have served jail time under the statutes.
Thanks for watching, please be well, and consider how precious your freedom is today. Many of us could be suffering the unjust fate of Kerry Thomas, the man who brought a national conference to a stunned, emotional halt.
Mark
————————————————–
For more information, please check out The SERO Project, the Positive Justice Project, or the international efforts of the HIV Justice Network.
Tags: criminalization, gay, hiv, politics, Sexuality, testing
Posted in Living with HIV/AIDS, My Fabulous Disease, News, Prevention and Policy | 3 Comments »
Wednesday, April 23rd, 2014
"Talk to me like you talk to your friends when no one is around."
That was my only request when I sat down with each of four HIV negative gay men to create a short film about their lives and attitudes (video below).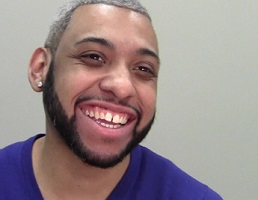 They held back nothing, sharing details of their sex lives, their fears of becoming infected, and, perhaps most surprising, what they really think of HIV positive guys. I couldn't believe their candor, and have worked to distill two days of explicit conversations into ten minutes of brutal honesty (the language is sometimes NSFW).
They don't speak for every gay man, only for themselves, and the differences of opinion between them is really striking. It really is a snapshot of what it means to be a negative and sexually active gay man these days. No matter which of these men you might relate to the most, there's no doubt they are all just trying to carve out a satisfying sexual existence during a pretty confusing time.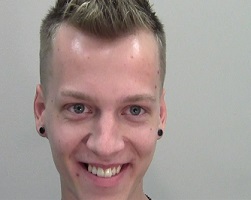 I couldn't help thinking of The Golden Girls when I was editing, because all the archetypes are here: the reserved one, the sensible one, the endearing one, the man-eater. Just saying this makes me guilty of the very thing the video is meant to address: how easily we label ourselves and others, and how we try to assign the same perspective to entire groups of people.
I deliberately produced this without any particular context. No one is presented as right or wrong. It is meant to provide a forum for these men to speak their truth without interruption — and perhaps help us see them as men stumbling through life as we all are, trying to make the best decisions they can with the information they have. I refuse to judge them for that.
If there is anything to be learned from this video, it is that there is no monolithic "HIV negative perspective." Gay men are far too diverse for that. That's a lesson our community seems to have to learn over and over again.
Mark
Tags: barebacking, culture, hiv, serosorting, Sexuality, testing
Posted in Family and Friends, Gay Life, My Fabulous Disease, News, Prevention and Policy | 24 Comments »
Wednesday, April 2nd, 2014
Maybe we should blame the criminal prosecutions of people with HIV on the mythical legend of Gaetan Dugas, also known by his slanderous nickname, Patient Zero. Dugas was a gay flight attendant from Canada who, according to Randy Shilts' 1987 book And the Band Played On, was among the first people with HIV in the United States.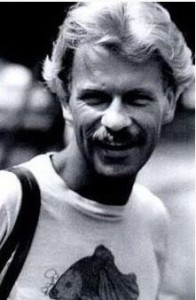 As the story goes, energetic Dugas (right) spent lots of time in the very early 1980′s getting laid in practically every city with an airport, even after learning he had the mysterious new "gay cancer." He wanted to go out with a bang, the book claimed, and he didn't particularly care who he might infect in the process. The book repeated rumors that after sex with bath house tricks Dugas would point out his skin lesions and then announce, "now you have it."
Except the story isn't true. Two years ago, Shilts' former editor admitted the book needed a "literary device" and had encouraged Shilts to create the epidemic's first "AIDS monster." The scandalous sex life of Gaetan Dugas fit the bill nicely. Dugas died in 1984, never having the opportunity to answer his accusers regarding his alleged behaviors.
Instead of placing responsibility with everyone having sex, the book painted people with HIV as suicide bombers. The damage, to the truth and to the public image of people with AIDS, still reverberates today.
Laws exist in more than 30 States that criminalize people with HIV for not disclosing their status to sexual partners. Even where there are no HIV-specific laws, charges range from assault to attempted murder to bioterrorism. It should be noted that the vast majority of prosecutions do not involve the transmission of HIV. Often, the person charged used a condom, had an undetectable viral load, or engaged in sexual behavior that could not have infected their partner.
Anyone with HIV and a pissed off ex-lover should feel worried, since these cases often become a matter of whom you believe. Prosecutors and unfriendly juries are often shocked that people with HIV are having sex at all. They couldn't care less about condoms or undetectable viral loads. They just want people who don't disclose their status to face serious charges.
A lot of people see this as righteous and are taking the bait. Many of us know someone infected by a sex partner who lied about their status, and we want that jerk to pay for it. This sense of vengeance plays into the hands of a conservative legal system that is more than happy to send some diseased fags to jail. For a really long time. Regardless of the actual harm inflicted.
This issue is a real mine field of emotion, justice, science, and payback. Fortunately, an upcoming event will bring together advocates, legal experts and people living with HIV to discuss criminalization and map out a strategy to address it.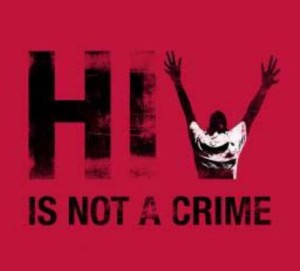 "HIV is Not a Crime" is the first national conference on HIV criminalization.  It will be held on June 2-5, 2014, in Grinnell, Iowa.  Yes, Iowa. Some of the most effective activism around this issue is happening there, where State legislators are actually re-thinking their own laws and health policies as a result of smart advocacy and education. I urge you to alert your local HIV advocates about this important event.
Regardless of your views on criminalization, we can all agree that anyone who intentionally seeks to harm another person should be held accountable for it. That's why we have laws against hurting other people.
But why are there laws on the books specific to HIV non-disclosure? HIV has its very own laws ordering people to disclose if they have it. The same cannot be said for other infectious viruses such as Human Papillomavirus (HPV) or Hepatitis C, which actually kill more people each year. The reason, in the mind of many advocates, is because those viral conditions are not as closely associated with gay sexuality. Or race. Or the disenfranchised. I hope you're getting the picture.
Criminalization is not limited to whether or not someone discloses, even if those scenarios capture our imagination the most. Laws have other ways to punish those with HIV. 
Charges for an unrelated crime can be elevated if the defendant is HIV positive. Prostitution, or spitting at a cop, or punching somebody in the face in a bar, can carry more severe sentences based on the fact the accused is HIV positive.
In other words, defendants are guilty of living with HIV. That should give you real pause.
Surveys conducted by The SERO Project indicate that knowing about the risk of being charged with non-disclosure is an impediment to HIV testing. After witnessing how people with HIV are being treated by the judicial system, getting tested might feel like exposing yourself to potential prosecution.
These prosecutions do not rely upon the context of HIV disclosure, either. "The moral obligation to disclose increases with the degree of risk present," said Sean Strub, founder of The SERO Project and one of the organizers of the Iowa conference, "but the context of the sexual encounter is also a factor.  In the context of a committed relationships, the disclosure obligation is much greater than in a sex club, for example."
The key point here is morality. Disclosing your status is a moral issue, not a criminal one. Even in the worst years of AIDS, when the virus reliably killed you, we called our doctors to start treatment when we got infected. We didn't call the cops. Blaming someone for our own risk behaviors seemed ludicrous. It still does.
You wouldn't know it from news reports, which often feature race-driven cases of predatory men lurking around the countryside infecting the populous. Suicide bombers continue to titillate the media.
Look closely at the stories and you will find that "not disclosing" is usually equated with "intentionally infecting." It's as if sex of any kind on the part of someone with HIV is malicious. One side effect of HIV infection, it would seem, is a pathological bloodlust.
Never forget that these juicy legal stories represent the lives of real people. Sentences amounting to decades are being wielded. The convicted are having to register as sex offenders. In the often confusing landscape of sexual risk and negotiation, the person with HIV is facing grave consequences for decisions often made in the heat of the moment, or simply because they chose to protect their privacy when no risk to their partner existed.
HIV criminalization does nothing to reduce the impact of a new HIV infection.  It doubles it.
Mark
ALSO…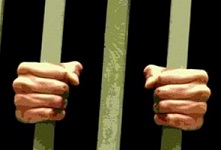 There's a lot of great reporting and blogging about this issue right now, and here's some of the best: Jake Sobo, the always intriguingly transparent blogger behind Promiscuous Gay Nerd, shares the frightening encounter a poz friend had when he visited his local health department and ended up accused of maliciously spreading HIV. HealthlineNews has posted an update on cases in Iowa that involve the very advocates doing such inspiring work there. The Gay and Lesbian Alliance Against Defamation (GLAAD) has made the gutsy choice to post an essay on the media's role in perpetuating ignorance about criminalization (even though many of their usual media outlets refused to run it).  The most comprehensive piece on criminalization, though, could be "Sex, Lies, and HIV," a ProPublica piece recently re-posted by HIVPlus Magazine that examines several of the most high-profile cases.
Tags: aids, criminalization, culture, gay, hiv, politics, Sexuality, testing
Posted in Living with HIV/AIDS, My Fabulous Disease, News, Prevention and Policy | 5 Comments »
Monday, March 24th, 2014
Last night I kissed a straight guy full on the lips. Then he tenderly put his arms around me and kissed me back. Tonight I'm going to do it again.
It sounds like conquest. Or breaking a taboo. At the very least it fulfills the fantasies of many a gay man.
And it makes me wonder why.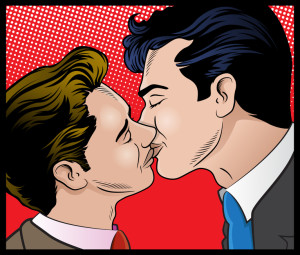 The object of my affections is a man named Travis, and he plays my lover in a play we're performing about a gay couple doomed by drug abuse.
Travis is most certainly straight, judging by the dorm room condition of his dressing area, his raunchy jokes and the effortless masculinity he possesses and that I can only approximate.
At an early rehearsal, long before any kissing would ensue, the director motioned me aside to share some surprising words.
"Let's take our time working up to the kisses," said the director. He lowered his voice a little. "Travis has never kissed a man. He's straight." It sounded like a condition.
And in a way, it was. It immediately colored how I acted around him, on stage and off. The play covers our courtship and as we rehearsed I felt another type of courtship happening. Was he watching me, thinking "that's the guy I have to kiss?" Was I masculine enough? Did he think I was cute? Did he even care if I was attractive or not? Was he disgusted at the thought of touching me?
Obviously he was comfortable enough to take the role. But to be honest, he was nervous and it showed. I finally got the nerve to say something about it during a break.
"So Travis," I began. "You're straight and you've never kissed a guy I hear."
"Yeah, yeah," he said. "Sorry about that." He was actually apologizing for being straight, and I felt like doing the same thing for being gay. "I guess it's an issue for me but I'll get more comfortable. I did a nude scene with a gay guy before, but I wasn't playing gay and we didn't kiss or anything."
This man was on stage naked and found it easier than kissing a guy? I would French kiss the entire cast and crew of "Ugly Betty" before you would find me dangling uncovered on stage.
Bringing it up helped immensely. We not only joked about his "condition," but we also discussed mine: HIV. It allowed me to engage in some basic HIV prevention education with someone who might not otherwise get candid answers to his concerns. Yes, he knew you couldn't get it from kissing, but hearing it definitively made him more at ease.
We made a deal that we would start kissing when we no longer needed to hold scripts, and when that time came, I didn't hesitate. And bless him, neither did he.
It was a brief, perfectly ordinary kiss. And it was done.
Once the occasion had passed I think we both realized it was much ado about nothing. But it got me thinking about why the fact he is straight made the idea of kissing him somehow more exciting. Why? It may be as simple as wanting what you can not have. And that's a common desire.
It's the other implications that bother me. Do I see a straight man as innately more appealing than myself? As "better," as a more authentic specimen of Man? That would suggest I think of myself as less than ideal because of my sexuality.
Whatever the reasons, it's not the only preconceived ideas I had about my straight co-star. I questioned if he could pull off the gay thing. Or would something, like his macho pride or his clueless heterosexuality, prevent his performance from being "authentic?"
But something happens every performance that surprises me and shames my prejudices. This lumbering straight dude who bristles when I call him "sweetheart" offstage becomes a giving, affectionate lover onstage. His eyes smile at me. He pulls me closer in our bedroom scene. He shows a sensitive, willing and playful vulnerability.
It has been an enlightening experience. I now realize how little faith I had in his talent, much less his humanity. I'm not alone. Half the cast is gay, and almost all of us play multiple roles in various sexual combinations. Between our sincere desire to understand our characters and getting to know each other, the backstage chatter runs somewhere between Dr. Phil and Jerry Springer.
We've all learned a lot. I learned that if something got in the way of portraying a gay couple on stage, it wasn't the straight man's phobias.
It was mine.
Mark
This piece originally appeared on my blog in October of 2011, but now I am ready to unmask my straight co-star! He is none other than the talented Travis Young, who has gone on to an exciting career as a television actor (he's a regular on the new Resurrection). You can check out his Facebook page here. As for me, well, I'm still gay. — Mark
PLUS…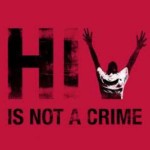 It remains the defining HIV issue of our time: HIV criminalization, or people with HIV being arrested and prosecuted for not disclosing their status to sex partners, for instance. This is a very real thing, folks. Rather than an actual public health service, prosecutions seemed to be based on a belief that people with HIV shouldn't be having sex at all, and they usually ignore the actual risks involved (judges and juries don't seem to care if condoms were used, or even if anyone was infected or not). Some of the most exciting advocacy around this issue is being led by advocates in Iowa (yes, Iowa), so it's fitting that the first national "HIV is Not a Crime" conference on criminalization will take place there. I urge you to look into this issue, and the best place to start would be the web site for The Sero Project.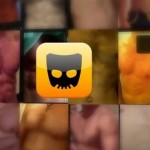 My occasional health-related items for the pop culture site Queerty (possibly the most trafficked site for younger gay men) have been fun and challenging. Mostly, I'm intimidated writing in a "young, snappy" style that might appeal to their audience, especially since I'd rather just go lie down. So far my pieces have included explaining the new "undetectable" study; the role of meth and the health of people with HIV; and how at least one health department is joining the cruisers on Grindr. I'm really grateful for the opportunity to reach this audience and will keep on trying not to let my age show.
Tags: acting, criminalization, culture, gay, hiv, recovery, Recreation, Sexuality
Posted in Anita Mann and Acting Gigs, Gay Life, My Fabulous Disease, News | 1 Comment »
Monday, February 17th, 2014
"Remember when Billy Perry gave you a black eye?" David asked me. He stood on a ladder with a screwdriver in his hand.  I was holding up Mom's new light fixture while David attached it to the ceiling. We took on the project during a visit I made back home a few weeks ago.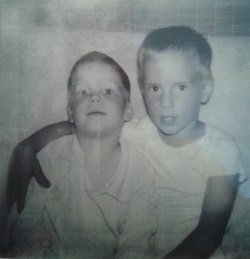 "Of course I remember, David." My response had the weary, patronizing tone I reserve for my older brother.
I've been speaking to him that way since  we were kids, I suppose. The strategy is to act like I'm completely bored with him so, if he tries to make fun of me, it will look like I don't care. I always thought I needed the mechanism, since I came of age as a pimply-faced pansy who was an easy target. That, as opposed to David, who was only one year older and a blond, blue-eyed star athlete. No one ever believed we were brothers.
"So what do you remember, then?" he asked.
I rolled my eyes. "I was eight or nine," I began. "Billy and I were goofing around in the back yard, and I pissed him off somehow and he punched me right in the eye." My arms were getting tired from holding up the fixture and I shifted my feet.
"That's all?" he asked, still focused on his work. "Stop moving."
"Pretty much. I went inside and I was upset –"
"You were crying, man," he corrected. He laughed under his breath.
"I was very upset. Mom was getting me ice and stuff. So after a while, Billy rang the bell and Mom made me come to the door so he could give some fake apology. Billy's mom obviously made him do it. I'm sure he loved seeing how bad my black eye looked."
"And that's all you remember? Seriously?"
I wasn't enjoying reminiscing about Billy Perry. "Yes, David. That's all that happened."
"No, it's not," he said, and he stopped his work to look down at me. "You walked in the house. You were crying. I asked who hit you and you said Billy. So I left and found him down the block and I kicked his ass."
David watched my jaw drop. "Billy's mother didn't tell him to apologize, Mark," he added. "I did."
"Oh c'mon, no way," I replied, a little weakly, feeling something like frustration. How could I not have known this? And besides, this was my black eye story. I'm the one who got punched.
"Hold the light up higher," David said, and he tugged on the fixture. "Do you even know how many times you would have been beaten up if it wasn't for me?"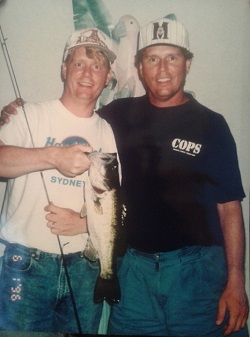 Recasting David as my protector seemed ludicrous. He was frustrated all the time when we were growing up, unsure how to handle a brother who wasn't the companion he might have expected. I loved Broadway musical albums. He loved the noisy drum set that dominated our shared bedroom.
And yet, the most antipathy he could muster was to ridicule me as I made my way through the confusion of gay adolescence. I resented his effortless masculinity and the fact I had to watch this annoyingly handsome straight dude grow up right beside me, reminding me on a daily basis of all I would never be.
My shoulders ached from holding up the fixture but now I barely noticed, too busy trying to get a handle on a lifelong resentment that suddenly wasn't holding up under close scrutiny.
Brothers fight. But I only got one black eye in my whole life. And it wasn't from David.
"What do you mean I would have gotten beaten up?" I asked him, finally. "I was so gay those guys were scared to get near me. I freaked them out too much." I honestly believed that my late 1970′s fashion choices of jumpsuits, platforms and elaborate jewelry kept the straight boys of Bossier City, Louisiana too off balance to bash my face in.
"Mark, I had guys on my football team who wanted to crush you," David said. "All the time. But they knew I would never let them. That's how you made it out of high school alive."
He finished with the installation and stepped down. I finally let go of the fixture and shook the numbness from my arms.
David was changing the narrative of my adolescence and I didn't like it.  I wanted to count him among the high school jocks and hayseeds who taunted me. Those  bullies are gone, lost to time or floating around in alumni Facebook groups that I never join. David remains, so he became the default stand-in for the injustices of my youth.
I was sweeping bits of wire and drywall from the room when David spoke up again. "Did you ever think about what it was like for me, Mark? When we were in high school?"
I narrowed my eyes at him, amazed the popular varsity quarterback would dare take any childhood sympathy for himself. "Oh, please, David. Really?" He stood there. "Fine. What was it like for you?" I dripped sarcasm. "How did my struggle coming to terms with my gay identity in a hostile environment affect you, pray tell?"
He considered his words, mentally editing them down to a single remark. "It was just hard, Mark," he said. "That's all."
And somehow, in that moment, my selfishness abated. I allowed the possibility that it could be tough growing up with a gay pride parade float as a brother.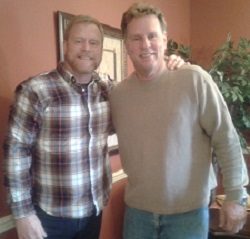 Once you change the lens, other things come into view. Like the openness of David's emotions, and his guilelessness when facing our family tragedies. He was the one who said he could never handle it if Dad died, even as our father's fate was sealed, even as the rest of us had the same thoughts but couldn't express them.
David tells me he loves me, even if I stare back wordlessly. He asks blunt questions.
"Are you going to die?" David had asked in a crackly long distance phone call nearly thirty years ago, when I told the family I was HIV positive. "Are you sure you're not going to die?" he repeated. It was what everyone in the family wanted to know, of course, only no one dared to pose the question. It never occurred to David not to. If I had been able to peer over the wall I had constructed between us, I might have loved him for asking.
We are the storytellers of our own lives. We select the bits and pieces to remember, and the truth fades. It becomes lost in the fog of a thousand years.
Mom returned home to the sight of her two youngest sons standing beside their afternoon installation. While I displayed the fixture like I was a model from The Price is Right, David explained the details of his electrical prowess.
"But I vacuumed," I jumped in. I clicked off my contributions as if they were a checklist for Mom's affections. "I took all the parts out of the box. I cleaned up the mess. I held the light fixture!"
"You didn't need to hold the fixture," David said, and his smile gained wattage. "I just liked seeing you squirm."
I threw up my arms. "What do you mean? It could have fallen on my head!"
"Not a chance," David said. "I was actually holding it up at the ceiling." He punched me in the arm. "I had you the whole time, little brother."
And with casual amusement and affection, David grinned again.
Mark
———————————————————–
PLUS…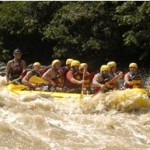 Two upcoming events for people with HIV are selling out fast, and I'm a big fan of both of them.  The 10th Anniversary HIV Cruise Retreat ("The Poz Cruise") will set sail this November 1-8, and special incentives are being offered until the end of February. This is an amazing week of fun and fellowship for people with HIV of all stripes and our allies.  Meanwhile, if you are an HIV positive gay man and in recovery, the 2nd annual Positively Fabulous retreat is being held this April 10-13 and they are nearing their capacity as well. Check the web links for more information!
Tags: Aging, family, gay, hiv
Posted in Family and Friends, Gay Life, Living with HIV/AIDS, My Fabulous Disease | 8 Comments »
Sunday, January 19th, 2014
If you're considering how to best disclose your HIV positive status to everyone you know, here's one suggestion: learn to sew. Television's long-running reality hit Project Runway could be holding a spot just for you.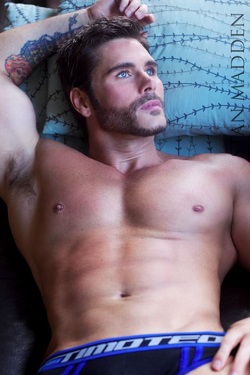 Over the course of a dozen seasons, the fashion competition series has tackled everything from drug addiction to racism to gender reassignment among contestants, and it has hosted more HIV disclosures than any other reality show. The latest addition to the trend is designer Viktor Luna, the contestant who sported the fluttering handheld fan on this year's Project Runway: All Stars.
Exactly how these disclosures have come about over the years is a study in contrasts, as different as the three HIV positive contestants themselves – and the whims of show producers.
In 1998, season four of Project Runway introduced the world to designer Jack Mackenroth (pictured right), the competitive swimmer, model, and all-around sex symbol who had already been living openly with HIV for 17 years. His casual disclosure during an early direct camera interview during his season showed a man comfortable with himself and his status.
"The producers knew I was positive because we fill out a stack of background information," Mackenroth told HIV Plus. "They had my entire medical history, like every other contestant on the show."
Already an HIV advocate at the time, Mackenroth knew the producers would eventually use his HIV as a dramatic device, but "that was fine with me," he said, "because I saw it as an important tool as well, for HIV visibility and as a chance to fight stigma."
That opportunity was lost when fate intervened. Before he could disclose to his fellow contestants on camera, Mackenroth developed a serious infection unrelated to HIV that forced him to withdraw from the show five episodes into the season.
"Tim Gunn sat me down and reassured me," said Mackenroth. "He told me that everything happens for a reason, and in that moment I was like, Yeah, right. I was exhausted and emotional. But the truth is, that show gave me my platform. It worked out great."
It would be years later until an HIV positive contestant would actually disclose their status to the cast on camera, but when it finally happened it brought all the drama and emotion the famously controlling Project Runway producers could ever imagine.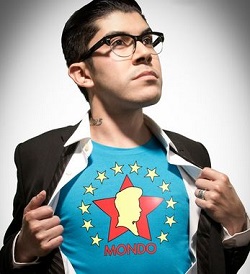 In 2010, season eight of the series included Mondo Guerra (pictured left), an insanely talented young designer who was as guarded as he was endearing. Although one should be mindful that footage is carefully edited to create characters and increase drama, Guerra certainly seemed like an artist with a painful secret or two.
During a challenge to create an original textile, Guerra designed a graphic print with a conspicuous "plus" sign throughout it. In direct camera segments, he revealed that the design reflected his HIV-positive status but otherwise kept his inspiration to himself, having not disclosed to even his own family at that point.
When pressed on the runway later to explain his design, Guerra demurred again. The judges stared in wonder. The music swelled. Filled with nervous emotion, Mondo haltingly revealed his HIV status as the inspiration for his textile. Viewers saw not only his tears but something more: a humble sort of triumph.
"I feel free," Guerra said plainly.
Guerra's disclosure was given generous air time during the episode and was the dramatic centerpiece of the entire season. The moment has been replayed endlessly on YouTube and was shown to a packed ballroom at the 2013 United States Conference on AIDS. It was undeniably inspiring, seemingly spontaneous, and brilliant television.
"Knowing Mondo, I think that happened organically," said Mackenroth. "Of course, everyone is working nonstop, producing a full season in 35 days. When these vulnerable situations come up, we hardly have time to think it through."
"When the judges genuinely wanted to know the story behind my print and design, that felt like the right moment," Guerra told HIV Plus. "So I told them what it really represented and that moment was a turning point in my life."
If Mondo provided the pinnacle of televised disclosures, the current season of Project Runway: All Stars has given us the most curious presentation of The Big Reveal.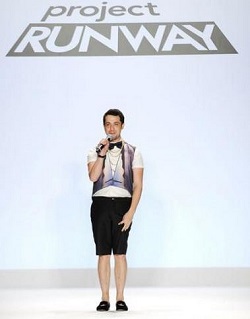 In one episode, designer Viktor Luna (pictured right) and the cast were scampering about, hard at work, and suddenly Luna begins speaking of his great anxiety in voice-over. Something is weighing heavily on him. He takes two designer pals aside and quickly shares his HIV-positive status. His friends say supportive things, they hug, and then they all dash back to their sewing machines as if they'd just had a quick smoke break. Luna's status is never mentioned again.
Luna's disclosure, as edited, felt like an afterthought, as if the producers noticed a lull in the excitement and cued Luna to bring on the drama. Producers might have hoped for something touching, but the hurried editing actually minimized the complicated nature of HIV disclosure. Everything about it felt false.
You know we are living in a more fortunate time when the merits of one televised HIV disclosure over another are being argued.
"Regardless of how it's produced, it's all a win," says Mackenroth. "Whenever this or any show combats stigma, the HIV community benefits from it."
Guerra sees a personal benefit too.
"Personally, it wasn't until I was open about my status that I started to take better care of myself," Mondo told us. "For that reason, I applaud Jack's openness about his status."
Today, Mackenroth continues his advocacy as one of the creators of the HIV=Equal campaign. Guerra has entered the fashion design stratosphere and is a key player in the Project iDesign Campaign, which encourages doctor/patient partnership. Luna wrote about his HIV disclosure on Huffington Post, sharing the details of his HIV journey that were not included in his Project Runway: All Stars episode.
Nothing is assured, in fame or fashion. Project Runway contestants are often struggling designers who leave whatever jobs they have to compete on the show. For any of them to put their personal lives on the line, to take the sometimes frightening step of revealing their HIV status to the world, takes a special kind of courage.
Many people with HIV may not be fashion designers, but they can certainly relate to that.
Mark
(This is a slightly edited version of my essay that originally appeared on the site of HIV Plus Magazine. Jack Mackenroth photo by Stan Madden. Viktor Luna photographed at Mercedes Benz Fashion Week by Fernanda Calfat/Getty Images.)
Tags: aids, culture, gay, hiv, Recreation, Sexuality
Posted in Living with HIV/AIDS, My Fabulous Disease, News | 2 Comments »
Thursday, January 9th, 2014
In the summer of 2013, thousands of subscribers to Nelson Vergel's "PozHealth" listserv received a startling email from the HIV positive fitness and nutrition expert.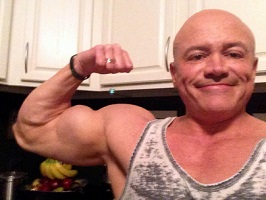 "You are probably wondering why I have been so quiet the last few weeks…" the message began. Vergel, a trained chemical engineer who devoted himself to HIV treatment advocacy after testing positive in 1985, had a troubling explanation for his online absence. A diagnosis of cancer.
"It took me months to come out to the poz group," Vergel said about revealing his diagnosis to his listerv. "It was a struggle for me."
Vergel had begun the group in 1999 when lipodystrophy was a hot topic among people with HIV/AIDS and they needed a place to compare notes, and it has since become the largest treatment information listerv for people living with HIV. It still thrives at a time when the exchange of HIV treatment information among peers has waned.
The success of the group perfectly reflects the dedication of its host, a gay bodybuilder whose own serious struggle with AIDS over the years belies his appearance of physical strength. Group members clearly admire Vergel and see themselves in his medical challenges and triumphs.
So it was with some trepidation that Vergel revealed a new health crisis to the group, one that forced his HIV to the back burner. "I was very concerned that people might panic, not about me, but themselves. I didn't want them to think this applied to them," Vergel said. "I really was more concerned with them projecting my challenge onto themselves."
He had little choice, however. His condition was serious.
In June, Vergel was experiencing stomach problems that doctors initially believed to be ulcers. Then came a diagnosis of H Pilori, a stomach bacteria. Vergel requested an upper GI endoscopy, during which ulcers were found and biopsied. While treatment with antibiotics killed the bacteria, the news from the biopsies was grave: Vergel had a aggressive brand of cancer known as non-Hodgkins lymphoma.
"I was shocked," said Vergel. It wasn't the feeling of impending death he had experienced when he tested HIV positive in 1985, but something more incredulous. "It hit me really hard. I had been preparing for heart attacks, or anal cancers, which I have checked every year. I was controlling those high risk situations. But this…?"
Despite the cruel irony of battling mightily against one disease and then facing another, it didn't take long for Vergel's instincts as a treatment advocate to take hold. "After I got the news, I got into my car and cried a little," he said. "And then, before I called my partner, I got on the phone and did a Google search."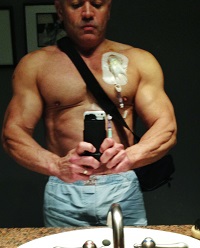 His research confirmed the treatment plan of chemotherapy that his doctor recommended, but he soon discovered that cancer healthcare isn't nearly as accustomed to empowered, involved patients as is the world of HIV.
"I realized how behind oncology is from HIV," Vergel said, "because there are fewer online resources for patients. It felt like early HIV. They don't discuss side effects until they happen to you. I kept finding out things randomly. It made me realize how good we have it in HIV. In oncology all they care about is killing the cancer. But part of the goal should be protecting the patient from side effects."
His treatment as a patient was often the antithesis of what he has advocated for HIV patients for decades. That advocacy, and Vergel's influence in crafting programs to empower HIV patients, is considerable.
Vergel educated himself on HIV pathology and medications after his HIV diagnosis, and became involved in several national health commissions, leading to his founding of the Program for Wellness Restoration in 1994. Because of his interest in physical fitness, he pushed for federal funding for studies of anabolic steroids and promoted results of earlier studies that showed that once you reach 55% of lean body mass, your chances of survival drop precipitously.
He was convinced that resistance training, nutrition and supplements are a key weapon against HIV. His 1998 book, Built to Survive, found a place on the shelf of nearly every gay man who had HIV and a gym membership.
For better or worse, the image of muscled gay men with HIV that emerged in the 1990′s, pumped up from weight training and anabolic steroids, can be directly attributed to the seminal work of Nelson Vergel, who trumpeted the importance of lean body mass in fighting HIV infection and maintaining a healthy immune system.
Unfortunately, his own HIV has been multi-drug resistant, and Vergel is currently on the last available regimen to treat his disease. The clinical expression for patients like him is "treatment failure." Vergel hates the term.
"Being called a failure sends the wrong message to patients," he said. "and I have been trying to change that language in the treatment world. It's demeaning to patients who are adherent."
As his cancer treatment progressed, other differences between his two health crisis emerged.
"A good friend of mine was diagnosed with cancer the week before me. He said, 'I have neighbors cooking for me. Doing my laundry. Isn't it sad that I could never disclose my HIV, but I can disclose this and everyone rushes to help? This is a diagnosis that my community can get behind. Isn't it sad that HIV isn't the same way?'"
The good news is that, unlike Vergel's history with HIV medication, the cancer treatment seems to have worked.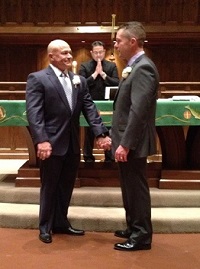 "There is no cancer based on my last biopsy," Vergel said. True to form, Vergel made the decision himself to stop the rounds of chemo early because he was concerned with its effect on his immune system. But he remains vigilant. "You are never cured of cancer. Like HIV, you have to keep an eye on it."
The last six months have been "the most intense of my life," he said, but it has also included signs that life, and joy, can go on. Vergel and his longtime partner were married in Washington, DC, on September 21.
"Always enjoy the moment," Vergel said. And then he adds an observation for those living with HIV. "Apply what you have learned in HIV and take control of your own health, no matter what the diagnosis. Oncologists are not used to seeing patients like us. Long time HIV survivors have many years of experience dealing with the healthcare environment, we have gathered lessons on second opinions, questioning our doctors, we're relatively young and healthy and have learned a lot of skills."
Today, Vergel is again busy posting to his POZHealth listserv, offering advice in TheBody.com's "Ask the Experts" forum, and he just founded a new men's health program, ExcelMale . Even the hair he lost during chemo is growing back.
"I didn't know how resilient I was until I went through this," Vergel says, and then there is a thoughtful pause. "Resilience. I like that word."
Mark
Some of the most popular My Fabulous Disease videos have shown Nelson trying to whip me into shape. "Fitness Stud Nelson Vergel Raids My Fridge" is hilarious and informative, "Hitting the Gym with Fitness Expert Nelson Vergel" benefits from his tight tank top, and "The Hard Facts on Erectile Dysfunction" offers advice on, well, you know (and opens with us in bed together). Check them out!
Tags: aids, culture, help others, hiv, physical, physician, research
Posted in Gay Life, Living with HIV/AIDS, My Fabulous Disease, Prevention and Policy | 6 Comments »