[fusion_builder_container background_color="" background_image="" background_parallax="none" enable_mobile="no" parallax_speed="0.3″ background_repeat="no-repeat" background_position="left top" video_url="" video_aspect_ratio="16:9″ video_webm="" video_mp4="" video_ogv="" video_preview_image="" overlay_color="" video_mute="yes" video_loop="yes" fade="no" border_size="0px" border_color="" border_style="" padding_top="20″ padding_bottom="20″ padding_left="" padding_right="" hundred_percent="no" equal_height_columns="no" hide_on_mobile="no" menu_anchor="" class="" id=""][fusion_builder_row][fusion_builder_column type="1_1″ layout="1_1″ background_position="left top" background_color="" border_size="" border_color="" border_style="solid" spacing="yes" background_image="" background_repeat="no-repeat" padding_top="" padding_right="" padding_bottom="" padding_left="" margin_top="0px" margin_bottom="0px" class="" id="" animation_type="" animation_speed="0.3″ animation_direction="left" hide_on_mobile="no" center_content="no" min_height="none" last="no" hover_type="none" link="" border_position="all"][fusion_text]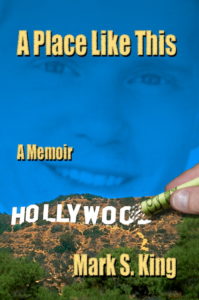 A Memoir by Mark S. King
(Visit the book's Amazon page, read the prologue to the book, or watch a clip from Mark's appearance on "The Price is Right" in 1980).
Once you've won a car on a game show, been an actor, owned a phone sex company, been infected with HIV, slept with a movie icon and developed a drug addiction, you've pretty much done the Hollywood thing…
In this true, first-person account of the 1980's, Los Angeles transforms an all-American boy from an actor in commercials plugging fast food to a gay phone line worker pushing fast sex.
King experiences firsthand nearly every gay social milestone of an astonishing decade — drug use, the phone sex trade, the onset of AIDS, Rock Hudson, assisted suicide, anonymous encounters, the early development of AIDS organizations and activism, Magic Johnson's announcement — and shares his experiences with disarming humor and startling candor.
AIDS eventually converts King's plunge into sex and drugs to an increasing awareness of mortality — and a renewed search for meaning.
To quote the title of Fred Halsted's great porno movie from 1972, LA plays itself in Mark King's pleasing memoir A Place Like This. This is the place where much of America ends up, one way or another, the jumping off point into nowhere; into dreams, schemes, rootlessness, sexual hunting, playing yourself or any number of roles you assume. King talks about his growing up gay in Texas, his coming to LA to "be in the movies" and what that means, his short game show "career;" his running one of the most successful phone sex lines in the US, and his career in cocaine, a profound vocation for much of LA in the 1980s. He is shocked to find that he is HIV positive, and incredibly realistic about what that meant, without a lot of platitudinizing and b.s. King's book is often funny, and is great at the whip-lash changes of mood and energy a young man like himself goes through, presenting someone who acknowledges he is too involved with himself, but desperate to know more.
Perry Brass, author of Carnal Sacraments, A Historical Novel of the Future, and How to Survive Your Own Gay Life.
Mark King knows how to make you laugh till you cry and cry till you laugh. His memoir reminds me of the old Mission Impossible line, "This tape will self-destruct in 30 seconds." Only he's the tape and he never quite destroys himself, though it wasn't from a lack of trying. If you ever doubted that humor can repair what drugs ruined; if you ever doubted that a meaningful life can be created out of meaningless living, then read this book and doubt no more.
Michael Alvear, Manhunt.net columnist and creator of Blabbermash.com
A Place Like This" is at once confession and celebration of the excesses and innocence of the transitional era before and as HIV/AIDS appeared. Mark S. King, with brutal introspection and honesty, nonetheless conjures up a heartwarming story with humor, pathos, and insight. Ultimately it is a story of redemption, as King re-members his circle of friends as well as his truest self — a soul on a quest for a higher purpose and power.
Rev. Chris Glaser, author of "Coming Out as Sacrament" and "Coming Out to God."
[/fusion_text][/fusion_builder_column][/fusion_builder_row][/fusion_builder_container][fusion_builder_container background_color="" background_image="" background_parallax="none" enable_mobile="no" parallax_speed="0.3″ background_repeat="no-repeat" background_position="left top" video_url="" video_aspect_ratio="16:9″ video_webm="" video_mp4="" video_ogv="" video_preview_image="" overlay_color="" video_mute="yes" video_loop="yes" fade="no" border_size="0px" border_color="" border_style="" padding_top="20″ padding_bottom="20″ padding_left="" padding_right="" hundred_percent="no" equal_height_columns="no" hide_on_mobile="no" menu_anchor="" class="" id=""][fusion_builder_row][fusion_builder_column type="1_1″ layout="1_1″ background_position="left top" background_color="" border_size="" border_color="" border_style="solid" spacing="yes" background_image="" background_repeat="no-repeat" padding_top="" padding_right="" padding_bottom="" padding_left="" margin_top="0px" margin_bottom="0px" class="" id="" animation_type="" animation_speed="0.3″ animation_direction="left" hide_on_mobile="no" center_content="no" min_height="none" last="no" hover_type="none" link="" border_position="all"][fusion_code]PCEtLSBCZWdpbiBBZGlmeSB0YWcgZm9yICJMZWFkZXJib2FyZCIgQWQgU3BhY2UgKDcyOHg5MCkgSUQgIzEwMDAwMDQ2NTA2MDcgLS0+DQo8IS0tIEJFR0lOIEpTIFRBRyAtIE15IEZhYnVsb3VzIERpc2Vhc2UgUk9TIDcyOHg5MCA8IC0gRE8gTk9UIE1PRElGWSAtLT4NCjxTQ1JJUFQgU1JDPSJodHRwOi8vdGFnLmdheWFkbmV0d29yay5jb20vdHRqP2lkPTEyNTc1MTgiIFRZUEU9InRleHQvamF2YXNjcmlwdCI+PC9TQ1JJUFQ+DQo8IS0tIEVORCBUQUcgLS0+DQoNCjwhLS0gRW5kIEFkaWZ5IHRhZyBmb3IgIkxlYWRlcmJvYXJkIiBBZCBTcGFjZSAoNzI4eDkwKSBJRCAjMTAwMDAwNDY1MDYwNyAtLT48L2E+[/fusion_code][/fusion_builder_column][/fusion_builder_row][/fusion_builder_container]