Panama City, Florida, with its sugar sand beaches and busy tourist trade, is affectionately considered the Redneck Riviera. Folks from Alabama and its neighbor states make the trip down Highway 231 and straight into the Florida panhandle, breezing through a stretch known as Watermelon Alley, where locals sell fruit and souvenirs along the asphalt in hopes of sidetracking some of the cash the drivers have saved for their weekend adventures.
But, if you were to turn northeast from Panama City, venturing further into what could be accurately called "the sticks," you would eventually come upon the town of Vernon, home to the rustic retreat center Dogwood Acres. And it was here, deep in the woods, that I recently spent a weekend with thirty gay men from rural Florida to talk about gay community and men's health.
The participants taught me a surprising lesson that wasn't about AIDS or the state of gay rights. As deeply felt as those topics are to me, something else, something completely unexpected, came up during our time together. And it made me re-evaluate life choices of mine that go back more than thirty years.
Sponsored by Okaloosa AIDS Support & Informational Services (OASIS) and fashioned from the ManReach retreats in Colorado, the weekend asked us all to examine what (community) meant, and how to find it even when living in rural areas, as these men do.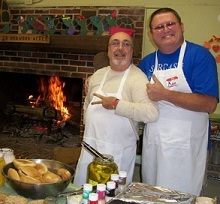 We sat in circles and shared laughs and a few tears. We hiked, ate quiche and slept in cabins of unvarnished plywood. I was invited to the event to lead one of the workshops, and was the only attendee who lives in a large metropolitan area.
I became fascinated by these out, proud, engaged gay men from towns with names like Cottondale and Chipley and Lake City, towns that require several magnifications on Mapquest before you can find them. How could they possibly feel free to be themselves, to be fulfilled, to be happy? Their answers shamed my presumptions.
"I lived in big cities," said Rick, who left one in 1985 to live on a thirty acre ranch in Altha. "I'd been diagnosed with AIDS and was given 18 months to live, and knew I wanted a different life, out of the city. I would have died there if I stayed too long." Rick and his partner grow their own vegetables, care for horses and goats, and dote upon their two pigs, Pork Chop and Lily. "It's a quiet, natural way of life," he says.
David lives in Fort Walton, and offered a simply reply to my question about feeling alone in such a small community. "Isolation can happen anywhere," he said plainly. "I'm open about being gay. I don't hide. It's those that try to hide and are not honest about themselves that people have problems with, if you ask me."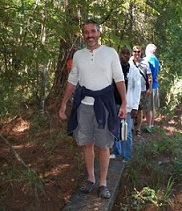 But when explaining their choice to live in small towns, one reason trumped all others. "Family is important," Marcus told me, as if he was surprised anyone could believe otherwise. "Roots are important." Marcus left his hometown of Bascom long enough to attend college in Pensecola, but returned to live on his family's peanut farm.
"This was not some kind of tradeoff for me," Marcus said. Nor was he particularly concerned about his romantic options. "You meet people in other places nearby, larger cities. But having a boyfriend isn't a priority right now. My family will always be."
"I live in my father's house," said Ken, who lives in Wellborn, "and I take care of my mother."
Mother. Family. The words sent a low current of guilt through me, bringing back memories of my last, dramatic days of living at home and how very far away my life has taken me ever since.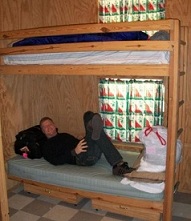 Did I leave Bossier City, Louisiana because of my life ambitions, or did I flee? The truth is a little of both. After a scandalous year of bursting out of the closet during my senior year of high school in 1978, all the gossip about me was wearing on my family. I knew I was causing some embarrassment. Only days after graduation I moved to New Orleans for college, and subsequent moves — Houston, Los Angeles — pushed me further and further away from them.
Maybe I kept a distance, geographic and otherwise, out of some deep shame, as if it would simply be better for all concerned if I stayed away. Or perhaps it was pre-emptive.
I'll leave before you tell me to leave.
Through the years I collected a patchwork of close friends, and I even adopted gay catch phrases like "we choose our own families" because maybe it's true. And then again, maybe I was comforting myself with substitutes.
When I tested HIV positive in the 1980's, the stretches between visits grew even longer. I couldn't bear the thought of household dilemmas — Would they watch which drinking glass I used? Should I hold the baby? — so I decided to sit out those years by visiting less, even if it meant dying a thousand miles from my nearest relative.
But make no mistake about it, my exile was self imposed. Never had anyone in my family rejected me or suggested I wasn't welcome. They received my visits home enthusiastically, and with acceptance and kindness towards whatever boyfriend I brought along.
If anything, my visits were such a happy event that I wondered what my family was like when I wasn't around. Who really got along with each other, who preferred American Idol over Dancing with the Stars, that sort of thing. But when you're visiting from across the country only once a year or so, you don't get a sense of the day by day. No one ever gets annoyed or loses patience with you. And something about that always made me feel a little sad, as if I were company rather than family.
It was the rural gay men at the retreat who gave me a glimpse of what life might have been like, had I stayed. Minus the goats, of course. And the picture they painted looked simply wonderful.
As fate would have it, I left the men's retreat and flew home to Bossier City for a visit. As I write this, Mother is reading the morning paper. One of my brothers has come by to join us for coffee. I've tried to be good about loading the dishwasher and doing chores to keep Mom off her feet.
When I presented Mother with my theory about having abandoned family in order to follow my gay destiny, she dismissed it with a smile. "You had places to go," she said, "and everyone has a life to lead." It never occurred to her that her love couldn't travel whatever miles lay between us.
I haven't started to annoy her at all, unfortunately. But I do know who she wants to win the mirror ball trophy on Dancing with the Stars.
Mark
Comments