This is a rather personal blog video, there's no doubt about that. I'm even a little apprehensive because it doesn't offer the usual helpful tips or the "entertainment value" of my other videos. But one of my problems has always been trying to be the life of the party when I'm not feeling it. So please allow me to offer you a different Mark than you might be used to, unplugged and exposed.
The last few weeks have been tough, I won't lie to you. My nine-year relationship came to an end, and I've found myself feeling some self pity and fear " that is, when I slow down long enough to catch up with my own emotions.
My schedule has been fast and furious, and now things are even busier as I make plans related to the breakup. In January, I will return to my beloved Atlanta, where a strong support network of friends awaits me with open arms.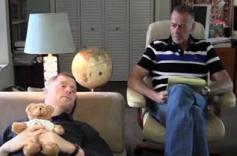 Until then, I'm lucky to have friends like David Fawcett (seated at right, in our silly video opening), who also happens to be a therapist. Everyone should have a friend who's a mental health counselor, if you ask me. David serves as one of the panel of experts at TheBody.com, as well as writing his own blog with helpful messages related to our emotional well being.
In this, the newest video episode of My Fabulous Disease, David and I sit down for a very candid talk about my fears and even some of my unhealthy thought patterns, some of which have been with me for a very long time.
Thanks for watching, my friends, and please be well.
Mark
——————————————————
PLUS…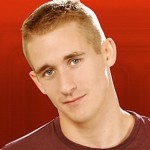 Can someone be a self-described "sex addict" porn star and also a role model? Well, I won't be nominating Mason Wyler for a GLAAD award this year, but I do appreciate the fact that he is candidly discussing his sex life as a man living with HIV. In an interview on PositiveLite.com by Bob Leahy, Wyler is casual about his newly acquired HIV status, and doesn't believe there's any connection between watching bareback porn and actually doing it (excluding, well, himself I suppose, since he admittedly likes "nasty bareback sex"). "Porn is a form of entertainment," says Wyler. "It doesn't and shouldn't have any more influence on someone's actions than say… music, movies, or video games. I think most guys participate in bareback sex in some capacity regardless of what porn they watch. We're only human."
Frank remarks like that one have won over some people. Writer Michael Burtch, in a July 2011 opinion piece, said this about the porn actor. "Mason Wyler has quickly become one of my favorite, openly HIV+ porn stars. When he writes 'I don't need someone to talk to, I need someone to fuck me' on his blog or summons up the complexities of HIV by succinctly stating 'it sucks.' I totally get where he's coming from and toast his post-AIDS sensibility."
Comments