It was my distinct privilege to serve as host and M.C. for a second time on The HIV Cruise Retreat, the labor of love by openly HIV positive travel agent Paul Stalbaum of Cruise Designs Travel. Paul has become the go-to man for gay travel groups " in addition to the HIV cruise he organizes a gay cruise and even a gay bear cruise " and he says without question that the HIV cruise is nearest and dearest to him.
As Paul and my fellow co-hosts planned the cruise events over the last few months, I was amazed by the level of detail and care with which Paul approached the task. Then again, he's been actively involved in the HIV community since setting up and facilitating the earliest support groups in Ft Lauderdale nearly 30 years ago. His heart is in this.
It may seem curious that so many people living with HIV would spend their vacation time and money on an vacation alongside over 200 others living with the disease. But our common issue is inspiring and even a source of humor and fun.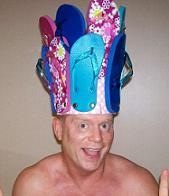 The happy vacationers come from all walks of life and across the country, and many of them hail from smaller cities where they don't have this type of fun social outlet for people with HIV. It's pure pleasure being in their company.
After an opening cocktail reception (Princess Cruise Lines accommodated our large group by giving us exclusive use of various venues around the ship), hosts Nate Klarfeld and Grover Lawlis moderated an AIDS 101 presentation for the sprinkling of cruisers who were fairly newly diagnosed.
But on to the parties! This year there were two bashes: The Mad Hatter Party, where guests were invited to get creative with their headgear (I wore a crown made entirely of flip-flops), and The Blue Party, which asked the revelers to interpret the color in any way they chose. The creativity at both did not disappoint.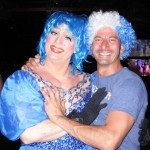 My comic alter ego Anita Mann (near right, in an odd, mutual chest grope with one of the passengers) made her Cruise Retreat debut this year, hosting The Blue Party and ensuring I would never date anyone on the ship, once they witnessed Anita in all her peculiar glory.
All sorts of fun events sprang up throughout the week, such as an improv class led by host Jonathan Goldman, who also provided mud masks for our day on the Aruba beach (a sight in itself I assure you). Paul also arranged our own excursions in each of the ports, so we could snorkel or tour bat caves as a group.
We had so much fun with our own events and yet the ship itself offered nearly nonstop entertainment " a casino, live shows, games on deck, and one of our group members even won the highly coveted Karaoke contest!
On our last day at sea I facilitated "Mark's Poz Time Machine," a multi-media review of the last 30 years of HIV. It featured images and video clips along the timeline, but relied on audience members who fleshed out the years by sharing their experiences. Thanks to their recollections and candid memories, it was a bittersweet and enlightening event. I believe so strongly in the power and importance of telling our stories and sharing our history living with this pandemic. I'm so grateful for the contributions of the attendees.
I realize how fortunate I am. So many of us are not able to take the time or devote the money for a cruise like this. It's my hope that this video blog will inspire you to seek community, in whatever way you can, and never forget that a sense of humor sure does help the journey.
After all, you don't really need a cruise ship as an occasion to wear flip-flops on your head.
As always, my friends, please be well.
Mark
Comments