Soon, as many families take a seat at their Thanksgiving table, after the food is set but just before the feasting begins, a paralyzing moment will occur. What now? They'll wonder, glancing left and right. Should we pray? Uncomfortable seconds will tick by. Finally, someone will ask to be passed something and people will dig in, grateful to get on with it.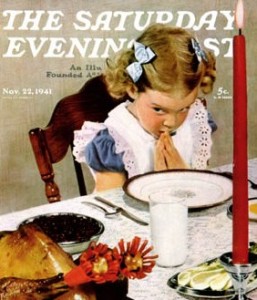 We used to pray, when I was little, when the family was young and the occasion was important and we were forced into this odd intimacy, with the mystical tones of something like church but at home. As a child the ritual was like a magic show, waiting spellbound as the secretive words were spoken.
My oldest brother Hal would pray at the dinner table with his head weighed heavily in his hands, as if he had a massive migraine or was avoiding the paparazzi. Maybe he was just embarrassed, since the act seemed so foreign and mortifying, like peeing in front of one another.
Once, Mom asked Dad to recite the Lord's Prayer at the Thanksgiving table. He started strong and then the words came more slowly, until his memory of the prayer – recited every Sunday in church services he wouldn't attend – failed him. Everyone just sat there in awkward silence, staring at our dad the heathen, until my mother finally prompted him, utilizing a Nancy Reagan whisper into his shirtsleeve.
It was about that time that prayer was discontinued at our dinner table. For a few Thanksgivings someone would suggest we all say what we were thankful for, but the practice faded. It seemed like some sort of consolation anyway. All the magic had long since been revealed.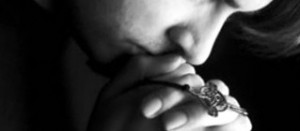 Today, my recovery from being a drug addict includes many suggestions about prayer. It's encouraged, primarily for me to exercise enough humility to acknowledge there are powers greater than myself. After years of selfish using and living on my wits alone, it's an important reminder. But that doesn't mean I do it. Pray, that is.
I've been getting by with the claim that I meditate. Just the word "meditation" has less of the religious baggage than "prayer." It feels less embarrassing, more reasonable. Maybe I'm remembering Hal, with his head buried in his hands.
I do believe that an awesome power, a god out there somewhere, is responsible for my existence and good fortune. I'm just not in the habit of chatting him up to express my appreciation or even for a passing hello. Which means, if I believe something created me, I must be a pretty ungrateful fellow.
Interesting. I'll have to meditate about this.
(This posting originally appeared on my blog on November 11, 2010. Happy Thanksgiving, everyone! — Mark)
———————————————————————-
PLUS…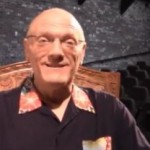 Get ready for the inspiring, entertaining, and delightfully theatrical story of Robert Darrow (right) of Shreveport, Louisiana. Robert and I were once theater munchkins together, performing in community theater productions when we were youngsters (we tap danced together as newsboys in a production of "Gypsy" in… 1973). After a stint in New York City, Robert returned to Shreveport to become the artistic director of the very theater where we once performed. So it was a delight for me to produce this brief video of Robert for TheBody.com's "Day in the Life" video series, which highlights people living with HIV and how they maintain their regimen of medications. The inspiration is in watching a man who once believed he had six months to live become an activist and AIDS community leader in a mid-sized city that desperately needed one. Curtain up!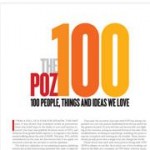 Guess what ridiculous blogger was listed as #61 in the POZ 100, Poz Magazine's annual list of people and ideas they love about HIV? And just above Larry Kramer! I give the credit to supportive visitors like you, who spur me on to new levels of frivolity and insight. But hey, who am I to argue with Poz Magazine? "We admire his ability to tell his personal story with honesty and grace," says POZ, "and for giving us license to laugh at AIDS."
Comments