You haven't lived until you have hosted a game show in a cemetery. There I was, laughing and being silly while standing directly over the remains of more than 25,000 of the dearly departed. And I was doing it with the authorities.
When I asked the president of Congressional Cemetery, Paul Williams, if he would play a game with me on camera for this blog, he took it all in stride. I even suggested he use the top of a gravestone as a buzzer, so he could punch it whenever he knew the answer to a question. He hardly batted an eye.
"You have to have a sense of humor to be in this industry," Paul told me after a lightening round of "Are you smarter than a Cemetery President?" (Are you? Watch my video blog and find out. Paul's answers, when wrong, are hilarious.)
Because my blog has always been about living joyfully with HIV, perhaps this video brings that philosophy to its logical conclusion: accepting the passing of our lives with gratitude and happiness.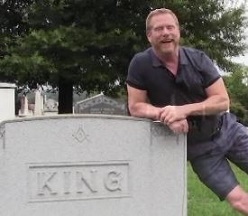 During our rollicking tour of the historic cemetery, you're going to get a quick lesson on one of the pioneers of gay rights buried there, Leonard Matlovich, and his contributions to HIV/AIDS awareness before his death in 1988. If you haven't heard his name before, or haven't thought of him in some time, listen up. His legacy deserves our attention.
You'll also learn about some mysterious happenings around the gravesite of a certain former FBI director, involving high heels and mysterious visitors keeping vigil. Yes, really.
I'd like to thank Paul Williams and hope you will visit the Congressional Cemetery site. If you're in the neighborhood, don't miss their costumed 5K run through the cemetery ("Dead Man's Run") held every year.
Thanks for watching, and please be well.
Mark
——————————————————–
PLUS…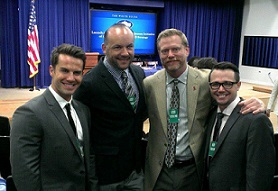 At a recent White House event to announce their "HIV Care Continuum Initiative" (more on that later), I was pleased to join friends old and new, including three men involved in reducing HIV stigma, a huge issue to me as you know. Pictured (left to right) are the dapper Tyler Curry, founder of The Needle Prick Project, a campaign to create dialogue on what it means to be HIV positive today; Alex Garner of NMAC, who is the former editor of Positive Frontiers and a big part of the brain trust I'm constantly accessing for my writings; myself; and the witty Chris Richey, co-founder of The Stigma Project, which educates about HIV stigma through social media and advertising.
Comments