Another year, another magical Caribbean adventure with a happy community of people living with HIV and our loved ones. It could only be the annual HIV Cruise Retreat.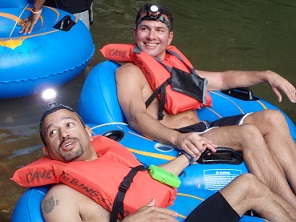 We gathered in Miami from around the world, with a record attendance of almost 300 people. There was a couple from Sweden, a guy from Germany, and a family of five from the West coast. The only thing we had in common was the presence of HIV in our lives — but you would have hardly known it from our high spirits and passion for living. When you're flying through the rain forest on a zip line with a couple hundred new friends, some of life's worries just naturally fall away.
I have such affection for this group and this event. Maybe it's because of the pure joy we have in each other's company, or the fact that no one feels alone. We take care of each other. It doesn't feel like a modeling competition the way so many gay events do. Where ever we fall on hotness meter, we are all embraced and welcomed by the group. I think that mutual support shines through in my video blog of the event, below.
And that included the more than 50 straight members of our group. While these men and women have conducted their own activities in years past, our group was far more integrated this year because we all really wanted to be. Not only did it add another dimension to our time together, but it added a naughty quality to our version of The Dating Game (we did a gay game and a straight one, one after another). I don't think anything on board was funnier than the gay men in the audience cheering on the explicit answers from the straight bachelorettes!
I'm still adding new friends to my Facebook page, and some folks, as usually happens, became more than friends. At least one couple was celebrating an anniversary that commemorated meeting on the cruise retreat in the past. The gay and straight couples in The Newlywed Game really battled it out, and a gay couple prevailed (go team!).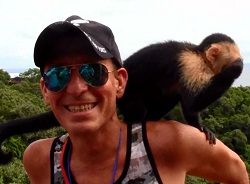 I should include my usual disclaimer that neither myself nor any of the other hosts are compensated for our participation in the HIV Cruise Retreat. I pay for my cabin like everybody else. The reason I have attended now for four years and serve as M.C. is because I support anything that builds community and lifts up those of us searching for acceptance and social support.
I also know how privileged I am to afford this type of vacation (rates begin around $600). Frankly, I send our cruise director Paul Stalbaum small checks throughout the year so the expense doesn't sneak up on me. I hope you will forgive me for sharing my good fortune and please know that my intention is to encourage you to seek joy where ever you might find it.
Get ready for next year: it will be the event's 10th Anniversary and everything about the vacation is improved, from the cruise line (the #1 ranked Celebrity Cruises) to the exciting ports of call leaving from San Juan, Puerto Rico. Check out reviews of The Celebrity Summit here by former passengers!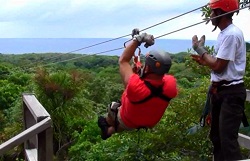 The 2014 HIV Cruise Retreat will take place November 1-8, 2014, and you can find out more by visiting www.HIVCruise.com (the site will be updated with 2014 info soon) or simply contact our travel agent and cruise director Paul Stalbaum (888-640-7447). Paul is living openly with HIV and began leading support groups for people with AIDS more than 20 years ago in Ft. Lauderdale. He is our advocate and champion when it comes to getting us the best price and exclusive perks while on board.
Thanks for watching, and please be well.
Mark
Comments