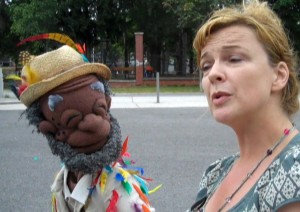 Today was a blast, because I spent it with my intellectual peers — puppets, show people and youth! In this video blog entry from AIDS2010 in Vienna you'll meet some amazing young people from around the world who are making a difference in their communities. You'll also be as charmed as I was by a program that teaches children in Africa about HIV/AIDS through puppetry.
If there is one thing I have learned, it is that these young people can speak for themselves. So I'll let them. Thanks for watching!
Be sure to keep checking for my daily updates — tomorrow will be a report from the first human rights march ever held from the international AIDS conference, to be led by Annie Lennox.
Meanwhile, please be well.
Mark
Comments