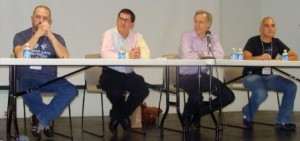 When all the planets in our solar system align, you either get Mayan-themed global disaster, or you get… this. The leading queer bloggers in the country, a virtual hall of presidents, together on one stage. Such was the scene at the Gay and Lesbian Literary Arts Festival here in Ft Lauderdale this weekend.
My Fabulous Disease may be an experience unmatched on the web, but well-read it ain't, so I checked out the seminar "The Art of Blogging" with this esteemed panel (ABOVE, L. to R. Jervis, Rothaus, Petrow and Adams). They were filled with helpful advice.
Joe Jervis of JoeMyGod, the nation's "gay bear" politico dude, said picking a fight with another blog helps with readership, because these egotistical bloggers can't resist striking back on their (more widely read) site. Sorry, Joe, I could never bring myself to do that. Asshole.
Steve Rothaus (Steve Rothaus' Gay South Florida) had the cat-birdiest seat in the house, since blogging is part of his job description at the Miami Herald and has actually helped secure his job during times of economic downturn. His approach to blogging is to withhold editorializing and let his chosen content speak for itself. He was clearly the nicest man on the panel, unlike Joe, who growled out whacked suggestions like "get libel insurance" with the weary sneer of a man who's been there (and thanks, Joe, I'll get right on that, right after gold plating my ASS).
I did get some clear guidance on attracting readers. Joe Jervis suggested secretly embedding keywords like Miley Cyrus or Nascar into post headlines, thereby adding "fraud" to his list of personal touchstones, joining the foundational "hack" and "illiterate." His suggestion was met with general eye-rolling, not so much from audience members as from the other panelists.
Steven Petrow ("Shooter" to close buds like me) is a gay Miss Manners, literally, considering his upcoming book Steven Petrow's Complete Gay & Lesbian Manners. He also was the most like my blog style, meaning, occasional but thoughtful. A writer's writer. Unlike Joe Jervis, who slaps 50-word posts up with inane pictures stolen from other sites and calls it a blog.
Tony Adams, known as Father Tony and an editor for Bilerico, the largest LGBT blog on earth, moderated with a friendly manner and encouragement for those, like me, just starting out. He brought elegance and good looks to the proceedings, unlike, let's see here, Joe Jervis, who's leering, impotent program photo was made flesh (mostly, it appeared) at the seminar.
All panelists agreed that blogging had brought them friends and a support system, and I sincerely hope I can join their ranks and call each of them "friend" one day. You know, mostly. Ask any dentist and they'll tell you that three out of four ain't bad.
Comments