A variety of gay men spill their guts about their lives and HIV diagnosis. They are bracingly honest, sexually explicit, heartbreaking and hilarious. They are the men of The Infection Monologues, a theatrical event getting a 10th Anniversary staged reading at the Human Rights Campaign this Wednesday, December 2, 2015.
The event is FREE, with food and drinks starting at 6:00pm and the performance at 7:00pm. You can RSVP right here.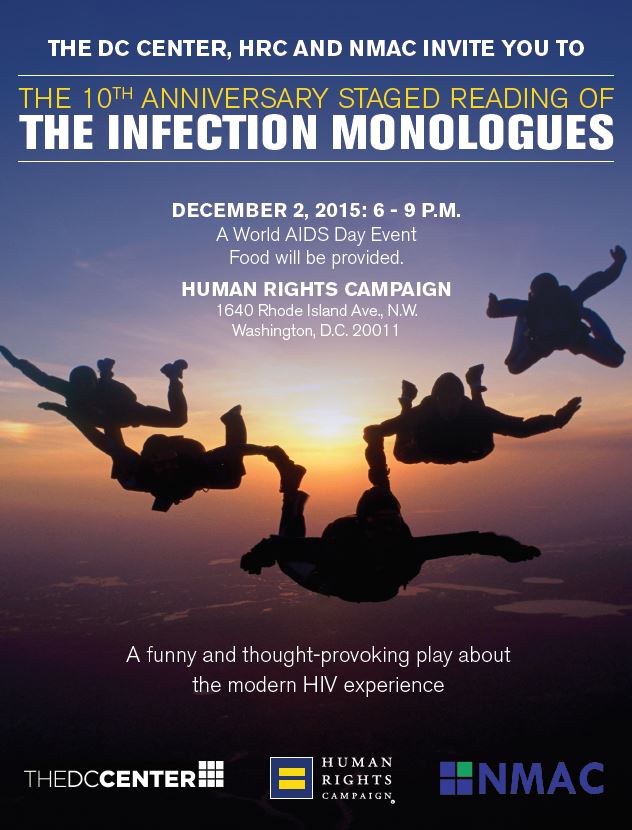 I will be reading the role of Jack, the "older" member of the group of characters. I remember my ingénue days on stage as if they were yesterday, but I'll save my existential crisis for another time.
Created by the enormously influential gay anthropologist Eric Rofes (Reviving the Tribe), and written by Rofes and writer and advocate Alex Garner, The Infection Monologues provides a snapshot of the lives of gay men living in the epicenter of the crisis, and is based on hours of real-life interviews.
Eric Rofes died far too soon, taken by a heart attack in 2006 not long after The Infection Monologues premiered. Alex Garner has continued a respected career as a journalist and HIV advocate, currently leading a national PrEP education effort for the National Minority AIDS Council.
Alex and I had a chat about the play, the politics of barebacking, gay "respectability," and putting gay sex back into the social agenda.
First of all, Alex, congrats on having this work of art revived after ten years.
Thanks, Mark. We are excited to be able to breathe life into this script again. I always learn something new when I reread it.
Can I give a shout-out to the late, great, gay anthropologist Eric Rofes, with whom you wrote the play? His book Reviving the Tribe changed my advocacy forever. I recently read it again.
I can't say enough great things about Eric Rofes. None of this would have been possible without his insight and vision. His impact is ongoing and his books changed me, too.
I invited Eric to lead a gay men's town hall forum in Atlanta in the mid-1990's. He was the first person I knew to say publicly that bareback sex was critical to his sexual experience. He said it that night, and it was like a bomb went off in the auditorium. I thought the attendees would riot.
Eric was ahead of his time but such a needed voice about gay sex and gay men's health. Those early years of the bareback debate were so raw and emotional — no pun intended.
I'm wondering if the themes in The Infection Monologues have remain constant, or if we've seen any progress at all…
The themes remain constant in so many ways but the world has changed drastically. The themes of stigma, disclosure, dating/relationships, and sex are just as relevant and compelling today but scientific advancements — treatment as prevention and PrEP — have radically changed the landscape.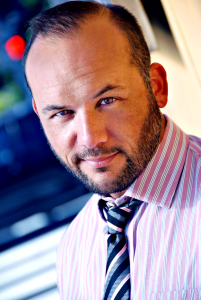 Does it feel like something is missing not talking about PrEP, then? I think the stigma underscoring PrEP among gay men has really always been there.
I don't think it feels like something is missing. I think it feels like a specific moment in time. The more things changes the more things stay the same. Much of the stigma associated with PrEP is the stigma associated with condomless sex. The bareback debate has simply evolved because of PrEP and unfortunately some PrEP users utilize PrEP as their shield of respectability: "I'm responsible" or "I'm protected so it's ok when I bareback." I have zero interest in respectability politics.
The voices in The Infection Monologues are such complete human beings. Funny, flawed, horny, scared. Tell me the process of how those voices came to be.
Eric was a great researcher and he conducted initial interviews of men who seroconverted after 2000. We used that research, as well as my own lived experience to create the three core characters. The additional characters were developed from writers in Los Angeles who drew from their lived experiences.
I'm all about telling the story of what happened to us — and what continues to happen. But these days it feels like so many of our wounds in the gay community are self-inflicted. Is that a fair observation?
I don't think that is a fair observation. I don't like that term. So much of our struggles are still institutionalized, whether it's around homophobia and stigma, poverty, transphobia and sexism, lack of education, religion, etc. I believe we haven't focused enough on our resiliency. As a community we endured the worst epidemic in modern history yet the lessons from that seem to be unknown. How did we survive? How did we find community, support, hope? How did we lose or find our humanity and how did we decide they were not going to destroy us. Ours is such a struggle of resistance and I think much of that has been understood simply in the modern marriage equality context.
Some advocates draw a straight line from the AIDS crisis to marriage equality. Do you agree?
I do see a straight line but not necessarily in the same way. The advent of anti-retrovirals allowed us to be healthy, presentable, and respectable. The movement could drop the messy, icky part and the part dealing with our sex, and focus on love and respectability. Strategically it was a brilliant move, but the impact was a desexualized movement. We now have the opportunity to make sex, pleasure and intimacy a top priority of our lives and our politics.
In my everyday life, I'm often torn between wanting to "tell the story" at every opportunity of what happened to us, and thinking I should just shut up already. Something about the trauma we experienced comes back to me, in some way, every damn day. So of course, the choice is to keep talking.
Who are we if not a collection of stories? That is art at its core and for those of us who have been marginalized, stories are a way to exert our humanity.
I'm honored I get to read the role of the "older" gay guy in the play. Actually, I'm actually older than the older gay character I am reading. Don't get me started. I'll use concealer that night.
(laughs) The "older" gay man is a very important perspective in the epidemic especially because he seroconverted after having lived through the war years. So much great complex emotion there.
Congratulations, Alex. It's nice having a dialogue about the monologues.
Thanks. And I hope that others will explore creative ways to tell the stories of our complex and fascinating community.
Comments