Tyler Helms won't stop teasing his boyfriend during our video chat interview. He fiddles with Michael's ear, or tickles his face, from his seat slightly behind him. No matter if Michael Lucas, adult film producer and PrEP user, is trying to make a point. The childish joy of a relatively new love is at play, and Tyler can't help himself. It's adorable and telling.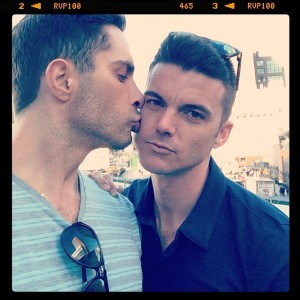 We've been meaning to conduct the interview for months, but they wanted time to enjoy their budding relationship before discussing it publicly. That bud is now in full bloom, it would appear. They are both open and approachable, allowing me to get away with a lot of very personal questions.
Yes, there is the prurient intrigue of Michael being a famous gay porn star, and how that impacts their relationship. But what truly interests me is the fact they are engaged in the most modern of gay romances. It isn't simply because one of them is HIV positive and the other negative. It's about what they are doing about it. Between them, they are practicing both of the most exciting developments in HIV prevention of the last generation. They're an HIV prevention two-for-one.
"We're taking our time," Tyler says. But that's not keeping them from spending nearly every night together and constantly keeping in touch.
Their love affair elicits some interesting reactions among their friends. Some of them patronize Michael, as if being in a relationship with a man living with HIV was an act of charity. "People say, 'oh, good for you,' as if it's something special," says Michael. He shakes his head. "I'm not performing an heroic act."
"There's a whole lot more that needs to happen in our community," Tyler adds. He is a formidable advocate in his own right (he serves on the board of GMHC), but one whose visibility has risen further since his new relationship began. "We need to talk about the modern day face of HIV," he insists.
Tyler was infected in 2007, and it came as some surprise. "I was tested every three months and was in a committed relationship," he says. It is a common story, actually, because one of the leading risk factors of HIV infection is via a primary partner, such as a lover or fuck buddy.
Whatever the circumstances, Tyler is entirely at peace with it today. "I'm only on Atripla," he says, "and it made me crazy for a few months. But now I'm better than ever and have been undetectable for two years." Because Tyler is undetectable, research shows there is no real risk of transmitting HIV to his partner.
Treating people with HIV to reduce their virus to undetectable levels so they can't infect others is known as "Treatment as Prevention," or TasP, and it has become a major public health strategy since studies proved its effectiveness.
On a personal level, "HIV is really a moot issue between us," Tyler says. The topic of HIV may be resolved between them, but that hasn't kept them both from discussing their sexual choices and risk strategies in very public forums.
Michael has been using PrEP for some time now, and has bartered his notoriety to voice his strong beliefs about it. For that matter, Michael has strong beliefs about a lot of things, including his unwavering support for Israel. He even produced the mainstream documentary, "Undressing Israel: Gay Men in the Promised Land."
"Oh yes," Tyler interjects slyly when that topic, and the views for which Michael has been both heralded and vilified, come up. "Do ask about Israel!" He grins at the more serious Michael, and pokes him again. It's hard to imagine anyone else who might get away with it, teasing Michael about his passions. But Michael takes it in affectionate stride and allows himself a grin of his own.
I turn to Michael's profession and ask about it gingerly, as if it's a careful secret or something. I really could use more experience speaking to porn stars.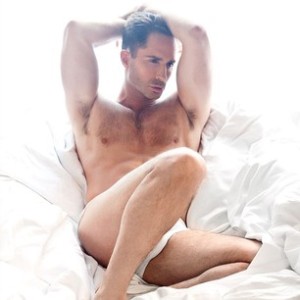 "I'm used to being defined as a porn star," Michael says easily. "I would not have the platform I have without that. My opinions would only be in the comments section. But I write under my own name, and I use my platform to discuss things I am passionate about. And I do my research."
That research is evident in a number of articles Michael has authored about his use of PrEP, or pre-exposure prophylaxis through the use of the medication Truvada on a daily basis. Research shows PrEP is effective in preventing transmission into the high 90% range, and there is an enormous push among community advocates for the adoption of PrEP for those at risk. It sits alongside TasP as the other most promising HIV prevention strategy — one for those living with HIV and the other for those who are not — and Michael appreciates the piece of mind it provides.
"People ask me all the time, 'are you nervous?' People of my generation saw the dying and I was always scared of becoming HIV positive," Michael says. "It was in the back of my mind all the time. So people ask that question, but it's only because they don't know the new data and research about PrEP."
His taking PrEP, though, actually has little to do with Michael's HIV positive boyfriend. "If I was only having sex with Tyler, I would not be taking PrEP," Michael says simply. "I know there is no way for a person who is undetectable to transmit to me. I believe in science."
Science aside, I have to ask Tyler how he feels about Michael occasionally stepping in front of the cameras for porn scenes. His response is without alarm or even a hint of jealousy. "I've never dated someone who does porn," he says, "but it's just not something I think about." It does come with plenty of assumptions from others, however.
"The most misunderstood thing about us," Tyler says, "is that people assume our relationship is purely sex-based. Some people don't understand it. They think Michael must have sex constantly, which is untrue."
"Most people I know have more sex than I do," Michael interjects. "With Grindr, people can have sex nonstop. I can't reach some of my friends anymore because they're on Grindr getting laid."
"Michael is rarely on set," adds Tyler. "His main job is the corporation." That company, Lucas Entertainment (NSFW), has become a leading adult film production outfit, and recently made the controversial change to produce gay porn without condoms, a reflection of Michael's belief in other prevention methods like PrEP and TasP.
"I recommend and talk to my actors about PrEP," he says. "I know a lot of people on it." While Michael has been quoted as saying that porn, bareback or not, is a fantasy intended only to help men get off, he certainly hasn't shied away from promoting options that make unprotected sex considerably safer.
So, somewhere along the road of their individual advocacy work, about a year ago, the two men and their respective prevention techniques ran across one another on Tinder, which seems almost quaint, and very of-the-moment. It wasn't a hookup.
"I liked his profile," says Michael, and he searches his phone and finds the wording of it. "It says he is 'a loyal and kind friend, passionate and selfless about a few things here and there.' There was maturity in that. No matter how much I'm attracted to someone, you have to be mature. That's Tyler."
They eye each other knowingly. "I believe it takes a lot of time to know a person," Michael says finally. "Don't confuse sexual attraction with real love."
Two men, engaged in their own intimacies while allowing their sexual choices to be laid bare for all to see. It can't always be comfortable for them.
It's usually a fool's errand to make assumptions about the private lives of public people, and the happy couple I have been watching in our video chat is no exception. You would probably get it wrong anyway, if you were to attempt to translate their public image — the advocate living with HIV and the opinionated porn star provocateur — into their authentic identities.
"I believe in love," Tyler says, and he stops tickling Michael's ear for a moment. He takes a look at the object of his new romance and smiles. "But I think Michael believes in love even more than me."
Mark
___________________________________________________
PLUS…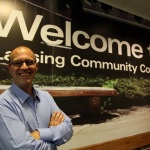 There are few better ways to empower people with HIV than with political might, in any form we might acquire it. Michigan HIV advocate Todd Heywood is living with HIV and making a run for the Lansing Community College Board of Trustees, and I couldn't be more excited about his candidacy. My friend Todd fully understands its impact. "By running as an out HIV-positive candidate, I am directly challenging stigma, and showing folks that HIV does not stop us from contributing to the betterment of our community." If you happen to be in his community, he's your man on November 4th. In any case, check out his web site and consider a little poz political contribution!
Comments