[fusion_builder_container hundred_percent="yes" overflow="visible"][fusion_builder_row][fusion_builder_column type="1_1″ background_position="left top" background_color="" border_size="" border_color="" border_style="solid" spacing="yes" background_image="" background_repeat="no-repeat" padding="" margin_top="0px" margin_bottom="0px" class="" id="" animation_type="" animation_speed="0.3″ animation_direction="left" hide_on_mobile="no" center_content="no" min_height="none"]
My friend Olivia G. Ford (she got that whole middle initial thing from me, I'm convinced of it) speaks even faster than I do. That's a rare distinction.
Olivia is also an editor. She was my editor during her years at TheBody.com. I am afraid of editors. They know too much. They might even know I'm not the writer people think I am. Not on the first draft, anyway.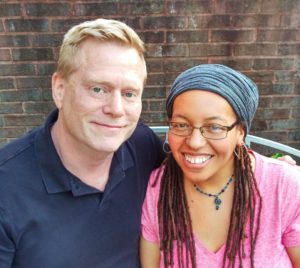 A few months ago, Olivia invited me to join her as the guest editors of a special issue of Positively Aware magazine and the result, "Our Golden Years," explores aging and HIV from the viewpoint of people who are already post-retirement age. (Check out the link to read a digital version, or find a copy at your local HIV clinic or pharmacy.)
In our initial conversations about how to approach the topic of HIV and aging – and let's face it, we've all been seeing it in HIV media a lot in recent years – we hit upon the fact that, while there are so many people post-retirement age who are living with HIV, most stories on HIV and aging tend to focus on "the AIDS generation" preparing to age, rather than those who are already experiencing their advanced years right now.
From our editor's letter in the issue:
We believe that the story of aging and HIV must include people who were in their 30s and beyond when the epidemic began, as well as the newly diagnosed who are already over 50 (who now account for roughly 1 in 6 new HIV cases). Those who have surpassed retirement age have been largely absent from the conversation and media coverage of HIV/AIDS.

The more we considered this, the more we became committed to sharing the stories and lived experience of elder people with HIV for this issue, "Our Golden Years."
The idea of featuring the lived experience of older people with HIV got us excited, and led to some terrific pieces on mental health (written by two therapists and longtime survivors), a conversation between generations of black gay men, women with HIV post-menopause, how to address the needs of transgender women as they age, and a frank and revealing piece on sex and dating in later years.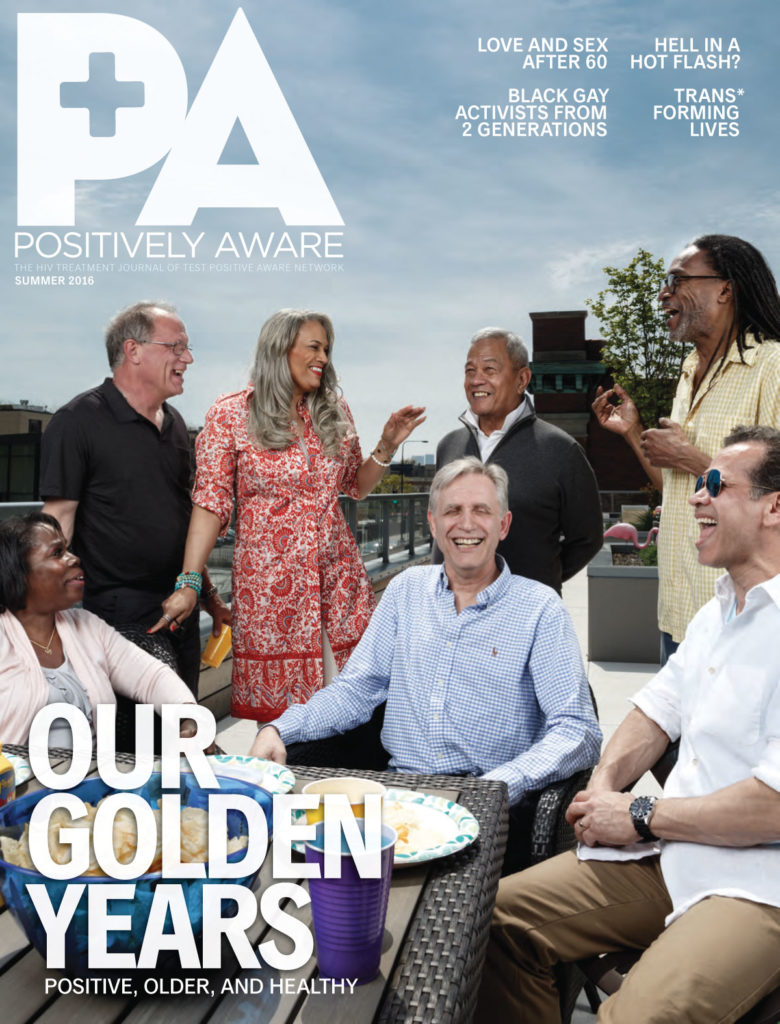 We were really fortunate to have such talented HIV writers and advocates join us for this issue, including David Duran, Kenyon Farrow, Sharon Lee, Rae Lewis-Thornton, Kellee Terrell, David Alain Wohl, and David Fawcett. The issue was overseen by the dynamic duo from Positively Aware, editor Jeff Berry and creative director Rick Guasco.
More from our editor's letter:
So many cultures throughout human civilization have bestowed great honor and value upon their most senior members. We believe it is inherent upon us all, as people who care deeply about a health crisis that impacts us socially as much as medically, to do the same.

Welcome to our golden years.
Being a part of this collaboration with Olivia was truly a delight, and while it may have demystified the role of an editor for me – I've never done this before – it absolutely increased my respect for Olivia and her talents, and for all those people out there who are conceiving and shaping HIV publications and web sites on a monthly basis.
So, while I'm at it, a shout-out to the late, great Bonnie Goldman, the founding editor of TheBody.com, where My Fabulous Disease was born. And to JD Davids, the scary smart editor there now.  And then there is the sly and brilliant Oriol Gutierrez at POZ Magazine (with the amazing Jennifer Morton, their very own wonder woman), the lovely Bob Leahy at PositiveLite in Canada, and the nurturing and insightful talents of Diane Anderson-Minshall at PLUS Magazine. And Chris Bull at Queerty has been a real advocate for informative and challenging HIV content on their site. Editors, editors everywhere!
But don't get me wrong. I'm still afraid of them.
Mark
p.s. Check out the digital issue of Positively Aware, look for it at your local clinic or pharmacy, or get your own subscription to the print edition right here.[/fusion_builder_column][/fusion_builder_row][/fusion_builder_container]
Comments