When Alana Oldham was only 17 years old, she found out the meaning of activism. A close friend had received an AIDS diagnosis and he wasn't expected to live very long. Alana wanted to take action — to make a difference and vent her grief and frustration — but there were two major obstacles in her way.
It was 1989, and she lived in Shreveport, Louisiana.
"I had to do what I could to help my friend," says Alana. "What was happening was cruel. People were discriminated against everywhere. Another friend of mine was fired from his job for having AIDS."
And so, Alana Oldham did something in Shreveport that many people assume was only possible in much larger cities. She accepted an invitation from founding member Debbie Allen to attend an ACT UP meeting, one of the first to be held by the fledgling Shreveport group. And very soon thereafter, Alana took to the streets of her southern home town as part of angry protests. (Alana in 1990, above center.)
Robert Darrow, a founding member of ACT UP Shreveport, was right by her side. After years away from home, living in New York City and dealing with his own AIDS diagnosis, Robert had returned to Shreveport to die near his family. Instead, his health stabilized as he took part in a small town revolution.
"We were an angry bunch of young people," Robert said. "We were angry at local doctors for turning us away. We were angry at judgmental families. Even at the only local clinic that would treat us, they installed an exhaust fan to get rid of the air we breathed."
The group of activists were stunningly effective, showing up regularly on the front page of The Shreveport Times and on local television, and leading to the formation of an HIV clinic and a community-based AIDS service agency, The Philadelphia Center.
ACT UP New York activist Peter Staley (profiled in the Oscar-nominated documentary How to Survive a Plague) recalls taking notice. "I remember the thrill we got in New York when we heard about the launch of ACT UP Shreveport," he said. "We had breached the Deep South!"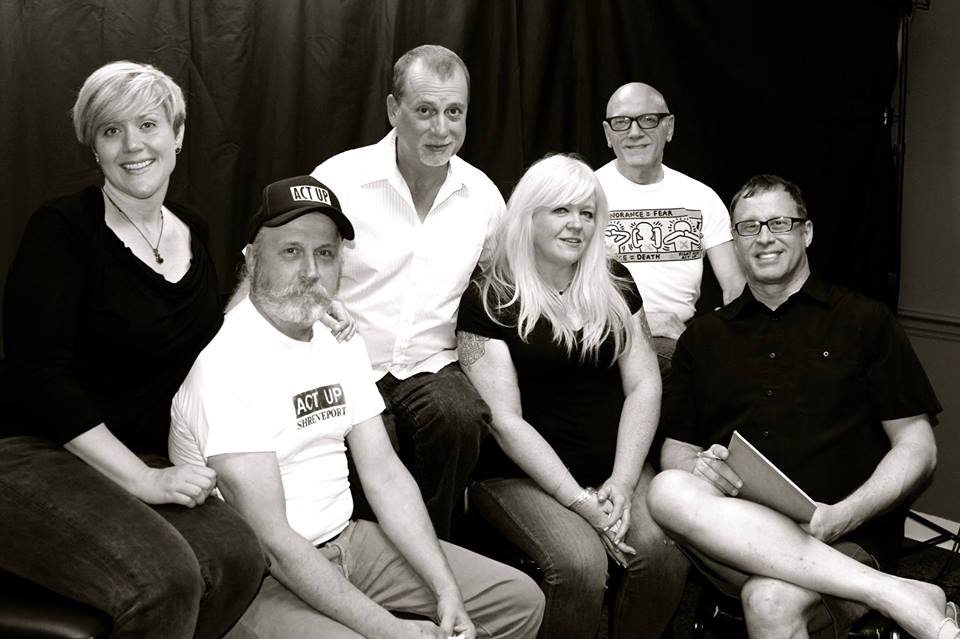 ACT UP Shreveport members today: (l-r) Alana Oldham, Gary Cathby, Buddy Williamson, Debbie Allen, Robert Darrrow, and Small Town Rage co-producer David Hylan.)
But not everyone in Shreveport was a fan.
"Even people in the gay community wanted us to go away," said Robert. "They thought we were appalling." Robert believes it was more difficult for ACT UP Shreveport to speak out than activists elsewhere, citing the hugely conservative majority in Louisiana. The disapproval of in-your-face activism also mirrored the self-hatred felt by so many gay men living in the Bible Belt.
David Hylan was one of those men. Married and closeted at the time, David watched ACT UP from the sidelines. "They were scary," he said. "The radical nature of it was off-putting, especially since the south found all gay people immoral. And now there was this deadly disease."
David realizes now that his discomfort had as much to do with his own masked sexuality as it did with the angry street activists he saw on the local news.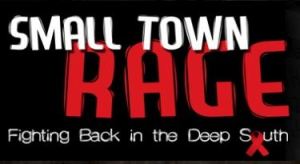 So it feels satisfyingly, poetic even, that David is now co-producer of Small Town Rage: Fighting Back in the Deep South, a documentary in the works about the history of ACT UP Shreveport. The film features interviews with many of the surviving activists and with family members of those who were lost to the epidemic.
A new Kickstarter campaign has already raised one-third of the project's $15,000 budget. Dozens of hours of interviews have been filmed, and funds raised will cover remaining production costs and efforts to feature Small Town Rage at film festivals. Tom Viola, the influential head of Broadway Cares/Equity Fights AIDS, has issued a personal appeal in support of the project on his Facebook page.
"This whole journey has been a learning experience," said David Hylan. "I've come to appreciate the people who were just fighting for their dignity." His personal evolution led to a second marriage earlier this year, when David married his boyfriend.
The Kickstarter promotional video for Small Town Rage.
The Philadelphia Center in Shreveport, forged by the efforts of ACT UP, remains the only HIV service provider in northern Louisiana.
Robert Darrow, the ACT UP member who had gone home to die and helped form ACT UP instead, served as The Philadelphia Center's first executive director. Robert says that of all ACT UP Shreveport's accomplishments, he is most proud that the agency serves thousands of clients. And there's something else that gives him pride.
"I'm proud we did not remain silent," he says.
Mark
(Visit the Small Town Rage site and consider even a modest token of support. I pledged $25 but any amount is welcome. Stay up to date on the film's progress through their Facebook page or Twitter feed.)
Comments