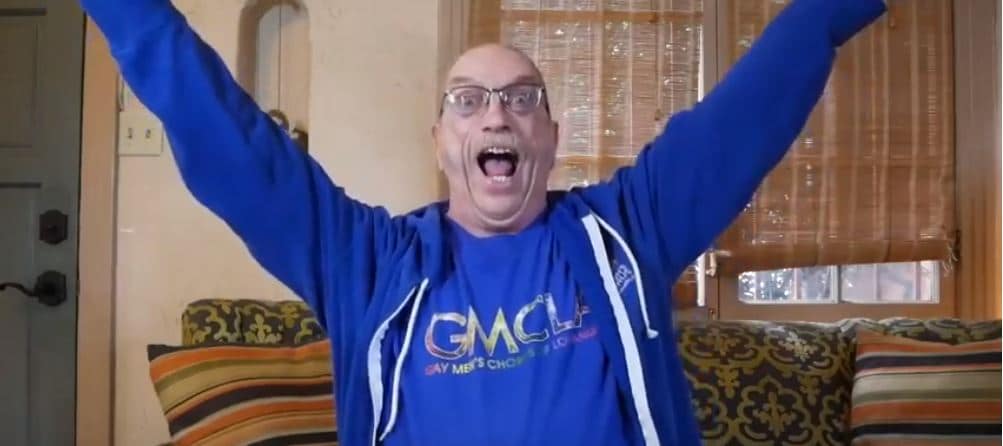 (Note: Be sure to read my piece on Steve's connection to The Eyes of Tammy Faye, as well as my post about Jessica Chastain becoming starstruck by Steve on the red carpet.)
Brace yourselves, Gilbert & Sullivan fans. The Rev. Steve Pieters has a treat for you.
Steve is a long-term survivor – and by long, I mean since before 1985, when HIV/AIDS was known as Gay Related Immune Disorder (GRID). Steve has been an advocate of many decades for both HIV causes and for the religious equality of LGBTQ people.
He is also a musical theater queen, in the very best sense of the word, which is plain for all to see from his YouTube performance of "I Am the Very Model of a Medical Anomaly," a cheeky take on a Gilbert & Sullivan song from Pirates of Penzance (if these references are foreign to you, my darlings, ask an older queen). Something tells me that Steve's long association with the Gay Men's Chorus of Los Angeles has proven fruitful. Pun intended.
I must give a hit tip to author and advocate the
Rev. Chris Glaser
, another iconic name in the cause of LGBT acceptance in the mainstream religion arena who also happens to be my former husband, for bringing this hilarious video to my attention.
Some of Steve's lyrics are way too clever not to share with you here:
I am the very model of a medical anomaly

I've had KS, lymphoma, hepatitis, thrush and CMV

Bacterial pneumonia and adrenal insufficiency

All this and more because I caught a virus that's called HIV

And then I took an antiviral just like chemotherapy

It made me sick

my hair fell out

I suffered neurologically

But hey it worked

It stopped all the HIV activity

My lymphoma's in remission and there is no more KS to see!

Now many years have passed and I'm as healthy as a horse can be

It's certainly a miracle for anyone with faith to see

But still in journals medical

In science and oncology

I am the very model of a medical anomaly!
There's so much more to Steve's video, including a joyous sense that none of Steve's medical trials over the years have crushed his soul or his adorable spirit.
Long-term survivors rock, people.
Mark
p.s. Want more of Rev. Steve Pieters? Check out this extensive interview he did with Tammy Faye Baker in 1985 about living with HIV. Yes, you heard that right. Tammy Faye. In 1985.  You're welcome.
Comments