(Note: Stay tuned for bonus postings at the end of this story!)
I don't wish to hide the truth anymore. My blog is devoted to complete honesty about who I am, so brace yourself: I have a total gay guy crush on Tabatha Coffey.
The snow-haired vixen hosts Bravo's "Tabatha's Salon Takeover" with an icy stare and the confidence of stainless steel. Add an Australian accent and the woman has me thinking things that haven't crossed my mind since college, when the very adult Amy Stubnick put my hand on her breast and whispered "ever been the boy toy for a real woman?" It was a compelling proposition, but I digress.
You get the Bravo channel, right? Home of Kathy Griffin and Chefs topping each other and Andy Cohen dishing with overwrought housewives? I do hope this post isn't over your head.
On each episode of the series, Tabatha visits a salon on the very brink of disaster that's in need of her management and artistic expertise. Or as she states during the opening in her strict, matter-of-fact manner, "I'm tough. I'm talented. I'm taking over." To which I dutifully respond, trapped in her spell, "Daddy."
The people behind the salon crisis typically fall within two categories: some poor sucker who's sister or best friend has convinced the sucker to invest in the salon and now they're at each others' throats and in horrible debt, or a shrill, mythical beast who rules the salon with a clueless fist and needs to be humbled… and is also in horrible debt.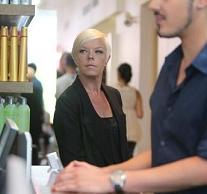 Enter Tabatha, who feigns interest in their pitiful lives just long enough to case the joint and then instruct them to "give me your keys. I'm taking over." Okay, I have goosebumps right now. I'm just sayin'.
Then the Tabatha magic really begins, as she calls out the lazy staff for their wretched work ethic or sloppy artistry. No one talks back to Tabatha, ever. Time would cease.
There is sometimes a woeful salon stylist, manacled to a work station in the back and subsisting on drinks from the sink and thin mints, who has a genuine talent that only Tabatha can identify. Of course, the stylist touches the hem of Tabatha's smock and becomes a star employee by the end of the episode.
At some point Tabatha will play counselor to the owner/sucker who is drowning in debt and the stylist/best friend who is bleeding them of cash, and may I say, if my therapist were more like Tabatha and would just tell me what the hell to do, I wouldn't still be blathering on about becoming a realtor because "I hear there's money in that."
Oh, and the salon itself gets completely renovated shortly after Tabatha's gorgeous, investigative fingers wipe up a mound of dust or produce a hair ball from behind a counter the size of a grapefruit. Is anyone as shocked as I am at how many salons – Salons! Where gay people work! – haven't been redecorated since Olivia Newton John was dancing in leg warmers?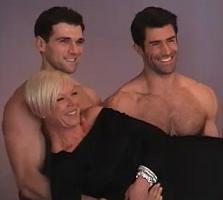 The episodes wrap up with a Grand Reopening, where the owners promise to mend their ways and Tabatha's work is done and the rescued, transformed stylists all stand around her, heartsick, like the crowd waving goodbye to Dorothy as she floats off in a hot air balloon.
I need Tabatha so badly. She could do an entire season rebuilding my life. But that gig has been taken, it appears, by Tabatha Coffey's longtime lesbian partner. And to further wreck my Bravo flights of fancy, it turns out Tabatha is a very nice professional who makes her share of Gay Pride appearances, took the stage in My Big Fat Gay Wedding (above), and has her own charity helping children with cancer.
I will hear no more of this. I prefer my delirious daydream every week in front of the television, when it is just me, a few hair balls, and Tabatha, taking over.
————————————————————-
Last week I had the pleasure of contributing to The Bilerico Project as a guest host, and it gave me a chance to wander away from my HIV themes and have some fun. Here are some of my Bilerico postings you might enjoy: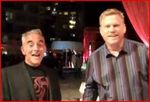 The Miami Fashion Week Kickoff Event. Know nothing about fashion? Same here. So when blogger Tony Adams and I invade the swanky kickoff event of Miami Fashion week, we take no prisoners in this fun video blog of our haute evening. Watch us tell models they looked exhausted, raid the Tiffany swag bags, and generally make gay fools of ourselves. Silly fun.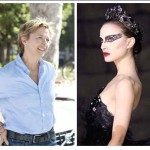 Why Annette Bening will take home the Oscar. I'm an Oscar psychic. I always win the Oscar pool. Let me be your guide. Here, I explain why Annette Bening has nothing to fear from all the hoopla over Natalie Portman. Hint: the secret lies with Oscar royalty, and who has a stinker of a movie ruining their chances. Stay tuned for my complete Oscar guide if you want to win the Oscar pool yourself!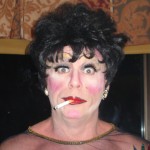 Buy Two Wigs and Call Me in the Morning. There's a bizarre story out of France about a man suing a drug company because his medication made him suddenly compulsive, getting into porn, drugs, and cross dressing. But really, the posting is nothing more than a cheap way to show off my favorite Anita Mann moment — a clip of my alter ego's classic "TV Set" number.
Hold on to your keyboards, because the ONE-YEAR ANNIVERSARY of My Fabulous Disease is coming next month, and I have surprises and the "Top Ten Posts" to share.
Meanwhile, my friends, please be well. And thanks for re-posting and sharing my stuff — you're fantastic.
Comments