"We ask ourselves, 'Who am I to be brilliant, gorgeous, talented and fabulous?' Actually, who are you not to be?" — Marianne Williamson
The first time I met Amy Ferris, several years ago, she cupped my jawline in her hands and gave me a kiss full on the lips. There were none of the usual pleasantries or the polite distance maintained by a new acquaintance. Instead, she kept my face in her grasp and she told me I was incredibly important. And a hero. Those are the words she used.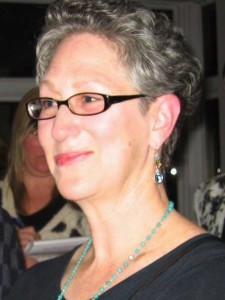 Her eyes – green, filled with wonder and a thousand miles wide – never released their grip on mine. There was no escape from her relentless affections. It was an entirely unnerving experience.
I responded to that first meeting as any reasonable person would. I doubted her enthusiasm and her strident belief that I am all that special. No one is worthy of so much fuss. And it did cross my mind that Amy Ferris might not be, well, for real.
It turns out that Amy is a perfectly functioning human being who believes that you, and I mean you, you there reading this, are amazing beyond belief and have the potential to change this world. Or, as she might write in one of her morning Facebook postings, "You. CAN. Change. This. Fucking. World."
She has demonstrated her powerful talents many times over as a celebrated author and screenwriter. Her smashingly successful book, Marrying George Clooney, became a rallying cry for women everywhere who were facing down middle age and needed Amy's funny, dirty, and emotionally raw chronicle of a "full term in menopause prison." In her most recent book, Dancing at the Shame Prom, she curates stories from women who unburden themselves of secret, shameful events. Amy may be a loving earth mother, but she isn't afraid to cut to the bone.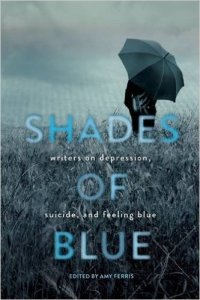 Last year, Amy asked me to contribute to a new book she was editing. By then she had become an intimate of mine – there is no choice, really, it is part of the social contract when you meet her. Amy believed, fervently of course, that I had something to offer Shades of Blue: Writers on Depression, Suicide, and Feeling Blue, an anthology that would tackle the subject through first-person accounts and help those suffering from depression.
I harbor epic self-doubt, so being included in a batch of well-known writers in a major fall release brought my uncertainty charging forward. Amy convinced me otherwise, of course, and her belief isn't simply encouraging. Five minutes in her company is intoxicating. You wonder if you should shake it off and then hope you never do.
My essay for Shades of Blue, "Suicide: A Love Story," is an intimate and explicit glimpse into the saddest, darkest days of AIDS. It recounts the night my brother, Richard, helped his terminally ill lover kill himself, and the destructive grief that haunted Richard for the next several years.
Amy responded to my piece with grateful emails and Facebook posts of high praise, writing that she couldn't stop "ugly crying" and was as convinced as ever that the book will open hearts and change lives.
I have stopped questioning the sincerity or utter authority of Amy Ferris when it comes to these things. We define visionaries only in retrospect, as if we couldn't possibly be watching someone extraordinary in real time. What if powerful people don't all live somewhere beyond our reach but right here, in our circle of friends? What if that person might be you?
Knowing Amy, especially when I revisit our time together and her seductive certainty, helps me believe in myself more. It makes no sense to doubt that Amy Ferris might change the world when she has already changed mine.
At my wedding this year, Amy radiated her usual joy, kissing everyone in sight like a bee pollinating in the height of spring. When Amy kisses me now, I kiss her back, and I hold her embrace for as long as the woman wants.
I caught her attention at the reception and invited her to sit with me so I could make an introduction. "Amy, this is my brother, Richard," I said. "I wrote about him in my essay for your book."
The realization of who Richard was, the tortured story from his past and his present day joy and resilience, washed over Amy in a transparent swell of emotion. Her eyes filled with tears.
And then, Amy Ferris reached forward and took my brother's face in her hands. As she looked at Richard with poignant recognition, her fingers lovingly caressed him in a familiar, healing embrace.
Mark
p.s. Shades of Blue will be released by Seal Press this September. You can pre-order your copy here.
Comments