Posts Tagged 'lipo'
Monday, June 6th, 2016
My friend Olivia G. Ford (she got that whole middle initial thing from me, I'm convinced of it) speaks even faster than I do. That's a rare distinction.
Olivia is also an editor. She was my editor during her years at TheBody.com. I am afraid of editors. They know too much. They might even know I'm not the writer people think I am. Not on the first draft, anyway.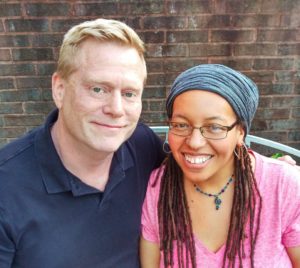 A few months ago, Olivia invited me to join her as the guest editors of a special issue of Positively Aware magazine and the result, "Our Golden Years," explores aging and HIV from the viewpoint of people who are already post-retirement age. (Check out the link to read a digital version, or find a copy at your local HIV clinic or pharmacy.)
In our initial conversations about how to approach the topic of HIV and aging – and let's face it, we've all been seeing it in HIV media a lot in recent years – we hit upon the fact that, while there are so many people post-retirement age who are living with HIV, most stories on HIV and aging tend to focus on "the AIDS generation" preparing to age, rather than those who are already experiencing their advanced years right now.
From our editor's letter in the issue:
We believe that the story of aging and HIV must include people who were in their 30s and beyond when the epidemic began, as well as the newly diagnosed who are already over 50 (who now account for roughly 1 in 6 new HIV cases). Those who have surpassed retirement age have been largely absent from the conversation and media coverage of HIV/AIDS.

The more we considered this, the more we became committed to sharing the stories and lived experience of elder people with HIV for this issue, "Our Golden Years."
The idea of featuring the lived experience of older people with HIV got us excited, and led to some terrific pieces on mental health (written by two therapists and longtime survivors), a conversation between generations of black gay men, women with HIV post-menopause, how to address the needs of transgender women as they age, and a frank and revealing piece on sex and dating in later years.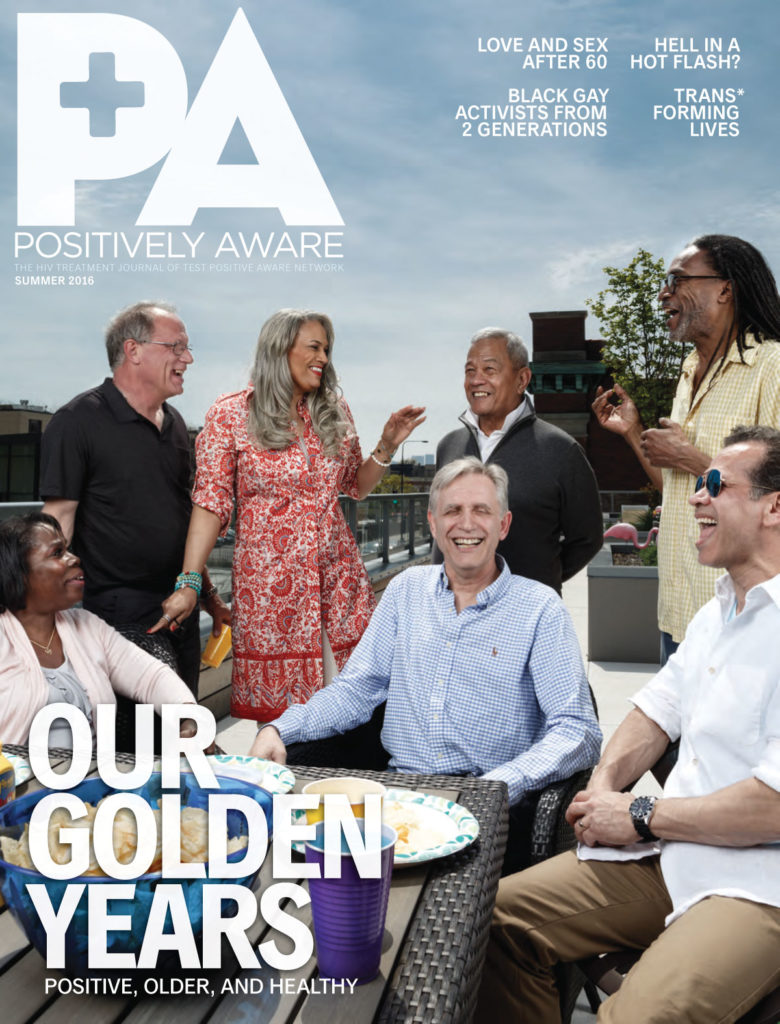 We were really fortunate to have such talented HIV writers and advocates join us for this issue, including David Duran, Kenyon Farrow, Sharon Lee, Rae Lewis-Thornton, Kellee Terrell, David Alain Wohl, and David Fawcett. The issue was overseen by the dynamic duo from Positively Aware, editor Jeff Berry and creative director Rick Guasco.
More from our editor's letter:
So many cultures throughout human civilization have bestowed great honor and value upon their most senior members. We believe it is inherent upon us all, as people who care deeply about a health crisis that impacts us socially as much as medically, to do the same.

Welcome to our golden years.
Being a part of this collaboration with Olivia was truly a delight, and while it may have demystified the role of an editor for me – I've never done this before – it absolutely increased my respect for Olivia and her talents, and for all those people out there who are conceiving and shaping HIV publications and web sites on a monthly basis.
So, while I'm at it, a shout-out to the late, great Bonnie Goldman, the founding editor of TheBody.com, where My Fabulous Disease was born. And to JD Davids, the scary smart editor there now.  And then there is the sly and brilliant Oriol Gutierrez at POZ Magazine (with the amazing Jennifer Morton, their very own wonder woman), the lovely Bob Leahy at PositiveLite in Canada, and the nurturing and insightful talents of Diane Anderson-Minshall at PLUS Magazine. And Chris Bull at Queerty has been a real advocate for informative and challenging HIV content on their site. Editors, editors everywhere!
But don't get me wrong. I'm still afraid of them.
Mark
p.s. Check out the digital issue of Positively Aware, look for it at your local clinic or pharmacy, or get your own subscription to the print edition right here.
Tags: Aging, aids, culture, hiv, lipo, physical, physician, Sexuality, stigma
Posted in Living with HIV/AIDS, My Fabulous Disease, News | 1 Comment »
Sunday, June 5th, 2016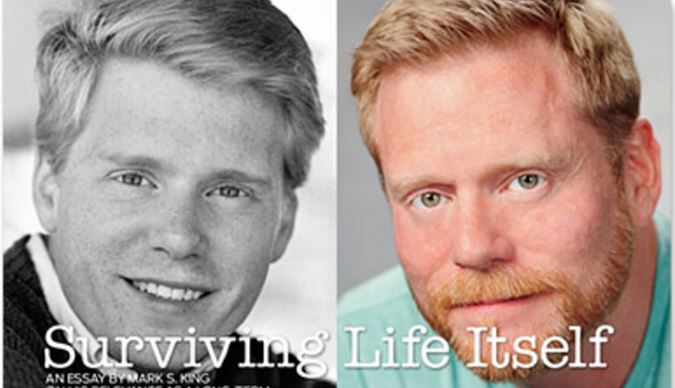 The young woman sitting across from me on the bus is in her mid-20s. She turns to her companion and her voice grows serious.
"I know someone who died," she says in the hushed tone reserved for tales of mortality. Her friend looks up from his phone. "He was a good friend of my brother," she goes on. "He was killed in a motorcycle accident a few months ago. It was just awful." As her friend offers words of comfort, my own thoughts produce a rueful smile and a nagging question.
Just one? You know just one person who died?
By the time I was her age, death in my social circle was so commonplace the body count approached the toll of a commercial airline tragedy.
I listen as the woman reverently shares the details of the accident, of the shock waves that surged through the family, of what the dead friend was like and who freaked out at his funeral. And then a bittersweet realization strikes me.
The friend she lost has a story of his very own. It is the chronicle of one tragic death, with all of its intimate details and reverberations. His story will be repeated by the young woman for years, and by her brother and by the remaining loved ones of the absent friend. And they will grieve and remember this individual death and grant it the weight of a rare tragedy.
***
I didn't get many chances to do that, living as a young gay man in Los Angeles in the 1980s. There were very few singular deaths. It seemed like everyone was doing it. And among them, a dozen friends close to me, struck down within months of one another, with whom I shared a history of youthful secrets, joys and indiscretions, never to be spoken between us again.
Already I have indulged in a regrettable pastime that aggravates me when others pander to it. I am counting my lost friends like selfishly guarded chips in a morbid poker game, claiming my grief as if the high tally amplifies the legitimacy of my loss. There is no hierarchy of misery. The death of one person close to you is quite enough.
And yet there are harrowing, undeniable moments from my past, drawn from 30 years living with HIV, that have shaped my attitudes and the senseless tragedies that befall us. I can conjure them but I must do it deliberately, for they are held captive in secluded corners of my mind and I release them with great caution. Perhaps now is the right time to unlock a few of those images.
The fluids in Lesley's dying body percolating like a coffee maker as we stood at his bedside awaiting his last breath. The anguished admission by my brother, Richard, that he helped his critically ill lover swallow a deadly, Seconal-laced cocktail in order for him to die on his own terms and avoid the final indignities of AIDS. My visit to Pablo in intensive care during his pitiful throes of dementia, nodding my head reassuringly as I tried to decipher his final, incoherent pleas.
They are a litany of despair, these heartrending tales, but I feel compelled to reveal them as part of another common exercise: to authenticate my history as a "long-term survivor." I have misgivings about that unsettling designation because it doesn't speak to my other, parallel life experiences and it suggests a dismissal of my relevance in the here and now.
***
In the decades since those sorrowful days, I have faced a host of perilous circumstances apart from AIDS, including a car crash, drug addiction, serious medical procedures and weapons pointed in my direction. Like everyone else, positive and negative alike, I am a survivor of life itself.
That life has included falling in love, changing careers, teasing my friends, watching my cats wrestle one another, and looking forward to whatever lies ahead with a deep sense of gratitude and joyful anticipation.
And it is this prism—one that includes AIDS as only a segment of my life—through which I view the world today. My status as a long-term HIV survivor does not make me a champion or a museum piece to be examined and admired. I am a man in the prime of his life. My age and maturity guide me, not the virus that has failed miserably to kill me.
The grief-stricken young man I once was held no clue about the mystifying speed with which time passes. The swift interval between the early days of AIDS and merciful treatment breakthroughs confounds me even now. Suddenly I blinked, and when I opened my eyes I was 40 years old and the world was a far different place.
***
Many of us remember that new world, when people with AIDS were saved by a miraculous "cocktail" of new medications. Living with HIV before the mid-1990s, when these medications were introduced, has become the popular line of demarcation for entry into the fellowship of long-term survivors.
My work in HIV advocacy continued during this time while others retreated to lives away from daily reminders of the epidemic. I did not fault them for that, in fact I envied them, but the army of our earliest activists, forged in the first years of the plague, had diminished.
By then, women and people of color had gained more traction and acknowledgment in the HIV arena, though without the national fervor or the generous support enjoyed by the original, largely gay agencies.
It was a time of such hope and encouraging progress, but if you scratched the surface of these victories you found they were dependent on privilege, money and access. Deaths continued unabated behind a dark curtain of racism and poverty.
The gay community began to avert its eyes from the continued infections of people unlike ourselves, and I joined many other exhausted activists who abandoned town hall forums devoted to HIV for the celebratory relief of the dance floor. Massive circuit party events became a vibrant diversion, summoning revelers by promoting their dubious contributions to AIDS service organizations. After a generation of relentless mortality I felt entitled to the party, to the steroids and the gym membership and the body-thumping beats of house music.
That is, until the festivities morphed into drug-fueled bacchanalias that required ambulances with the same regularity that had once been needed at AIDS hospices. I fell victim to their excesses, and my drug addiction and recovery process removed me from HIV advocacy for the next several years.
***
I blinked again and now find myself here, sitting in my home office as a man in his 50s. My workspace is populated with relics of the epidemic, the walls filled with posters from AIDS Walks and photos of protests and triumphant arrests. A vast collection of name badges from AIDS conferences are strung from a single hook in an enormous, colorful bouquet. And everywhere around me are reminders of the missing. Pictures of friends whose faces will not age. Borrowed sweaters in the closet that need never be returned.
They comfort me, these tangible reminders of strife, victory, love and loss. They help me embrace and appreciate my life history. Perhaps I don't find the title of "long-term survivor" so unsettling after all. There are worse things.
Most of all, the trauma that had once consumed me is now shrouded in the fog of a fading dream.
What remains are the wondrous developments of the present, like treatments that have also rendered people with HIV non-infectious and the amazing potential of pre-exposure prophylaxis (PrEP), a pill to prevent someone from contracting the virus. The advent of PrEP is the most significant prevention advancement in a generation. It is just the kind of miracle we once prayed for as we sat silently in pews at memorial services.
But astoundingly, these developments have been nearly as controversial as they have been celebrated.
There are thoughtful conversations about the cultural and medical effects of PrEP. What a shame they are being drowned out by clanging arguments about who is using condoms and who is not. The ludicrous chatter about who is a whore, a role model or a rebel foolishly reduces human sexual behavior to a problem that must be solved. Much of it seeks to impose sexual sterility in the way homophobic conservatives once denounced all gay bedroom antics, whether they were risky or not.
I remember what sex was like before gay men started using condoms. It was glorious. It still is. I always thought that finding our way back to enjoying sex without a barrier was kind of the point. Even the popular slang for sex without condoms, "barebacking," evokes some kind of deviant sexual pathology. The entire history of human sexuality would suggest otherwise.
I watch the absurd finger-pointing today, the naïve segregation of positive and negative, the lack of empathy granted to human failings, the tendency of the newly infected to call the police before they call a doctor, the fracturing of the advocacy efforts built over decades, and I weep for the community we once were.
***
Our hand-wringing over how to engage young people bemuses me, particularly our morbid fascination with aggressively foisting upon them the horrors we once endured, as if clubbing them with fear will somehow make them rethink their youthful transgressions. Our heartbreaking past is important history that should be preserved. It is not a prevention strategy.
Trying to imprint our life lessons on the young is a fool's errand practiced without effect for millennia. I have never walked up to anyone who served in Vietnam and asked him to sit down and tell me all about it. I may respect the elderly soldiers in Veterans Day parades, but whatever post-traumatic disorders or multiple losses we may share fail to unite us. I watch them roll by in wheelchairs, festooned with medals and shriveled into nothingness, and then I have the audacity to wonder why younger gay men don't consider my life experiences relevant.
Our influence as long-term survivors may be limited, but we can find meaning and engagement as cultural elders and mentors. To whatever degree younger people are receptive, we have so much to offer about the nuances of treatment, the various side effects and the failings of the pharmaceutical complex that we have rallied against so effectively through the years.
Regardless, nothing should deter us from being of service to one another. We must support the emerging networks of other survivors and work to find solace in our shared history. We are a displaced segment of a community that once ministered to us. Our bond is vital to finding solutions to the issues we face as an aging population.
As wearying as our battles have been, as unwelcome as we may sometimes feel in the modern advocacy movement, we have plenty to contribute. We had better do it while we still can.
I am sensitive to the passage of time because I have seen lives with great promise left unfulfilled. I may no longer fear dying, but I am sorely afraid of not taking full advantage of these precious additional years that were once unimaginable. Regrets, the things unsaid and undone, are what frighten me and urge me onward.
The mysteries of life and time will be revealed in due course: to the woman on the bus grieving her singular loss, to those who would howl at the moon over behaviors they do not understand, to survivors grappling with the meaning of tragedy, to young people negotiating the sexual terrain, to you and to me and to all the rest.
Enlightenment awaits. All we have to do is blink.
Mark
(This essay appeared in the June, 2015 issue of POZ Magazine and is shared with their permission. Today is HIV Long-Term Survivor Awareness Day.)
Tags: advocacy, Aging, aids, barebacking, criminalization, culture, family, gay, gratitude, help others, hiv, lipo, meth, physical, physician, politics, PrEP, recovery, Recreation, research, serosorting, Sexuality, stigma, testing
Posted in Family and Friends, Gay Life, Living with HIV/AIDS, Meth and Recovery, My Fabulous Disease, News, Prevention and Policy | No Comments »
Thursday, May 12th, 2016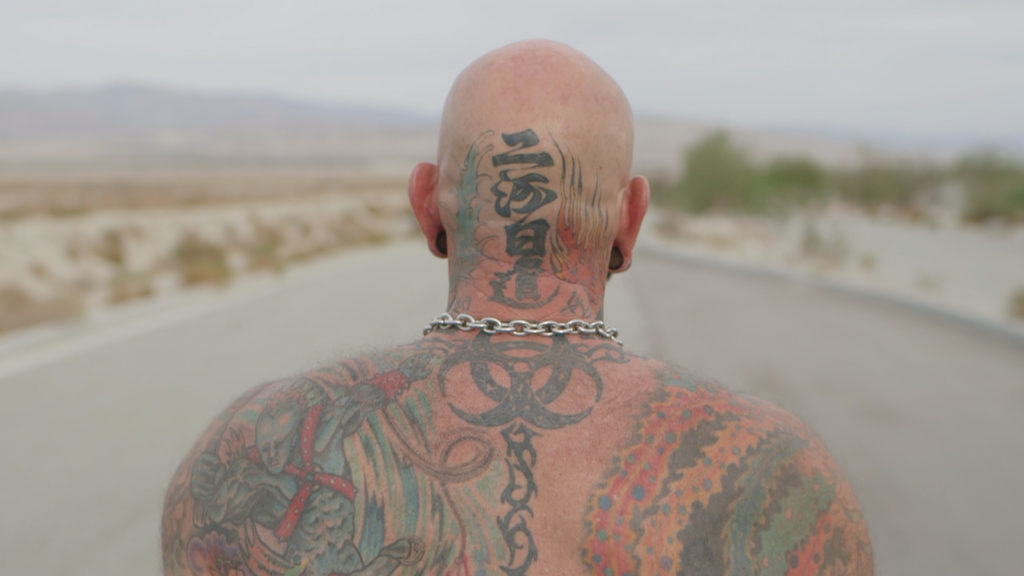 Daniel Cardone's essential but relentlessly grim documentary about longtime AIDS survivors, Desert Migration, is fascinated with the bodies of the gay men it profiles.
The film begins with lingering shots of each of the subjects as they begin their day.  It follows them through their routine, some of them naked, as they prepare breakfast, shower, shave, meditate. Their faces peer directly at us — a few of them handsome, all of them weathered — in high definition close-up.
We are being asked to study them closely.  Look at the skin, the camera is saying, the muscles, the sags, the piercings, the facial wasting, the extended stomachs, the disfigurement, the open wounds. Desert Migration does not want us to turn away from what the gay plague of 30 years ago has wrought in the here and now.
It's an almost clinical look at the after-effects of a catastrophe, like the documentaries that examine Hiroshima survivors decades after the bomb.
Desert Migration documents the results of a specific pilgrimage that became popular among gay men who were dying of AIDS decades ago: relocating to Palm Springs from major cities in the west, Los Angeles in particular. Once there, their fates and often their fortunes were reversed with the arrival of new medications in the mid 1990s. They experienced the emotional whiplash of renewed health in a world they had settled on leaving, as well as the unexpected financial burden of an extended lifespan.
The film is a crucial addition to the AIDS artistic catalogue because gay community is only now beginning to process and devote resources, artistic and otherwise, to the long term effects of the early AIDS crisis and the walking wounded who survived. That said, director Cordone doesn't make it easy for us.
There is an unyielding melancholy that permeates the film.  The men profiled are almost uniformly isolated or at least wistful. The languid pace of the storytelling is underscored by Gil Talmi's ethereal original music, a slow pulse of electronica, like a dry desert breeze.
The men all speak of searching for purpose in the desert after having resigned to die there. They come from various levels of money and privilege, including some who outlived their bank accounts, and they are not without the sociological trappings of gay men, meaning, a fixation on self image and the pursuit of sexual or romantic partners.
"In this town, being 60, I'm chicken," says one. Several of them are battling the aging process mightily with trips to the gym and a regimen of steroids ("All the best looking guys have HIV," one of the men advises), all while the Palm Springs gay clothing stores mock them with windows filled with slender mannequins, dressed in tiny and unforgiving speedos.
More than one of them debates whether or not they would have reached their current level of spirituality, of self love, if they had not come face to face with their own mortality so young. "I don't know if my life would have such richness if I wasn't positive," one of them admits.
The real star of the film may be Austin Ahlborg's sumptuous cinematography, which makes the most of the desert landscape, often contrasting the men's flesh and blood with endless vistas of withered brush and rock.
Throughout the city of Palm Springs are hundreds of acres of modern, silently whirling windmills. The film focuses on them like a fetish, their propellers turning round and round, and the more Desert Migration returns to these monuments the more they appear to be clocks, ticking away, time always turning, slowing for no one. The image repeats itself, in shots of rotating ceiling fans and mechanical sculptures turning this way and that. Time is always moving, and it is unstoppable. Tick Tock.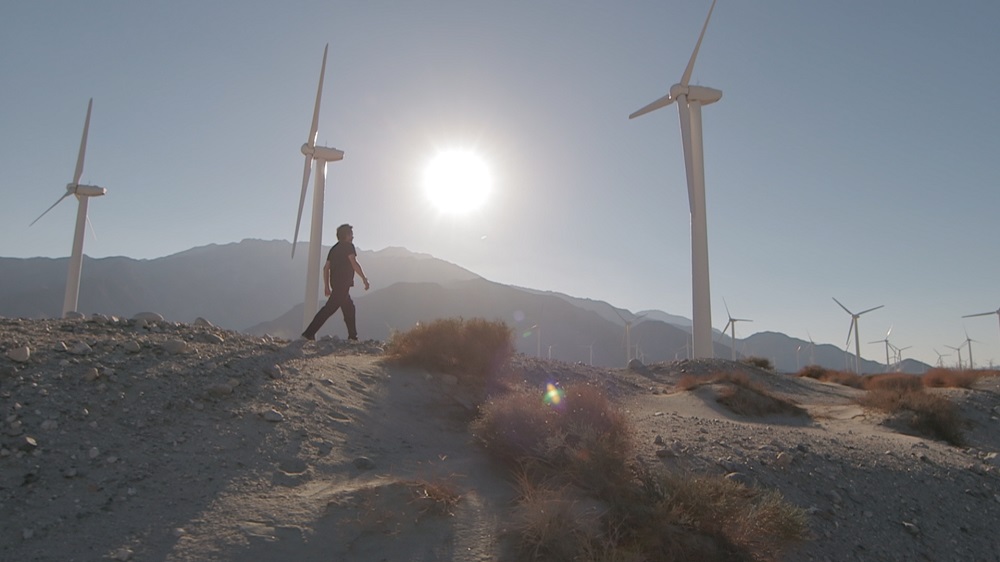 There is so much in Desert Migration that will be familiar to gay men of a certain age, from the brutal to the romantic. Living life in five year increments, the sudden loss of friends, the confusion, the great love affairs cut short, the lives hijacked by drug addiction after having survived AIDS. There is comfort in identifying with these men, for those who need to, even if the film limits itself to their shared calamity.
After more than an hour of bleak pronouncements – and exactly one shot of someone laughing in the entire film – it becomes clear that filmmaker Cardone is almost exclusively fixated on the tragic aspects of these men's stories.
It's easy, maybe even lazy, to reduce AIDS survivors to their profound loss and a struggle for meaning in their later years (which, come to think of it, is a lifelong riddle everyone must contend with, after all).
Where is the joy? A brief dinner party suggests the good humor these men surely must incorporate into their lives, but otherwise filmmaker Cardone sticks to his theme of isolation and distress. "I just think that I'm very tired," one of the men says, after unsuccessful attempts at connection and romance. "I just don't know how much longer I even want to fight."
"The optimistic ones survive," one of the more privileged men offers, as night descends and he lowers the drapes of his condo, finely appointed with a leather sofa and a gleaming Judy Garland movie poster. Another subject begins the evening by welcoming a sex partner to warm up his sling. Optimism and escapism have their utilities.
Another man takes comfort in his own loneliness and solitude. "You're a lot more free when you don't believe much and you don't have any hope," he says, in an existential moment that might depress Sartre. "If you're holding on to hope, then you've still got something in the way of enjoying what is."
After all this, I wished to God that one of these guys was shown performing in musical theater or binge watching RuPaul's Drag Race.
The film draws to a close in the darkness of the desert, as our day with these men ends. Throughout the mountain passes surrounding Palm Springs, out there in the dark, those windmills are surely still twirling.
They continue to spin, marking time, without regard for the riddles of life or the trials of gay men.
Mark
(Visit the Desert Migration site for information on film festival screenings in your area, or for news about the DVD release.)
Tags: Aging, aids, culture, gay, help others, hiv, lipo, recovery, Recreation, serosorting, Sexuality, stigma
Posted in Book Review, Gay Life, Living with HIV/AIDS, My Fabulous Disease, News | 2 Comments »
Friday, November 6th, 2015
Some years ago, I told someone that I was HIV positive before I agreed to his invitation for a date. "Yeah, I know," he casually replied, and then he looked a little embarrassed, as if he shouldn't have said it. It was too late, of course; I knew exactly what he meant. He could tell my HIV status by my face.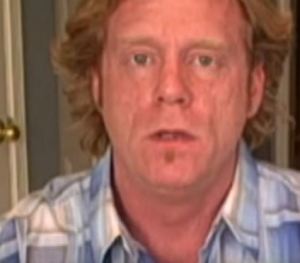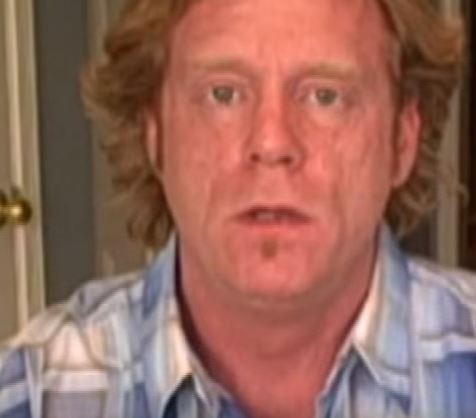 I had The Look. The sunken, wasted cheeks of someone living with HIV. It became a common manifestation in the 1980's and persisted until the medications that caused the condition, known as facial lipoatrophy, were changed or abandoned for better treatment. (That's me, right, in 2008.)
Today, facial lipoatrophy is almost exclusively limited to long-term HIV survivors who used medications like d4t and ddi more than twenty years ago.
I'm one of those long-term survivors. I am proud of my history advocating and living with HIV. But as uncomfortable as it may be to admit, it's a lot easier to live openly as a person with HIV when you don't look like it.
When the symptoms began to appear, it meant that the choice to share my status, as an activist or on a personal level, had been taken away. My HIV was written across my face for all to see.
I felt ashamed, and then conflicted. For someone who has been fighting so hard to reduce HIV stigma, what is there to be ashamed of, exactly? Many of the physical signs of HIV treatment – from weight loss to fat redistribution to facial wasting – are worn as battle scars, if not badges of honor, by thousands of people living with HIV. My disease is mirrored in my physicality. What's wrong with that?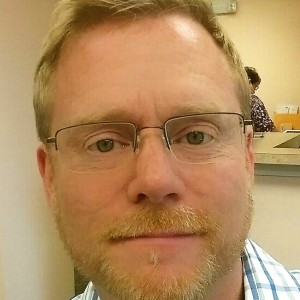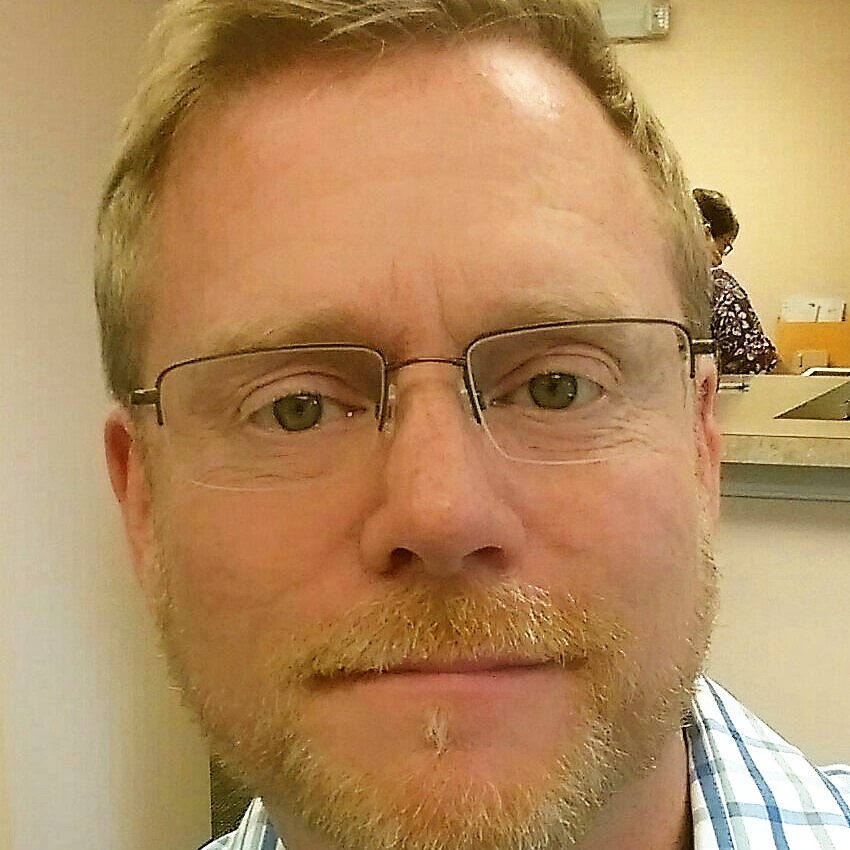 Eventually, I realized that correcting my facial wasting was no different than improving my t-cell counts. I wasn't making a political statement, I was improving my health and well-being.
And so, I began a journey that would include multiple visits to a specialist and more than $20,000 worth of various "facial filler" products injected into my face. My biggest advantage was the physician I chose: Dr. Gerald Pierone, arguably the most experienced person in the country on facial fillers and a contributor to TheBody.com. (That's me, at right, last week.)
Along the way I chronicled my journey through video blogs. They span more than six years, explicitly show the treatments in Dr. Pierone's office as well as before and after footage, and include a wealth of information and advice about getting facial lipoatrophy treatment, the products involved, and their relative costs.
Here are three of those videos that are probably the most helpful.
A Facial Wasting Update
February, 2010
In this video, below, I chronicle my third visit to Dr. Pierone, who checks up on my progress with temporary fillers Sculptra and Radiesse, and offers his own perspective on my treatment regimen. It is a good introduction to facial lipoatrophy and the treatment available.
I'm Gonna Wipe That AIDS Right Off My Face
July, 2011
Once again I return to Dr. Pierone for a check-up, but this time I inquire about a new, semi-permanent filler now known as BellaFill (formerly Artefill). This video also includes a lot of information about patient assistance programs for the temporary fillers.
Treating My Facial Wasting with Artefill
January, 2013
Switching to this permanent filler, now known as Bellafill, was the best decision I made. No more disappearance of the temporary fillers over time! Although this semi-permanent filler does not have a patient assistance program and can be quite expensive, I must say that the results have been dramatic and long-lasting.
One thing these videos make clear: facial fillers are not the fountain of youth, no matter what The Real Housewives may think. You can clearly see my own aging process through the years in these videos. What they do show, however, is my face as it would have been: aging naturally as if HIV wasting had never been an issue.
If you have any questions, I would encourage you to direct them to Dr. Gerald Pierone in the Ask the Experts forum at TheBody.com. I cannot recommend his expertise highly enough.
And as always, my friends, please be well.
Mark
Tags: aids, gay, hiv, lipo, physician, Radiesse, research, Sculptra
Posted in Gay Life, Living with HIV/AIDS, My Fabulous Disease, News | No Comments »
Sunday, March 24th, 2013
I have some amazing friends for you to meet.
Beginning two years ago, TheBody.com asked me to produce a series of videos ("A Day in the Life: Keeping Up With Your HIV Meds") that would profile a person living with HIV, what their day looks like, and how their medication regimen fits into their daily routine. It was a great opportunity to highlight the everyday lives of people living with HIV, but also to let their spirit and passions come through, and show we are whole people — not simply the virus.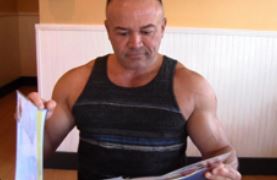 The profile subjects came from all walks of life, in various cities around the United States, and their personalities and interests — their families, their hobbies, and even how they became HIV positive — were all I needed for inspiration.
Below are the eleven videos that have been produced to date for the series (an ongoing feature on TheBody.com and they also have an entire resource center about keeping up with your meds). You can watch the videos here, or follow the link in the title to view the post as it appeared on TheBody. They are each less than ten minutes long; just scroll through them below and find a story that sounds like yours — or better yet, hear what the journey of someone completely different from you is like! Are you ready?
Damaries is from South Florida and could not have been more lovely; we laughed a lot during our day together. Her strength is what impressed me most: she did not come to the decision to start HIV medications lightly. She really did her research before she began a regimen. Filming her story was also a great excuse to hit the beach, since she loves to find her peace and tranquility on that gorgeous sand.
Well, first of all, Tree is adorable. So there's that. He also has an equally adorable dog, who tried mightily to extend his few minutes of fame by sneaking into the camera shots and barking woefully from the other room. For his part, Tree does a great job explaining how he kept his medication regimen despite multiple moves and even being homeless for a brief period. I really like the Brooklyn montage of Tree's neighborhood at the beginning of the video.
What an elegant woman Eva is. She was so gracious during our day together and had an almost regal sense of self. She really impressed me. Not only did she make peace with the man who infected her many years ago, she became an advocate for all women living with HIV and devoted quite a lot of time to volunteer work. She's also an avid traveler — I've never seen so many magnets from exotic places on one fridge in my life.
What a hoot! Robert (Bobby) Darrow and I were childhood friends, when we both performed in community theater together in Shreveport, Louisiana (we were both newsboys in Gypsy, for all you musical theater queens). As we grew, he always got the good parts and I ended up working the spotlight — shining it on him — but I'm not bitter, I swear! Producing this video was a great chance to honor my lifelong friend for the activism he has done since the beginning of the AIDS epidemic. And it also allowed me to honor theater itself, and how Bobby is now back in the very place he and I so loved when we were kids. This one is special to me.
You're going to be blown away by the strength of this woman's convictions — and the strength of her marriage. Brooke learned she was HIV positive during her pregnancy, and not only was her husband completely supportive, he stood by proudly as Brooke became a visible advocate for woman's health, the importance of HIV testing, and their personal struggle to afford HIV medications so that their baby would have a better chance of being born without HIV. And speaking of babies, guess who steals the show in this video?
Khafre was one of the most immediately spiritual people I met during this series. He has a very strong sense of faith and a commitment to his own spiritual principles. He was also in the midst of organizing a fund raising bike ride across the country to benefit HIV/AIDS services for people of color, and I admired his dedication and pure energy. The time he devoted each day to prayer and meditation was really lovely to observe and capture in the video.
Episode 7: Petra Berrios and Efrain Carrasquillo
Petra & Efrain could give the other couples in the series a real run for their money for the title of Most Romantic. You can't help but grin, watching Efrain describe seeing his future wife for the first time at an AIDS conference, where both were community advocates and both were living with HIV. They not only lift up one another during the frustrations of HIV life, they know how to take time to love and enjoy one another, as their salsa demonstration clearly shows.
Tales of triumph over adversity don't come more dramatic than the story of Fortunata. Not only is she the single, proud parent of a gorgeous daughter (the apple doesn't fall far from the beauty tree), she had a devastating accident when she was hit by a car walking across the street — and then had to manage her HIV meds along with a host of others while she recuperated. The fact that she relates all this with such grace was amazing to me. I had so much footage of her simply looking ethereal and lovely, the video could have been twice as long.
Anyone who follows my blog — or HIV/AIDS advocacy — knows what a gift Nelson is to our community. He's been our own Jack LaLanne of HIV, teaching the importance of health, exercise and nutrition since the beginning of the epidemic — the video blogs he did with me on nutrition (where he cleans out my fridge) and exercise (where we hit the gym together) are hilarious and very informative. And, of course, he has a hot body. It might come as some surprise, then, that he's very modest when it comes to showing it. I had all sorts of shots and angles I wanted to do that would have shown of his physique, and he politely demurred. He also was always focused in our interview on what would apply to regular folks living with HIV, rather than the more privileged among us. In other words, the man is a class act, with a humility that speaks volumes about his integrity and commitment.
I've been watching Robert grow as an HIV/AIDS advocate for several years now, since he began POZIAM social network and radio show while still in his twenties. I had fun doing the fast cuts that open his video because I thought it captured the sense of motion and vitality he has. When I become disheartened, wondering where are the next generation of activists on the scene, I remind myself there are people like Robert.
I've always been open on my blog about being in recovery from drug addiction, and George — who survived 27 years of street drugs — and I had an immediate connection. He devotes his life today to service for others, whether it is at an AIDS agency or through various addiction activities. In fact, something he said about his recovery during our interview really made sense to me, and I stopped the camera and shared some of my own story. For nearly thirty minutes he let me pour out some of my own fears and challenges, and listened with the attention of a man who has been there. I think his spirit is well-represented in this video.
To watch George's video, just follow this link to TheBody. This video is so hot-off-the-presses that I'm not able to share it here yet. Follow the link and hear his story.
I learned a lot of each of these people, and I know they represent a tiny fraction of the courage and daily fortitude displayed by people living with HIV every single day. I really want to thank this group for taking me into their homes and lives and allowing me to share their stories with you.
Thanks for watching, and please be well.
Mark
Tags: aids, gay, help others, hiv, lipo, physician, recovery, research, Sexuality, testing
Posted in Gay Life, Living with HIV/AIDS, Meth and Recovery, My Fabulous Disease, Prevention and Policy | 1 Comment »
Thursday, January 24th, 2013
For several years now, I've made the occasional pilgrimage to Vero Beach, Florida, to be treated by Dr. Gerald Pierone for facial wasting, or lipoatrophy. And for all of these years, we have battled The Look: the sunken cheeks and sagging face of someone who has been on HIV medications for a long time. In my latest video blog below, you're going to see our progress, step by step.
It was all well and good to be front-and-center as an HIV-positive man during the first years of the AIDS crisis. It's easier being a role model when your face looks good on the poster. But my dismay over the telltale wasting that began to appear on my face surprised me, and it pitted two strong emotions against one another: my pride in being a longtime HIV/AIDS survivor, and my shame for looking like one. I'm only human.
There is an emotional component to facial wasting, because it forces us to address our own vanity, as well as the very real, physical results of HIV medications, which often affect people who have had no other manifestations of the disease. I've tried to address these issues in past blogs, but to be honest, I have put more time and effort into just trying to wipe the AIDS right off of my face.
For my earlier treatments, Dr. Pierone used Sculptra and Radiesse, both effective but temporary solutions to facial wasting (results vary, but typically last somewhere between six months and two years).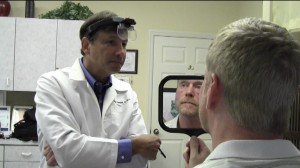 Beginning with my last appointment a year ago (shown in a previous video blog), Dr. Pierone began using Artefill, a more permanent filler product (Dr. Pierone wisely does these treatments in careful stages). But, because Artefill is not FDA approved specifically for facial wasting (it is approved for cosmetic use), it cannot offer the same kind of patient assistance programs as the ones offered by Sculptra and Radiesse. New studies are underway now to show what we already know: Artefill is safe and effective for facial wasting. Once approved for this purpose, one can assume the manufacturer will join the patient assistance bandwagon.
Thanks for watching, and please be well.
Mark
(It's worth mentioning that I do not receive promotional consideration from the makers of any of these products. I'm simply sharing my experience with facial wasting, and I'm sure that "results may vary," as they say. — Mark)
Tags: Aging, aids, hiv, lipo, physician, Radiesse, Sculptra
Posted in Living with HIV/AIDS, My Fabulous Disease, News | 5 Comments »
Friday, September 9th, 2011
July and August were almost frantically productive for me, and I've followed it by the longest period of, well, nothing, since I began producing this blog. Sorry. Sometimes an HIV guy just needs to lay around and catch up on Top Chef and Real Housewives (God bless you, Bravo).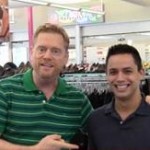 Hopefully you caught my most recent videos, such as the my examination of activism in "Should AIDS Activists and Pharma Just Get Along?" (complete with red paint foisting), or the video update on my facial filler procedure with Dr. Gerald Pierone (very informative but not for the squeamish), or the helpful tips for saving money with the knowledgeable Jason King (right) of AIDS Healthcare Foundation, whom the camera adores, and about whom I am harboring a jealous resentment (I may be petty but my grammar is pristine). And finally, it's always ironic when hours of video editing can't compete with one written posting the comes straight from the heart, like my tribute to Facebook putting my life together again.
But moving on.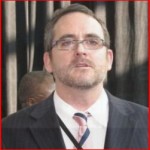 If anyone deserves being highlighted in the media for his commitment to HIV prevention, it's Jim Pickett of the AIDS Foundation of Chicago. In a well-written profile of Jim in the Windy City Times, you can follow his journey from waiter to activist to the man touting rectal microbicides as the next best weapon in our HIV prevention toolbox (I keep finding myself wearing a sticker proclaiming "I have Rectal Pride!" after visiting his booth at conferences). I've admired Jim's work for years and this fun profile explains why. "Expecting everyone to use condoms all the time is ridiculous," said Jim in the article. "People don't want to use condoms their whole life. As great as they can be, there are a lot of issues with condoms."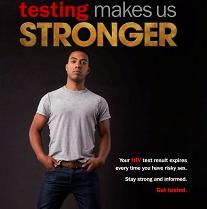 At the recent 2011 HIV Prevention Conference in Atlanta hosted by the CDC, I was thrilled to meet some of the dedicated members of the HIV/AIDS prevention team. What was even more satisfying was seeing their new prevention campaign targeting black MSM's ("men who have sex with men," who don't always identify as gay). To date, there have been limited data about the factors contributing to the high burden of HIV among black MSM, particularly those who are young " and yet the latest CDC data show that new infections among this group are increasing every year. Fortunately, the CDC is focused strongly on this population, and previewed a major new campaign being developed to increase HIV testing among black MSM " called "Testing Makes Us Stronger" " as the next phase of its ongoing Act Against AIDS campaign.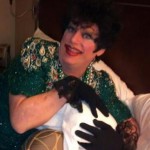 Thank God I'm clean and sober and alive today. If I was still an active crystal meth addict, I would have missed an astounding recovery conference during Labor Day weekend, which introduced me to some amazing people and strengthened my resolve to keep working to restore and rebuild my life. While I'm always coy about which method of recovery I have chosen (I don't wish to promote one over another), I will tell you that my camp alter ego Anita Mann (left) wasn't coy at all, and — get this — she actually sang live during one of the evening's entertainments. Alas, neither she nor I sing very well, but the message of recovery is clear, and she shares some funny, wise words with the audience after her song. Watch the clip here, but be kind.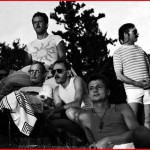 The emotion of "We Were Here," the documentary about the darkest days of the AIDS epidemic and its effect on a group of gay men, can be felt just by reading the reviews, like the rave it just received in The New York Times. I'm almost nervous to see it because I know the trauma and grief it could summon, but I also know I absolutely must. If you can't find it playing at a festival or cinema near you, then for goodness sake, go directly to Netflix or some other DVD rental site and put it on your list. I often speak of honoring the past — in fact, my favorite video on this site, "Once, When We Were Heroes," recounts those days and is always worth another look.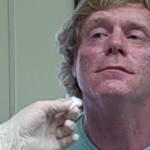 My (healthy?) fixation on repairing my facial lipoatrophy (also known as facial wasting) continues, and I am pleased to report that I have begun treatments with Artefill, the "permanent facial filler" product, under the continued care of Dr. Gerald Pierone in Vero Beach, Florida. My past treatment with other products is well documented, but I've got to say that these results are well beyond those of Sculptra or Radiesse, truly. The bad news: Artefill is not approved specifically for lipoatrophy, so there are no patient assistance programs for those of us with HIV, making the treatment expensive (in the thousands of dollars). While I don't expect many of my fellow HIVers can afford it, I felt compelled to share with you the very positive results.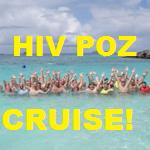 I am the MC for the annual HIV Poz Cruise Retreat, set for this November 5-12 to set sail from Ft Lauderdale. There was such an abundance of fellowship and acceptance last year that I had to do it again. There are sometimes last-minute rooms and cancellations, so if you would like to check it out be sure to visit the web site. You can also watch my video blog from last year, which gives you a great feel for the event and the fun people aboard. Kudos to the dedicated Paul, a long time AIDS advocate and man living with HIV, who has shepherded the cruises for the last nine years.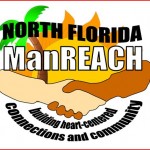 Some of the most progressive events for building gay male community and preventing HIV are being developed in the Florida panhandle, of all places. On Monday October 10, I'm honored to be participating in the "Our Gay Generation" forum for gay men in Pensecola, which will explore what it means to be a healthy, satisfied gay man today by looking at our past and rededicating ourselves to one another. Sponsored by the Oasis Community Center (and Butch McKay, the formidable force behind the annual Positive Living conference), the forum transcends political issues like gay marriage, and focuses instead on personal satisfaction, community, and the value of friends. Later in the month, the same group will host a ManReach retreat for 40 gay men at a remote retreat center. Contact Oasis for more information on either event.
Whew! Okay, I'm caught up. Thanks for your patience, my good friends, and please be well.
Mark
Tags: aids, culture, drag, gay, gratitude, hiv, lipo, physician, recovery, Sculptra
Posted in Anita Mann and Acting Gigs, Family and Friends, Living with HIV/AIDS, Meth and Recovery, My Fabulous Disease, News, Prevention and Policy | 8 Comments »
Tuesday, August 2nd, 2011
Several years ago, I told someone that I was HIV positive before I agreed to his invitation for a date. "Yeah, I know," he casually replied, and then he looked a little embarrassed, as if he shouldn't have said it. It was too late, of course; I knew exactly what he meant. He knew my HIV status because of the appearance of my face.
I was crestfallen, and felt something close to shame, certainly embarrassment. Why is it that I can produce this blog, proudly march with HIV POSITIVE on my t-shirt in gay parades, and even write a book about coming of age during the dawn of AIDS — but I get upset if someone can tell I'm positive by how I look?
When I choose to disclose, privately or publicly, it's on my terms. I choose how and when to tell you. I want you to know.
Facial wasting (known as lipodystrophy) takes that choice away. It's as if the disease is intruding, is taking the upper hand somehow, and worse, taking away my decision about when and to whom I disclose my status. And as much as I want to claim "Most Out Poz Guy Ever," I don't like wearing HIV across my face.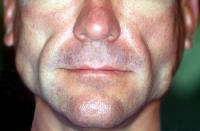 Most of us know "the look." It's the telltale gullies and sunken cheeks associated with longtime HIV infection or (more likely) medications (right). Many of my friends and colleagues in this struggle suffer from it, and they may either be comfortable with it, proud of it as a badge of honor, or simply resigned to it. I salute us all, whether our features tells our HIV story or not. But meanwhile, I'll do what I can to wipe that shit off my face.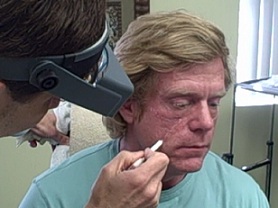 A few years ago I visited Dr. Gerald Pierone in Vero Beach, Florida (regarded as the leading expert in fillers and one of the Ask the Experts team at TheBody.com), and I documented that first visit and my facial filler treatments in a video blog, Treating My Facial Wasting (left). In that video I focused on my own attitudes — Was I ashamed? Trying to look younger? Simply vain? — and on the procedure process itself. Nearly a year later I revisited Dr. Pierone and got another treatment and documented it in my video blog, A Facial Wasting Update.
In this video episode of My Fabulous Disease, I revisit Dr. Pierone for a new treatment with the facial filler products Sculptra and Radiesse. While I'm there, I learn enough about Artefill, the only FDA approved permanent facial filler, to make me strongly consider the product the next time my face needs fluffing.
This video also focuses on very specific information about the actual costs of facial filler treatment. Both Sculptra and Radiesse have patient assistance programs that significantly reduce the cost of the medication, but you still need to pay the physician to do the procedure, and that price can vary. TheBody.com has a great article that outlines all the facial filler choices and how much they cost.
Tip: don't allow any street corner vendor (or gym or even doctor office) to inject stuff into your face. Do some research and above all, find a physician who has done this many, many times (over 500 would be a good start). Be a smart shopper and empowered patient and ask about their experience level first.
I hope you find the video helpful and that you aren't too afraid of needles!
In the meantime, my friends, please be well.
Mark
—————————————————–
PLUS…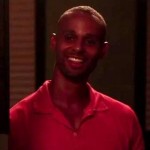 Compelling, sexy, and courageously paced, the short film "SLOW" by filmmaker Darius Clark Monroe is worth your time. In 13 minutes, the film takes two African-American men on a sexy journey in which one of them discovers that the fast way (to sex, to real intimacy) isn't the only way. If you are working with MSM outreach, this is a wonderful discussion tool. If you appreciate confident film making with a gay theme, this is it. Director Darius Clark Monroe told me he had nothing to add to the film's message: "everything I wanted to say is expressed in the work…" and indeed it is. The video is NSFW, due only to brief nudity, but otherwise this flick wants to stimulate you mentally much more than by parading naked men around — a lazy tactic employed by most gay films today. I hope you'll check it out!
Tags: aids, hiv, lipo, physician, Radiesse, Sculptra
Posted in Gay Life, Living with HIV/AIDS, My Fabulous Disease, News | 4 Comments »
Tuesday, March 8th, 2011
When Mark first started My Fabulous Disease, I was pretty sure it was going to directly result in the destruction of humanity.  One year later, we're all still here.
I can't believe I lost that bet.
Myles Helfand, Editor, The Body, The Complete HIV/AIDS Resource
My father always said, "Raise your hand. Ask the stupid questions. Don't be afraid to make a fool of yourself." If he isn't rolling in his grave today, he's certainly shifting a little, because if there's one thing I've tried to do with my blog it has been to ask basic questions of others — and reveal everything I can of myself. The result has been a really gratifying experience sharing my life as an HIV positive gay man in recovery from addiction.
One year ago, I launched "My Fabulous Disease," but the site was birthed and nurtured by the talented staff of TheBody.com. I have been contributing to TheBody for more than a decade as a writer, and producing videos for the last several years. For that I am indebted to Bonnie Goldman, the founding editor of The Body, and to the current Community Manager, Olivia Ford.
In this special video episode, I have some fun answering the most frequently asked questions about my videos — and what it has been like exposing myself, figuratively speaking, to all of cyberspace. The bottom line: it has been an honor to reveal, report, and ruminate on life's challenges and joys as an HIV positive man.
I realize I'm not exactly an expert in the science of HIV or even a lot of the psycho/social issues involved. What I am, though, is curious. So I've tried to trust my own instincts and "ask the stupid questions" my Dad was talking about. Whether it was meeting teens at the AIDS conference in Vienna, exercising with fitness expert Nelson Vergel, or interviewing activists at the recent ADAP summit, I let my curiosity guide me.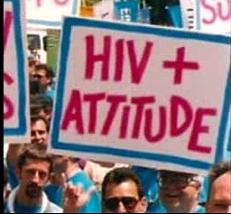 Sure, I've bombed a few times with my videos. It's been a learning process, and sometimes I misjudged a topic somehow, or just plain create a boring episode. Trust me " or ask anyone at TheBody, because they know how I worry " I keep close tabs on the comments and on the number of hits. And I'm constantly second guessing my choices. As much as I want to trust my instincts alone, I can't help but want to be popular.
The episodes that mean the most to me have been the ones which were the most personal and didn't even focus on my HIV (like "Facing Change," about leaving Atlanta to renew a relationship, or "Taking Care of Hal," about caring for my dying brother), or the ones that were the most practical and instructive (like "A Facial Wasting Update" about my facial filler process, or helping people select the best physician in "Six Tips for Choosing Your HIV Doctor").
Along the way I have had the honor to meet people working as activists and elected officials and advocates around the world. How can I not be grateful and happy when I meet such smart and dedicated people? I know our HIV/AIDS crisis isn't rosy and I know people are suffering. I also know without a doubt that we are in committed, loving hands the world over.
Let me leave you with this: we all have a story to tell. It is the story of how HIV/AIDS has affected our lives. Please, my friend, please tell it. Write an article or speak out on World AIDS Day. If you're more private, maybe you could just explain to a nephew what it was like when you once lost a friend to AIDS. Maybe it is as simple as asking your friends if they have been tested lately, and why it means something important to you.
There are so many people who write me, and they thank me for giving their experience a voice, because they can not speak out. If you are blessed with the opportunity and ability to share your experience, then please join me. There is so much room, so much loving space in this world, for your voice and your story.
You don't even have to dress in drag when you tell it. It just helps.
Please be well,
Mark
"A year of My Fabulous Disease isn't nearly enough. You've had the courage to address publicly, with your words and videos, the stuff a lot of gay men and people with HIV are accustomed to only thinking about."
Sean Strub, Founder, POZ Magazine
Your blog provides a limpid stream of good advice and optimism for anyone who stumbles into it. Your take on living with HIV is clearly the only one worth having, because you manage to inspire and annoy exactly the right people.
Gus Cairns, Editor, HIV Treatment Update
Here's to many more years of Mark's disarmingly honest, charmingly sincere, frequently bittersweet, and, above all, community empowering video blog.
Edwin J Bernard, journalist and blogger
Happy Birthday to My Fabulous Disease! You're just what the doctor ordered.
Robert Breining, Founder, POZIAM Social Network
I feel as if My Fabulous Disease is a sister site to "my glamorous HIV" way of life. More importantly, you've been able to create much needed dialogue within the community, and provide information with substance. We love you up here in Canada.
Brian Finch, Founder, PositiveLite
Laughter and lightness of heart have made a comeback in my life, thanks to your nutty taste. I have been reminded often that although our common condition is life (and death), it is no longer life OR death.
Rod Rushing, "On The Ten" Treatment Education Network
If Albert Schweitzer and Joan Rivers had a son, it would be you! Healing and outrageous all at once. Keep "curing" us with "My Fabulous Disease."
Chris Glaser, author, "The Final Deadline: What Death Has Taught Me about Life"
You and your blog are such an inspiration to others whether they are infected with HIV or someone who is still negative. We are also proud to have you as one of our Dab the AIDS Bear's Ambassadors of Hope!
Dab Garner, Founder, Dab the AIDS Bear Project
Happy Birthday! You are doing such a great job at portraying the face, humor and humanity behind a terrible disease that will continue to proliferate in our community if people like you don't continue to remind the rest of us that it still exists.
Zack Rosen, Editor, The New Gay
Tags: Aging, aids, barebacking, culture, family, gay, gratitude, help others, hiv, lipo, meth, physical, physician, politics, Radiesse, recovery, Recreation, research, serosorting, Sexuality, testing
Posted in Anita Mann and Acting Gigs, Family and Friends, Gay Life, Living with HIV/AIDS, Meth and Recovery, My Fabulous Disease, News | 14 Comments »
Tuesday, February 22nd, 2011
"The suspense is terrible. I hope it will last."
— Oscar Wilde, The Importance of Being Ernest
How was this judged, exactly? I was afraid you might ask. Not on the number of hits or any formal voting procedure. I relied purely on feedback received through the year and from posted comments, but mostly, umm, I picked my favorites. So there.
The Top Ten Posts from My Fabulous Disease
presented in reverse order
—-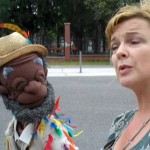 #10. The Wisdom of Youth at AIDS2010. My skills (and physical stamina) were sorely tested when TheBody.com sent me to Vienna for the 2010 International AIDS Conference. Every day was a sprint around the massive conference center in search of stories that inspired or amused me. In this episode, I was blown away by a collection of teenage (!) activists from around the globe who gave a press conference and then chatted with me (try being nineteen and an HIV advocate in Afghanistan). Then I interviewed an actual muppet with No Strings, a program that uses puppetry to communicate with African children about AIDS, transmission, and grief. Awesome.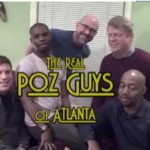 #9. The Real Poz Guys of Atlanta. Nothing has been more important to my long term sanity and well-being than the support of friends, so I decided to let you meet a few of them in this ongoing series of videos. In this, our second get together, my friends Craig, James, Antron and Eric and I (all of us are living with HIV) bake brownies — recipe included in the post! — and dish about our HIV, doctors, families and love lives. To top it off we all engage in some surprisingly moving "show 'n tell," by bringing things to our dinner that represent something about life with HIV. If you need to feel the love of friends right now, check this out.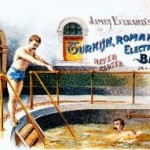 #8. Locker 32, your room is ready… to be hosed and sanitized. Okay, so here's my bawdy comedy side, in a farewell essay to the gay baths. In my former, youthful and/or drug fueled days, I was a staple in such establishments, and the value of how one looked sauntering about in a towel was a misguided priority that, frankly, I'm still working to shake from my world view. But there's no such depth in this funny essay, just a final look at the baths on my very last visit, or as the piece begins, "the last time I went to the baths… I stepped in poop." Hold your nose, and enjoy!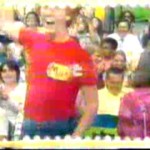 #7. The Price is Right, thirty years after coming on down. "When I was 19 years old, I vacationed to Los Angeles and won a car on The Price is Right." So begins my book "A Place Like This," my first-person account of my years in Hollywood in the 1980's. I use the game show story to reflect on the young man I was and what dreams I had, while AIDS looms in the near distance ready to wreck the plans of a generation. I've always liked this as its own essay, though, and thought it would be fun to include the actual footage of my winning the car, so the reader can watch the little story come to life.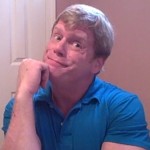 #6. My T-cells Could Use a Facelift. I've probably posted the heart and soul right out of this poor video, using it more than once this year, but it remains a favorite of mine because it strikes the heart of my issues as a gay man, a man with HIV, and an aging one at that. We're the guys that can still remember being youthful but we just don't quite hack it in the cruise clubs anymore. I know I shouldn't miss it, and yet… The video also lets me show off my butt pads and discuss my not-so-subtle tactics to avoid growing up. Maturity is hard won in my household, my friends.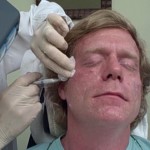 #5. A Facial Wasting Update. This is when I realized the real potential of my little digital camera: when Dr. Gerald Pierone agreed to let me film our consultation about my facial wasting (lipoatrophy), and the procedure to remedy it. This episode is actually our second video together, when I returned for a follow-up treatment — it reviews footage from the first visit but also gives a more accurate look at the treatment results. At the end of the first episode, I was so pleased with my new face that I shot my closing with such bright light I looked like I was voguing in a Madonna video. I don't make that mistake again.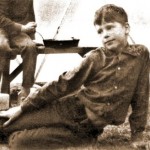 #4. I am the man my father built. Why are there passages in our life that we return to, again and again, those milestones that shape us and serve as references points our entire lives? Camping in the woods would seem an unmemorable scenario for a young gay boy like me (behold my pubescent self, right, in repose). Dad wasn't trying to butch me up, he simply reveled in being different, like pitching a clear plastic tent when all the other fathers and sons on the campout had normal ones. But every time dad instilled in me the value of being different ("that's the beauty of it," was his most common exclamation), he was preparing his son for the world in a way he never imagined. A love letter to my dad, and I hope you'll read it.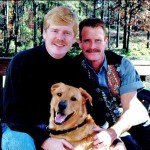 #3. Examining death, including the one I caused. To be honest, I thought I was doing my ex-partner Chris Glaser a favor by reviewing his most recent book. But that blithe arrogance evaporated when I read his elegant book about death, "The Final Deadline." Chris devotes chapters to manners of death and their lessons for the living, and to my surprise includes one about the death of our relationship and there, suddenly and in black and white, was the wreckage of a romance, and the crushing hurt I had caused when I chose my escalating drug addiction over my partner. Reading this book would enlighten anyone, but no one more than me. Chris' capacity for forgiveness and finding teachable moments is more beautifully rendered in his book than anything I might conjure.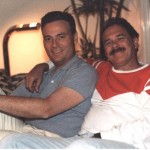 #2. Once, When We Were Heroes. Another one I've posted to death — the video version has been on my main page for ages — but it's as if I'm afraid I'll never write something quite like it again. It sprang from my observations about so many of us that lived through the horror of the 1980's and how mundane our lives are today. So many of us were called upon to do courageous things, or withstand terrible grief, and today we're shopping at Macy's and planning brunch. Which is a miracle and perfectly allowed, of course. It just makes me realize that you can never know what the man on the treadmill at the gym might have once withstood, or how resilient our own spirits are, when we once thought they might never survive.
And the #1 blog posting of my first year is…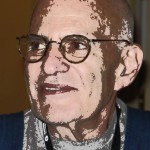 #1. The Day Larry Kramer Dissed Me. Pure whimsy, no doubt about it, and the funniest part of this fictional account of a disastrous trip to the mall with Larry Kramer was how many people didn't know I made the damn thing up. Not until they read the footnote. Reactions were all over the place: how dare I ridicule an icon, they wanted to know. I would be dead if it were not for him, they wailed. And "this is hilarious, please do HRC next!" I have not had the honor of meeting Larry Kramer but idolize him as an activist and as a writer. And if my "six degrees of Larry Kramer" friends are telling the truth, the man himself got the joke and liked it (and even left a posted comment for all to see).
Honorable mentions: My provocative chat with activist and POZ Magazine founder Sean Strub, "Five Things About HIV They're Not Telling You," had prevention advocates either impressed or aghast, and that's a good thing. My favorite little video was the Gay Pride PSA That Will Never Air, which begins with funny stories before it punches you in the gut with a message about drug addiction. And speaking of addiction, there's a precious vision of recovery is in the simple essay "A Dance to an Atlanta Night," in which I enjoy some simple pleasures with friends who have seen me at my worst.
I feel like I'm hitting my stride. Thanks to all of you for your words of encouragement, and I mean that. This has been an awesome adventure because of you. As always, please be well.
Mark
——————————————–
I hope you will consider "sharing" this via the buttons below with anyone who might enjoy an introduction to the blog. I love reaching new readers. Thanks.
Tags: A Place Like This, acting, Aging, aids, barebacking, culture, drag, family, gay, help others, hiv, lipo, meth, physician, politics, recovery, Recreation, serosorting, Sexuality
Posted in Family and Friends, Gay Life, Living with HIV/AIDS, Meth and Recovery, My Fabulous Disease, News, Prevention and Policy | 2 Comments »