It's difficult sometimes, writing about an event that so easily lends itself to images and sound. Such is the case with the AIDS2012 March to End AIDS, the subject of today's video blog episode from the conference.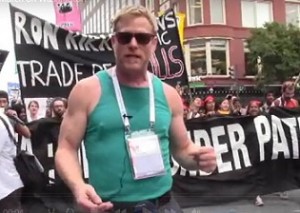 The people included in the video can speak for themselves, and quite eloquently. Maybe it was the emotions of the event — anger, nervousness, pride — but it was an exhausting day. I felt the residue of grief for lost friends in a way I haven't experienced in years.
Just before the various HIV/AIDS marching groups convened in front of the White House, my camera person (Tina Robles of HealthCentral) and I had lunch a few blocks away. I realized that she's in her twenties and no one who lived through AIDS in the 1980's had ever described for her what those years were like. I told her about the foxhole mentality, the guest rooms that became makeshift hospices, and the pure horror of waiting to be the next to go.
"Well…" she asked softly, after listening to my tales, "how can you possibly keep such a positive attitude after going through all that?"
"Because my joy is an enormous 'Fuck You' to AIDS," I said. And it's only in that moment that I realized how right that seemed, and that my departed friends would approve — and would be cheering me on during the protest.
Tina had never been to any kind of street demonstration, and was bravely filming our antics at the front of the massive line of protesters at the front fence of the White House. But, bless her heart, when the cops came out in force and demanded that we retreat, Tina handed me the camera and wished me luck and took safety in the park across the street. I don't blame her. The crowd was edgy and the adrenaline was pumping.
This is my favorite episode of my AIDS2012 coverage so far, and I hope you will enjoy it and share it with others.
Thanks, and please be well.
Mark
Comments