Day Two of the international AIDS conference (AIDS2012) roared through its first full day on Monday, and there are sights to behold.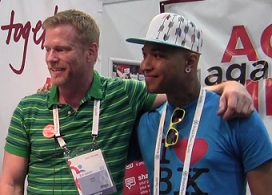 I spent some time in the exhibit hall critiquing the fashions (and the issues) of various attendees with fashion maven Jack Mackenroth, started a YouTube rivalry with inspirational singer Jamar Rogers ("The Voice," right), and learned about HIV and aging from an expert with the Terrence Higgins Trust.
And, with all the talk at the conference about the devastating effects of HIV stigma, I found validation of my own HIV status in the unlikeliest of places: the Gallery Place subway station.
Coming up: the amazing Global Village and a march on Washington by advocates from around the world!
Meanwhile, my friends, please be well.
Mark
Comments