The AIDS2014 International AIDS Conference in Melbourne, Australia, proved to be as colorful and exhausting as I had anticipated. There was no lack of images in the gorgeous city to share in my daily video blogs, and that included the faces of countless advocates from around the world.
My deep thanks to my friends at TheBody.com, who sent me to the conference and for whom I created exclusive content of the event. My Fabulous Disease was born on their site and it is a real gift to continue a collaboration that spans nearly twenty years.
My gratitude, too, to my new Aussie mates at Living Positive Victoria, an impressively active and engaged organization of people living with HIV/AIDS. They welcomed me warmly and were indispensable in providing guidance and access to a multitude of events.
Follow the links below to view each video at its home on TheBodyPro. Here's a breakdown of each video episode and a little background on each.
Video #1: At MSM Global Forum, the Shock of Tragedy and the Road Forward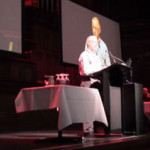 No one could have foreseen that the conference would begin in tragedy, as news of the crash of Malaysia flight MH17 circulated among delegates just as we arrived in Melbourne. Initial reports that more than 100 delegates had perished proved to be untrue, but the sting of loss was deeply felt nonetheless. At the pre-conference event sponsored by The Global Forum on MSM and HIV (MSMGF), emotions were high as prepared remarks were tossed in order to deal with the unthinkable events.
My own preparations for the day were jostled as well, because I knew my usual lighthearted reporting had no place among the broken hearts in the hall. I focused instead on the impact of the tragedy and how MSMGF had dealt with the events in the previous hours. And then, as we have come to know so well in the last 30 years, we soldiered on in memory of those no longer with us. A difficult day, even with the inspiring work that was presented.
Video #2: Criminal and Mannequins, Both Fighting HIV Stigma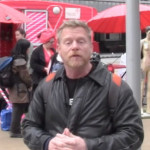 The next pre-conference event, Beyond Blame, focused on the international issue of HIV criminalization. I have covered this topic before as it relates to the United States but it was awesome to see the international community at least as engaged as we are. Expert Edwin Bernard weighed in on breaking news from the US, while the inspiring Laurel Sprague puts the issue in context of women and power struggles.
Strolling the streets of Melbourne revealed a city very engaged in the conference, with bus signs and art installations everywhere. Wait until you meet Madam Kim of Positively Fabulous, who has funneled her "obsessive behaviors" into a hot pink avalanche of awareness and art that shines a light on women and HIV. You'll also see reminders that the plane tragedy was still very much on the minds of the conference and the still-mourning city.
Video #3: The Global March and Candlelight Vigil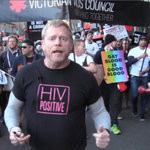 Always one of my favorite events of the international conference, this video drops you smack in the middle of the march and allows the passionate advocates to tell you exactly why they are there. It's the first time in my video coverage you get to meet so many of the international delegates face-to-face, and they do not disappoint. You'll be cheering for them!
The Candlelight Vigil following the march took place in one of the most gorgeous pavilions I have ever seen, in downtown Melbourne. Because of my own issues with grief and loss – I'm one of those people that is afraid that if I start crying I may never stop – I reached out to delegate and psychotherapist David Fawcett about the nature of grief and why it is important to express these feelings as a community. His insight provided the perfect context to my footage of hundreds of people who had come to mourn the loss of so many over the years – and those who perished in the plane tragedy only days earlier.
Video #4: One World, One Place, Thousands of Voices: The Awesome Advocates of AIDS2014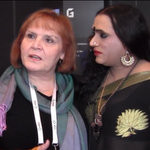 With countless global advocates convening in Melbourne, there is no shortage of impassioned voices. I realized soon enough that they needed little prompting from me, so I simply turned the camera on them and let them go for it. The result is a montage of voices, ringing out against all the ism's of our modern world when it comes to HIV.
My new friend from Nigeria, who risks a decade in jail simply for providing services to gay men, sounded a truth that still rings in my ears. "We cannot let them die simply because of who they love," he told me simply. Watching him celebrate at a dance party a few days later, in the safe company of his fellow delegates, told me everything about the resilience of our basic humanity, and how stubborn a thing like joy can be.
Video #5: Activist Theater, Condom Tryouts, and a Mystery Man Revealed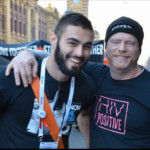 There's no way I can produce these video blogs alone. It's true that I operate on little sleep because after a full day of events I repair to my room to begin editing, a process that takes most of the night. But getting that footage in the first place means depending upon a camera man and assistant that shadows me day and night, maintains the schedule, and generally keeps me sane and laughs at my jokes.
Through Living Positive Victoria I found my professional dream date: Theodore, an Aussie from Sydney that had the perfect blend of patience, organization and good humor. He also happens to stop traffic with a towering physical presence and a smile that melts everyone, gay and straight, in his path. "Your camera man is so hot" became a running joke of the week.
Fortunately, I got to know the very heart of the man, and I'm much better for it. In this video, which takes you behind the scenes of theater being performed about HIV in Melbourne among other gems, I turned the tables on Theo and surprised him by getting him on camera for a change. You're welcome.
Thank you, my friends, for the privilege of bringing the sights and sounds of AIDS2014 to you. I am deeply grateful for the opportunity, and hope the coverage provides just a glimpse of the spirit of the conference.
As always, thanks for watching, and please be well.
Mark
Comments