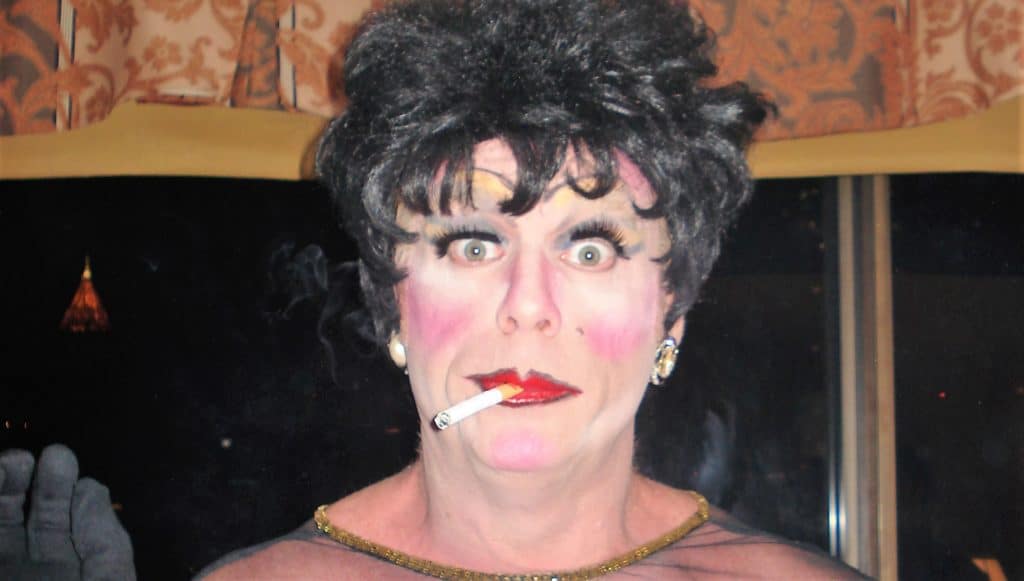 The musty gym bag stays in my closet, ironically enough. Inside, a crumpled black wig fights for space with a sequined dress, heels, a string of fake pearls and a bag of make-up. After more than twenty years since performing with the Armorettes, this is all that remains of Ms. Anita Mann.
That is, until Saturday, January 19th, 2019, when Anita will join decades of cast members for the Armorette's 40th Anniversary Show at the Buckhead Theater in Atlanta. The upcoming event reminds me of lessons the Armorettes once taught me about what it means to be a man.
My time with the Armorettes was a fluke, really. I was on staff at AID Atlanta in 1996, and a drag contest fundraiser for us needed more contestants. My boss twisted my arm, I entered, I won, and to my surprise and mortification, the prize included a three-month stint with the Armorettes.
Their Sunday night show at the former Armory nightclub was a sensation, with standing-room only crowds every week. It was raucous comedy of the highest order, raising buckets of money for local HIV charities, and joining the show felt terrifying. As it turns out, it was also divine.
Anita Mann was embraced by the group and by their audience. I have never laughed as much in my life than during those Sunday nights. But I soon discovered I had some internal conflicts about the notions of drag and masculinity.
I didn't want to be known as a drag queen ("It's comedy! I'm a performer!" I would insist to friends). I always got into drag backstage at the last minute, and usually changed back into a muscle shirt for the final curtain call, in my bid to claim whatever masculine credentials I had to offer.
I would hear other gay men make disparaging remarks about drag and I withered, unable to admit I was playing to a packed room every Sunday.
The nexus of shame and shamelessness is a complicated one. Each week I put on full display the very things about myself that I had worked so hard to reject – my feminine side, my theatrics, my need for acceptance through laughter and applause. It took time to gain confidence in what I was doing and why.
My fellow cast members had no such hesitations, much less shame, in their pursuits. From the moment I joined the cast, they demonstrated that courage and our shared commitment to fighting the HIV epidemic was as important as flawless lip-syncing or a great joke.
The Armorettes taught me to get over myself. They haven't raised more than two million dollars for Atlanta organizations – one dollar plucked from audience members at a time – by fretting about appearances. When our community is facing the devastation of HIV/AIDS, what anyone thinks of you in a dress is the very least of our worries.
It was this education that remains with me after all these years. I thought I was trying to be a man. The Armorettes taught me to be human.
And so, come January 19th, Anita Mann will spring from my gym bag in, well, most of her former glory. I might have to apply a lot more makeup to hide the years, while practice sessions in my living room suggest my moves are not, how do I put this graciously, as athletic as they once were.
It doesn't matter. For one night at the Buckhead Theater, we will all be young and outrageous again, cheering on a group of true comedy professionals who have tended to our community through its darkest days and beyond. I am forever proud to be Anita Mann, one of the infamous Armorettes.
Meanwhile, I will admit that I still struggle with the need to project whatever masculinity I can muster. I swagger more than I sashay. I sport a beard when possible. And even as I move precariously close to 60 years old, I maintain a gym regimen.
It's important for me to stay in shape if I expect to fit in that dress.
Mark
Comments