[fusion_builder_container hundred_percent="yes" overflow="visible"][fusion_builder_row][fusion_builder_column type="1_1″ background_position="left top" background_color="" border_size="" border_color="" border_style="solid" spacing="yes" background_image="" background_repeat="no-repeat" padding="" margin_top="0px" margin_bottom="0px" class="" id="" animation_type="" animation_speed="0.3″ animation_direction="left" hide_on_mobile="no" center_content="no" min_height="none"]
There's no way of saying this without it sounding like a humble brag, at best, so I'm just going to come right out with it.
My Fabulous Disease has won the prestigious "Excellence in Blogging" award from the National Lesbian and Gay Journalists Association (NLGJA). This is the second time my blog has been honored with this award, having won in 2014, the year the category was created. So if you're keeping score, that's two for three.
Evidently I'm too excited to do the humble part of the brag. My apologies!
The award is part of the annual Excellence in Journalism Awards, sponsored by NLGJA. They actually wield enormous influence, with members from outlets as varied as CNN to The New York Times to POZ Magazine and, well, little guys like myself. As stated in their press release this morning, "The NLGJA Excellence in Journalism Awards were established in 1993 to foster, recognize and reward excellence in journalism on issues related to the LGBTQ community."
One of the judges had this to say in awarding My Fabulous Disease their honor:
Mark S. King is one of the few people still doing blogging in the traditional sense, and he does it quite well. There's news, there's context, there's personal input and it's compelling and accessible. For example, his coverage of the ways

Charlie Sheen was discussing HIV

were spot on and unrivaled and I was delighted to revisit it as part of his nominated material. King displays excellence in HIV coverage year after year. 



But ultimately, this is really about you, my readers and those involved in HIV advocacy, because you are usually the topic of my writing. Whereas my blog was almost strictly personality-driven in its early years, I have enjoyed, more and more, shining a spotlight on the work of other people. Yes, I am still capable of an opinionated rant (and how I so love writing those), but it is clear to me that my blog's success it tied to the work of people just like you.
Just as exciting is the fact that HIV coverage was well represented this year, across the map of categories.
Placing second in the Excellence in Radio award was an important story from Jim Burress of WABE-FM, "Fulton County Doesn't Spend, Loses HIV Prevention Money," about the misuse (or non-use) of crucial HIV prevention dollars.
The amazingly prolific Ben Ryan (the "nearly naked AIDS advocate" I profiled a few months ago), was awarded second place for his POZ Magazine piece, "When Can We Expect PrEP 2.0?" It's a topic that is still very much on his mind.
"PrEP is a fast-moving train in the United States, with use rising dramatically in major cities," Ben told me about his win. "It's been exciting to cover the science behind this new prevention tool, from a molecular to a public health and sociological level. The news will likely keep getting better as new forms of PrEP hit the market in the future, offering a long-term injectable form and less toxic oral drugs. A major concern I have, however, is that PrEP is largely being used by white gay men in a select handful of major cities, such as New York, San Francisco, LA and Seattle. I anticipate that PrEP will effectively widen racial disparities in HIV rates in the coming years. If people wind up proclaiming victory due to a collapsed HIV rate among white gay men, what will happen to minorities? Will people lose interest in the HIV fight?"
Bisexual writer Heather Boerner (her sexuality bears mentioning, considering how "invisible" the B in LGBT can be) took top honors in the HIV/AIDS Coverage category, for her "Ongoing HIV Prevention/Treatment Coverage" for The Daily Beast and TheBody.com.
"I started my career in the LGBT press, writing for the now-defunct New York Blade," Heather told me, "so to win an award from NLGJA is especially meaningful to me. But it's also meaningful to me because the stories I submitted were all about HIV/AIDS, yes, but they weren't only about HIV/AIDS from an LGBT perspective. I will say that there's still so much to say and do and write about HIV–even more so now that more and more research is proving what some couples have known for years, which is that treatment really can prevent transmission, and there's no reason to be afraid of the virus."
Following Heather is second place in that category is Daniel Villarreal and Topher Williams for "'Trust Him?': Why Are The Images Debating PrEP Use So Consistently Shitty?" for Daniel's site, UnicornBooty.com.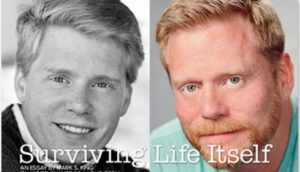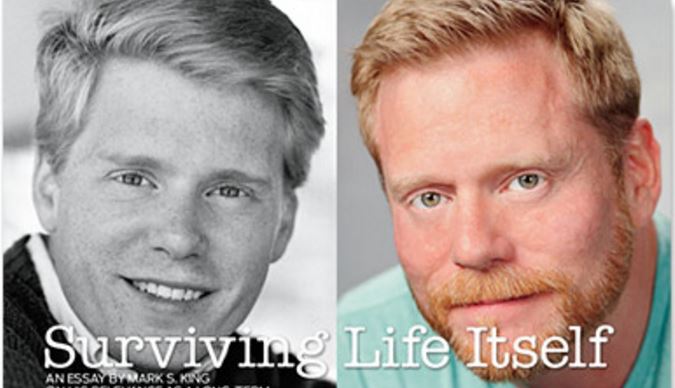 And in an embarrassment of hardware riches, I also won second place in the Feature/Editorial Writing category, for my POZ Magazine essay, "Surviving Life Itself," chronicling my life as a long-time HIV survivor. That particular piece was a real high point for me as a writer, and I am grateful as always to editor Oriol Gutierrez for his shepherding of my work.
Let's just consider this another opportunity for me to thank my literary colleagues, including many sites and editors who have supported the voices of people living with HIV.
Let's keep speaking up, y'all.
Mark[/fusion_builder_column][/fusion_builder_row][/fusion_builder_container]
Comments