"You've got to fight back. You've got to fight back hard."
— Abby, the young vampire of the new film Let Me In
In the melancholy new vampire thriller Let Me In, the most unnerving scenes for me had nothing to do with fangs or bloodletting. They were the scenes of bullies terrorizing Owen, a lonely 12-year-old boy at the center of the story (below). His traumatic assault by school tyrants gives the film a topical sadness that's hard to shake.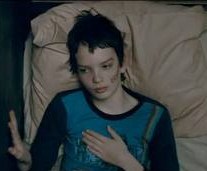 Worse still, when the bullies in the film are visited by gruesome violence themselves, my feelings shifted. The teen inside me, the one who had been kicked and humiliated in grade school, nodded in approval at the carnage and whispered, "good." My own childhood traumas are not buried very deeply.
Bullying has taken center stage in the public consciousness lately, with the number of gay teen suicides growing by the week. Six heavily reported deaths, at last count. In several cases, bullying seems to have played a role in the teens' final misery.
According to a 2009 survey by the Gay and Lesbian Students Education Network, 90% of gay or lesbian students have been physically harassed in school, and nearly two-thirds feel unsafe being there. Gay teens also racked up more absenteeism and had lower grade point averages.
There are some encouraging responses to the recent wave of tragedy, and two projects in particular have everything to do with the internet and it's growing influence on our lives.
David Glick is a career educator who founded GLBTQ Online High School, a cyber alma mater that opened in January of this year. David believes his online schooling can be a healthy alternative for queer kids who are having trouble functioning safely in a bricks-and-mortar school, and he rejects the notion that an online experience might impede social skills.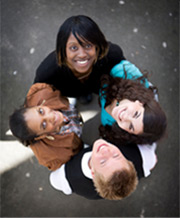 "Socialization isn't based on where or how you take classes," David explained. "We are social creatures. GLBTQ High School wants to give students tools to socialize more successfully. Meanwhile, we help them focus on their academic achievement."
Many of his students dropped out of school due to bullying, David said. GLBTQ Online High School recognizes this by accepting students of any age who wish to pursue a full diploma.
Some tweaking of the curriculum has been made to address the realities of gay life. "We have a more open and honest discussion of HIV and safer sex than one would find in a public school," said David. "And one of our partners. The Pride Institute in Minneapolis, does assessments of our students to determine any drug or alcohol dependence issues."
With the endorsement of gay figures such as Greg Louganis, who has created a school scholarship fund, the concept is gaining visibility. And compared to the various costs of putting any kid through high school, the yearly $5900 tuition sounds reasonable.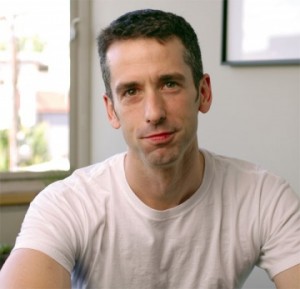 Another, more immediate and emotional reaction to recent teen suicides has been the creation of the It Gets Better Project by gay writer Dan Savage (right). Dan started a YouTube channel to collect messages from anyone who wants to talk to gay youth directly.
"Why are we waiting for permission to talk to these kids? We have the ability to talk directly to them right now," says Dan on his YouTube page. "We don't have to wait for permission to let them know that it gets better. We can reach these kids."
Hundreds of video messages have poured in and the channel is quickly approaching one million views.
My gay brother Dick and I contributed our story (and some embarrassing old photos) to the Project. Check this out:
Other remarkable programs have an online presence as well. Be sure to check out the efforts of the Give a Damn Campaign, and the wonderful work of The Trevor Project.
Anyone can make a difference in the lives of a young person who is struggling. If you can record a video, go for it. But there are always ways to contribute, including making sure your own kids know that bullying isn't cool. Since this all began I've had conversations with nieces and nephews, and it feels good to get the issue out in the open.
As always, my friends, thanks for watching, and please be well.
Mark
Comments