The Human Rights Campaign (HRC), the nation's largest GLBT political advocacy group, held it's annual black tie dinner in Washington, DC on October 9, 2010, and I was there to sit through all the speeches on your behalf.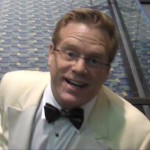 HRC has done commendable work for gay rights, marriage, safe schools and Ryan White funding, but stuffing their many accomplishments and celebrity honorees into one ballroom makes for a very long evening. Including the pre-dinner cocktail reception, four hours to be exact. But never fear, because I have encapsulated the entire evening down to just four minutes of the very best moments.
Watch while Ricky Martin shares his worst kept secret, Bette Midler has a Diva moment and Pink preaches to the choir! Also includes Oscar winning actress Mo'Nique and the cast of Modern Family.
Comments