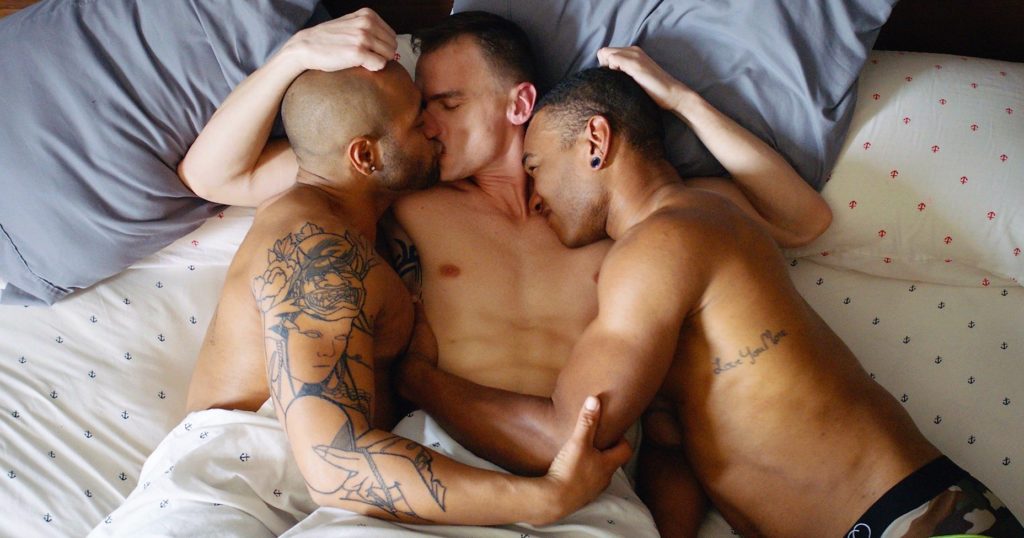 Leo Forte, Chris Hanner, and Rock Evans in a scene from the video series "The PrEP Project."
"PrEP is a prevention strategy that deals with sex, namely bareback sex," says gay film student Chris Tipton-King, "and I got tired of people tip-toeing around that fact." The young Bay Area resident had never seen a PrEP video that didn't somehow sanitize sex or the desires of gay men. "Everything I had seen about PrEP just felt… awkward."
And so, without a dime of governmental or pharmaceutical funding, Chris used an assignment for his master's degree in cinema to create "The PrEP Project," a four-part video series that speaks honestly – and quite explicitly – to gay men about their sex lives and why more of them should be using PrEP.
The result is the sexiest (and maybe funniest) video series on the topic anyone has produced to date. It's exactly what PrEP advocates have been waiting for, because it isn't beholden to stiff health department guidelines or even political correctness.
Stop everything and watch it right this minute, as long as your boss doesn't mind some bare ass and explicit sex talk. Each episode is only five minutes.
Did I mention the series features leatherman sexpert Eric Paul Leue, as well as a gay porn star and a muscle boy also known as a drag performer? You've got to give points to Chris for pure resourcefulness. Better yet, aside from the eye candy, the series is adorably engaging.
The first classic prevention message that Chris refused to promote in the video was "use a condom every time." The vast majority of people, gay or straight, do not use condoms consistently. "The rate of consistent condom use among gay men has been estimated to be as low as 17%," Chris says, "and PrEP is the answer to that. But we still conflate condom use with morality, which just isn't helpful." Instead, the film speaks to the sex lives of gay men as they actually are.
The initial backlash against PrEP as an alternative to condoms – the "Truvada Whore" argument — doesn't bother Chris. He knows where it comes from. "Condoms became an emotional topic," he says, after a generation of mortality that provided no other options. "Now that there is an alternative, people have a hard time letting that message go."
Rest assured, "The PrEP Project" outlines the risk of other sexually transmitted infections that can occur without condoms. It just refuses to draw a false equivalency between the consequences of HIV and those of other STI's.
When the first video in the series launched on Facebook, it got more than 40,000 views in the first day. That is, until Facebook pulled it down for violating their irksome, often vague community standards. "That really pissed me off," Chris admits. "I should have expected it because it is somewhat graphic sex, but I believe the people who pulled it didn't like the message. It wasn't about the sex. I got a lot of hate mail."
Lucky for you, the entire series is included in this post. Enjoy!
Mark
p.s. Want to know more about PrEP or ask questions to experts and advocates? Check out the PrEP Facts: Rethinking HIV Prevention and Sex page on Facebook.
Comments