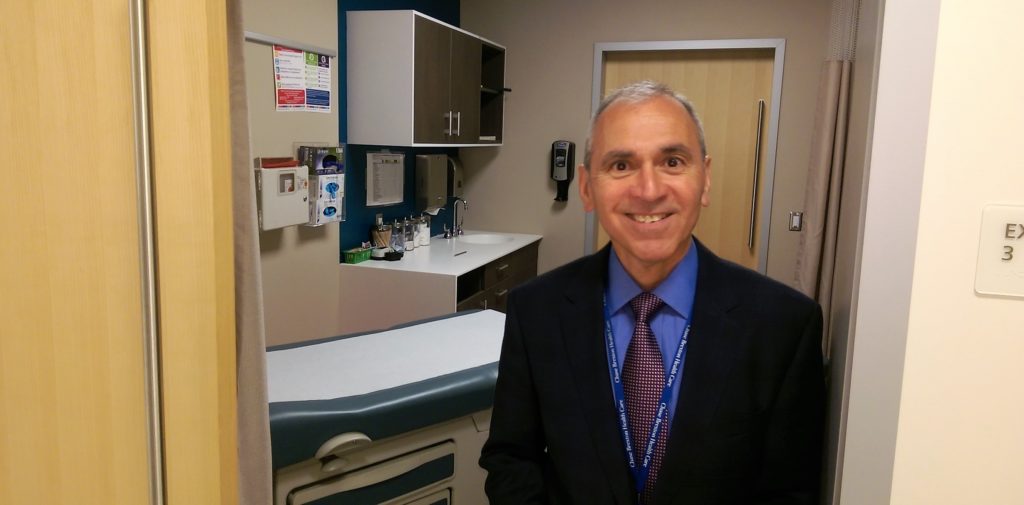 Patrick Mutch, the sunny and earnest new CEO of Chase Brexton Health Care in Baltimore, does not mind addressing the elephant in the room. In his first interview with My Fabulous Disease since being hired after a tumultuous year for the agency, he got right to the point.
"We're changing the culture here," Mutch promised, referring to a professional staff left deflated and demoralized after their bitter (but eventually successful) attempt to unionize last year. "Providers here felt the need to turn to a union," Mutch said. "That tells me they did not trust management with their concerns. I need to make sure they see me as a leader they can trust."
"Trust" is the message that Mutch has delivered faithfully in a flurry of recent interviews, his first since being named CEO in January. But trust may be hardest to earn back from the LGBT community, which has felt injured by recent events at the health center and a belief that "LGBT" is being crowded out of its mission.
Last summer, Chase Brexton health care providers began to unionize after complaining of difficult working conditions, unrealistic patient quotas, and diminished quality of care. Richard Larison, Chase Brexton CEO at that time, fired five people, four of them who identify as LGBT, in an action widely seen as an attempt to intimidate employees into not supporting the union. Larison may not have calibrated for the reaction from patients, however, many of whom were stripped of their health care provider.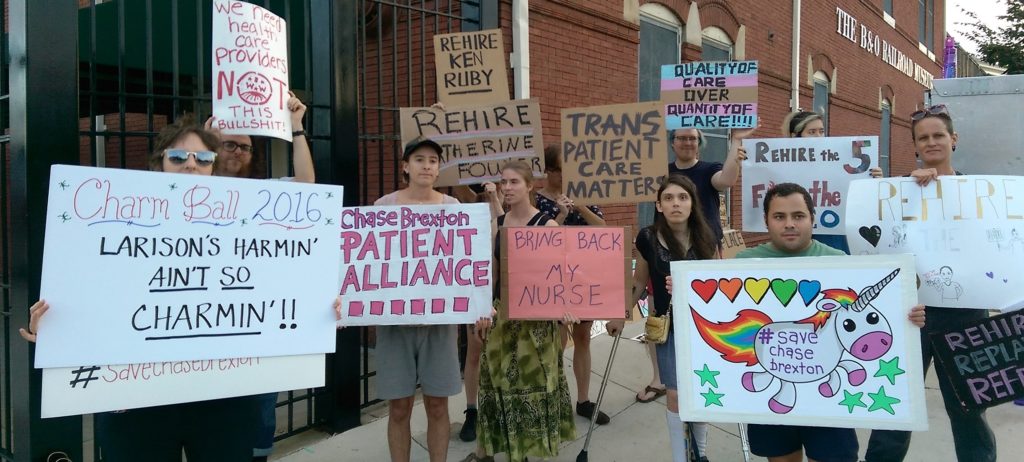 Angry street protests ensued, led largely by Chase Brexton clients and supported by the local union and even Baltimore elected officials. The very public conflict played out for weeks.
The vote to unionize passed by a margin of more than 80% in late August. CEO Richard Larison chose not to renew his contract and left the agency at the end of last year. As the dust settled, the reputation of Chase Brexton had taken a beating, especially within marginalized LGBT communities that need services most.
New CEO Patrick Mutch said at the time of his hiring that he would "honor and uphold" the agency's roots in the LGBT community, and told Baltimore OUTloud that he intends to meet with LGBT community groups to repair frayed relationships. Meanwhile, he had some candid thoughts about the five employees who were caught in the crossfire last year.
"Many people have talked to me about the quality of those providers," Mutch said about the fired employees, "and I regret that. If I met any of them, I would apologize. It's heroic to take care of patients."
It is a gracious remark and a little stunning to say publicly, considering Chase Brexton has reached a confidential settlement with the five employees that prohibits the parties from discussing the matter.
Mutch, who is heterosexual and married to a health-care provider, is also adamant about his commitment to LGBT health. "I have deep respect for our core mission," he insists. "When I think of services here, the deepest depth of talent is in HIV and LGBT services. We would be crazy not to continue to support and enhance these core services."
Mutch vows to hire an LGBT medical director once their search for a new chief medical officer is complete. He also mentions a case load of more than 2,000 transgender patients, expanded programs in the LGBT Resource Center (such as a new long-term survivors group), and the fact Chase Brexton is Baltimore's largest provider of PrEP, as evidence of Chase Brexton's continued commitment to the LGBT community.
The health center also provides an estimated $3 million in free care – 70% of their client load is on Medicaid or Medicare or not insured at all – contributing, Mutch says, to a very slim operational profit margin of 1% for an agency with an annual budget of $100 million.
"If Trump rolls back (the Affordable Care Act), we are going to be really burdened," Mutch said. "Part of my job is to widen our profit margin."
Chase Brexton staff and providers, speaking confidentially, blame management for ongoing missteps that have had an effect on the bottom line.
The anti-union effort by management was extremely costly, staff contends, between the employee firings, the lawyers, the employee settlements, and the hiring of union-busting consultants.
They also claim that Chase Brexton management did little to retain providers who left during and since the unionization effort – including the departure of two more clinicians just this month – and replacing these professional positions can cost as much as $250,000 per person. Several clinical positions remain vacant. They also point to a bloated executive suite that paid former CEO Richard Larison nearly $500,000 a year in salary and bonuses.
While cautiously hopeful that Mutch's words will translate into action, the Chase Brexton employees interviewed do not believe the union effort has proceeded in good faith. The first contract between professionals and management has yet to be signed. Without it, employees are no better off than they were before the union effort began.
That said, Chase Brexton providers are quick to encourage the community to access care there, proudly convinced they remain the most committed and expert choice for the LGBT community, particularly in the areas of trans and HIV care. Many providers, not unlike the patients they serve, came to Chase Brexton because they were attracted to its expertise in the field of HIV and LGBT health.
Patrick Mutch agrees that rebuilding the trust of the LGBT community will be crucial as he continues to move through his young tenure at Chase Brexton. He will certainly have many watchful eyes on him to see what he actually does.
But the most intense scrutiny may very well come from within the halls of Baltimore's largest provider of community health services. It is there, among the committed but wary providers at Chase Brexton, that Patrick Mutch has the most to prove.
Mark
(This is a slightly edited version of a story I wrote for Baltimore OUTLoud newspaper.)
Comments