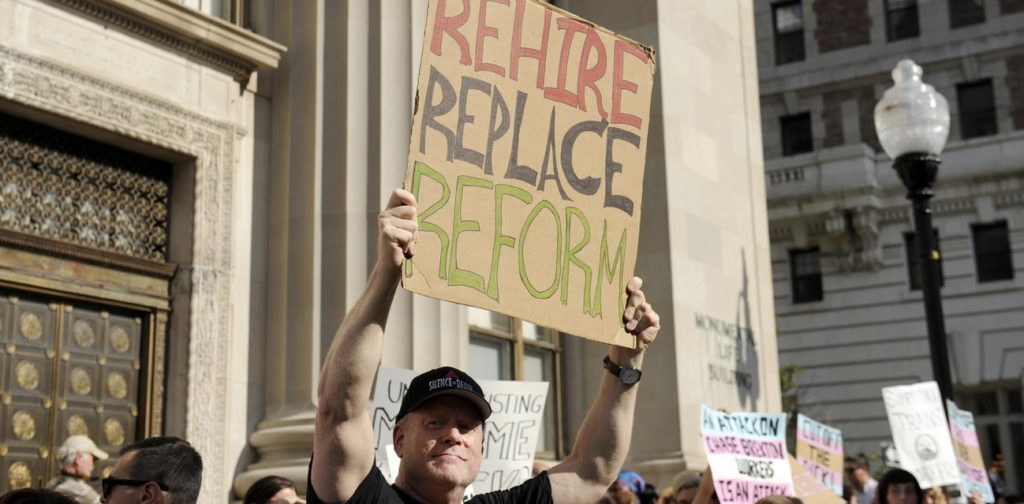 Here's some news that might make our transition into the new year a little more satisfying.
Richard Larison, the embattled chief executive officer of Chase Brexton, Baltimore's largest provider of health care to the city's most vulnerable communities, has resigned after months of upheaval and staff discontent. It is a clear victory for community activists who have demanded his resignation, even while more work must be done to reform the agency.
Larison, who began his tenure in 2012, has chosen not to renew his contract. His last day as CEO is December 31st. He will remain in an "advisory role" while an executive search is conducted.
Staff and community confidence in Larison suffered from his efforts to block an employee unionization effort in early summer, leading to his firing of five management level employees. The dismissals were largely viewed as an act of intimidation to dissuade employees from voting to unionize.
Chase Brexton employees answered management's resistance by voting overwhelmingly to join United Healthcare Workers in August.
The manager firings outraged LGBT community activists, culminating in protests at Chase Brexton's Mount Vernon location and at the annual Chase Brexton Charm Ball, where an event patron was thrown out after speaking to protesters.
Of greatest concern to community members was the expertise in LGBT issues, including HIV care and transgender care, that was represented among the dismissed employees. Several of them had enjoyed long and distinguished careers with the agency, which was founded in 1978 as a STD clinic primarily serving gay men.
"I am deeply concerned about Chase Brexton's commitment to the LGBT community," said longtime community activist and Chase Brexton patient Doug Rose, who has been among the most vocal critics of Larison's leadership. "As a result of the manager firings, hundreds of LGBT clients have had to find new providers, including transgender clients in the midst of their transition process. It doesn't look good."
A Chase Brexton statement about Larison's resignation heralded his accomplishments while leading the agency, including the creation of their LGBT Resource Center. Ironically, Bethany Henderson, a program manager in the LGBT Resource Center, was among the managers fired during the union organizing conflict.
Joseph Lavelle, the recently hired interim president of operations, will handle day-to-day operations at Chase Brexton while the organization conducts its search for a new CEO.
Advocacy efforts to "save Chase Brexton" are not over, however.  "The CEO's departure is a welcome first step," wrote Emily Sachs, wife of fired manager Jill Crank, in a Baltimore OUTLoud editorial this week, "but until Chase Brexton leadership can demonstrate an unqualified commitment to integrity and responsible management, we will call on federal grantors, elected officials, and donors to withhold funding and shift their support to other organizations with the capacity to better serve our community."
Ongoing advocacy to make certain the Chase Brexton Board of Directors remain true to their mission will continue into 2017. But all of us involved in the efforts of the last year should take heart in victories along the way. And there's no doubt in my mind that a man is cleaning out his office right now because of the united, powerful voices of Chase Brexton patients and allies.
Job well done.
Mark
Comments