The AIDS2010 conference was still one day from making its grand arrival, so the MSM Pre-Conference took center stage, playing host to gay men and their advocates from around the globe. I'm here blogging for the best HIV resource of the web, TheBody.com, and here is my first video report to you!
In this, the first of daily video blogs from Vienna, I'm taking you along to meet leaders from the gay response to HIV/AIDS. You'll hear from Michel Sidibe of the United Nations, saying that a world in which gay men face discrimination "is not a society I want to live in." We'll attend workshops together, on topics such as aging, or the role of HIV+ gay men in the AIDS struggle. And you'll meet advocates like Jim Pickettt of Chicago, who has been working on the development of lubricants that kill the HIV virus without condoms.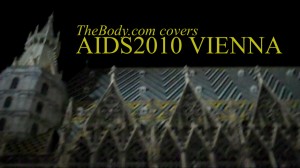 It's only been one day and I'm already tired and energized at once. Keep tuning in — there will be daily video postings, and the spectacle of the AIDS2010 Global Village — artists, exhibits, advocates — will be something you will not want to miss.
Meanwhile, please be well!
Mark
Comments