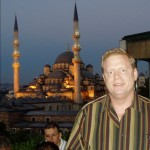 My partner Ben and I are in Istanbul for five days. We're vacationing here until we move on to AIDS2010, the international AIDS conference in Vienna beginning on the 17th. I'll be producing daily video blogs from there as a correspondent for TheBody.com. In the meantime, let me tell you about Istanbul.
All the younger men in Istanbul look gay. It may be the tight, fake designer t-shirts, the lean bodies, the hairy chests and the swagger. They resemble little John Travoltas circa Saturday Night Fever by way of Omar Sharif. Maybe it's me.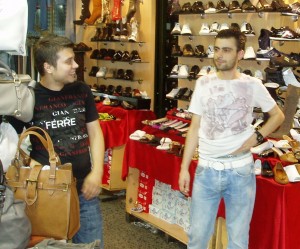 I noticed this most acutely in the Grand Bazaar, where we spent a large portion of our day swept along in a sea of silk, rugs, shoes, kitsch, and confused humanity. All these Gay Turks (left), staffing their booths, calling out hey sir! where you from? and crossing your path with a sample of their wares, or perhaps feeling bored and just leaning against a stack of silk, staring at you, knowing a thing or two.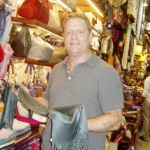 Scarves are everywhere, like facial hair, as constant as hummus and minarets. They are sold by the ton, adorn all the women here for style and religion, and even provided in restaurants, stacked high on platters and carried in by waiters like Baked Alaskas to wrap the necks of the female diners as the sun sets and the night chill sweeps in. Scarves are the mascots of Istanbul. You cannot leave without one.
Ben is well traveled, meaning he speaks some French, can ignore the call of the Gay Turks, and knows when he is being ripped off. Most of the invitations in the Grand Bazaar are in his direction; they instinctively know he is the big fish. If you tell Ben this scarf is cashmere he may not believe you and he will say so. But he will gleefully peruse the fake designer watches and consider what they might look like from a distance.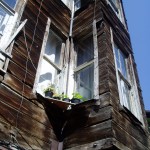 Our hotel, the Grand Hyatt Istanbul, has a spectacular view of the Bosphorus and of the city, old and new, which plays host to 13 million people. Structures — homes and shops feel indistinguishable — cram the mountainside San Francisco style (left), but upon closer inspection they more closely resemble New Orleans or Bombay. Maybe that's why I like the look of this exotic city so much. I was always attracted to the gorgeous decay of New Orleans.
I love our hotel because they filmed an episode of The Bachelorette here, the one where Ali discovered the wrestler Justin was a fraud and then yelled "You're going to regret this!" as he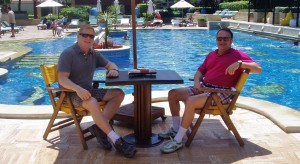 tried escaping, quite awkwardly I must say, across a couple of the waterfalls and through the landscaping. I know exactly where it happened. I've stood in the spot where she said, "Is this how you want to be perceived? Huh?" and I felt delirious. Don't judge me. Ben makes me watch the show.
We toured The Blue Mosque today and it was very tall inside. I guess it's not something that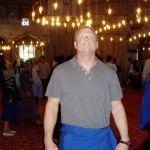 caught my imagination, although I liked having to take off my shoes. That wasn't our only fashion adjustment, however. Men wearing shorts are asked to wrap their legs in blue sheets to show respect, but the result looked like bad drag.
Tonight we had dinner at Hamdi, a Turkish restaurant overlooking the water and nestled among mosques. Ben was enchanted by the menu and took charge of ordering; as usual, the waiter was drawn to his command of the situation and didn't know I was alive. He gets their attention and he gets the bill, so this is by no means a complaint. The food and service were great and I have now tasted four or five more things I have never tasted before.
Since my time in Vienna will be packed with AIDS2010 conference activities, we're allowing ourselves to really enjoy ourselves here and explore. Tomorrow we'll take a boat ride on the Bosphorus, and later we'll tour the St. Sophia mosque, the grandest of them all. I'll try to remember to wear pants.
Please feel free to comment below, and in a few days you can start watching my daily videos from AIDS2010. I'm very, very excited and want to help you feel like you're right there with me in Vienna, enjoying the sights, sounds, and breaking news.
In the meantime, please be well.
Comments